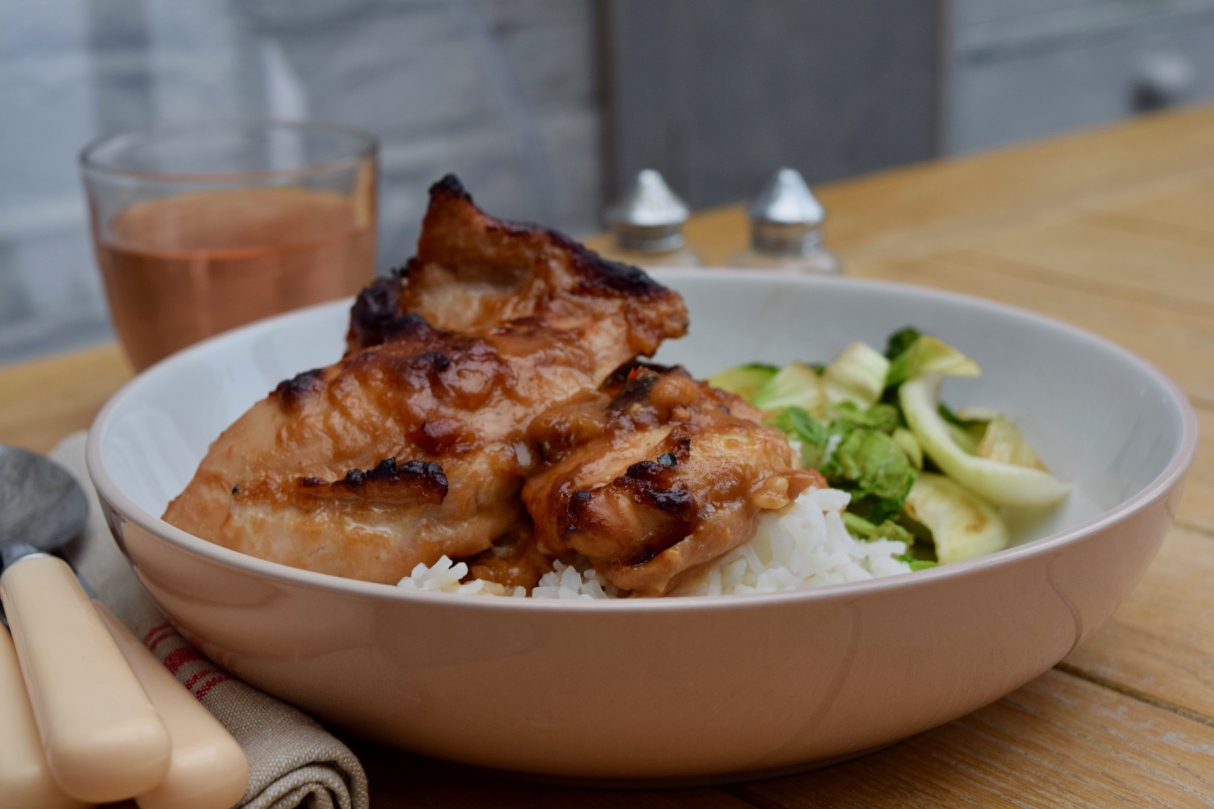 Chilli Peanut Chicken Recipe
Let's face it it's nearly time for the summer holidays and inspiration and inclination are both crushingly low. I have two large men children, not including Clyde, under my feet and my kitchen resembles a local café. Both of them are lying in bed so long in the morning, breakfast is a distant memory with brunch, lunch and supper just turning into one long meal. When I stumbled upon this recipe for Peanut, Chilli Chicken, I nearly wept. It's so bloody easy, if the boys would leave their bedrooms, they could make themselves.
I make no bones about how much I love peanut butter, so this recipe is certainly a bit of me. The fact it only has three ingredients, not including the chicken, also makes it my new best friend. All that's required of you is a bit of minor squidging of ingredients followed by the no effort required to turn the oven on. It's best left to marinate for at least a couple of hours, overnight if you have that sort of forethought, but either way, the resulting chicken is sticky, tender, savoury and really rather tasty. You can serve this on rice, which is always George's top choice, or noodles, or serve with some leaves in warm tortilla wraps. My one nugget of advice is do line your baking tray with foil for this Chilli Peanut Chicken, otherwise you may need an angle grinder to get the tray clean afterwards. It's with huge thanks to Best Recipes for the inspiration for this dish.
I am sitting here looking at these photos with my stomach growling. Another Monday has rolled around after a weekend involving several litres of Rosé, so the pre Greece diet's back on. But maybe after I've finished the last bit of Chilli Peanut Chicken I have hidden from the boys at the back of the fridge.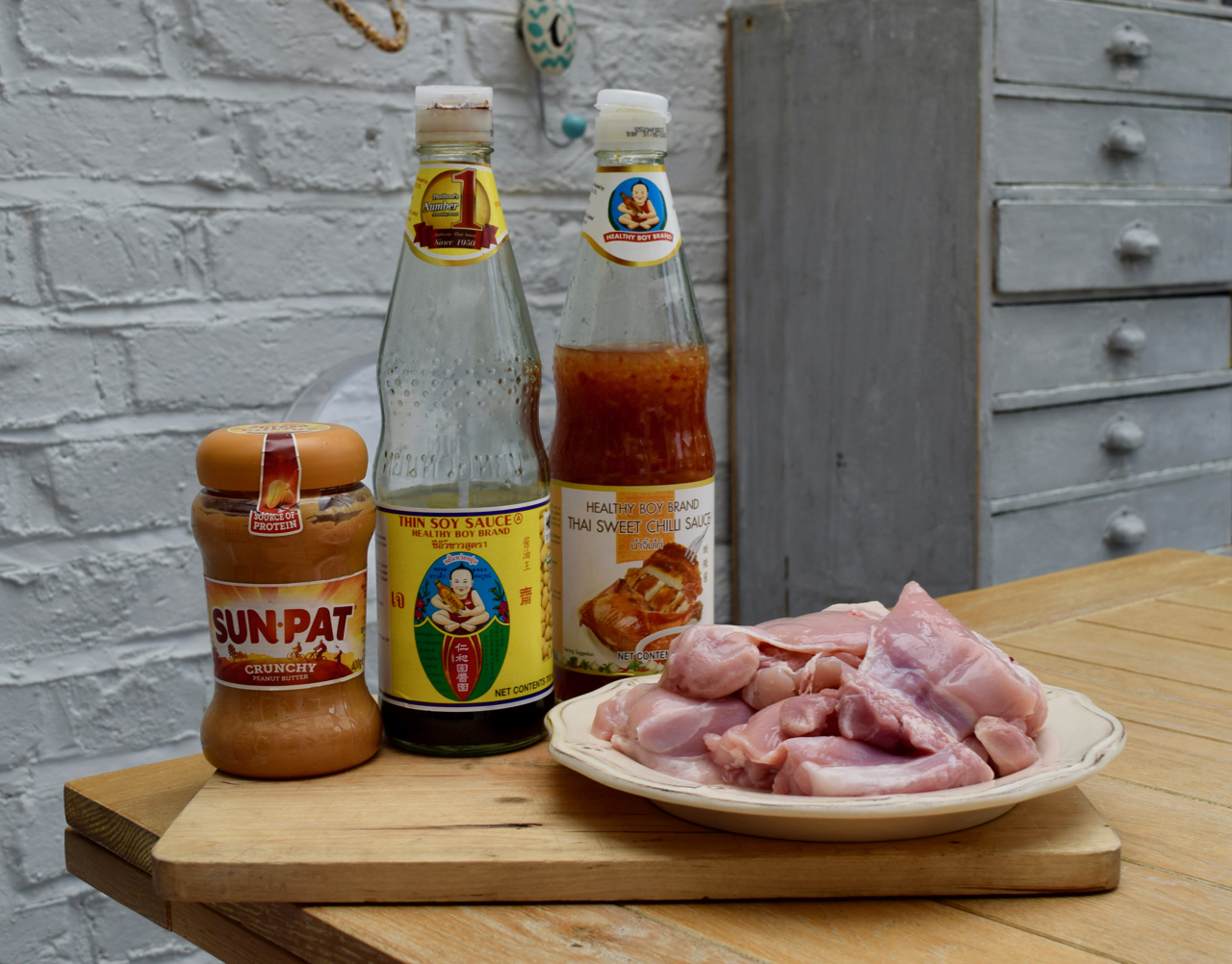 Ok, so it's four ingredients if you count the chicken, but you know where I'm coming from. These bottles and jars are regulars in my cupboard, even though the peanut butter jar is usually empty, due to my slight addiction. If you have allergies, then I'm sure an alternative nut butter would work here. A crunchy variety is best, as it adds a bit of bite to the chicken.
Make a start at least 2 to 3 hours in advance if you have time, the day before if you are alarmingly organised. Take a food bag and measure in the peanut butter, sweet chilli and soy.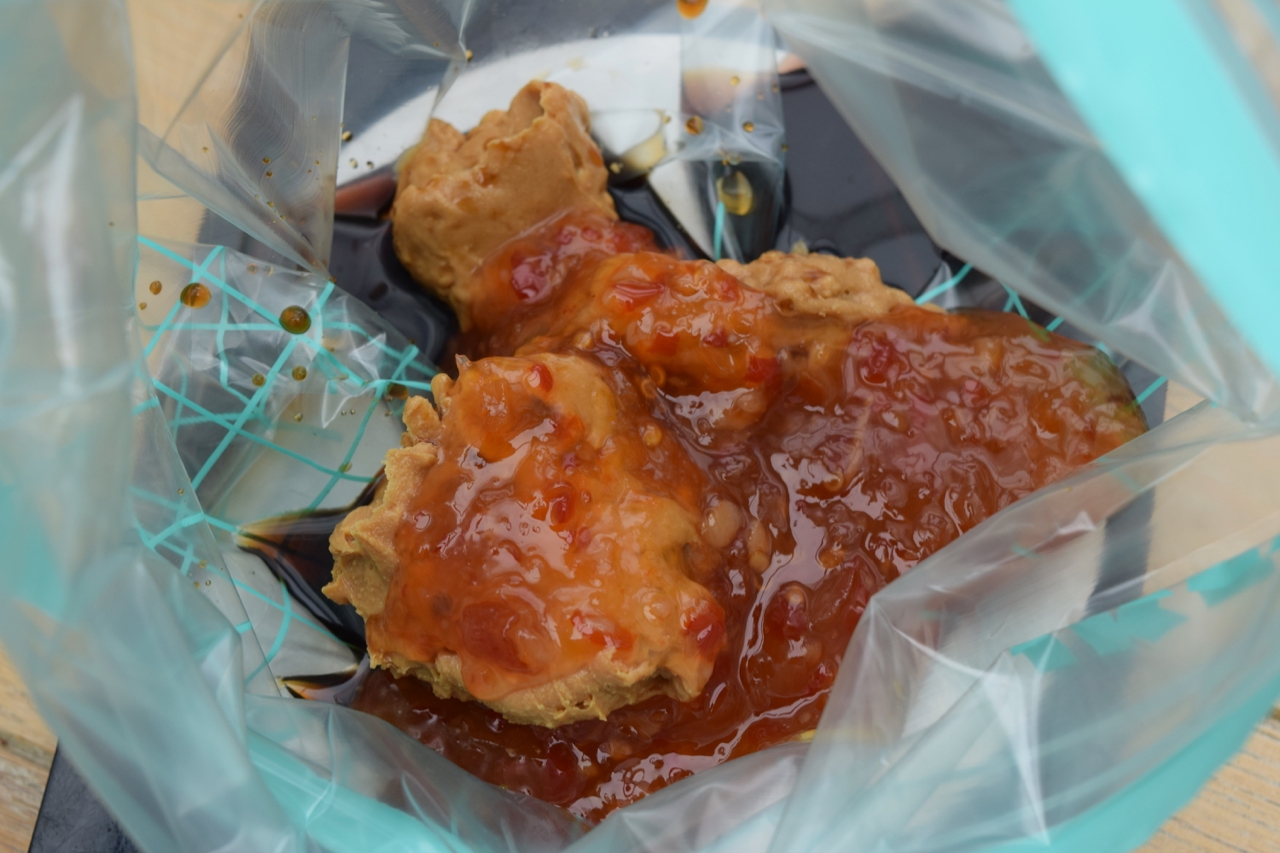 Now, squidge all the ingredients together in the bag until they're well mixed. Take care to make sure there are no rogue lumps of unmixed peanut butter, as this can happen *it did to me*.
Next, add the boned chicken thighs, no need to cut them up, just drop in whole.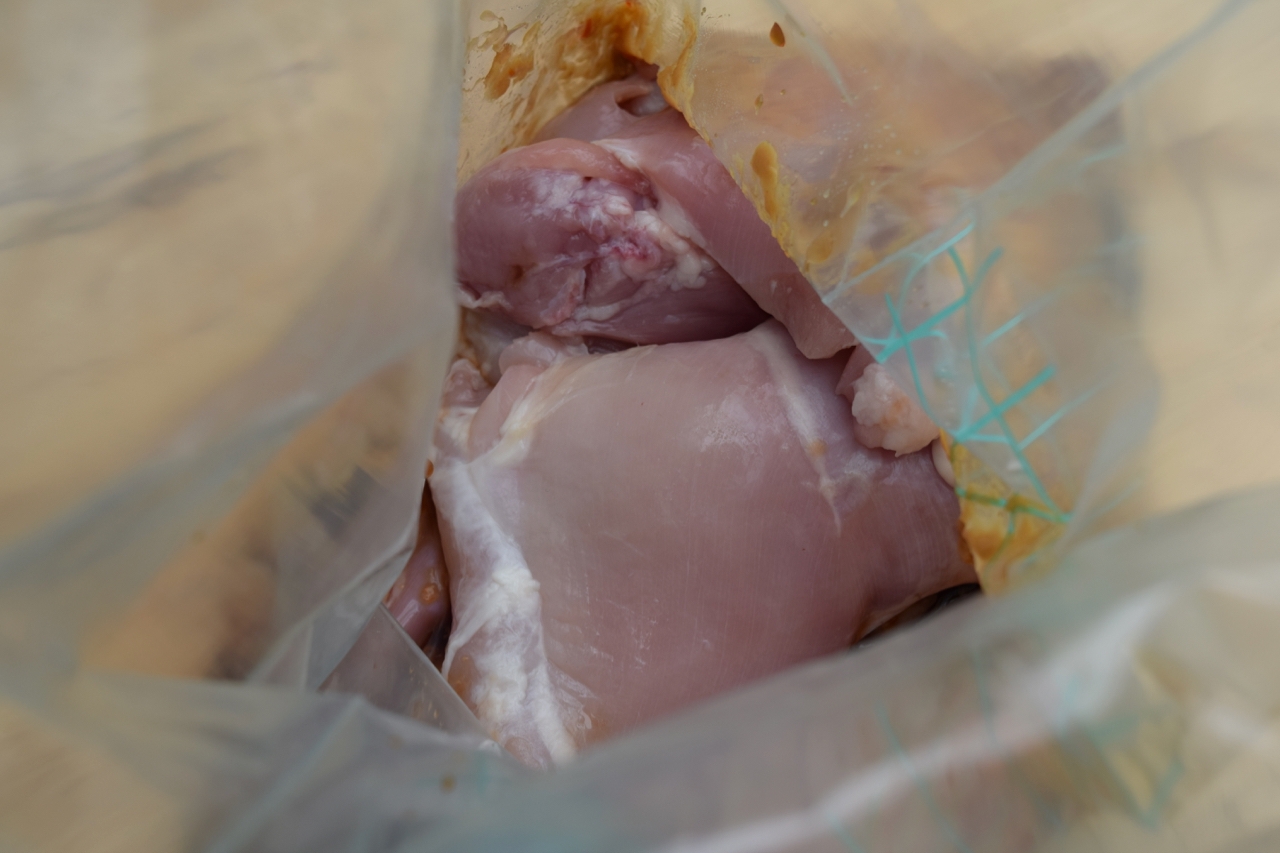 Give the whole lot another good mix around ensuring the chicken is coated then seal the bag and pop in fridge for as long as you can.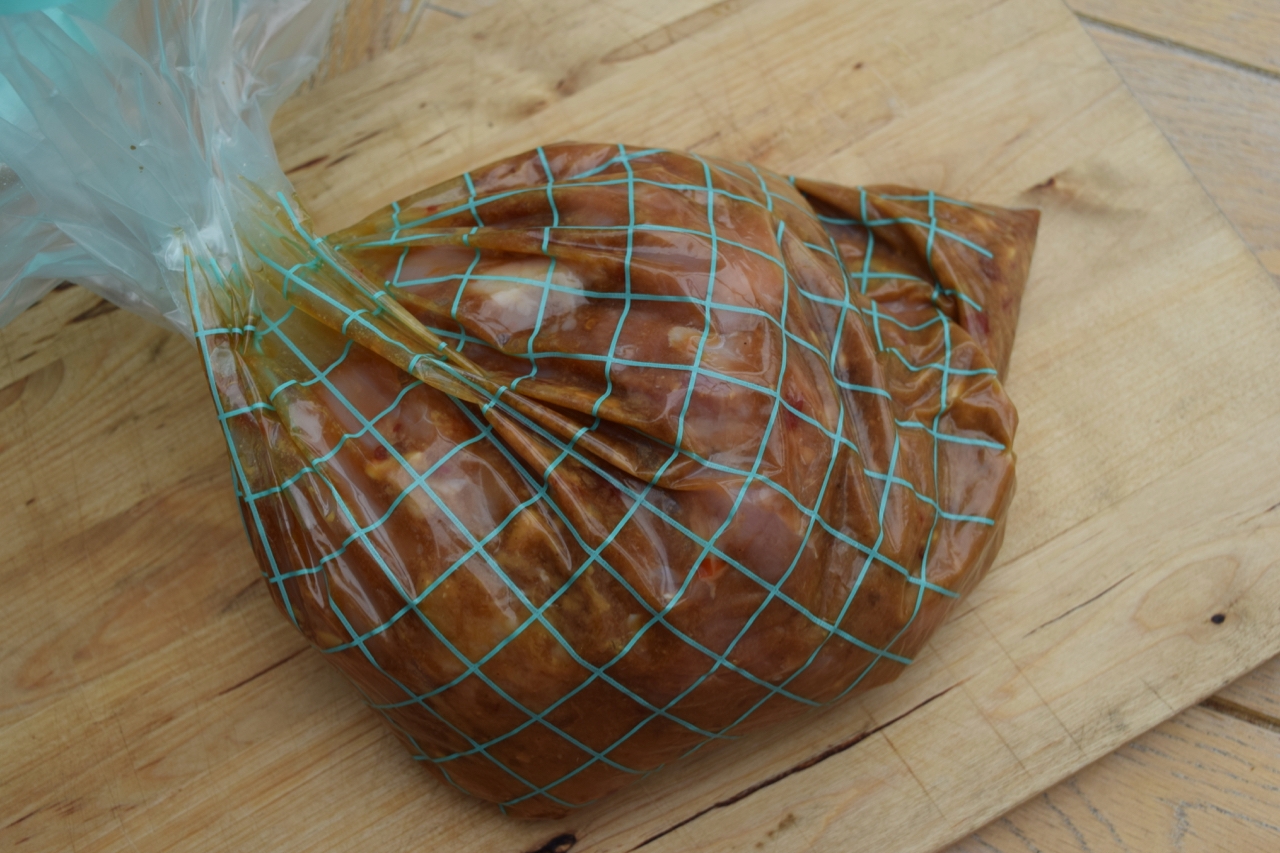 When you are ready to cook your chicken, pre heat the oven to a reasonably hot 170 degrees fan assisted then line a baking tray with foil, to avoid some pretty savage washing up after the event. Tip the contents of your bag into the tray and spread the chicken thighs out and cover them in the marinade.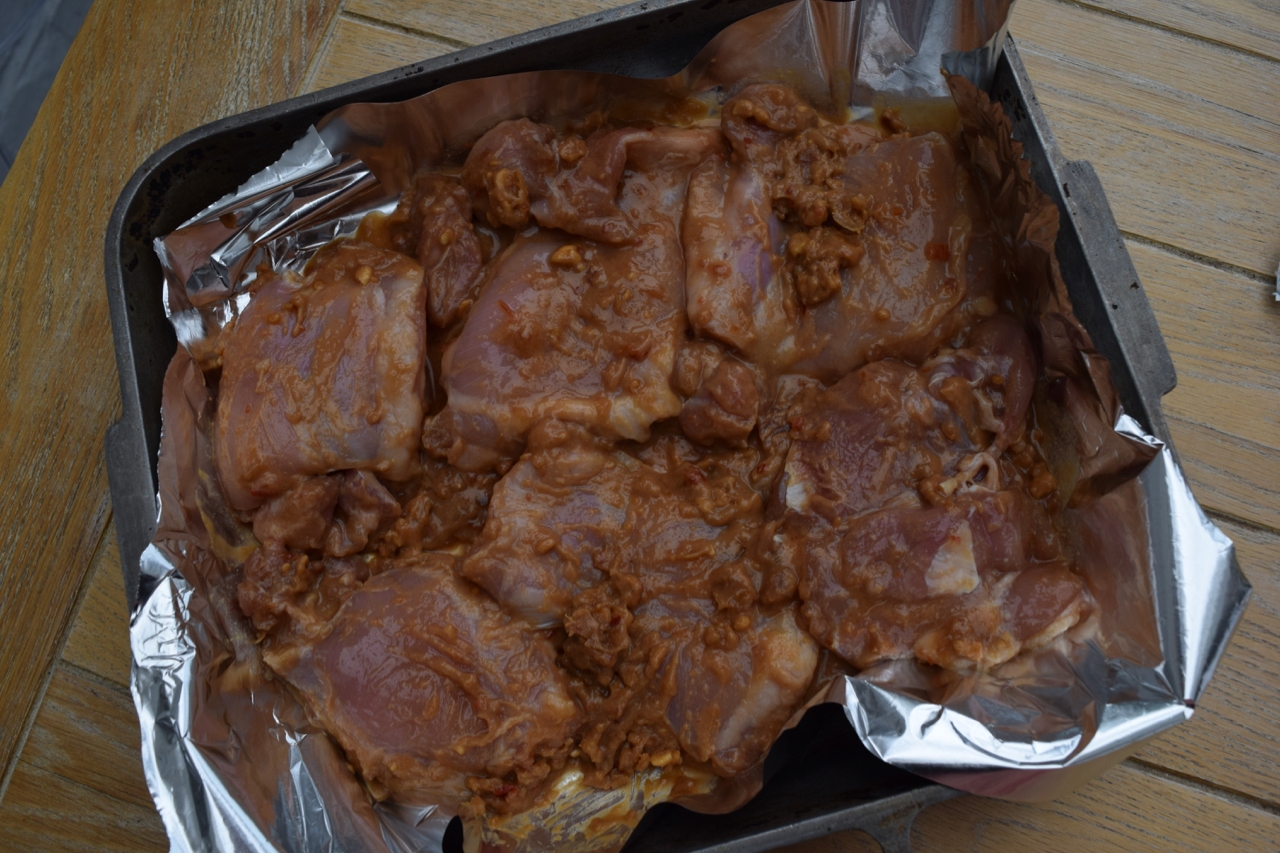 Pop them into your pre heated oven and bake for around 25 to 30 minutes. The chicken will be just perfect when it's very slightly charred, bubbling and cooked through.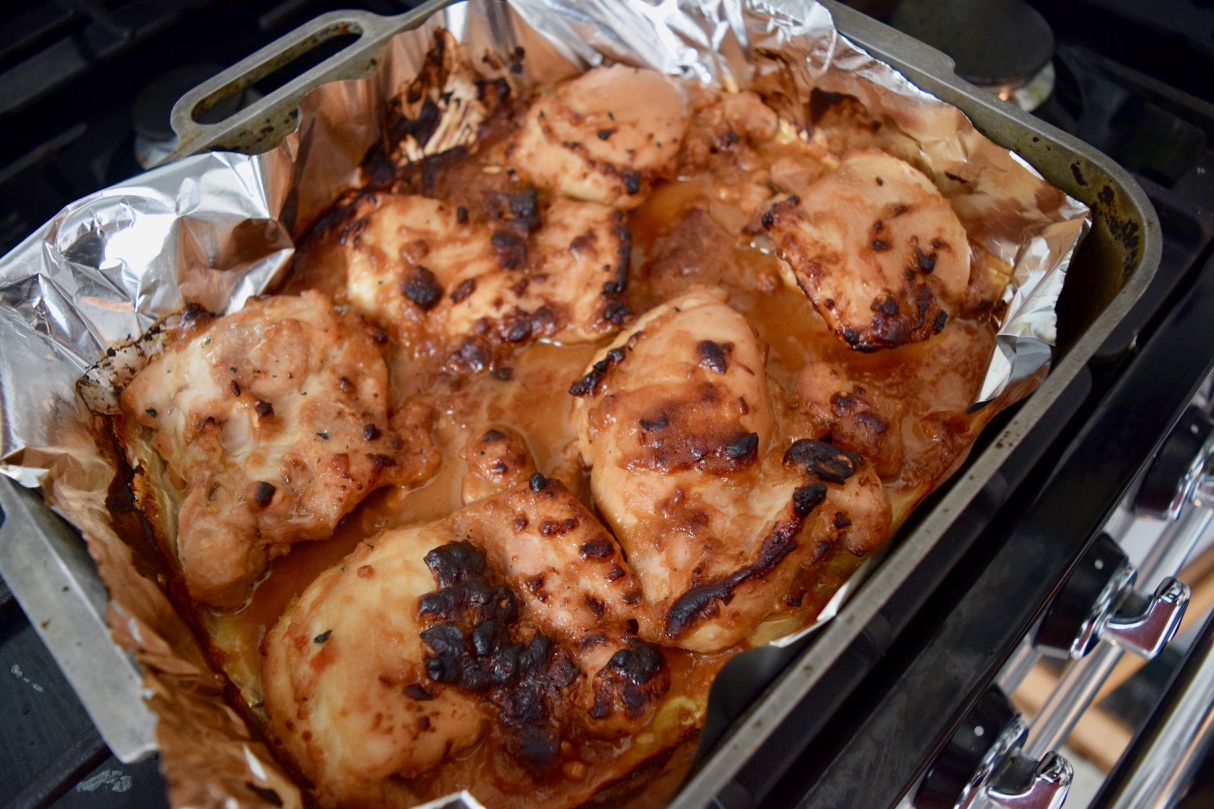 My mouth is literally watering at the sight of this. It smells wonderful, sweet, salty, nutty and super tender. Serve in a variety or ways, or just burn your mouth by nibbling at it straight from the pan.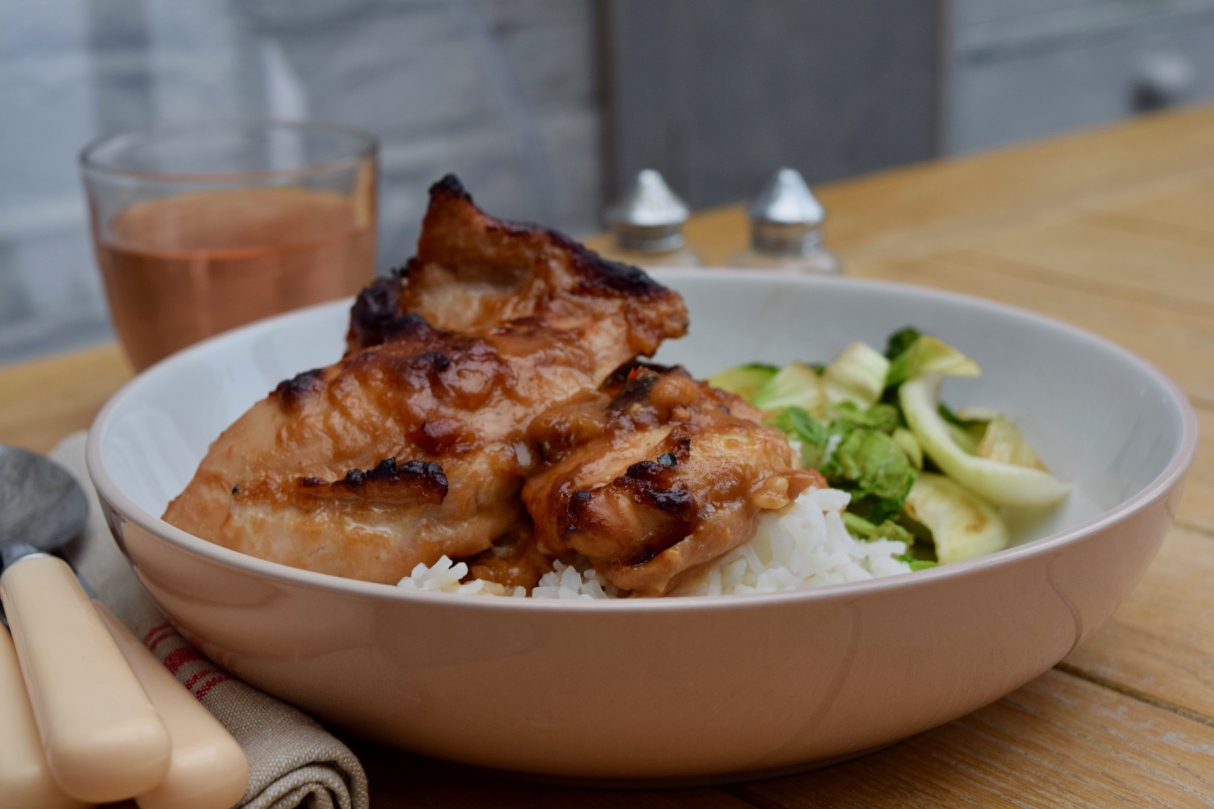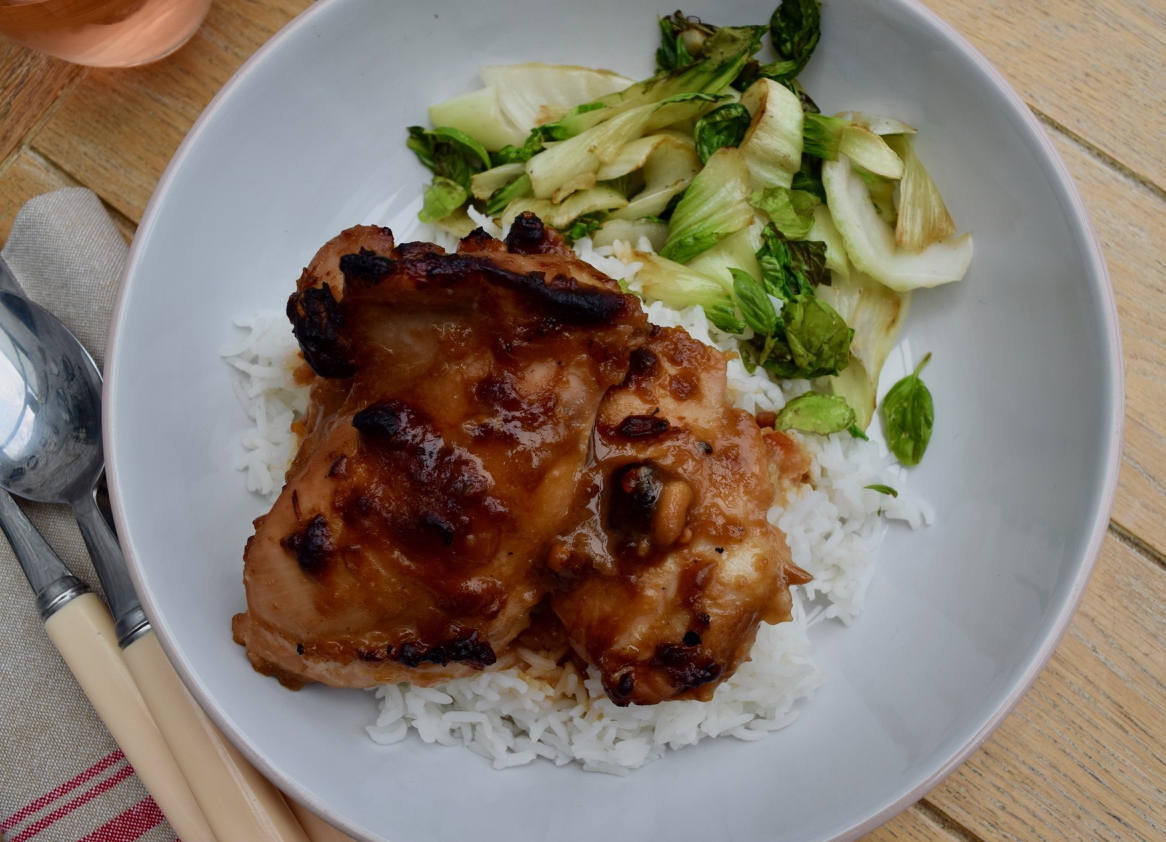 I think this simple, delicious dish is just brilliant. You can tart it up for a dinner party with some stir fried pak choi or marinated cucumber ribbons, or make it a quick lunch with wraps and salad. I can confirm, it has been given the George seal of approval, which is the highest accolade in our house, minus anything green, of course.
Lucy x
Chilli Peanut Chicken Recipe
Serves 3 to 4, appetite based
Around 600g boned chicken thighs, or breast would be fine
100g crunchy peanut butter, or use another nut butter if you would prefer
100ml sweet chilli sauce
60ml soy sauce, light is best, if you only have dark then water it down, or this will be too salty
Rice, noodles, wraps and some sort of green or salad, to serve
Take a food bag and measure in the crunchy peanut butter, sweet chilli sauce and soy sauce. Squidge it around so everything is well mixed; make sure there are no rogue lumps of peanut butter.
Add the chicken and pop in the fridge for at least 2 or 3 hours, or over night if possible.
When you are ready to cook your chicken, pre heat your oven to 170 degrees fan assisted and line a baking tray with foil. Pour the contents of the bag into the tray and spread out the chicken making sure it's covered in the marinade.
Roast for around 25 to 30 minutes or until the chicken is starting to char and is cooked through.
Serve with rice, noodles, wraps and some sort of green vegetable or salad.