Chocolate and Almond Semi Freddo Recipe
As you know *or I am flattering myself that someone actually reads this*, we are in the middle of kitchen refurb hell. My kitchen currently consists of an oven, sink and washing machine and a lot of plaster dust. My work surface is the top of the washing machine and I have to clean the little space I have everyday for fear of peppering each meal with grit. So, as you can imagine, entertaining is really at the bottom of my list. However, I spend a lot of time looking for recipes I will be serving once I have my elegant new kitchen. I know it's the winter now and time for hot sponges, custard and rice puddings, but I do like something I can make in advance. When I stumbled upon this Chocolate and Almond Semi Freddo recipe, I thought I would give it a go in preparation for dinner parties in the future. And, I am super pleased I did.
I hadn't made a semi freddo before, so I was fascinated to find out what the appeal was. I can confirm, they are appealing and have nothing to do with Freddo Frogs *sadly*. A semi freddo is a sort of rich frozen mousse mixture, like an ice cream without the need to churn. I chose to pepper mine with chopped roasted almonds and white chocolate for extra crunch and sweetness. You could choose another type of nut if you'd prefer or use milk chocolate, it's up to you how you proceed. This isn't a tricky recipe, the hardest thing for me was trying to stop the dog from eating the mixture which was in my Kitchen Aid on the floor. There is plenty of whisking and a bit of washing up, but then the semi freddo goes into the freezer until you need it with no more attention required. I have based my version of this recipe on one originating from Gordon Ramsey, with sweary thanks to him.
I don't want to blow my own trumpet *someone's bloody got to* but Clyde and super-critical-Ben did say this was one of the most delicious desserts they had tasted. I don't think this Almond and Chocolate Semi Freddo looks like a masterpiece, but good Lord, when decorated with some extra chocolate shavings it is completely to die for. Pour on some extra double cream for additional joy.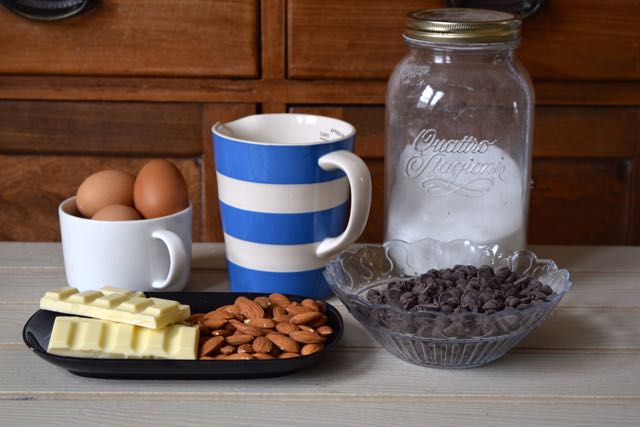 Look at this simple, delicious line up, nothing too threatening to see here. Minus the vanilla extract, which I forgot. It's been weeks since I forgot anything, so well done me. Here it is, as an afterthought.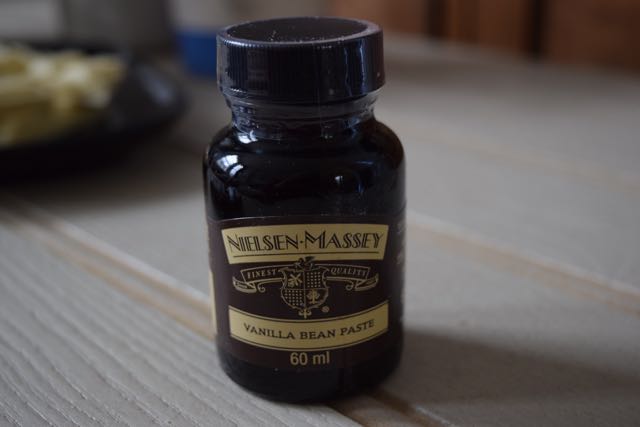 Make a start on this rich iced dessert by lightly toasting your almonds. Not tricky, just add them to a medium hot frying pan, without oil, and keep them moving until they are just starting to brown and smelling amazing. This will only take a couple of minutes, but keep an eye on them, these will burn v quickly.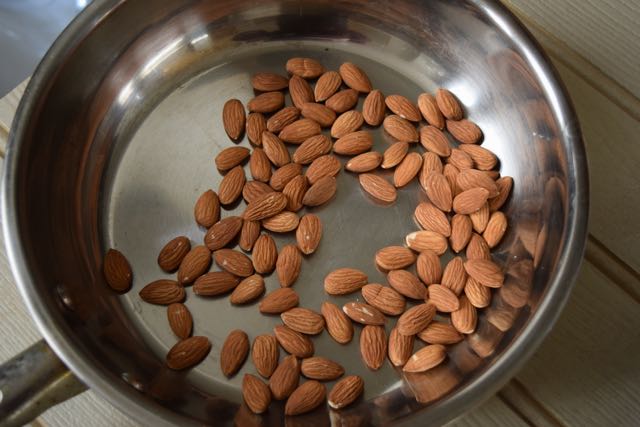 Leave these to cool then chop them, along with your white chocolate then pop to one side.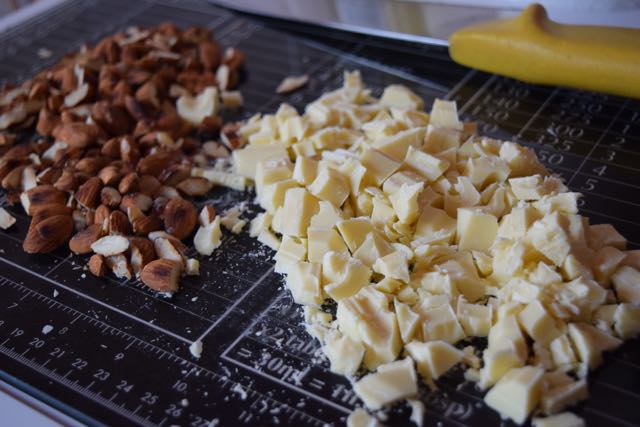 Now, take your dark chocolate and melt in either the microwave or over a pan of simmering water. Stir until smooth then leave to cool while you crack on with the other elements.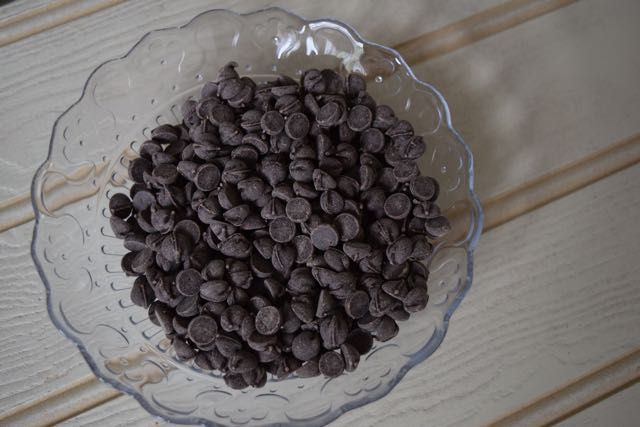 Next, take your stand mixer or a large bowl and add the eggs and sugar. Whisk this for 3 to 4 minutes, or until the mixture is light, fluffy and holds a trail when you lift the whisk beaters out.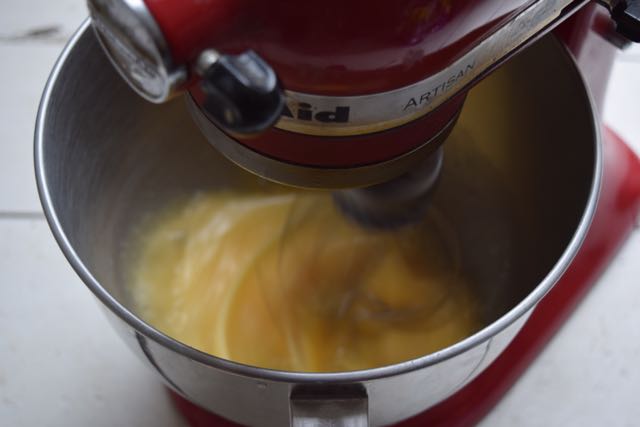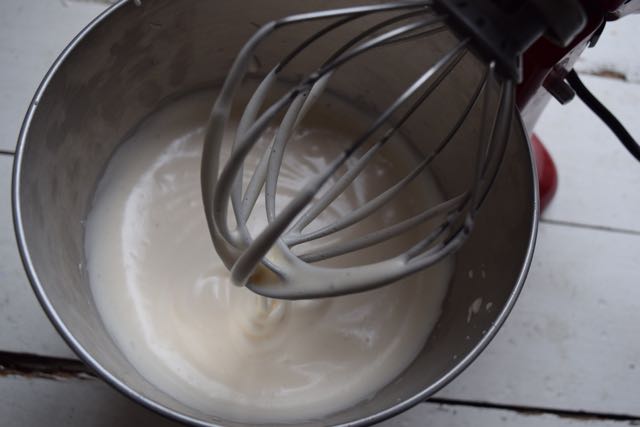 I then transferred this to another bowl as I needed the Kitchenaid to lightly whip my cream and vanilla paste. And I really did mean to lightly whip it, but I turned my back for a moment and my cream had almost turned to butter.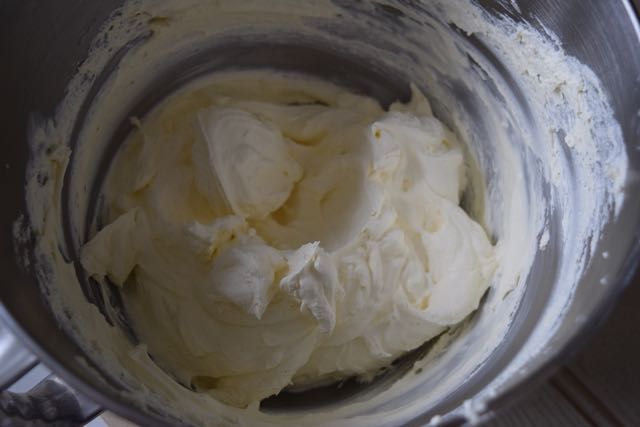 However, thanks to those kind people at Epicurious, I found that if you stir through more cold double cream to your overwhipped cream, a tablespoon at a time, it will correct itself. Hooray, I saved myself from my own crapness. The correct consistency for the whipped cream is lightly whipped while retaining a bit of floppiness.
Now, it's time to fold these soft, sweet and rich ingredients together. Start by adding the chocolate to the eggs and sugar. Do this with a gentle hand, you don't want to knock all the air out of the mixture.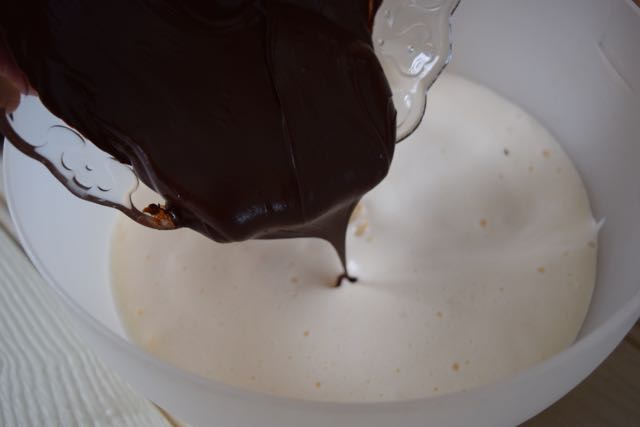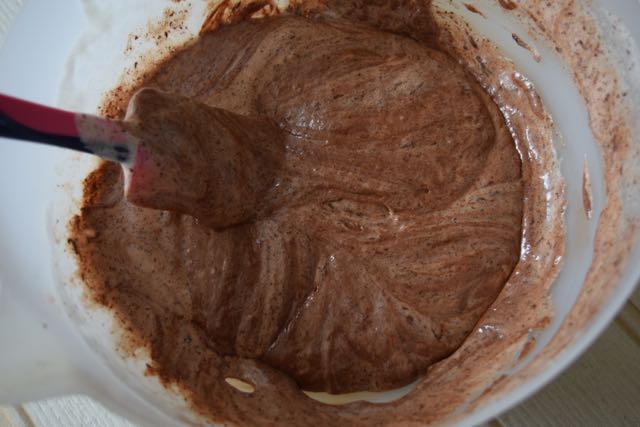 Finally, fold in your *over* whipped cream along with your chosen nuts and chocolate. Your cream will have a touch more flop to it than mine.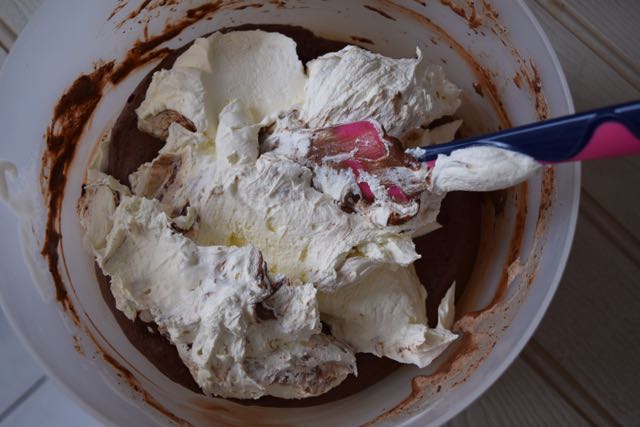 This dessert is amazing for spoon licking opportunities.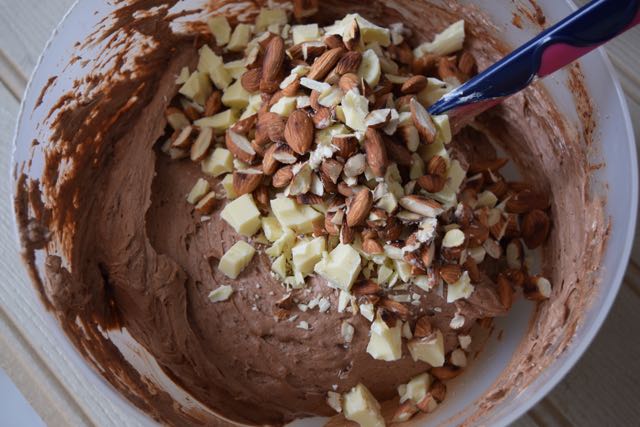 Pack this mouth watering mixture into your cling lined tin, smoothing the top as you go, then fold the excess cling over the top and put into the freezer.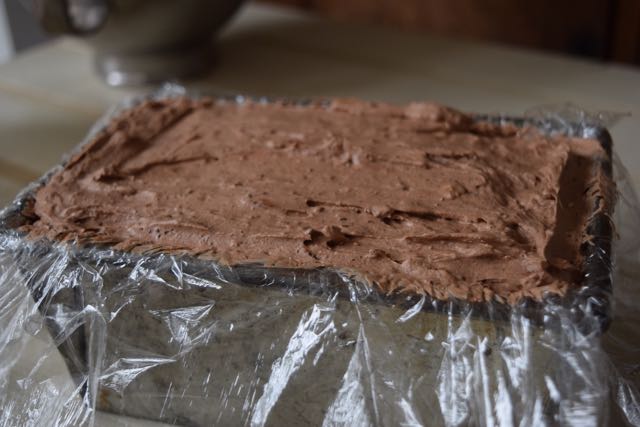 Giving the tin a little bang on the counter will get rid of any big air bubbly gaps in your semi freddo.
This will take at least 5 hours to freeze solid or you can make up to two weeks in advance.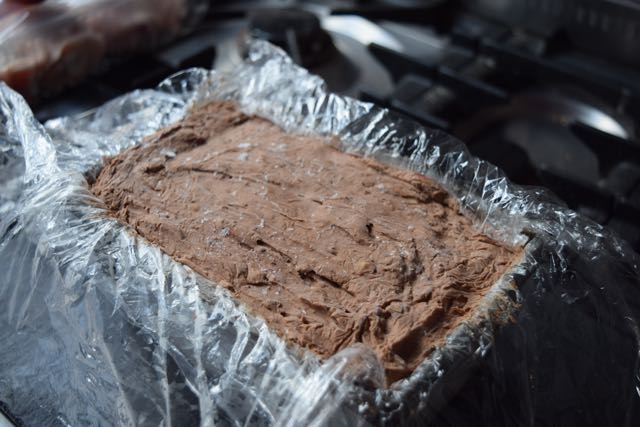 Remove the cling and leave for ten minutes before cutting into elegant slices. Shave a little extra chocolate as a garnish and have some extra pouring cream if you fancy.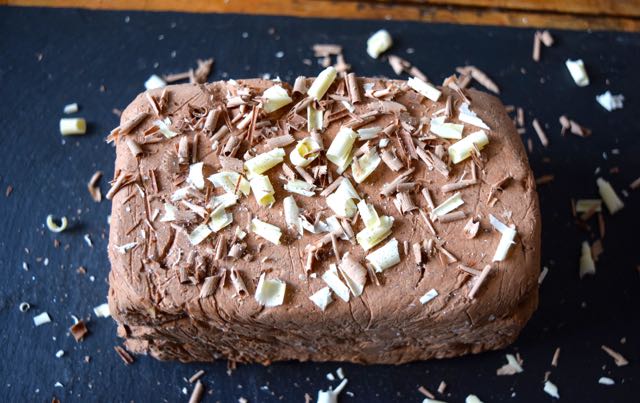 My semi freddo had a touch of cellulite, but then, none of us are perfect.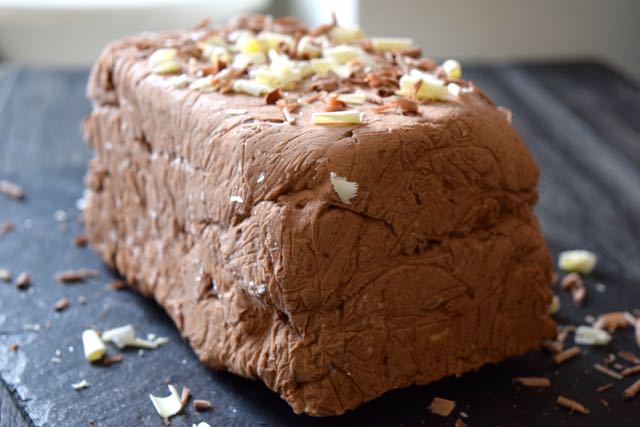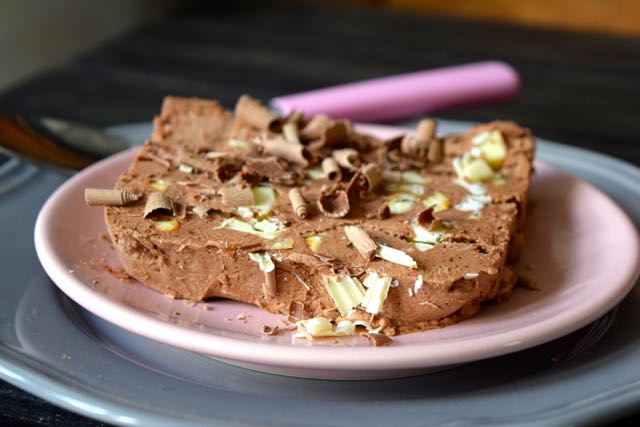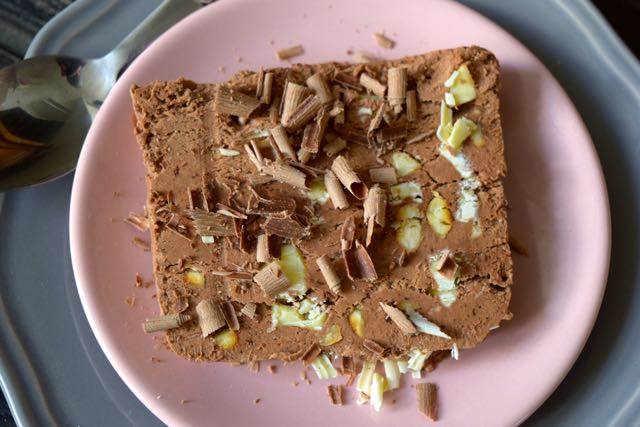 This rich, iced dessert is sublime. Frozen mousse which melts in your mouth, what a perfect dinner party dessert summer or winter, kitchen or no kitchen.
Lucy x
Chocolate and Almond Semi Freddo Recipe
Serves 6 to 8, maybe more
You will need a 1kg loaf tin, lined with cling film and a hand whisk or stand mixer
275g dark chocolate
4 eggs
100g caster sugar
500ml double cream
1 teaspoon vanilla paste or extract
100g almonds, lightly toasted
100g white chocolate chips or chopped chocolate, optional
Extra grated chocolate for decorating and double cream for pouring
Line your loaf tin with cling film, generously, leaving some to fold over the top. Heat a small frying pan over a medium heat. Add your almonds and toast, without oil, for 2 to 3 minutes or until starting to toast and smell fragrant. Pop to one side then once cooled, chop into small-ish pieces.
Take a bowl and melt the dark chocolate in the microwave or over a pan of simmering water. Stir until smooth then leave to cool for 5 minutes.
Whisk the eggs and sugar, either with a hand whisk or stand mixer. You want them to be light, fluffy and to hold a trail when you lift the whisk, this will take about 3 to 4 minutes.
In another bowl, whisk the cream and vanilla until just holding soft peaks.
Fold the melted chocolate into the eggs and sugar mixture, don't over do this as you want to retain some of the air. Next, carefully fold in the cream, then add the chopped toasted almonds and optional white chocolate. Spoon the mixture into the lined loaf tin, smooth the top then cover with the overhanging cling film. Put in the freezer until completely set, this will take around 5 hours, or leave over night or for up to two weeks.
When you are ready to serve, allow the semi freddo to sit out of the freezer for 10 minutes before serving in elegant slices, garnished with chocolate shavings and extra pouring cream if you wish. This will keep in the freezer for two weeks.