Chocolate Toffee Tart Recipe
Last week I guiltily treated myself to a couple of new cookery books. I have an awful habit of buying cookery books regardless of the fact I have a huge bookshelf full of them already. I get distracted by new food fads and end up buying all the latest books in an attempt to keep up with the trends.
This week in my bundle of new books was Amelia Freer's Eat Nourish Glow. This is a beautifully styled book with some fascinating healthy eating advice. Amelia is a nutritional therapist who advises you keep a food diary then to try and eliminate processed foods, dairy, gluten and sugar.  So, today, I am sharing a recipe which would give poor Amelia a funny turn. This Chocolate Toffee Tart would, sadly, never feature in one of her books in a million years, but frankly, that's her loss. This tart is delicious and has real star quality.
This Chocolate Toffee Tart has a crisp biscuit base, soft toffee filling and a chocolate glaze. It started life as a recipe from Delicious, thank you for the inspiration. I did try making the toffee/caramel filling as per the recipe, however, it involved using a thermometer and boiling the mixture for 20 minutes. Which I did and then burnt the bloody hot sticky mess at the last minute. In order to retrieve my buggered dessert, I melted two bags of my beloved supermarket toffees and the tart was just as amazing, if not better and there wasn't a thermometer in sight.
I love a new pudding offering and this is now featuring a lot in our house. Once you have tried this I fear you will feel the same. Your guests will not thank you for the tighter waistband, but will certainly be asking you for the recipe.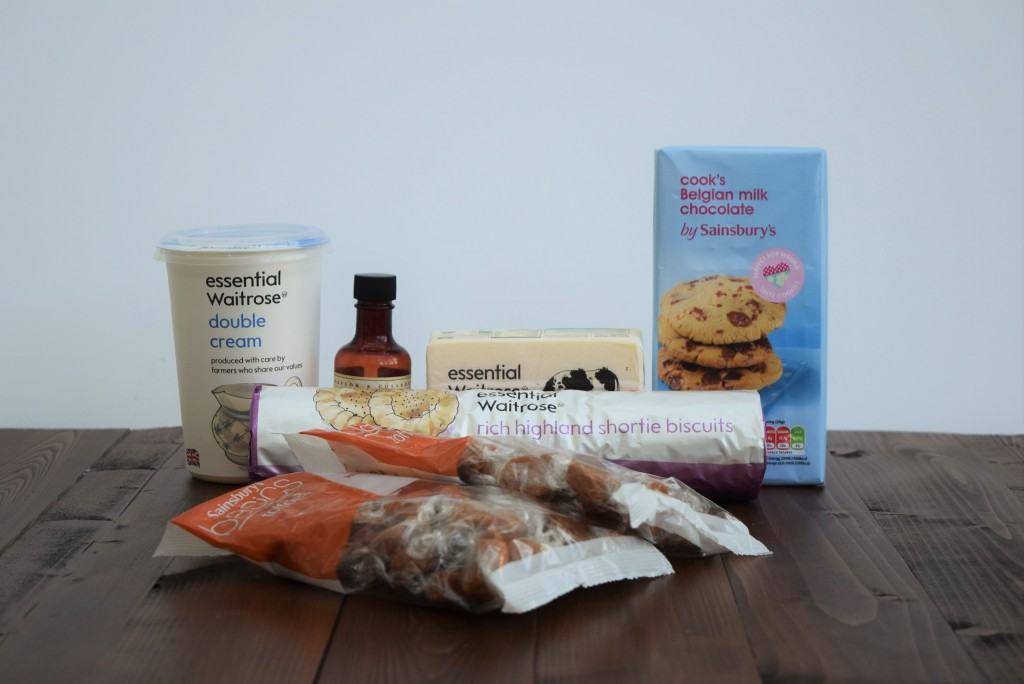 Here's the simple line-up for this wonderful tart. Nothing a nutritionalist would approve of, but everything your sweet tooth will love.
Make a start by really well buttering/oiling/spray coating your tart tin and pre heating your oven to 160 degrees.  I used a long rectangular tart tin as it had been redundant in my cupboard for ages. You could probably use a round or square tin too, but you may need a bit more base.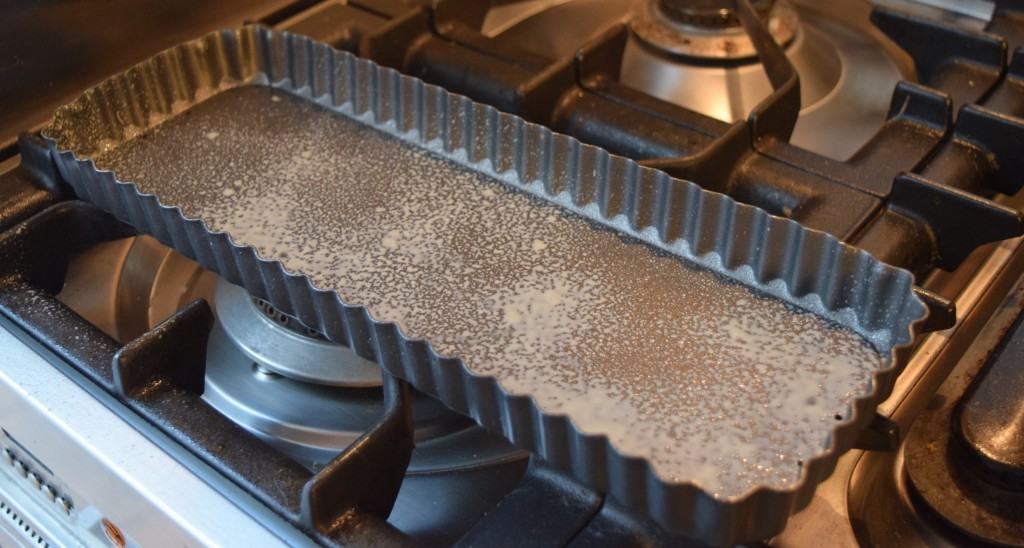 Next, either in your food processor or in a bag with a rolling pin, crush the biscuits to a fine crumb-like texture.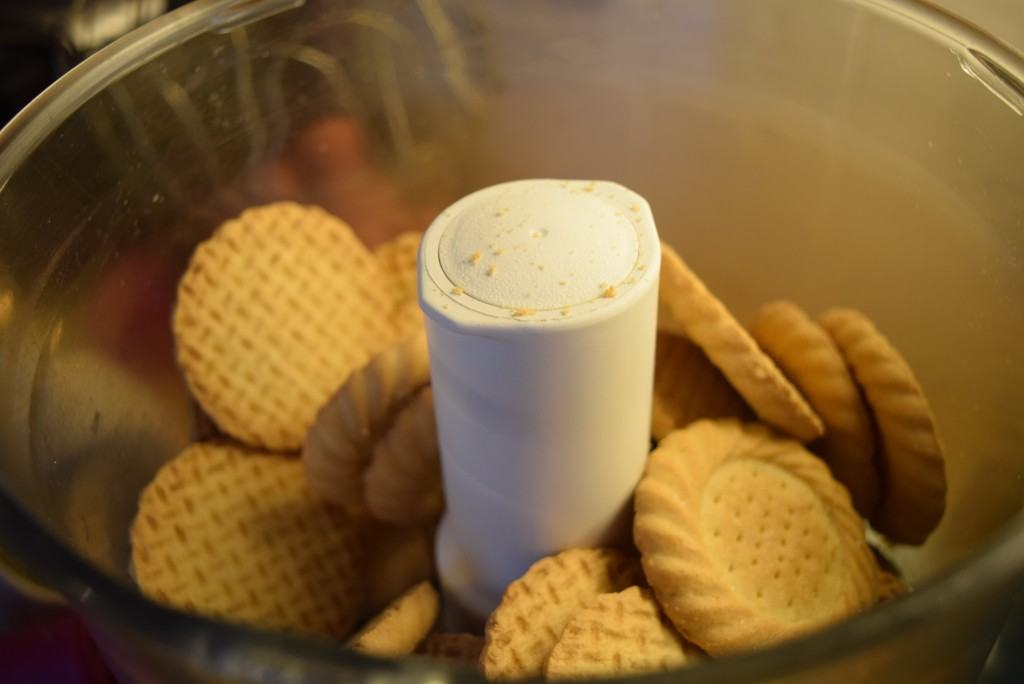 I ate at least four of those. I love a cheap biscuit.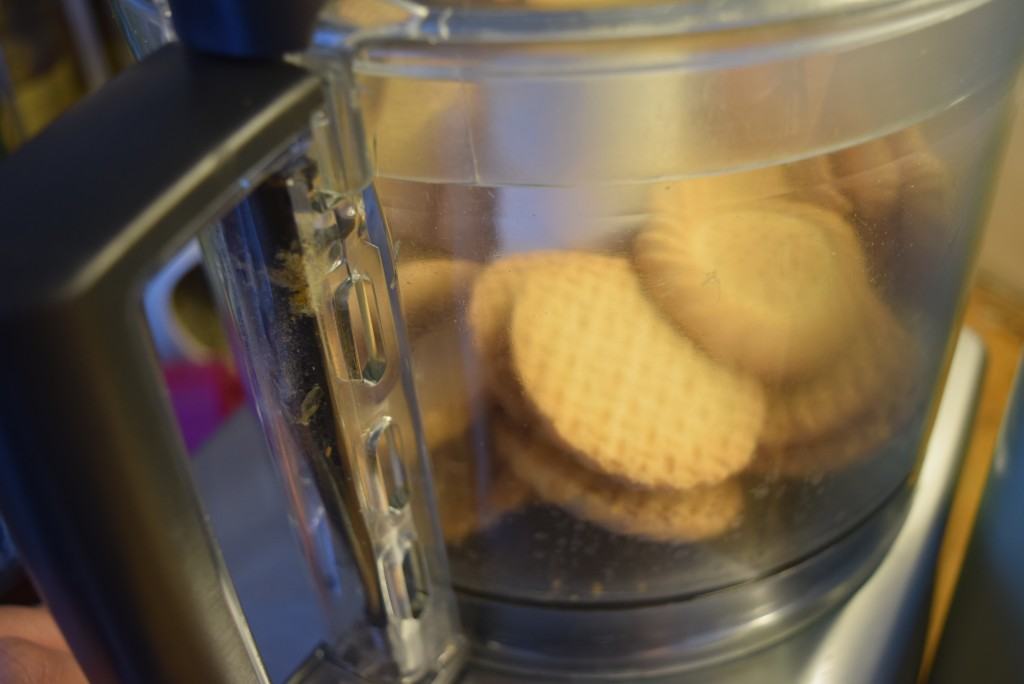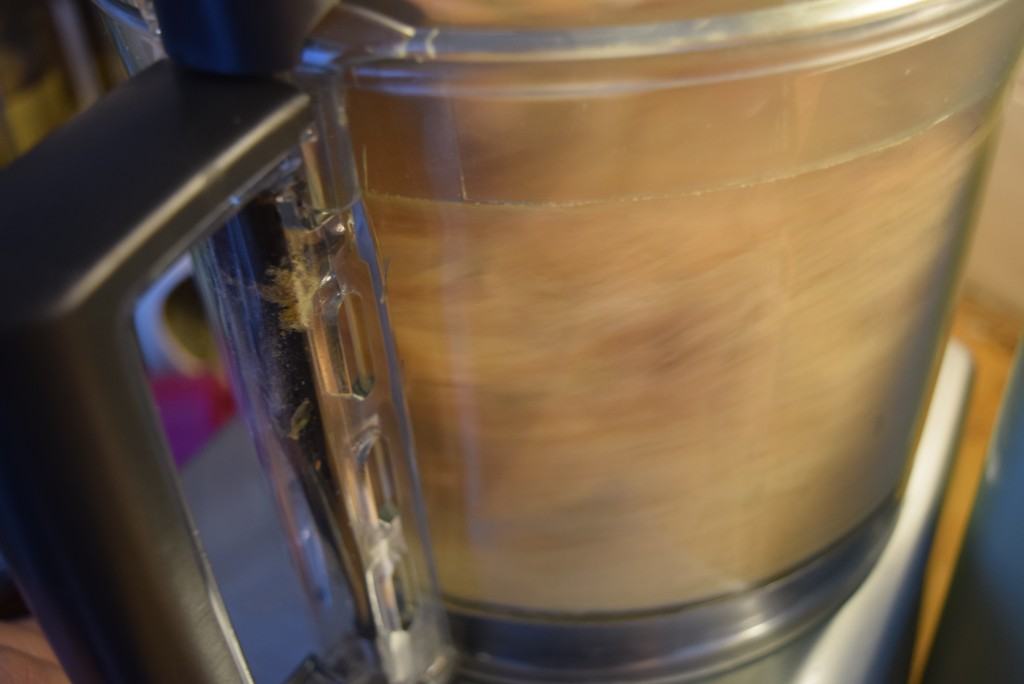 Melt the butter then pour this onto the biscuit crumbs. Process or mix until it resembles *eeeek* moist sandy crumbs.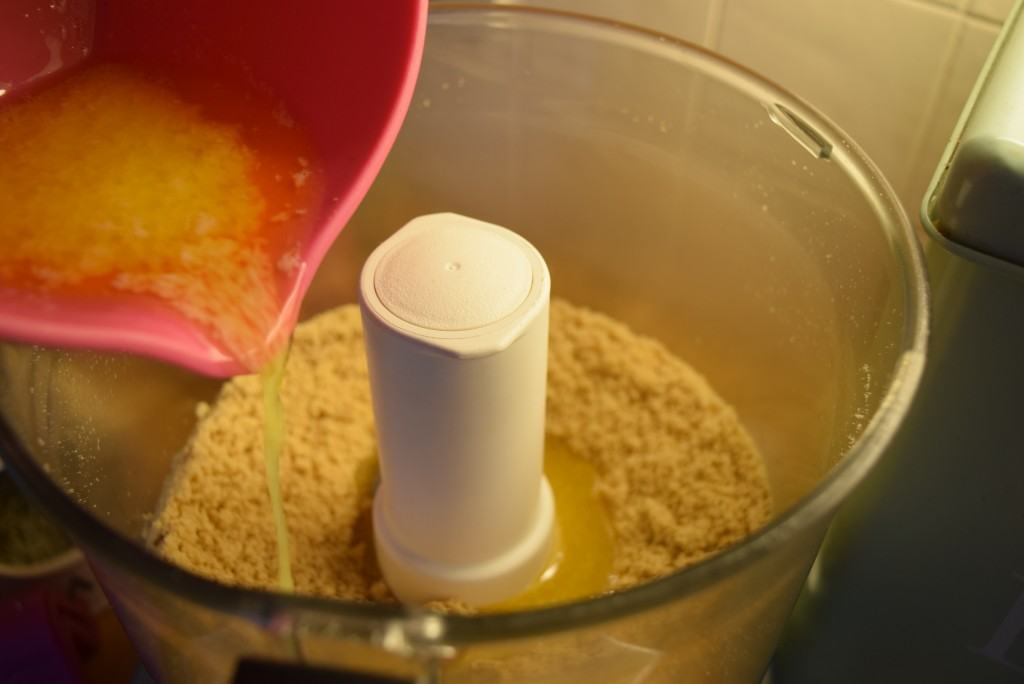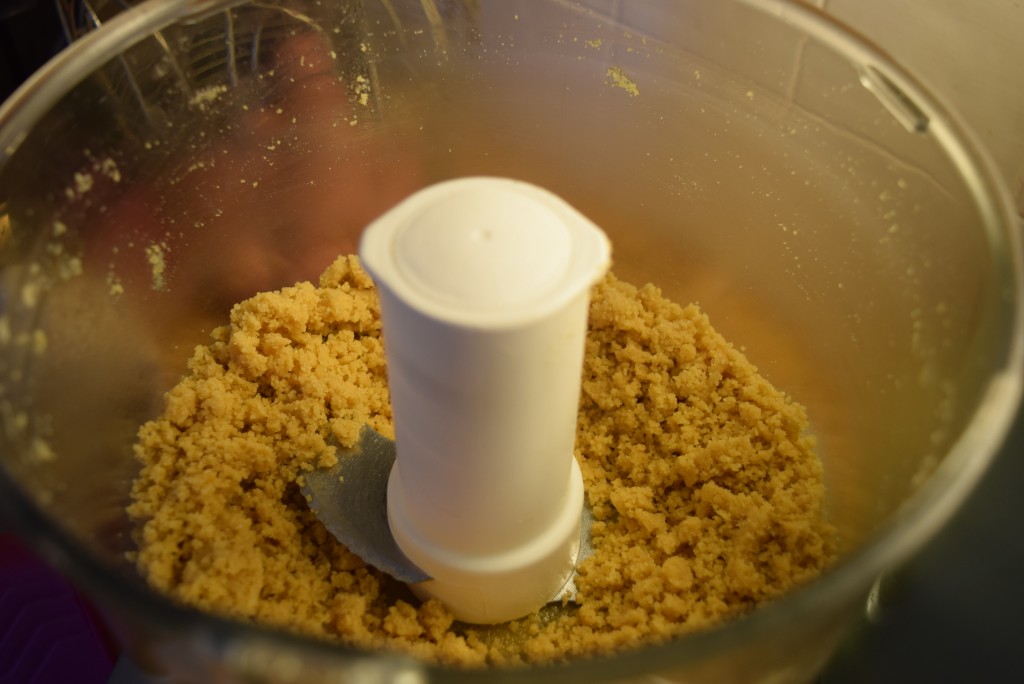 Tip these warm, sweet crumbs into the well oiled tart tin and press into the corners and smooth the surface with the back of a spoon.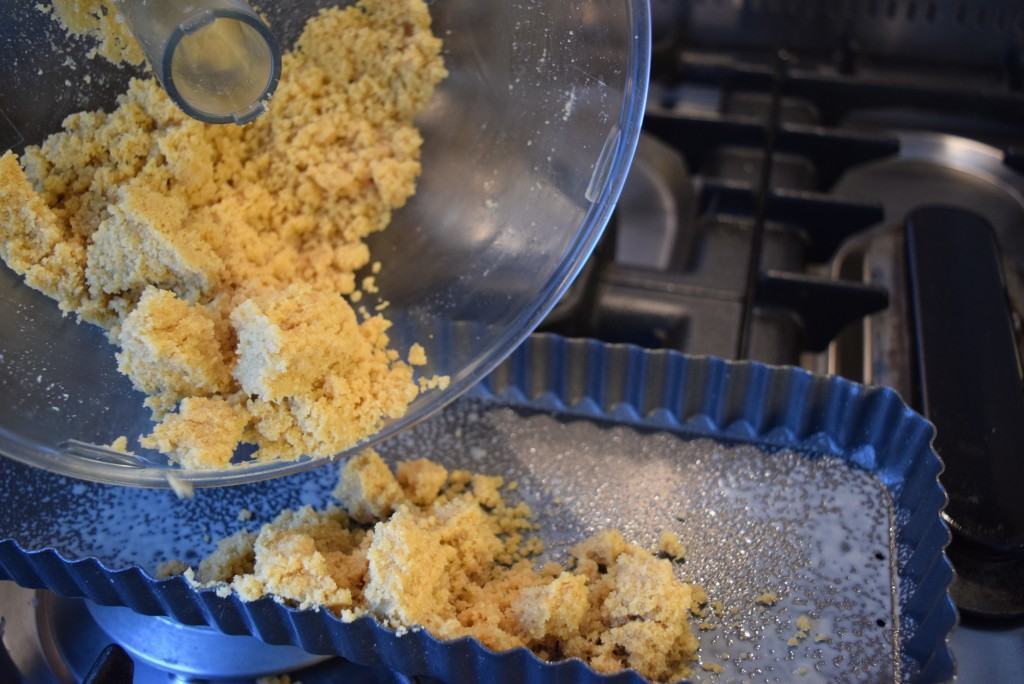 I missed the tin whilst taking this photo and my crumbs ended up all over the place.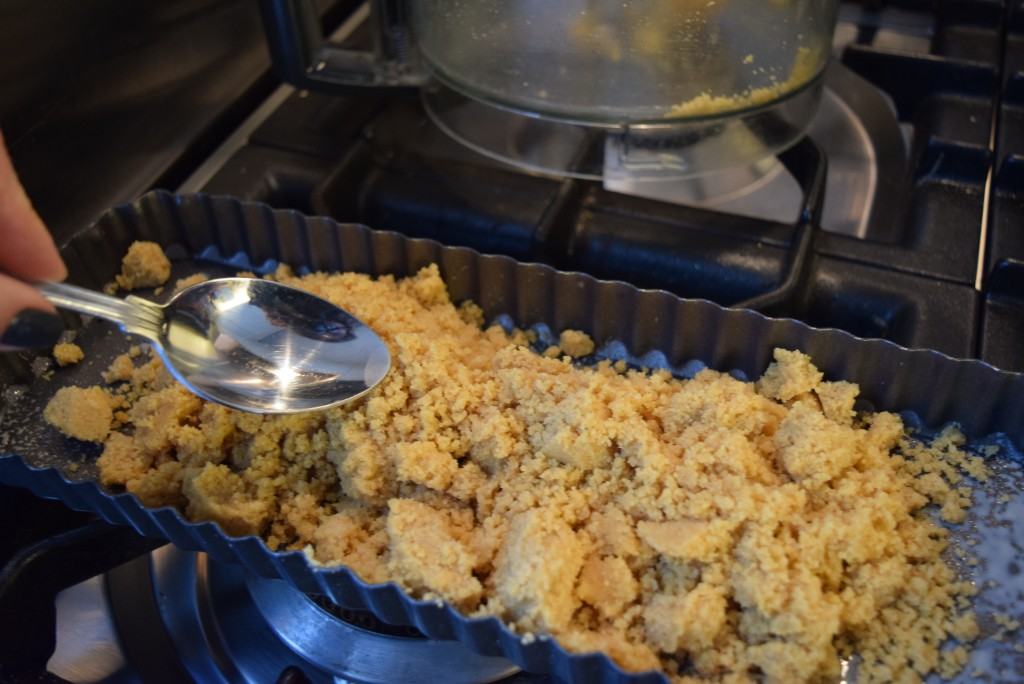 Pop this base in the oven for around 10 to 15 minutes, until smelling wonderful and just starting to brown.
Whilst this is cooking, unwrap all the lovely toffees, a tedious task I have to say, and put them into a heatproof bowl. Pour on the cream and vanilla then either microwave or heat over a pan of simmering water until the toffees are melting together.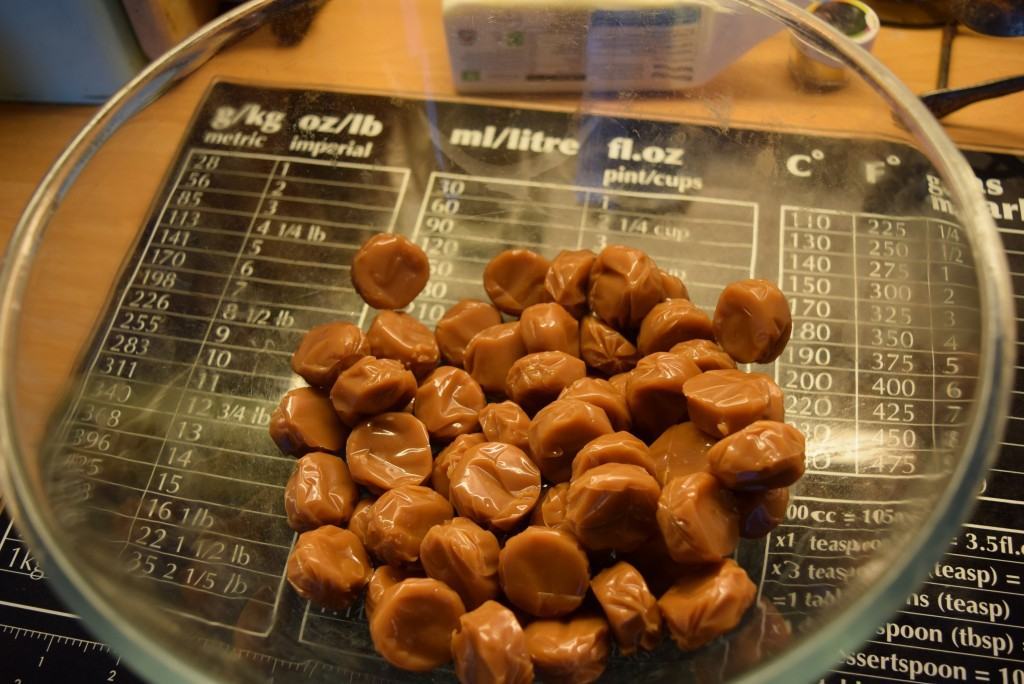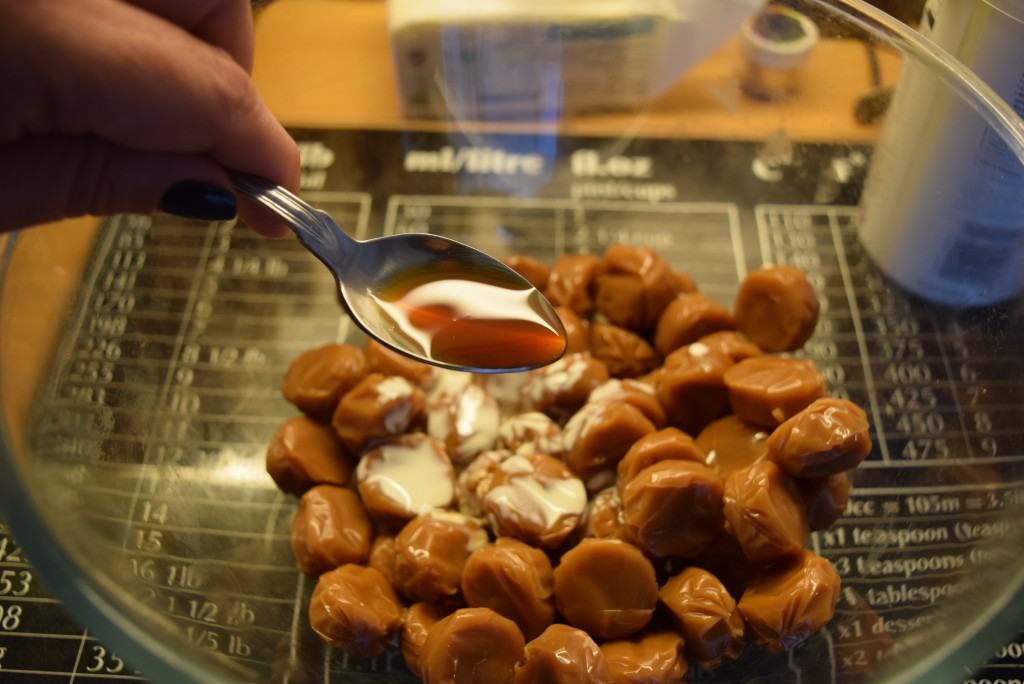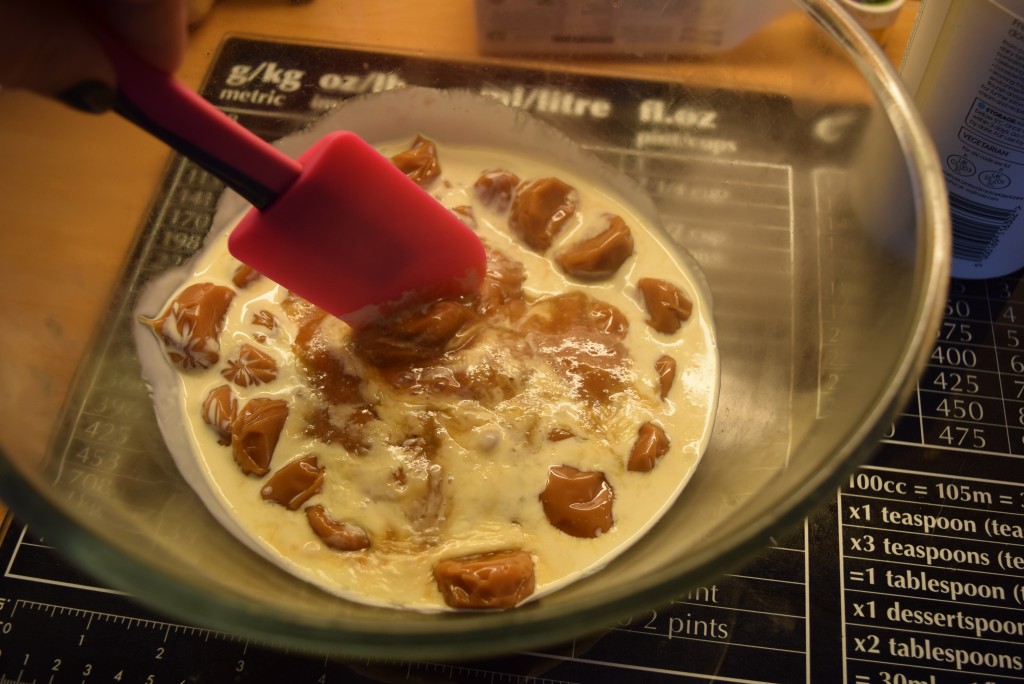 Give the mixture a really good stir until you have a smooth golden caramel. Pour this onto the now crisp, baked biscuit base.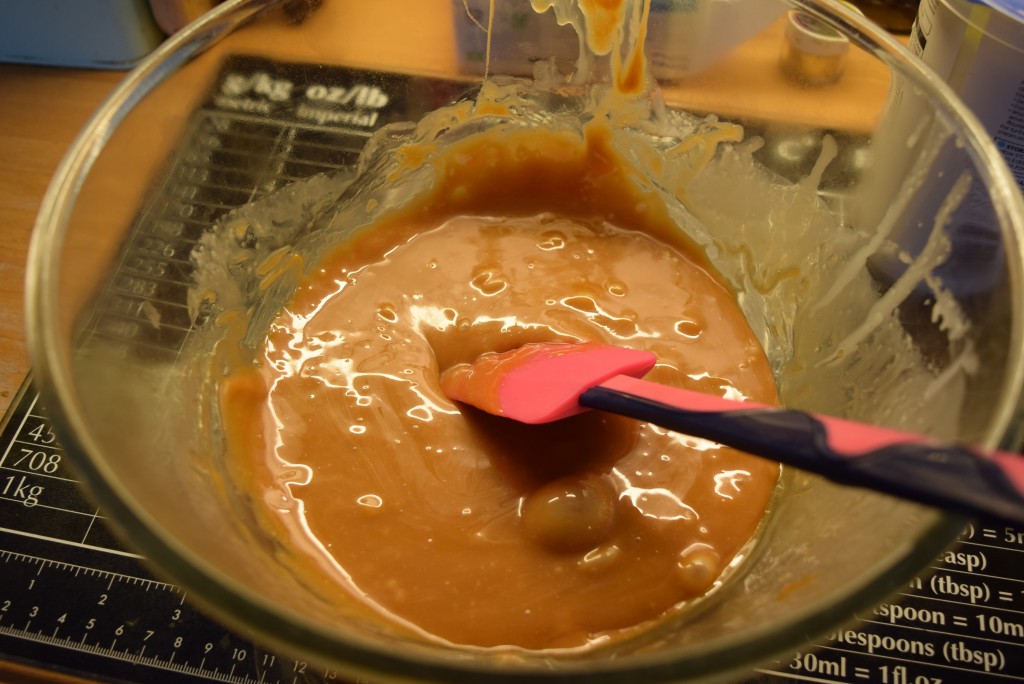 I made a brilliant mess of the bowl, well done me.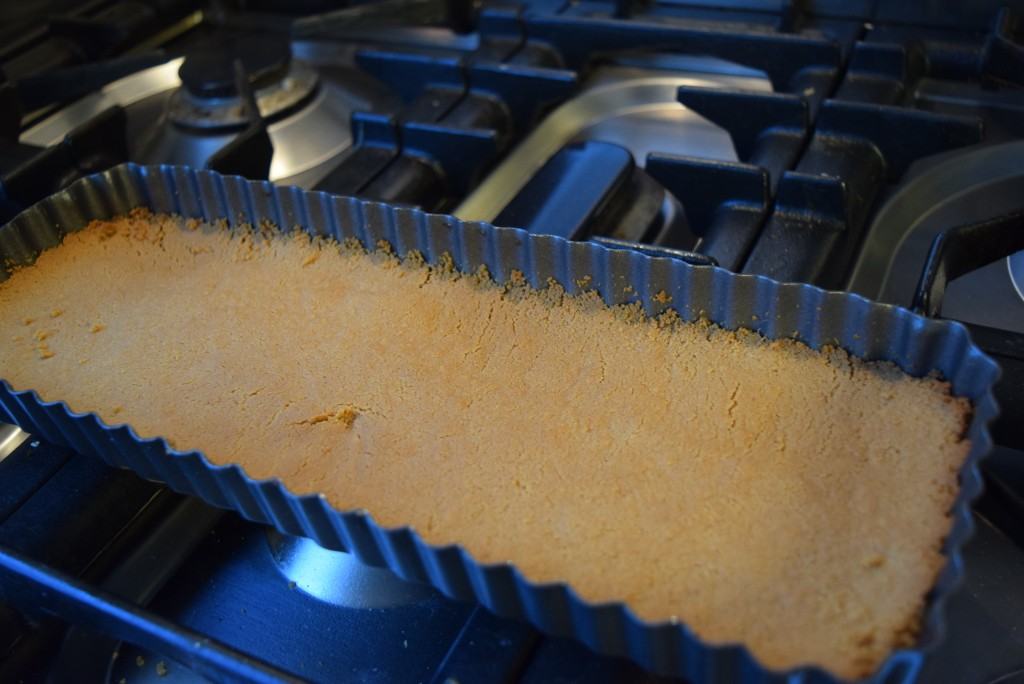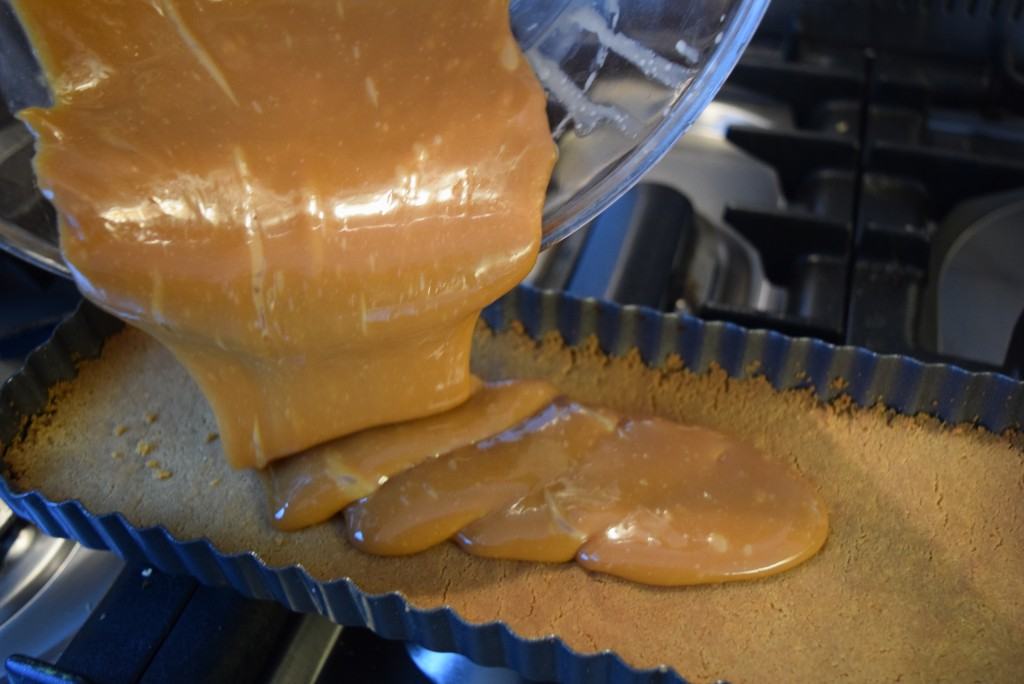 Toffee porn.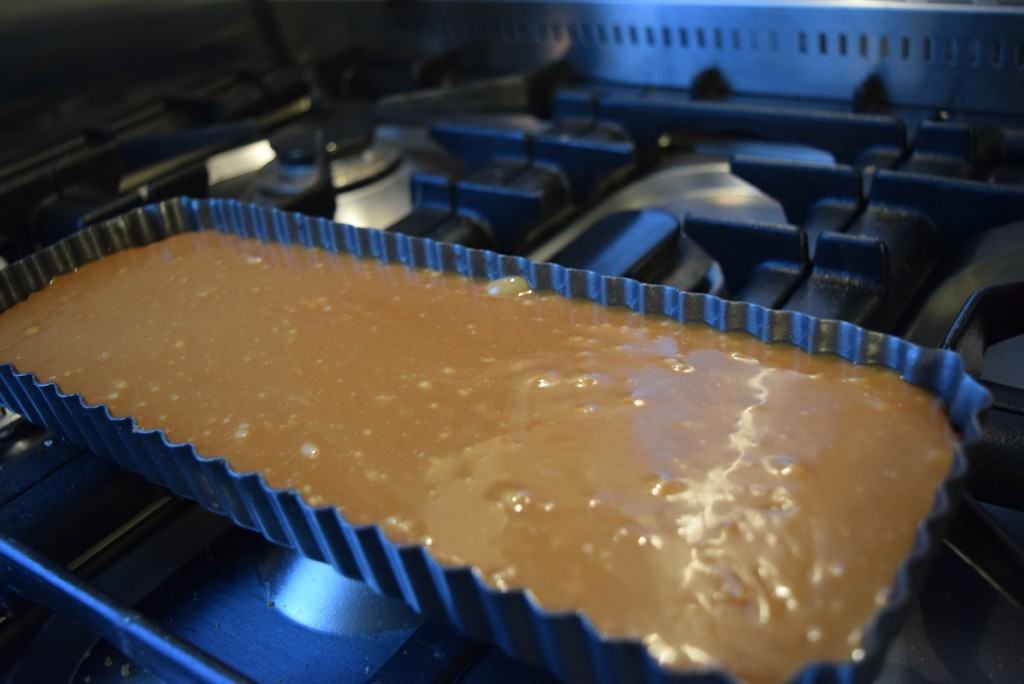 Leave this wonderful toffee layer to cool and set while you make the chocolate glaze.
Put the chocolate in a heatproof bowl with the double cream and vanilla. Pop this in the microwave for just less than a minute or over a pan of simmering water, until the chocolate and cream are melding together.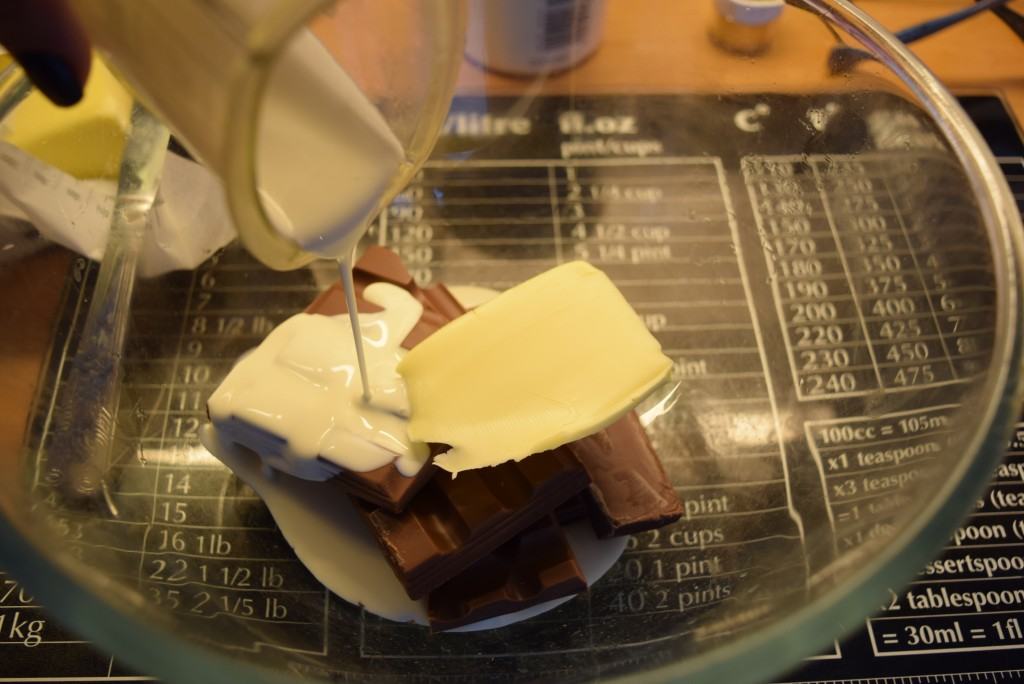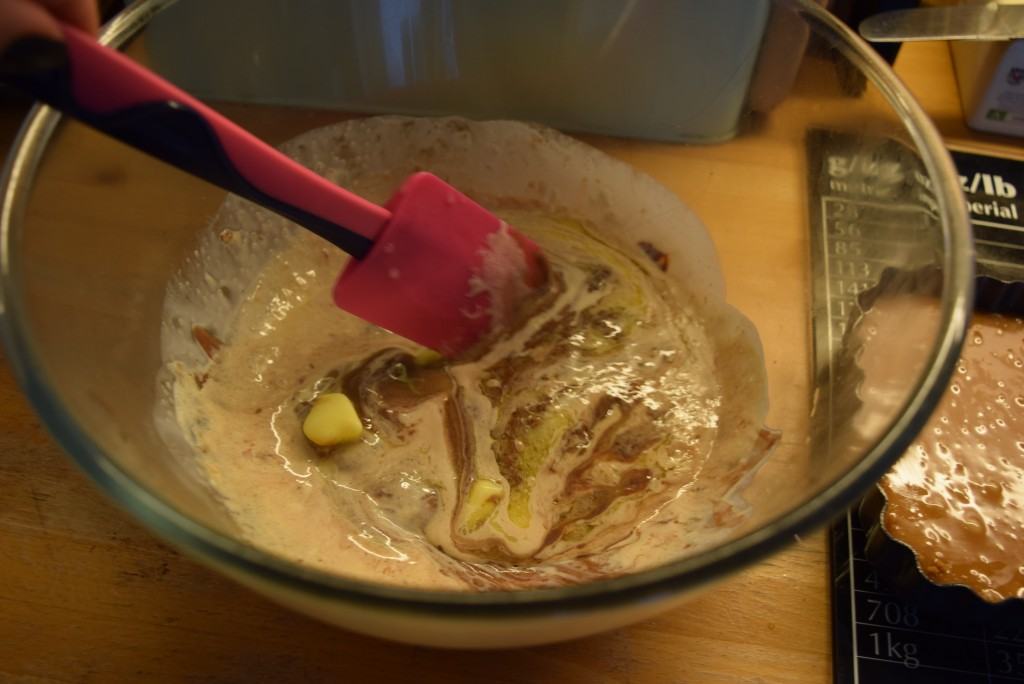 Stir this chocolatey glaze until shiny and smooth. A tiny tip here, if your glaze looks as if it's starting to split, add a splash of cold cream and stir again, this should retrieve the situation.

Once the toffee is set firm, pour on the chocolate glaze and leave to set in the fridge until you are ready to eat, or at least a couple of hours.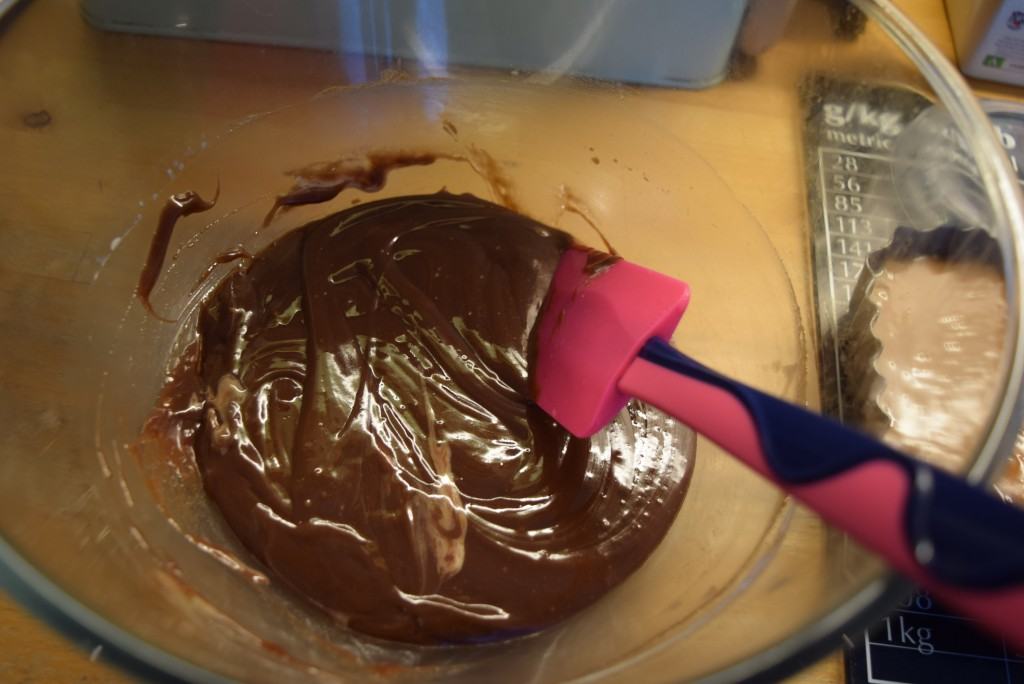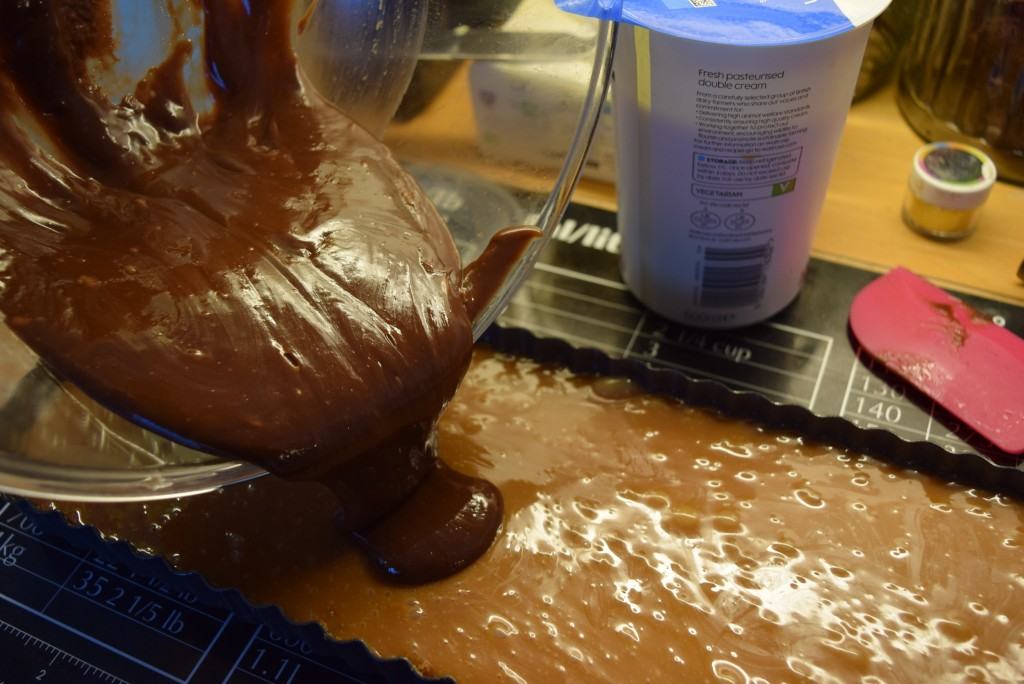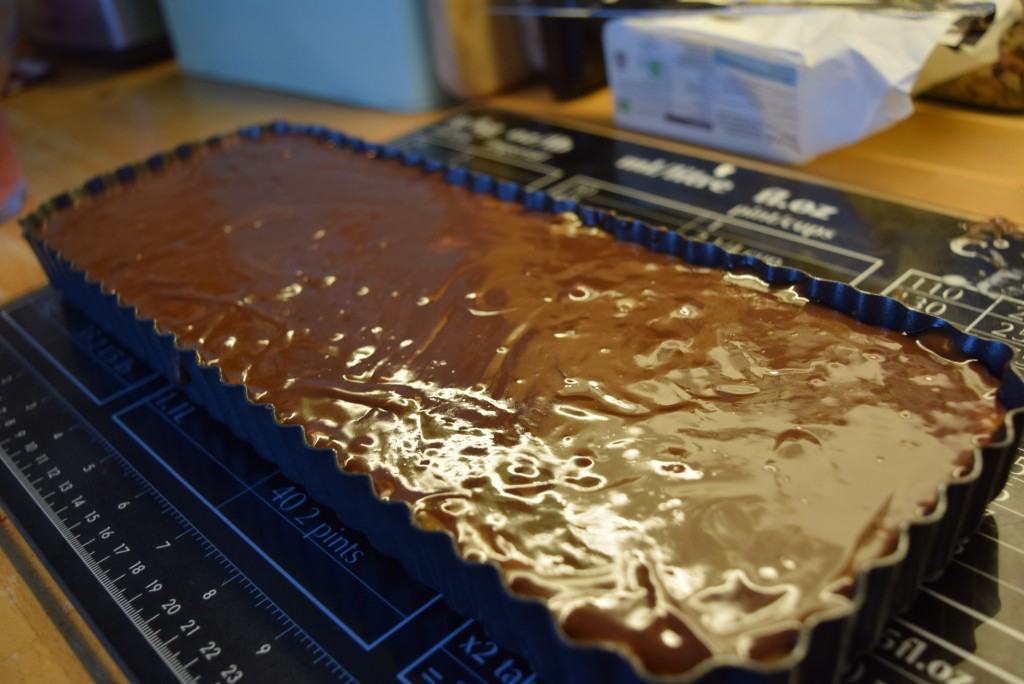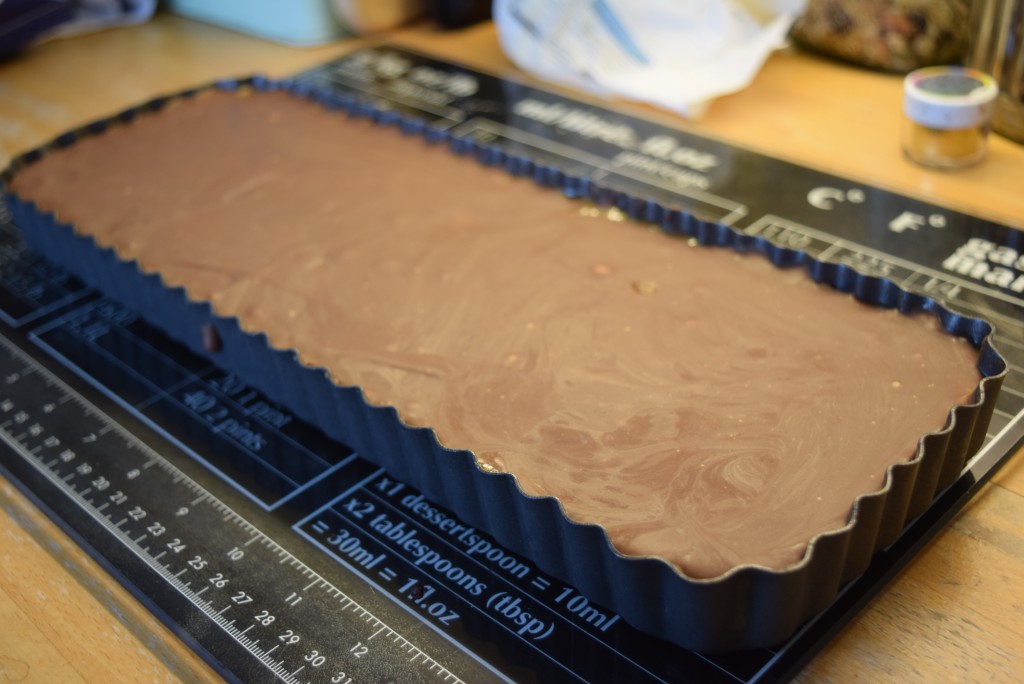 Before serving, leave the tart out of the fridge for around 10 minutes to soften slightly. Carefully ease it out of the tin, a slightly hairy moment I have to say, but I managed not to drop the tart on the floor.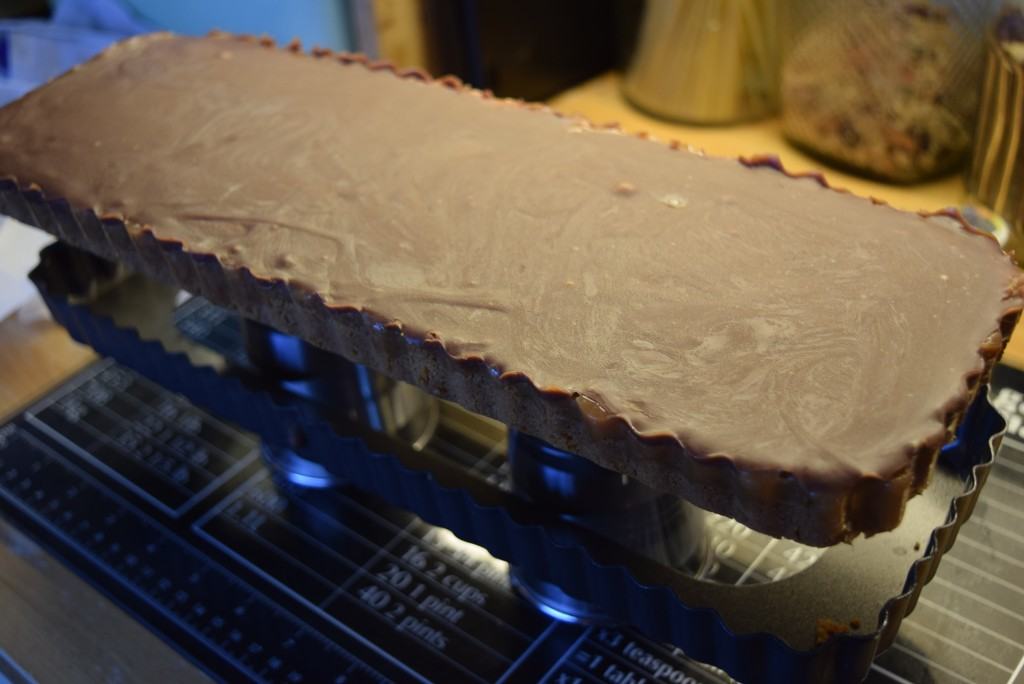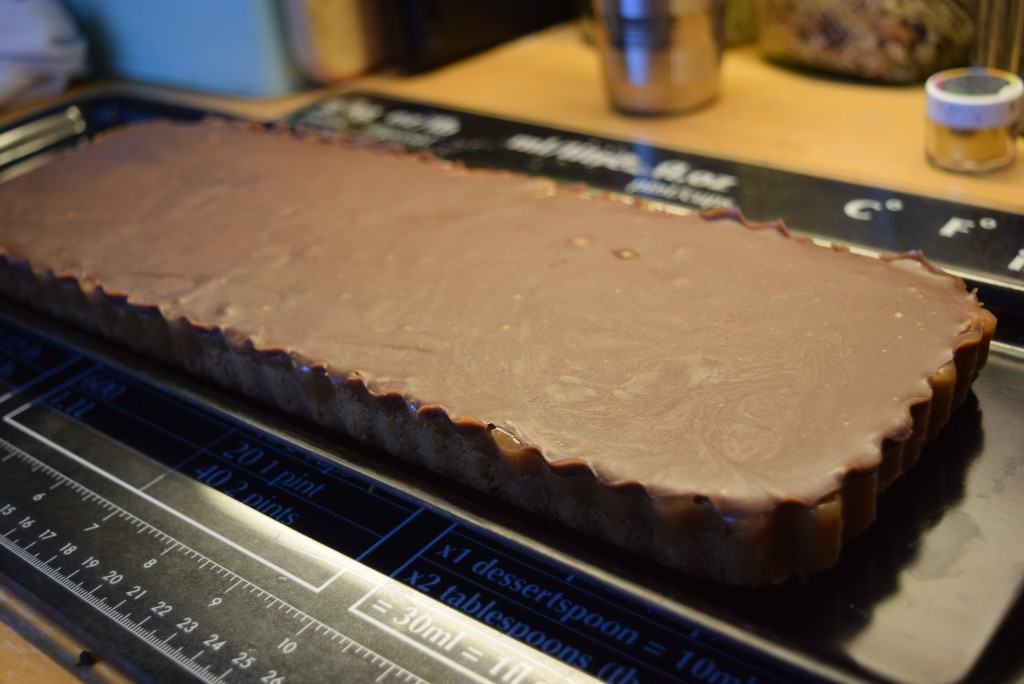 Serve in slim finger slices or big slabs, elasticated waist trousers permitting.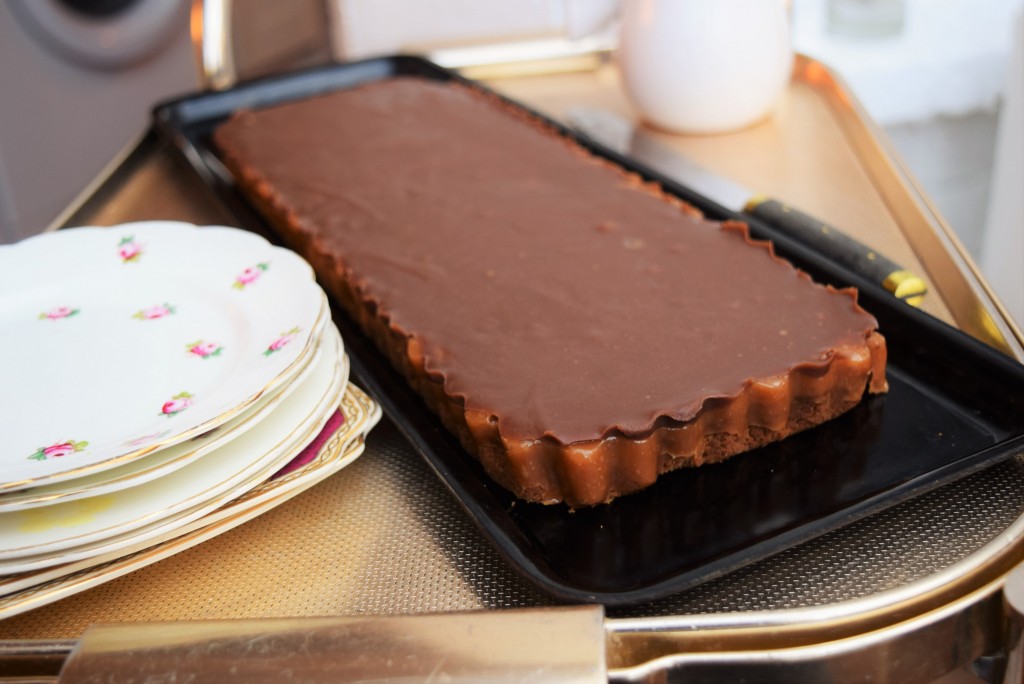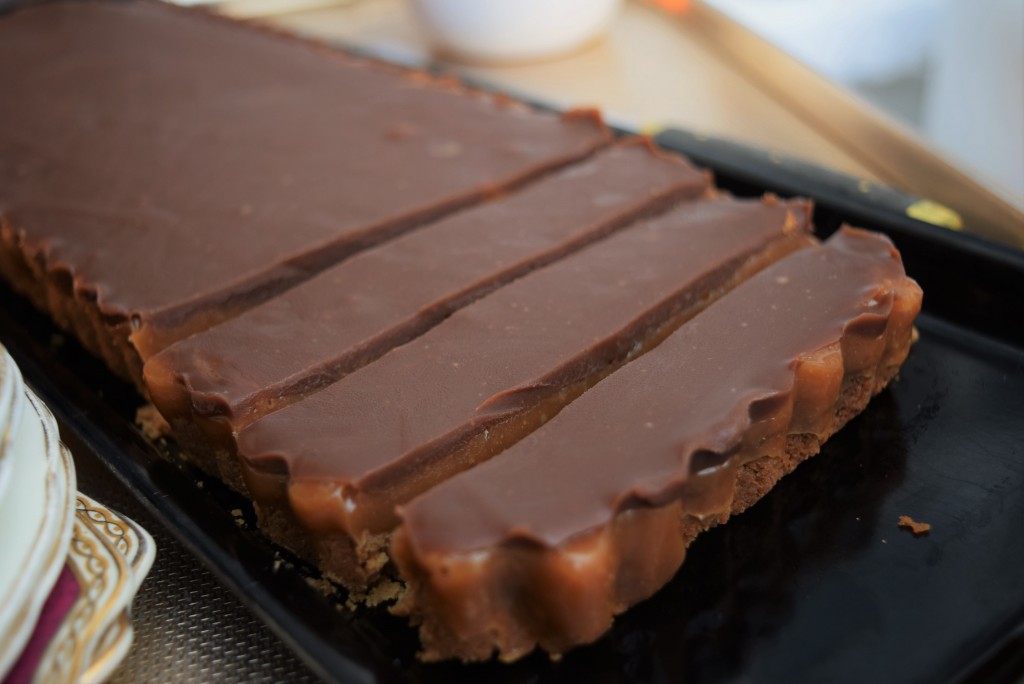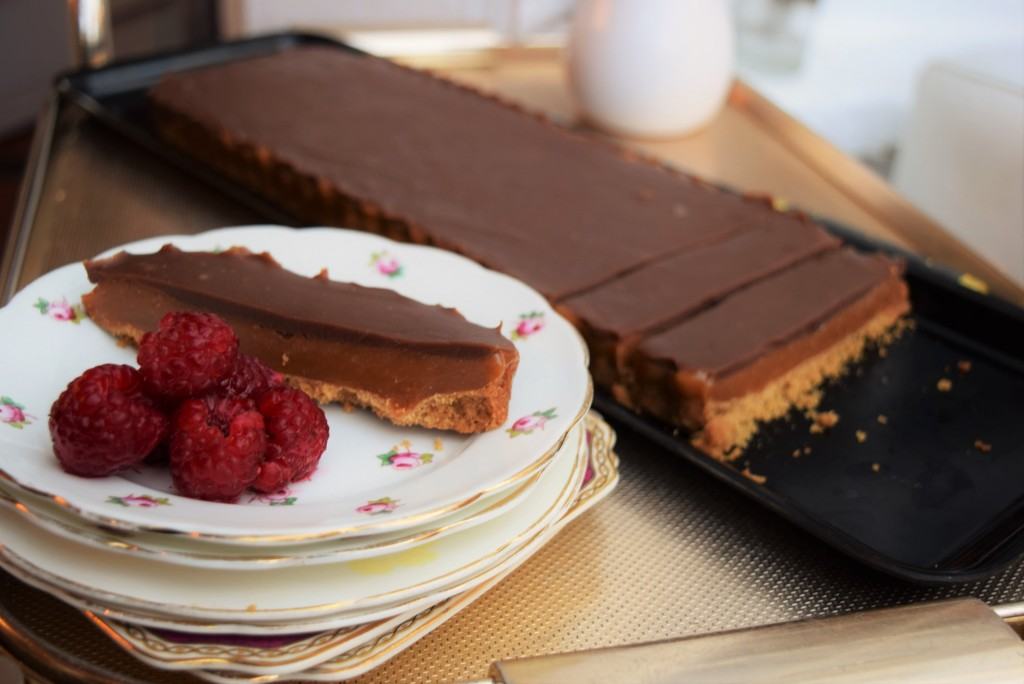 Look at me trying to introduce one of my five a day into this dessert.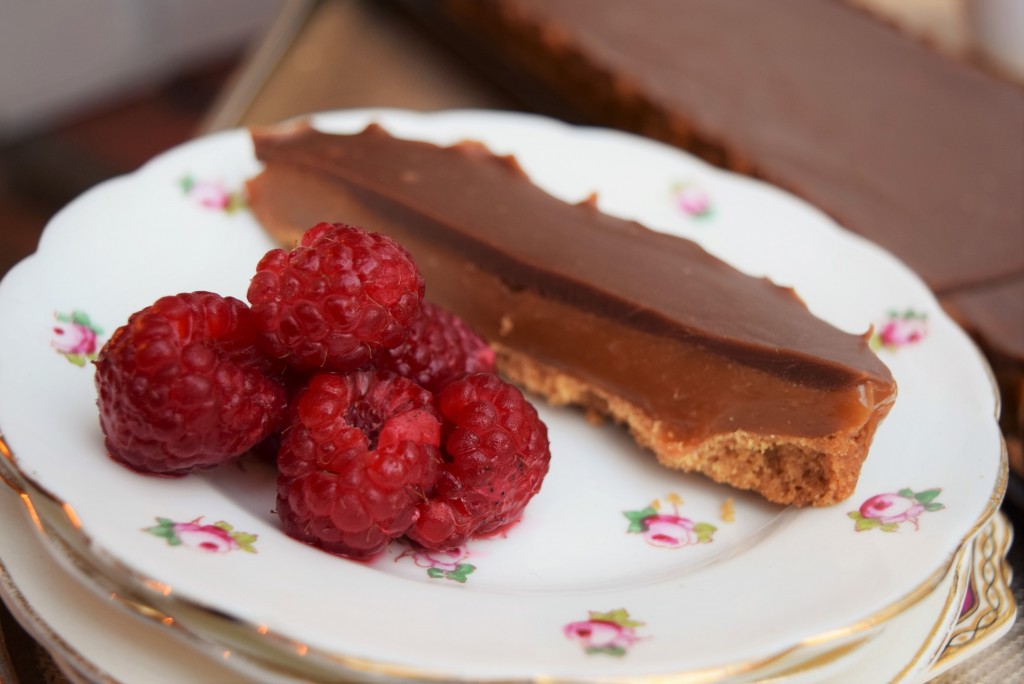 I know this pudding is not going to win any awards for nutritional value. But it is completely tasty and will wow your diners and they will be your friends forever. And, as the old adage goes, a little of what you fancy does you good. And I promise I will try and live my life a little more like Amelia Freer one day. *I'm lying*.
Lucy x
Chocolate Toffee Tart Recipe
Makes one long tart, my tin was 36cm x 12cm
Serves around 8 people, slice size dependent

Base
225g shortbread biscuits, I have also used coconut rings, they were brilliant
75g butter, melted
Toffee
2 x 250g bags toffees
6 tablespoons double cream
1 teaspoon vanilla extract
Chocolate
200g milk chocolate (or half milk half dark chocolate)
75ml double cream
a knob (15g-ish) butter
Pouring cream and fruit to serve, if you fancy it
Pre heat the oven to 160 degrees fan assisted.
Start by buttering your tart tin very well, getting into all the fluted bits as this mixture will stick. Then add the biscuits to your food processor and process into crumbs, or put them in a food bag and bash with a rolling pin. Melt the 75g butter then pour onto the biscuits and process again until the mixture clumps into wet crumbs. Tip the crumbs into your tart tin then press the mix into the corners, smoothing until it's level. Put this into the oven for 10 to 15 minutes until just starting to lightly brown.
While the base is cooking, unwrap the toffees and place them in a heatproof bowl. Pour in the 6 tablespoons of double cream and vanilla extract then microwave or melt over a pan of simmering water until the mixture is starting to meld together. Give it a good stir to ensure there are no lumps then pour this onto the now cooked biscuit base. Leave this to cool until the toffee is just set firm.
Once this has cooled, take your heatproof bowl again and add the chocolate, cream and knob of butter. Melt this in your microwave for around 50 seconds or over a pan of simmering water until just starting to melt. Stir the chocolate mix until glossy then pour onto the firm toffee base. Smooth the surface to cover the top then pop in the fridge for a couple of hours until well set.
When you are ready to serve the tart, take it out of the fridge for ten minutes then remove carefully from the tin. Serve in delicate slices, as it's super rich. This will keep in the fridge for up to 5 days.