Christmas Turkey Croquettes Recipe
So, to summarize my Christmas thus far, I am fat and exhausted. And I expect you are too, exhausted not fat that is, that would be rude of me. And if we are opening the Christmas can of worms, I am almost in tears every time I open the fridge as the leftover mountain just does not seem to be receding. Every meal just creates more bloody leftovers which I feel guilty about whenever I look at them.
So, here I am with my Fairy God Mother's wand to help get rid of some of your EU leftover mountain. These delicious Christmas Turkey Croquettes are similar to my favourite dish my mother used to make with our leftover festive turkey and ham. I loved her turkey soup, I enjoyed her turkey pie but I really really really adored her turkey croquettes. They are soft, so full of flavour with a crisp exterior. I know they are fried and that's probably not the healthiest choice of cooking techniques, but for goodness sake it's Christmas. I promise to post something kale based in January to make up for it.
My mother couldn't find her original recipe so I based mine on this one from the inimitable Food and Wine website, with thanks. It will get rid of at least 350g of your cold meat selection, so that's a tiny corner of your fridge freed up, so what's not to like. And they are delicious and can be served as either a lunch dish or as a brilliant nibble for pre dinner drinks or parties. Versatile, original and a fridge clearer – I hope you adore these tasty croquettes as much as I do.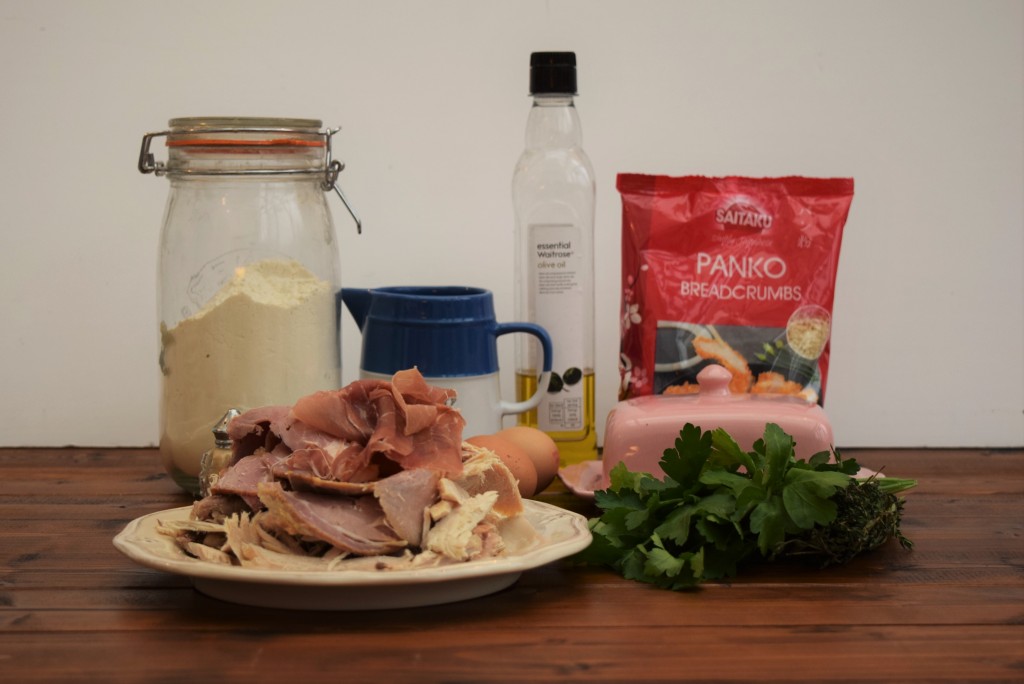 Here's the selection of store cupboard ingredients needed for these Christmas Turkey Croquettes. You can, of course, adapt these to suit your leftovers. I had these meats and herbs in my fridge so they were my choices. I added a bit of leftover parma ham too for extra saltiness and it was taking up too much space.
Make a start by chopping the turkey, ham or meats of your choosing into bite sized pieces. Heat a good sized frying pan over a medium heat and add the oil and butter.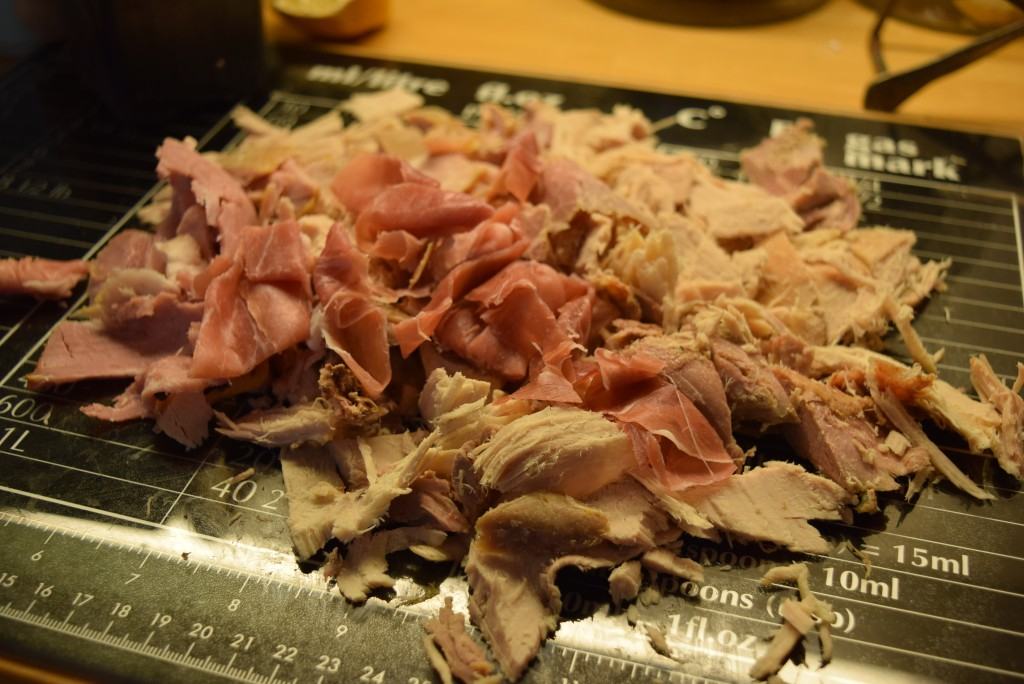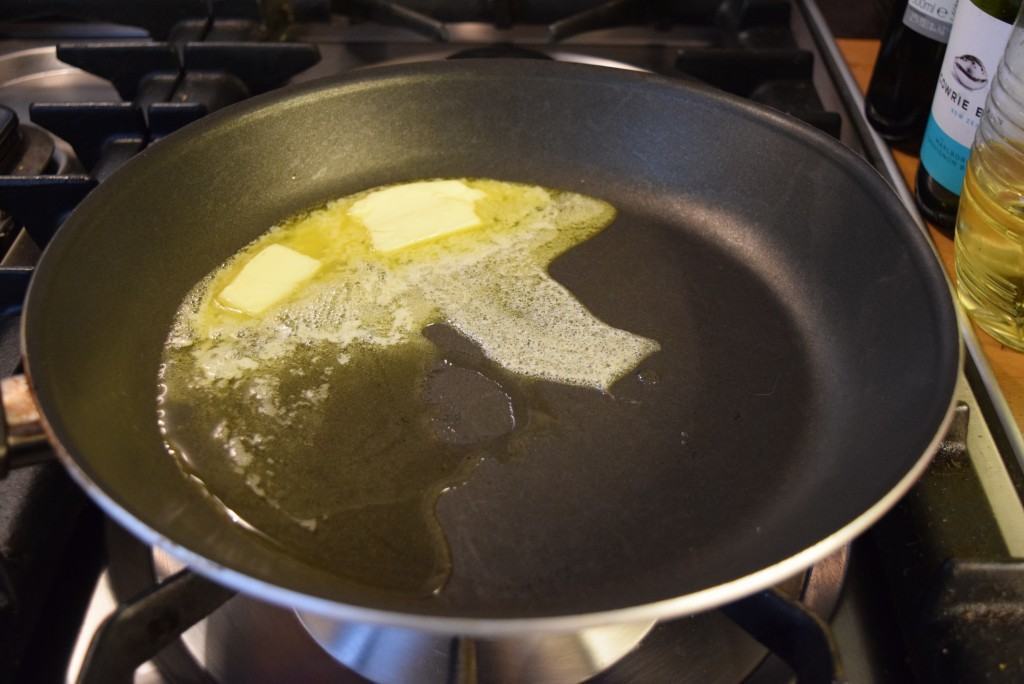 Once these have melted add the meats and cook off for around 3 to 5 minutes. Stir through the flour, season and cook again for a minute or two.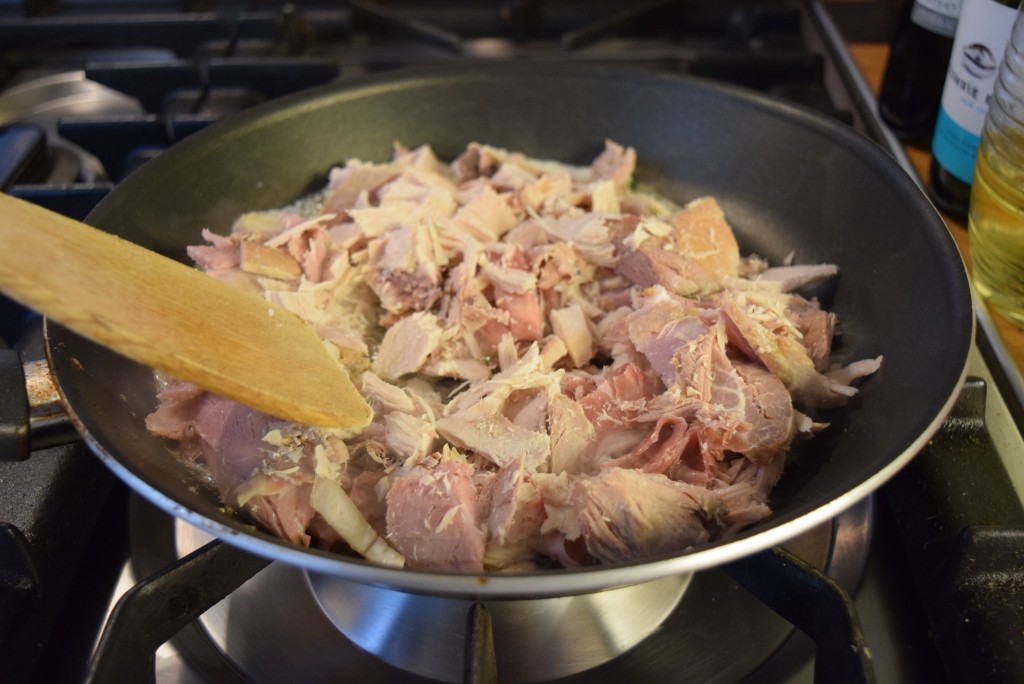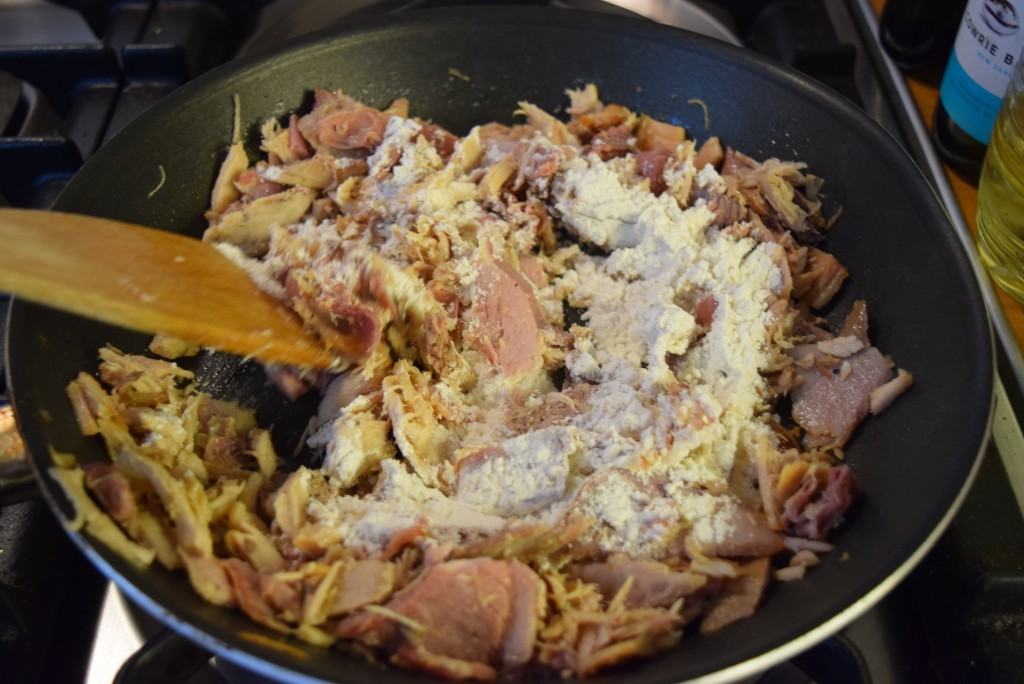 Gradually add the milk, bit by bit, until the meats are coated in a thick sauce. Add the chopped parsley and thyme and check for any additional seasoning needs.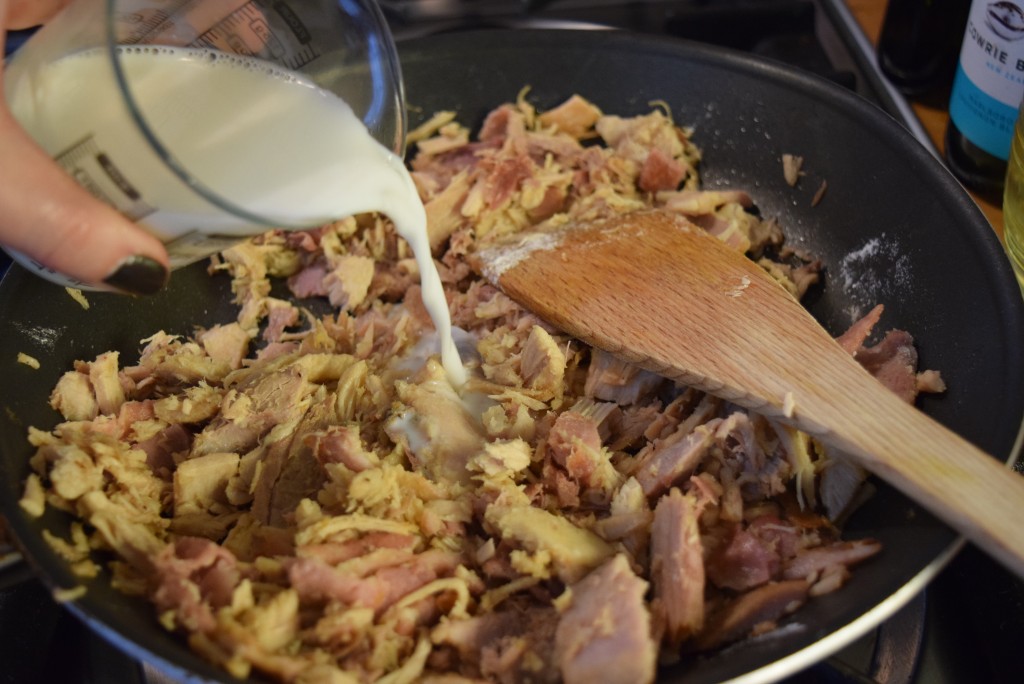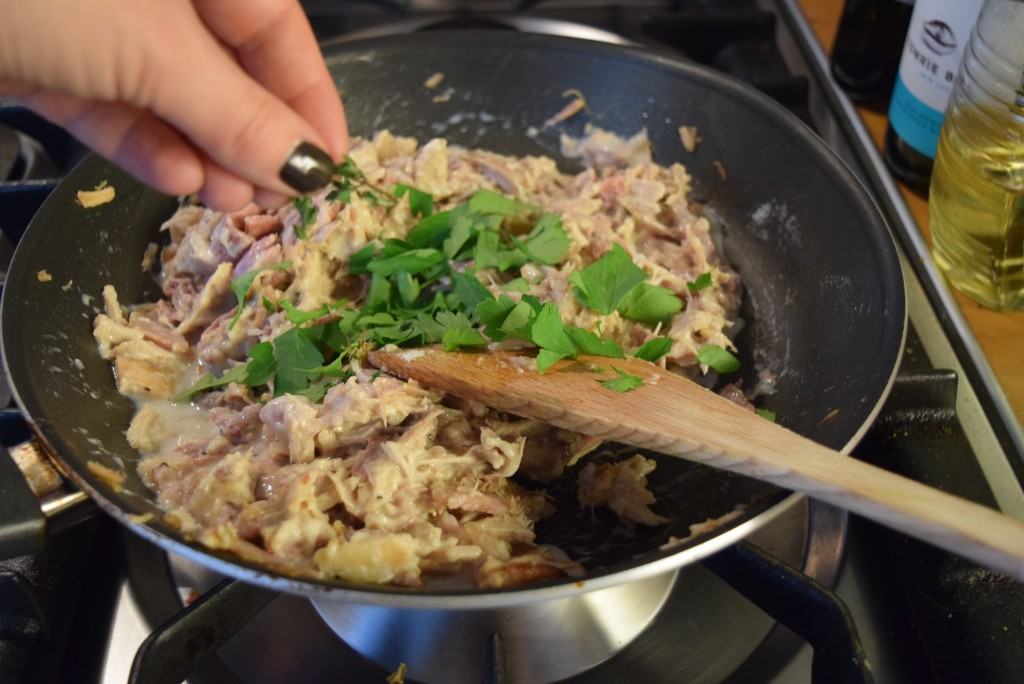 Leave the flavoursome croquette base to cool in a container in the fridge or freezer, if you are in a hurry *always*, until thoroughly cooled.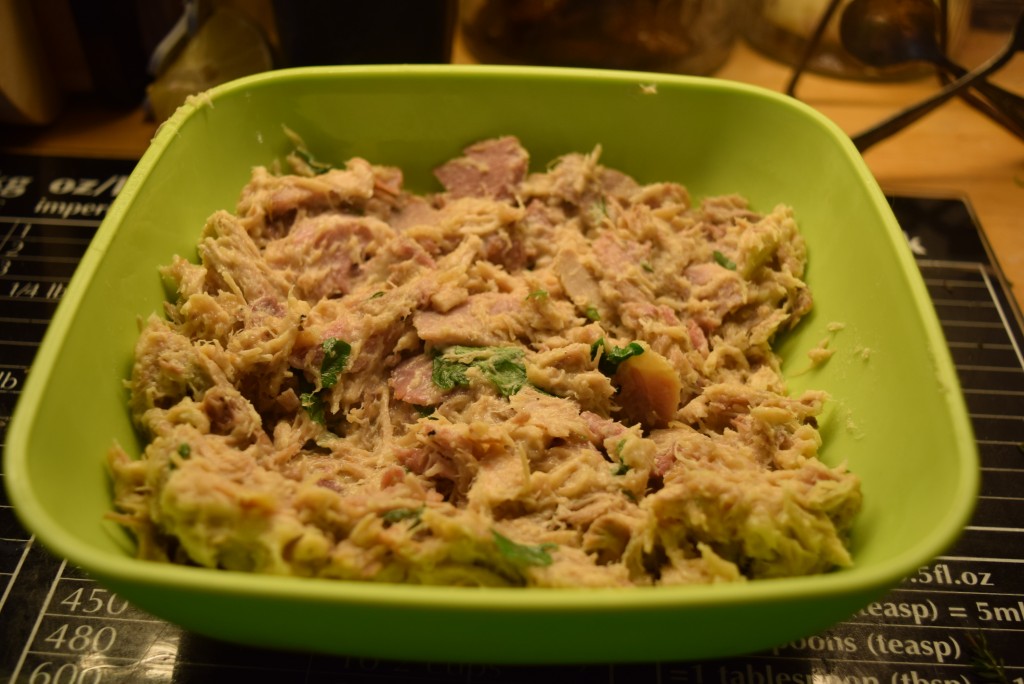 Once good and chilled, divide the mixture into 8 or 16 pieces, dependent on your croquette based requirements. Fashion each piece into a small sausage shape and pop to one side.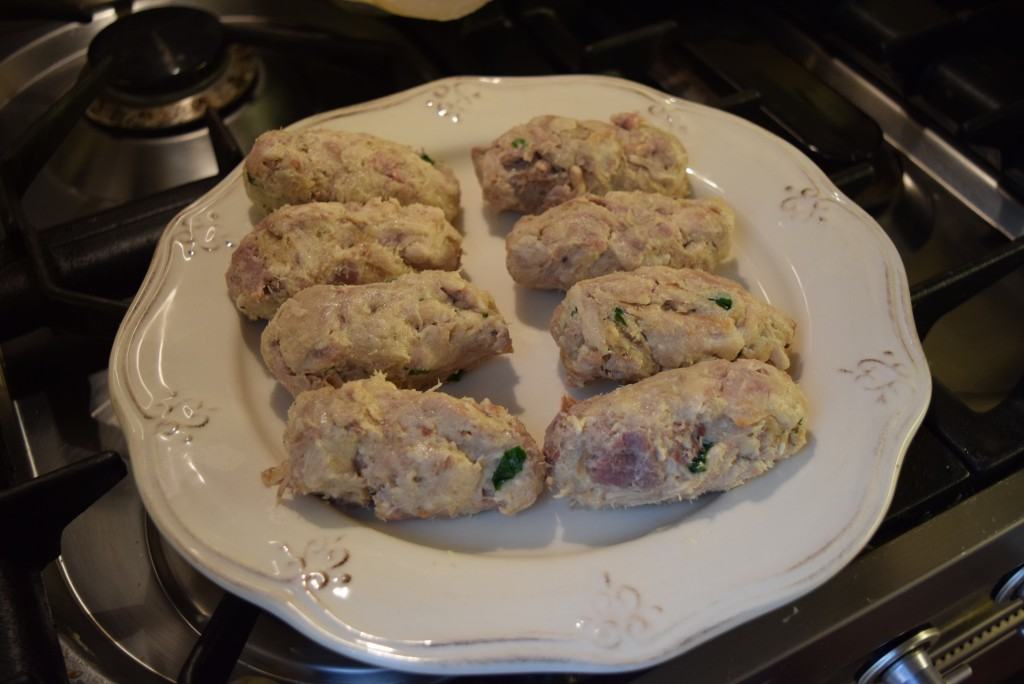 Pre heat the oven to around 160 degrees at this stage and put a large shallow frying pan on to heat with around half an inch of oil in it.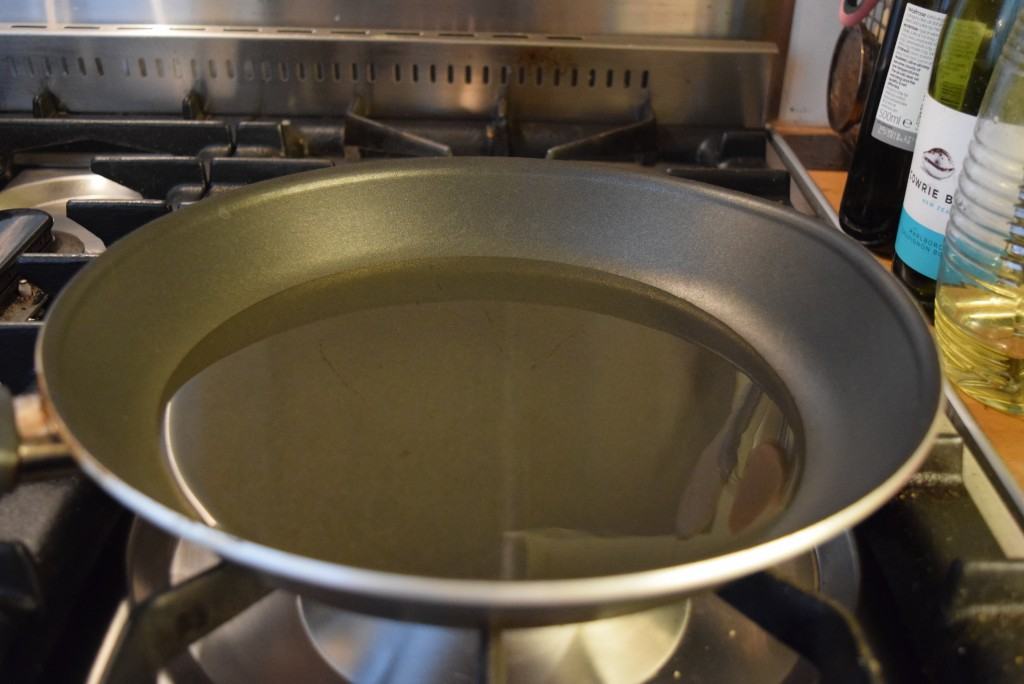 Take three plates and add plain flour to one, the beaten egg to another and the breadcrumbs to the last. Take each croquette and coat in the flour, then egg, followed by a final coating of breadcrumbs.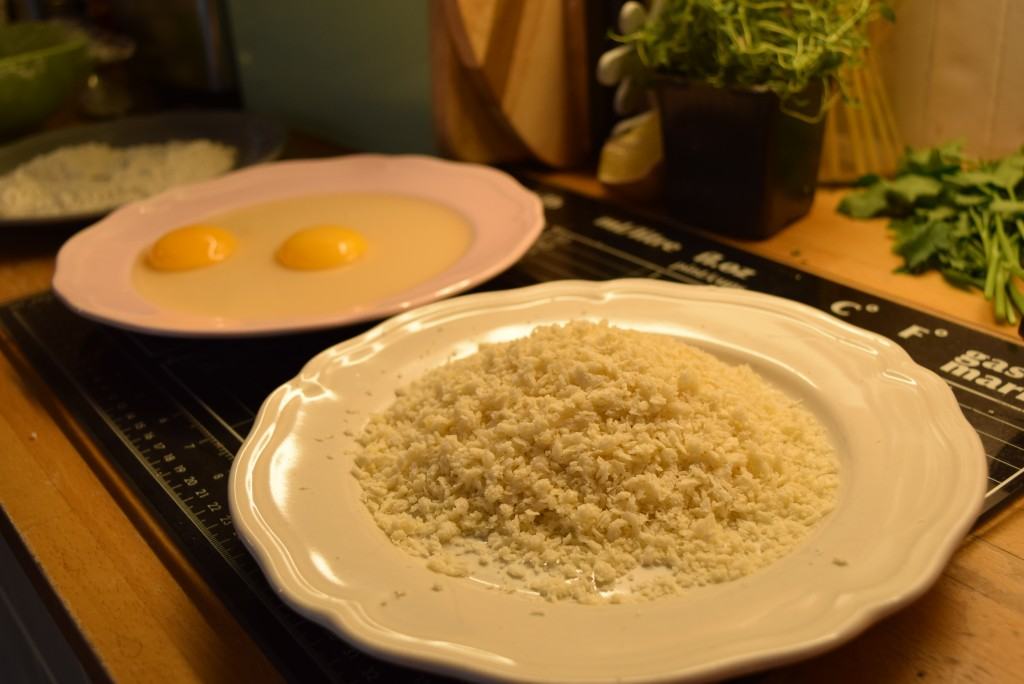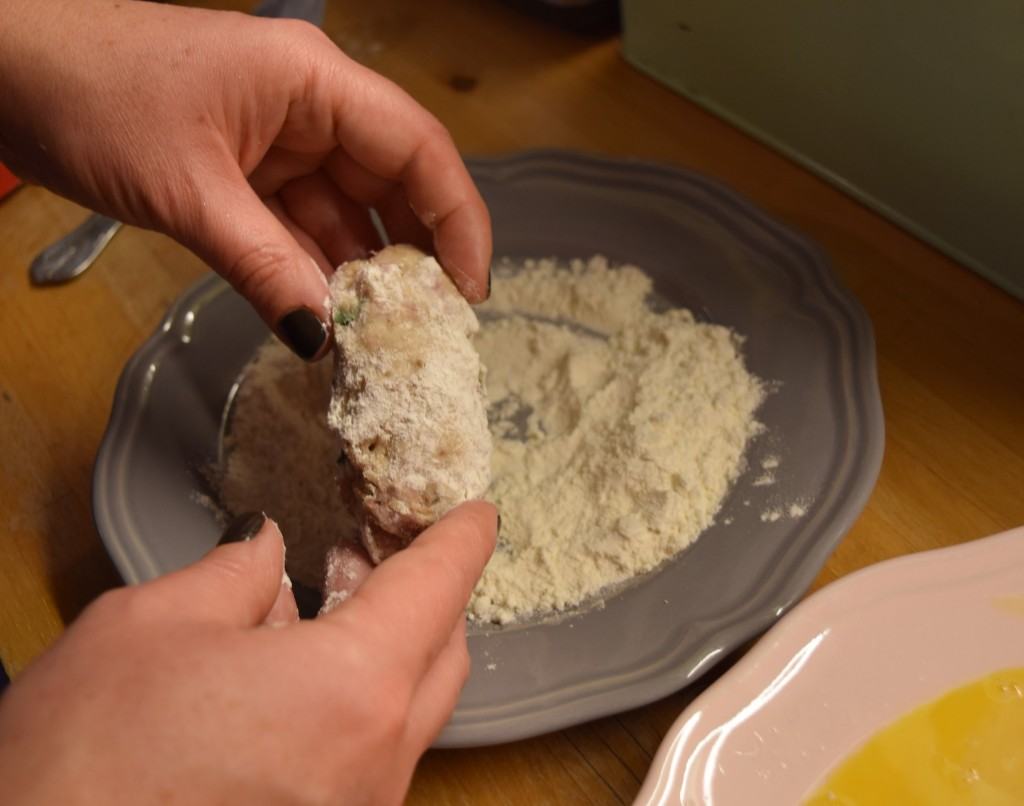 Oooh, Christmas manicure holding up well there.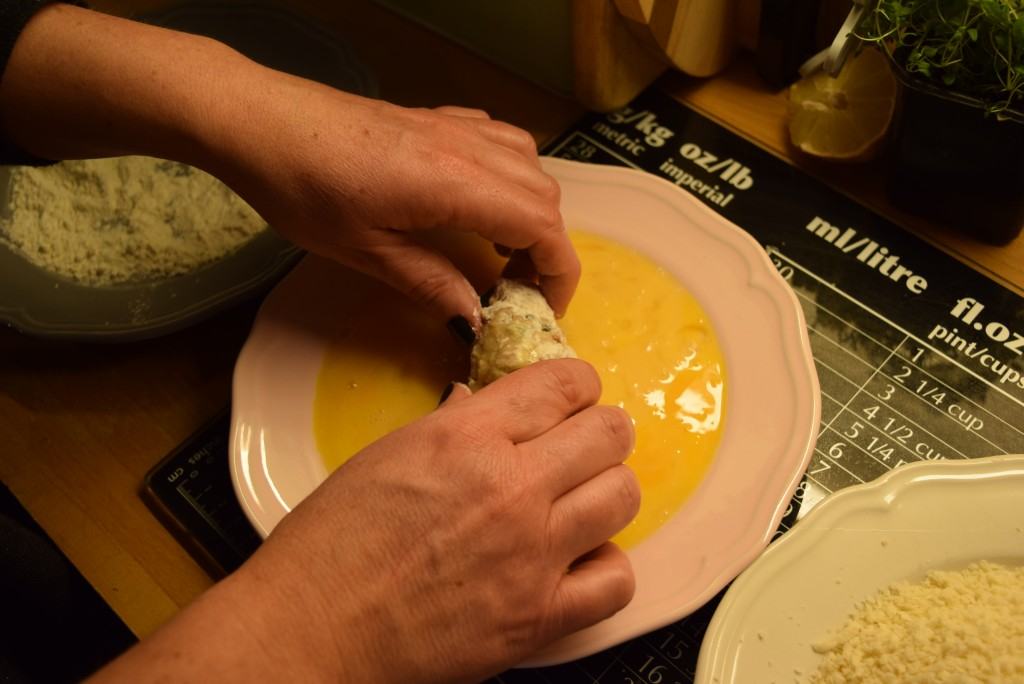 Pop the coated croquettes into the hot oil and cook for 3 to 5 minutes, turning to ensure each side is cooked evenly.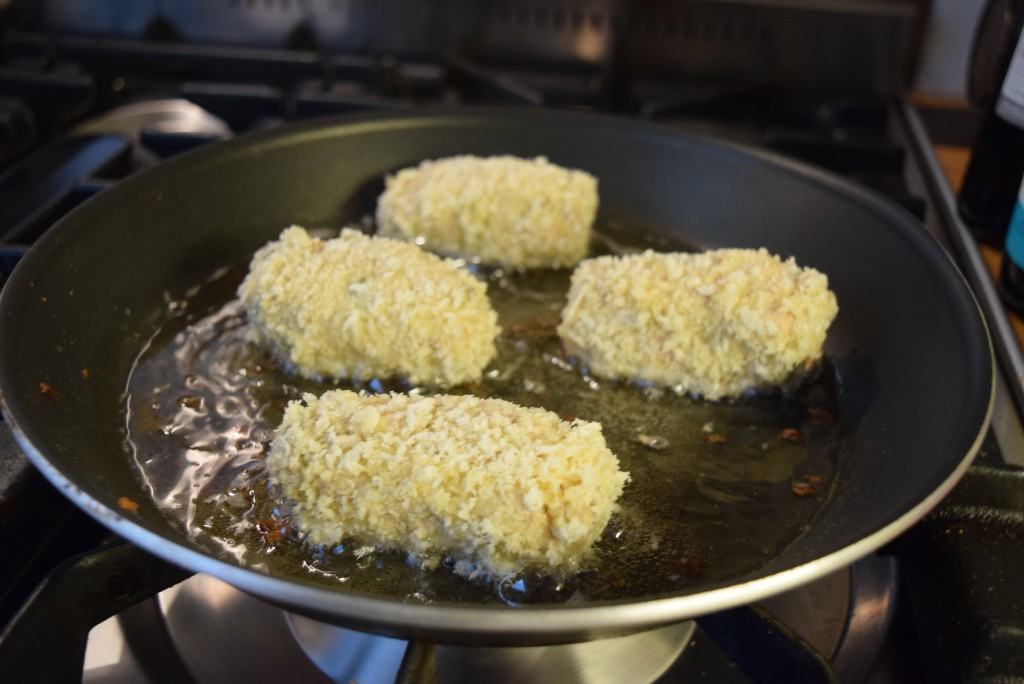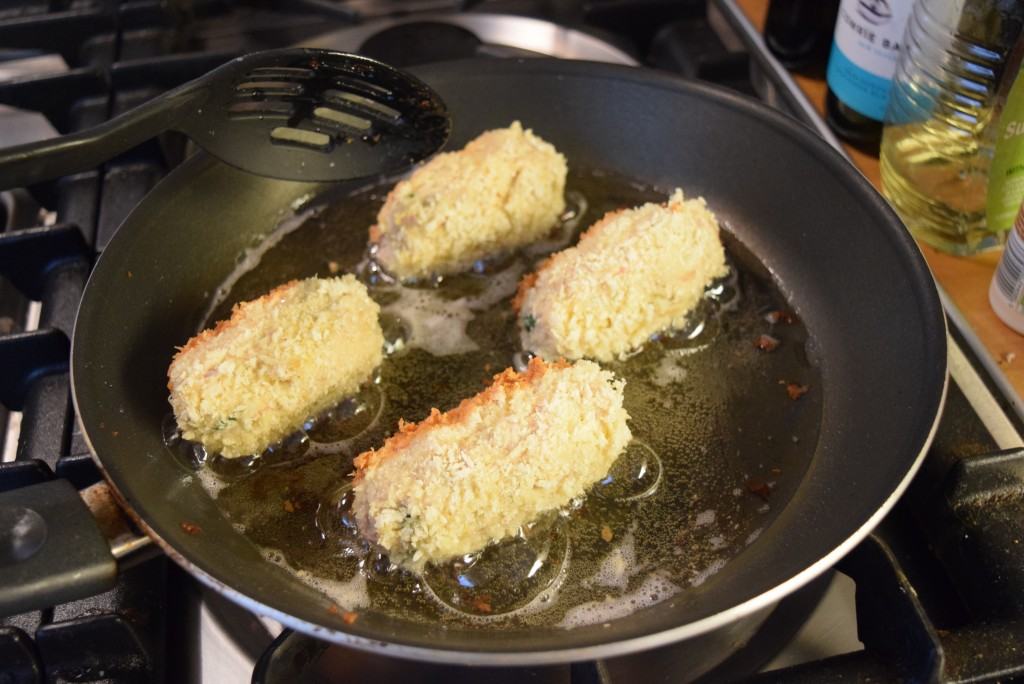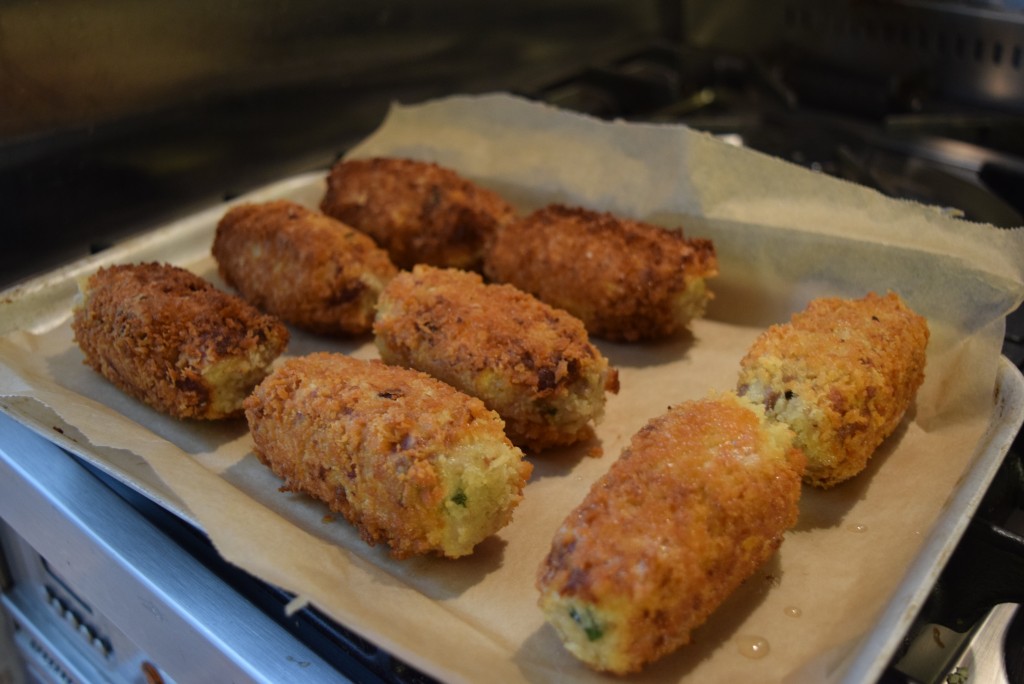 Once crisp and wonderfully golden, pop these croquettes onto a lined baking tray and place in the oven for 8 to 10 minutes until piping hot and sizzling.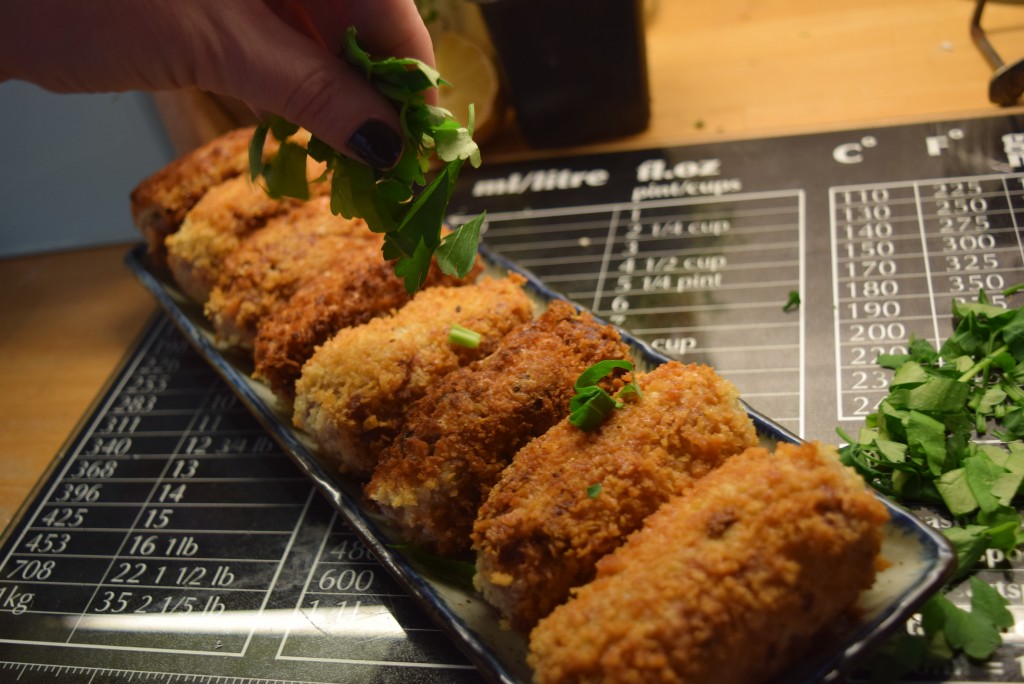 Serve immediately, with a garnish of freshly chopped parsley.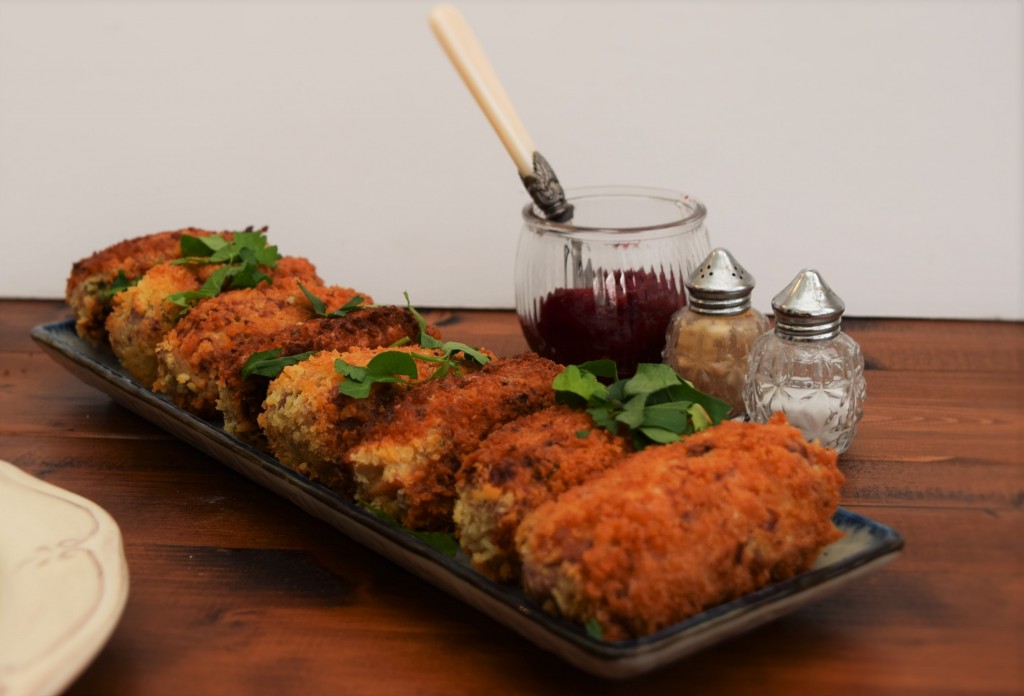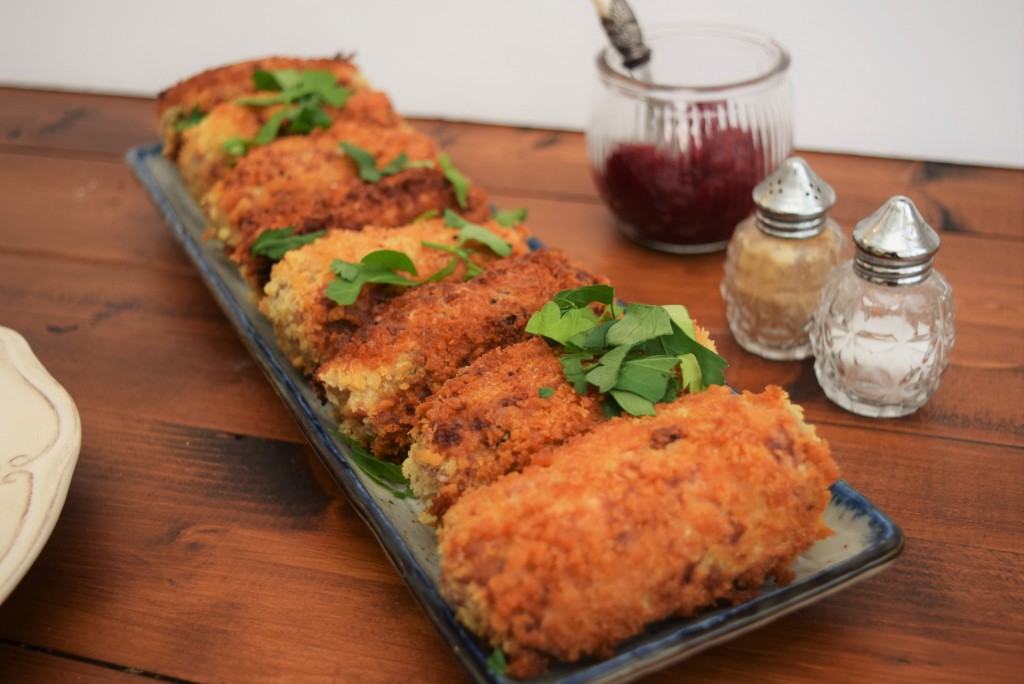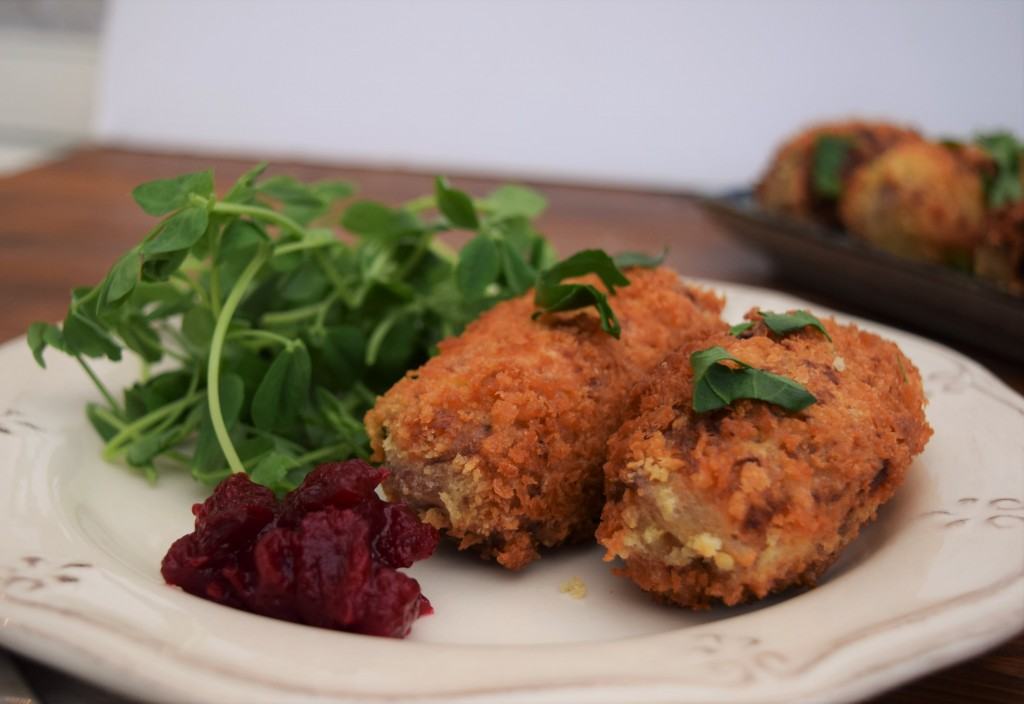 These are brilliant served with leftover cranberry sauce, to ensure even more space in your fridge.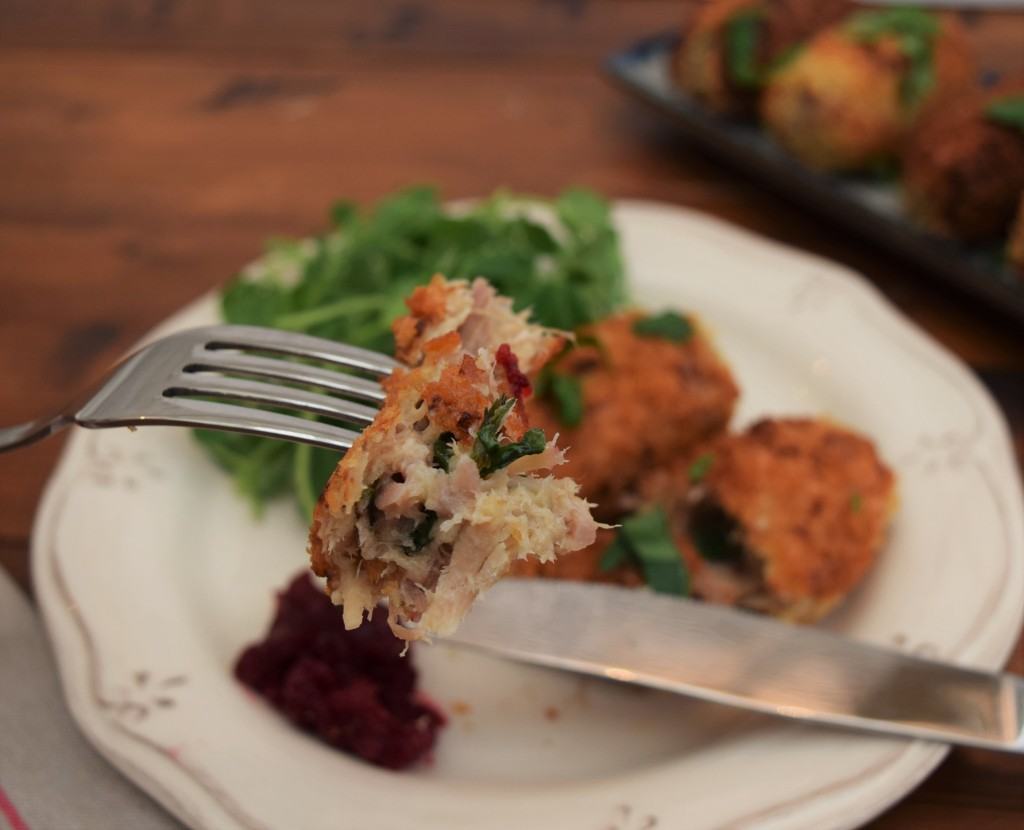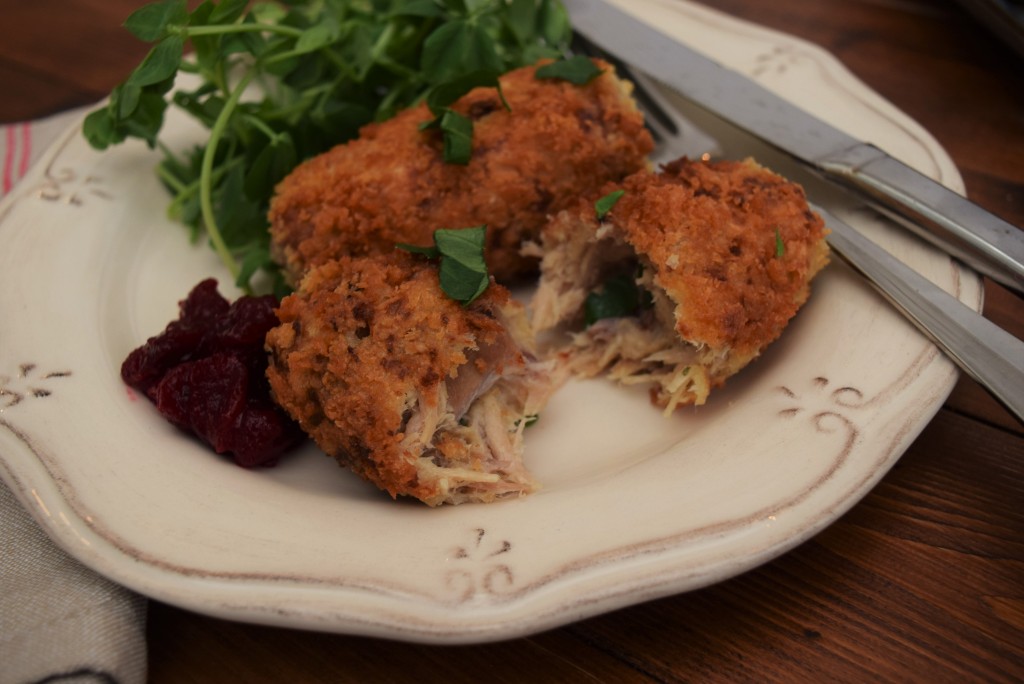 These little flavour filled treats are so tasty I would be loathe to reserve them for Christmas time only. You could add some cooked chicken, bacon and cheese and serve with chutney to suit other less festive occasions. When you have tired of turkey sandwiches, pie and soup, use the last of your Christmas turkey to sample these croquettes. I hope they become a treasured part of your leftovers repertoire in years to come.
Now put your feet up and have a drink.
Lucy x
Christmas Turkey Croquettes Recipe
Makes 8 medium 16 small croquettes
Filling
30g butter
2 tablespoons olive oil
350g cooked turkey, chicken, ham or parma ham, a mixture of all of these is great
2 tablespoons each fresh thyme and parsley, chopped
salt and pepper
60g plain flour
180ml milk
Coating
2 tablespoons plain flour
1 egg, beaten
90g breadcrumbs, I used panko crumbs
Oil for shallow frying, around half an inch in a deep frying pan
Fresh parsley to garnish, if you like and cranberry sauce or chutney
Take your left over meat selection and chop into bite sized pieces. In a frying pan heat the butter and oil until melting together. Add the chopped meats and cook for around 3 minutes until everything is well mixed. Stir through the plain flour, add salt and pepper and give everything another good mix. Gradually stir through the milk, until the sauce is thickening, check seasoning then add the chopped herbs. Leave to cool in the fridge, or freezer if you are in a hurry.
Preheat the oven to around 160 degrees, fan assisted. In a large frying pan, heat around half an inch of oil over a medium heat. Divide the turkey mixture into 8 sections if you are serving these as lunch or 16 as nibbles and roll into sausage shapes. On three different plates put the flour on one, beaten egg on another and breadcrumbs on the last. Take each croquette and roll in flour, then egg then breadcrumbs. Drop each croquette into the hot oil and cook until each one is browned. Turn them frequently ensuring they are evenly cooked, I cooked mine in two batches of four. Pop the croquettes in the oven for a further 8 to 10 minutes to ensure they are piping hot before serving. Garnish with fresh parsley and serve immediately, with chutney, trying not to eat a couple before they hit the table.