Coconut Almond Plum Cake Recipe
I feel I am quite late to the Ottolenghi party. I used to be scared of his recipes and found them to have a lengthy list of ingredients most of which I didn't have in my cupboard. On revisiting the charming Yotem's books I found this to be quite untrue and am now an absolute super fan. With the arrival of Sweet by Yotem Ottolenghi and Helen Goh I raced to my lovely local book shop, the Sheen Bookshop, to purchase my copy.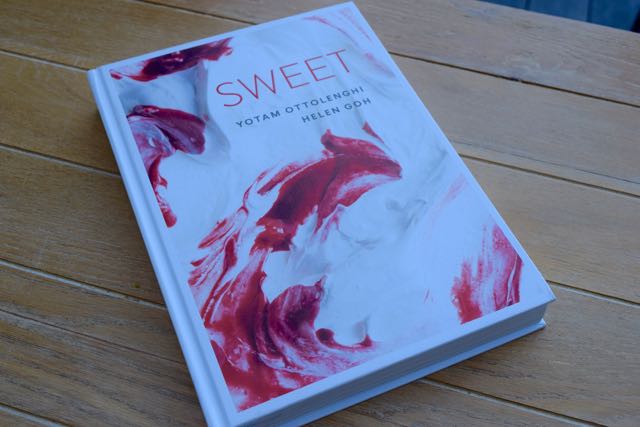 It was such a treat to wander around a book shop for a change rather than to buy on line and ended up treating myself to a couple of extra books I didn't go in for as they looked so interesting. Book based rambling aside, I have since spent hours drooling over Sweet and finally chose this Coconut Almond Plum Cake to share with you today.
This cake is divine. Not because I baked it but because it's a beautiful recipe with simple, flavour filled ingredients. This soft sponge is lemony, but not overpoweringly so, it's sweet and nutty and laced with soft plums. I love all these flavours, it's like posh Bakewell but in a cake format. I chose plums over blueberries as plums are my seasonal favourites, but go back to blueberries if you prefer them. This is a hugely comforting, warming cake, perfect now it's absolutely bloody freezing. Serve barely out of the oven with cream or ice cream as a dessert or serve large wedges with a big cup of builders tea in the afternoon. You don't need an excuse to eat this, just eat it. Its a super simple recipe, just one bowl and a jug, no need to dirty your stand mixer today or spend days over the washing up bowl.
I made this for a dinner party and we had it with my super speedy salted caramel ice cream and it was just perfect. Make it the day before to save time on the night. Just make sure you don't eat too much of it before serving, I didn't even bother trying to conceal the huge wedge I'd cut out of this one.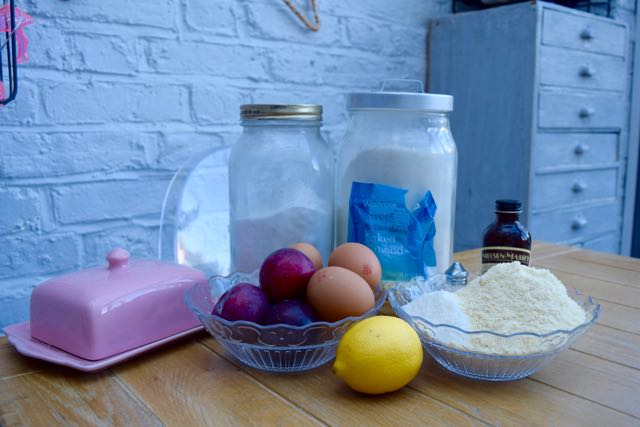 Despite a rather rogue blue looking background, these ingredients are warm and wholesome. Ottolenghi certainly knows his cake,  and this one is so simple and speedy.
Make a start on this by buttering and/or lining an 8 or 9 inch loose bottomed cake tin and pre heating your oven to around 160 degrees fan assisted. Next, take a large bowl and add the ground almonds, desiccated coconut, caster sugar, salt and flour and give it all a little whisk.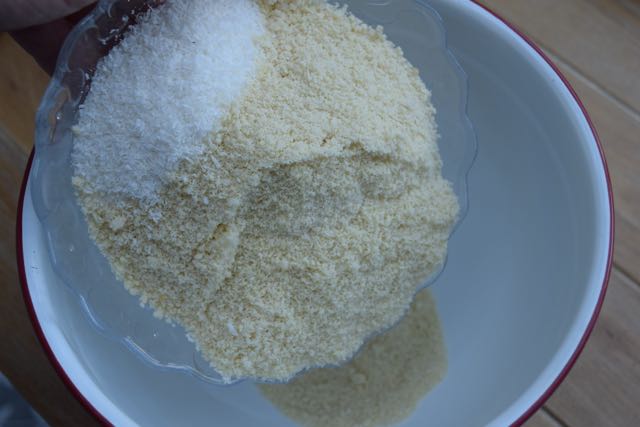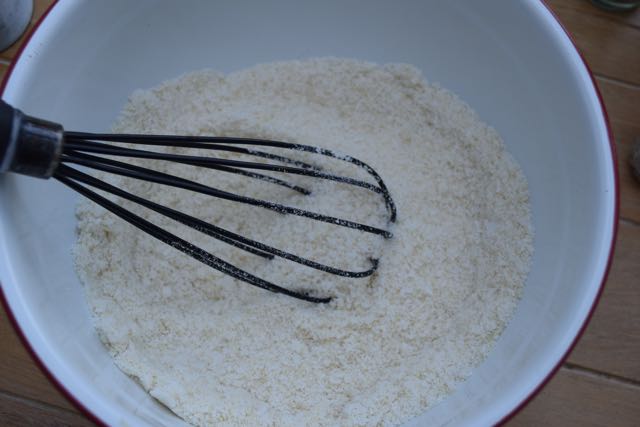 Next melt the butter in a jug or bowl either in the microwave or over a pan of simmering water.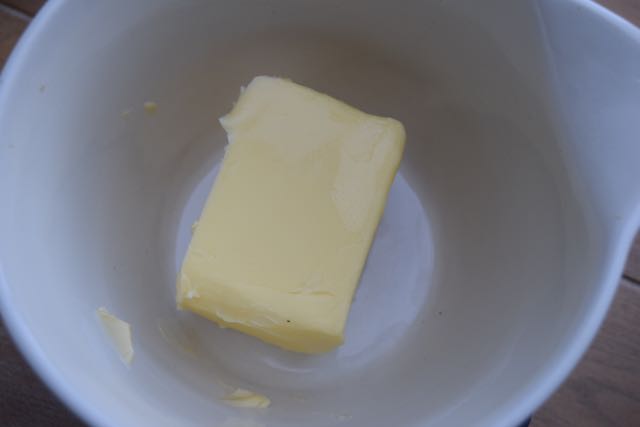 Once melted and cooled, whisk in the vanilla, lemon zest and eggs until well blended.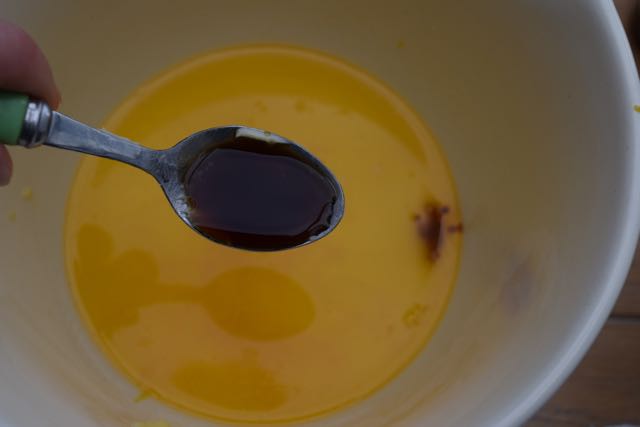 Pour this vibrant mixture into the dry ingredients and fold together until mixed but don't over mix.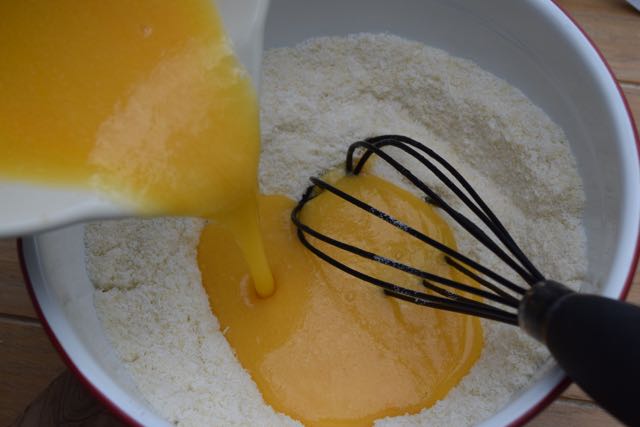 Finely chop the plums or your chosen fruit then fold three quarters of these into the cake mixture. Reserve the last quarter for the top.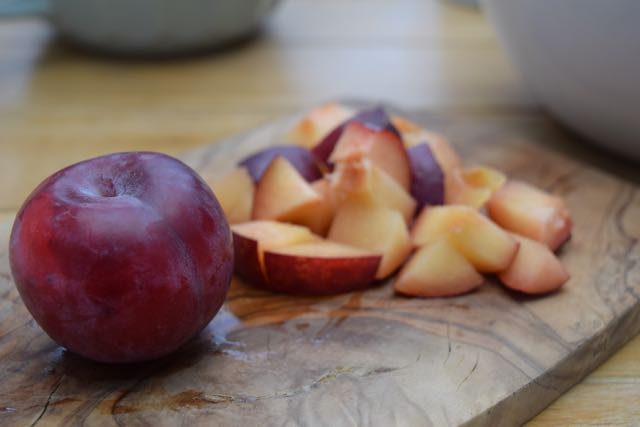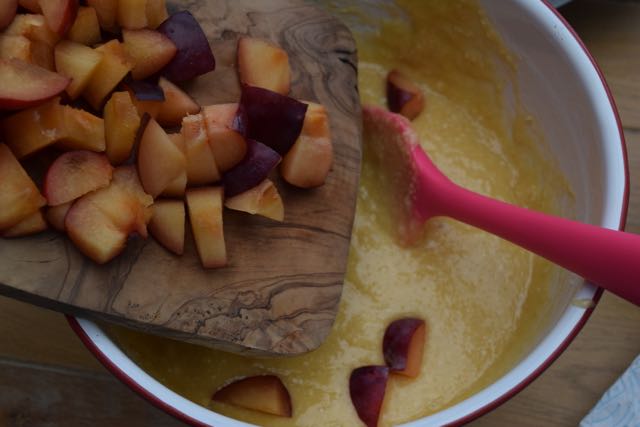 Try not to eat too much of the mixture 'quality controlling' it, it's divine. Scrape what is left of the mixture into your lined tin and level the surface. Sprinkle on the final quarter of the plums and a smattering of flaked almonds.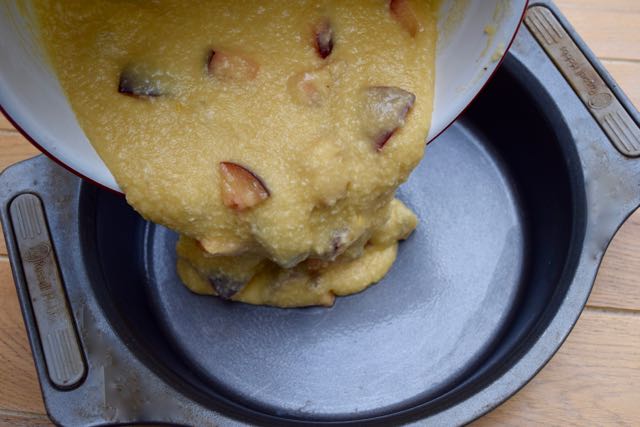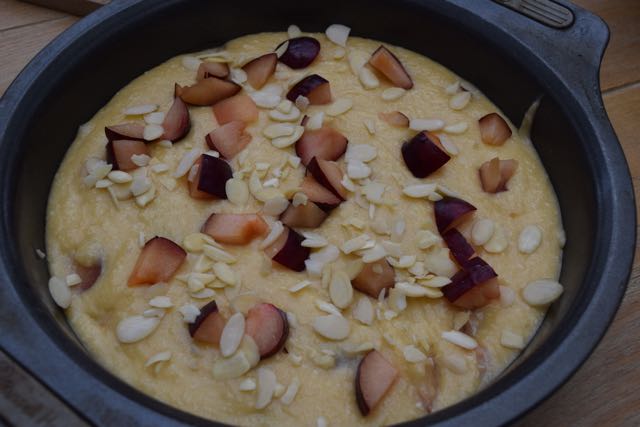 Pop this beauty in the oven for around 50 to 55 minutes. The cake is ready when a skewer comes out clean when poked in the middle and the top is golden and fragrant. While it's baking you could put your feet up, like me, wearing your Aldi Special Buys mermaid blanket.  Keep your eye out for some of their fab Winter Warmers, it's a chance to get a few early seasonal purchases in the bag *can't say Christmas yet, it's too early*.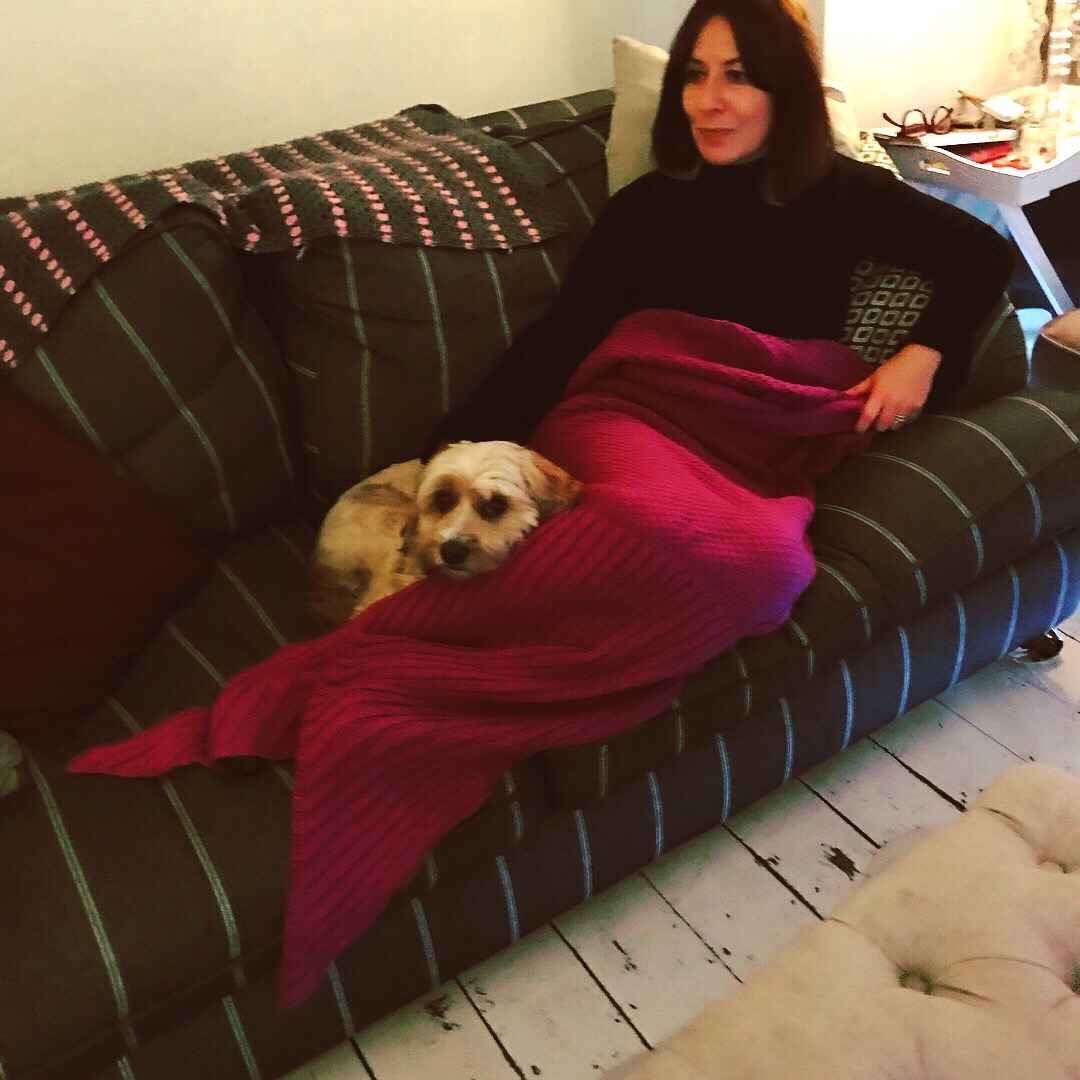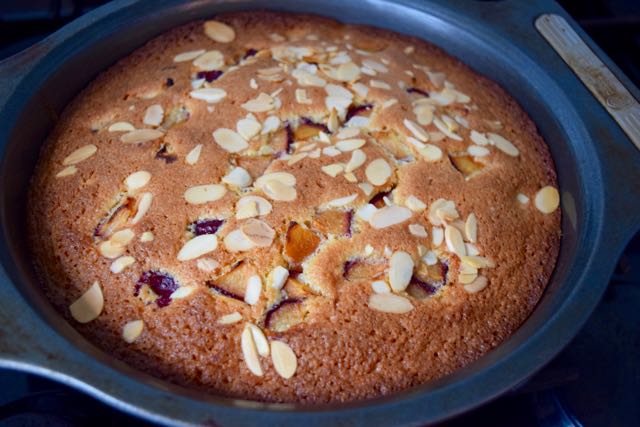 Leave the cake to cool slightly, if you are serving warm, before removing from the tin. It will firm up as it cools making the cake easier to remove.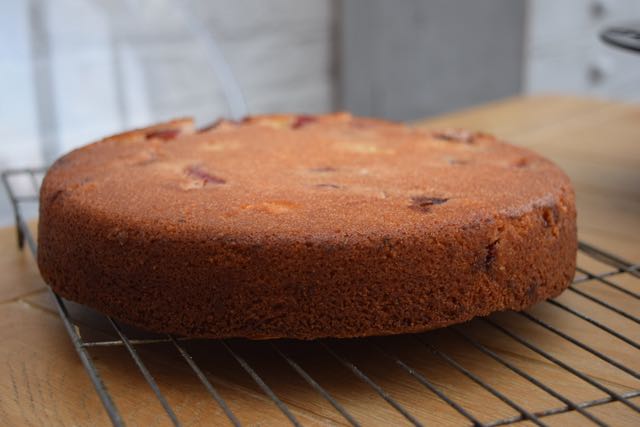 Serve with cream, ice cream, or just in giant wedges with a cup of tea. It's so chilly now, this Coconut Almond Plum Cake is like a much needed huge warm hug.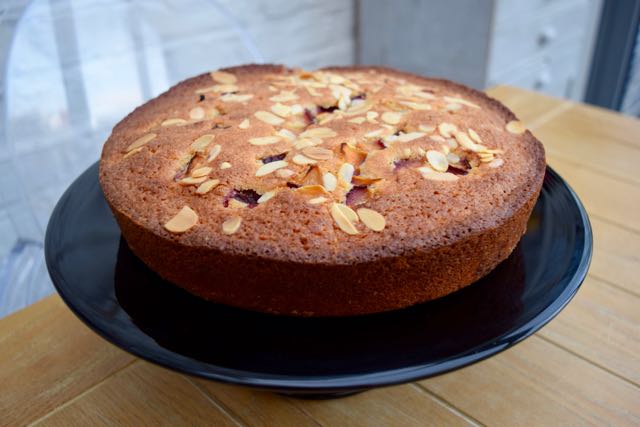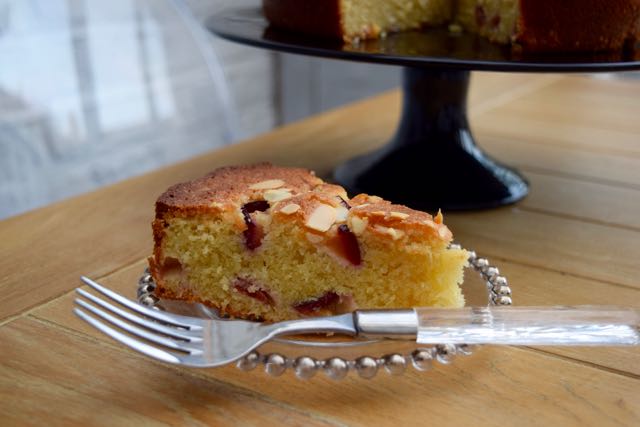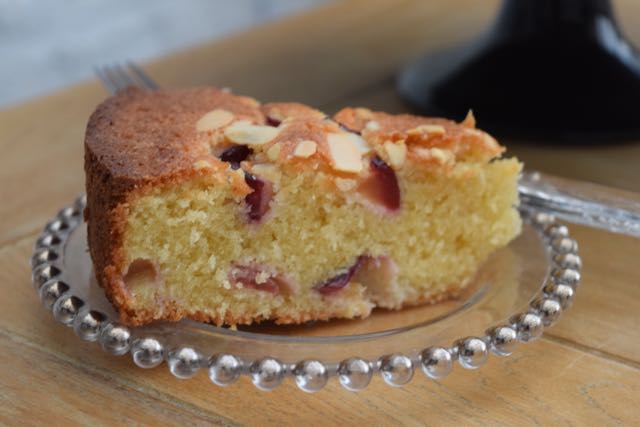 I am so pleased the lovely Sheen Bookshop  reacquainted me with Ottolenghi and his Sweet treats, this Coconut Almond Plum cake is a total keeper. Along with most of the other recipes in the new book, they're all divine. I could be a right bloater by the time I've covered all the recipes, but it will be so worth it.
Lucy x
This post promotes shopping local at our favourite Sheen Bookshop and shows an amusing picture of me wearing a lovely mermaid blanket Special Buy care of my friends at Aldi.
Coconut Almond Plum Cake Recipe
Serves a generous 8
You will just need bowls and a buttered 8inch to 9inch or 20cm to 23cm cake tin, spring form if you have it
140g ground almonds
60g desiccated coconut
250g caster sugar
110g self raising flour
1/4 teaspoon salt
4 eggs
200g butter, melted and cooled a little
1 1/2 teaspoons vanilla extract
finely grated zest of a lemon
200g plums, finely chopped
a couple of tablespoons of flaked almonds for decoration
Pre heat your oven to around 160 degrees fan assisted and butter or line your chosen cake tin.
In a large bowl measure in the ground almonds, desiccated coconut, caster sugar, salt and flour. Give the mix a little whisk to combine.
In a microwaveable jug or bowl over simmering water melt the butter then leave to cool for a moment. Once cooled, whisk in the 4 eggs, vanilla and lemon zest. Pour this into the dry ingredients and mix well to combine.
Chop the plums into small pieces and fold three quarters of them through the cake mixture. Pour the batter into your lined cake tin, dot the remaining plums onto the top of the cake along with the flaked almonds.
Place the cake in the oven for around 50 to 55 minutes. Keep an eye on it towards the end as the cake does firm up quite quickly. The cake will be golden and a skewer will come out clean when inserted in the middle, when the cake is ready. Leave to cool for at least half an hour before serving warm as a dessert with cream or ice cream or leave to cool completely in the tin and serve as an afternoon treat.
This cake will keep beautifully for around 3 to 4 day, well wrapped and in an airtight tin.
SaveSave
SaveSave
SaveSave
SaveSave
SaveSave