Coffee Butterscotch Biscotti with Affogato Recipe
Gosh it's hot. I don't want to moan as that will curse it, but bloody hell, it's either like a furnace in this country or bloody grey and wet. There's no happy medium, the weather is not dissimilar to our central heating thermostat – it's hot or off. All I want to do when London is muggy and warm is drink rosé and hide in the coolness of a pub garden but that's not always possible when there's work to be done. Who can be arsed to cook elaborate kerfuffle laden meals when there's sunbathing and sweating to be done and the last thing you need to be doing is standing over an oven. Here's where my Coffee Butterscotch Biscotti comes into play. These crisp little morsels can be served alongside any simple dessert to make an effortless pud.
Biscotti are brilliant. They are tons easier than you think to make and last in a tin for ages. They taste divine and these are crisp, sweet and golden. Coffee and Butterscotch make a tasty combination and they compliment most desserts. I decided to serve mine with a simple Affogato. That in itself sounds like a drama, but it's simple, just a tiny cup filled with ice cream and espresso coffee.  This is a wonderful combination of hot, cold and crisp which works so well, whilst being simple and delicious. You could serve these with any pudding or they are great just with ice cream, a mousse or perfect with my Chocolate Amaretti Pudding. You don't have to add the coffee and butterscotch flavourings. Chopped almonds are fab or some chocolate chips, anything goes with a biscotti. And the oven's not on for long either, so that's a complete bonus,  you don't need any unwanted additional heat when it's 30 degrees with 95% hair raising humidity. A huge thank you to Shugary Sweets for the biscotti inspiration.
This wonderful batch of biscotti were nibbled on by us all over the course of a couple of days; they stayed beautifully crisp and firm. They are a sophisticated little treat and are quite the gift that keeps on giving.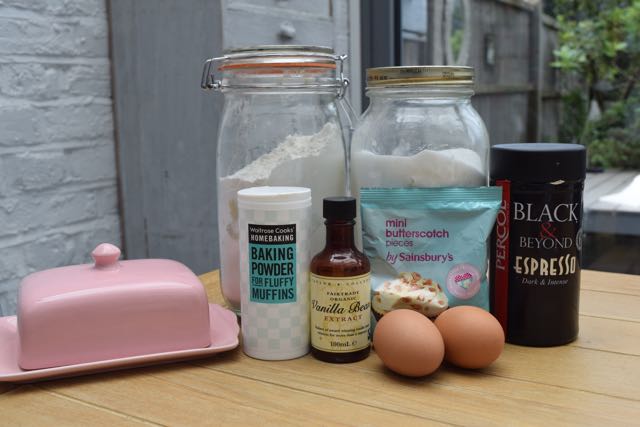 Super simple, but super delicious. I found these tiny butterscotch pieces in Sainsbury's, but you could use chopped toffees if you can't find them. Or feel free to vary your add in's according to any of your favourites.
Start by lining two baking sheets with greaseproof paper and pre heating your oven to 160 degrees fan assisted. Next, cream together the soft butter and sugar until lighter in colour and texture. I used my food processor but you can use a stand mixer or a bowl with a wooden spoon for those with bulging biceps. Then, add the eggs and beat again.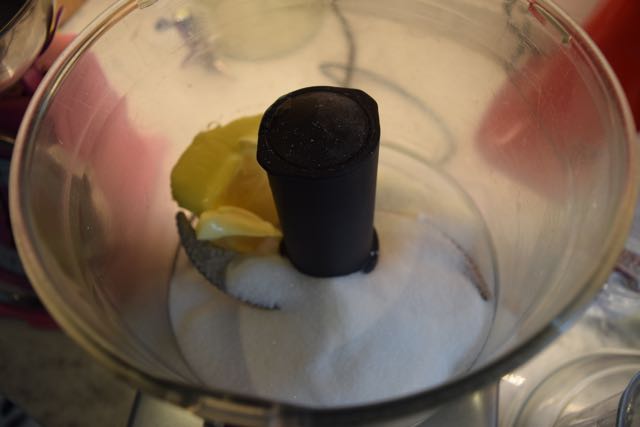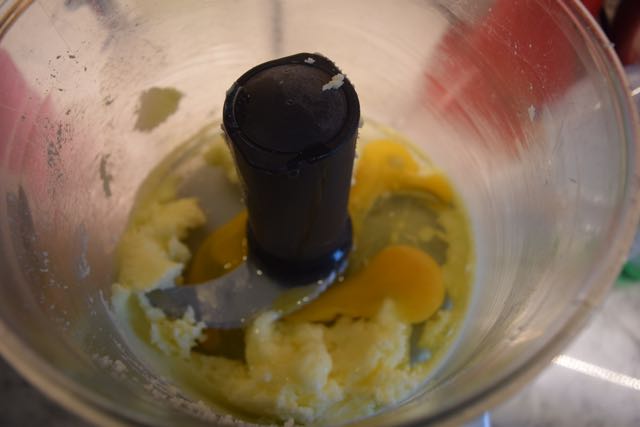 Flavour with the espresso coffee powder and vanilla extract then add the flour and baking powder. Don't over-mix here, just until you have a soft dough.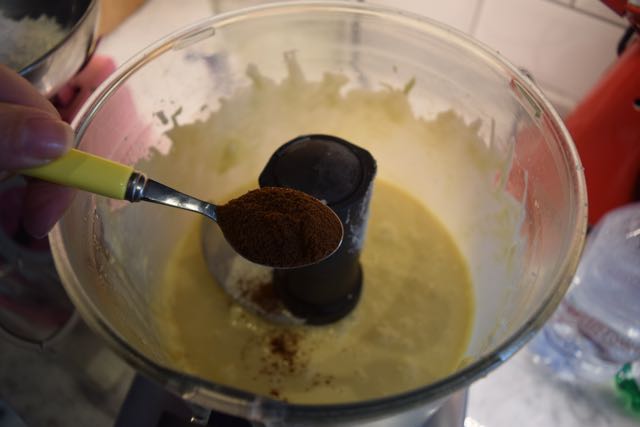 Fold in the butterscotch pieces or bits of choc or nuts and then divvy the dough up into two sections. At this point try your hardest not to eat half the dough while it's raw, brace yourself, that will be a huge challenge as it's beyond tasty.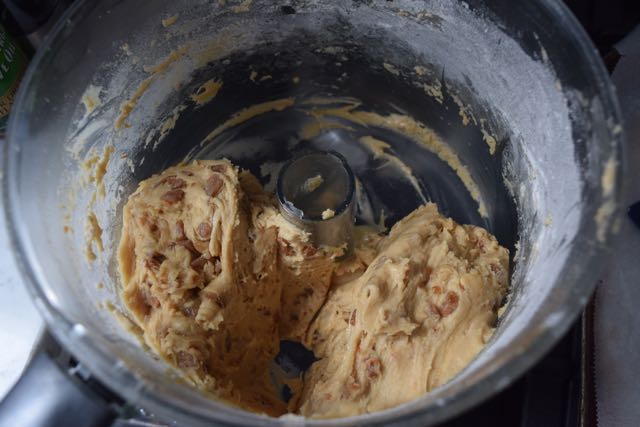 Place the two portions, or what's left of them after you've 'sampled' the dough, onto a lined baking tray. Fashion each one into a log approximately 10cm x 25cm, leaving a good bit of space in-between as the dough will rise and spread.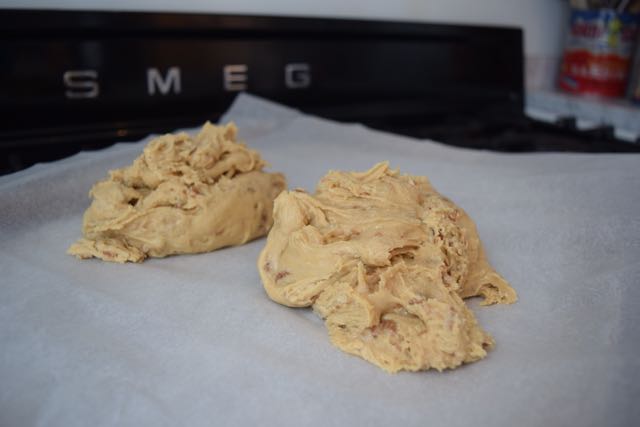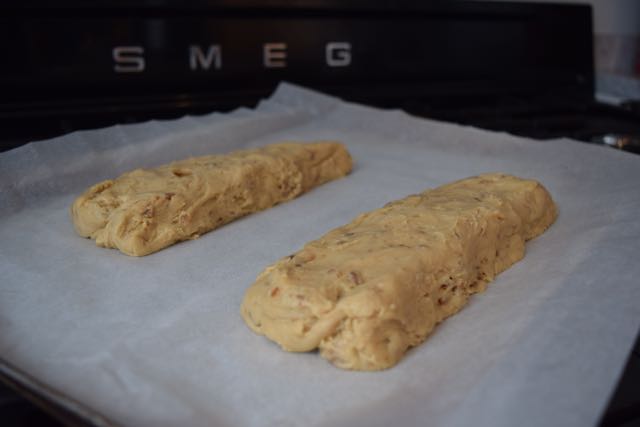 Bake in your preheated oven for around 25 minutes or until the logs are just turning golden and crisp. Remove from the oven, turn it down to 150 degrees fan assisted and leave the biscotti logs to cool for 10 minutes. If you can find anywhere cold enough that is.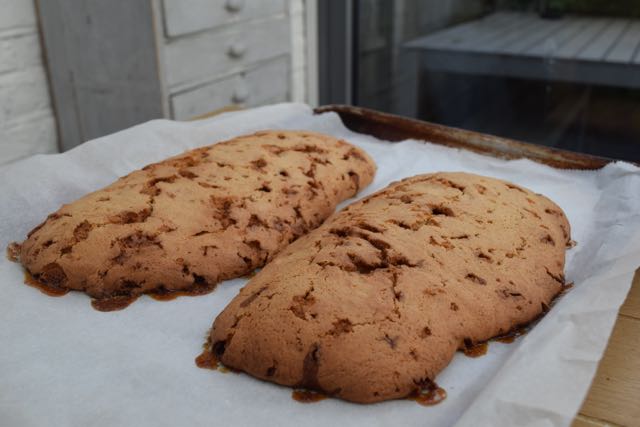 When the 10 minutes is up, slice the logs into biscotti shaped slices, this is best using a bread knife, and lay them back on the lined baking tray. You will need another lined tray too as this recipe makes around 20 to 25 slices.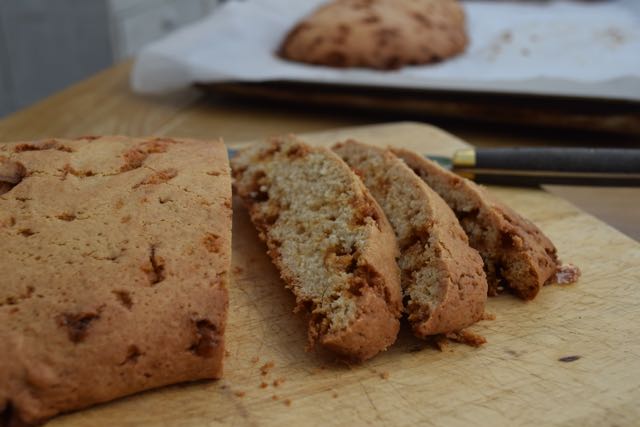 There will be some misshapen ones to eat, rest assured. I lost count of the 'broken' ones I snaffled.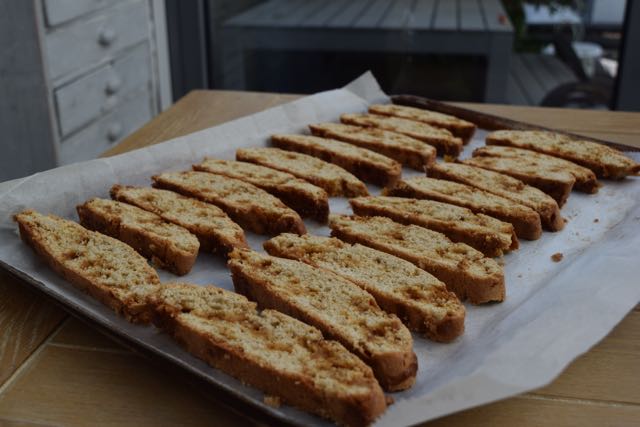 Bake these for a further 20 minutes in the slightly cooler oven until even more golden, even crisper and even more tempting.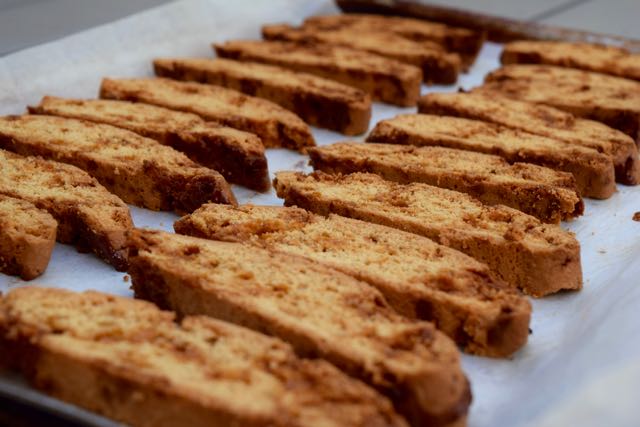 Store the Coffee Butterscotch Biscotti in a tin until needed, if any of them make it off the tray, that is.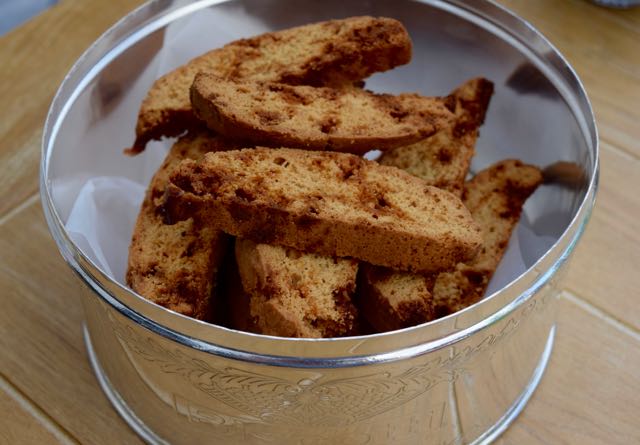 If you would like to enjoy these in a Affogato sort of way, then simply take a carton of ice cream of your choice and a shot of espresso coffee.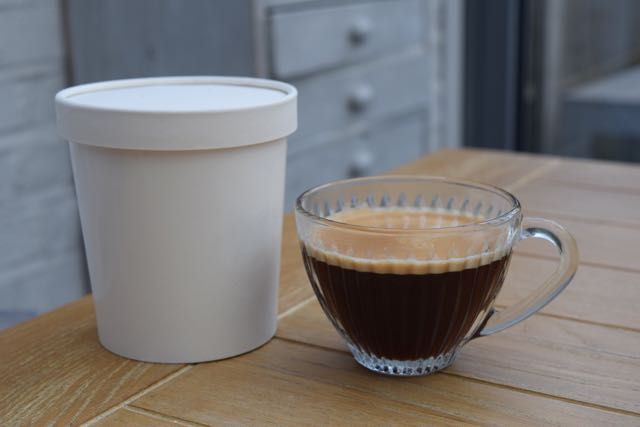 Pop a ball of ice cream, I used my super simple salted caramel ice cream, into a coffee glass then pour over the shot of hot espresso.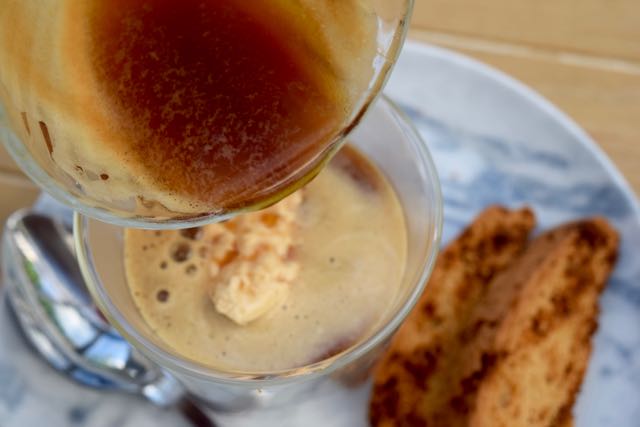 Serve this hot, cold, sweet treat with a couple of the crisp Coffee Butterscotch Biscotti for dipping, dunking or nibbling.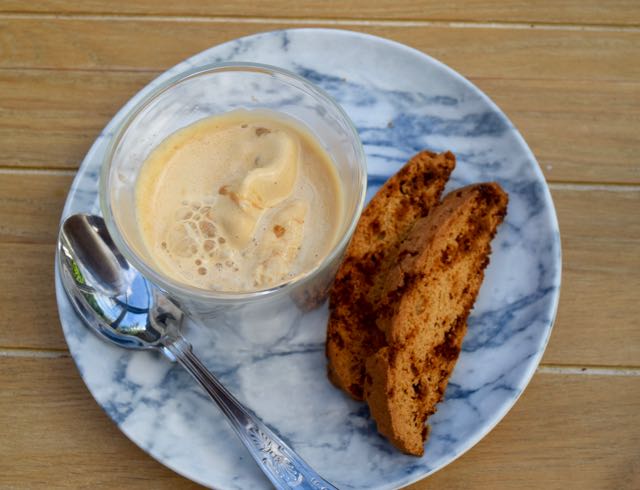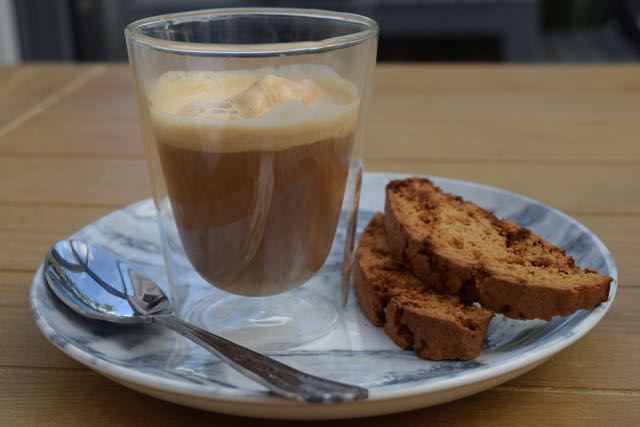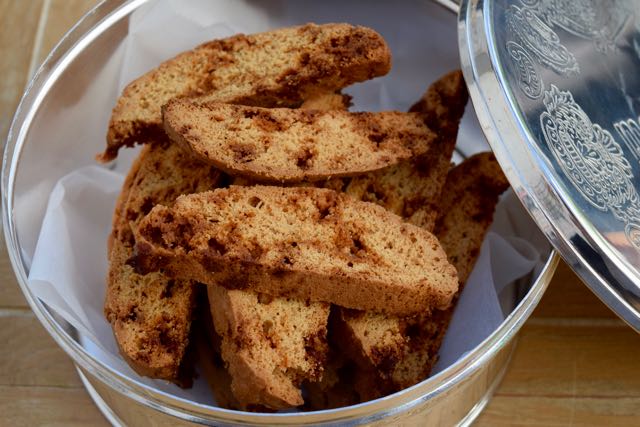 These Biscotti are so versatile. Nibble on them in the afternoon as a sweet treat, dunk them in your affogato or pop them on the side of favourite mousse-like dessert. Just make them, they make a fancy change from a Rich Tea.
Lucy x
Coffee Butterscotch Biscotti with Affogato Recipe
Makes around 20 to 25 slices
Biscotti
85g soft butter
170g caster sugar
2 eggs
1 teaspoon instant espresso powder
1 teaspoon vanilla extract
275g plain flour
1 teaspoon baking powder
100g butterscotch pieces or chopped toffees
Affogato
Per person
1 shot espresso coffee
1 scoop ice cream, caramel is delicious, or vanilla, you choose
Pre heat the oven to 160 degrees fan assisted and line two flat baking sheets.
In the bowl of your stand mixer or a bowl with spoon or in your food processor.  Add the soft butter and beat with the caster sugar until lighter in colour in texture. Add the two eggs, coffee powder and vanilla, beat again, then fold in the flour and baking powder until a soft dough is formed. Stir in the butterscotch or toffee pieces then divide the mixture into two sections.
On your lined baking sheet form each piece of dough into a log around 10cm x 25cm. Leave plenty of room between each one as these will rise and spread quite substantially. Bake for around 25 minutes or until just turning golden and nice and firm. Leave to cool on the tray for 10 minutes. Turn the oven down to around 150 degrees.
Once they have cooled, slice each log into around 10 to 12 slices and lay these back on the baking sheet. Put back in the oven for a further 20 minute, or until they are crisp and golden. These keep wonderfully in an airtight tin for around a week.
For the Affogato, take a coffee cup and add a scoop of your favourite ice cream. Pour over the shot of hot espresso and serve this alongside a couple of your Coffee Butterscotch Biscotti for dipping and scooping.