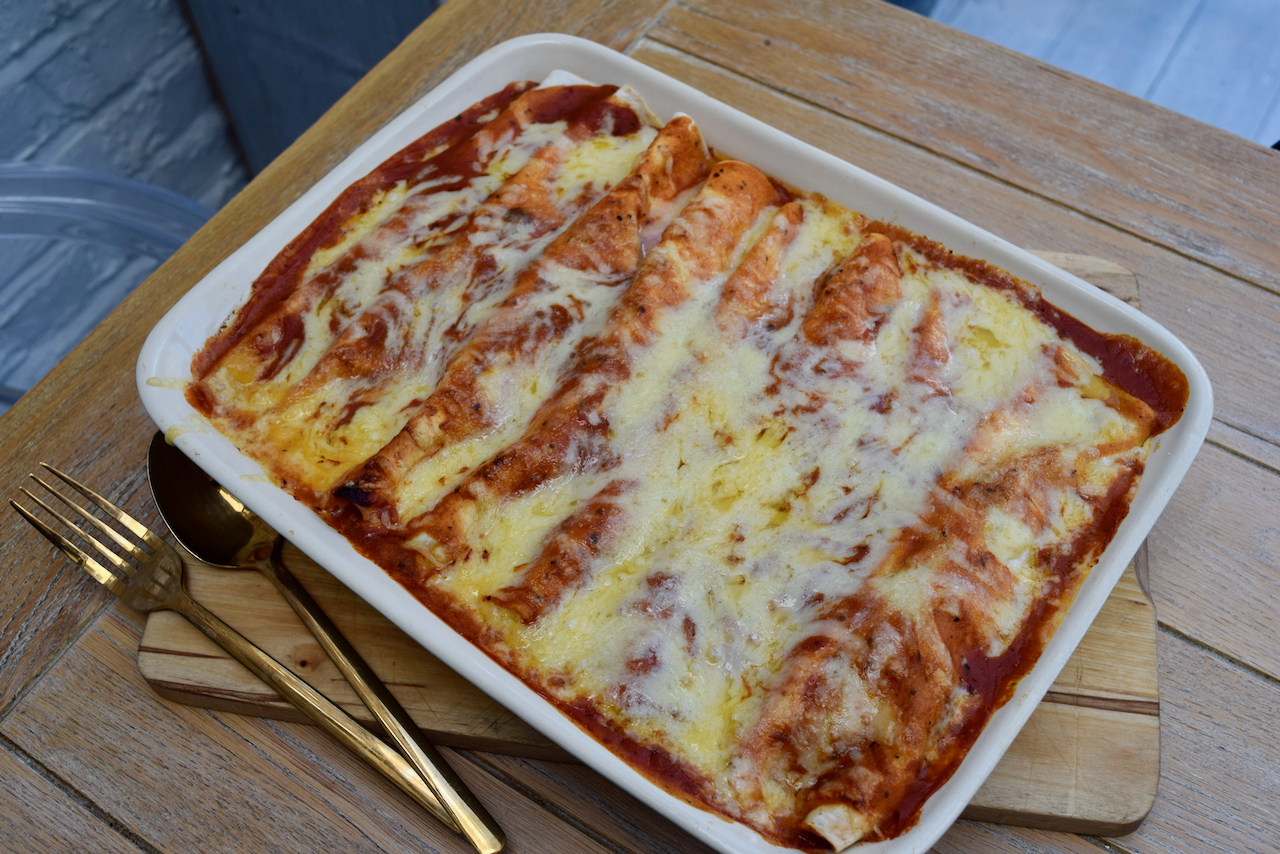 Beef and Bean Enchiladas recipe
I have become so lethargic after a year of cooking for 4 people every bloody night, the thought of cooking a recipe with a long list of ingredients fills me with dread. I love three ingredient recipes more than life itself, however, life is moving on now and I need to start making more of an effort. Especially now the option of eating outside in a pub garden is back on the menu. Now I know there's a lot of ingredients in these Beef and Bean Enchiladas, but do bear with me, they are beyond worth it.
I have no idea if these Enchiladas are authentic because I've never made them before. I have avoided making them before imagining they featured all sorts of non-George based items; however, they don't. Even though the ingredient list is long, the recipe is made in a few bite sized chunks. Make the spice mix – whisk some spices together. Make the sauce – whisk some liquids together. Make the beef and bean mixture – stir several other ingredients together. Finally fill the tortilla wraps with the aforementioned beef pour over your sauce and bake. The resulting dish is absolutely delicious. I unashamedly ate A LOT of this; in fact in three of us ate the whole dish in one sitting. I can't thank Recipe Tin Eats enough for introducing me to Beef and Bean Enchiladas.
In a final flourish, to confirm just how good these are, my Enchiladas come with a written reference from George saying 'I'd eat these every day'. No further embellishment needed.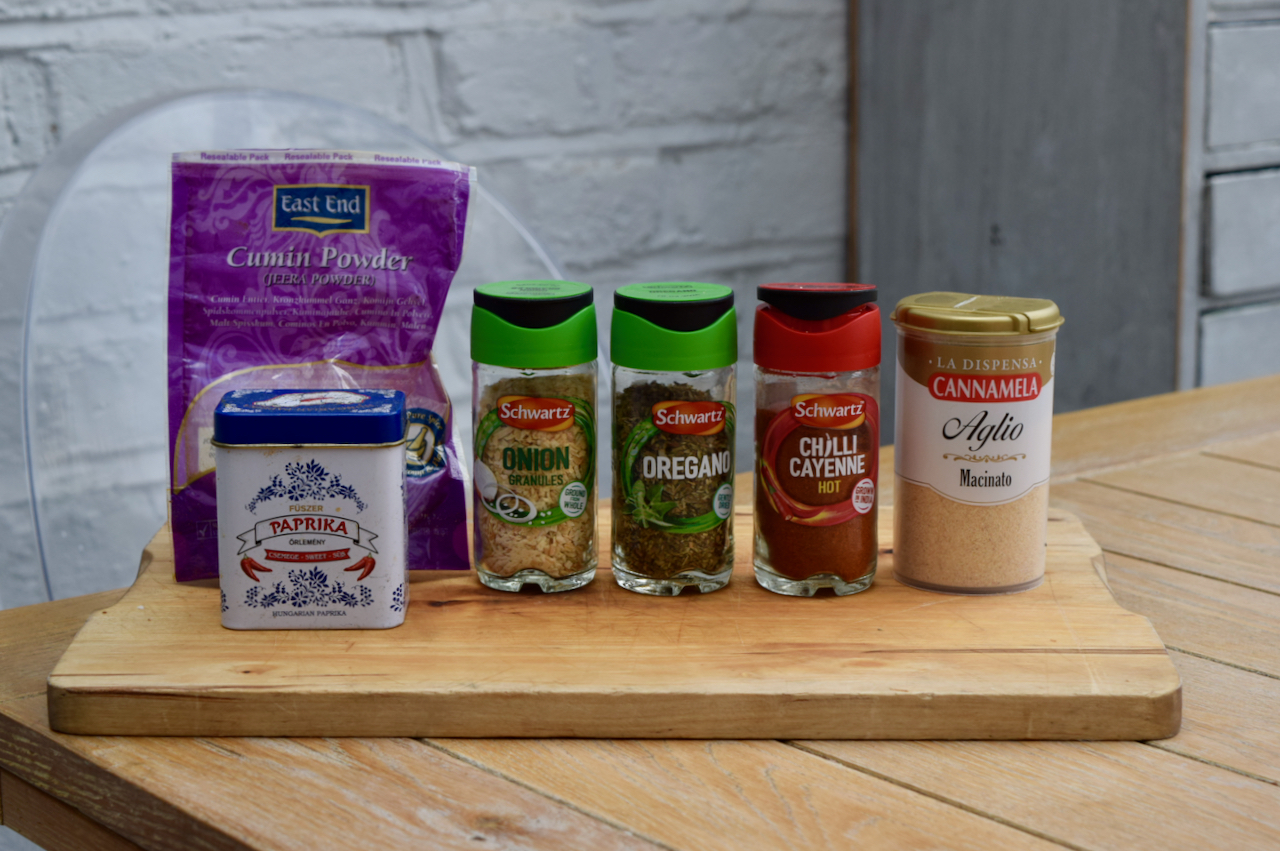 Here's the spice mix line up, this does look a like a lot of pots, but I had all of them in my cupboard and I imagine you do too.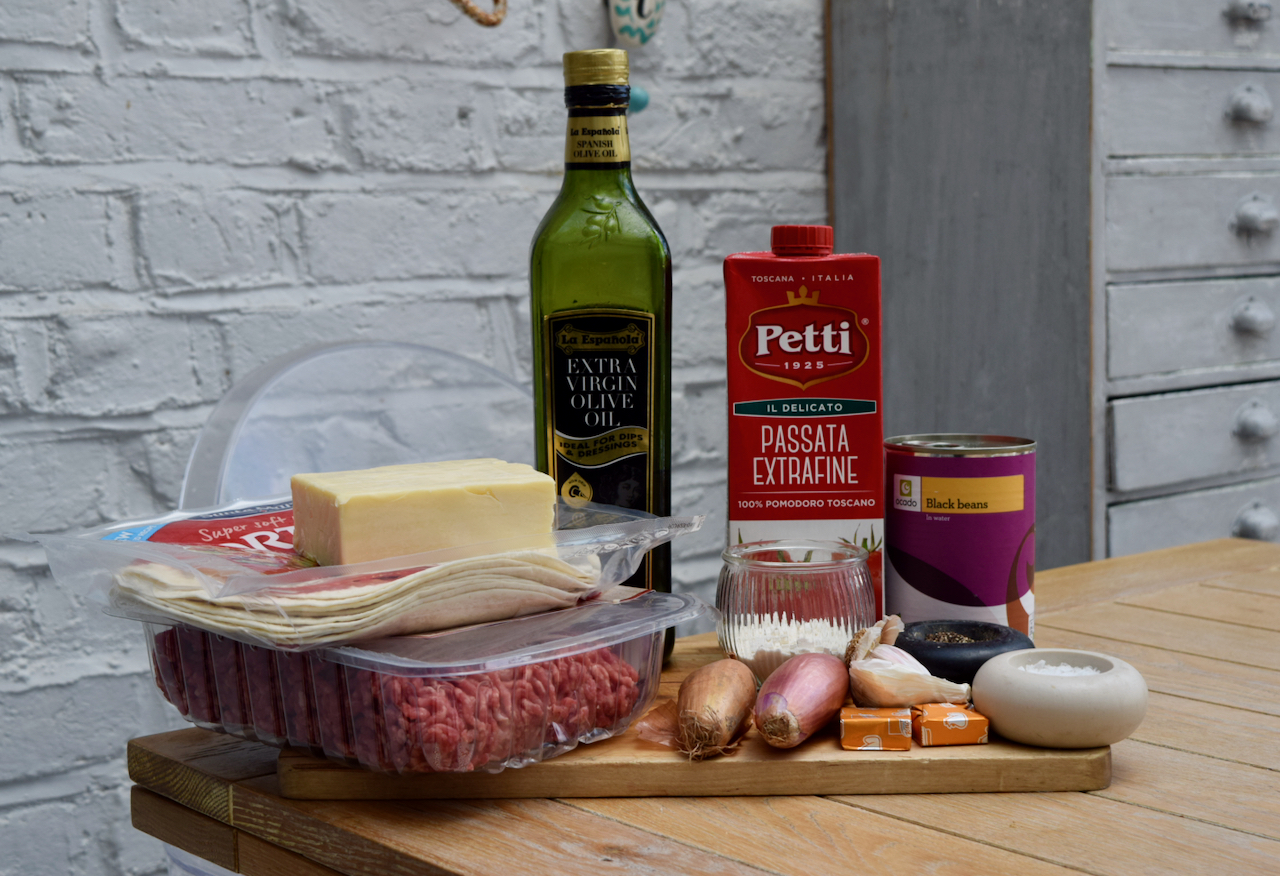 And here's the rest of the bits and bobs. Nothing at all dramatic. Ben had eaten every last onion in the house so I had to use two elderly shallots, which were just fine. My tortilla wraps were medium sized and fitted into my serving dish beautifully.
Right, start with the spice mix. Simply mix the onion and garlic granules or powder with the dried oregano, cumin, paprika and cayenne pepper in a small bowl. I like spice so went for the full teaspoon of cayenne and it was quite frisky. Go with a little less if your spice tolerance is lesser.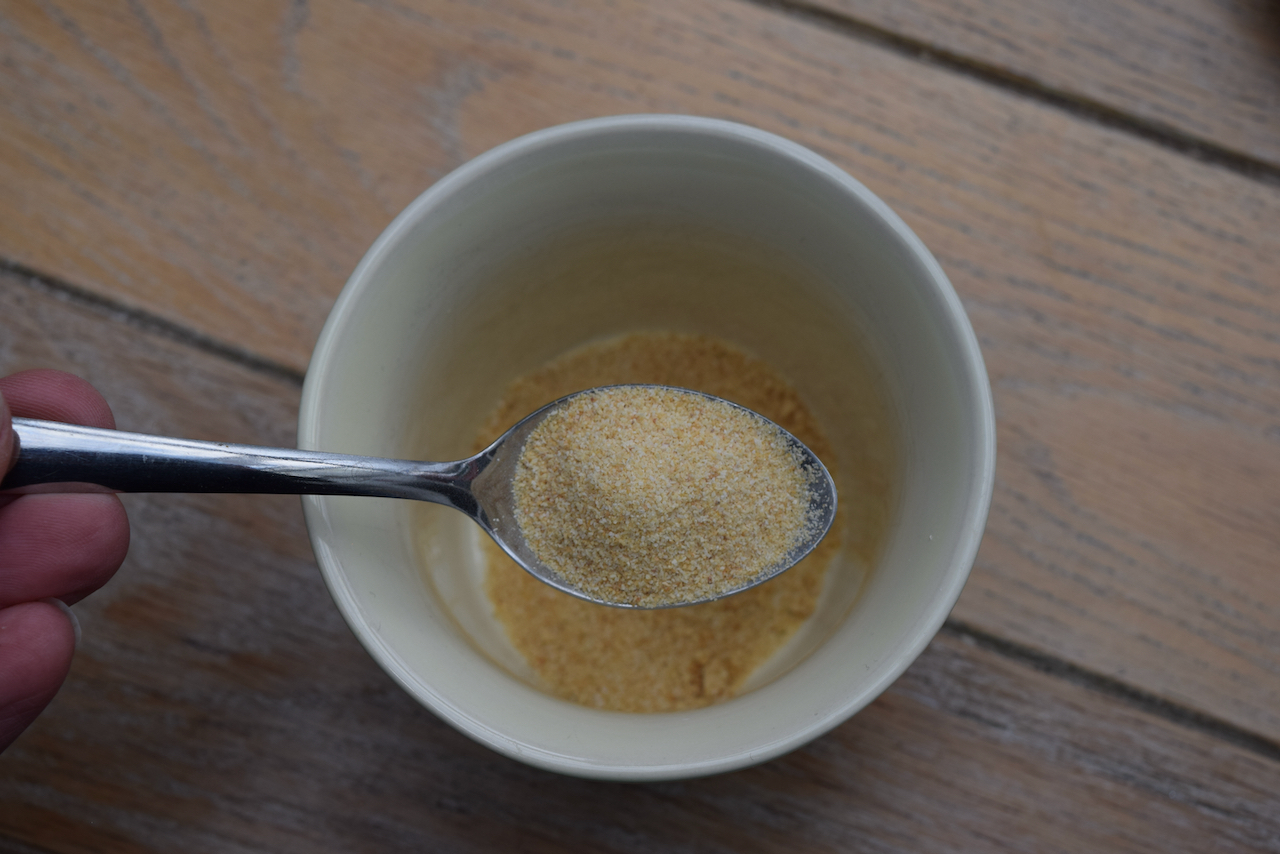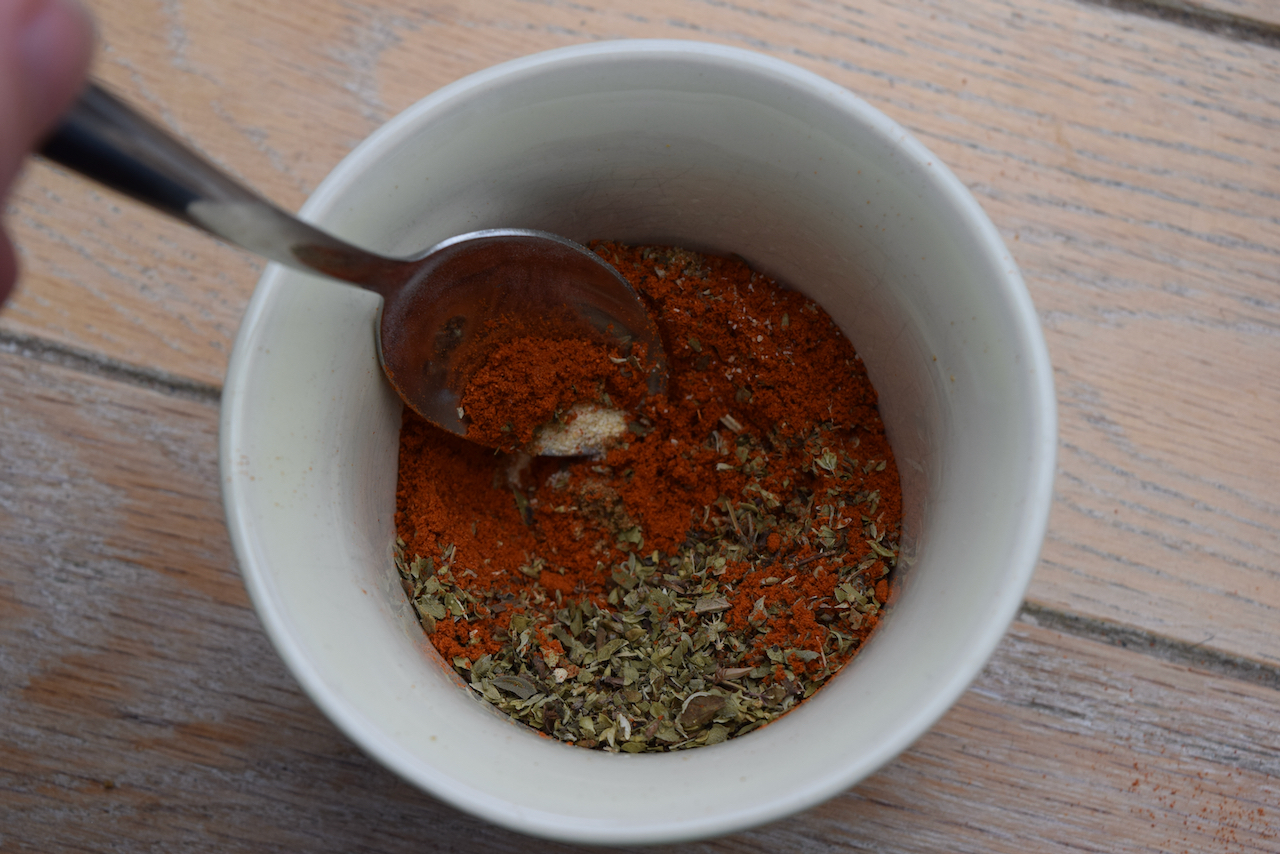 Pop this to one side for the moment. Now make the Enchilada sauce. Take a large frying pan and pour in the two tablespoons of olive oil. Heat over a medium flame and then stir in the flour until smooth. Cook for a minute.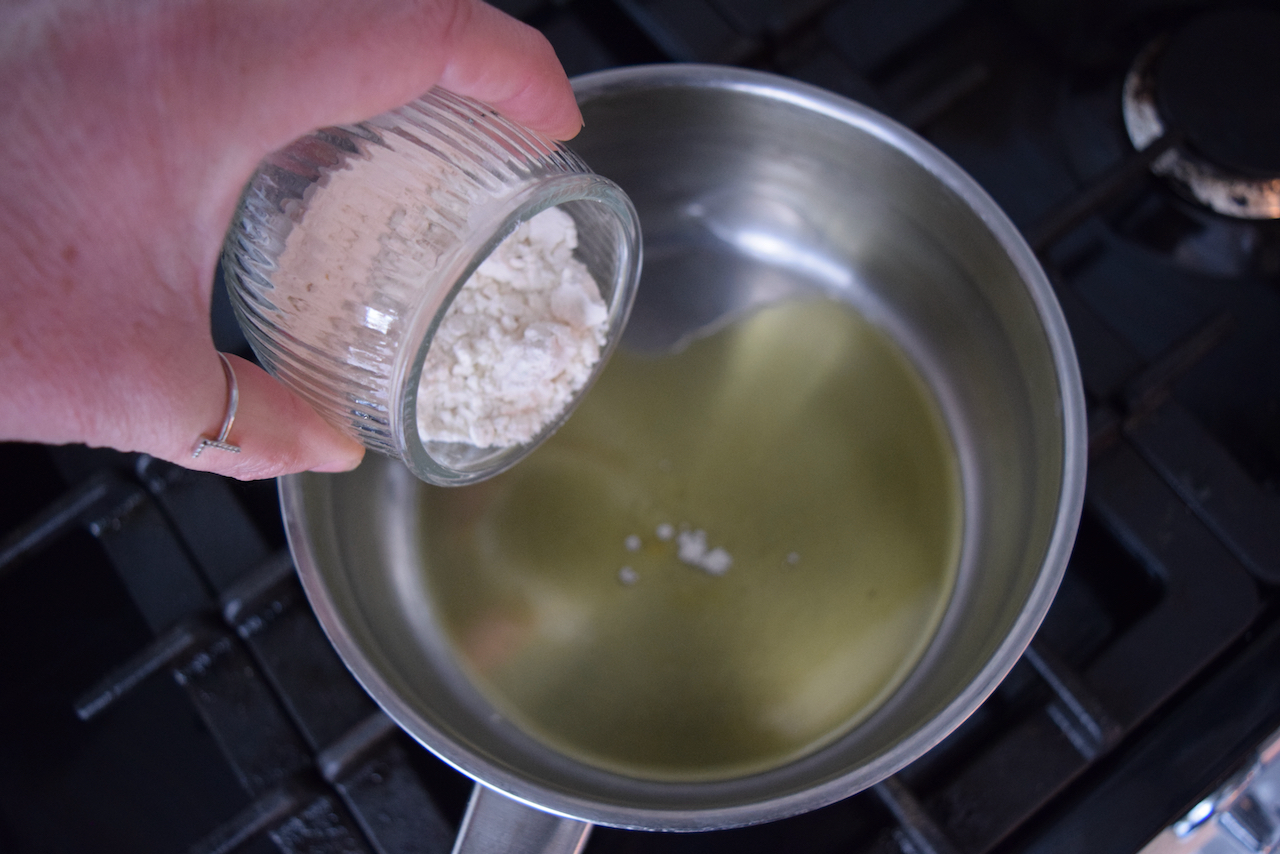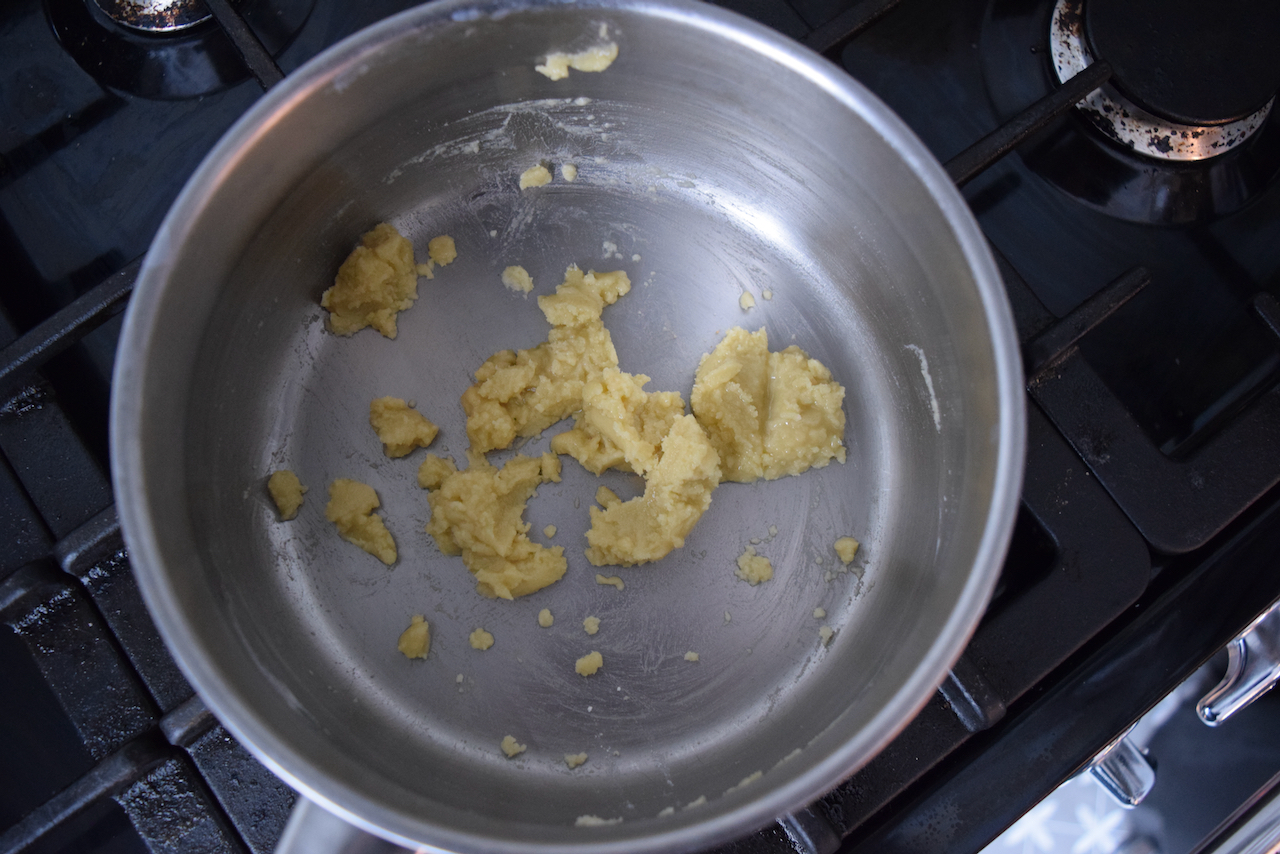 Slowly whisk in the stock a little at a time until smooth.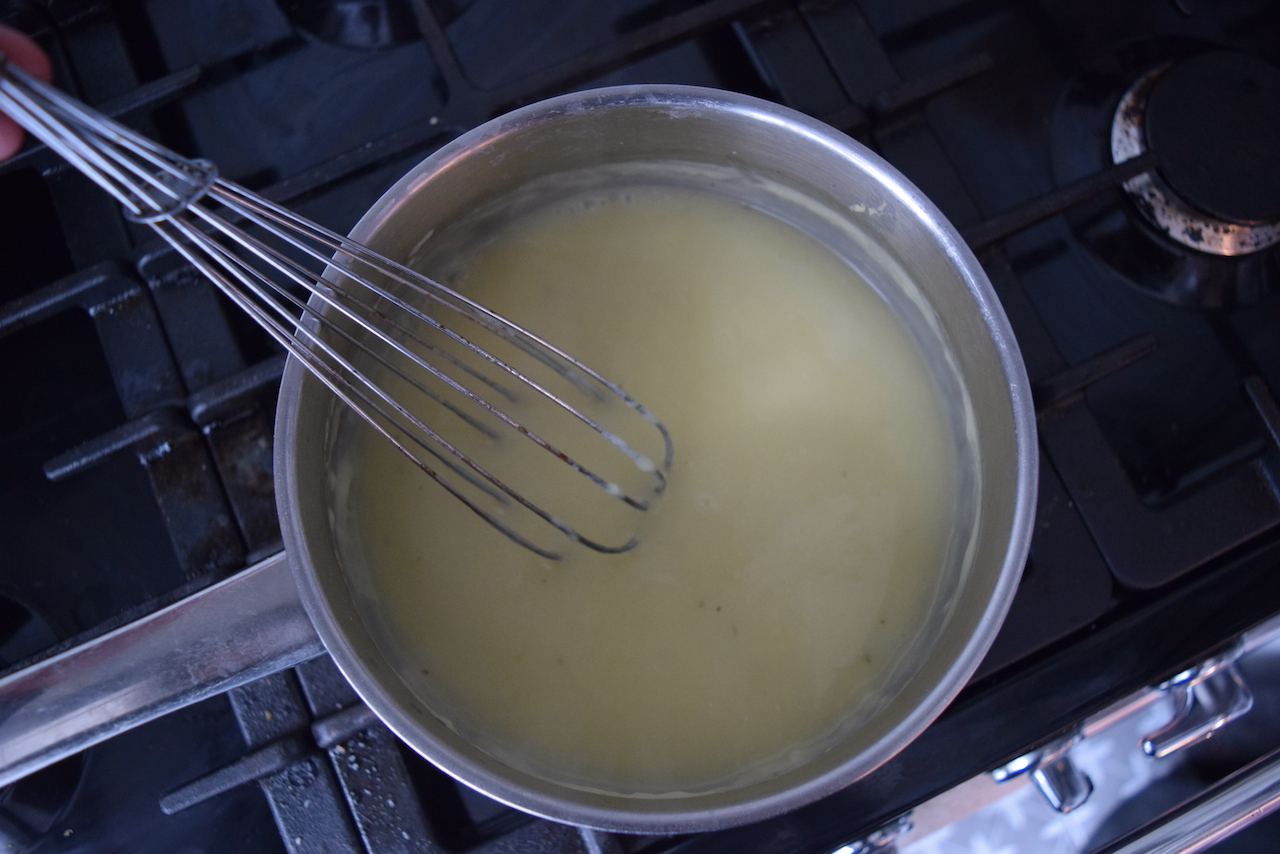 Pour in the tomato passata, two tablespoons of the spice mix and whisk until smooth. Simmer for 3 to 5 minutes until the sauce has thickened slightly.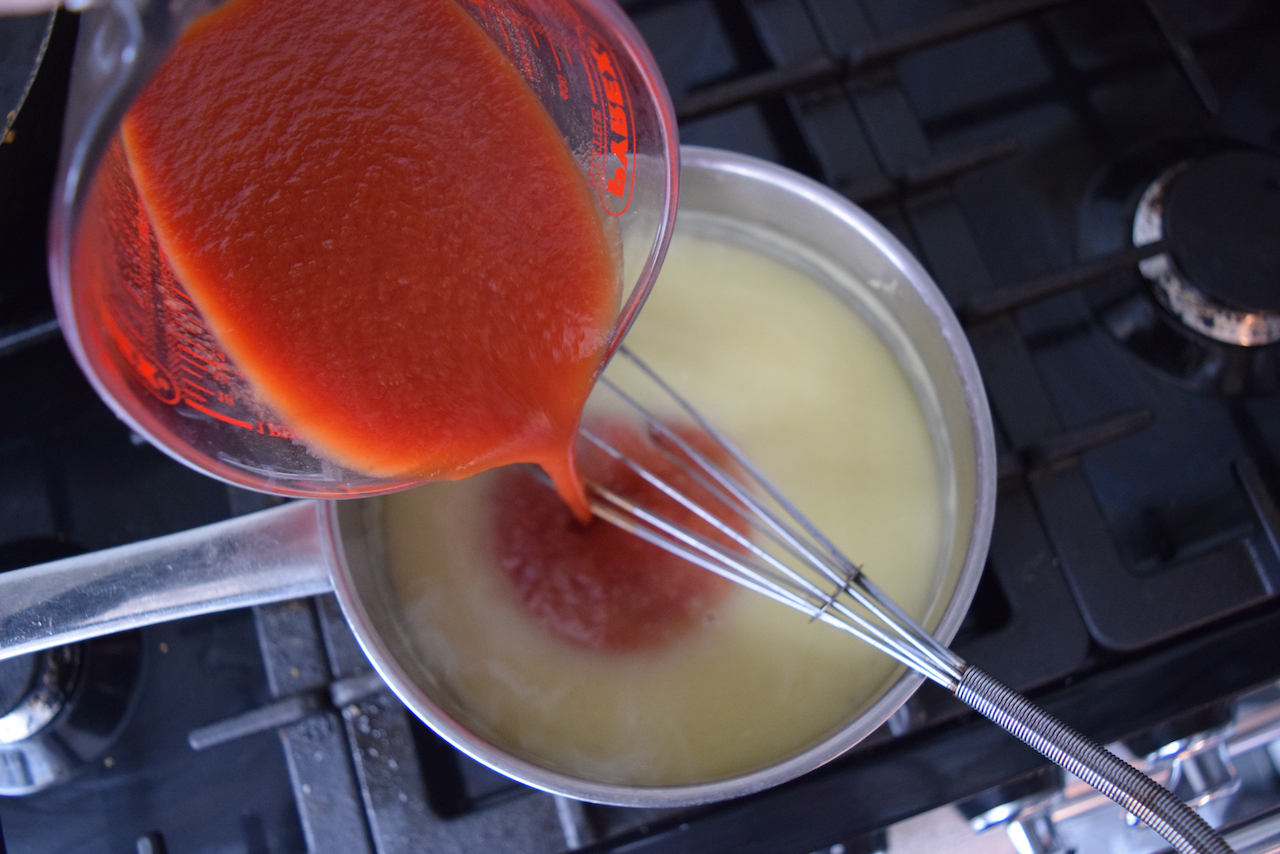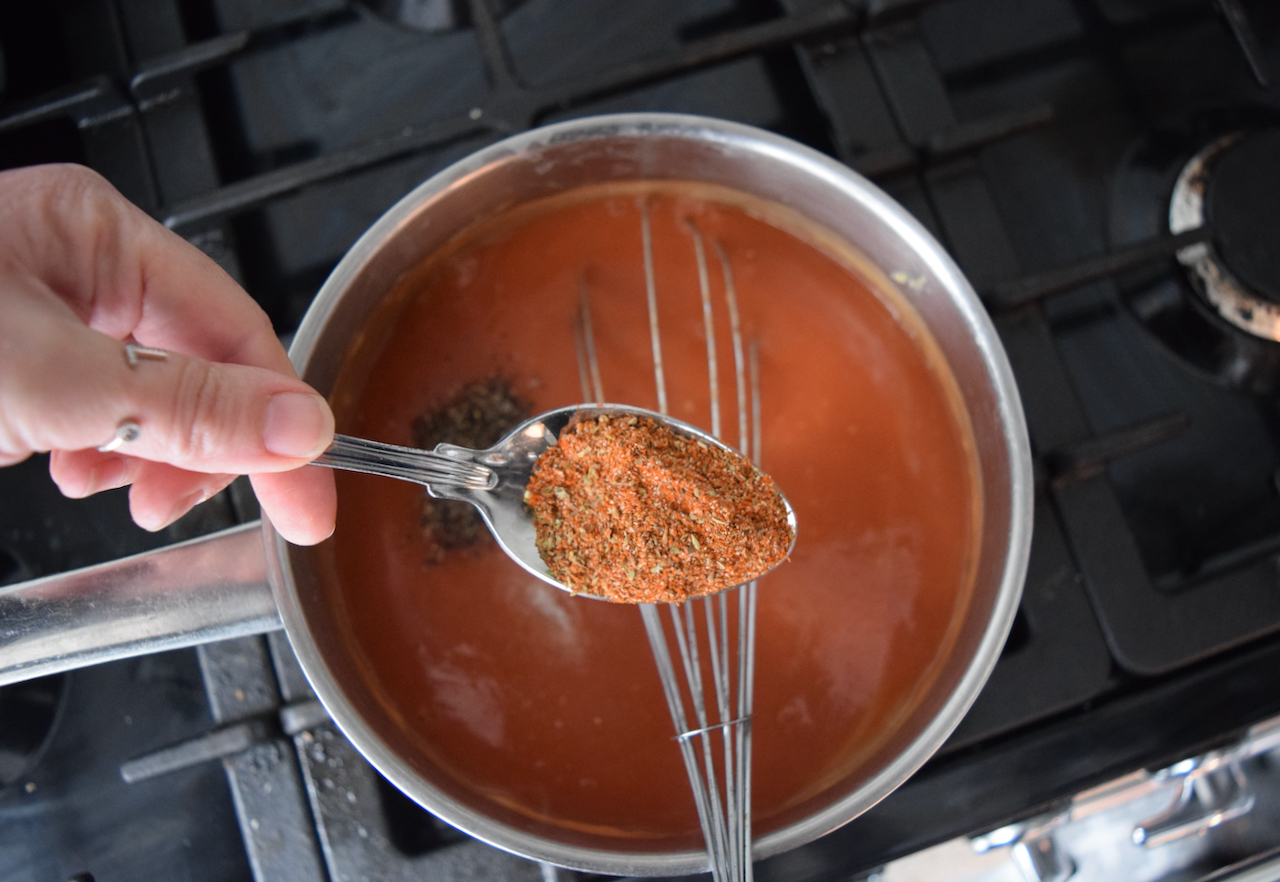 Turn off the heat and leave the sauce for the moment. Take a large high sided frying pan and heat a tablespoon of oil. Add the chopped onion and garlic and sauté for a minute. Then add the beef and cook until browned and cooked through.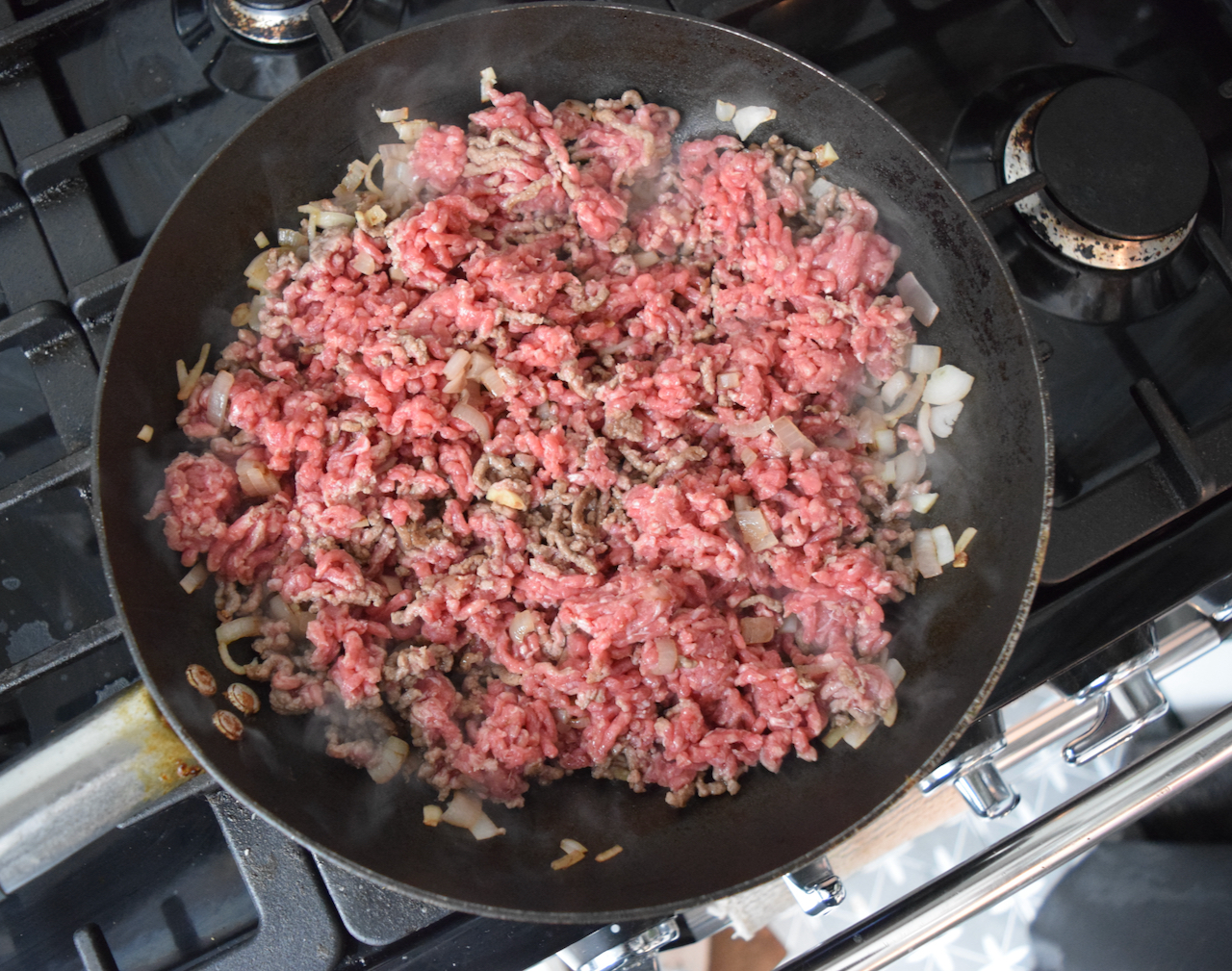 Tip in the remaining spice mixture, and stir well.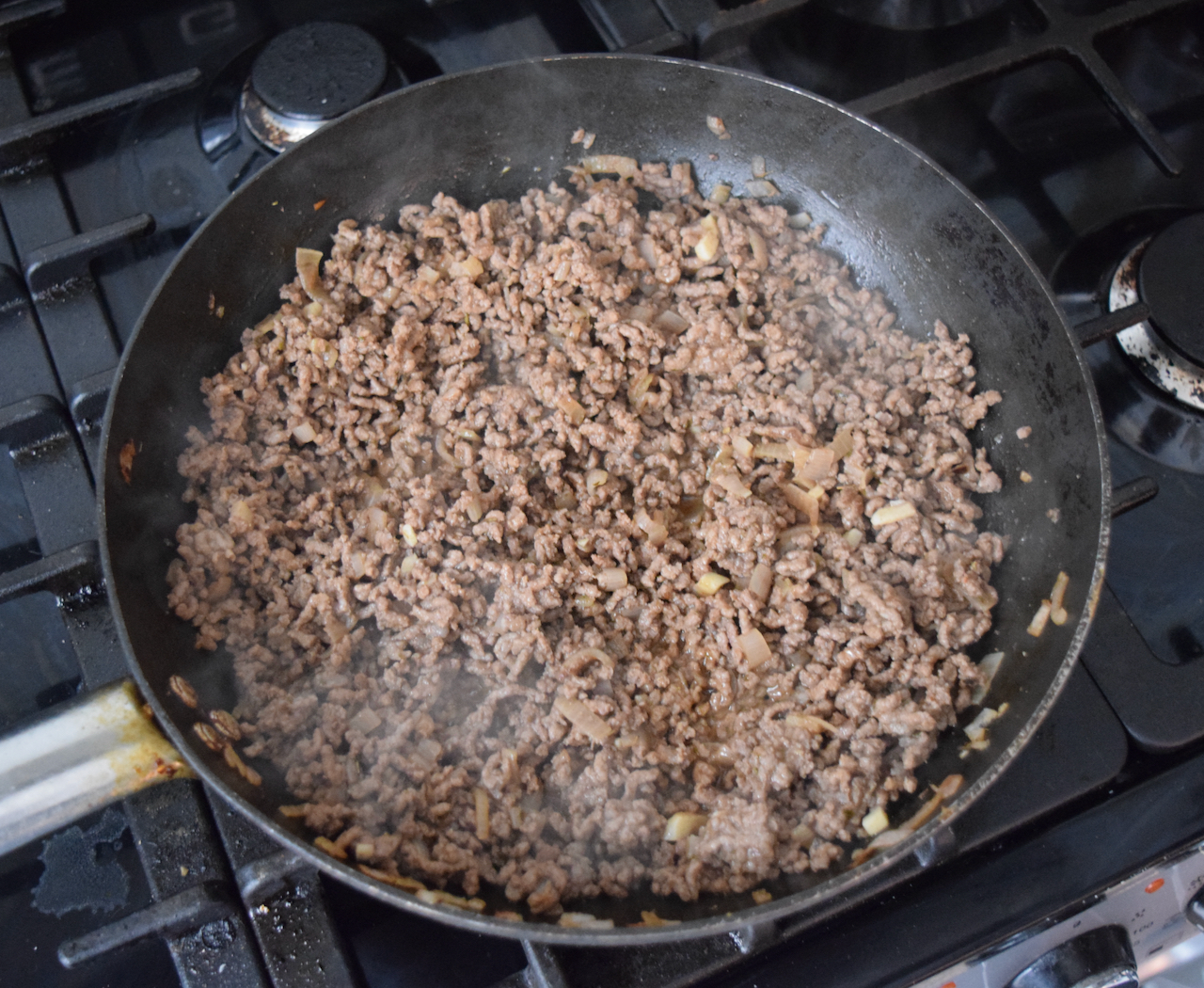 Drain and rinse your black beans then add them to the beef along with 150ml of the homemade Enchilada sauce. Stir again and cook for 2 minutes. Taste to see if it needs any salt and pepper then turn off the heat.
Now it's assembly time. First, pre heat the oven to 160 degrees fan assisted and ladle a couple of tablespoons of the sauce into the bottom of your chosen large baking dish.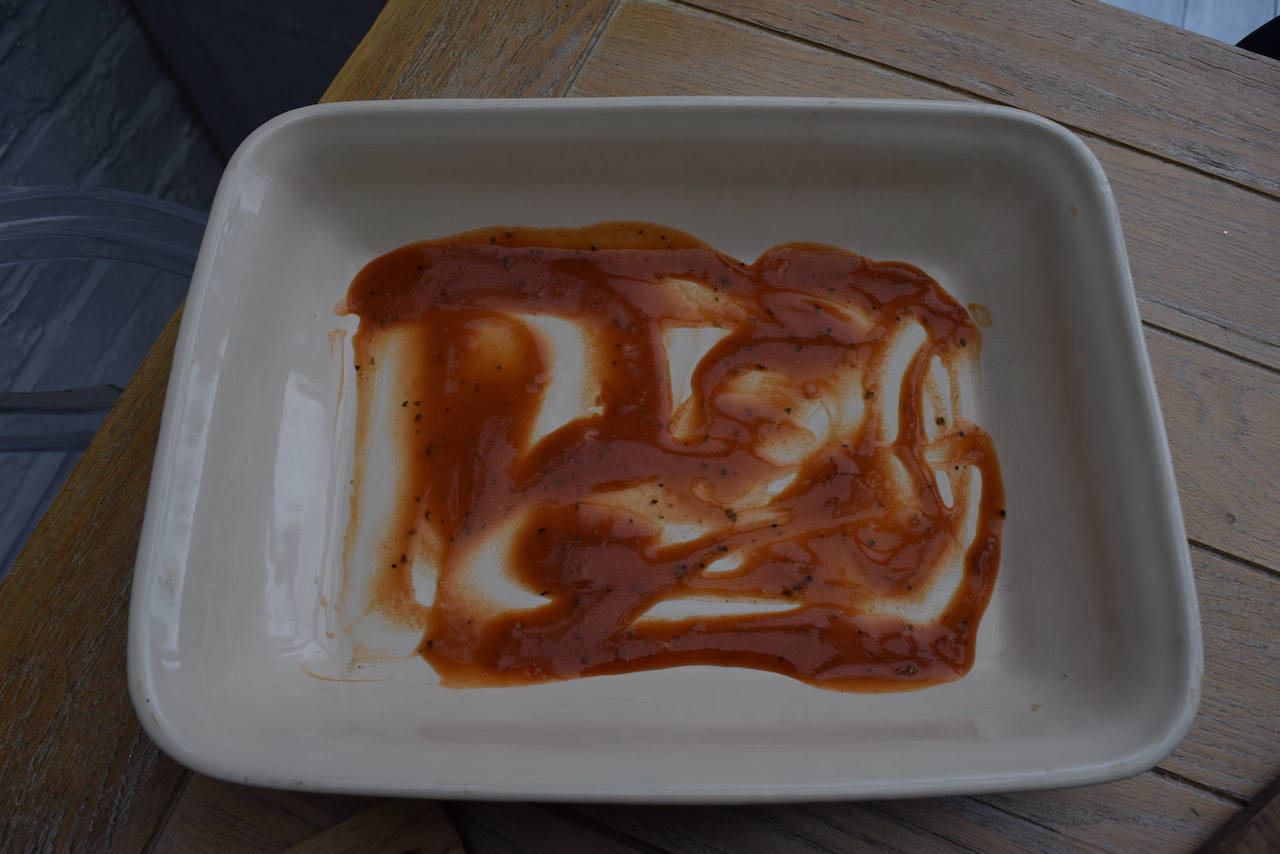 Now, take a tortilla and place an 1/8th of the beef mixture on the bottom third.
Roll this up, carefully, not really minding if some of the filling falls out, just spoon it back in, then place your filled wrap into the baking dish seam side down. Repeat with the rest of the wraps.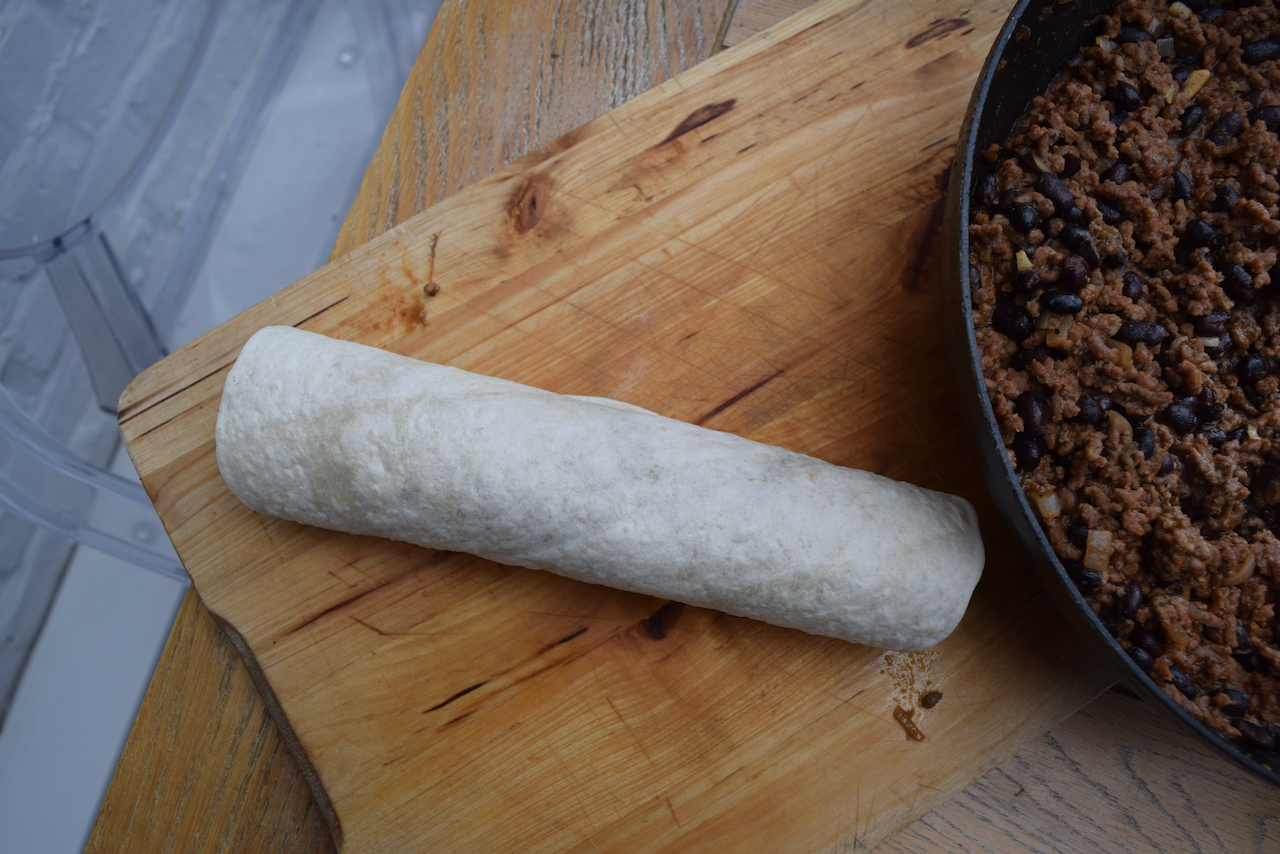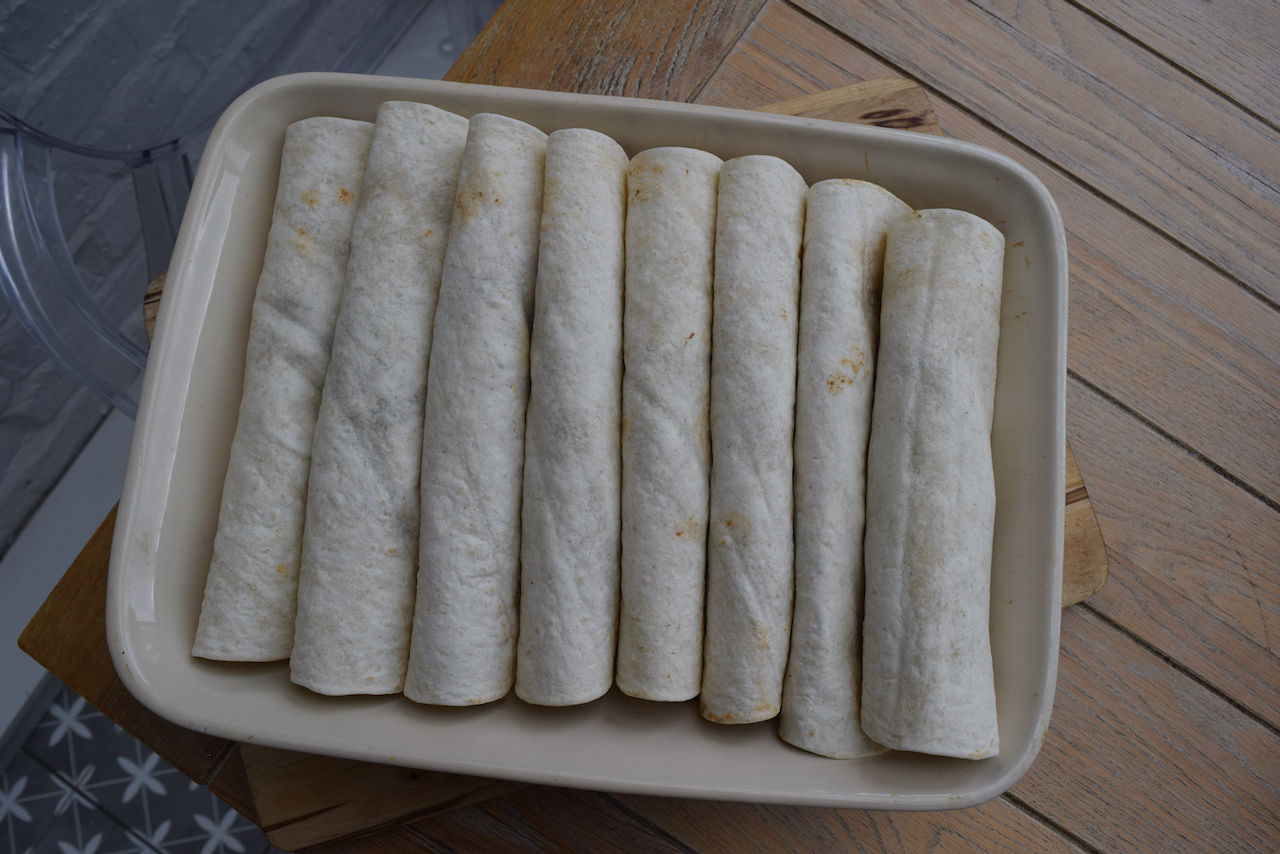 I've packed them in but this dish was just the right size. Now, pour over the rest of the sauce then sprinkle the top with all the grated cheese.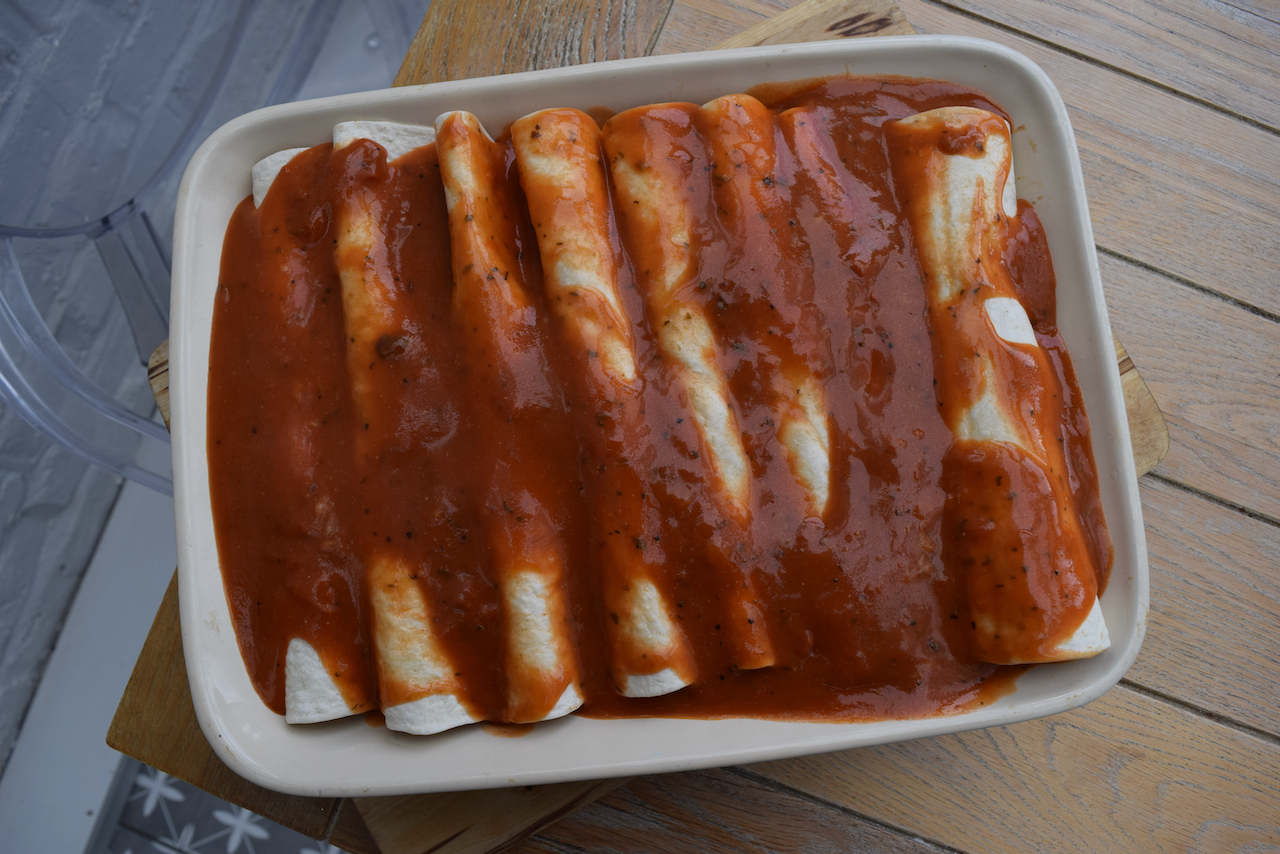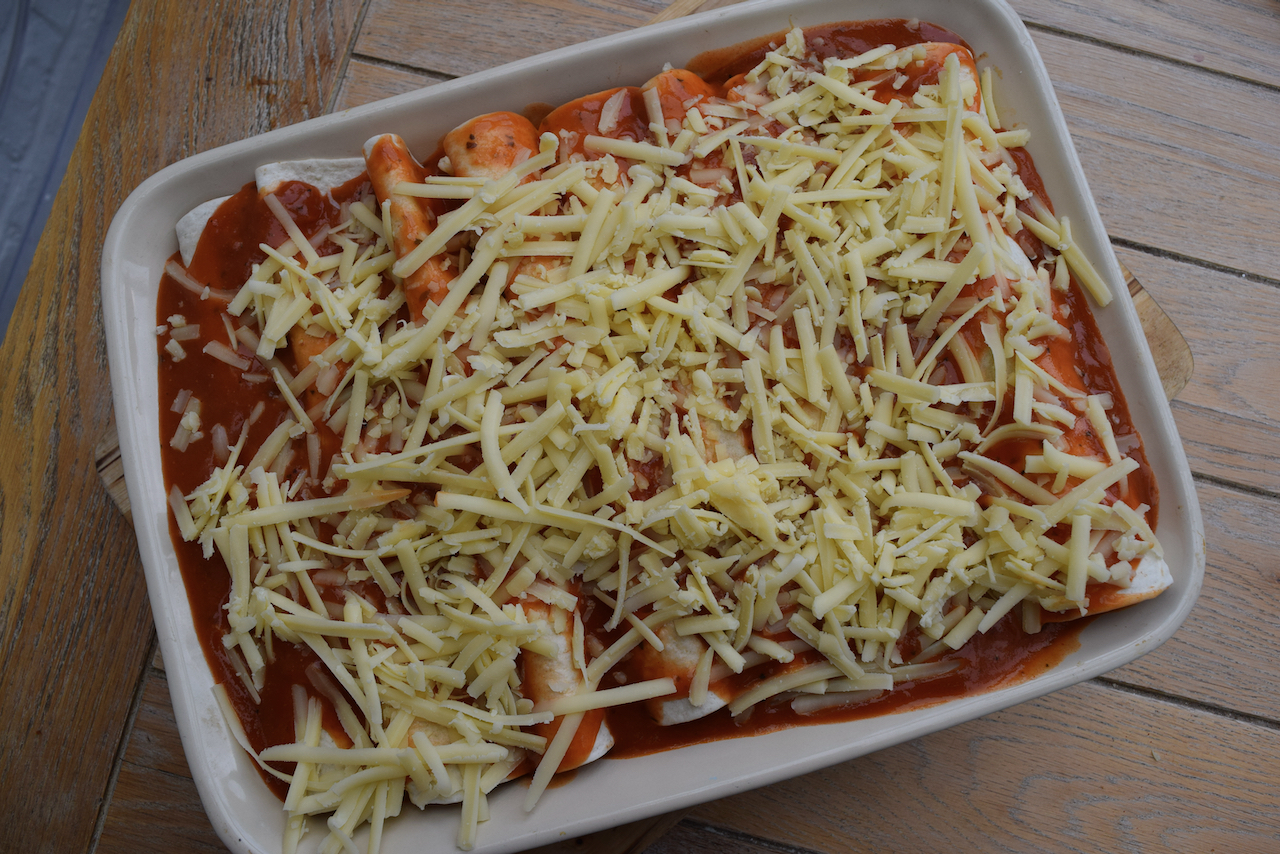 Place the dish on a baking tray for ease of transport and bake for 15 to 20 minutes or until golden, bubbling and smelling amazing.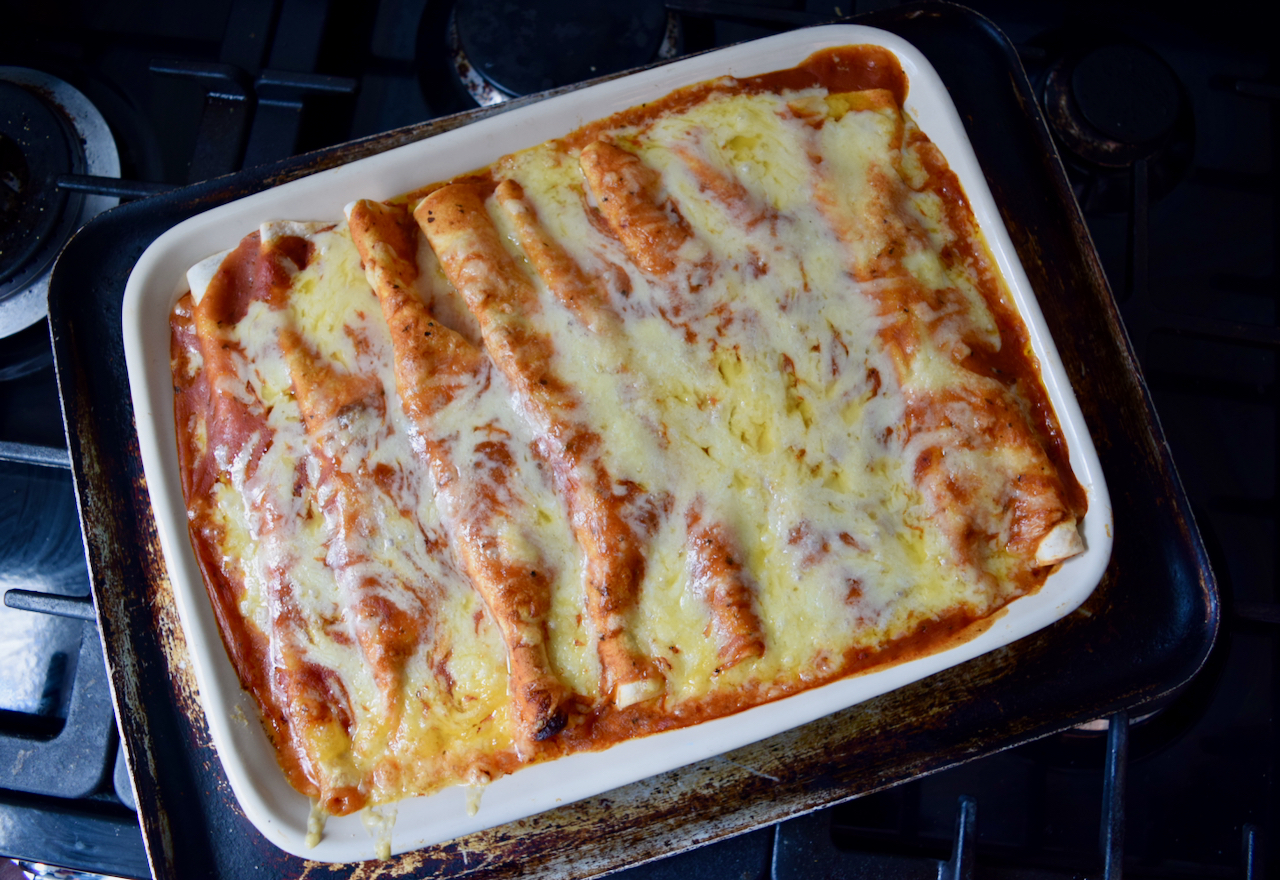 Serve, piping hot, with some fresh coriander to garnish. A blob of sour cream would be good here too. I didn't have any.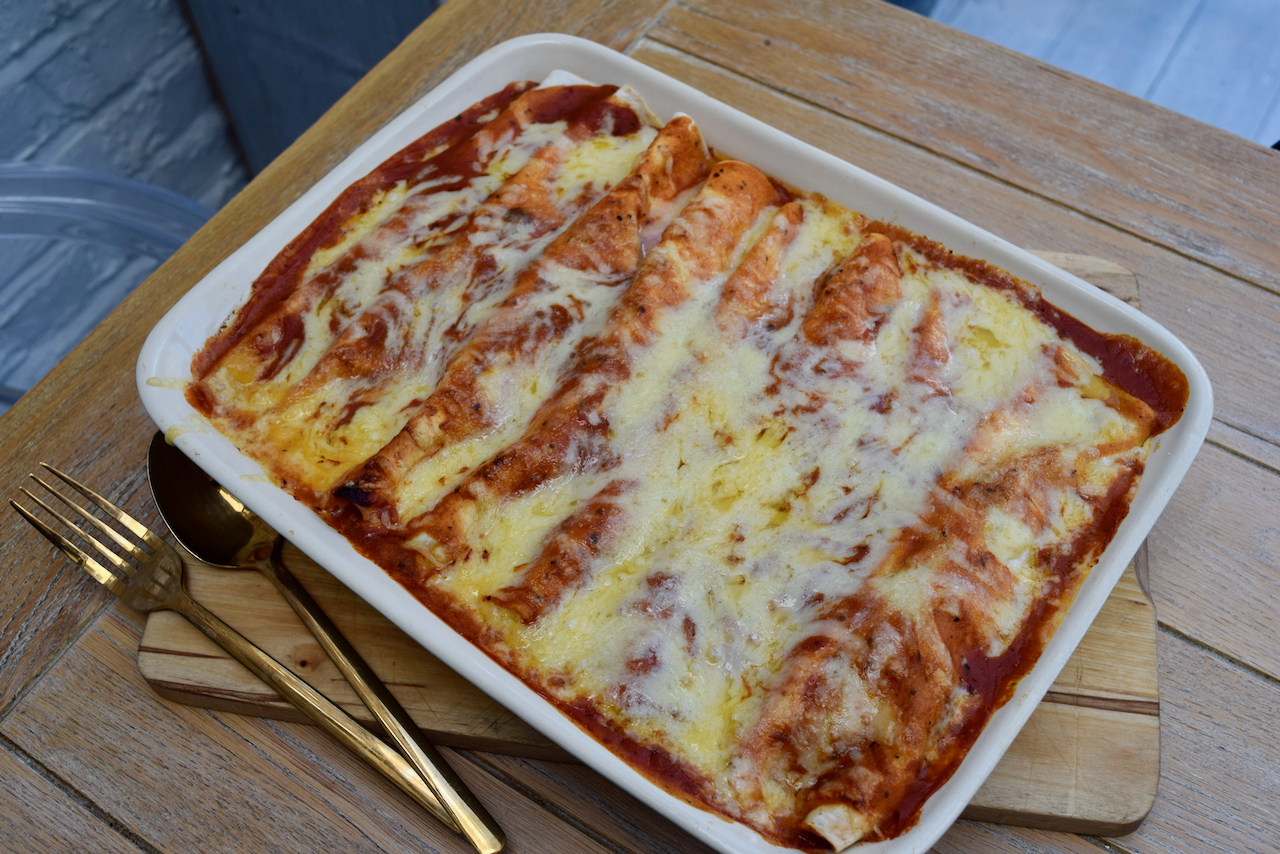 I served two Enchiladas for me, Clyde and George managed to devour the other 6 between them. Absolute hogs that they are.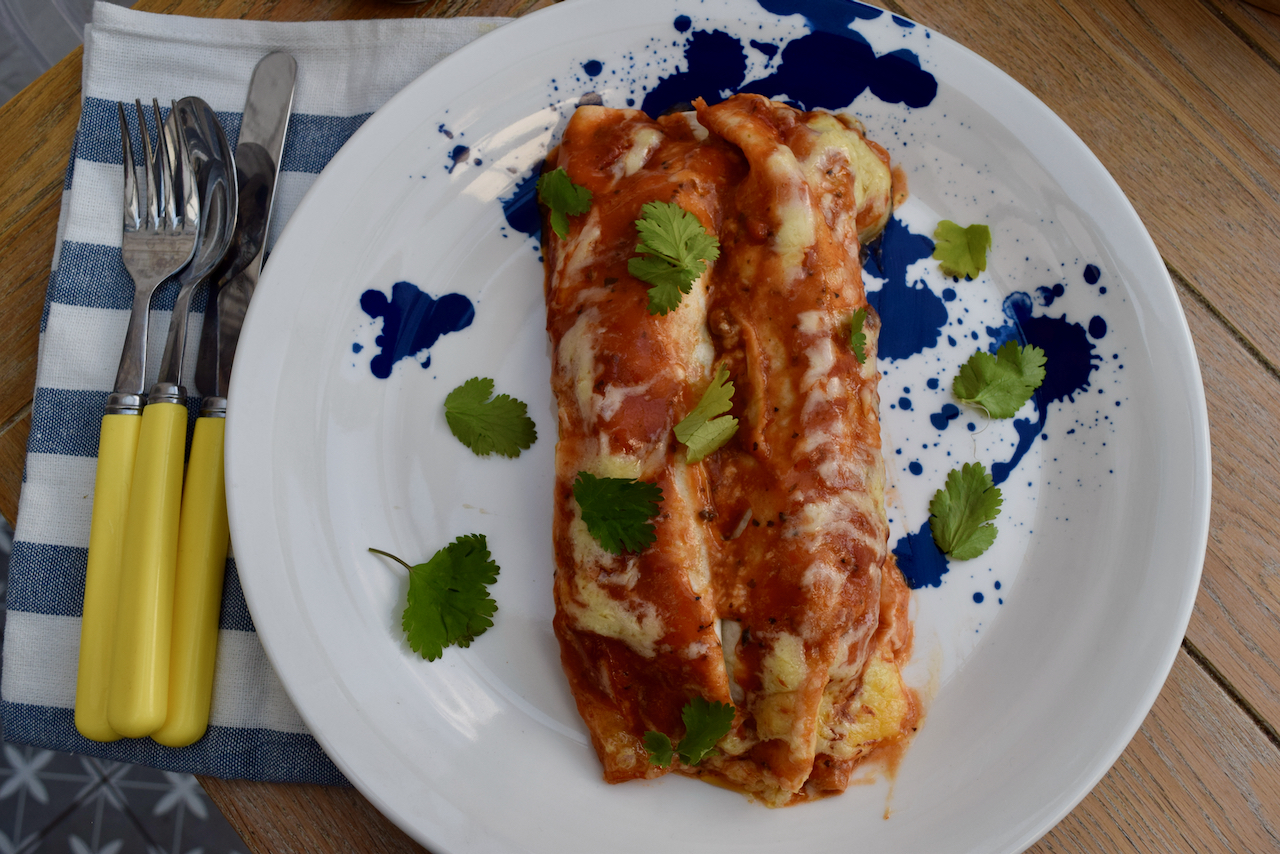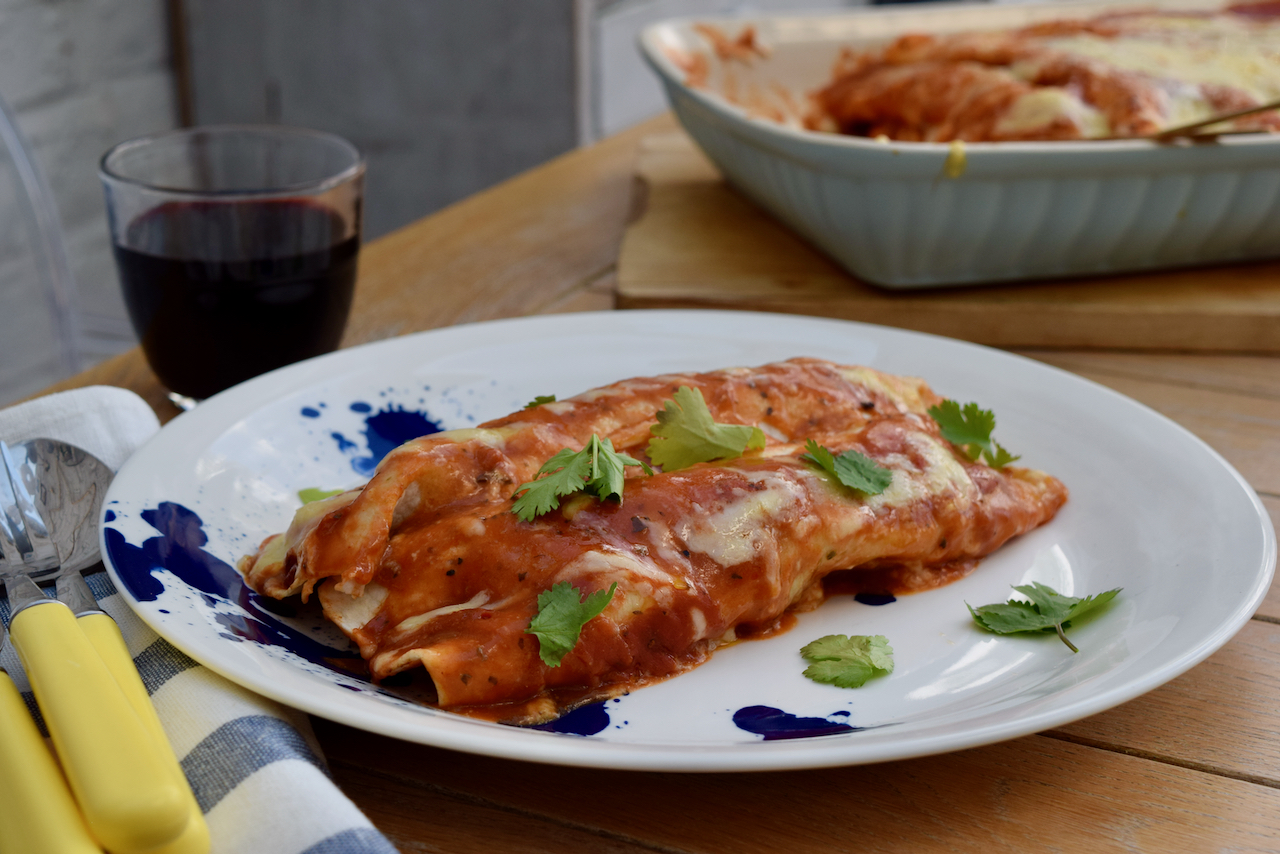 This is definitely one of those suppers to make again and again. It's not often dinner gets the George seal of approval, but when it does, it's worth the effort as I do love a clean plate situation.
Lucy x
Beef and Bean Enchiladas recipe
Serves a generous 4, 6 for less hungry types
You will just need pans and a large rectangular baking dish for this
Spice Mix
1 teaspoon garlic granules/powder
1 teaspoon onion granules/powder
1 tablespoon ground cumin
1 tablespoon dried oregano
1 tablespoon paprika
1/2 to 1 teaspoon cayenne pepper, dependent on your love of spice
Enchilada sauce
2 tablespoons olive oil
3 tablespoons plain flour
500ml chicken stock
400ml passata
Salt and pepper
Beef and Beans
1 tablespoon oil
1 onion, chopped
3 cloves garlic, chopped
750g minced beef
1 x 400g black beans, drained and rinsed
Enchiladas
8 medium sized tortilla wraps
150g cheese, grated, I used strong Cheddar, you use your favourite
Fresh coriander, to garnish
Start with the spice mix. In a small bowl mix together the onion and garlic granules with the cumin, oregano, paprika and cayenne. Pop to one side for the minute.
For the Enchilada sauce, heat two tablespoons of oil in a large sauce pan. Whisk in the flour and cook for a minute. Gradually whisk in the chicken stock then add the passata and two tablespoons of your spice mix and salt and pepper to taste. Simmer for around 5 minutes to thicken. Turn off the heat and leave for a moment.
Take a large high sided frying pan and add a tablespoon of oil. Add the chopped onion and garlic and cook for a minute. Add the minced beef and fry, breaking up until cooked through and browned. Tip in the last of the spice mix, the drained beans and 150ml of the Enchilada sauce. Bring up to the simmer, cook for a further 2 minutes. Taste for any additional seasoning then turn off the heat.
Pre heat your oven to 160 degrees fan assisted. Take a large rectangular baking dish and ladle on a couple of spoonfuls of the sauce and spread over the bottom. To assemble, take one wrap. Spoon an 1/8th of the beef mixture onto the bottom third of the wrap then carefully roll up. Place into the dish seam side down. Repeat with the other 7 wraps, wedging them all into the dish, side by side.
Pour the rest of the Enchilada sauce over the top of the tortillas then sprinkle with all the grated cheese. Place on a baking tray into a pre heated oven for 15 to 20 minutes, or until golden and piping hot. Devour, sprinkled with some fresh coriander.