Courgette and Feta Fritters Recipe
I don't grow a great deal in my garden, just a few piffling herbs and an old apple tree. But, I am led to believe, at this time of the year, some people have a glut of courgettes on their hands. Well you lucky green fingered people, I have a lovely, versatile recipe for you to utilise those excess veggies.
These courgette and feta fritters are fab to have in your recipe bank. They can be nibbles, a side dish or even a vegetarian main (I am envisaging them in a soft bap as a veggie burger). This recipe is a fiddled with Hairy Bikers one, so many thanks to them for being brilliant and hilarious. Serve them as you wish, with a minty, yoghurty dip or as a delicious side dish with a barbeque, they are yours for the making. And even if you don't 'grow your own', you can always buy the courgettes from the supermarket like me.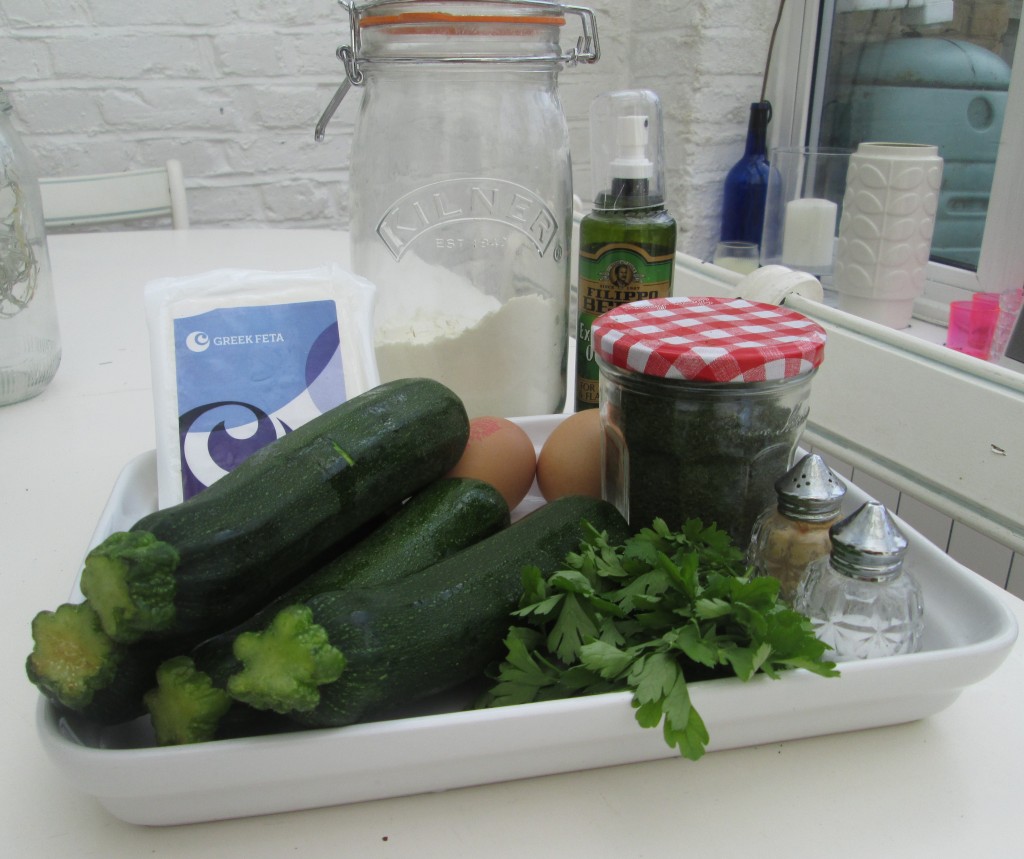 Here are the wonderful fresh tasting ingredients. Start by grating the courgettes into a colander and sprinkling them with a tablespoon of salt. This will remove a good deal of excess water and ensure a crispy fritter.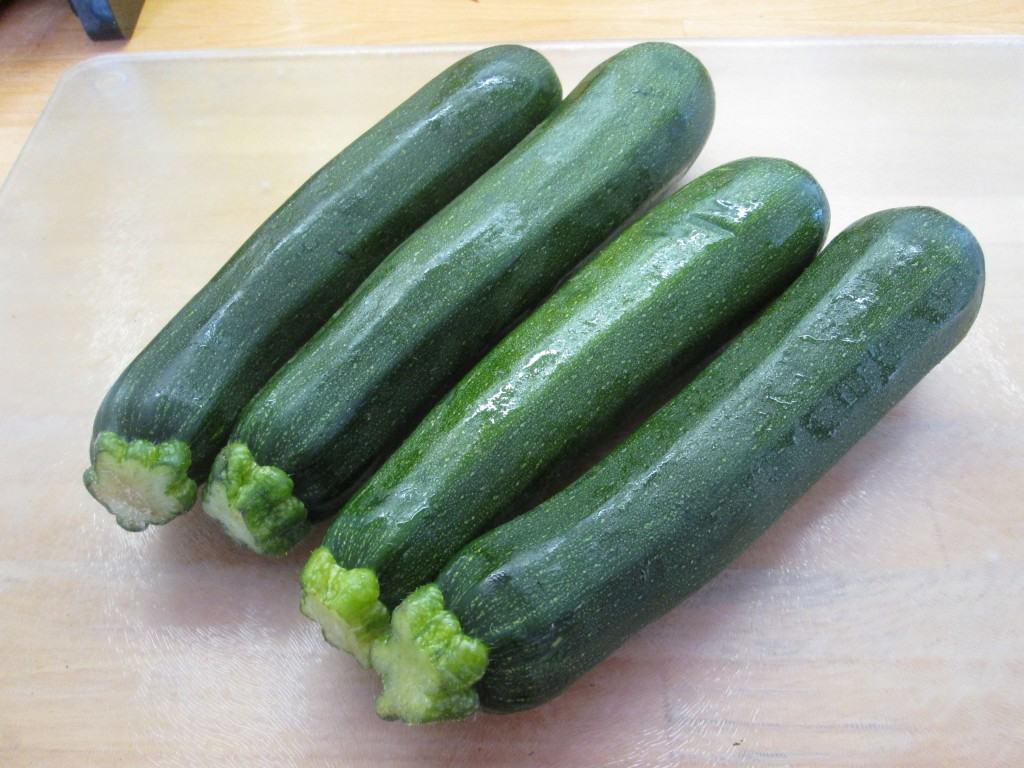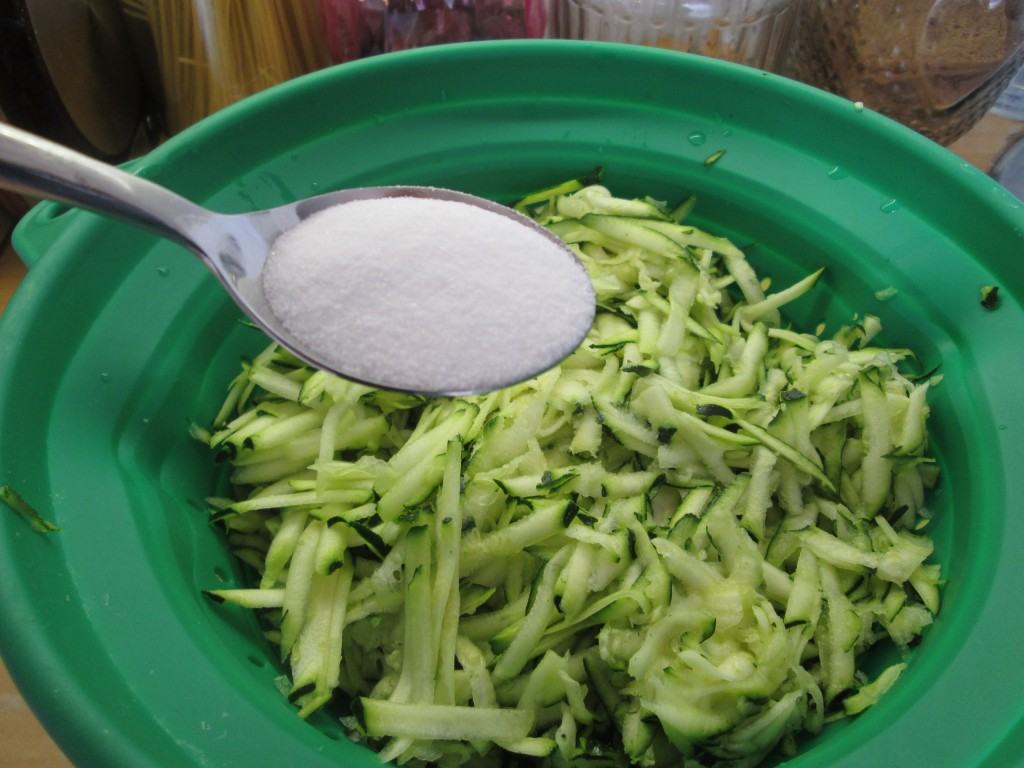 Leave these wonderful pale green morsels to drain for around 20 minutes. After this time, pop the courgettes into a clean tea towel or cloth and wring to remove all the excess water. No one likes a soggy fritter so keep wringing until you can wring no more.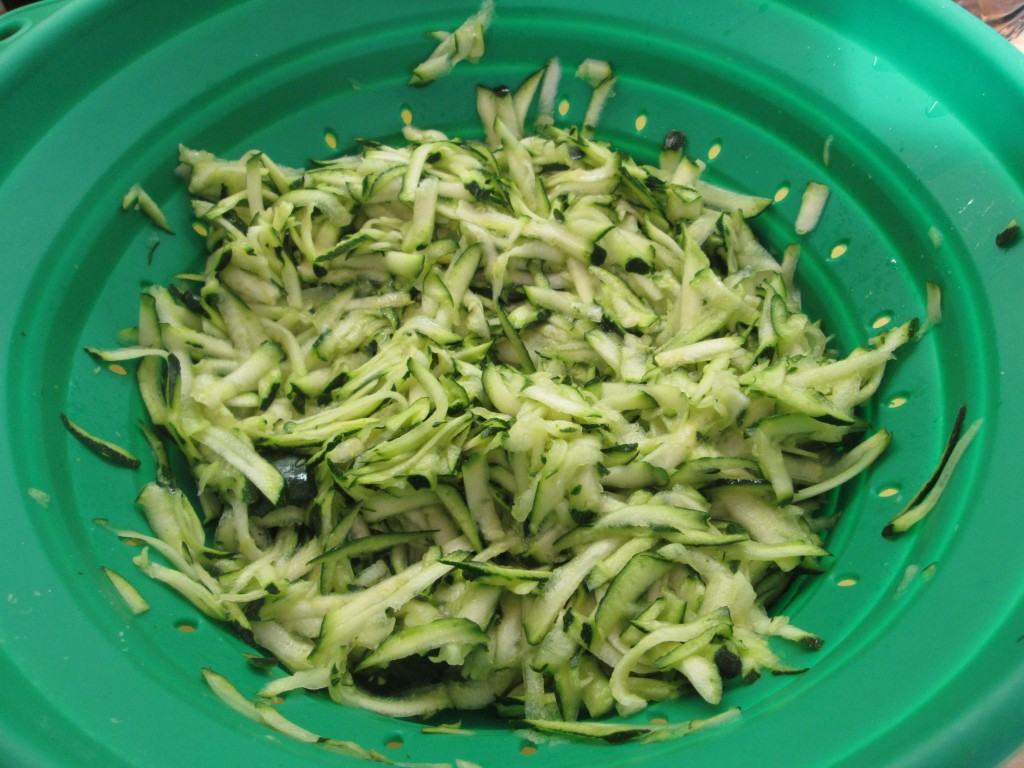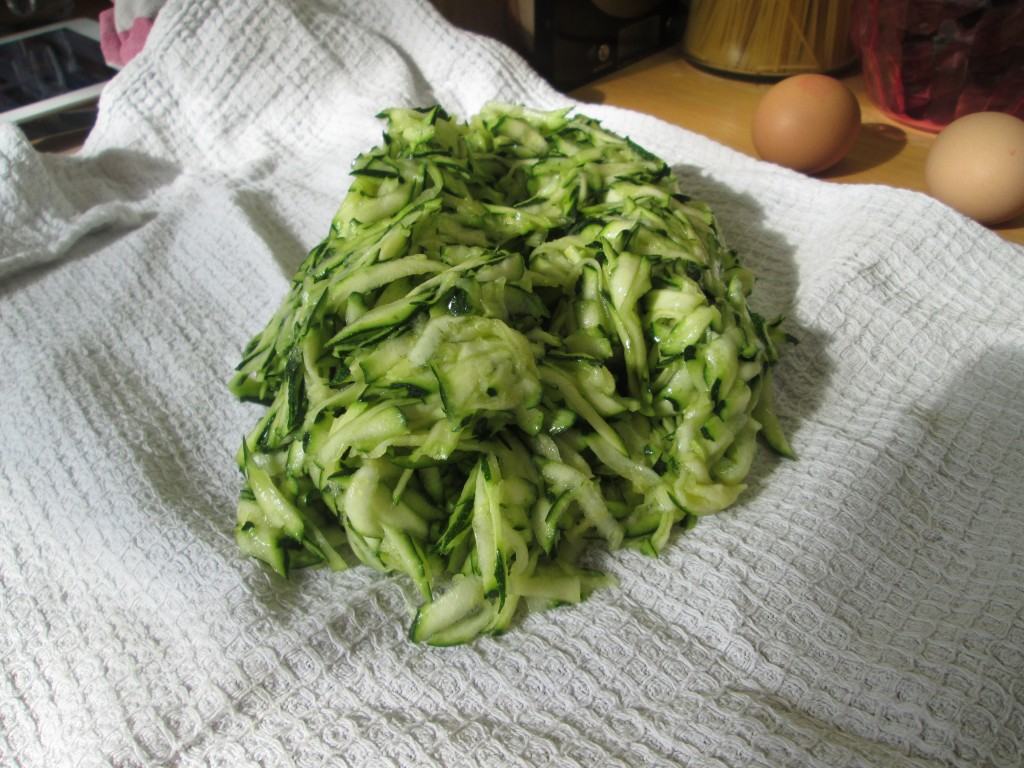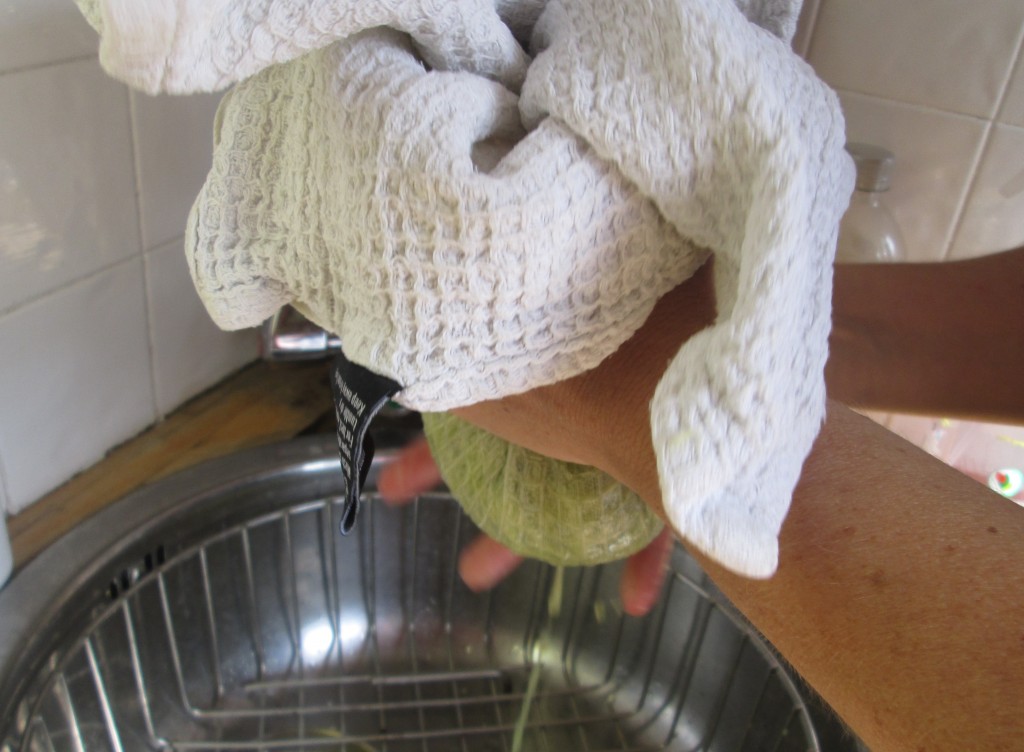 Great choice of white tea towel by me, now its green.
Once the courgettes are sufficiently drained, empty them into a mixing bowl and add the eggs, herbs, flour and pepper. No need for extra salt after the draining process and with the tasty salty feta. Give them a good stir together to ensure a well mixed batter.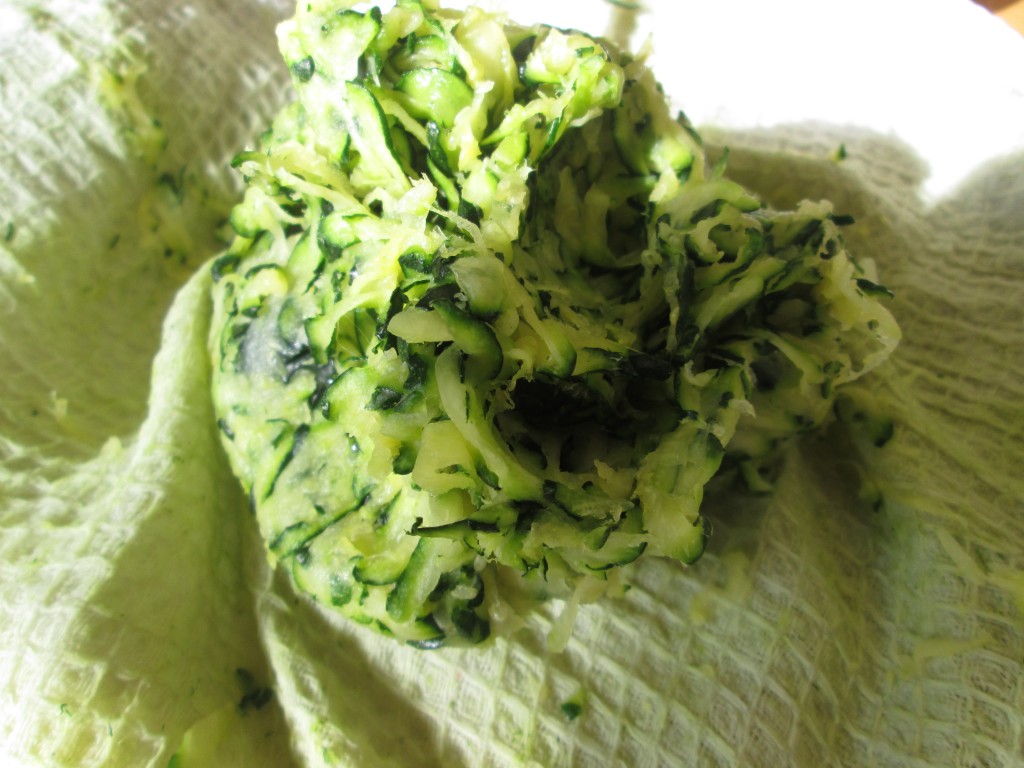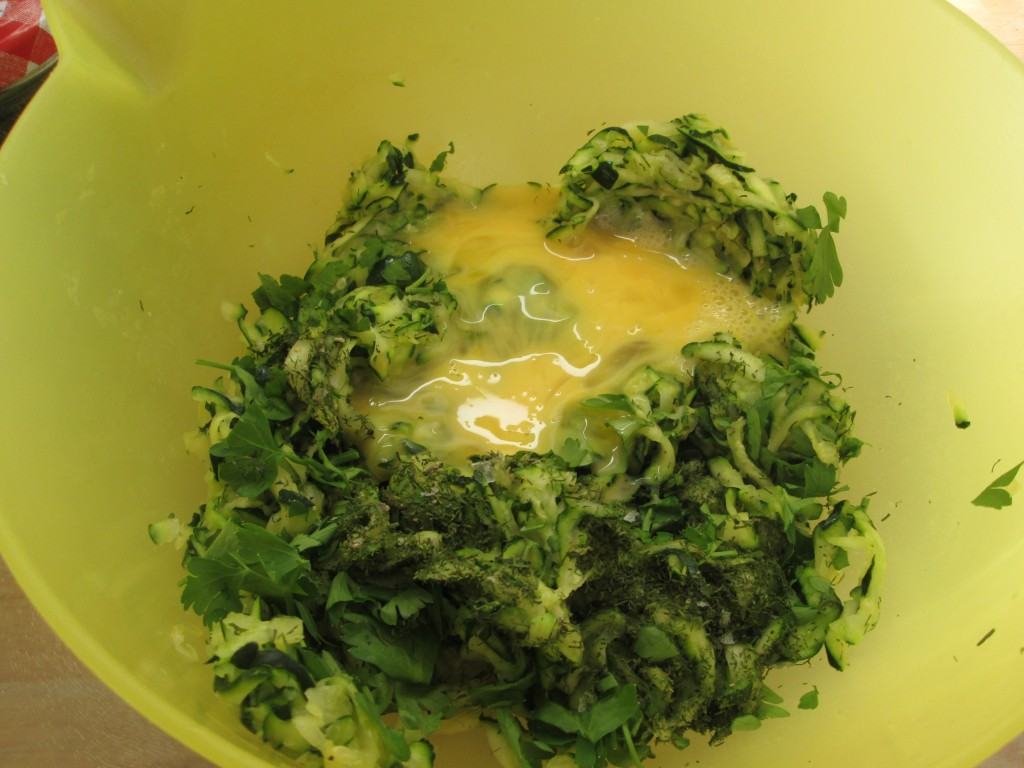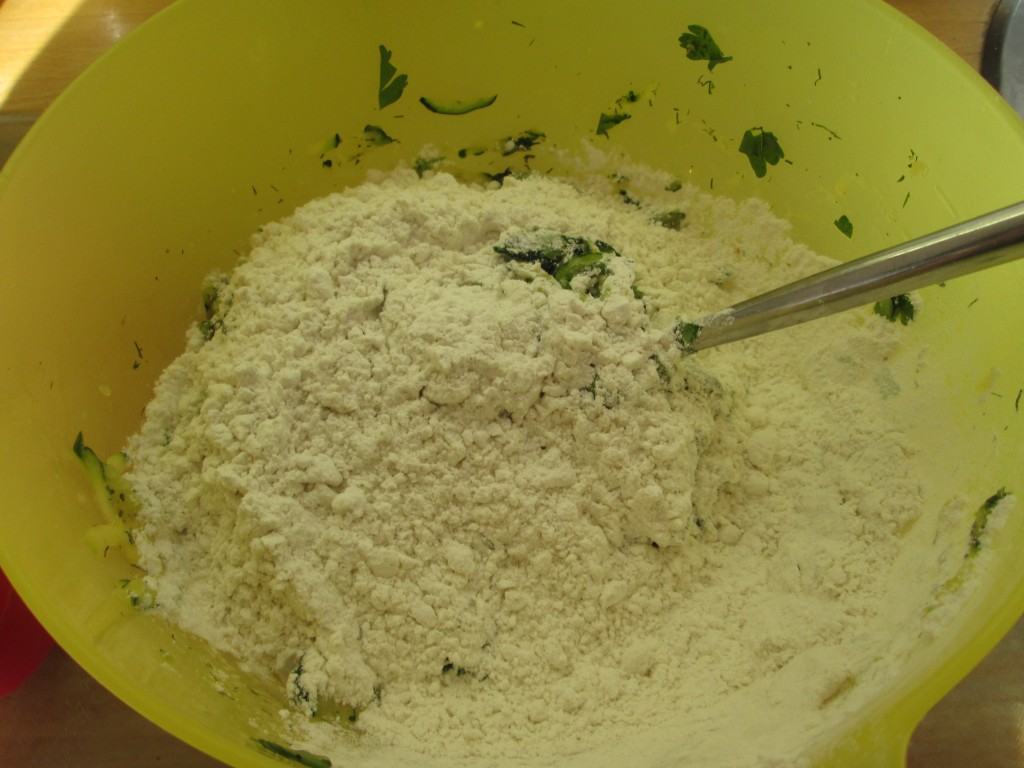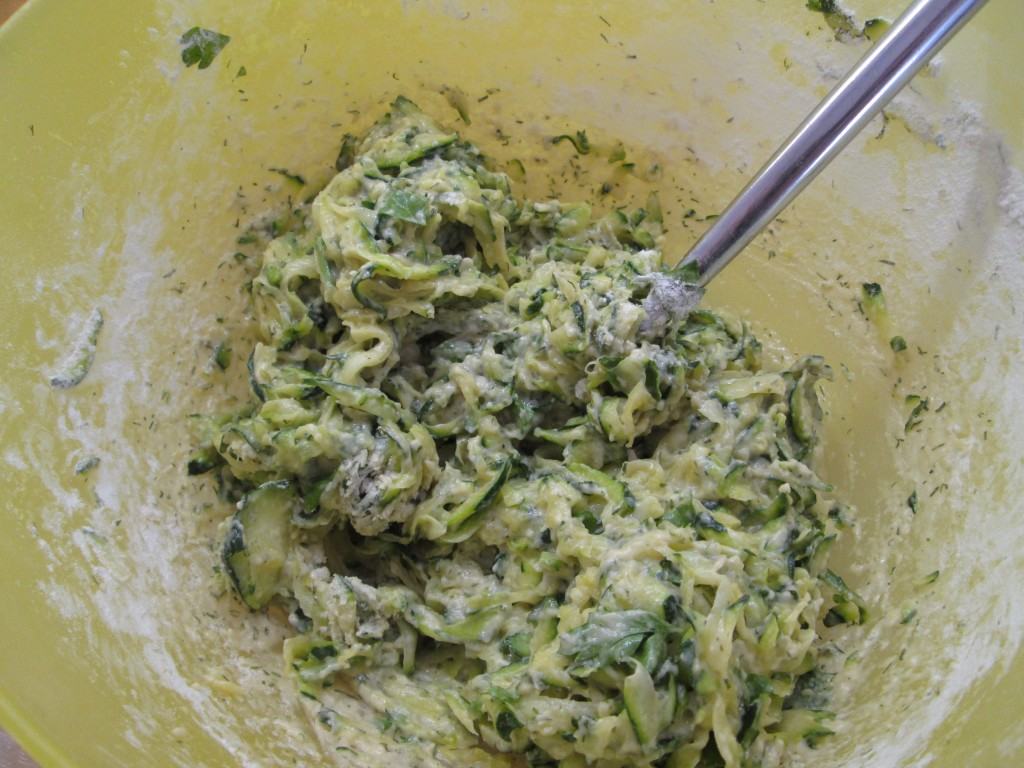 Next crumble the chalky white feta with your hands (which are hopefully more photogenic than mine), into your pale green batter. Give them a further mix then it's all systems go.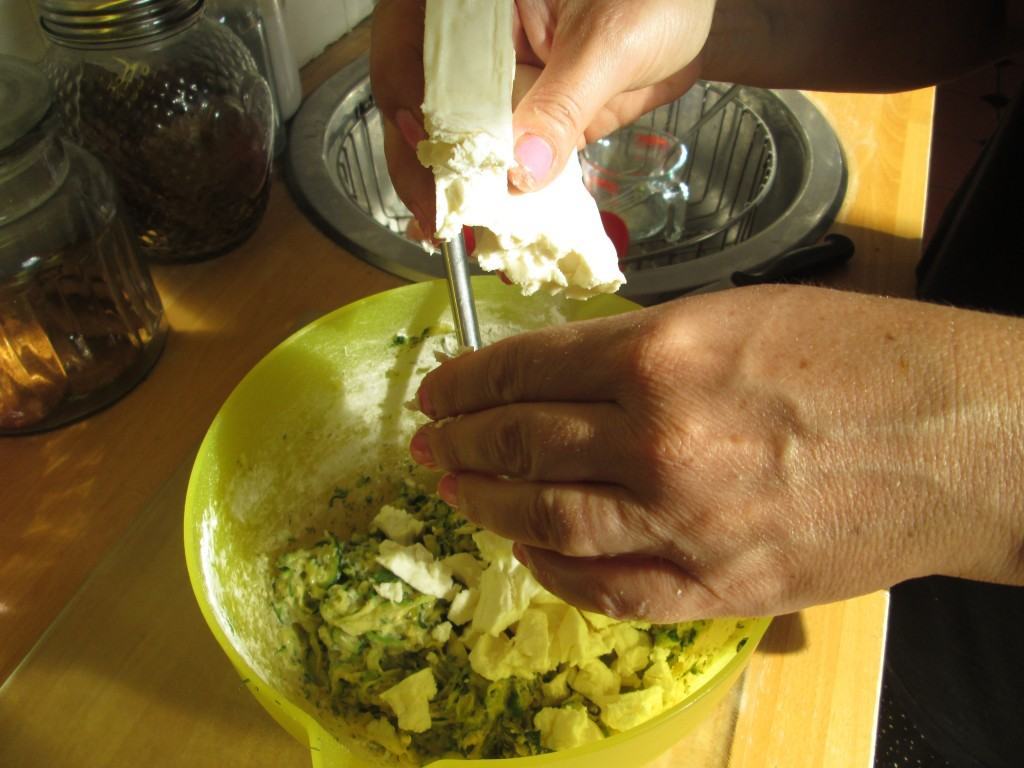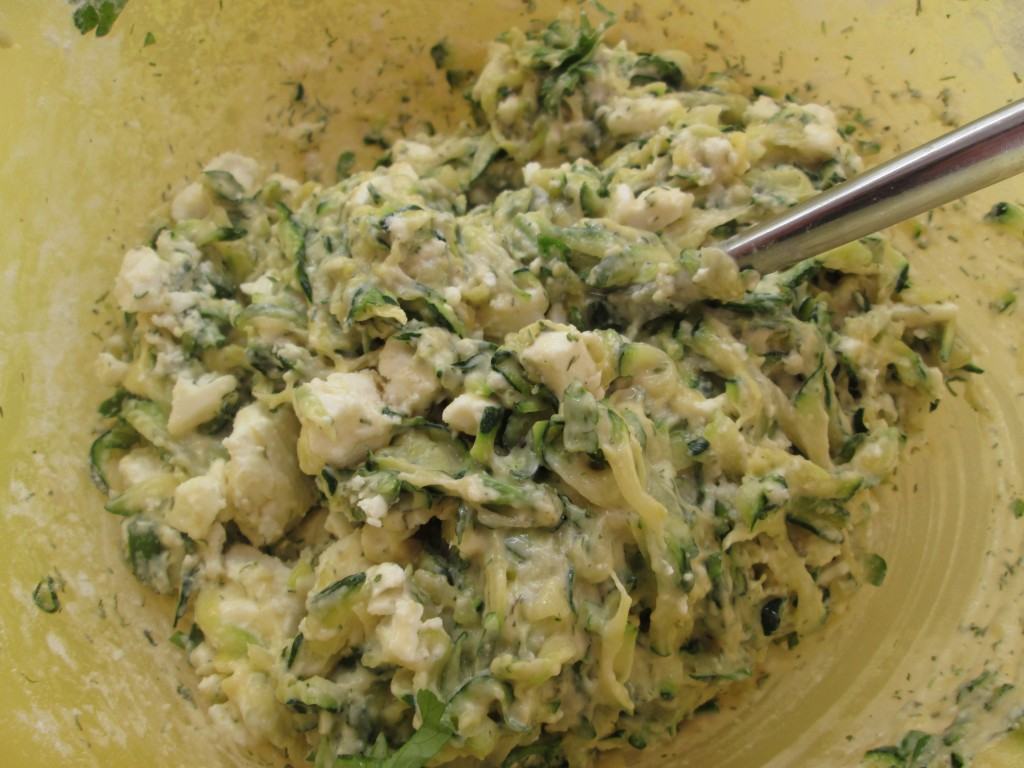 I was aiming for a rustic pancake style of fritter. To translate – they were all different shapes and sizes and I didn't really mind. If you are that way inclined you could use a metal ring in the frying pan to ensure the fritters are all uniform. Whatever your department, pour enough sunflower or light olive oil to cover the bottom of your frying pan and heat until starting to sizzle. Add a heaped teaspoon of your batter to the pan.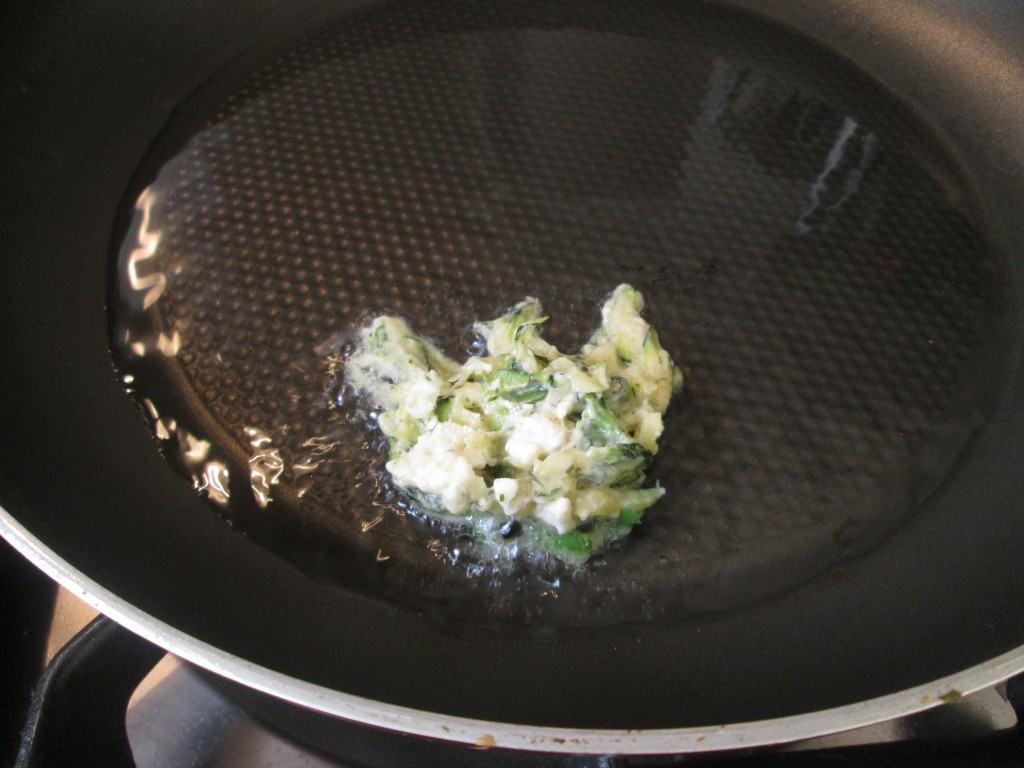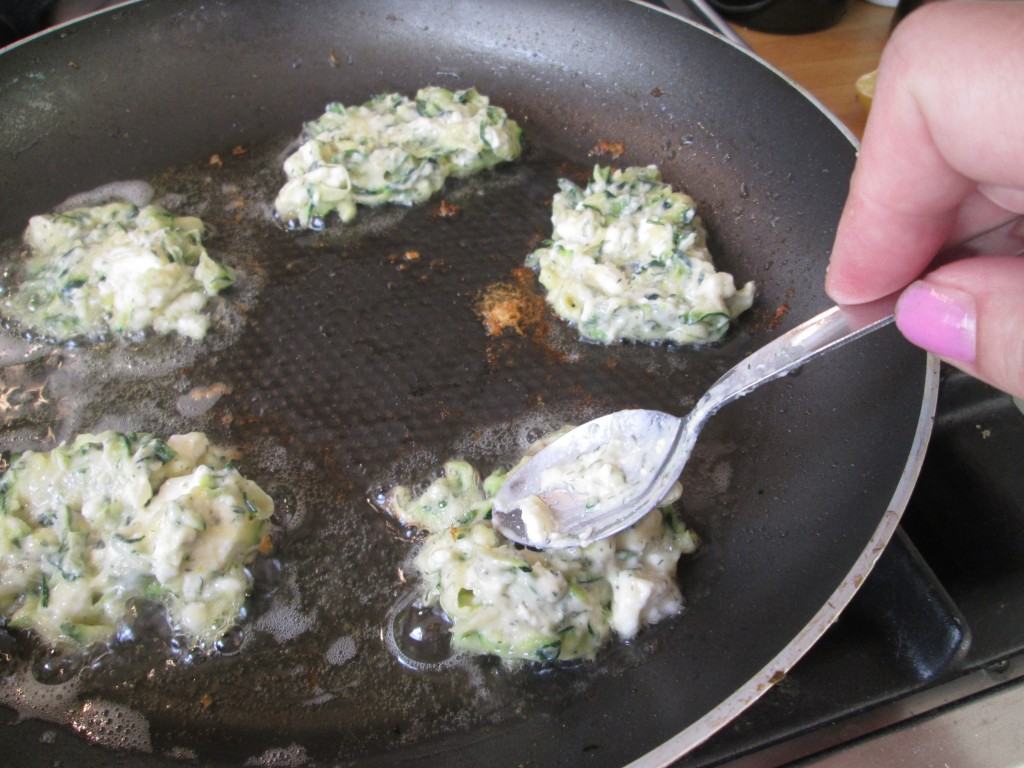 Continue with around four more, but don't overload the pan, then press the batter down with the back of a spoon to ensure the patties cook evenly. Turn over when the bottoms start to brown.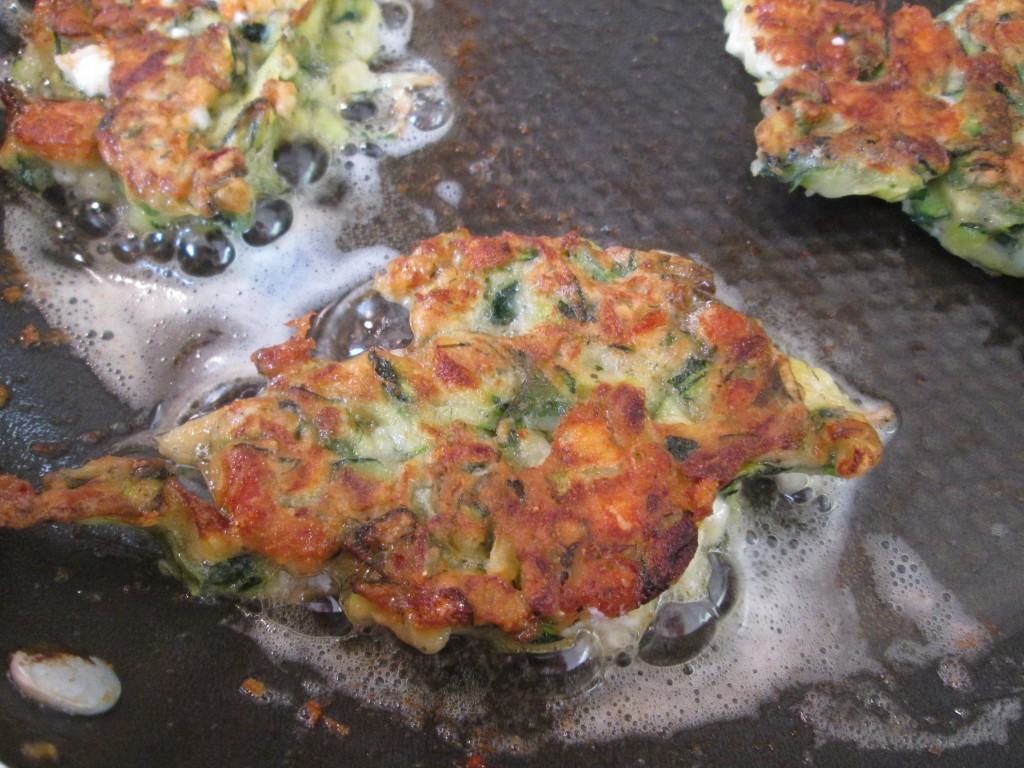 Yum, mouthwatering cheesy fried morsels.
Once you have wonderfully fritters browned on both sides, leave them to drain on kitchen paper and if you are serving them straight away, keep them warm in a low oven. Continue to fry your fritters until you have used up all your batter.
If you are not serving them straight away, keep covered until you are serving then re-heat briefly in a hot oven.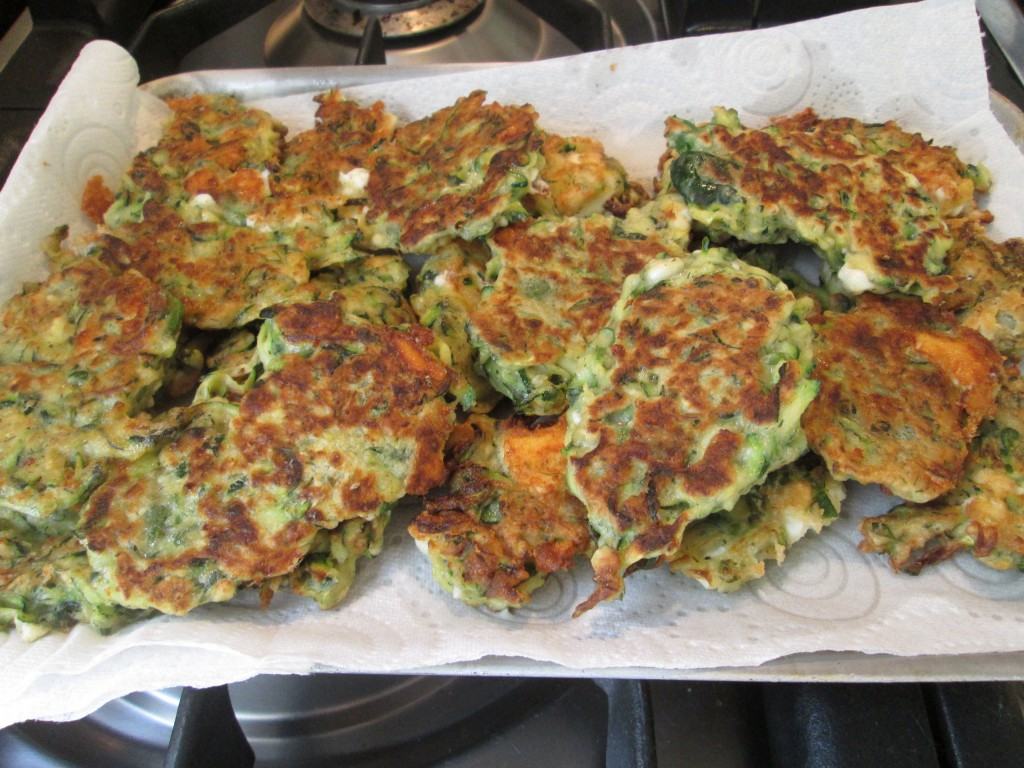 Then its over to you, kind readers. Serve these as a vegetable side dish or with a dip as a pre supper nibble. Mine accompanied a family barbeque and were wolfed down just with a sprinkling of fresh parsley.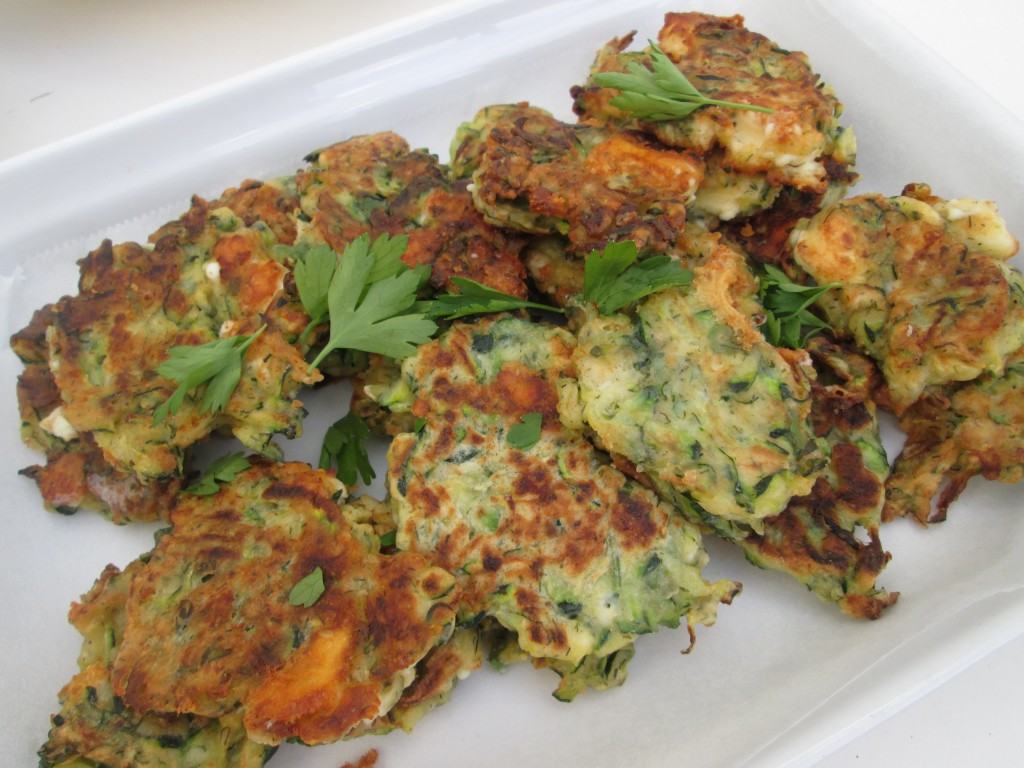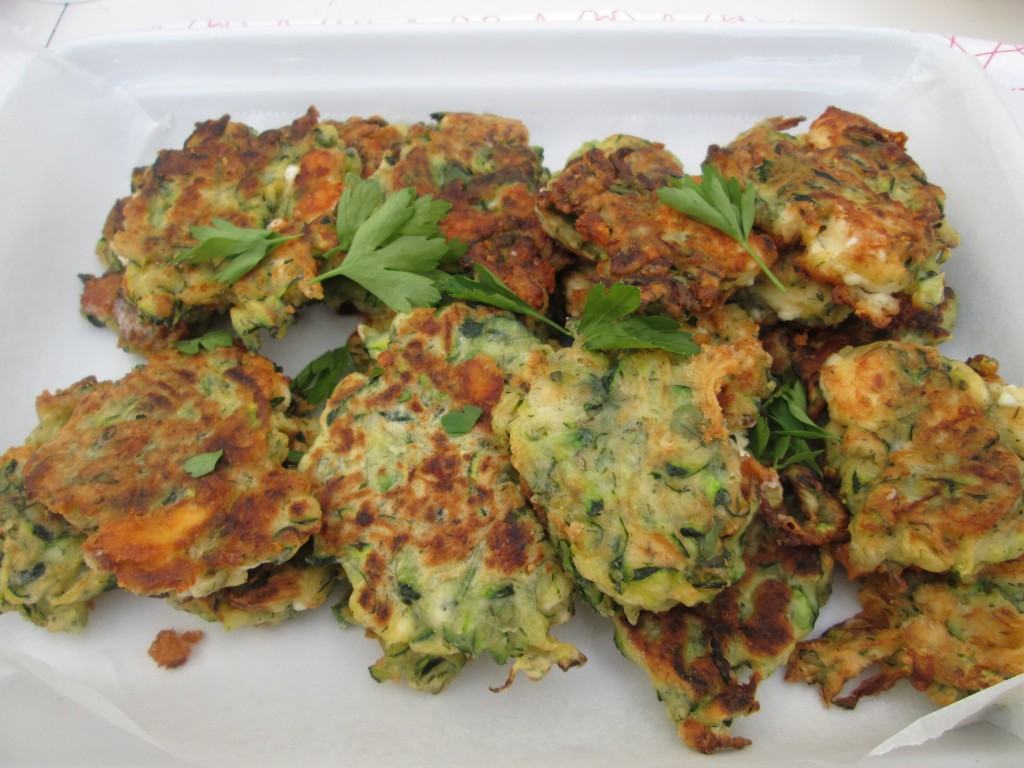 Enjoy these wonderful little tastes of summer, whatever the season.
Lucy x
Courgette and Feta Fritter Recipe
Pre heat your oven to around 120 degrees fan to keep your fritters warm whilst cooking the whole batch
Serves around four people for nibbles or as a vegetable side dish
500g courgettes
1 tablespoon table salt
1 tablespoon chopped fresh parsley
1 teaspoon dried dill (or tablespoon of fresh)
Ground black pepper
2 eggs
125g plain flour
200g feta cheese
Olive or sunflower oil for shallow frying
Grate your courgettes into a colander, sprinkle over a tablespoon of salt and leave to drain off the excess liquid for around 20 minutes. After this time, tip the courgettes into a clean tea towel or cloth and wring them to remove as much water as possible.
Empty this into a mixing bowl and add the herbs, pepper and eggs and give the mixture a good mix. Add the flour, stir again then crumble in the feta.
Heat enough oil to cover the bottom of the frying pan for shallow frying. Once the oil is starting to sizzle, add heaped teaspoons of the batter to the pan, press down with a spoon to flatten the patties and cook until the bottoms are starting to turn golden brown. Turn then fritters over and brown the other sides. Once this batch is ready, drain on kitchen paper, and keep in a warm oven while you are cooking the rest of the fritters. Continue until all the batter is used. Serve hot with a dip or as a side dish or a vegetarian main course.