Creme Brûlée Recipe
When I got an email recently from Aldi saying would I like to sample their new Restaurant at Home range, I thought they wanted to send me some ready meals. But no, on further reading, I was excited to discover I was being offered the chance to sample all sorts of lovely kitchen gadgets. They kindly agreed to send me a Creme Brûlée making set, as I had been meaning to feature a recipe for this on Lucy Loves for ages and for several reasons. I do love a list – a) a creme brûlée is my Mother's favourite dessert and her birthday is coming up b) I had never really mastered this dessert before so wanted to give it another stab and c) who doesn't bloody love a creme brûlée? So, thanks to Aldi, and my Mother's forthcoming birthday, today's post is for an elegant vanilla Creme Brûlée .
Creme Brûlée is not just my Mother's favourite dessert, whenever it gets a mention in conversation, drooling and oohs and aaahs follow. And unsurprisingly so, this elegant French dessert consists of a rich, sweet but not too sweet, custard topped with a crisp, burnt sugar crust which you crack through to reap the rewarding pudding. I had made Creme Brûlées before but with limited success and using several different cooking methods. So today, under pressure to make good use of my lovely kit from Aldi, I went straight to the top and asked my boss, Mr William Norris, for his best recipe. And what a recipe it is, although I have such a sweet tooth, I did up his sugar quantities a touch. The custard is rich and smooth and the top is crisp, but not too thick, so thank you for your expertise, William.
My set from Aldi also helped to contribute towards making the perfect Creme Brûlée. Although I didn't use the pretty white ramekins which come with it, as my recipe made 6, the petite, but perfectly simple to use blow torch gave my toppings just the right amount of burnt without any drama. This new range is available to buy online from 2 March and in Aldi stores from 9 March 2017, and my creme brûlée making kit was top value at £14.99.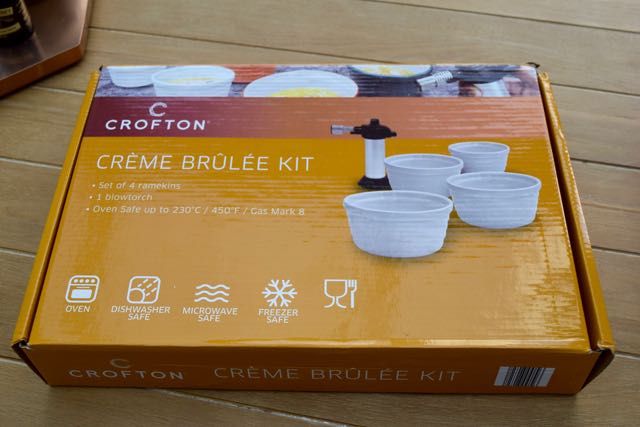 I have just managed to shoe horn another Creme Brûlée down, despite having eaten a three course lunch with friends today. These are irresistible,  that much I can guarantee.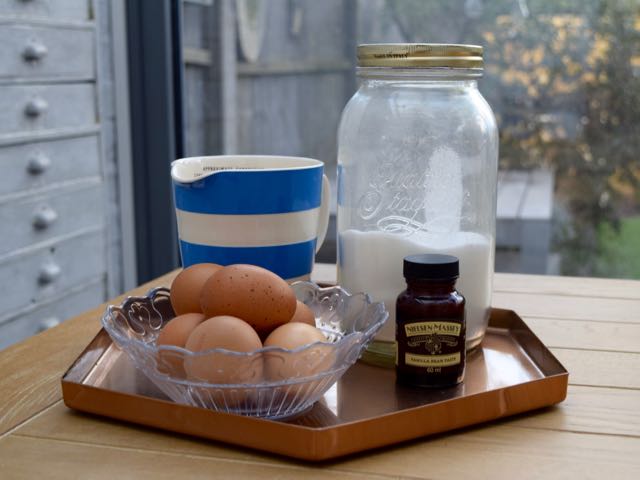 Here's the simple four ingredients for this classic dessert. Do feel free to use a vanilla pod or extract, instead of paste. I did have a vanilla pod somewhere in my house, but with the kitchen still all over the bloody place, I couldn't find it.
Before you start, pre heat your oven to 120 degrees, fan assisted. Take a good sized pan and pour in your double cream. Heat, slowly, bringing just up to the simmer. If you are using a vanilla pod here, scrape the seeds into a large bowl then add the deseeded pod to the cream.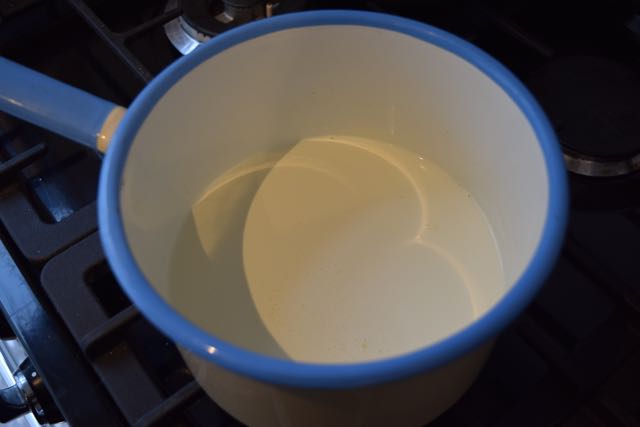 I am beyond excited by my vintage enamel pan I found in a shop in the Isle of Wight, I really do need to get out more.
While the cream simmers, set to separating your 6 eggs. Place the yolks in a large bowl, containing your vanilla pods seeds if using, with the caster sugar and save the whites for meringues another day.
Whisk these until they are a much lighter yellow colour and well combined. Add your vanilla paste or extract here if you haven't used a vanilla pod.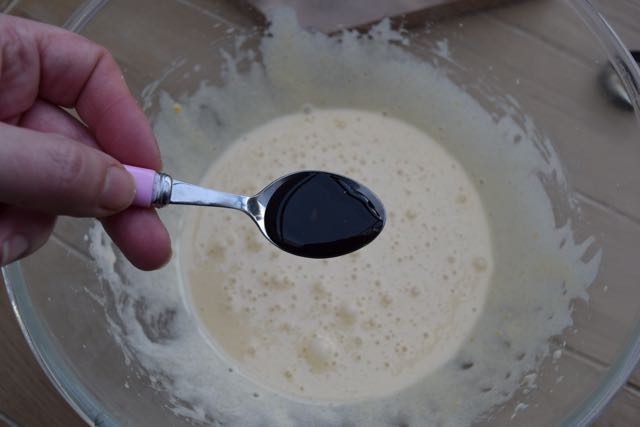 Once your cream has come to the simmer, whisk this into the eggs. If you used a vanilla pod, remove this before you whisk in the cream.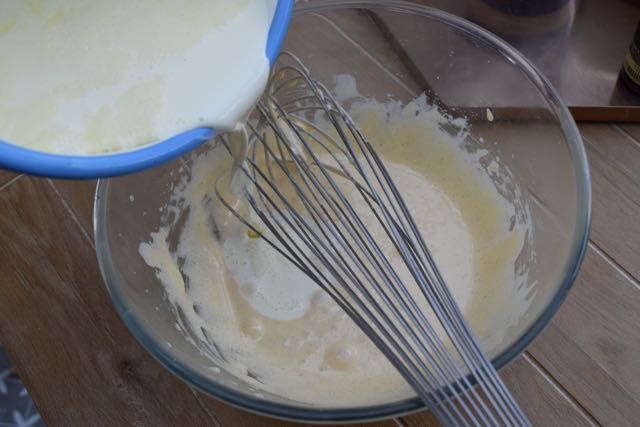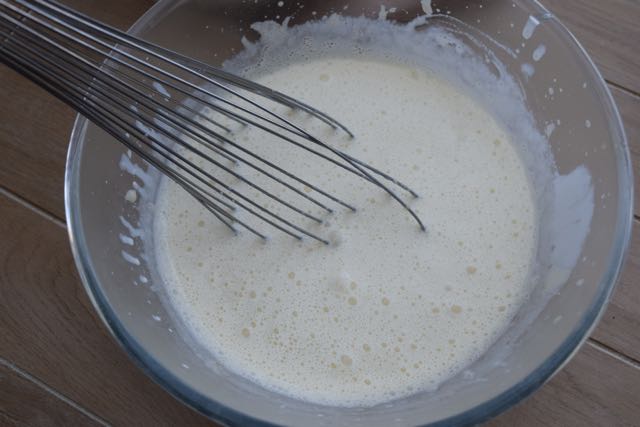 Transfer this wonderful custardy mixture to a large jug for ease of pouring, even though this does go against my hatred for lots of bowls = lots of washing up. Pour the mixture into your chosen ramekins placed into a deep baking tray.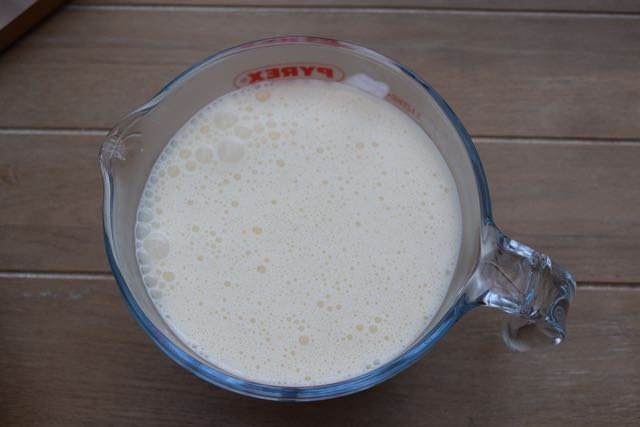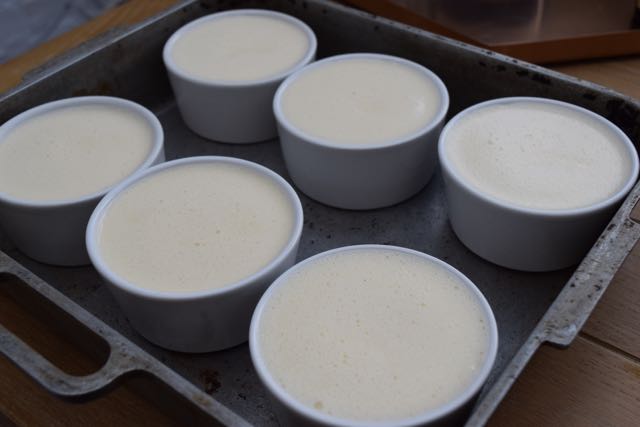 Move this to the stove for ease of getting into the oven, then fill the baking tray with a kettle of boiling water. The water should reach around half way up the sides of the ramekins.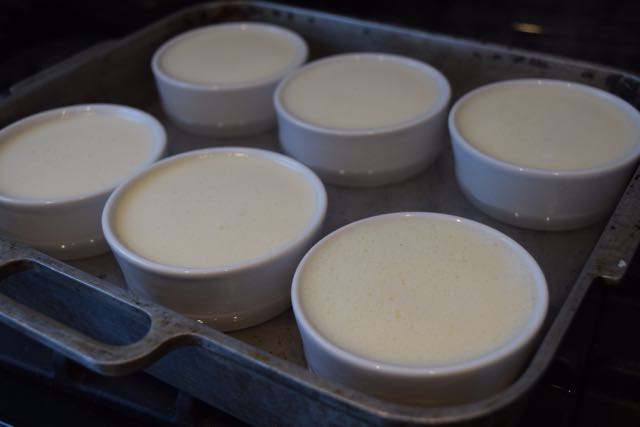 Carefully place the tray into your pre heated oven, fyi the baking tray will be hot from the kettle water. Bake for between 30 and 40 minutes, dependent on your oven. The cooked Creme Brûlées will be golden, but still have a touch of wobble in the middle when you shake the pan.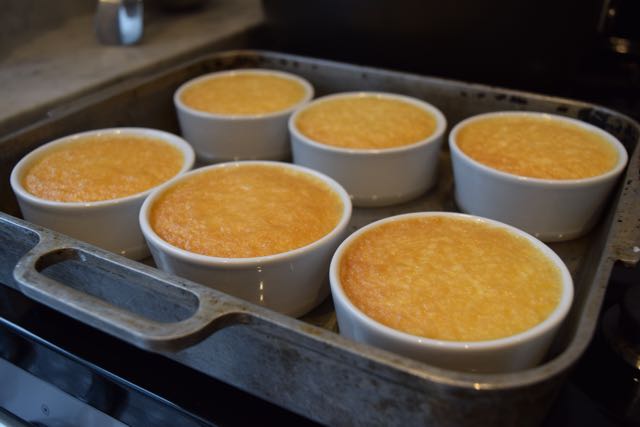 Remove these from the water bath and leave to cool before refrigerating for around 4 hours, but overnight would be better.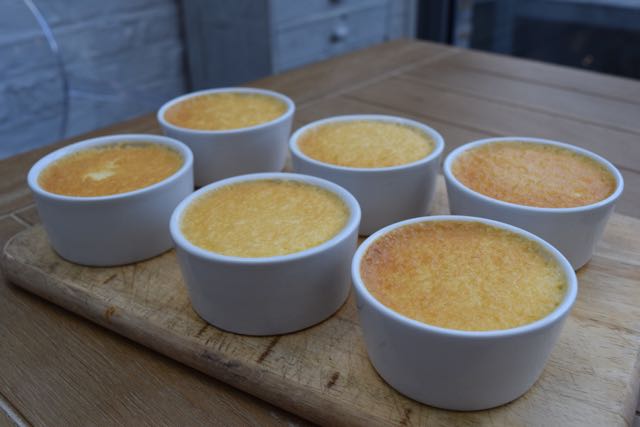 When they are super chilled, take your custards and dust the tops with around half a tablespoon caster sugar. Move them around to ensure you have a semi-even coating on the top.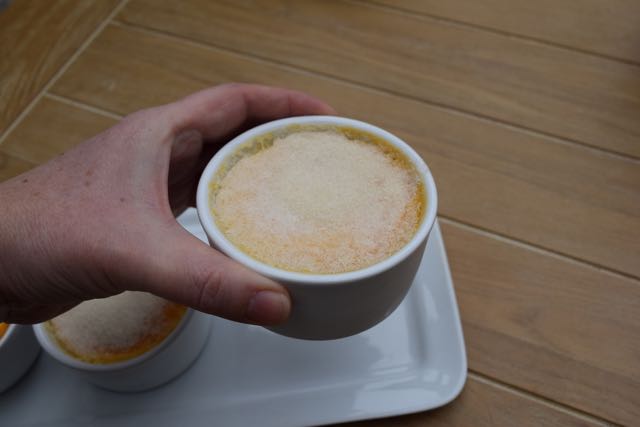 Now, fire up your brilliant little blow torch.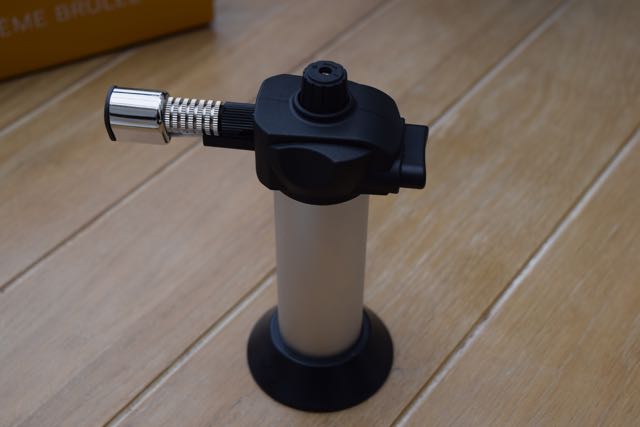 Moving the torch across the sugar topping, evenly heat the sugar to create the burnt crust.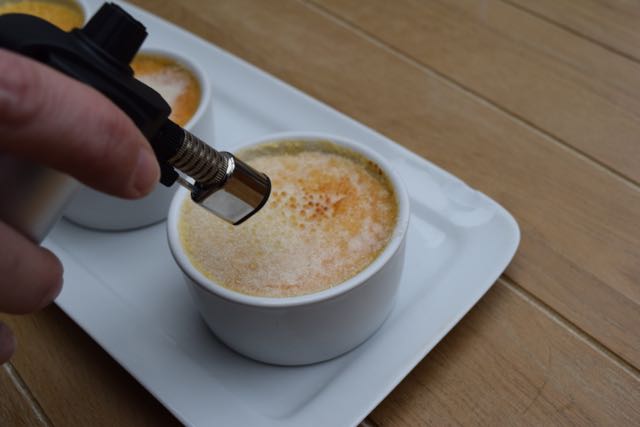 Thanks to Ben for his top photography skills here.
Continue with the other custards until they all have a burnt, crisp, top. Mouth watering. I haven't eaten the other 3, they are just out of shot, I promise.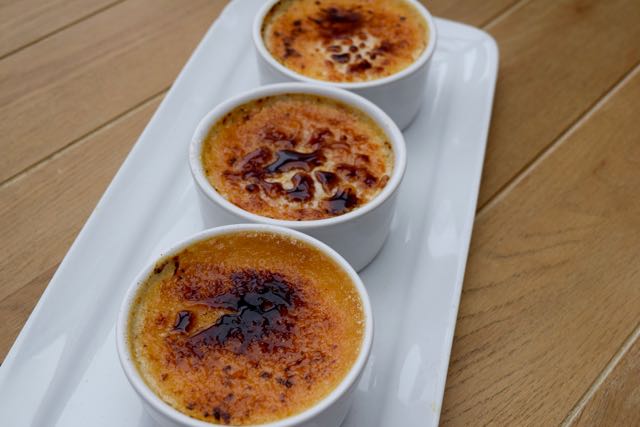 If you don't have a lovely Aldi blow torch, you can use a hot grill to caramelise the tops of your custards, however, they may need additional chilling afterwards. Refrigerate these beauties until you are ready to devour. Serve with a shortbread, some fruit on the side, or just naked. I left mine unadorned, they were perfect just as they are.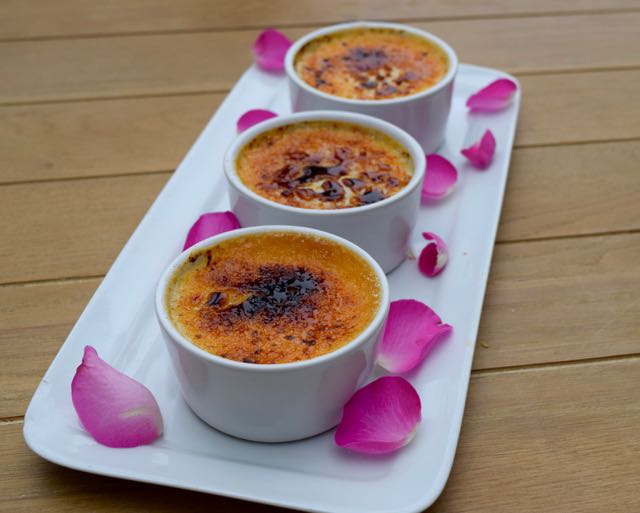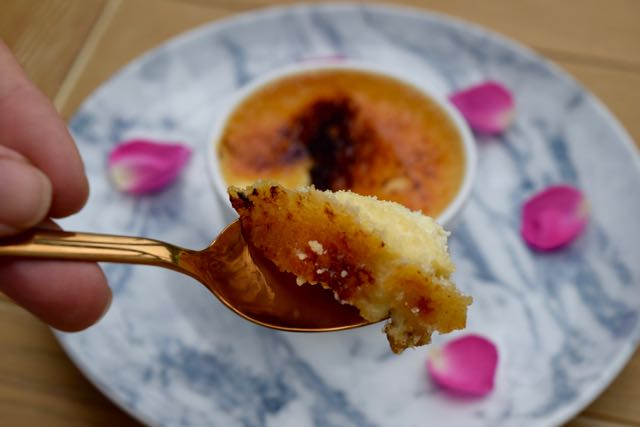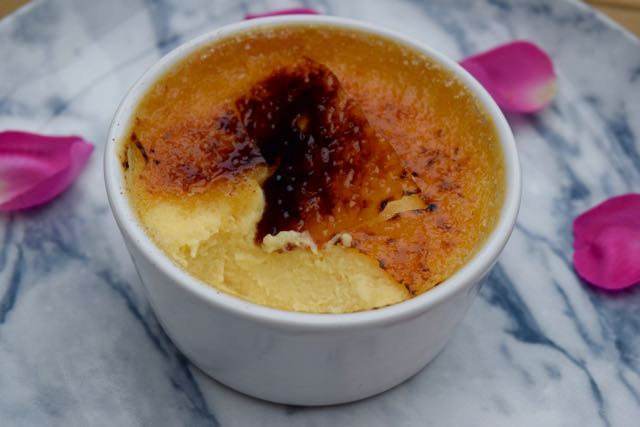 Drool. Thick, yellow, creamy custards topped with a crisp lightly burnt crust. And they are far simpler than I had ever imagined. So brace yourself, if you are booked in for dinner at Lucy Loves Towers in the next couple months, a Creme Brûlée will be on your menu.
Lucy x
Aldi kindly sent me their Creme Brûlée making set, however, all opinions and ramblings are, as always, my own.
Creme Brûlée Recipe
Makes a generous 6
You will need a cooks blow torch or hot grill plus 6 ramekins
600ml double cream
1 vanilla pod or a generous teaspoon vanilla extract or paste
6 eggs yolks, reserve the whites for lots of lovely meringues
75g caster sugar, plus extra for the tops
Pre heat your oven to 120 degrees fan assisted. Take your double cream and heat over a low heat on the stove until just coming to the simmer. Be careful it doesn't catch on the bottom of the pan. If you are using a vanilla pod, scrape the seeds out into a separate bowl you will use for your eggs and sugar, but add the deseeded pod to your pan of cream.
In a largish bowl, separate the egg yolks from the whites, reserving the whites for meringues another day. Add the caster sugar to the yolks, along with either your reserved vanilla pod seeds or your vanilla extract or paste. Whisk until the mixture has become much lighter in colour and texture, a good couple of minutes.
Once your cream has come up to the simmer, pour this onto your egg yolk and sugar mixture, whisking all the time until well blended. Transfer this mixture to a jug for ease of pouring.
Place 6 ramekins into a baking tray then fill each one with the custard mix. Next, boil a kettle of water and fill the baking tray up to half way up each ramekin.
Place in the pre heated oven for around 30 to 40 minutes. The creme brûlées are cooked when they are firm but with a touch of wobble in the middle when you move the pan. Remove the ramekins from the water bath and leave to cool before putting in the fridge to chill completely.
When they are completely chilled spoon half a tablespoon of caster sugar onto the top of each custard. Take your blow torch and carefully melt/brown the sugar, keeping the torch moving to ensure an even topping. If you are using the grill on your oven, use a high setting, but keep an eye on the custards whilst they are browning.  Chill until you are ready to serve.