Haggis Shepherd's Pie Recipe
It's Burns Night this Friday which is a super excuse to eat Haggis. And to drink whisky. Haggis is a real love it or hate it dish. Most people who hate it are put off by squeamish olden day talk of it being something to do with a sheep's stomach. Not so these days, well at least not with my Macsween haggis from Ocado. I am on the side of love it. Haggis is so tasty; it's meaty, peppery, warming. I would eat it all the time if it were up to me, but it really only pops up on my radar once a year. So this year I decided to utilise this delicacy to make this Haggis Shepherd's Pie.
My whole family are Haggis fans, yes, even George, the world's fussiest eater. Turning it into Haggis Shepherd's Pie is a genius way of using this Burns Night, Scottish treat into a family friendly meal and for this I thank the lovely Sainsbury's Magazine for the introduction. This dish is a comforting mixture of  haggis sautéed with carrots and onions topped with buttery, cheesy mashed potatoes. It's simple and quick but seems like a really special dish. This Haggis Shepherd's Pie is super savoury, filling and if your family are haggis lovers, like mine, it will be requested on a regular basis. It doesn't seem fair that you will only taste this on dear old Robert Burns's birthday, it's way too good for that.
This Friday don your tartan, spoon yourself a giant helping of Haggis Shepherd's Pie and pour a wee dram and raise it to Rabbie Burns. It may not be the traditional way to serve this Scottish dish but it's not as if the Bard of Ayrshire will find out, he's sadly been dead since 1796.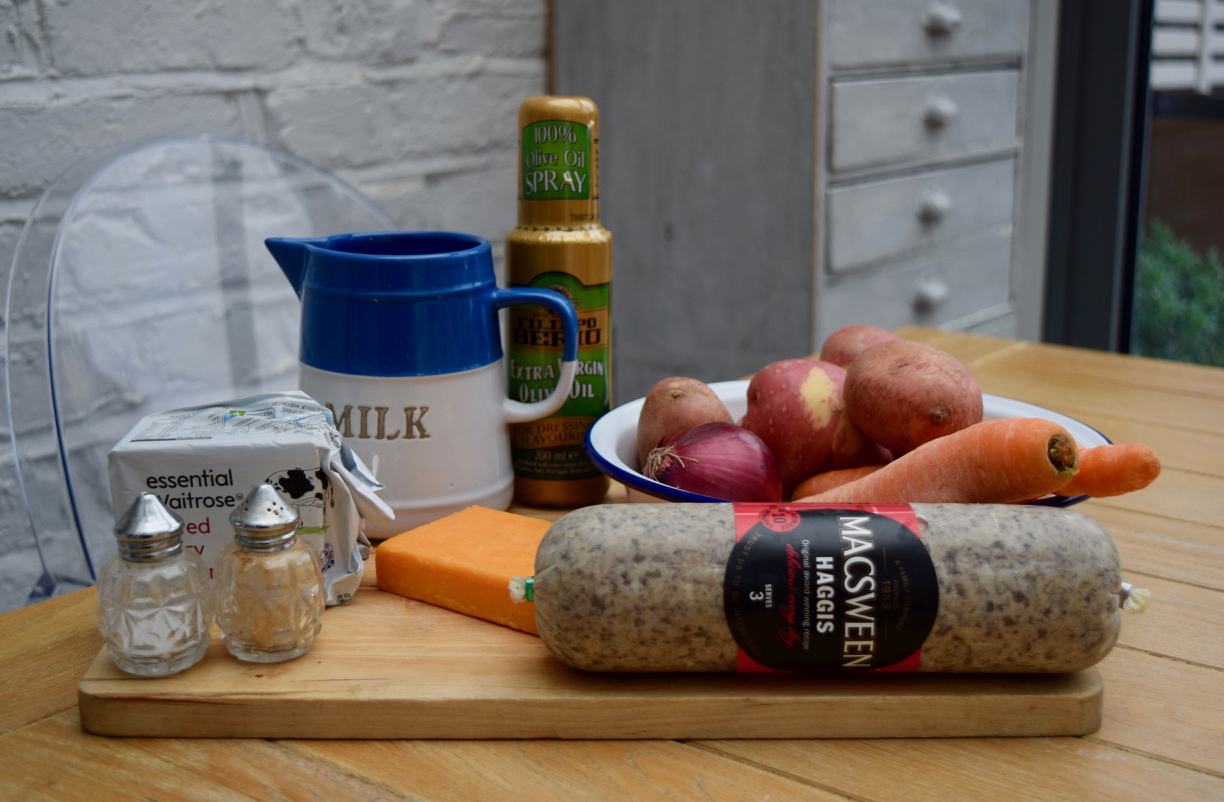 So simple, but so wholesome and delicious. And barely any ingredients to trouble you. I pimped my pie with some Red Leicester, but top with any cheese of your choice. My haggis was 454g, just the right amount needed for the recipe, but if yours is slightly bigger, don't panic, more is more with haggis, in my mind.
Make a start by pre heating your oven to 160 degrees fan assisted. Next peel and chop your potatoes ready to mash. Pop them into a pan of salted water and simmer for around 20 minutes or until just soft. Drain.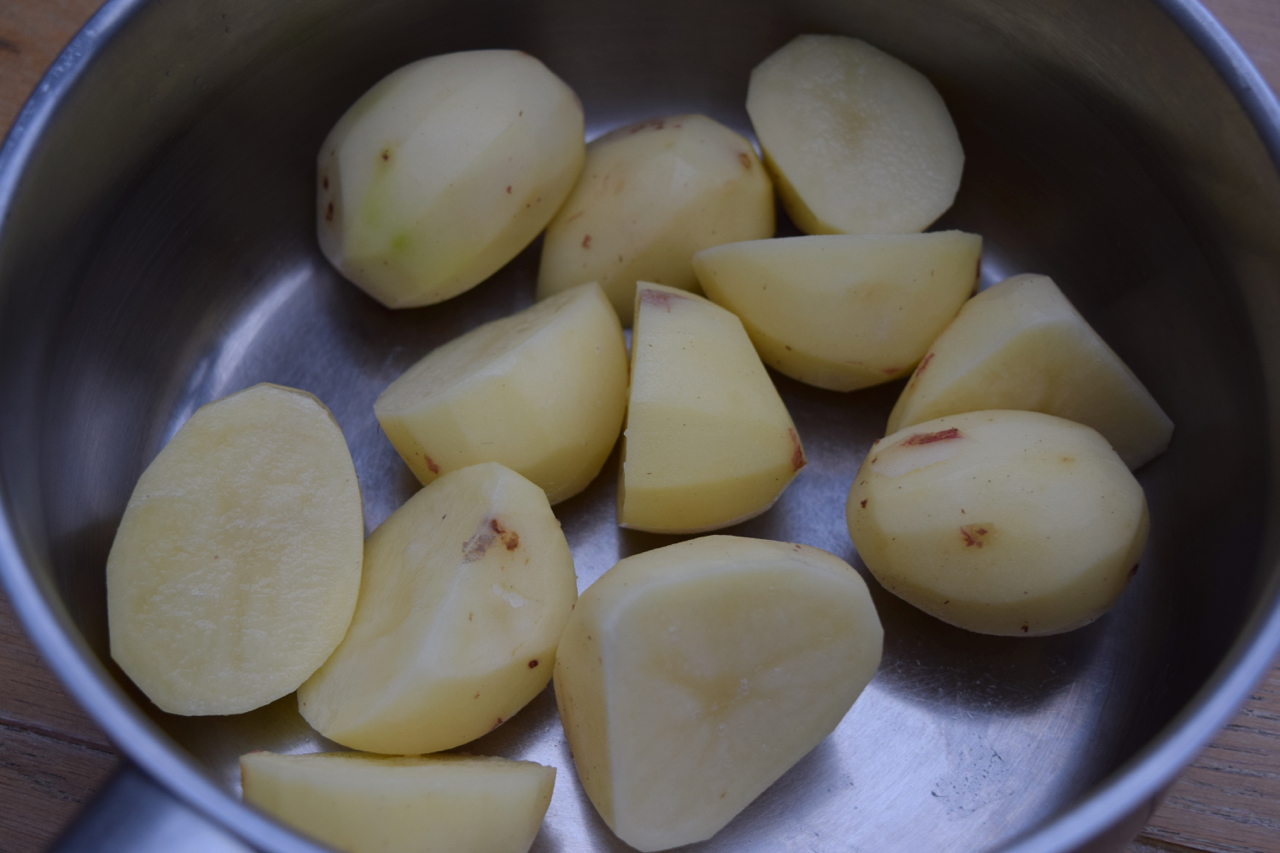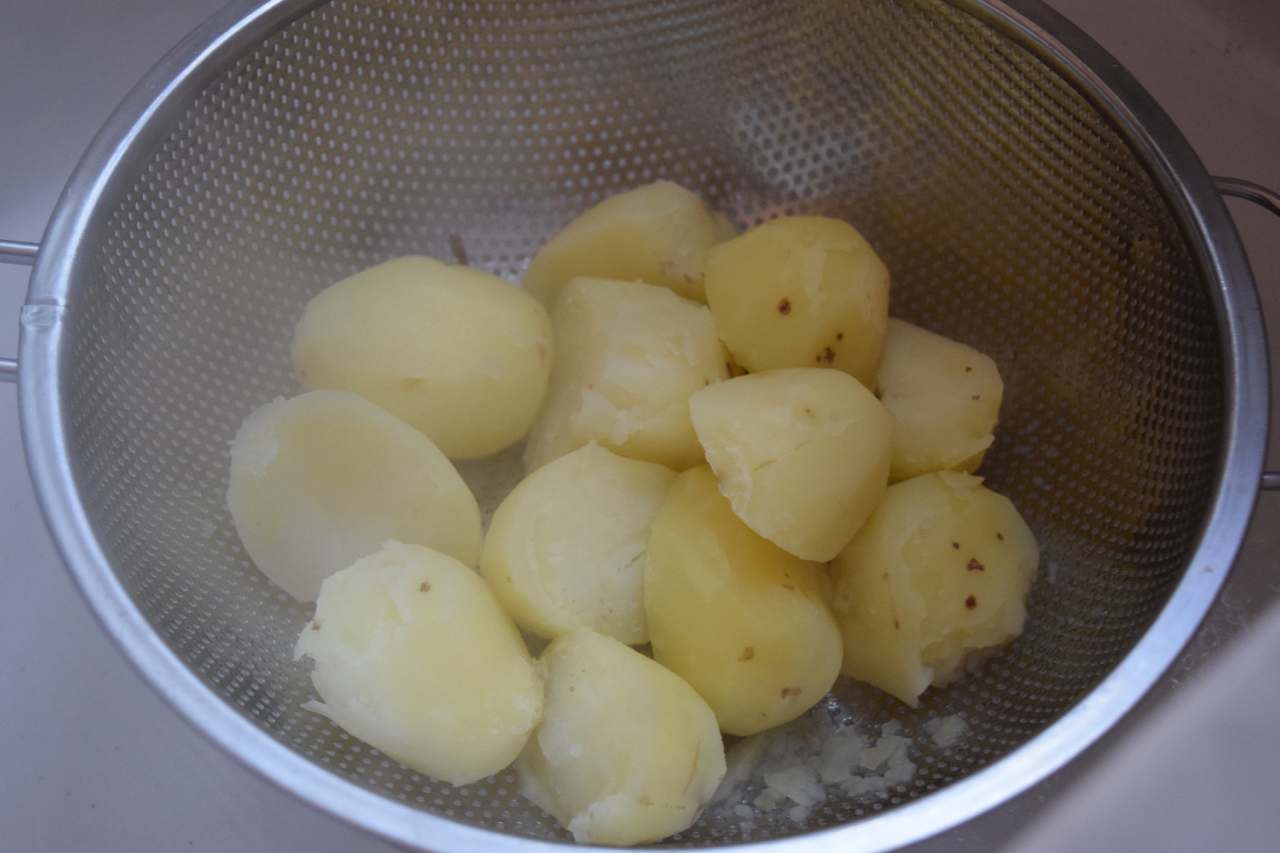 Give your potatoes a good initial mash, add the butter and milk, then mash again until smooth. Season well with salt and pepper.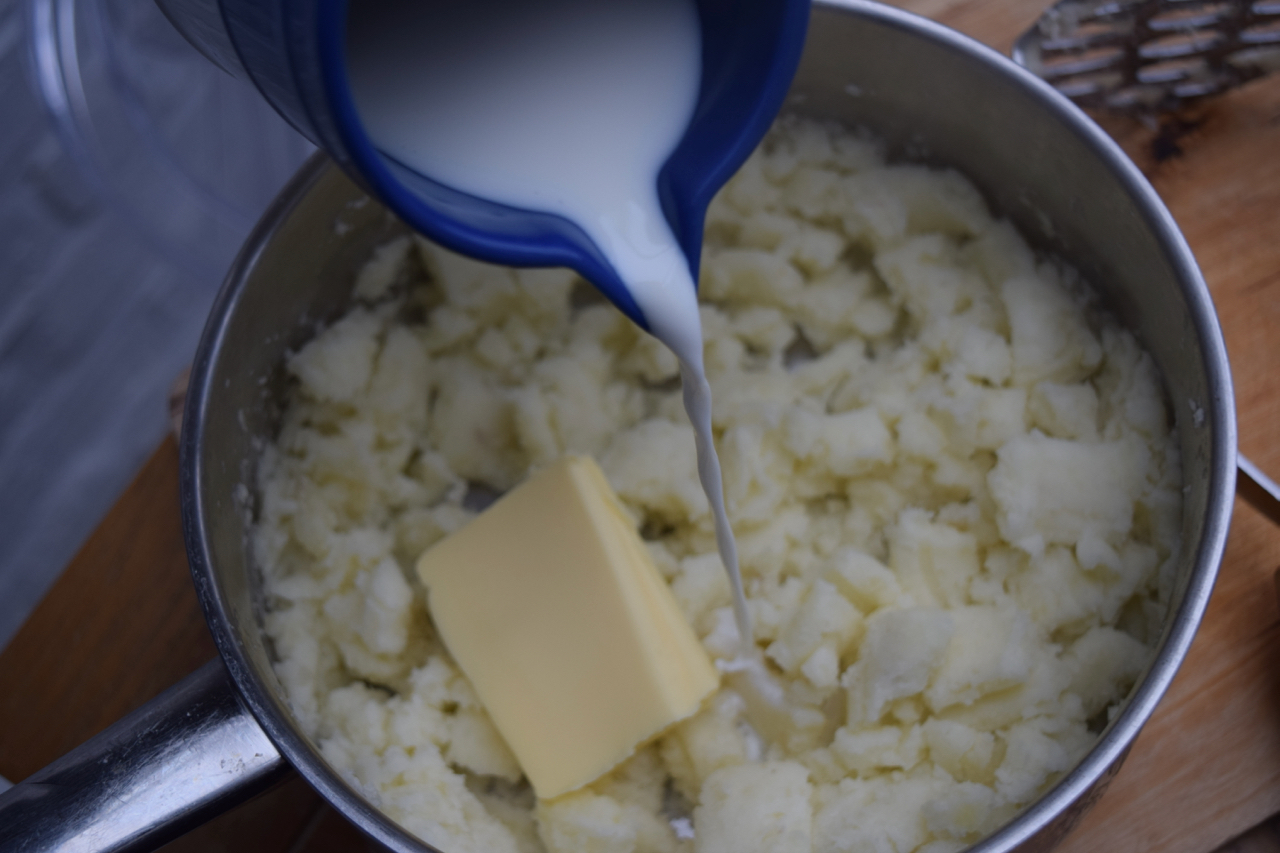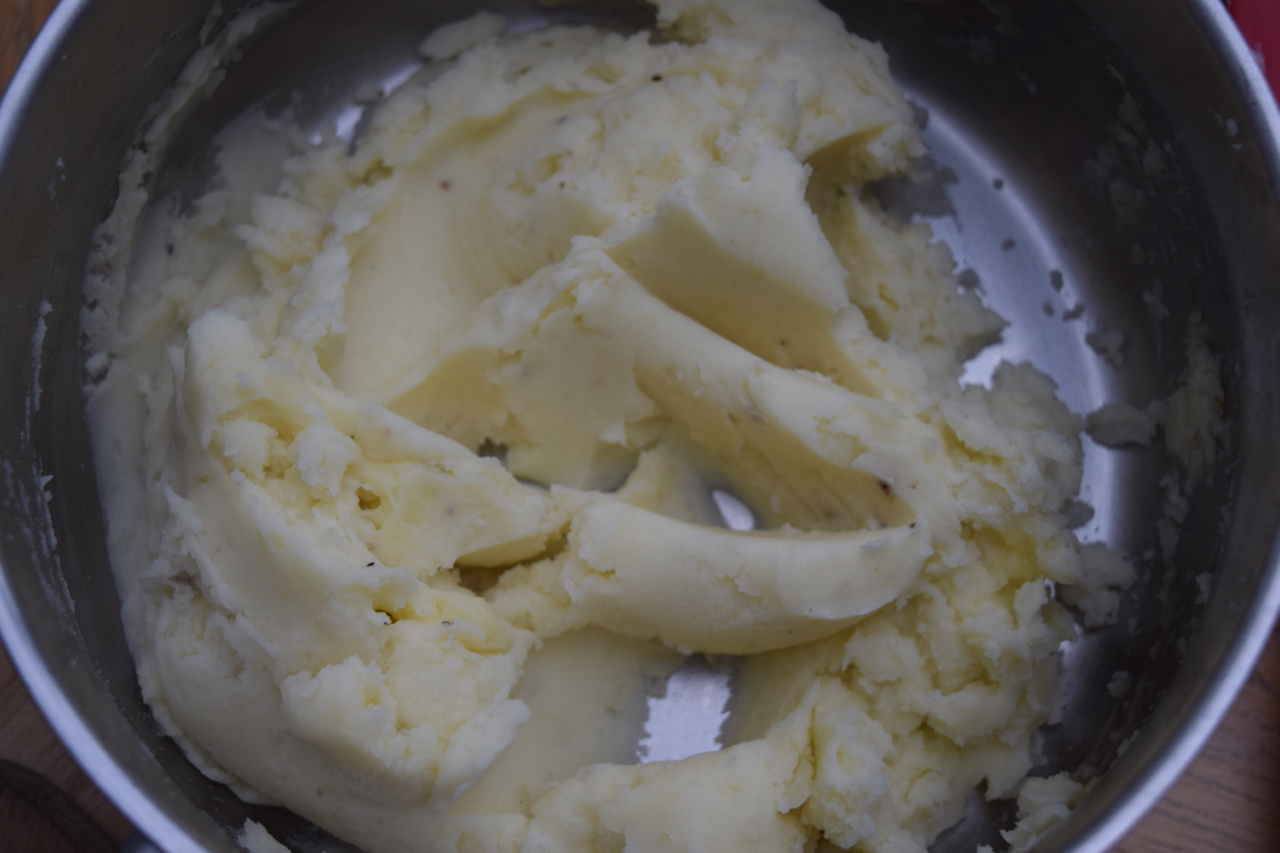 For the Haggis star of the show, take a pan and add some olive oil. Heat over a medium flame then add your chopped carrots and onion.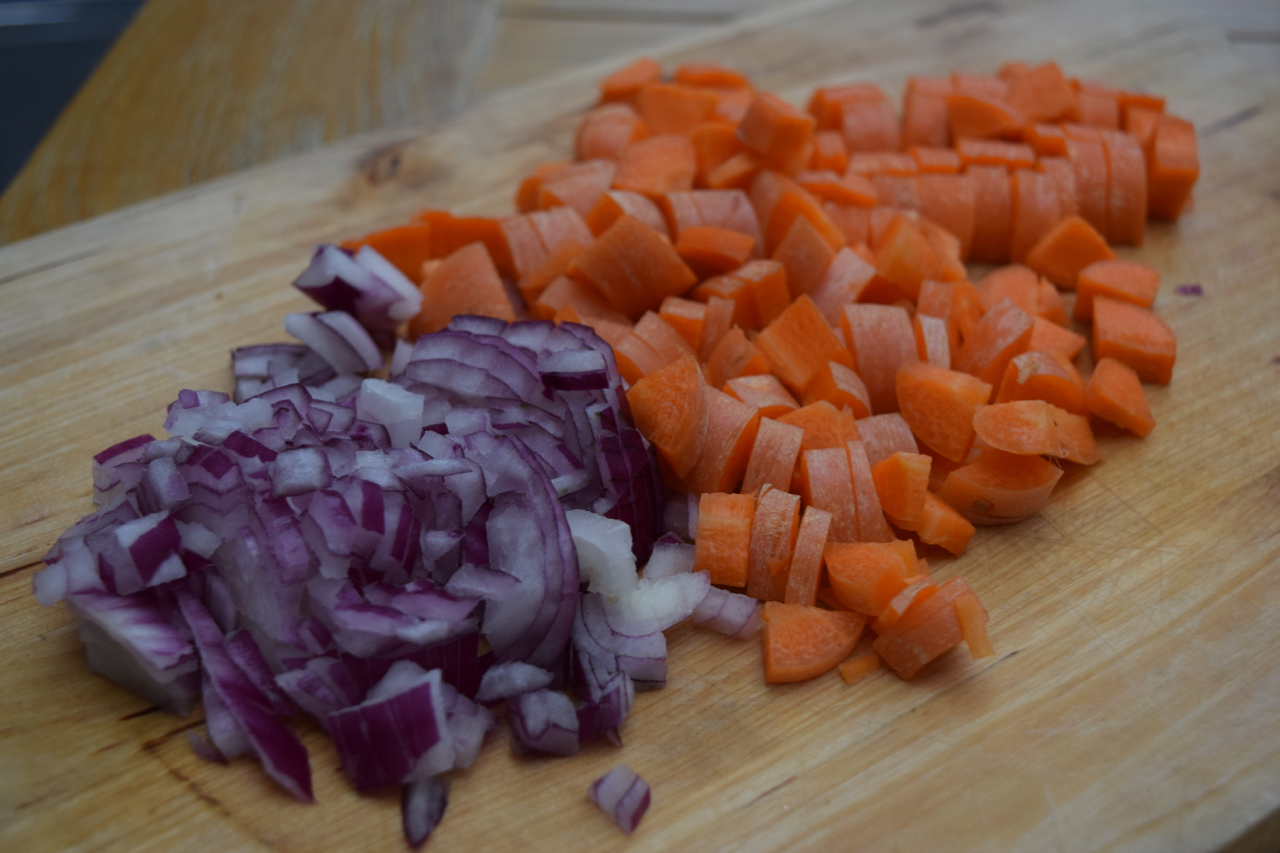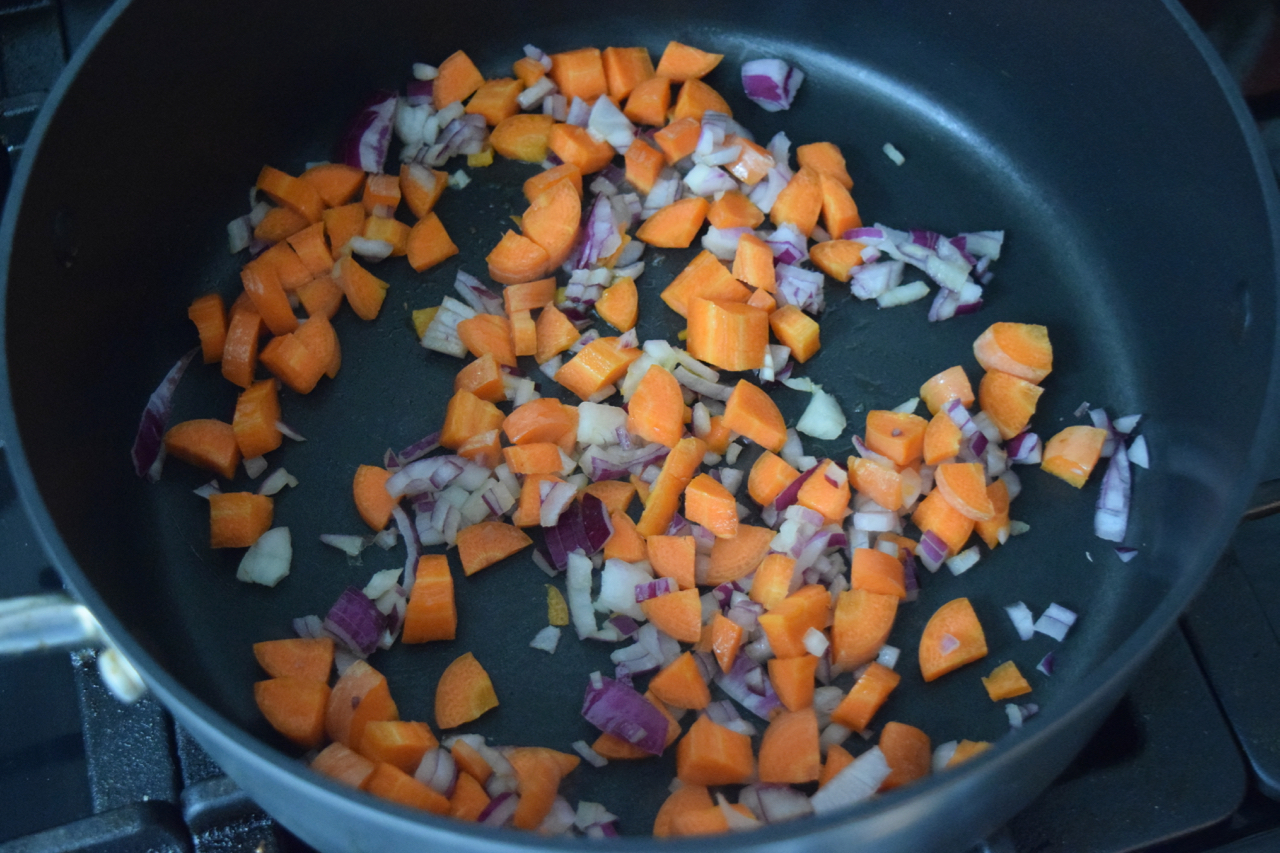 Sauté for 3 to 5 minutes or until the vegetables are just softening and starting to colour a little. Next, remove your haggis from it's casings and chop into rough cubes.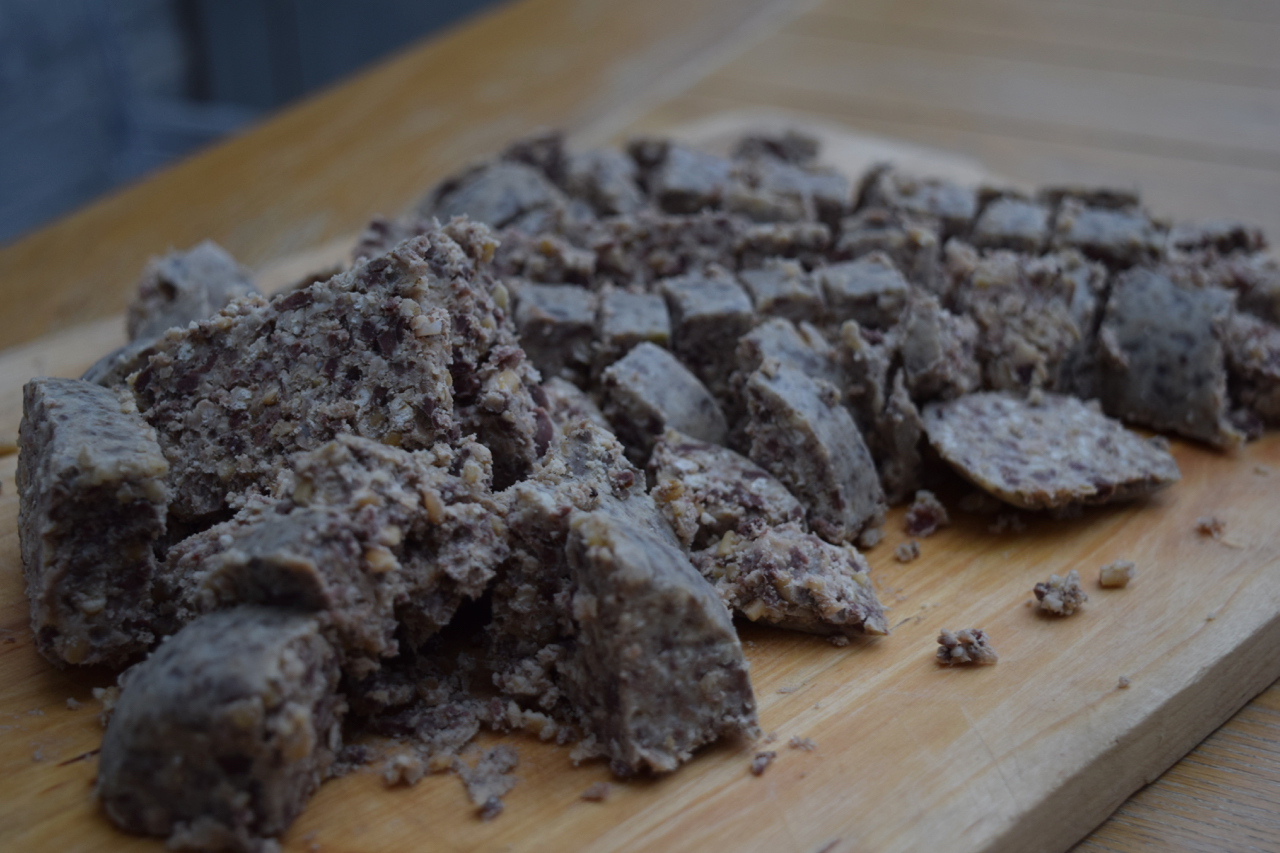 Add this to the pan of vegetables and give it a good stir to break up the haggis. Cook for a few minutes until it's just starting to sizzle and brown a little.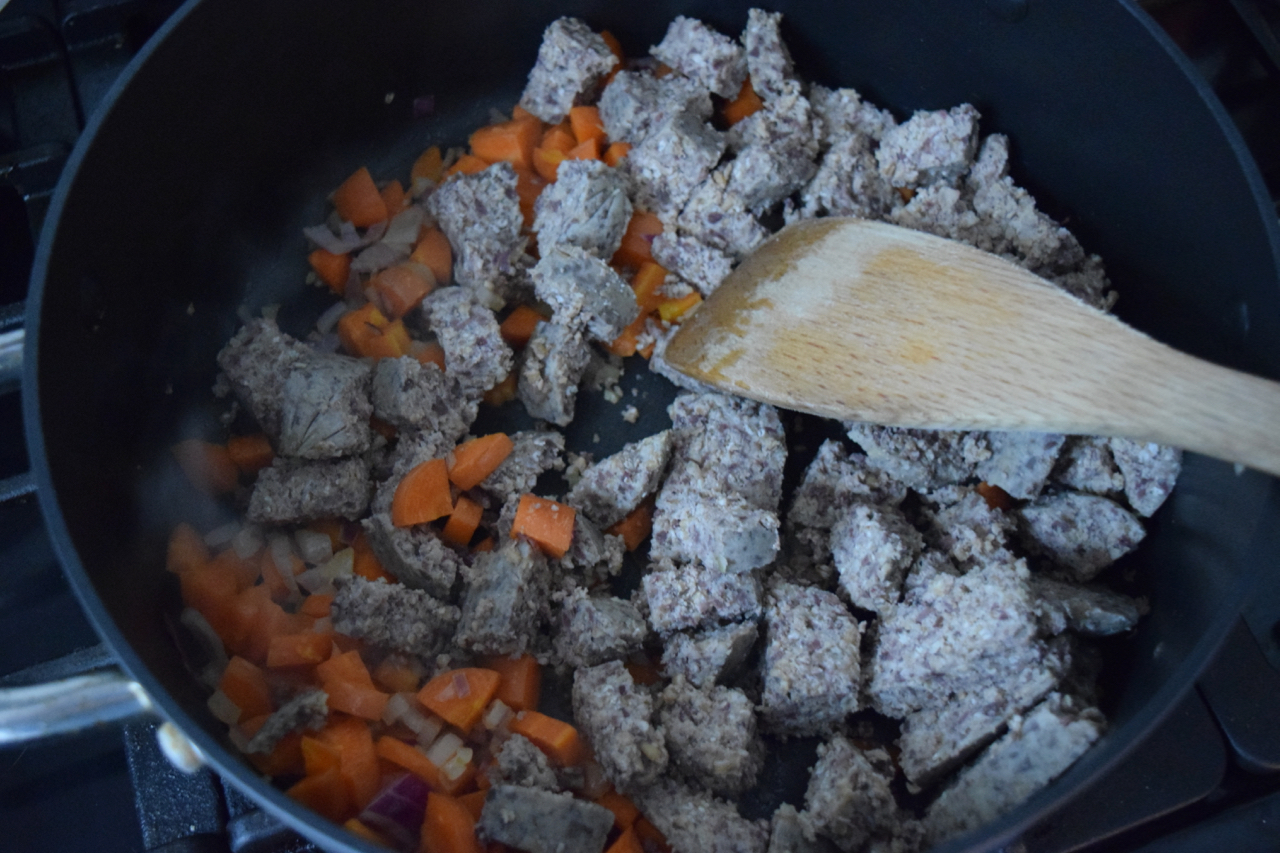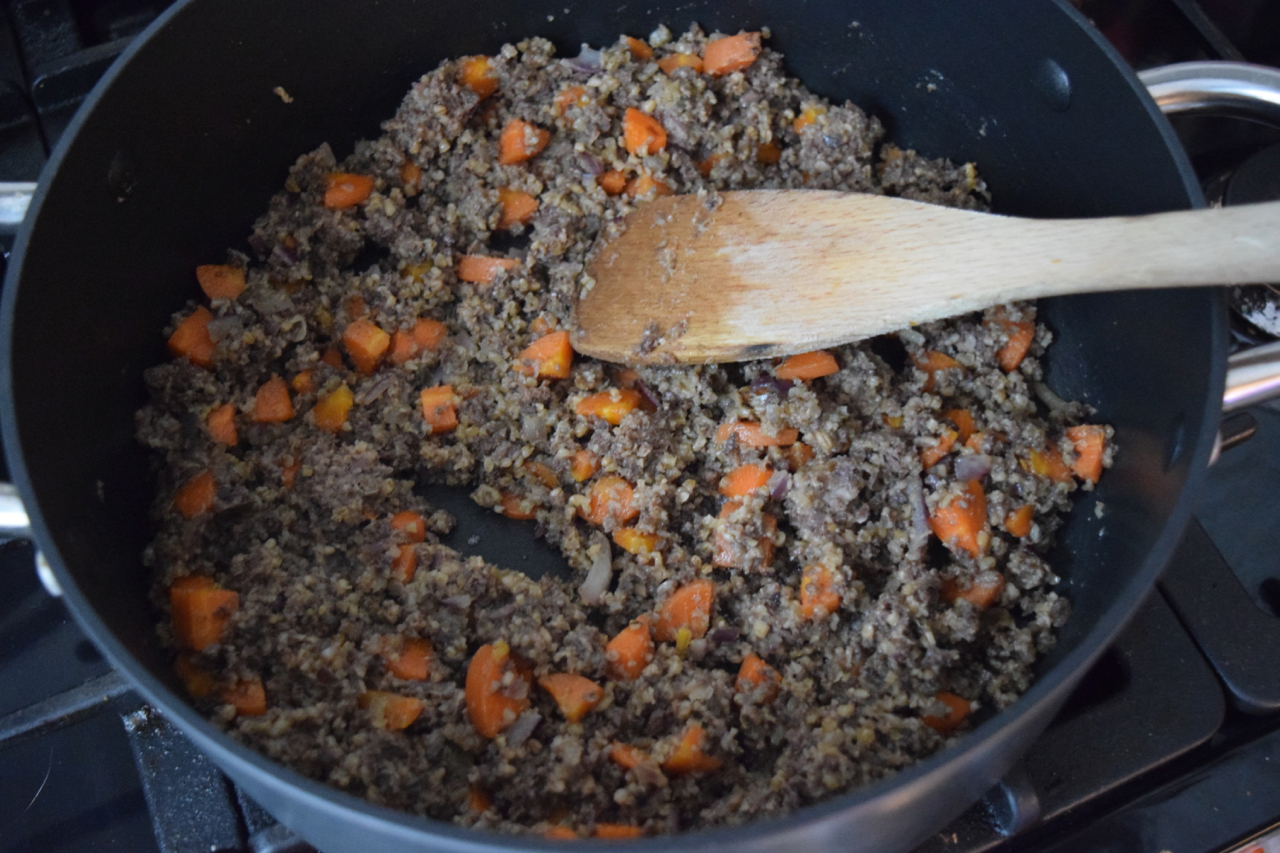 Tip this into your oiled/buttered baking dish then cover with the mashed potato, smoothing the top as you go.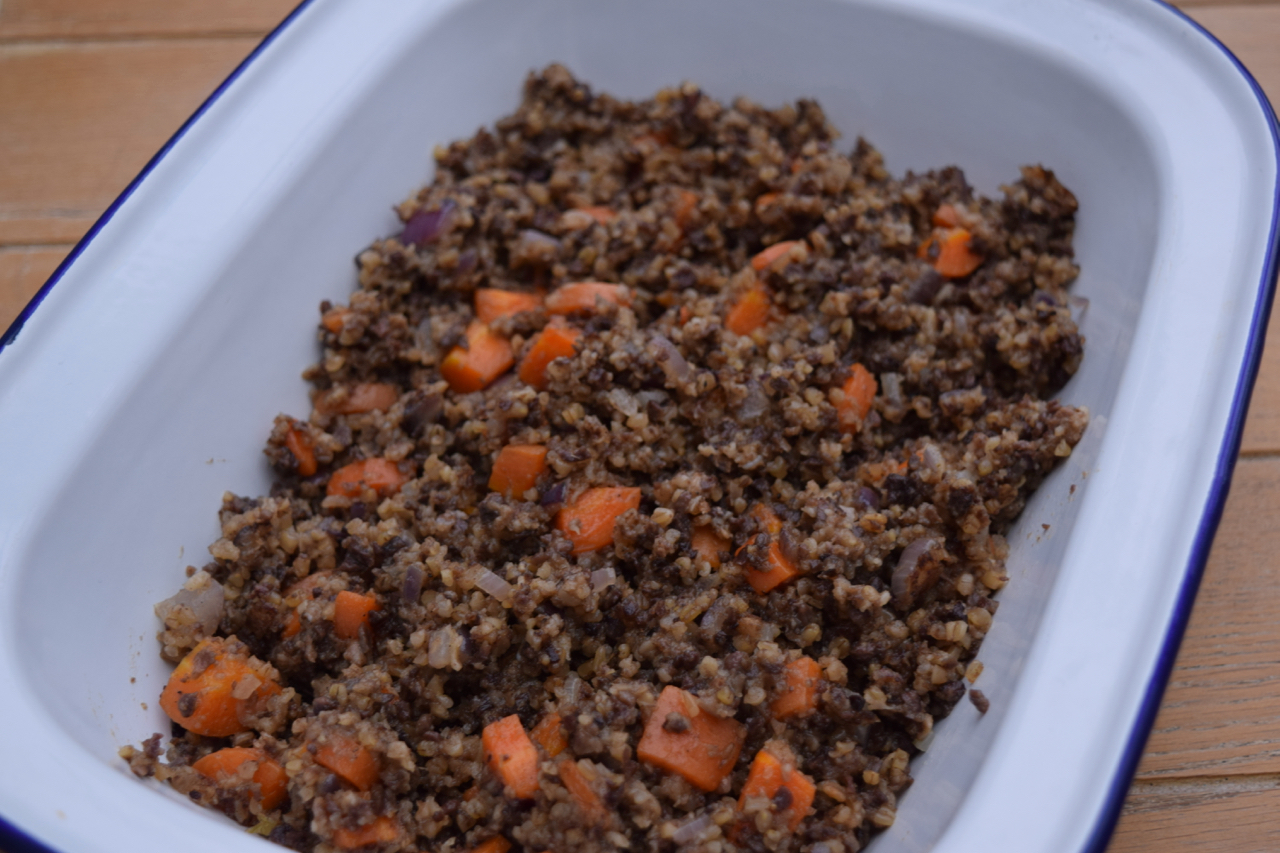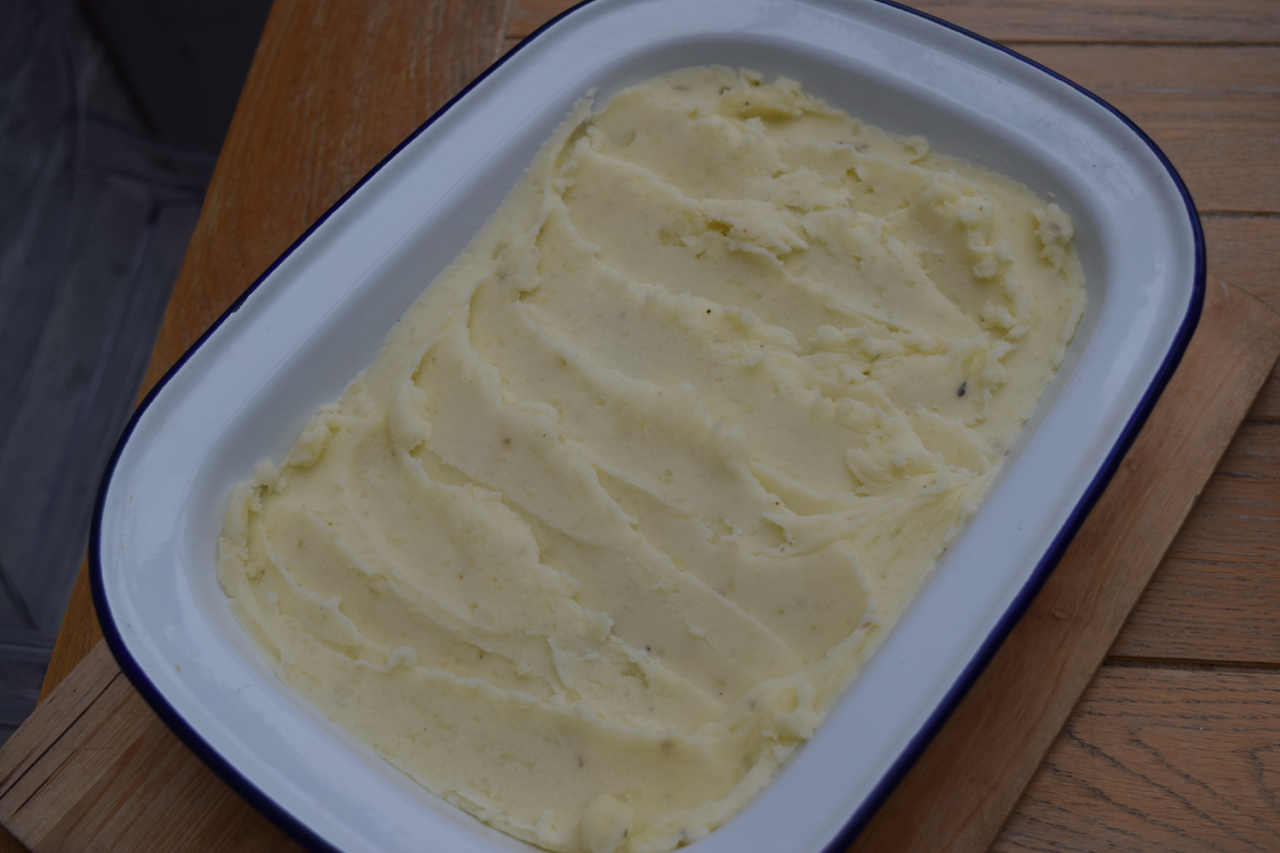 Sprinkle with some cheese of your choice then pop in the oven for 30 to 35 minutes. Your cooked pie will be bubbling and golden and smelling amazing when it's ready.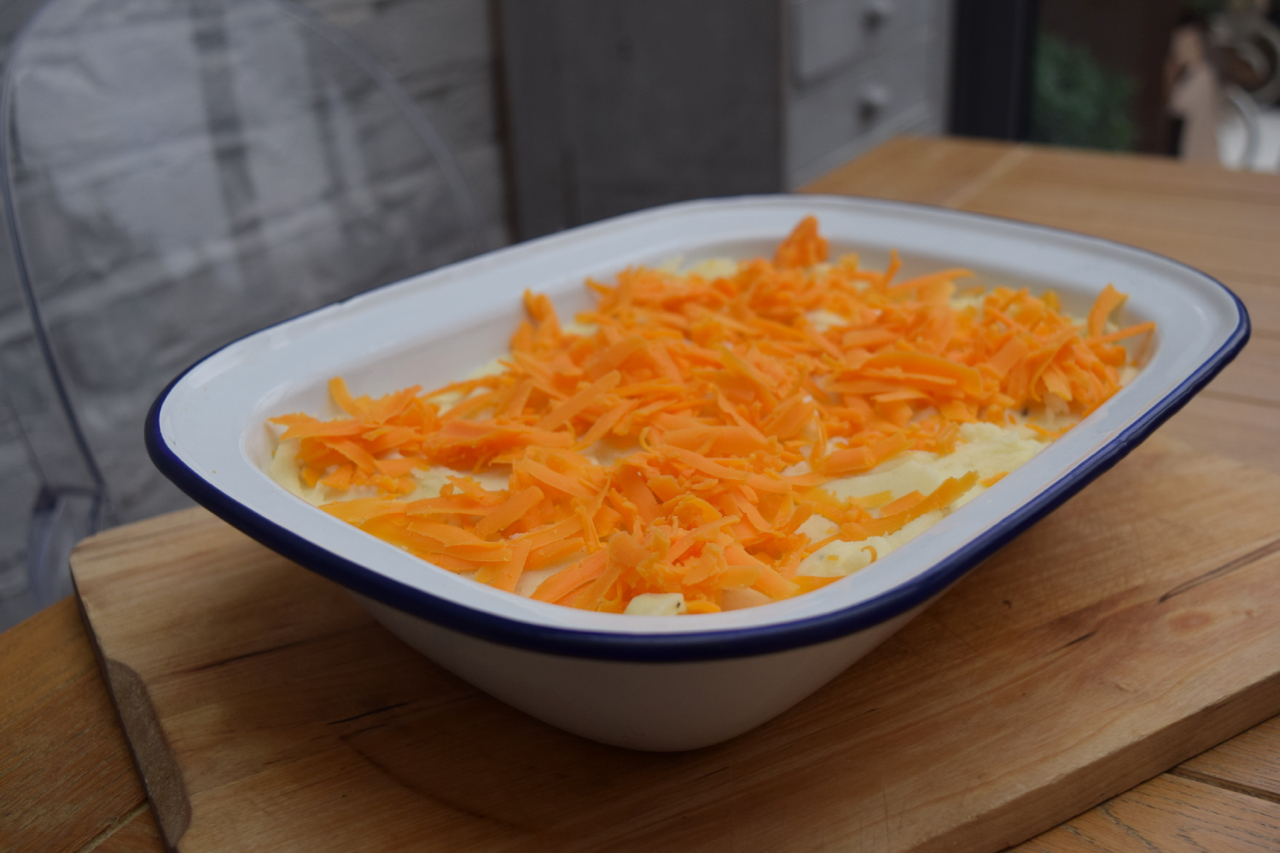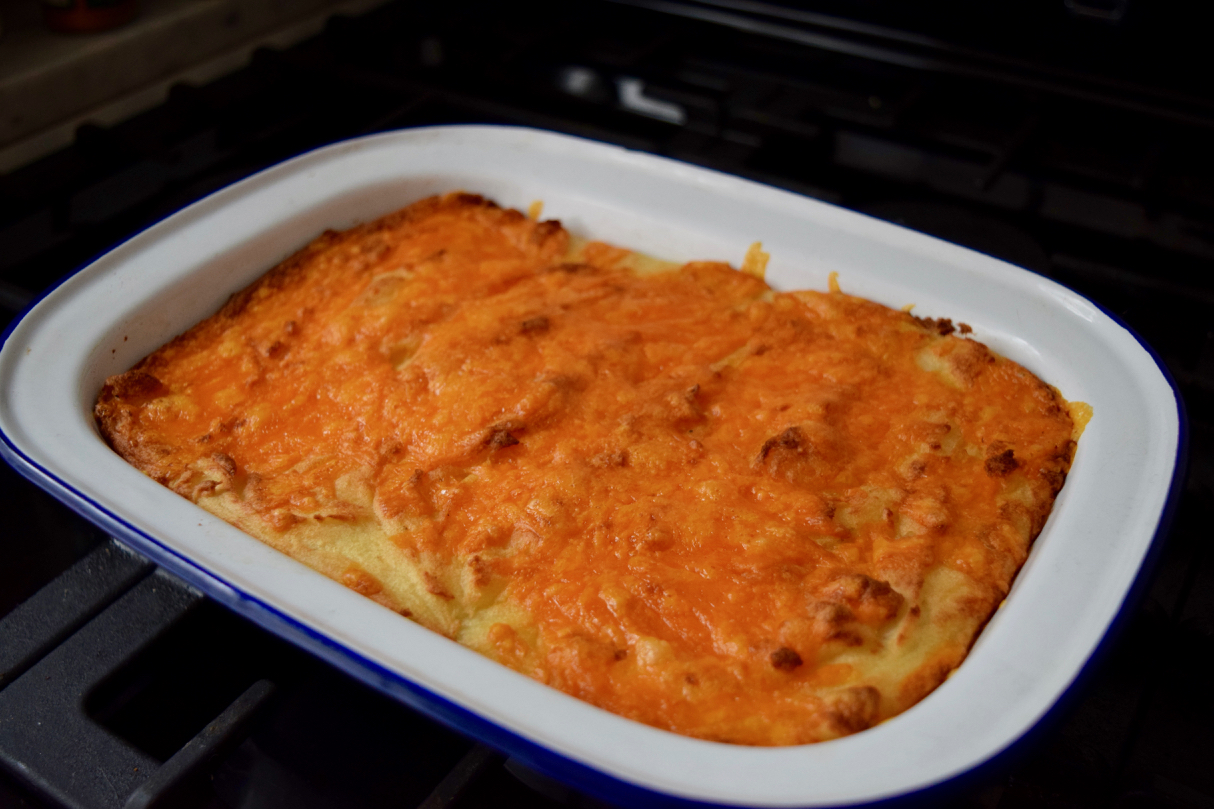 Serve in large spoonfuls with some greens. I went for some sautéed kale in a bid to be healthy, and perhaps some extra gravy, if you have George at your dining table.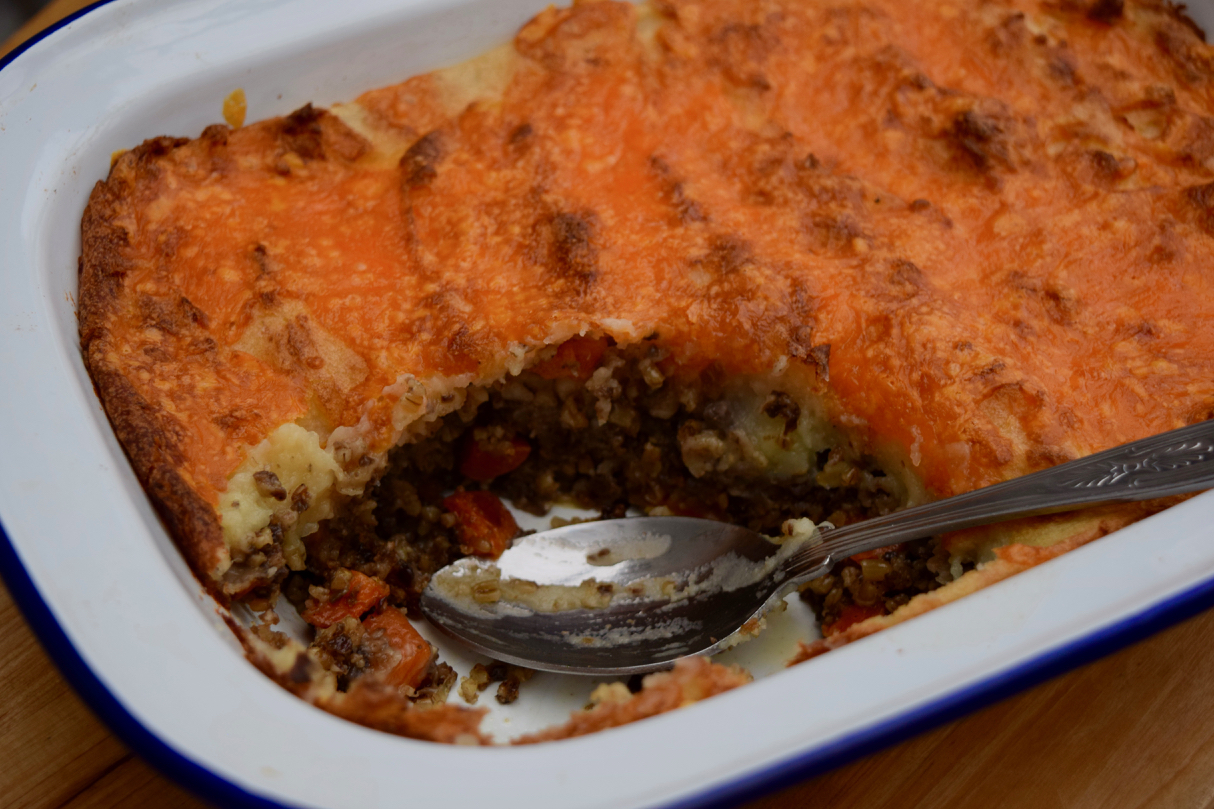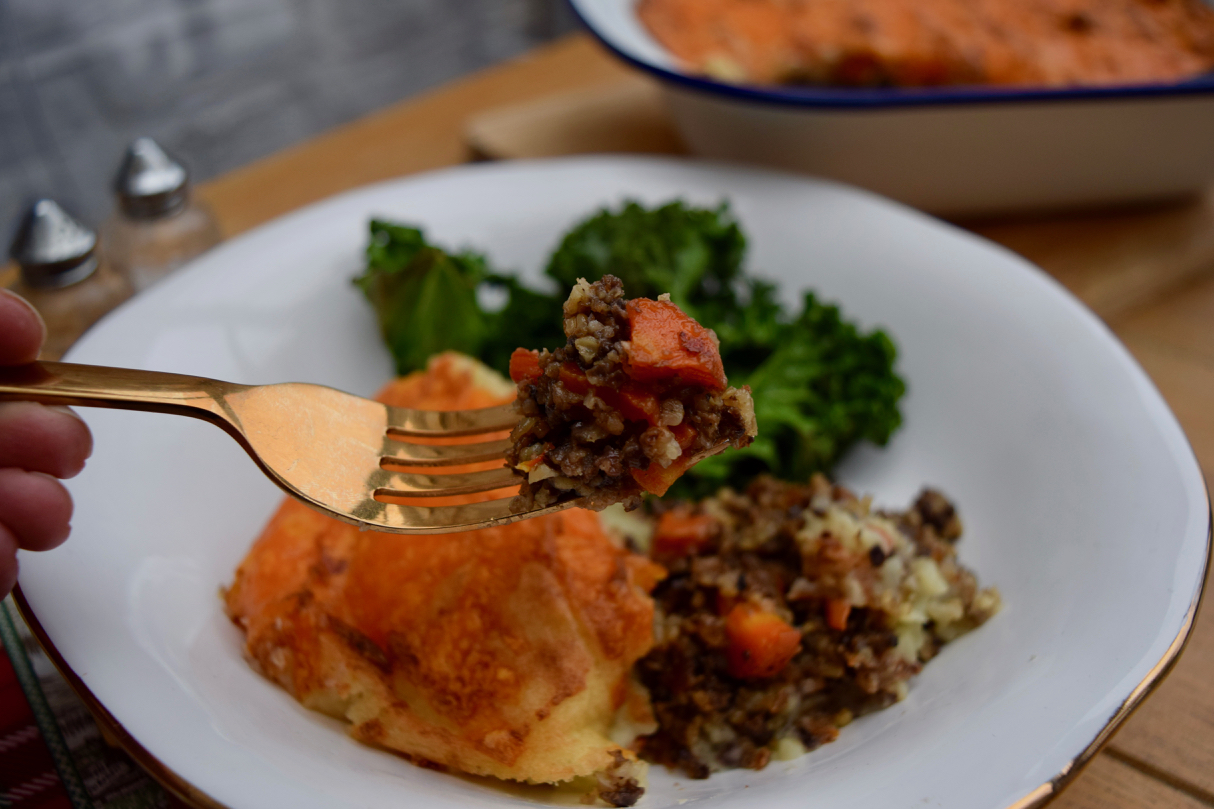 This is such a tasty, simple change from a standard Sheps. The peppery Haggis adds warmth and comfort to an already warming and comforting dish. This Burns Night treat may now become my pie of choice regardless of whether or not it's a dead poet's birthday.
Lucy x
Haggis Shepherd's Pie Recipe
Serves a good 4
You will need pans and an oven proof baking dish
500g potatoes, a good mashing variety
2 tablespoons olive oil
2 carrots, peeled and chopped
1 onion, peeled and chopped
454g haggis, casing removed and chopped
100ml milk
50g butter
salt and pepper
50g grated cheese, to top
Greens to serve and gravy, if you like
Pre heat your oven to 160 degrees fan assisted and oil/butter your baking dish.
Peel and chop your potatoes and boil them in salted water for around 20 minutes, or until soft. Drain well. Mash the potatoes first, then add the milk and butter and mash again until smooth. Season with salt and pepper, to taste.
Take a large sauté pan and heat two tablespoons of oil over a medium heat. Tip in the chopped onions and carrots and saute for around 5 minutes or until just softening and starting to colour.
Remove the casings from the haggis and roughly chop. Add this to the vegetables in the pan and break up using a wooden spoon. Cook, stirring, until the haggis has broken up and is starting to brown. Tip into your baking dish. Top with the mashed potatoes, smoothing the top, then sprinkle on your grated cheese.
Bake for 30 to 35 minutes or until piping hot and bubbling. Serve with some greens and gravy, if you like. An a wee dram if that's your thing.