Creme Egg Caramel Shortbread Recipe
Easter is so early this year, it's really crept up and bitten me on my not tiny bottom. I have panic bought eggs from Ocado and haven't even started stockpiling my usual stash of mini eggs yet. We are spending Easter with all the family and I will be in charge of sweet items, as usual. Our car will be laden with far too many coats and pairs of boots, wine *lots* and at least three Tupperwares of baked goods. So I have been searching around for new and innovative Easter treats to bestow on my family this year. And this Creme Egg Caramel Shortbread is the first on my list.
I adore traditional millionaires shortbread, who doesn't? A crisp shortbread base with caramel, topped with thick chocolate. This wonderful Creme Egg Caramel Shortbread takes the whole slab to a new level by sinking halved Creme Eggs into the chocolate. It's not a light creation, in fact, even Clyde asked me to halve the sample piece I had given him to try. Admittedly it was 8.30am, had it been even half an hour later he would have eaten the whole slab without a murmur. Don't be put off by making your own caramel, it's no real drama. It's just some stirring while the shortbread cooks so nothing to worry about. I slightly overcooked mine so it was firm rather than oozing, but it was still bloody delicious. This recipe comes via Kerry Cooks, thank you, Kerry.
This is not low calorie or anything which would ever be endorsed by Hemsley and Hemsley, but hey, it's nearly Easter where we can give ourselves a bit of a treat and a break. And if you are going to break healthy eating for anything, I would definitely choose this.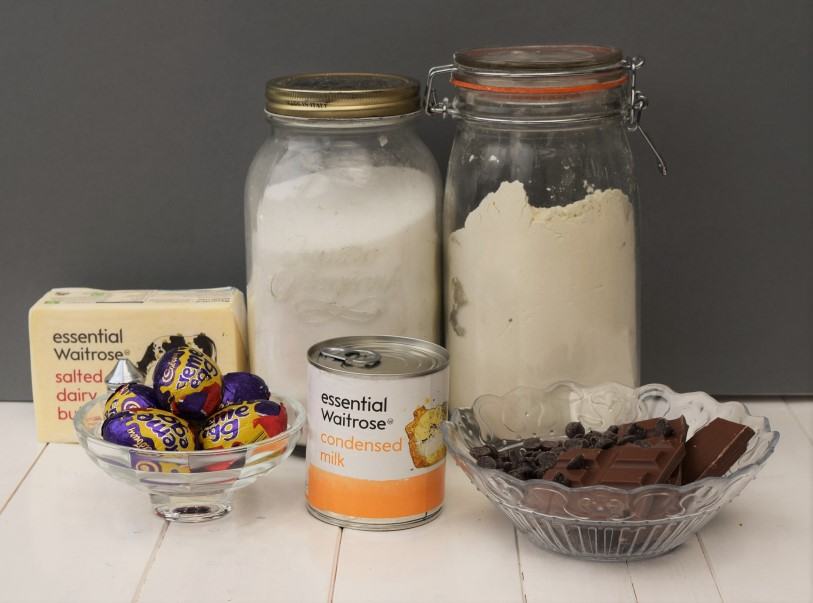 What an indulgent looking line up of ingredients for this Creme Egg Caramel Shortbread. I got a dozen Creme Eggs in a box on offer, I have no idea where the other 6 went *awkward*.
Make a start on the shortbread bottom by pre heating the oven to around 160 degrees fan assisted and lining a square 20cm x 20cm tin with baking paper. Either in a food processor or by hand in a large bowl, cream the soft butter and sugar together until they are both lighter in colour and texture.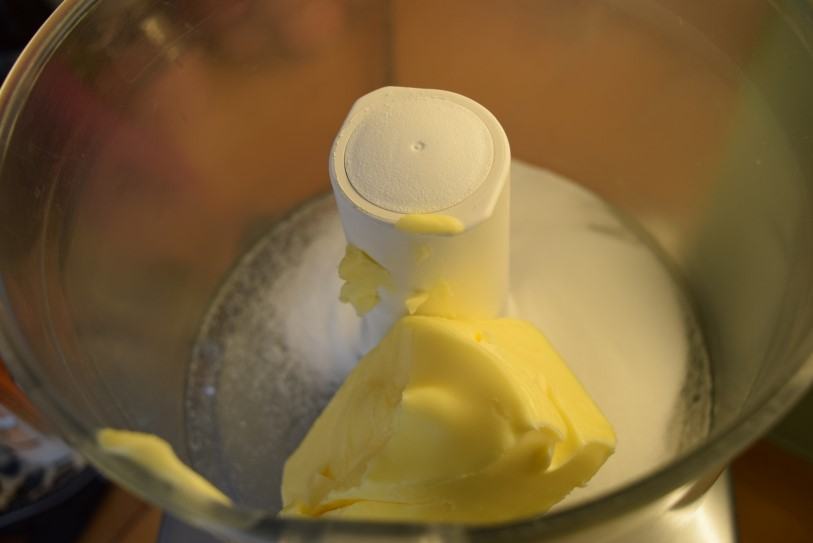 Add to the creamed butter, the plain flour and a pinch of salt then briefly mix again until you have a lovely soft ball of shortbread dough.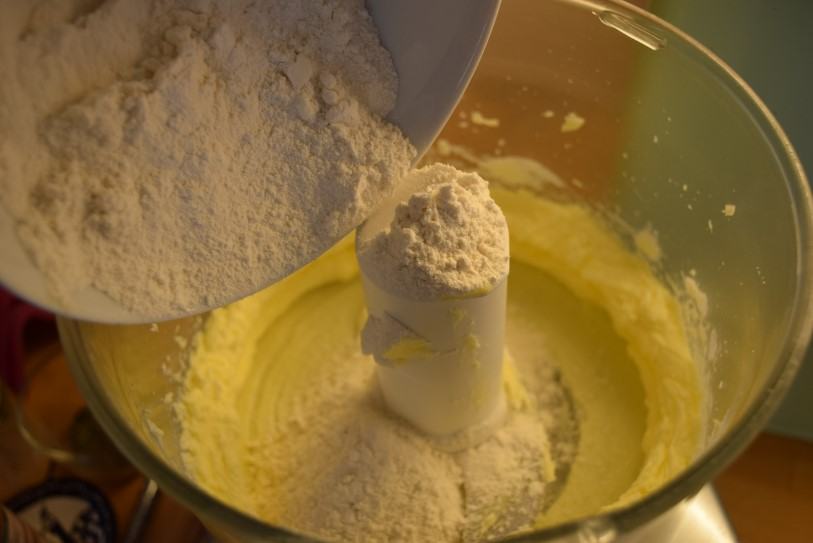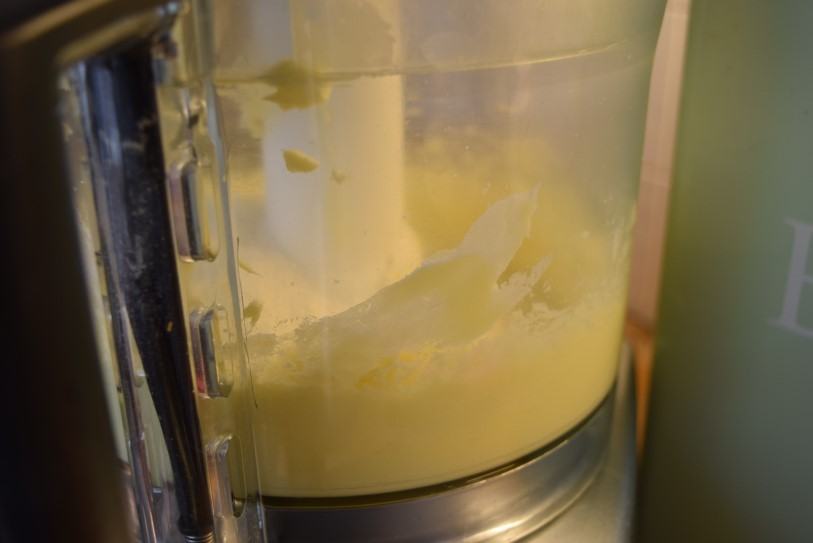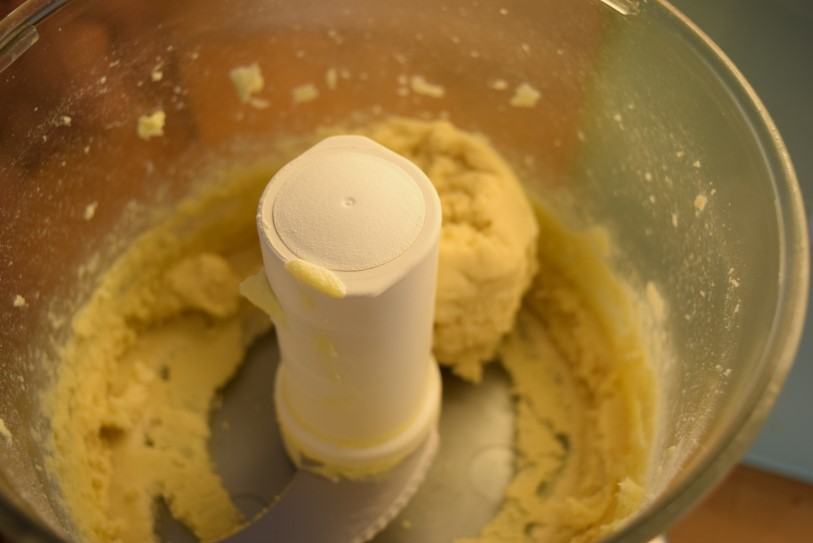 Press this dough into your lined square tin, fashioning an even layer, then pop in the oven to cook for around 15 minutes, or until just starting to crisp and turn golden.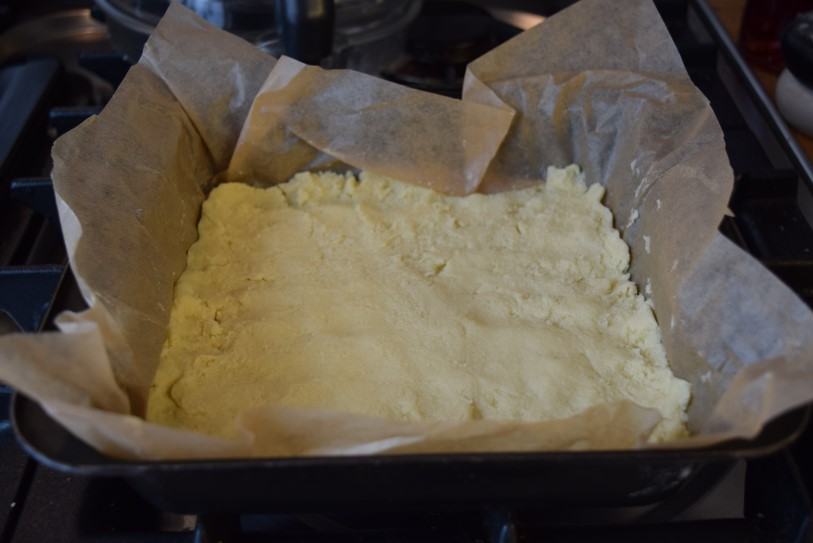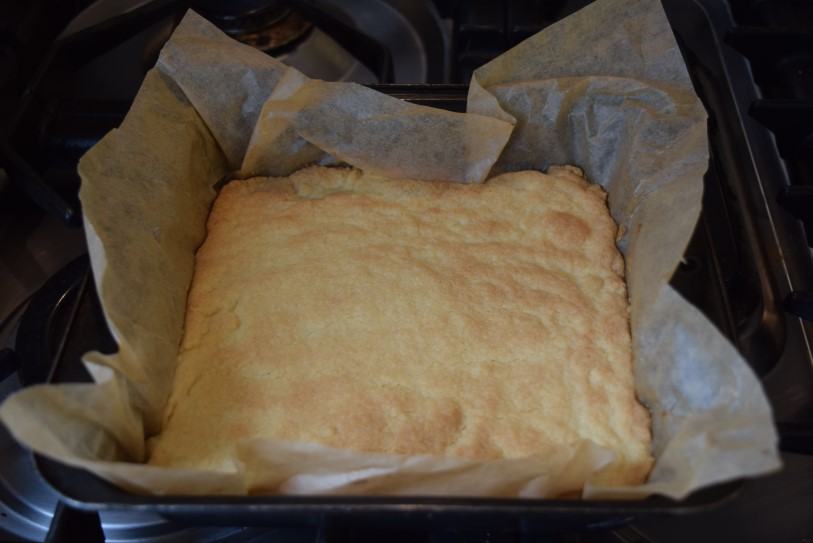 While this wonderful shortbread is baking, crack on with the caramel.
Pour the condensed milk into the saucepan then follow in with the sugar and butter. Bring to the boil over a low heat.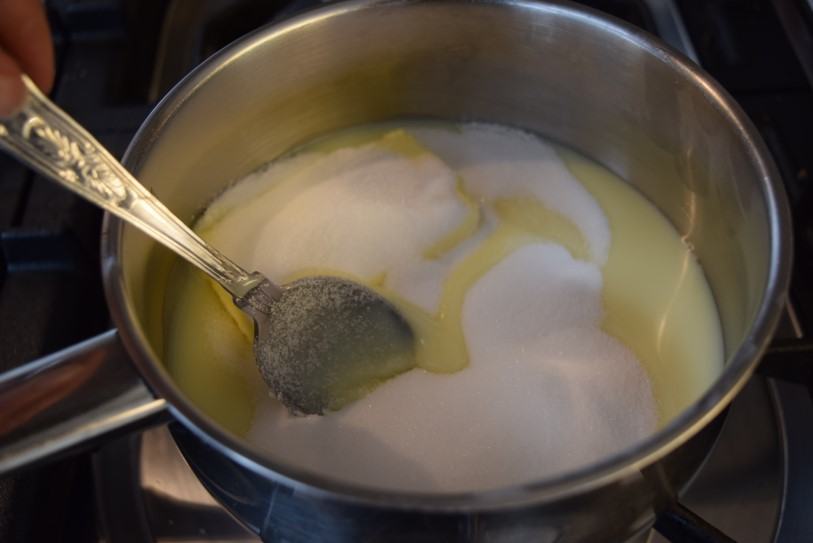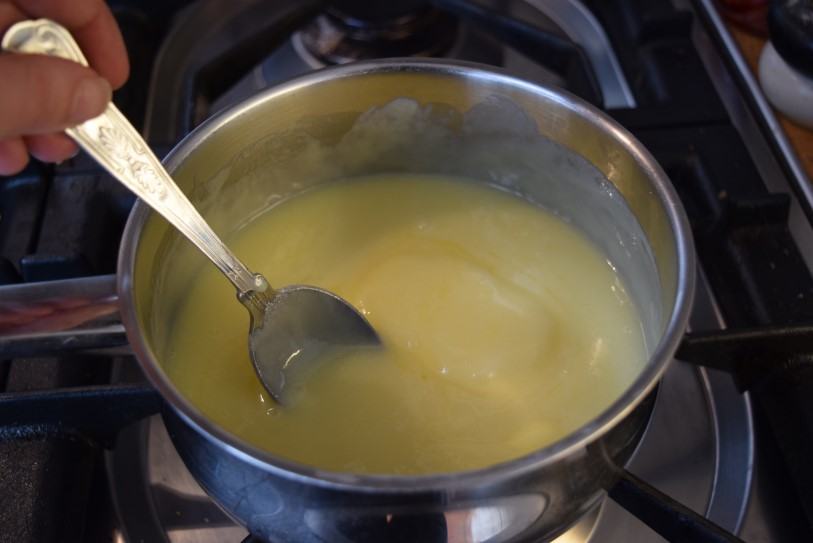 Simmer this lovely, sticky sweet mixture over a medium heat, making sure you stir at all times. You want it to thicken and turn a light golden colour. This took around 15 to 18 minutes but the time went quickly and the key is to just keep stirring as you don't want the mix to catch or burn on the bottom of the pan.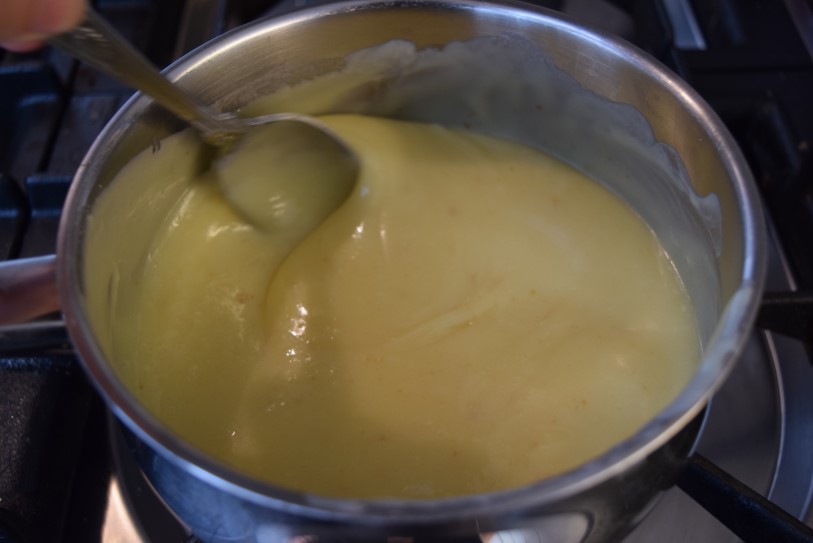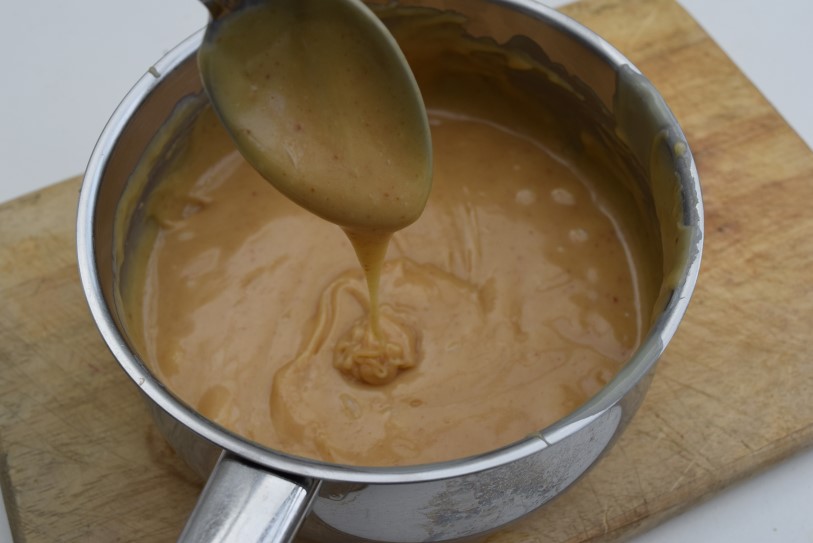 Pour this wonderful caramel onto the cooked shortbread base, smooth, then pop somewhere to cool for a moment while you melt the chocolate for the topping.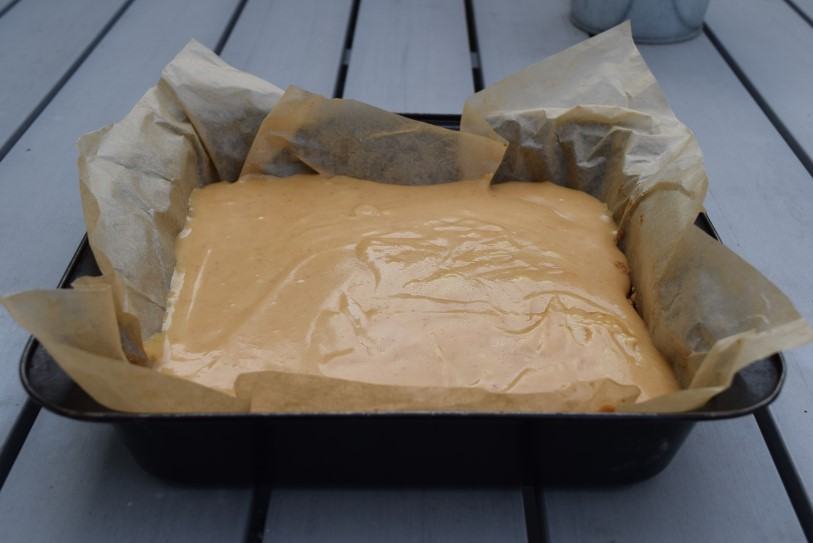 Place the chocolate and butter in a bowl and microwave for a minute and a half or place over a pan of simmering water until just starting to melt. I had 200g of milk chocolate and 100g of dark chocolate and that was a great combination, but go with whatever you have to hand.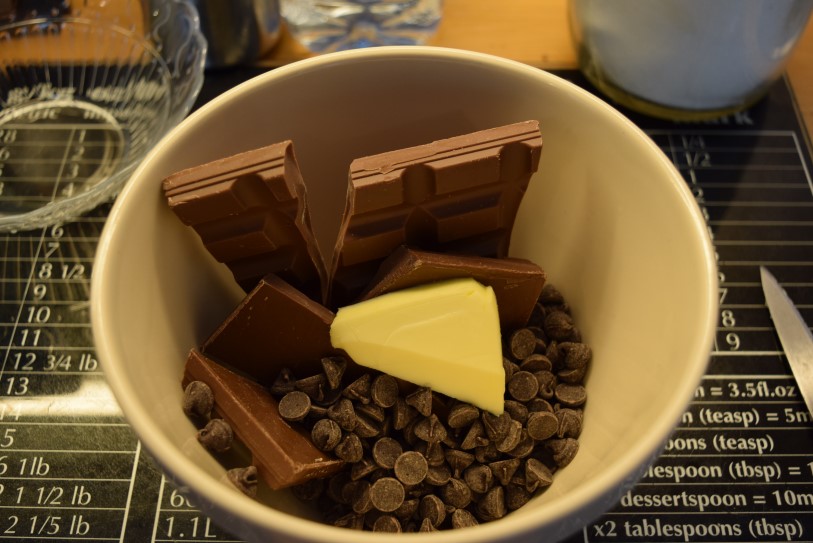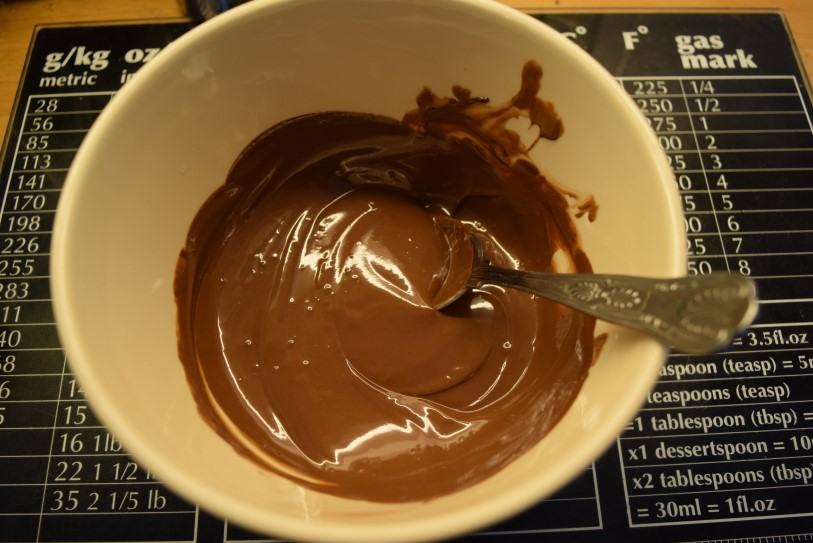 Pour this molten chocolate onto the caramel layer and smooth over.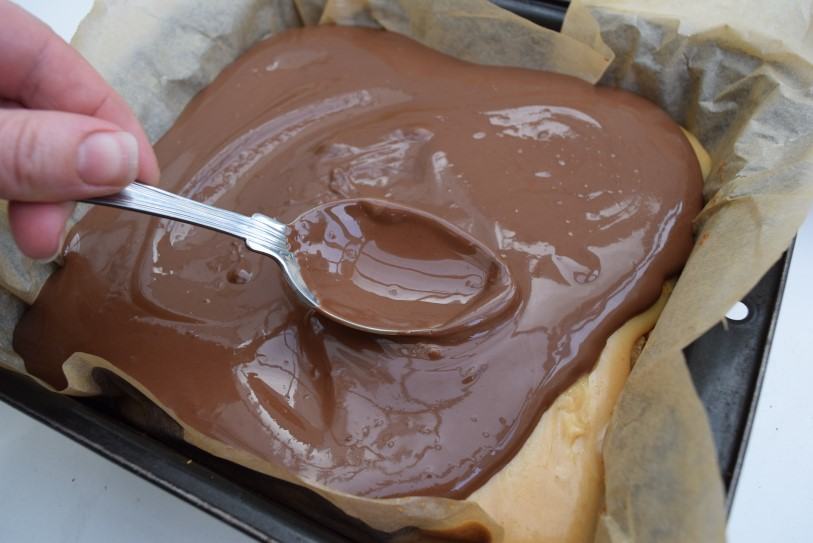 Ooh and now the fun part. Unfoil your creme eggs and cut in half using a sharp knife. I used 6 which was quite generous of me, you could use less and quarter them. You don't have to be too precise about this, just cut them as best you can then press the pieces into the melted chocolate layer.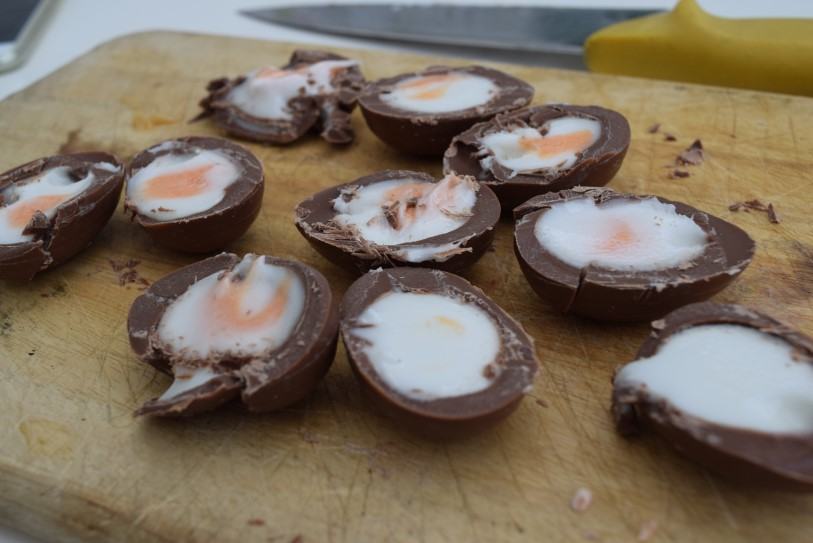 Drool. Even though they are way smaller than they used to be.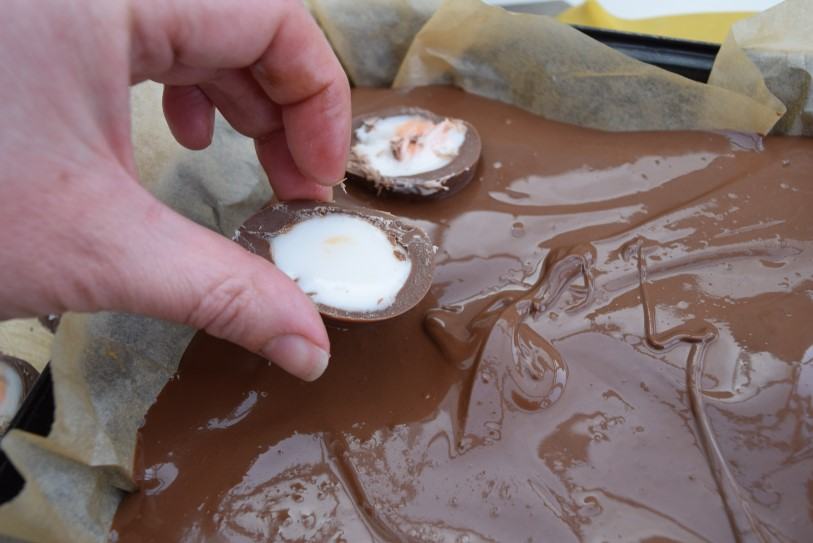 Unavoidable hand shot.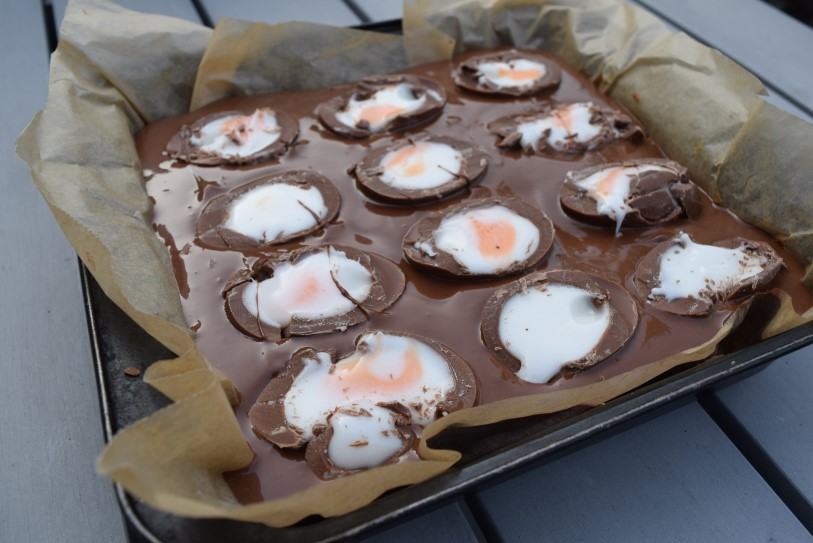 Leave this hot mess to cool in the fridge for 2 to 3 hours, while you sit beside it counting down the minutes.
Once the Creme Egg Caramel Shortbread is set, cut and serve in large slabs. Or smaller slabs if you have less stamina.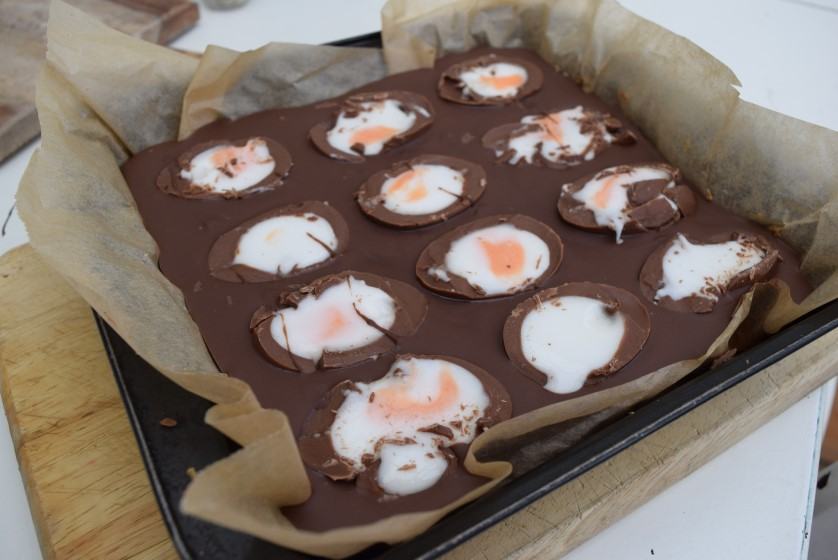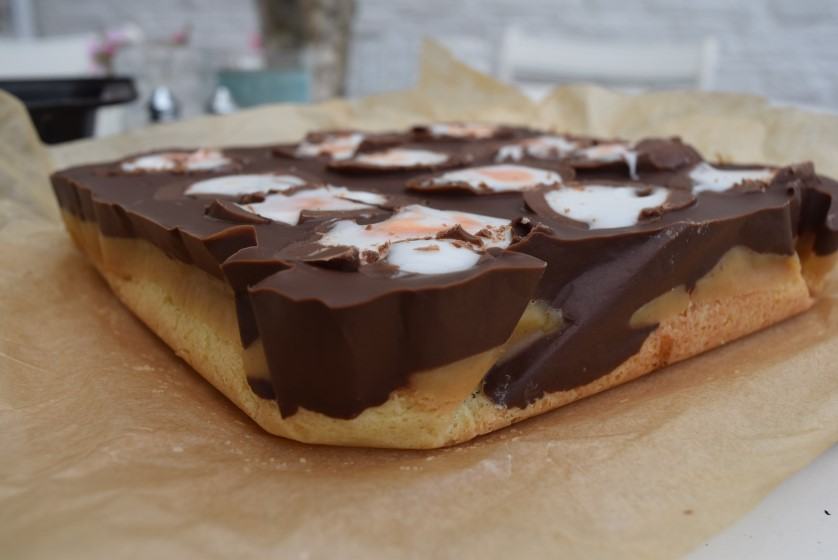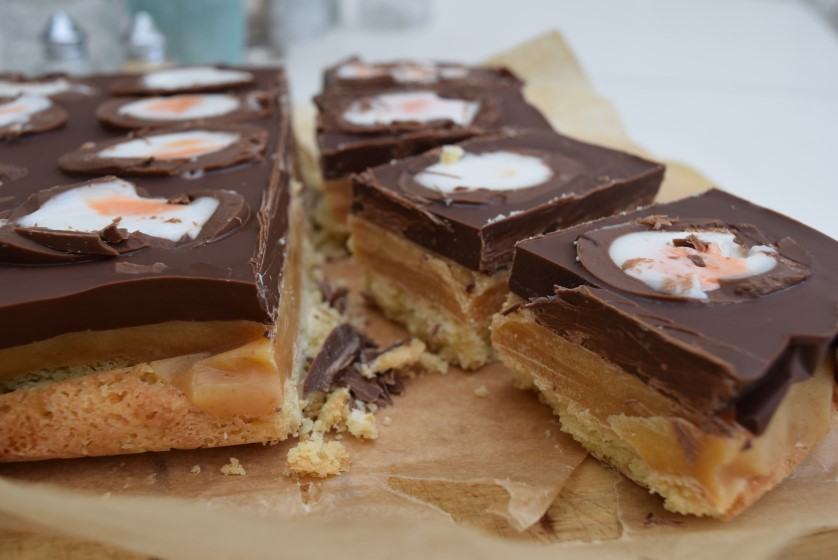 Creme Eggs aren't in the shops for long, so you'd better make this quickly. And eat it quickly then make some more.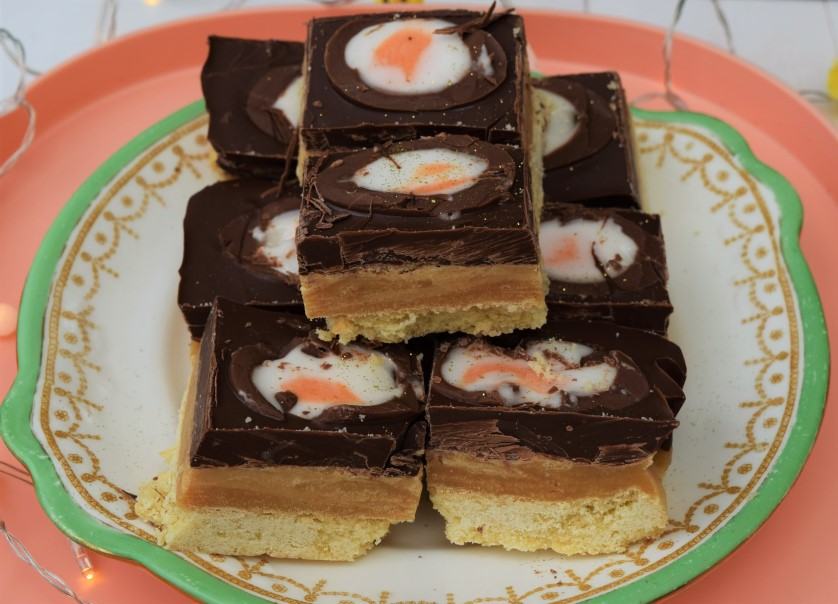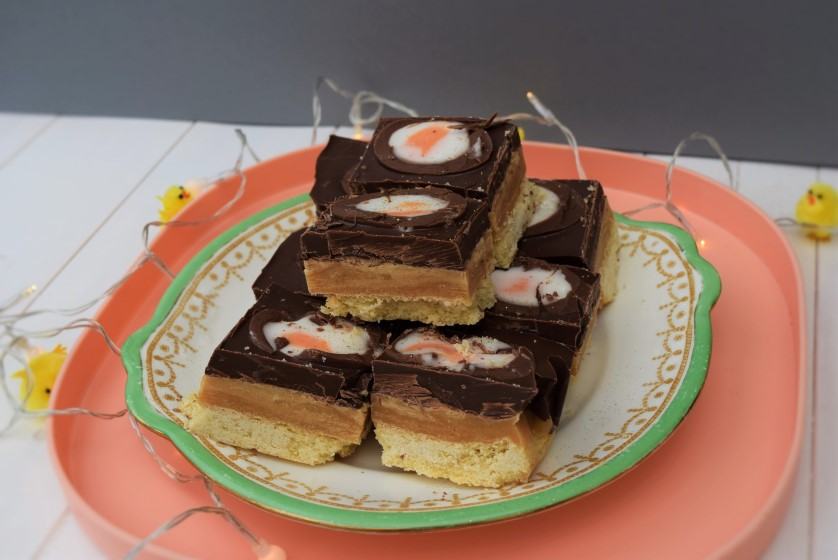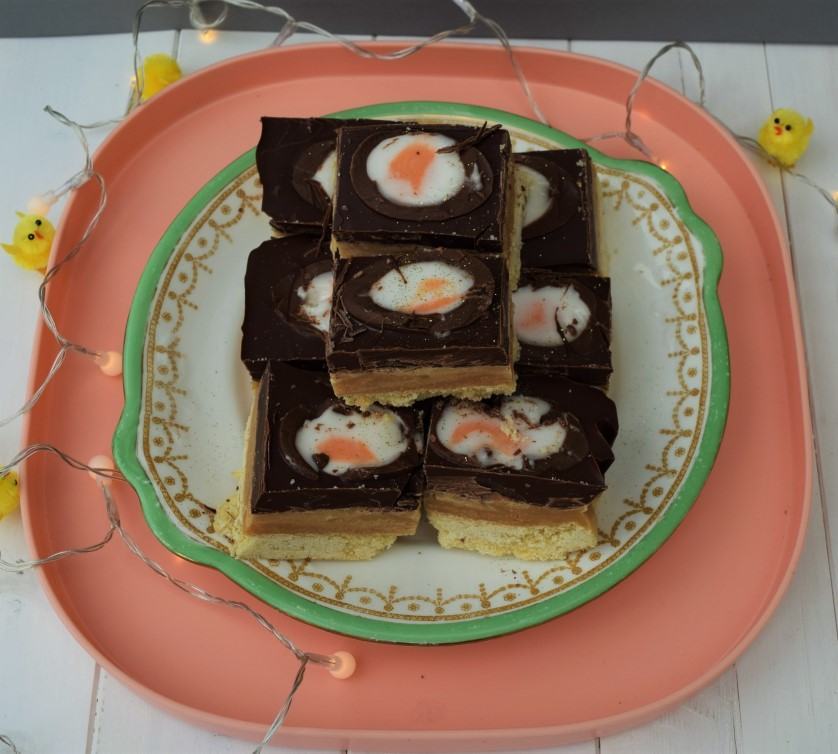 It's not Easter for another week but I thought I'd give you the chance to make a couple of batches of this before the long weekend. The slab cuts into quite a few pieces, I thought it would last a while in the tin. Sadly not, this Creme Egg Caramel Shortbread has become the new favourite house treat and barely lasted two days. Good luck with keeping yours hidden until Easter.
Lucy x
Creme Egg Caramel Shortbread Recipe
Makes around 20 to 25 pieces, dependent on how generous your slices are
You will need a 20cm x 20cm square pan, lined with baking paper
Shortbread 
150g butter, softened
50g sugar
160g plain flour
a pinch of salt
Caramel
397g tin condensed milk
150g caster sugar
150g butter
Chocolate topping
200g milk chocolate
100g plain chocolate
25g butter
6 Creme Eggs, halved
Pre heat your oven to 160 degrees fan assisted and line your 20cm square tin with baking paper.
In your food processor or by hand in a large bowl, cream the soft butter and caster sugar together until lighter in colour and texture. Add the pinch of salt and the flour and combine until a soft dough is formed. Press this into your lined tin in an even layer and bake for between 15 and 20 minutes or until golden brown. Leave to one side to cool slightly.
For the caramel, take a large solid saucepan and add the condensed milk, sugar and butter. Bring to the simmer over a low heat, stirring constantly. Once the mixture is boiling, over a medium heat, still stirring, keep cooking until the caramel has darkened a little and thickened slightly. This took around 15 minutes from start to finish.
Pour the caramel onto the shortbread base and smooth into an even layer.
For the chocolate topping put thechocolate into a small bowl with the butter and melt in the microwave or over a small pan of simmering water until just melted. Stir until glossy and smooth then pour over the caramel and spread out with a knife to cover.
As carefully as you can, cut the Cream Eggs in half and press into the melted chocolate topping. Leave to cool then put in the fridge for at least two to three hours to set. Cut into chunks and devour.