Easy Apricot Frangipane Slice Recipe
This week I have been embracing all things seasonal. I am itching to get my hands on the blackberries on my dog walks but keep forgetting to take a Tupperware with me and don't think an empty poo bag is a worthy receptacle. I love all things late summer/early autumnal. Our little tree in the garden has some wonderful apples for an Apple Cake, Figs are fragrant and soft for an open sandwich and I have eaten my own body weight in crab sandwiches in the Isle of Wight this weekend. And it's not only the food, I love the sights, sounds and smells too. Walks are dusty with just a hint of a fallen leaf or two, people are creeping back into London after the holidays so it's getting louder in the mornings and on an early evening run, I am getting just a whiff of late summer bonfire. So when I ordered some soft, slightly fuzzy apricots I decided these Easy Apricot Frangipane Slices were a wonderful treat for this time of year.
For all my ramblings about seasonal produce, you don't have to stick with apricots for my almond based bake. This will work with all sorts of fruits. Try apples, blackberries, raspberries, blueberries, the opportunities are limitless. The not too sweet sponge welcomes the fruit and the crisp flaked almonds add a touch of crunch on the top. I love a Bakewell Tart as much as the next person but my Apricot Frangipane slice is as delicious and tempting but without the kerfuffle of blind baking a pastry base. We wolfed down giant slabs of this when it was warm out the oven with a pot of tea, but you could show a whiff of restraint and serve it as a dessert with some poached seasonal fruits and either cream and/or custard. It's a simple slice, but a good multi tasker too. A huge thank you to The Kitchen Alchemist for the inspiration for this bake.
If I seem slightly distracted as I write, I do have half an eye on the new series of the Great British Bake Off. I was all ready to be disappointed with the new team, but am already chuckling away at Noel Fielding and loving Pru's sense of style. So in a flurry of Bake Off puns, this Apricot Frangipane Slice certainly doesn't have a soggy bottom, is a show stopper in my eyes and I hope I am your Star Baker this week. Now, focus, Lucy, stop watching the telly and get on with the recipe.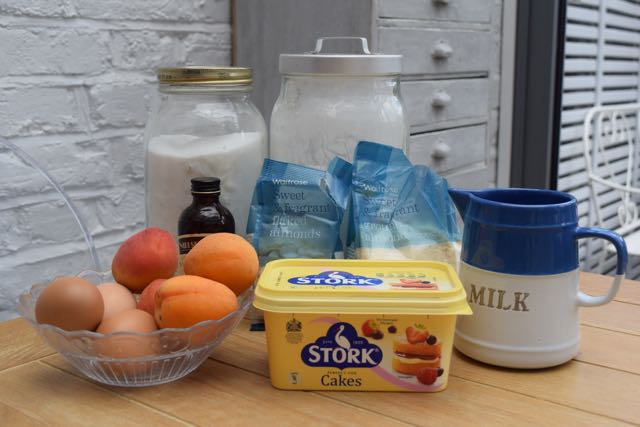 There's my beloved Stork in the line up again. Even though, three years on, Unilever still haven't noticed me and sent me a life times supply of the stuff, I still persevere with providing them with some free promotion. I used apricots in my slice as this is a brilliant time of the year for them, however, if you prefer choose blackberries, which are super abundant on my dog walks, cherries, blueberries or any dried fruit would work too, I expect.
Anyhoo, make a start by pre heating your oven to 150 degrees fan assisted and lining a 20cm by 20cm square baking tin. Then, either in your stand mixer, bowl with a hand whisk or bowl with arm muscles and a wooden spoon, beat the Stork or soft butter and caster sugar until light in both colour and texture.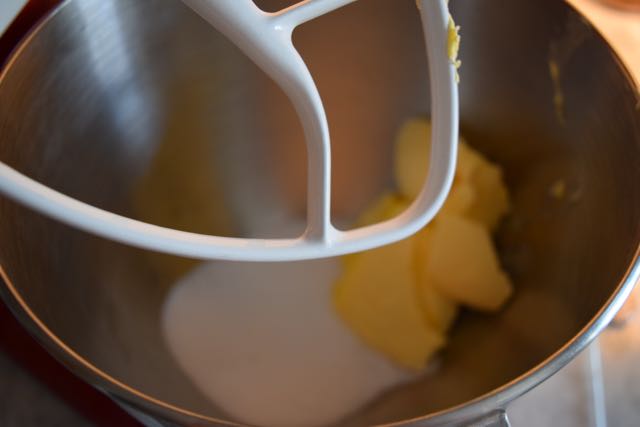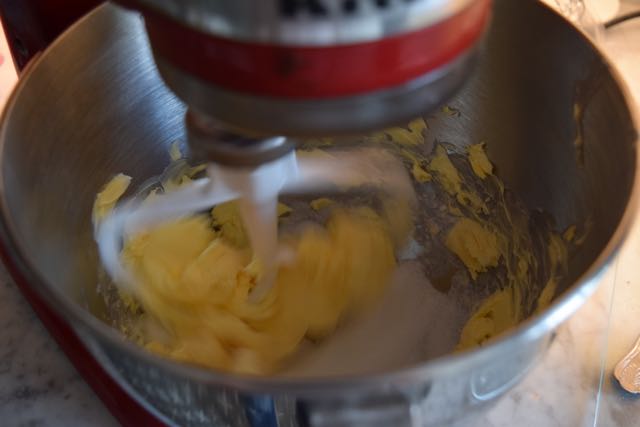 Add the eggs one at a time then beat again, before adding the milk and the vanilla extract.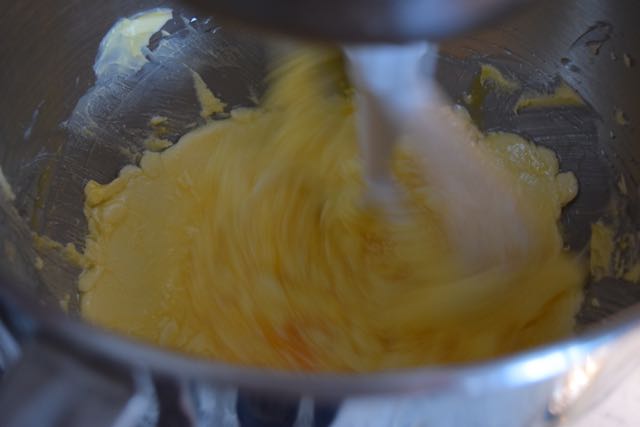 Finally fold in the flour and ground almonds in three batches, don't over mix.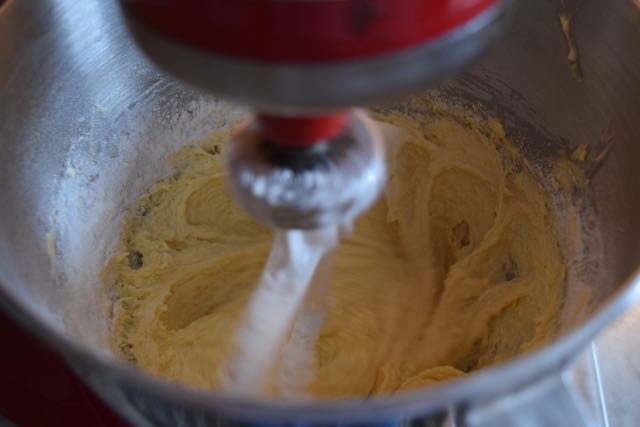 If you are a lover of cake mixture, this is the moment to stick your finger in, this one tastes bloody lovely.
Scrape down the bowl of your mixer then tip into your lined square tin and smooth the top.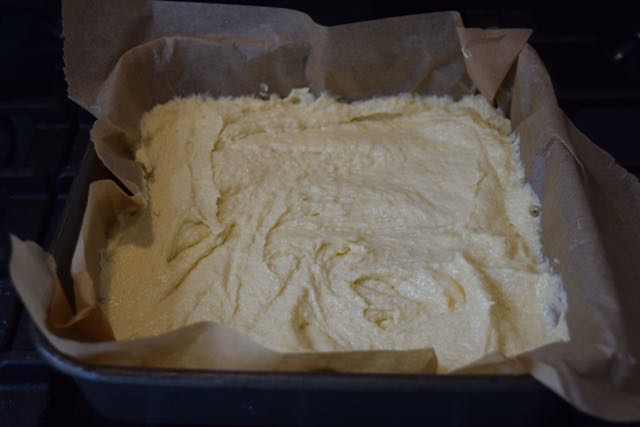 In a small bowl add your chopped apricots, or your chosen fruit, caster sugar and flaked almonds and give it a little mix. Then sprinkle the mixture over the top of the almond sponge, pressing the fruit in a little as you go.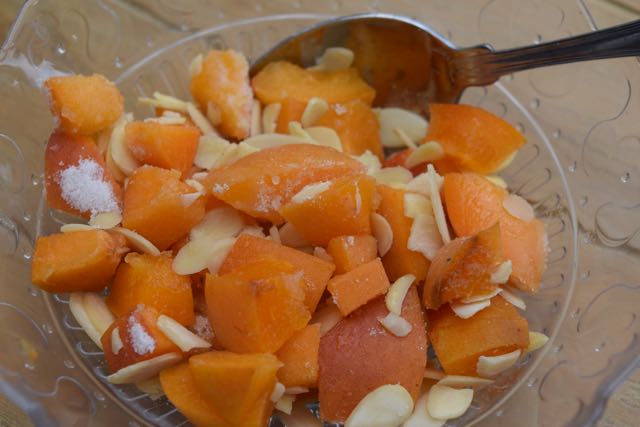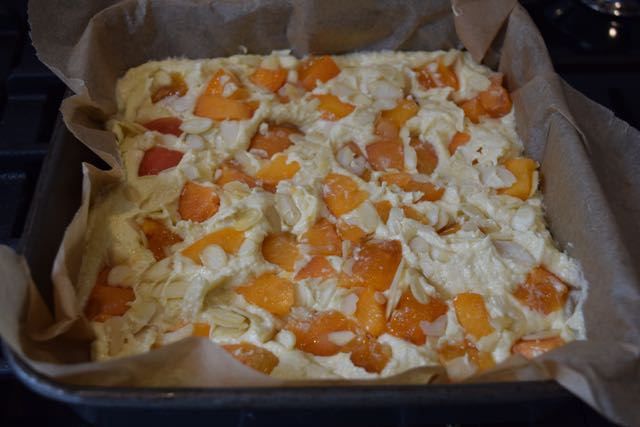 Bake this seasonal delight in your pre heated oven for 40 to 45 minutes or until golden brown, firm to the touch and smelling amazing.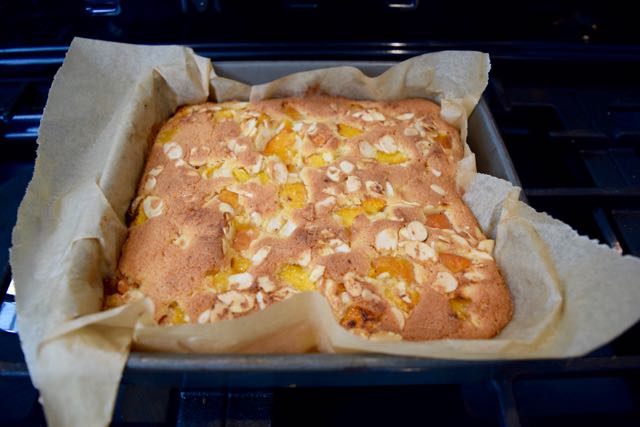 Leave this to cool slightly before cutting into squares to serve with a cup of tea or as a lovely pudding with custard and/or cream and maybe some poached fruit.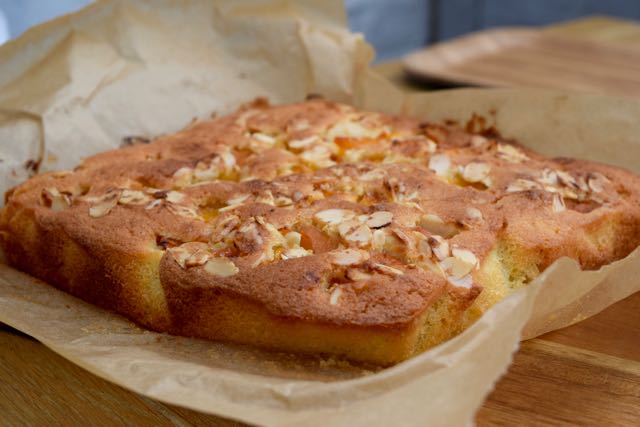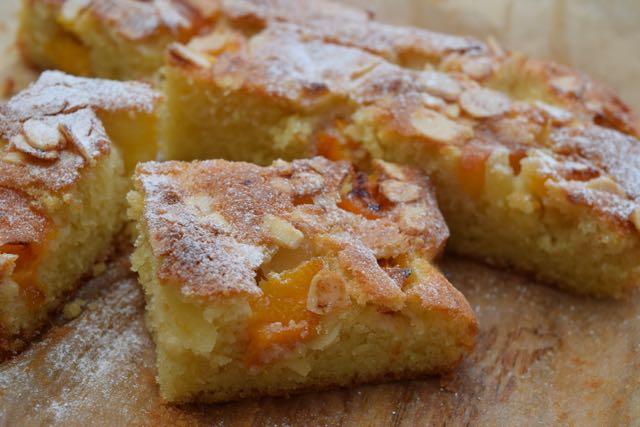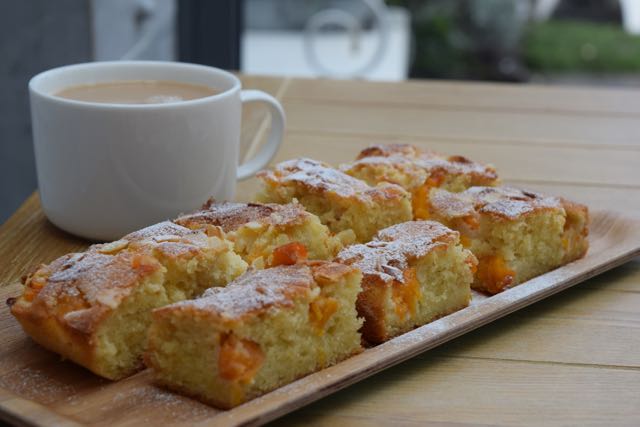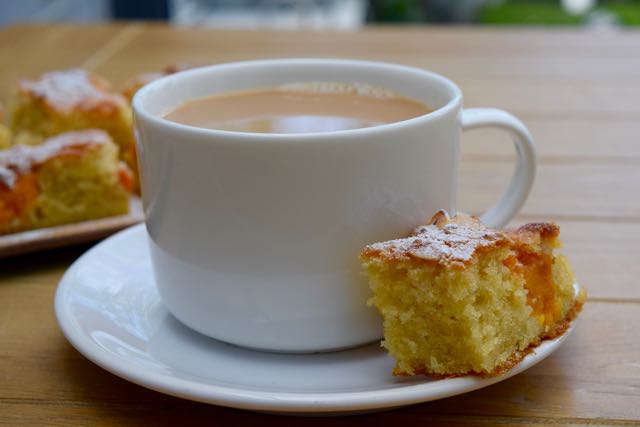 This is a moist sponge, not too sweet, and the apricots lend a hint of tart to every slice. Whether you are chugging it down with a cup of tea or dousing it in a litre of cream, it's a great little tray bake to have up your sleeve. Figuratively speaking, of course, the apricots would stick horribly to the inside of your jacket.
Tons of love.
Lucy x
Easy Apricot Frangipane Slice Recipe
Makes 16 squares
You will need a stand mixer or large bowl with a spoon and a lined 20cm x 20cm square tin
Frangipane
180g Stork or soft butter
100g caster sugar
3 eggs
2 tablespoons milk
1 teaspoon vanilla extract
100g ground almonds
100g self raising flour
Topping
2 fresh apricots, chopped, or the fruit of your choice e.g., chopped apple, raspberries, blackberries, cherries
3 tablespoons flaked almonds
1 tablespoon caster sugar
Pre heat your oven to 150 degrees fan assisted and line a 20cm square tin with baking paper or butter it well.
In your stand mixer or a large bowl with a hand whisk or wooden spoon, beat the Stork or butter with the caster sugar until lighter in colour and texture. Beat in the eggs one at a time then whisk in the milk and vanilla extract. Fold in the ground almonds and flour, in three lots, until combined but don't over mix.
Scrape the mixture into your lined tin, levelling the top. In a small bowl add the chopped apricots, flaked almonds and sugar and stir. Sprinkle this mix over the top of the sponge, lightly pressing the apricots into the sponge. Place the sponge in the oven for approximately 40 to 45 minutes or until the sponge is golden, firm to the touch and smelling amazing.
Leave to cool slightly before cutting into squares. Serve warm with custard, cream and/or poached fruit or with a cup of tea in the afternoon. The slice will keep in a tin, wrapped, for around 3 days.
SaveSave
SaveSave
SaveSave
SaveSave
SaveSave
SaveSave