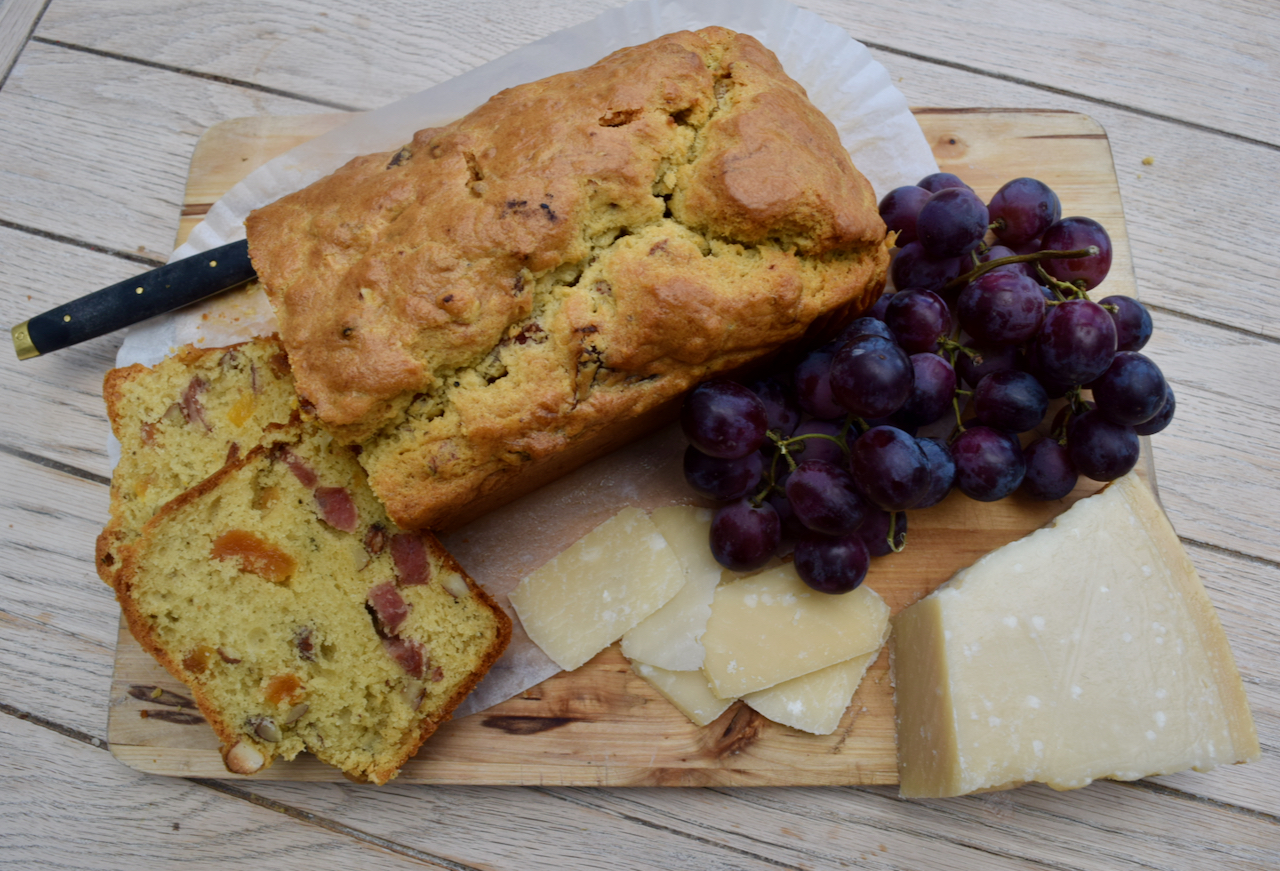 Savoury Picnic Loaf recipe
Life has been getting in the way of blogging at the moment. Strangely, pre Covid I used to juggle far more efficiently than I do now. But with a whiff of sunshine comes enthusiasm for outdoor eating opportunities and this Savoury Picnic Loaf has been on my to do list for years and will be now for years to come.
Many moons ago, when I used to spend days browsing cookery books, The Little Paris Kitchen by Rachel Khoo was one of my favourites. Her savoury cake had a fancy French name, but I've simplified things due to my appalling grasp of languages. My picnic loaf is basically a not-sweet-cake featuring salami, almonds and apricots. It's the perfect vehicle for plenty of soft butter, cheeses, chutney; all your summer feasting favourites. Utilise some of your own store cupboard staples to pack your loaf; the basic cake recipe can be tarted up with pretty much anything you fancy.
The idea of savoury cake is an odd one, but once you've tried what effectively is a huge muffin, you'll never have another picnic without one.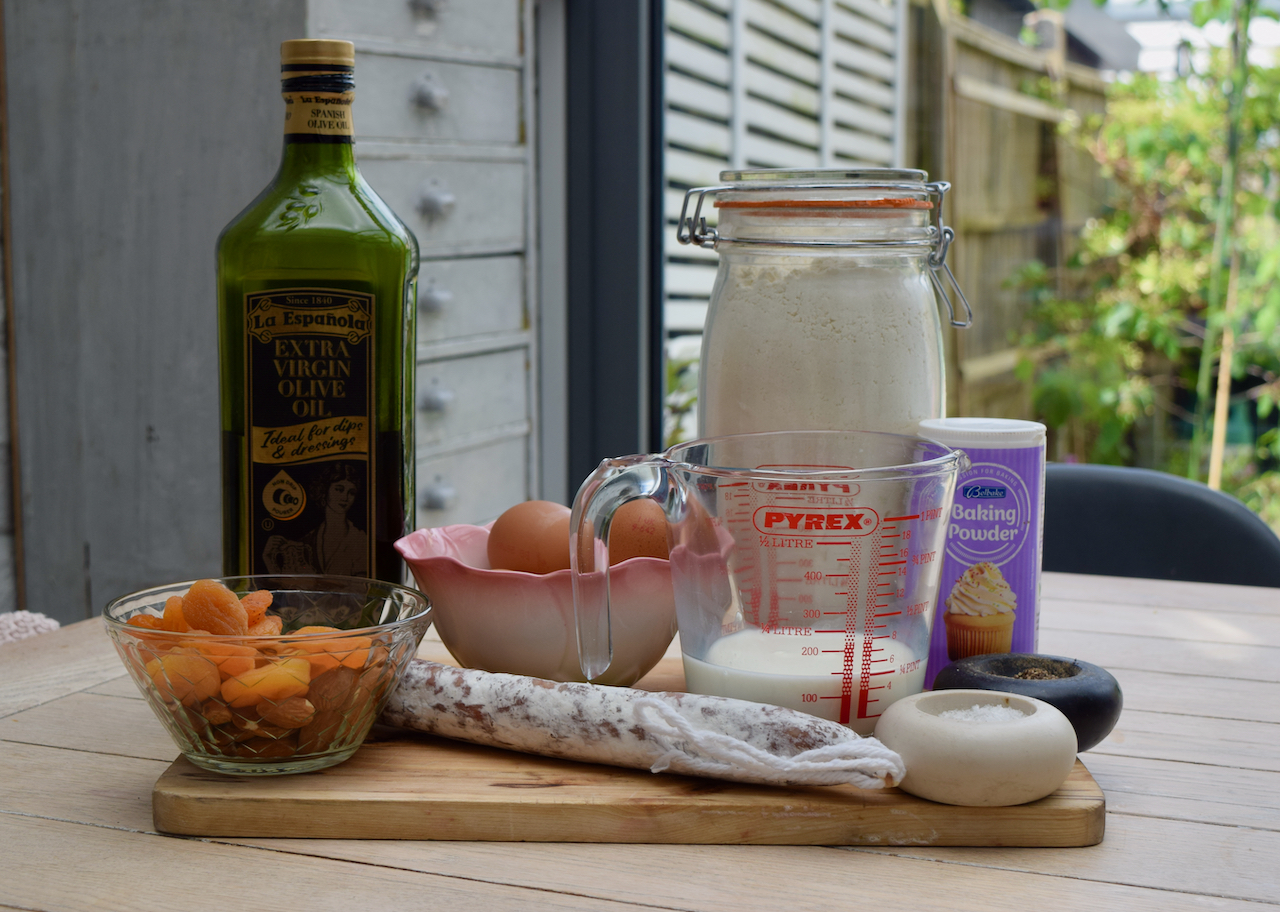 Now, the lovely Rachel Khoo's loaf featured salami, pistachios and prunes, which sound amazing and colourful, but didn't the latter two didn't feature in my storecupboard forage. I did, however, have a ton of almonds and dried apricots, which married beautifully alongside chunks of flavourful salami. The rest of the ingredients create a light, *brace yourself* moist loaf, with minimal effort.
Lets make a start before it starts raining again. Line your loaf tin and pre heat the oven to 160 degrees fan assisted. Now, chop your chosen meats, nuts, fruits or cheeses and mix with the flour, baking powder, salt and pepper.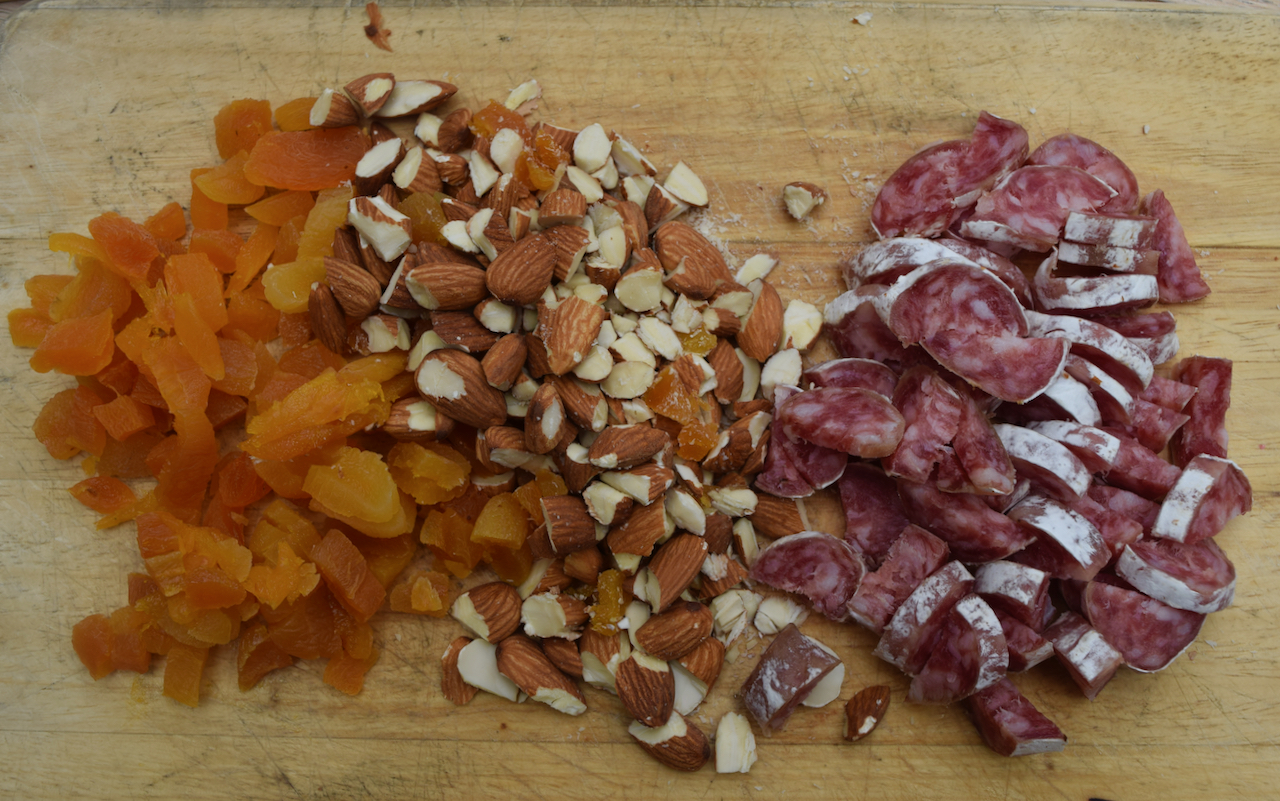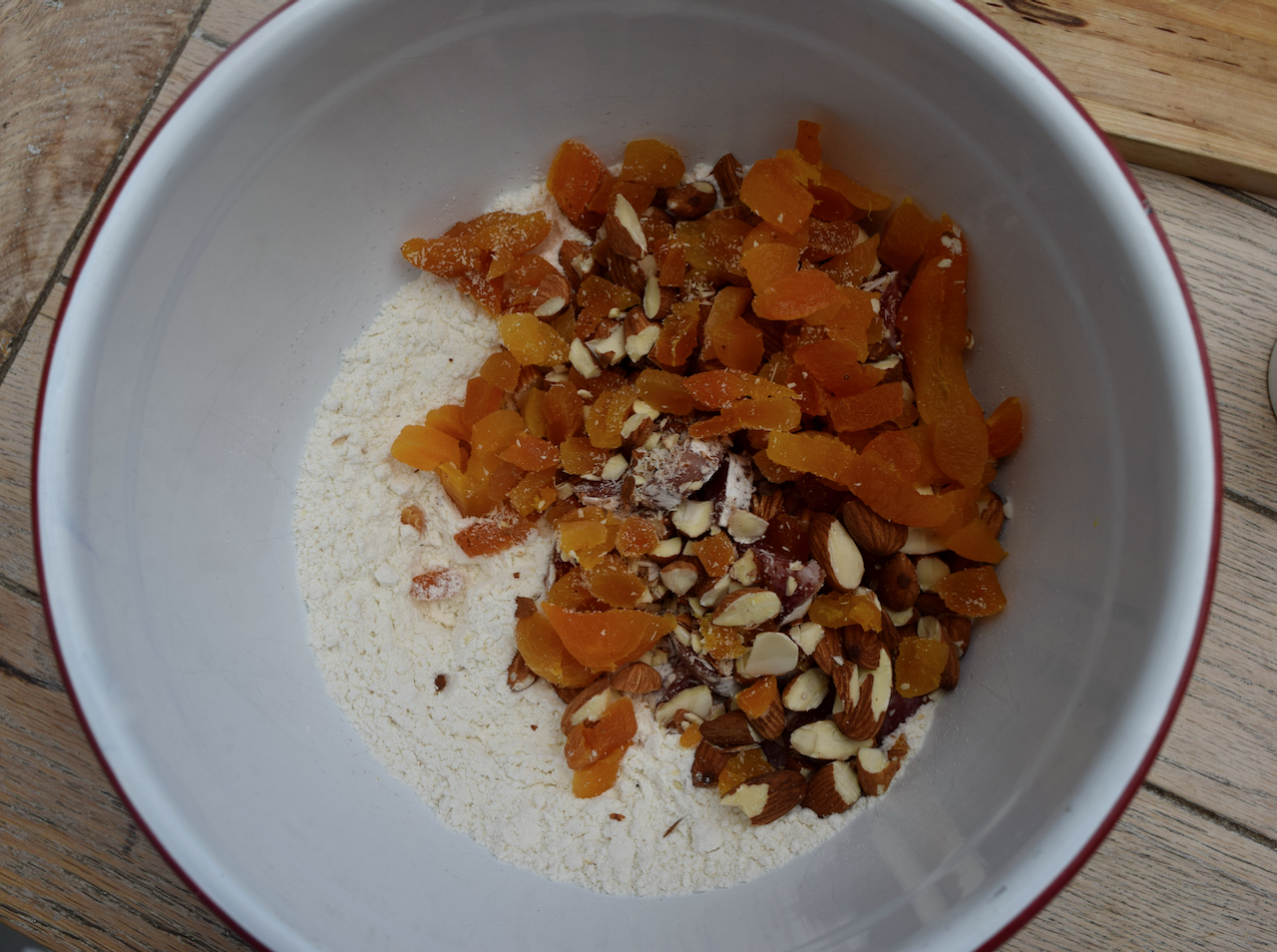 Stir to coat everything in the flour (this will help stop the add-ins sinking to the bottom of the cooked cake). Next, whisk the 4 eggs with a hand whisk or stand mixer until light in colour and texture and fluffy and thick.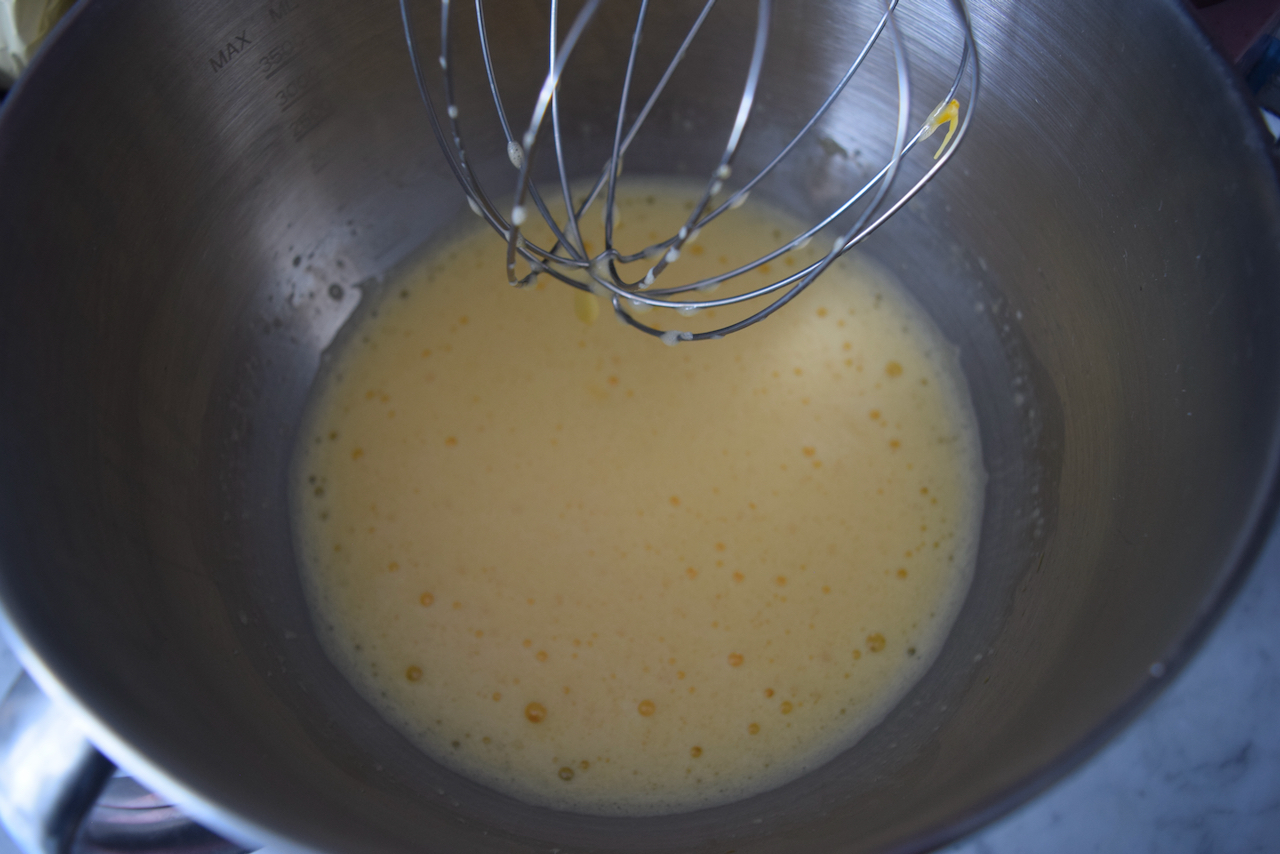 Measure the milk, yoghurt and oil into a jug and whisk to mix. Then, whilst whisking, pour this into the egg mixture and combine until smooth.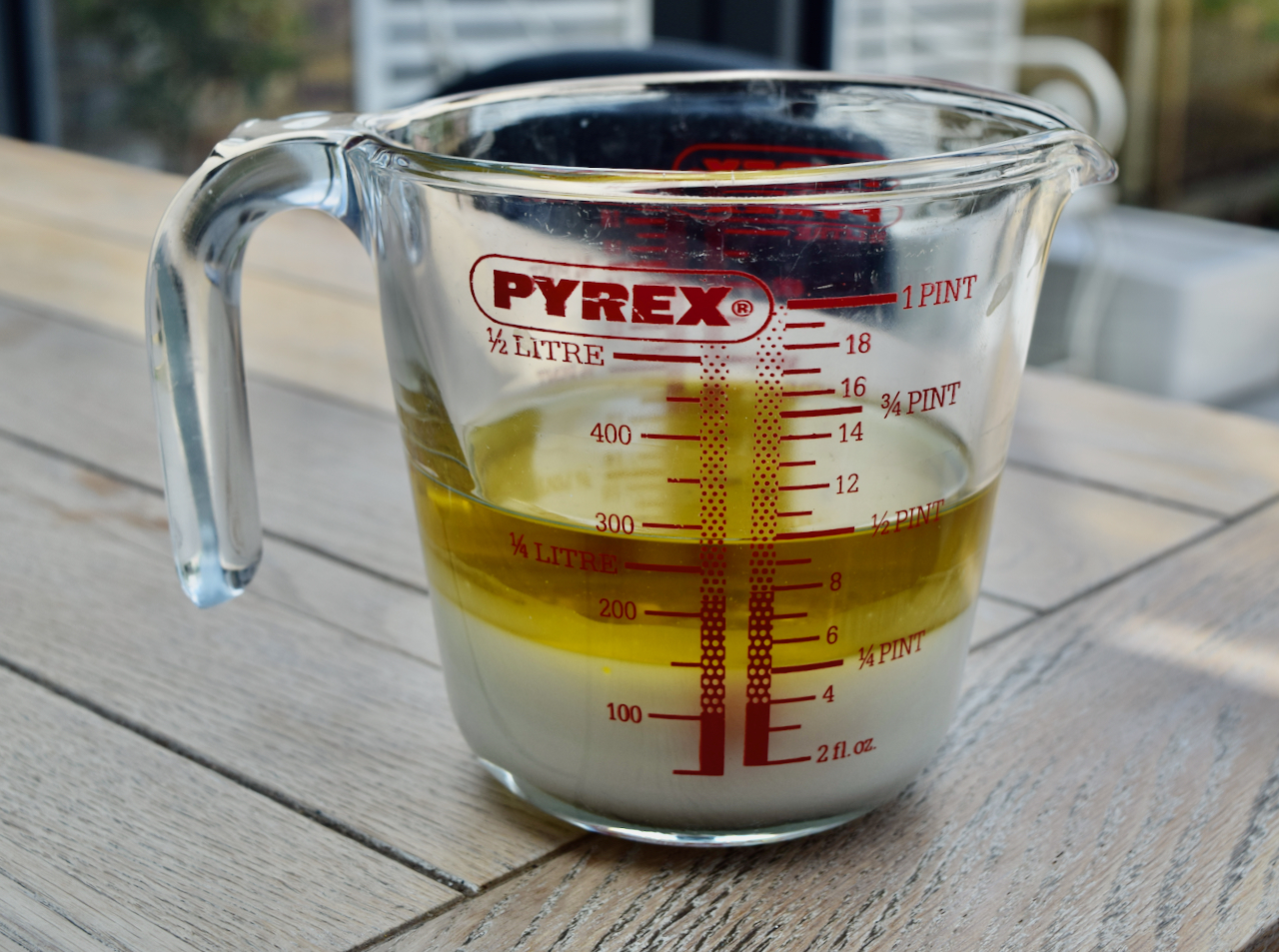 In a final flourish, fold or gently mix in the flour/nut/meat/fruit mixture until you have a just mixed savoury cake batter. Under mixing is better than over mixing here.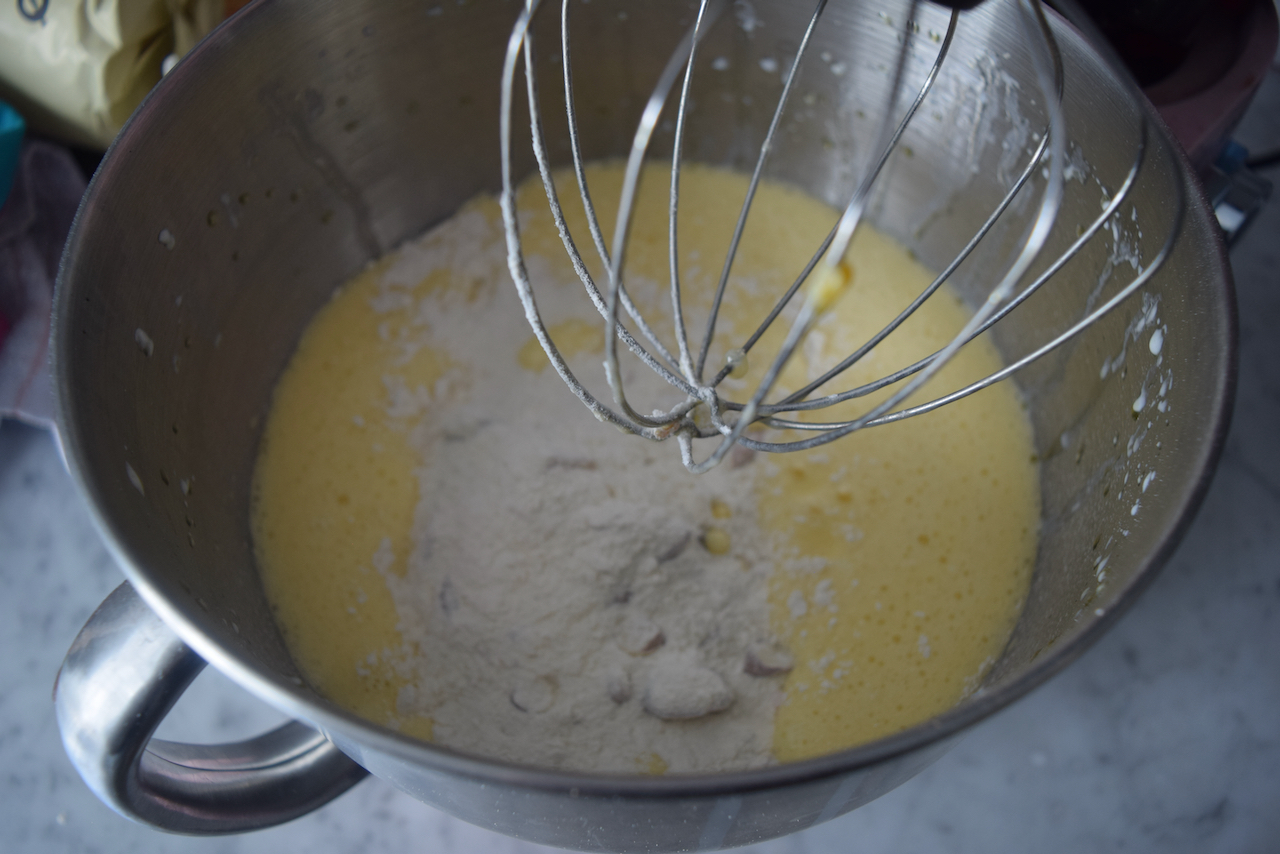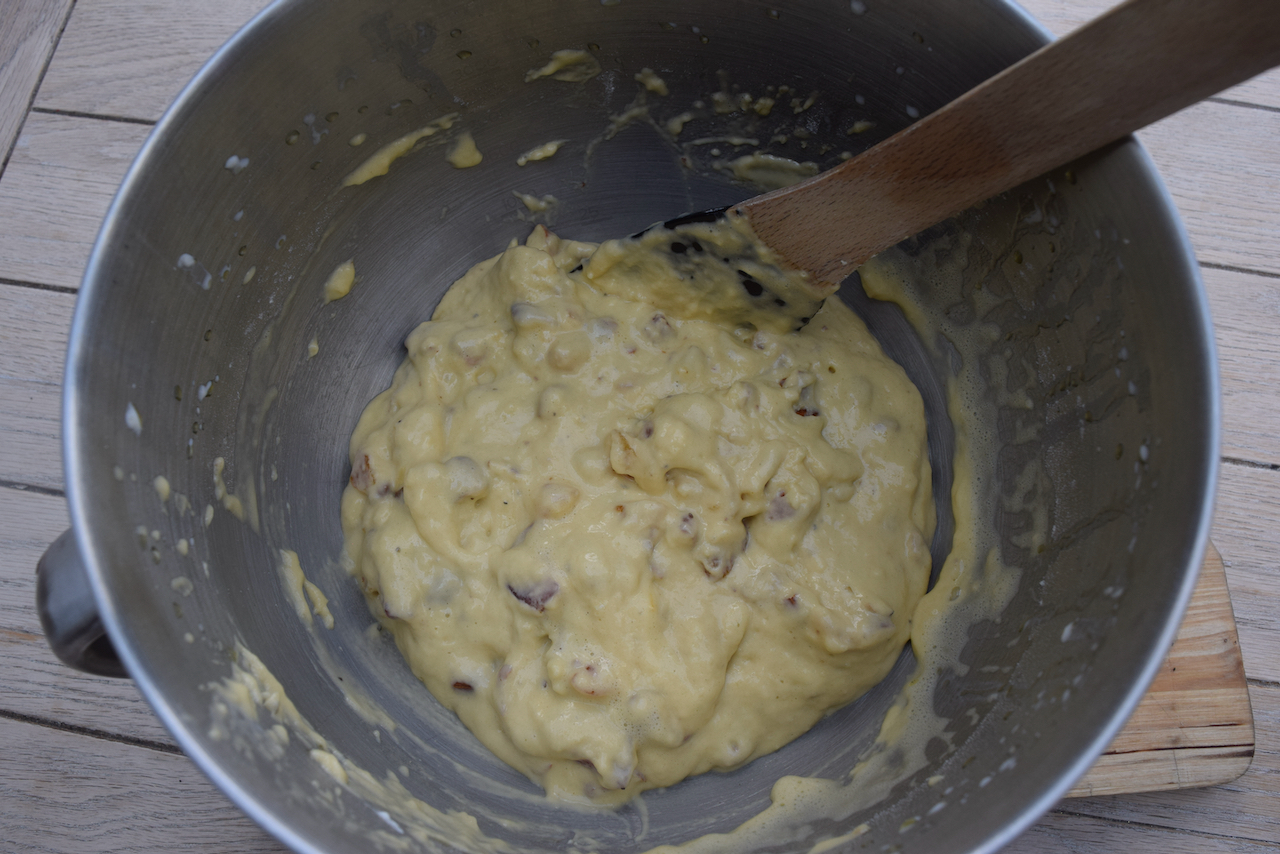 Scrape this savoury batter into your lined tin and bake for 40 to 50 minutes. The star of your picnic show is ready when it's golden, firm to the touch and a skewer comes out clean when poked in the middle.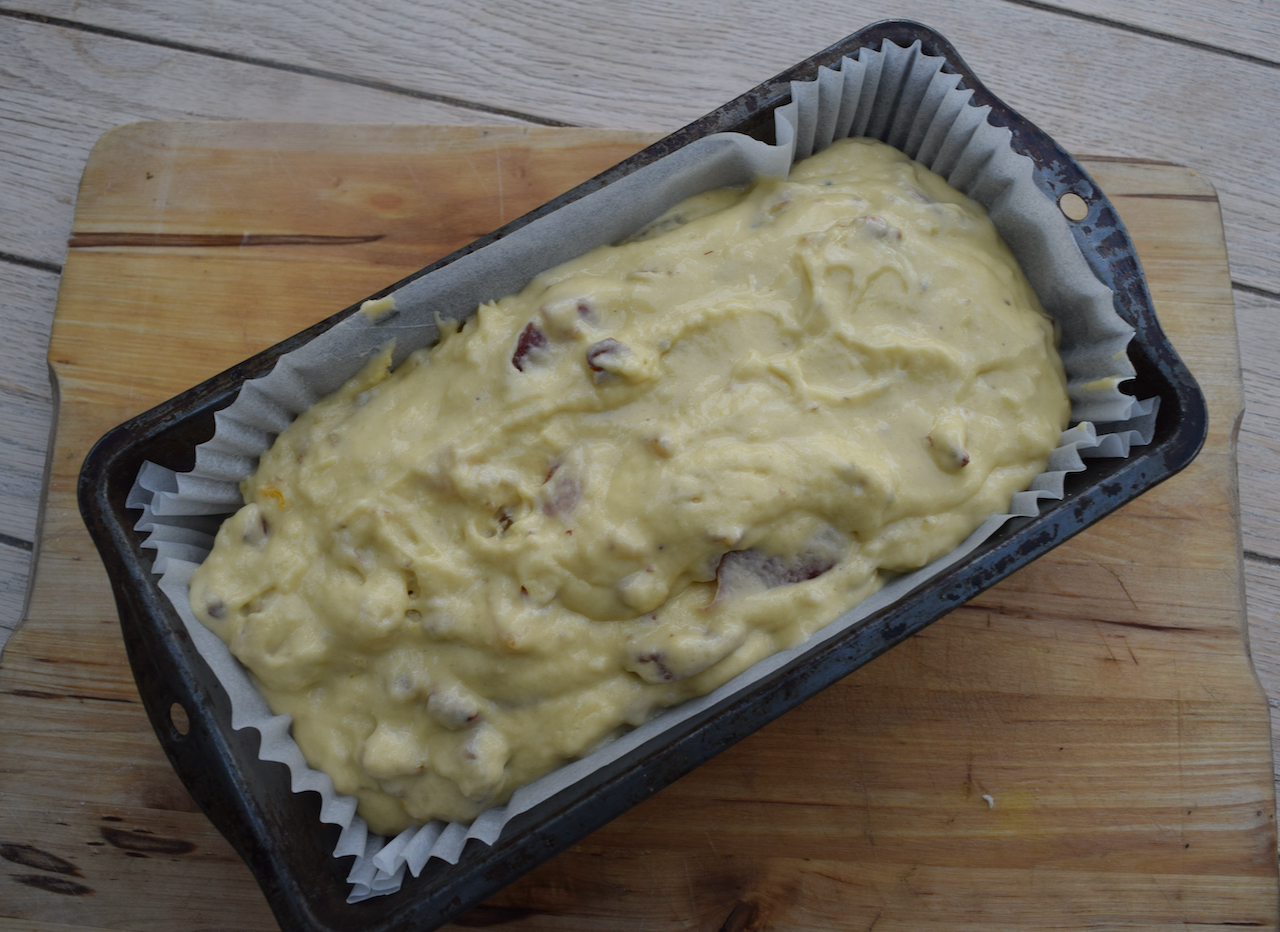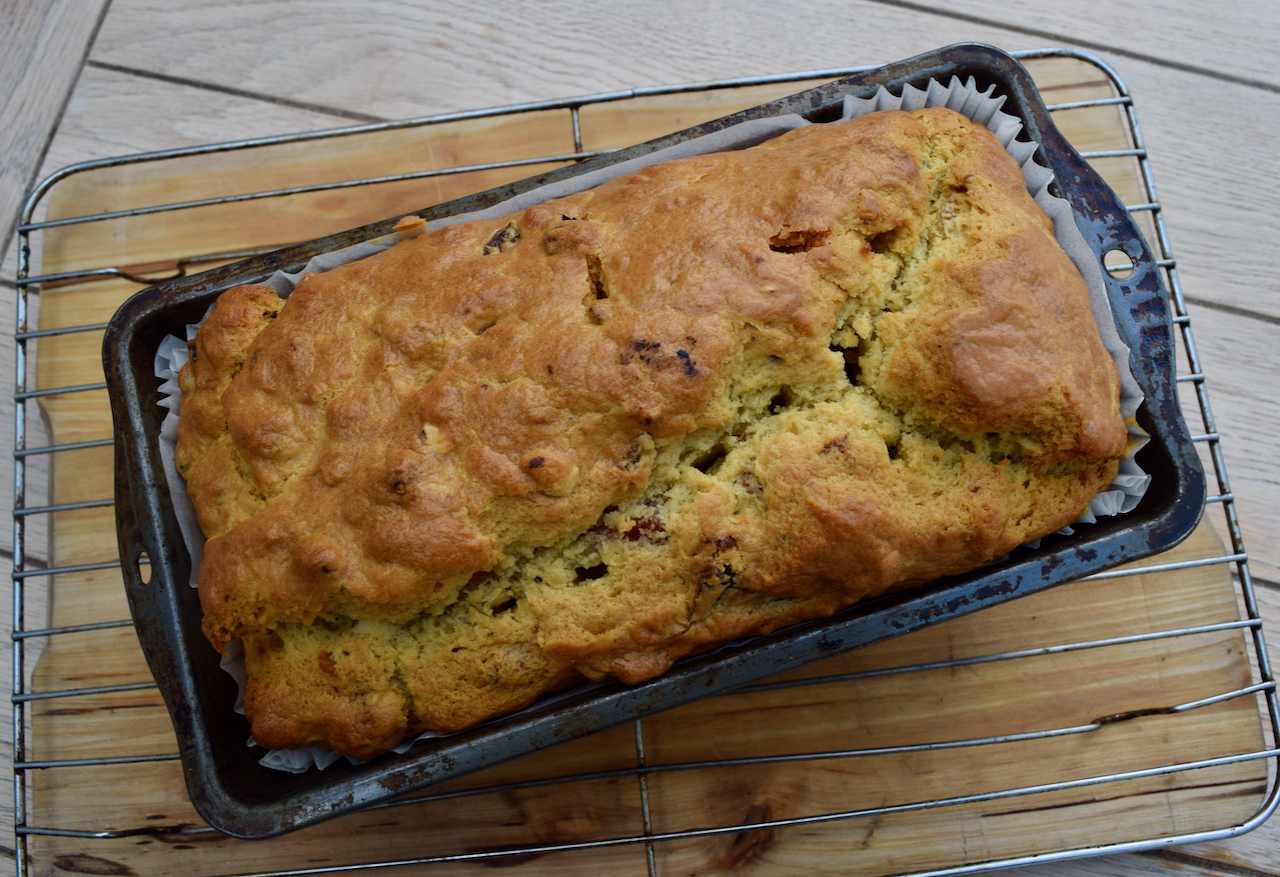 Remove the cake from the tin to cool until just warm then slice and adorn to your hearts content.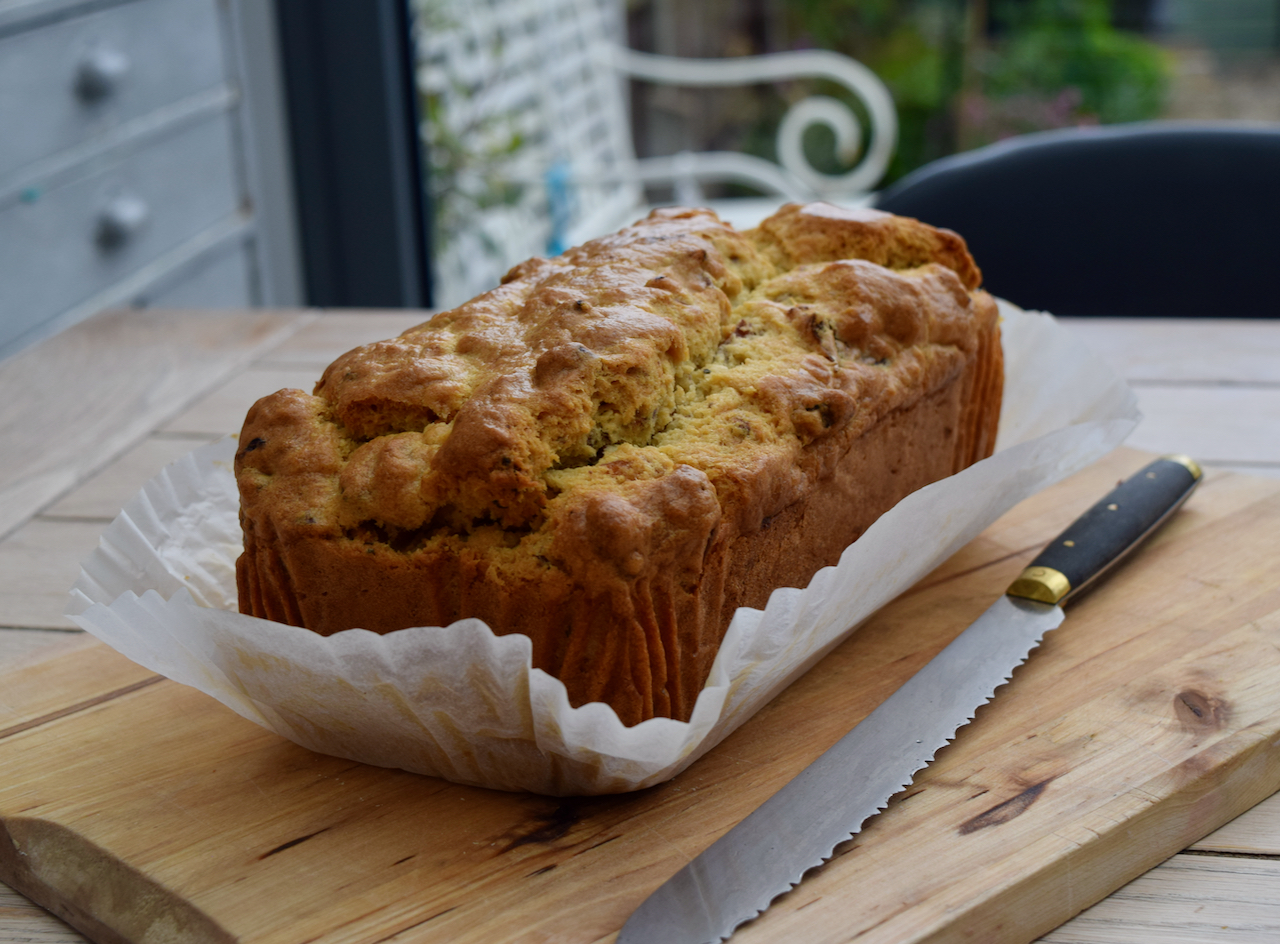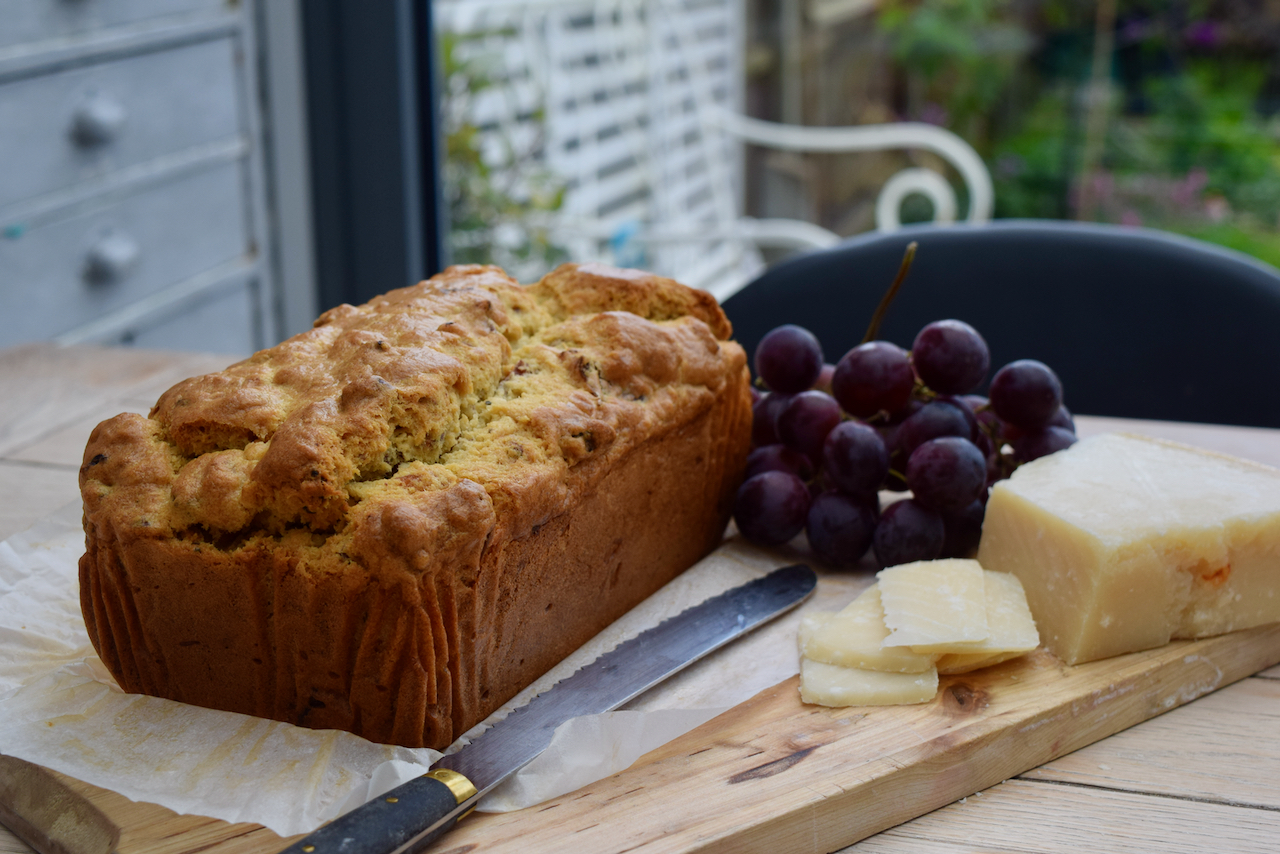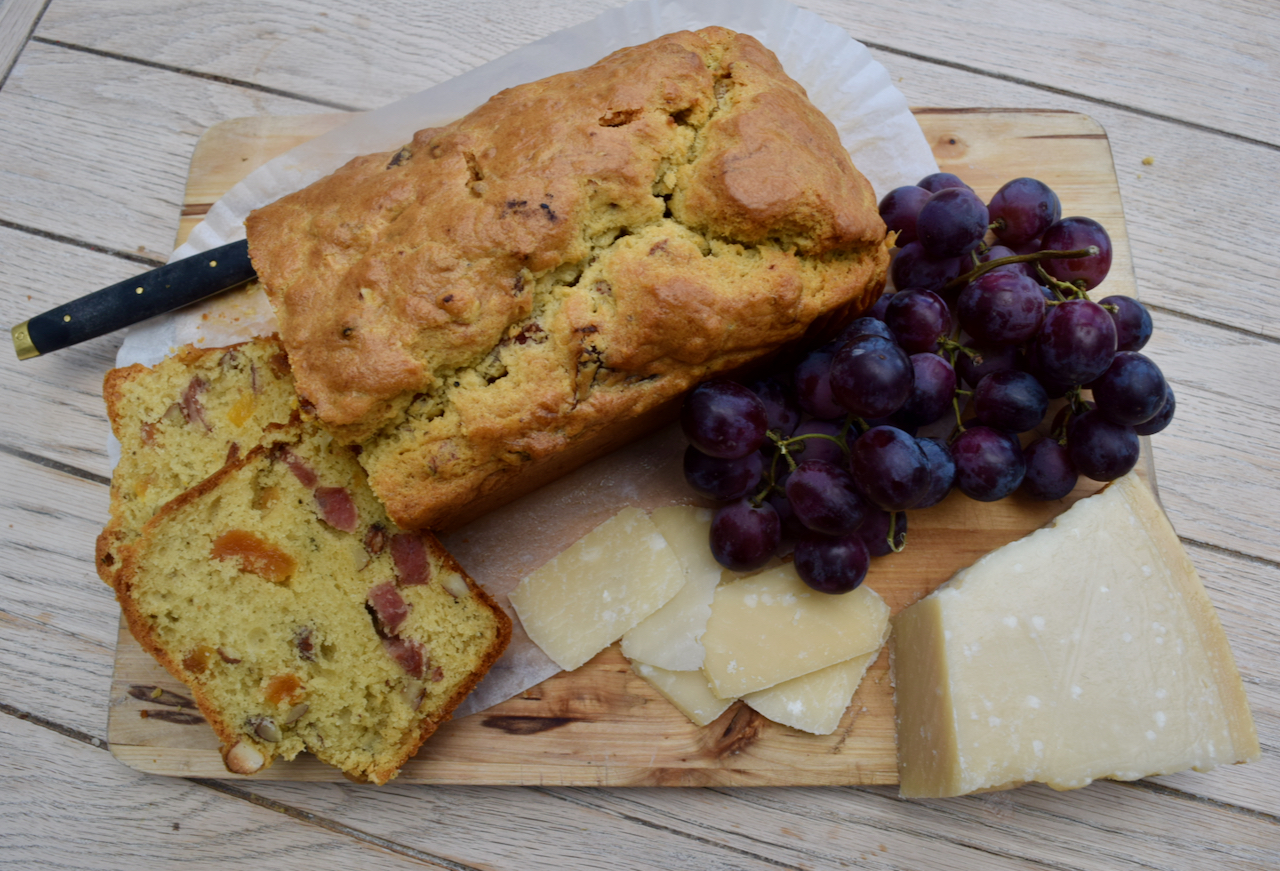 You can pack this picnic loaf with the meats, fruits, nuts or even cheeses of your choice. Just remember to pack a bottle of something chilled to go with, and maybe an umbrella.
Lucy x
Savoury Picnic Loaf recipe
Makes a good sized loaf for at least 8 slices
You will need a lined loaf tin and bowls and a whisk or stand mixer for this
250g plain flour
1 tablespoon baking powder
100g salami, chopped into cubes
80g almonds, chopped, or pistachios, walnuts, you choose
100g dried apricots, or prunes, dried cranberries, again, you choose
4 eggs
100ml mlik
150ml olive oil
50g plain yoghurt, mine was Greek
1 teaspoon salt
1/2 teaspoon black pepper
Butter to serve, with cheese, grapes, chutney or any other picnic bits and bobs
Line your loaf tin and pre heat the oven to 160℃ fan assisted.
In a bowl, mix together the flour, baking powder, salt and pepper. Chop the salami, apricots and nuts of your choosing, then stir into the flour mixture.
In a bowl with a hand whisk or your stand mixer, whisk the four eggs until they're pale and thick and foamy. Stir the milk, yoghurt and oil together then, whilst whisking, pour it into the eggs. Gently fold in the flour mixture, until just combined, don't over mix it there.
Scrape the thick batter into your lined loaf tin and level the top. Bake for 40 to 50 minutes, or until the loaf is golden, firm to the touch and a skewer comes out clean when poked in the middle.
Leave to cool a little in the tin, then remove and let the loaf cool enough to slice. Serve generous slices, buttered, with cheese, fruit and other picnic accoutrements. The picnic loaf will keep, well wrapped, in the fridge for 2 to 3 days.