Easy Bacon Burgers Recipe
This week has been a perfect week for British people. At no point have we been stuck for something to talk about, because we are in the middle of a heatwave. The newspapers, television, radio, Twitter, Facebook and Instagram have been inundated with stories and photos of people on beaches, wilting at Wimbledon, sun burnt legs, tube trains like saunas, the list is endless. We love talking about the weather more than anything else, so even though London is unbearably stuffy, it's been a complete bonus on the small talk front.
So idle weather chit chat to one side, my point is you don't want to be slaving over a hot stove when it's reached 35 degrees outside. So, I gift to you these Easy Bacon Burgers. What could be simpler than a moment mixing two ingredients together, before popping them on the grill for ten minutes? So simple you will barely need to mop your brow whilst making them. We are not massive barbeque fans in our house. Up until our purchase of a gas barbeque several years ago, a barbeque meant me marinading expensive meats and preparing delicious salads, only for Clyde to cremate my creations shortly afterwards. But now we have a *cheats* gas barbeque, even I can work the buttons so have taken to fashioning suppers which can be cooked in the garden, fully embracing the spirit of summer and not elegantly perspiring in the kitchen. These Easy Bacon Burgers are a simpler version of a brilliant recipe I found on the inspiring The Kitchn website. They only have two ingredients, excluding seasoning, but the resulting burger is moist *oh dear, I had to say it* and oh so flavoursome. I have made these several times now and they have been super gratefully received. In fact, I am nipping over to ocado.com now to up my beef mince and bacon order now, as this heatwave it set to continue well into the weekend and Easy Bacon Burgers will certainly be appearing on the menu again.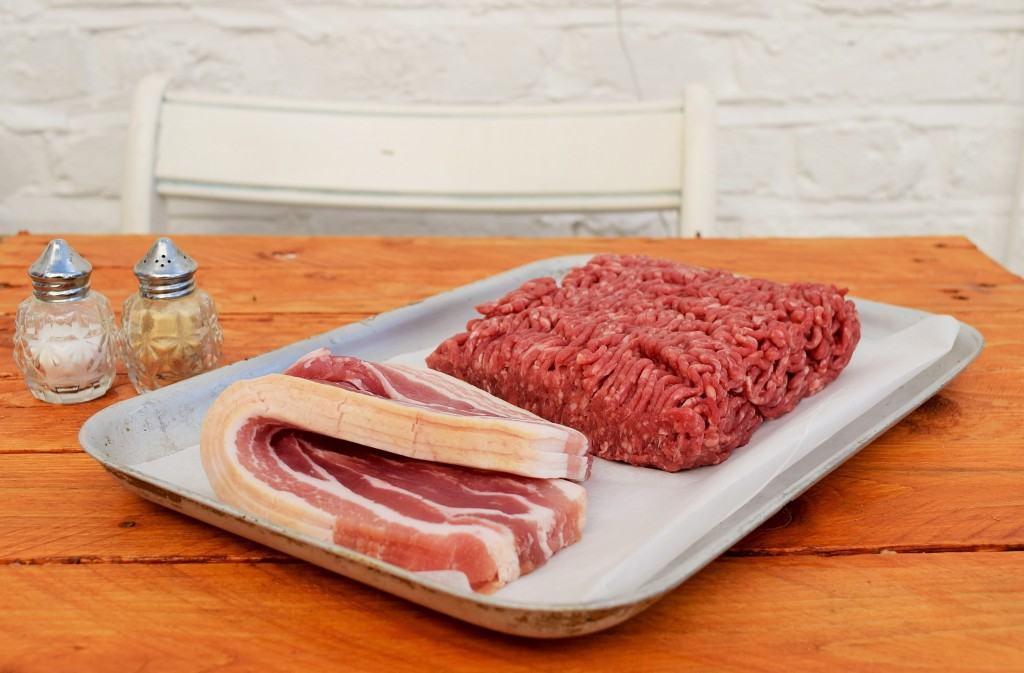 Here's the embarrassingly easy ingredients list. I did say there were only two, minus the seasoning, and I was not lying.
Make a start by taking your bacon, streaky or back, and process in the food processor or mince to a fine mince-like consistency. If you don't have a food processor, I could imagine super finely chopping the bacon would work too.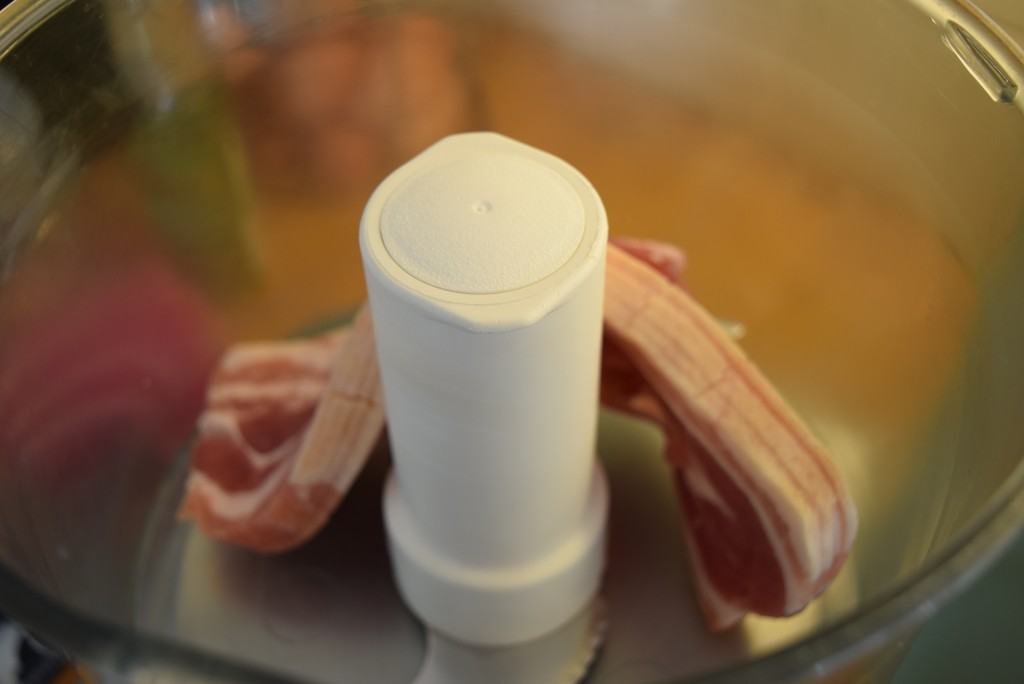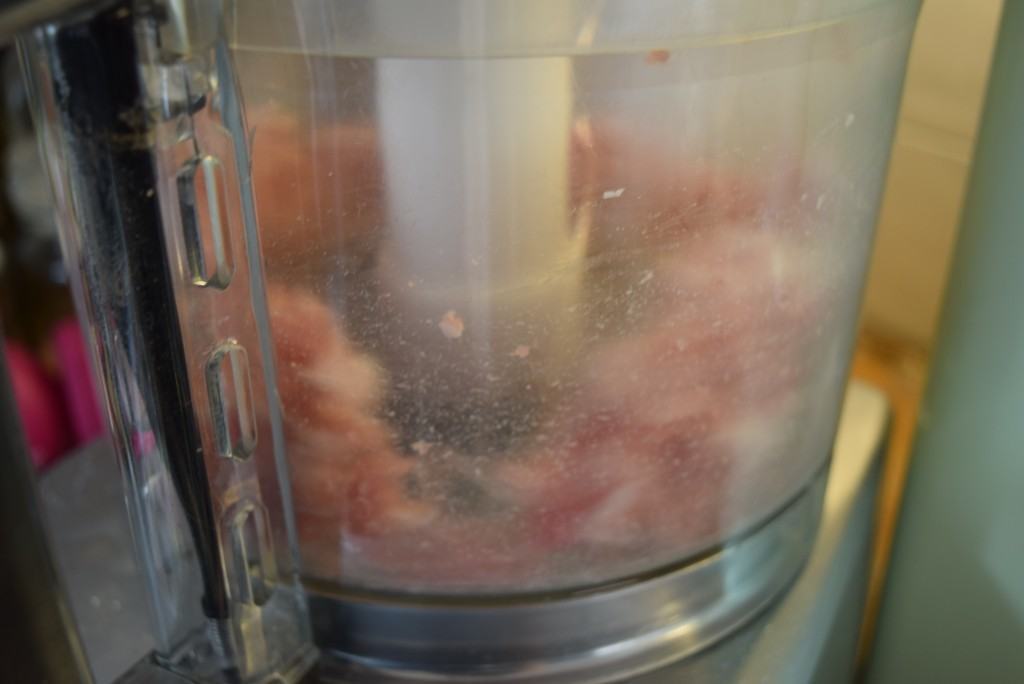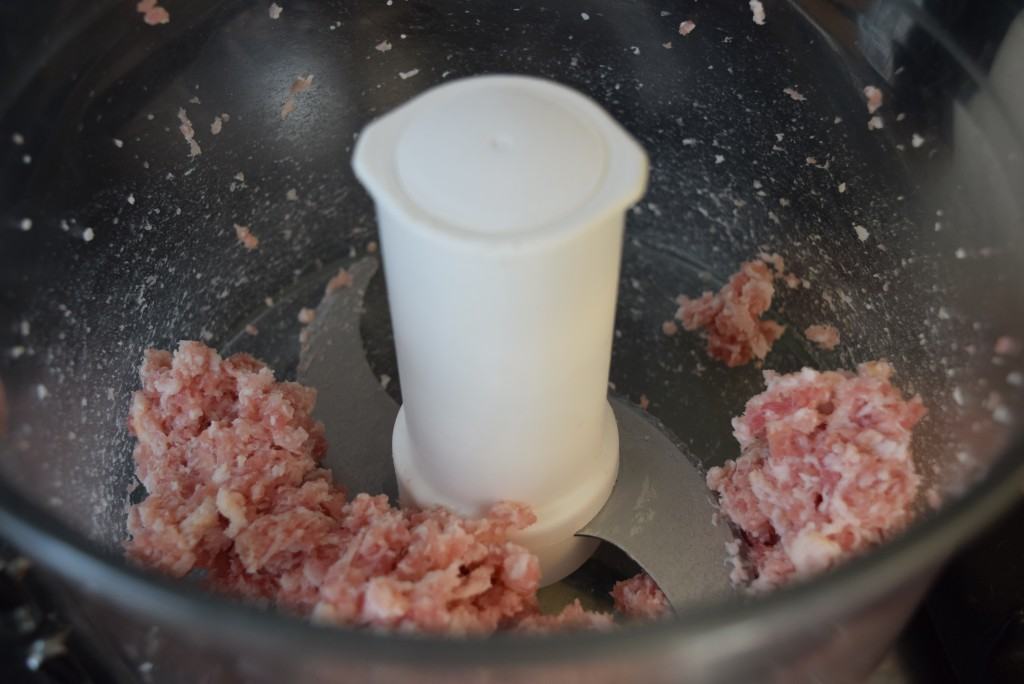 Pop this in a large bowl with the mince. Don't go for a beef mince with a low fat content as this will leave you with dry burgers. I used one with a 15% fat content. Mix the two ingredients lightly, but so they are well incorporated. I threw caution to the wind and used my hands. Don't season the meat now, wait until just before you are going to cook the burgers.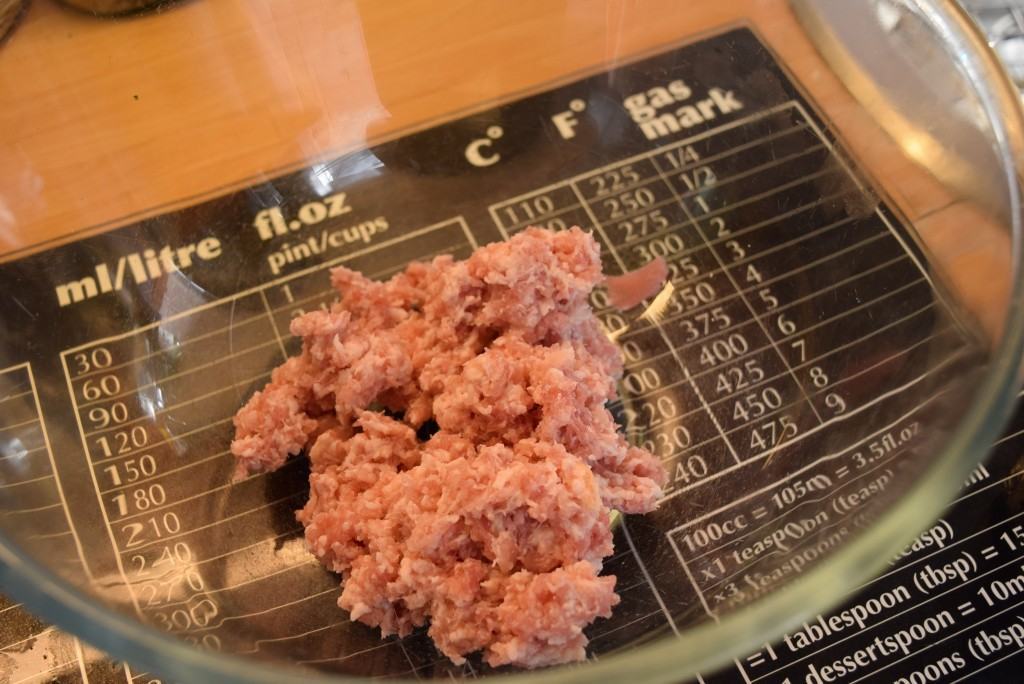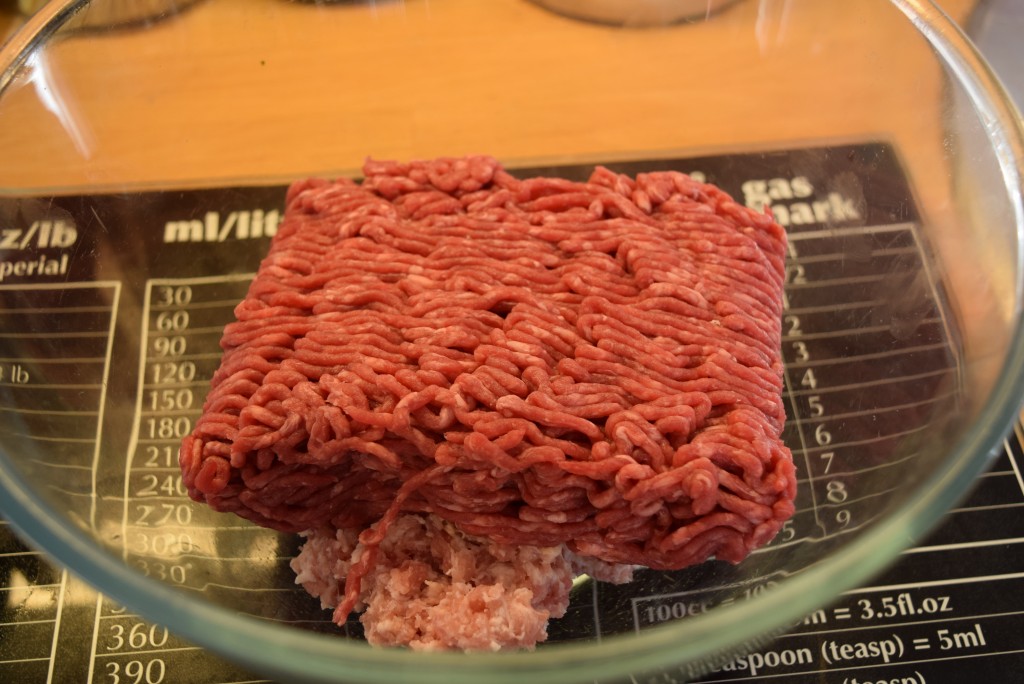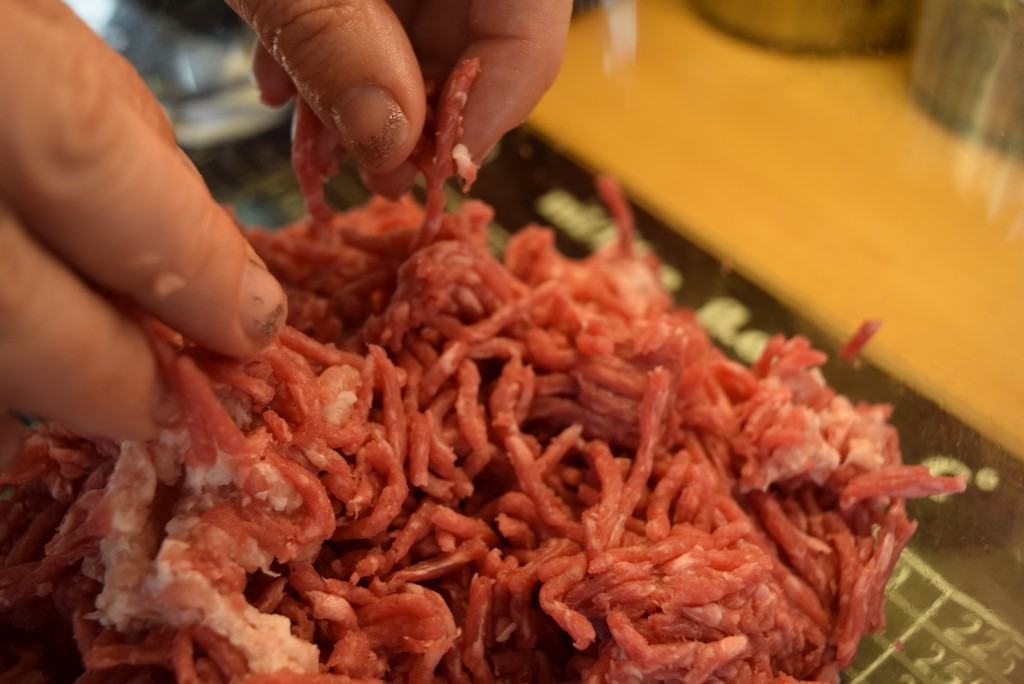 Apologies for the tatty remains of glittery nail varnish – it had been a very heavy weekend.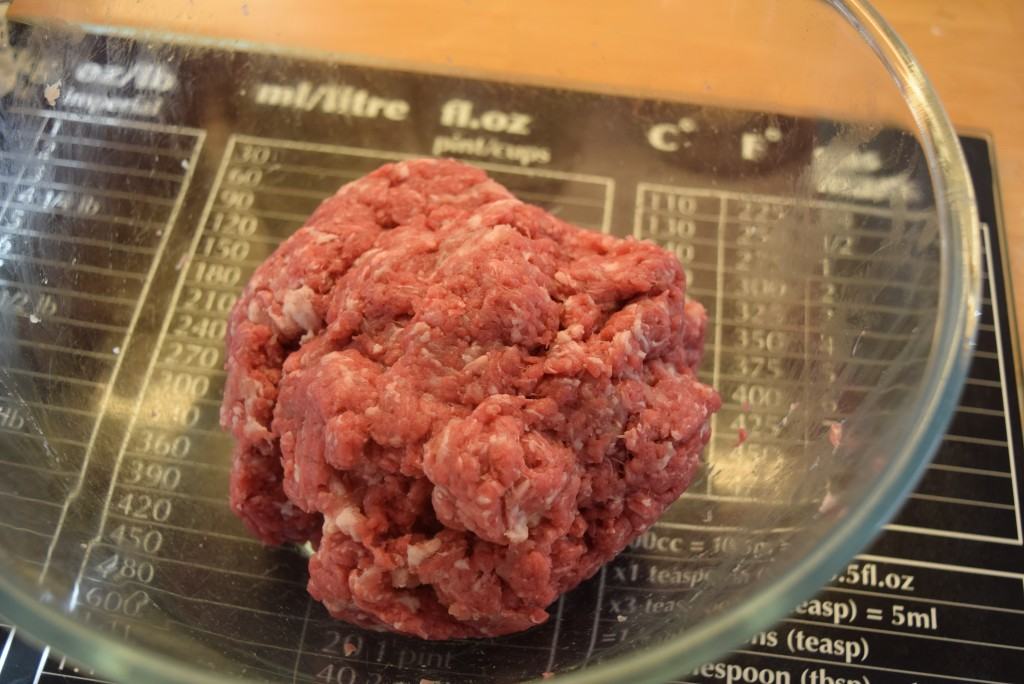 The mixture should be beefy with the bacon marbled through it. Perfect for burgers. Roughly fashion the mixture into four pieces, then shape these portions into good sized burger shapes. Pop these into the fridge while you prepare your sides and heat up your barbeque or grill or griddle pan.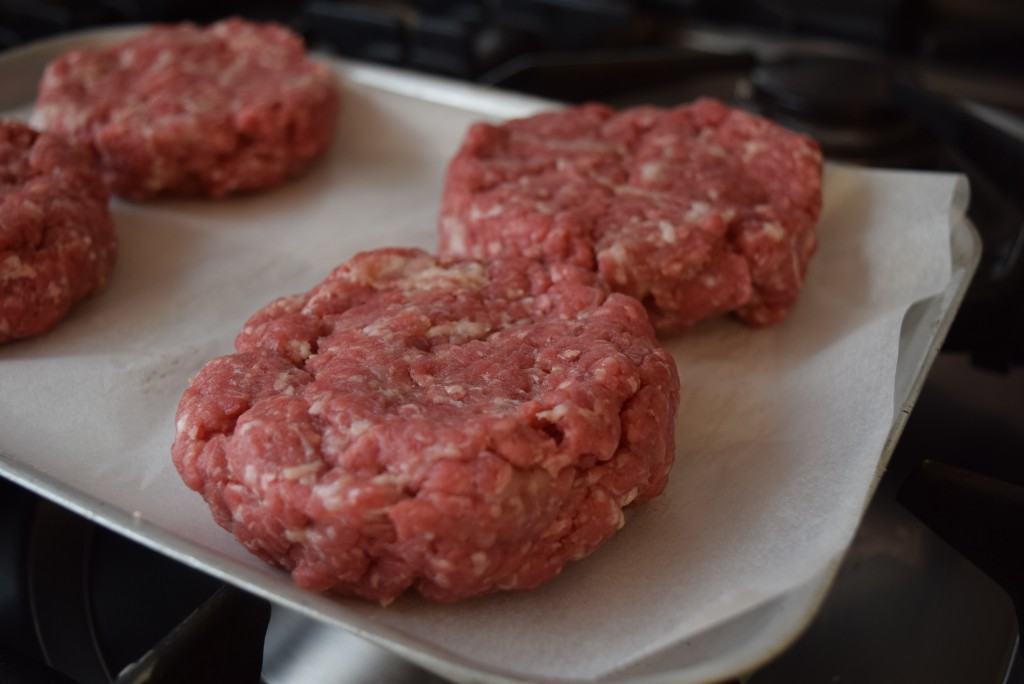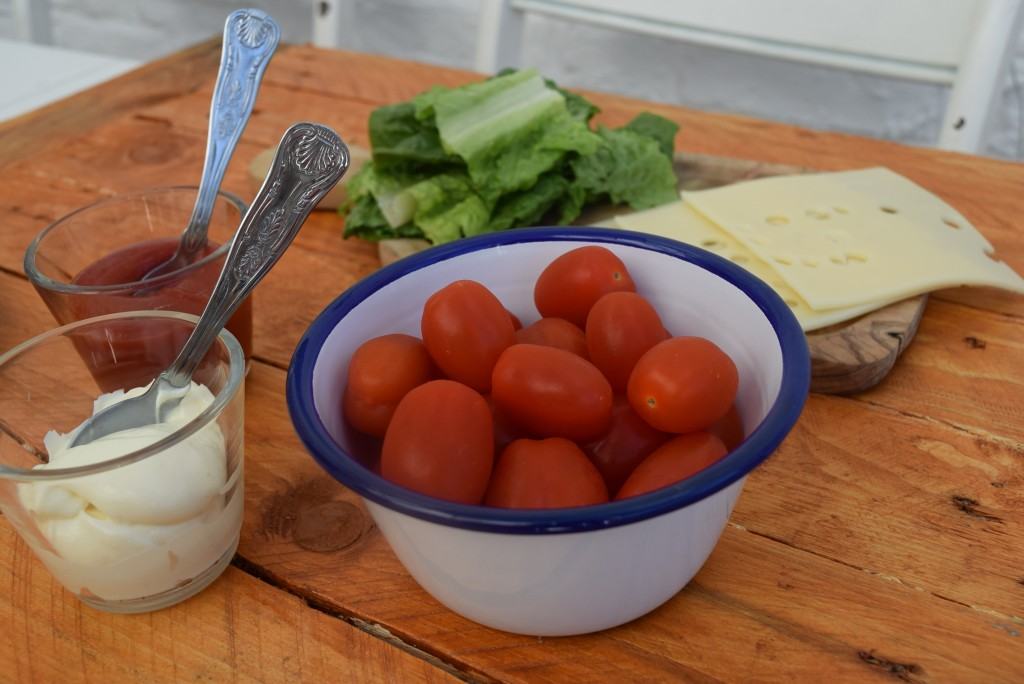 I found these lovely soft brioche buns on Ocado, they are a perfect sweet contrast to the bacon and beef.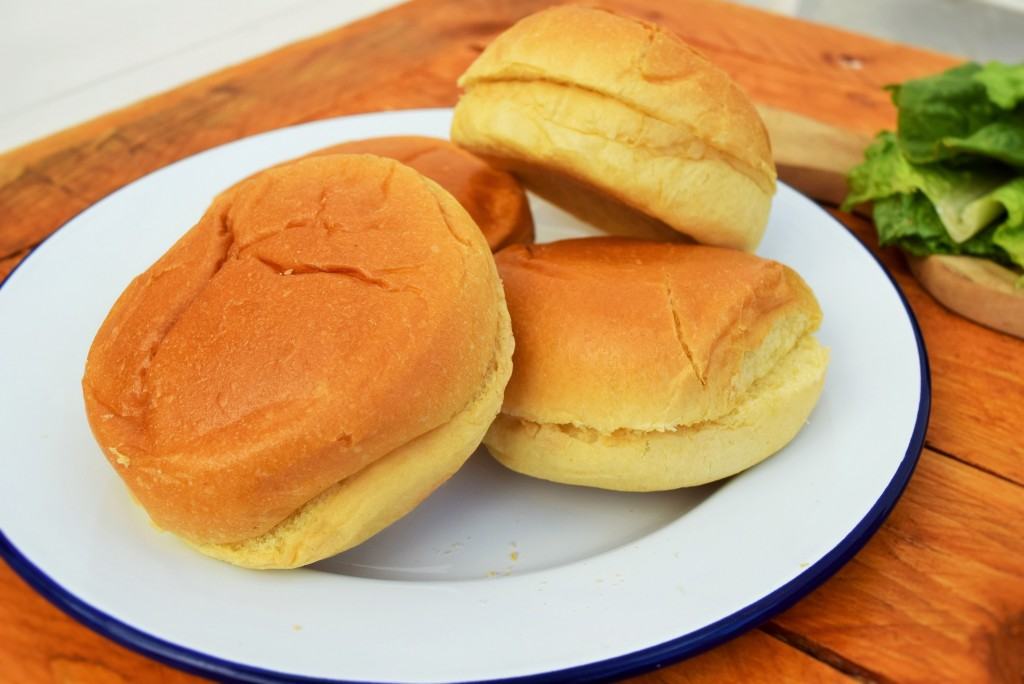 Take your burgers and, I read this somewhere, also on the Kitchn website I think, make an indent in the top middle of the burger with your fingers. This apparently, stops the burgers from shrinking and doming and helps them retain their burger-like shape. So there, you learn something new every day with Lucy Loves. Albeit not exactly rocket science, it's nonetheless interesting.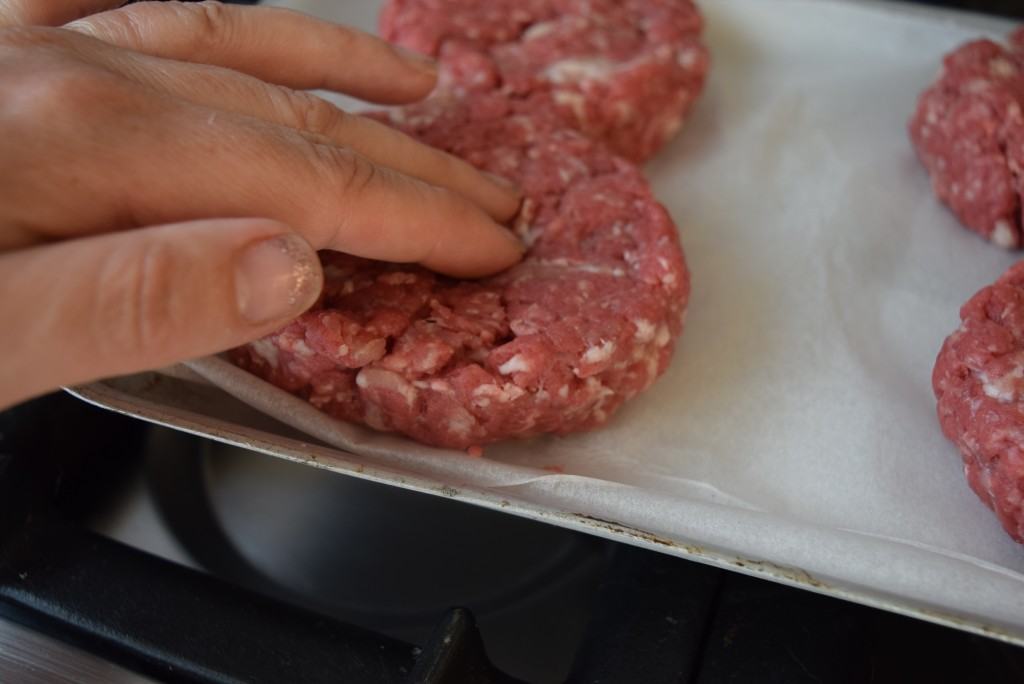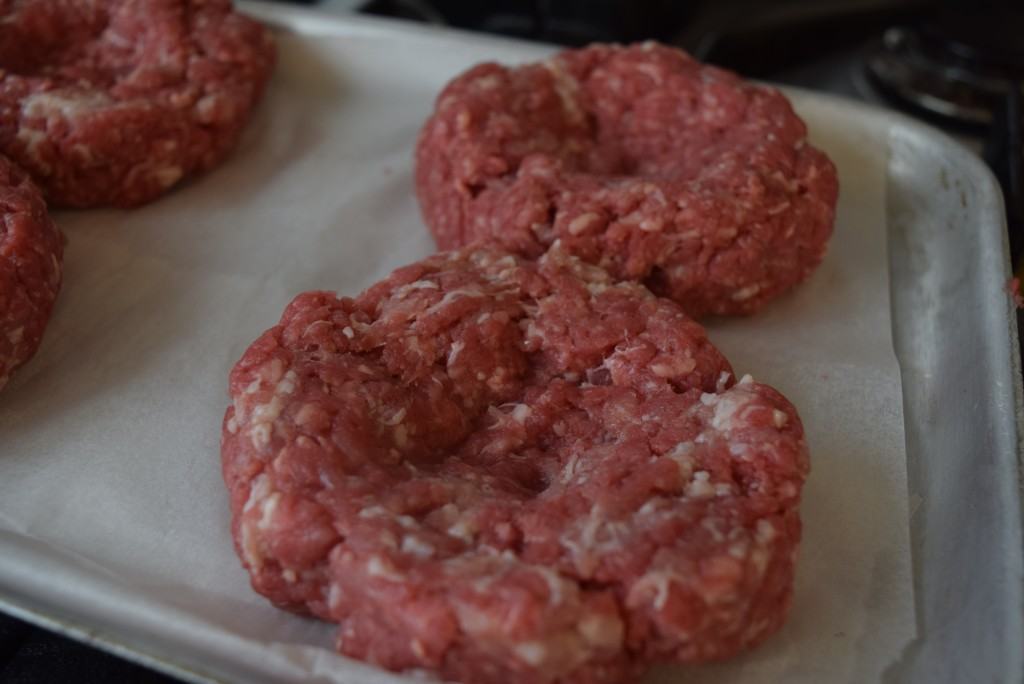 Another super helpful tip is to only season the burgers just before you put them on the grill. So apply a generous amount of salt and pepper to the side going onto or under the grill first.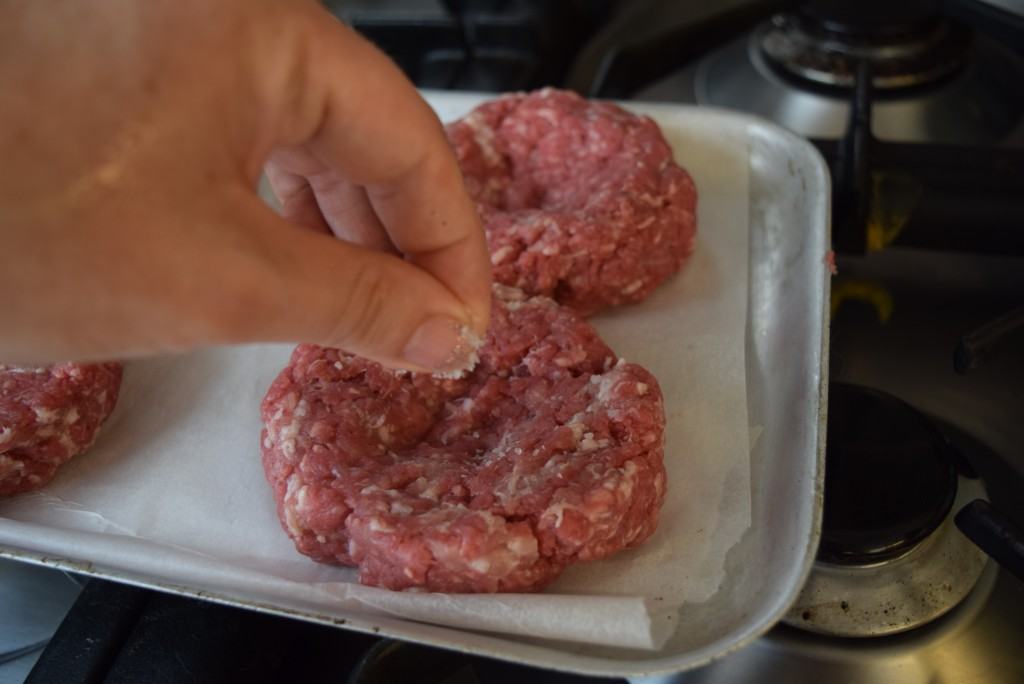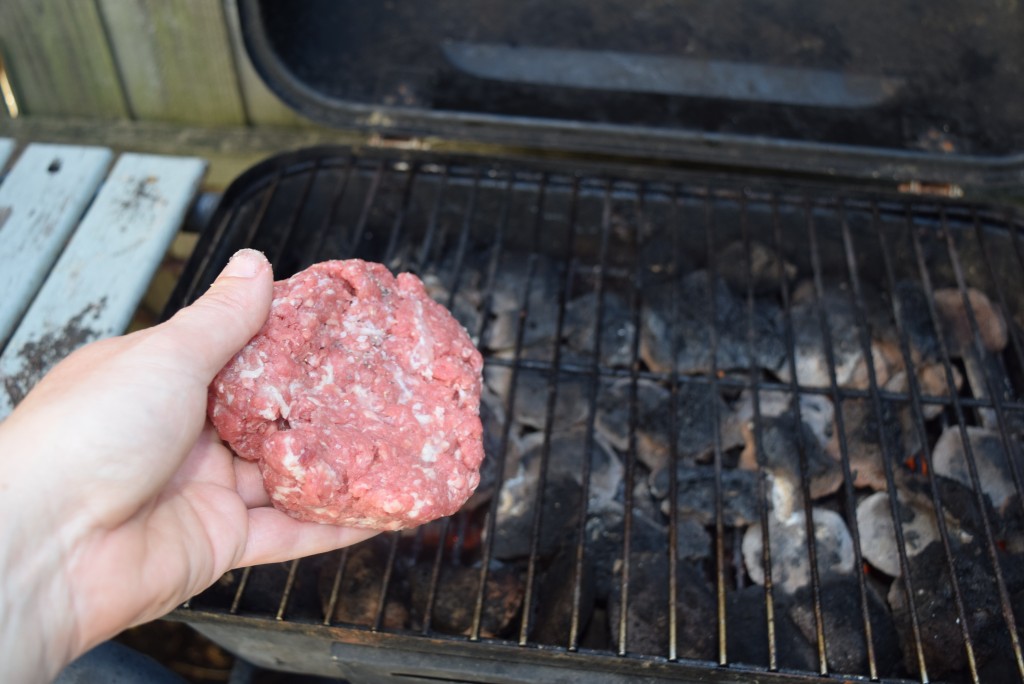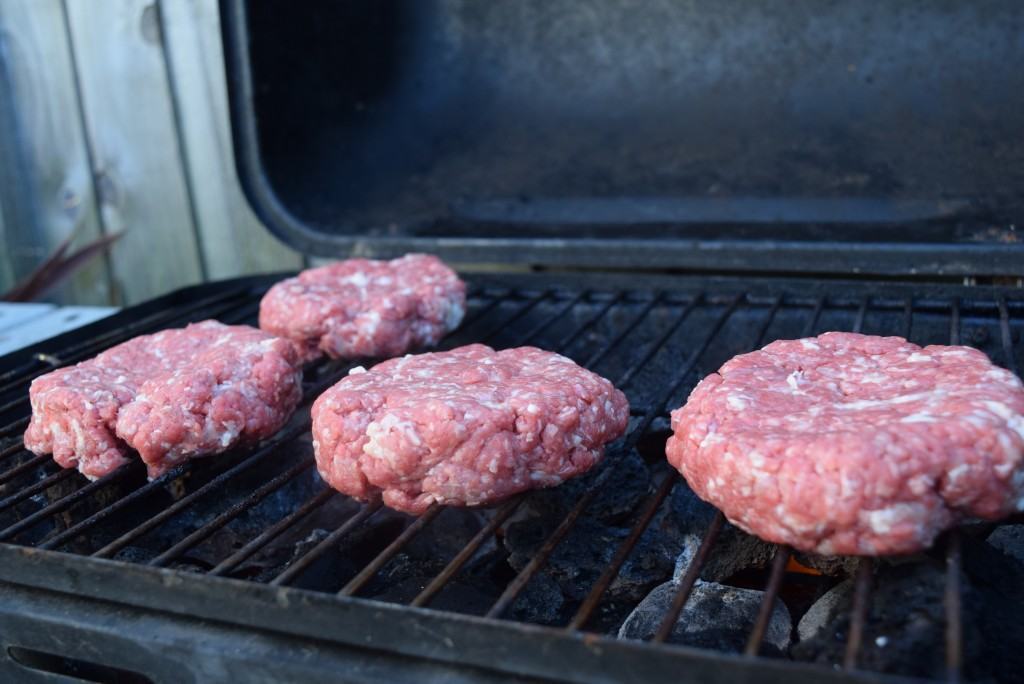 These season-side-down burgers should go on the grill, lid down, for 4 to 5 minutes. A slightly charred crust will have developed and the wonderful barbeque smells of bacon burgers will be almost overwhelming. Season the second side, then turn them over to grill for an additional 4 to 5 minutes.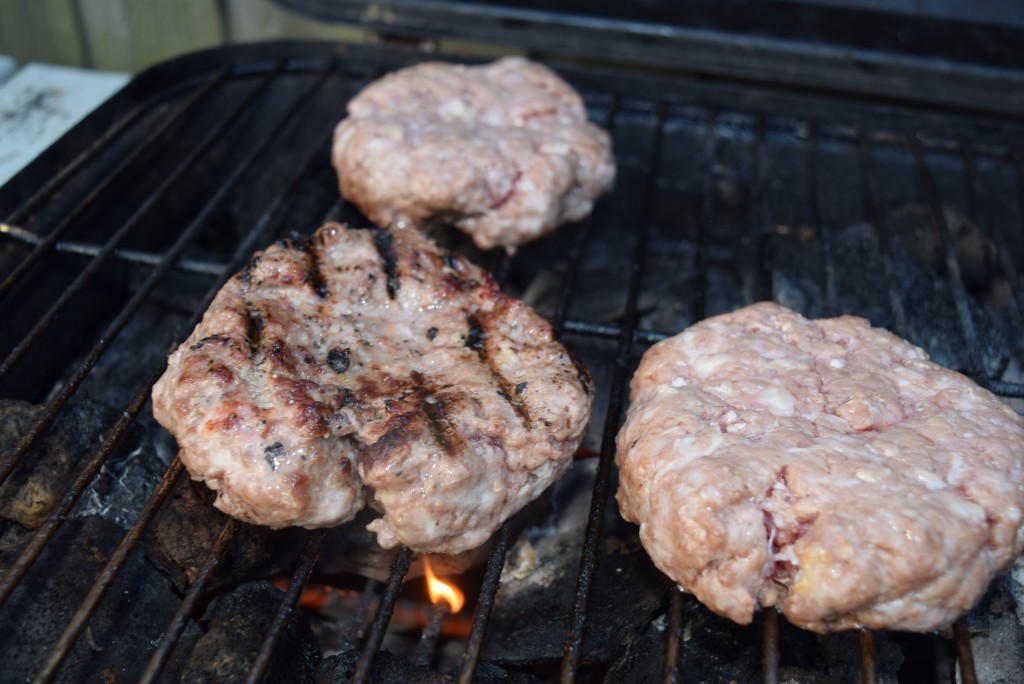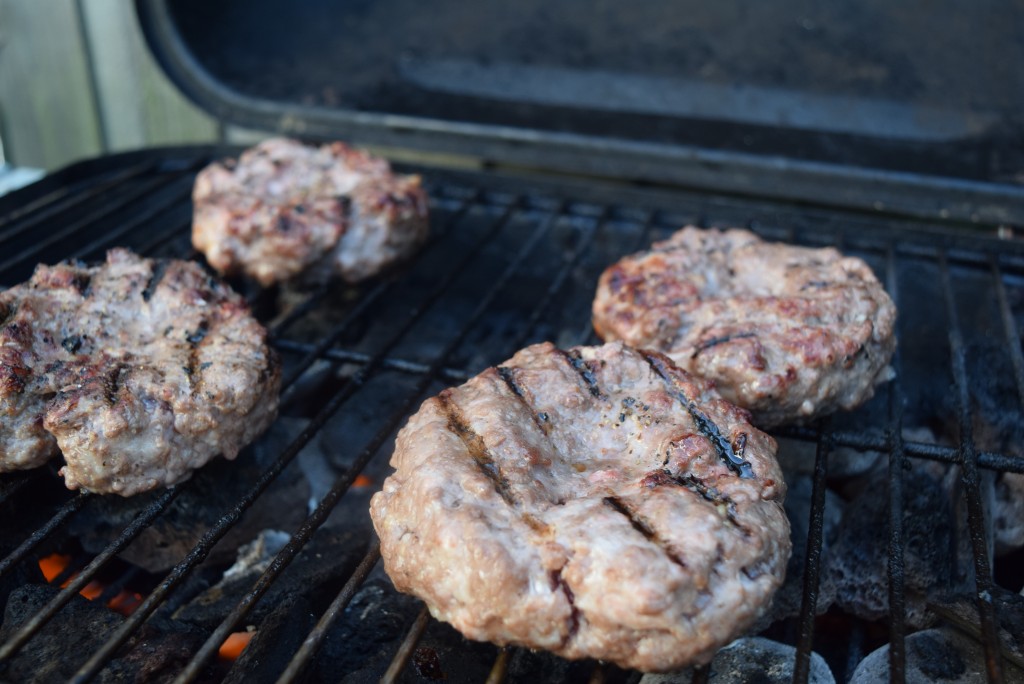 Once the burgers are cooked through to your preferred well-done-ness, leave them to rest for a further 2 to 3 minutes while you plate up.
Get your buns, chips and sides together then it's time to serve these out of this world burgers.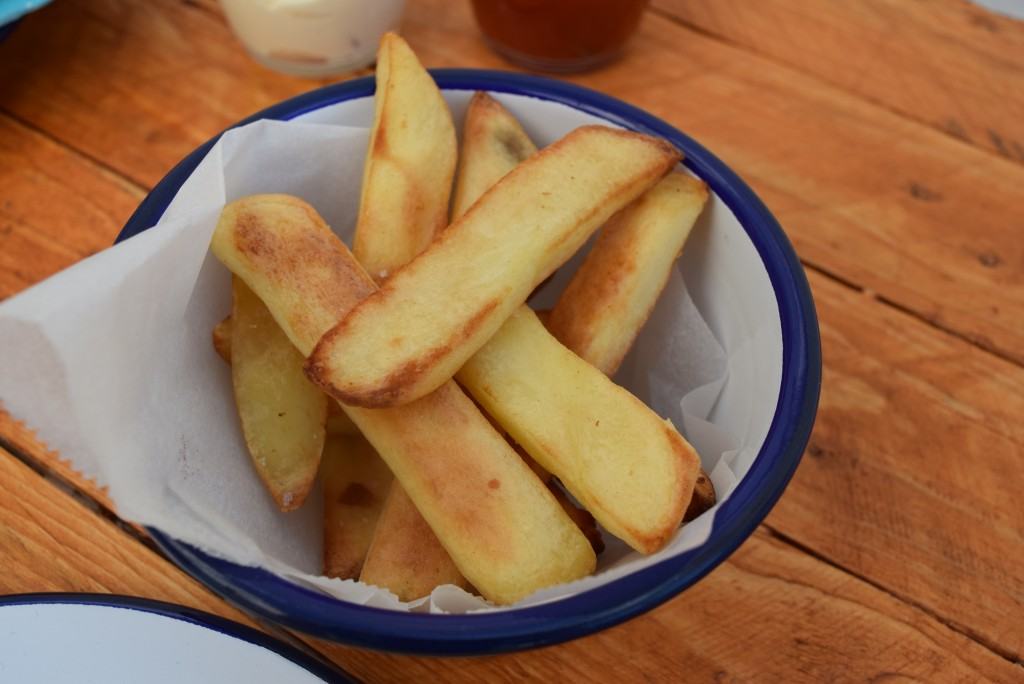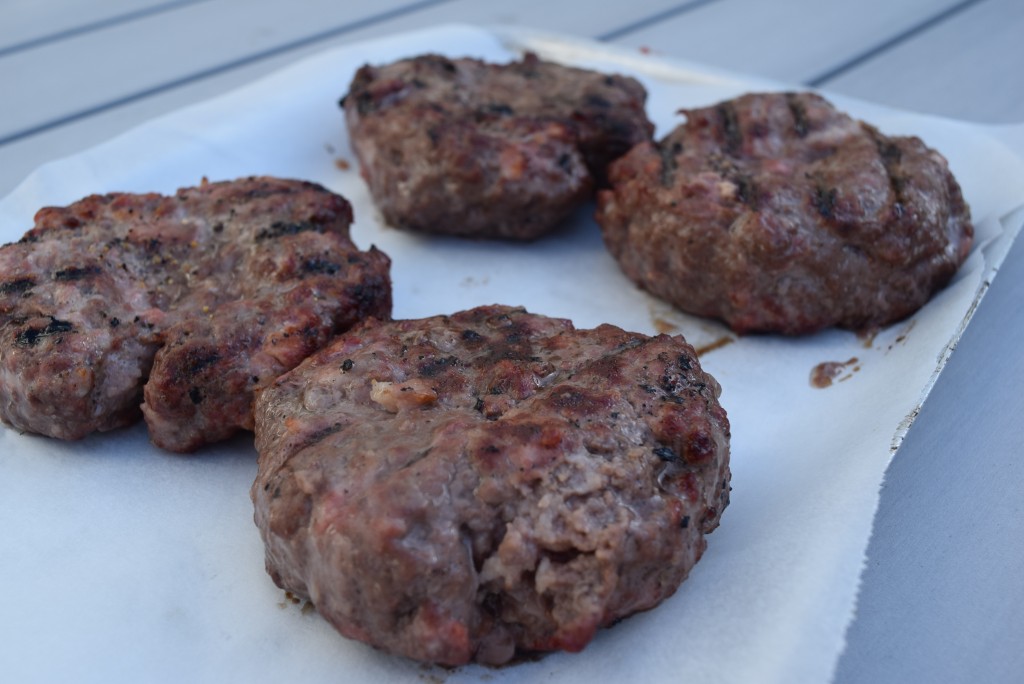 These are yum scrum, and I can honestly say, I will never buy another pre made burger again.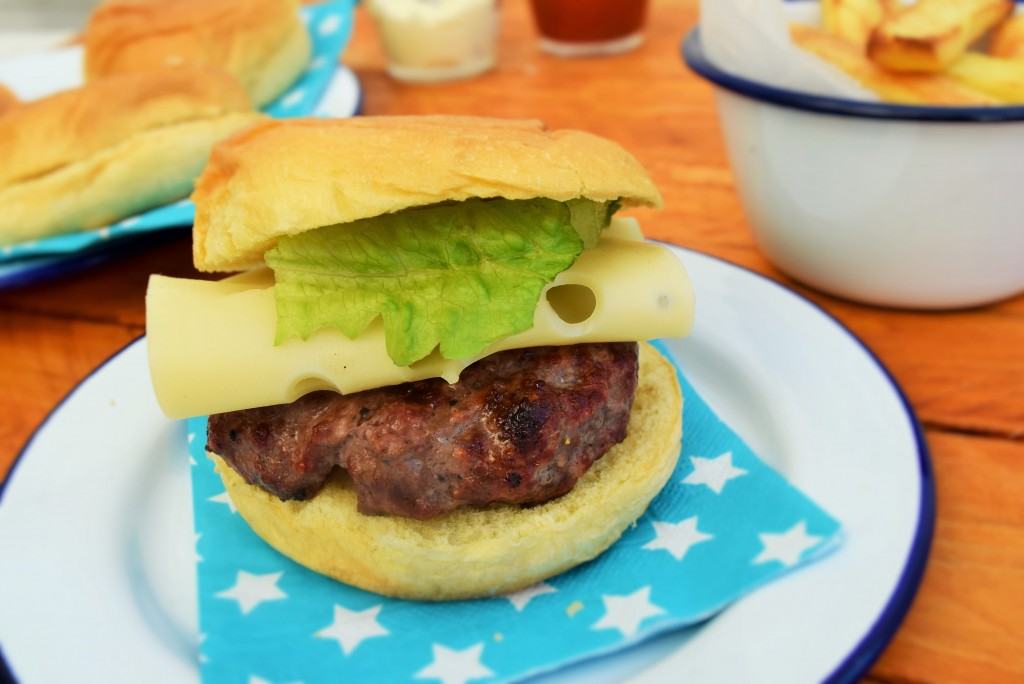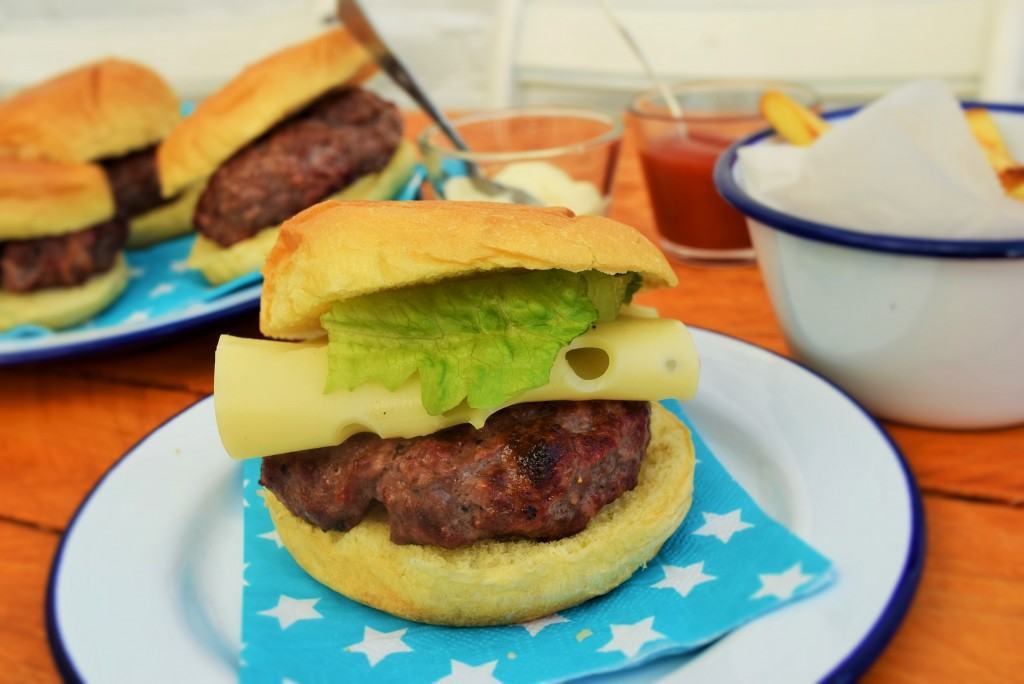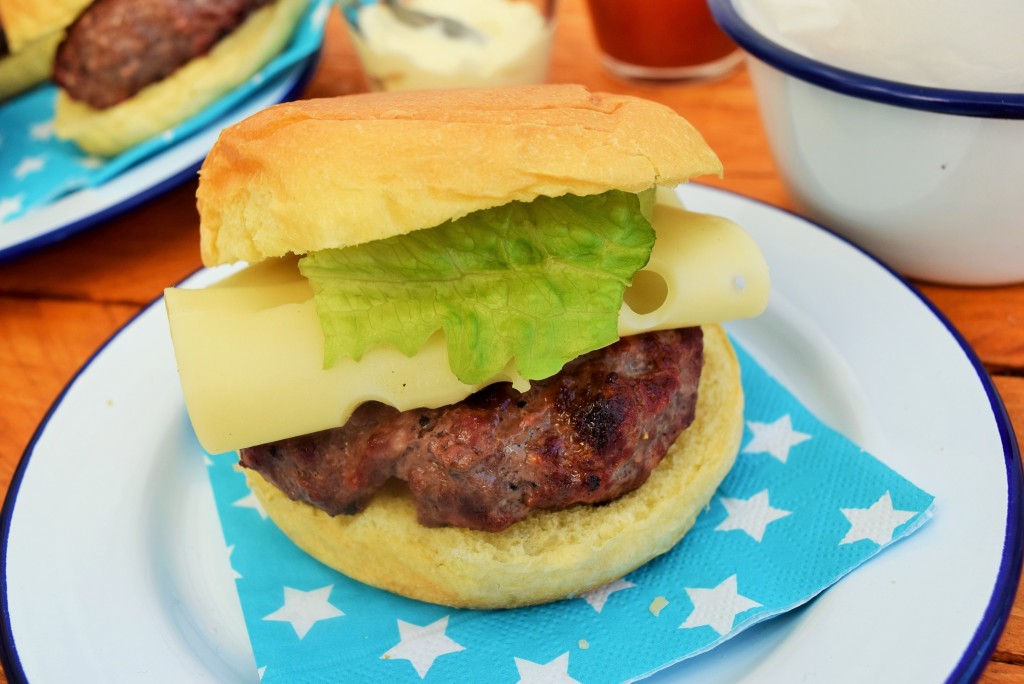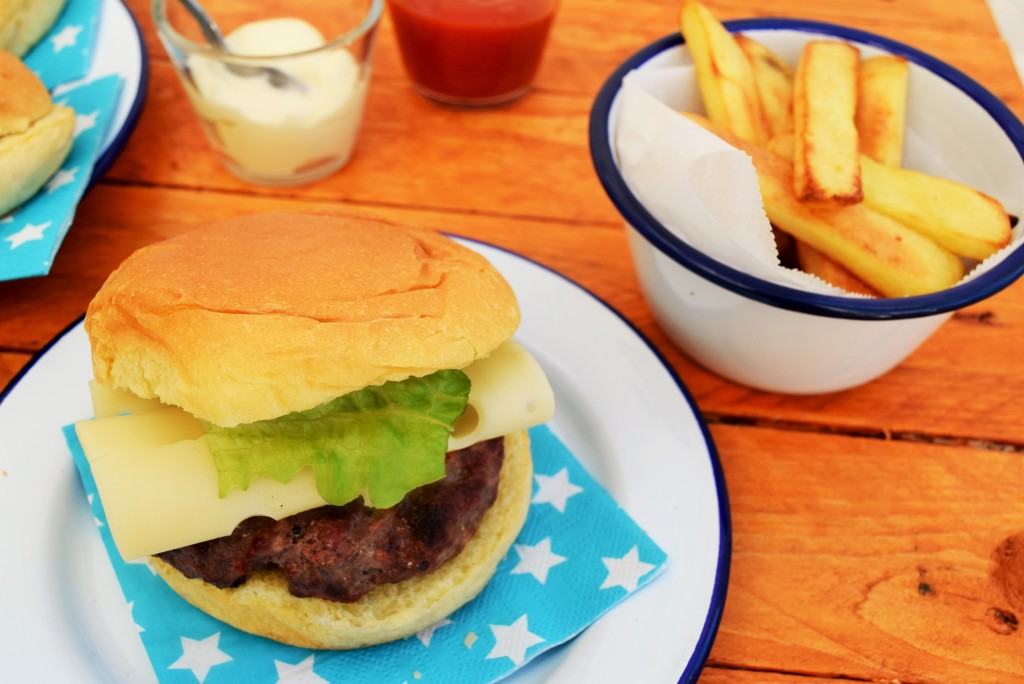 This recipe is perfectly timed what with it being such wonderful balmy weather and with the 4th of July weekend looming. So if there are any Americans readers who don't have a brilliant burger recipe of their own, do give this a go over your holiday weekend. And for any non-American's who can't stand the heat of their own kitchen, spend 10 minutes in the garden with these super tasty Bacon Burgers, the rewards are untold.
Lucy x
Easy Bacon Burgers Recipe
Makes four burgers, so serves 2 to 4
500g beef mince, don't go for too low fat, around 15 to 20% fat content is good or the burgers will be dry
200g streaky bacon, although back bacon would also work
salt and pepper
Sides – brioche buns, chips, lettuce, tomato, cheese slices, mayo, ketchup, gerkins, red onion, you choose
Fire up your barbeque or heat your grill or griddle to high to pre heat
Take your bacon and process or mince to a fine consistency. Add this to a large bowl. Tip in your beef mince and lightly mix the two meats together with a spoon or your hands. Fashion the mixture into four portions then shape them into large-ish burgers. Place them on a baking tray and pop in the fridge for a moment whilst you prepare your sides.
When you are ready to cook the burgers press an indent in the middle of the patties to stop any doming and so they retain their shape. Then, and not before, season really well with salt and pepper on one side then place that side face down on the barbeque (or up if using an over head grill) and cook for 4 to 5 minutes or until starting to brown and develop a good charred crust. Season the other side well then turn the burgers over for a further 4 to 5 minutes or until cooked through to your desired state of well-done-ness. Leave them to rest for a couple of minutes before serving in a soft bun with all the add-ins your heart desires.