Easy Fig Jam Recipe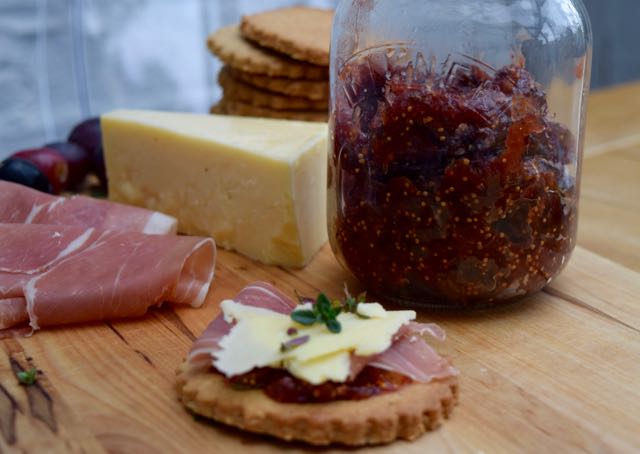 I love a preserve. There's something very wholemeal about taking a fresh fruit and lovingly simmering it in order to be able to enjoy the taste later when it's cold and dark. I am quite late to the fig party, having only really enjoyed them in Fig Rolls as a child and then had some rather tasteless ones as an adult. Now, however, when they are in season, ripe, soft and luscious, figs are divine. They look so pretty too, they make a dull cheese board with just a bit of old mousetrap on it look hugely sophisticated. I think the figs look just as elegant in my Easy Fig Jam, to be loved for longer than they would festering at the back of my veg drawer.
There are so many beautiful cheese and cold meat boards on Pinterest, I am becoming quite obsessed. I am waiting for the right occasion to fashion a huge charcuterie display at a dinner party, but the occasion has yet to crop up. In the meantime, my Easy Fig Jam sits beautifully on my little display and makes such a tasty addition to your cracker, bread or biscuit. I made a batch of Maple Digestives to go with mine and they are a match made in heaven. Or use the jam to make my Fig and Goat's Cheese Tartines for an impressive lunch or first course. It's a simple little recipe, I always thought preserving meant hours of standing and stirring and complicated thermometers, but not with this jam. Just simmer and blitz, there's nothing more to it. It will last at least a month in the fridge so if you wait a little while, and the figs are still good and cheap, you can fashion a jar of this to go with your festive cold meats. Notice how I said festive, as I fear it's still way too soon to mention the 'C' word.  A big thank you to A Family Feast for the inspiration for this recipe.
This Easy Fig Jam is not too sweet, it's soft and tasty. I have been slathering it on everything since I discovered it, my next mission is to add it to a toasted cheese sandwich for the ultimate autumnal treat. I just need to go for a run first, and then I'll be all over it.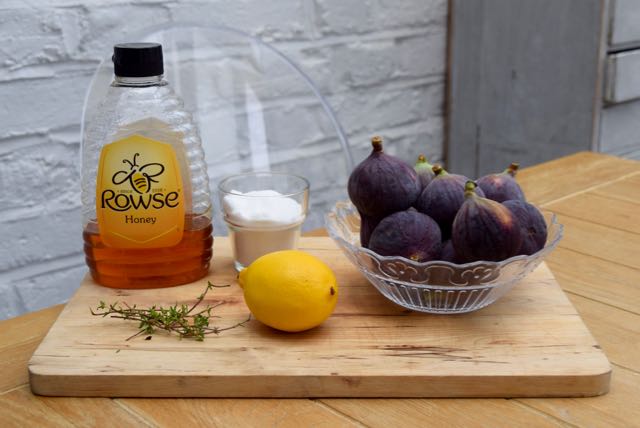 Simple, elegant and cheap. My figs were only £1 for 4, bargains and super sweet and juicy to boot.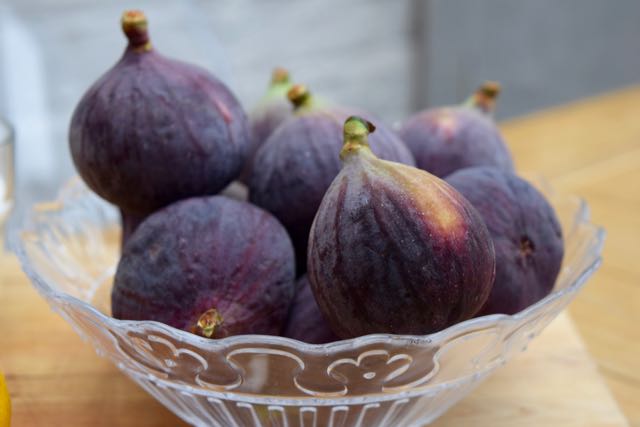 Make a start on this autumnal treat by rinsing, cutting off the stems and quartering your figs.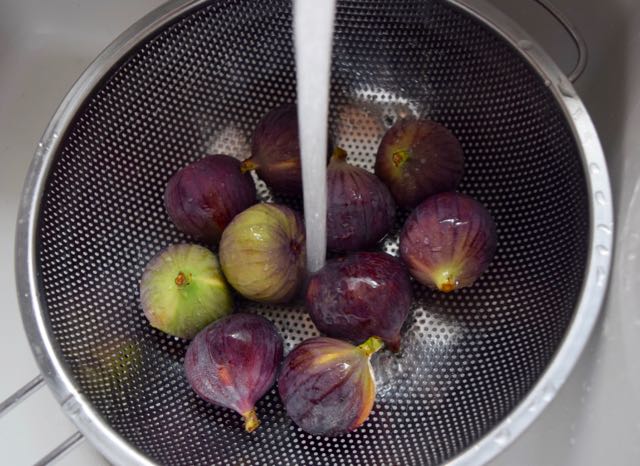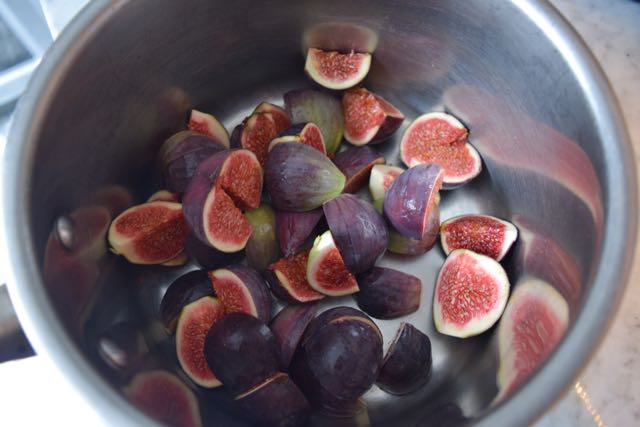 So pretty, I ate quite a few. Now add the rest of the ingredients. Toss in the lemon rind and thyme sprigs.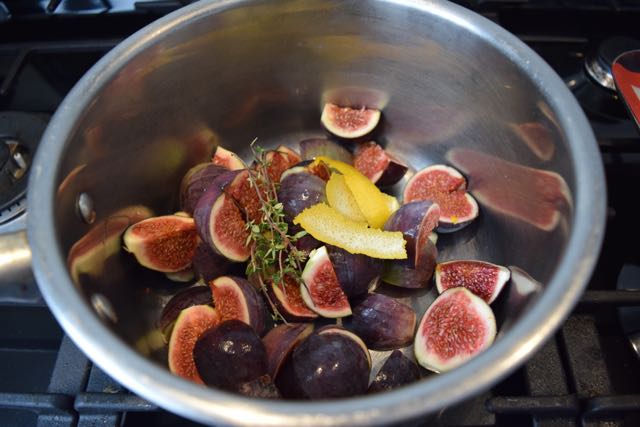 Drizzle on the honey, lemon juice then tip in the caster sugar and give the whole business a really good stir.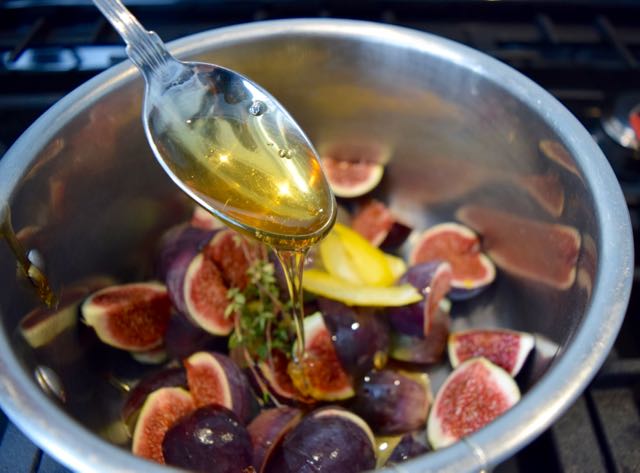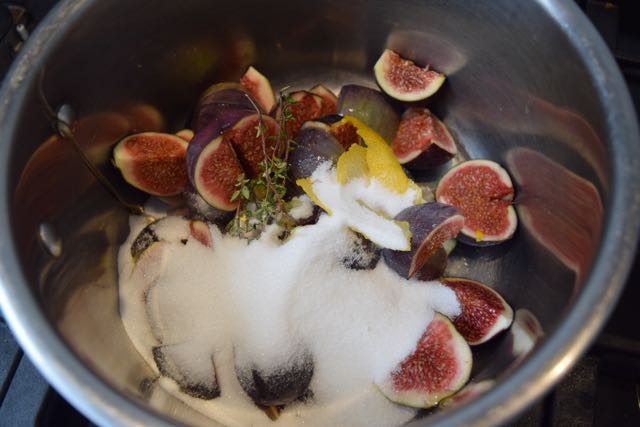 Bring the pan slowly to a simmer then turn right down and cook for between 30 to 40 minutes. Er on the side of 40 minutes if you want the jam to be on the thicker side.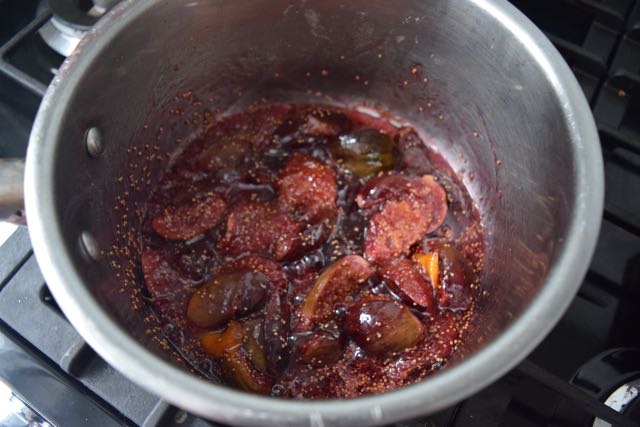 Keep stirring the jam as mine did keep trying to stick to the bottom of the pan.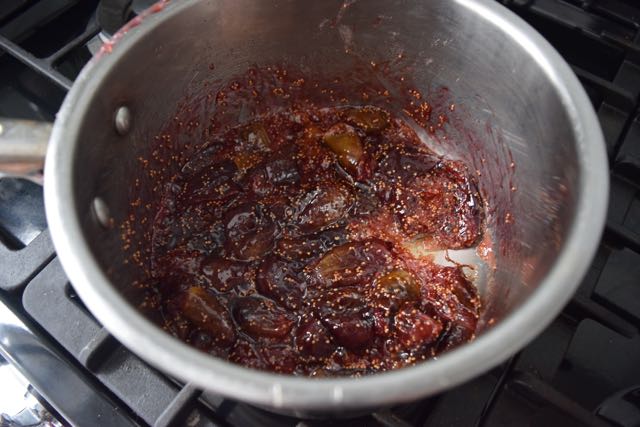 Once the cooking time is up allow the jam to cool a touch before using a hand or stick blender to roughly blend to a chunky consistency.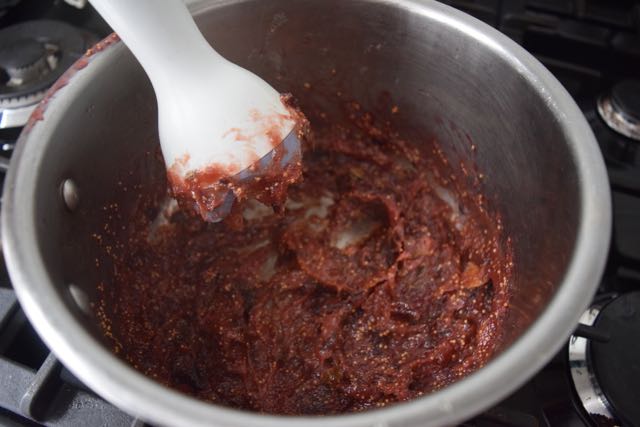 Apologies for my slightly rubbish old hand blender, it's been around since I used to use it to make George baby food, that's quality for you.
Once the jam is cold, scape into your clean jar then store in the fridge until needed and for at least one month. This jam makes a wonderful accompaniment to cheese, cold meats, on a crostini or it's so good on my homemade Maple Syrup Digestives, even if I do say so myself.
Maybe you will be a little more organised than me and have the right sized jam jar.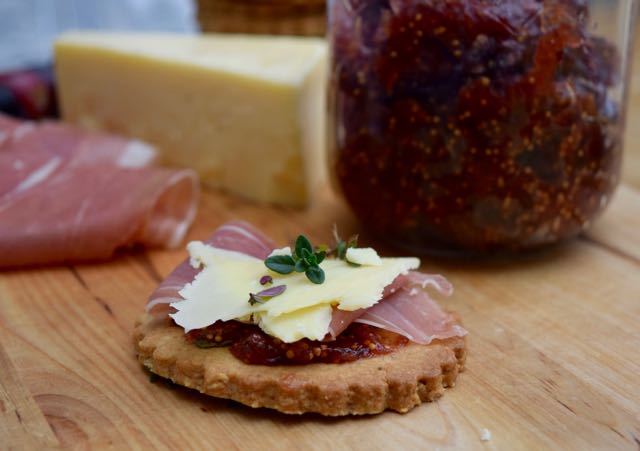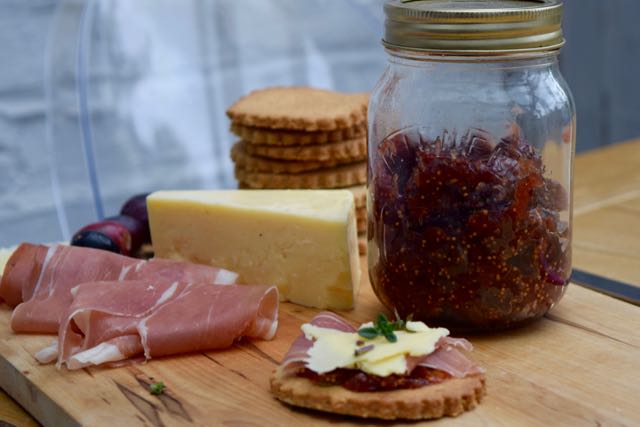 I am a huge chutney fan and adore anything fig based. This easy fig jam makes a nice neat jar, not so big it will clutter up your fridge and no too small you will feel guilty if you slather it on everything. Do try a bit of fig preservation, it's really a rather lovely way to spend an hour.
Lucy x
Easy Fig Jam Recipe
Makes a 250g or 8oz jar
You will need a hand blender and a pretty jar
3 wide strips lemon rind
500g figs, washed, stemmed removed and quartered
150g caster sugar
2 tablespoons honey
2 tablespoons lemon juice
2 sprigs fresh thyme
Make a start by washing and rinsing in boiling water a 250g jam jar with a lid. Wash and cut the stems off the figs, then cut into quarters.
Take a medium sized sturdy saucepan and add the quartered figs, strips of lemon rind, lemon juice, sprigs of thyme, honey and sugar. Give the whole lot a good stir then bring to up to the boil before turning down to simmer for 30 to 40 minutes. The longer you cook the jam, the thicker it will be. Keep stirring the fig mixture to ensure it doesn't stick to the bottom on the pan.
Once the jam is sticky and thick turn off the heat and allow to cool slightly. Blend with a stick blender to a chunky consistency. Once cool store in your clean jam jar in the fridge.
This will keep nicely for at least a month. Serve with cheese, breads, homemade Maple Digestives, meats, you choose.
SaveSave
SaveSave
SaveSave
SaveSave
SaveSave
SaveSave