Fish with Chorizo Crumbs Recipe
I am always looking for good fish recipes. I am always looking for recipes, full stop, but good fish ones are at the top of my wish list. In fact my obsession with finding new recipes is starting to encroach on my book group reading list. So much so that the pile of books I haven't read is currently acting as a leaning tower of Pisa style bedside table.
So, when I found the recipe I based this one on, I was so inspired I made my version of it the very next day. My Fish with Chorizo Crumbs is such a winner, even if I do immodestly say so myself, with the crisp topping it's smokey, herby and made in a matter of minutes. The fish you choose is up to you, I had cod fillets, but go with sea bass, pollock, haddock, salmon, whatever's on offer. The choice of fish could elevate this dish from mid week supper to poncey dinner party.
Serve this with a potato based item, I showed my roots and went with homemade chips, but this would definitely be brilliant with dauphinoise or at this time of the year, buttered new potatoes. Perfectly simple, versatile, flavourful and any other combination of food based cliches you can think of.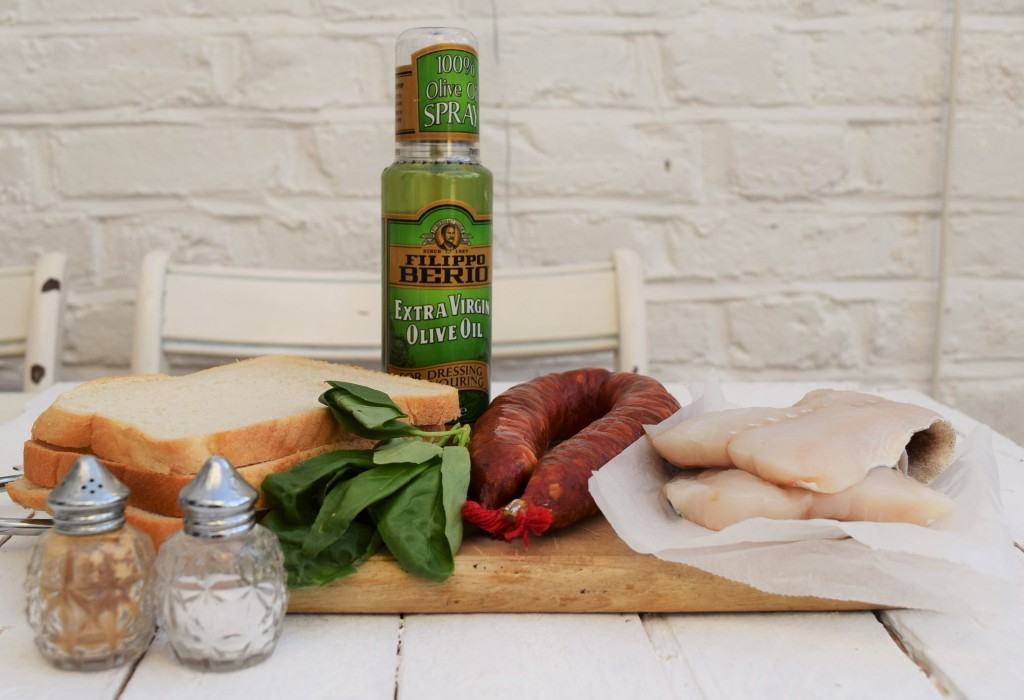 Here's the modest ingredients list. The garlic is hidden behind the basil – I promise I didn't forget it. I used two pieces of cod and saved the rest of the topping for another sitting, but this quantity comfortably serves four.
Pre heat the oven and line a baking sheet with greaseproof paper. Put the fish of your choice onto the tray and season with salt and pepper and drizzle with a touch of olive oil.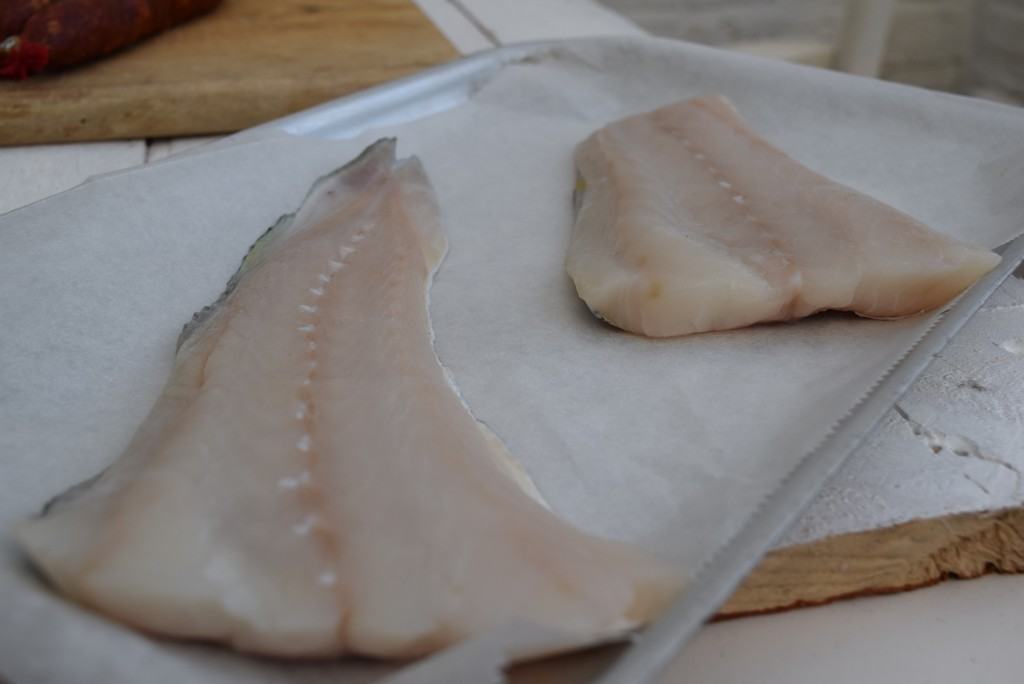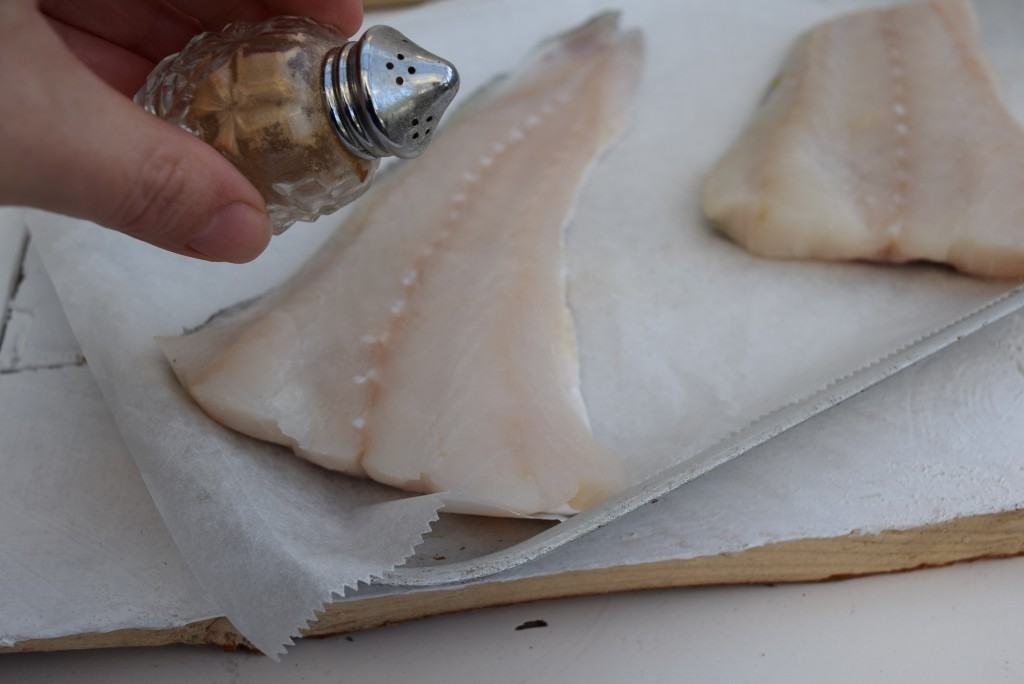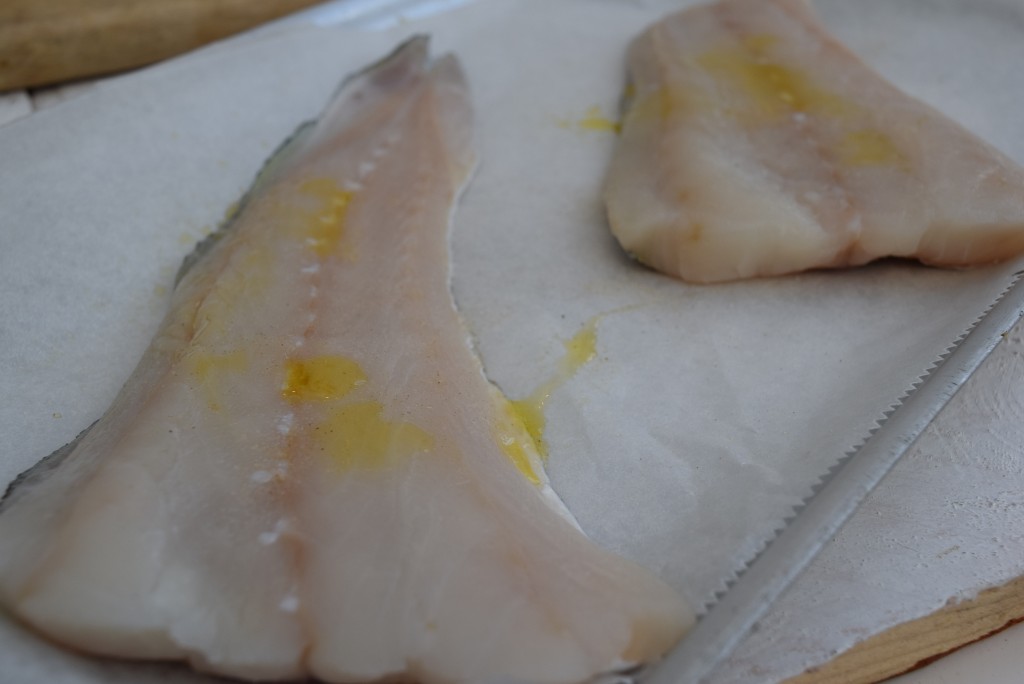 Next take the slices of bread. I had sliced white *unhealthy* but use any bread lurking at the bottom of your bread bin. I used two slices, but you ultimately need to end up with around 100 grams of crumbs. I used my tiny chopper to make the crumbs, but do this in your food processor or finely chop by hand. Once blitzed, put the soft crumbs into a medium sized bowl.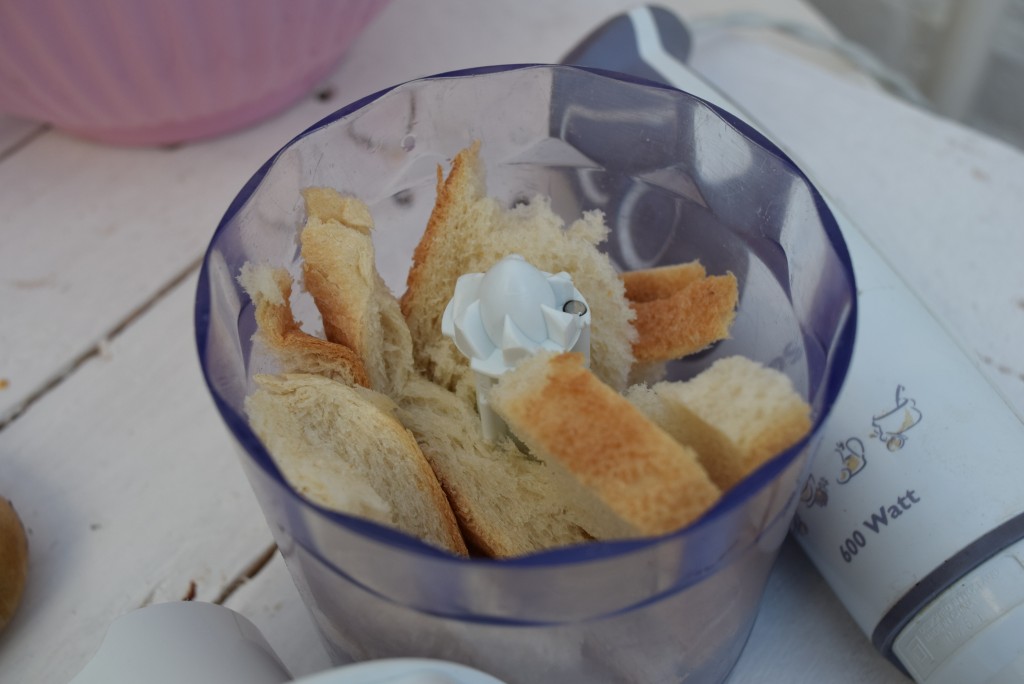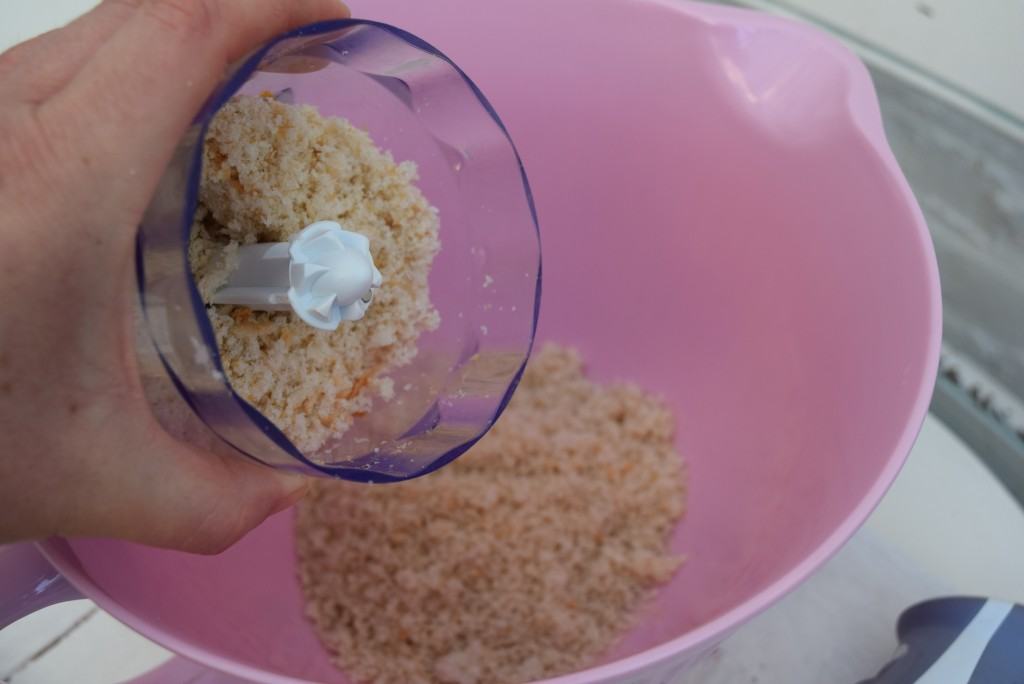 Next chop the basil and garlic clove. I used the same chopper and didn't even wash it up between uses completely throwing caution to the wind.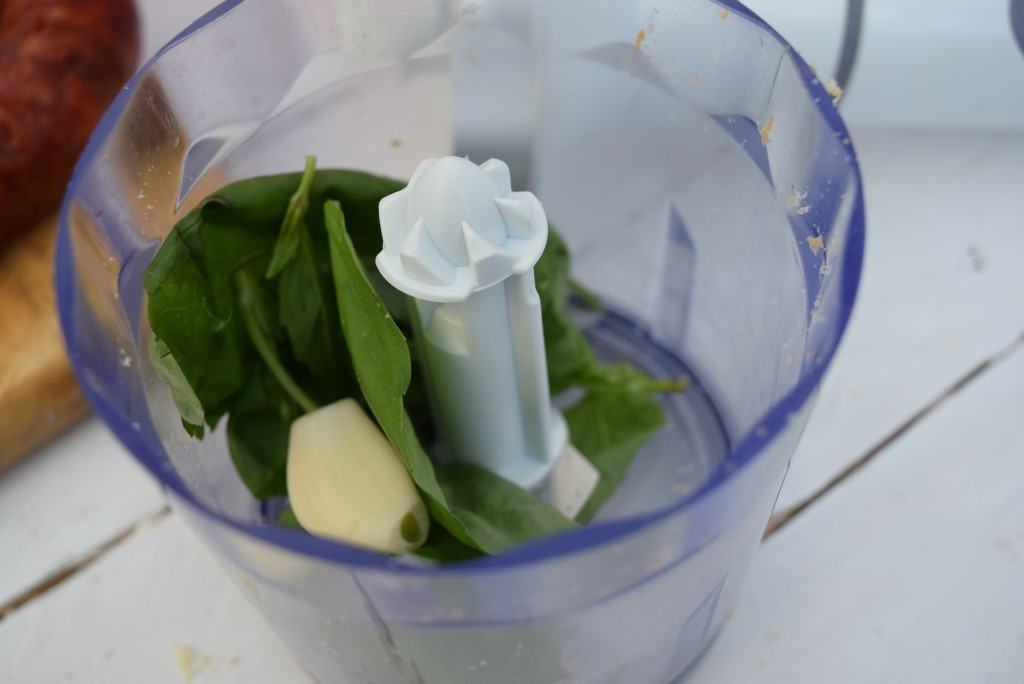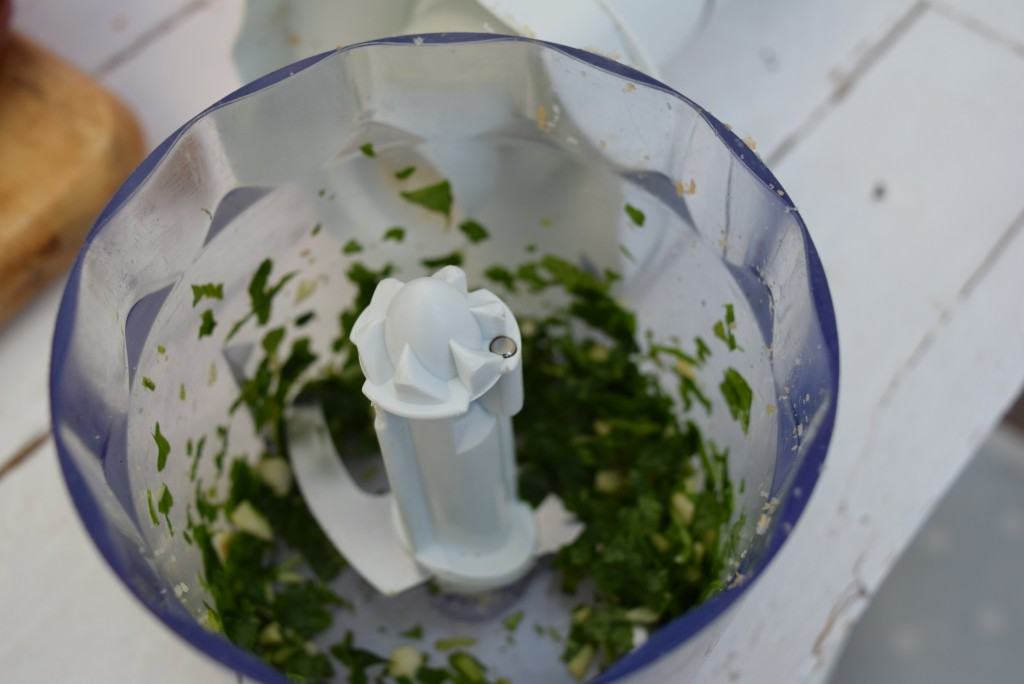 Add this fragrant blend to the bowl of crumbs then add the cubes of chorizo to the chopper or very finely chop by hand.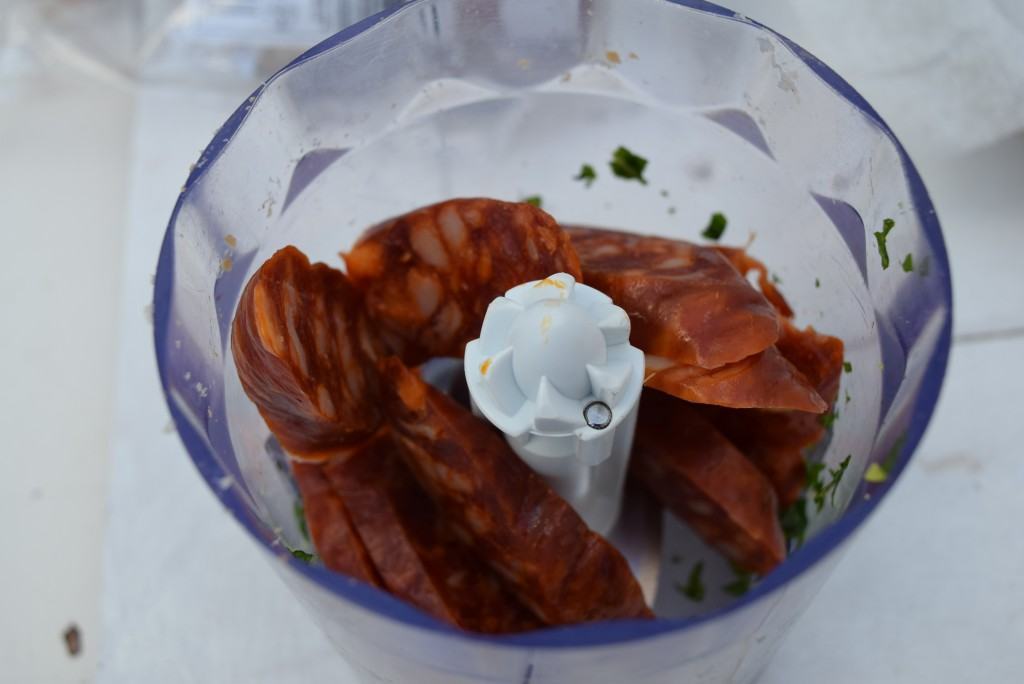 Add this minced chorizo to the herby crumbs and give it all a really good mix. Next add in a scant tablespoon of olive oil to bind it together and salt and pepper to taste. You may need a little more oil, but check you have the correct consistency by going in with your hands and making sure the mix clumps together.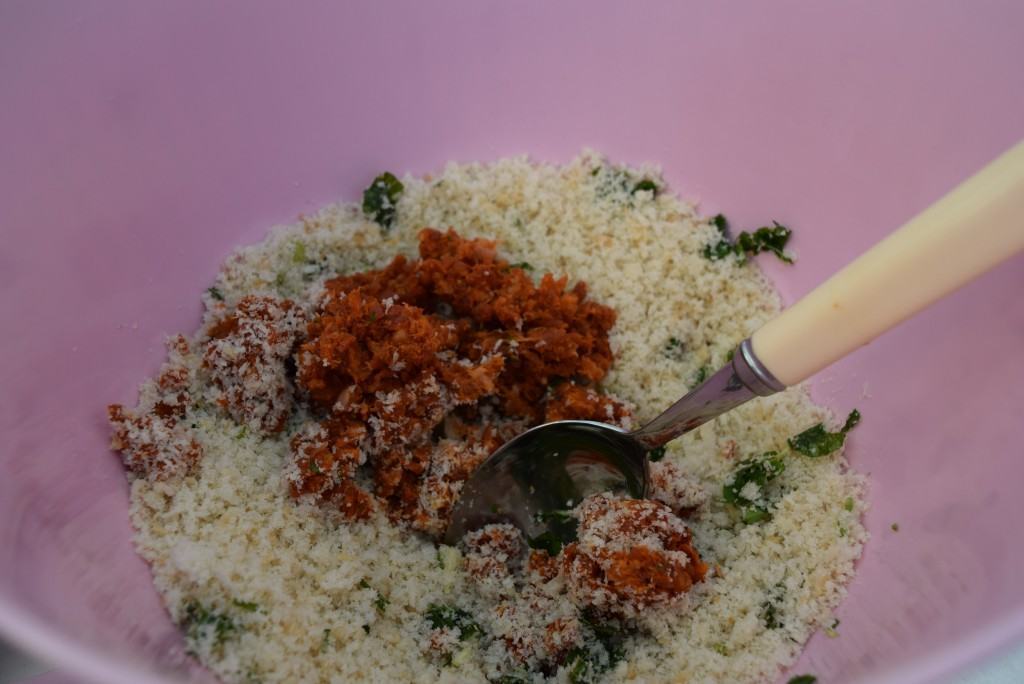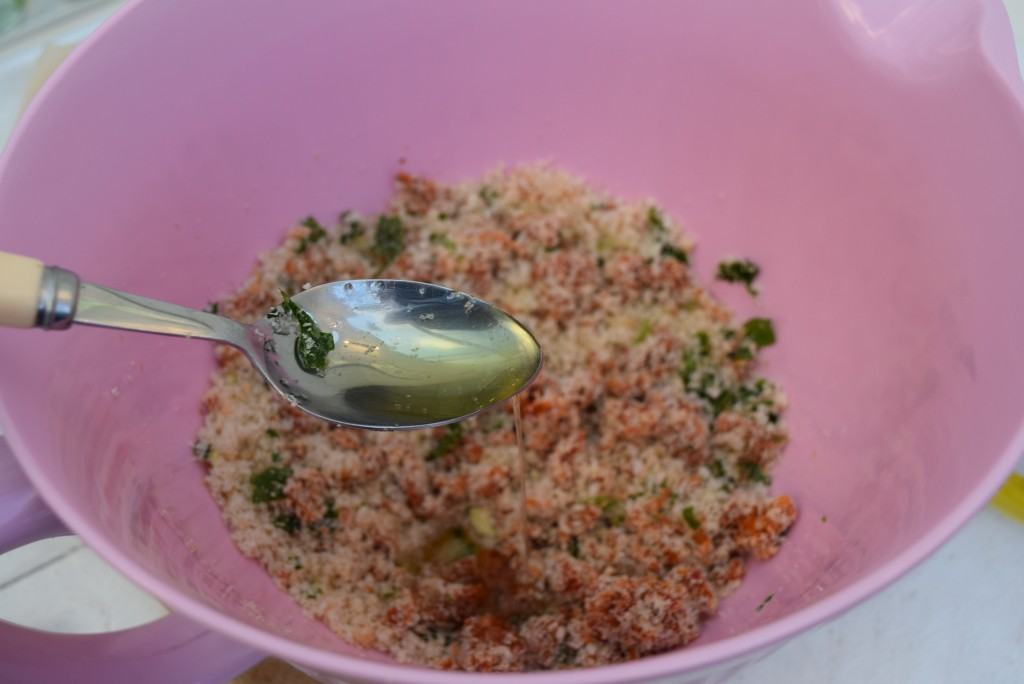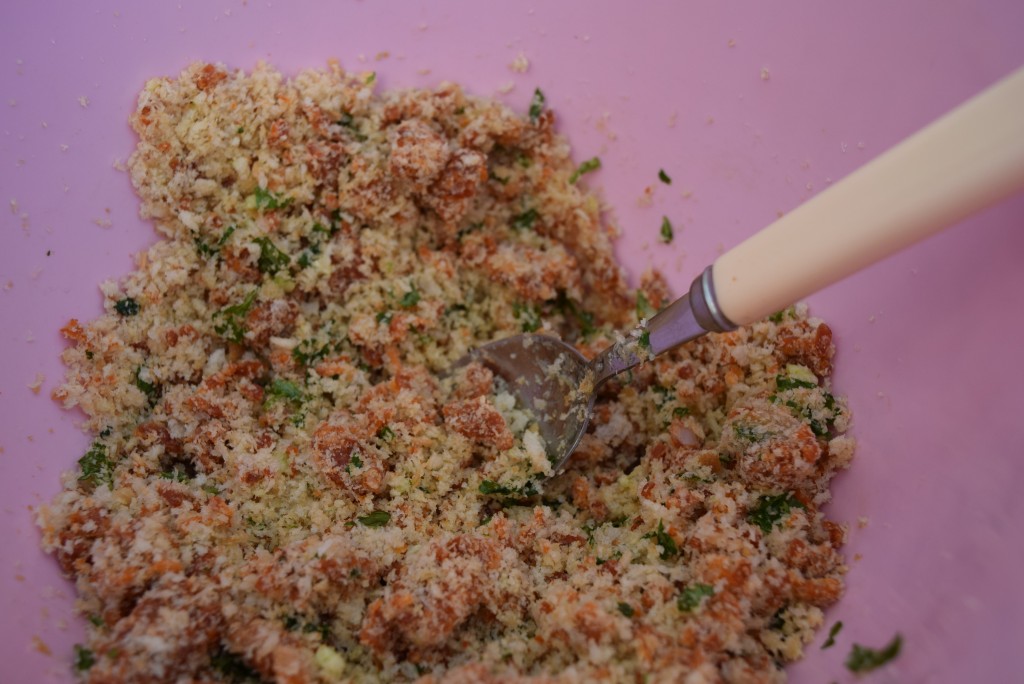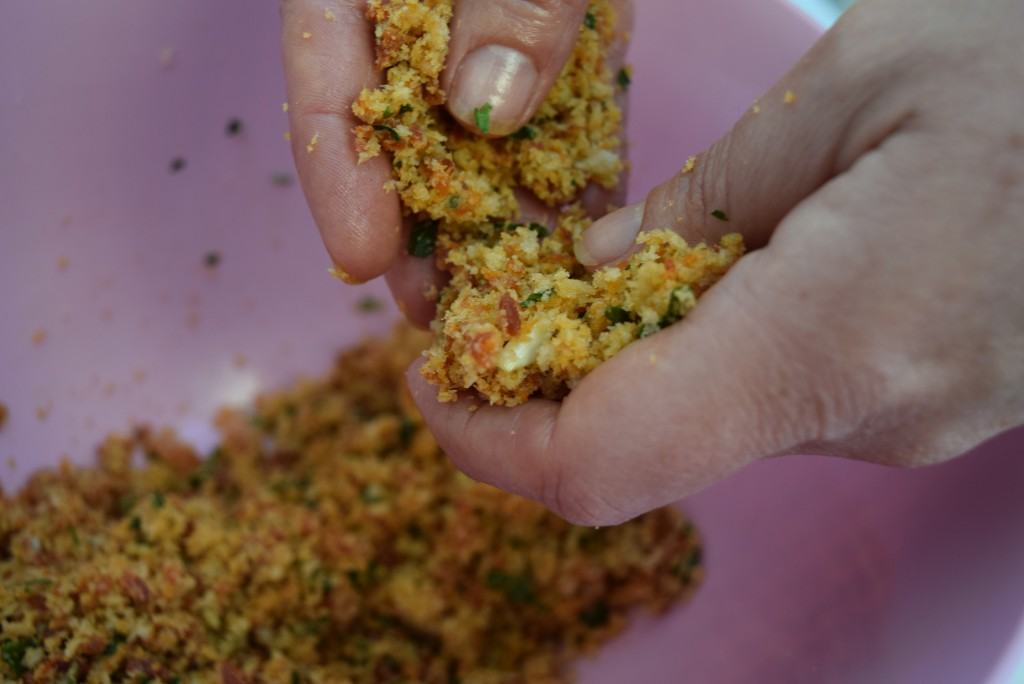 To be fair, the hands are in that shot for a reason so I don't feel I need to apologise.
Take your clumping crumbs and fashion a crust on top of each piece of your fish. Make sure you cover each fillet evenly, there should be enough topping generously for four pieces of fish.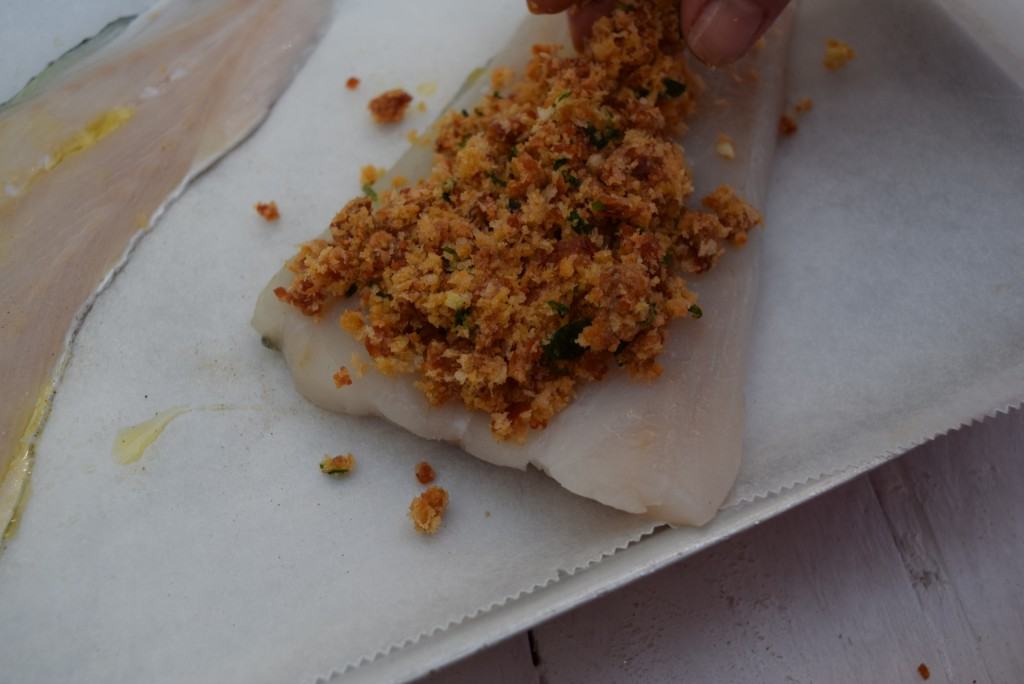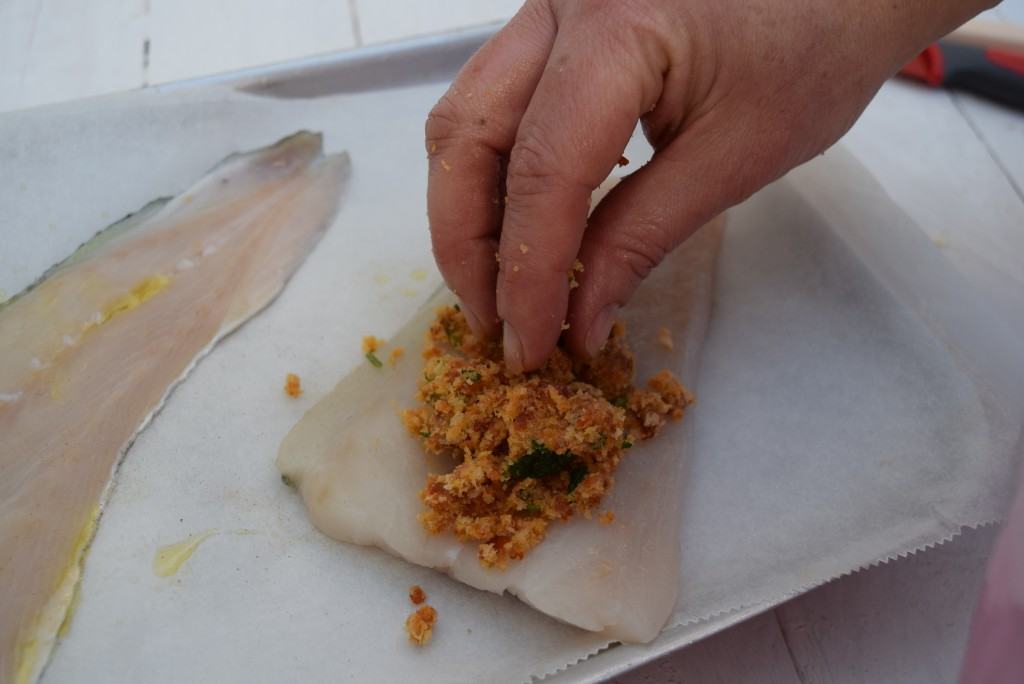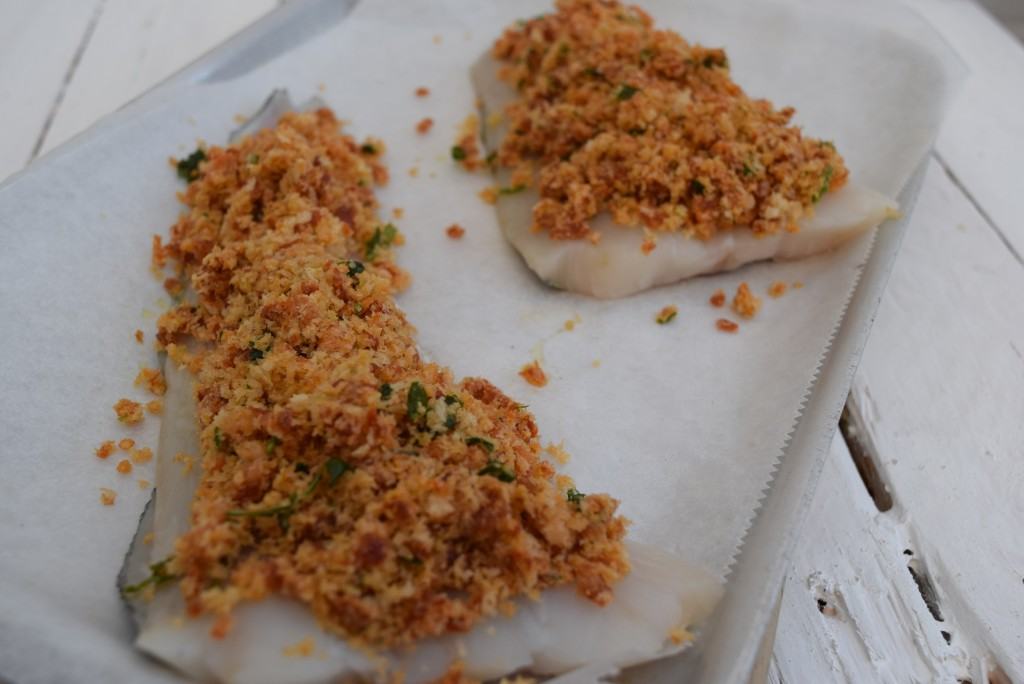 Pop this wonderfully crumbed fish into your hot oven for 20 to 25 minutes, or until the fish is just cooked through and the crumbs are crisp and browning.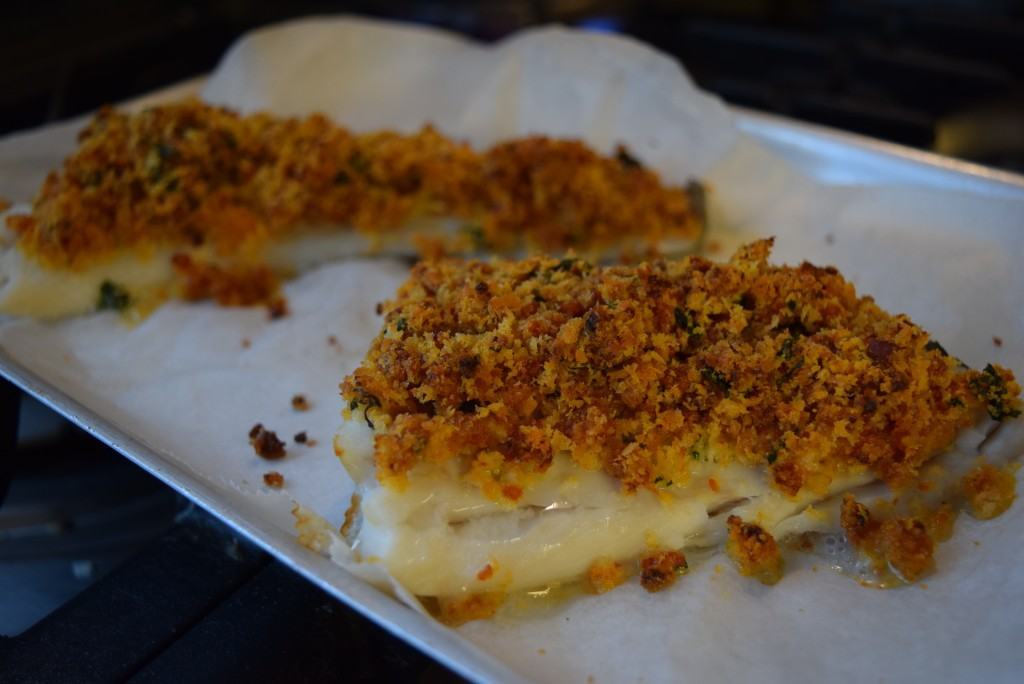 This is so delicious, I can smell it from here. All crisp chorizo and herby fumes. Serve this whilst piping, piping hot with something potato based and something green.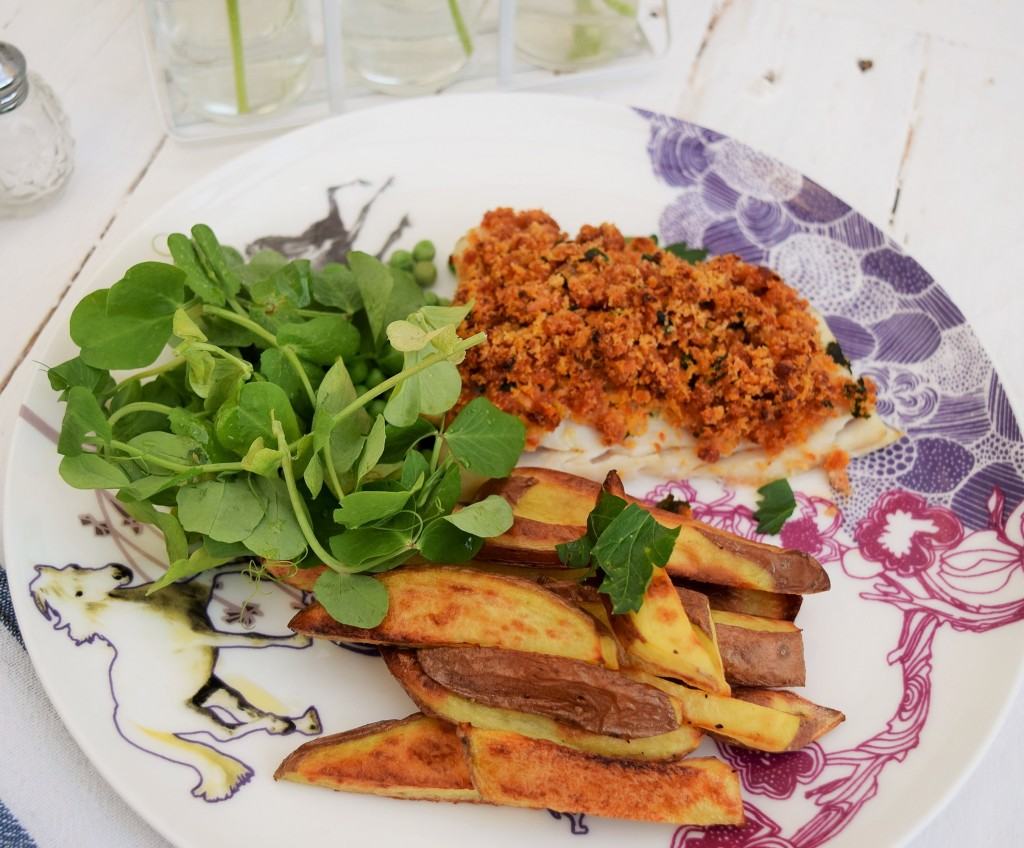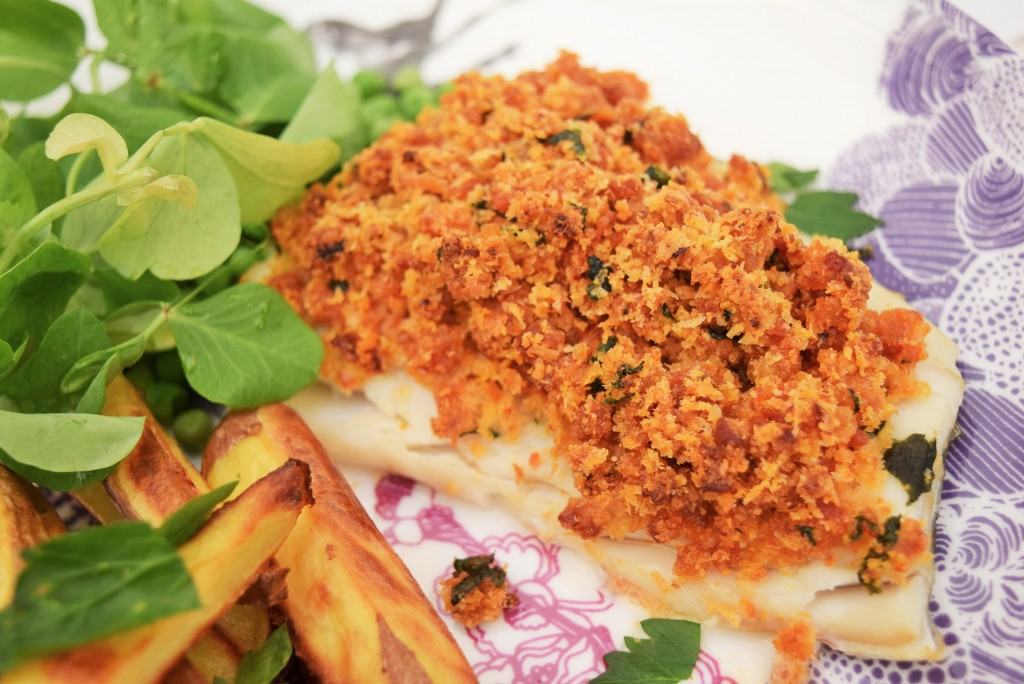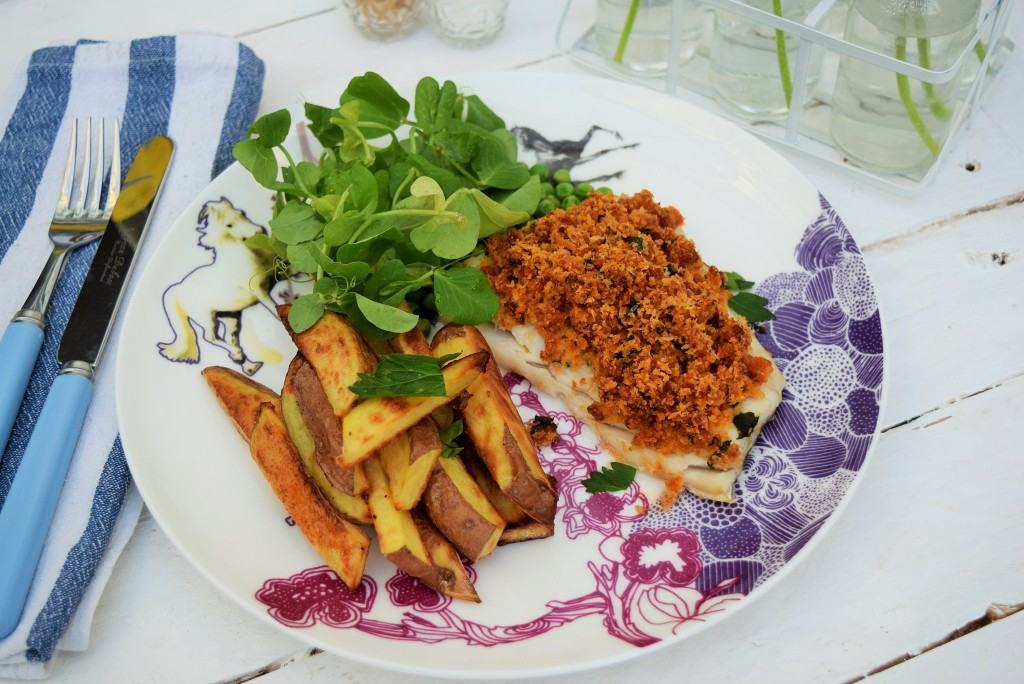 This is such a perfect Spring supper and it looks so impressive. I hope you find a place for it on your weekly menu plan. Do you have a weekly menu plan? I tend to lurch from one meal time to the next, vaguely hoping they'll be the wherewithal for a meal in the fridge when I get home from work. This Fish with Chorizo Crumbs can be ready within half an hour so it should fit into anyones plans.
Lucy x
Fish with Chorizo Crumbs Recipe
Serves 4
You will need a baking sheet and a small chopper or elbow grease
4 pieces of fish, allow approx. 150g per person, I used skin on cod but go for sea bass, pollock, salmon, any fish you have to hand
A drizzle of olive oil
2 slices bread, made into crumbs, approx. 100g needed
1 clove garlic
A handful fresh herbs, I used basil, but go with parsley, sage or rosemary
100g chorizo
1 tablespoon olive oil
salt and pepper for seasoning fish and topping
Pre heat your oven to 170 to 190 degrees fan assisted and line a large baking sheet
Take your fish fillets, place on a lined baking tray, season with salt and pepper and drizzle with olive oil. In your tiny chopping device, food processor or by hand process the slices of bread into crumbs. Put the crumbs in a bowl then chop the herbs and garlic and add them in too. In either your chopper or by hand, very finely chop the chorizo then mix this in with the herby crumbs. Add a tablespoon of olive oil, salt and pepper,  then stir the crumbs again until they start to clump together, you may have go in with your hands at this stage and you may need a drop or two more of olive oil.
Take handfuls of the crumbs and top the fish with a good layer, or until you have evenly distributed all the topping. Put the tray in the hot oven for around 20 to 25 minutes, or until the fish is just cooked through and the topping is browning and crisp. This will also depend on the thickness of your chosen fish. Serve immediately with a delicious potato based accompaniment and a green.