Garlic Prawns with Peas Recipe
When it's hot, as it is at the moment in London, I actually don't feel very hungry. I know, that's not like me at all, I nearly always have my nose in the trough. Even when I'm poorly I still manage to shovel plenty of food down, I don't like to miss a meal. But at the moment it's so clammy and sticky, I don't even feel I can be arsed to pick up a saucepan to warm something through. Sadly, there is no resulting weight loss from this summer loss of appetite because what I can't manage to eat, I can certainly manage to drink. The heat and humidity is easily forgotten with a large glass of ice cold Rosé in your hand. My prerequisite for the perfect summer supper dish, therefore, is quick, tasty, light and drama free. All of these check list points are met with this brilliant Garlic Prawns with Peas recipe.
Prawns are a beautiful thing. Still quite a spoiley treat, in my eyes, due to the fact they are quite pricey and were always only for special occasions as a child. In those days a prawn cocktail was not only the height of sophistication, it was for Christmas and Birthdays only. This wonderful Garlic Prawns with Peas recipe came to me via my new favourite font of all recipes, the New York Times Food site. You need to subscribe to the site or get the app, both of which are free, but it's worth it for such great ideas. This recipe is quick and filled with the most wonderful flavours; sweet peas and prawns mixed with fresh garlic and herbs. Served with some brown rice or noodles this is a light and healthy dish, perfect if your appetite's a bit off and you can't bear to turn the oven on.
This dish is perfectly timed with this so called heatwave. Although having mentioned it so much in the last two paragraphs you can guarantee a sudden drop in temperatures and the imminent turning on of your heating. Quickly, get these fresh tasting Garlic Prawns with Peas on the stove before it all goes tits up, as this dish is even more perfect served in the garden. But not under an umbrella.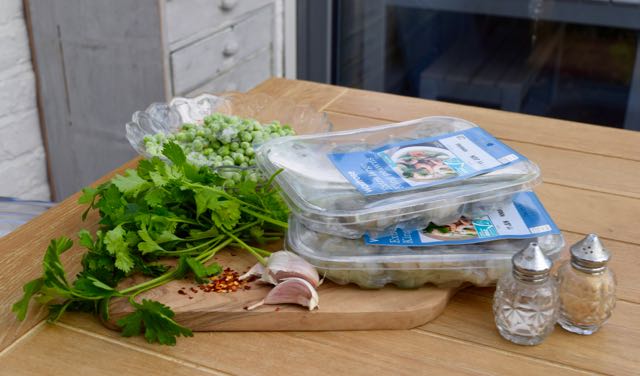 Easy, peasy, lemon squeezy, but not a lemon in sight. My lovely fresh tiger prawns were on offer, hooray, but the frozen ones are not as spendy, and would be just as fab.
Make a start on this by taking your prawns, adding a good grinding of salt and leaving them to sit for around 15 minutes. You could also put some wholesome brown rice on to cook at this stage, it always takes way longer to cook than I imagine.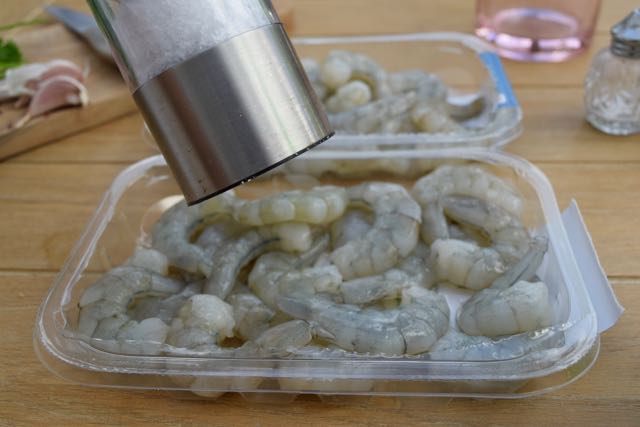 Put your peas onto cook. I used frozen but if you have fresh, these are just perfect at this time of the year. Put them in a medium sized pan and simmer in some chicken stock. The original recipe called for making stock from the prawn shells, but this is not very Lucy Loves. Especially as my lovely on-offer prawns didn't come with shells. So just use your favourite stock, albeit chicken, vegetable or fish. Just enough to cover and simmer the peas for a couple of minutes is fine.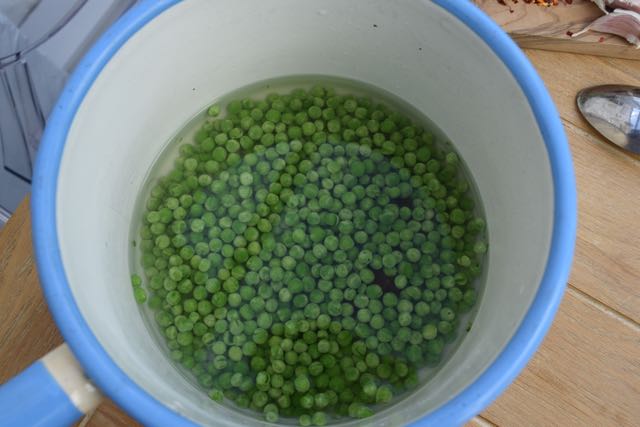 Drain these once cooked, reserving around 100ml of the cooking stock to deglaze the pan later.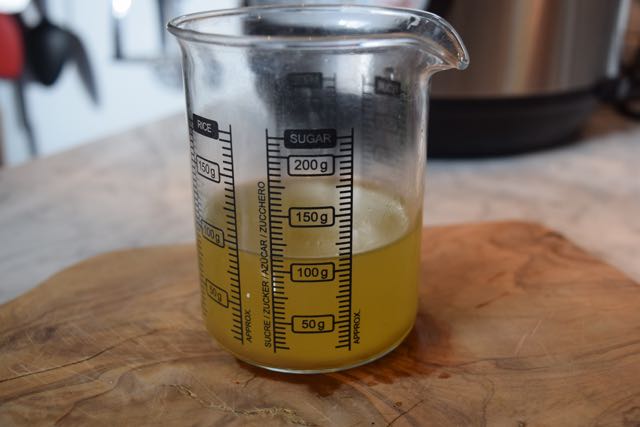 With the peas put to one side, take a large wok or frying pan and add a tablespoon or so of olive oil. Heat over a medium flame then add the finely chopped garlic and the large pinch of chilli flakes. Cook for a minute or two or until just turning golden and fragrant.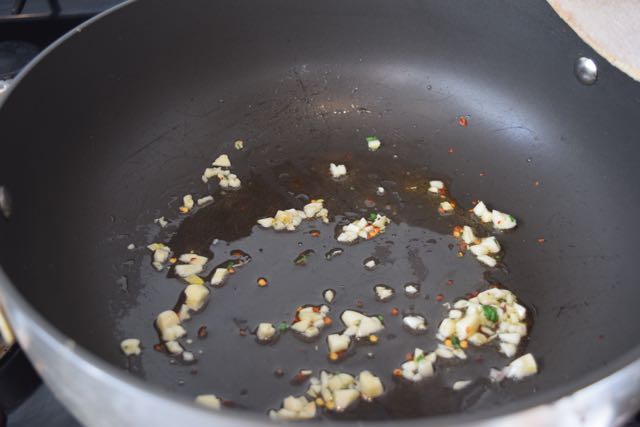 Tip in the prawns and sauté for a couple of minutes or until just turning pink.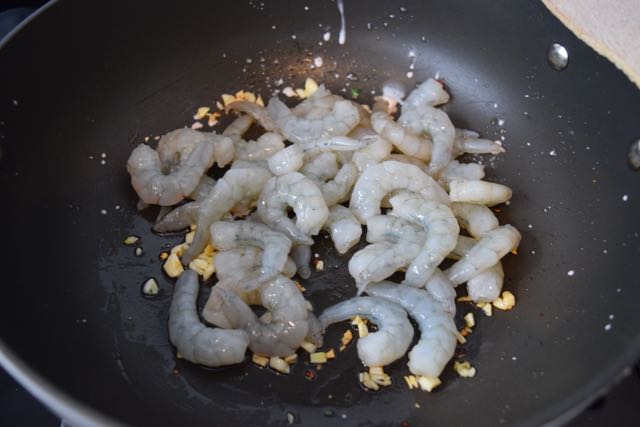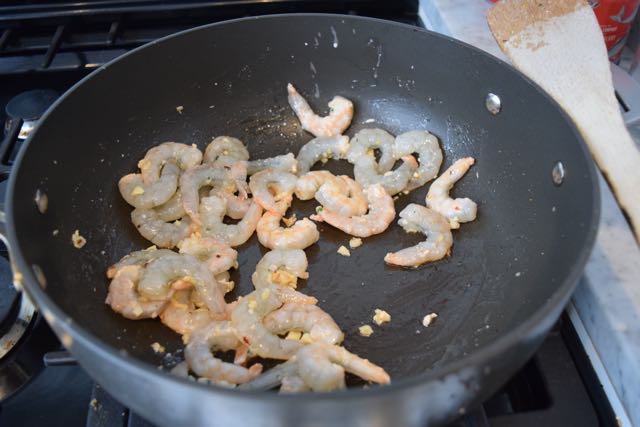 Tip in the peas and herbs and cook for another minute to ensure everything is well coated.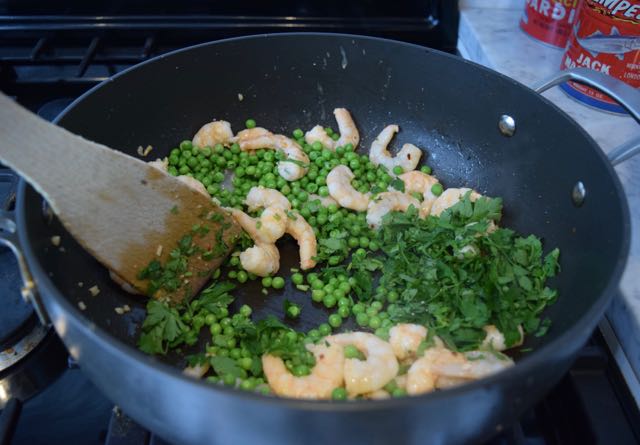 Finally add the reserved pea cooking stock to deglaze the pan and simmer for a final minute before serving.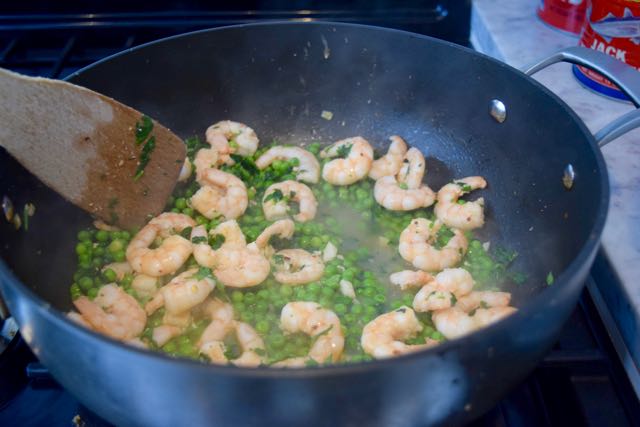 Check for seasoning, then serve this amazingly fragrant, light, fresh dish over your brown rice, or noodles, garnished with some more herbs or micro herbs if you can get them.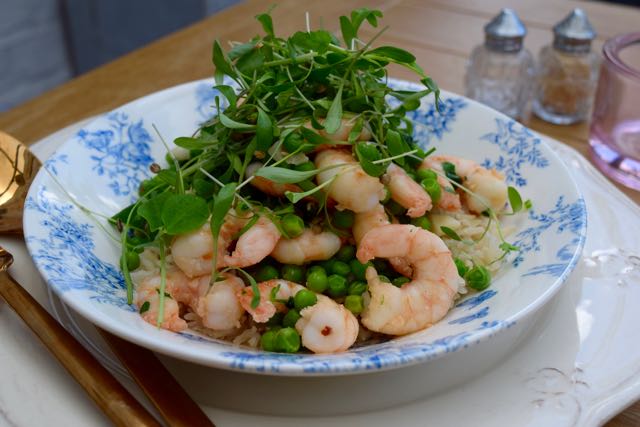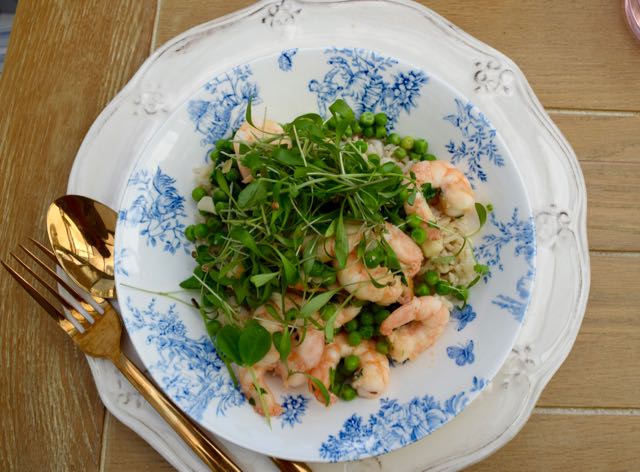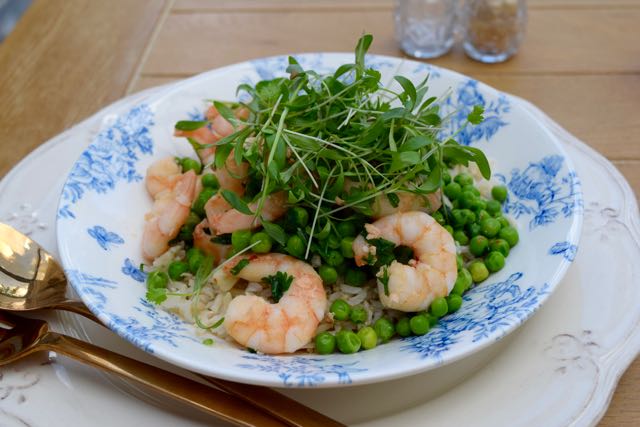 I can't whitter on enough about how fresh, sweet and light this recipe is. I have started to bore myself if I'm honest. However, it has prompted me to add prawns to my Ocado order for the week, as I think I can just about manage to fork this up for supper this weekend, regardless of the heat and my heat induced lethargy.
Lucy x
Garlic Prawns with Peas Recipe
Serves 2 to 3 people, 4 if their appetites are small
You won't need any challenging equipment
approx 400g raw king prawns, depending on your pack size, I used 2 x 180g packs
A good sprinkling of salt
200g peas, fresh or frozen
Chicken, fish or vegetable stock, enough to cook the peas in
1 to 2 tablespoons olive oil
3 garlic cloves, finely-ish chopped
a large pinch dried chilli flakes
Salt and pepper
Chopped fresh parsley and coriander, a couple of tablespoons of each
Extra chopped herbs or micro herbs and brown rice or noodles to serve
Make a start by cooking some rice to serve wth your prawns. Then take your prawns and season with plenty of salt and leave to one side for 15 minutes.
In a medium saucepan cook the peas in some chicken stock for around 2 minutes or according to the instructions on the packet. Drain them but reserve 100ml of the chicken stock cooking liquid. Pop both the peas and the stock to one side until later.
When the 15 minutes is up, take a large frying pan or wok and add a tablespoon or 2 of olive oil. Add the chopped garlic cloves and chilli flakes and cook over a medium heat until just turning golden, taking care not to burn them. Turn the heat up slightly and add the prawns and cook for around 2 minutes or until the prawns are just turning pink. Add the peas, coriander and parsley and give them all a good stir for another minute. Pour in the reserved chicken stock, bring up to the simmer then remove from the heat and serve immediately with some rice or noodles and some more freshly chopped herbs.
SaveSave
SaveSave