Halloumi, Basil and Pepper Bake Recipe
Halloumi is the cheese of kings. It is squeakily delicious, salty and savoury, unlike any other cheese. Whenever I cook it, either in a dish or as a nibble, it's inhaled by everyone, especially my children. I discovered this recipe by way of the Waitrose website, with thanks to them, and it made my mouth water just looking at it. I knew at this point, I would have to share it with you. So, ta-dah, here is my Halloumi, Basil and Pepper Bake.
I never really feel the need to eat meat with every meal, but I live with three people who do. However, Halloumi does seem to count as a sufficient meat replacement. This baked, vegetarian dish, however, is lacking in nothing. Lightly roasted new potatoes, colourful peppers with tomatoes, coated in a basil dressing. All this, and golden Halloumi cheese, this is quite the complete light lunch or first course for anyone. When I made this for the first time, I had hoped to have the resulting dish for my supper. However, Ben was lured down from his room by the fragrance of roasting peppers and basil and stood drooling until I had finished photographing it. He then inhaled half of it, followed by my sister who popped in for a drink and had a couple of mouthfuls and it's final serving went to Clyde who came in from work and finished it off. I had to settle for several glasses of wine and a bowl of peanuts for my supper, not unpleasant, just not what I had in mind.
This is an ideal meat free recipe which can be made and loved by everyone. As a lunch with some warm, crusty bread or as a first course at a Spring dinner, or just straight from the pan with a fork as you catch up with your family and chat about their day. It's full of vitamins and flavour and wanting for nothing.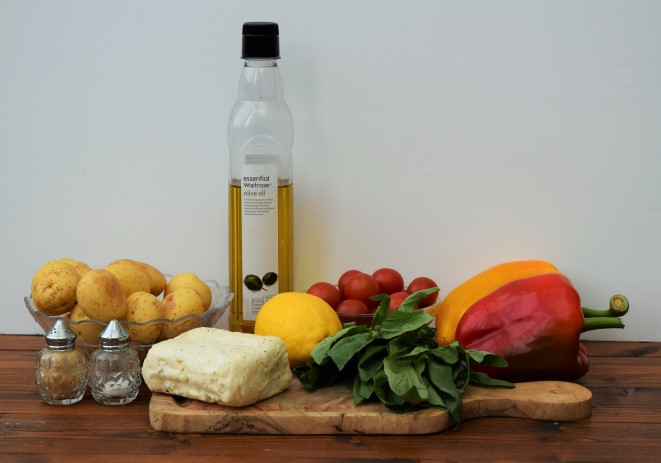 What a masterpiece of ingredients. So colourful and fresh, barely any preparation and only just over 30 minutes in the oven.
Make a start by pre heating your oven to 180 degrees fan assisted and boiling a kettle. Halve any of the larger new potatoes then pop them in a pan with some salt. Pour on the boiling water and simmer your potatoes for 5 minutes then drain.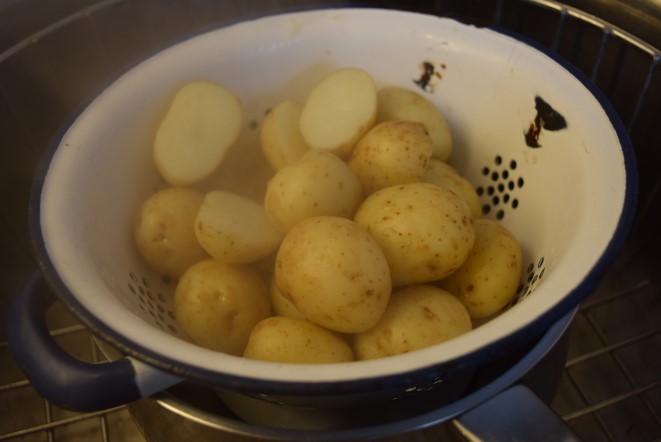 Slice and de-seed the peppers then add these to a medium sized baking tray along with the par-cooked potatoes.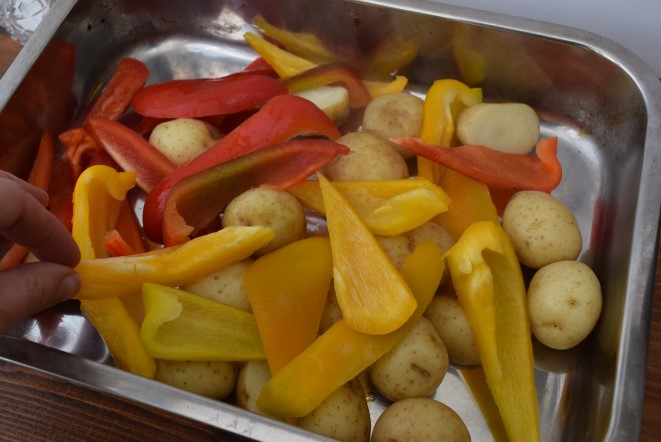 In a small bowl measure out the oil, lemon juice and zest and then season generously with salt and pepper. I used some homemade garlic oil which is brilliant and super garlic scented. Just peel and top and tail three garlic cloves and poke these into a bottle of olive oil, shake then leave to infuse for a couple of days before using.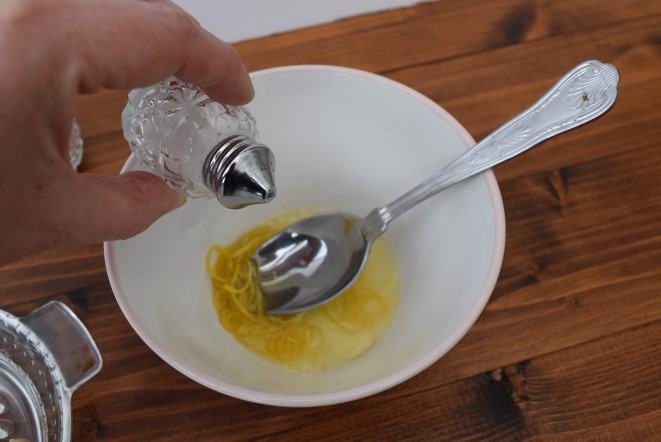 Add the finely chopped basil to this dressing and stir well. Add this to the potatoes and peppers then put into your hot oven for 20 minutes.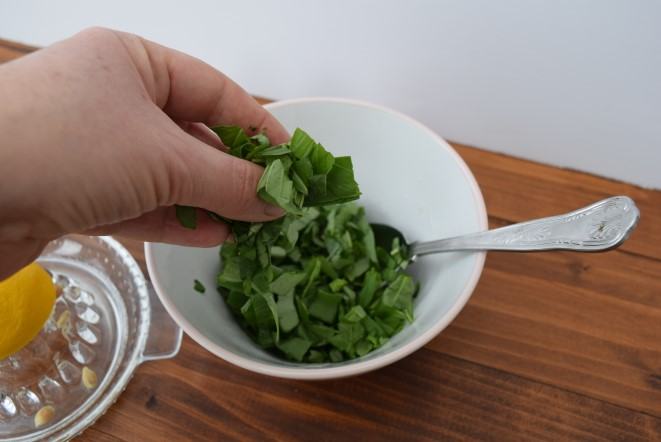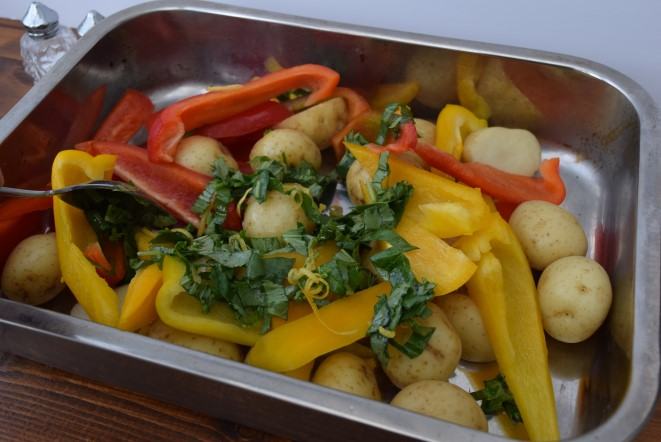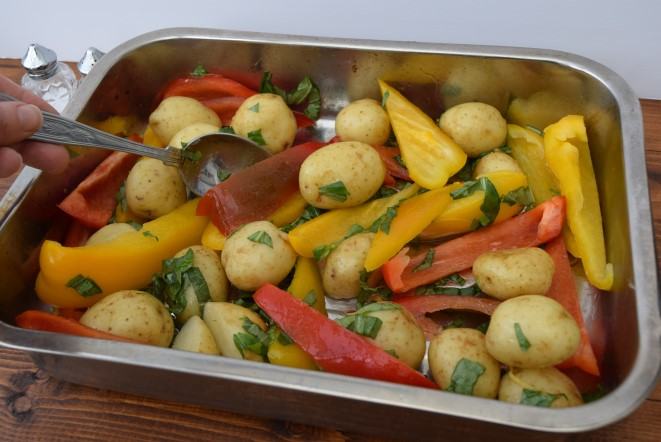 While this is baking up a storm, halve your cherry tomatoes and slice the Halloumi. When the 20 minutes is up, stir the toms into the peppers and potatoes then lay the salty slices of cheese on top and put back in the oven for around 10 further minutes, or until the Halloumi is turning golden and the potatoes are crisping and cooked through.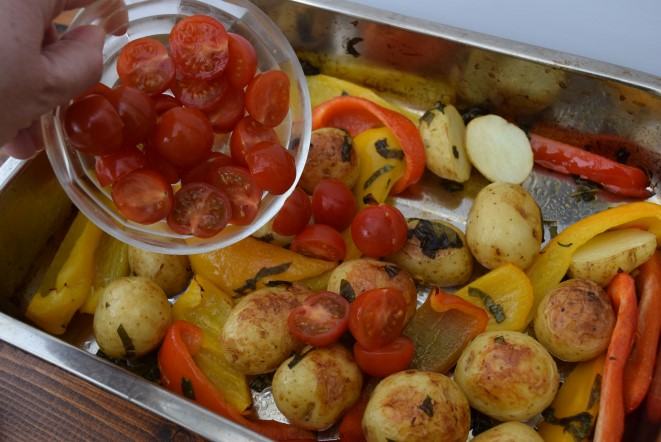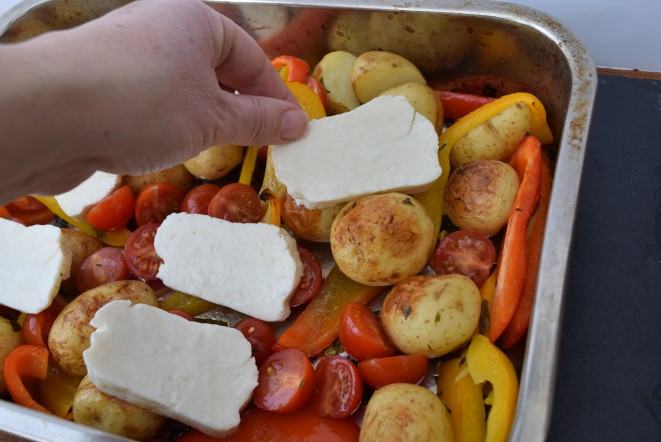 The wafting oven smells at this point will be luring your family towards the kitchen if they are anywhere near as greedy as mine.
And here's what they'll find. Garnish with a few more torn fresh basil leaves.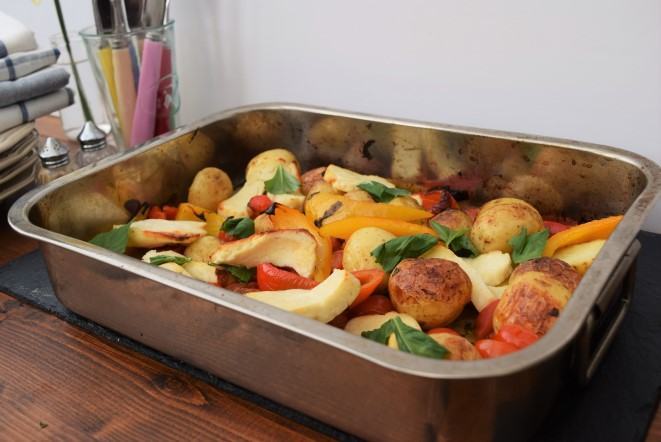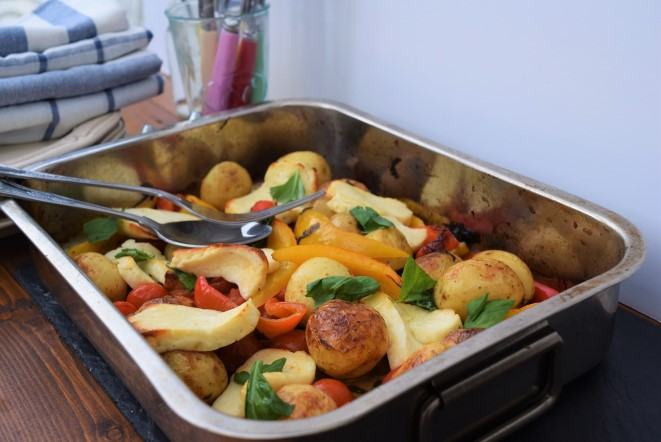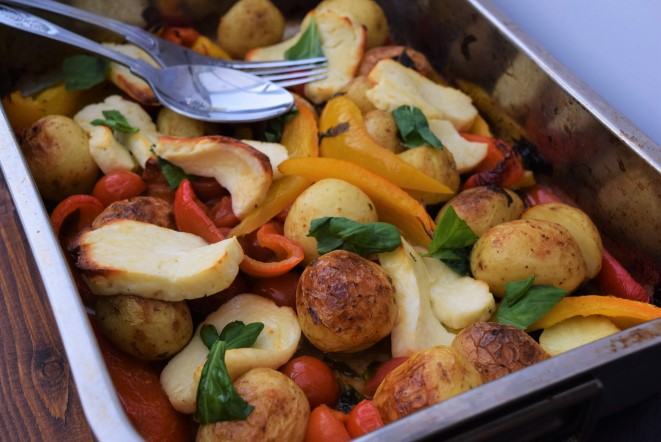 This is Spring in a tray bake. Serve for lunch, supper, or as a fresh first course. It's versatile and bloody delicious, just be prepared to slap hands away from the dish when your family try and pinch all the Halloumi before it even gets to the table.
Lucy x
Halloumi, Basil and Pepper Bake Recipe
You will need a medium sized roasting tin
Serves 3 to 4 people as a light lunch, supper or first course
500g new potatoes, halved if on the big side
2 to 3 peppers, depending on their size
2 tablespoons oil, olive, garlic scented, something flavourful
Zest and juice of one lemon
25g fresh basil, stalks removed, finely chopped
125g cherry tomatoes, halved
250g Halloumi cheese, sliced thickly
Salt and pepper to season
Extra basil leaves to garnish
Pre heat the oven to 180 degrees fan assisted.
Put the potatoes in a pan of boiling, salted water and simmer for 5 minutes, then drain. Add the drained potatoes to a medium sized roasting tray. Slice the peppers, removing the seeds, then add these to the pan with the potatoes. In a small bowl mix the oil, lemon juice and zest and chopped basil. Season, then pour the dressing onto the peppers and potatoes, stir well then put in the oven to bake for 20 minutes.
Halve the cherry tomatoes and slice the halloumi. When the 20 minutes is up, remove the pan from the oven, add the tomatoes, stir, then lay the slices of halloumi on top of the vegetables. Cook for a further 10 minutes or until the halloumi is golden and the potatoes are cooked through. Serve immediately with some warm bread and salad leaves if you like.