Homemade Cherry Bakewell Nakd Bars Recipe
I am borderline Homemade Nakd Bar obsessed. Even though I consistently fall on and off the sugar/no sugar wagon, these relatively unattractive slabs of solid deliciousness remain a constant for me. I actually would rather eat a Homemade Nakd Bar than *some* chocolate now. I say some, because nothing will replace the creamy sweetness of a large bar of Galaxy or the slight luxury that is Green and Blacks milk and sea salt chocolate. However, I seem to either have a large collection of my Homemade Nakd bars in the fridge, be making them to give away or have none left as I have troughed the whole lot. So, as variety is the spice of life, whatever that's supposed to mean, today I am putting myself out of my misery and sharing my new Homemade Cherry Bakewell Nakd Bars recipe.
My original Homemade Nakd Bars recipe is a super popular one on Lucy Loves, but I have to say, I am now loving these Cherry Bakewell variety even more than the chocolate based ones. They have a hint of almond, a touch of salt, vanilla along with the dried cranberries or cherries if you are feeling extravagant. There is a bit of artistic license to these Nakd Bars as they don't necessarily contain cherries. Dried cherries are super pricey unless you happen to live near and have a Costco card, where a big bag is much better value. However, my favourite Craisin dried cranberries are cheaper and just as delicious, adding a slight sourness which is needed in these bars. In another issue for the Trades Descriptions Act, these Nakd Bars don't have to be bars either. Sometimes I am so desperate to get a batch chilling in the fridge, I simply roll the fruity, sugar free dough into balls and leave them on a tray to set in the fridge within the hour. It is with huge thanks to the Food Effect for the inspiration for these addictive little beauties.
With the festive season nearly upon us, although I am loathe to mention it just yet, it's worth clawing back a touch of healthy living so you have extra Quality Street based calories in the bank for December.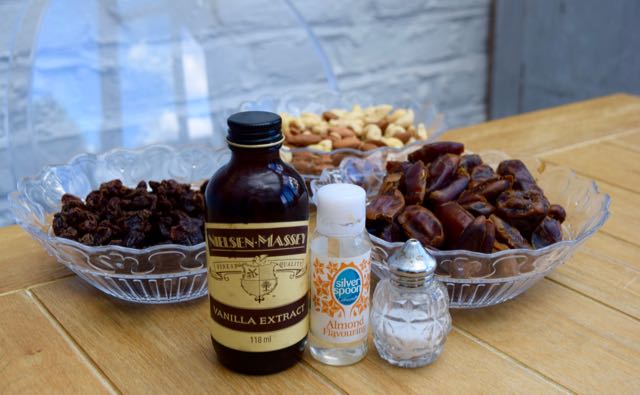 These Cherry Bakewell Homemade Nakd Bars are quite flexible on the ingredients front. Just use the nuts you have to hand and a sour fruit such as cranberries or cherries, then these will be perfect.
Make a start on this not complicated recipe by adding your nuts to the bowl of your food processor. You could probably use a powerful blender too, but I would halve the recipe so the blender didn't have so much to chew over.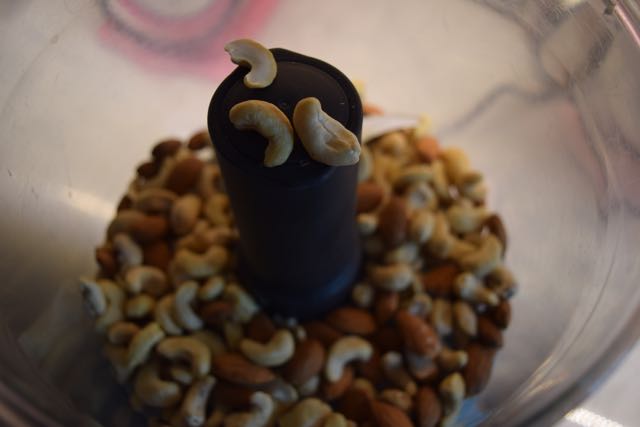 Next drop in the raisins or sultanas, dates and dried cherries or Craisins along with the salt.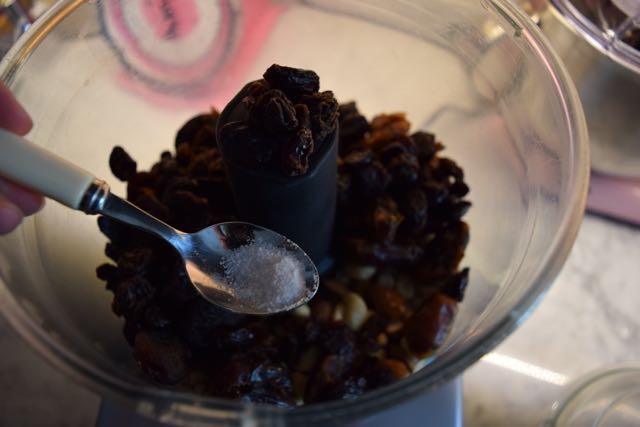 Finally add both the almond and vanilla extracts and process the mixture vigorously.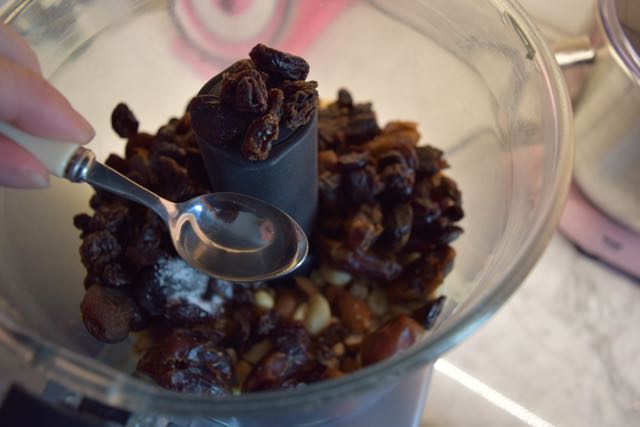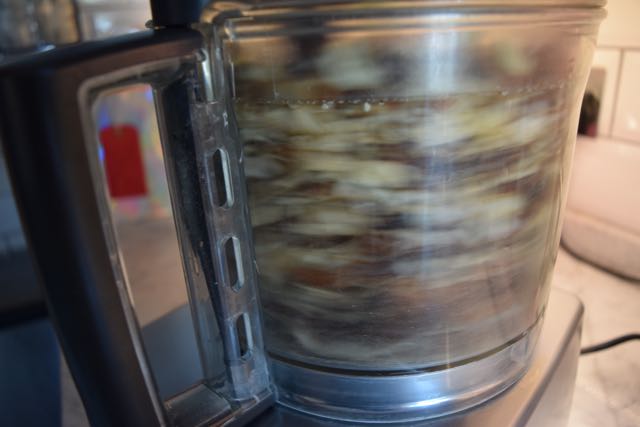 Process the homemade Nakd bar mixture for a minute or two until the whole lot comes together in a sort of soft fruity rubble like dough.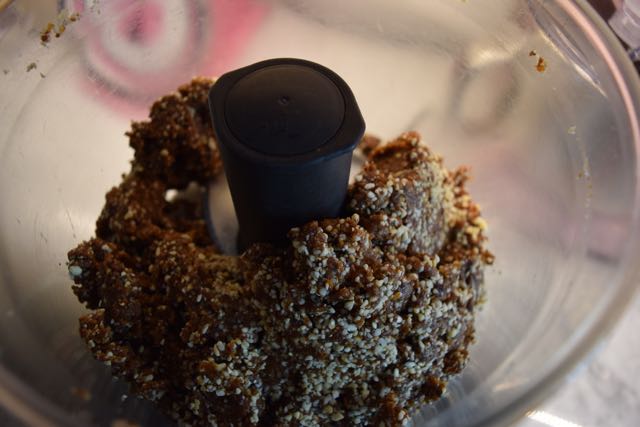 Now, line a large loaf tin with cling film and press the fruit and nuts into the tin, flattening it with your hands.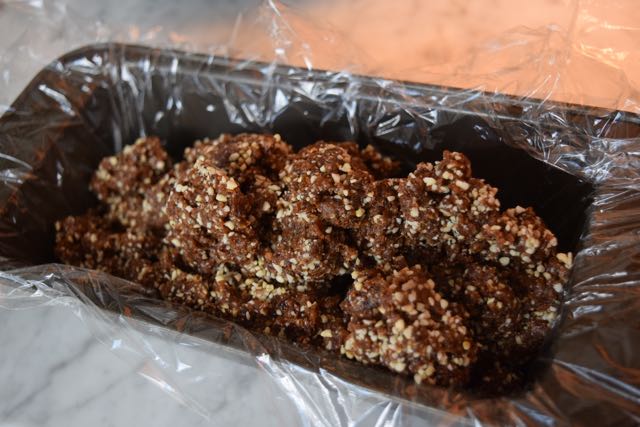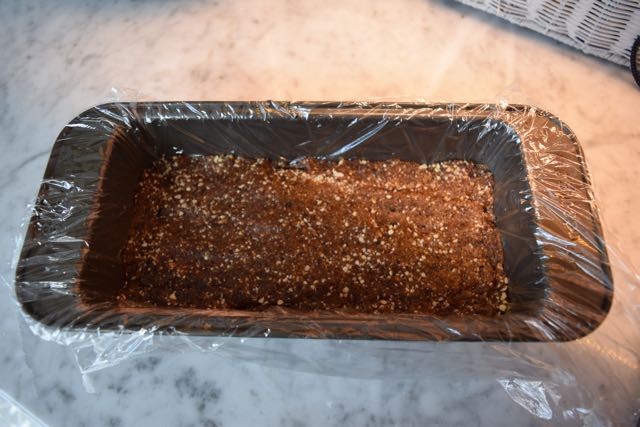 Like I said, if you can't be arsed to mould these into bars, just roll the dough into large walnut sized balls and place on a baking tray and put in the fridge to set. If you can be arsed, place your filled loaf tin in the fridge for a couple of hours until the bars are set.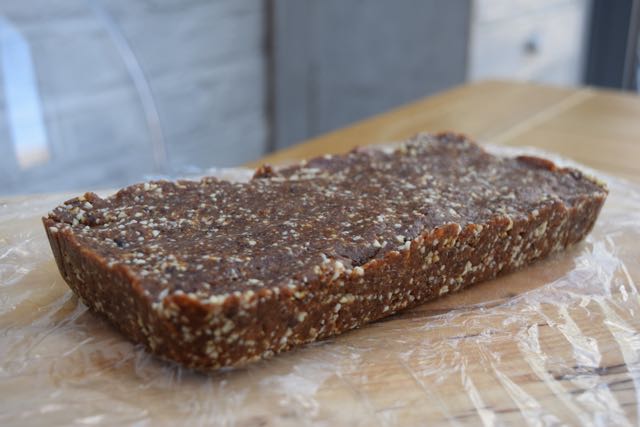 Once set, slice the slab into around 12 to 14 bars and wrap them in greaseproof paper.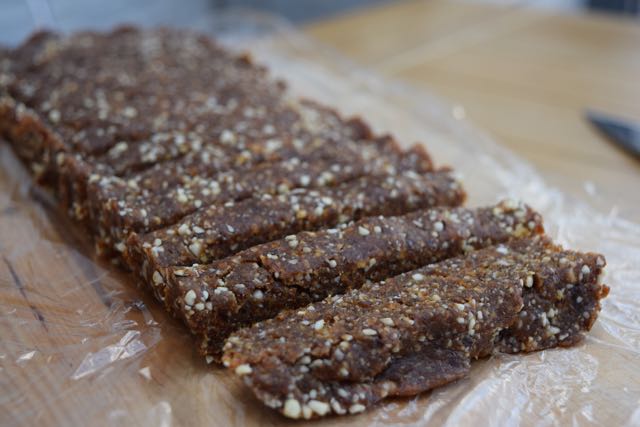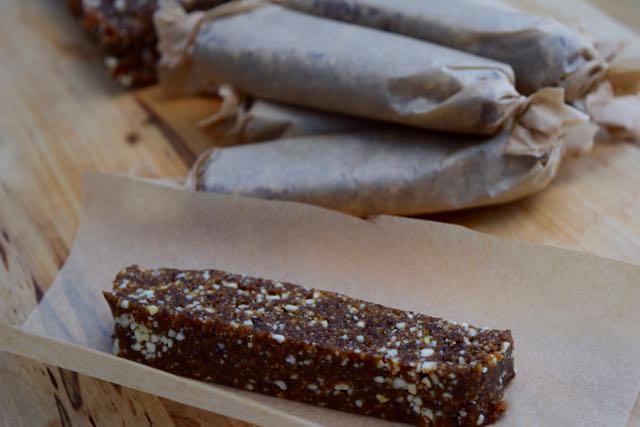 Store in the fridge for as long as you can hide them from the rest of your family.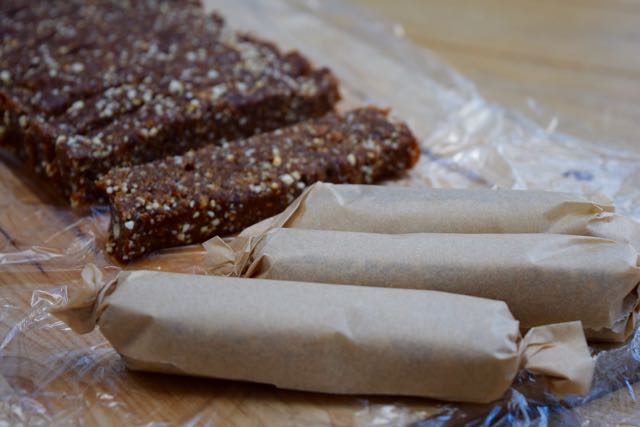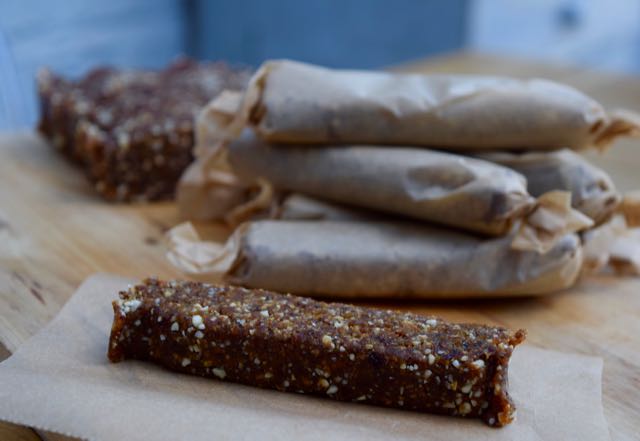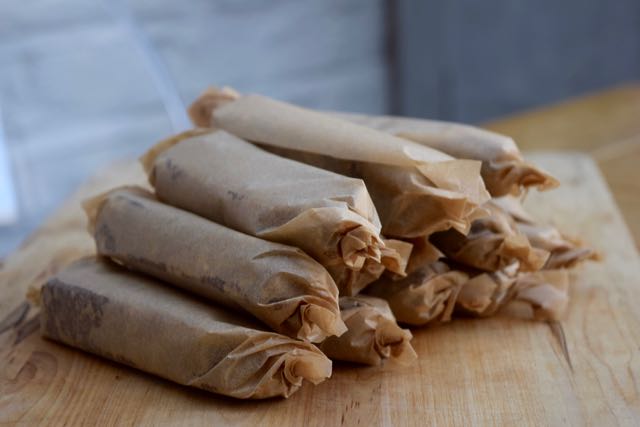 These Homemade Cherry Bakewell Nakd Bars, I am sure, are a healthy option. Probably not, if like me however, you can eat three without even a backward glance. You may have to wrestle any spares from your families hands, so the option of pigging out on the whole batch might not be on the cards. I can confirm, even George inhales these, safe in the knowledge he doesn't know they contain just healthy ingredients and not a hint of refined sugar.
Lucy x
Homemade Cherry Bakewell Nakd Bars Recipe
Makes quite a lot, approx 12 to 14, size dependent
You will need a food processor or feisty blender and a lined loaf tin or baking tray or plate.
225g cashews, almonds, pecans or a combo of all of these
265g dates
60g raisins or sultanas
60g dried cranberries or cherries
1 teaspoon vanilla extract
1 teaspoon almond extract
1/4 teaspoon salt
Take a kilo loaf tin and line with cling film or line a baking tin or plate with cling if rolling into balls not bars.
Add the nuts, dates, raisins or sultanas, cranberries or cherries, vanilla and almond extracts and salt to the bowl of your food processor.
Process until you have a rubble like but soft doughy texture. The mixture will easily form into a ball shape when it's ready, this may take a couple of minutes to come together in your food processor.
Press the mixture into your lined loaf tin and flatten out the surface. If you would rather, you could just roll the dough into large walnut sized balls and leave to set in the fridge like the bars. Pop in the fridge to firm up for at least 2 hours. Once set, cut into bar shapes, wrap in greaseproof paper and store in the fridge for at least two weeks. For the balls, simply store in a food bag and store in the fridge.
SaveSave
SaveSave
SaveSave
SaveSave