Sausage and Egg Breakfast Muffins Recipe
Continuing on my Valentine's week theme of food to woo – I give you the Sausage and Egg Breakfast Muffin. My husband, and indeed my children, are very easily wooed by the promise of a McDonald's and even more so, a McDonald's breakfast. And in the case of Clyde, especially if a few drinks have been had the night before.
So I decided to recreate the legend that is the Sausage and Egg Breakfast Muffin at home for all to enjoy, without the pain in the arse of having to drive to a local retail park to purchase it. My version is a delicious sausage 'burger' with a conveniently oven poached egg sandwiched between a lovely floury, warm, toasted muffin with some melted cheese.
Rest assured, I will be up cooking these on Valentine's Day for all the men in my life, I, on the other hand, will be eating a wholemeal bowl of my Lucy Loves Granola *I'm lying.*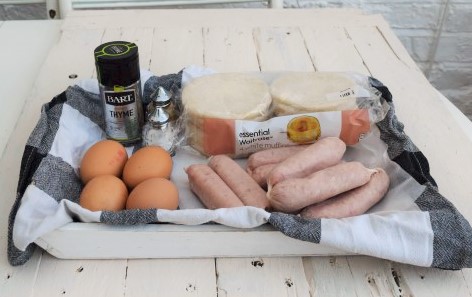 Here's the ingredients, minus the optional cheese (which I forgot, I know, I was tired). What's not to woo with here? Classic breakfast items, and guaranteed to bring a smile to most faces.
Start by putting the oven on to pre heat to around 160 to 170 degrees fan assisted. Take your sausages and skin them. Not the most attractive sight and always gets a chuckle in our house. Pop them in a bowl and add the dried thyme and some salt and pepper.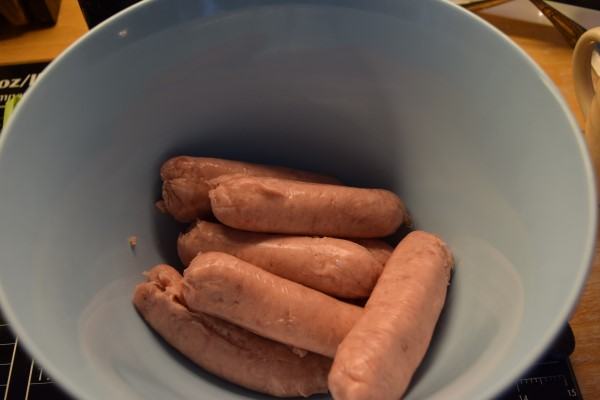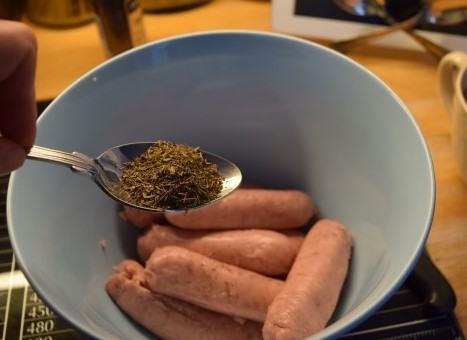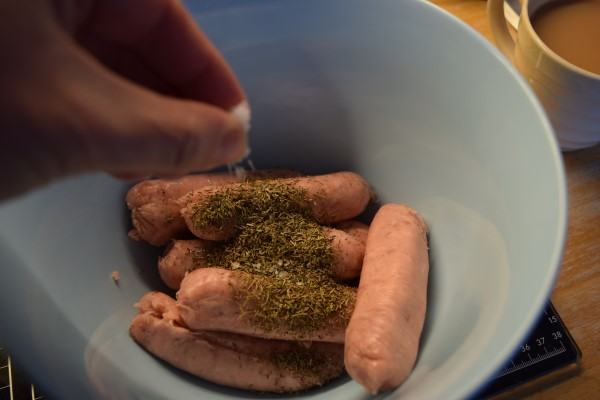 Then I am afraid it's hands in time. Squidge it all together and ensure the seasonings are well mixed into the sausage meat. Portion the mixture into four then fashion each one into patties. This is best done using damp hands to make sure it doesn't all stick. Mine were quite rustic *massive*, so try to flatten them out as much as you can.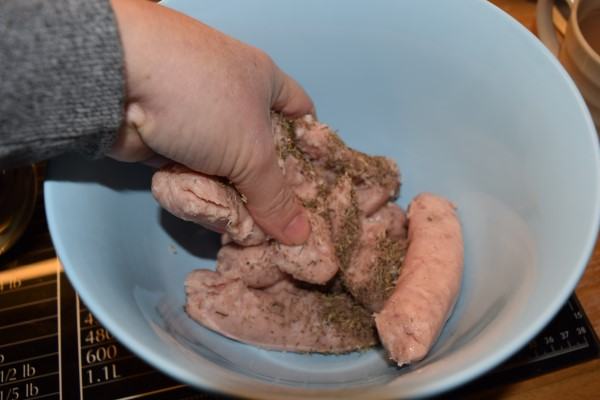 Not a very romantic shot.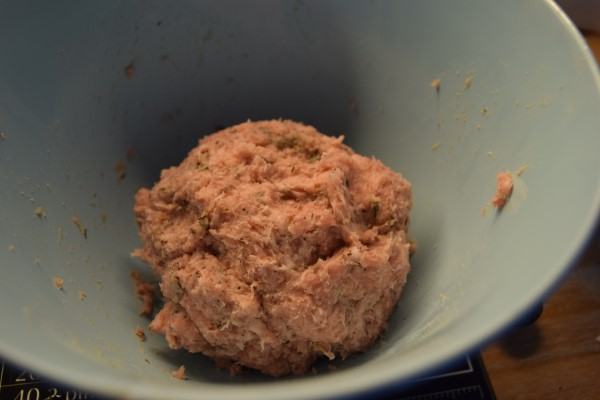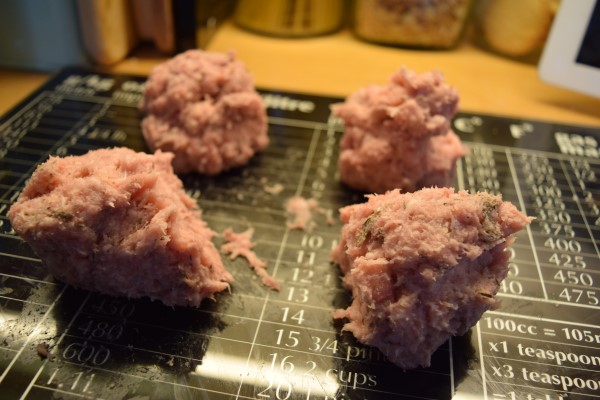 And this sight's not wooing anyone either, but bear with me – they'll be all over you once these are cooked and assembled.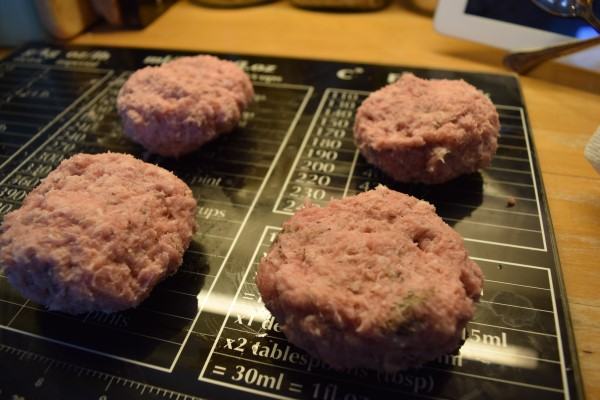 Heat a non stick frying pan and pop in a splash of oil. Add the four sausage burgers and brown lightly on both sides. Put these on a baking tray and pop in the oven for 20 minutes to finish cooking through.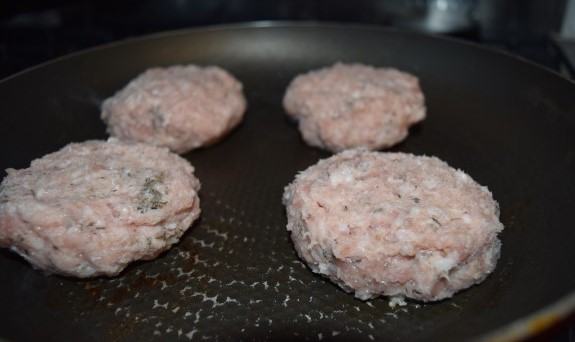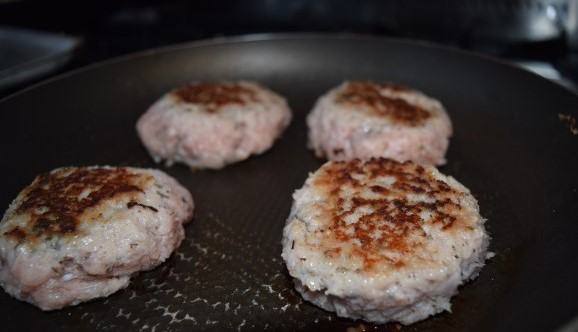 The smell of sizzling sausage will be driving your awaiting audience to distraction by now.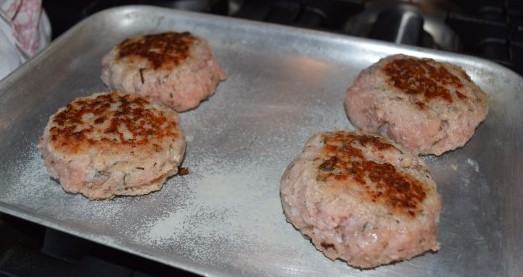 While these babies are cooking, crack on with the eggs. I am hilarious.
Butter, oil or spray oil your muffin/bun tin. Break an egg into each recess, ensuring they don't spill over the edge like mine did.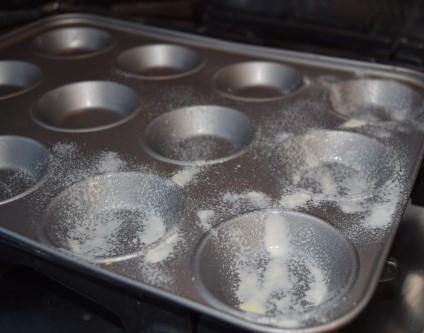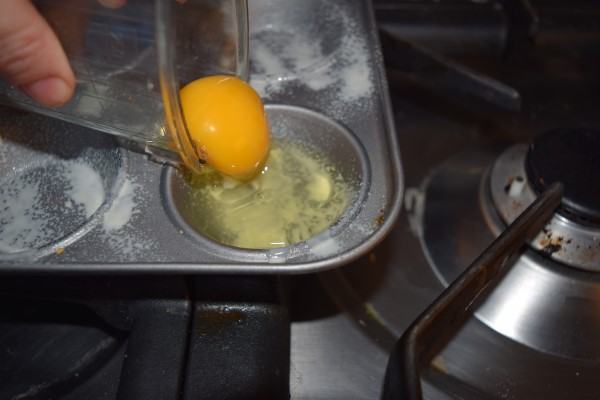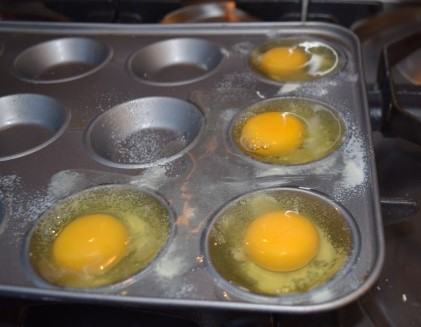 These will bake nicely while the sausage is cooking, so pop them into the oven alongside those for 12 to 15 minutes. You want a slight wobble to your eggs, though, so do keep an eye on them.
Next, it's time to split and toast the muffins. No further explanation needed, I hope.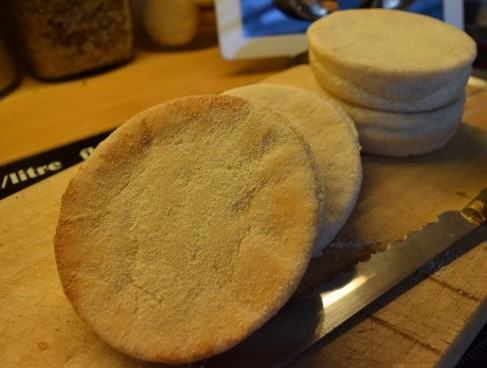 Slice some cheese and use it to top the sausage cakes when they have 2 minutes left to cook. Pop them back in the oven until cheese melted.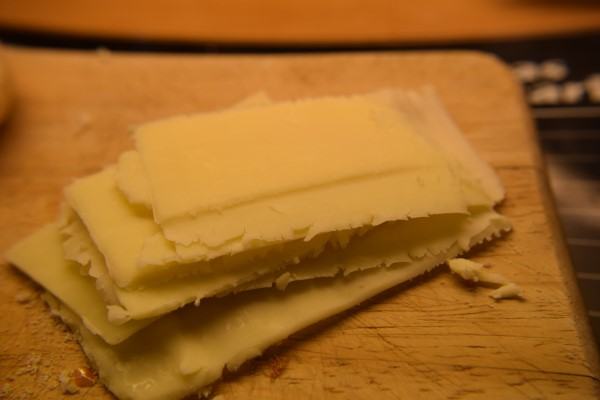 I really should be on that show 'Secret Eaters' as I think I ate at least a half a pound of cheese whilst cutting these slices.
Slightly naff American style cheese would also be brilliant here.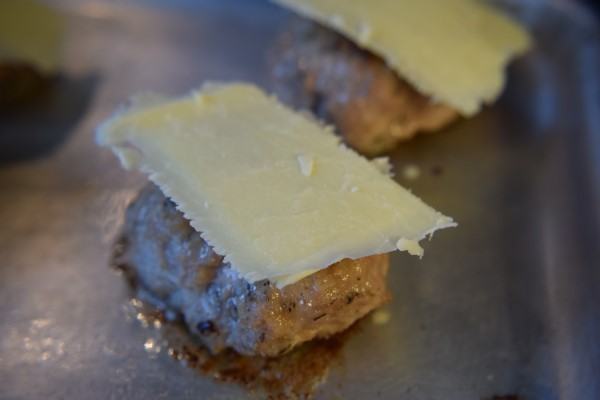 And then, it's all systems go for the final push. When the cooking time is up and your eggs have a wobble and your sausage patties are browned and covered in melty cheese pop them both on a muffin  base and sandwich the whole lot together.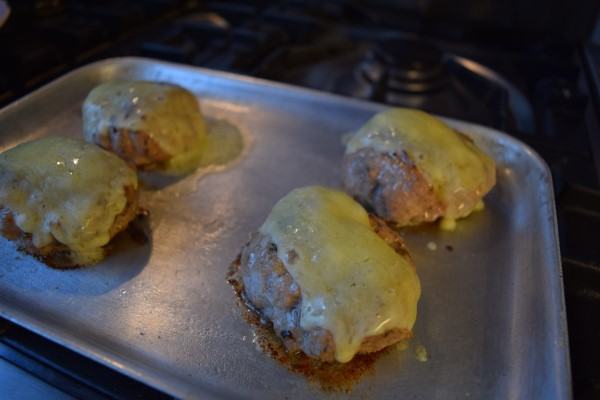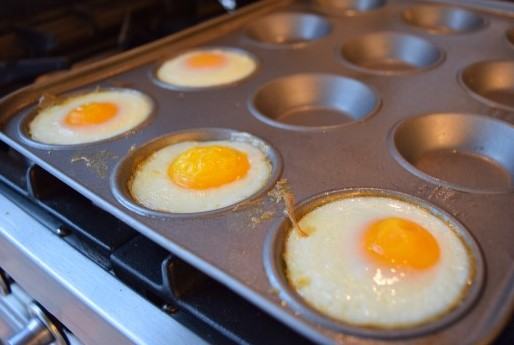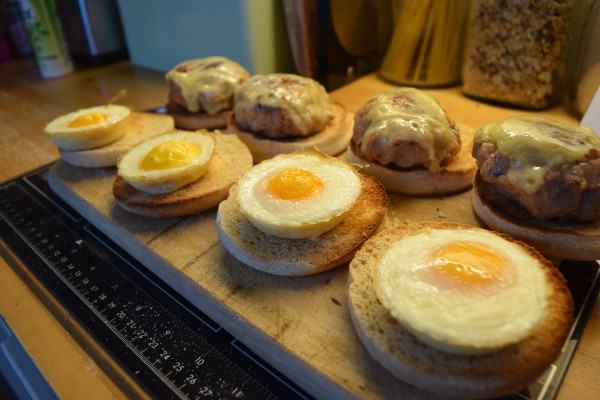 Press down firmly to stop them toppling over, like mine did, and add ketchup. or not, as the mood takes you.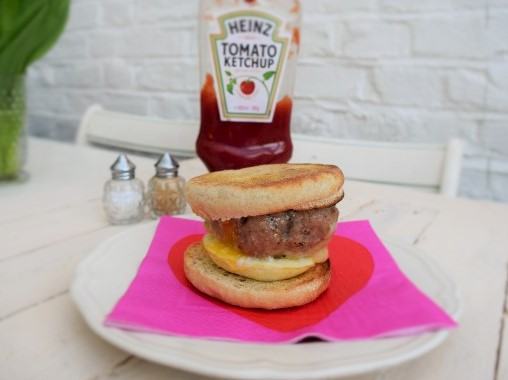 My whole family were standing around waiting while I was photographing these, so I took way more shots than I needed,  just to build up the excitement. They were not disappointed.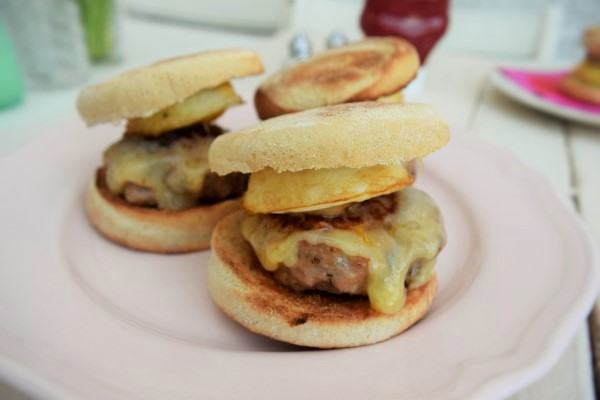 Just for that one brief moment I was Mother/Wife of the Year. A title I very rarely win.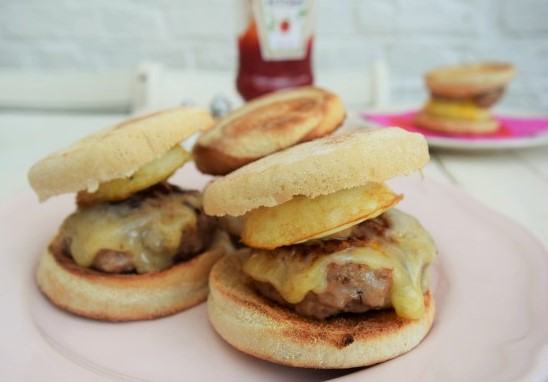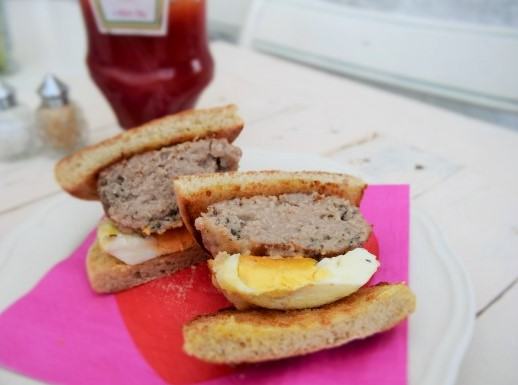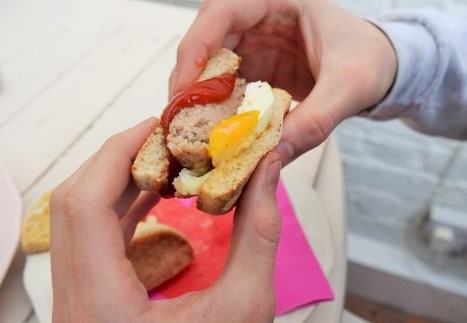 Ben's hands, much more photogenic than mine.
These are really super tasty. Succulent, well seasoned and a cracking hangover cure I'll warrant. I would recommend you make these this Valentine's weekend. You will earn the undying love of anyone who comes within ten paces of a Sausage and Egg Breakfast Muffin. And you will have earned it, with hardly any effort and without forking out for extravagant flowers or Champagne.
Have a romantic weekend one and all.
Lucy x
Sausage and Egg Breakfast Muffins
Makes 4, but only fed 2 in our house
You will need an oiled muffin/bun tin
8 sausages, skinned
1 tablespoon dried thyme
salt and pepper
4 eggs
4 muffins, split and toasted
Optional slices of cheese, I used strong cheddar but comedy American style cheese slices would be great
Ketchup to serve.
Pre heat the oven to 160 to 170 degrees fan assisted.
Skin the sausages and put in a bowl. Add the dried thyme and salt and pepper. Using your hands or a spoon, squidge the sausage meat and make sure the seasonings are all mixed in. Divide the mixture into four portions and shape each portion into a flat patty/burger shape. This is best done with damp hands to stop any sticking. Fry the sausage patties on both sides until browned and starting to cook through, then place on a baking tray and pop in the oven for 20 minutes. While these are cooking, start the eggs. Oil a muffin or bun tin and then pour the four eggs into each recess. Bake for around 12 to 15 minutes, but keep an eye on them as you are looking to keep a bit of wobble in each egg.
Split and toast the muffins and slice some good strong cheese. Top each sausage patty with the cheese slices two minutes before the cooking time is up then pop back in the oven. When the sausage is browned and cooked through and the cheese has melted, put one on each muffin base, top with a cooked egg. Press down to sandwich everything together and devour.