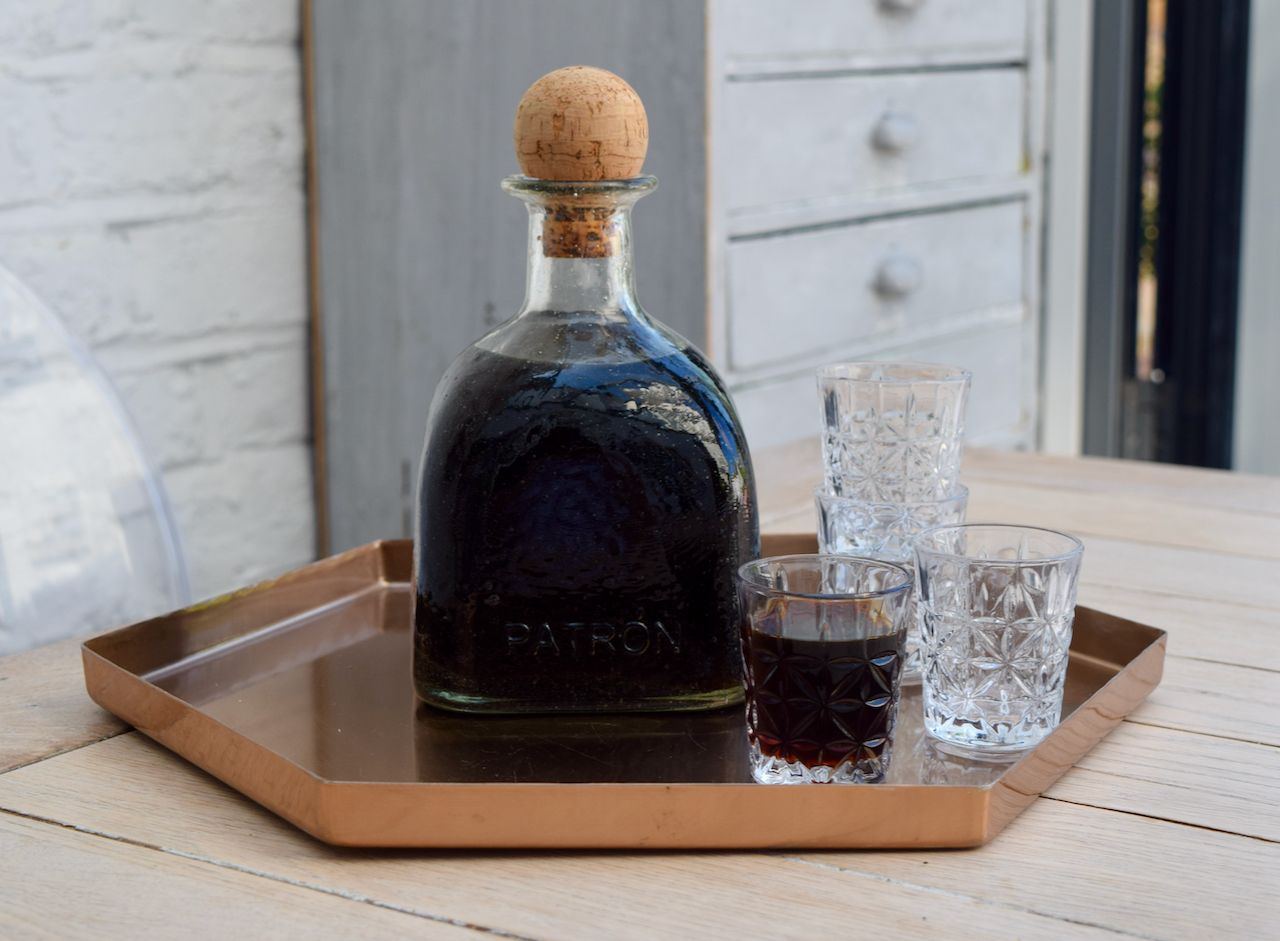 Homemade Coffee Tequila recipe
No sooner had Clyde and I become borderline dependent on Patron XO Cafe coffee tequila than the terrible announcement came it had been discontinued. The litre bottle we hacked through over the miserable period that was Christmas 2020 was a mere distant memory. Until the bloody brilliant Mob posted their own Homemade Coffee Tequila recipe and all our dreams came true.
Coffee Tequila is a smooth, not too sweet creation and makes the most pleasant of all pleasant after dinner shots. Making your own is not too not testy either; no waiting for weeks for it mature, this takes no more than 24 hours of your very valuable time. Your chosen tequila *too skint at this stage of the month for Patron* gets an initial overnight vanilla infusion followed by a spell in the fridge while it cold brews with some freshly ground coffee. Strain the whole business, mix with homemade sugar syrup and you're quite literally in coffee shot heaven.
This is a genius recipe and has cheered me right up as well as potentially saving me from a miserable life without coffee tequila in it.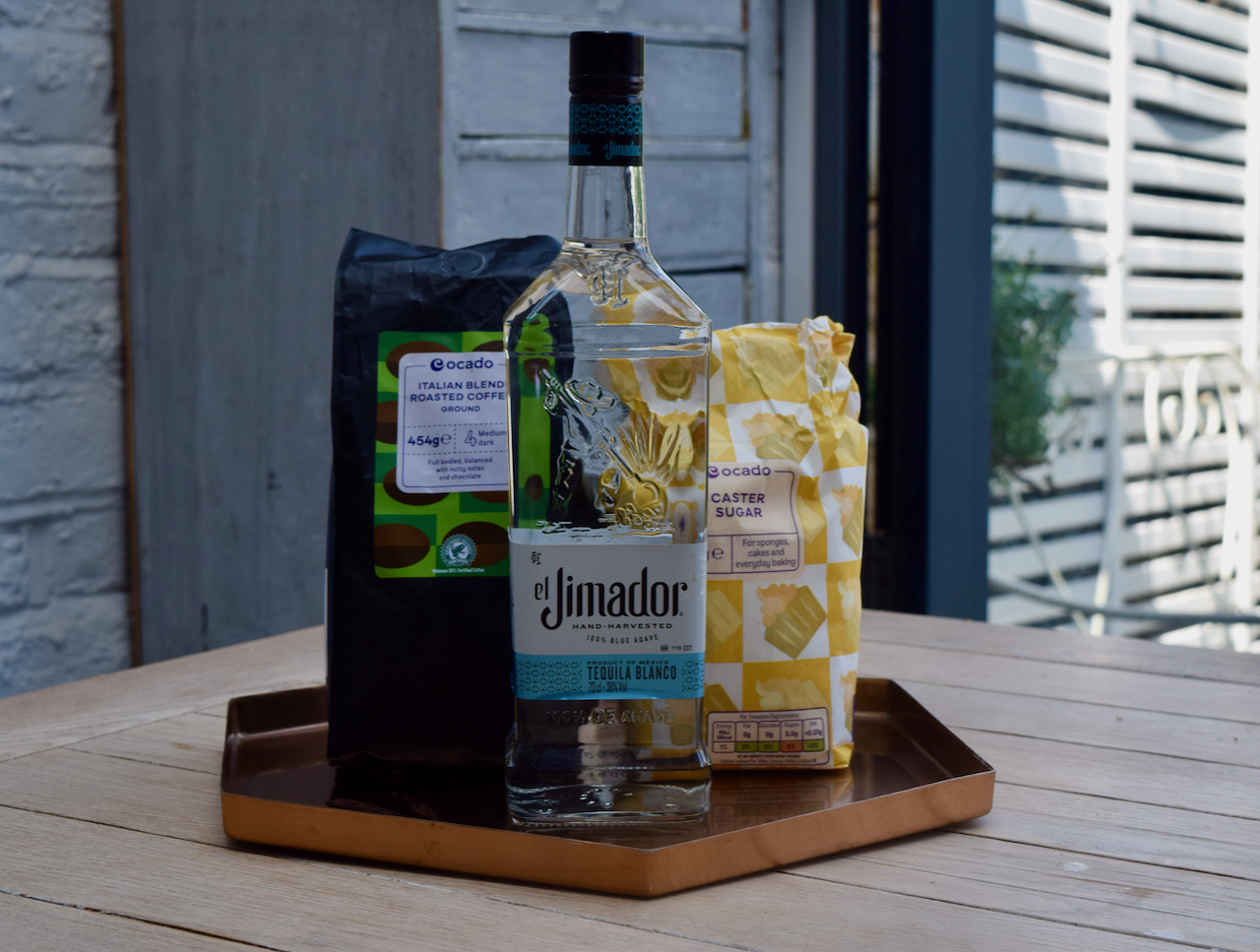 As I mentioned, Patron tequila is a little out of my price range at the mo, and not hugely necessary given the lovely ingredients we're going to tart my £20 bottle up with. There is a vanilla pod nestled somewhere on that tray; it was a little tired having been lurking at the back of my fridge being saved for a special occasion. They too are expensive, but worth the splurge for the flavour it brings to the coffee tequila party.
The night before you're going to make yours, add the vanilla pod to your bottle of tequila and leave quietly to infuse overnight.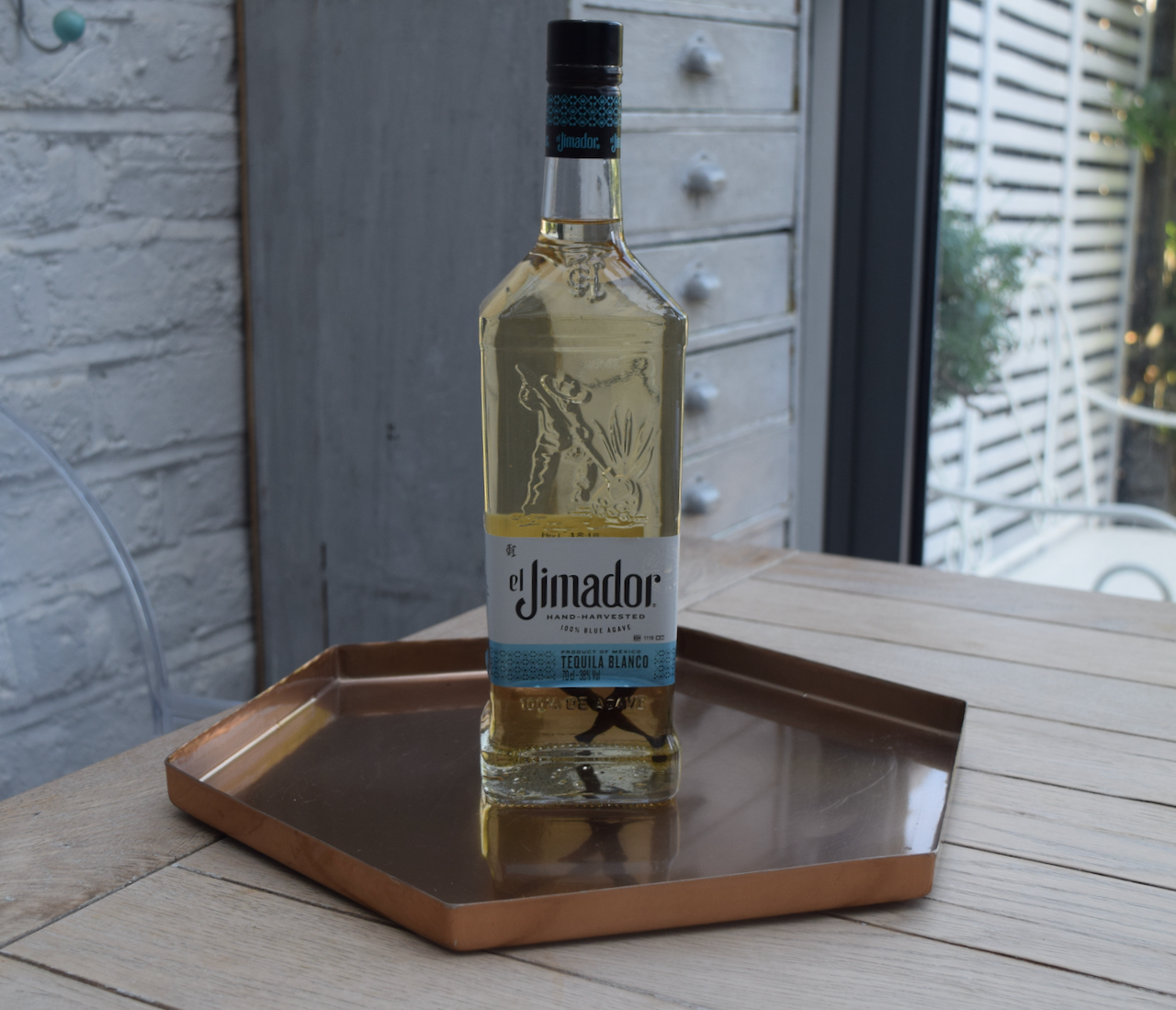 As you can see it will take on a lovely hue and smell divine by morning.
Next, weigh your coffee and put into a large jug. The original reel by Mob shows them adding the coffee directly to the bottle, but this would prove very messy and almost impossible, given the amount of coffee you're adding. I chose to pour my tequila, over the coffee, into the jug, removing the vanilla pod as you go.
Give it a really good stir, then cover and pop in the fridge, or freezer if you've room *mine was far too full of mince and browning bananas* and leave to cold brew for around 6 hours.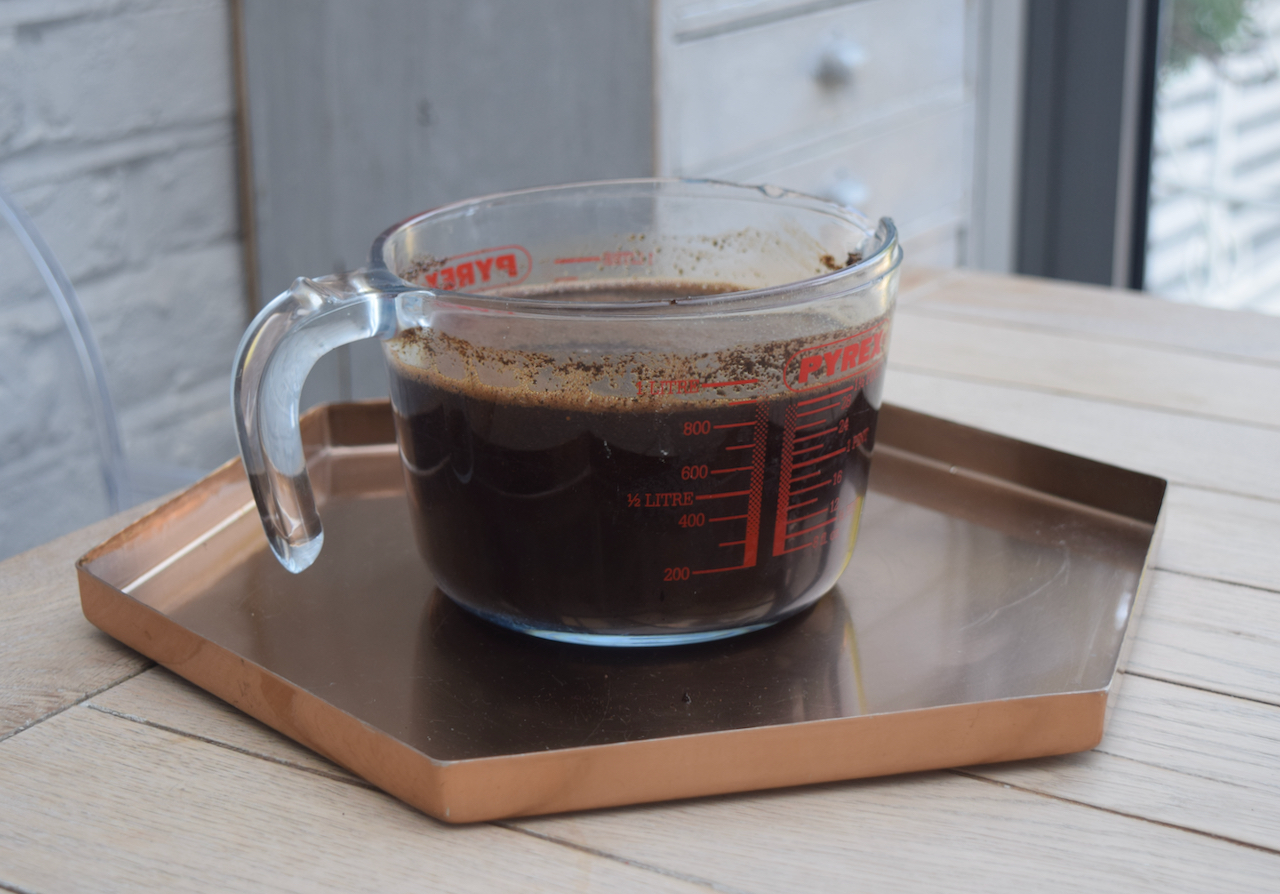 While this is brewing, add the sugar and water to a small pan and bring up to a low simmer, stirring, until the sugar has dissolved completely.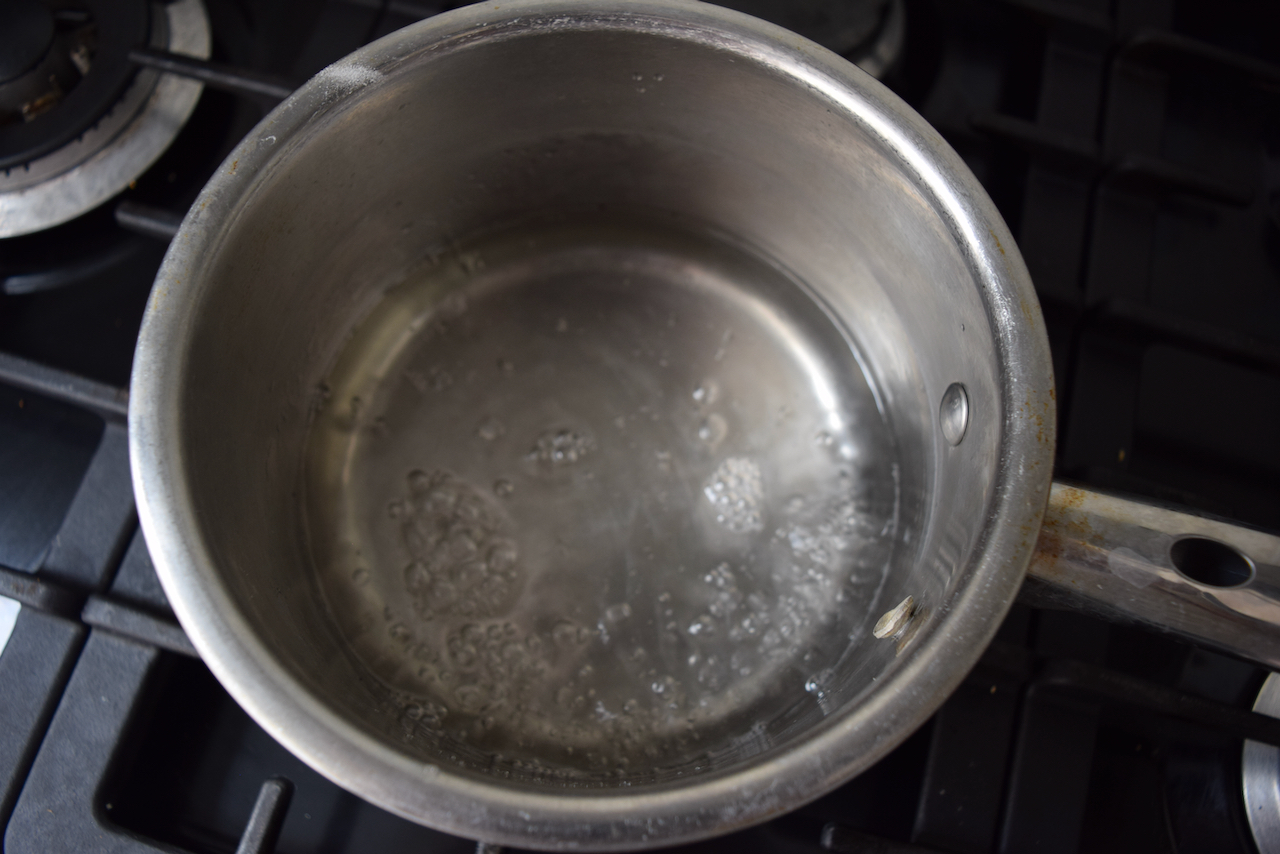 Turn off the heat and leave to cool.
When the brewing time is up, strain your infused tequila into another jug through a coffee filter paper or clean cloth. I won't lie, this took quite a while, especially as I waited patiently for every last drop to filter through so as not to waste any of it.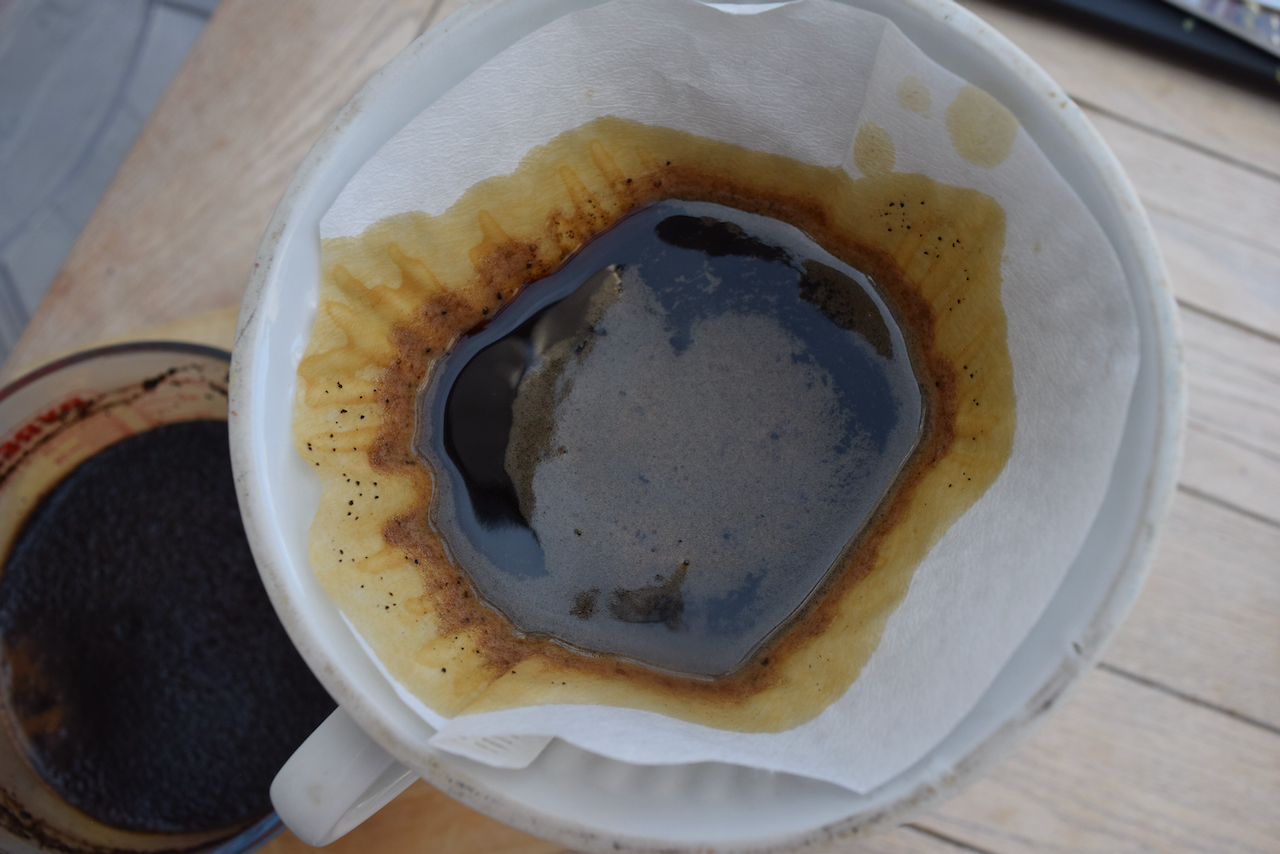 Once filtered, pour on the cooled sugar syrup and stir well to combine.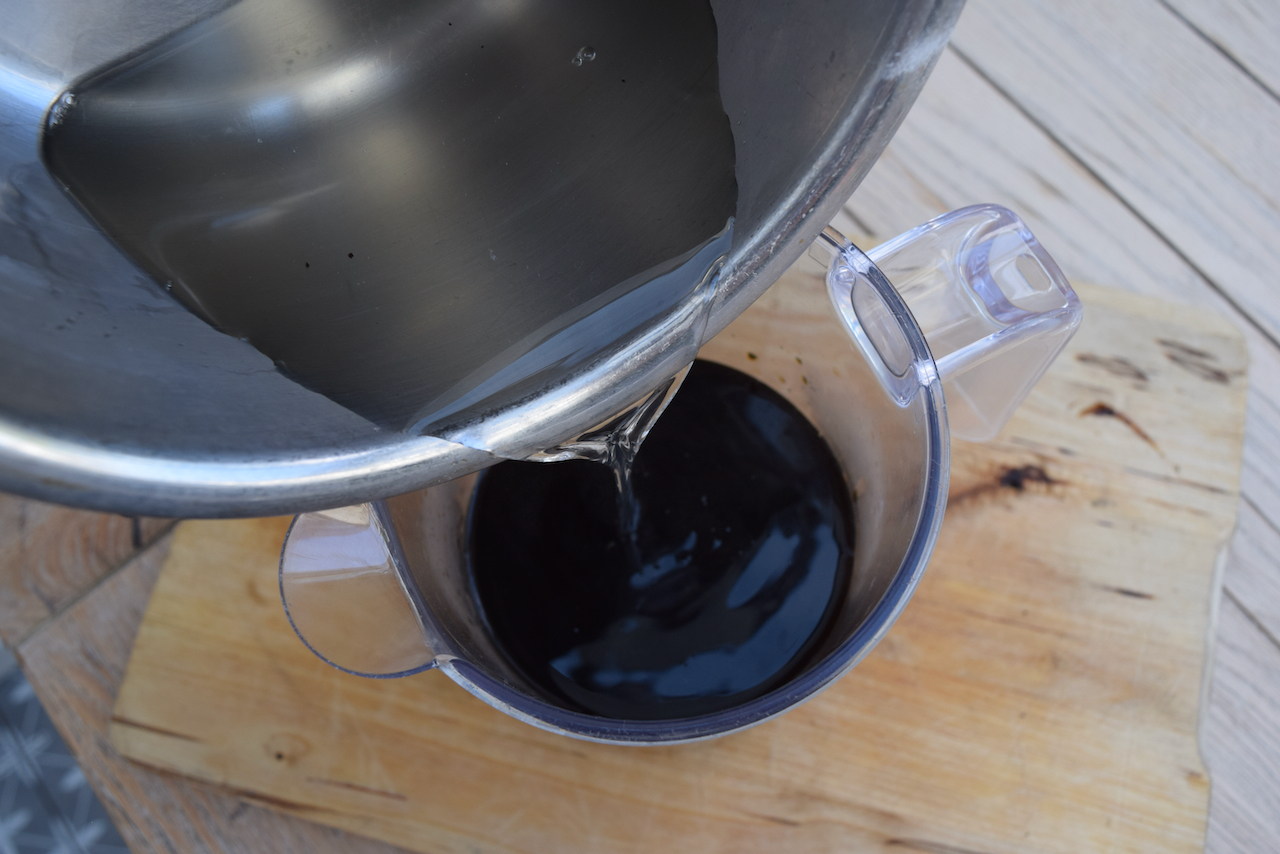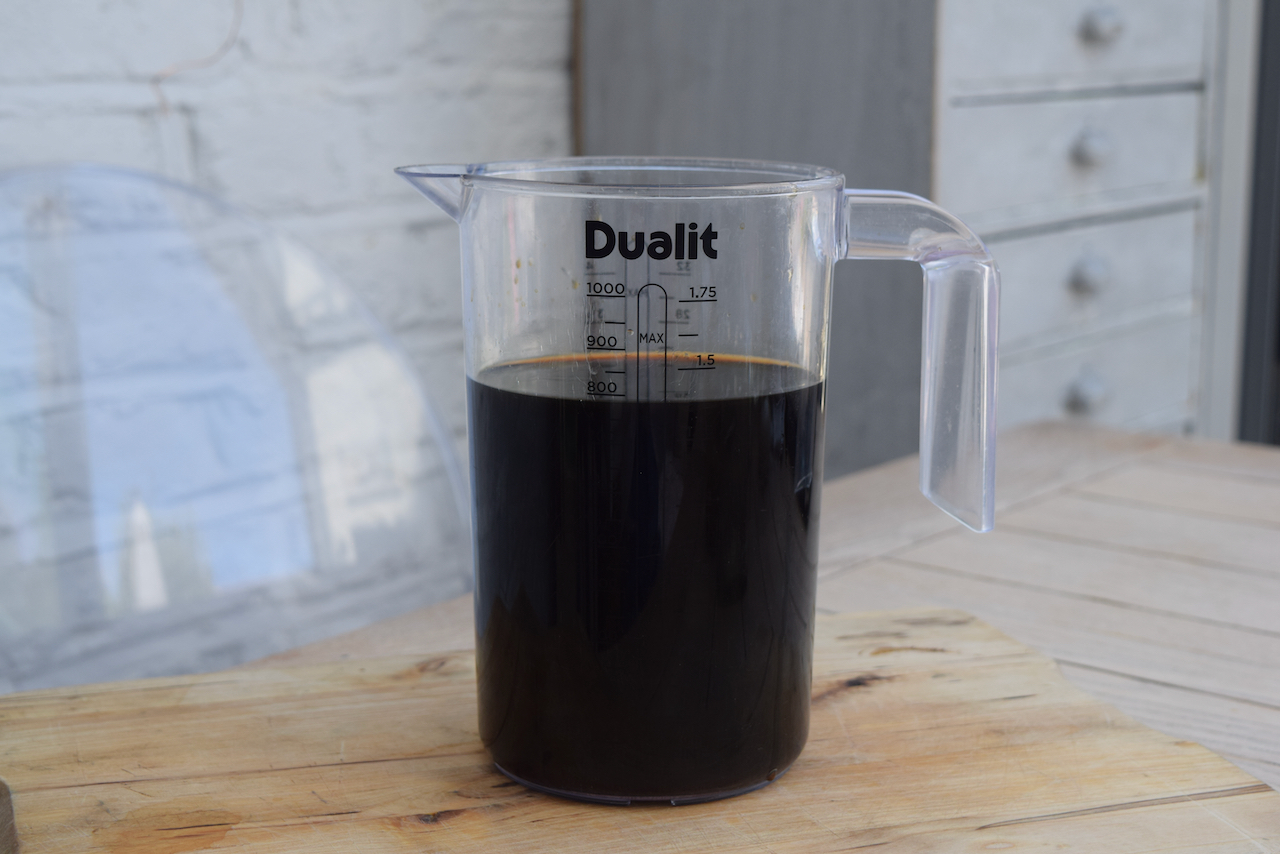 Now all that's left to do it bottle up your Coffee Tequila. I had an old Patron bottle, which did the trick perfectly. Luckily not all of it fitted into the bottle, so I had to have a little sample glass. Such a tough gig, food blogging.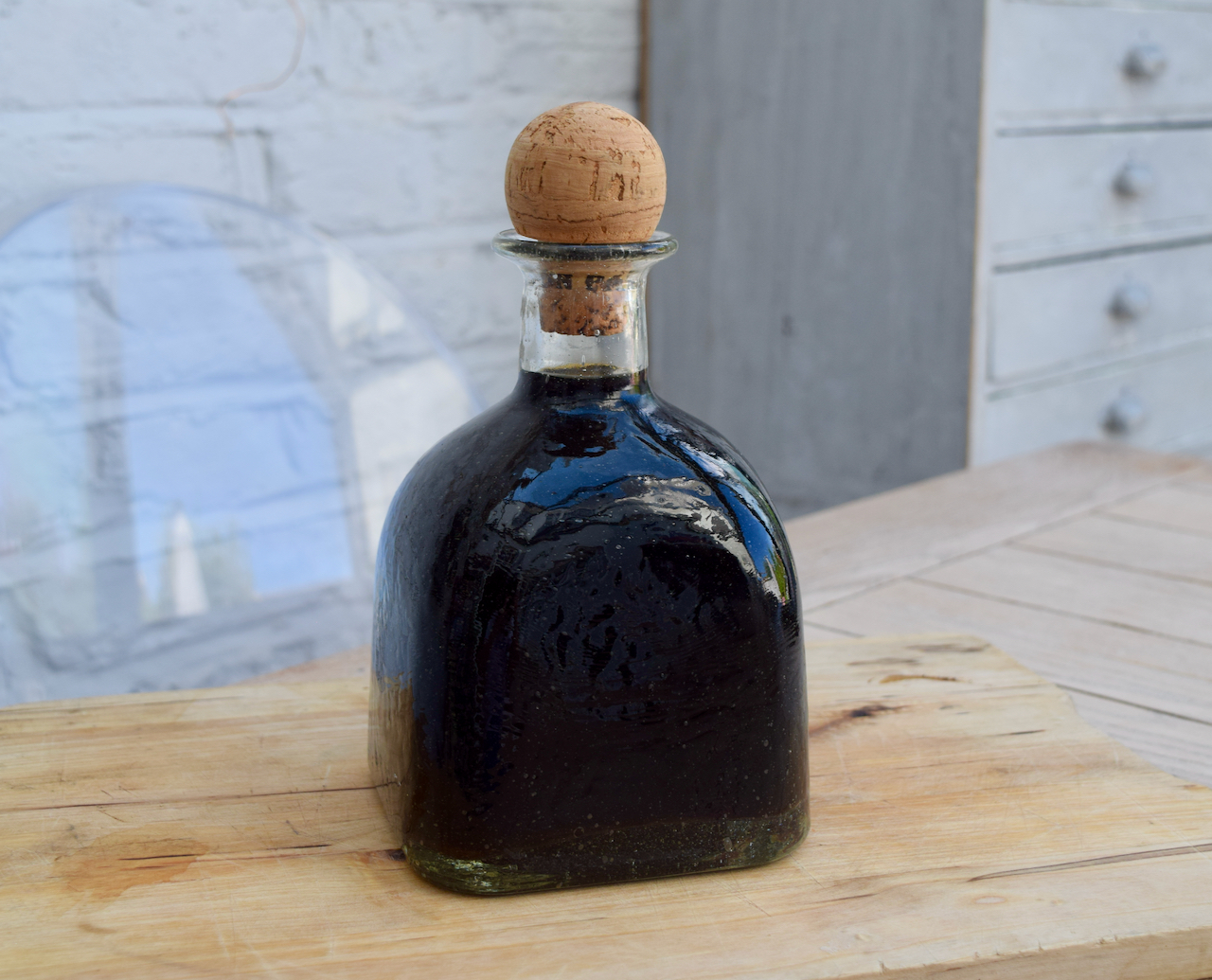 All that's left to say is; shots shots shots shots.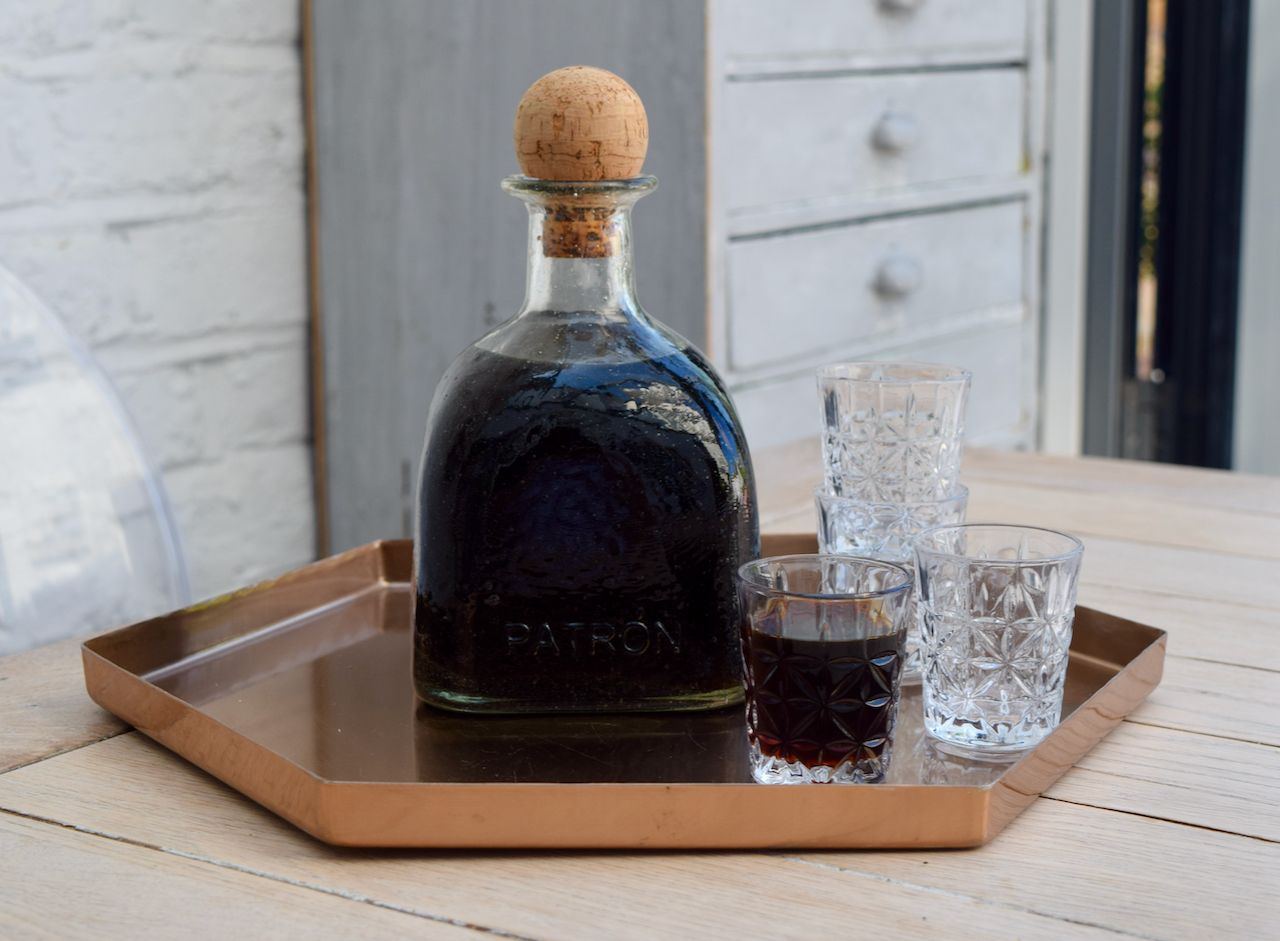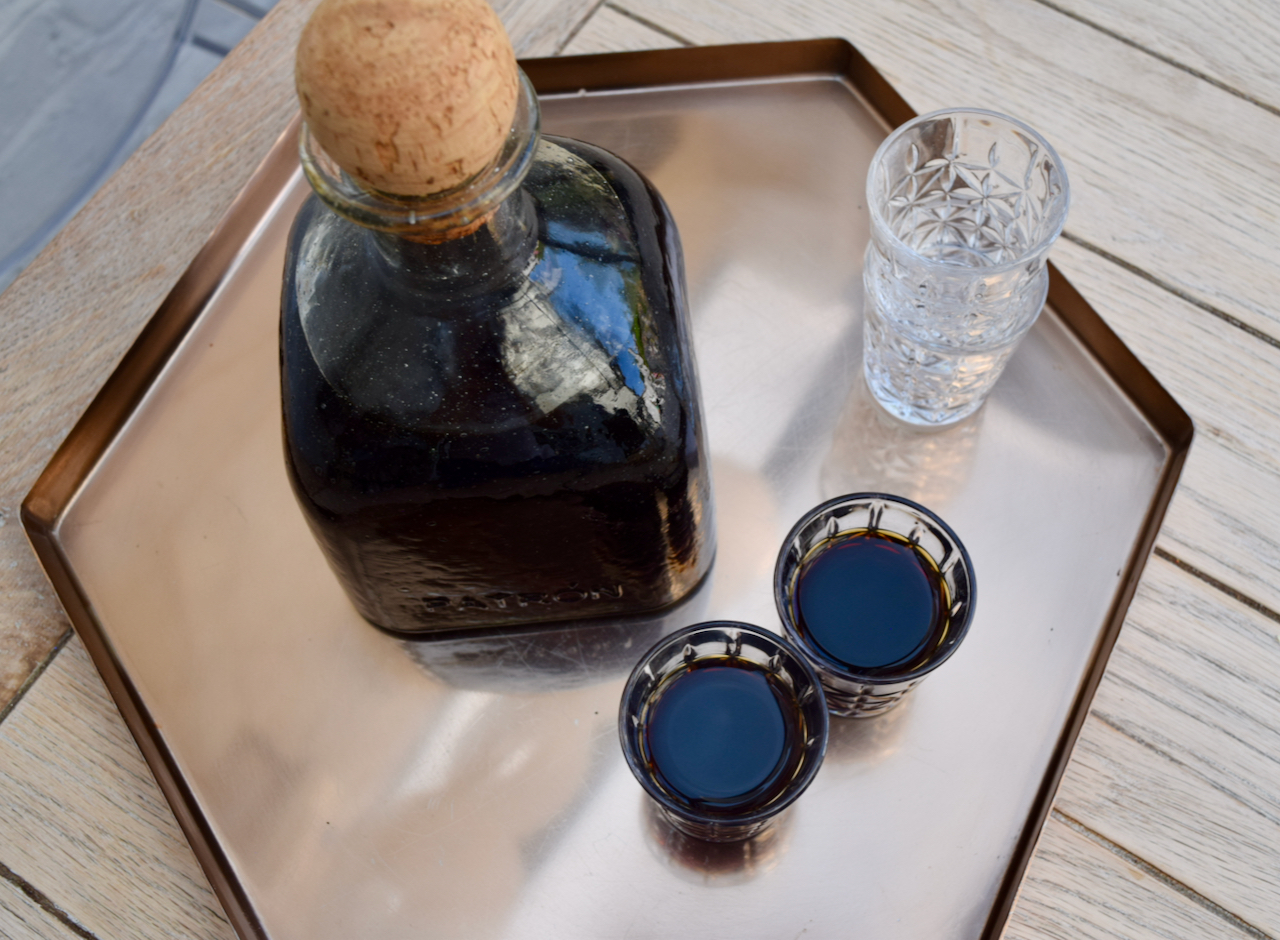 Look at me, putting out extra shot glasses as though I'm going to be sharing my Homemade Coffee Tequila. Not a bloody chance.
Lucy x
Homemade Coffee Tequila recipe
Makes 700ml to 800ml
You will just need a jug and a bottle for this
700ml tequila
1 vanilla pod
150g ground coffee
200g caster sugar
200ml water
The day before you're making your Coffee Tequila, take a vanilla pod and add to your bottle of tequila. Leave overnight to infuse.
The next morning, measure the ground coffee into a jug and pour over the tequila, removing the vanilla pod at the same time. Stir, cover and put into the fridge or freezer (if you have room) for 6 hours to cold brew. For the sugar syrup, bring the water and caster sugar up to a simmer, stir until the sugar's dissolved then leave to cool.
When the brewing time is up, pour the coffee tequila through a coffee filter paper or muslin over a sieve into another jug making sure you squeeze out every last precious drop. Stir through the cooled sugar syrup, stir well then pour back into the bottle.
Serve in modest shots, this is too good to squander. Store in a cool dark place for up to six months.