Irish Cream Chocolate Brioche and Butter Pudding Recipe
I don't know why St Patrick's Day features so highly in my calendar. I am not Irish, have no Irish relatives or indeed, have ever been to Ireland, sadly. However, I think it may be because the Irish are to be admired for their patriotism and their ability to celebrate so enthusiastically. With that in mind, my dear friends at Aldi, and they are my dear friends because they send me delicious boozy treats, sent me wonderful bottles of their Irish Cream Liqueur and Ballycastle Irish Country Cream. Other than just drinking these tempting whiskey laced liqueurs, Aldi suggested I may like to spare a drop or two of these drinks to create a St Patrick's Day dessert. Happy to, I said, and today present to you my Irish Cream Chocolate Brioche and Butter Pudding.
I toyed with the idea of making a mousse or panna cotta style dessert with the liqueur, but in the end good old bread and butter pudding won the day. However, I have brought it slightly up to date by using the supremely unIrish brioche, instead of bread. I used the classic recipe from her Ladyship, Delia Smith, for guidance and made up the rest. This pudding is quite delicious. The fragrance of the rich Irish Cream Liqueur is delicate but just right for this dessert. The brioche bakes into a soft spongy, chocolate custard filled pudding, without a hint of the flabbiness I can't abide in a regular bread and butter pudding. This is rich, moreish and a total crowd pleaser. I finished the pudding off with a spoonful of Irish Cream Cream, made by simply mixing together some cream, mascarpone and a drop more of the liqueur for good measure.
This pud does take up to a couple of days to prepare as the brioche needs plenty of time to soak up the boozy chocolate custard. So don't say I haven't given you plenty of warning to have this ready for Friday 17 March. I am also making a special Friday cocktail for that day, so you won't go hungry or thirsty in honour of St Patrick.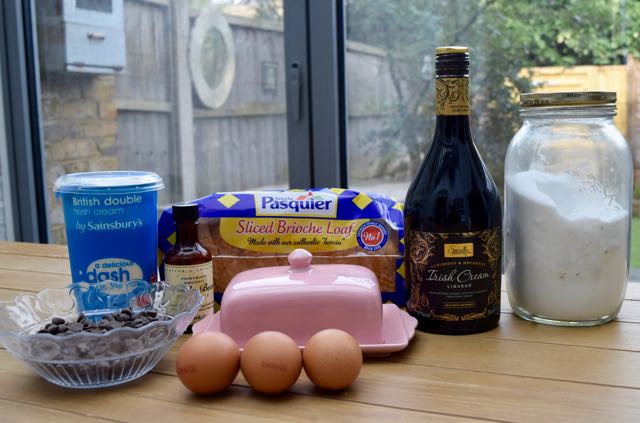 What a superlative dessert line up.  I did have to have a little sample of Irish Cream Liqueur whilst I was cooking which certainly livened up the whole experience. It's smooth, warm and delicious.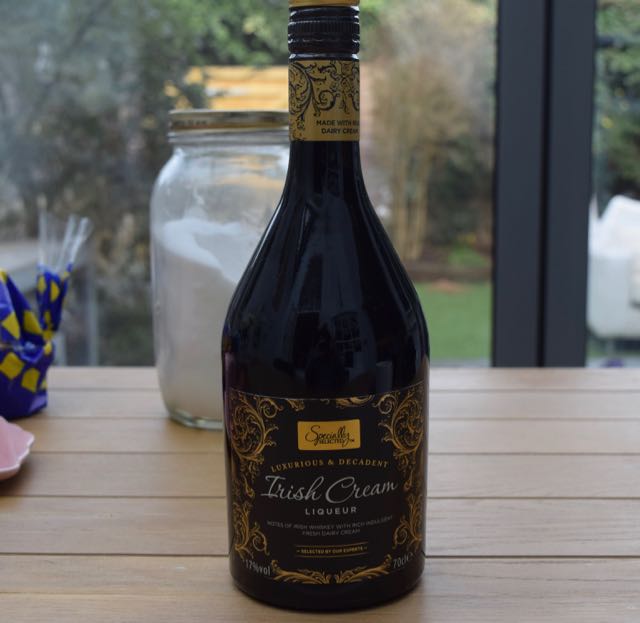 Start this pudding at least 24 hours before you are going to cook it as it all needs time to meld together. 48 hours if you have that sort of time on your hands. Get going by taking your brioche loaf and cutting the slices into triangles.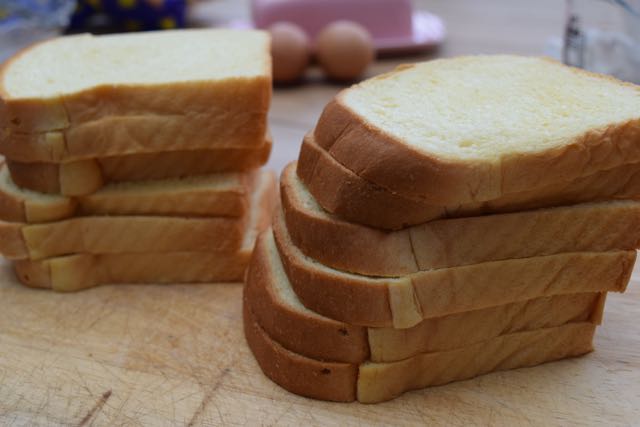 My slices were quite tiny so I just cut the crusts off and halved each slice to create two small triangles. If your slices are bigger then cut into quarters. Don't let the crusts go to waste, I ate tons of them then the birds appreciated the rest.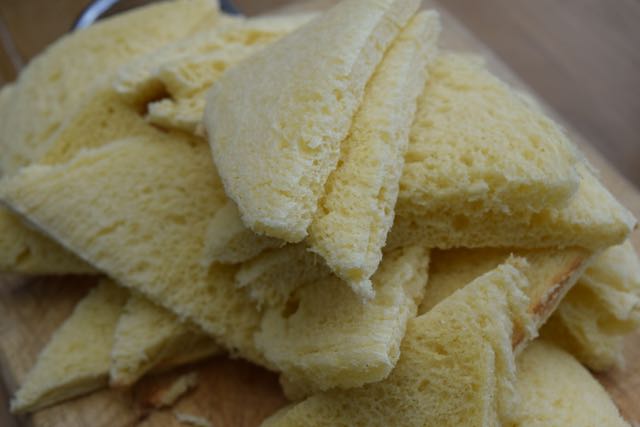 Pop those to one side while you fashion the chocolate custard business. Take a large bowl and add the cream, chocolate, butter, sugar, Irish Cream and vanilla extract.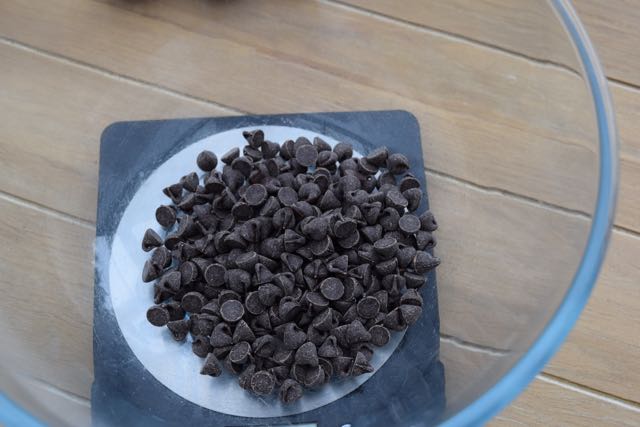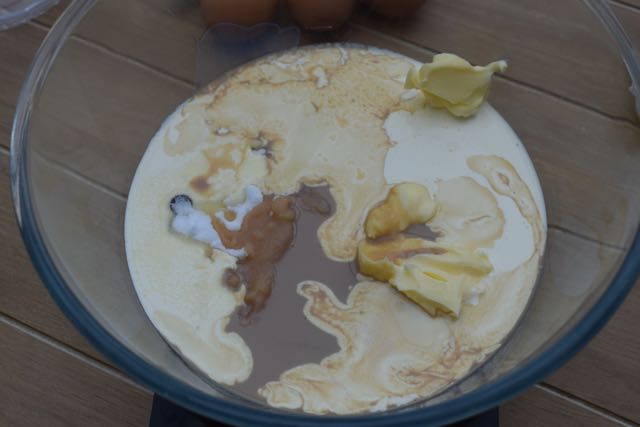 Pop this not particularly inviting looking, but amazing smelling, concoction into your microwave for a couple of minutes or place over a pan of simmering water until the butter, cream and chocolate are all melting together. Leave it momentarily then give the muddy looking mixture a good stir to combine.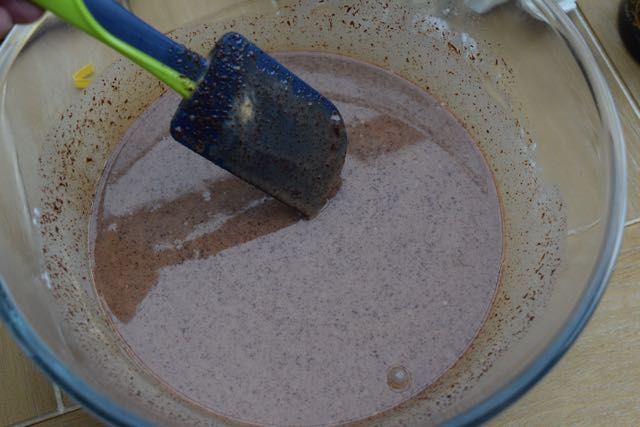 In your stand mixer or in a another bowl with a whisk, whisk the 3 eggs together until lighter in colour and texture.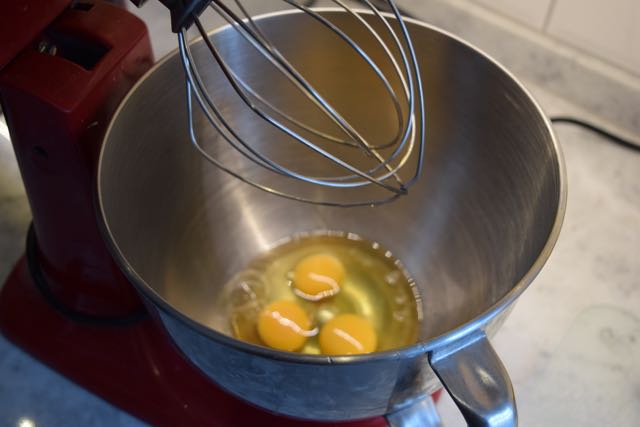 Pour the chocolate mixture into the eggs and give it all another good mix until well blended and smooth.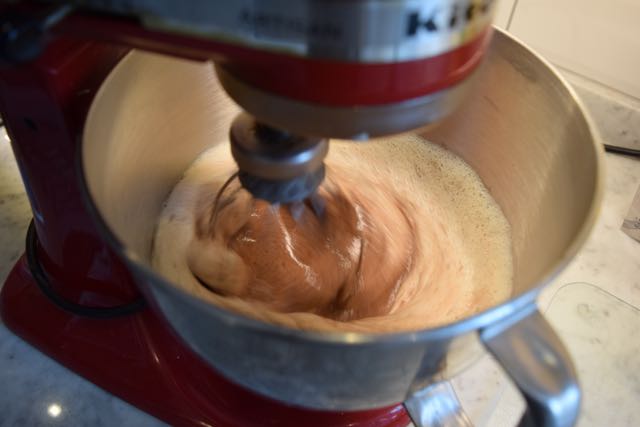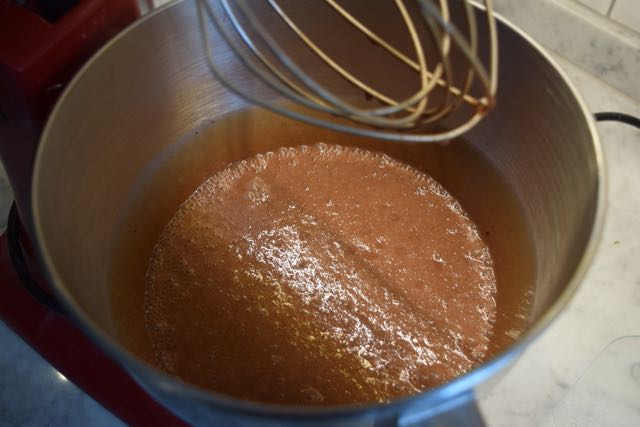 Take your 20cm square-ish baking dish and butter well. Then, pour in an approximate 1cm layer of the irish cream chocolate business.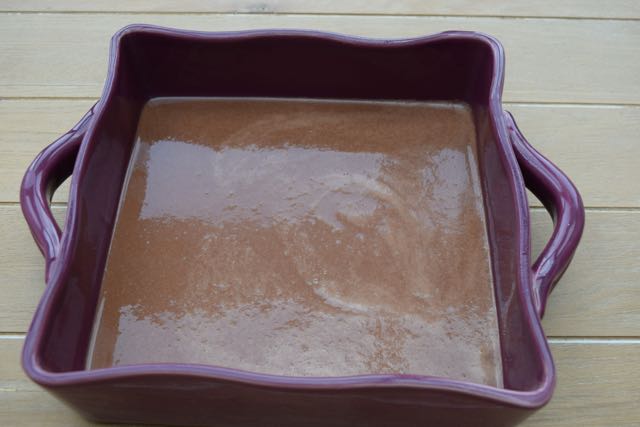 Now take your soft brioche triangles and layer a quarter of them down one side of the dish in an overlapping row.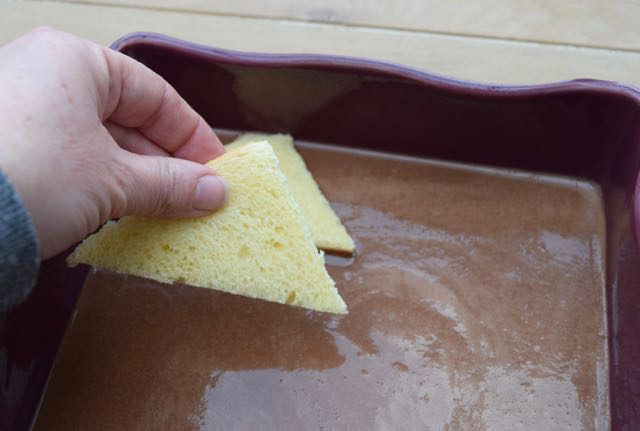 Trotter hand alert.
Repeat with another quarter of brioche down the other side of the dish. Is any of this making sense?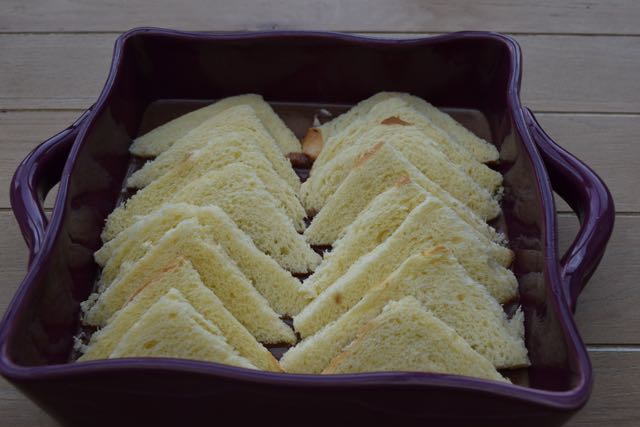 There you go, a picture speaks a thousand words. Now, pour over half of the boozy chocolate mixture and press the brioche slices down so they soak it all up.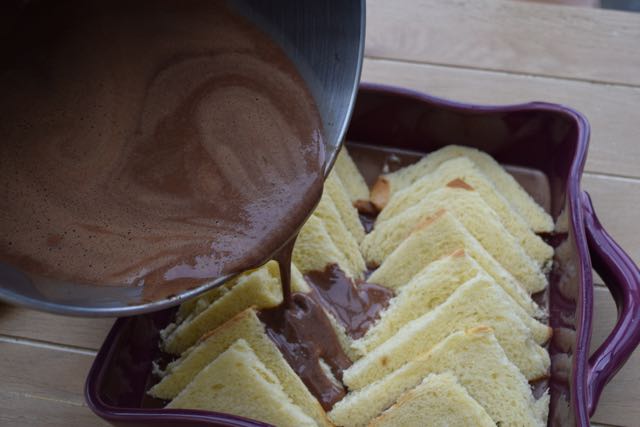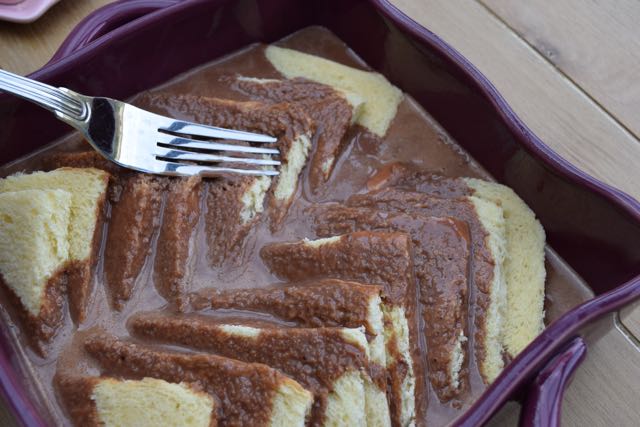 Repeat with another layer using up the last of the triangles, then pour over the remainder of the chocolate.
Give it a final press down so all the brioche is covered by the chocolate mixture then cover in clingfilm and leave on the side to cool completely before putting in the fridge.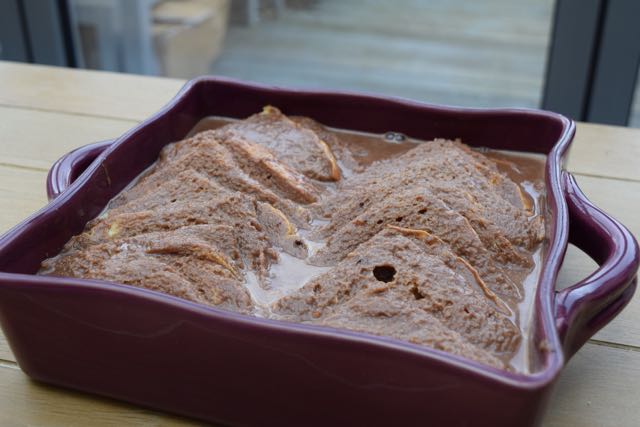 Leave in the fridge for at least 24 hours, Delia says 48 is better, but frankly I am never that organised, but it's good to know if you are THAT person.
When you are ready to cook this creation, pre heat the oven to 160 degrees fan assisted and bake for 30 to 35 minutes or until starting to crisp on the top, but still soft and bubbling underneath.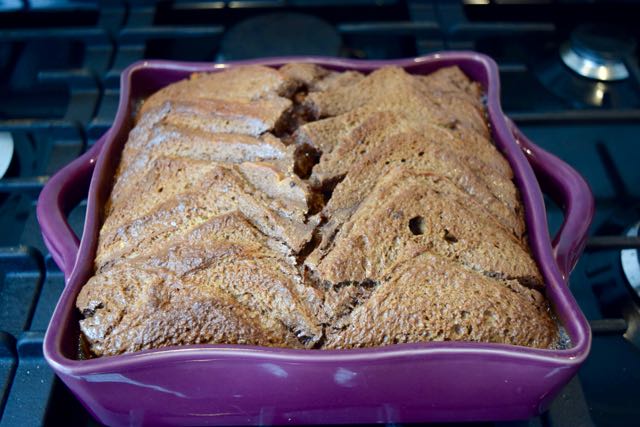 Leave to settle for 10 minutes, during which time you can whip up a little Irish Cream Cream to accompany. In a small bowl mix half a pot of mascarpone with 2 tablespoons of double cream and 2 to 3 tablespoons of Irish Cream Liqueur. Mix until smooth, tasting to see if it needs a drop more liqueur.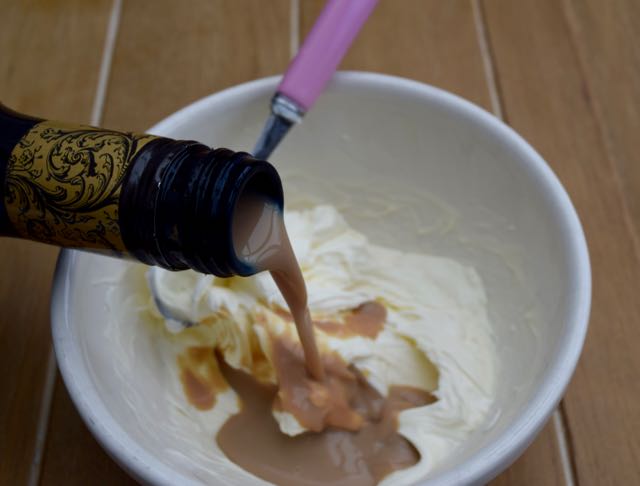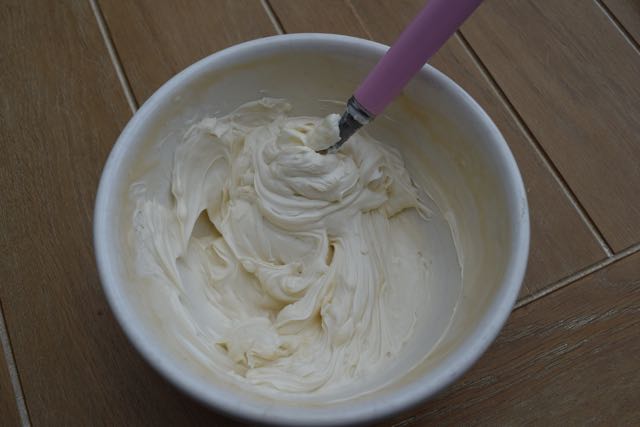 Devour this Irish Cream Chocolate Brioche and Butter Pudding in giant bowlfuls, loving every mouthful.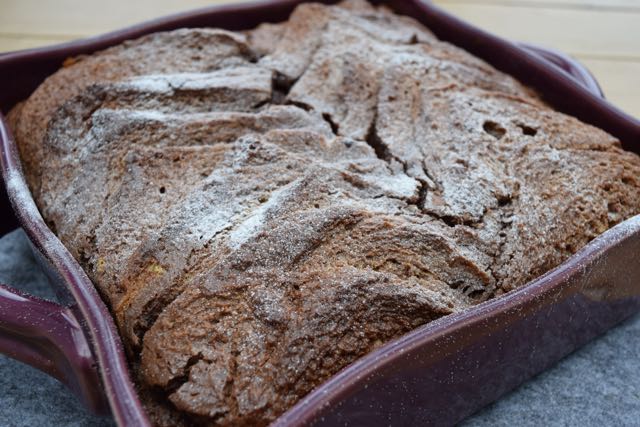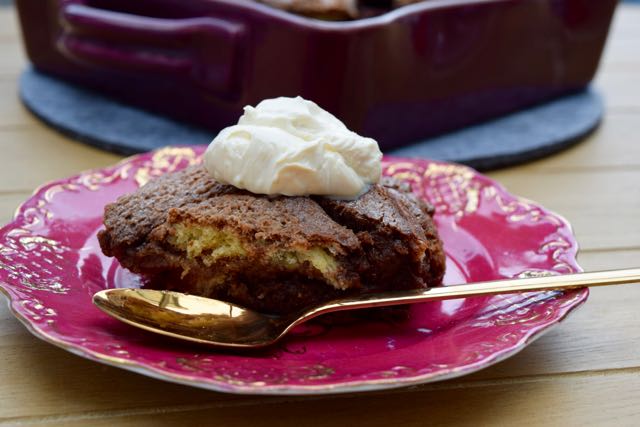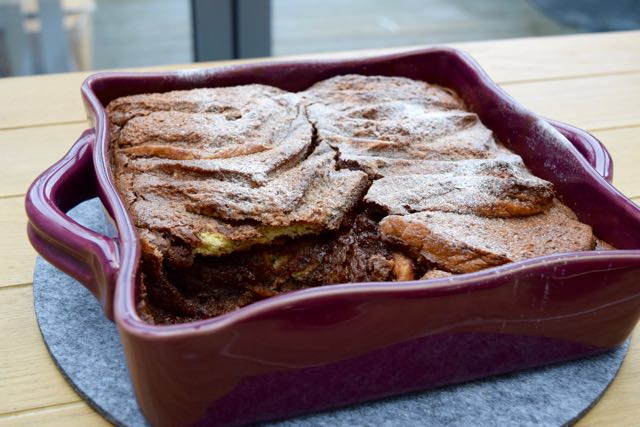 Lots of boxes are ticked by this dessert. Chocolate, tick, brioche, tick, booze, tick. I think St Patrick would be proud of my creation, and would certainly like to be invited to supper to enjoy it.
Lucy x
Aldi kindly sent me the Irish Cream Liqueur used in this dessert, however, all opinions and ramblings are, as always, my own.
Irish Cream Chocolate Brioche and Butter Pudding Recipe
Serves at least 6 to 8, even really hungry guests
You will need a 20cm square baking dish
Pudding
1 x 500g loaf brioche, pre sliced for ease
150g dark chocolate, at least 50% cocoa solids
75g butter
425ml double cream
100ml Aldi's Irish Cream Liqueur
110g caster sugar
1 teaspoon vanilla extract
3 eggs
Irish Cream Cream
125g mascarpone
2 tablespoons double cream
3 tablespoons Irish Cream Liqueur
Take your slices of brioche and cut off the crusts. If the slices are small, cut in half, or if bigger, cut into quarters. Put to one side for a moment.
Take a large bowl and add the chocolate, butter, cream, Irish Cream Liqueur, sugar and vanilla. Either microwave or set over a pan of simmering water until the whole mixture has heated up and the butter and chocolate are starting to melt together. Leave for a moment then stir well to ensure everything has melded together.
Beat the 3 eggs in a stand mixer or by hand until light in colour and texture. Pour the melted chocolate mixture into the mixer/bowl of eggs and whisk again until thoroughly blended.
Take your baking dish and butter well. Pour in around 1cm deep layer of the chocolate mixture then lay a row of a quarter of the brioche triangles down one side of the dish, layering as you go. Repeat on the other side of the dish to create two rows. Pour over half of the rest of the chocolate mixture and, using a fork, press the brioche down into the chocolate, so it's well covered and starting to soak into the brioche.
Repeat with the second layer using up the last of the brioche then pouring on the last of the chocolate. Press down again so all the brioche is covered in the mixture. Cover in cling film and leave on the side for an hour or two to cool before refrigerating. Refrigerate for at least 24, if not 48 hours.
To make the Irish Cream Cream. Take a small bowl and add 125g mascarpone and stir in 2 tablespoons double cream to loosen it. Pour in 2 to 3 tablespoons Irish Cream Liqueur and mix until smooth. Refrigerate until needed.
When it's time to bake, pre heat the oven to 160 degrees fan assisted and remove the cling film. Place on a high-ish shelf of the oven and cook for 30 to 35 minutes. The top should be starting to crisp while the bottom is bubbling and soft. Leave to stand for at least 10 minutes before serving with cream or Irish Cream Cream.