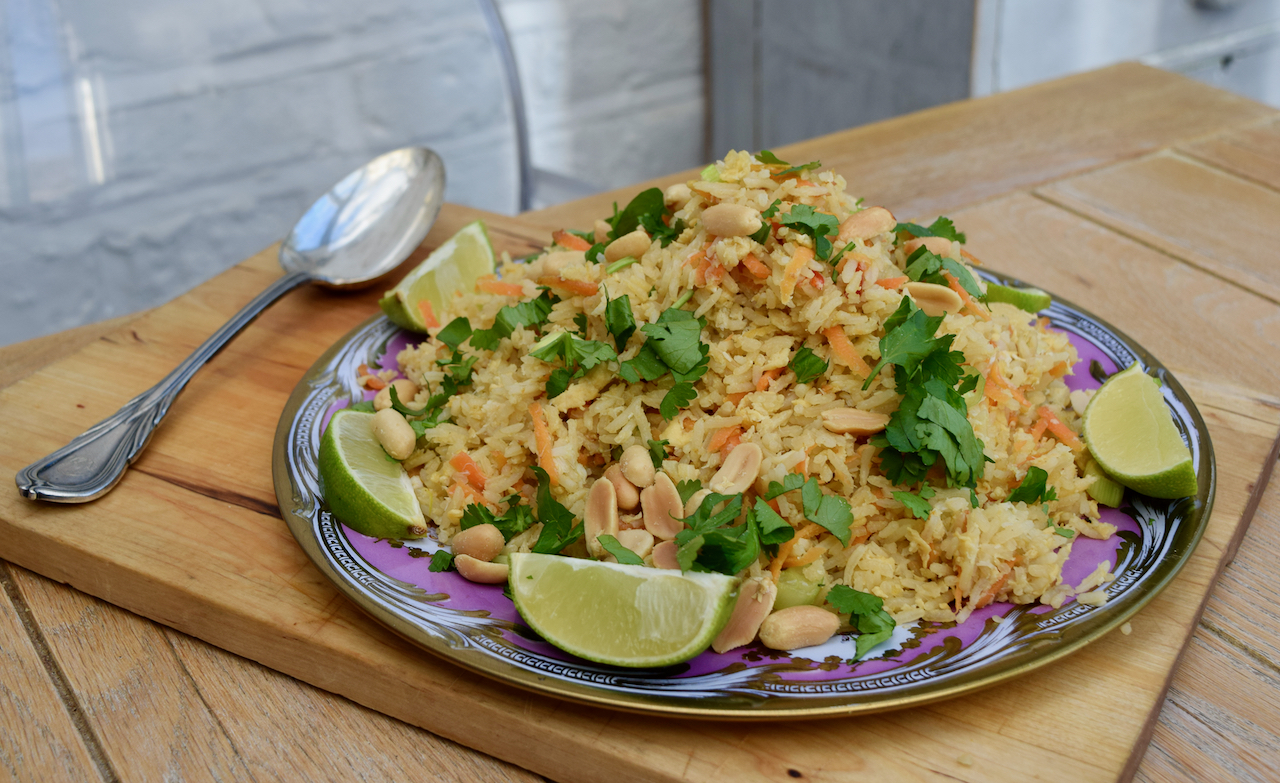 Thai Style Crab Fried Rice recipe
It's only the middle of the month and already funds are running dry. I am literally hemorrhaging money at the moment; George needs new clothes, we're doing more entertaining and of course, the 3 other hungry and thirsty mouths in the house are eating and drinking their way through my salary. My Thai Inspired Crab Fried Rice sounds like an extravagance, given the state of my finances, but having discovered tinned crab, this is quite the frugal feast.
Whenever I'm cooking rice, I cook extra; sometimes accidentally and sometimes deliberately. Ben loves taking chicken and rice to work for lunch so spare rice always gets eaten. Now, however, I'll be hiding it for my Crab Fried Rice. This simple store cupboard supper couldn't be much easier if it tried. It's made in a frying pan or wok with some chilli and garlic. Add the cooked rice, add some eggs for scrambling then toss through soy and fish sauce for seasoning. The tinned crab gets a good drain then stir this through with grated carrots and spring onions for crunch, colour and flavour. And that's it. I went for plenty of fresh coriander, lime wedges and peanuts to garnish but you can choose your Thai style favourites. I took my inspriation for this from my favourite Omnivores Cookbook, with thanks.
This is so quick, so tasty and super filling. And you don't have to sell one of your children to pay for fresh crabmeat; unless you want to, of course.
Now, the original recipe called for tinned lump crab meat, but I bought shredded by mistake and didn't want it to go to waste. It worked perfectly well and added a lovely taste of the sea whilst not bankrupting you. The rice I had, had been lurking in the fridge for at least two days; apparently at least a day old works best as you don't want the rice to be fresh and soggy just dry and old *I'm not selling it am I?*
I started by preparing all the vegetables first; this is such a speedy recipe you want everything ready to go. Finely *ish* chop the spring onions and grate the carrots. Chop the garlic and red chilli and beat the eggs.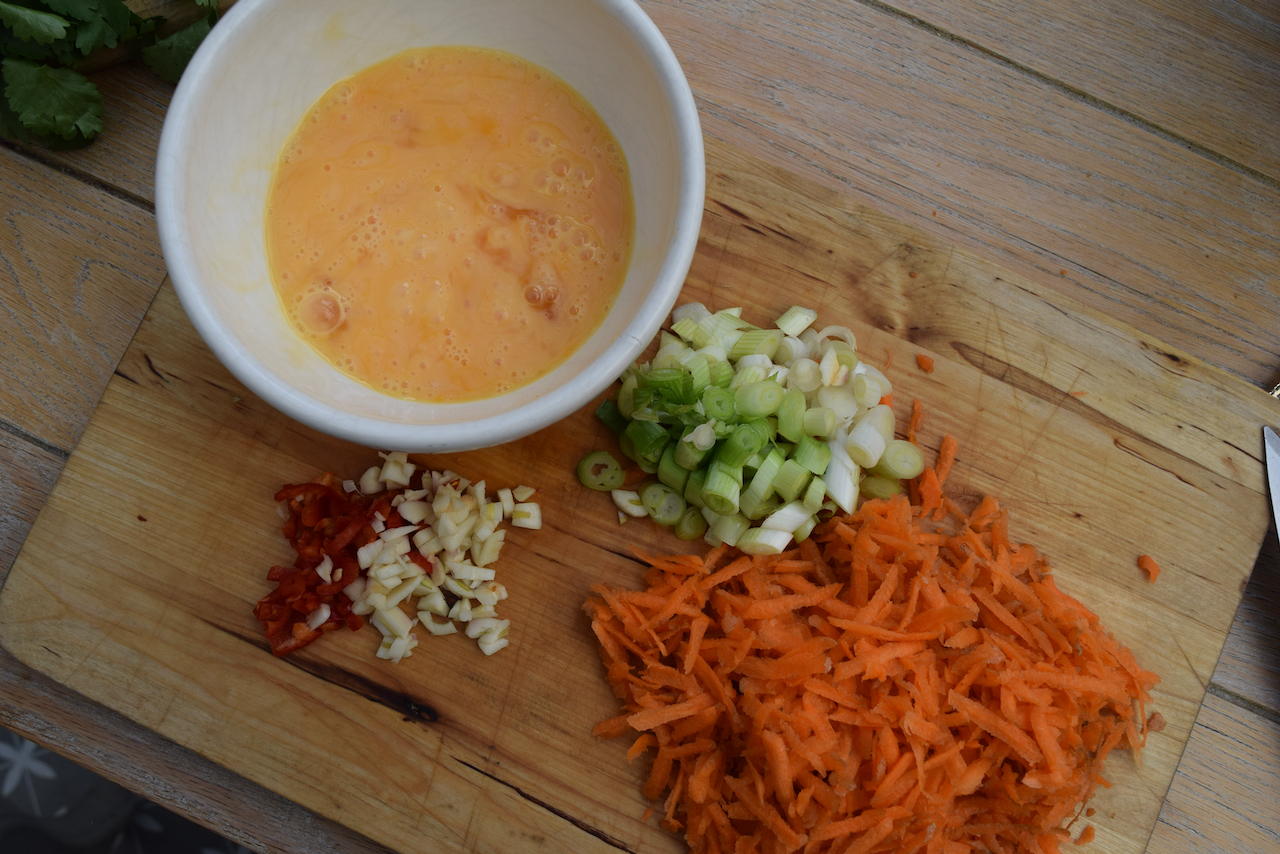 Now you're ready to go. Heat a large frying pan or wok with two tablespoons of oil over a medium heat. Add your chopped chilli and garlic.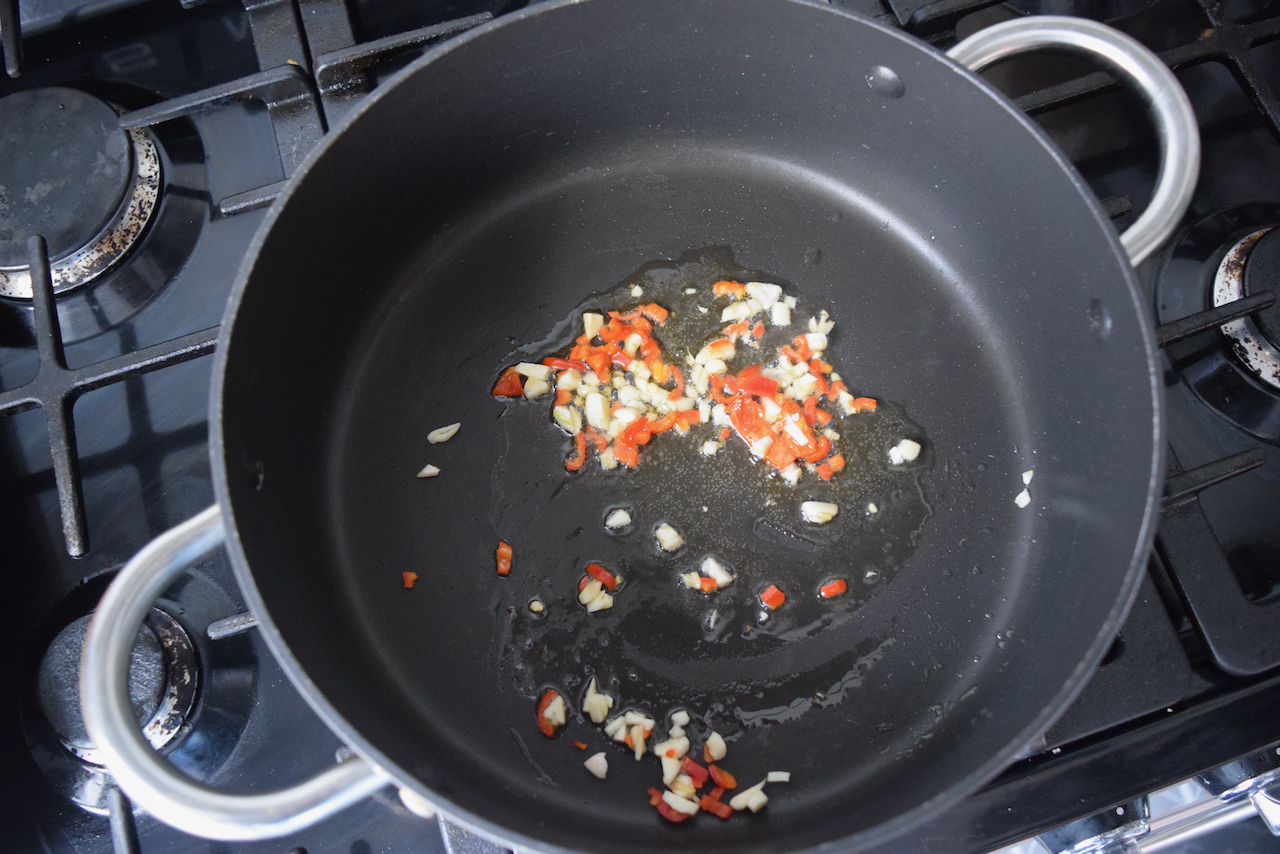 Fry for a minute until just turning golden being careful not to burn the garlic. Then tip in the rice and stir to break up any lumps.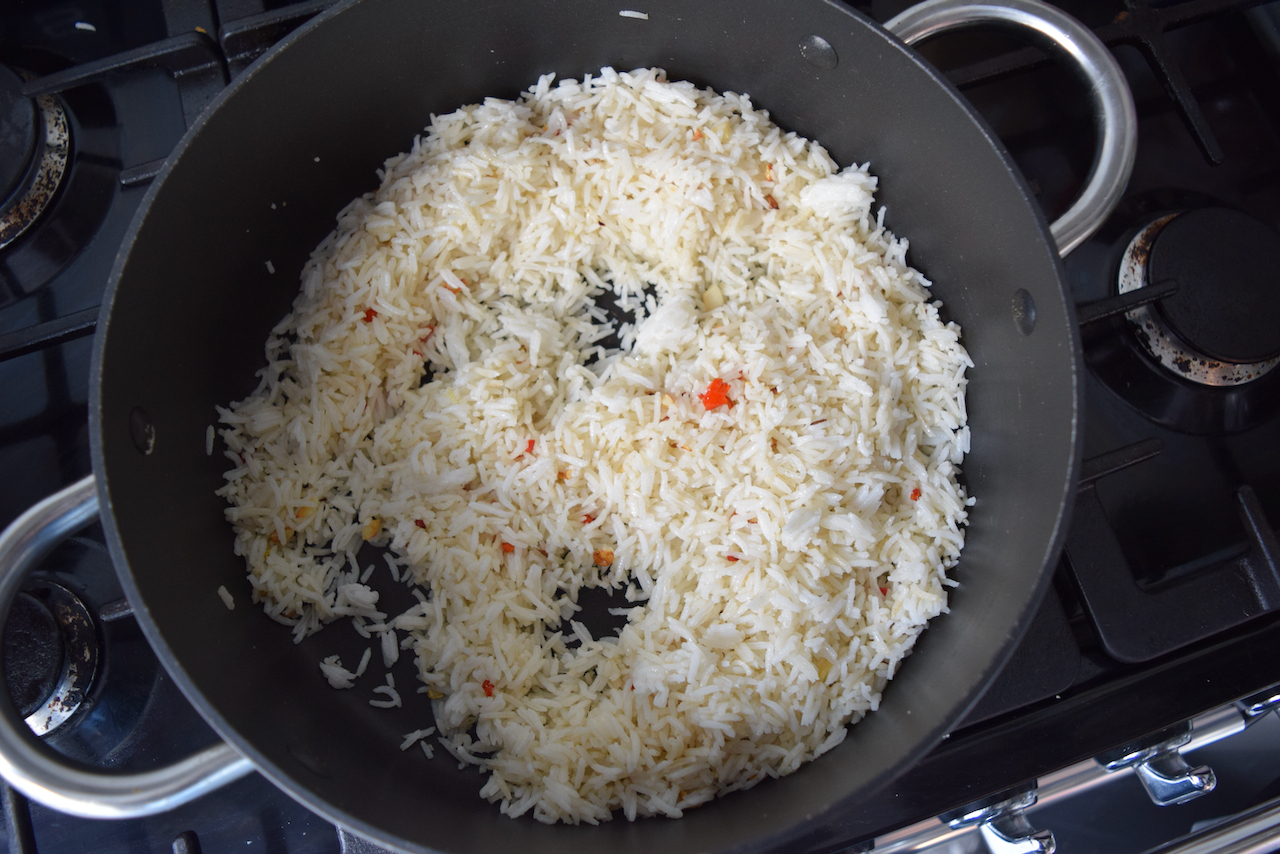 Cook for a minute or two then push the rice to one side of the pan ready for the eggs. Pour in the eggs and cook until scrambled but still soft.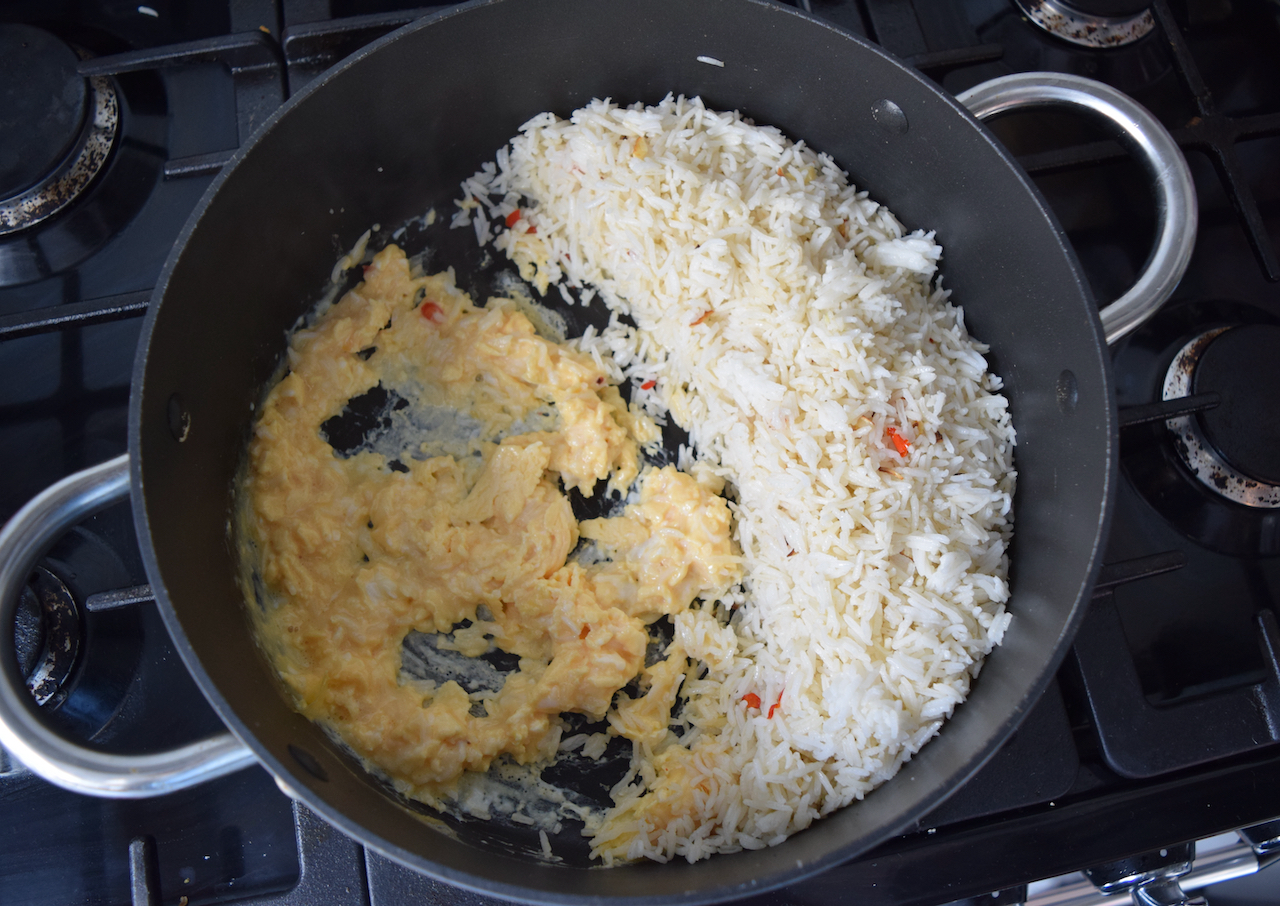 Stir the rice into the egg and combine. Mix in the soy and fish sauces, the sugar, pepper and the knob of butter.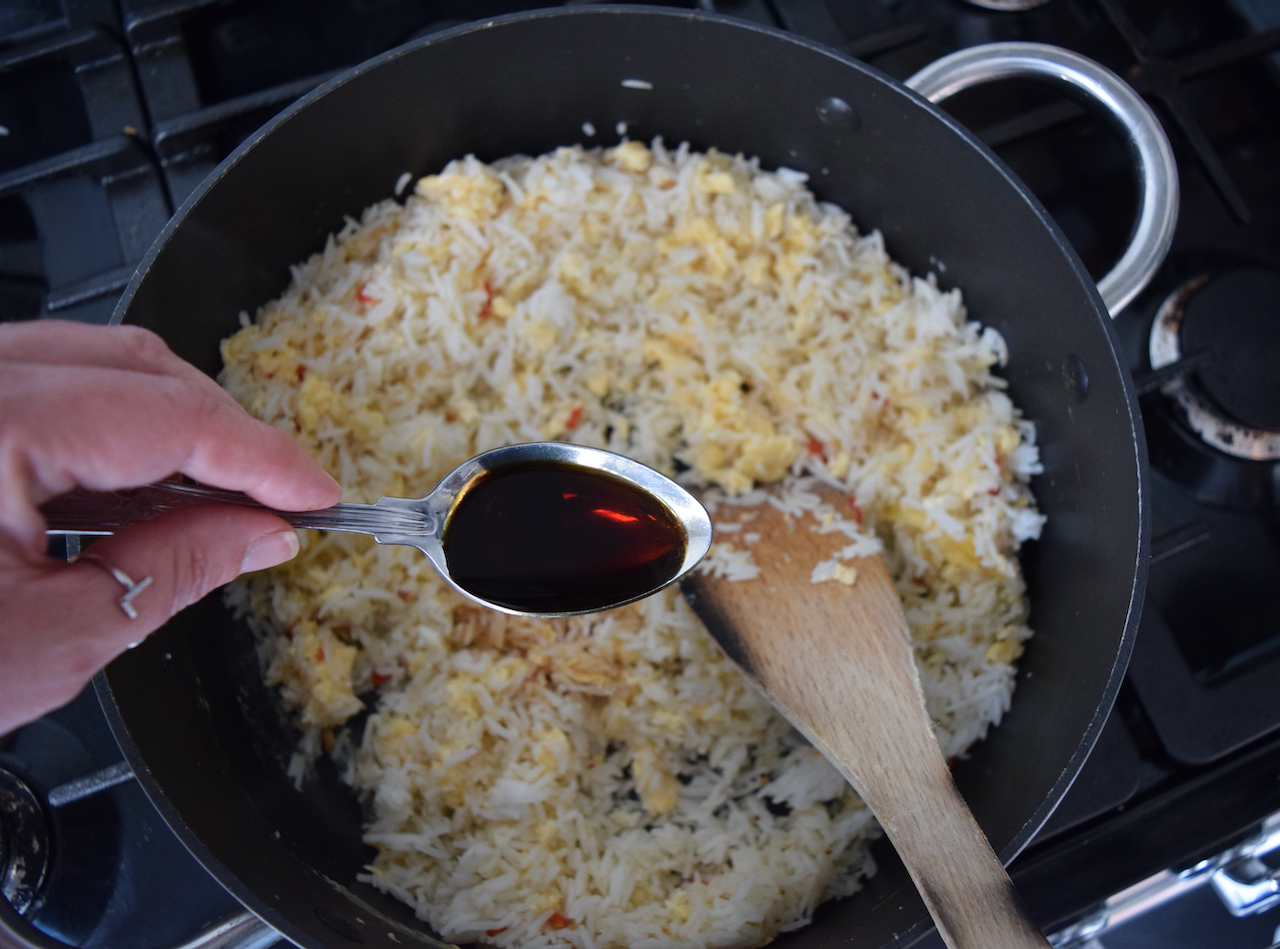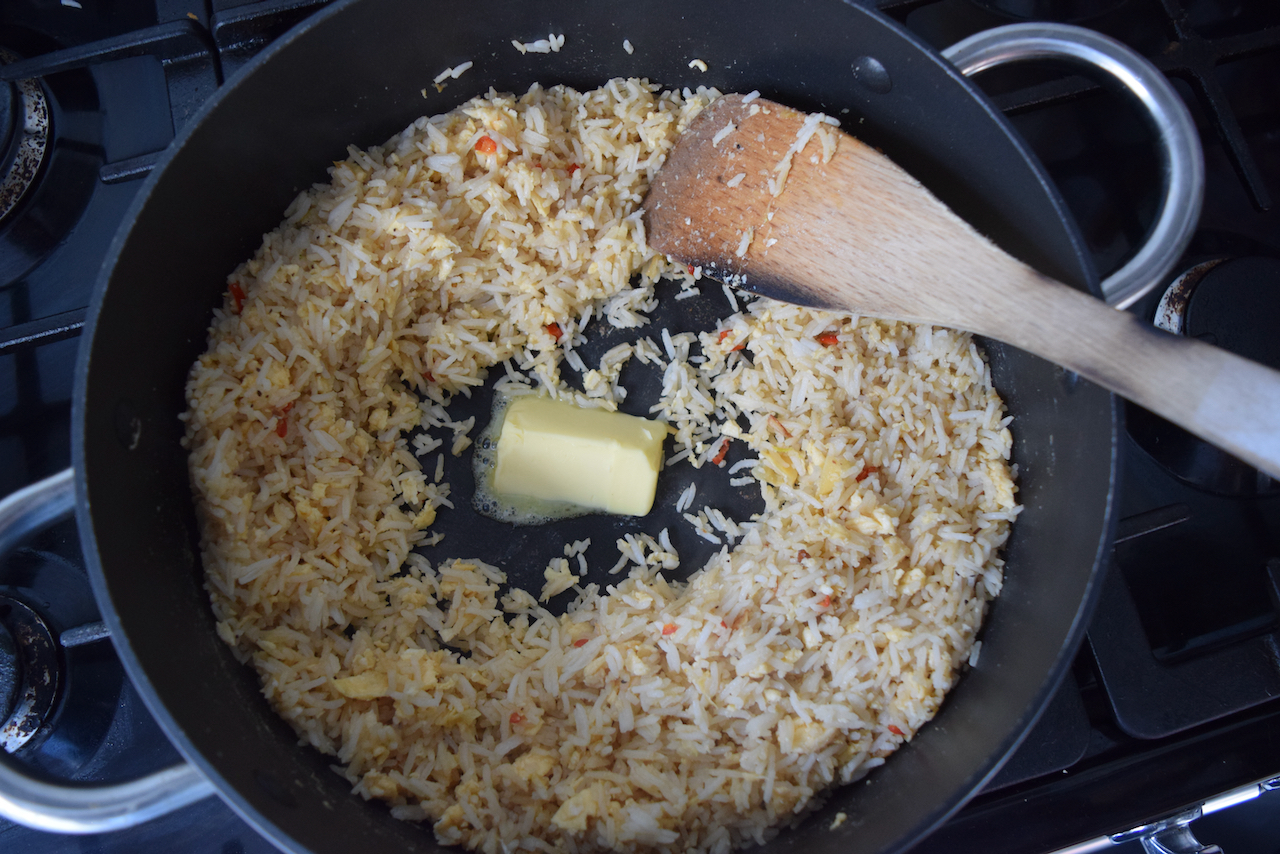 Now it's time for the drained crab star of the show and the chopped spring onions and grated carrot.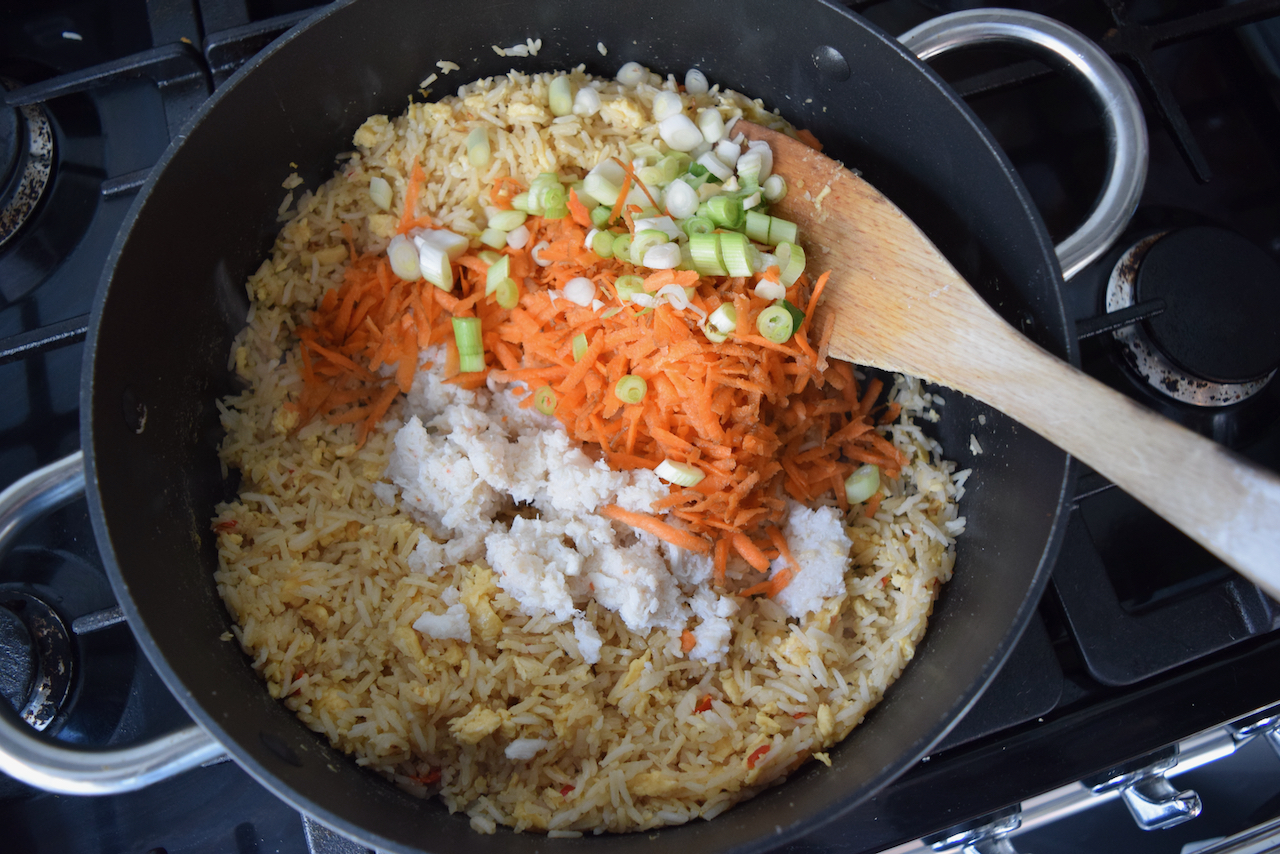 Stir everything really well and cook for another couple of minutes until it's all piping hot. Have a mouthful to check for any additional seasoning needs.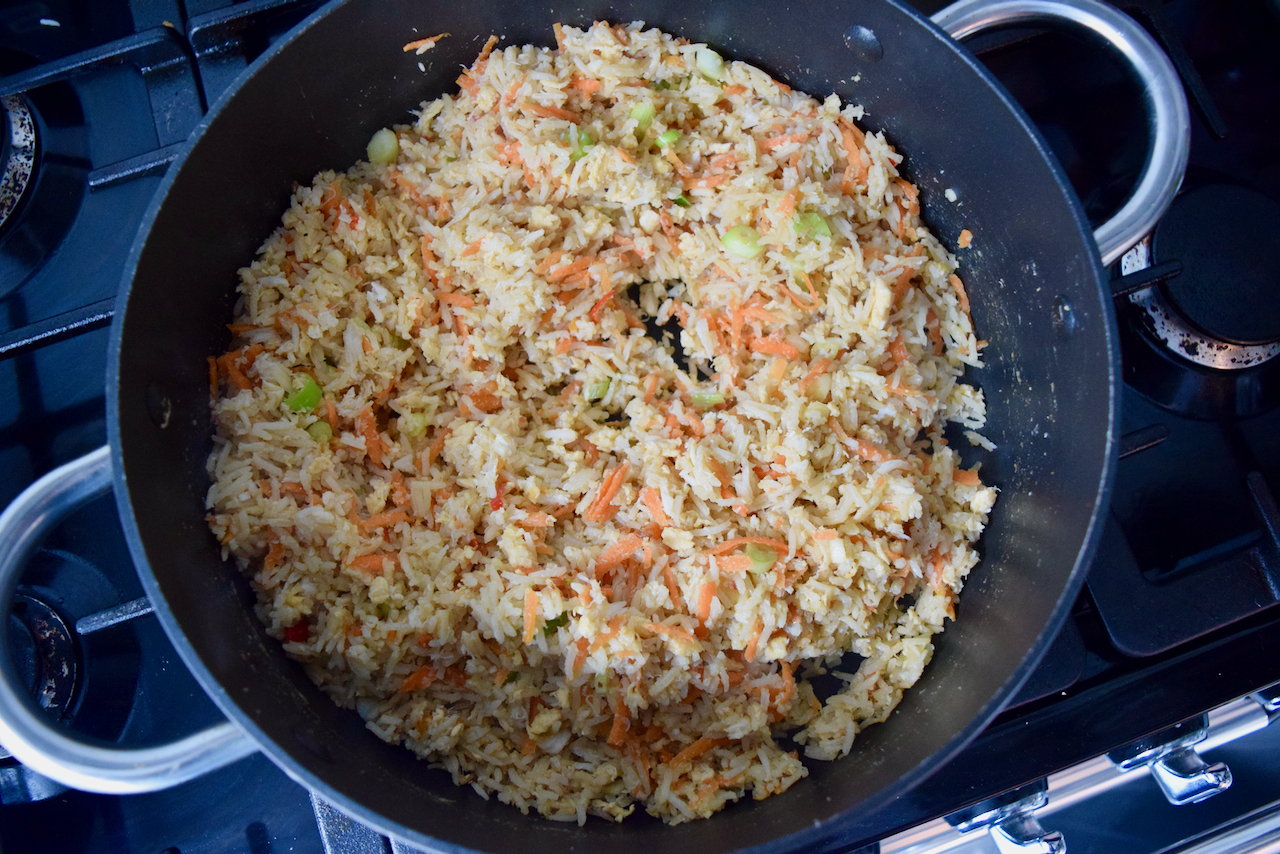 All that's left to do now is pile this onto a serving plate *or don't even bother just leave in the pan* and garnish with cucumber slices, fresh coriander, peanuts and lime wedges for squeezing. Then go in with a shovel and inhale.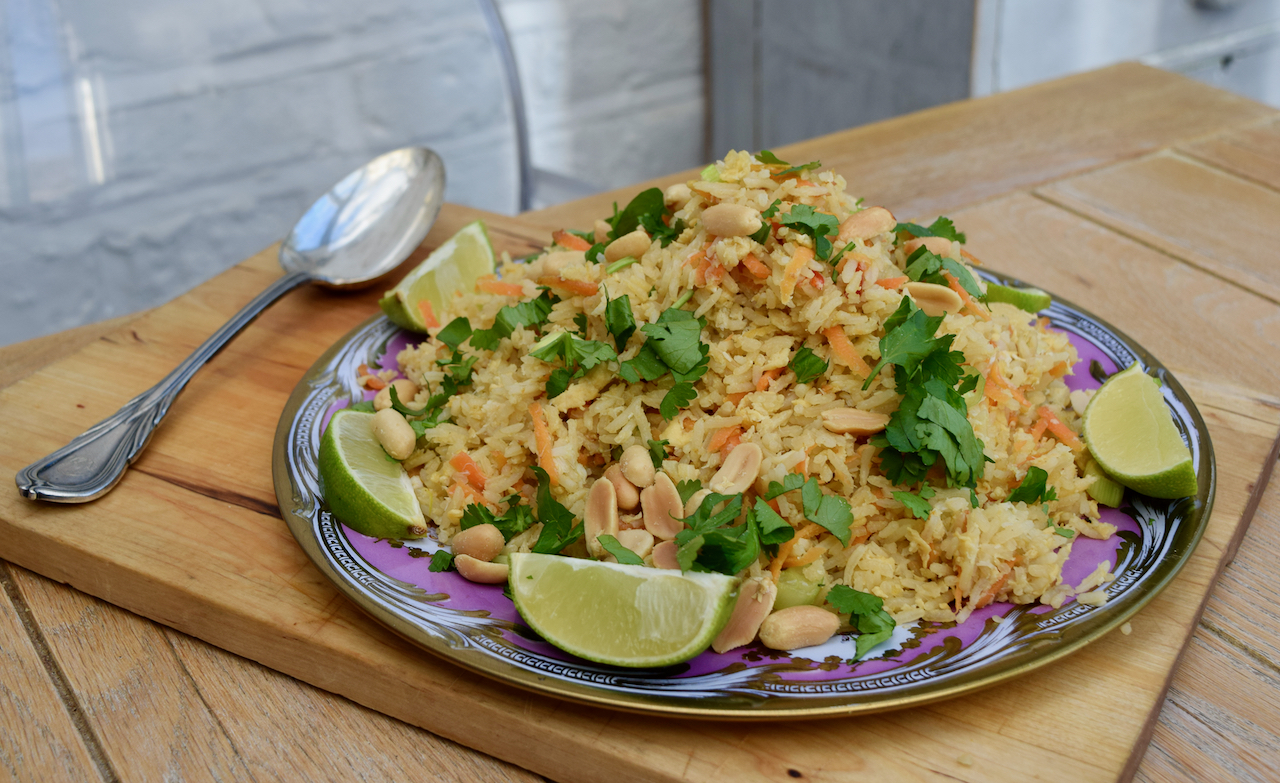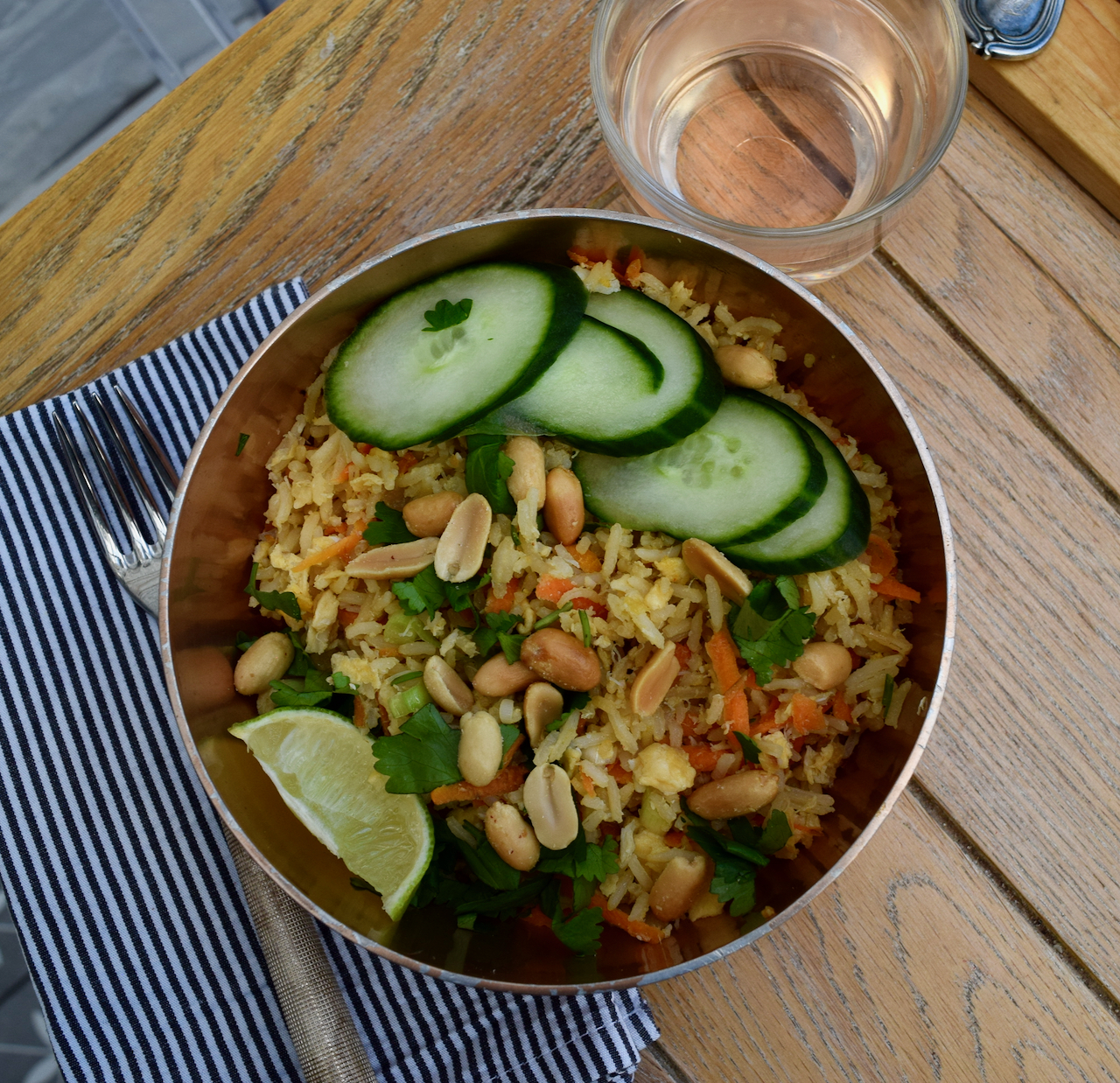 Rosé essential.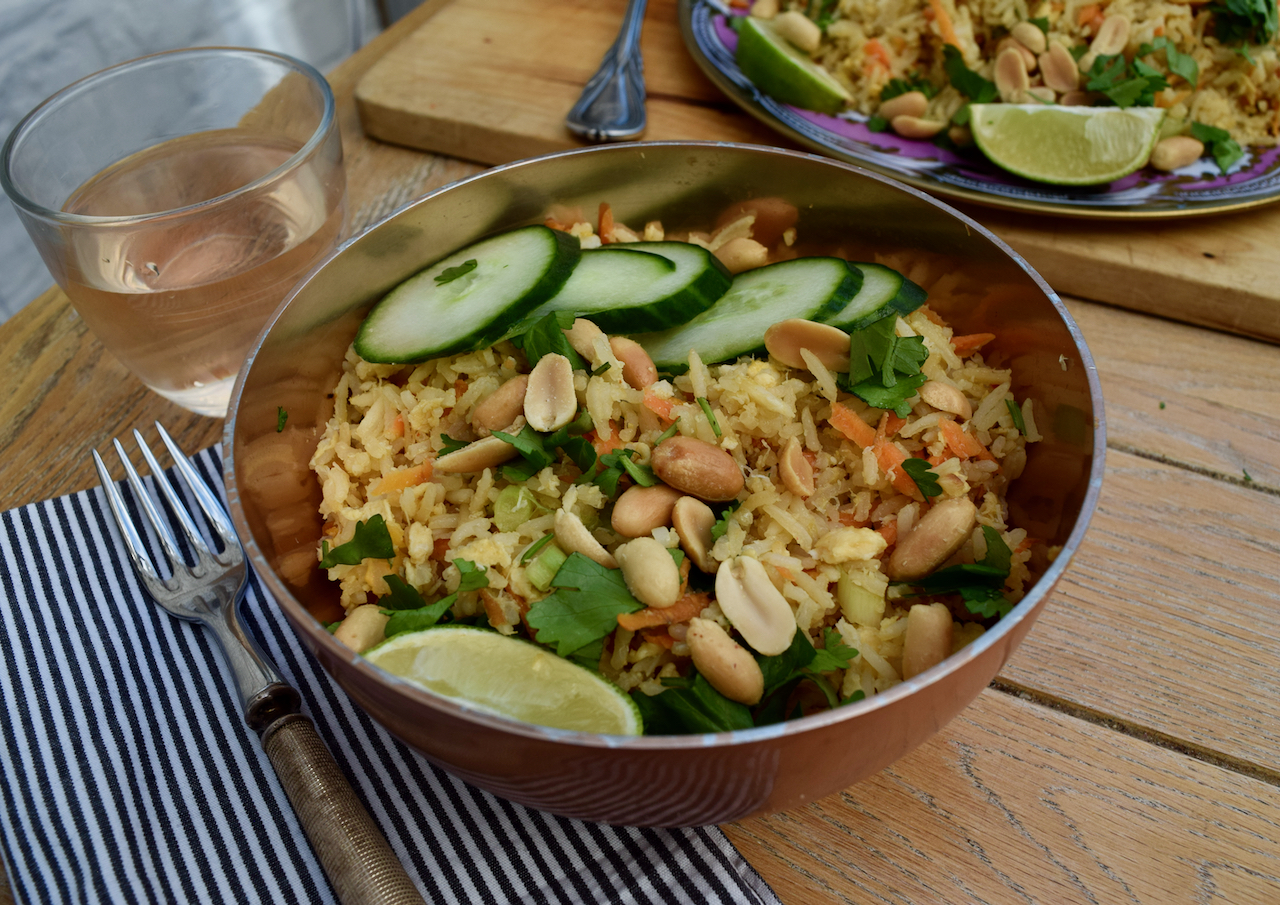 We eat rice at least 3 times a week as the family aren't huge potato fans so this is an exciting and George friendly addition to the weekly menu. And it's budget friendly too, the two tins of crab were less than a fiver, which means more money left for essential rosé purchasing.
Lucy x
Thai Style Crab Fried Rice recipe
Serves 4
You'll only need a wok or large frying pan for this recipe
2 tablespoons oil, I used Wok oil
1 red chilli, finely chopped
4 cloves garlic, finely chopped
600g cooked rice, a couple of days old is good
30g butter
3 eggs, beaten
3 tablespoons soy sauce, if yours is dark soy, start with 2 tablespoons
3 teaspoons fish sauce
1 1/2 teaspoons caster sugar
1/2 teaspoon white or black pepper
2 x small tins white crab, drained, lump or shredded is fine
2 carrots, peeled and grated
4 spring onions, finely chopped
Fresh coriander, sliced cucumber, lime wedges, peanuts, chopped red chilli, to garnish
Start by chopping the chilli, garlic, carrots, spring onions and beating the eggs. Pop to one side.
Take a large frying pan and heat the oil over a medium flame. Add the chopped chilli and garlic and cook for a minute until just starting to colour; take care not to burn these. Add the cooked rice and stir to coat in the garlic and chilli, breaking the rice up as you go.
Push the rice mixture to one side of the pan and add the beaten eggs to the space and scramble until just cooked through. Incorporate the egg with the rice then add the soy sauce, fish sauce, pepper and sugar then stir again. Cook for a minute more than add the drained crab, grated carrot and spring onions. Cook for a further couple of minutes until everything is piping hot. Taste to check for any additional seasoning needs then serve piping hot. Garnish with plenty of freshly chopped coriander, sliced cucumber, chopped chillis, a handful of salted peanuts and lime wedges.