Italian Wedding Soup Recipe
I know not why this soup is called Italian Wedding Soup. If I'm honest, if I went to a wedding in Italy and I was given this I would be mildly disappointed, not because it's not delicious, just because it's soup. Oh dear, bear with me after this some what rambling start. Despite it now being mid April and with spring being very much in the air, it is still surprisingly nippy and I have my obligatory bobble hat on as we speak. So this week, as I alluded to a moment ago, I am sharing this quite brilliant Italian Wedding Soup recipe.
This is filling, beyond a normal bowl of soup, and laden with so many fantastic flavours. I have, of course, Wikipedia'd the origins of this soup and it is a mis-translation of the phrase 'minestra maritata' – 'married soup' which celebrates the marriage of the meat and vegetables in this delicious broth. I came to this recipe via the wonderful Bon Appetit where they had a wonderful no recipe for this dish. No Recipe recipes are quite fashionable from what I can gather. They rather hint at the ingredients instead of giving any precise quantities. I quite like this style of cooking, but I know it can be frustrating if you prefer more thorough instruction. So, today, I have translated their no recipe into this tasty recipe for Italian Wedding Soup.
Lightly baked sausage based meatballs, white beans, pasta and spinach, all cooked in a chicken broth with a pinch of chilli for warming spice. This is more than a complete meal. No need even for bread, said one of my diners *Clyde*. Speaking of my diners, every one of them loved this soup, even George who was so distracted by the parmesan flavoured meatballs he didn't even pick out the spinach. This is a brilliant supper or lunch, impressive enough for dinner guests not just family, I can't sing it's praises more highly. No need to dust off your wedding suit for this, just sit back and enjoy this incredibly flavourful soup.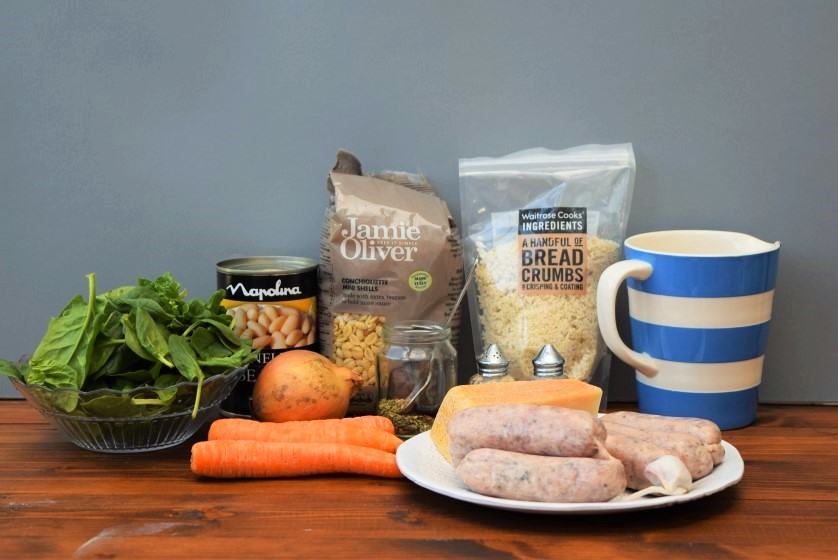 Quite the most simple, almost rustic line up for this soup. A great one for store cupboard ingredients too. Apart from the sausages, don't store these in the cupboard please.
Pre heat your oven to 170 degrees then make a start with this brilliant dish by making the meatballs. I have discussed my dislike for pan frying meatballs before as they tend to all fall to pieces, so these are oven baked which simplifies things nicely. Take a large bowl and add your skinned sausages or sausage meat.  No one likes skinning a sausage, but it's worth it here as you can use some wonderfully full flavoured ones to boost the taste of your meatballs. Follow in with the breadcrumbs.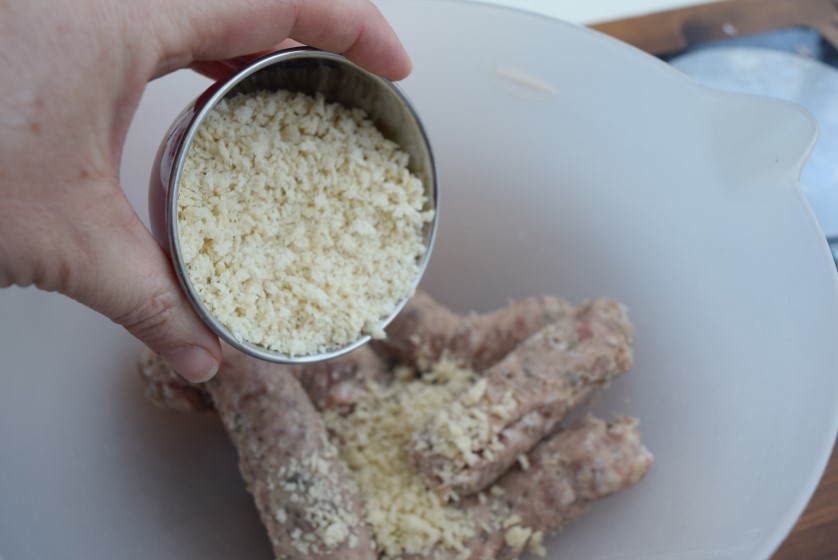 Next to add to the flavours, stir in some freshly grated parmesan.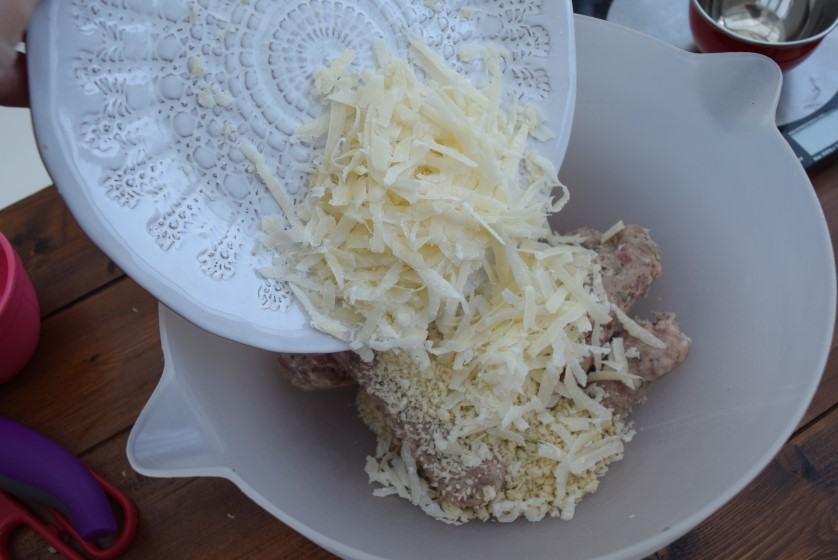 Mix the ingredients together then fashion them into small walnut sized balls and place on a lined baking sheet. Bake these meatballs for 15 to 20 minutes or until golden and sizzling.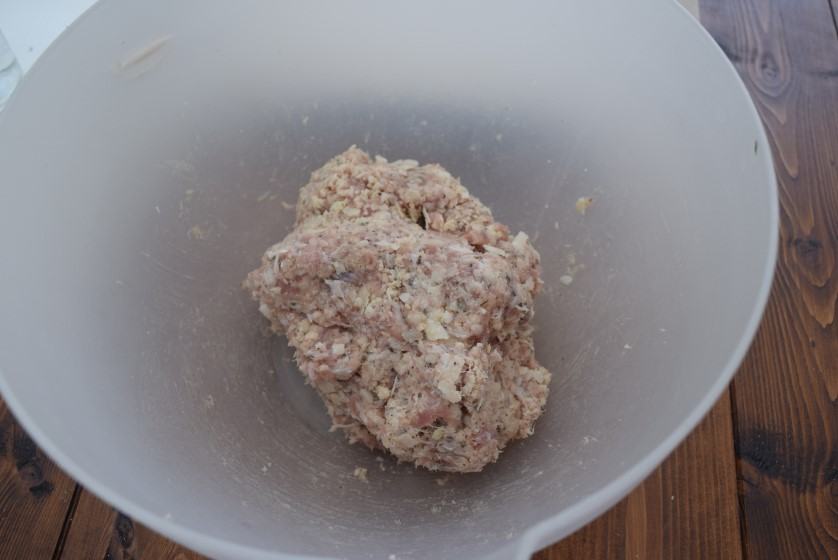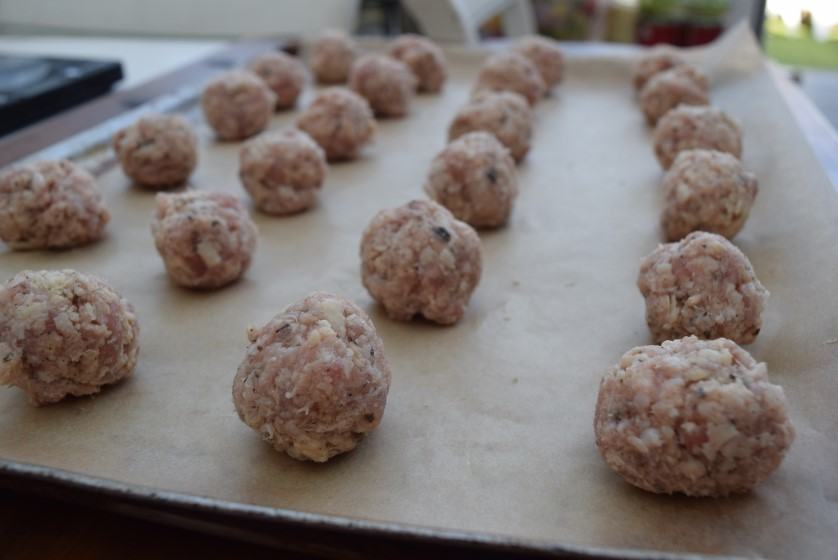 While the balls do their thing, crack on with the soup base. Heat a couple of tablespoons of oil in a large saucepan. Add the finely-ish chopped onion, carrot and garlic and cook until softening.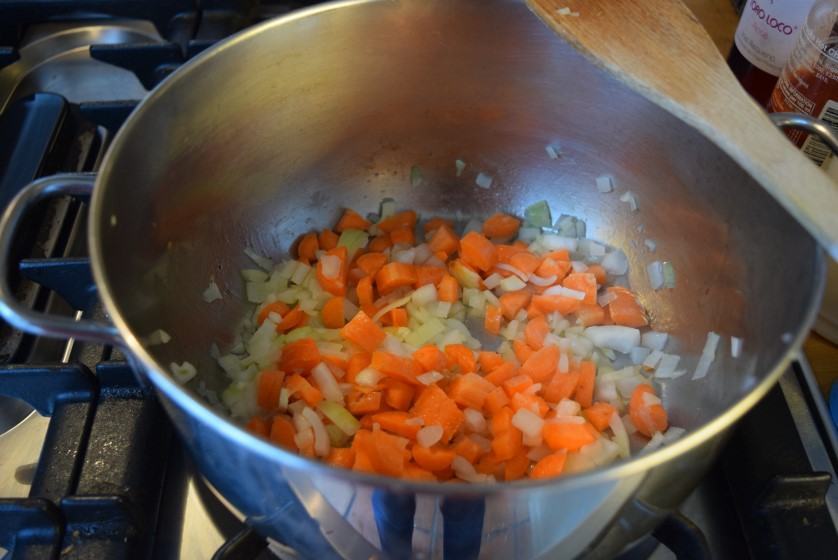 After around 5 minutes add a big pinch of dried chilli flakes, some dried oregano and stir in.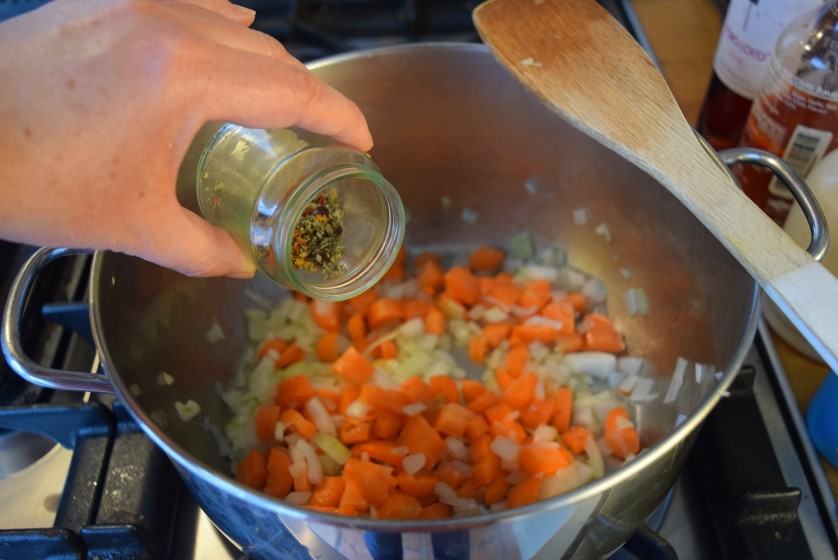 Pour on the chicken stock then add your choice of drained white beans. I went Cannellini beans and I gave them a rinse before adding them to the pan.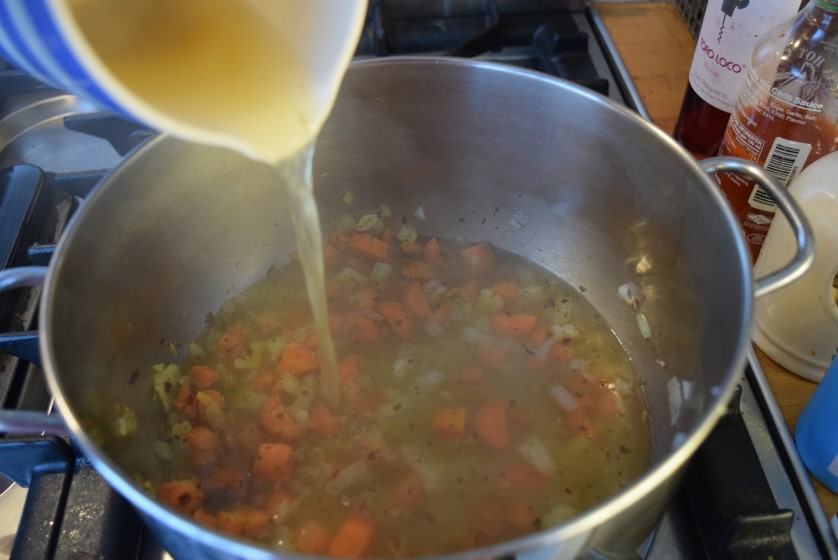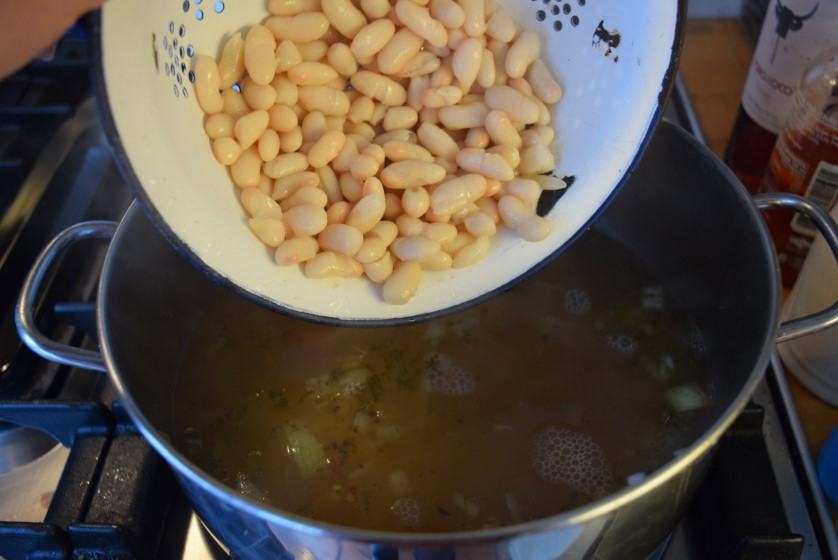 Now, to make this soup properly Italian, add some pasta. I found some tiny soup pasta with a long name from Jamie Oliver, but add which ever you have to hand.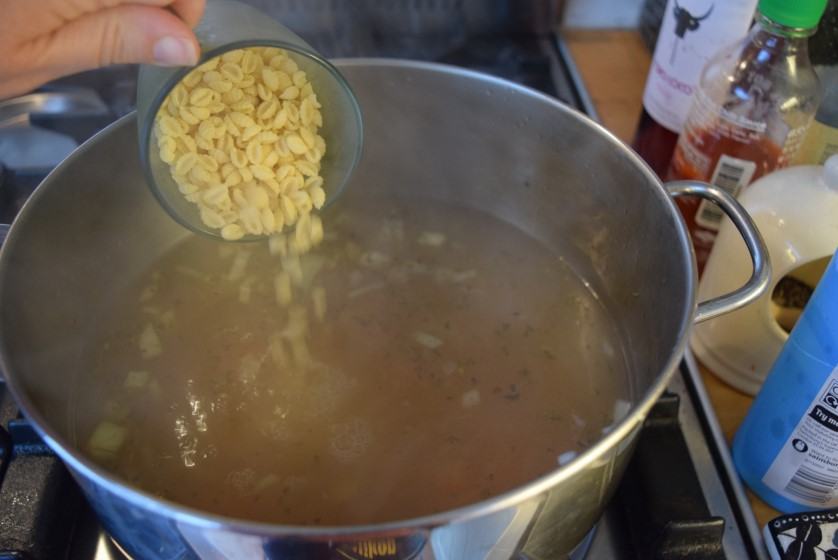 Simmer this for 5 minutes or until the pasta is just cooked. By now the meatballs should be brown, sizzling and smelling to die for.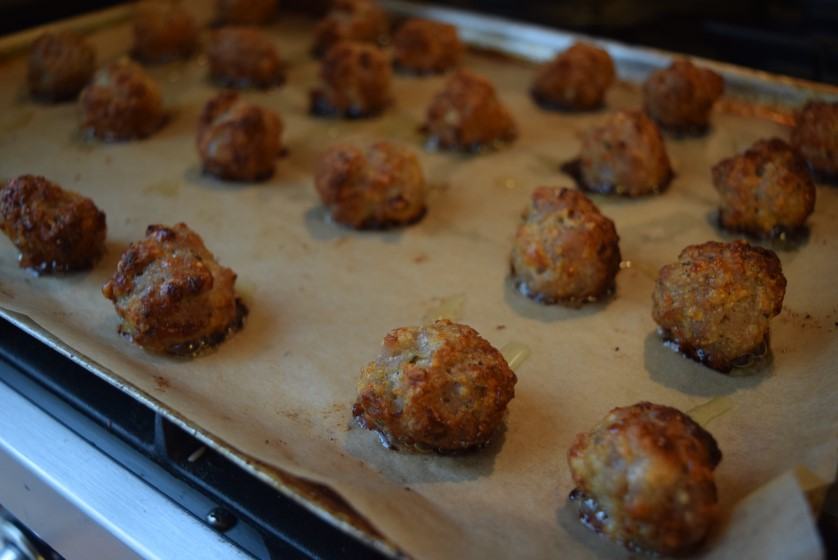 Drop these savoury, parmesan, sausage balls into the broth along with the handfuls of spinach and stir well.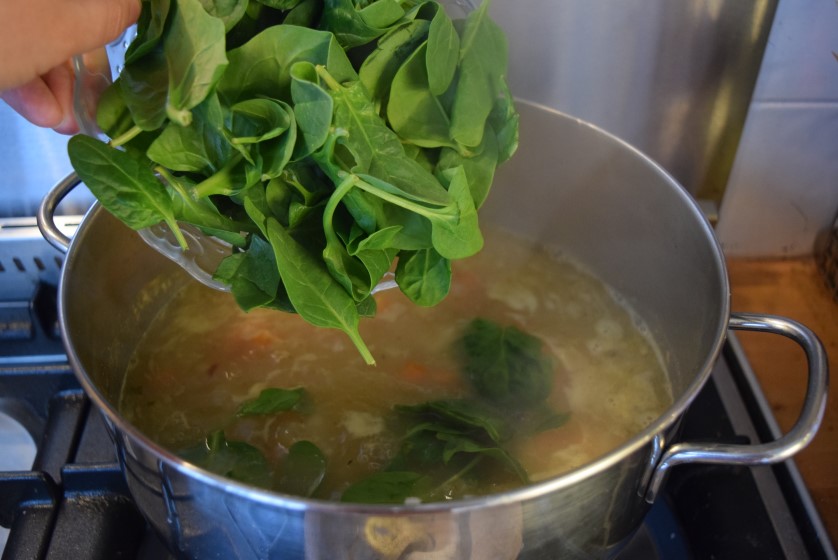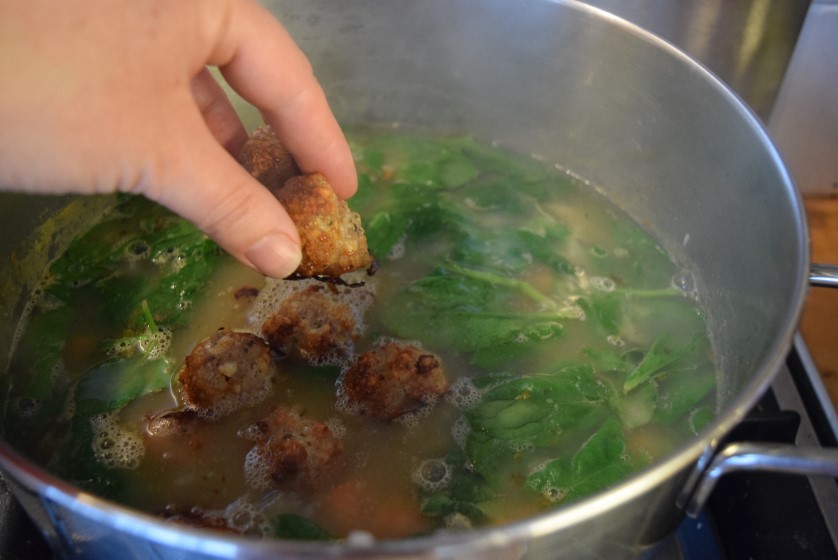 Bring the soup back up to the simmer, check for seasoning, ensure it's piping hot, then serve immediately topped with another spoonful of grated parmesan.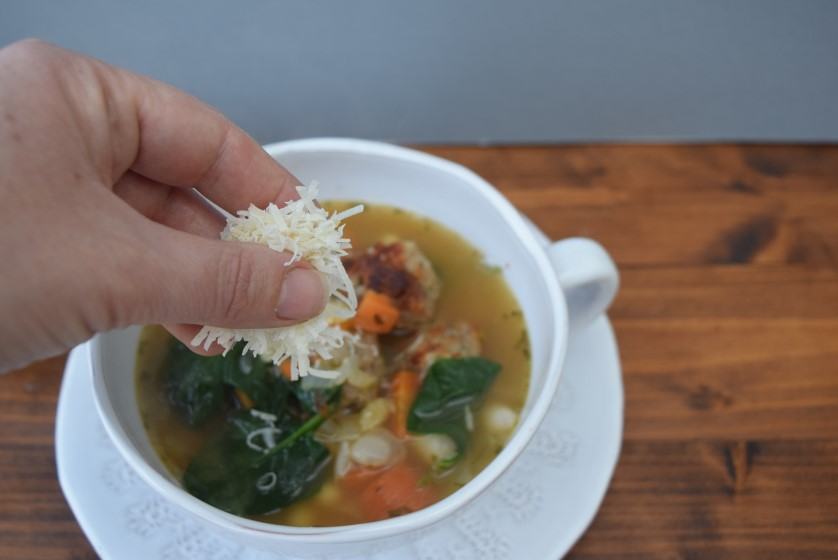 Clyde and I devoured bowls of this fragrant, filling soup on our laps in the garden in the spring sunshine and it was just perfect.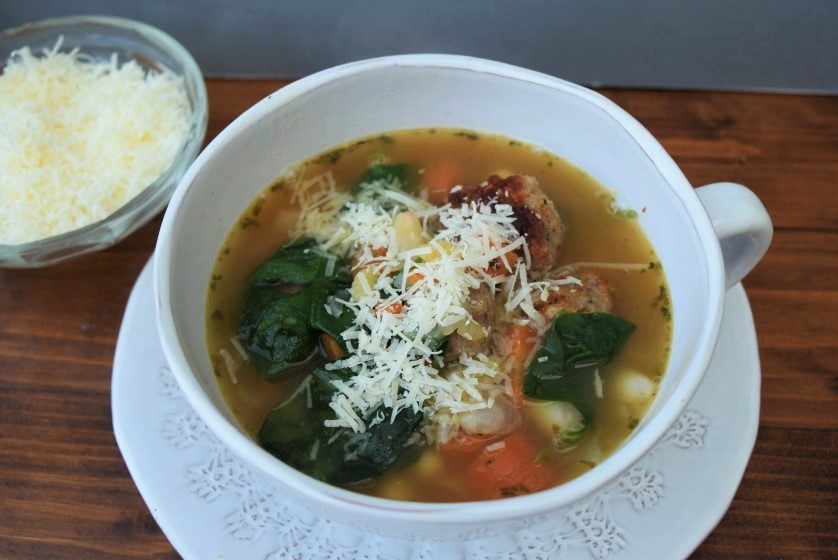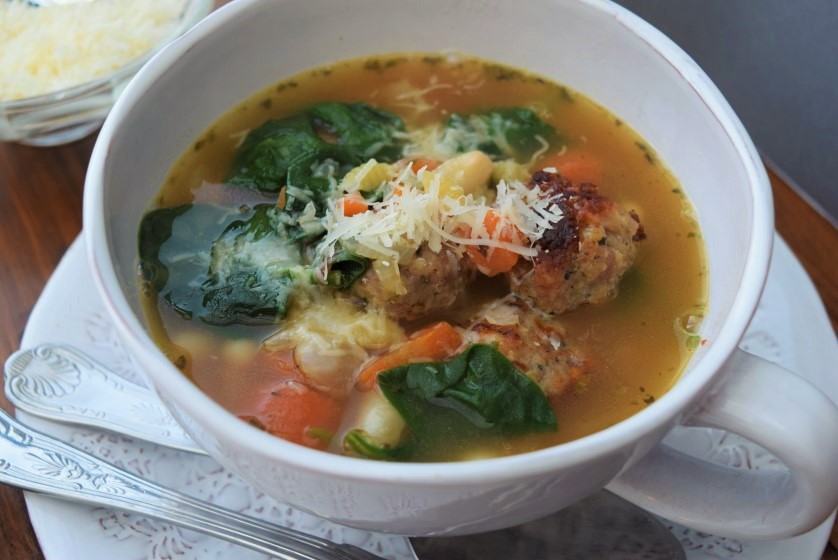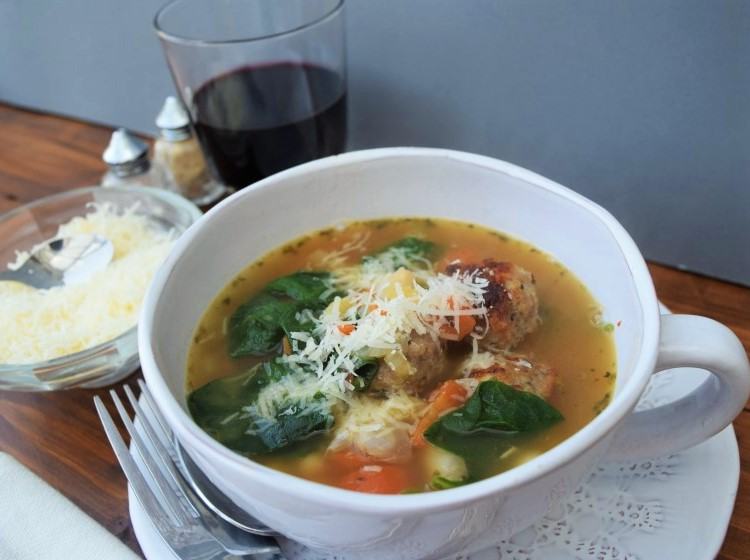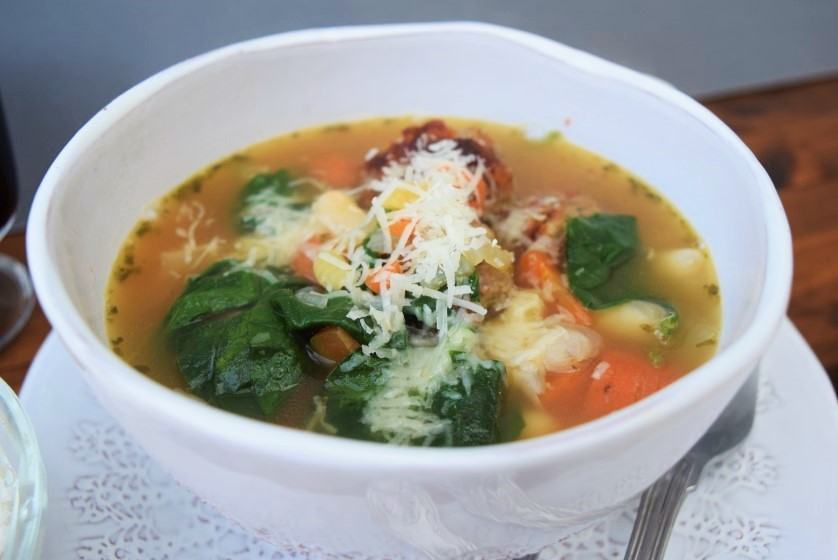 I wish you could have joined us for a bowl of this. It's more than soup, it's a complete meal and the ingredients do, indeed, marry together brilliantly. This will warm you down to your toes, before the sun warms up sufficiently to do this instead.
Lucy x
Italian Wedding Soup Recipe
Serves 4 to 6 people
You will need a baking sheet and a large saucepan
A packet of good quality sausages, skinned, or 400g sausage meat
50g breadcrumbs
75g parmesan, grated, 50g-ish for meatballs and 25g-ish for garnish
2 tablespoons olive oil
1 onion, finely chopped
3 carrots, peeled and finely chopped
a clove garlic, finely chopped
a large pinch dried chilli flakes
1 teaspoon dried oregano
1.75 litre chicken stock
A 400g tin white beans, cannellini, flageolet, butter beans
50g tiny soup pasta, or shape of your choice
2 handfuls fresh spinach, washed
Salt and pepper, where needed
Pre heat the oven to 170 degrees fan assisted.
Start with the meatball element of the soup. In a large bowl add the sausages, skinned, or sausage meat, breadcrumbs and grated parmesan. Mix together with your hands and fashion into small, walnut sized meatballs. Lay the balls on a lined baking sheet, mine made around 24, and put in the oven and cook for 20 minutes, or until golden and sizzling.
While the meatballs are baking, heat the oil in a large sauce pan. Add the finely chopped onion, carrots and garlic and reduce the heat, cooking until the vegetables have softened, around 5 to 8 minutes. Stir in the chilli flakes and oregano then pour on the chicken stock. Drain the tin of beans, rinse, then add this to the pan with soup pasta and cook for another 5 minutes. Add the two handfuls of spinach then stir well.
When the meatballs are cooked, drop them into the soup and bring everything back up to the simmer. Check to see if you need any extra salt and pepper. Serve in large bowls with extra grated parmesan. Enjoy every mouthful.