Kir Royale Jellies Recipe
The time has come to see the back of 2016 and all it's crappiness. I won't mention any of the horrible things which have happened this year as we all know what and who they are, but let's look ahead to 2017 with some rose tinted glasses on and a bloody great big glass in our hand. Or on this occasion a spoon in our hand. As for this, the final Cocktail Friday of 2016, I have decided to serve up Kir Royal Jellies for your delectation.
I've never been a vodka jelly shots kind of girl, believe it or not, so this is my first foray into the world of jellified drinks. I have made Nigella's completely delicious Gin and Tonic Jelly and my mother makes a mean red wine jelly you can't drive after eating, however, these Kir Royale Jellies are new to me. I found the recipe via the rather wonderful and aptly named Bakers Royale website, with huge thanks.  It is a slight kerfuffle, but well worth it as these would make a brilliant ice breaker for your New Year's Eve celebrations. And besides, if the cutting into squares bit goes tits up, this also makes a super tasty dessert served drowning in double cream. So, as is often the way with Lucy Loves, it's a win win scenario.
This boozy jelly treat is, above all, super tasty and easy to drink/slurp. Served sprinkled with a touch of glitter for glamour, this is a great way to keep the festive spirit going well into the New Year.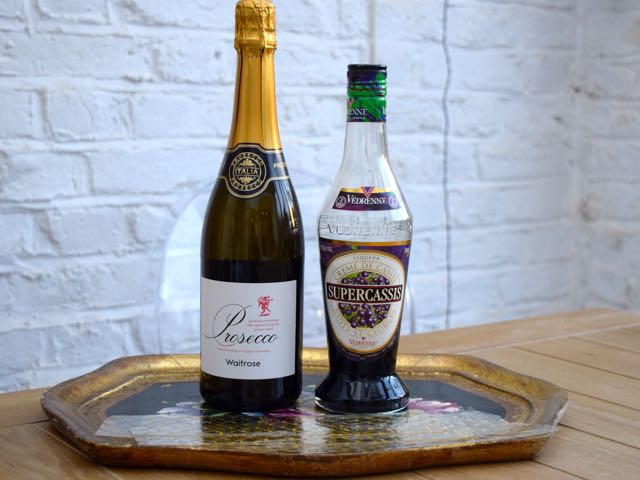 I went for Prosecco just in case the recipe didn't quite come off, then I wouldn't have squandered a pricey bottle of champagne. I used leaf gelatin too as it gives a clearer end jelly. Should you prefer to use powdered, I believe the replacement ratio is 2 packets of powdered to 8 sheets of sheet. Clear enough – kind of.
Make a start by lining a 20cm by 20cm square baking tin with cling film. Then, take your sheets of gelatin and soak these for around 5 minutes in cold water to soften.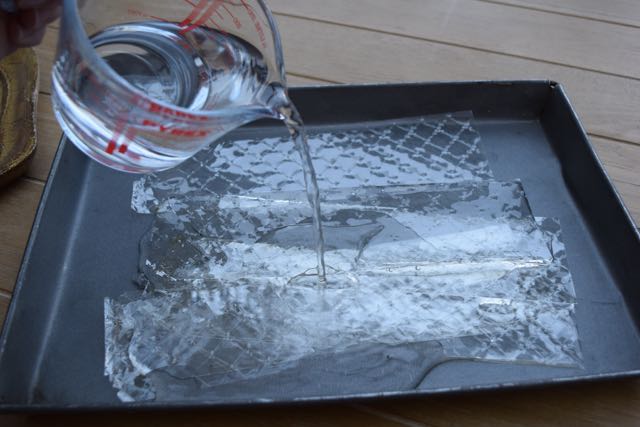 While this is doing it's thing, pour your bottle of fizz and creme de cassis into a large saucepan.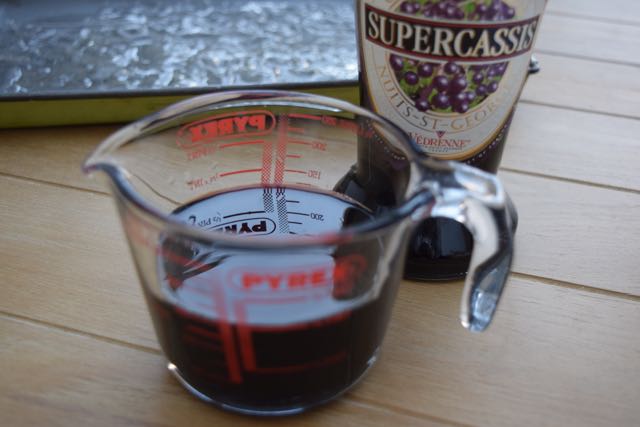 Give this a whisk then heat to boiling point. Squeeze the water out of the now soft gelatin sheets, then add these to the hot booze.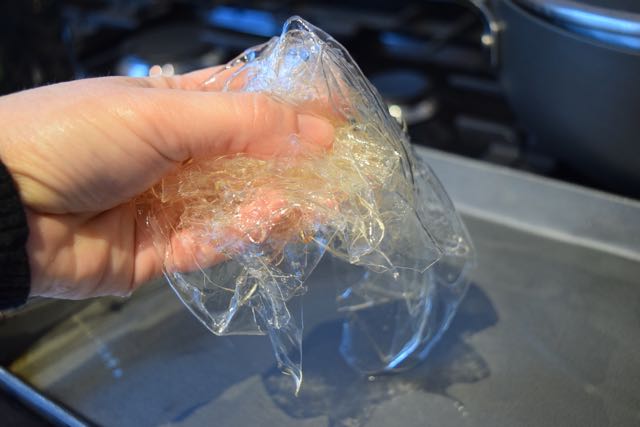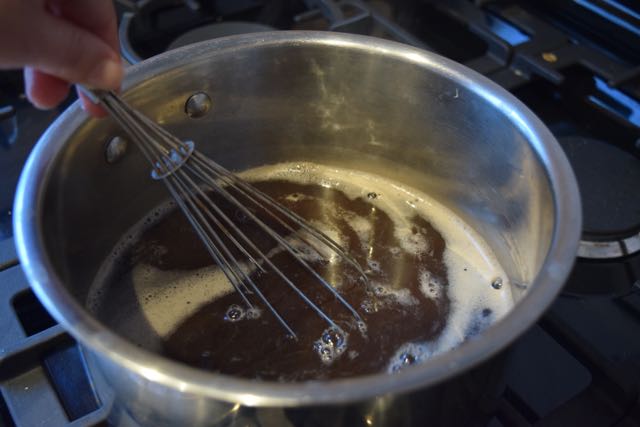 Once the gelatin has dissolved pour the mixture into your lined baking tin then leave to cool before putting into the fridge for at least 4 hours, if not overnight.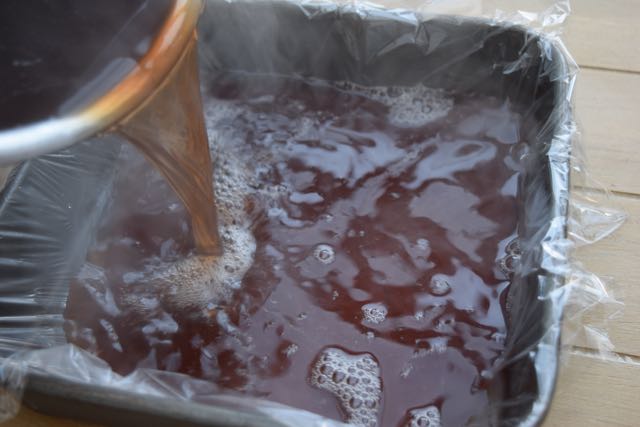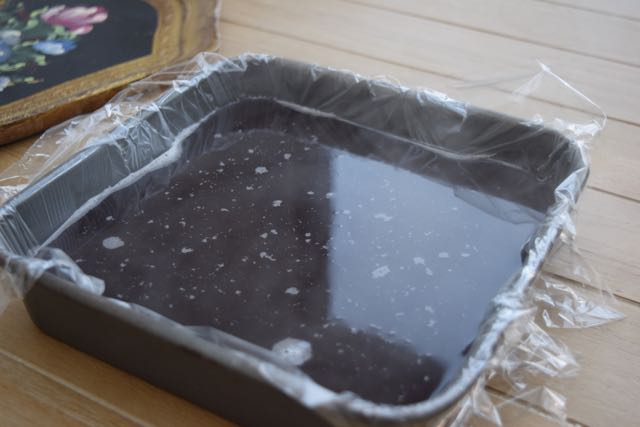 Once your Kir Royale Jellies have set and you are ready to serve, turn the jelly out onto a chopping board. Be careful with this, mine was quite soft, but then I hadn't left it for as long as I should have done. Using an oiled knife, trim off any tatty edges and carefully slice into squares.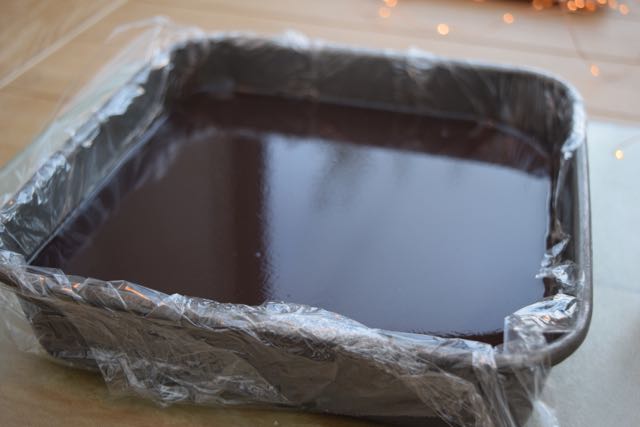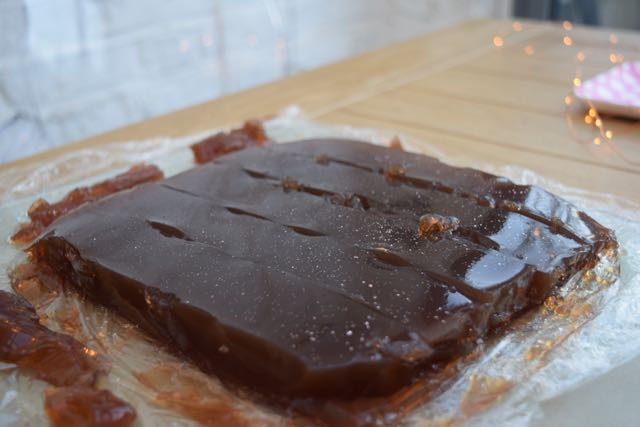 Sprinkle with some glitter and any other sprinkle based items you require then place each square onto a dish with some spoons too for easy consumption. These squares are quite hard to pick up, I did lose one or two which had to go straight into my mouth as they collapsed in my hand, however, if you showed more elegant restraint by using a spoon that could be avoided.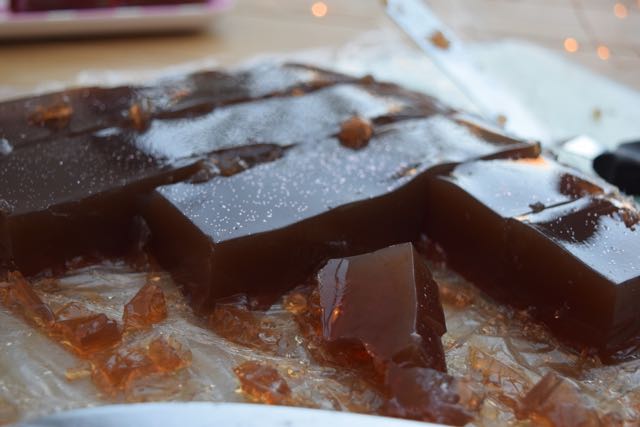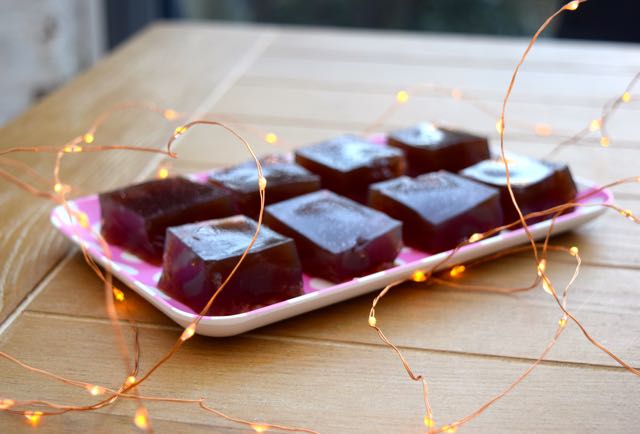 Festive fairy lights, optional, but I think important. Enjoy these boozy treats with your guests, they have brilliant ice breaking qualities.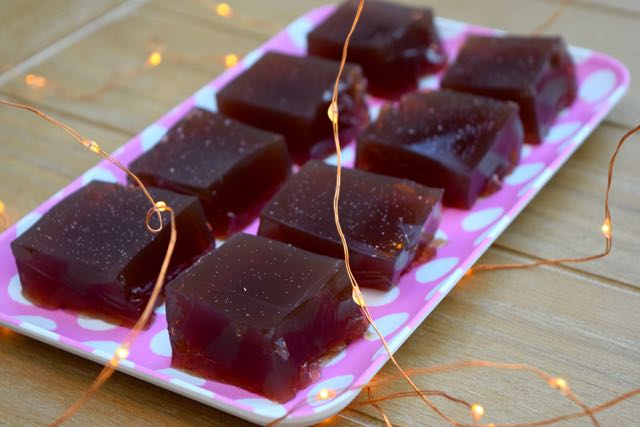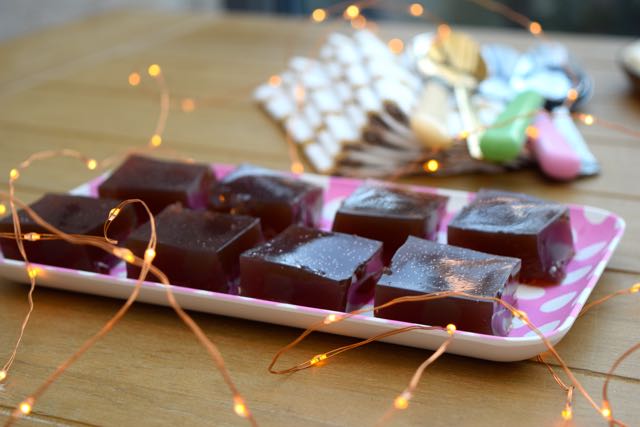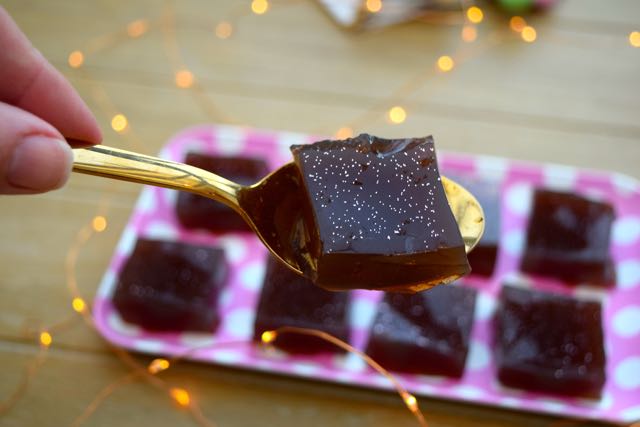 I love these jellies, they are punchy, elegant and dare I say it, fun. And, as I mentioned, you have a great contingency plan should your cutting skills escape you. Just serve large bowlfuls of Kir Royale Jelly slathered in cream, and don't forget, this is boozy, so I'd think twice about driving home afterwards.
Thank you so much, Lucy Loves readers, for all your support throughout 2016, I love our chats. Happy New Year for 2017 from me and my family to you and yours and lets reconvene super soon.
Lucy xx
Kir Royale Jellies Recipe
You will need a 20cm square tin lined with cling film
1 Bottle Prosecco or Champagne if you are super fancy
150ml Creme de Cassis
8 leaves gelatin
Glitter or some sort of sprinklage to decorate
Place your gelatin sheets into cold water to soak for around 5 minutes. Line a 20cm by 20cm square tin with cling film.
Take a large saucepan and pour in the fizz and creme de cassis. Bring up to the simmer, then squeeze the water from your now soft gelatin sheets then whisk into the hot booze.
Once dissolved pour into your lined square tin and leave to cool before putting in the fridge for at least 4 hours if not overnight.
When you are ready to serve, turn the jelly out onto a chopping board and remove the cling. Using a sharp knife, it's best if you have oiled it, carefully trim off any uneven edges then cut the jelly into squares. Decorate with glitter or sprinkles and serve with spoons for easy consumption.
These can be made a day in advance if need be. This is also delicious served as a dessert with double cream and blueberries.