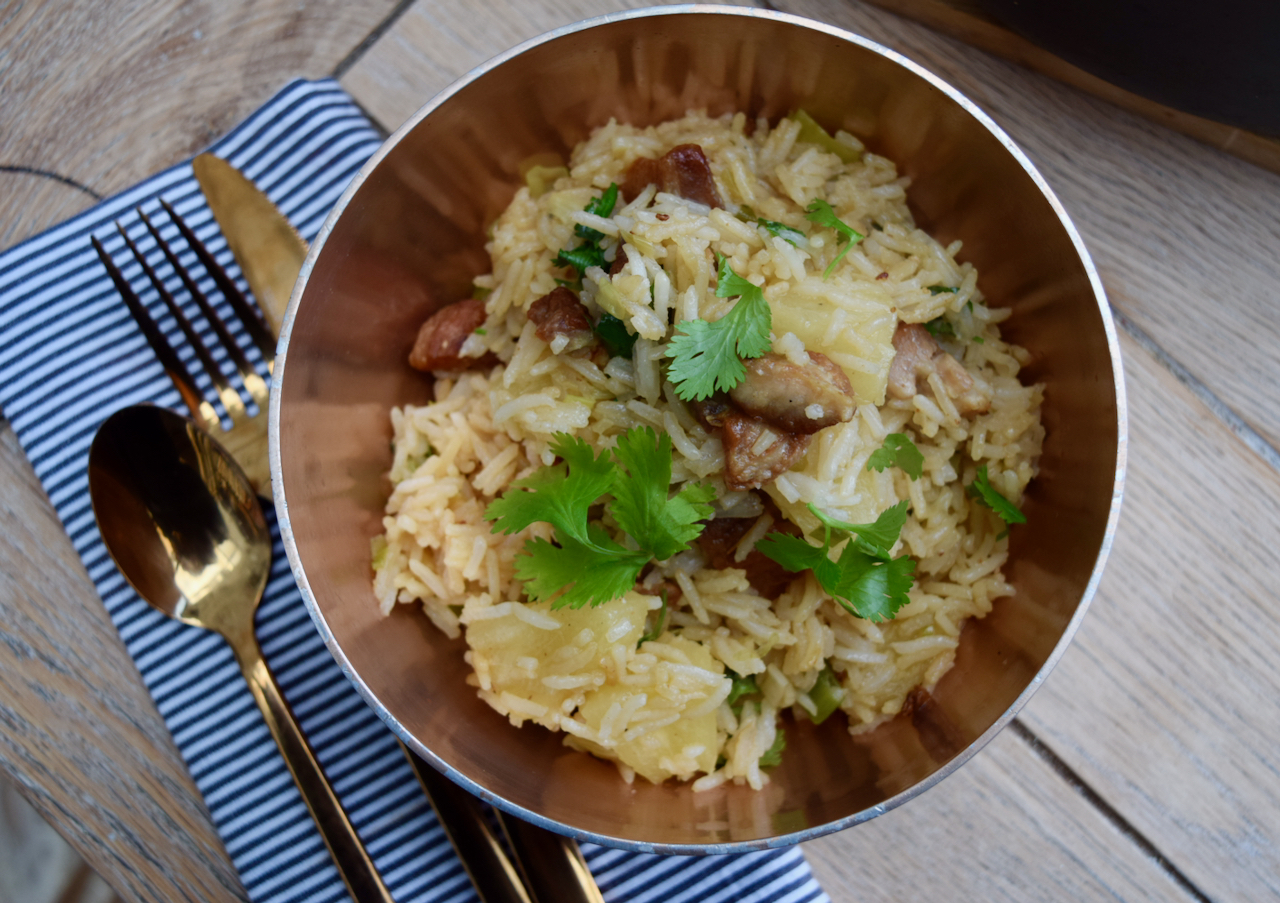 Crispy Pork and Pineapple Bowls recipe
I'm definitely in the yes please camp when it comes to adding fruit to a savoury dish. Pineapple on a pizza, pork and apricots, lemon chicken, I love them all. I know the whole fruit/meat concept is a little on the 70's side, but these Crispy Pork and Pineapple Rice Bowls are anything but unfashionable.
We eat so much rice in our family, I spend a lot of time trying to make it new and interesting. These Crispy Pork and Pineapple Bowls utilise leftover rice, so they're not only budget friendly, they're bloody delicious. The crispy pork element comes in the form of finely chopped pork belly slices, also on the good value side, cooked until the fat has rendered and it's golden and sizzling. The rice dish is flavoured with spring onions, garlic and ginger and seasoned with plenty of soy and sesame oil. The pineapple star of the show comes from a tin, but if you have a fresh pineapple which needs eating up, then fill your boots. It adds sweetness, cuts through the pork and salty rice and just makes the whole bowl sing.
This recipe has so many things going for it; a)it's frugal food at it's finest b) it's made in one pot and c) it's so easy, someone else could make it for you in less than 25 minutes, if you have family members who know where your kitchen is, that is.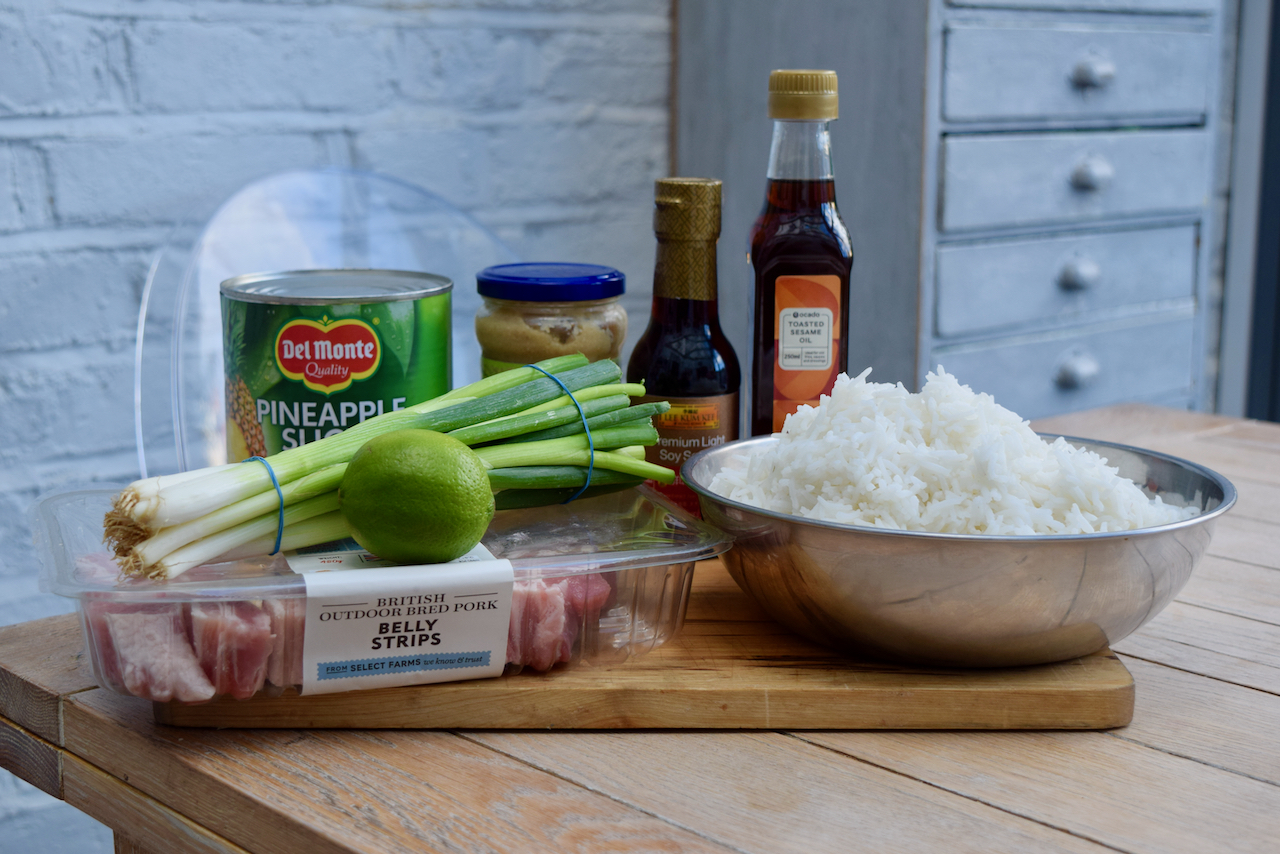 We quite often have leftover cooked rice, such is my inability to gauge how much rice feeds a family of 4. You could use those sachets of pre cooked rice or just cook rice and let it cool before using in this recipe, if leftovers are not your thing. I used lazy garlic and ginger, because I was feeling lazy, and I have even managed to find garlic and ginger in the same jar; my love of a shortcut in the kitchen knows no bounds.
If you're cooking rice specifically for this, do this first; rinse the cooked rice in cold water and leave to drain and cool completely. For the pork, take a sturdy high sided pan and heat over a medium high flame, there's no need to add more oil here as the pork is fatty. Cut your pork belly strips into small, thin pieces, season with salt and pepper then toss into the hot pan and cook until golden and sizzling. This took around 10 minutes.
A top tip is to leave the pork to brown without moving for the first few minutes to ensure maximum crispiness.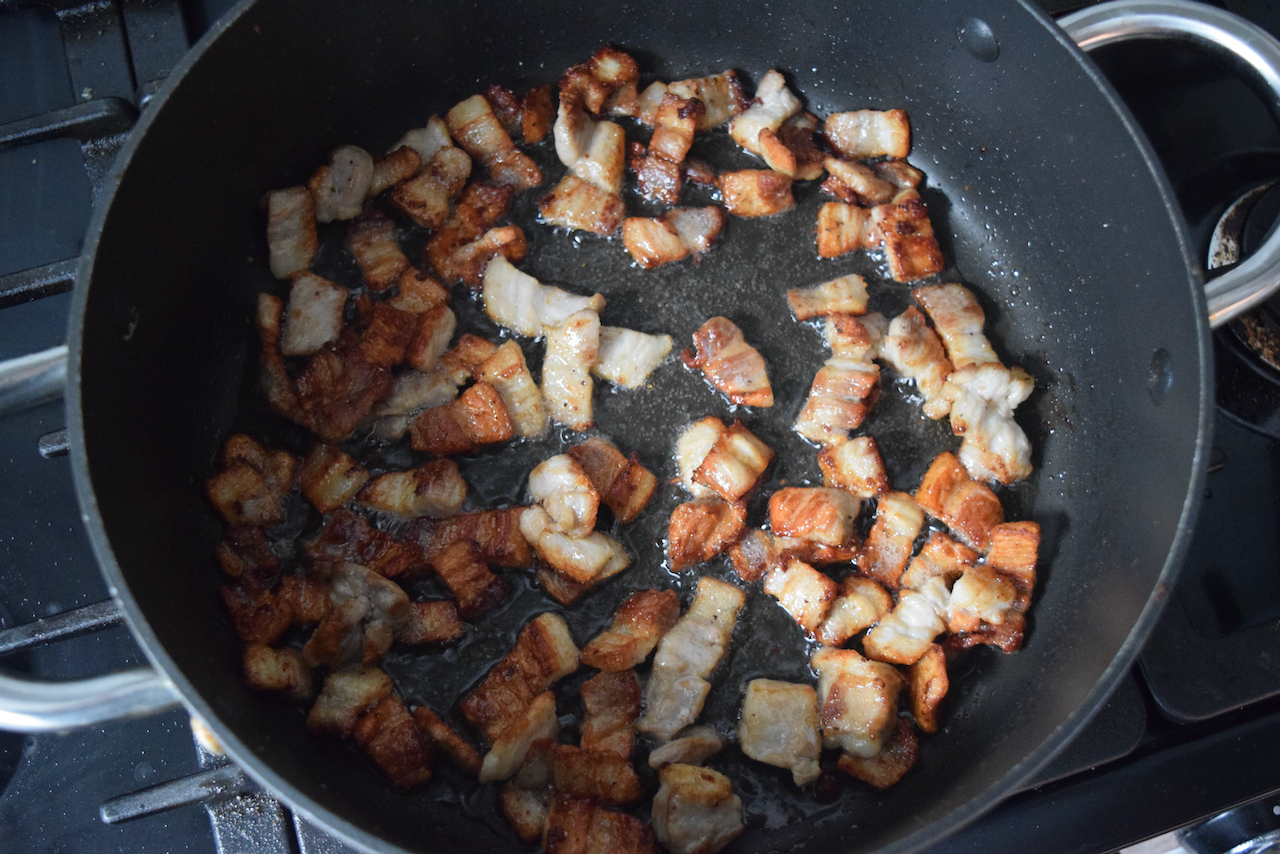 Now, if you're not a fan of oil, drain off all but 2 tablespoons of the pork fat. I love the flavour of pork fat, so left all of it right there in the pan and it tasted just amazing, so it's entirely up to you. Next tip in the finely chopped spring onions and garlic and ginger. Cook them for a minute or two, to just soften.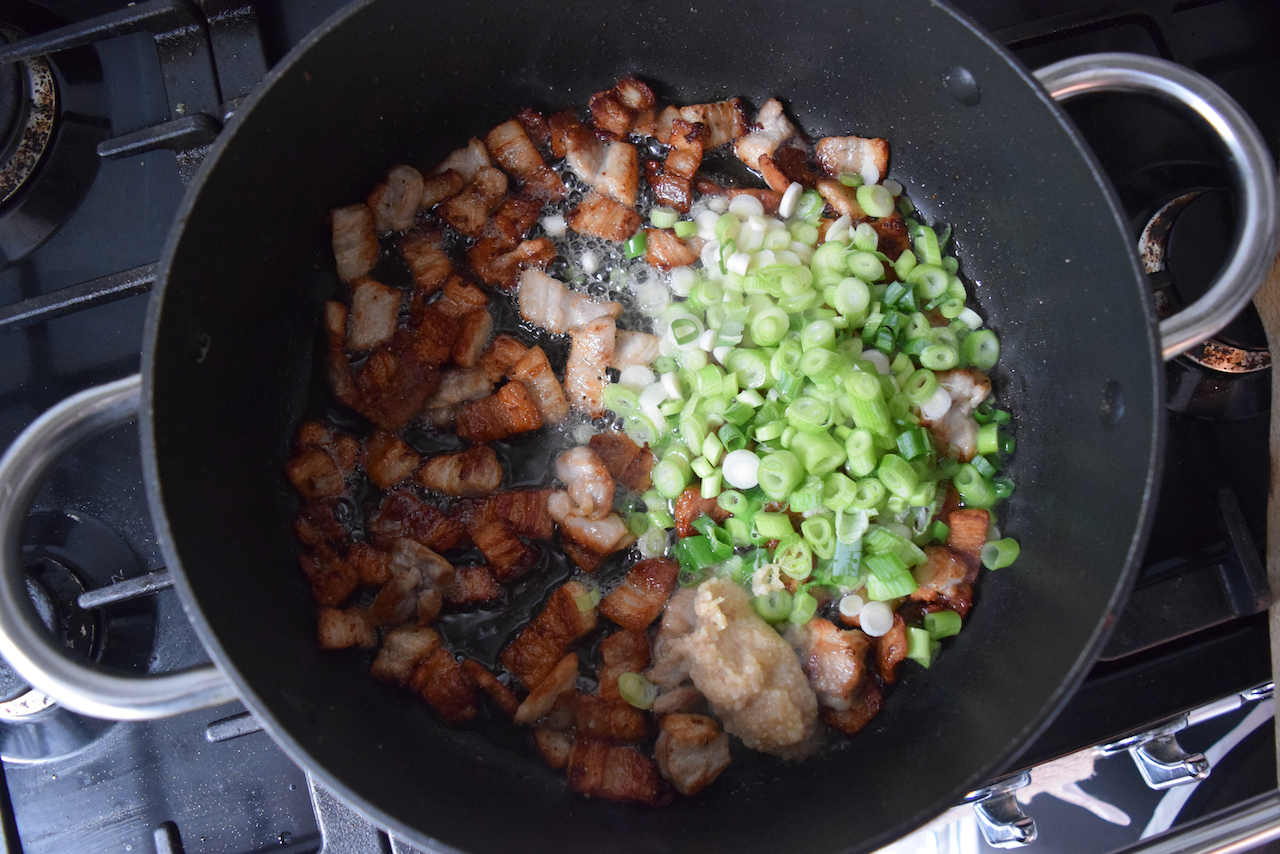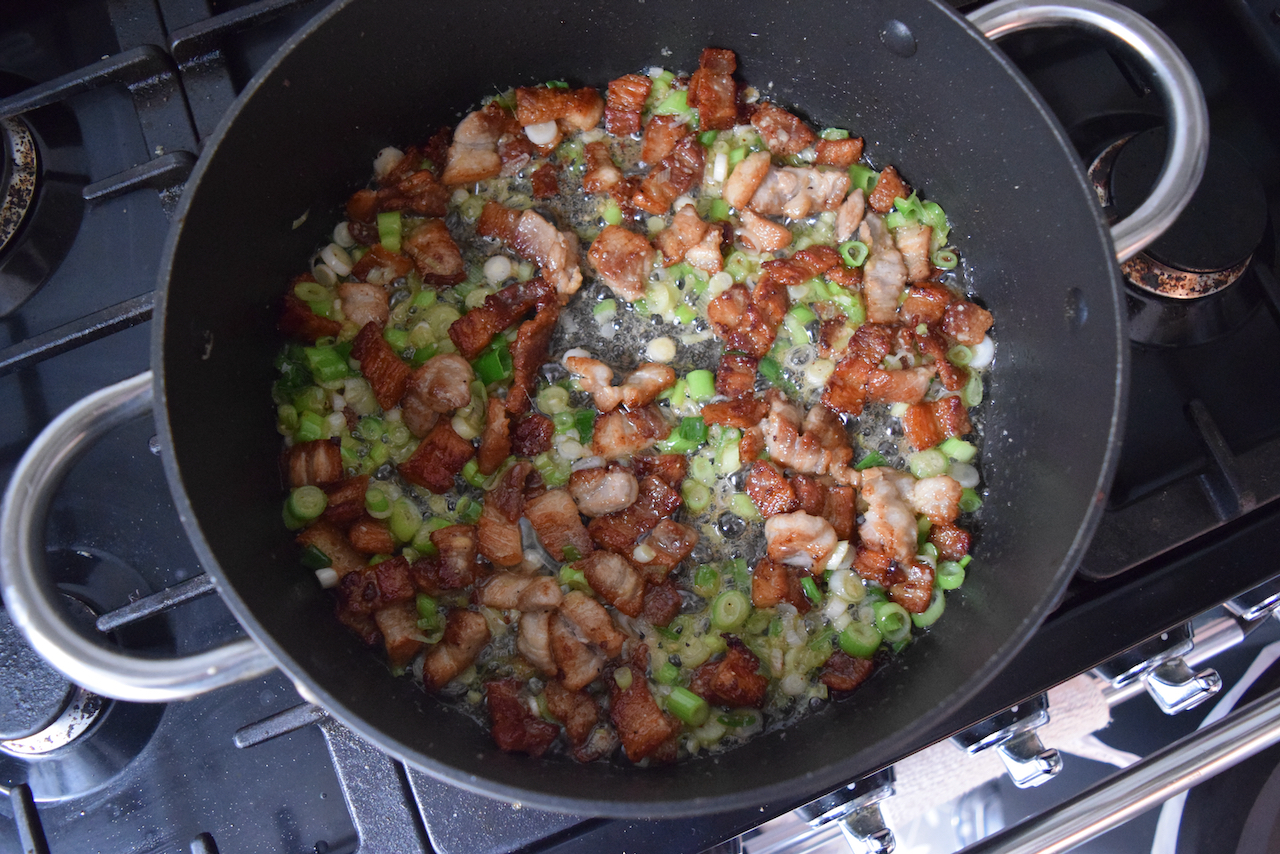 Now add the cooled/leftover/packet rice and stir well, so it heats up and takes on all the pan flavours.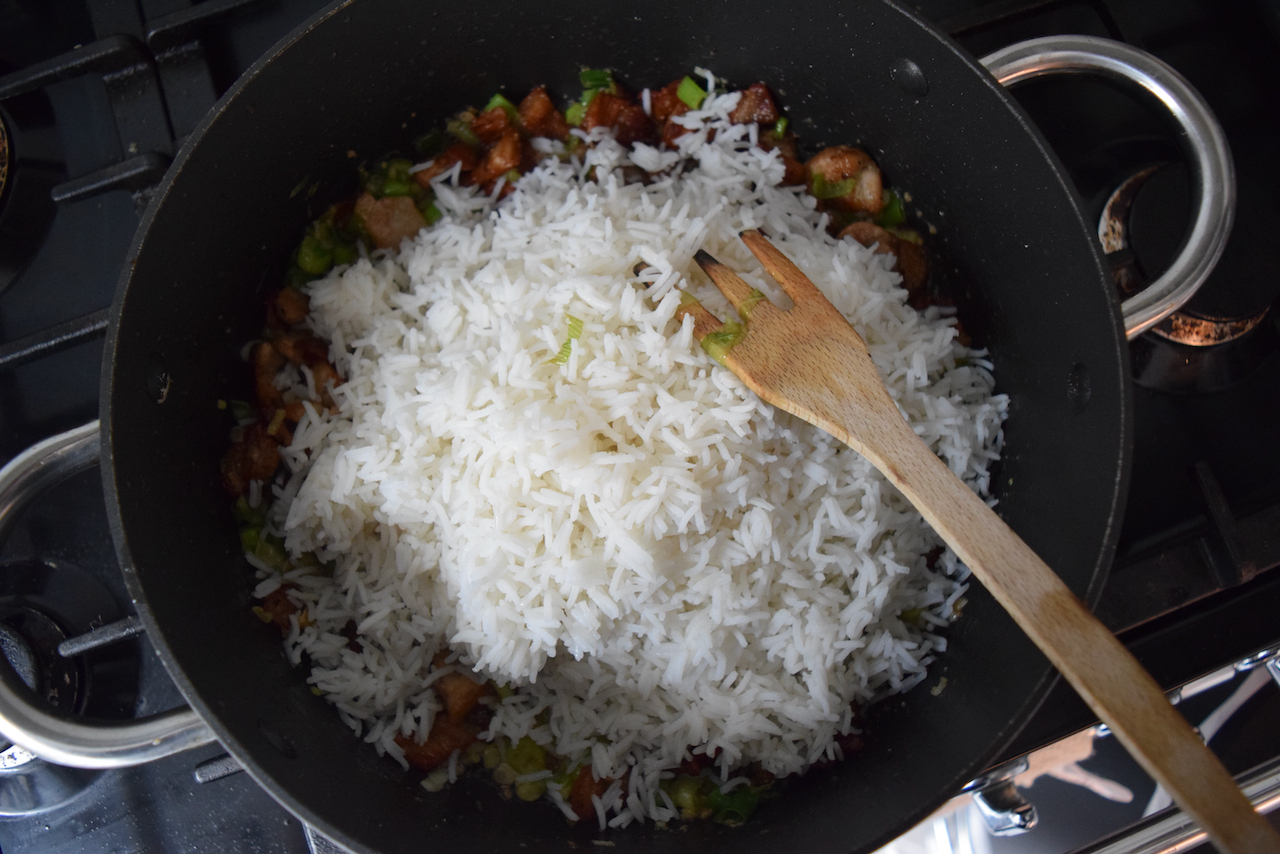 Season with the soy sauce and sesame oil and stir again. Then tip in the pineapple, stirring again.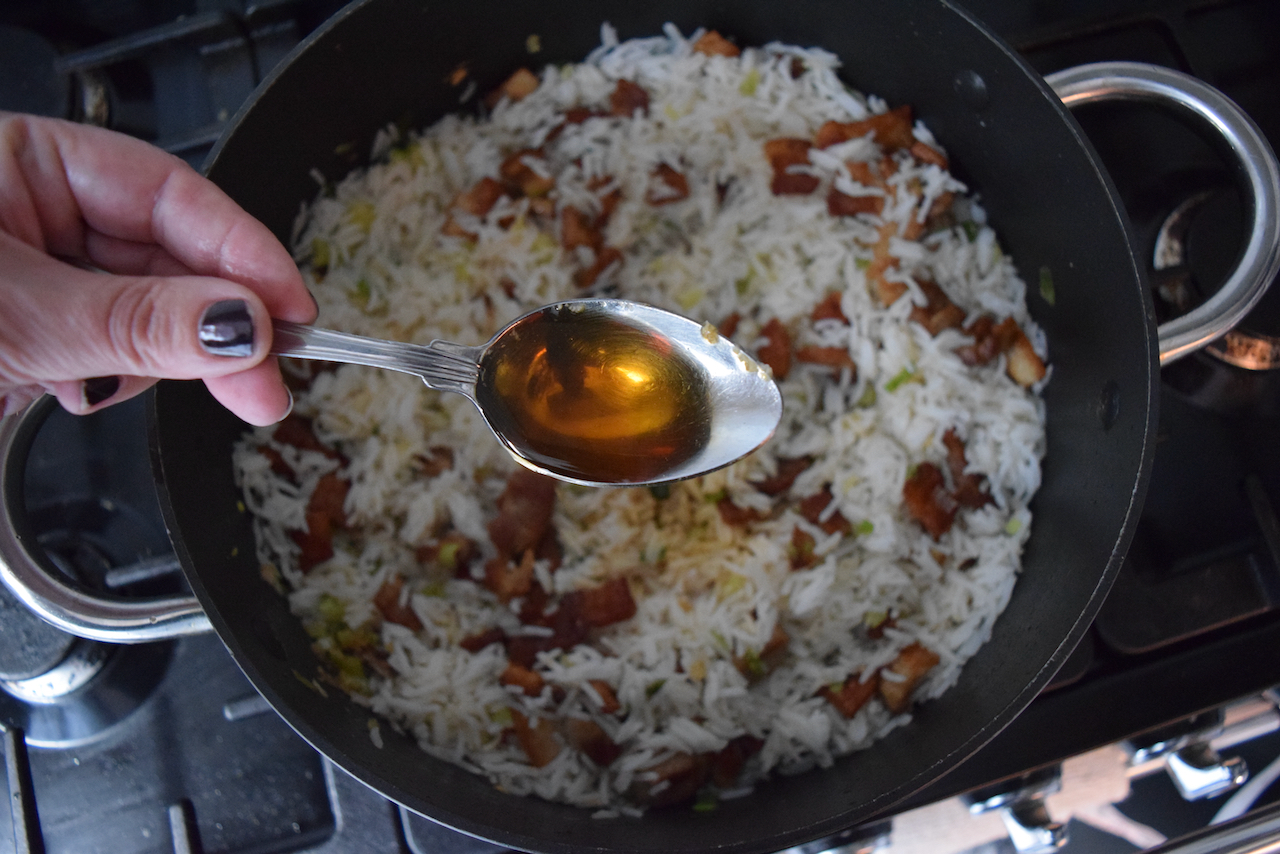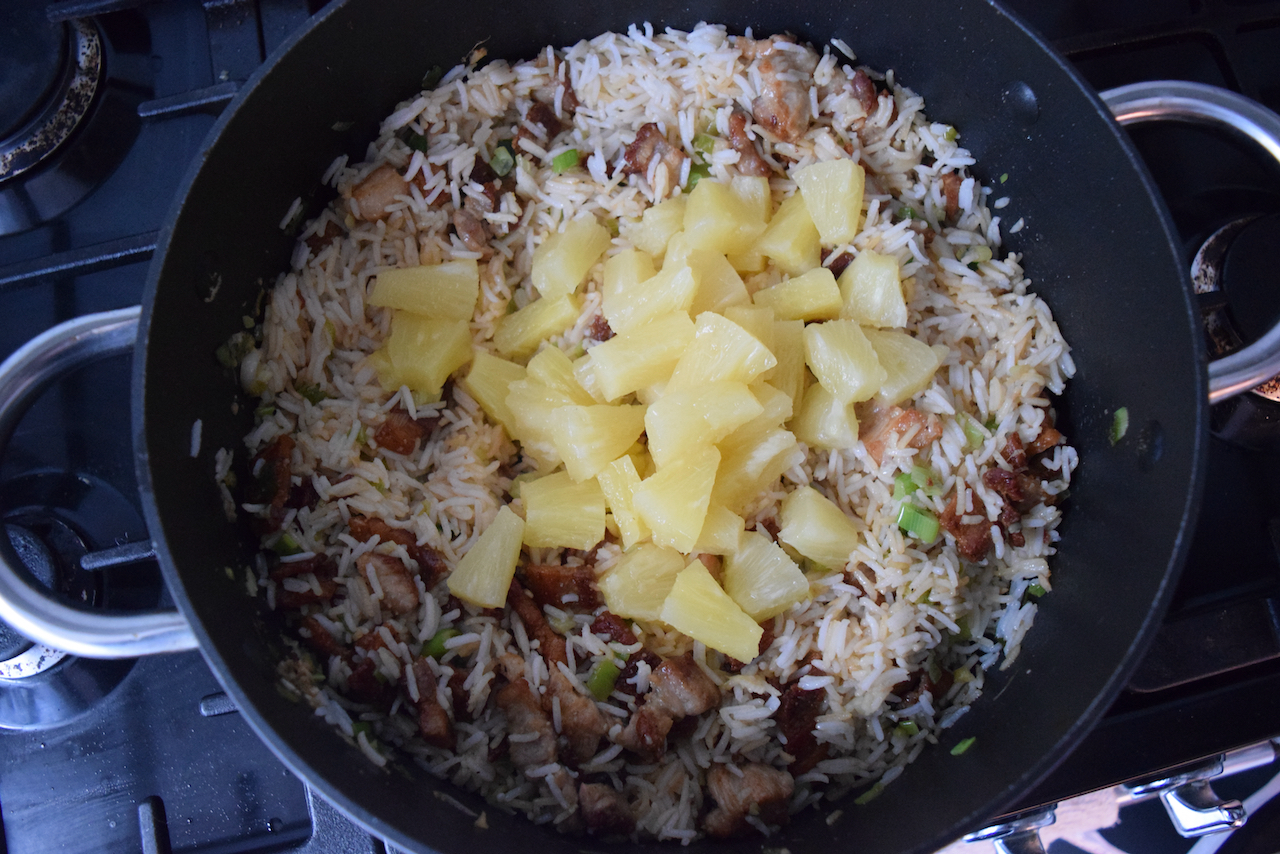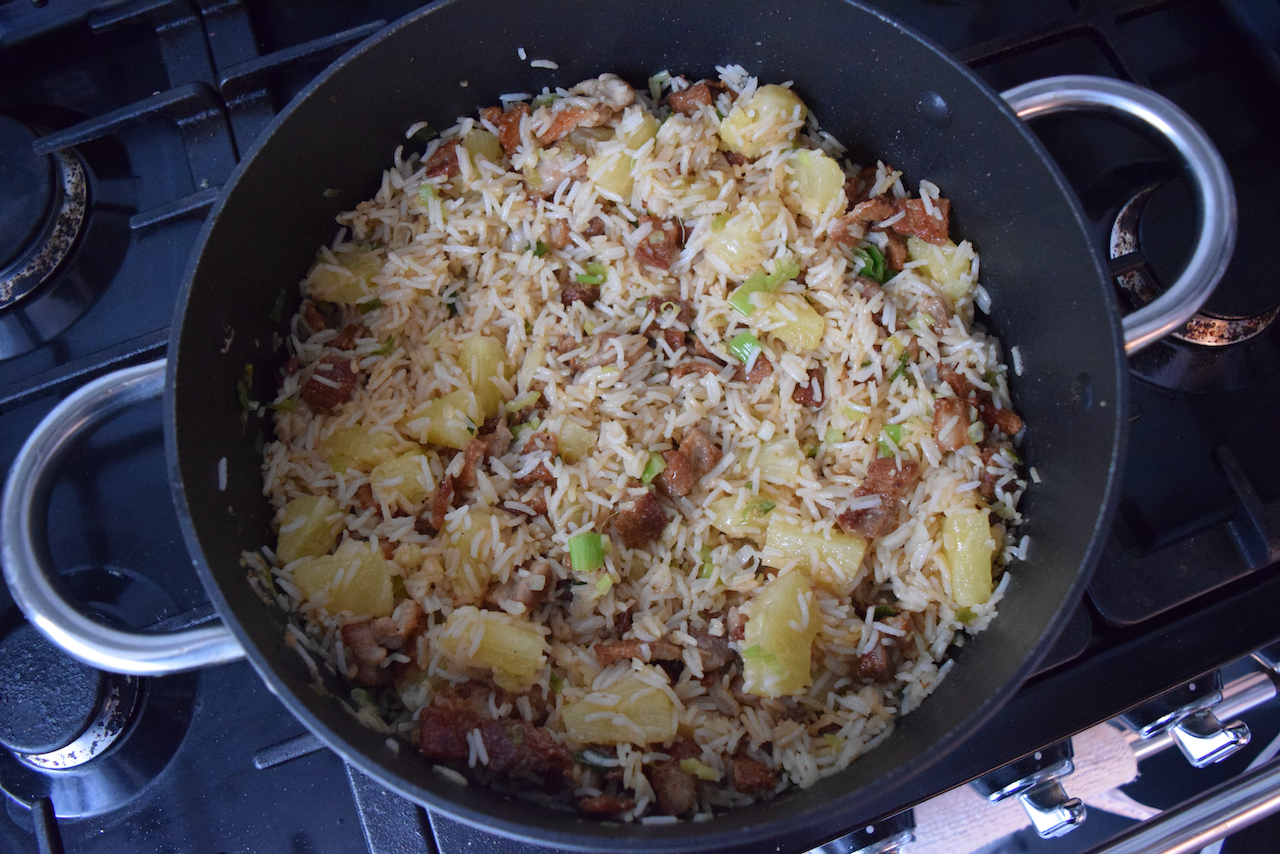 Finally stir in the zest and juice of a lime, have a huge mouthful and check for seasoning, then stir through a handful of fresh coriander.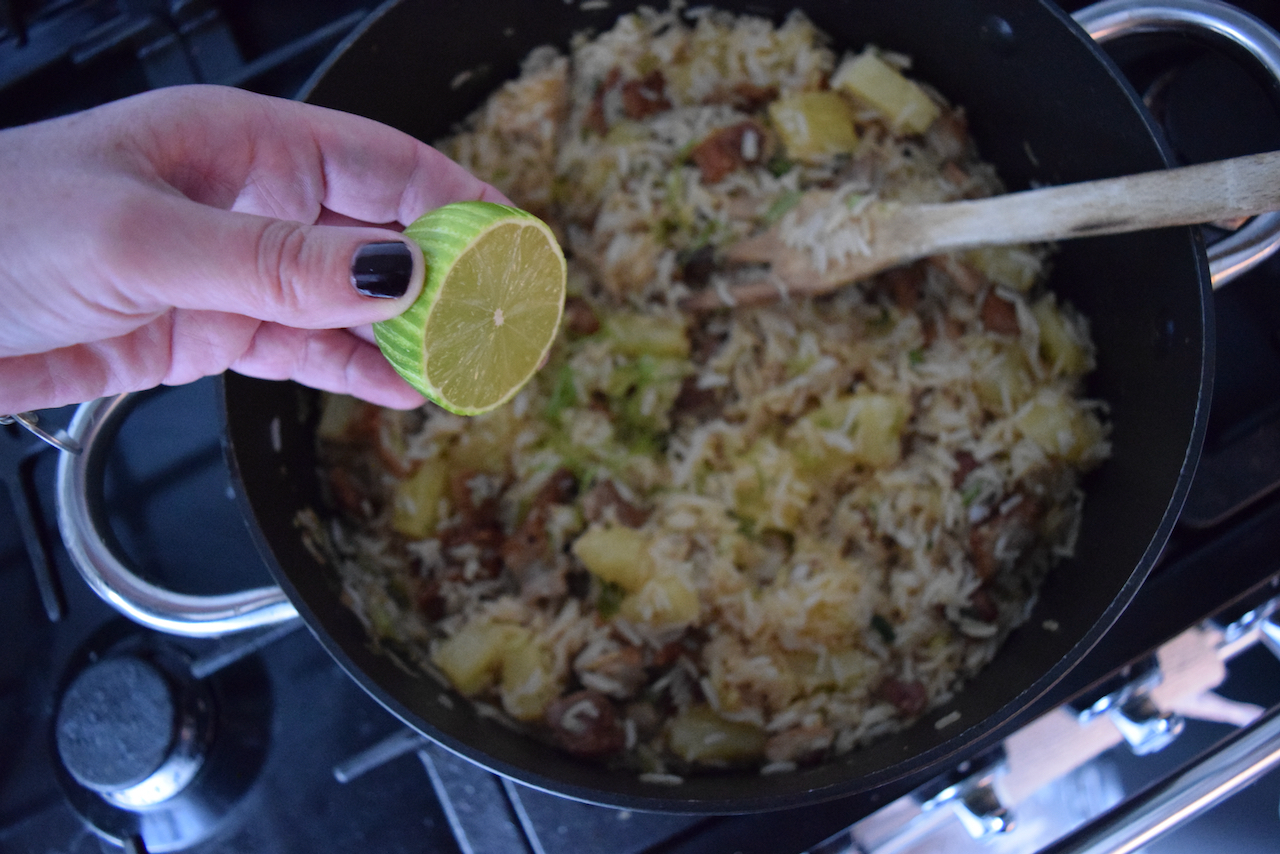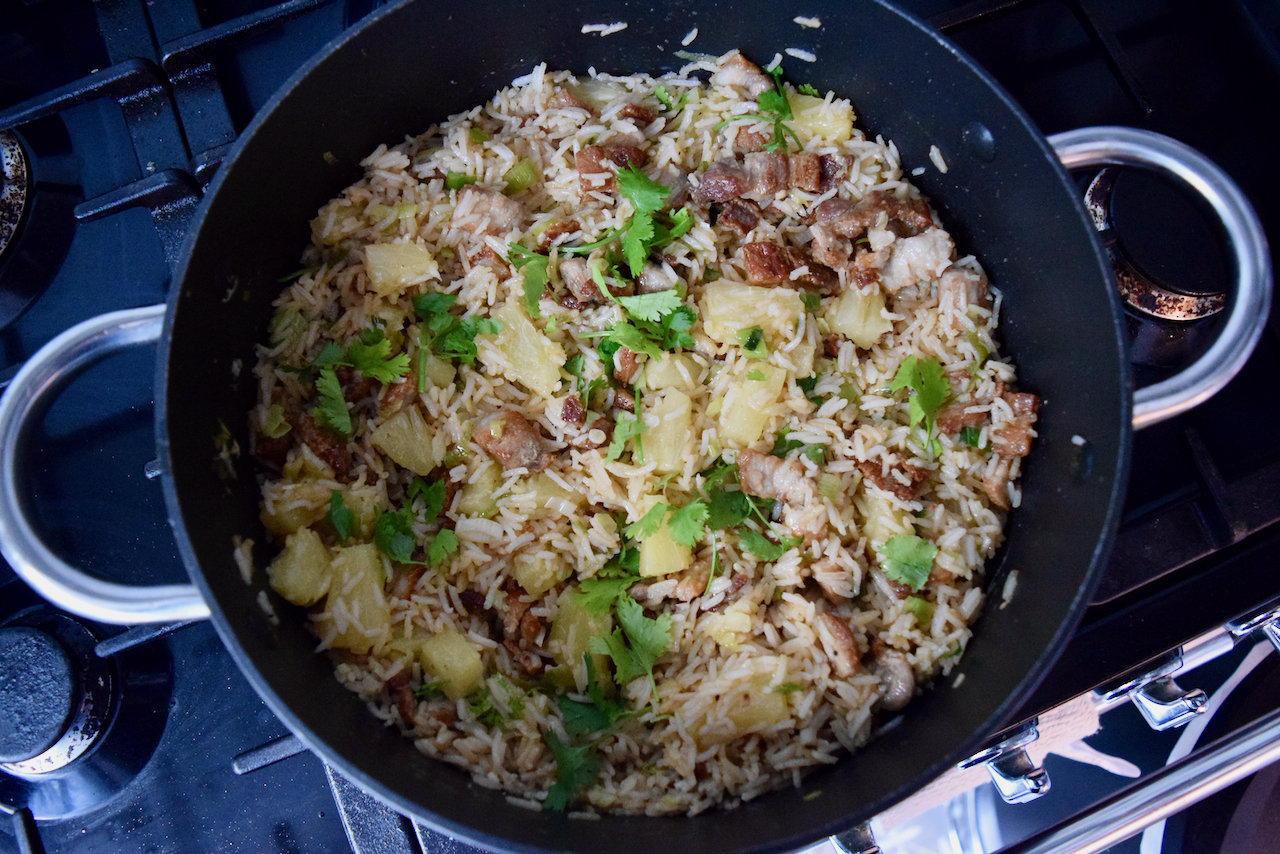 And that's it. Serve in great big, piping hot bowlfuls, with or without a green vegetable on the side.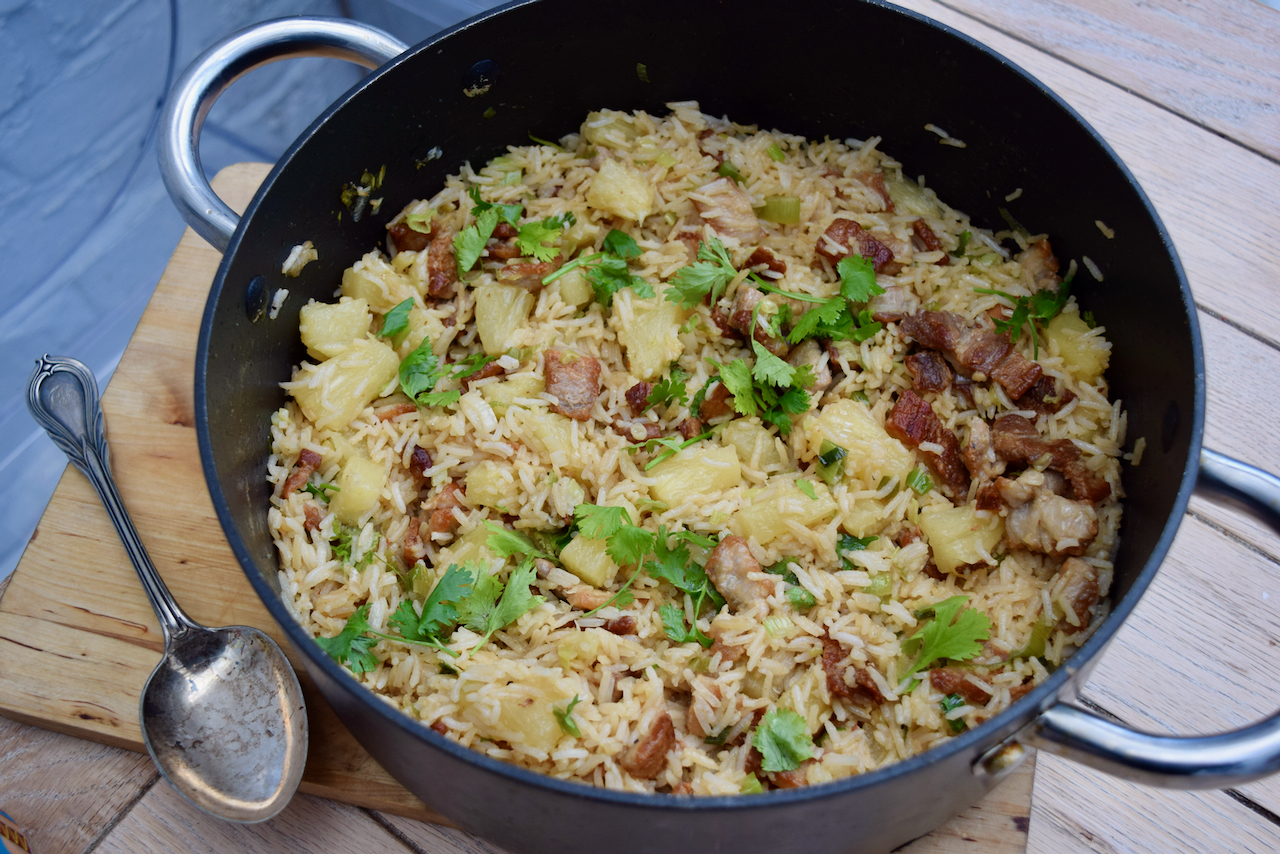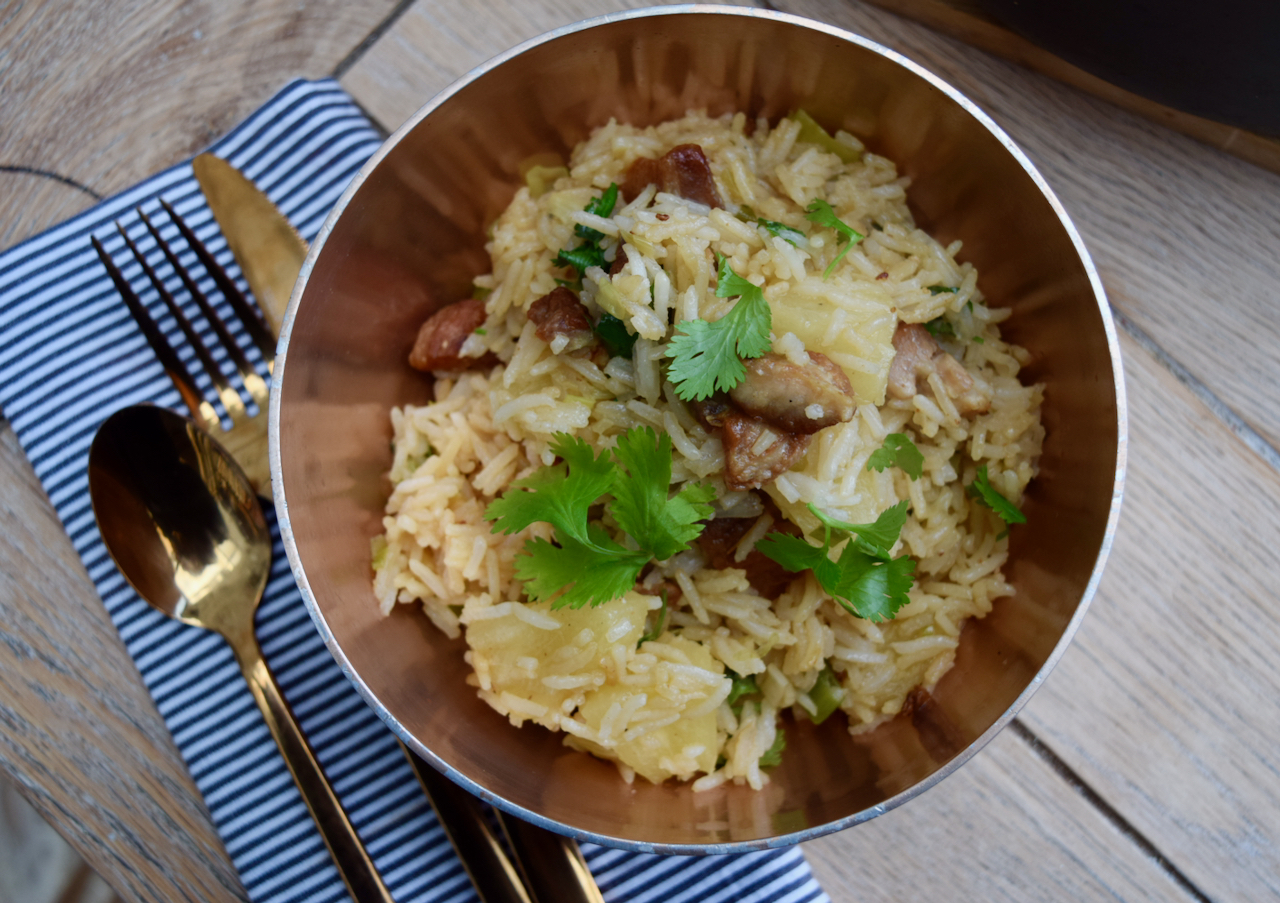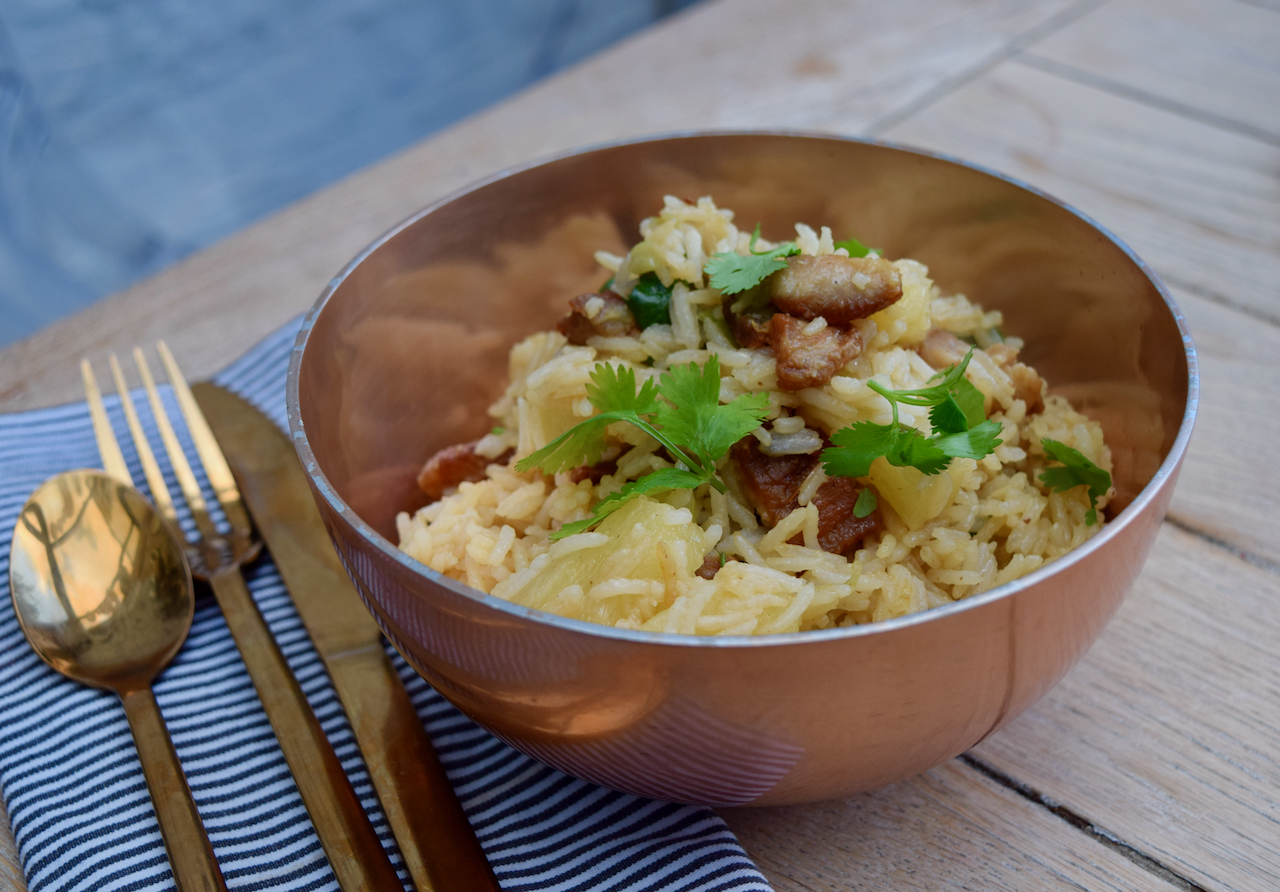 This bowl of food is everything I love about mid week cooking. Great value, comforting and surely the pineapple counts as one of your five a day?
Lucy x
Crispy Pork and Pineapple Bowls recipe
Serves 4, generously
You will just need a large high sided frying pan
400g pork belly slices, cut into small thin pieces
Salt and pepper
6 spring onions, finely chopped
2 garlic cloves, crushed, or a teaspoon lazy garlic
An inch fresh ginger, chopped, or a teaspoon lazy ginger
800g cooked rice, cold, this is about 300g uncooked rice
6 tablespoons light soy sauce, use less if yours is dark soy
3 tablespoons sesame oil
4 pineapple rings (half a large 800g tin), drained and cut into cubes, or half a fresh pineapple
Juice and zest of one fresh lime
A handful fresh coriander
Extra soy, to serve, and a green vegetable, if you like
Take a large high sided pan and heat over a medium high flame. Add the finely chopped pork belly slices, seasoned with salt and pepper, and cook until crisp, golden and smelling amazing; this takes around 10 minutes. If you have a lot of fat, drain off all but 2 tablespoons (I didn't drain mine as I love the taste of the pork fat with the rice).
Add the finely chopped spring onions, garlic and ginger and stir and cook for a minute or two just to soften slightly. Tip in the cooked rice and stir well to coat in all the flavours and heat through. Add the soy and sesame oil, stir again then tip in the drained pineapple chunks and cook for another couple of minutes until the dish is piping hot.
Stir through the zest and juice of a lime and a handful of freshly chopped coriander. Taste to see if any more soy sauce is needed, then serve, piping hot with a green vegetable of your choosing.
Any leftovers will keep, well covered, in the fridge for another couple of days.