Homemade Spiced Rum Recipe
Ooh, there has definitely been a slight autumnal chill in the air this week and I am excited. It's time for Friday Cocktails to move away from the fruity frozen style drinkies to something a little more warming and comforting. Let's embrace the season and move on from the crappy summer and love all things spiced and snuggy. My most favourite cocktails are rum based Dark , so I decided it was time I filled the booze jar with my own Homemade Spiced Rum.
My generous friends at Aldi kindly sent me a bottle of their delicious Old Hopking Dark Rum to play with and I have treated it with the respect it deserves by fashioning a warming, fragrant Spiced Rum recipe courtesy of this wonderful recipe from Bon Appetit. While we're on the subject of the lovely Aldi, they also have a stylish range of wearable Autumn Special Buys. Here is a seasonal photo of Ted modelling his poodle perm and me modelling Aldi's beyond cosy padded jacket.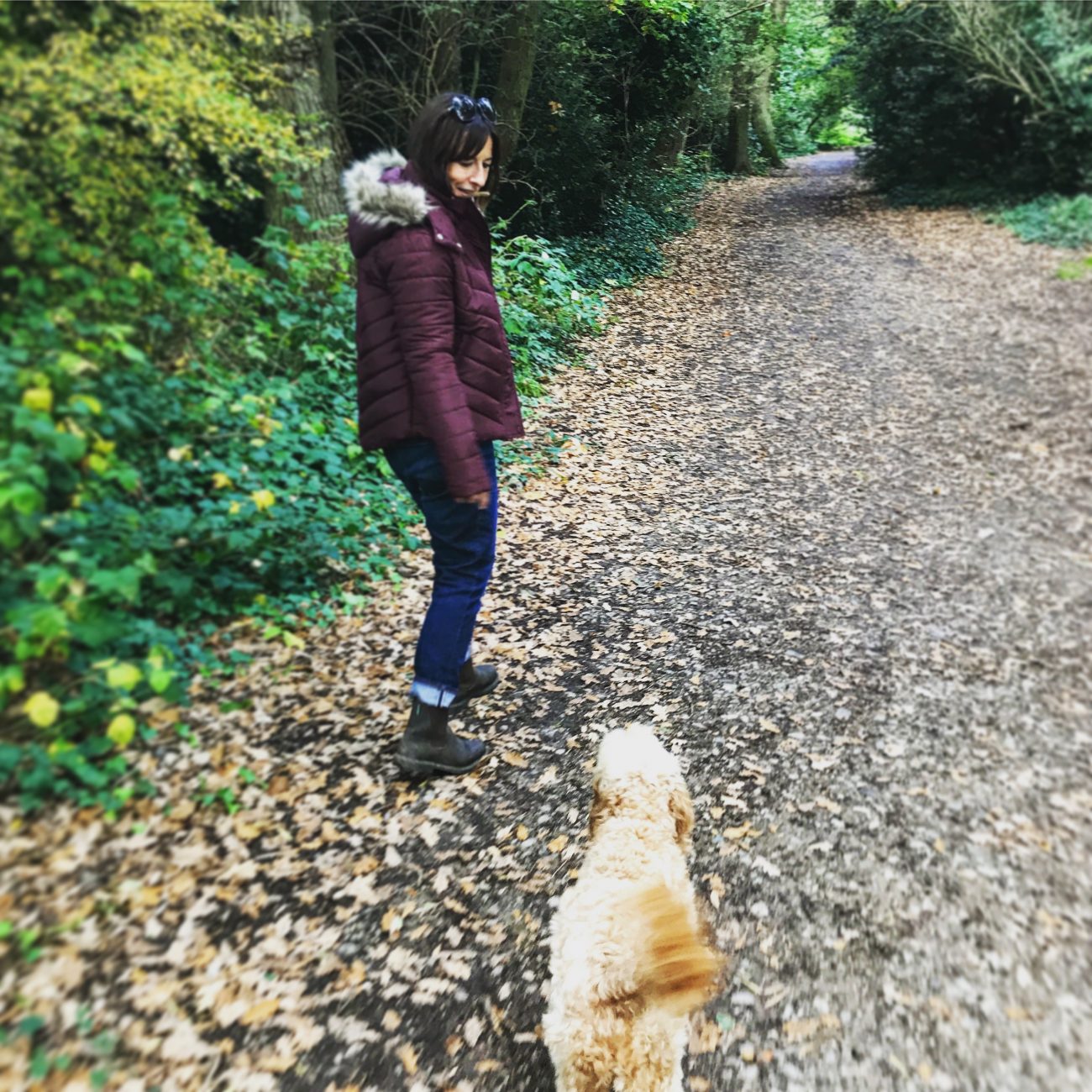 Back to the rum. This recipe may look like it contains contributions from every spice jar in your cupboard but it's only a few bits and bobs, most of which you will have already. On the absolute plus side this Spiced Rum only takes two days to infuse so it's ready to drink in next to no time. You can enjoy this in my favourite Dark and Stormy, or just drink, as below, with a splash of ginger ale and a squeeze of lime. This is such a warming, comforting drink, just what's called for after a chilly dog walk. It's also refreshing and compliments almost any mixer, you can experiment to your hearts content, especially as this recipe makes a good 700ml of Spiced Rum. You may even have a drop to share with your loved ones, but don't rush into anything, make sure they really are loved ones before you share.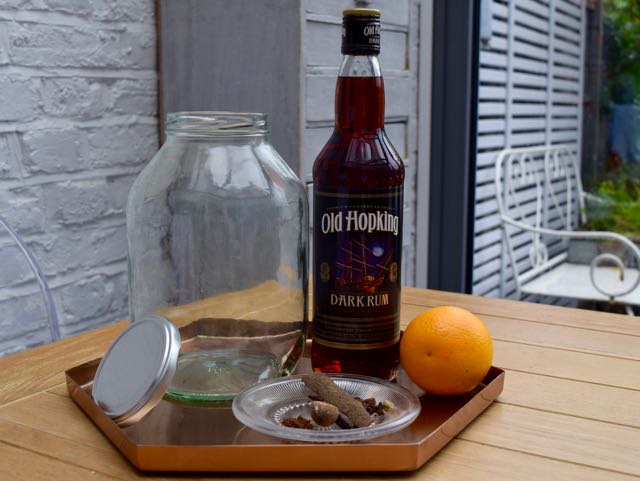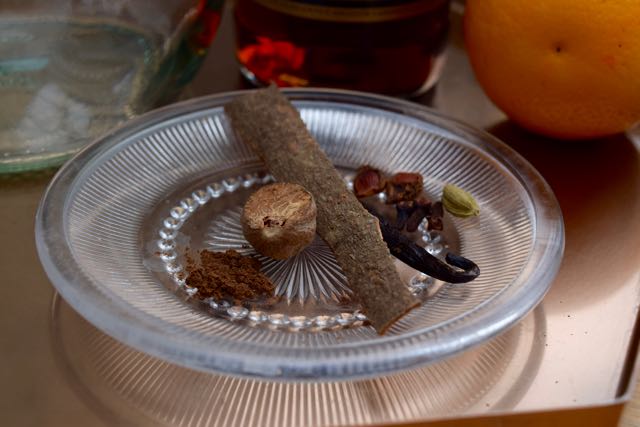 There's my lovely Aldi Old Hopking dark rum along with what looks like a handful of autumnal sweepings. But don't be alarmed all the spices are super accessible and I even improvised when I only had cinnamon bark and ground allspice instead of berries. This wonderful flavour combo adds warmth and elegance to the rum and luckily, it only takes two days.
Start that two day process with a large jar and your fragrant bits and bobs. Drop in the cinnamon and the vanilla pod. Split the pod first and scrape the seeds into the jar.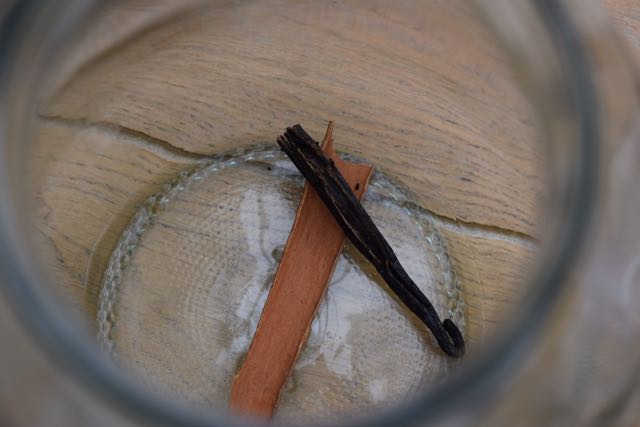 Now add the allspice, either berries or ground, with the cloves, cardamom, star anise and grated nutmeg.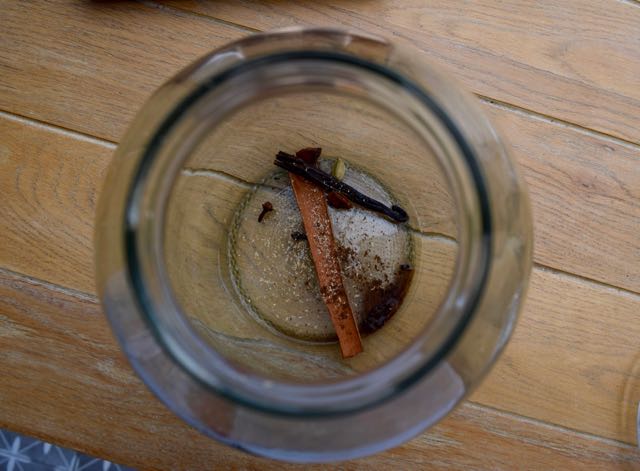 Finally, using a wide vegetable peeler, peel off a large strip of orange zest, without the pith, and twist this over the mouth of the jar to release the citrus oils, before dropping it into the jar.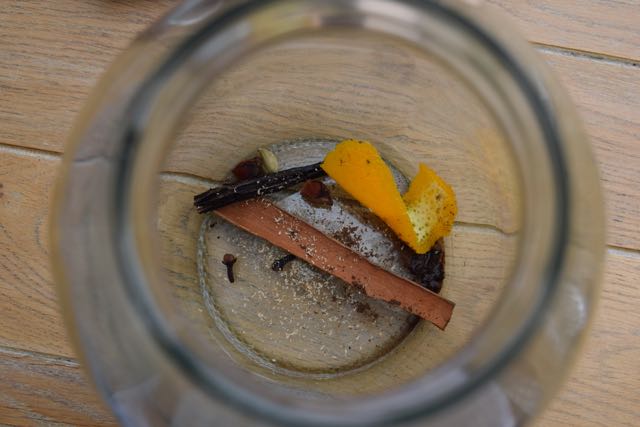 Now, pour in your wonderful Old Hopking rum, then give the jar a bloody good swill, to ensure all the wonderful spices start their infusing.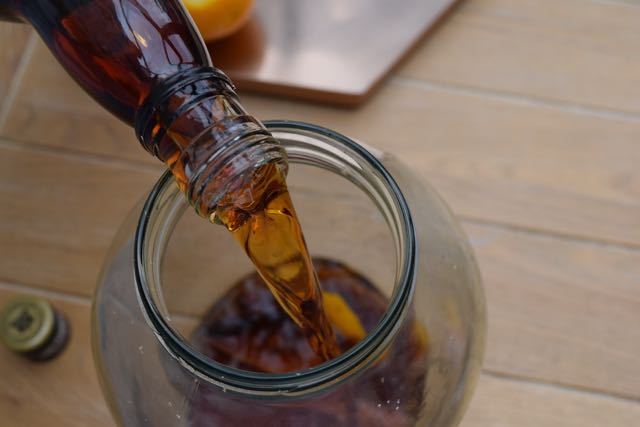 Leave for an unbearably long two whole days giving it a little swirl a couple of times a day to ensure full flavour infusion.
When the two day wait is over, strain your homemade spiced rum through muslin, a coffee filter or paper into a jug for easy pouring purposes.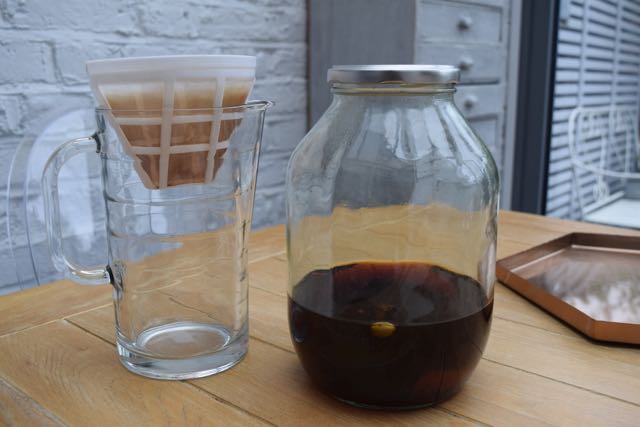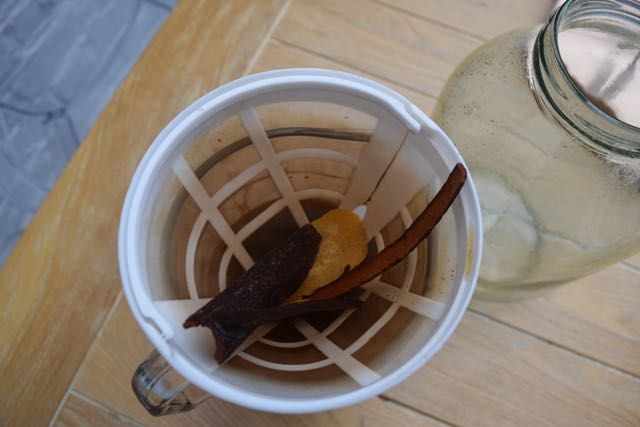 Pour your bespoke, homemade Spiced Rum into a large storage bottle and then you are ready to mix up a lovely spiced rum based cocktail.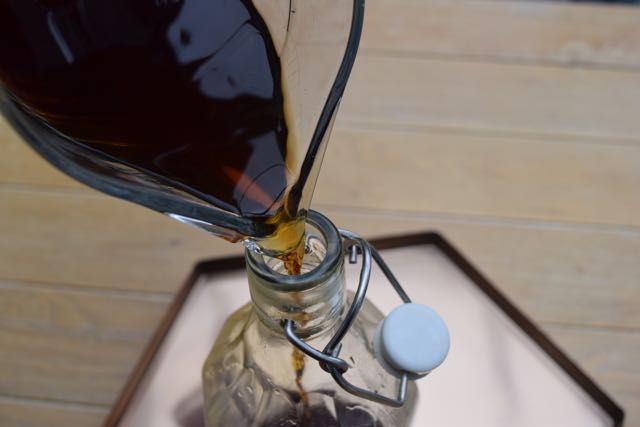 This is simple but so tasty. Add a good handful of ice to your glass and pour in a large shot of your Homemade Spiced Rum and a good squeeze of fresh lime.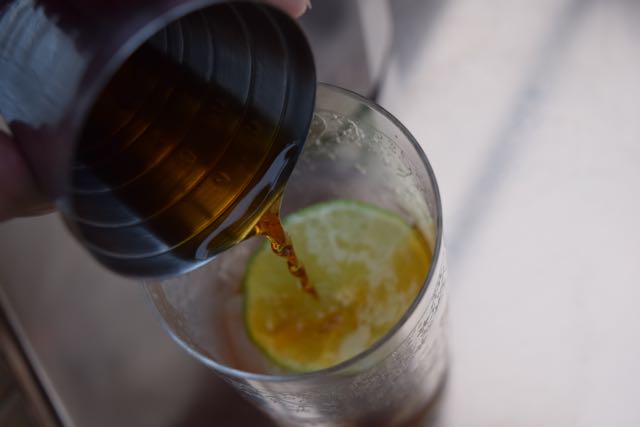 This is vanilla, spiced rum heaven. Top up with ginger ale, stir then enjoy your handiwork.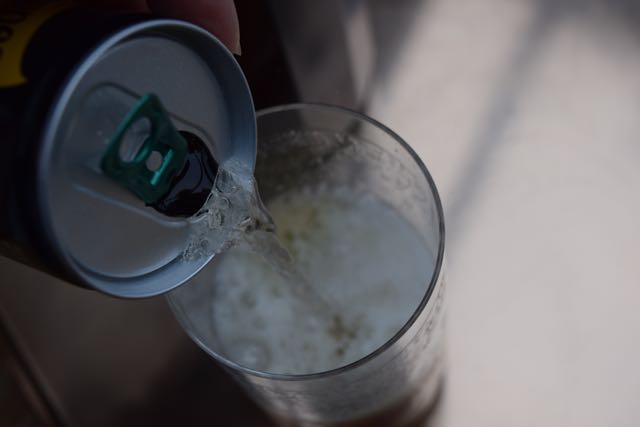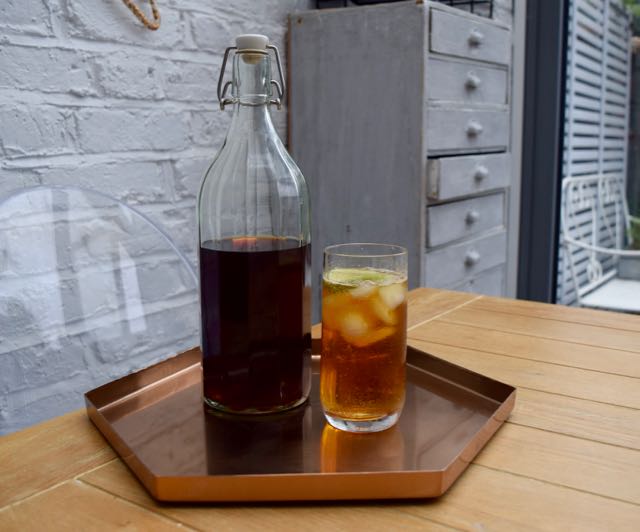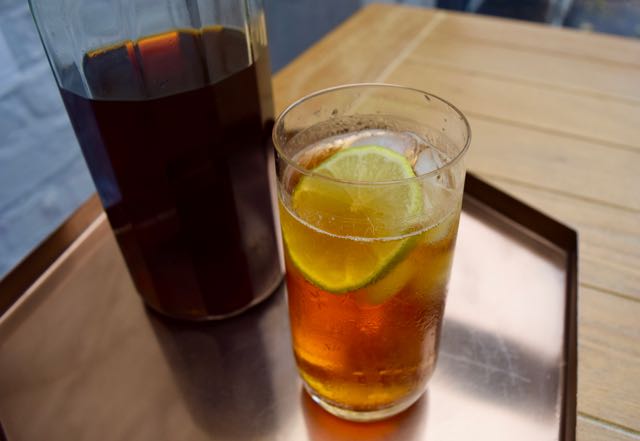 Golden Spiced Rum which you have crafted yourself, Lucy Loves is just the gift that keeps on giving. I am teaching you new booze related skills every week. Lets not mention the C word too soon, but you could consider making a batch of this to gift over the festive period. It does only take two days to infuse too, so it could make the perfect emergency pressie, if you can bear to be parted from your stash, that is.
Have a lovely weekend.
Lucy x
Aldi kindly provided me with their Old Hopking Rum and my lovely padded jacket, all thoughts and ramblings are, as always, my own.
Homemade Spiced Rum Recipe
Makes 700ml
You will need a large jar for brewing and a large bottle for storage, a 1 litre bottle would be fab
700ml dark Rum, Old Hopking dark rum is lovely
1/4 teaspoon ground allspice or 3 allspice berries
3 cloves
1 cardamom pod
1/2 star anise
1/2 cinnamon stick
a good grating fresh nutmeg
thick 4 inch strip orange zest, without pith
1/2 to 1 vanilla pod, split, depending on it's size and plumpness
Take a large jar and drop in your all spices, cloves, cardamom pod, star anise, cinnamon stick, grated nutmeg, orange strip and vanilla pod, with the seeds scraped out. Pour on the dark rum and give the jar a good swill around and make sure all the spices are mixed.
Leave in a cool dark place for 2 days, swirling the rum around a couple of times each day.
After two days, strain the spices from the rum using muslin or a coffee filter, into a jug. Pour the rum into a large bottle and it will keep indefinitely in a cool dark place. Serve with ginger ale and a twist of lime or with ginger beer for a spiced rum Dark and Stormy.
SaveSave
SaveSave