Matcha Almond Biscuits Recipe
Green is my favourite colour and always has been. It may be because I have green-ish *and bloodshot*  eyes, but I have always loved all things green. I used to have a green t-shirt with Lucy printed on the front when I was about 5 which I adored more than anything but now I am more mature, I have more green coats than I care to mention. I am going somewhere with all this colour palette talk, believe it or not, so to summarise, the recipe I am sharing with you today is my Matcha Almond Biscuits. These are, predictably, green.
Matcha is my new hot beverage of choice. I have loved it for a while now and replaced at least two cups of my builders tea with one sugar for a delicious and health beneficial cup of Matcha. This green tea powder is full of healthy business, including truck loads of antioxidants, it has calming qualities and also boosts your immune system. In these wonderful Matcha Almond Biscuits, the green tea powder adds a brilliant fresh flavour and colours the baked treats with a hint of pale green. I use Pure Chimp matcha powder as it has a smooth flavour, is super refreshing and is great value. How kind am I to say all those nice words without them even sending me a free pot *hint hint*.
Regardless of any tentative health benefits these Matcha Almond Biscuits are completely irresistible. They are crisp, with a soft centre and full of almond, vanilla and green tea flavours. They are brilliant to nibble on with a cuppa or serve with a mousse based dessert for a whiff of elegance.  I based my recipe on one from my lovely 101 Cakes and Bakes book, thanking them. These take next to no time to make, so you are no more than an hour away from your first batch of baked matcha heaven. So off you pop.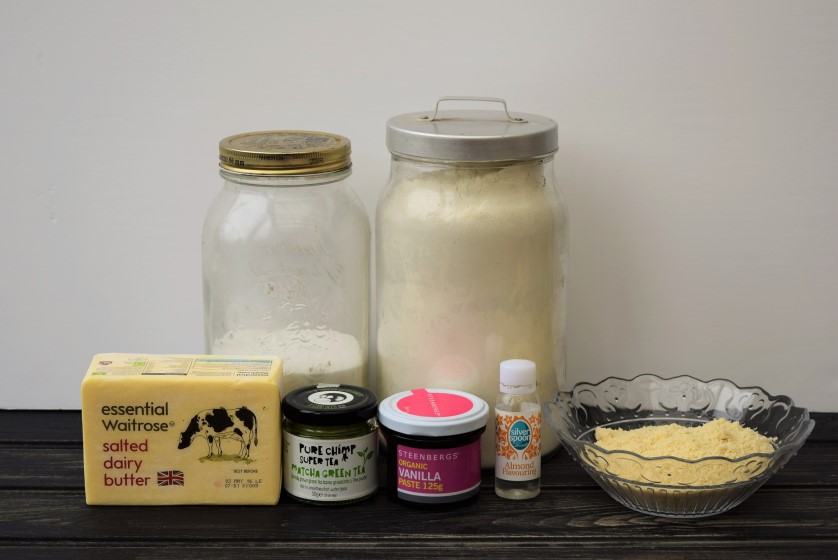 Here are the fragrant ingredients for my Matcha Almond Biscuits. Full of flavour from the ground almonds, vanilla and almond extracts and of course, the Matcha green tea powder.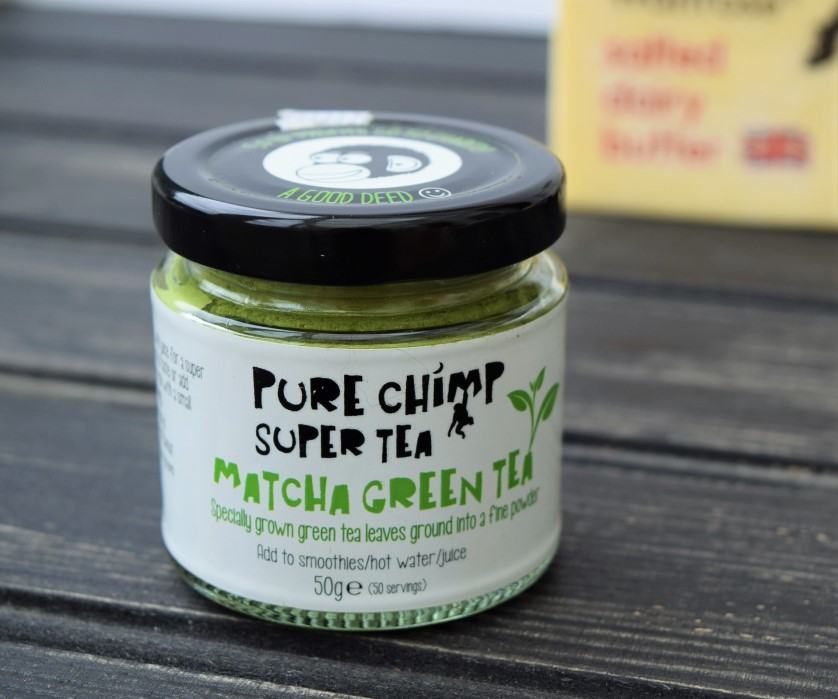 Make a start on these super speedy baked treats by taking your food processor or a large bowl and adding the ground almonds and softened butter.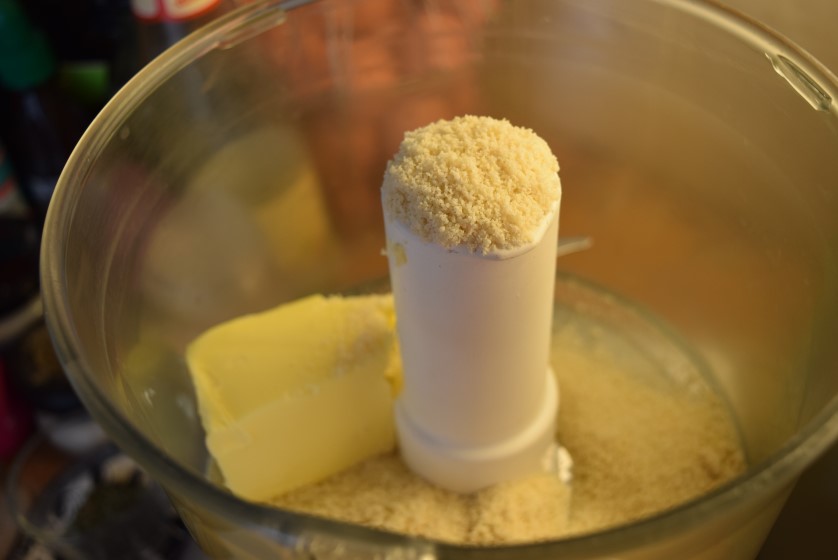 Follow in with the self raising flour then blitz until starting to look like rubbly breadcrumbs. Or rub the ingredients together with your fingers.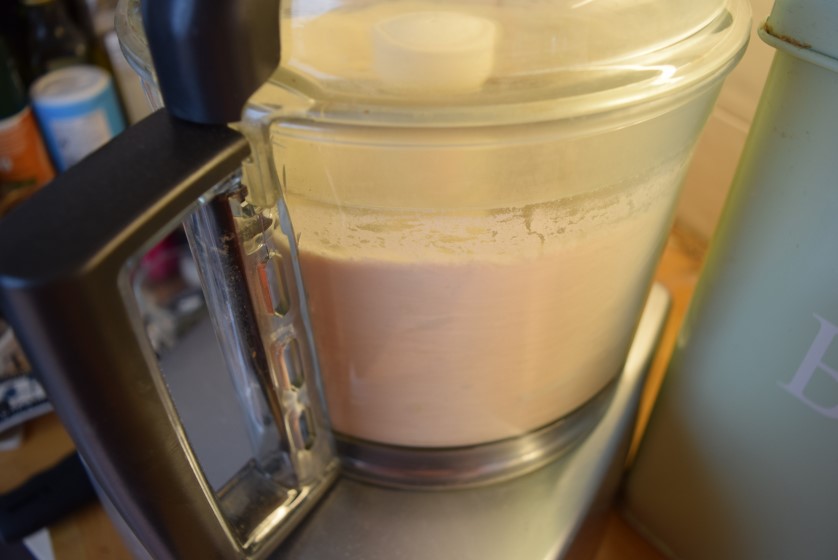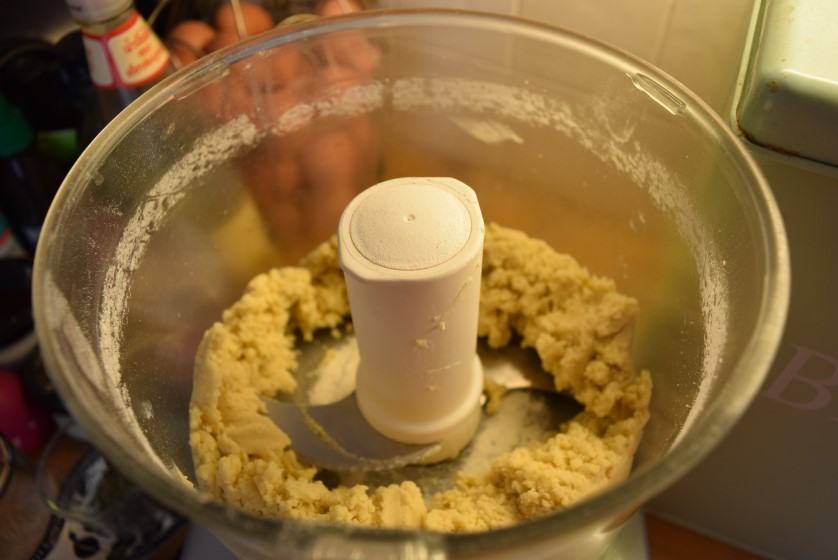 Add the caster sugar and vanilla and almond extracts, then two teaspoons of the all powerful matcha green tea powder.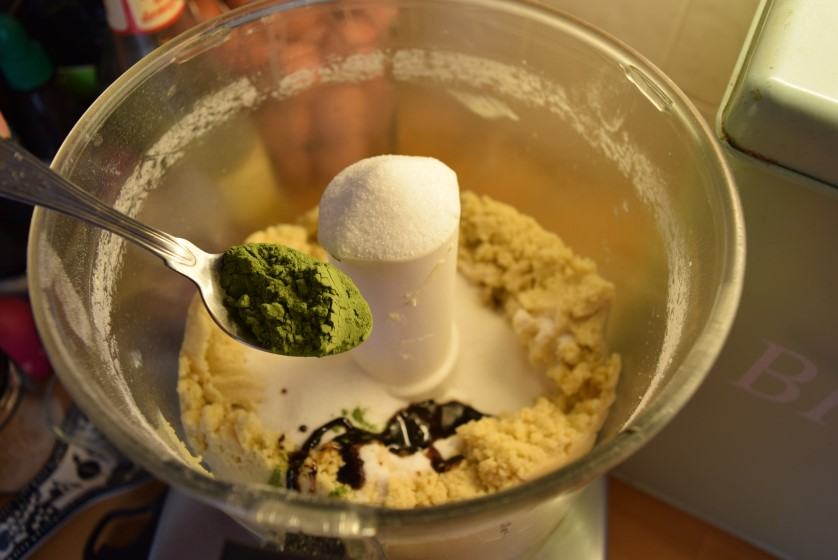 Blitz or mix again until the dough comes together into a soft ball. Add a tablespoon or two of milk if needed to *eek* moisten the mixture.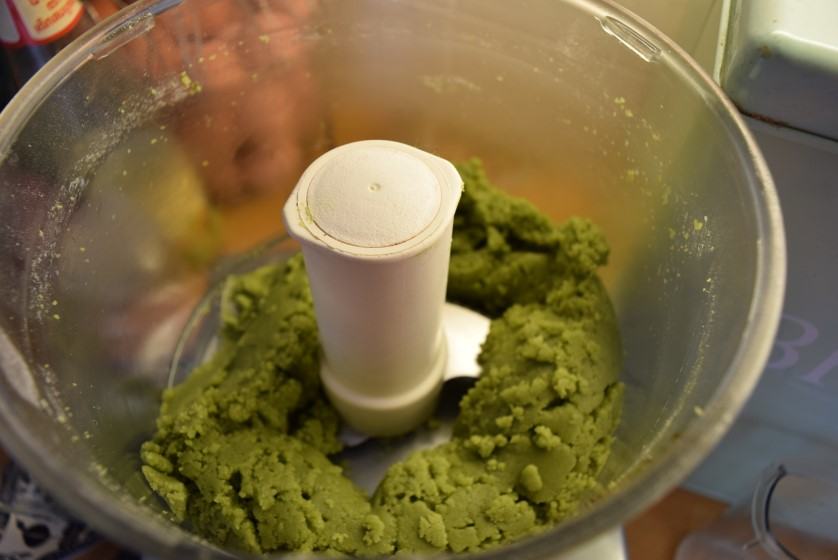 Wrap the fab green dough in cling and pop in the fridge for half an hour or so to chill. You could roll the dough into a long sausage shape at this stage then slice the log into rounds and bake, negating the need to roll out the dough. You decide.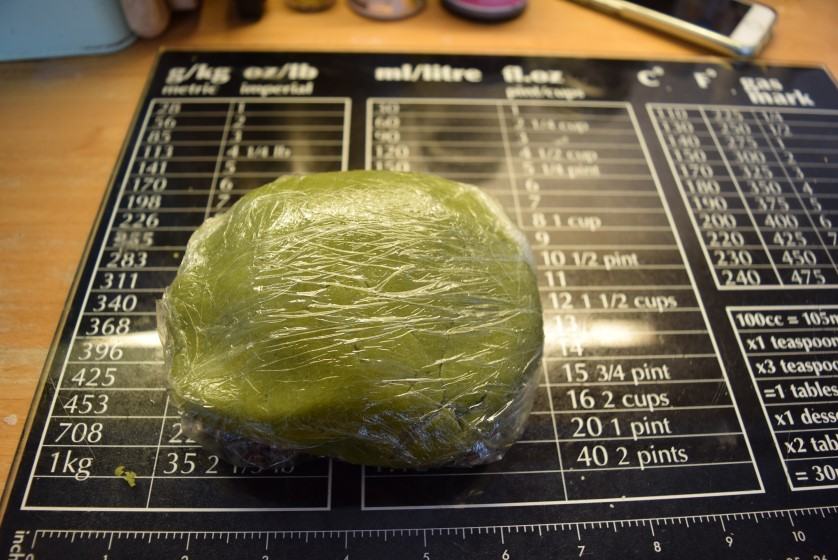 I went for the rolling out option, but probably only because I was showing off for the cameras. Slicing the dough makes for just as tasty biscuits.
Pre heat your oven to 150 degrees fan assisted. When the dough is chilled, flour your work surface and roll out to a depth of around half a centimeter-ish. It is quite soft and a bugger to roll out, but crack on, it's worth it. Use a small round cutter as the biccies will spread.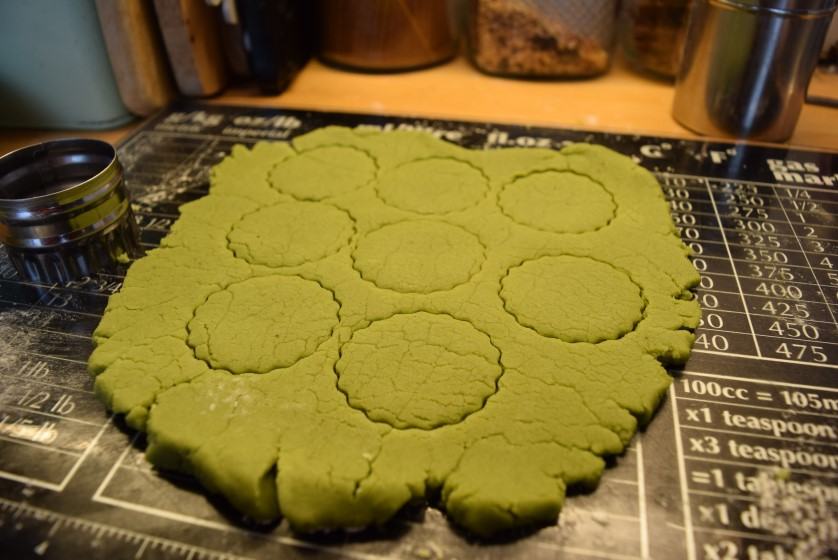 Place the green tea rounds onto a lined baking tray and bake for up to 15 minutes or until just firming up and starting to go from pea to khaki green.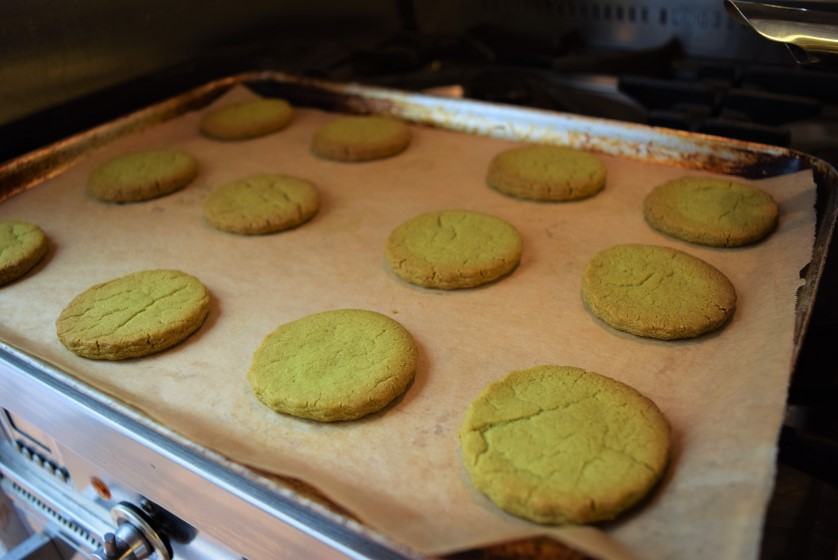 Store these tea, almond, vanilla flavoured treats in an airtight tin or jar for around a week. Nibble on them with a cup of matcha at your leisure.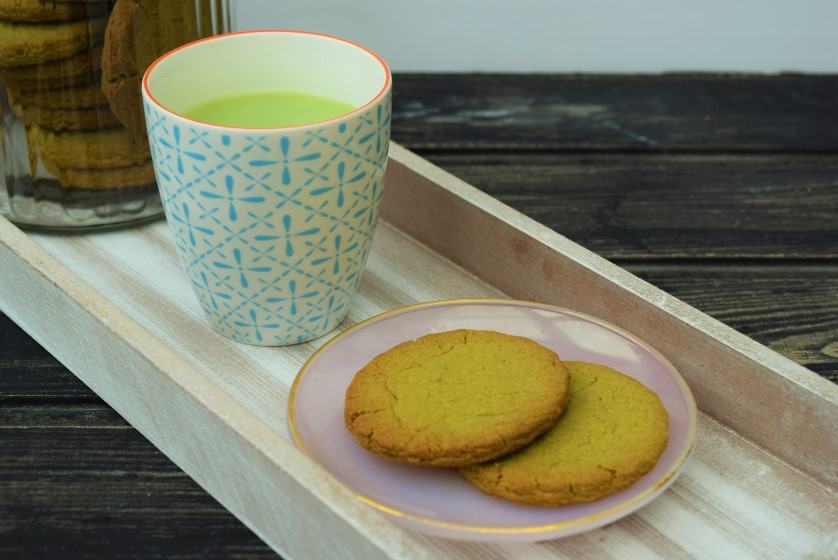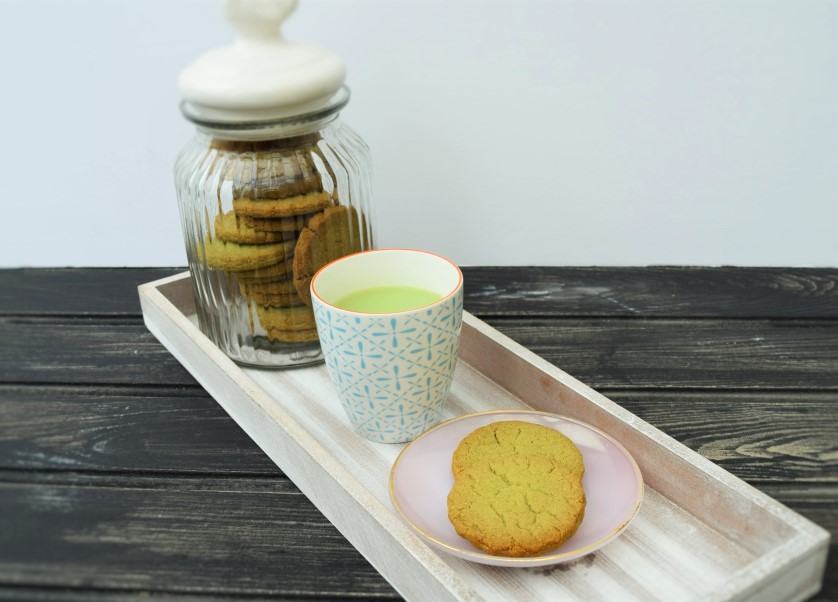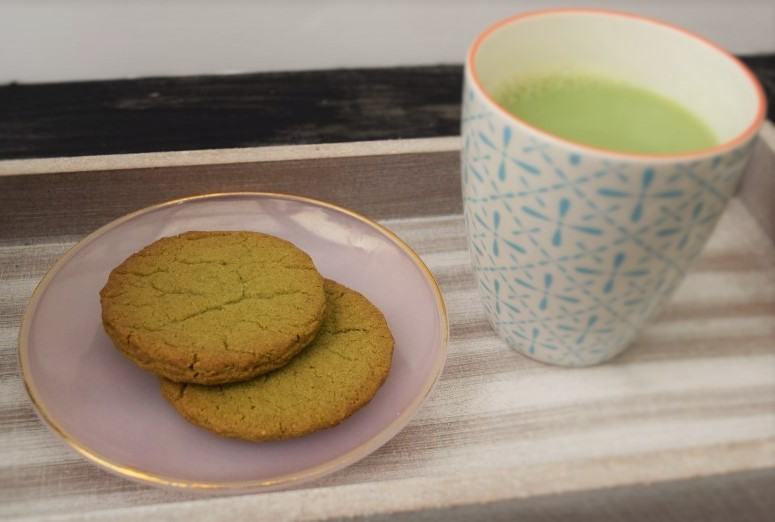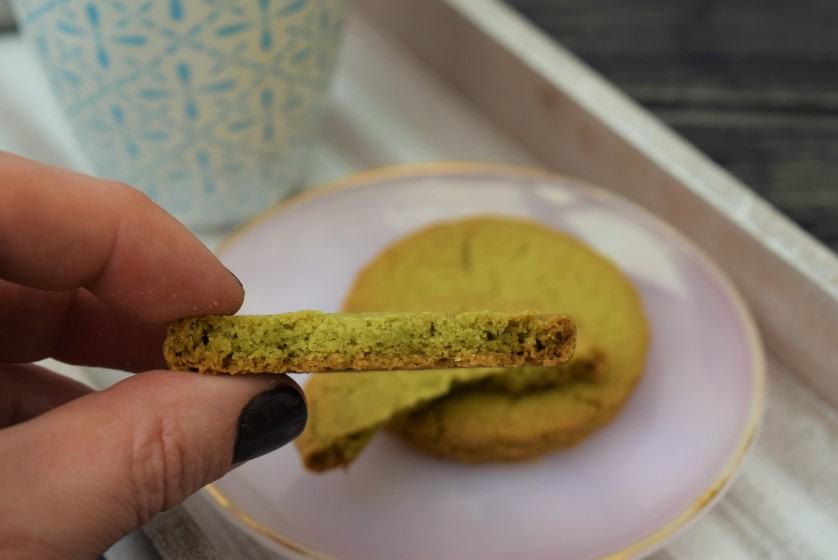 Green is still my very favourite colour and green tea biscuits are the new black. I have convinced myself they are healthy too with their antioxidant qualities and almondy goodness. So no need to worry when you inadvertently eat 3, as you surely will.
Lucy x
Matcha Almond Biscuits Recipe
Makes 24 to 30 biscuits
You will need a food processor or a large bowl and lined baking sheets
110g softened butter
110g ground almonds
175g self raising flour
125g caster sugar
1 teaspoon vanilla extract
1 teaspoon almond extract
2 teaspoons matcha green tea powder
approximately 2 to 3 tablespoons milk
Pre heat your oven to 150 degrees fan assisted once the chilling time is up.
In the bowl of your food processor or in a large bowl add the softened butter, ground almonds and self raising flour. Process or mix together with your fingers then add the caster sugar, vanilla and almond extracts and the matcha powder and mix again. You may need a tablespoon or three of milk to bring the dough together but add one at a time so you don't add too much.
Bring the dough together in a soft ball and wrap in cling film. If you are not going to roll the dough out, fashion it into a long sausage shape for slicing later. Put the dough into the fridge to rest for half an hour.
When the resting time is up, roll the soft dough out on a floured work surface to the thickness of approximately half a centimeter. If you have rolled the dough into a cylinder, cut this into 1cm thick slices. If not, cut into shapes and lay onto the lined baking sheets. Leave a good space between these as they will spread. Re-roll the dough scraps until you have used it all then bake for 15 minutes or until firming up and starting to turn golden.
Leave to cool before nibbling at your leisure. Keep stored in an airtight jar for up to a week.