Chorizo Chicken Chilli Recipe
We ate a lot of beans growing up. It was the 70's, Delia Smith had published Frugal Food and the F Plan diet was a big thing. They were a fashionable addition to any meal and they were super cheap. Nothing has really changed, we still eat a lot of beans, I have the re-published copy of Frugal Food and I will try any bloody diet that comes my way. Beans are brilliant, they are cheap, full of fibre and they can be left alone to cook down into this Chorizo Chicken Chilli with barely any effort at all. You would think I was paid to say this by the British Council of Bean Lovers, but no, I am still without sponsorship, just a loan bean lover, and with Christmas on the horizon, really rather skint.
This recipe is based on one from the lovely Bon Appetit, with thanks, and as usual, I have bastardised it to fit my own needs. This uses dried beans which are a thing of joy to me. Just over £1 per bag and that feeds a family of 4 very hungry people *my family at all times*. I could only get a bag of mixed beans, just use which ever you can get your hands on. The chorizo and chicken add some wonderful flavour, protein and some balls to the beans. The chilli and cumin heat it up and as it's struggling to get over 6 degrees today, this can only be a good thing. My Chorizo Chicken Chilli is then left to simmer away in the oven for around 2 hours so you can get on with some *eek* Christmas shopping or any other hideousness you have going on at this super busy time of the year.
It may not be the 70's anymore *sadly, as I loved my hair back then* but beans will never go out of fashion in our house.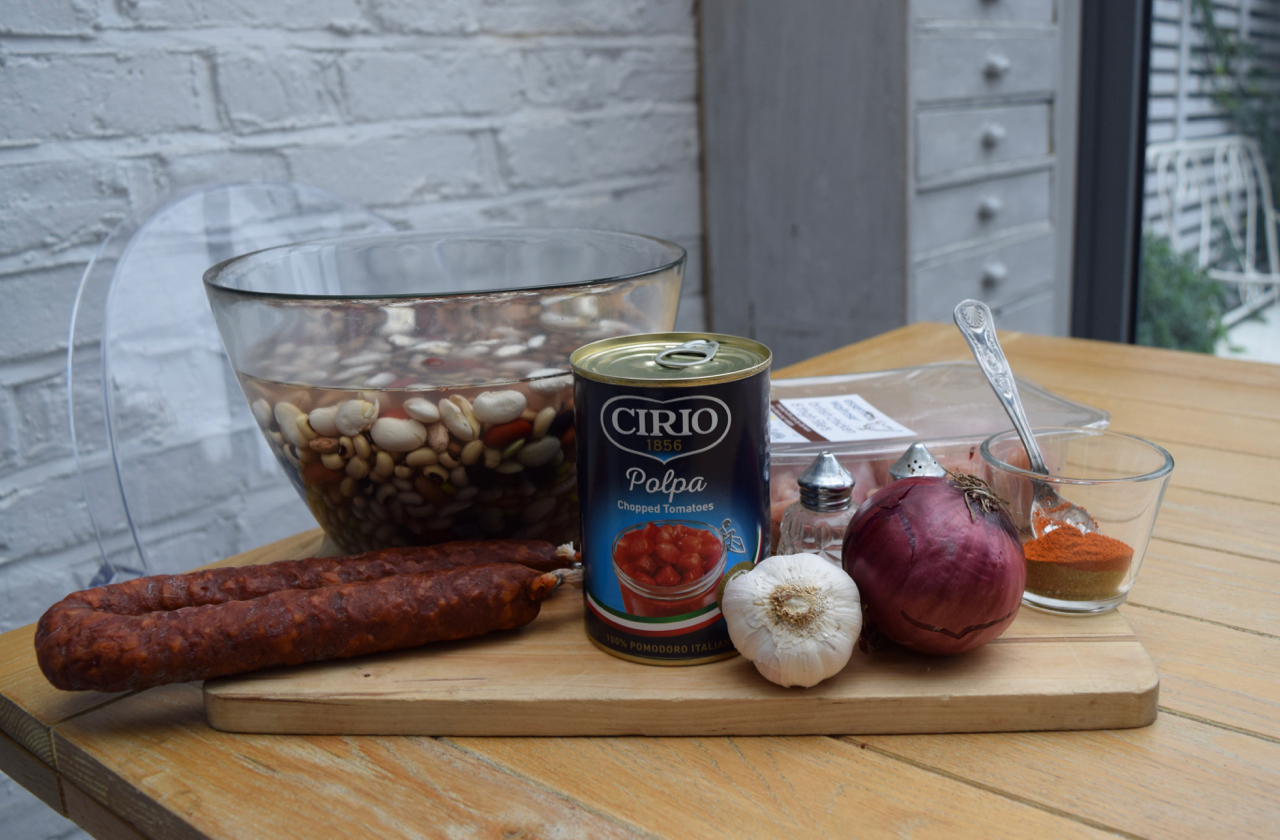 I had got ahead of the game with my beans and had already soaked them overnight. This is the only thing you have to remember, however, if you do forget or just can't be arsed, then tinned beans would suffice, just reduce the cooking time to around 45 minutes to an hour and just add around 500ml water, but you may need to add more towards the end if the dish is looking dry.
Make a start on the one pot wonder by soaking your bag of beans in water overnight. Just cover in water and let them do their thing. Then, the next day, take a large casserole dish with a lid and pop it on the hob over a medium high heat. Add a tablespoon of oil then drop in the chopped chorizo and chicken thighs.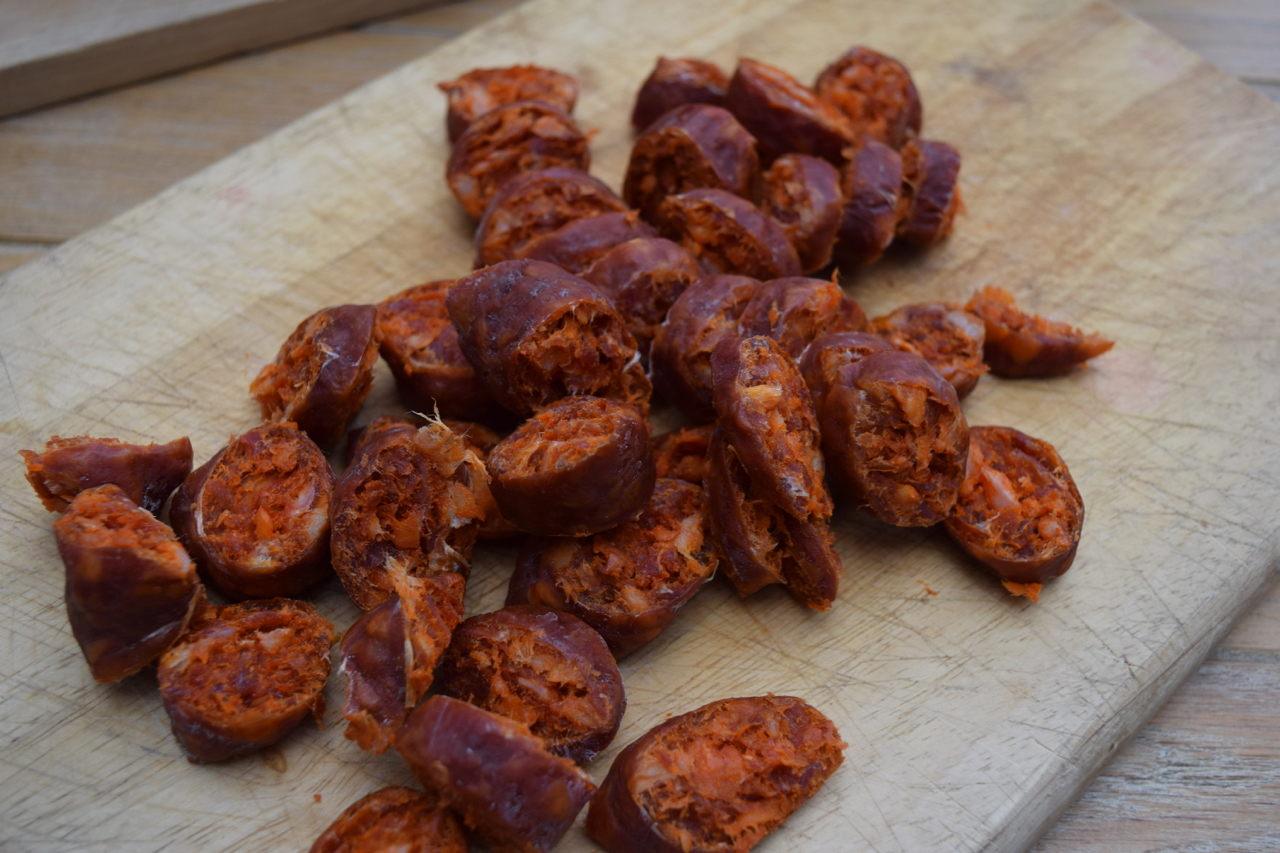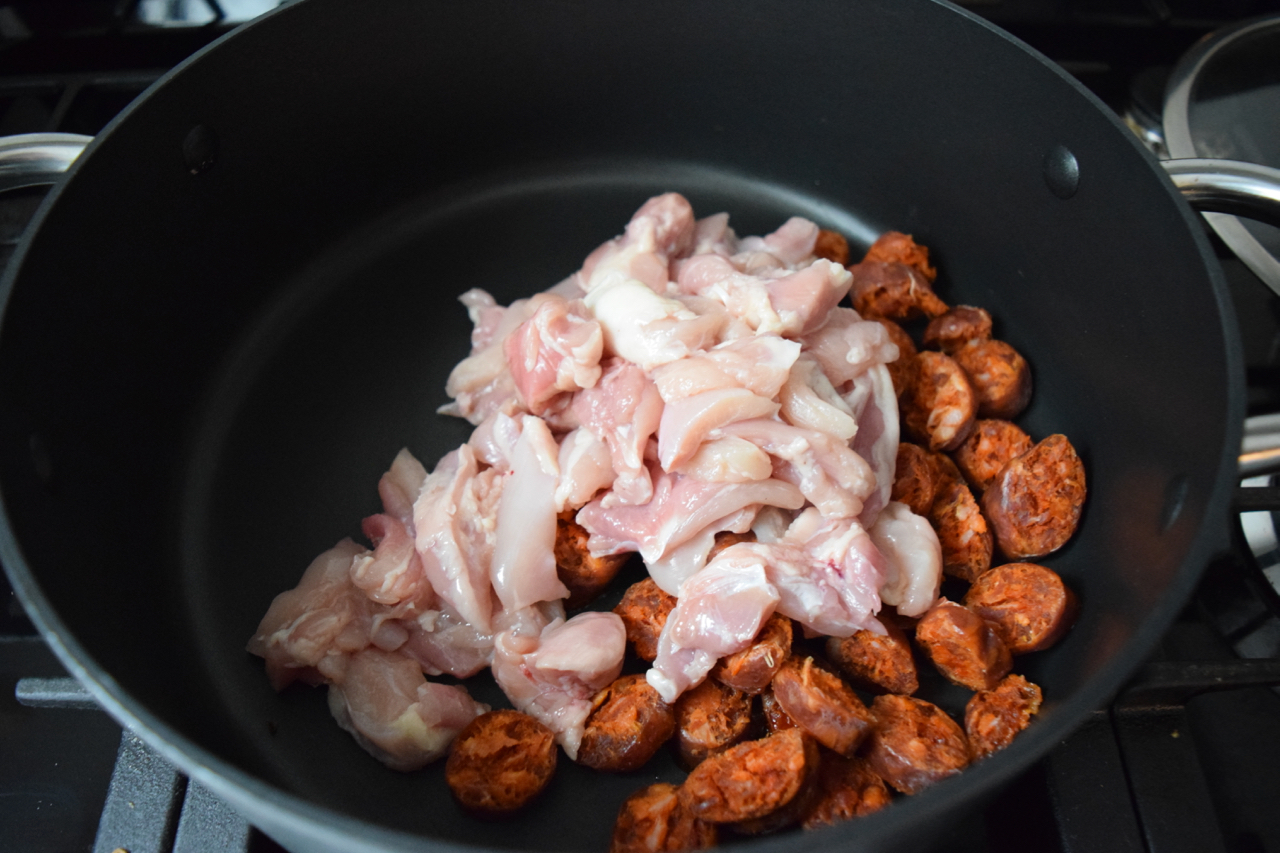 Cook these two stars of the show until the chorizo is starting to brown and the chicken has a bit of colour on it, for around 5 minutes.
Remove these to a plate for now then add the onion and the garlic to the lovely spicy pan oils.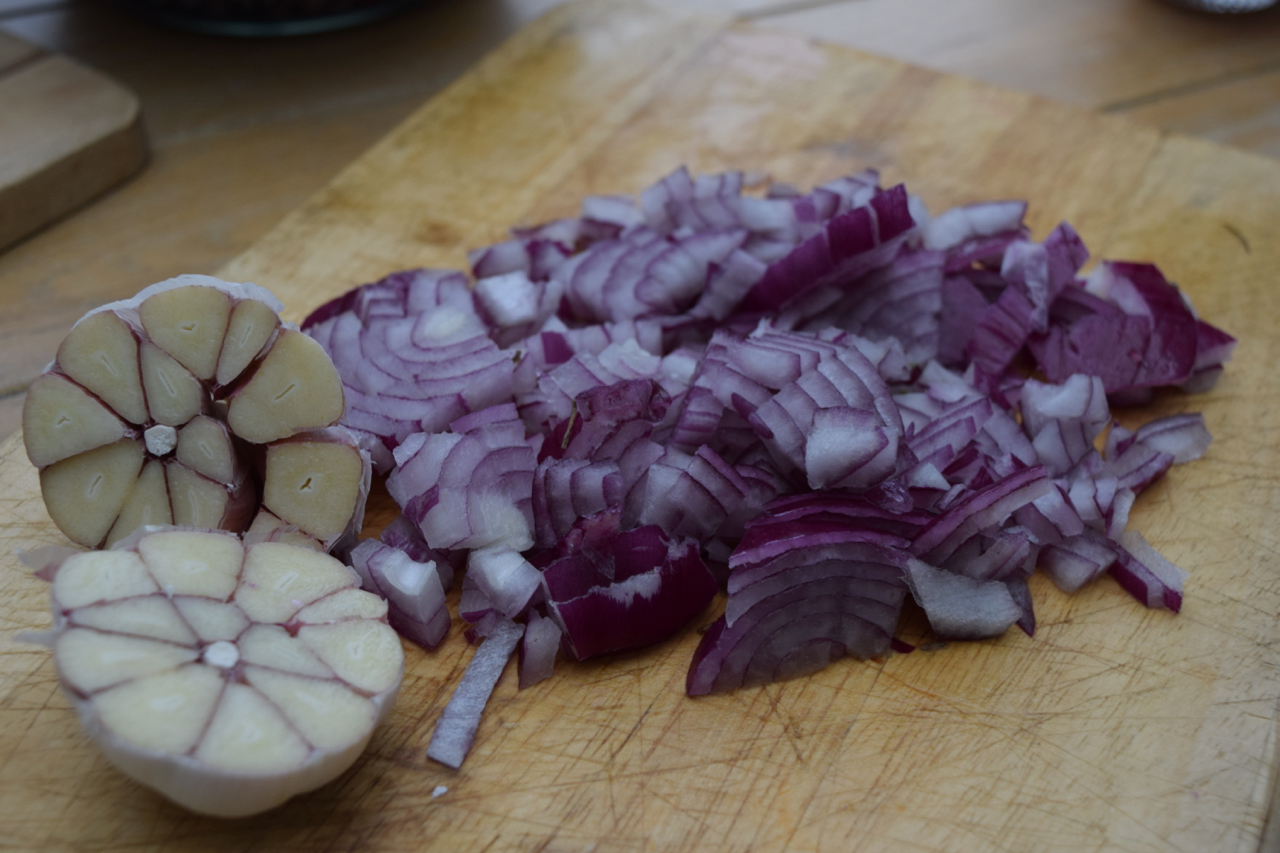 The garlic bulb is just cut in half around the waist, which helps, as I hate having garlicky hands. Don't worry if it falls apart when you add the pan, you can just fish the papery bits out at the end of the cooking time.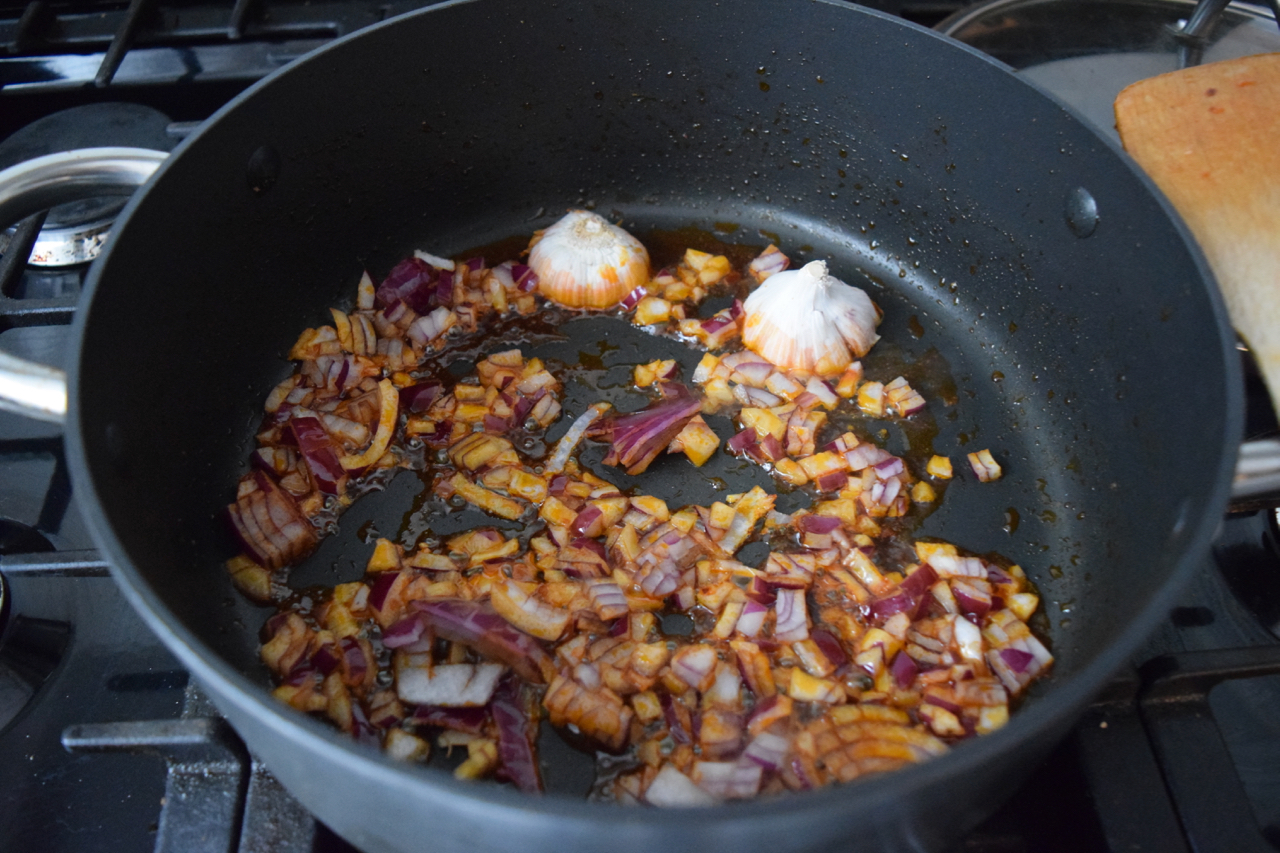 Cook this for a couple of minutes or until the onion is just turning translucent. Then, tip in the tinned tomatoes, chilli powder and cumin.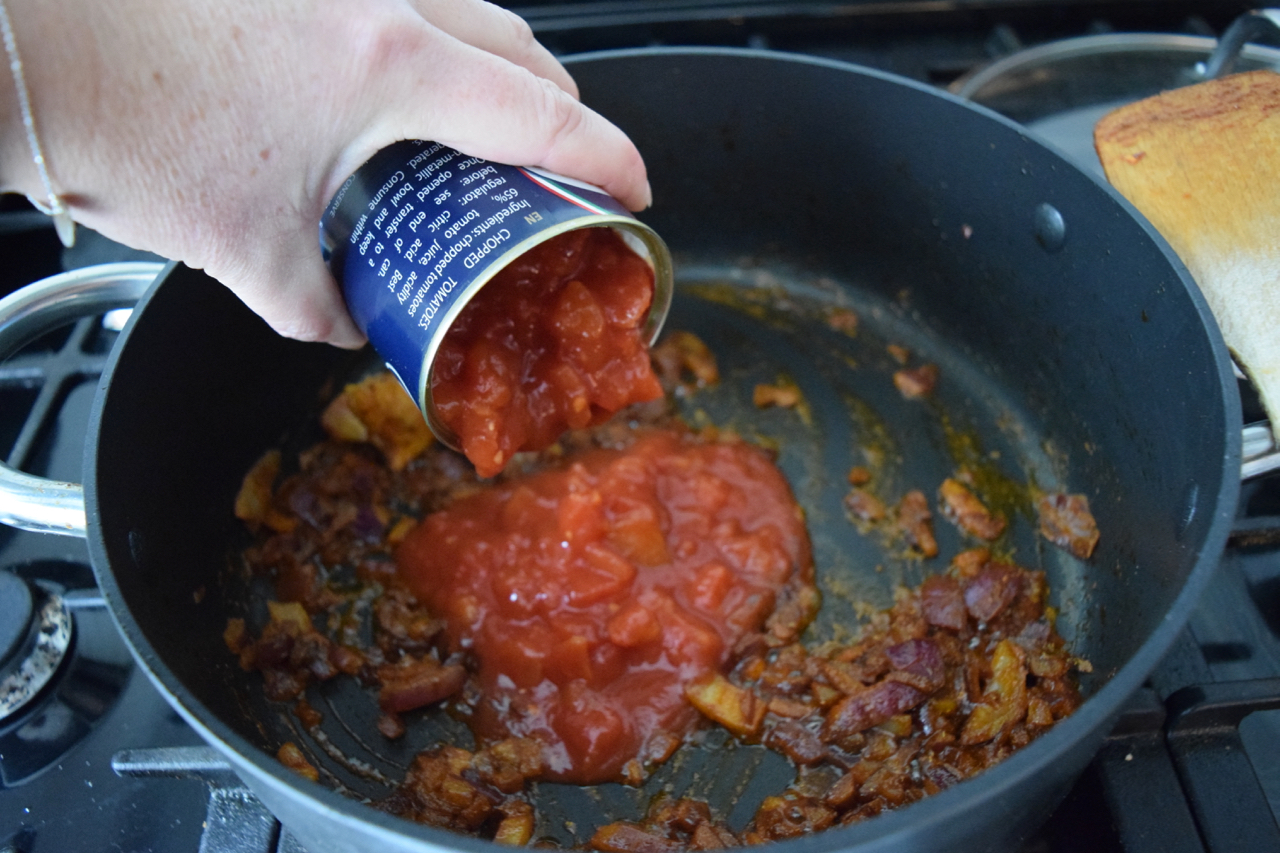 Drain your beans and add this to the pan, along with the chorizo and chicken, with any juices, and then give everything a super good stir.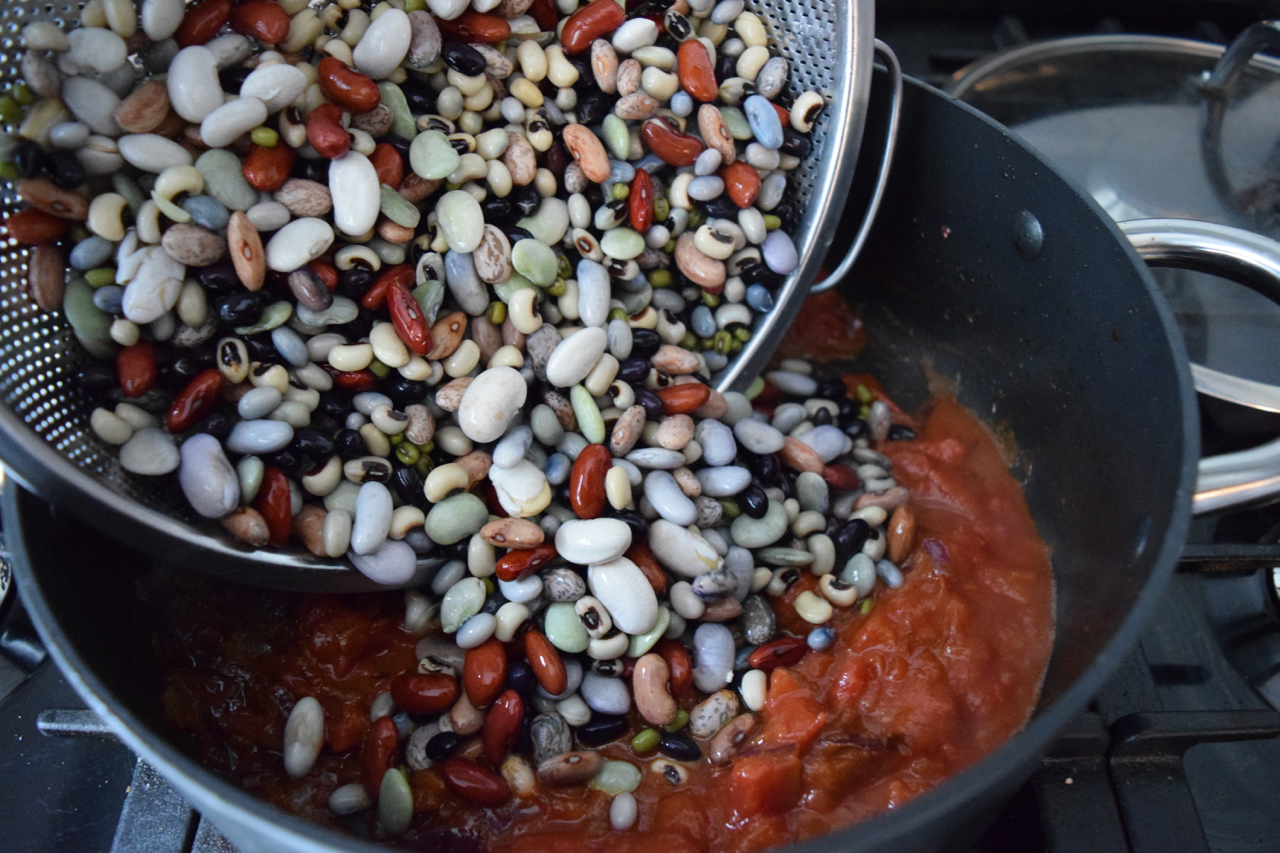 Finally pour on the water, which does seem a lot, but don't panic, it will be absorbed by the beans, and stir again. Pop a lid on and place in the oven for around 2 hours. Keep an eye on it from 1 hour 45 though, as you may need to add more water if it's gone a little dry.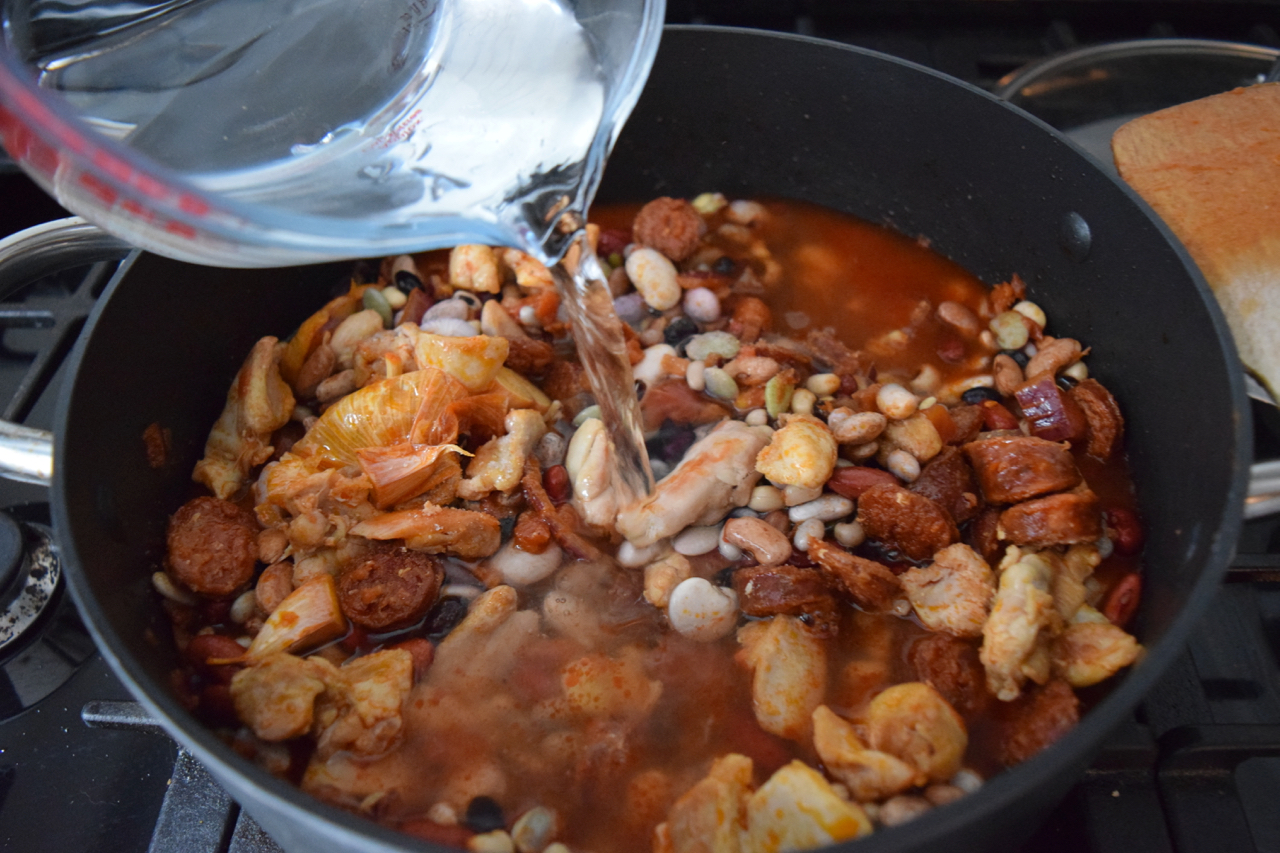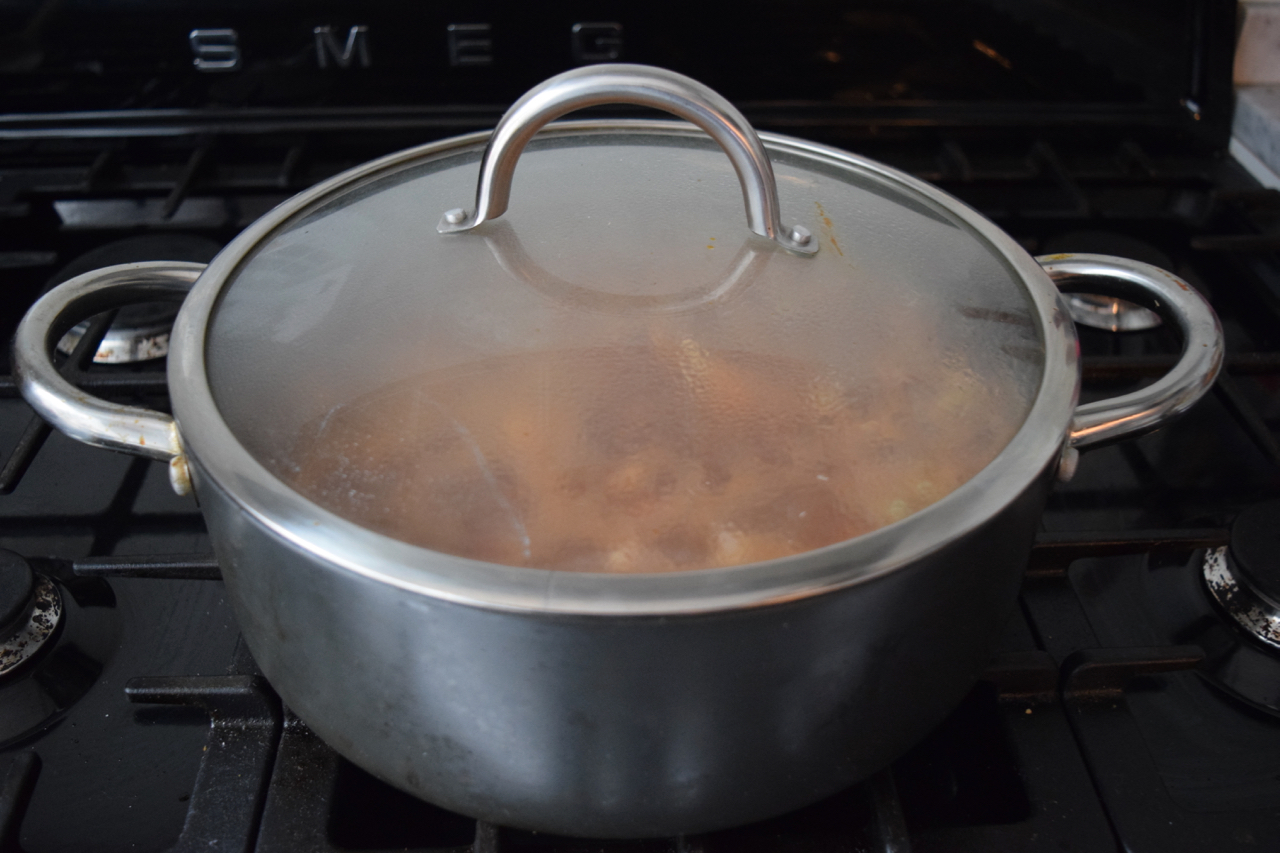 When your beans are soft and cooked through, remove the pan from the oven and give some of the beans a bit of a mash with a fork to thicken the sauce.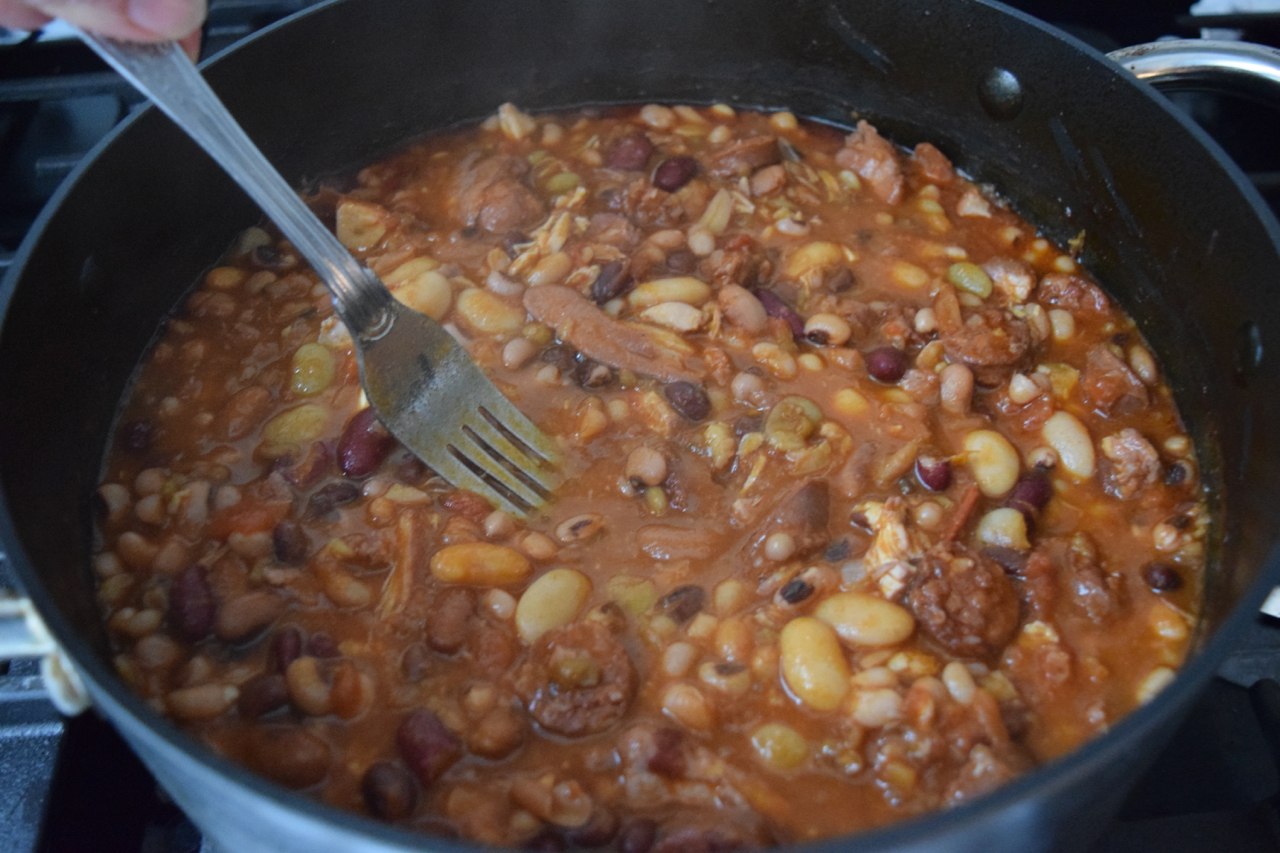 Now all that's left to do is a sprinkling of fresh herbs, I randomly went for fresh oregano, as that's what I had, but use what you have to hand. Leave it to sift for 10 minutes, then devour, by the bucket load slathered in sour cream and grated cheese.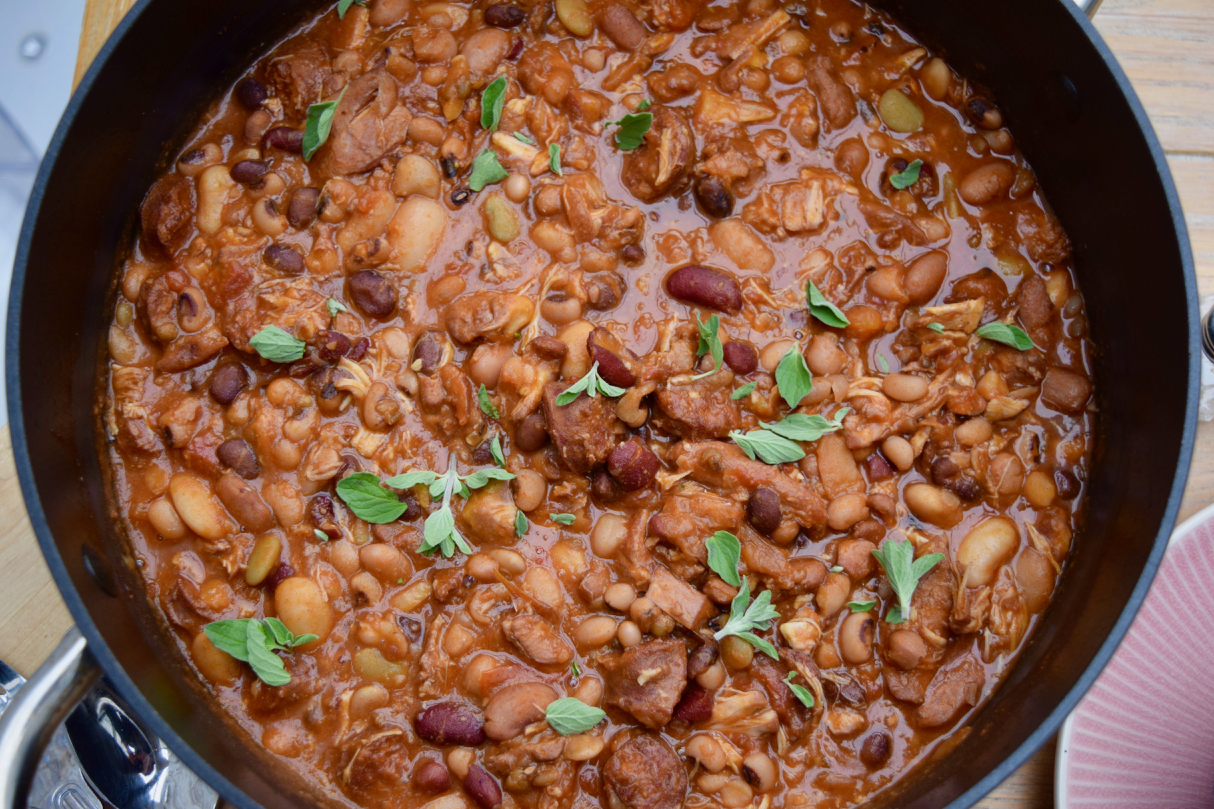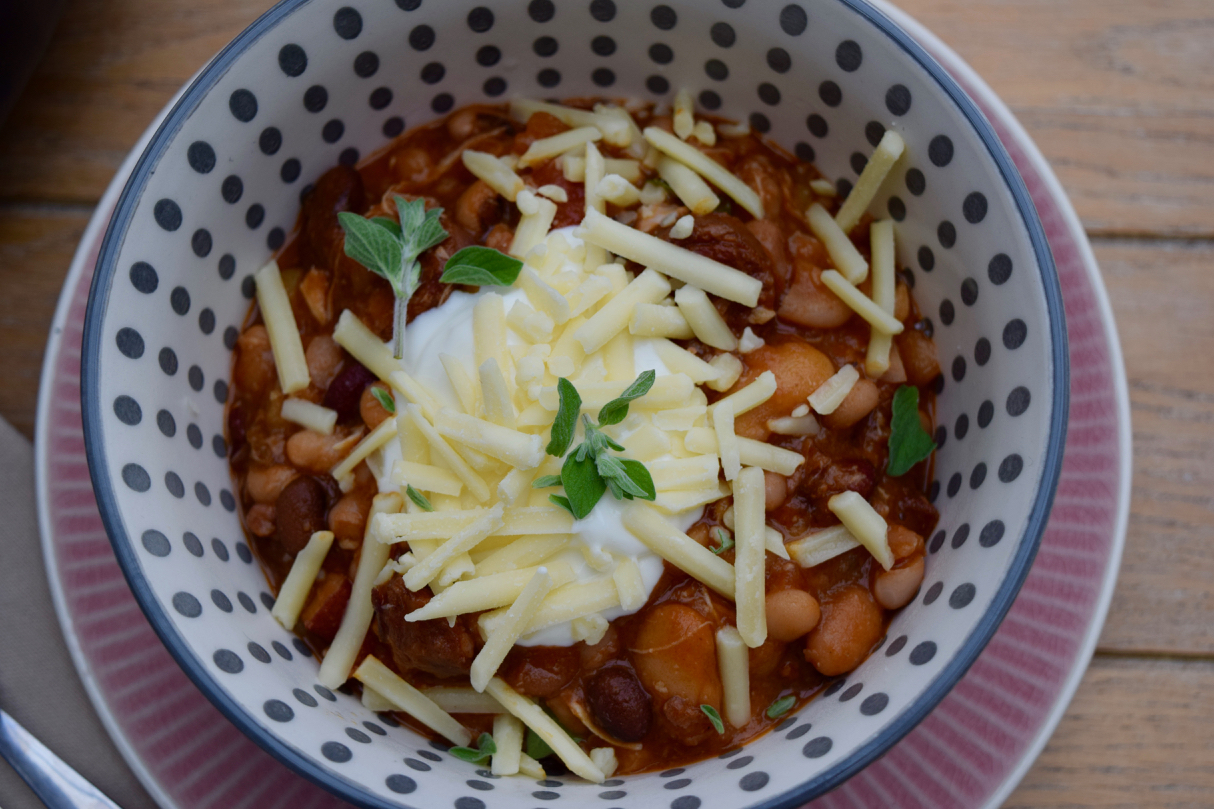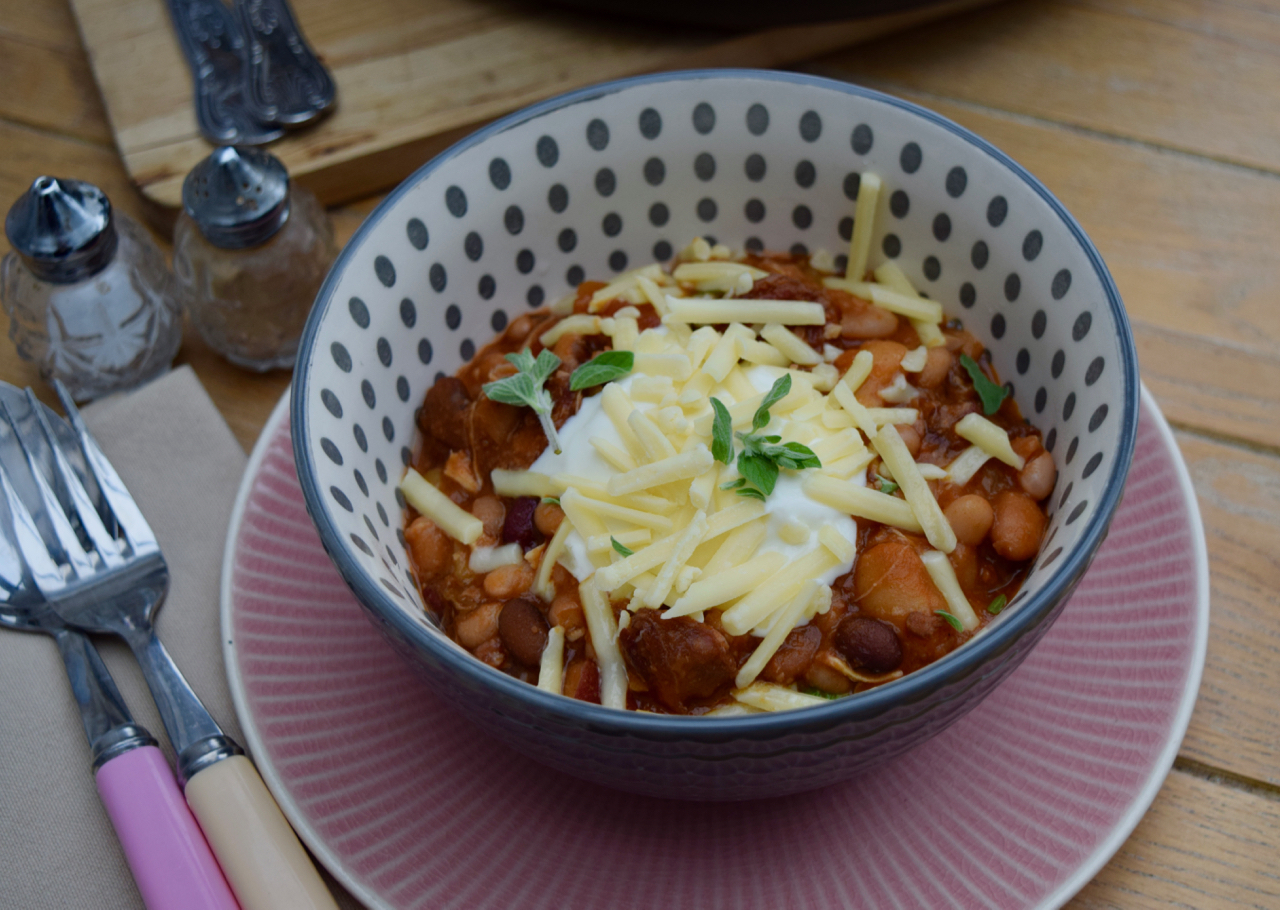 This is so the time of the year for a one pot dish like this Chorizo Chicken Chilli. It's warming, comforting and the least demanding thing in my life right now, so this alone makes it my New Best Friend.
Lucy x
Chorizo Chicken Chilli Recipe
Serves 4 to 6, appetite dependent
You will need a casserole dish with a lid
500g dried beans, I used a mixture but you could use all white beans, or at a push use tinned beans and reduce the cooking time to around 45 mins to an hour and the liquid to around 500ml
1 whole head garlic, cut in half around the waist
1 large red onion, chopped, or 2 smaller ones
1 tablespoon oil, you choose
250g chorizo, roughly chopped
500g chicken thighs, cubed
2 teaspoons chilli powder
2 teaspoons cumin
1 x 400g tin tomatoes, chopped or whole if that's all you have, just break up with a spoon
1400ml water
Salt and pepper, plenty of it
Sour cream, grated cheese and fresh herbs of some nature, to serve
Take a large bowl and add the beans. Cover in cold water and leave to soak overnight.
Pre heat your oven to 140 degrees fan assisted and take a large lidded casserole dish. On the hob, heat over a medium heat and add 1 tablespoon of oil. Chop your chorizo and the chopped chicken. Cook for around 5 minutes until starting to brown. Remove from the pan to a plate, leaving the oil in the pan.
Next, add your chopped red onion and the halved head of garlic. Don't worry if some of the garlic cloves fall out. Stir well and cook for 2 to 3 minutes until the onion is turning translucent and the garlic is fragrant. Tip in the chilli and cumin, stir, then pour in the tinned tomatoes and juices.
Drain the now plump beans then add them to the pan, along with the chicken and chorizo and any residual juices. Stir well then pour in all the water and stir well again. Bring up to the simmer and put the lid on.
Place into the pre heated oven for around 2 hours. It may need slightly less time, so keep an eye on your dish after an hour and a half.
When the beans are tender, remove from the oven and fish out any papery bits of the garlic skin. Then, using a fork, mash some of the beans to thicken the sauce. Allow to sit for 10 minutes before serving in big bowlfuls topped with some freshly chopped herbs, sour cream and grated cheese.
Any leftovers taste even better over the next couple of days.