Melting Moments Recipe
I grew up with Melting Moments. Is that a song title? It should be. They are one of those classic biscuits from yesteryear which you will love and possibly recognise. My Mother loves these and subsequently, they were one of the first biscuits I learnt to make. I made a big batch recently for an afternoon tea for my family, mainly with my mother in mind. However, my sister managed to see off a good number of them, leaving us to wrestle the jar out of her hands. *sorry, Kate*
These are a humble biscuit. No fancy add-ins or chocolate coating, just a bit of cereal. Any treat which has cereal included in the recipe always has a feel of being childish, however, these cross over and appeal to young and old alike. They have a soft, vanilla flavoured interior which is so well complimented by the slightly salty, crisp cornflake coating. Simple, but completely delicious.
I feel very pleased with myself if there is a jar of homemade biscuits in our kitchen. It's rare, but it does occasionally happen. While I sit at my desk at work, I am comforted by the idea the boys are being greeted by something delicious when they get home from school. Even if they do then go on to eat a whole packet of crumpets, with butter, in one sitting. This recipe heralds from my favourite Cakes, Biscuits and Breads book, which is a very well thumbed publication in my kitchen. These are a quick and tasty treat loved by my family, especially my Mother, and sister, as it turns out. I hope you and yours love them too.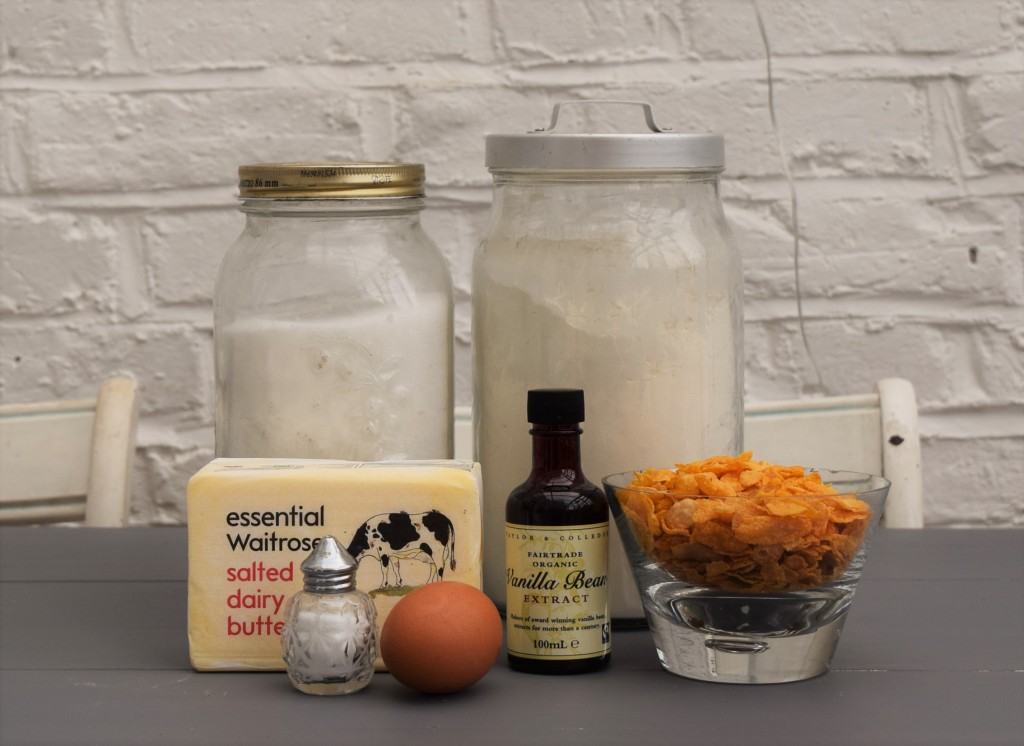 Here's the super simple line up. All store cupboard based, hooray. And I missed nothing. A tick and a gold star for me this week.
It's all rather simple, really. Start with a bowl and a wooden spoon or your food processor, and add the softened butter and caster sugar. Beat or mix until lighter in both colour and in texture.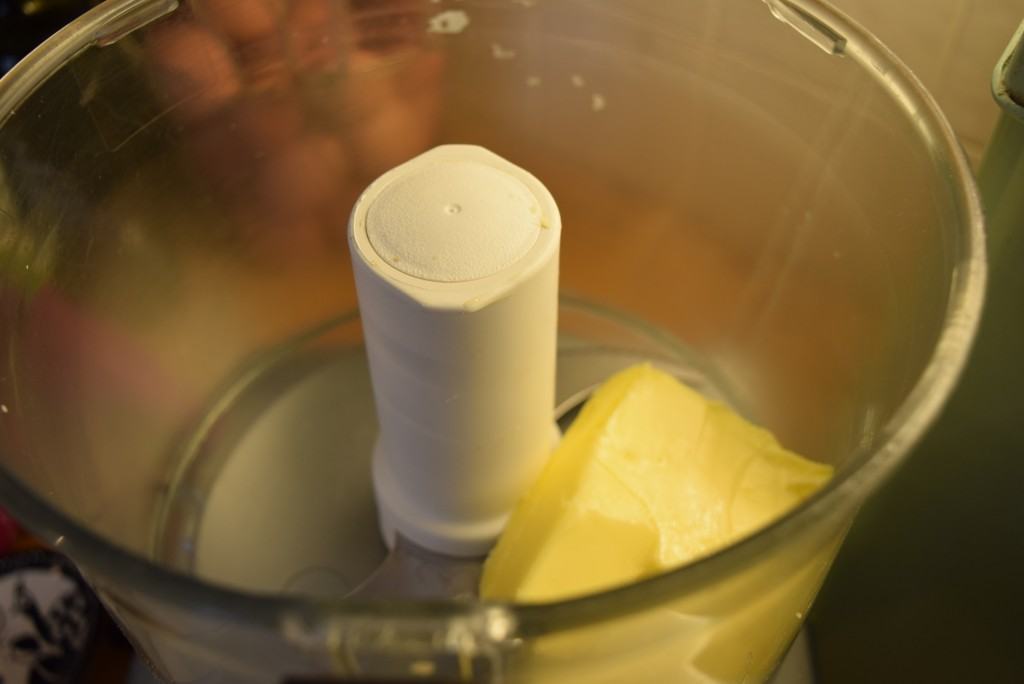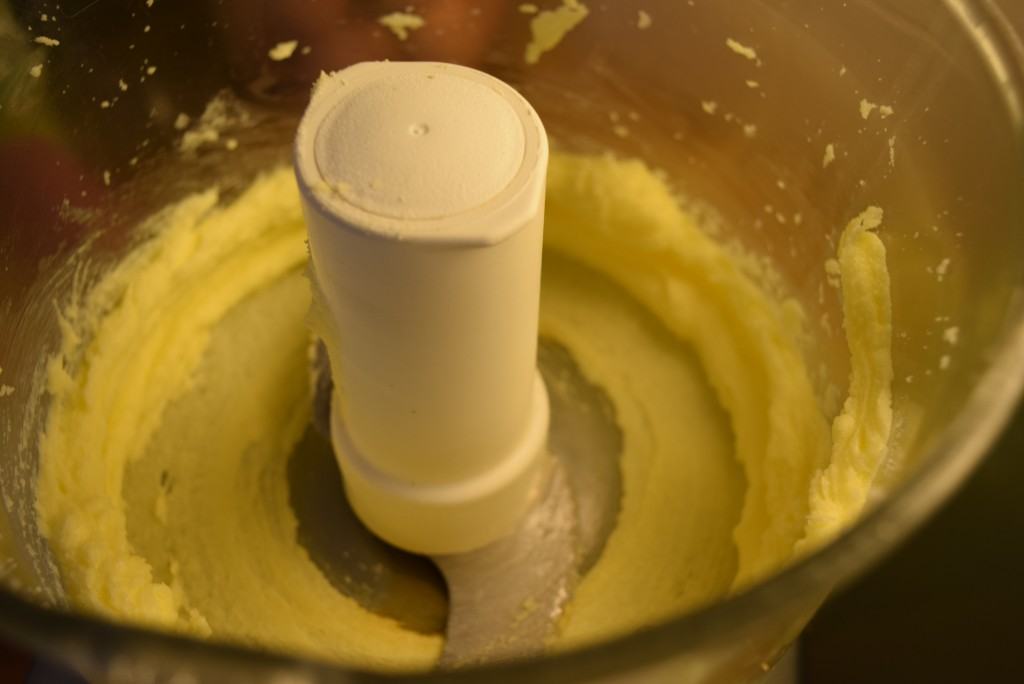 Next pour in the vanilla extract for flavour and plop in the egg yolk. Mix again.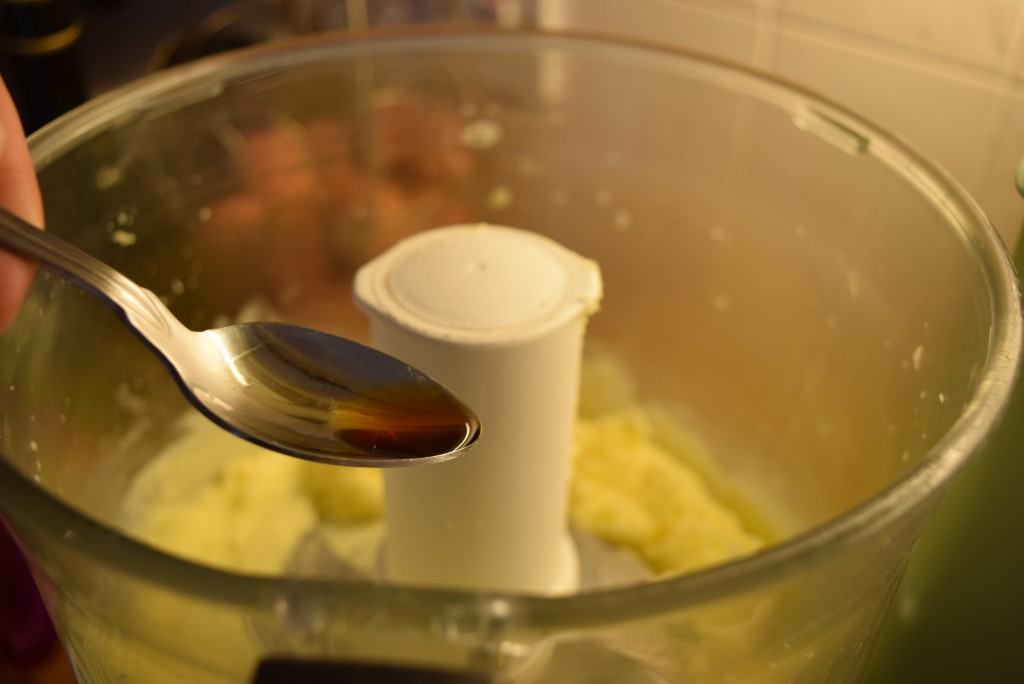 I forgot to add the egg yolk until the end – rubbish cook of the year award is mine again. However, it didn't make any difference to the end result, so sod it.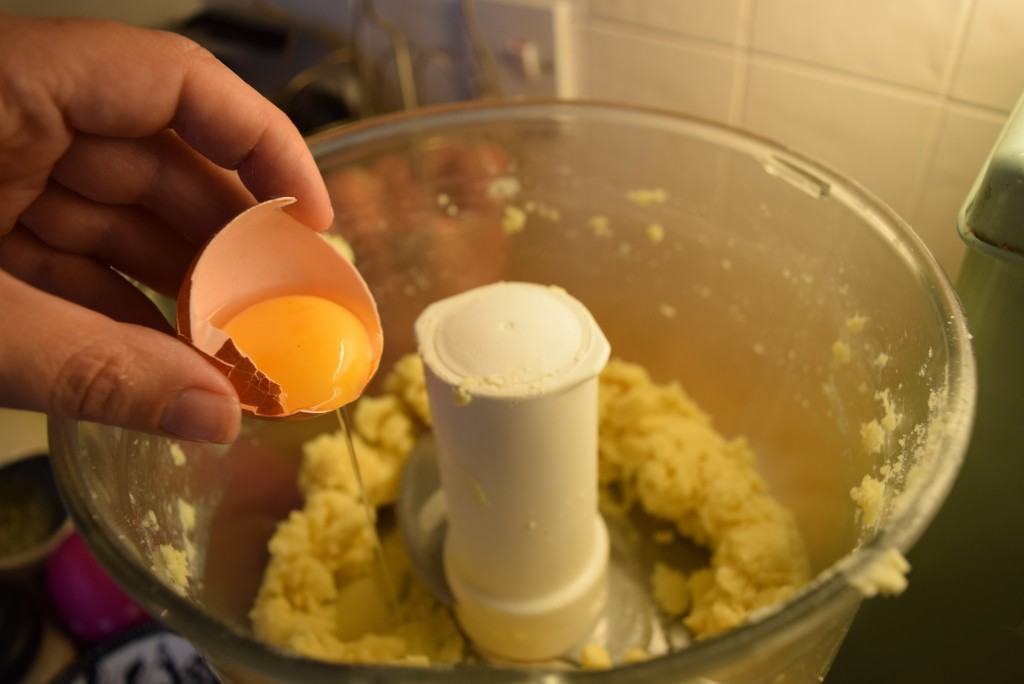 Next either by hand or in your mixer, fold in the flour and a pinch of salt. Fashion this into a delicious, soft dough.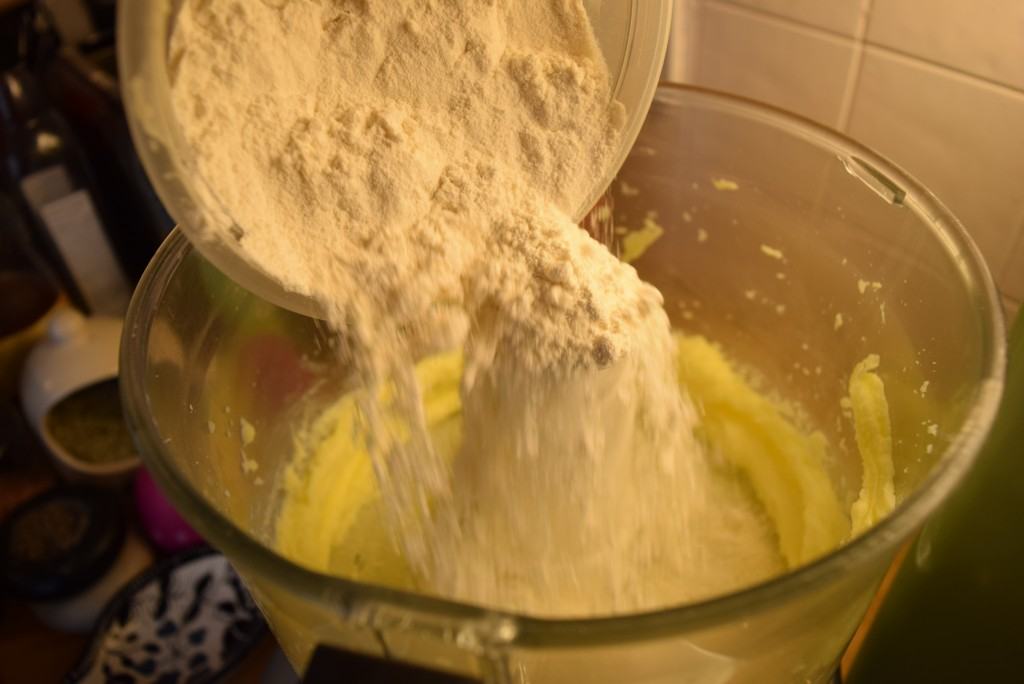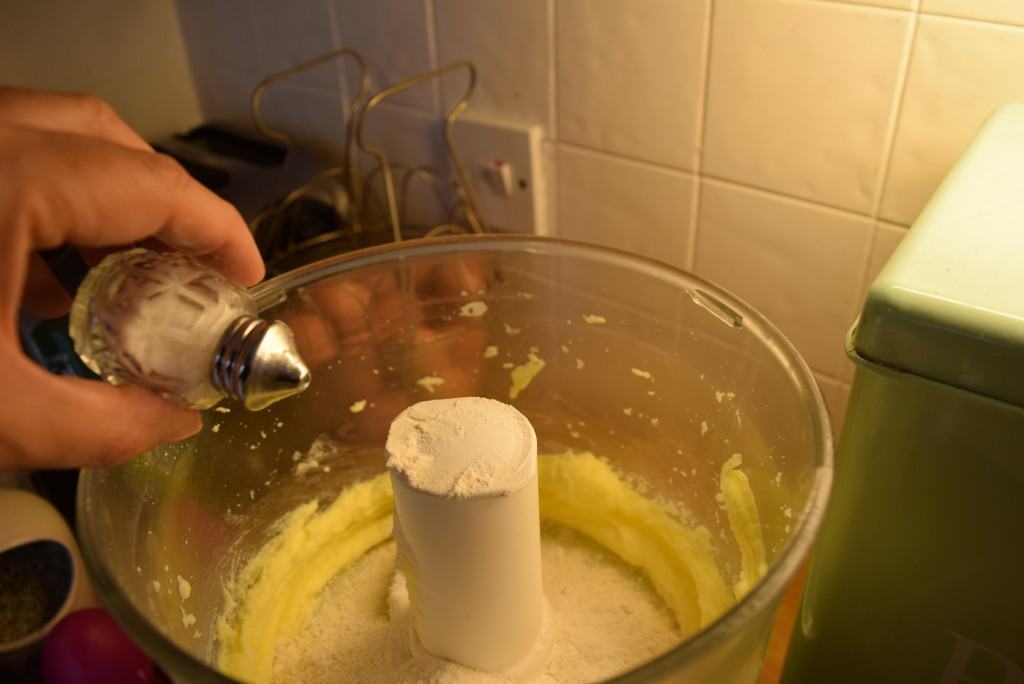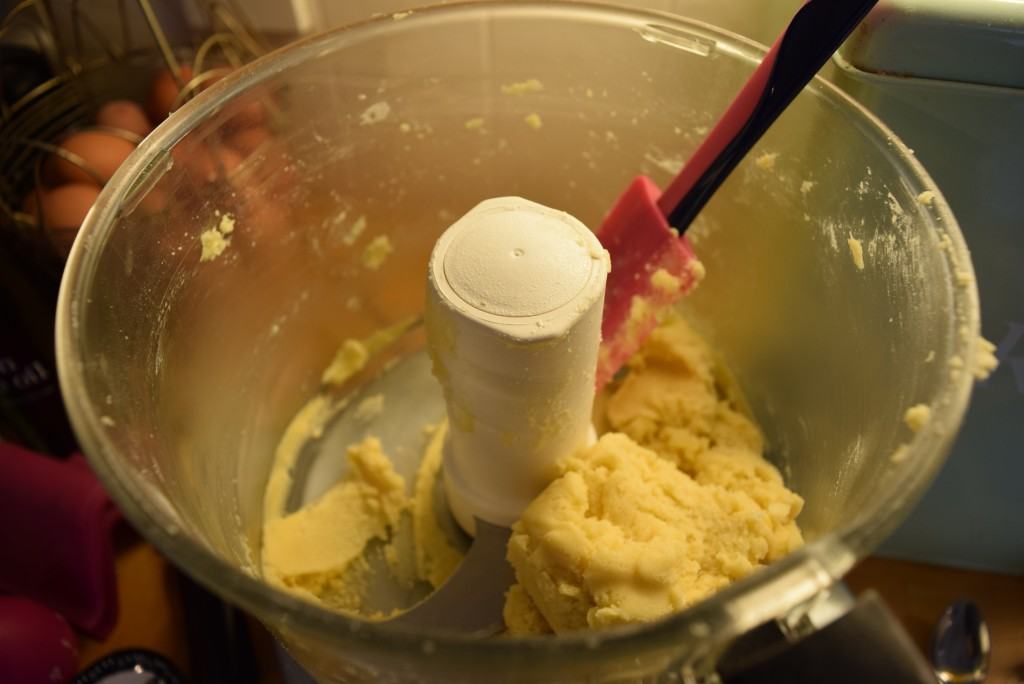 I have to say, it's well worth having a little mouthful of the dough at this stage, it is truly yum. Raw egg, pregnant people, elderly people, don't risk it, blah blah.
Next up, pop the cornflakes into a bowl and crush them into smaller pieces. Use your hands or the back of a spoon, or crush in a bag with a rolling pin.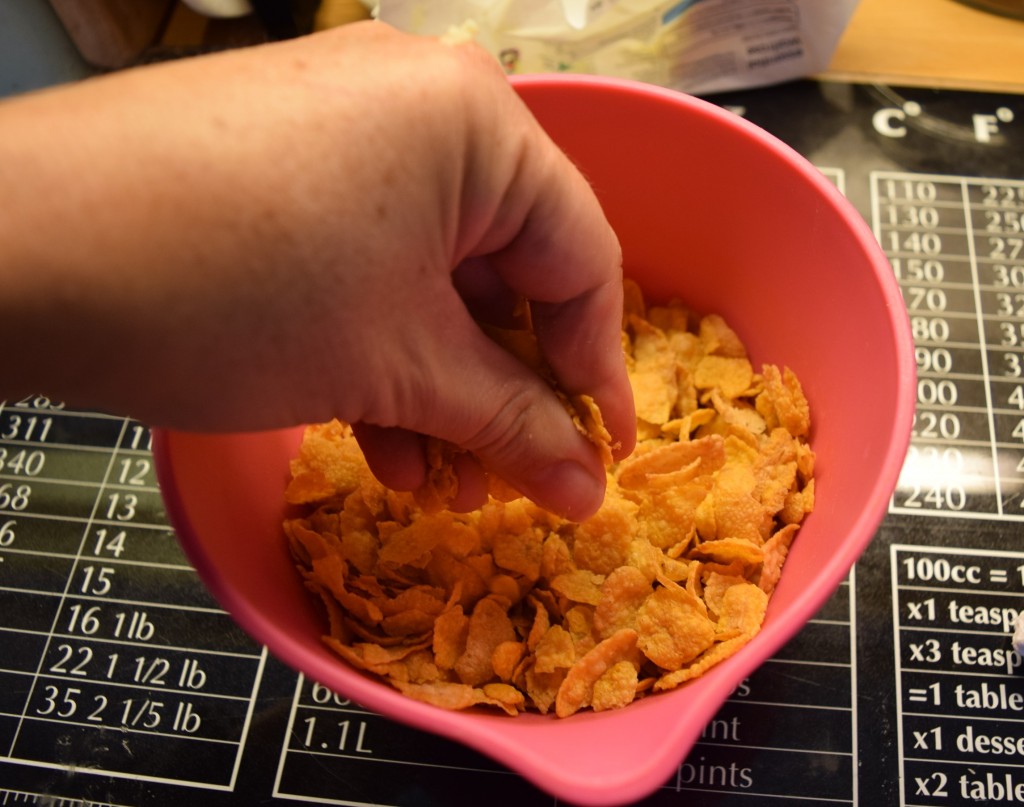 I decided to crush mine by hand, which was doing an impersonation of an Emu glove puppet, without the puppet.
Take teaspoons of biscuit dough, about the size of a small walnut and roll these into a ball. Coat each ball in cornies and pop on a lined baking sheet.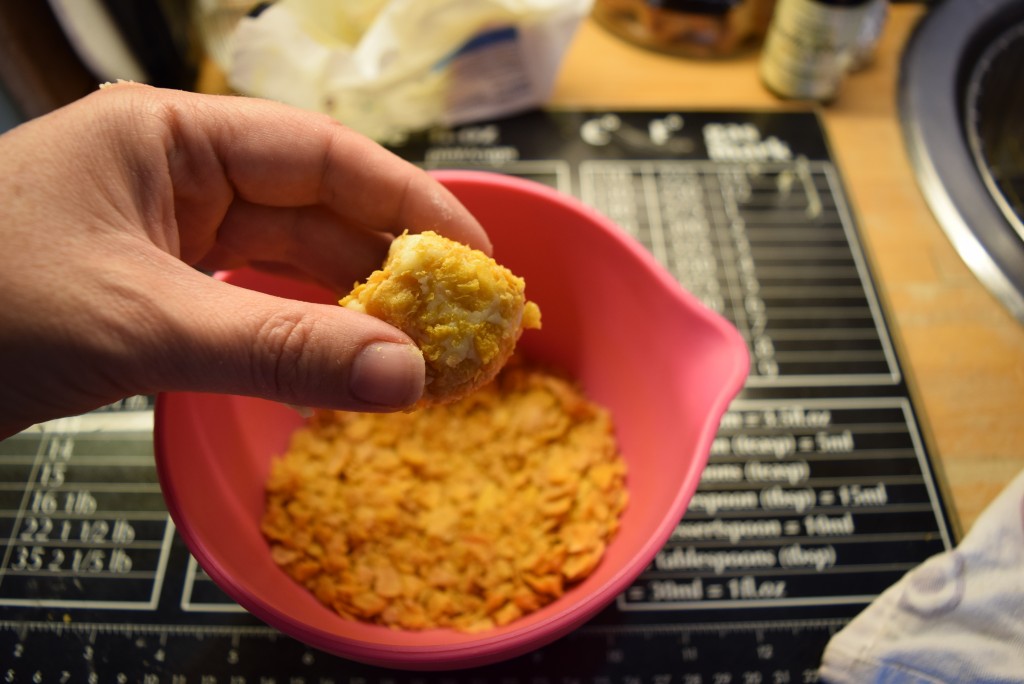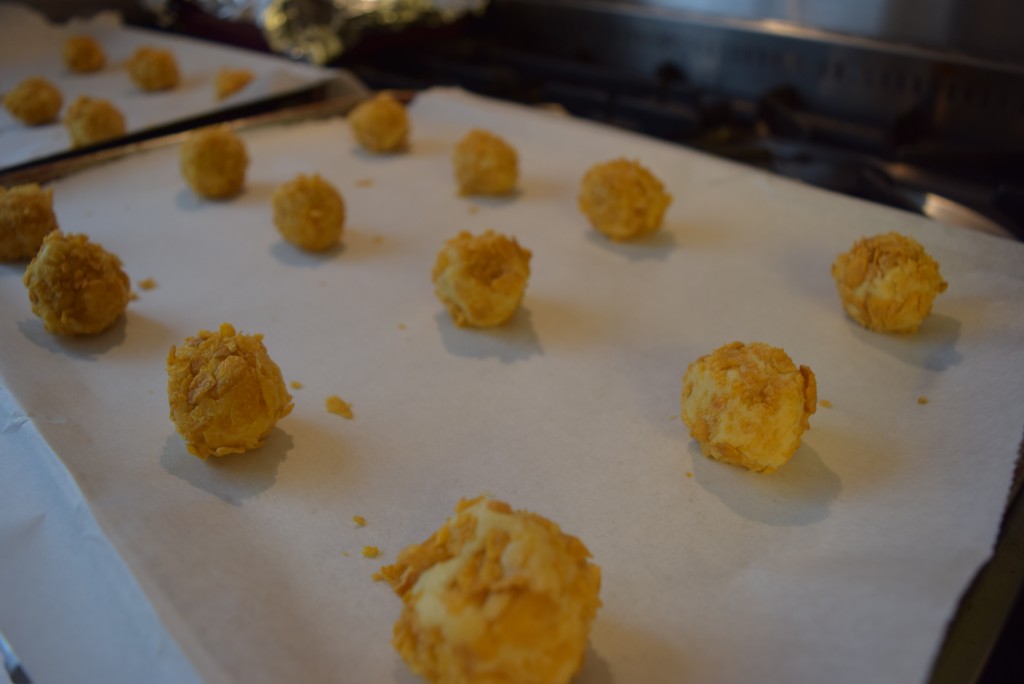 These will take around 15 minutes to cook. You will want them still soft in the middle, with the cornflakes just browning and crisp. Divine, and smelling good enough to eat the whole batch in one sitting.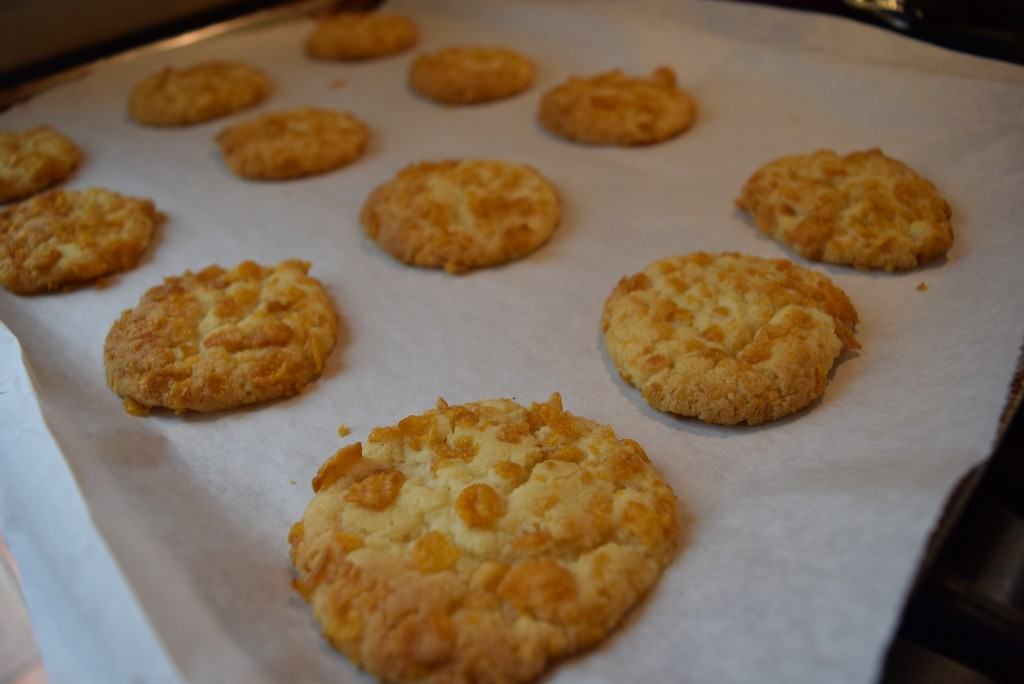 I didn't eat the whole batch in one sitting. It took at least a day and I had to share.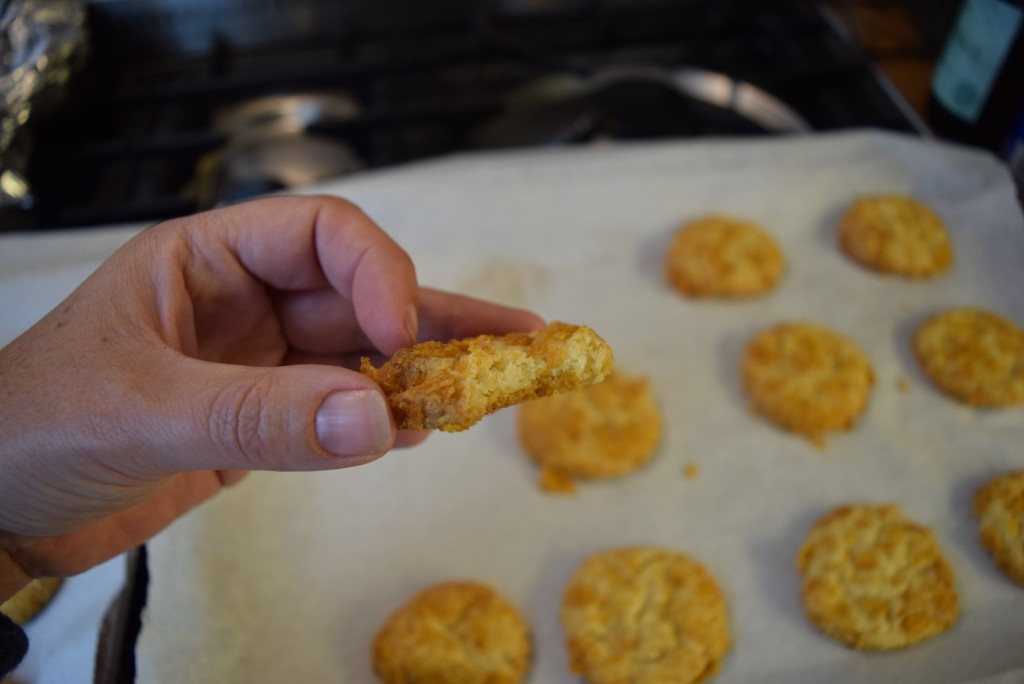 These will keep for up to a week in an air tight jar, ha ha.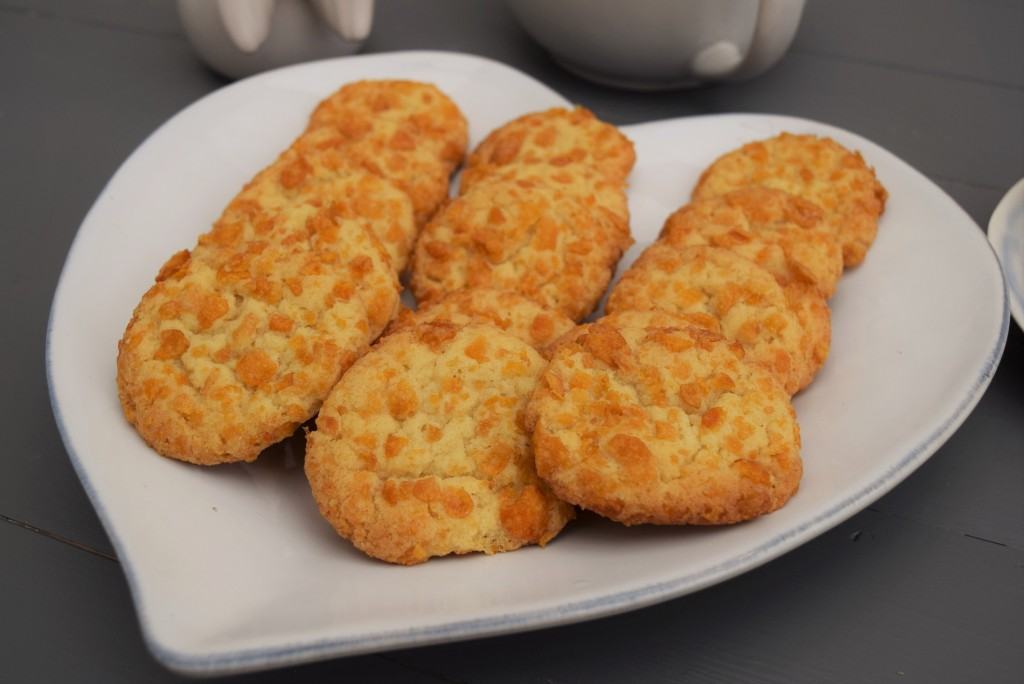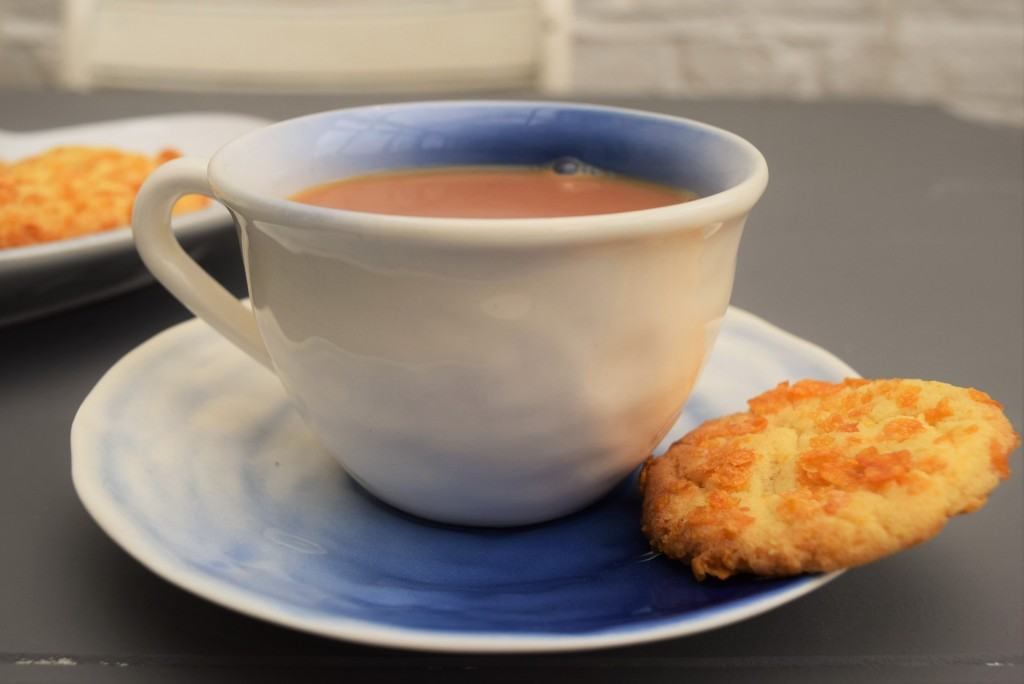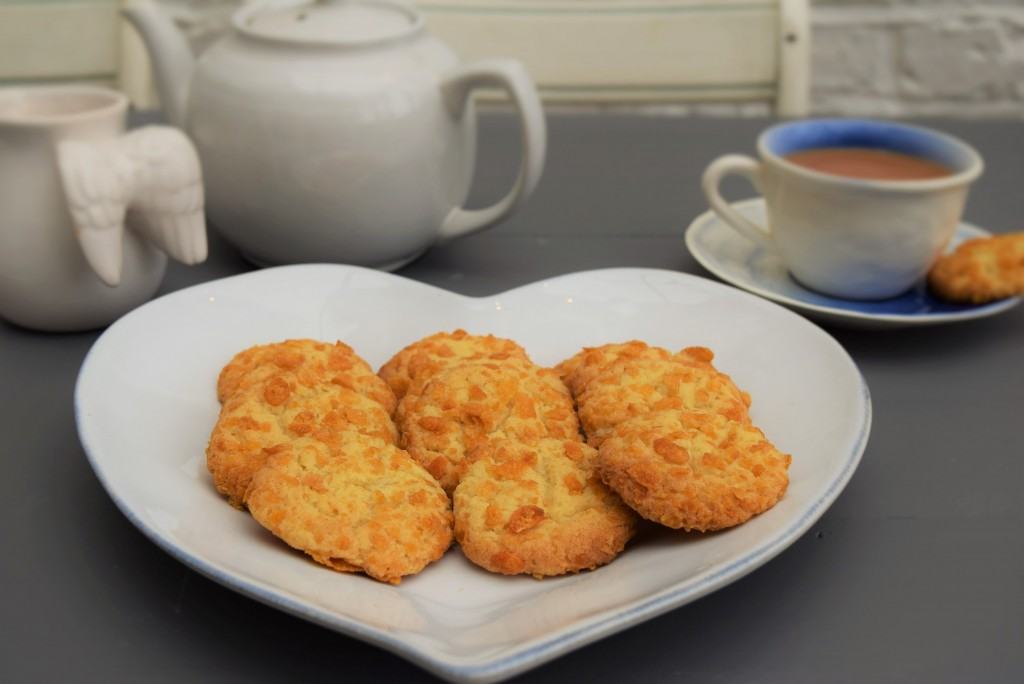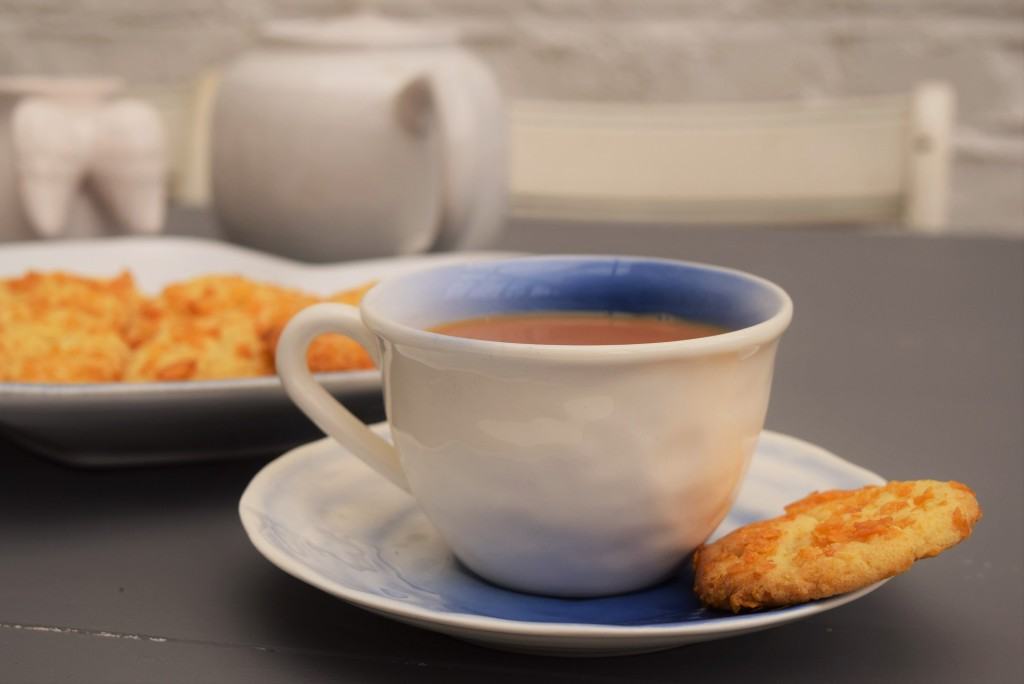 You too can whip up a batch of these, enlist your children to help with the rolling part, keeping an eye on their dough consumption to rolling ratio as you go. These will be loved and enjoyed by anyone passing through your kitchen. Just don't expect them to last, especially if my family are visiting.
Lucy x
Melting Moments Recipe
Makes 20 to 24 biscuits
You will need a baking sheet lined with baking or greaseproof paper
100g soft butter
75g caster sugar
1 egg yolk
1 teaspoon vanilla extract
125g self raising flour
a pinch of salt
25g crushed cornflakes
Preheat the oven to 160 degrees fan assisted.
In your food processor or a bowl with a wooden spoon, add the soft butter and caster sugar. Cream together until lighter in both colour and texture. Beat in the vanilla and egg yolk. Then slowly add the self raising flour and beat until a smooth dough is formed.
In a small bowl crush the cornflakes into smaller pieces with your hands or the back of a spoon. Roll the soft biscuit dough into small walnut sized balls. Then coat each ball in the crushed cornflakes and place onto a lined baking sheet. The dough should make around 20 to 24 balls. Put your baking trays into the oven and bake for around 15 minutes. They should be just turning golden brown and crisp on the edges. Leave on the tray to cool before storing in an airtight jar or tin for up to a week. Good luck with that.