Mincemeat Crumble Slice Recipe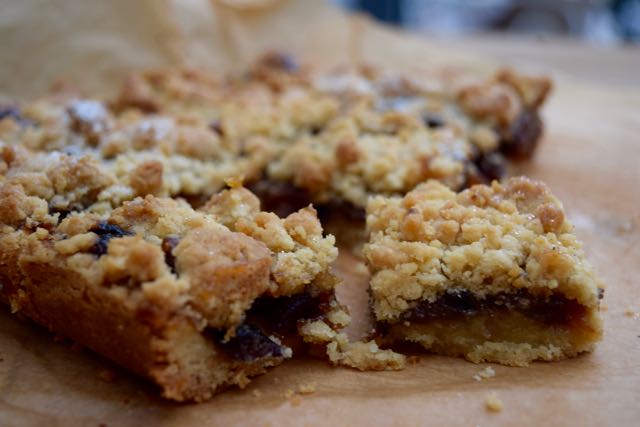 This is a recipe born out of my balls being literally nailed to the wall at this time of the year. Not literally speaking, as of course I don't have a set of balls, although I do metaphorically, but as a nod to the fact I don't seem to have a single second to spare. I am hosting Christmas lunch this year which means my life is one long running list of things I keep thinking of, but then forgetting the minute I go to add them to my list. That coupled with the ever expanding list of presents to buy, baking to be done, a broken dishwasher and an office move, I am only just holding it all together. I've mentioned before, I haven't got a single mince pie or sausage roll in the freezer yet and time is marching on. I have a Christmas cake being liberally doused on a weekly basis with brandy and a tub of Twiglets, apart from that I am more behind than Mr Behind on his most behind day. However, what I do have is this marvellous recipe for Mincemeat Crumble Slice, which you can have on me, in order to stop your balls from being nailed to the wall.
Based on my Cherry Shortbread Tart recipe, this Mincemeat Crumble Slice is delicious and simple. Just the sort of food you need at this stage in December. I love a mince pie as much as the next person, and at some point over the next 12 days I will have to make some. However, the making, chilling and rolling out of pastry at this stage in the game is enough to push me over the edge. This simple slice is a brilliant way of getting all the mince pie taste but without the drama. You can make this in your food processor or if you have any spare energy by hand in a bowl with spoon. Then just press it into your tin, slather on the mincemeat and sprinkle on more of the mix, crumble stylie. The slice can be served as a teatime treat or as a warm pudding with all those lovely accompaniments in the supermarket at the moment, such as brandy butter, brandy cream, rum custard, the list of booze laced sauces is endless.
This Mincemeat Crumble Slice is an absolute find and is filled with festive flavours. A hint of clementine in the crumble, a generous mincemeat layer, this is Christmas without the kerfuffle. And it will freeze up a treat if you are pushed for time the nearer it gets to the big day. It's all give give give with this bake, and you could give it away too, as a festive hostess gift. I know I will be, as it's tons easier to make than pies, chutney or stollen for goodness sake.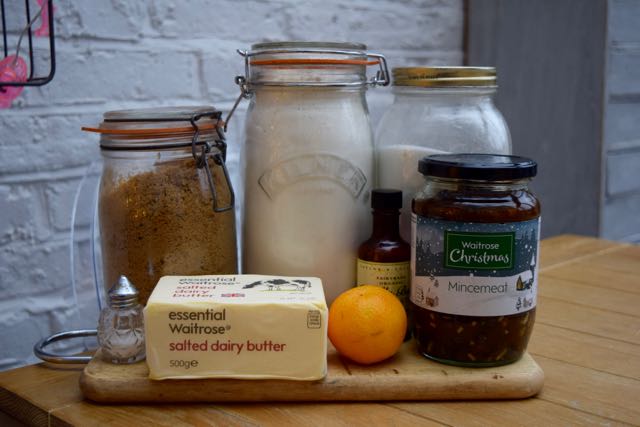 This couldn't look any more festive it if tried. In fact, just the inclusion of a clementine completes the Christmas look for me.
Make a start by lining your square or rectangular tin and pre heating your oven to 160 degree fan assisted. Then make a start on the shortbread crumble base. I used my food processor *lazy cow* but go in with a spoon and bowl action if you like. Cream together the soft butter and caster and brown sugars until lighter in colour and in texture.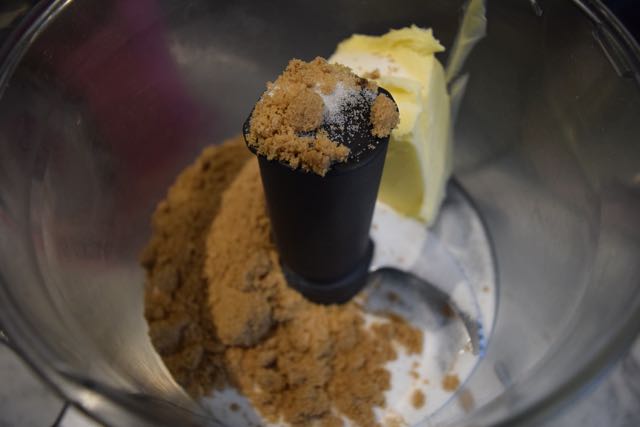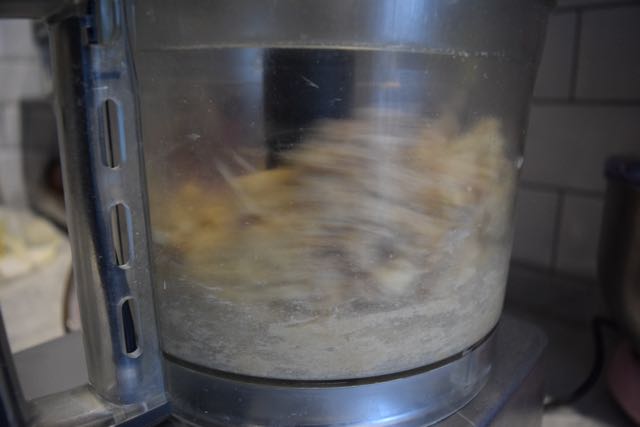 Next, grate in the zest of one or two clementines or satsumas depending on their size and add a teaspoon of vanilla just for added fragrance. Then tip in the flour and salt and process or mix until a dough is formed.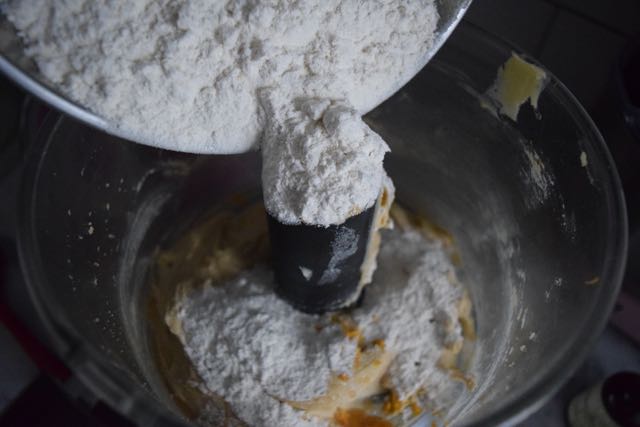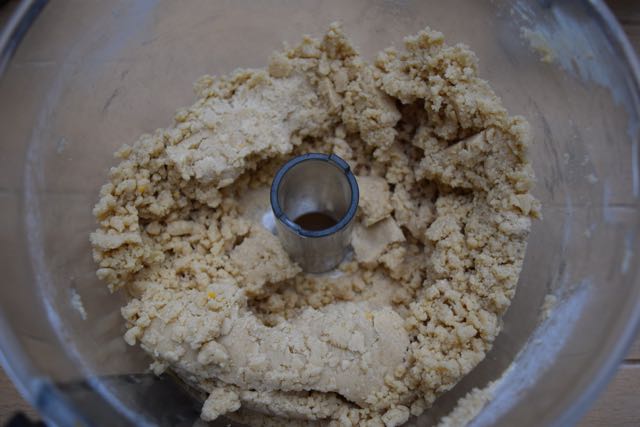 Press two thirds of this rubble-like dough into the base of your lined tin, making sure it's in an even-ish layer and goes into all the corners.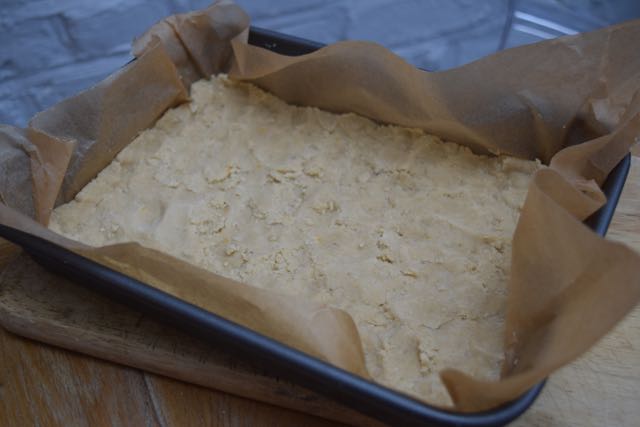 Spoon over the mincemeat in a generous layer then crumble on the last third of the shortbready mixture.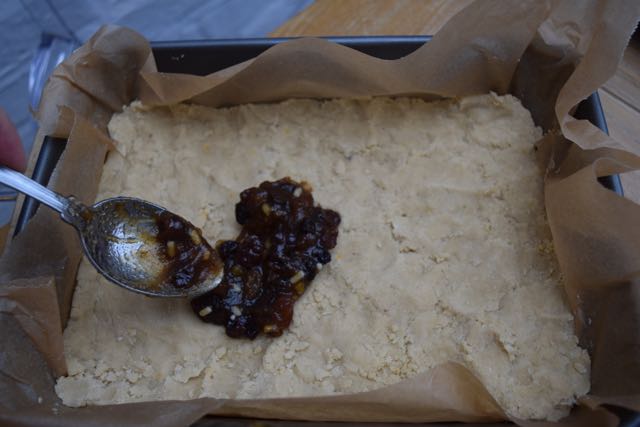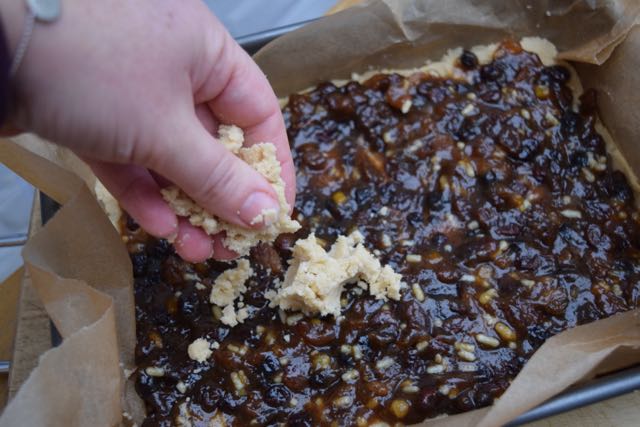 Make sure the crumble top vaguely covers the mincemeat then pop into your pre heated oven for around 45 minutes or until golden, the mincemeat is bubbling and it's smelling beyond festive.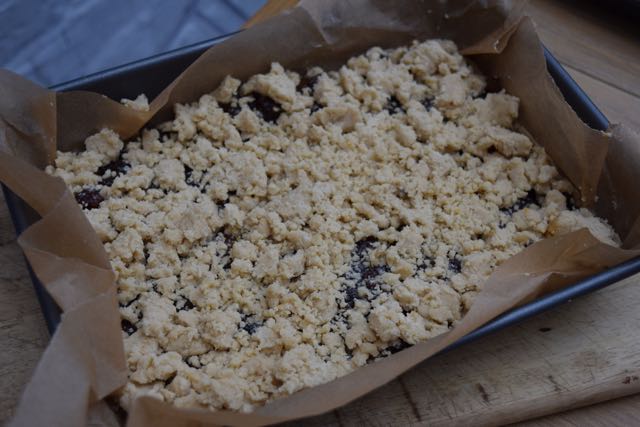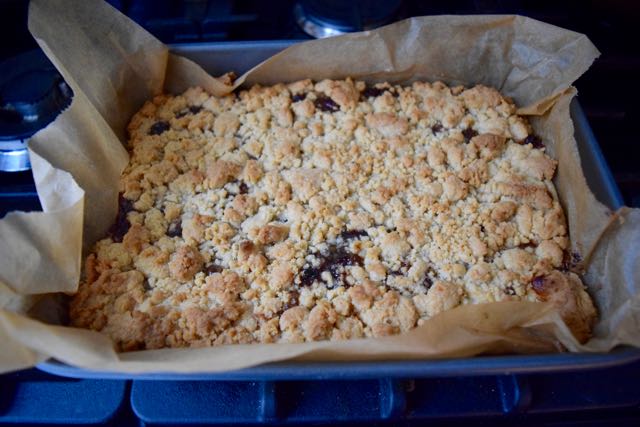 You can cut this simple Mincemeat Crumble Slice into modest squares or bloody great big chunks, it's your call. Serve with a cuppa, or as a festive pud, warm, with all the sauces you can muster.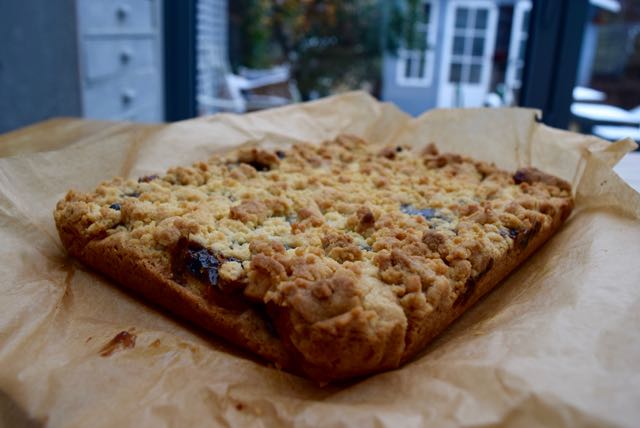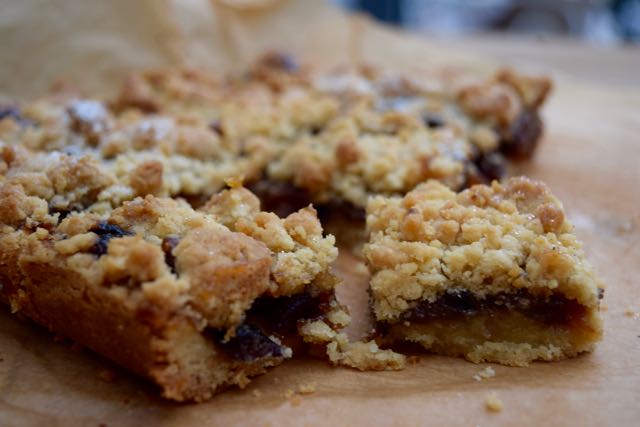 Soft, sweet shortbread-like base, warm mincemeat this is the stuff Christmas dreams are made of. This will be a very well utilised recipe in my house this year, unless I can find an extra day between now and the 25th to make all those lengthy complicated dishes I always promise I'll make.
Keep on holding it together, only 12 days to go.
Lucy x
Mincemeat Crumble Slice Recipe
Makes around between 18 to 24 slices, dependent on how big or small you cut them
You will need a food processor or bowl with a wooden spoon and a lined 20-23cm square or rectangular tin
230g soft butter
100g caster sugar
40g soft brown sugar
1 teaspoon vanilla extract or paste
Zest from 1 to 2 clementines or satsumas depending on their size
330g plain flour
1/2 teaspoon salt
500g mincemeat, from a jar or homemade if you are Delia Smith
Icing sugar for dusting, if serving warm some cream, brandy cream and/or custard to serve
Pre heat your oven to 160 degrees fan assisted and line an 8 to 9 inch square or similarly sized rectangular tin.
In your food processor or in a bowl with a wooden spoon, beat together the soft butter and both sugars until lighter in colour and texture. Add in the vanilla paste or extract, satsuma or clementine zest, mix again then fold in the flour and salt until a soft dough is formed.
Press two thirds of the dough into the lined tin, making sure the shortbread dough is pressed into the edges and is in an even-ish layer. Next, spread with a layer of mincemeat. Take the remaining shortbread dough and dot it over the top of the mincemeat in a sort of crumble topping layer.
Pop in the oven for around 45 minutes or until golden brown and the filling is bubbling. Leave to cool slightly before removing from the tin. Cut into squares, the size dependent on how you are serving it. Serve warm or cold, dusted with icing sugar and tons of  brandy cream or custard. I can imagine this would keep, well covered, in a tin for 4 days. But not in our house. Freeze, well wrapped, for a month or two.
SaveSave
SaveSave
SaveSave
SaveSave