Oat and Honey Bars Recipe
Most of my money is spent on food shopping. A depressing fact, but a true one. It's not as though I don't benefit from this spend in some way though, with the odd couple of bottles of wine and sneaky bars of Galaxy. But on the whole, it's pretty much spent on snacking items for 2, or 3, if you include Clyde, hungry boys.
I do begrudge that money being spent on sugar laden snacks for the boys to eat with their packed lunches or to bridge that 'I'm starving' couple of hours between home from school and supper time. Especially as they are full of rubbish and crappy additives and I tend to think I can make them better myself. But, these shop snacks are convenient as time and life does not always allow you to have homemade treats available at all times. Even if you are Supermum *I am not*. Here's where I must stop rambling and introduce these Oat and Honey Bars. They are healthy-ish, being made with only a half tablespoon of brown sugar, honey and coconut oil. And, good lord they are quick to make, and just one bowl and a small jug to wash up and a bit of light stirring to assemble. I managed to drag these down a level by adding a bag of milk chocolate chips, but you could go with my beloved craisins, dried apricots, raisins or nuts if you would prefer more of a nod towards health. Inspiration for these lovely bars comes from the Half Baked Harvest website, thanking them kindly.
Needless to say, the tin of these Oat and Honey Bars lasted barely a day in our house, with a call for another batch to be made almost immediately. So I can vouch for them being a great success, much cheaper and more nutritious than shop bought snacks and super easy to make. If that isn't a success, I don't know what is.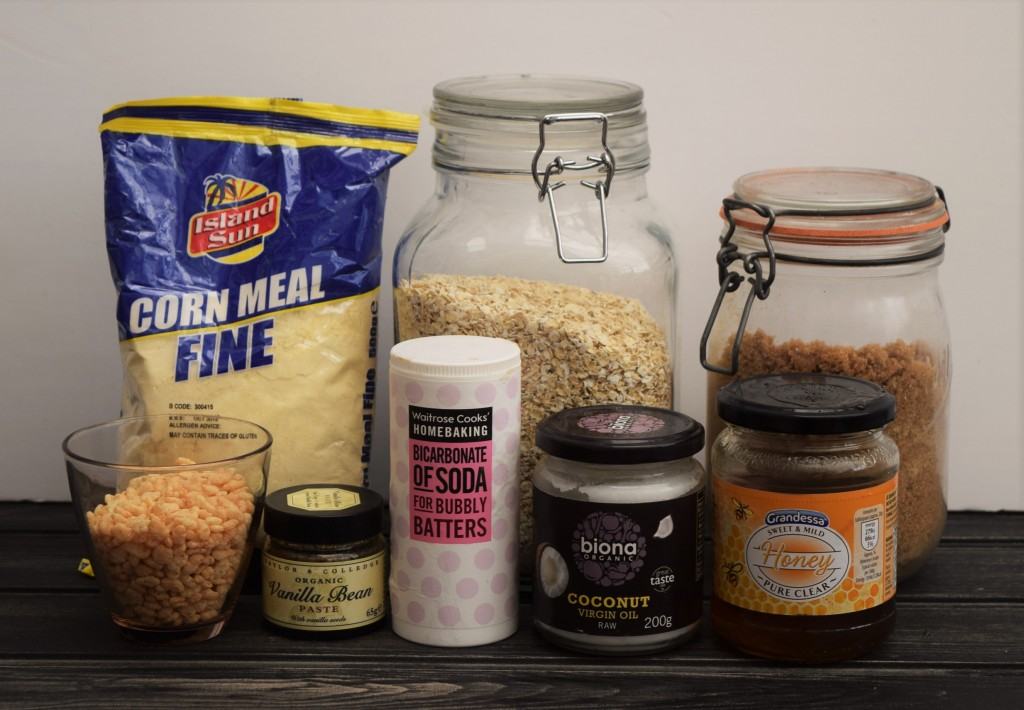 Here's the down to earth looking line up for my Oat and Honey Bars. Minus the chocolate chips as these are an optional extra and you can pretty much add what ever you like and please don't feel I should dictate to you. Yes, you guessed it, I forgot them in the photo. Don't be alarmed by the corn meal either. It's only 3 tablespoons and it adds a bit of texture. I believe you can substitute it with rice flour, corn flour or regular flour if you can't find it in the shops.
Make a start by, yes, pre heating your oven to 160 degrees fan assisted. No surprises yet. Then take a large bowl and add the oats, Rice Krispies *other rice cereals are available* and cornmeal.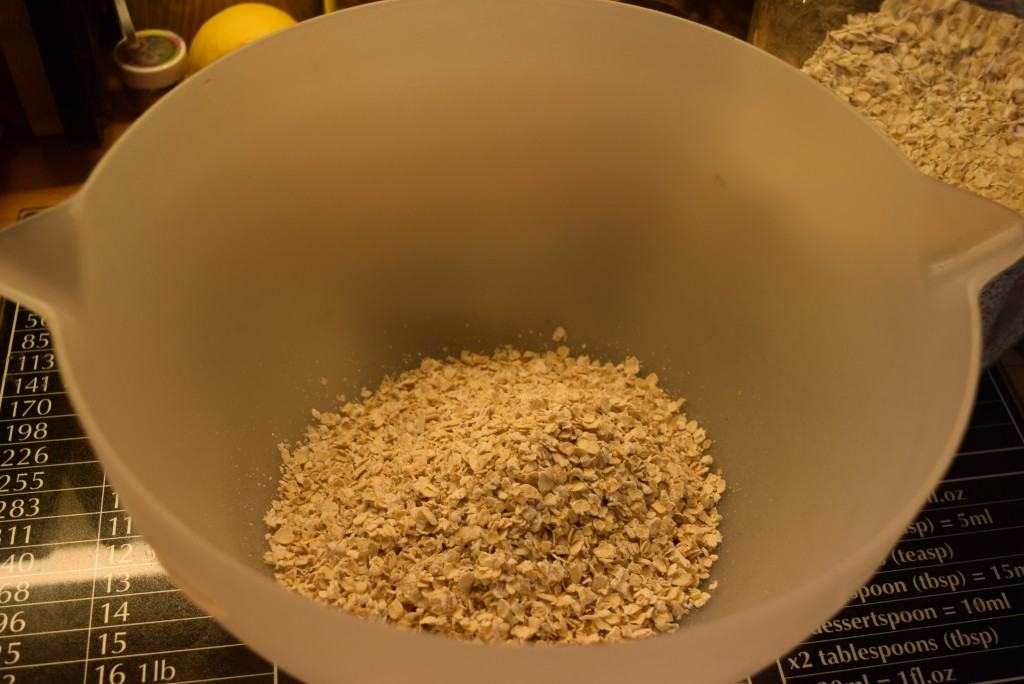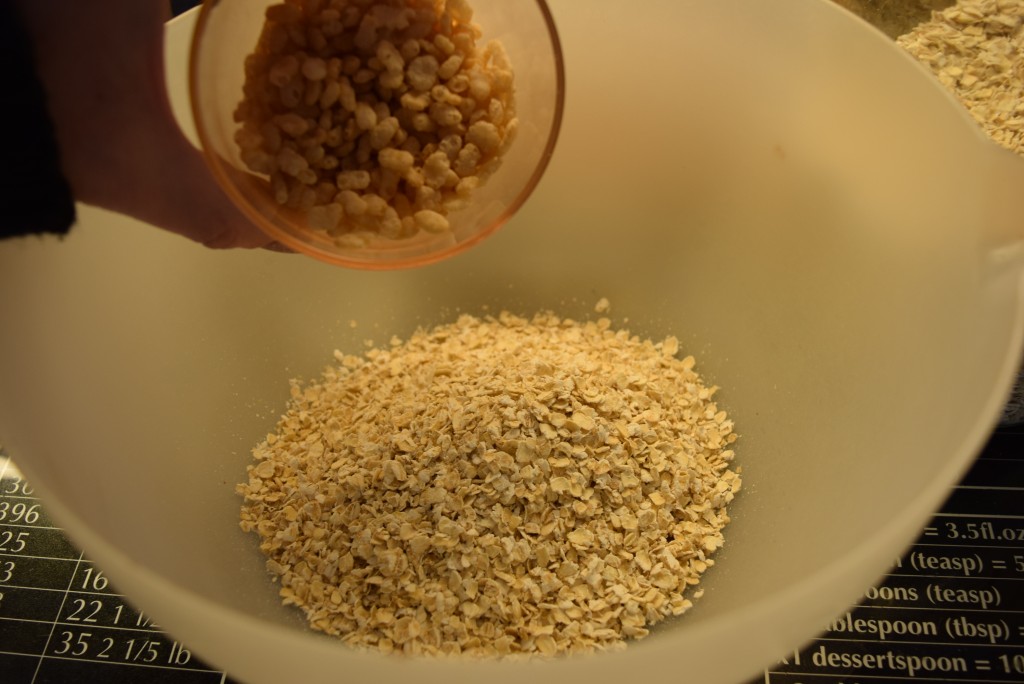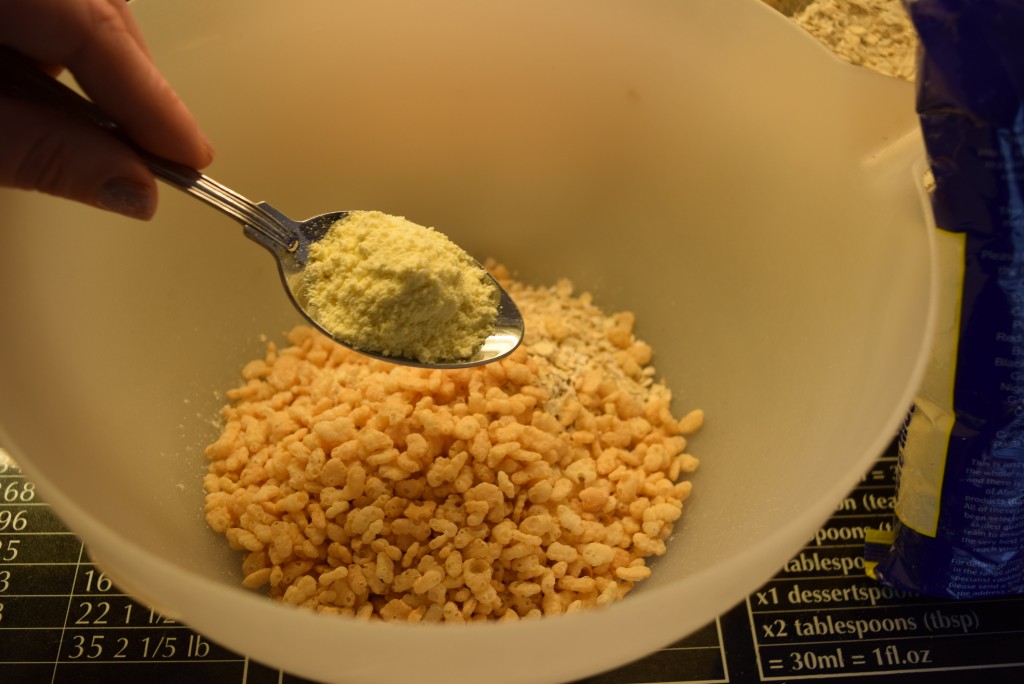 Next add a pinch of salt and a scant quarter teaspoon of bicarb, not desperately stressful thus far. Then mix all these bits and bobs together.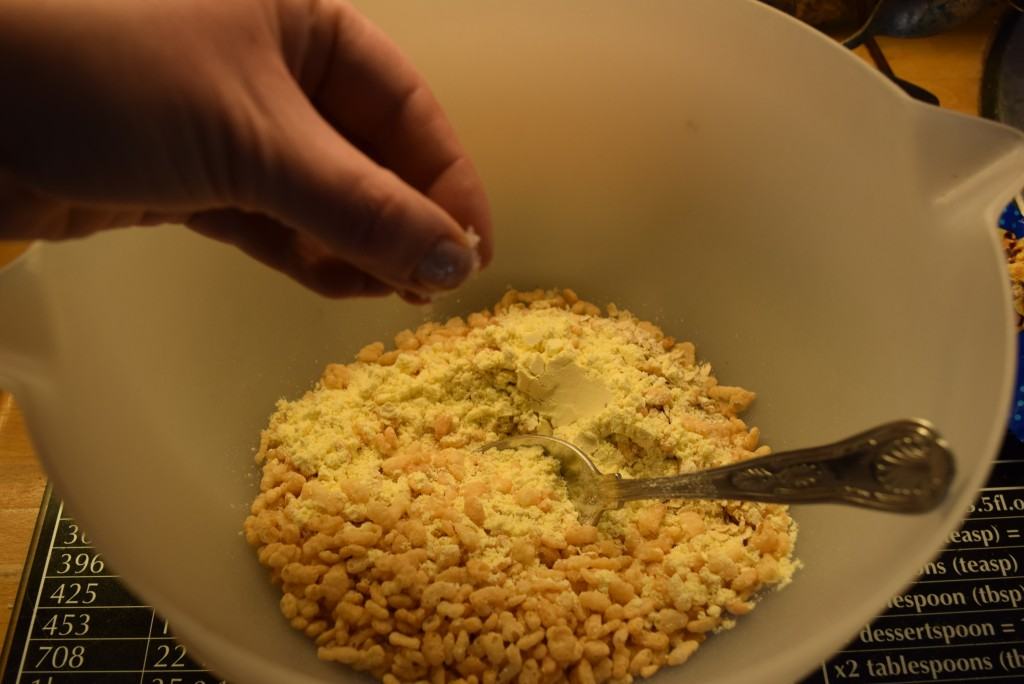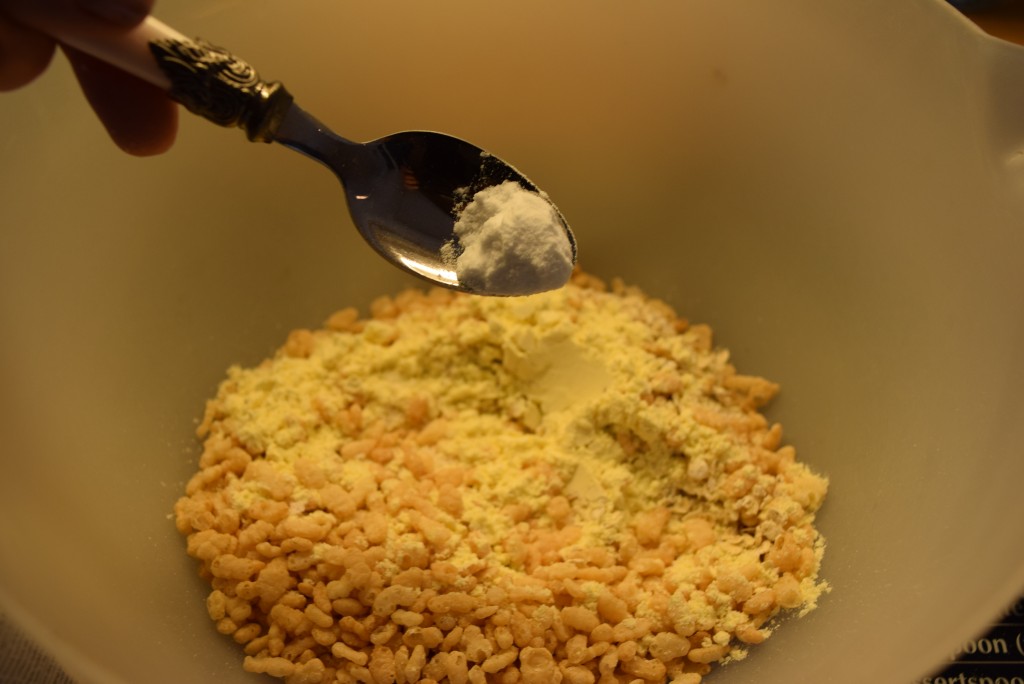 Now in a small jug or bowl pour in the honey and oil. I used coconut oil, but you could use any flavourless oil here, nothing too fiesty. Warm in the microwave for a minute or in a small saucepan, you don't want it to boil, just warm it up.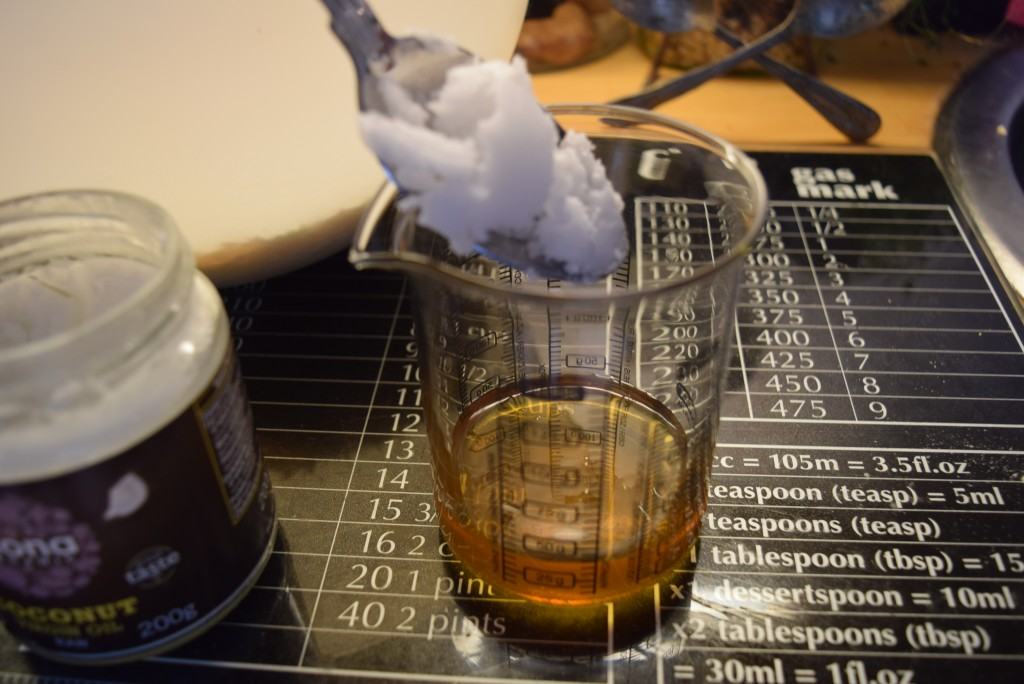 Once warmed, stir through the brown sugar and the vanilla extract.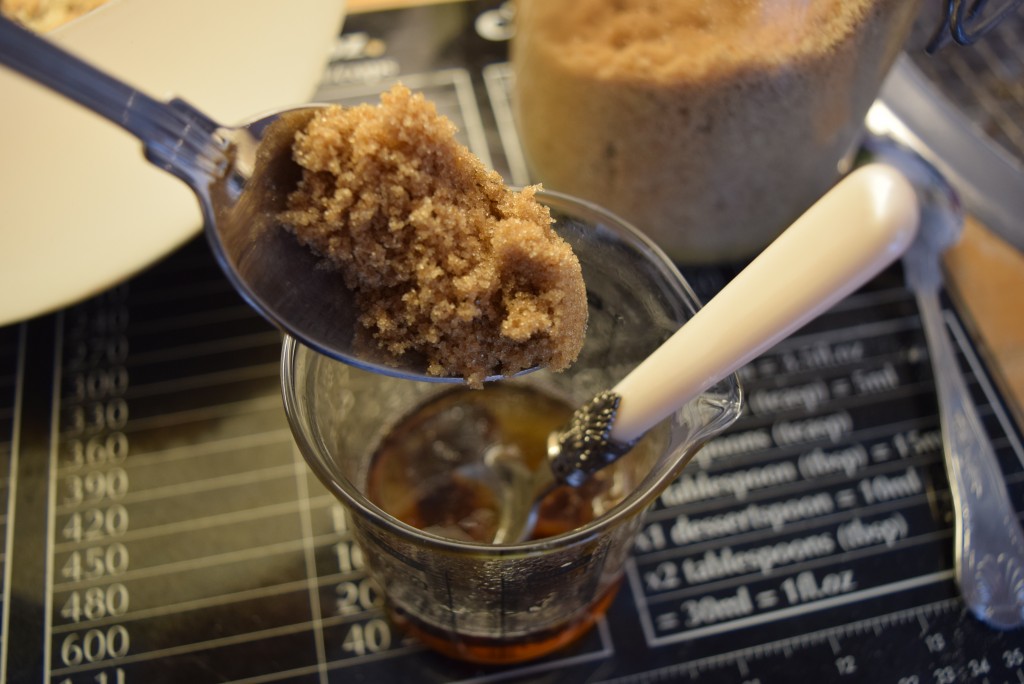 Then pour this into your bowl of oats and cereal and give it a good mix until everything is well coated in the honey.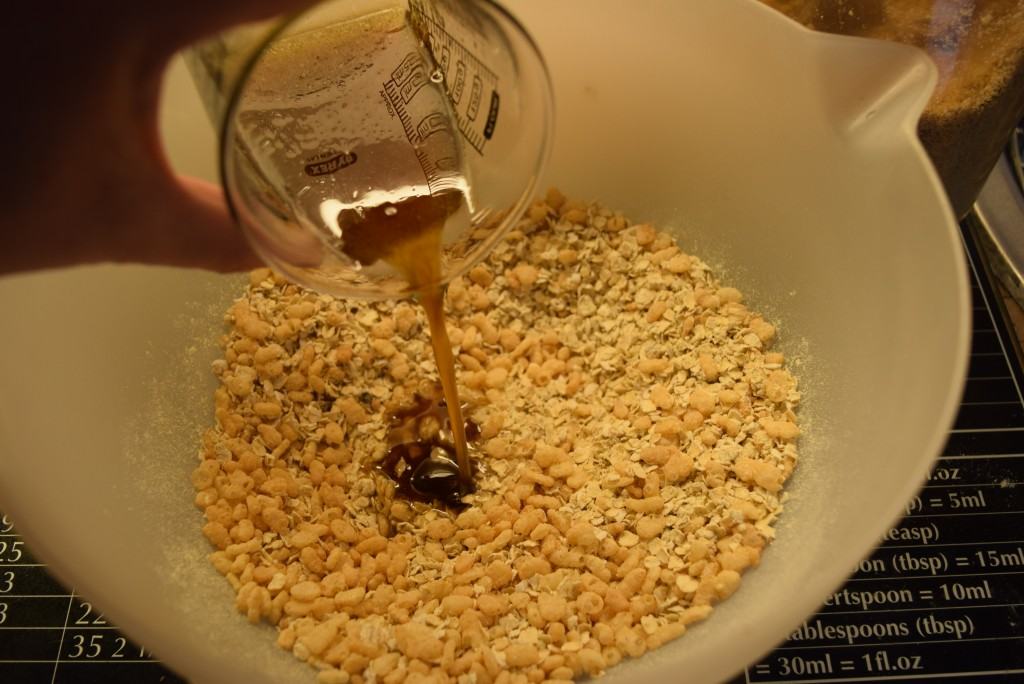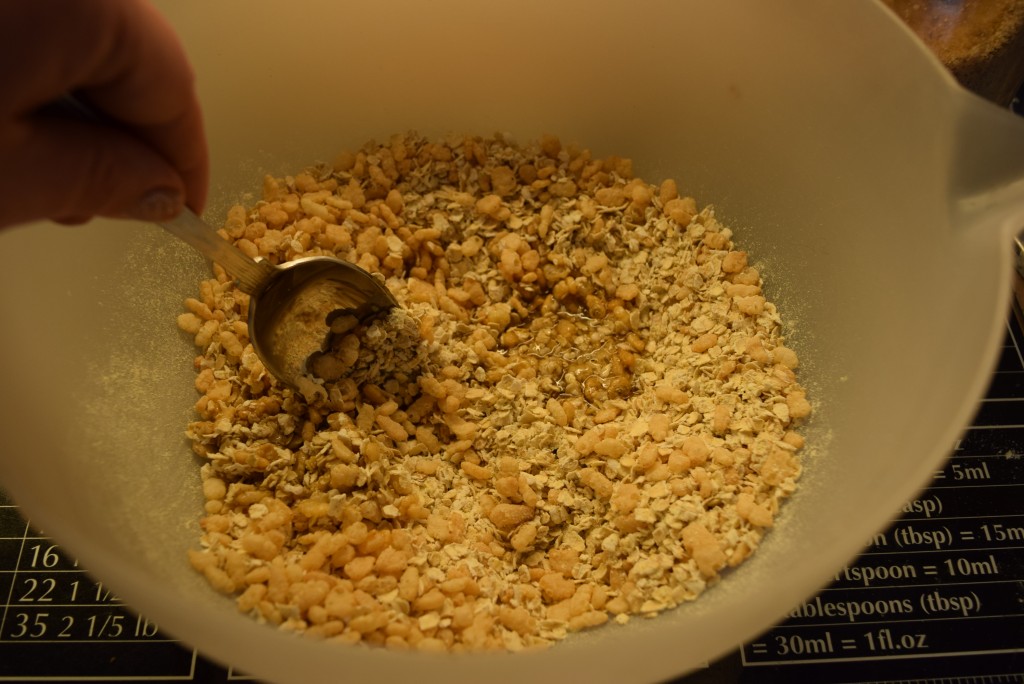 At this point, add whatever you fancy, or have lurking in the bottom of your cupboard. Nuts, seeds, fruits, chocolate, of course, I chose chocolate.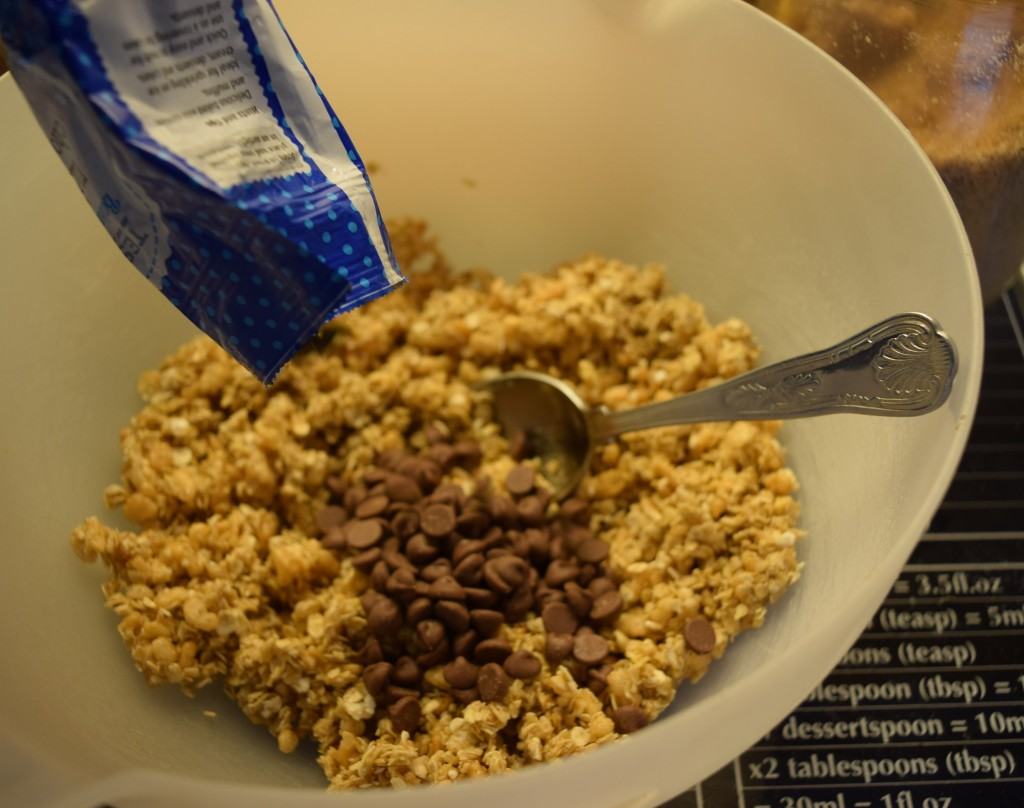 Stir again then pour into a lined square baking tray. Flatten the mixture with the back of a spoon, pressing down to ensure it's packed down and flattened.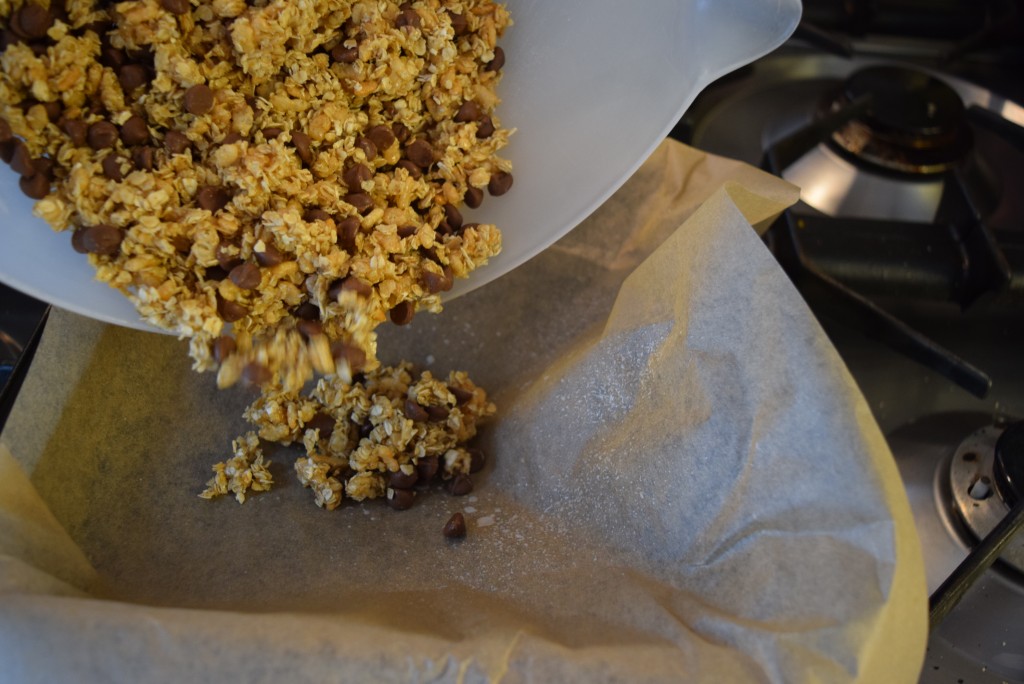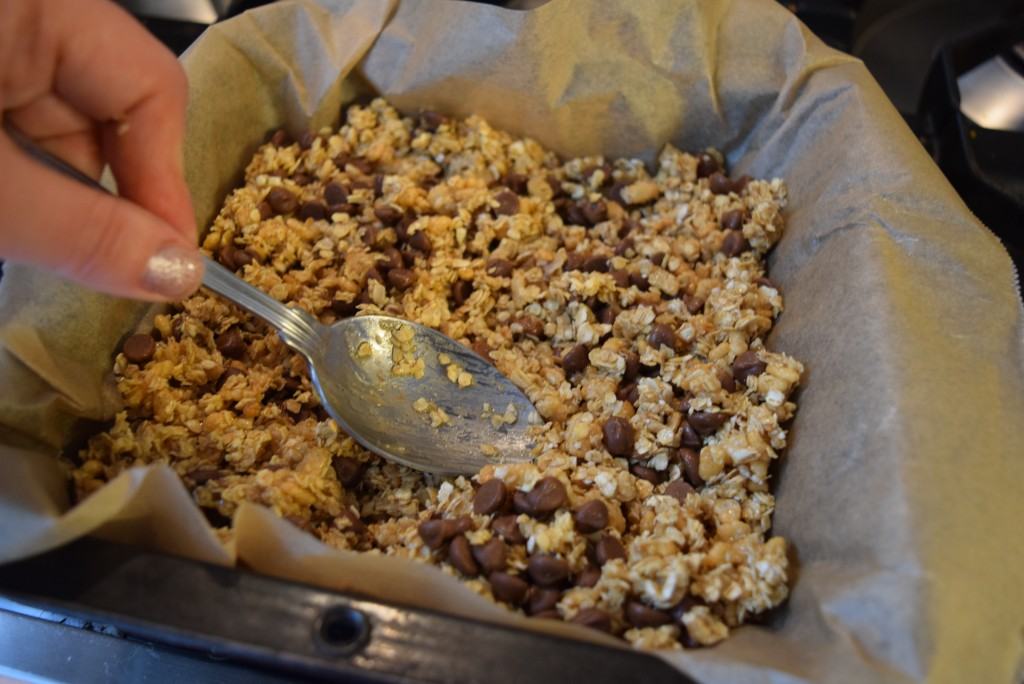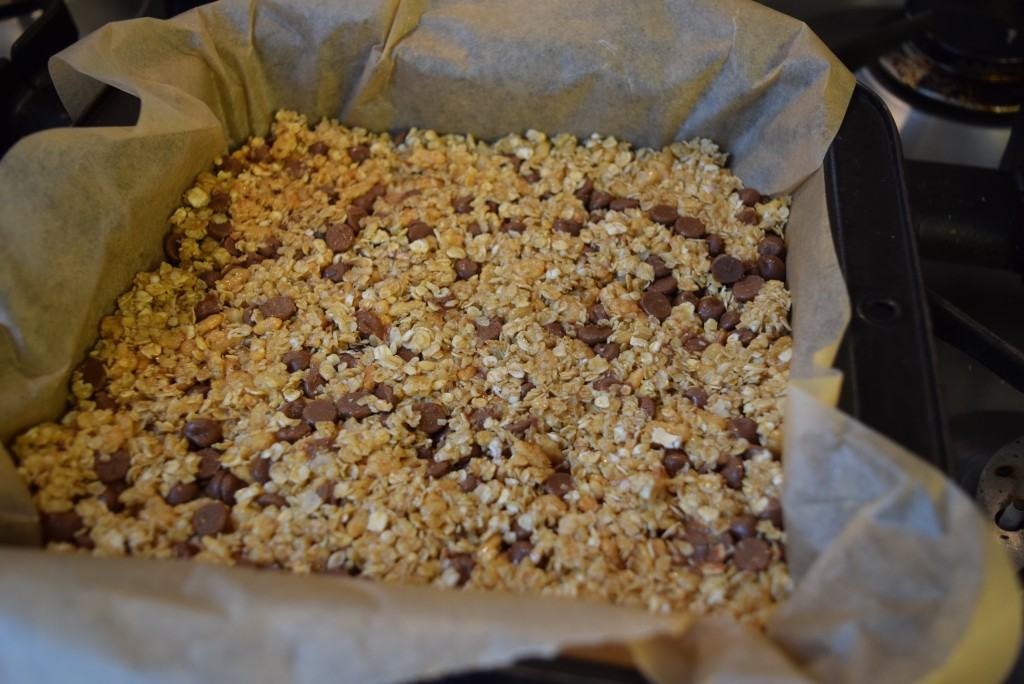 Pop this tray of goodness into the oven for around 20 minutes, or until golden, smelling sweet and divine and browning nicely.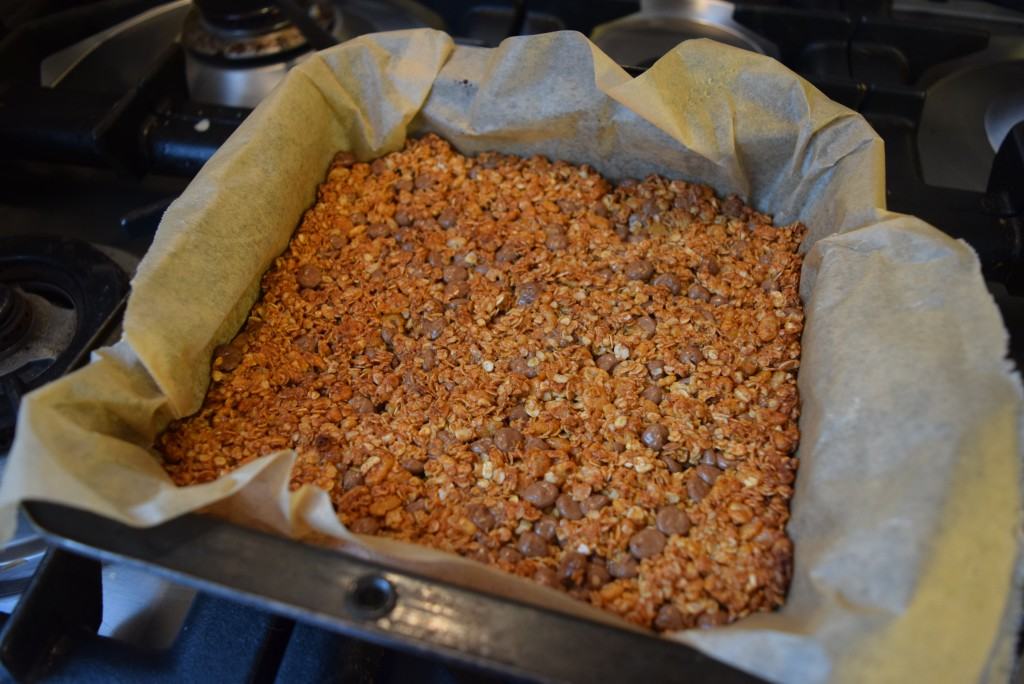 Leave this to cool before cutting into 8 hearty bar type affairs. Optimistically put them in an air tight tin where they can keep for up to a week.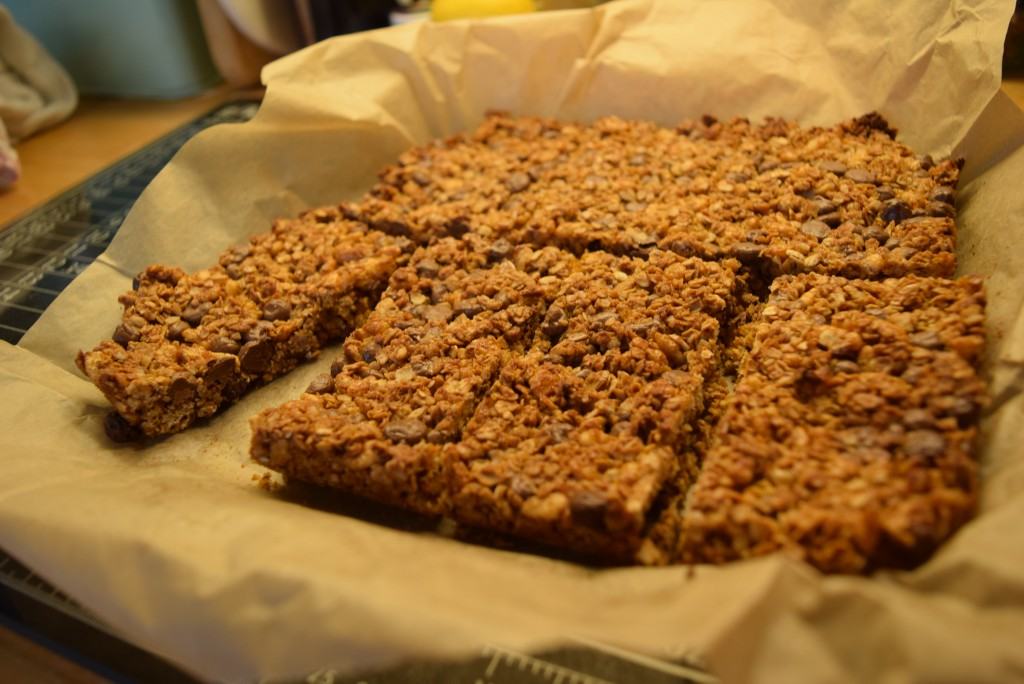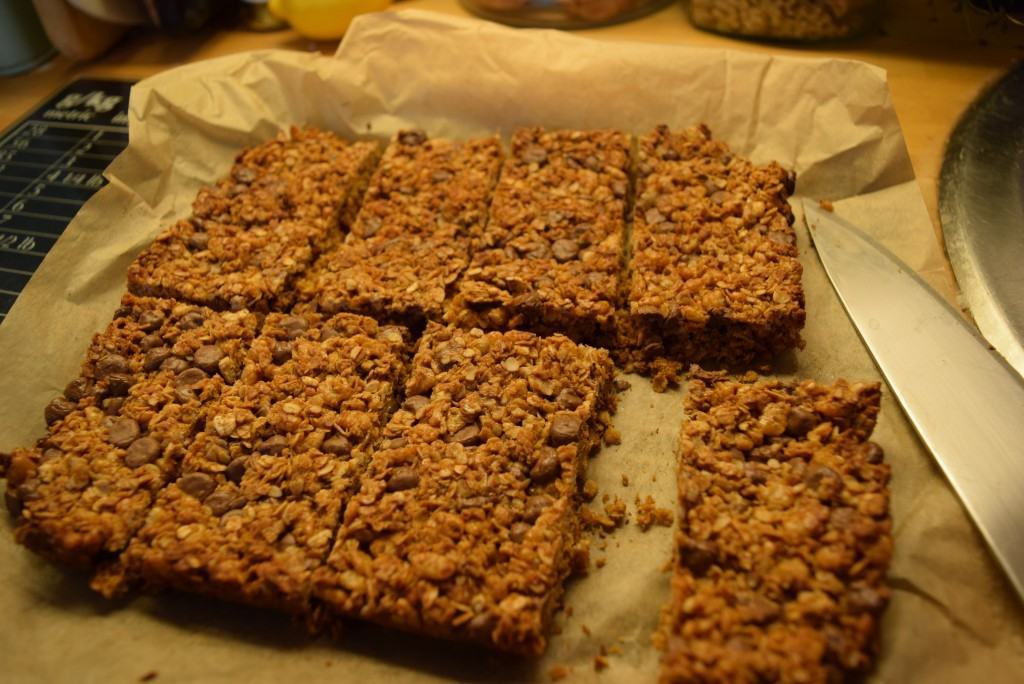 These bars are crisp, wholesome and full of flavour.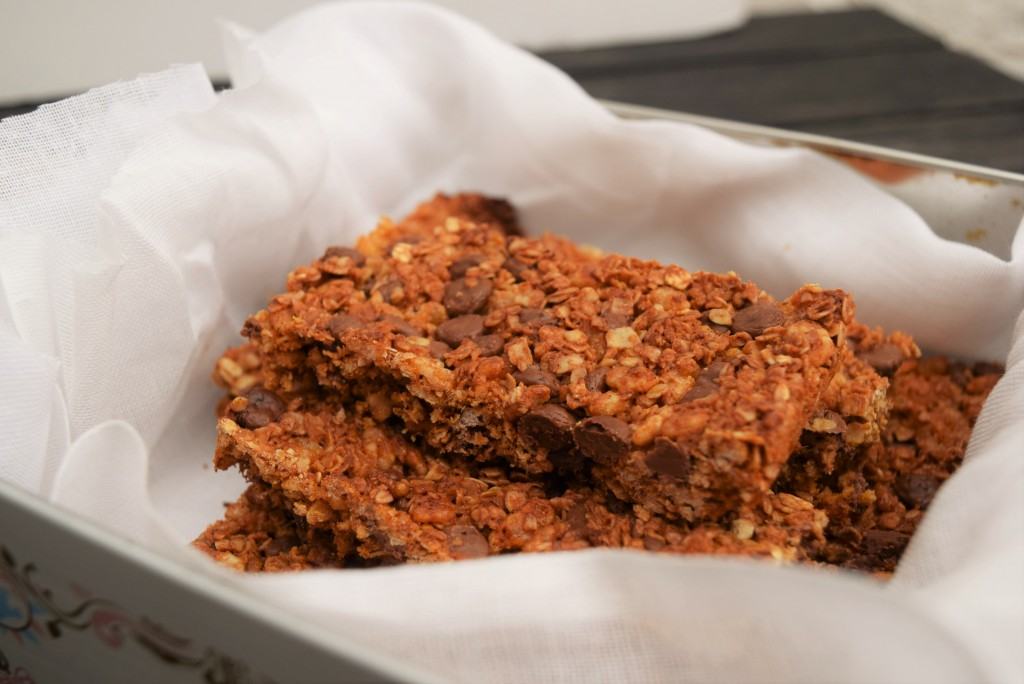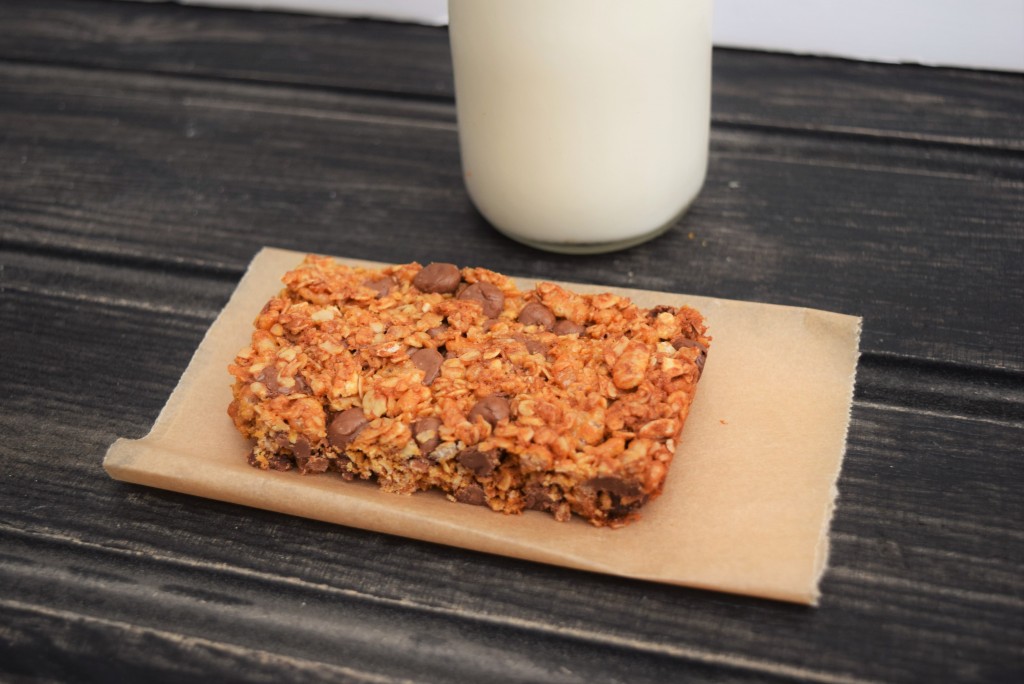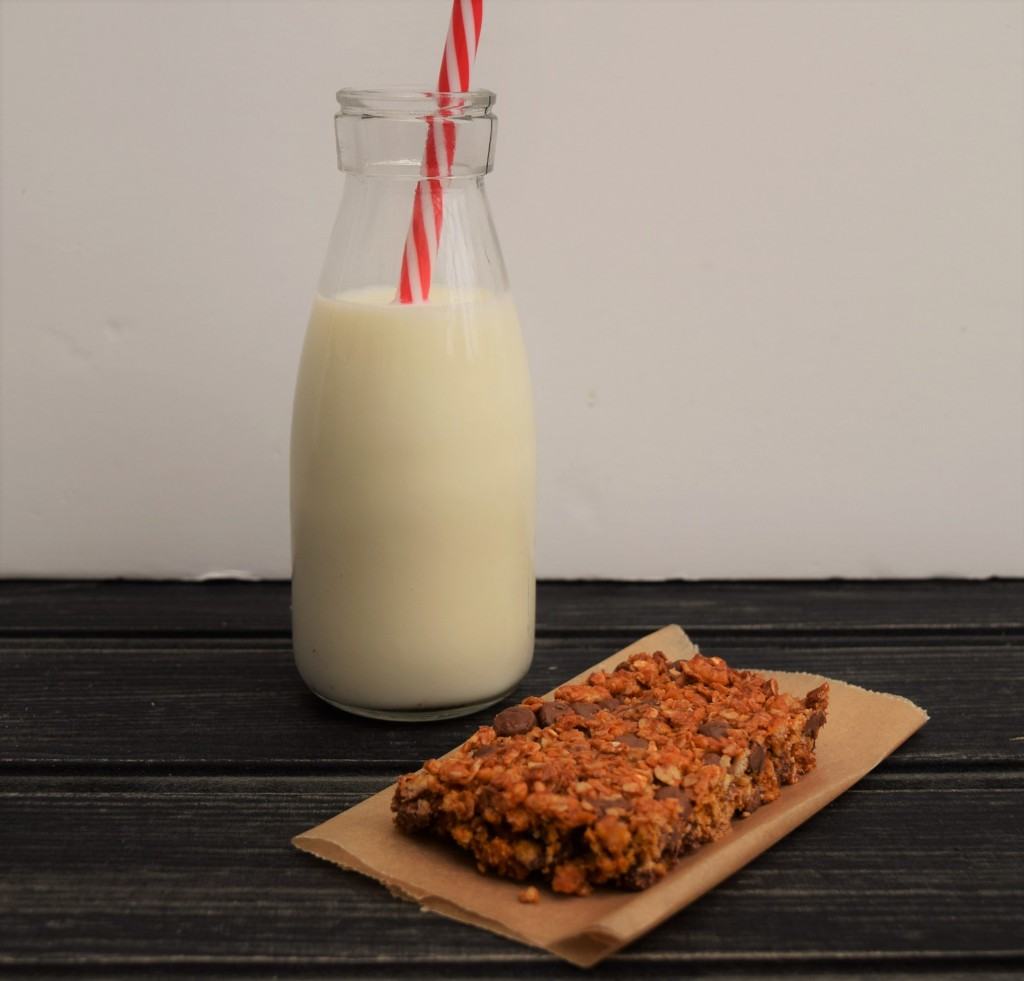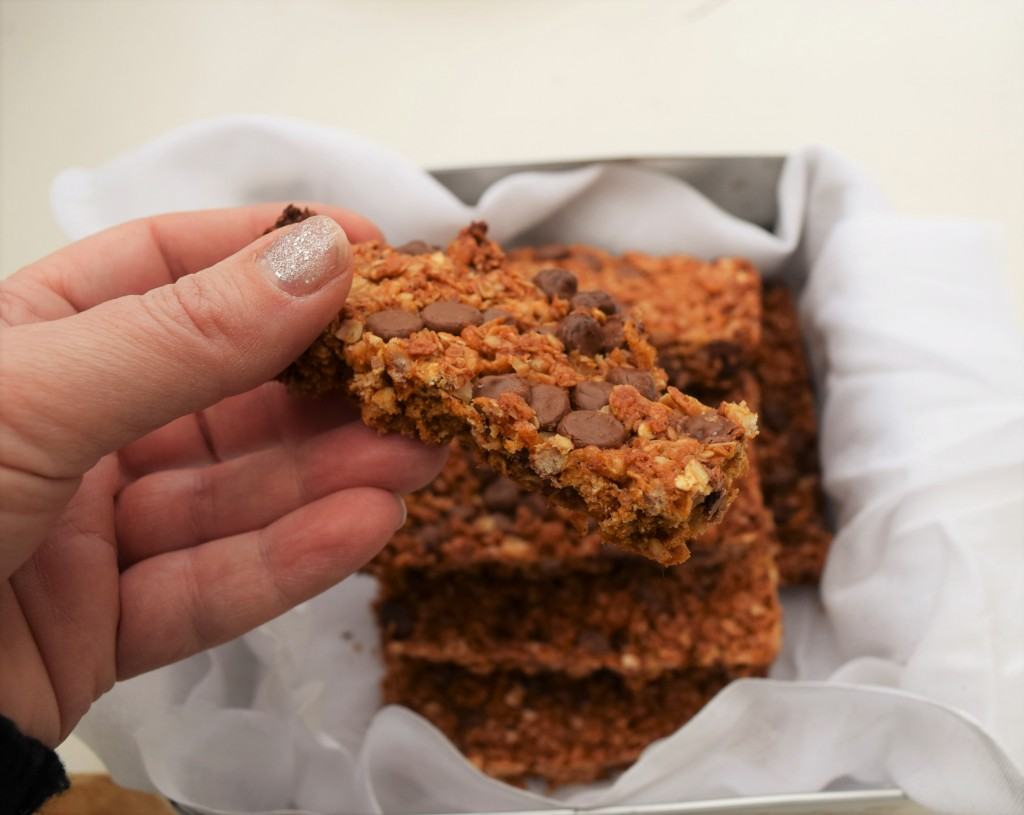 These Oat and Honey Bars are a perfect snack at anytime of the day, even to throw at a child as they leave the front door having missed breakfast. Please tell me that's not just me?
Oat and Honey Bars Recipe
Makes 8, easily doubled
You will not need any interesting equipment, just bowls
135g porridge oats
15g rice cereal
3 tablespoons cornmeal or semolina , rice flour or just normal flour if you don't have this
Pinch of salt
1/4 teaspoon bicarbonate of soda
90g honey
2 tablespoons coconut oil or corn or vegetable oil
1 teaspoon vanilla extract
1/2 tablespoon brown sugar
Optional 100g chocolate chips, raisins, dried apricots, dried cranberries, you decide
Pre heat the oven to around 160 degrees fan assisted and line an 20cm x 20cm square tin.
In a large bowl add the oats, rice cereal, cornmeal, pinch of salt and bicarb, and mix well. In a second bowl or jug add the honey and coconut oil. Heat briefly to melt the coconut oil and warm the honey. A minute in the microwave will be fine or heat briefly in a small pan. Stir in the vanilla extract and brown sugar then pour this into the oat mixture. Mix well until everything is coated in the honey mixture. Add the chocolate chips or fruit if using, then press into your lined tin, flattening it down well.
Bake for 20 minutes or until starting to brown and crisp. Leave to cool slightly before cutting into 8 bar shapes. Keep in an airtight tin for up to a week.