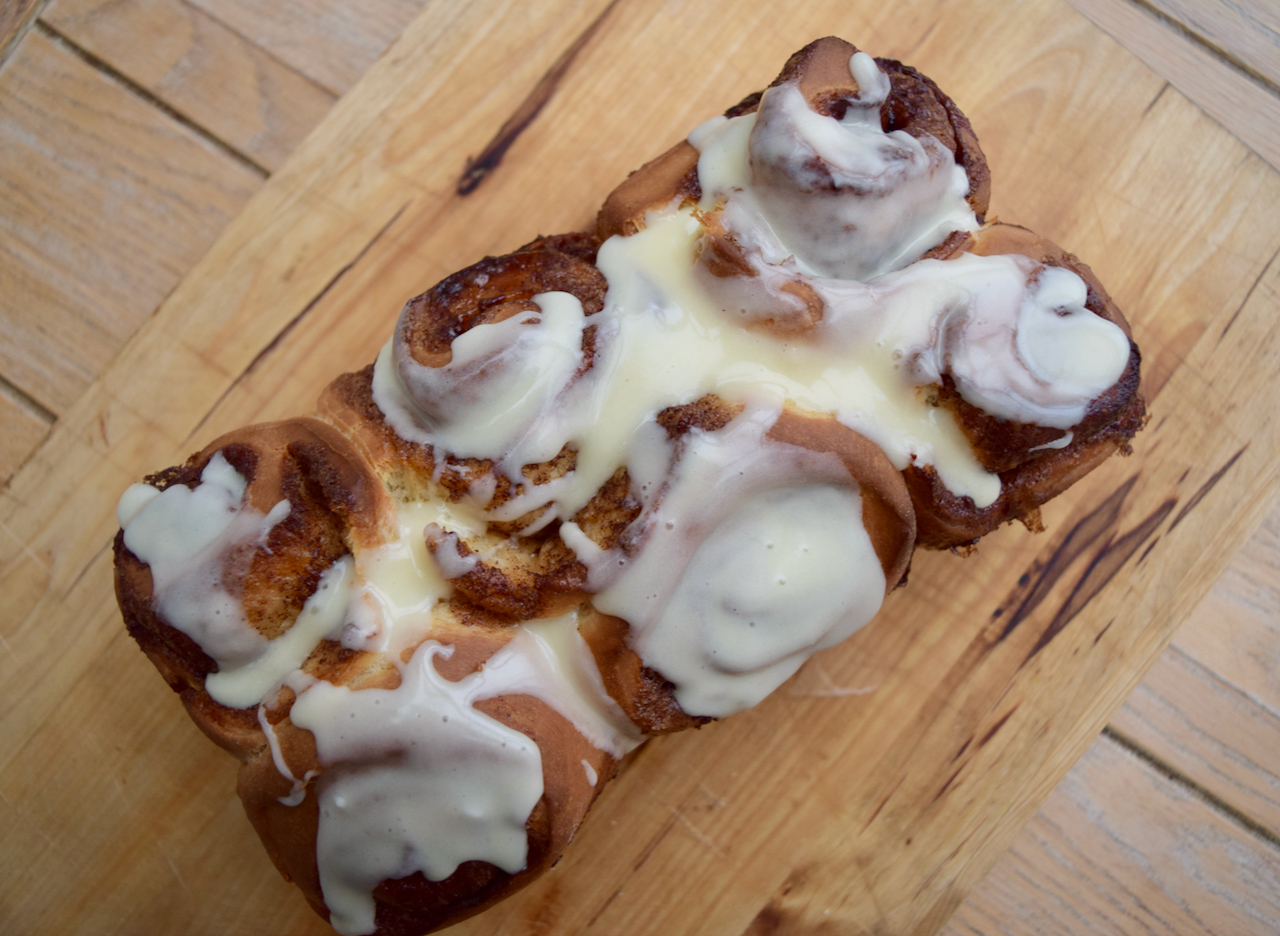 Cinnamon Roll Sharing Loaf recipe
I make my Giant Cinnamon Roll as gifts a lot. Much to the disappointment of my family who always hope I'm making it for them. It's a great recipe, but is a little bit of a kerfuffle. This Cinnamon Roll Sharing Loaf is not. I don't know why, but it seems so much less of a drama; there's less proving time making, slightly less baking time all of which allows for more of the all important eating time.
The Cinnamon Roll has become the Banana Loaf for Lockdown Part 2. I know lockdown's over, but sod it, I'm still baking so I think you should be too. I find kneading therapeutic, time to make lists in my head or to just take out pent up rage on the dough. It then just has an hour to prove before you roll out, spread with cinnamon butter, cut and bake. Ok, so this sharing loaf is not instant, but it's worth the not-too-long wait. The finished bake is light, sweet, comforting and if your family are anything like mine, will be gone in minutes.
The Cinnamon Roll Sharing Loaf would make a wonderful festive breakfast. It's perfectly sized for the rule of six, if it makes it that far. I barely got a look in and there's only four of us.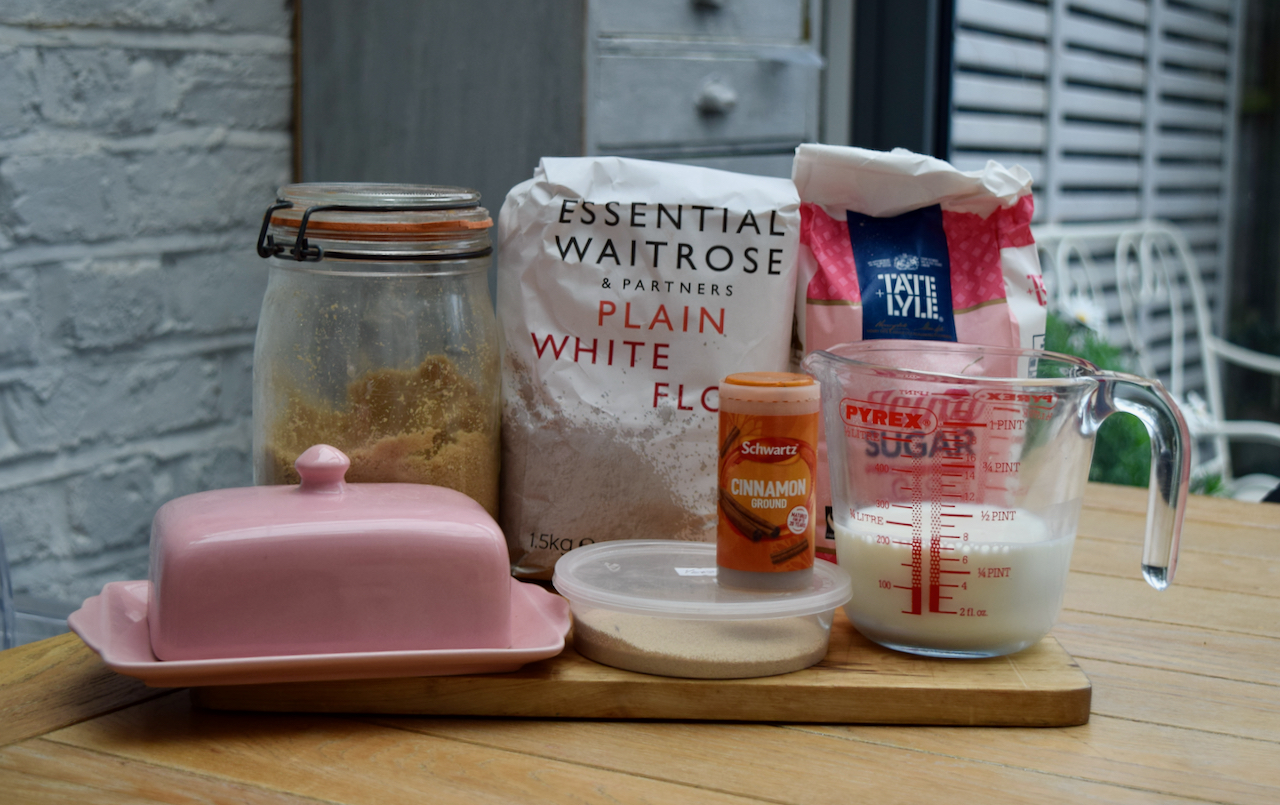 So few ingredients for such a great recipe. I still had plenty of yeast from the first lockdown when I was obsessed with making rolls. Happy to utilise my stash on this brilliant bake, however.
Make a start with your buttered 1kg loaf tin and pre heating the oven, but not until after the dough has risen, so as not to waste electricity *Christmas is an expensive enough time*. Next, either in the microwave or on the hob, warm the milk and 30g of the butter until the butter has just started to melt.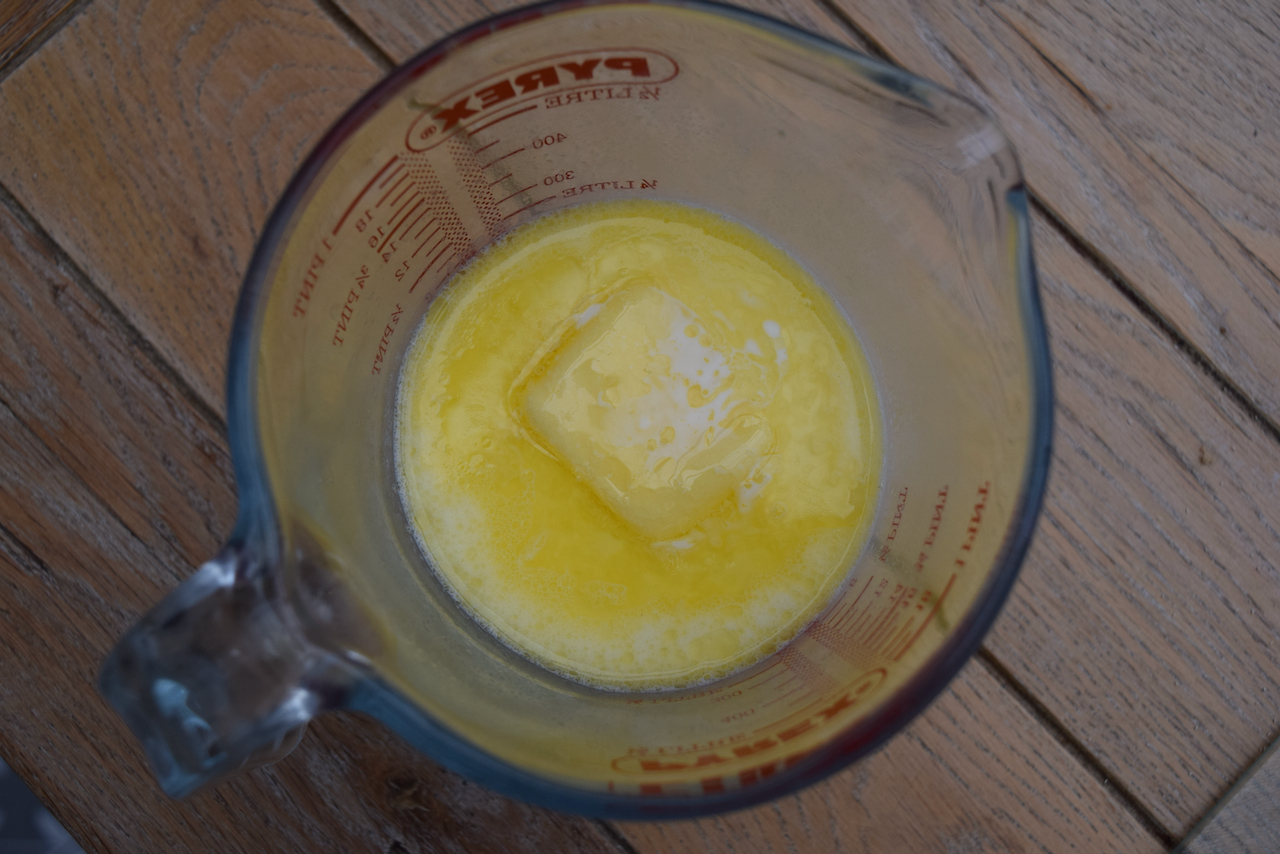 Pop this to one side while you measure the flour, 30g of the soft brown sugar and the teaspoon of yeast into a large bowl. Give it a little mix.
Pour in the warm butter and milk mix and bring together into a shaggy dough. Tip onto a heavily floured work surface.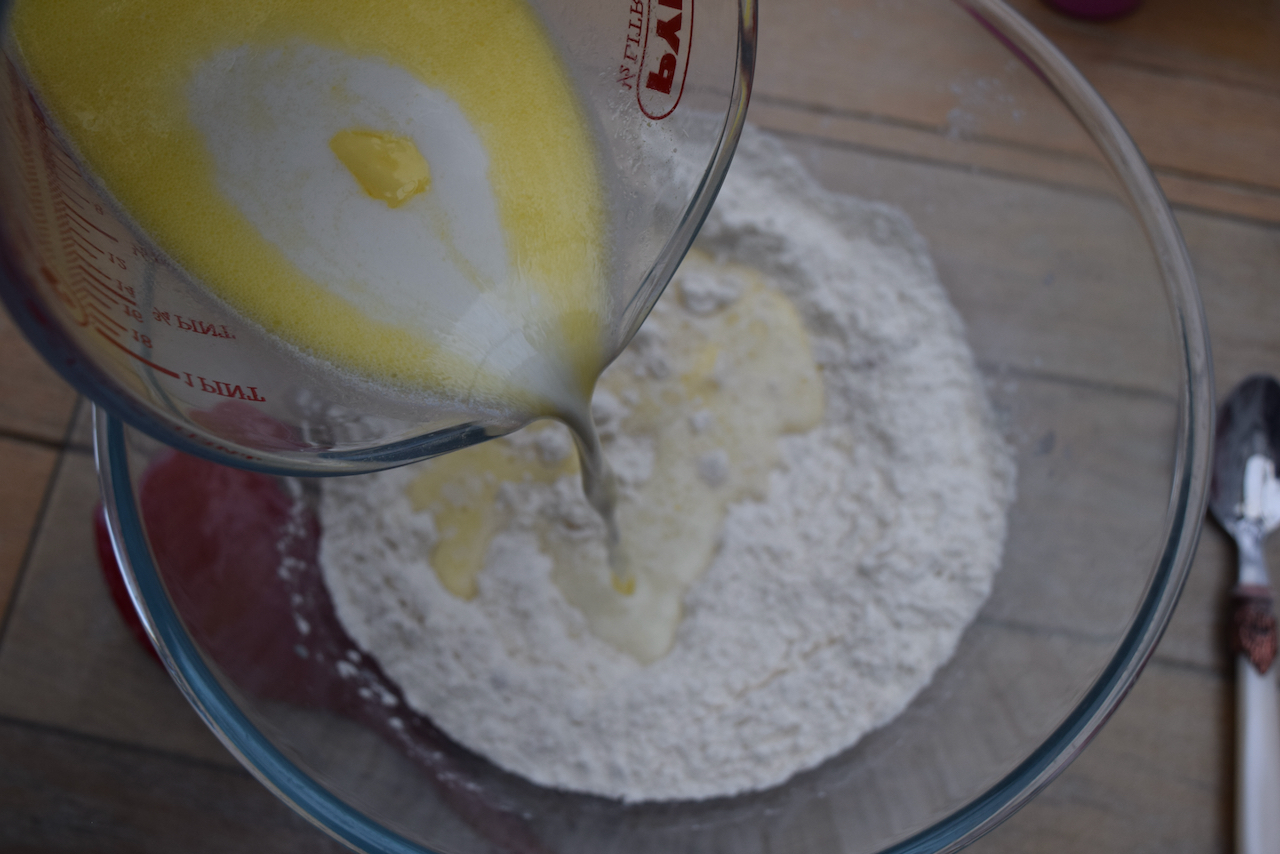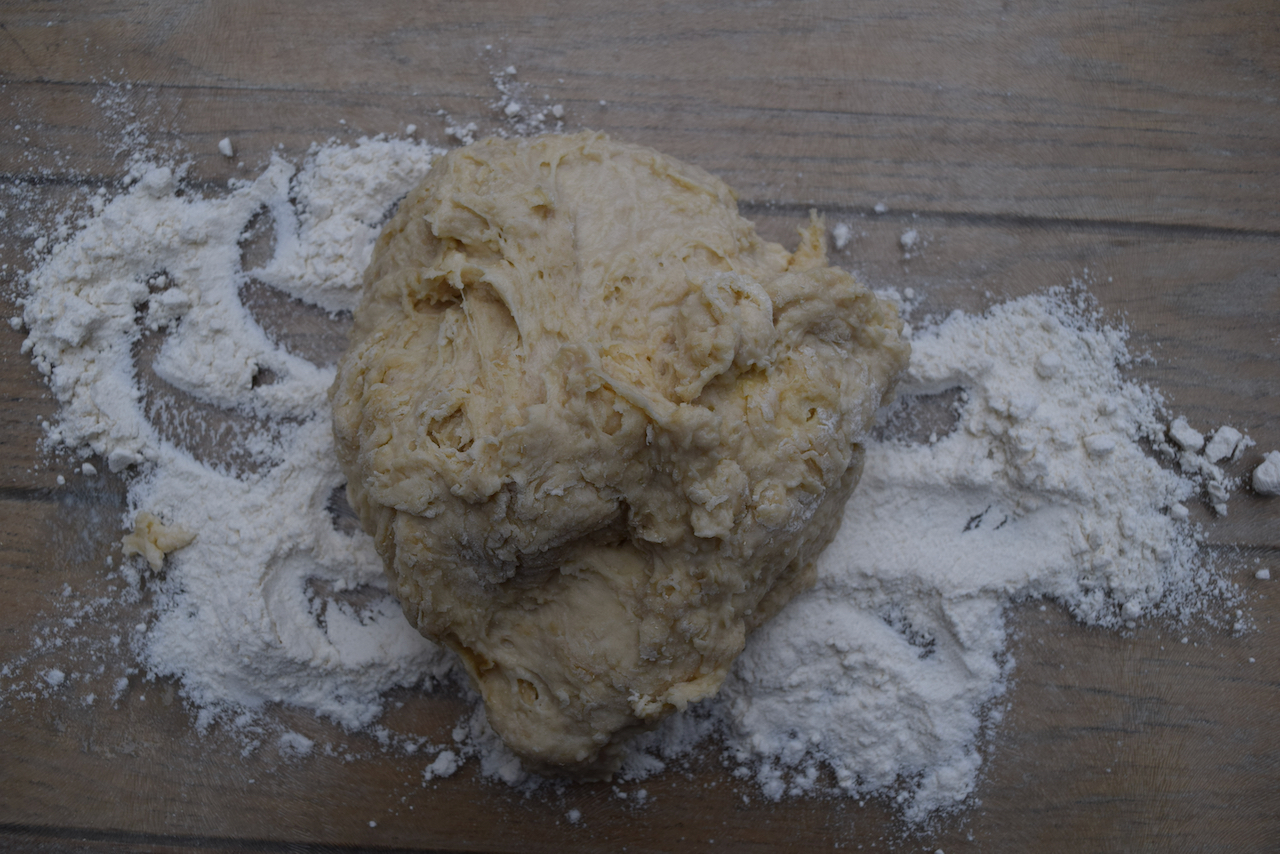 Knead for 8 to 10 minutes until your dough feels silky and no longer sticky. You will need to keep your board well floured as the dough is initially tacky.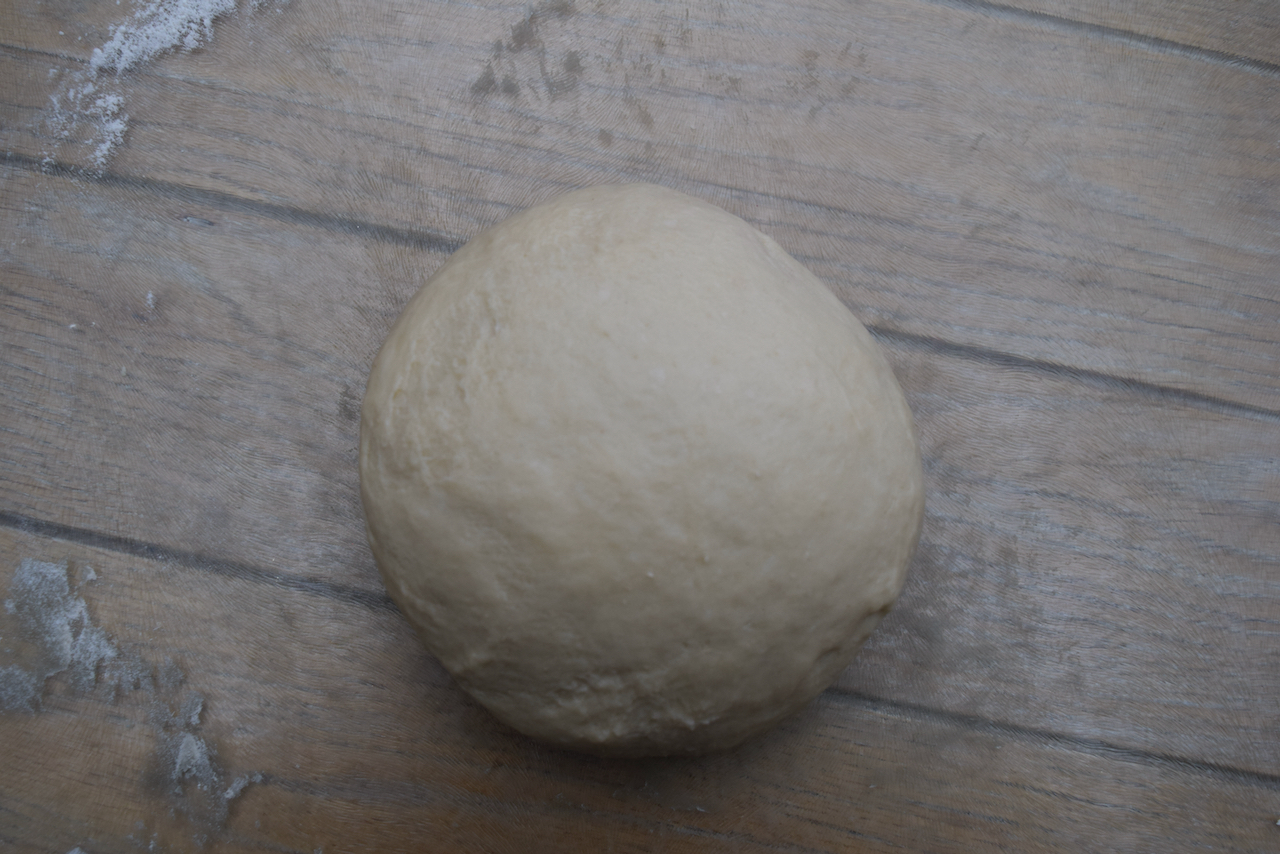 Pop the dough back into your bowl, cover with a towel and leave in a warm place to rise. Mine didn't rise massively, but it didn't seem to affect the recipe.
While the dough's doing it's thing, mix the remaining 30g soft butter with the 60g soft brown sugar and the teaspoon of cinnamon until you have a sort of spread.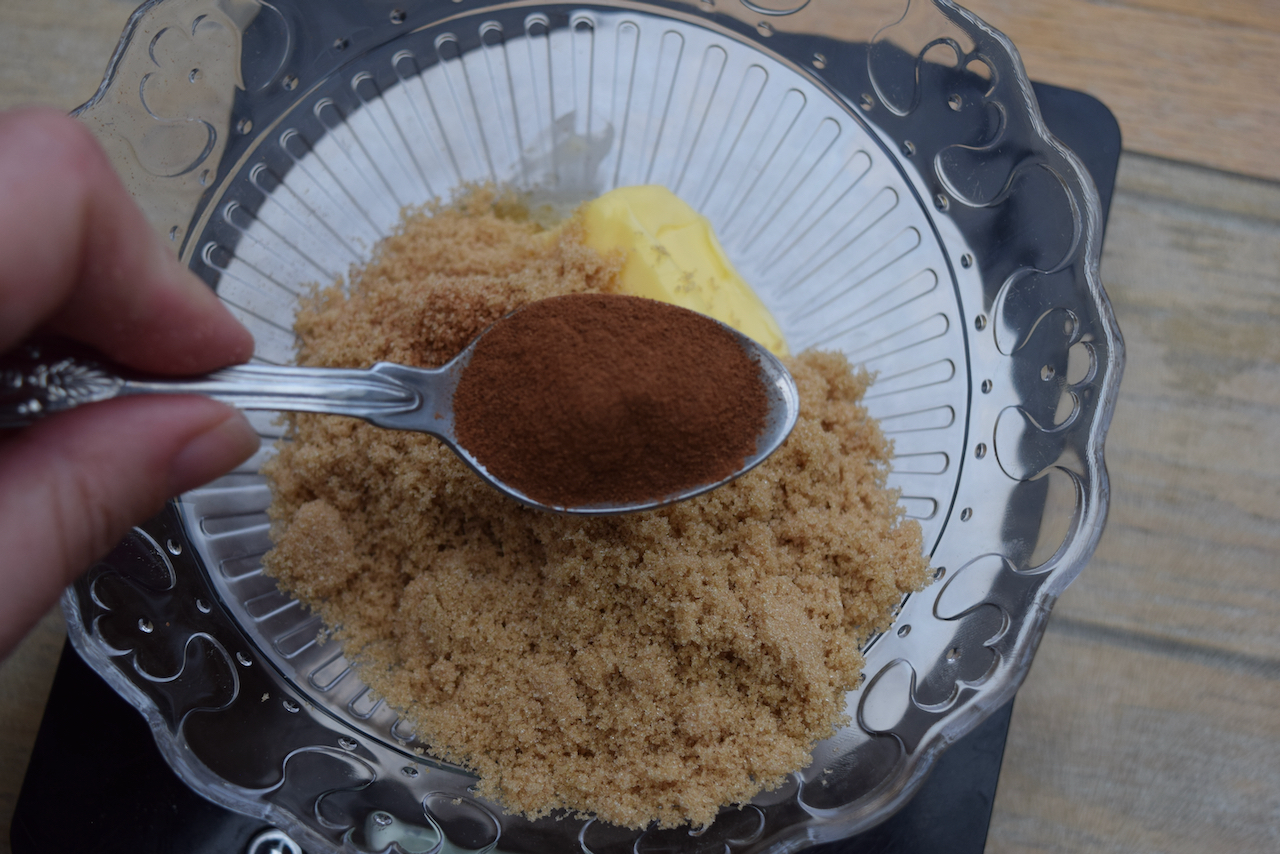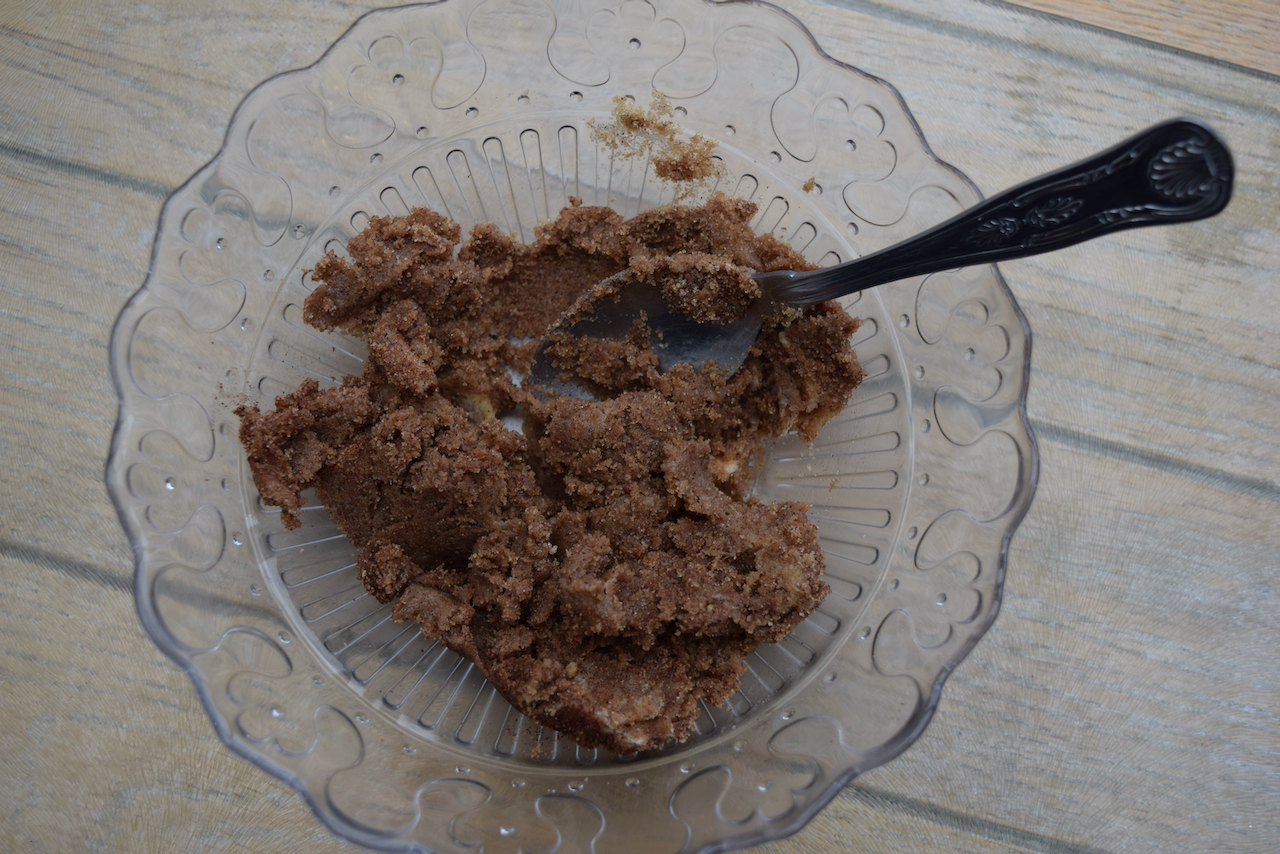 Once the dough has had it's hours rest, knock it back then roll out into a 30cm-ish square.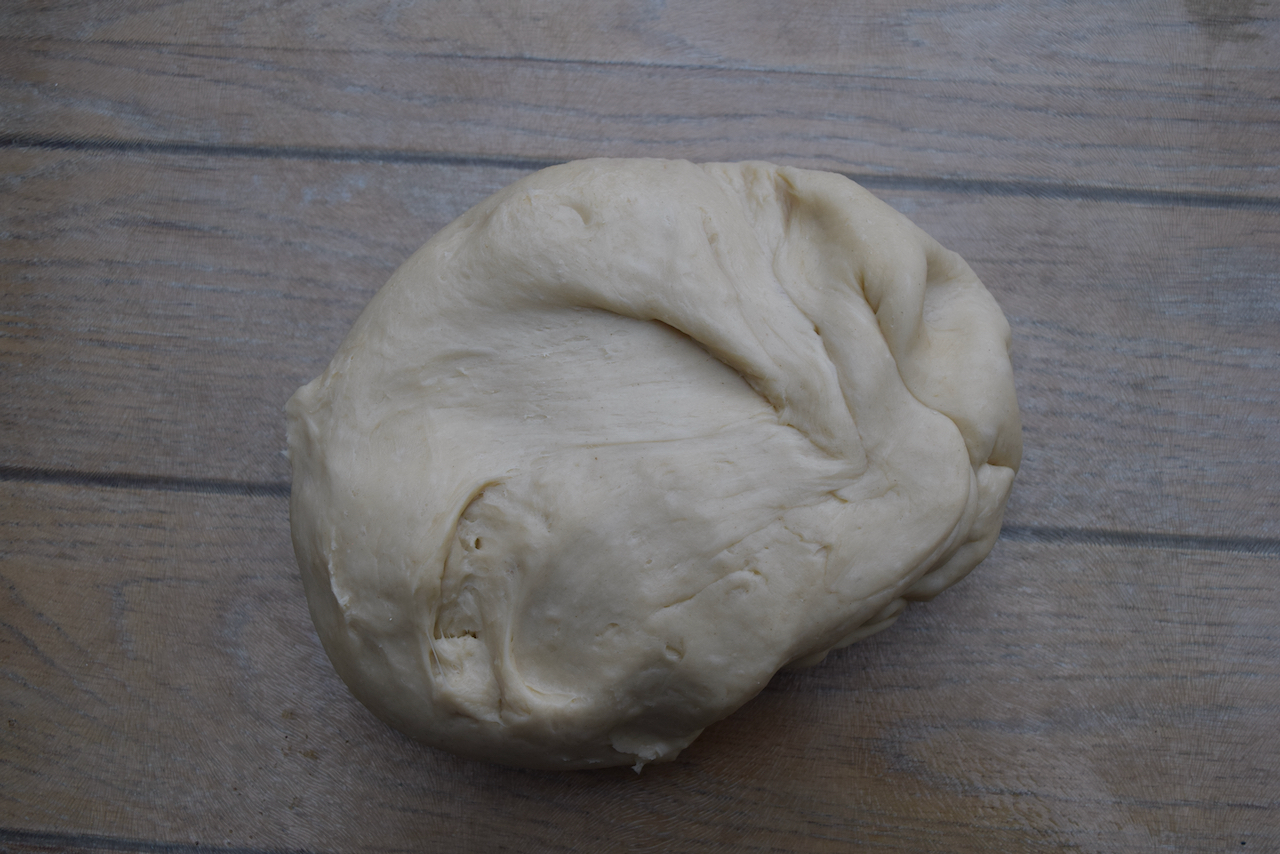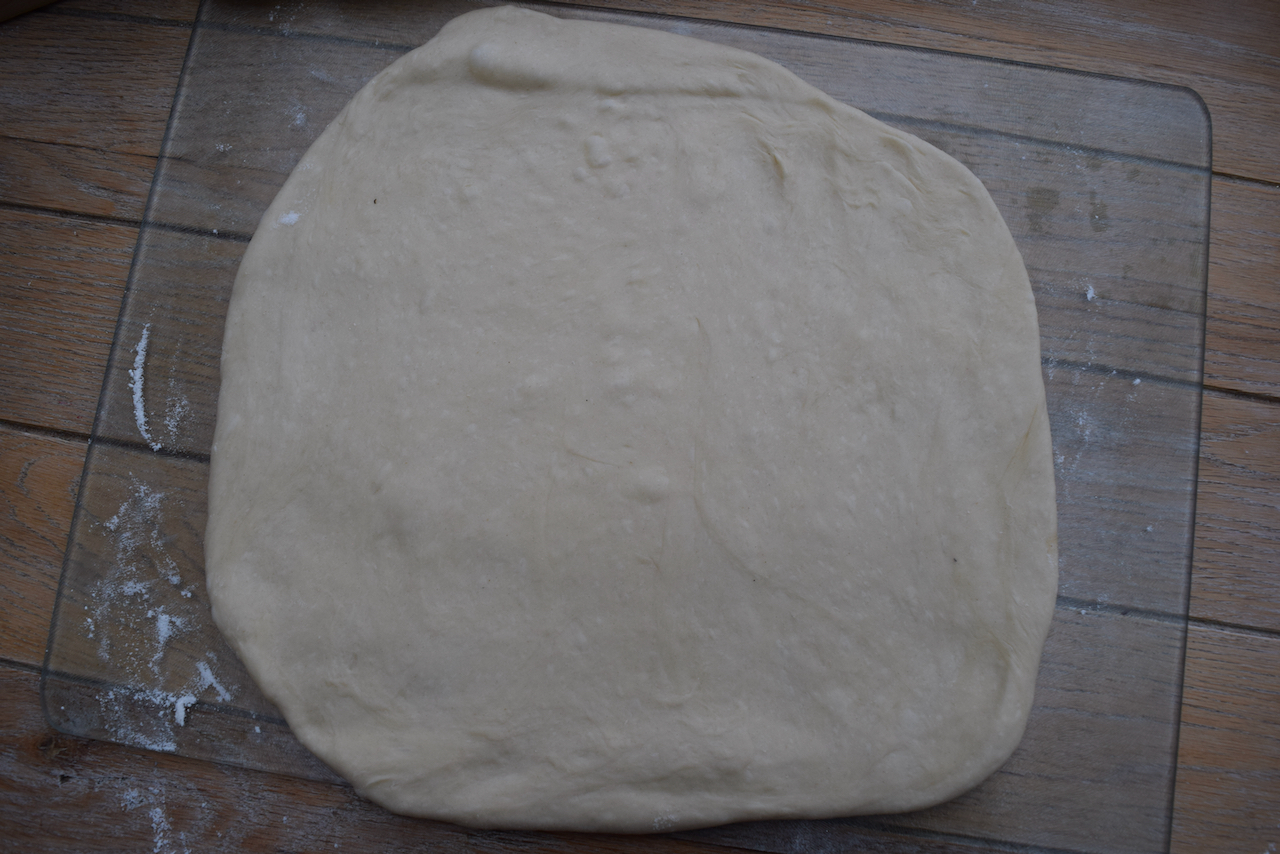 As you can see, a rough square is good. Spread your rolled out dough with the cinnamon butter mix generously. Next, roll it up into a long sausage shape.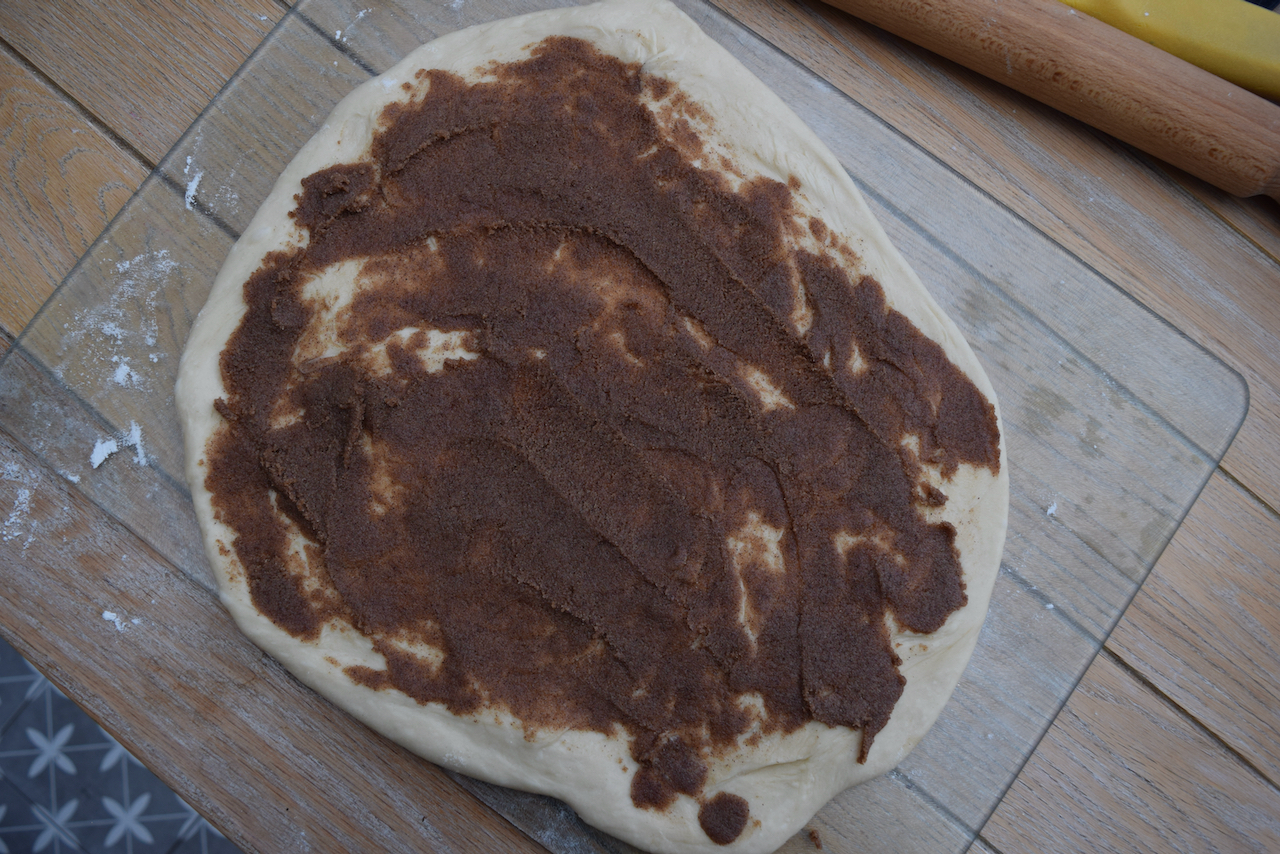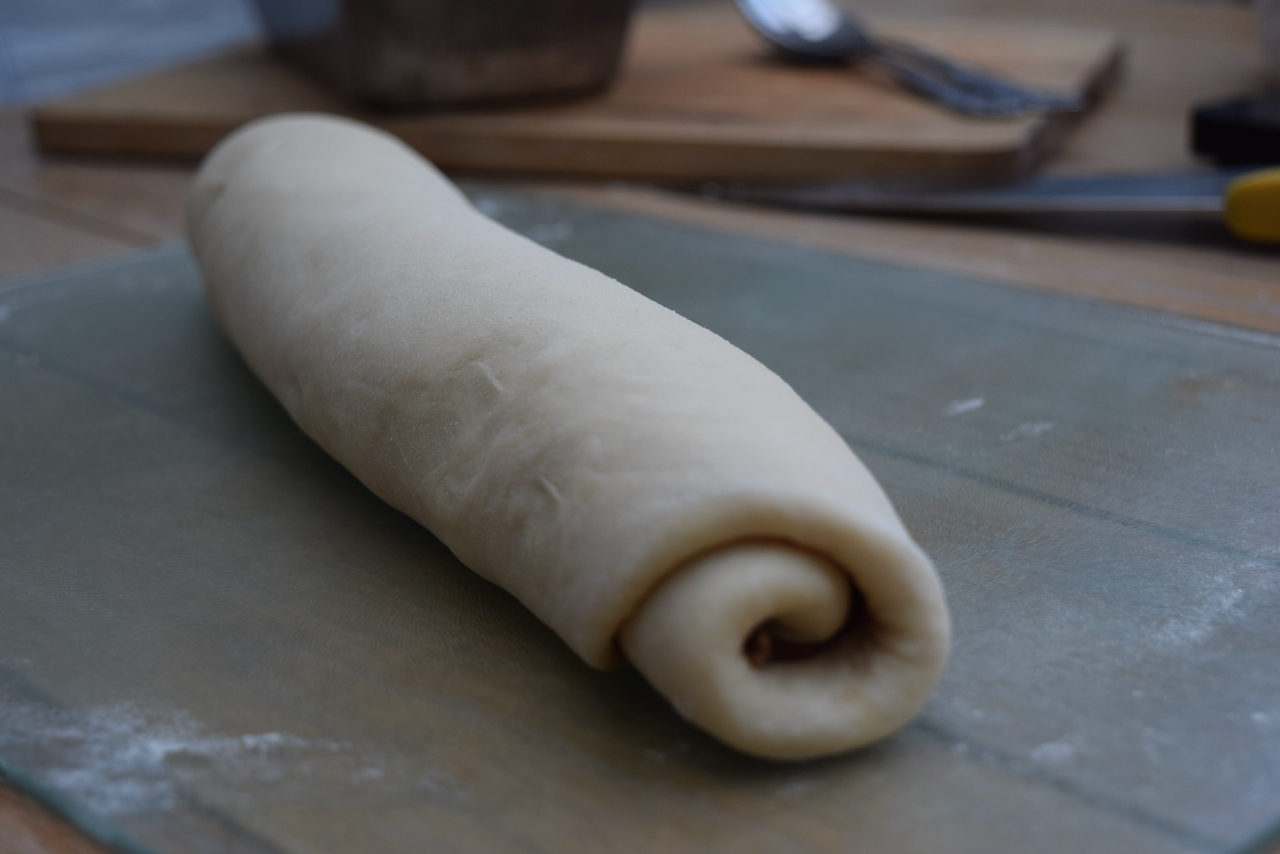 Cut your cinnamon roll sausage into 6 even pieces then place them cut side up, in your buttered loaf tin.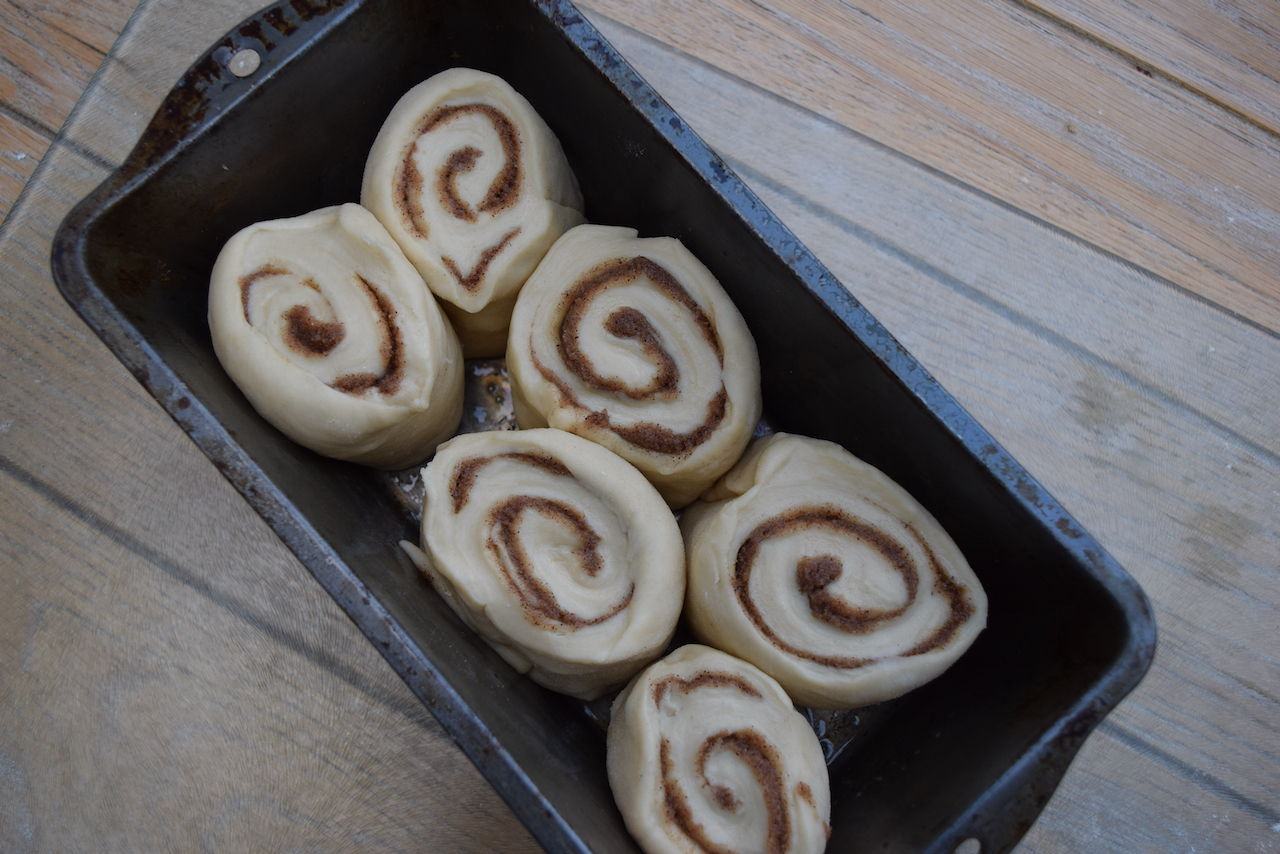 Place the tin in your hot oven and bake your sharing loaf for 20 to 25 minutes until well risen, golden, firm and smelling absolutely bloody amazing.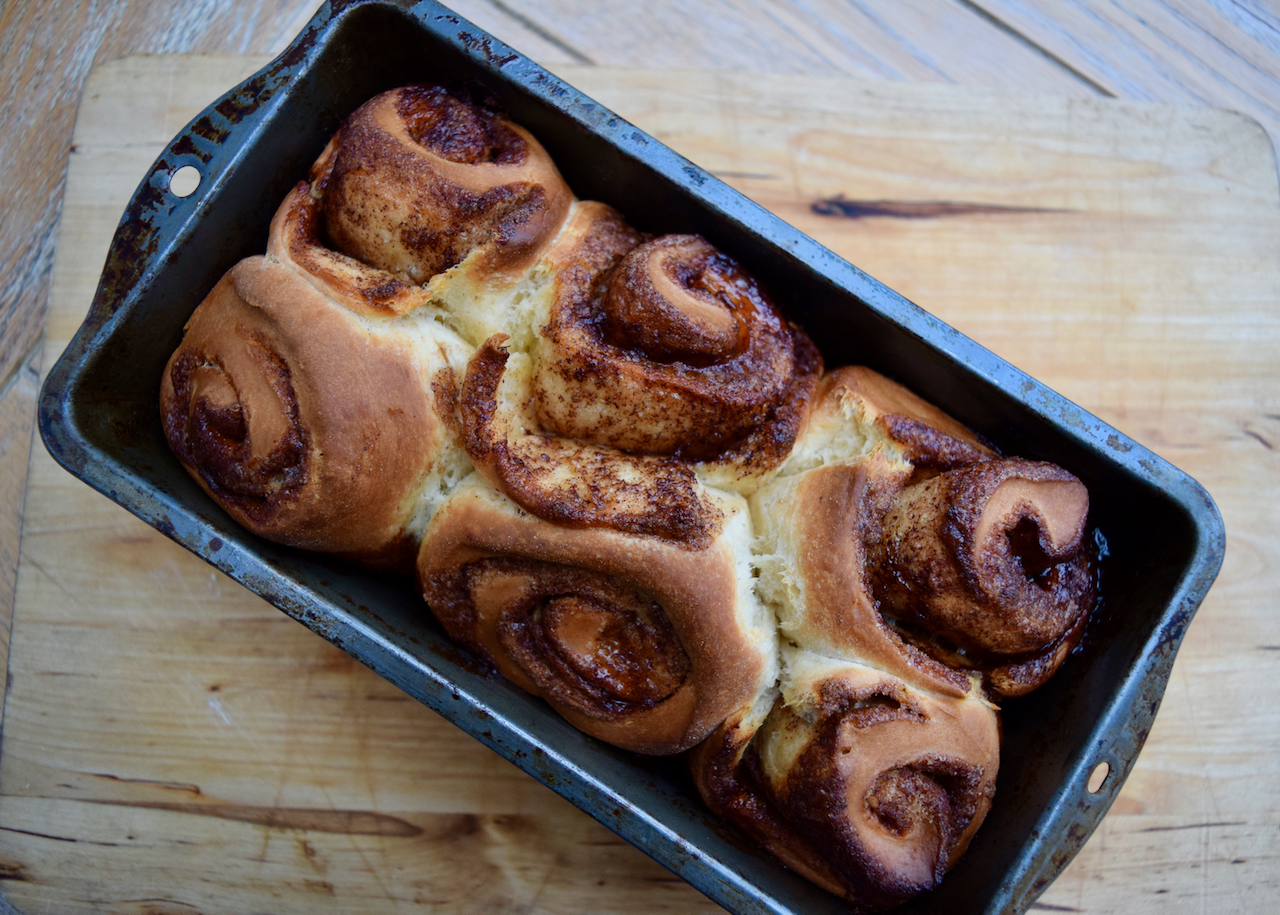 Leave it to cool a little while you make the icing. This is just a simple whisked mix of icing sugar and double cream. It is nearly Christmas after all.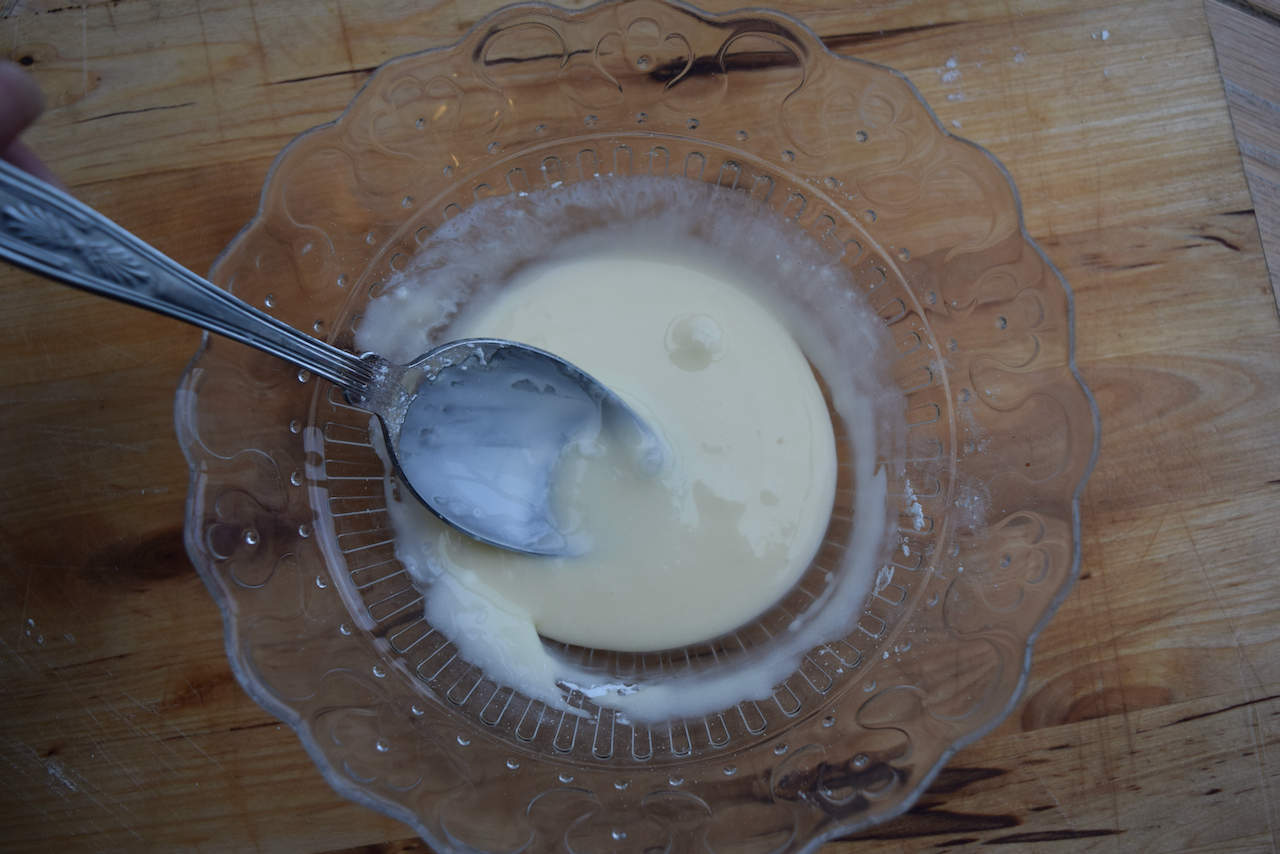 Remove the loaf from the tin and pour on the icing in a final flourish.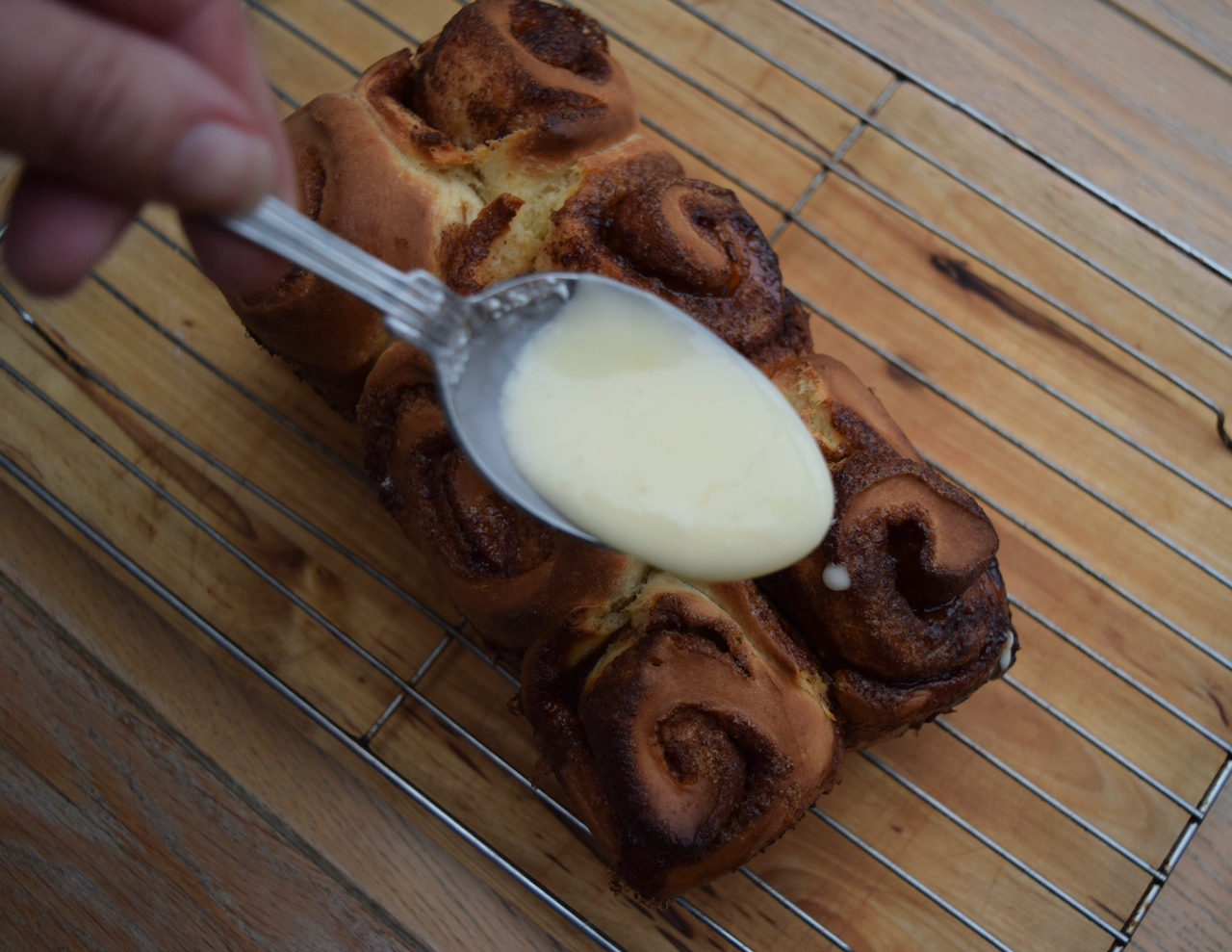 I mean if you've made it as far as getting it onto a board and taking a photo to put on Instagram *hashtag Lucy Loves please* then you have a bloody iron will and I salute you.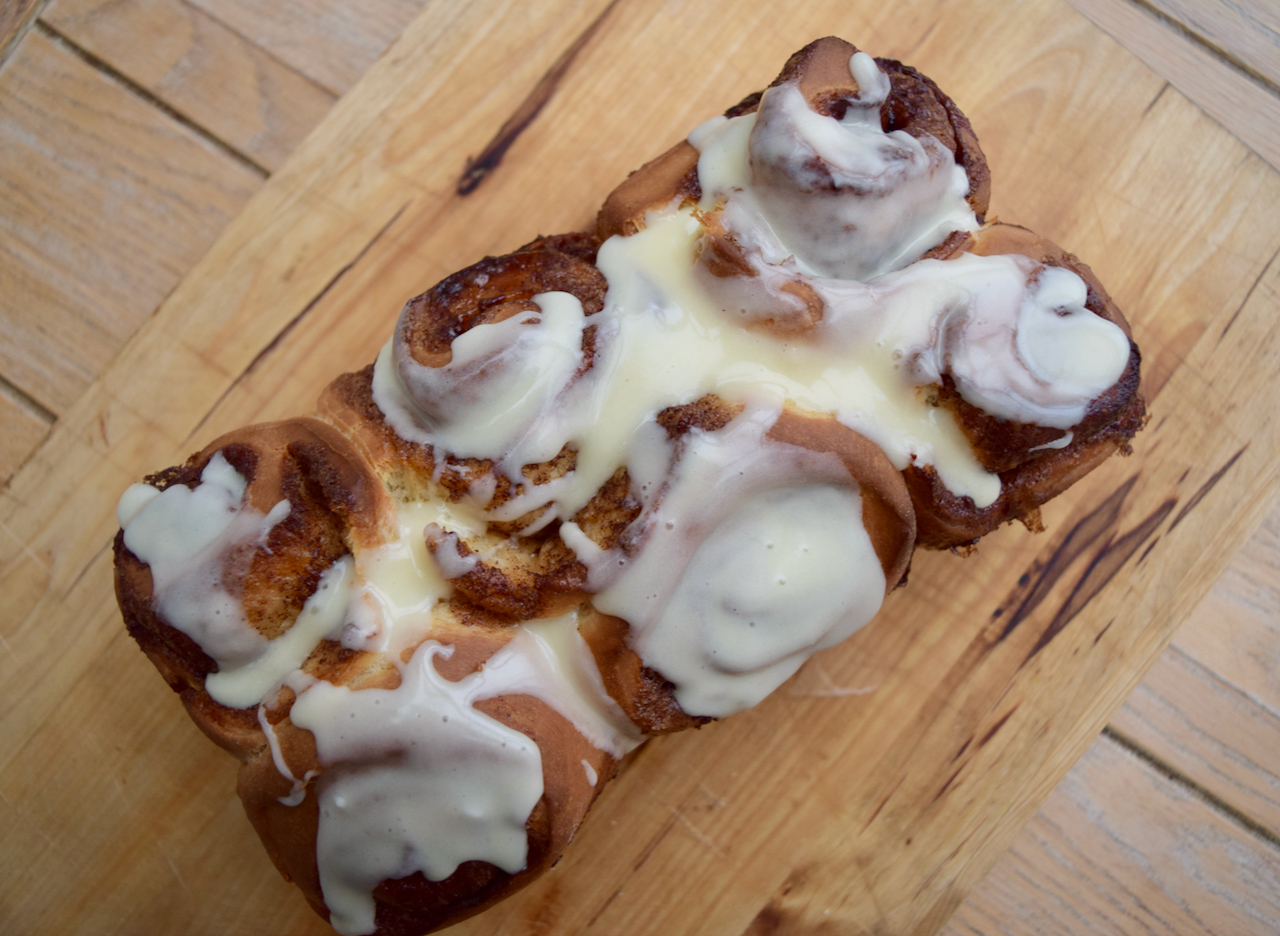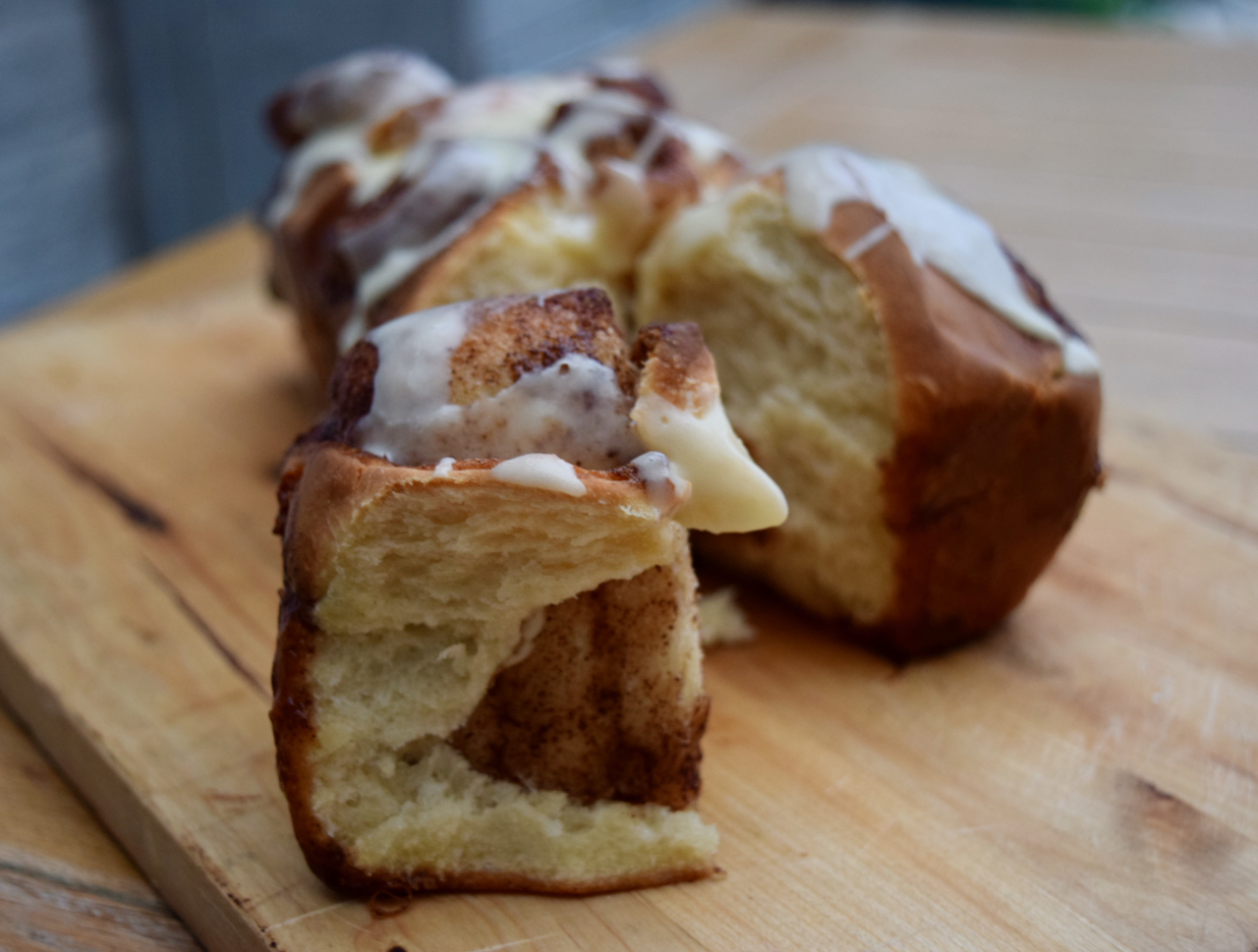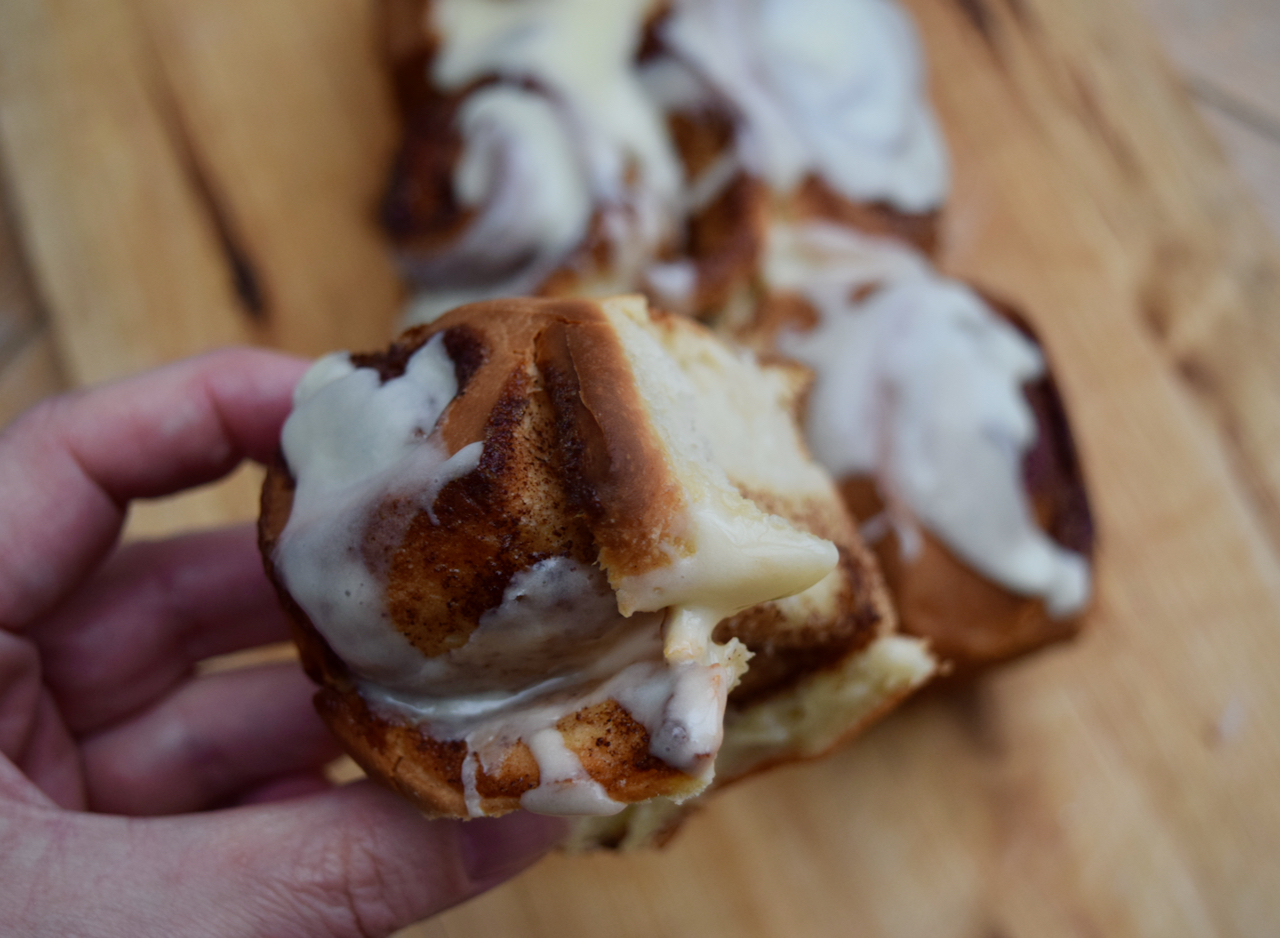 Not all festive bakes need to be mincemeat based. Cinnamon feels christmassy enough for me and really these are, like the season, all about the sharing. Unless you live with a houseful of men, then it's every man for himself and I get whatever's left.
PS – that bun in my hand was mine, but only because I licked it.
Lucy x
Cinnamon Roll Sharing Loaf recipe
Serves 1-6, greed dependent
You will need a 1kg loaf tin, well buttered
Rolls
200ml milk
60g butter
1 teaspoon dried yeast
300g plain flour, strong bread flour if you have it
90g light brown sugar
1 teaspoon cinnamon
Icing
3 tablespoons icing sugar
1 1/2 to 2 tablespoons double cream
Pre heat your oven to 180 degrees fan assisted and butter your 1kg loaf tin.
In the microwave in a jug or in a small pan on the stove gently heat the milk and only 30g of the butter until the butter has just softened. You should be able to put your finger in the milk and it should feel comfortable and not burn. In a large bowl measure in the flour, the dried yeast, 30g of the brown sugar and give it a little mix.
Pour on the milk butter mixture and stir well, bringing the mixture together into a soft dough. Tip it out onto a well floured work surface and give it a good kneading for around 8 to 10 minutes. You will need plenty of flour as the dough is quite soft, but don't over flour or your dough will be stiff. It will feel smooth and silky when it's ready.
Roll into a ball and pop back into your bowl and cover with a tea towel and leave in a warm place to rise for an hour. It won't rise hugely btw, or at least mine didn't.
While the dough does it's thing mix together the remaining 30g soft butter and 60g light brown sugar along with the teaspoon of cinnamon until you have a thick paste. Pop this to one side.
When the hour is up, knead the dough again briefly then roll out into a rough 30cm square. Spread the whole square with the cinnamon sugar butter mix then roll up from the long side into a long sausage shape. Cut the sausage into 6 equal pieces and place them, cut side up, into the buttered tin. Bake for 20 to 25 minutes or until golden and firm and well risen.
For the icing mix the icing sugar and cream together until smooth and pourable. Turn out your slightly cooled loaf and pour over the icing. Devour whilst warm. The loaf barely lasts 5 minutes in our house but would keep, well wrapped, for a couple of days if need be.