Oat and Honeycomb Krispie Cake Recipe
I love a no bake sweet item. They are quite the life saver when something sweet is called for but you do not have time to stand around watching it cook. They are great lunch box fillers and, for some, with still a few days of term to go, this simple, but still tasty Oat and Honeycomb Krispie Cake may be just what you need.
This recipe is a bastardised version of an Annabel Karmel treat I used to make when the boys were little. I don't know what it is about adding dried fruit to Rice Krispies and oats which makes me feel these are healthy. I have obviously neglected to notice the butter and golden syrup joining the healthy bits, but hey ho, these add to the deliciousness. They taste, as Annabel quite rightly mentions, like an uncooked flapjack and are, brace yourself, super moist. You can vary the dried fruit you add, but I plumped for Craisins as I love them and their slight sour nature takes the edge off the chocolate. I added the Crunchies on a whim having eaten something similar from one of those Waitrose tubs last week. It's worth the no effort to add them, but if you are feeling a bit more wholemeal, do feel free to leave them out.
With just a bit of light melting involved and the odd stir, these are hardly going to push you over the edge. And turning a blind eye to the chocolate, butter and syrup, these are almost a granola bar, although I do think serving them for breakfast may be pushing it a little.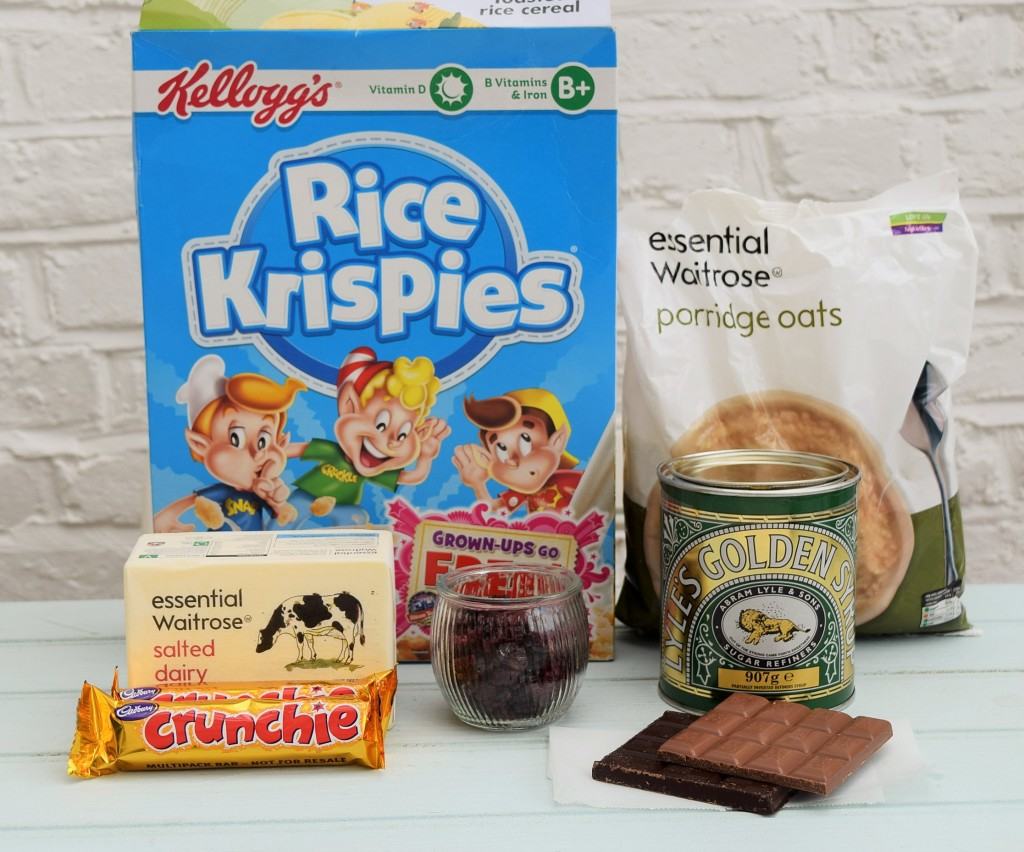 Here's the line up for these no-bake wonders. I used a combo of milk and dark chocolate as they tasted more chocolatey and were slightly too sweet with all milk, but you go with what you prefer here. The original recipe called for white chocolate, so you could even go down that road.
Start with all the strenuous effort of taking a large bowl from the cupboard. Add the butter, golden syrup and chocolate and either melt in the microwave or over a pan of simmering water, until everything is just melding together.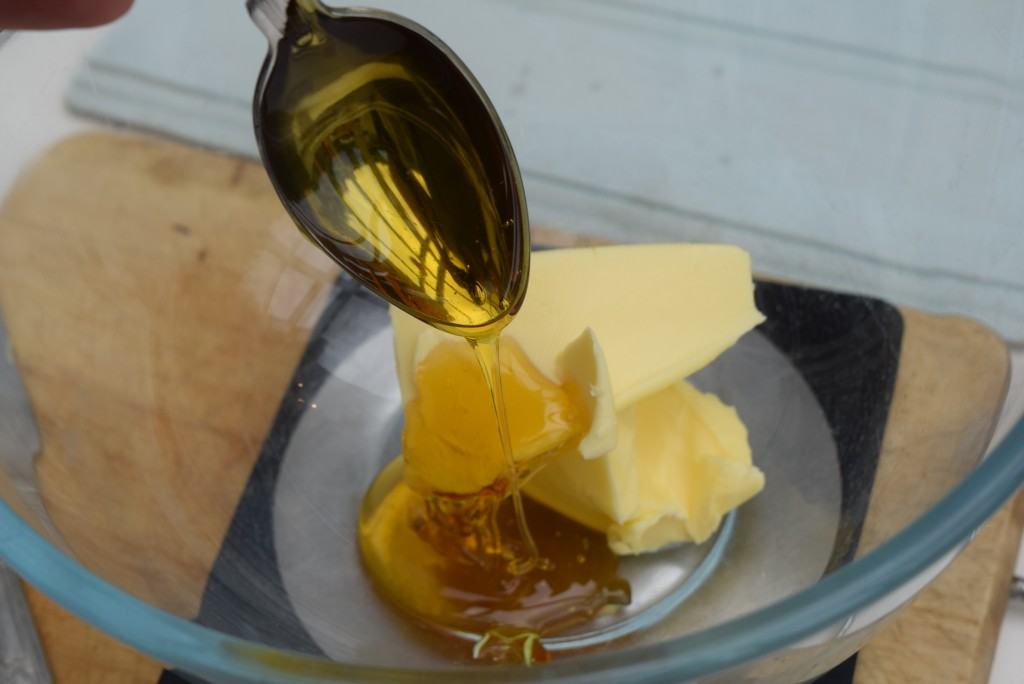 Golden Syrup porn there for you.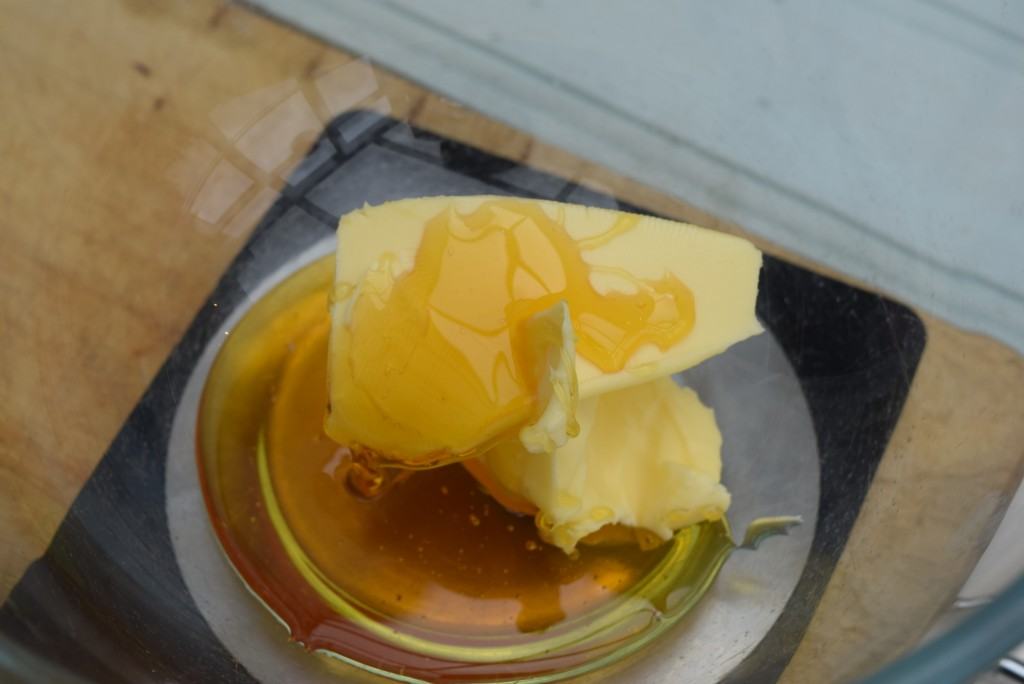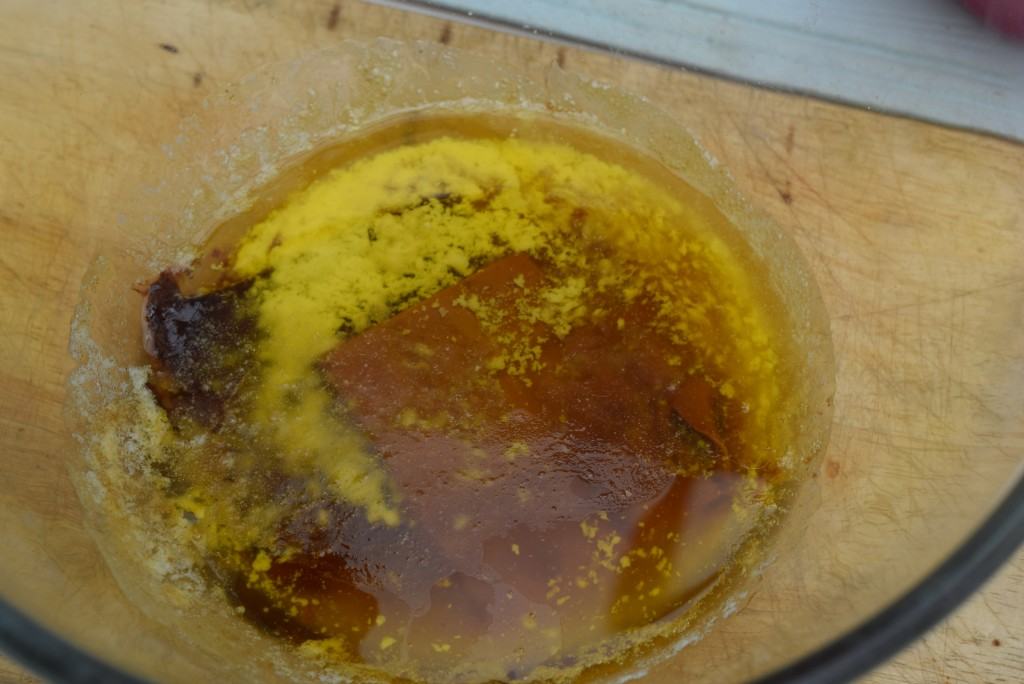 Leave this to sit for a moment while you weigh out the two elements of 'health' – the oats and the Rice Krispies.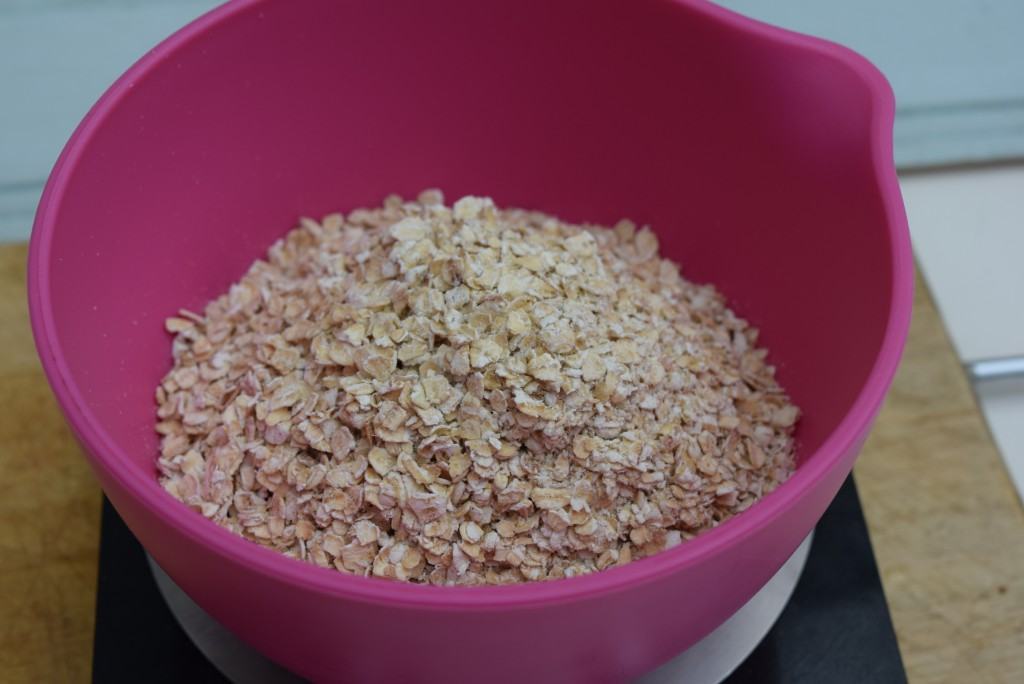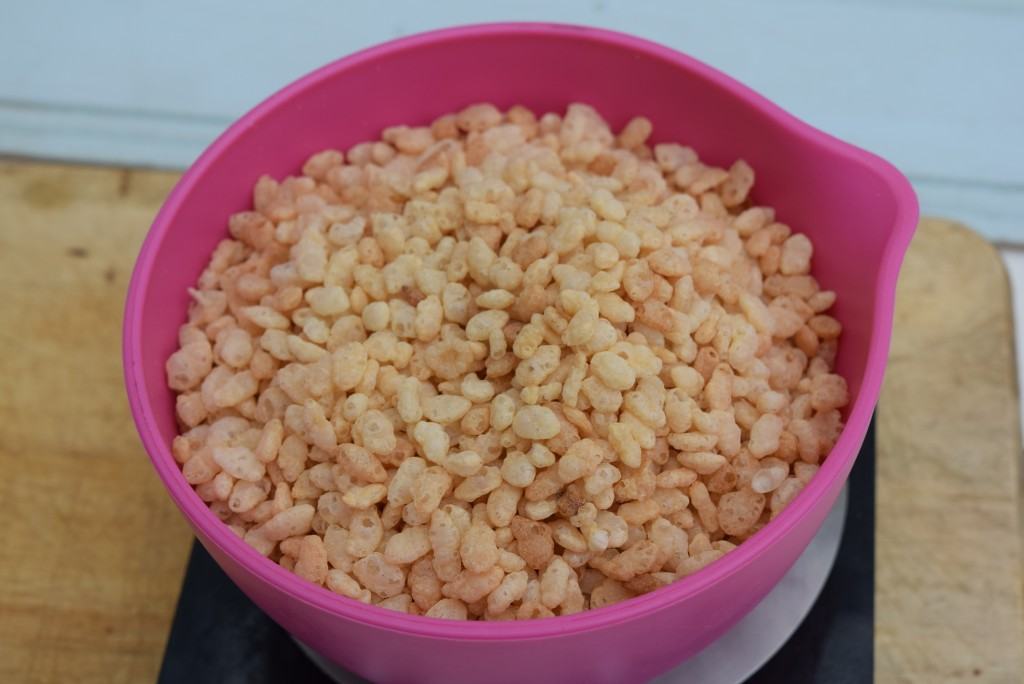 Stir the chocolate, syrup, butter mix until glossy and chocolatey then tumble in the oats and cereal.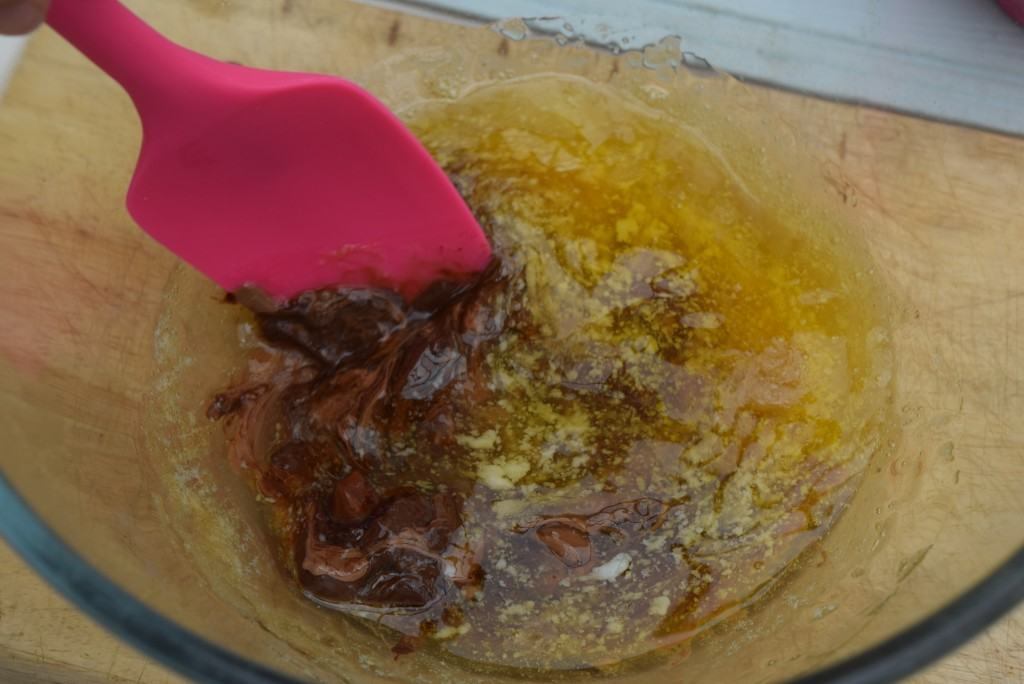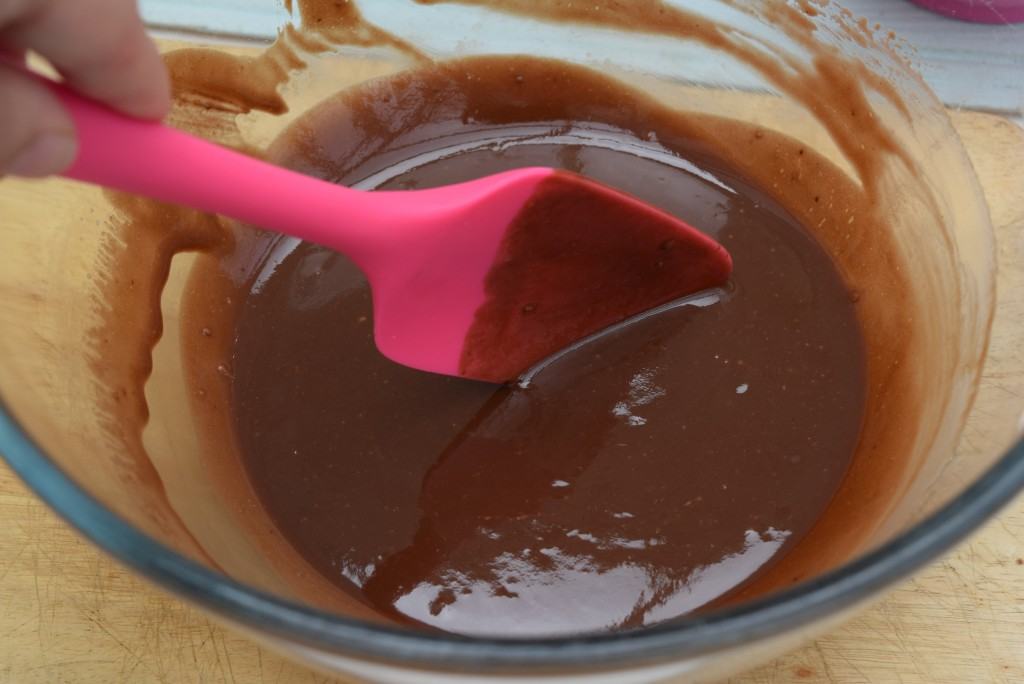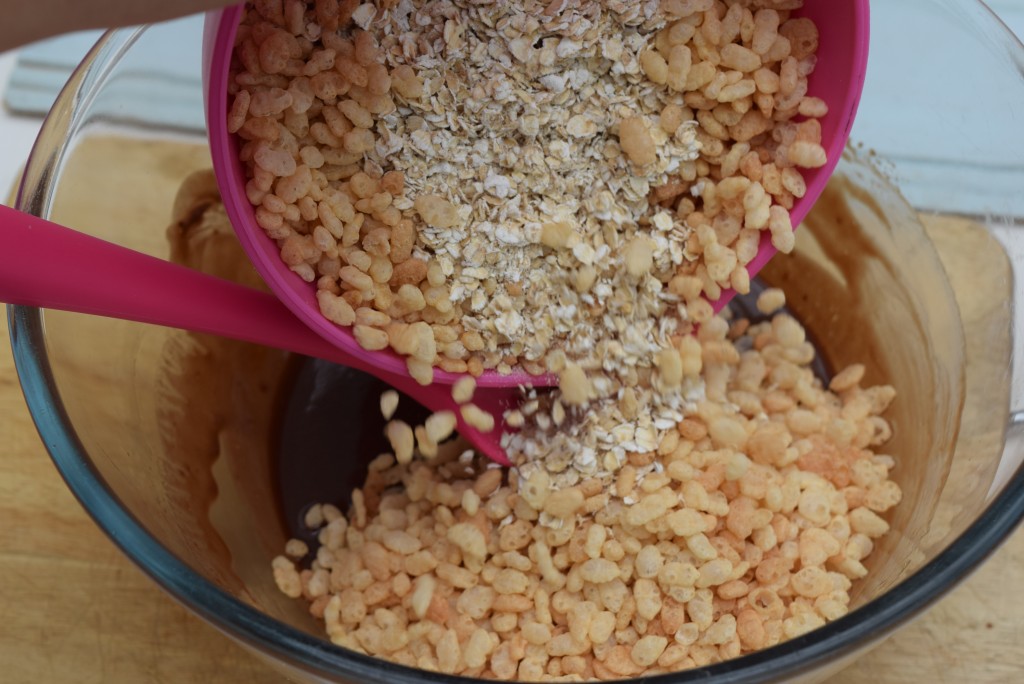 Follow in with the dried cranberries or other shriveled fruit offering of your choice then stir the mixture well.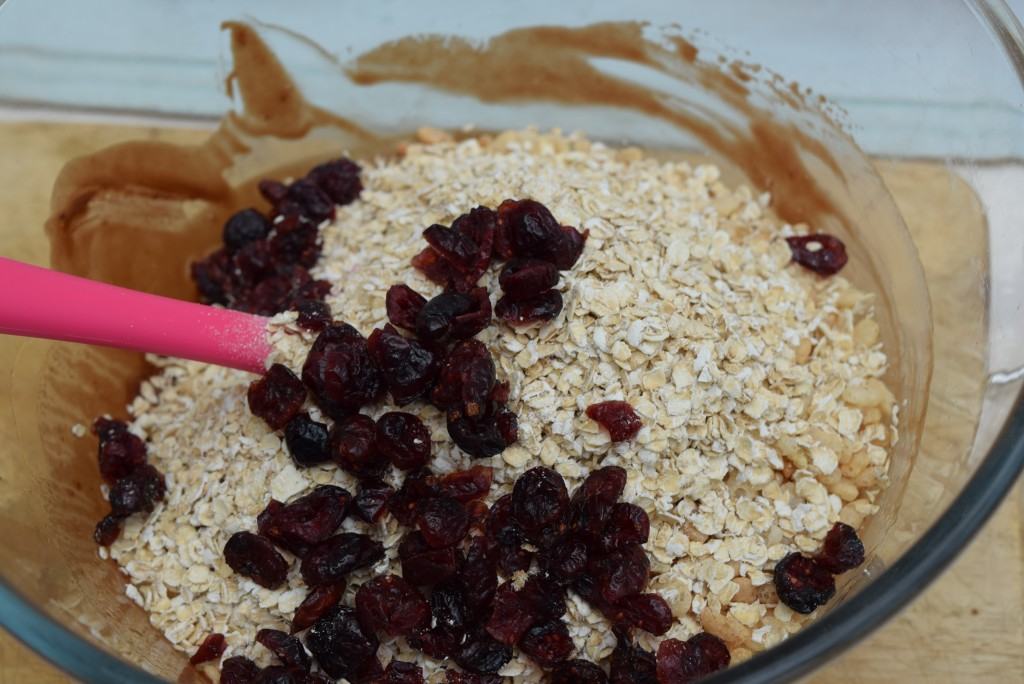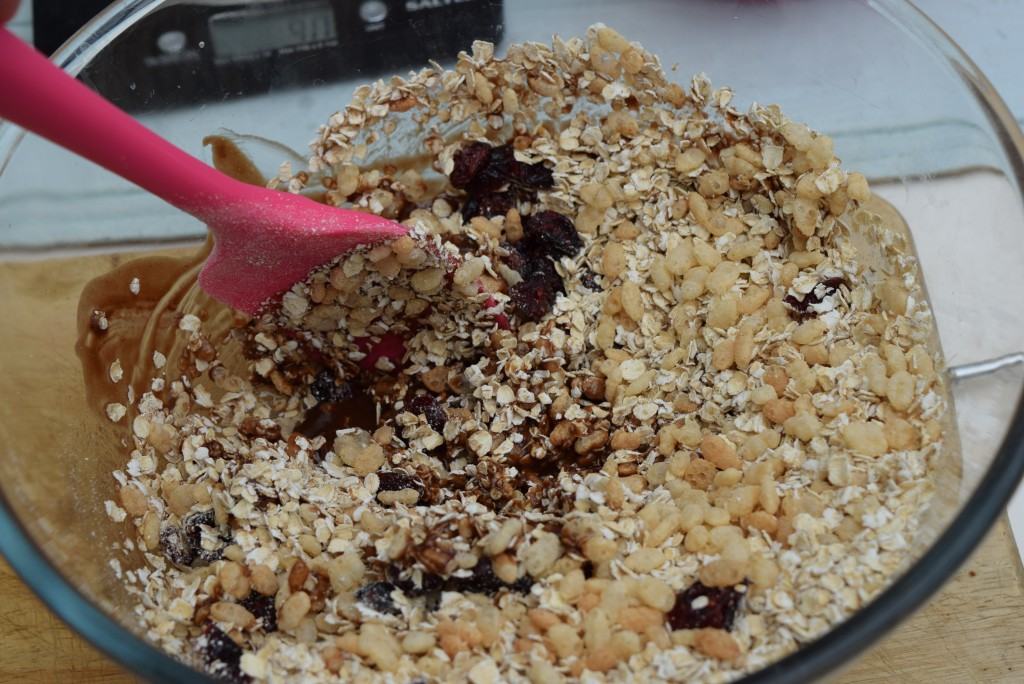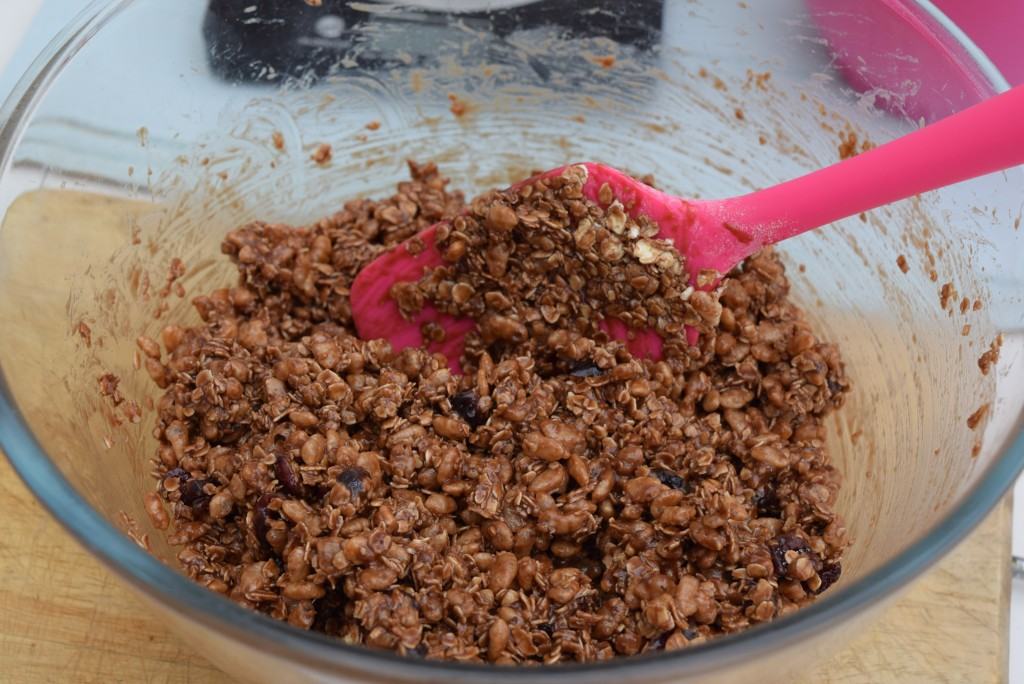 Next up, unless you are feeling virtuous, bash a couple of Crunchies in their wrappers, then tip the golden bits into the mix. Stir again then press into your lined square tin.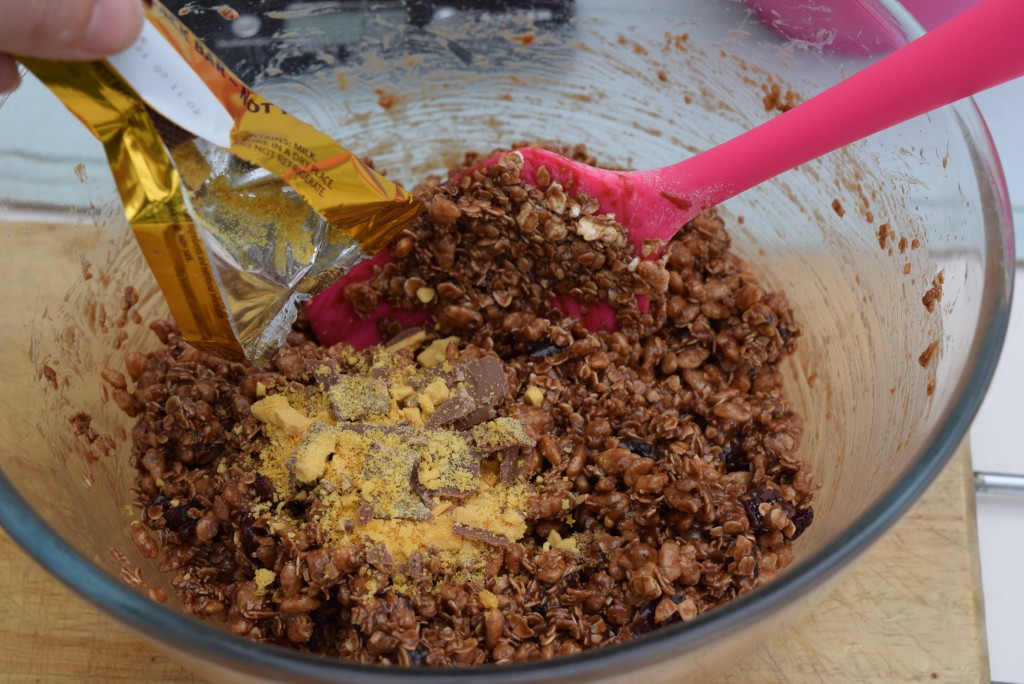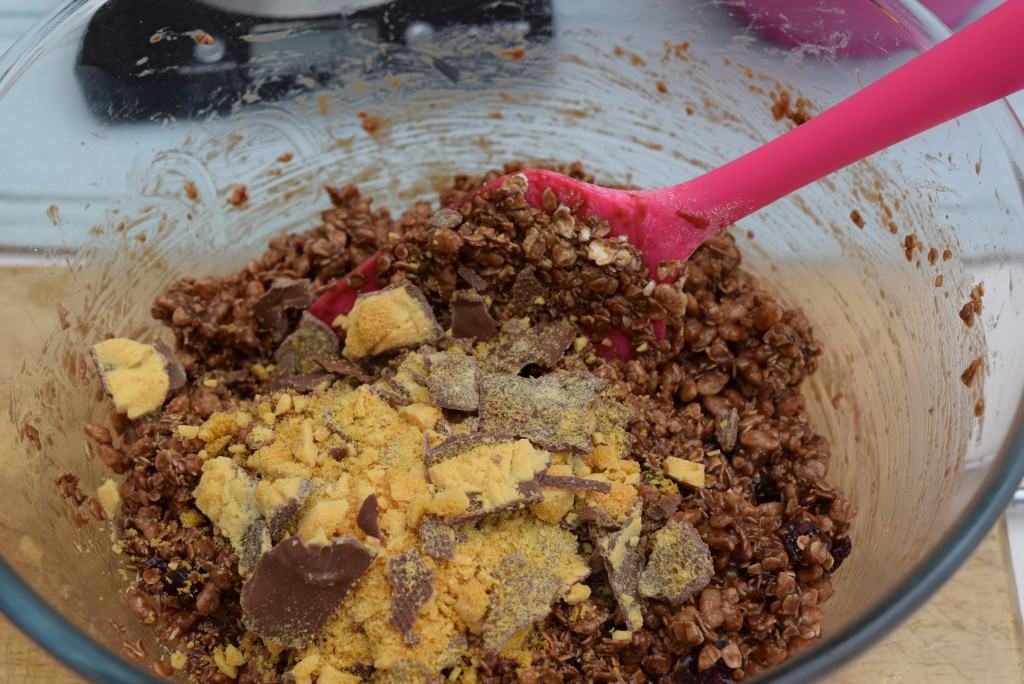 I licked that spatula afterwards, but you knew that.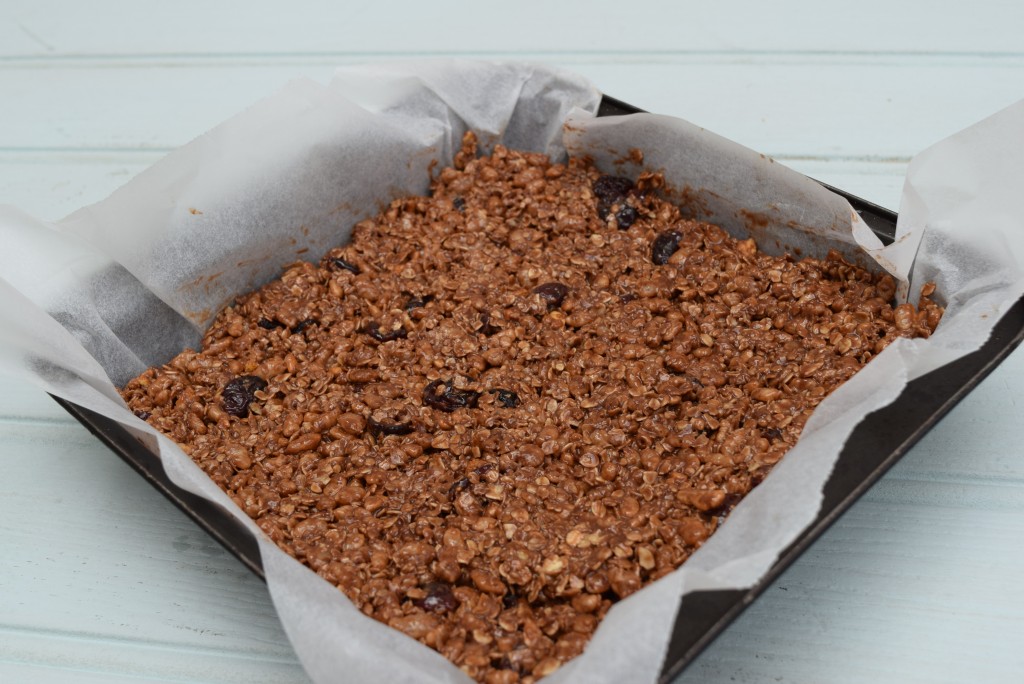 Press down good and firmly then leave to cool slightly before putting in the fridge for 2 to 3 hours. Once it's chilled cut into nice big squares, hoovering up any crumbs which appear during the cutting process.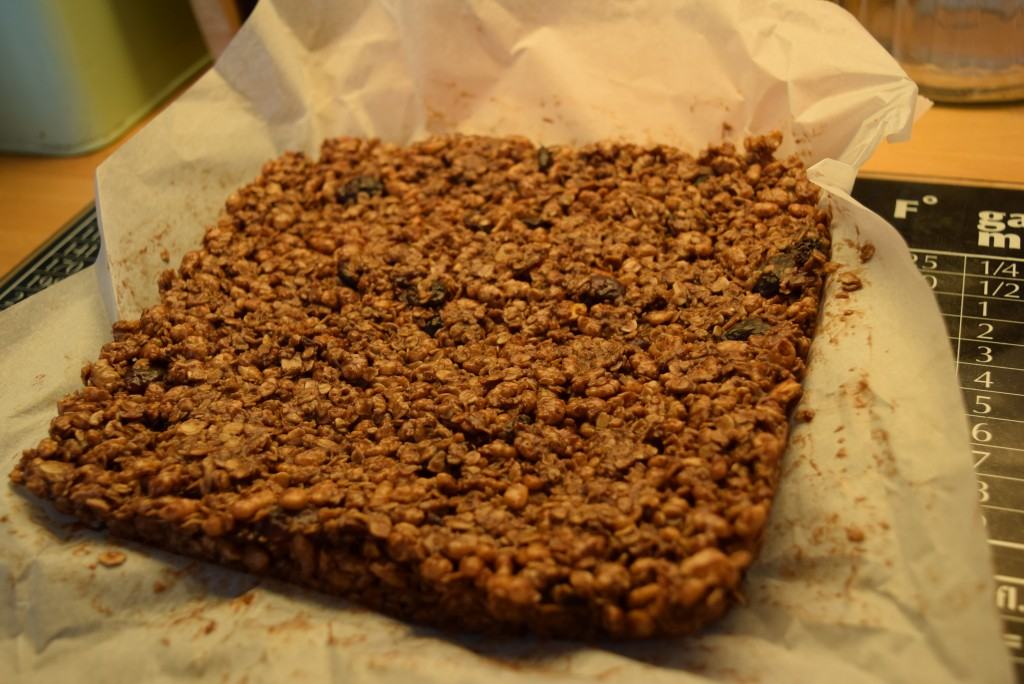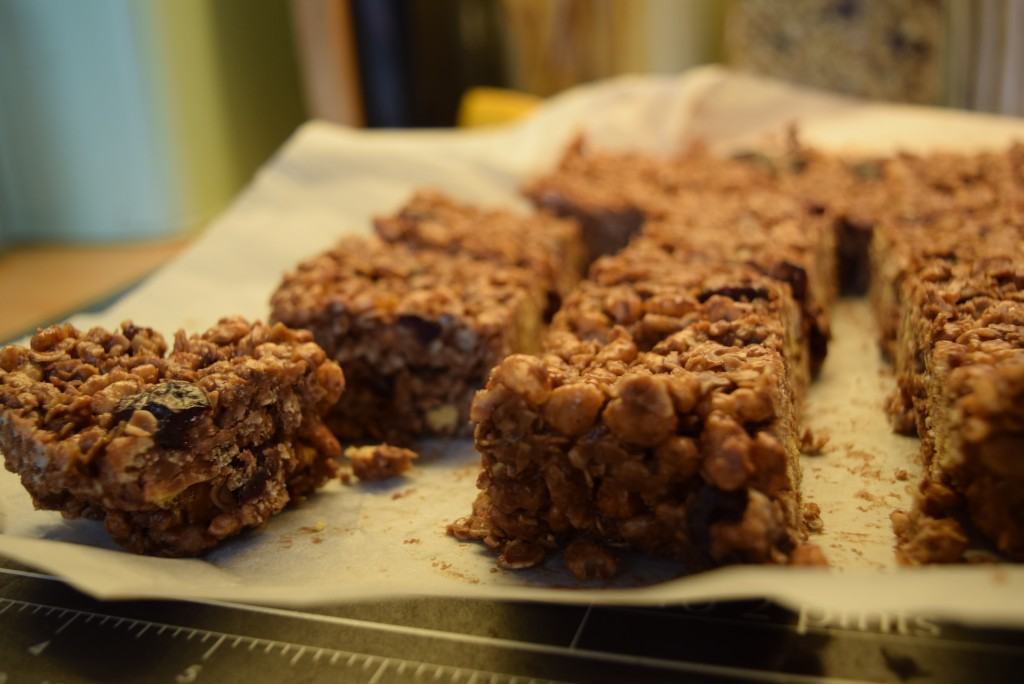 Store in a jar or tin in the fridge for as long as you can hide them away from other thieving hands.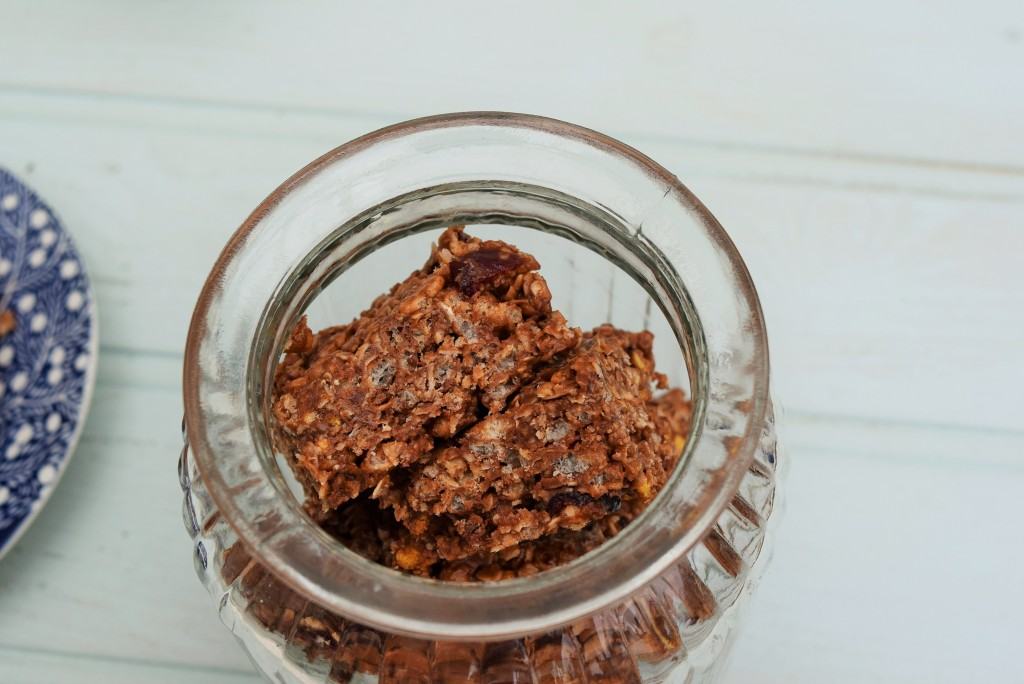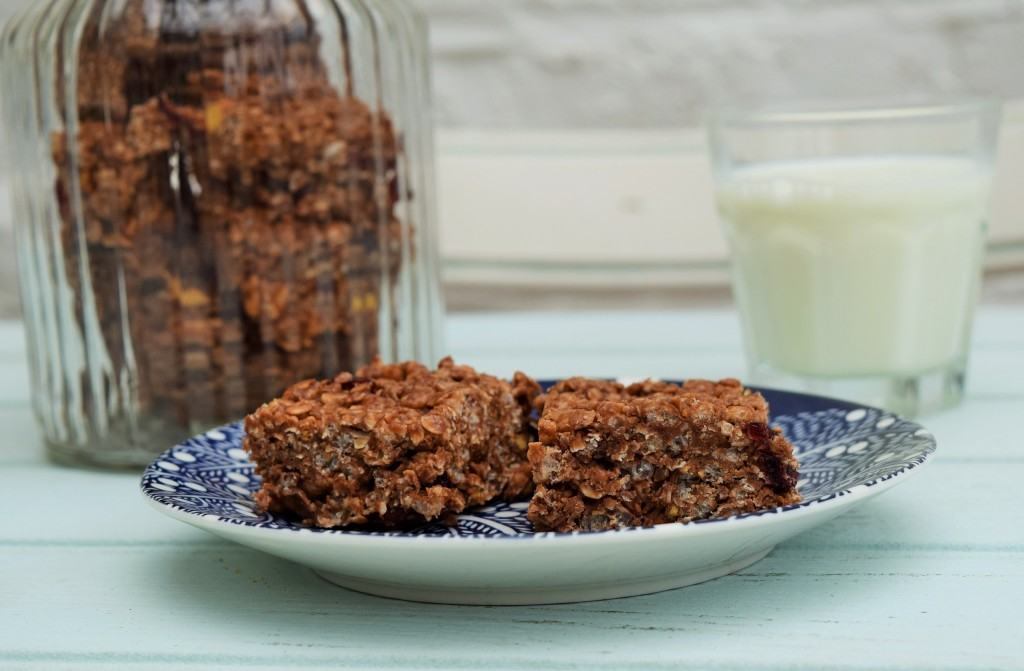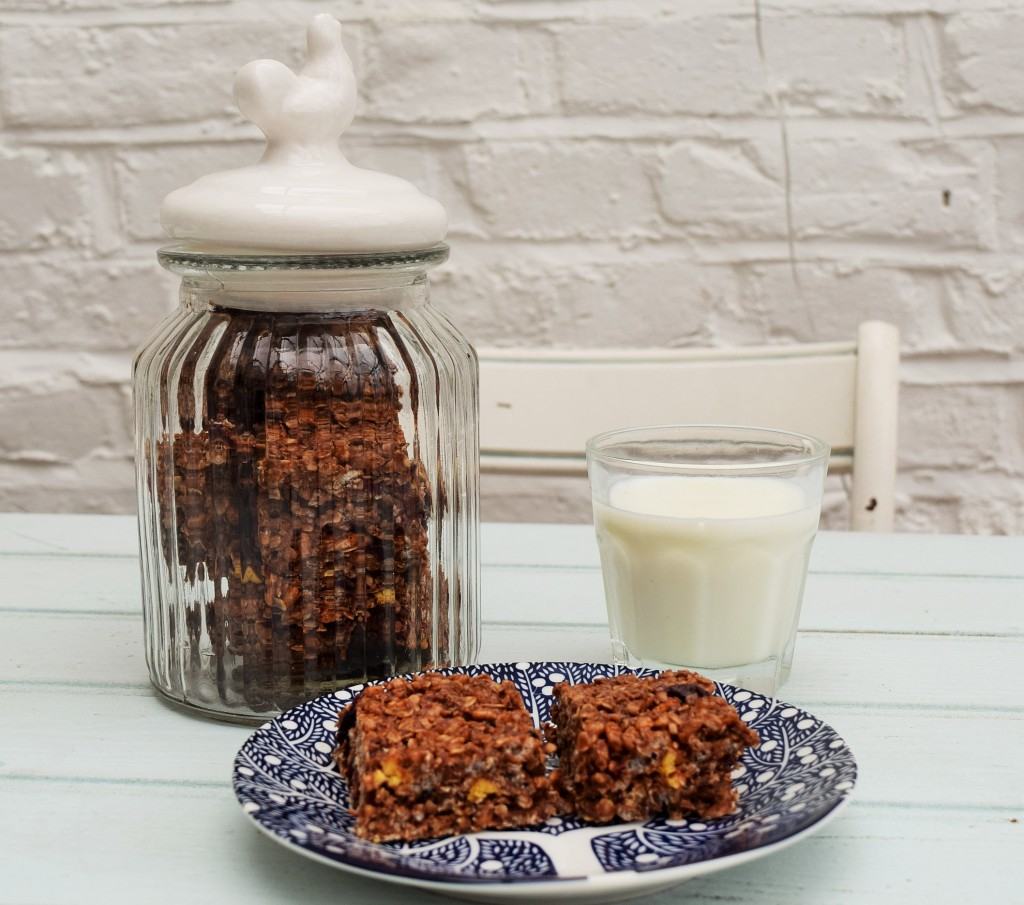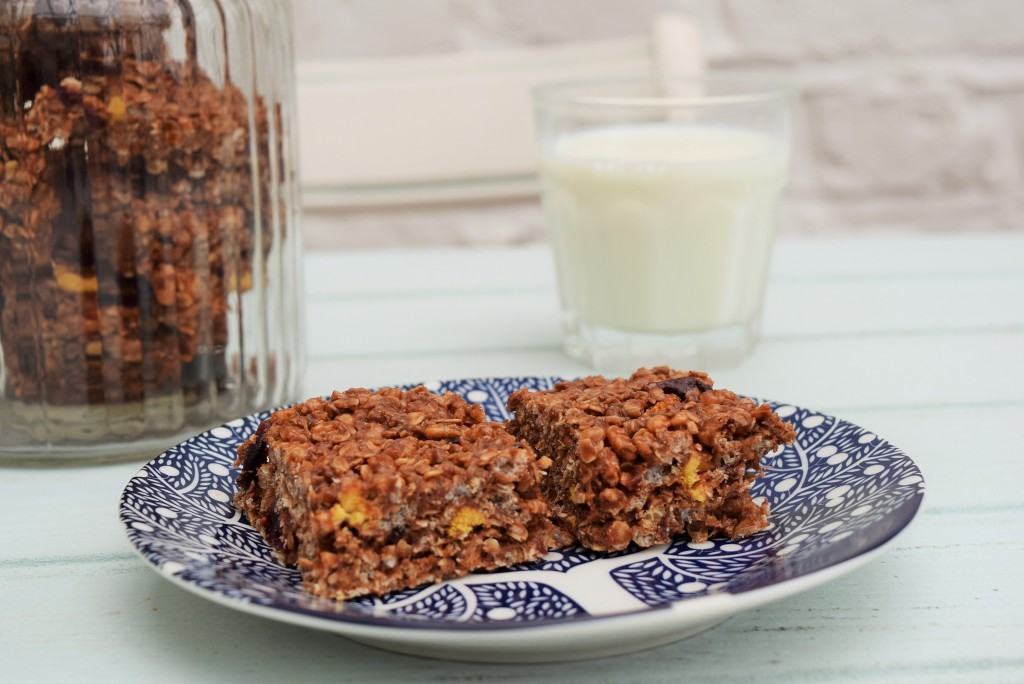 These are bliss. The whole batch was gone in an afternoon with all the hogs who pass through the Lucy Loves kitchen. So it may be worth doubling this recipe to ensure you get a square to yourself. And you can rest assured they are packed with the goodness of oats, rice and dried fruit. And *whispers* chocolate, butter, Crunchie bars and syrup.
Lucy x
Oat and Honeycomb Krispie Cake Recipe
Makes around 16 modest squares
You will need a 20cm x 20cm square tin, lined with greaseproof paper
100g butter
85g golden syrup
100g chocolate, I used 50g milk and 50g dark chocolate
150g oats
50g Rice Krispies, or other puffed rice cereal
2 Crunchie bars, crushed
50g dried cranberries, raisins or chopped dried apricots
Line a square 20cm x 20cm with baking paper. In a big bowl add the butter, golden syrup and 100g chocolate. Pop this in the microwave for around 1 to 2 minutes, or heat over a pan of simmering water until the butter has just melted. Leave for a moment for everything to meld together then give the chocolatey mix a good stir until smooth. Measure out the oats and Rice Krispies then pour them into the chocolate mixture, followed by the dried cranberries. Give the mixture a good stir then crush the two Crunchie Bars in their wrappers until just broken, not crushed. Tip these into the bowl and give everything a good final stir.
Tip the mixture into your lined tin and press down to level the top, then pop into the fridge for two to three hours to set. Cut into around 16 squares and devour. Keep in the fridge, in a tin or jar, for up to a week.