Chicken Scallopine Recipe
This is one of my most used dinner party recipes. If any of my friends are reading this, and they had bloody well better be, they will have almost certainly eaten this at our house. Chicken Scallopine is just a fancy way of saying chicken with sauce and pasta. Think Veal Milanese only without the veal and without the tomato pasta sauce. Actually, forget the Veal Milanese thing. Incidentally, I love Veal Milanese if anyone would like to cook me supper?
Chicken Scallopine is quick, so delicious, and a great recipe to have to hand if you have people coming round on a Friday night. You can prepare the chicken and the sauce in advance and just re-heat and pop a pot of pasta on at the last minute. The flavour laden sauce has all my favourite things in it too. Capers, lemon juice, wine, mushrooms and cream all come together and are poured on the pasta and chicken just before going to the table. I do know several caper-phobes, so if you must leave these out, you can do so with my reluctant permission.
This recipe comes from the ever wonderful Pioneer Woman, she really does have some fantastic recipes,  do visit her website. But not before you've made this, because it's so tasty, and your guests will love you forever once they have eaten it.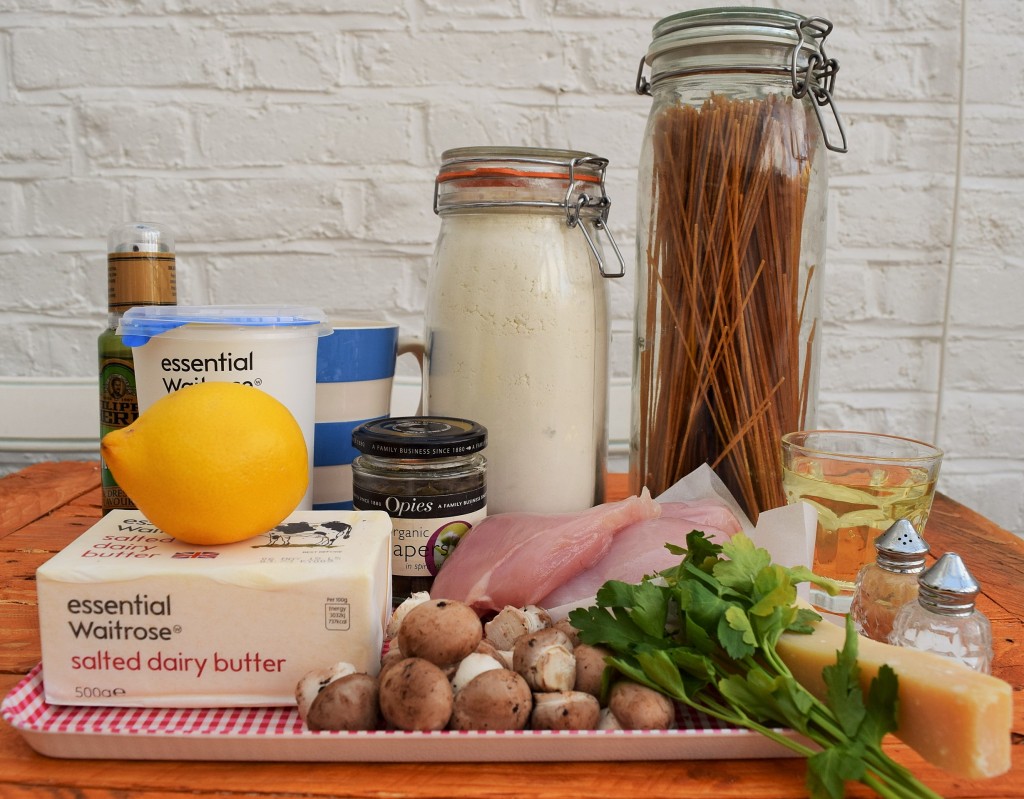 Here's the ingredients line up for this Chicken Scallopine. That's cooking wine, btw, I wasn't just randomly drinking it and left it in the shot. I used four chicken breasts, but the recipe allows enough sauce for six, so it's up to you how many people you are catering for. Any more than six diners though and I would start doubling up.
So, make a start by laying out two sheets of cling film. Put one of your chicken breasts between the sheets of cling and flatten, not too vigorously, with a rolling pin, until the meat is of an even thickness. Repeat with the rest of the chicken, and then place them on a plate.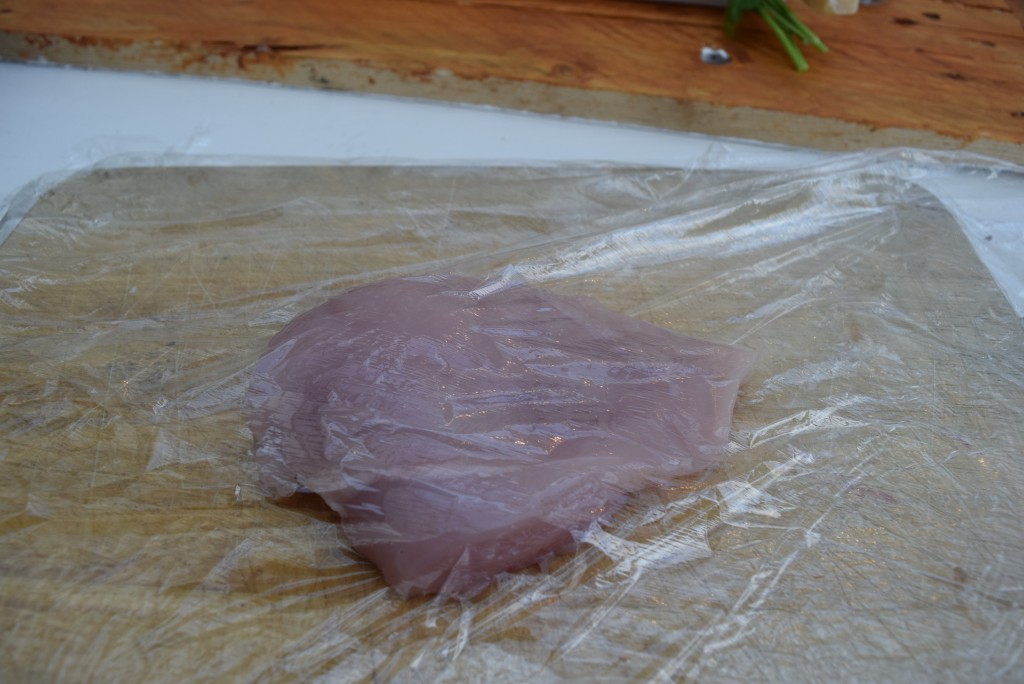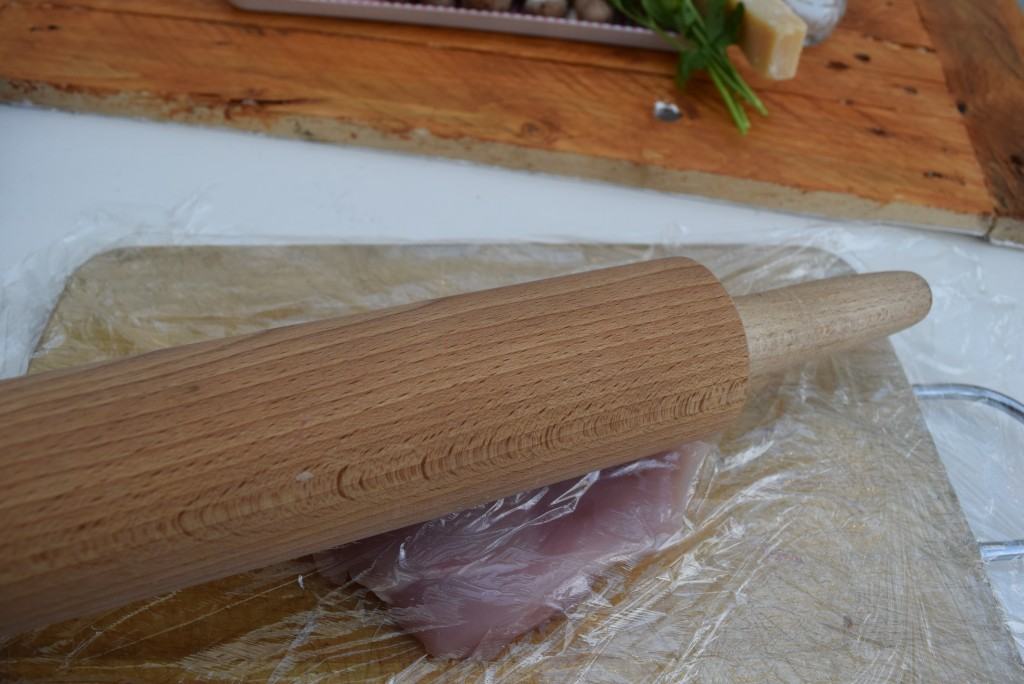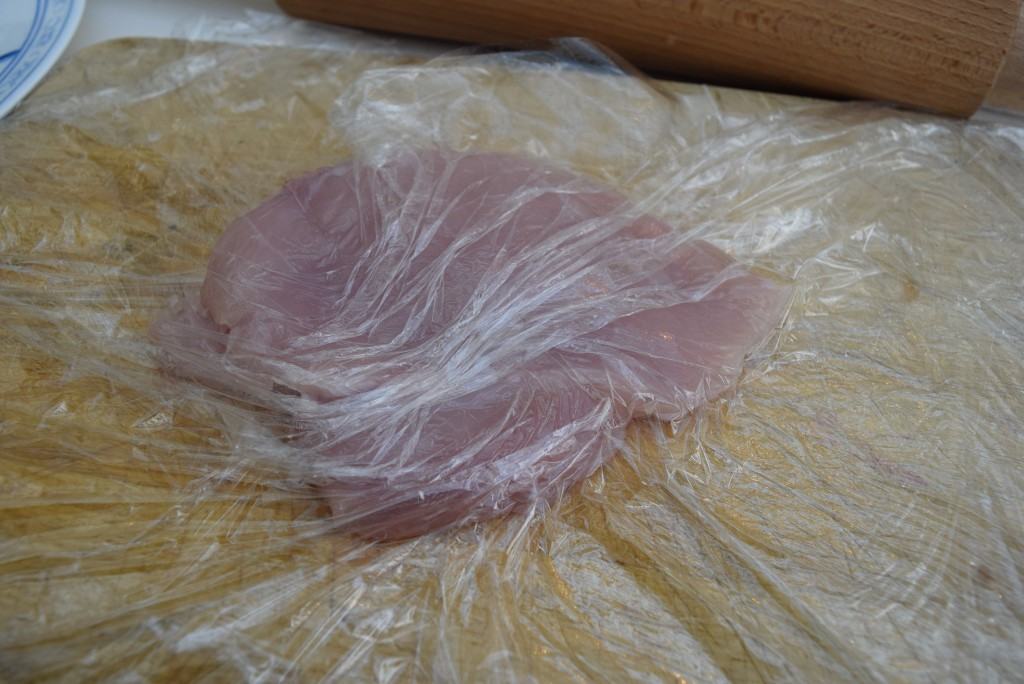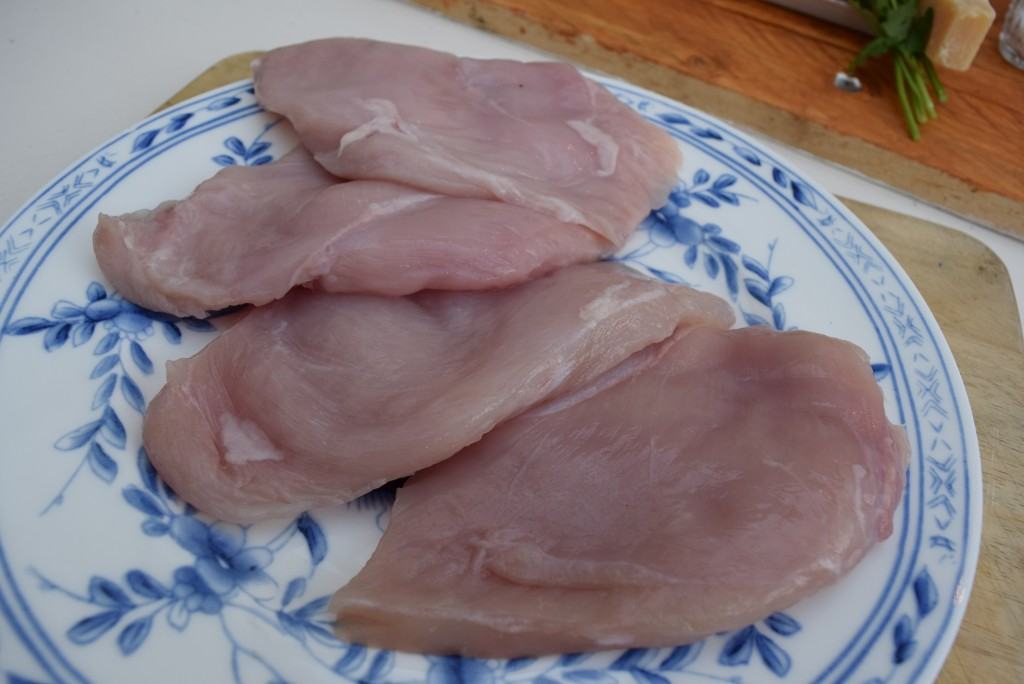 Now you have lovely flat breasts *ahem* season them with salt and pepper then spoon on a tablespoon or two of flour and coat each piece of chicken well with this flour.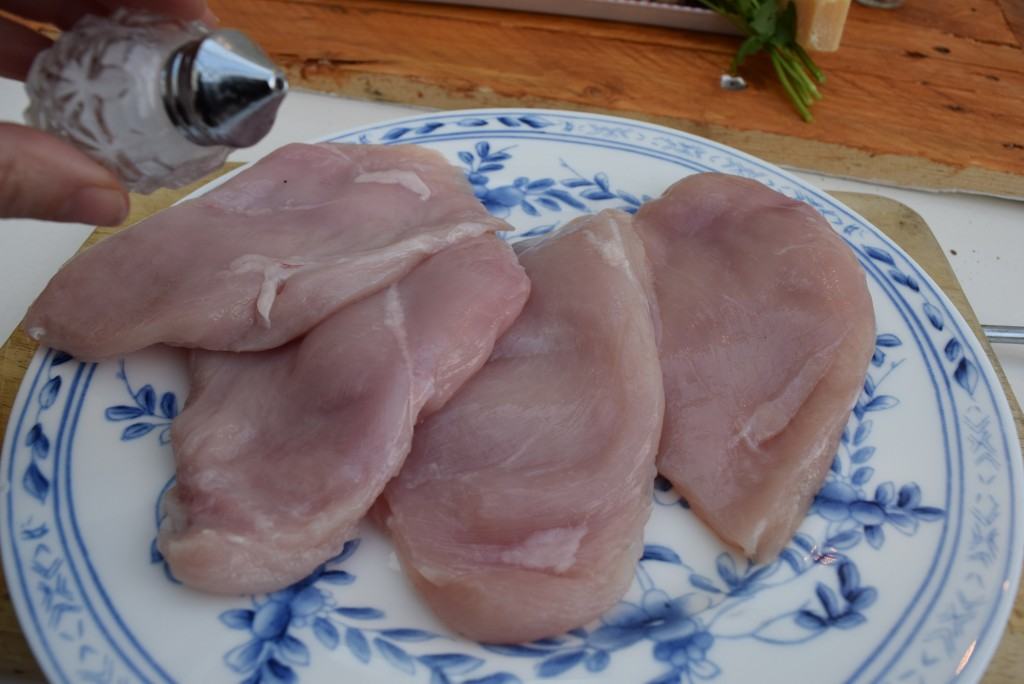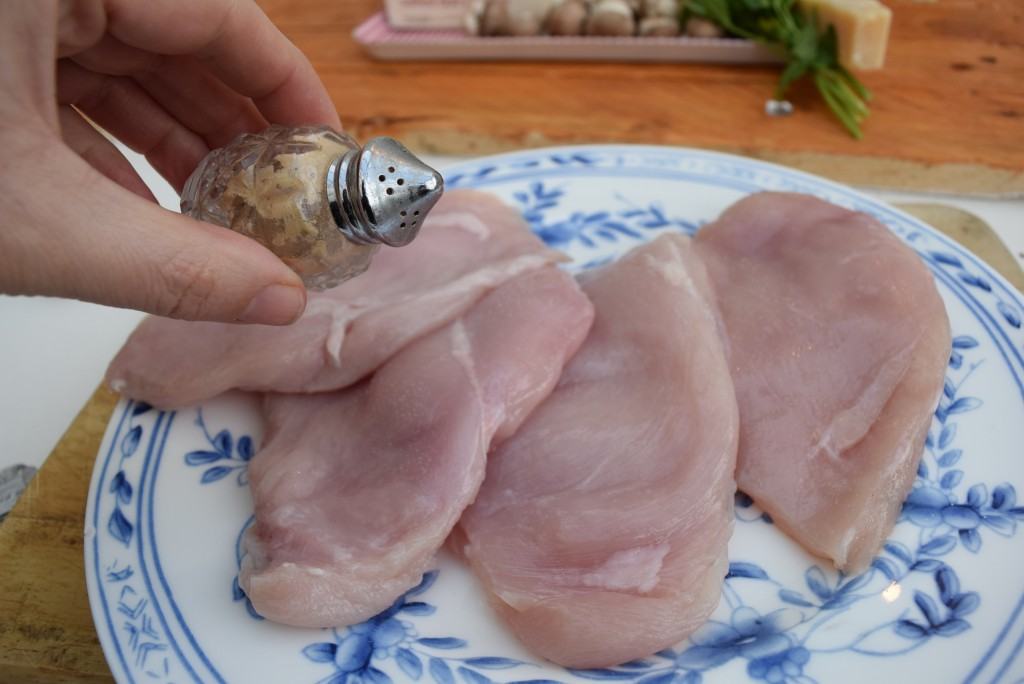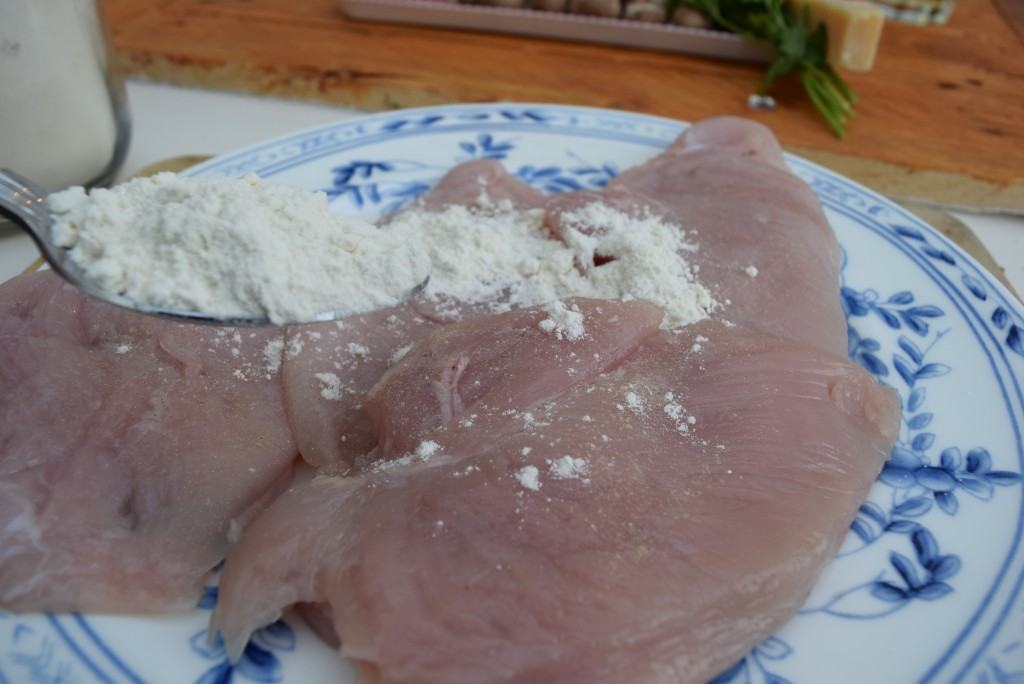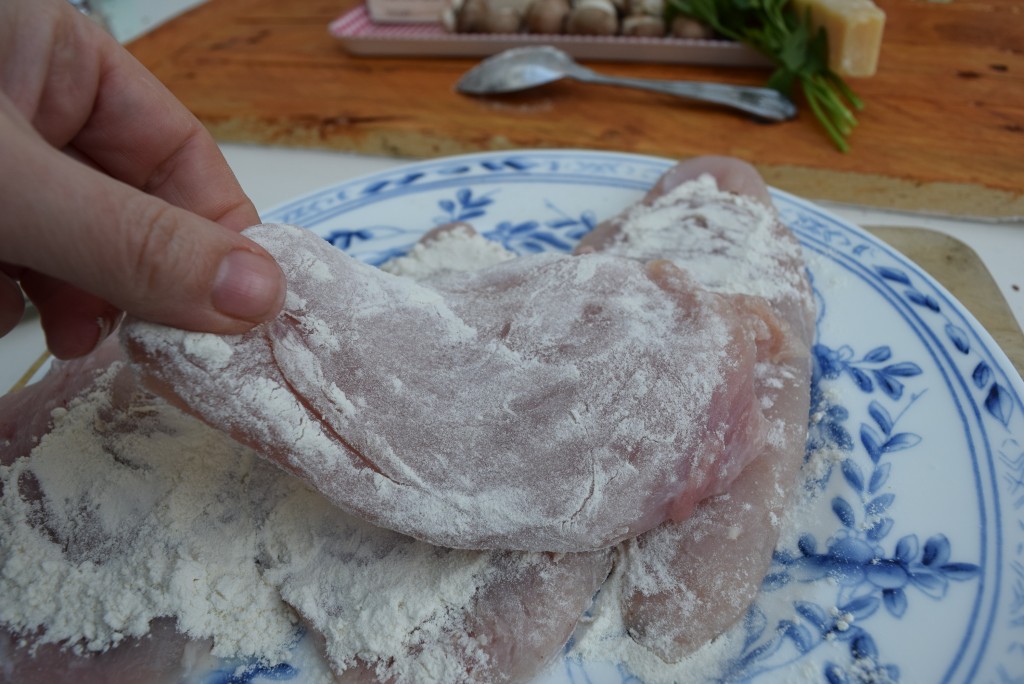 Once the chicken is well coated in flour, pop it to one side while you heat the oil and butter to foaming point. Then pop the chicken, two at a time unless you have an enormous frying pan, into the pan to brown and crisp on each side.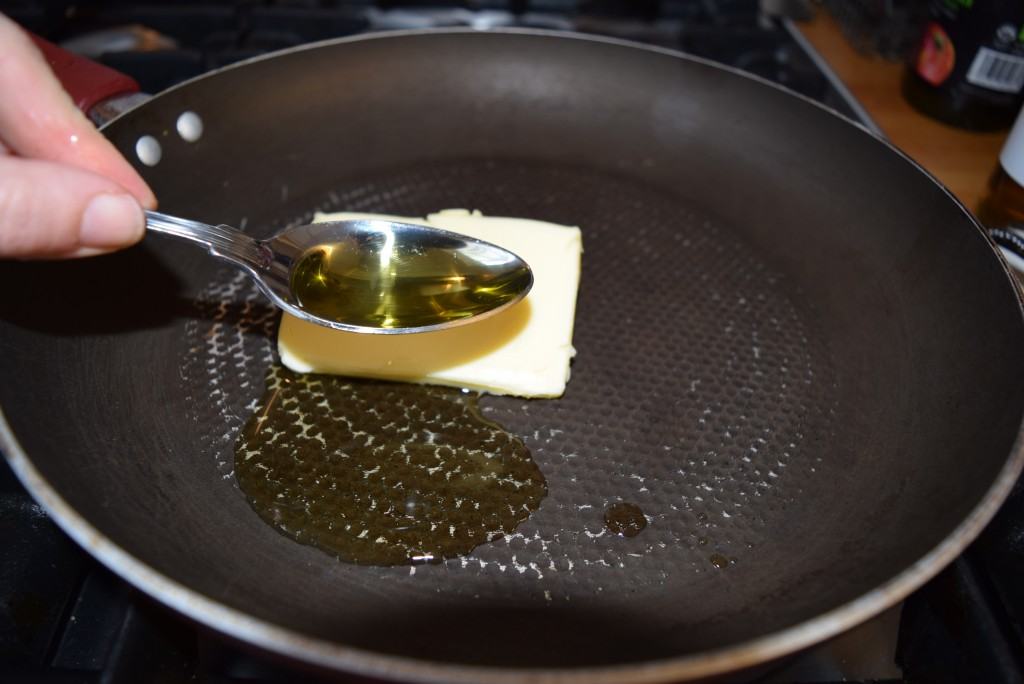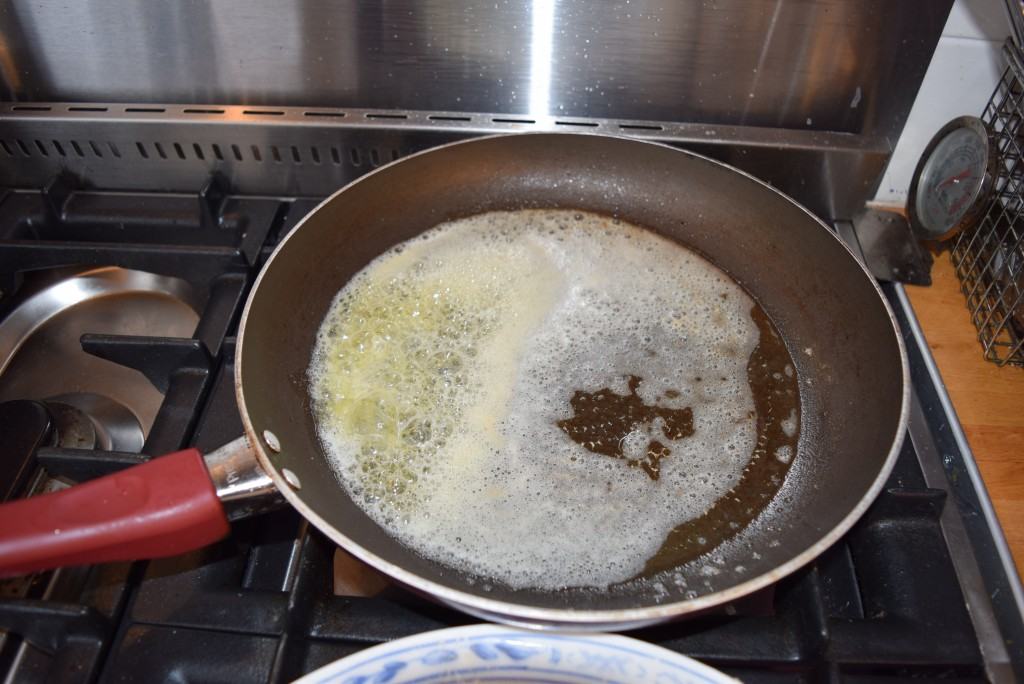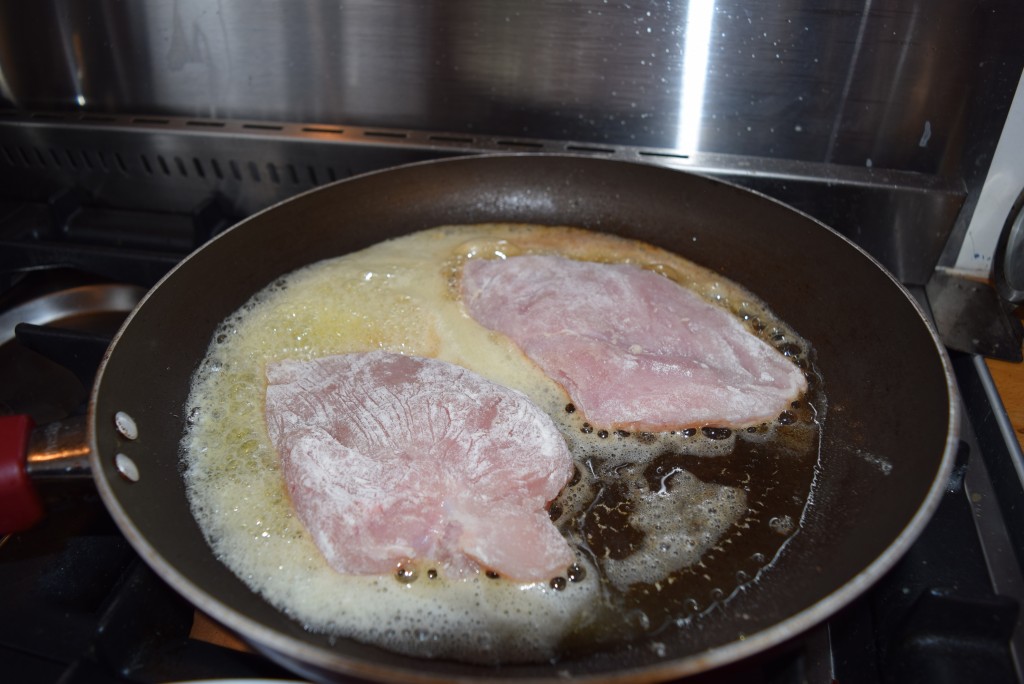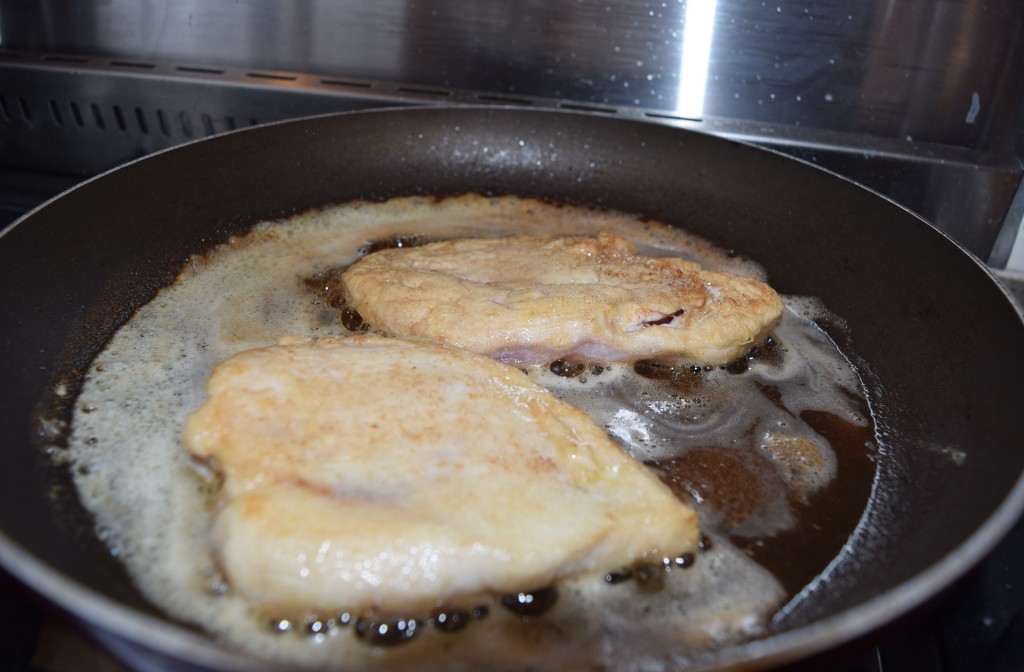 Once all your chicken is browned, place it on a baking sheet. You have two options now. If you are eating this straight away, pop the chicken in the oven and bake at around 170 degrees fan assisted for 15 minutes. If you are waiting until later, keep the chicken covered and in a cool place (the fridge if longer than a couple of hours) to re-heat (20 minutes at 170 degrees) later.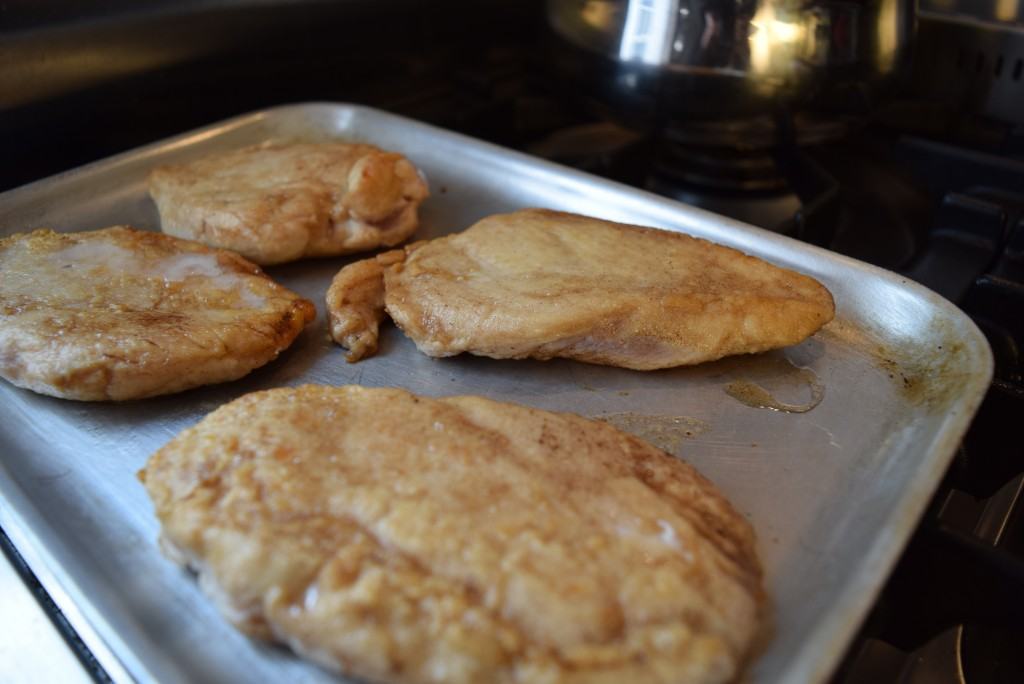 Yum, all crispy and succulent. Next, slice your mushrooms, mine were baby chestnut ones so I just halved them, and add them to the still bubbling pan juices. Brown them off, then pour in the wine, chicken stock and lemon juice.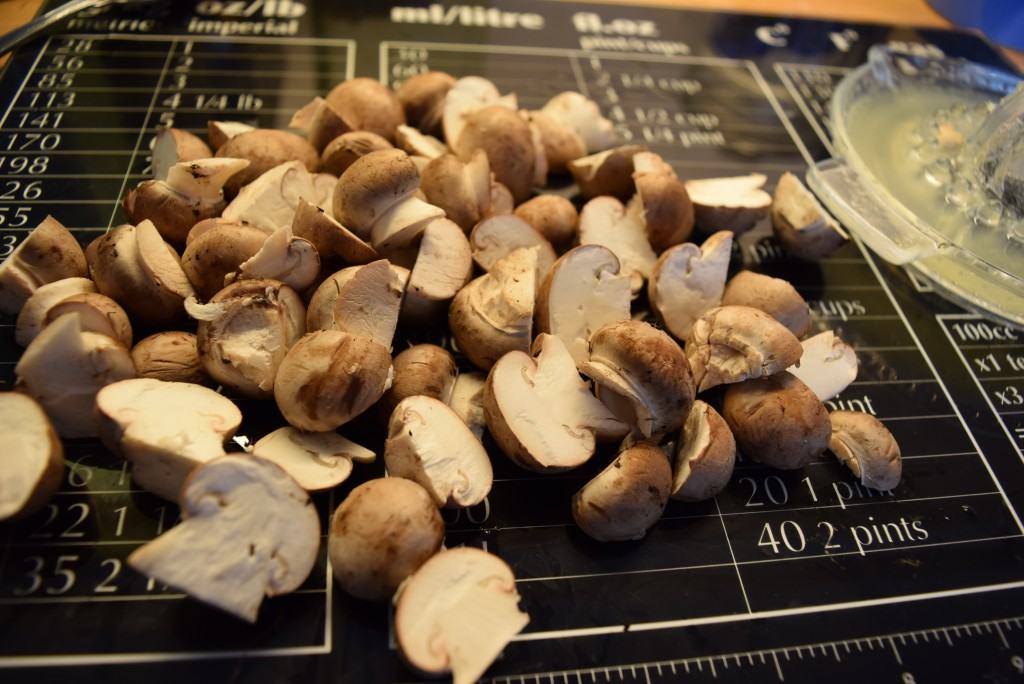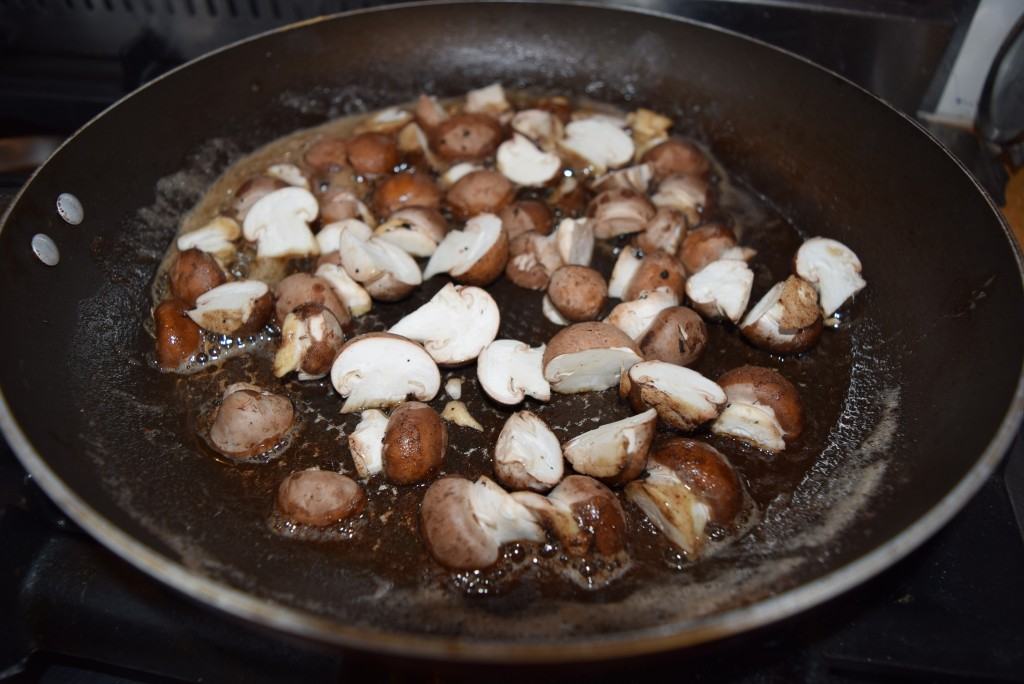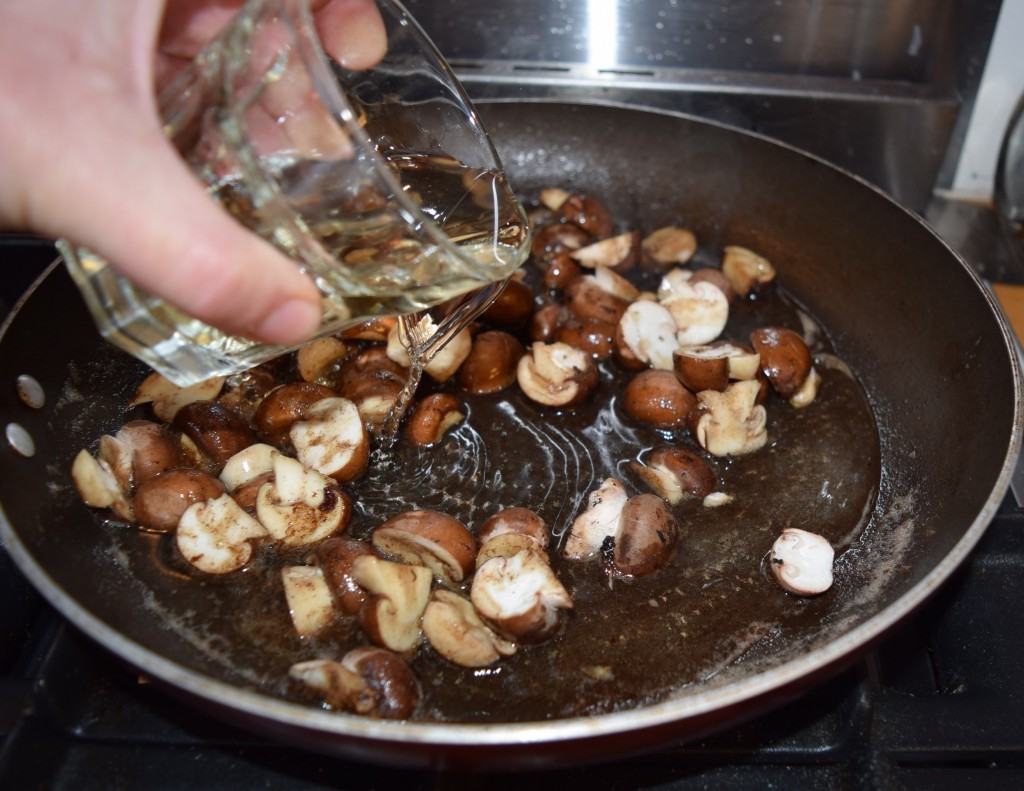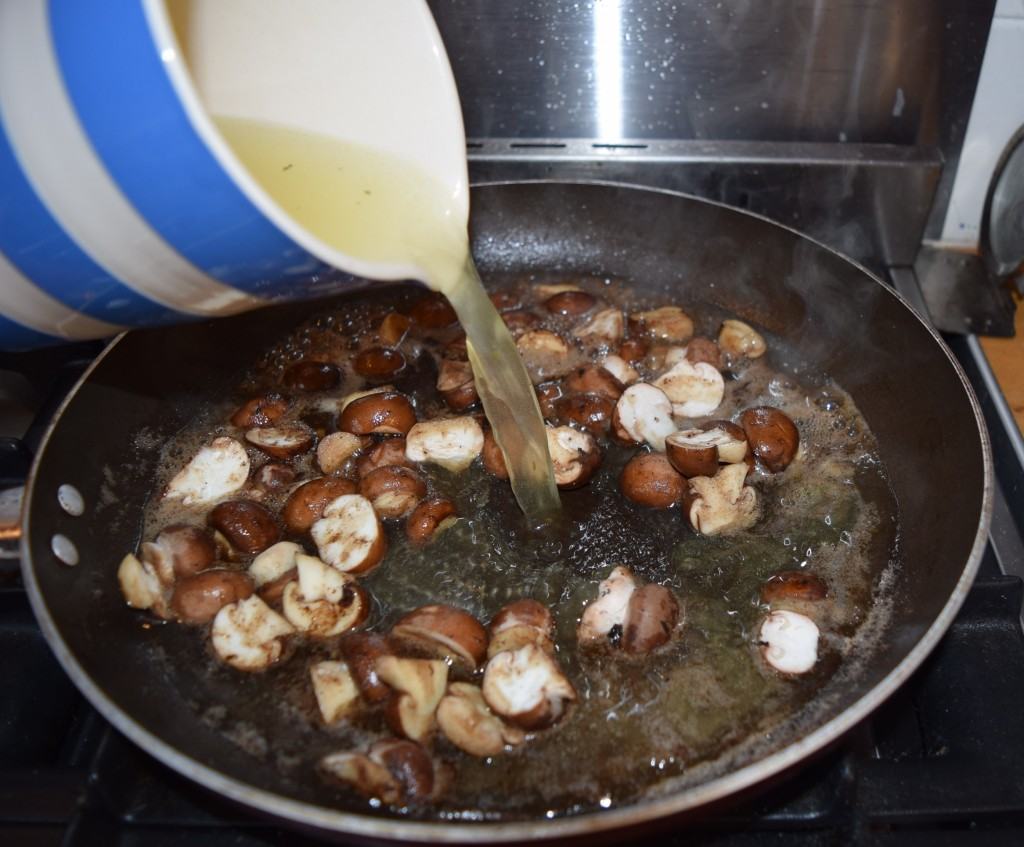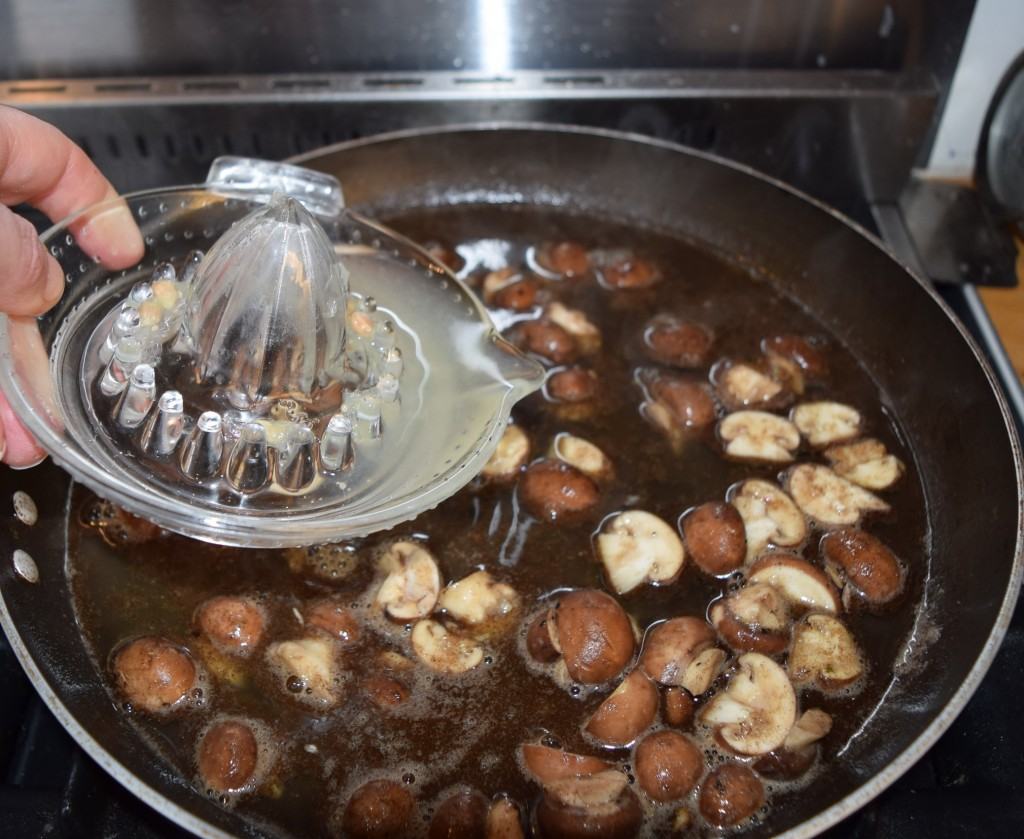 Let this delicious base for your sauce bubble away and reduce down for two or three minutes. At this point, if you are eating straight away, get your pasta on. I was having a moment of health and cooked wholemeal spaghetti, but linguine or pappardelle would be lovely here too. Get your veg of choice ready at this point too.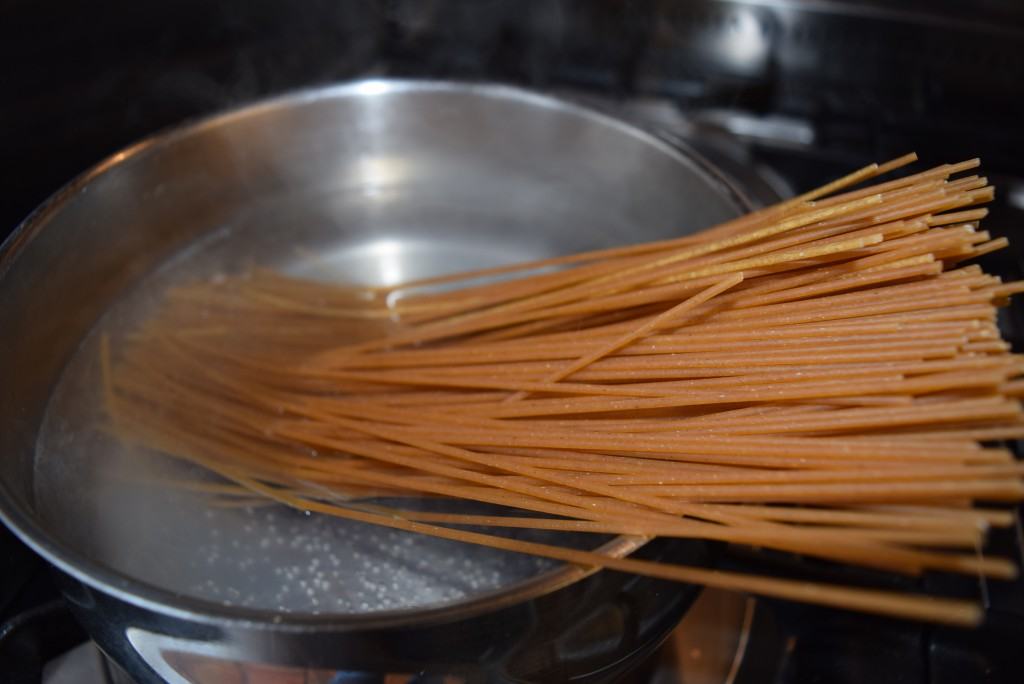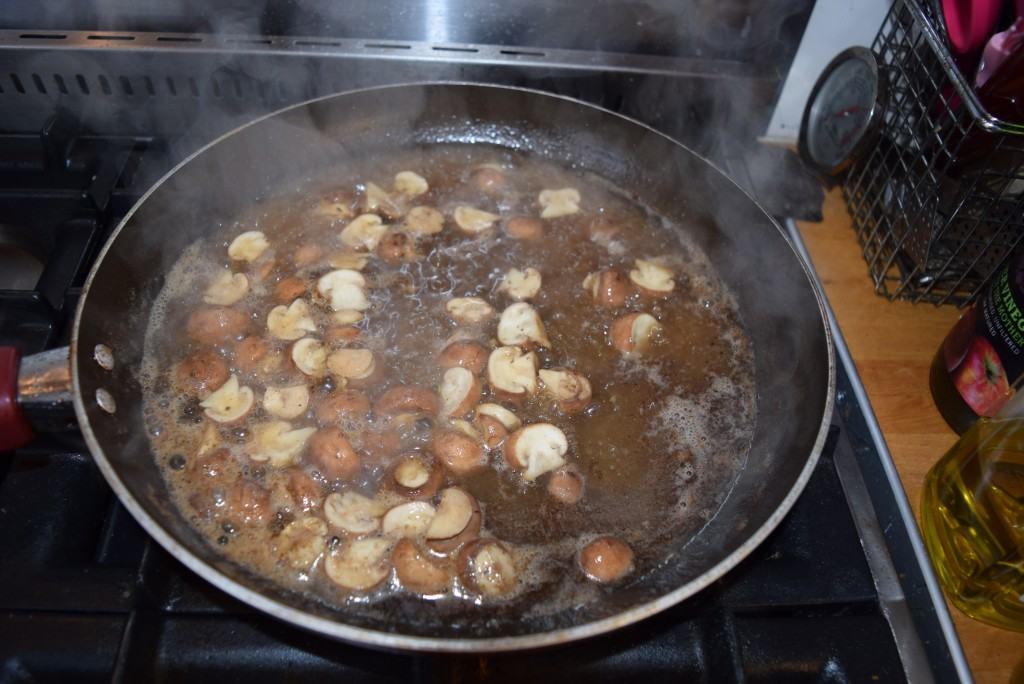 Once your sauce has reduced, add the luscious cream followed by the capers and freshly chopped parsley.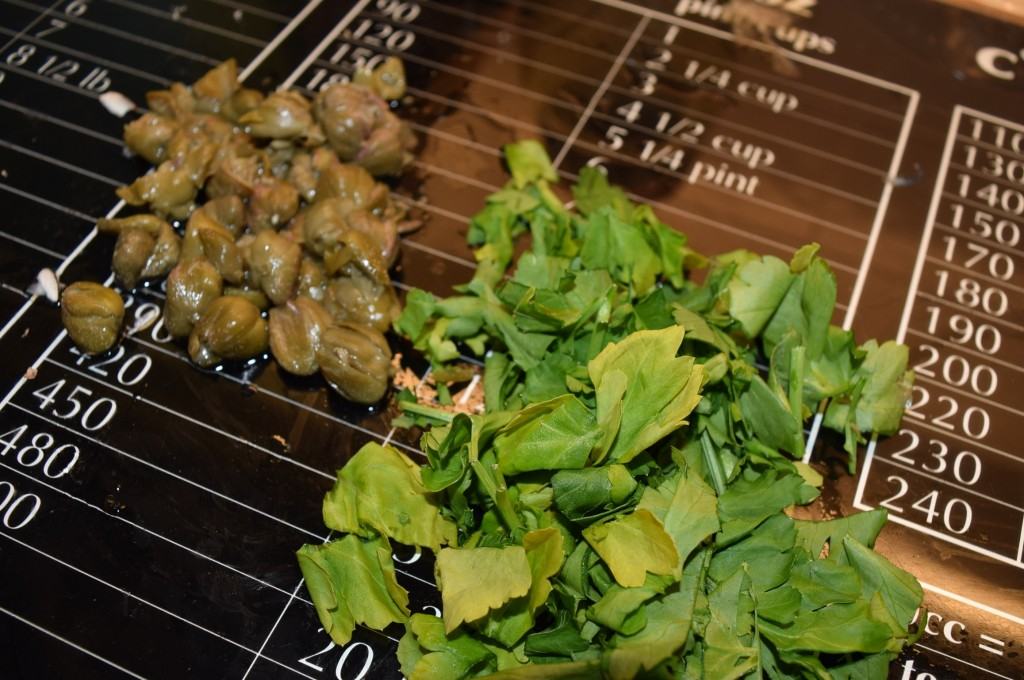 Mmm, my parsley was looking a little tired, join the bloody club.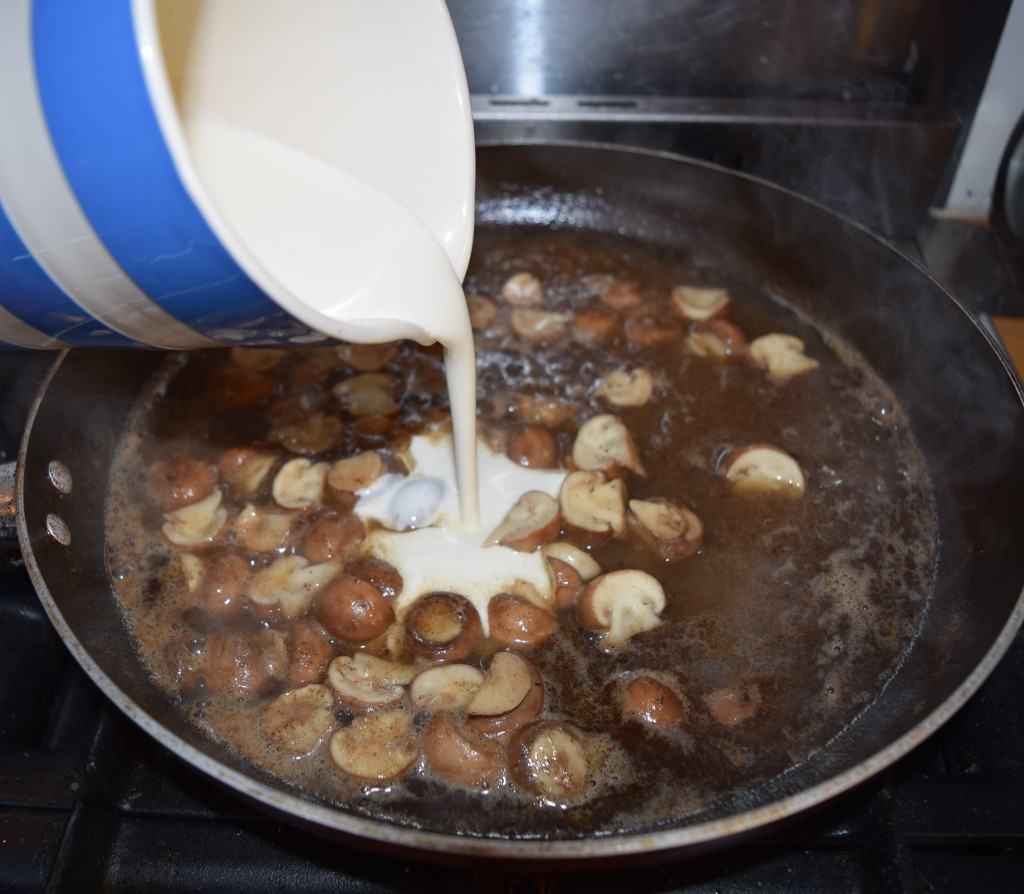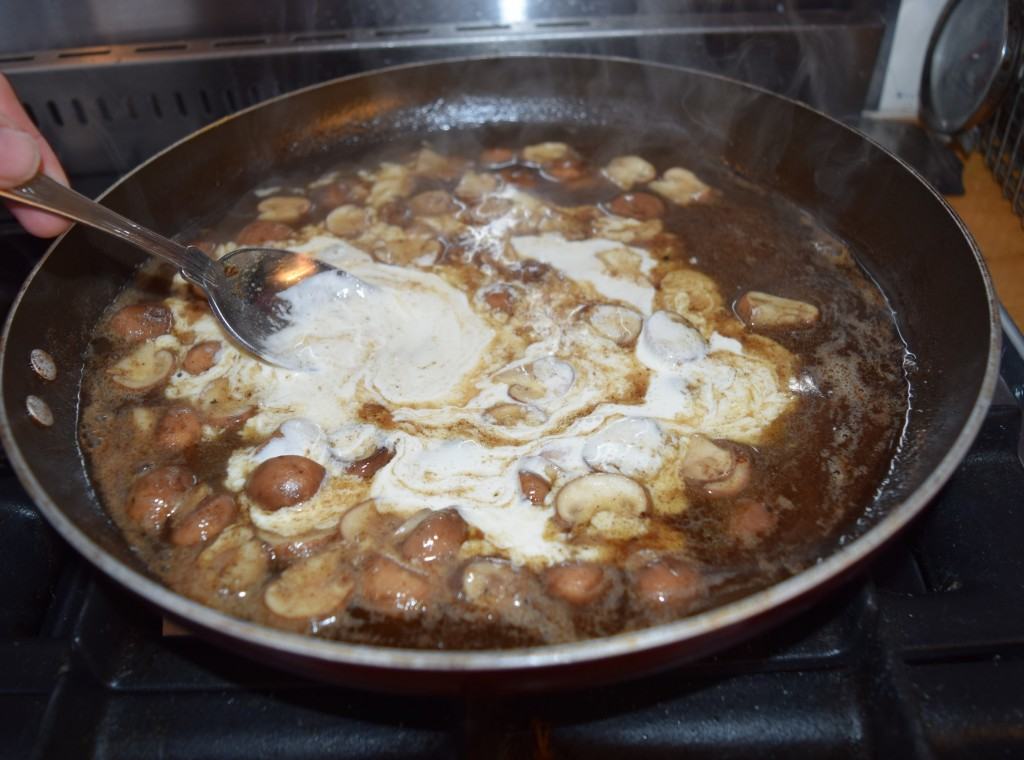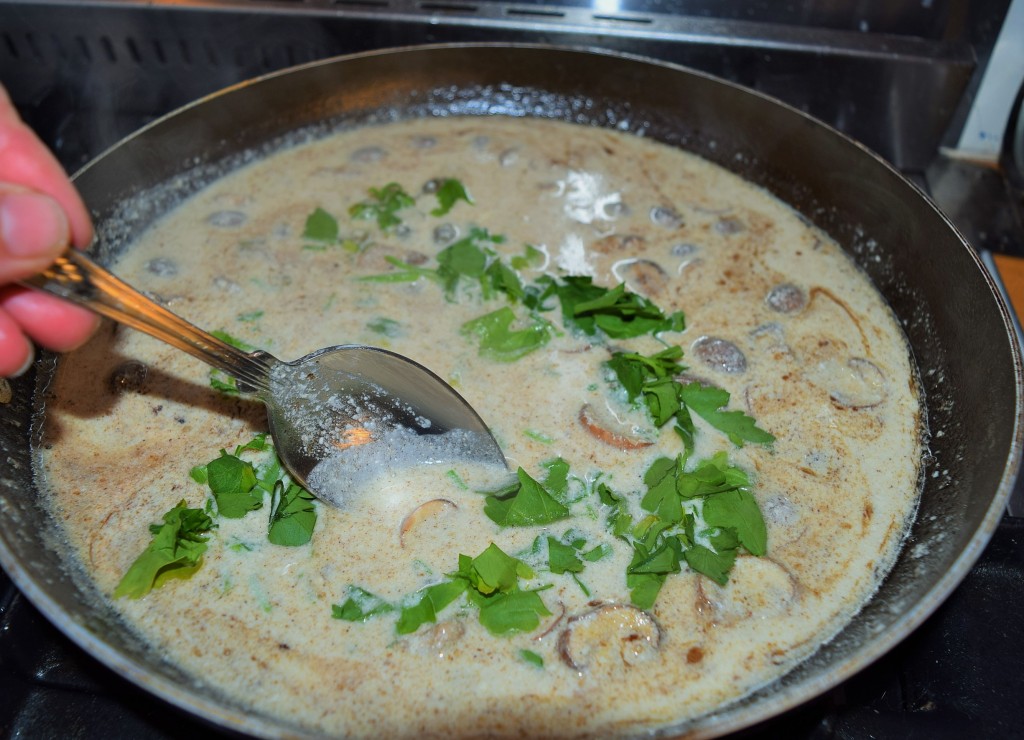 Taste a great big spoonful of the sauce and check for seasoning. Add a good amount of salt and pepper and additional lemon juice if you think it needs a touch more. This sauce can be put to one side now, if you are serving later, just re-heat gently as it may split.  If you are serving now then you are ready to plate up. So drain your pasta and green vegetable of choice. I sautéed a bit of baby spinach, but go with tender stem broccoli, steamed kale or just pea shoots if you fancy. Take the chicken out of the oven, pop on the plate with the pasta and greens and generously spoon over the sauce.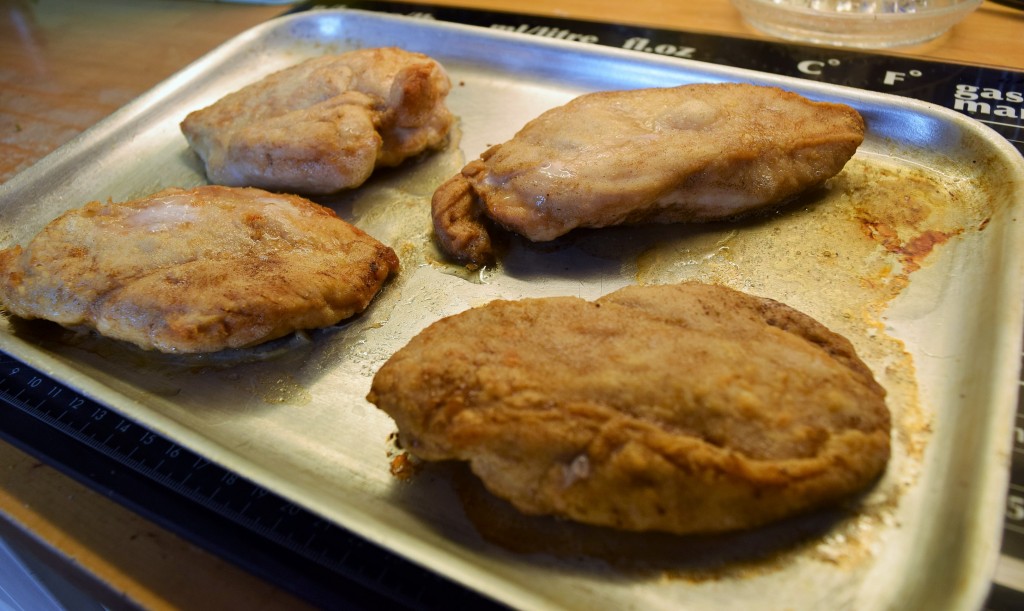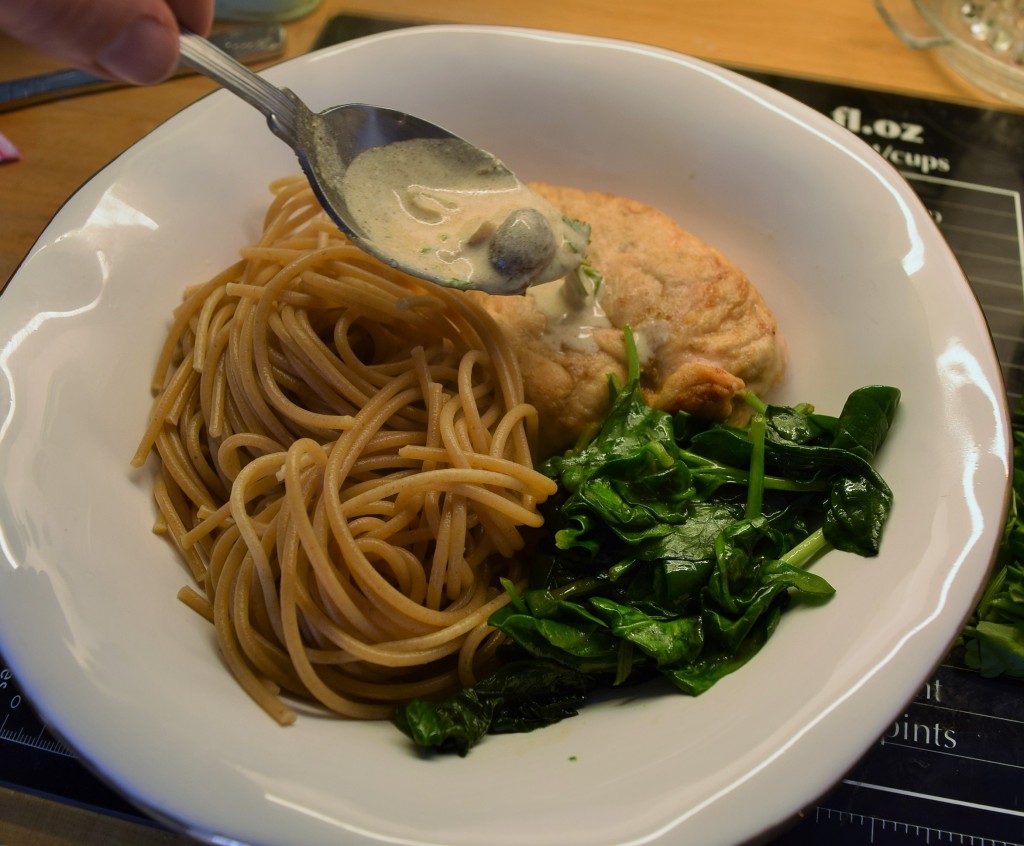 Garnish with a little more parsley and shavings of parmesan and try not to wolf it down so quickly you get sauce on your chin.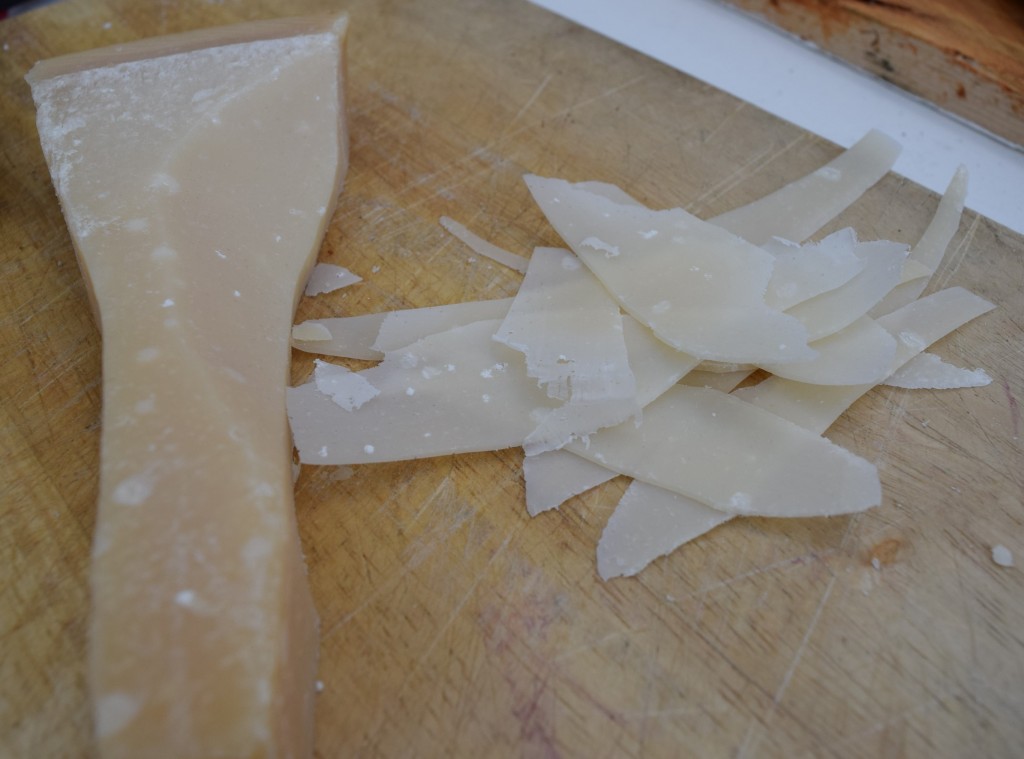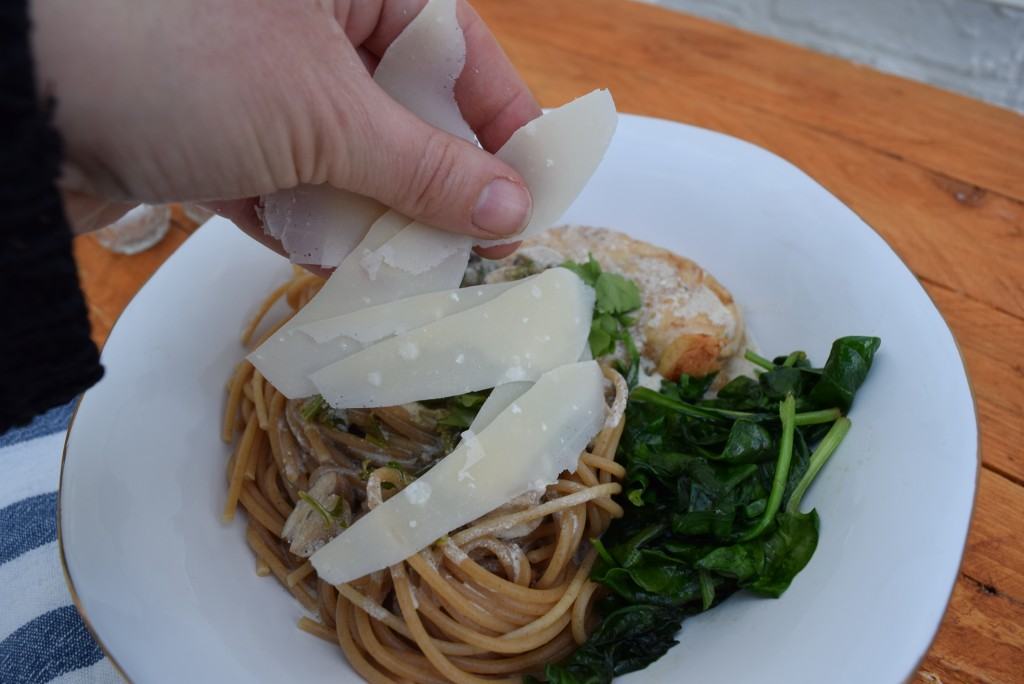 And there you have it. Simple, but so elegant.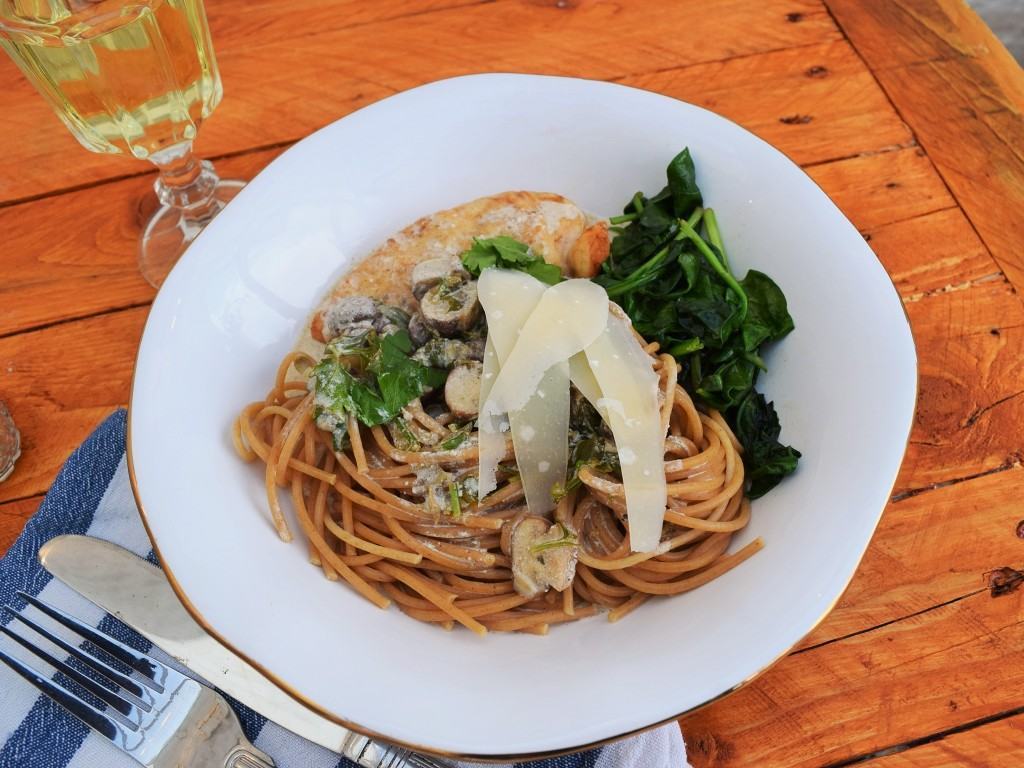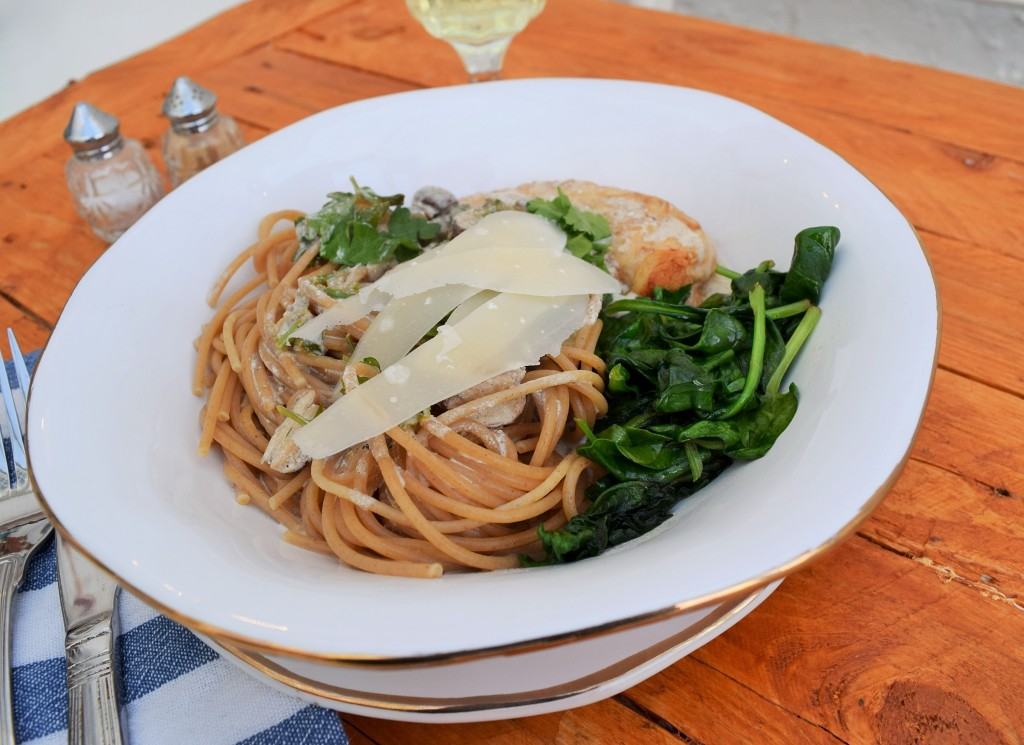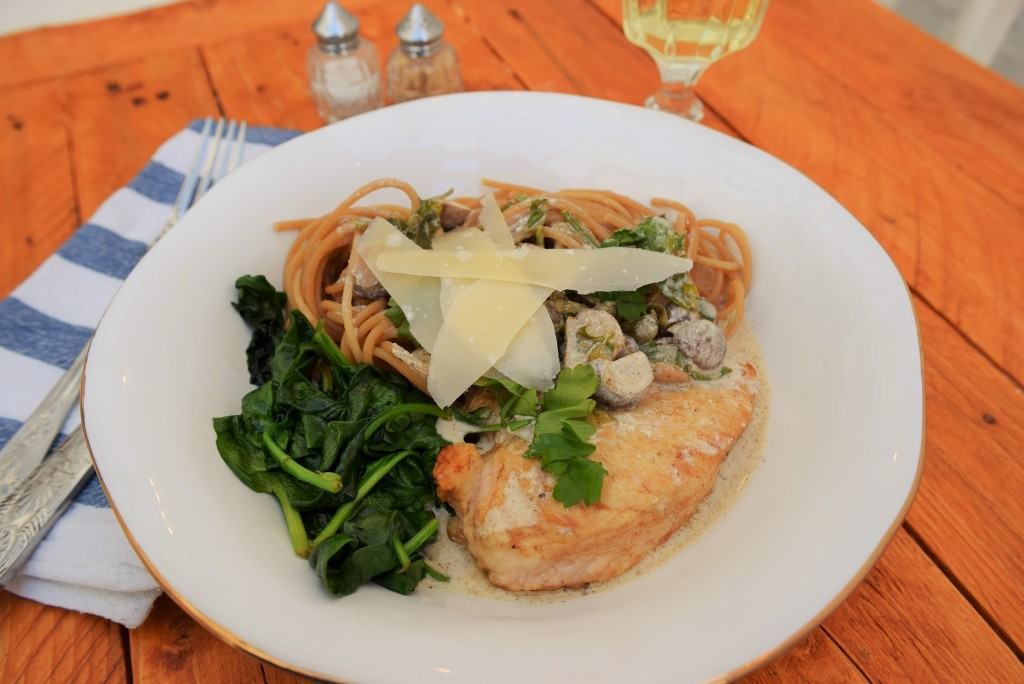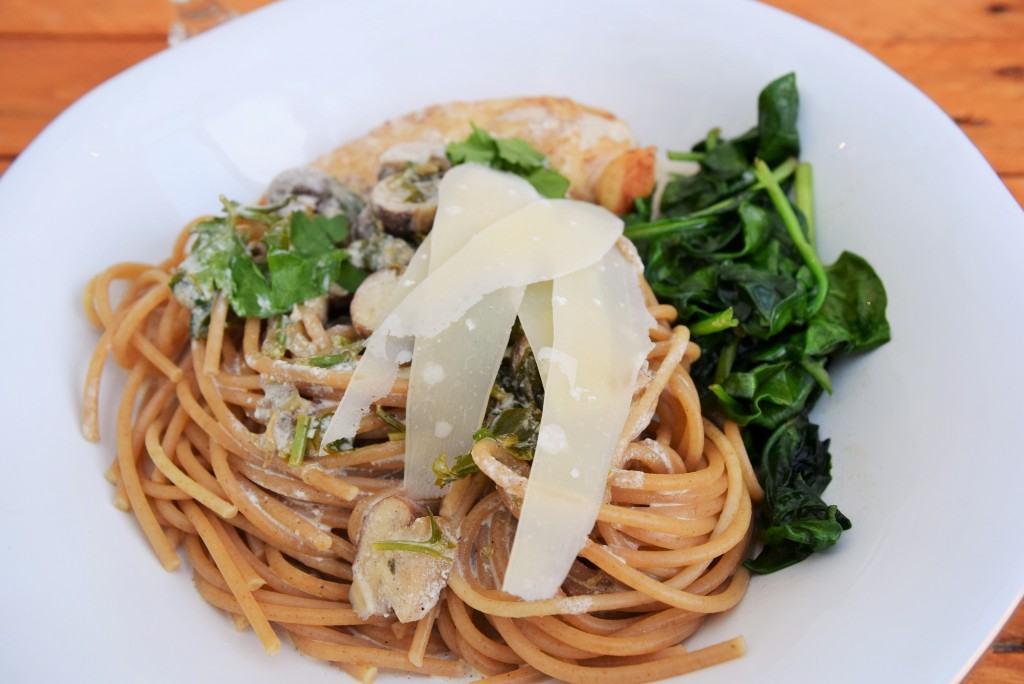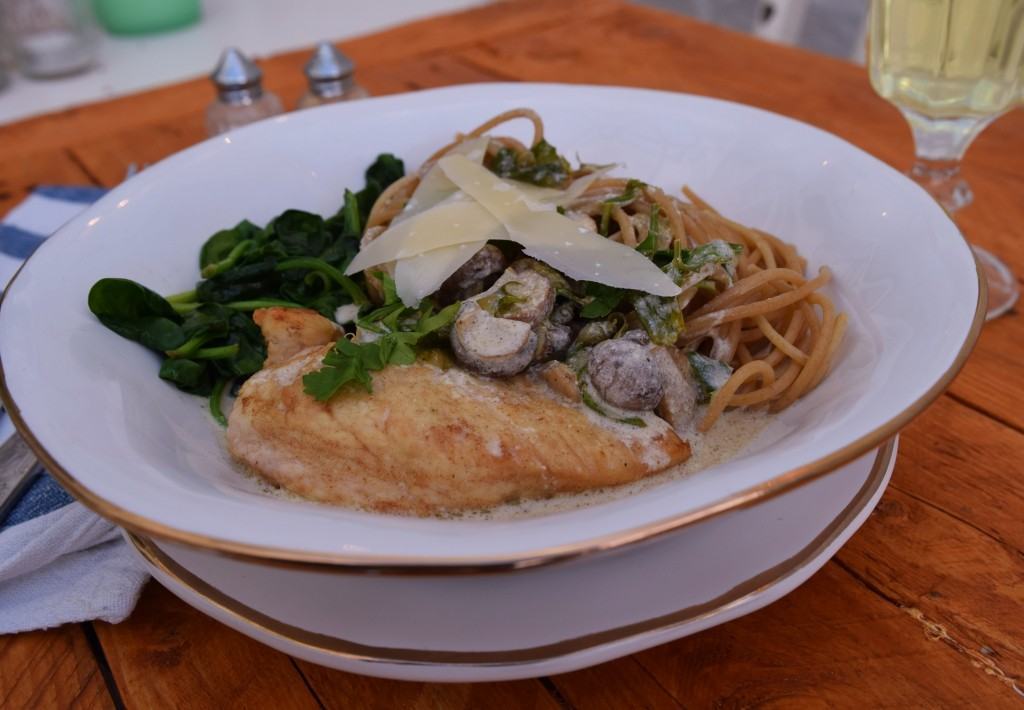 This Spring supper dish has been enjoyed by so many of my friends, I hope it becomes a favourite with you and yours.
Lucy x
Chicken Scallopine Recipe
Serves 4 to 6
You will need a frying pan
4 to 6 boneless chicken breasts
1-2 heaped tablespoons flour
Salt and pepper
2 tablespoons olive oil
50g butter
300g mushrooms, sliced
250ml white wine
125ml chicken stock
Juice of half a lemon
125ml double cream
1 to 2 tablespoons capers, chopped if they are larger ones
2 tablespoons -ish chopped fresh parsley
Spaghetti, linguine or pappardelle and green vegetable of your choice to serve
Parmesan shavings and a little more parsley to garnish
Pre heat your oven to 170 degrees fan assisted
Start by taking two sheets of cling film and laying them on a chopping board. Put a chicken breast between two sheets of cling and bash it with a rolling pin until it is of an even thickness. Repeat with the rest of the chicken and put it on a plate. Season the plated chicken with salt and pepper then sprinkle on one or two tablespoons of flour and use this to coat each piece of chicken on both sides.
Add the olive oil and butter to a large frying pan and heat until frothing. Add the coated chicken breasts and cook on each side until starting to brown. Place the part cooked chicken on a baking sheet. If you are cooking this to eat now, put in the oven for 15 minutes. If you are cooking the dish later, cover the baking sheet in foil then leave it somewhere cool (or fridge if longer than a couple of hours) until you are ready to cook later (170 degrees for 20 minutes).
Now is a good time to put your pasta on to cook and prepare your vegetables if you are eating straight away. Using the same frying pan with all the lovely pan juices, add the chopped mushrooms and cook until starting to brown. Then add in the white wine and chicken stock and juice of half a lemon and let bubble away and reduce for around 2 or 3 minutes. Add in the cream, capers and parsley, taste, then season well.
Remove the chicken from the oven and drain your cooked pasta. Plate up the pasta and chicken and spoon on liberal amounts of the cream sauce. Sprinkle with more fresh parsley and shavings of parmesan. Serve, to a fanfare from your diners.