Parmesan Salmon Fingers Recipe
Sometimes only comfort food will do. I am often so jealous of my children's suppers and wonder why I don't make their snuggy, nursery style food for myself. The main reason I don't eat it is with comfort comes calories, the likes of which are almost instantly burnt off by teenage boys. Sadly not so easily burnt off by late forty somethings. Even when they do two outdoor boot camps a week and do a couple of light jogs with a friend. It's A level and year end exam time and it's stressful and we are a tense household. One way of combatting or at least easing the stress is with a nice bit of nosebag. So, with stress and brain food in mind, today I have decided to share with you these Parmesan Salmon Fingers.
This is a great way to get any picky eaters in your house to eat fish. Who could resist soft salmon, crisp cheesy crumbs and if you are anything like me, served sandwiched between two pieces of buttered white bread. I would add Salad Cream to mine, but then I have no shame. Go down the more stylish mayonnaise or Sriracha route if you are a classy bird or bloke. These Parmesan Salmon Fingers are so easy, I was surprised by how few preparation photos I had to upload. There's just a bit of egg and bread crumbing and cheese to grate then a tiny spell in the oven, but for huge rewards. The wafts of this crisp, cheesy fish supper will lure your family from their revision notes, phones, Xboxes, iPads and into the kitchen for a super comforting supper.
I caved and ate half a Parmesan Salmon Finger sandwich, it was so worth it. I will now make a point of eating more comfort food because everything in moderation is so good for you. There is nothing finer than a fish finger sarnie to soothe the soul.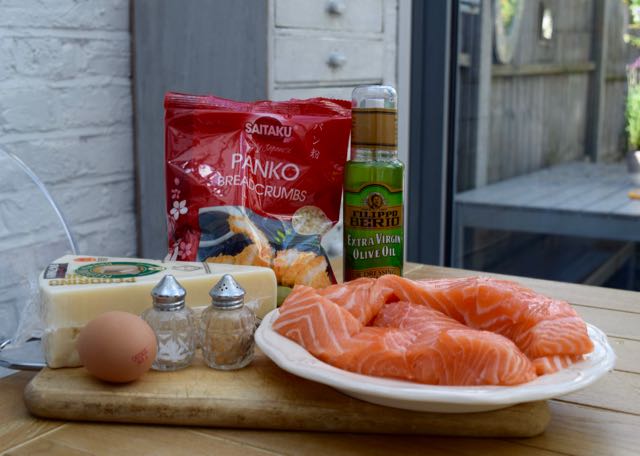 Here's the tiny line up for this wonderful recipe. The price of salmon, I have noticed, has rocketed recently, but buy it when it's on offer and freeze accordingly. Or choose a cheaper fish if you would prefer, as long as it's firm, it will hold up brilliantly.
Make a start by pre heating your oven to 170 degrees fan assisted and line a large baking tray with foil, baking paper or just oil it well.
Take your salmon and cut it into fish finger-ish size pieces. I got a great big side piece which was better value then used some and froze some.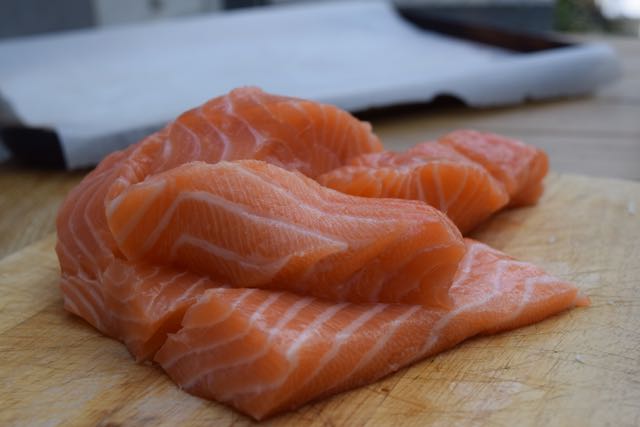 Now take two plates. On one place your bread crumbs and on the other add a beaten egg. Grate your parmesan and mix this in with your crumbs. On a side note, I used panko crumbs but you could always blitz a slice or two of bread in your food processor if that's easier. Likewise, use another strong cheese if you don't have parmesan to hand.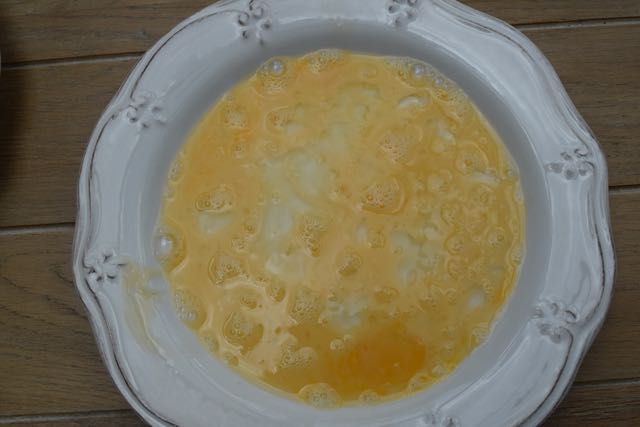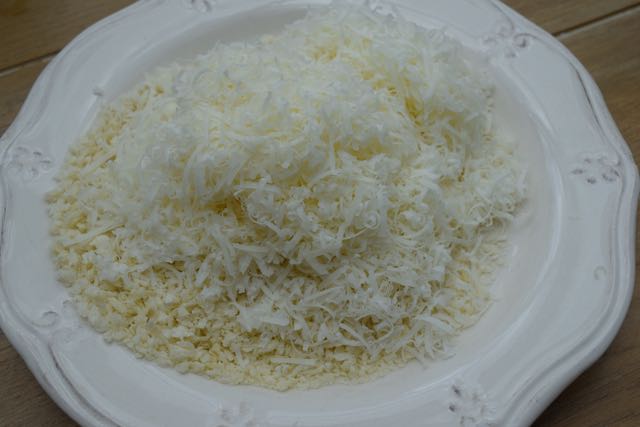 Mix the crumbs and cheese until well blended. Next, take a piece of salmon and dip it in the egg then into the cheesy crumbs, ensuring the fish is well coated.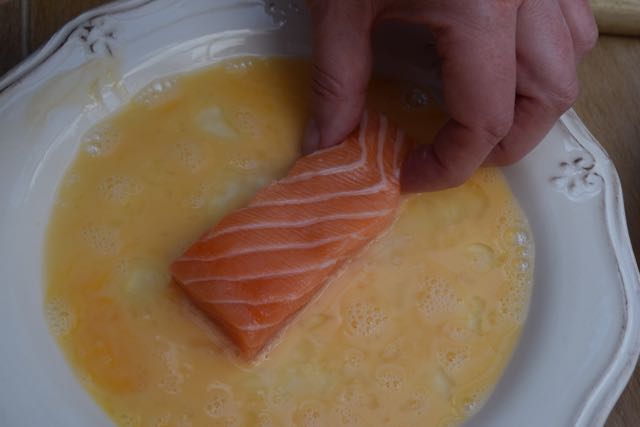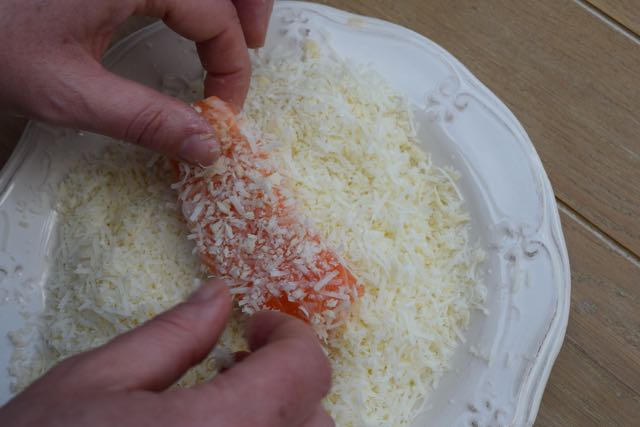 Place the fish fingers on your lined baking tray, give them a little spritz or drizzle with olive oil a twist of salt and pepper then put them in the oven for 20 minutes or until golden brown, sizzling and smelling amazing.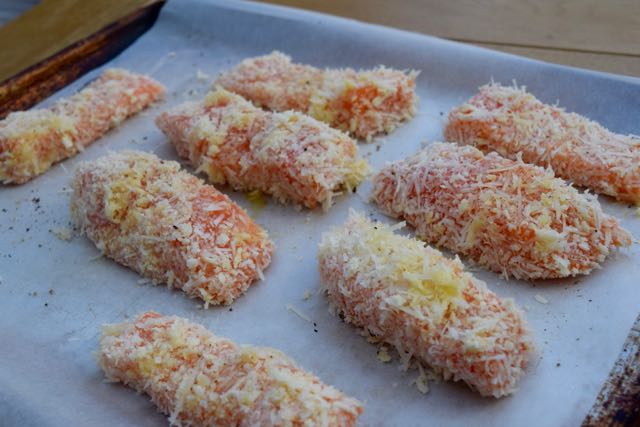 Try not to eat them all from the baking tray, at least get them on a plate for goodness sake.
These are versatile little beauties. I served them between white doorstep bread, but these go with mash, seasoned wedges, peas, salad, it's up to you which comforting accompaniment you choose.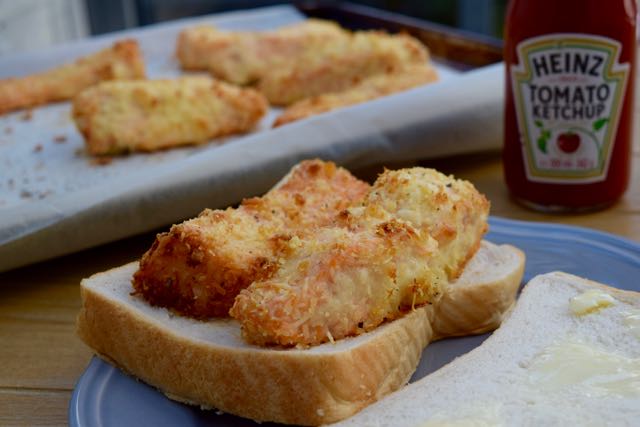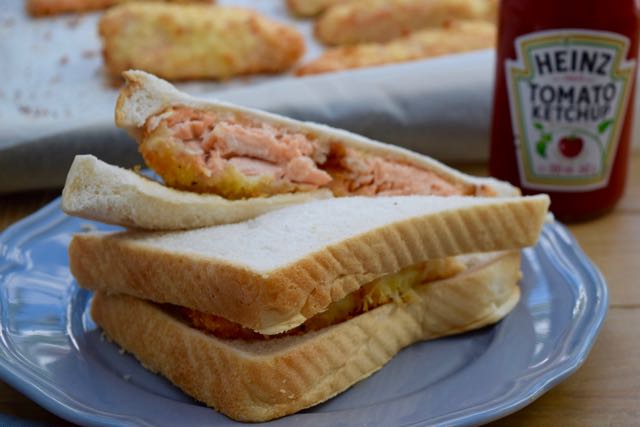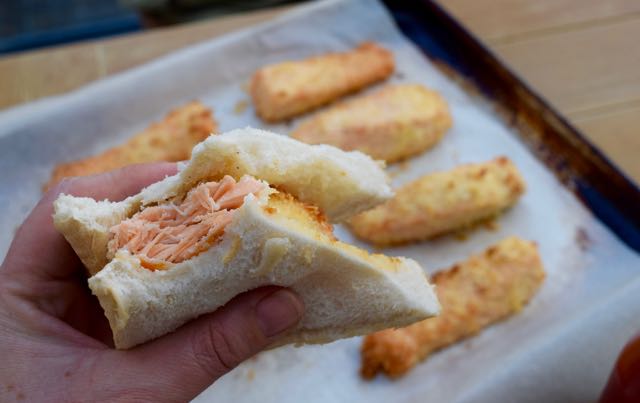 Just out of shot there is a bloody great big catering sized bottle of Salad Cream, it absolutely made the sandwich for me. Don't feel you have to hide your love of naff sauces though, be proud of your love of this old school classic. Or tuck some rocket or watercress into the sandwich and no one will notice it's there.
Lucy x
Parmesan Salmon Fingers Recipe
You will not need any challenging equipment
Makes 8, serving 2 to 4
500g salmon fillet, cut into 8 fingers
50g breadcrumbs, I used panic crumbs but use homemade if you would rather
25g grated parmesan
1 egg, beaten
Salt and pepper
Spray olive oil, or a drizzle
Pre heat the oven to 180 degrees fan assisted and line or oil a large baking sheet.
Take your salmon fillet and cut into 8 fish finger sized pieces. On two separate plates add the breadcrumbs and grated parmesan to one and the beaten egg to the other.
Take the pieces of salmon and firstly dip into the egg and secondly into the crumbs. Lay each coated finger onto the baking sheet. Finish coating all the pieces of salmon, give them a spray or drizzle with oil, a twist of salt and pepper then place them on the baking tray into the pre heated oven for 15 to 20 minutes or until golden, crisp and the salmon is just cooked through.
Serve immediately with whatever accompaniment you like, or just on their own from the tray dipped in Salad Cream.