Porchetta Recipe
My recipe today has a sponsor and benefactor. Our lovely friend's Emma and Simon are having their kitchen replaced so have kindly given us their range oven. This is hugely exciting as we have yet to have a new kitchen installed so this oven is a big improvement, and lets face it, looks fantastic.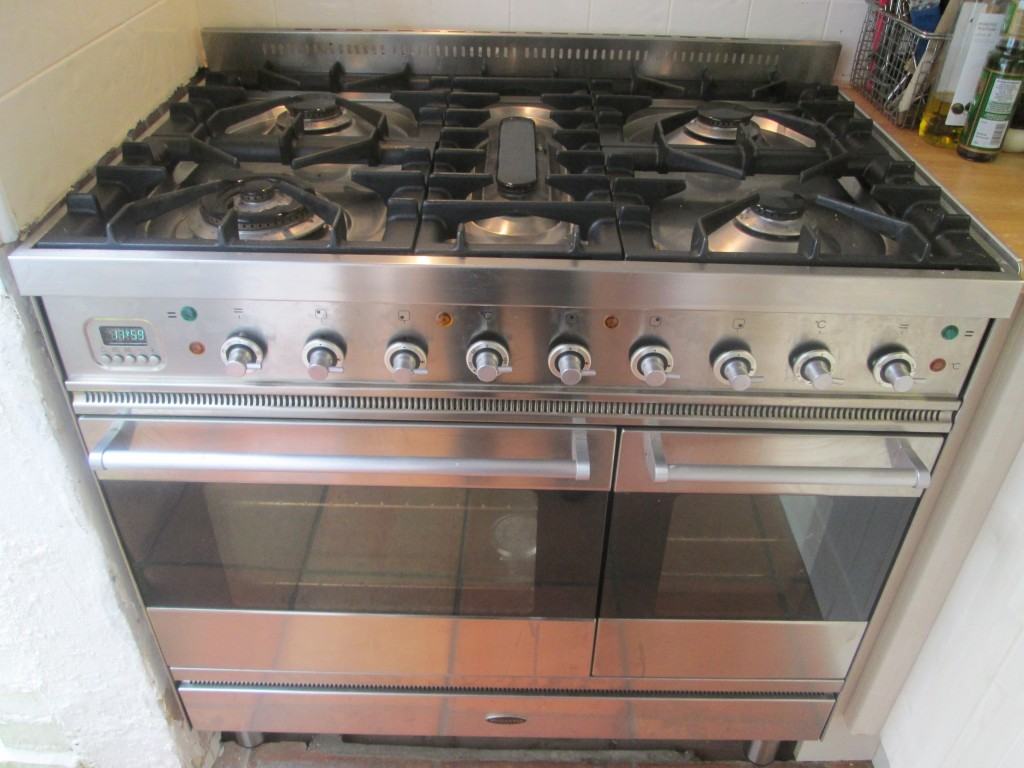 By way of a thank you, I hosted a dinner party for them, which included this Porchetta, along with several other courses and plenty of wine. I was a Porchetta virgin, prior to this, but now it will be a regular feature in my repertoire. It has the flexibility of a long slow cooking time, but with the sophistication of a dinner party centre piece (wordy but true).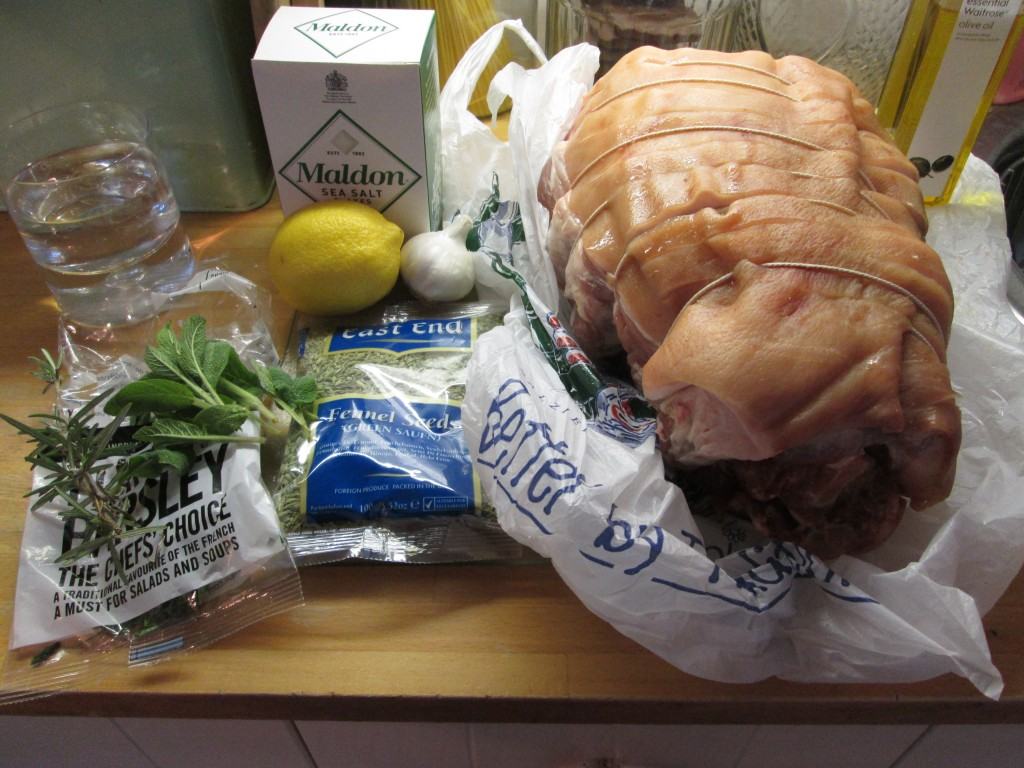 I bought a lovely big piece of boned pork shoulder from the butchers, it was super reasonably priced, and more than enough for 6 guests (8-10 even, I am a serial over-caterer).  I untied it and butterflied it ready for the recipe. Don't be impressed by this, I had to google it and basically it just involves cutting the joint into one flat piece of pork. Recipe wise, I took to Pinterest to research the options, but settled on basing my recipe on a simple but delicious one from BS' in the Kitchen. If you are worried about the butterflying bit – don't be, I did it having never done so before, and if I could manage it, anyone can.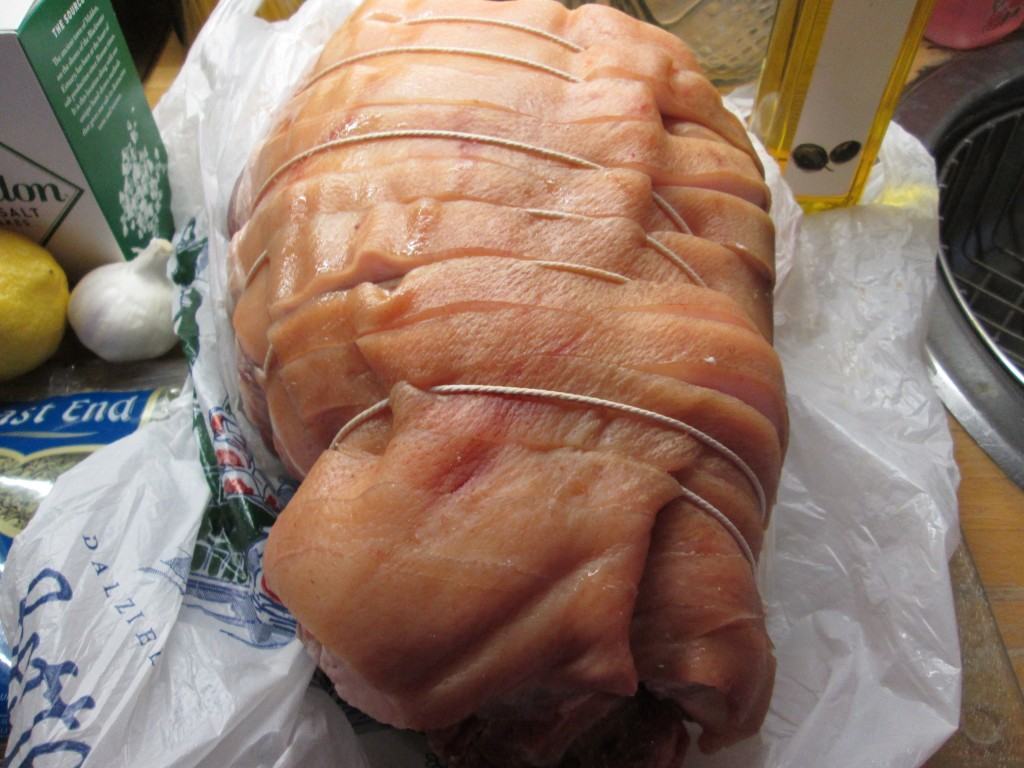 The night before you plan to serve the porchetta, take your pork from the fridge and assemble your herb rub and salt rub ingredients. Untie the pork joint if need be and butterfly, as per instructions pilfered from the internet. Pour yourself a gin and tonic (optional).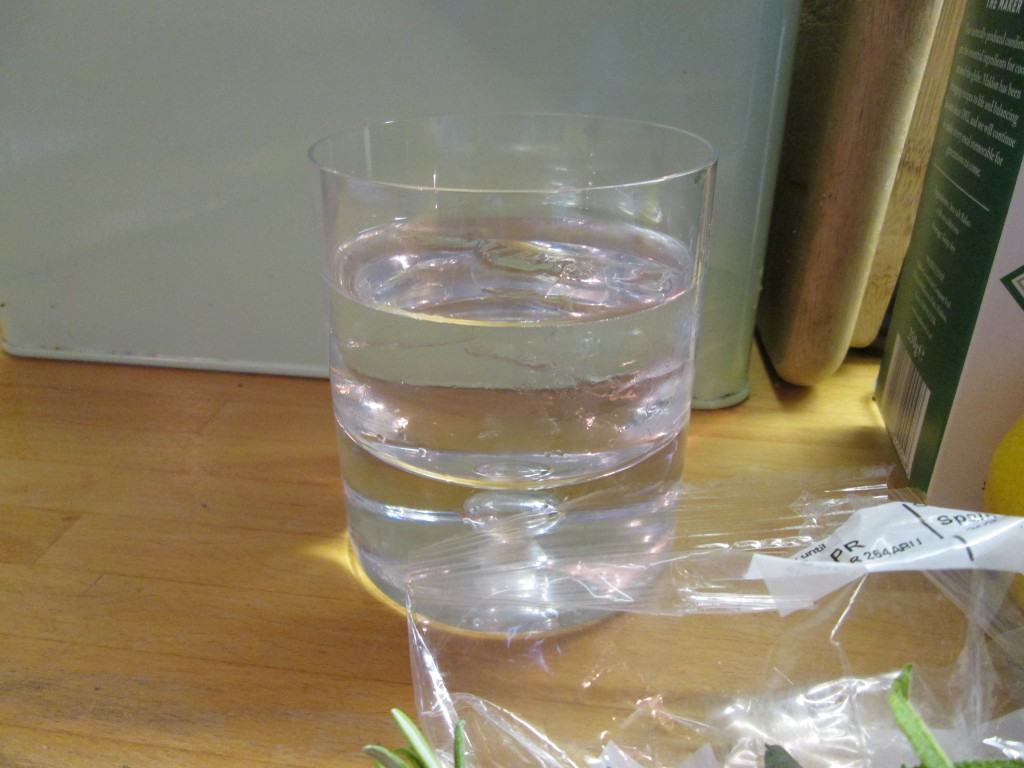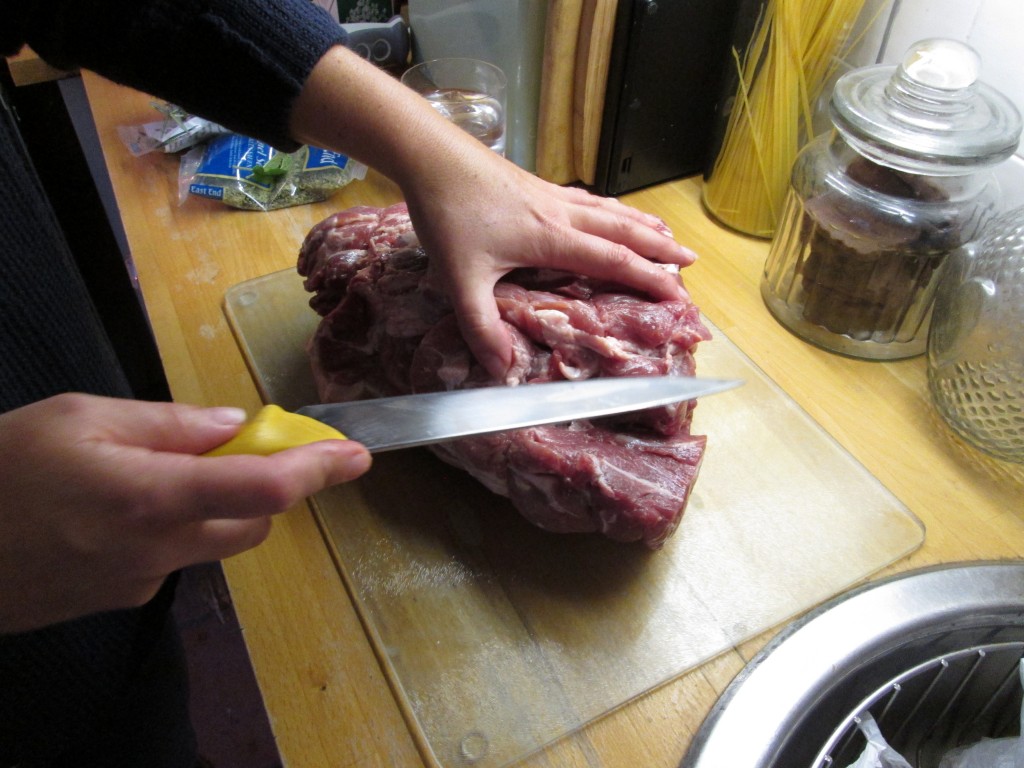 In your food processor or hand blender, add the ingredients for the herb rub. Blitz these into a delicious green mulch then smother over your long slab of pork.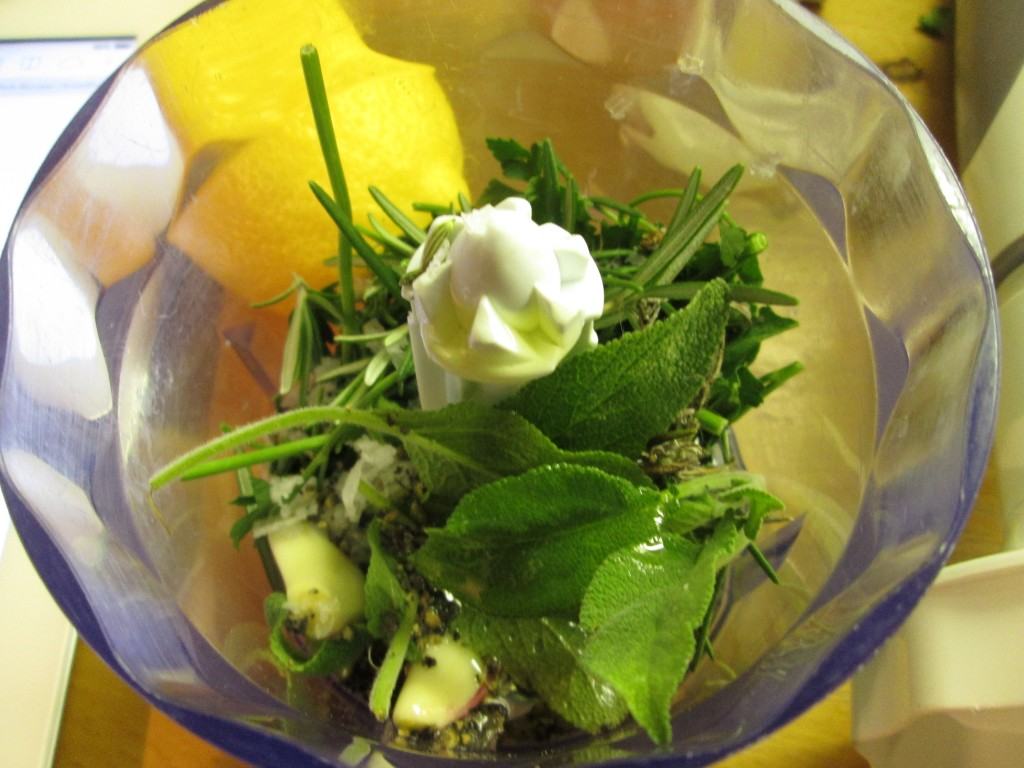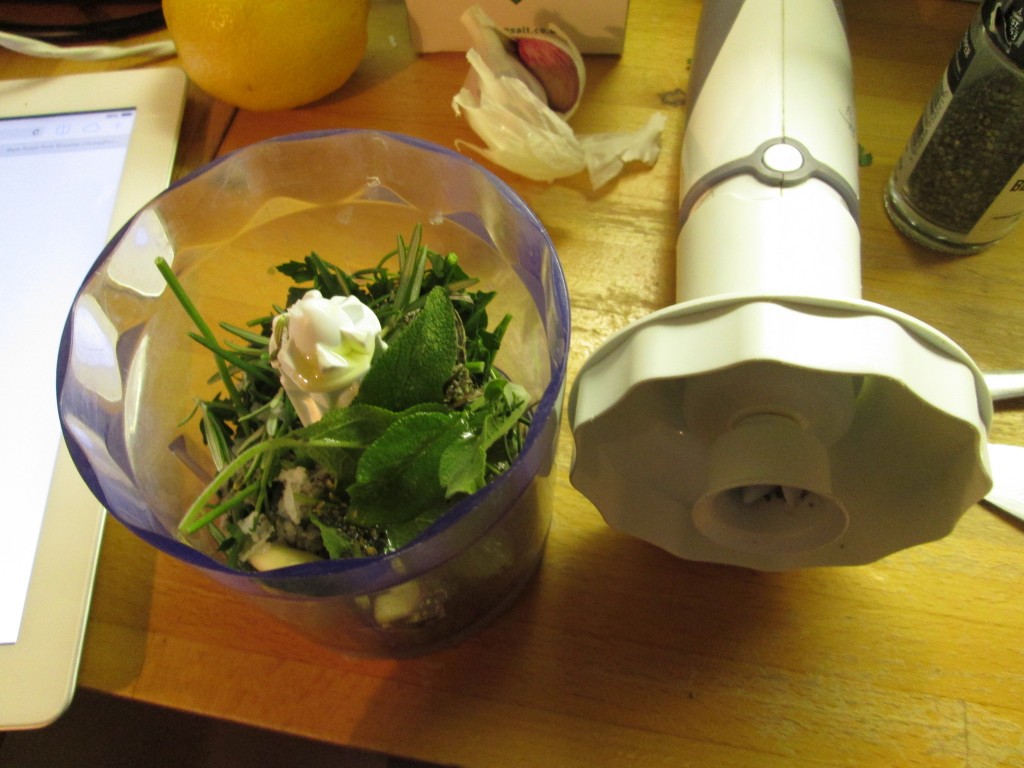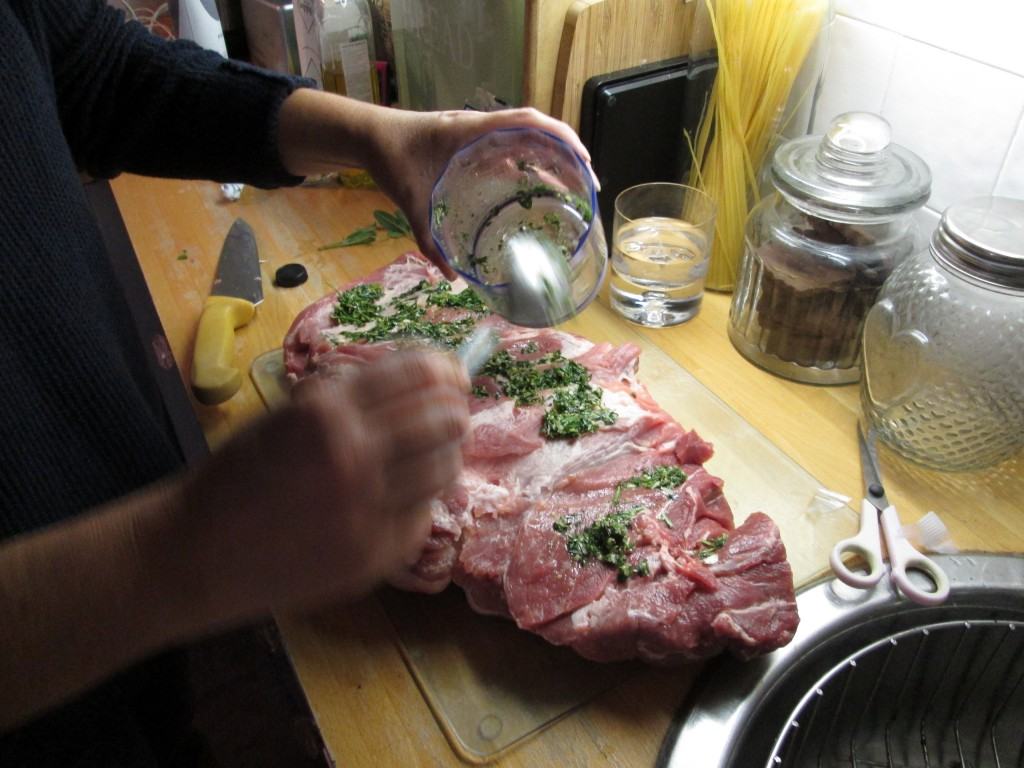 Using the same blender, as the ingredients are v similar, blitz up the salt rub ingredients. Massage a couple of teaspoons of this to your pork and keep the rest for the skin.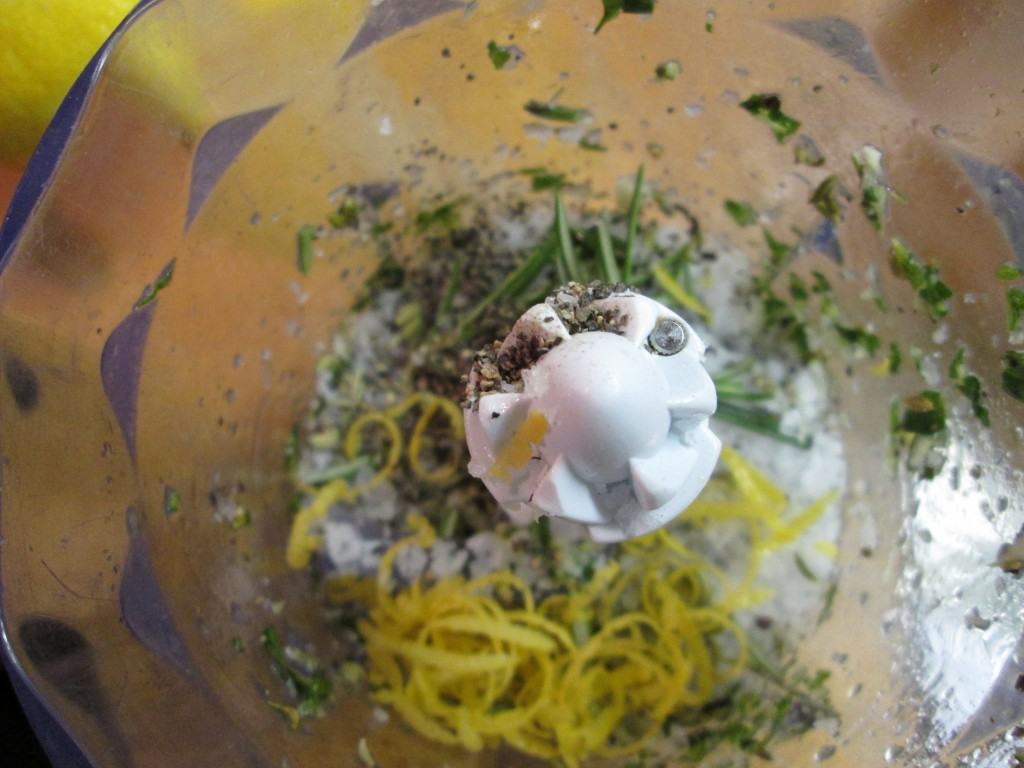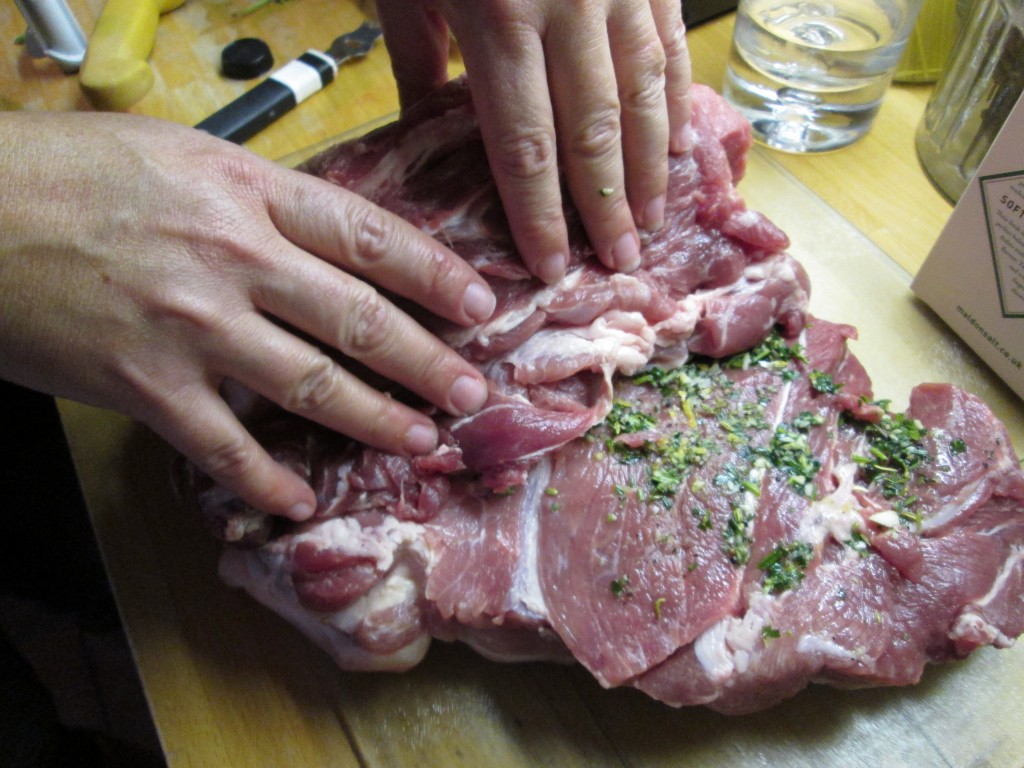 I am still nursing that gin and tonic – promise it wasn't my second one.
Roll up the pork so the skin is on the outside. This is essential as any of the skin rolled up inside the pork will not crisp, so ensure it is on the top side of your re-rolled pork. Tie the pork back up as best you can.
I am hopeless at this sort of business, but managed to fashion it into some sort of reasonable looking state with kitchen string, knots no sailor would recognise and some minor finger knitting. Rub the rest of the salty, zesty mix into the skin, pop in a baking tray and put, uncovered, into the fridge and leave overnight.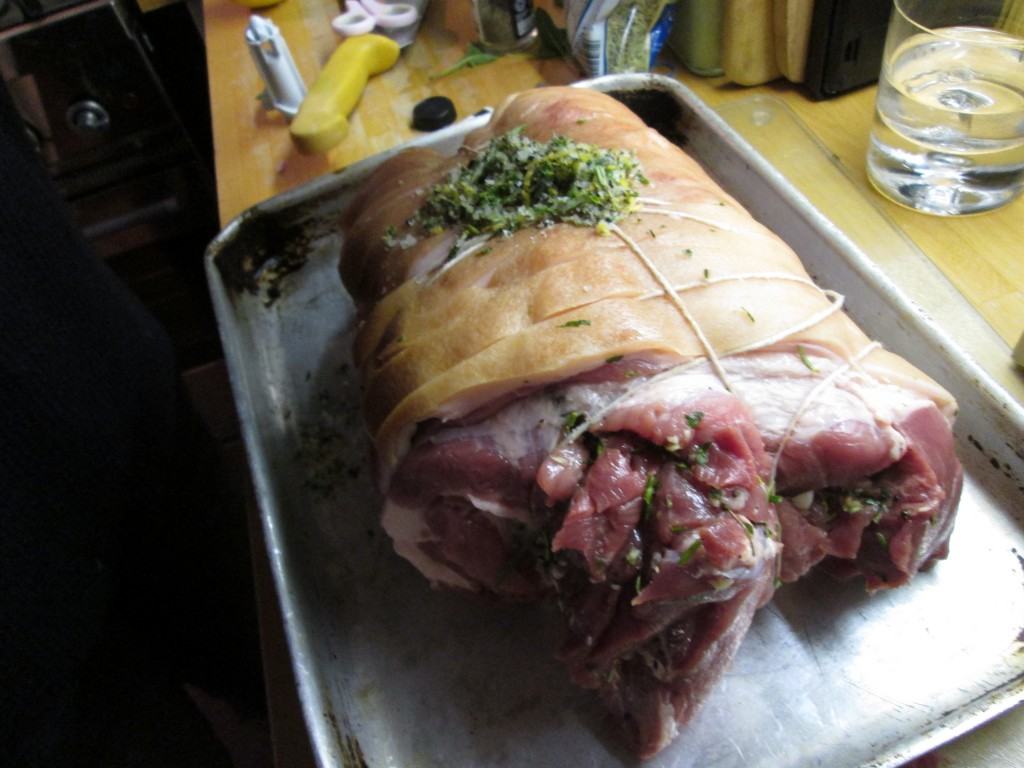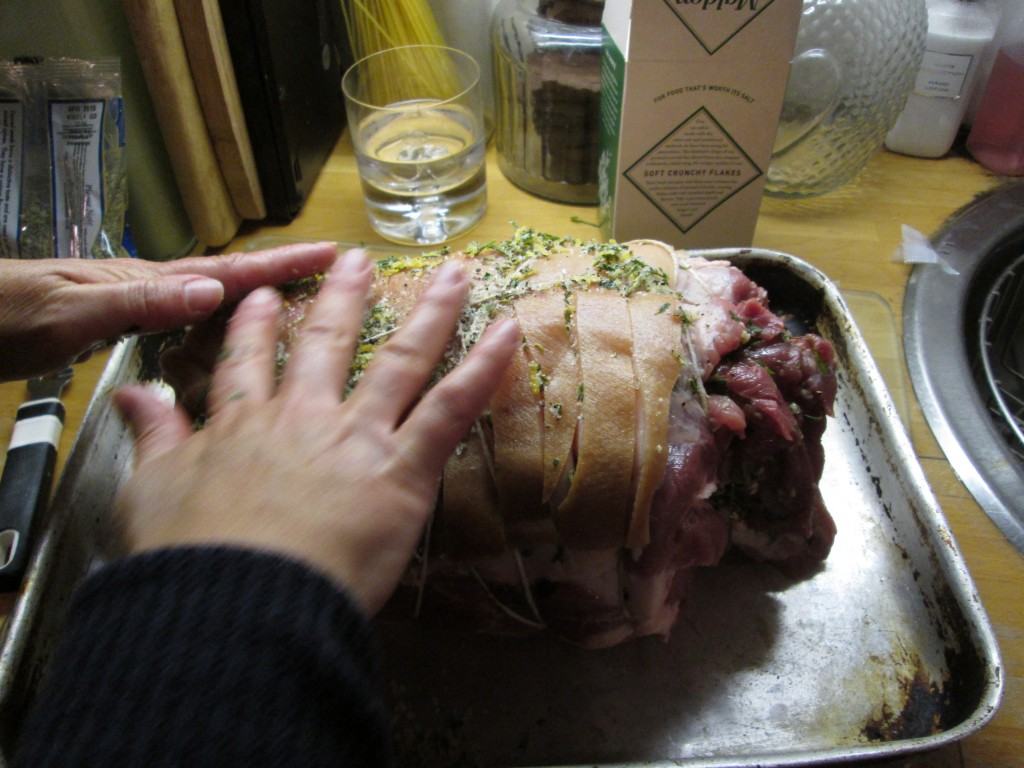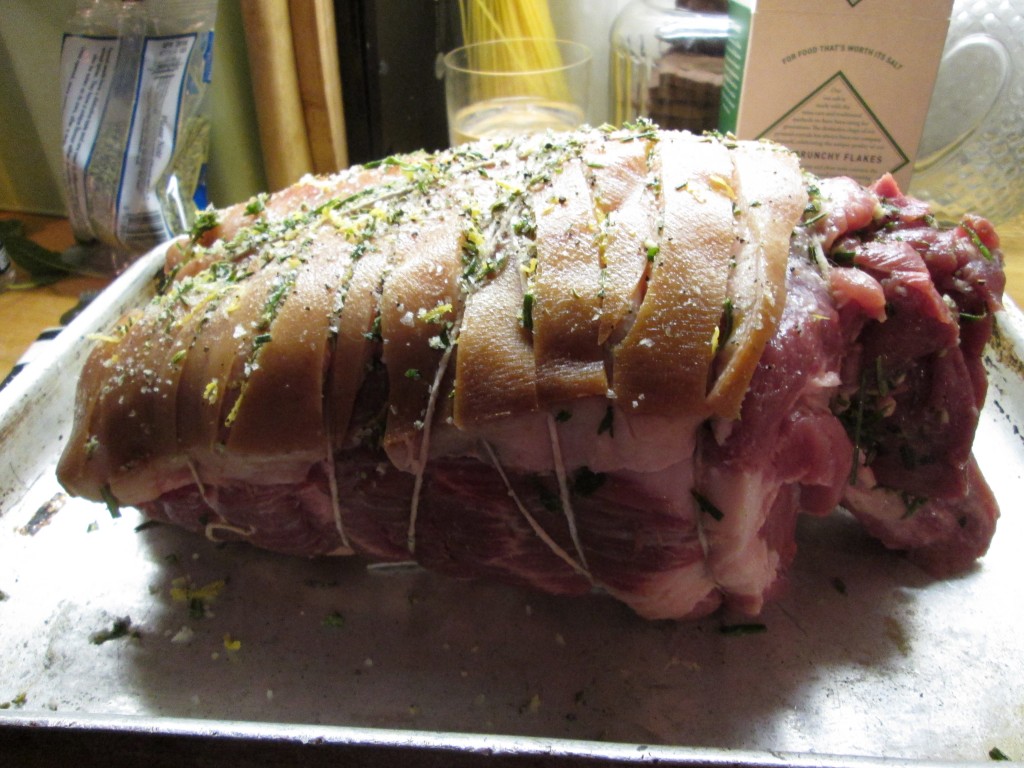 Oh the shame, you can still see that g&t in the background.
The following day, remove the pork from the fridge, place on a rack in your baking tray and sit on top of your stove to come up to room temperature for around half an hour. Calculate how long you will need to cook your pork, dependent on its weight. My piece was 3kg so I was working on an hour per kilo, plus 30mins. In actual fact this was the minimum cooking time, I did cook it for longer, around 4 and a half hours, but only because that suited my menu timings for the evening.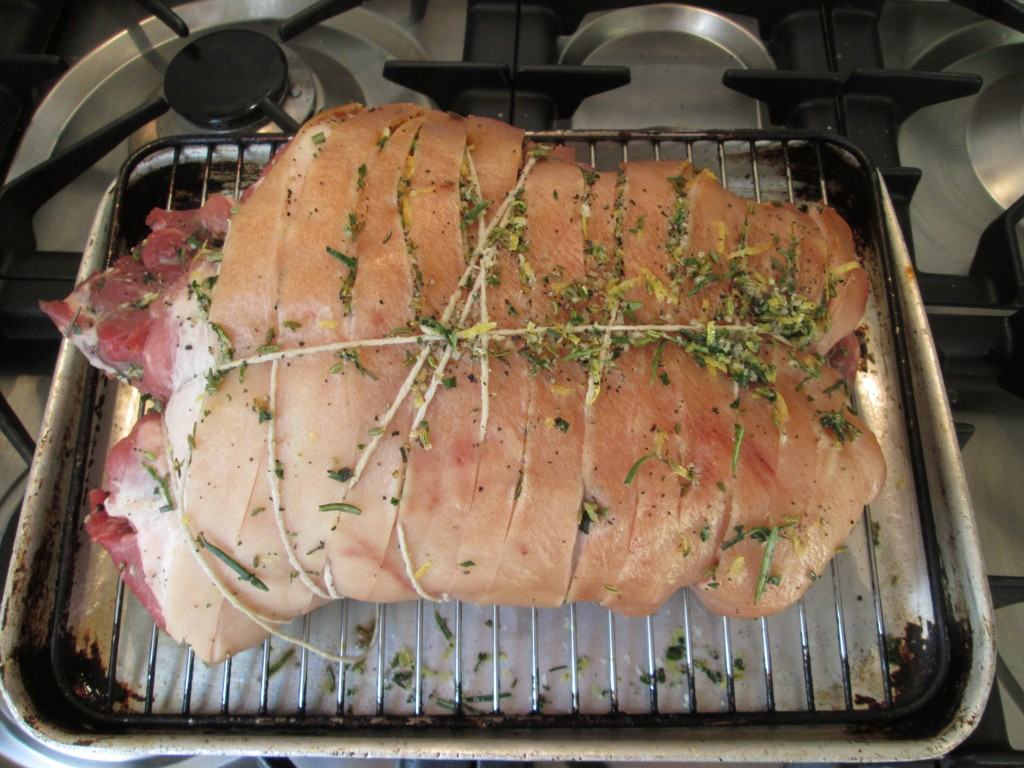 Preheat your oven to 220 degrees (fan oven) and put your pork in the middle of the oven and cook for 40 minutes at this high temp. This will initially crisp up the skin, ensuring delicious crackling to accompany your fragrant pork. After 40 minutes, I turned my oven down to 170 degrees and cooked for a further 3 hours 50 minutes.
Whilst you are cooking your pork, set to making the salsa verde. Toast your fennel seeds in a dry frying pan, taking them off the heat as soon as they start to turn golden and you can smell them. Then, again, using your hand blender or mixer, add the seeds, oil, lemon zest and juice, parsley and seasoning. Blend into a luscious green dressing, check for seasoning, then put in a serving bowl, and refrigerate until needed.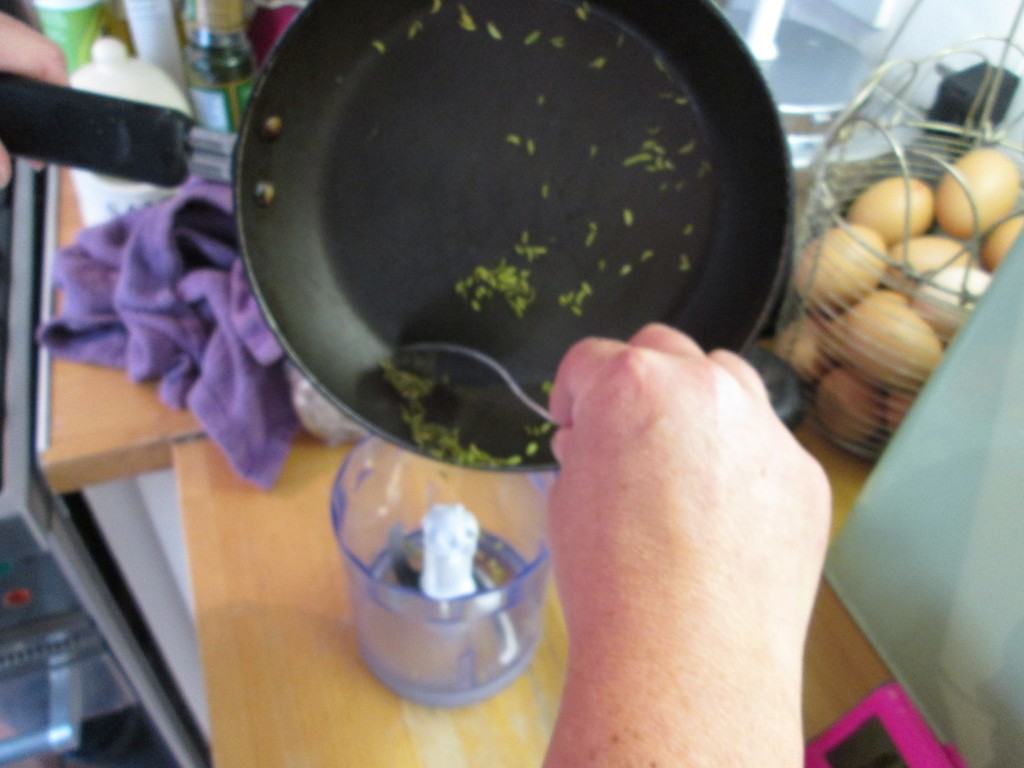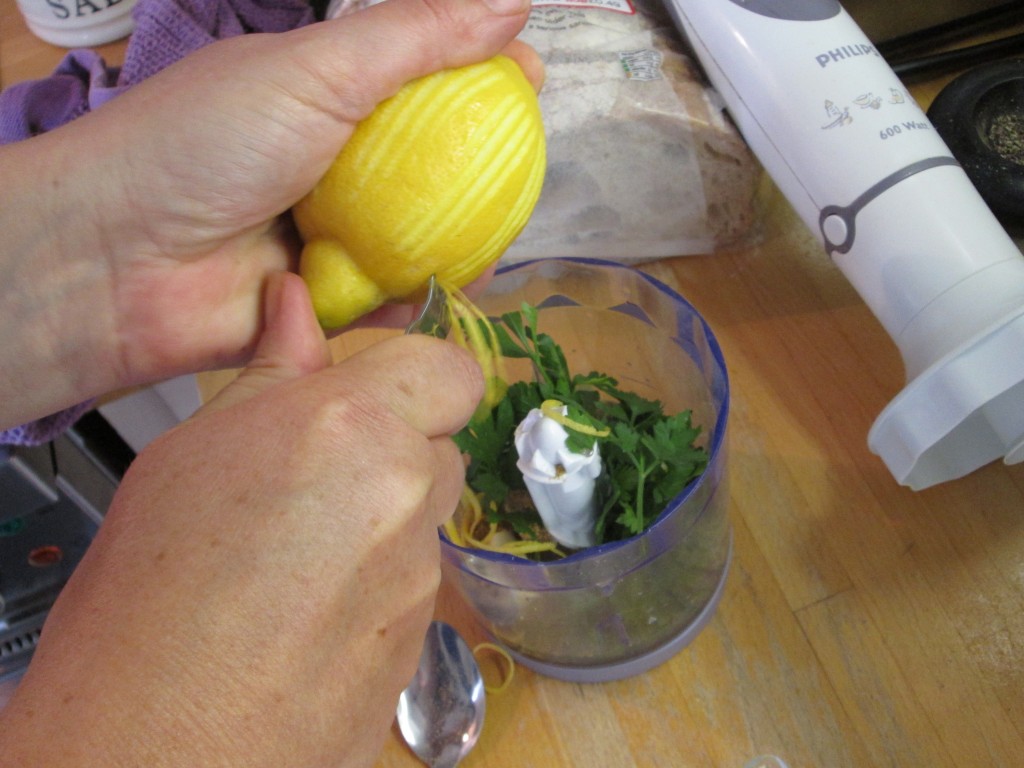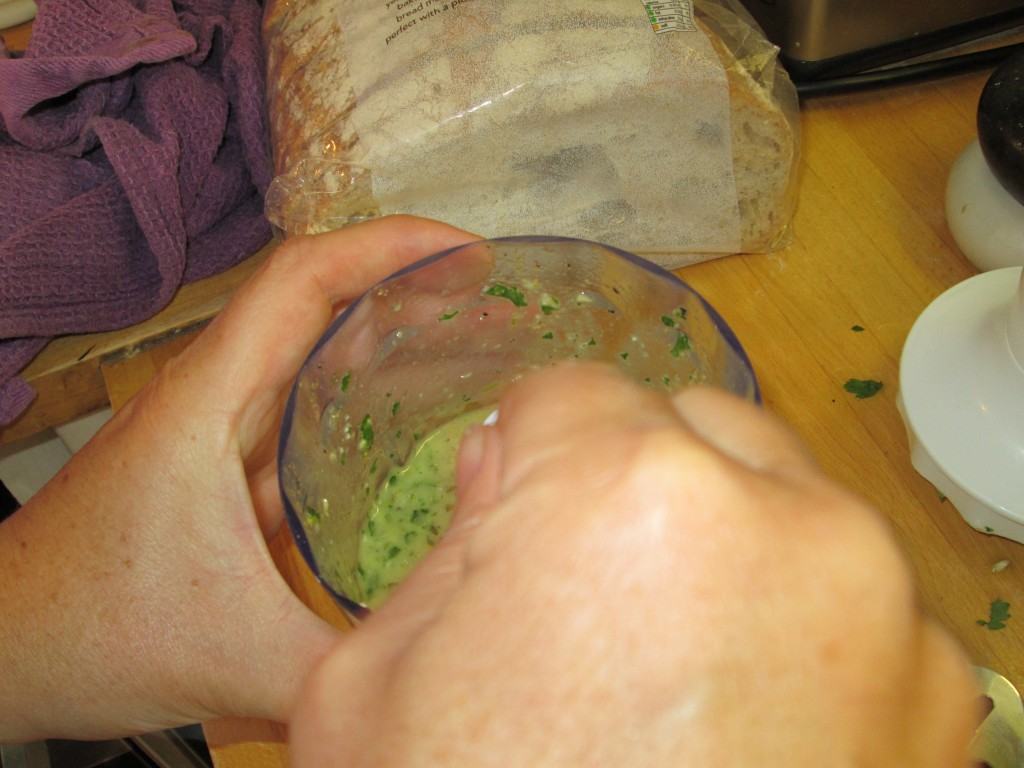 When your cooking time is up, take the wonderful piece of pork from the oven and cover with foil for at least 15 minutes.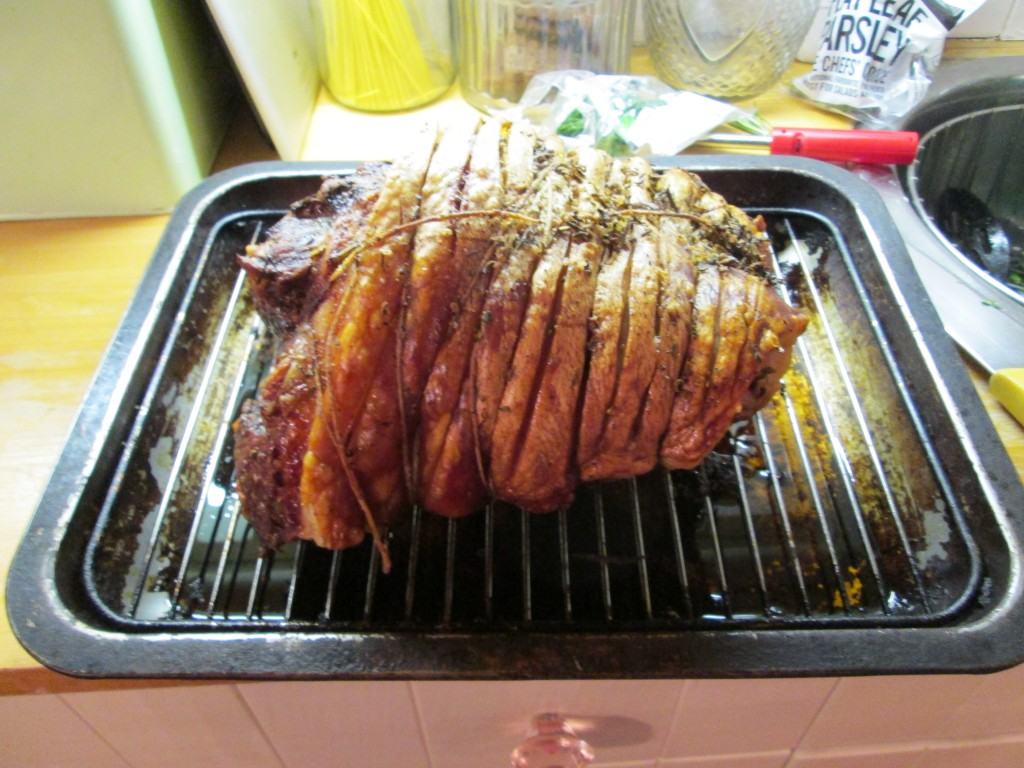 I took this time to put the finishing touches to my vegetables (had more wine). Then my incredible carving skills came into play again. Not really. The delicious porchetta was so perfectly cooked, the meat cut beautifully into thick slices (kind of), showing the green herby flecks. The cracking was crispy, with a fantastic crunch. I put the extras in a bowl on the table and it was wolfed down.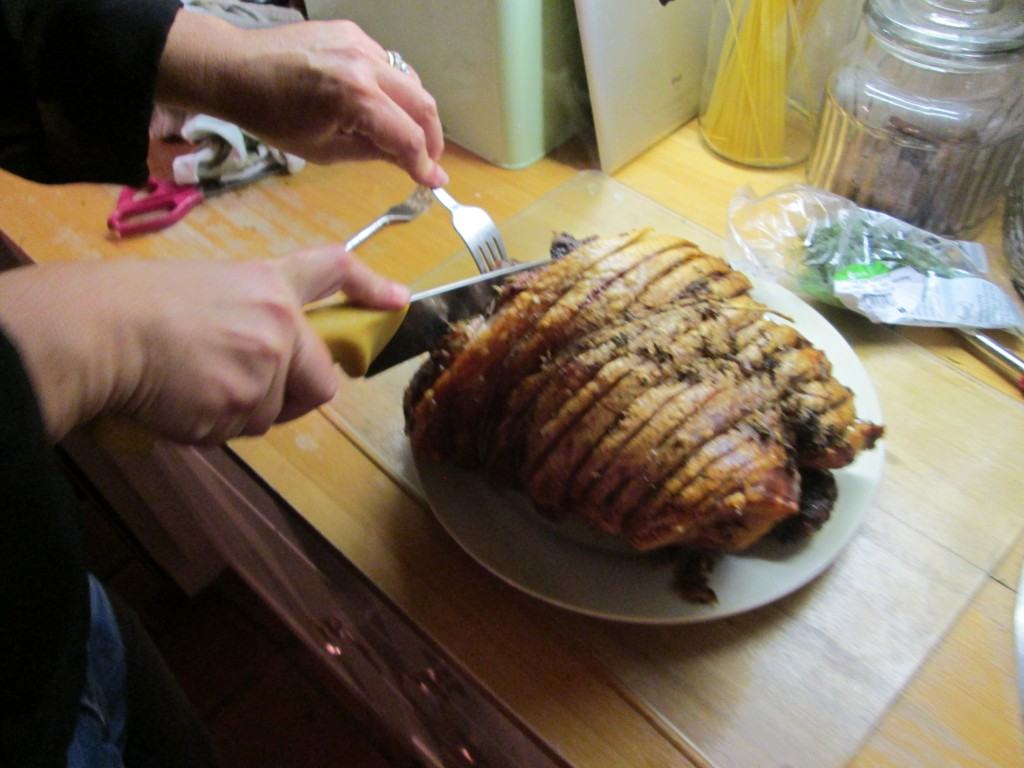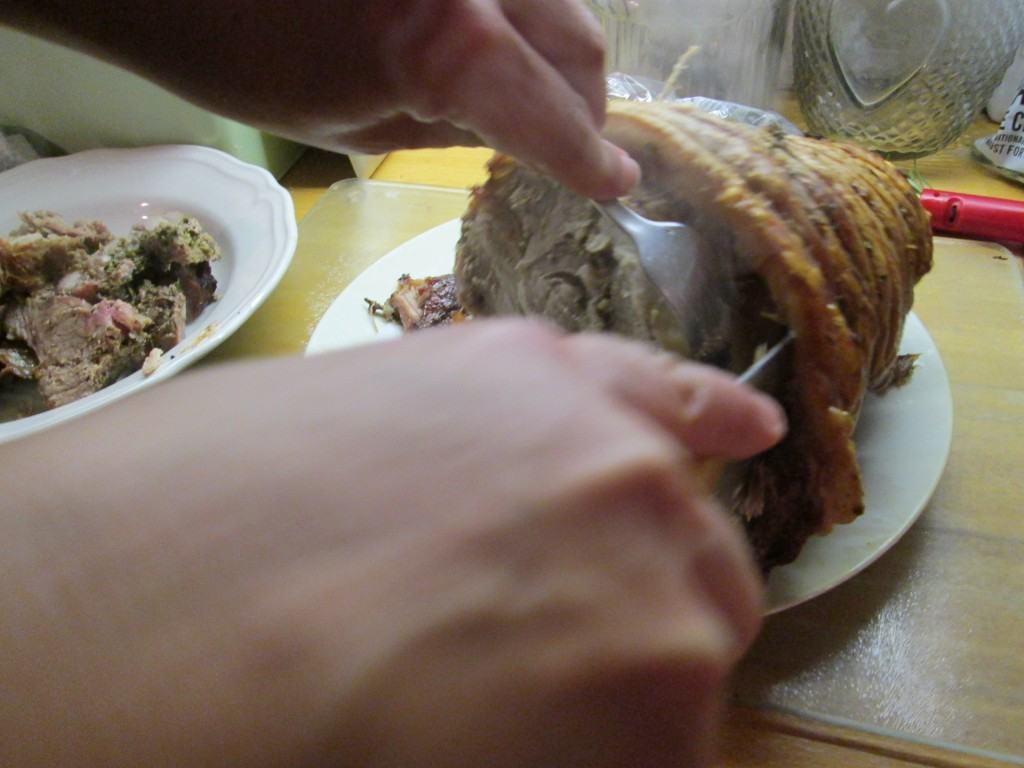 I served the pork with sauteed potatoes, roasted beetroots with samphire and fine beans. The salsa verde added a herby, zesty dressing to the meat.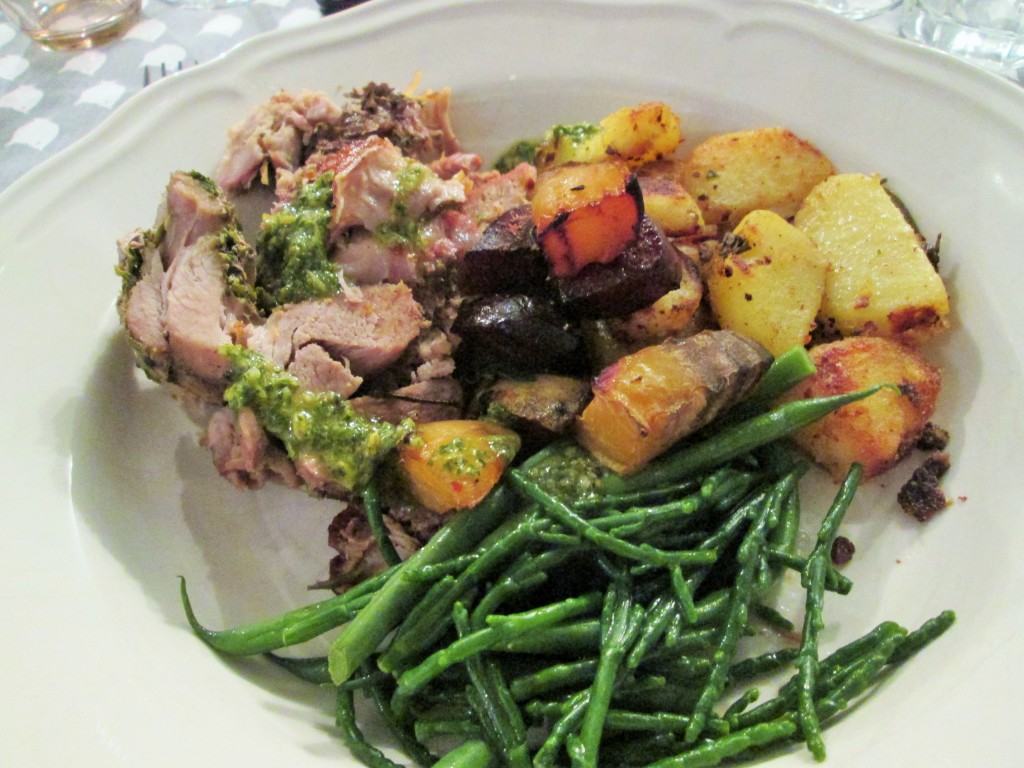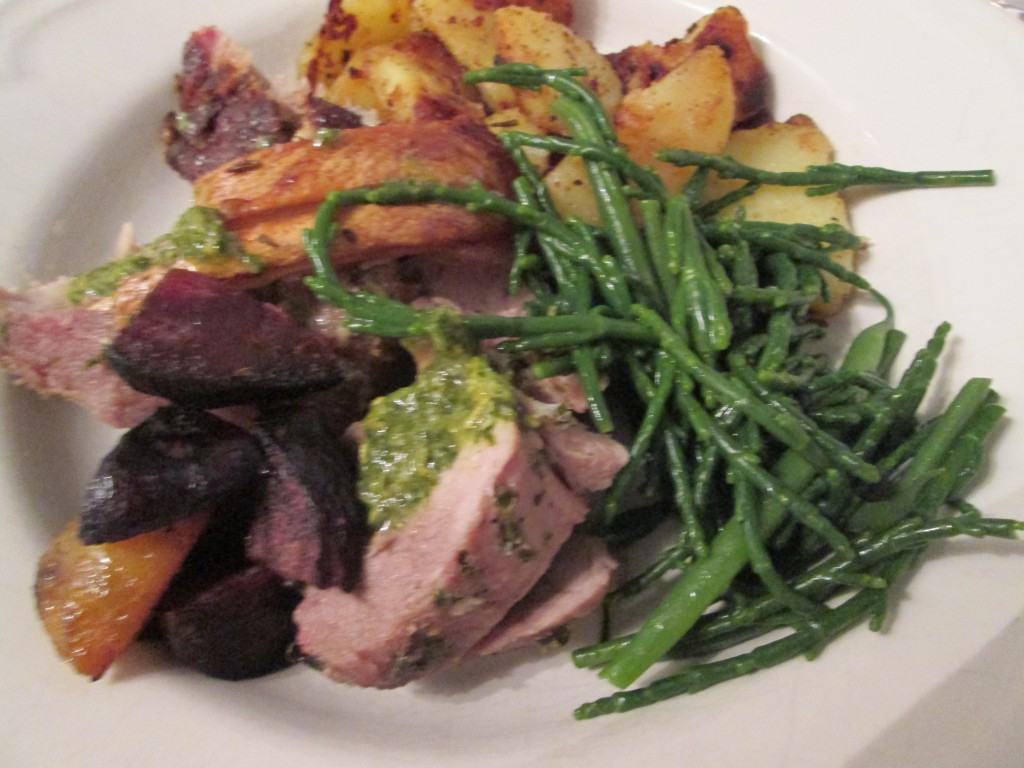 Bit blurry – maybe just the one too many wines. Apologies for that.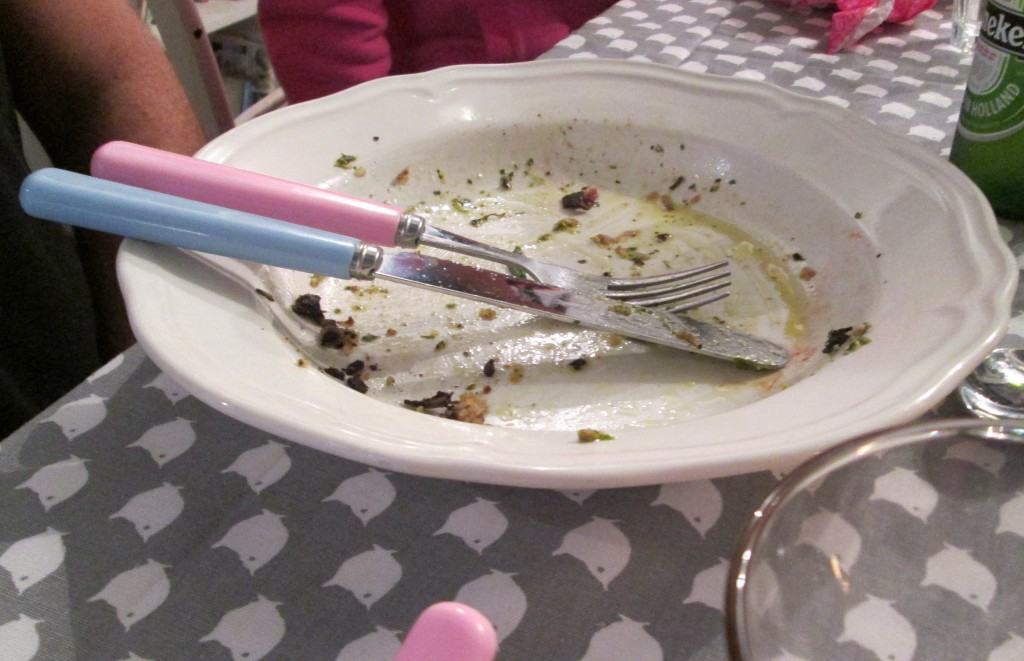 Regardless of poor photography, it was clean plates all round. I was blushing from the guests compliments, or again, that could have been the wine. I usually swerve recipes that have a long list of ingredients and instructions. But this Porchetta is much simpler than it looks and has proved to be a really popular entertaining dish.
A worthy welcome to our home for our new oven, and a thank you to our lovely kind friends.
Lucy x
Porchetta Recipe
Oven to 220 degrees fan assisted then down to 170 degrees
3kg Boned pork shoulder with skin
Herb Rub
2 tbsp parsley
2 tbsp rosemary
1 tbsp sage
2 cloves garlic
1 tsp fennel seeds
generous pinches of salt and pepper
2 tbsp olive oil
Salt Rub
2 tablespoons Malden salt
1 tsp rosemary
1 tsp fennel seed
1 tsp black pepper
zest of a lemon
Salsa Verde
A good handful of parsley
100ml olive oil
1 tsp toasted fennel seed (original recipe called for coriander seeds to but I didn't have any, so do add if you wish)
2 cloves garlic
zest and juice of a lemon
salt & pepper to taste
The night before you are cooking the pork, remove the meat from the fridge and untie its strings, if rolled. Butterfly your pork by running your sharp knife along the meat until you have a long, relatively even piece.
With your hand blender or mixer, combine ingredients for herb rub, blitzing until well blended. Smother your butterflied pork with this mix, then use the same blender to blitz the salt rub ingredients. Rub two teaspoons of this mixture onto your pork, then reserve the rest for the skin.
Re-roll you meat, ensuring the skin stays on top of the joint and not rolled up inside. Tie the meat with kitchen string to the best of your ability and place on a baking tray. Rub the remaining salty, zesty rub into the skin then put this in the fridge, uncovered, overnight.
On the day you are cooking your porchetta, remove the pork from the fridge to come to room temperature for at least half an hour. Pre heat your oven to 220 degrees (fan oven). Place the pork on a rack in your baking tray.
Roast your pork for around 40 minutes at this high temperature to ensure the skin is crispy and you have delicious crackling.
After this time, turn the oven down to 170 degrees, and cook for at least a further three hours (also dependent on the weight of your pork). Whilst the pork is cooking, toast your fennel seeds for the salsa verde. Add these, with all the rest of the salsa ingredients to your hand blender, and blitz to green, herby dressing. Check for seasoning, add accordingly, and put in jug to serve at the table.
When your pork is cooked, remove from the oven and cover with foil to rest for around 15 minutes. Carve into thick slices and serve with salsa verde.