Ragu Fusilli Pasta Recipe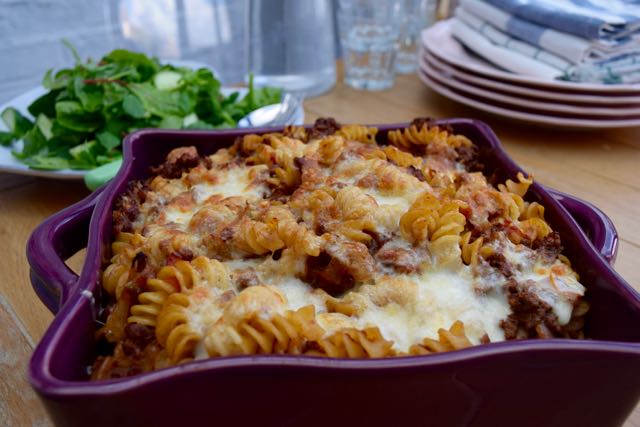 When HelloFresh contacted me and asked if I would like to try one of their food boxes, I nearly said 'No thank you', thinking, what do I need with a box of ingredients to make family suppers? Before I made a decision, however, I nipped over to their website to read up on their products and I am glad I did. HelloFresh are a company who deliver fresh, quality ingredients to your door along with recipes cards detailing how to fashion these into meals. The boxes include pretty much everything you'll need to create original, from scratch meals for as many hungry diners as you have in your brood. I was genuinely impressed with the quality of both the packaging and ingredients and also the recipes they prepare on your behalf. It's like a Lucy Loves ingredients line up photo, but in real life and all measured out nicely for you. So, to show off their lovely offerings I am sharing HelloFresh's Ragu Fusilli Pasta dish with you, and it's bloody lovely.
Using their lovely quality, fresh ingredients, this beef based ragu dish is full of flavour and laced with cheddar and mozzarella cheeses for added stringiness and crispiness. It's a simple dish and on the table in under 30 minutes, making it perfect for a mid week family dish. HelloFresh provide fresh, pre portioned ingredients, right to your door so you can make your own delicious dishes without having to leave the house or rack your brains for new ideas. They are great recipes, original but nothing too alarming for your family. Apart from the salad in this, it was all George friendly, and that's a huge compliment. This Ragu Fusilli Pasta was inhaled by my lot, including Ben who had nipped back for the weekend and couldn't believe his luck at getting to enjoy this before going back to uni to starve again.
Hellofresh is a great idea for those people who lack mealtime inspiration and can't be arsed to go to the supermarket 3 or 4 times a week. If you click on the links included in this post, they have kindly offered the Lucy Loves readers 50% off your first two deliveries. I hope you like my interpretation of the Ragu Fusilli Pasta as much as my hungry hoards did. And a huge thanks to HelloFresh, it's a big Hello to you, how nice to meet you.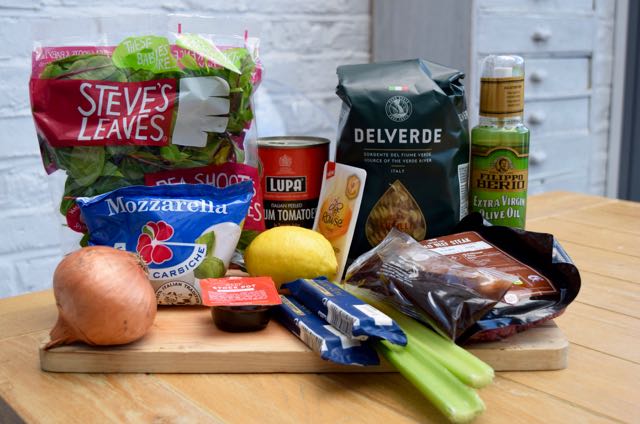 HelloFresh kindly include everything in their food boxes, apart from oil and salt and pepper which, of course, most people have to hand. It's all portioned beautifully and packed ethically using an impressively small amount of packaging.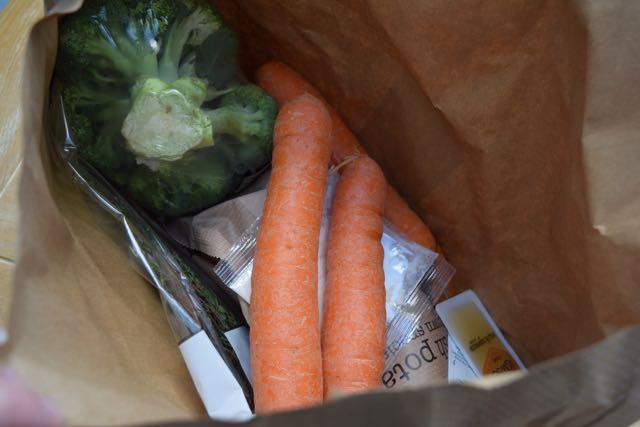 Make a start on this simple supper by taking your beef mince and browning it in a large frying pan with a good slug of olive oil. Break up the mince so it cooks evenly.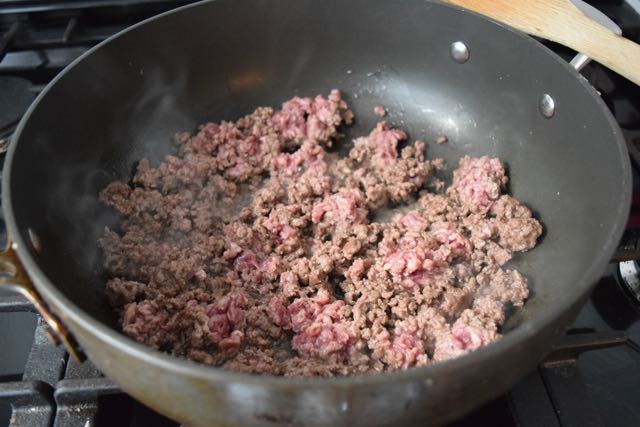 Finely chop the onion and celery, as finely as you can be bothered, and add these to the browned mince and cook for around 5 minutes, or until the veggies are starting to soften.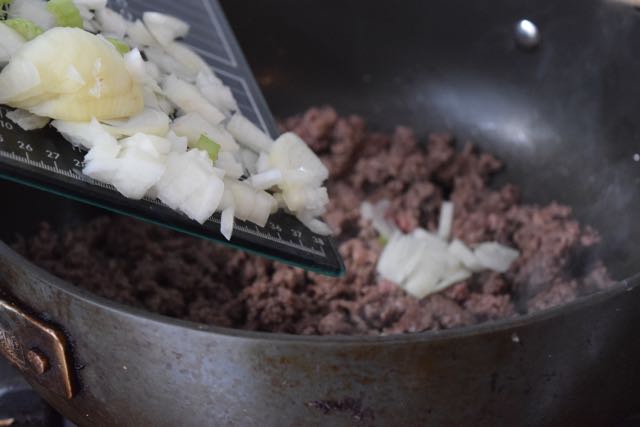 Now add the tinned tomatoes and I did like the fact HelloFresh included whole plum tomatoes, these have tons more flavour and less water than the chopped variety. Just mash them up in the pan whilst they are cooking down. Along with the toms add the beef stock pot or Oxo cubes, a big pinch of sugar to negate any acidity in the tomatoes and the Worcester sauce. Give it all a good stir and then season with plenty of salt and pepper.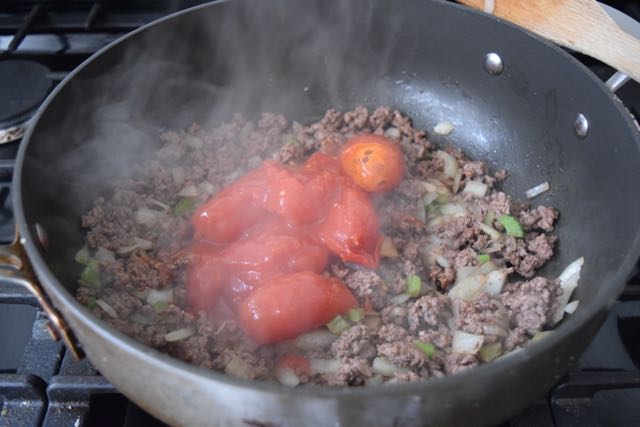 Leave the ragu to simmer away for ten minutes while you cook the fusilli in some boiling salted water.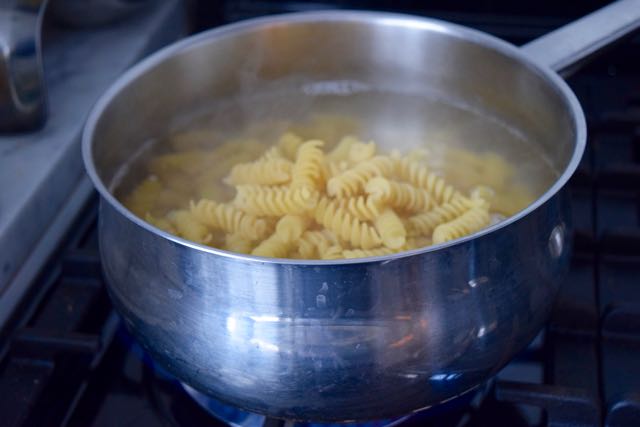 Once cooked, drain this and add to the now cooked ragu and give it all another good toss.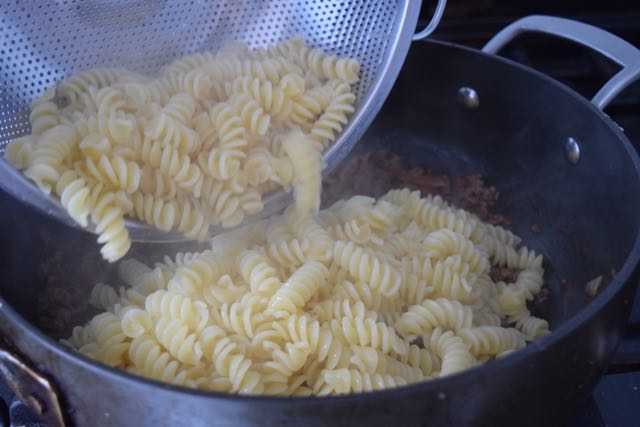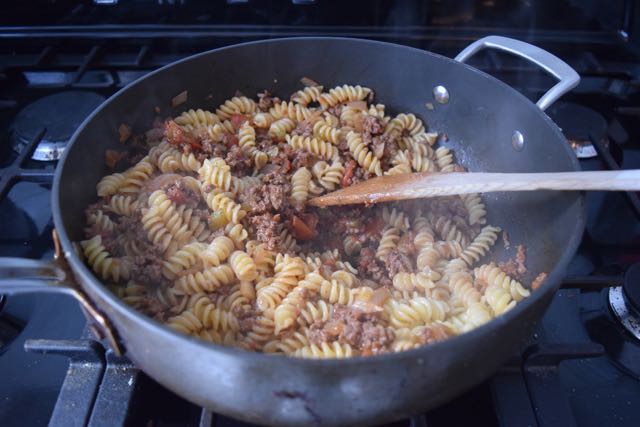 Now to finish this wholesome dish off, stir through one of the balls of mozzarella, torn, and half the grated Cheddar.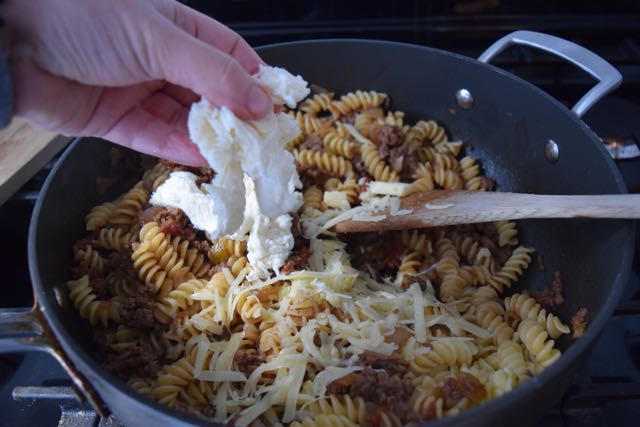 Now pre heat your grill to medium high then tip the tasty contents of your pan into an large oven proof dish, oiled, then cover the top with the sliced ball of mozzarella and the rest of the cheddar.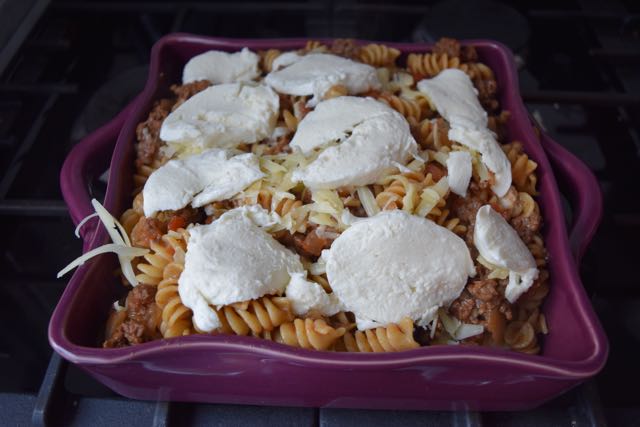 Pop this under the pre heated grill for 5 minutes or so until the cheese is bubbling and turning crisp and golden brown. While this is finishing off, prepare the dressing and salad. Whisk together the lemon juice, honey and olive oil and season accordingly. Use this to dress some lovely leaves and half a chopped cucumber.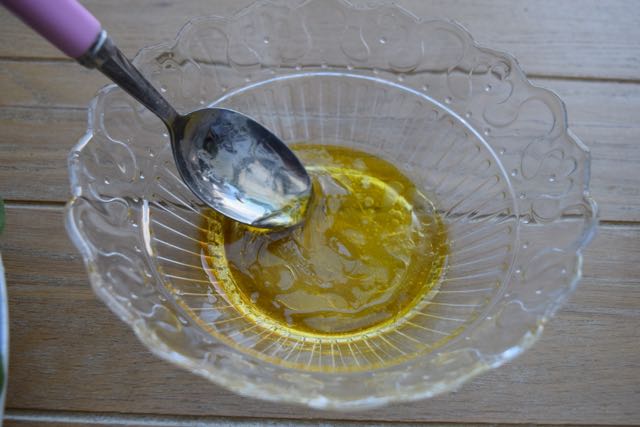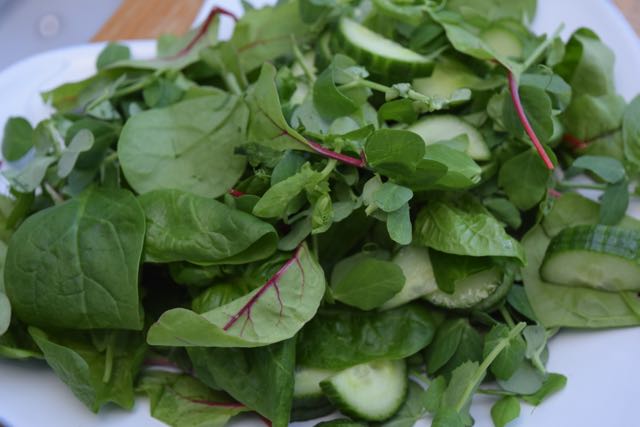 Once your Ragu Fusilli Pasta is ready, serve piping hot alongside your honey and lemon dressed leaves. Make sure you get a plateful in before your family devour the rest.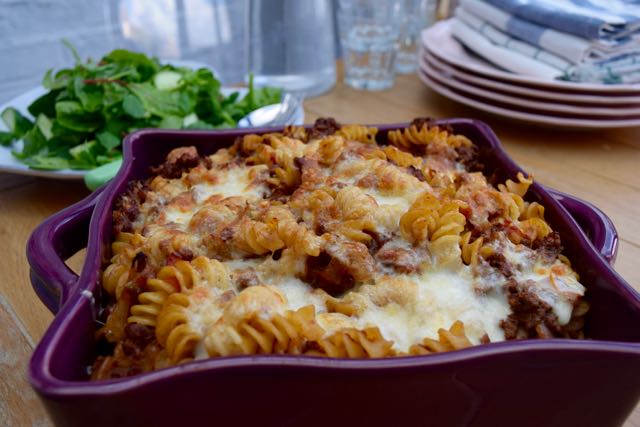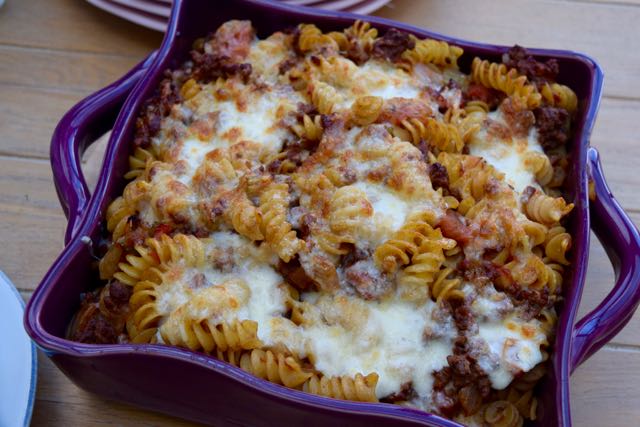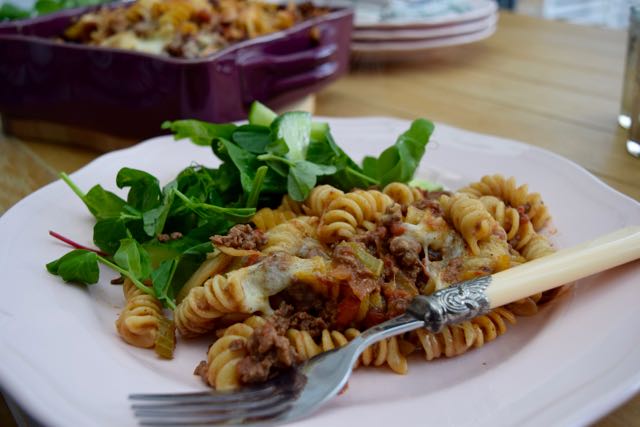 Delivered dishes you cook yourself from scratch are an amazing idea. I didn't think I'd love them, but, do you know what, I do. And this is after only preparing one of my suppers, I have two more to go, so it may be Lucy Loves and HelloFresh BFF's by the end of this week.
Lucy x
HelloFresh kindly sent me their Family Box to sample, however all ramblings and opinions on their products are, as always, my own. As an added bonus if you click on the links included in this post, HelloFresh have kindly offered the Lucy Loves readers 50% off your first two deliveries.
Ragu Fusilli Pasta Recipe
Serves 4
You will need a large frying pan and a good sized baking dish
2 tablespoons oil
500g beef mince
1 onion, chopped
2 sticks celery, chopped
2 x 400g tins plum tomatoes
a big pinch sugar
1 beef stock pot, or 2 Oxo cubes
3 tablespoons Worcester sauce
salt and pepper
400g pasta
30g cheddar, grated
2 balls mozzarella, one torn, one sliced
Honey Dressed Salad
1 small bag salad leaves
half cucumber, finely chopped
juice half a lemon
2 tablespoons honey
2 tablespoons olive oil
Take your large frying pan and heat a couple of tablespoons of oil and then add the mince. Cook over a high heat and brown the meat, breaking it up as you go to ensure it cooks evenly. Once browned, turn down the heat a touch and add the chopped onion and celery and cook for around 5 minutes to soften and add a little colour.
Next add the tinned toms, stock pot or cube and worcester sauce. Give it all a good stir, again breaking up the tomatoes as you go. Simmer for 10 minutes until the sauce is thick and tasty. Season with salt and pepper, to taste.
For the salad dressing mix together the lemon juice, olive oil and honey, season then pop to one side.
In the meantime, cook the pasta in boiling salted water for around 9 minutes or until al dente. Strain and leave to drain. Add the pasta to the now cooked ragu and stir well. Add half the grated cheese and the torn mozzarella ball to the pan and stir again. Tip the pasta into your oiled baking dish and top with the rest of the cheddar and the slices of mozzarella.
Pre heat the grill to high and put the baking dish under the grill for around 5 minutes until bubbling and golden. Serve piping hot with the honey dressed salad leaves.
SaveSave
SaveSave
SaveSave
SaveSave
SaveSave
SaveSave
SaveSave
SaveSave