Red Velvet Cake Recipe
According to marketing types and card manufacturers the most romantic day of the year is on it's way. If that's the case then romance is dead in our house. I do buy Clyde a card but only because he buys me one. We have never bothered with overpriced red roses or naff set menus for two, instead, I like to bake something heart shaped or just delicious for the men in my life *that's Clyde and the boys, I don't have lots of boyfriends*. It's much more romantic and loving to bake something from the heart rather than to throw money at the marketing companies.  So, with love in my heart and cream cheese icing in my hair, this week, why not make your love or yourself, a Red Velvet Cake.
Lucy Loves has bought you Pink Velvet Cup Cakes before, but never the rich and smooth taste of a Red Velvet Cake. The main selling point of this baked treat is not just it's colour, the actual cake is one of my favourites. With a slight hint of chocolate, this sponge is dense with none of the over sugary sweetness of some other cakes. Slathered in cream cheese icing, there can be no finer way of showing someone you love them. I get asked to make Red Velvet Cake a lot, so have done quite a bit of research *eaten so much bloody cake*. This version is my favourite, it comes via the ever popular Joy of Baking, with huge thanks and admiration.
Romance is a tiny bit dead in our house as real life such as washing, working and muddy sports kit rather gets in the way. We have love in our hearts at all times though, it just stays hidden underneath the day to day drudgery. So even though it's as tacky as hell, this Valentines Day may be the perfect time to bake a little something for the one/ones you love.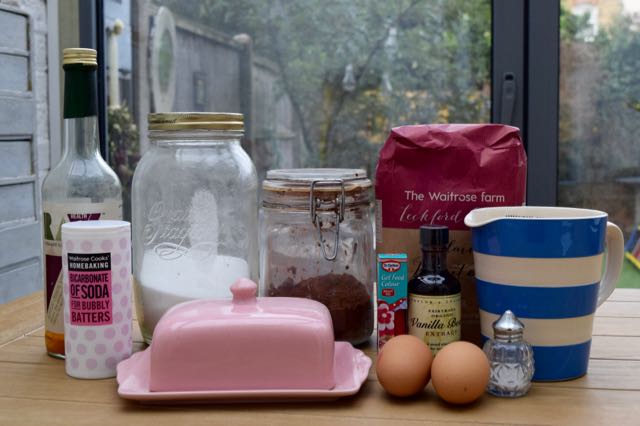 Here's the super romantic line up for the Red Velvet Cake. Sans the icing ingredients, which you can see here on my just as tasty Carrot Cake recipe. Both these cakes are Clyde's favourites, so I think it may just be the icing he loves.
Make a start, in standard fashion, by pre heating your oven and buttering two 20cm sandwich cake pans.  If you don't have buttermilk, at this point mix your milk with vinegar, stir and leave to stand. Weigh out the plain flour, salt and cocoa and then put to one side.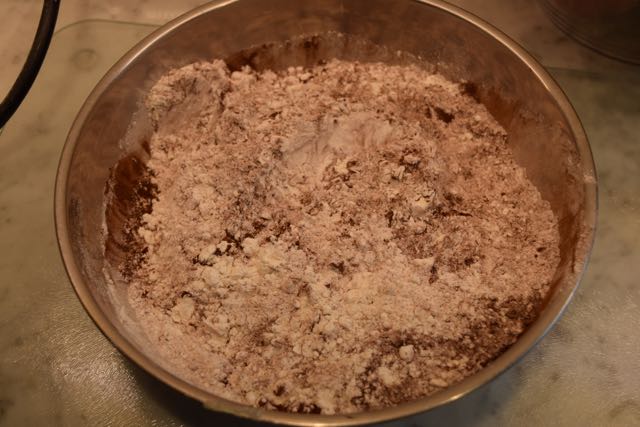 Next, beat the butter or Stork in your stand mixer or in a large bowl with a hand mixer, until smooth. Add the caster sugar and beat again until lighter in colour and texture.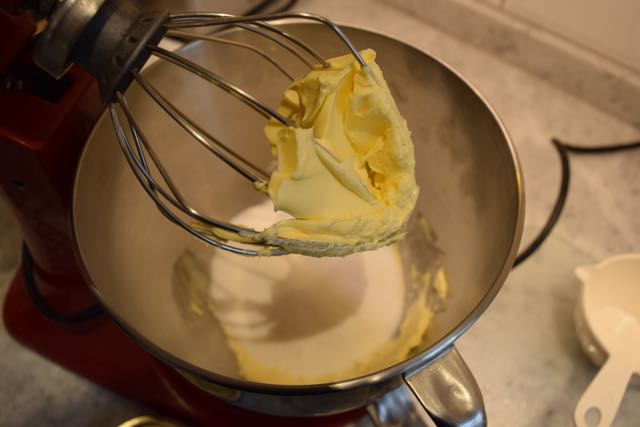 Now, add the vanilla and both eggs, mixing until smooth, scraping the sides of your mixer or bowl down as you go.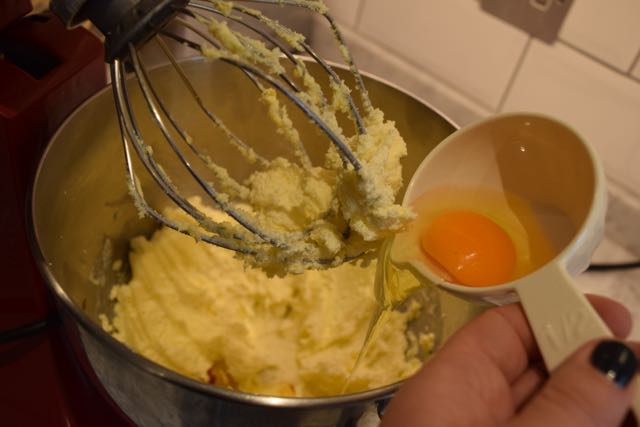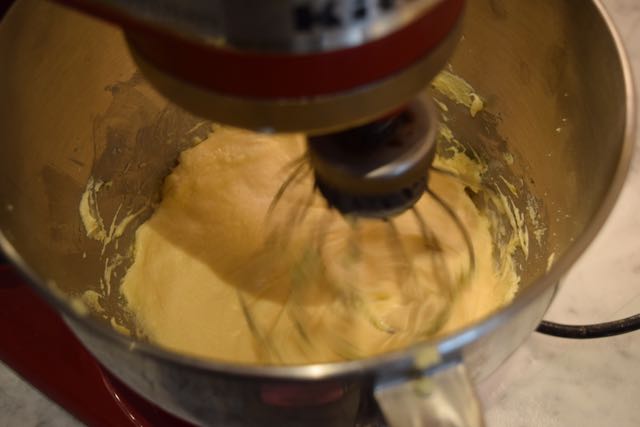 Now, it's time for the red element. This is quite a tricky one to measure and it all depends on which colouring you use. I used a whole 10g tube of Dr Oetkers gel colouring, but still felt is wasn't red enough so added some red food colouring paste I found buried in a box. I think on this occasion, more is more, so start with the 10g then use more if you think it's not quite red enough. However much you use, stir it into the buttermilk.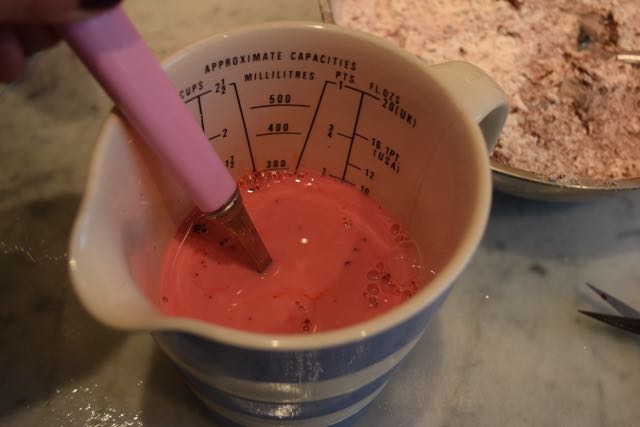 Now, alternating between the flour and the buttermilk, beat in a third of each these ingredients until you have used all the flour and all the buttermilk.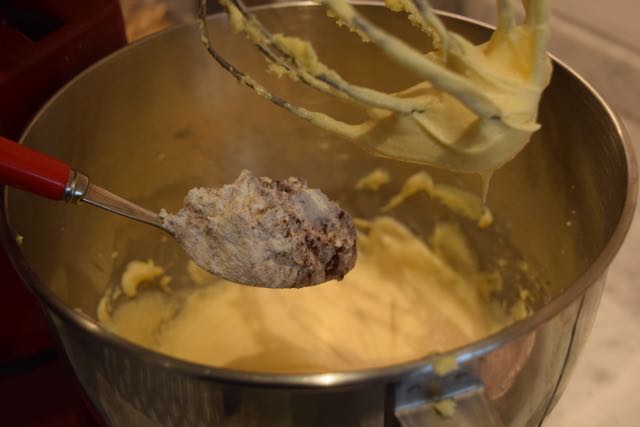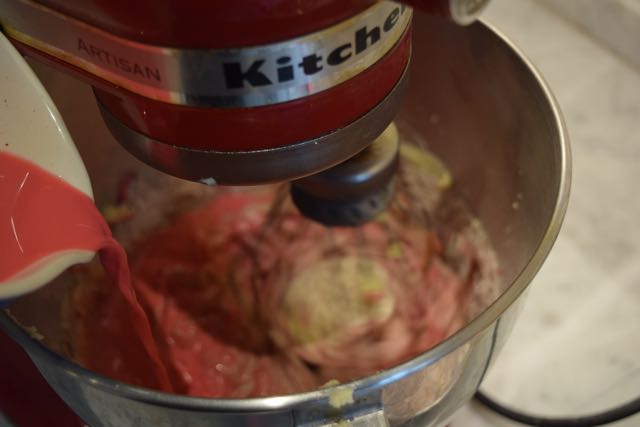 Scrape down the bowl between each addition and beat until smooth and well mixed.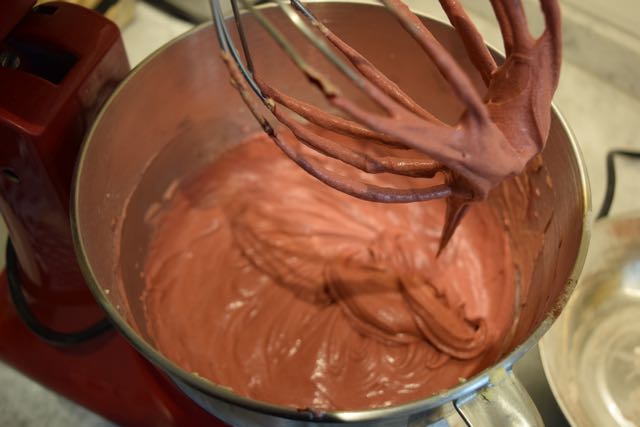 In a final flourish, mix 1 teaspoon or bicarb with 1 teaspoon of vinegar and whilst it's fizzing, beat this into the red mixture.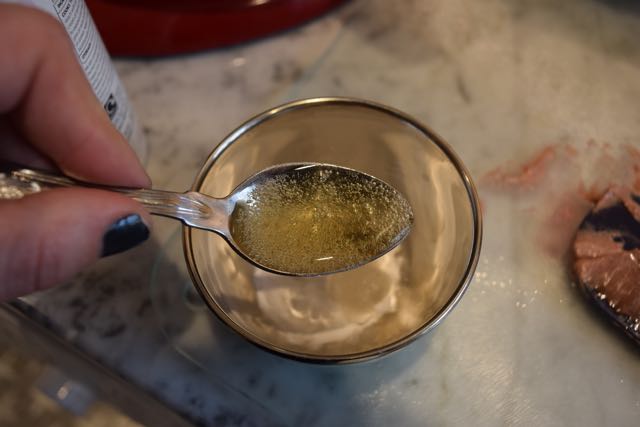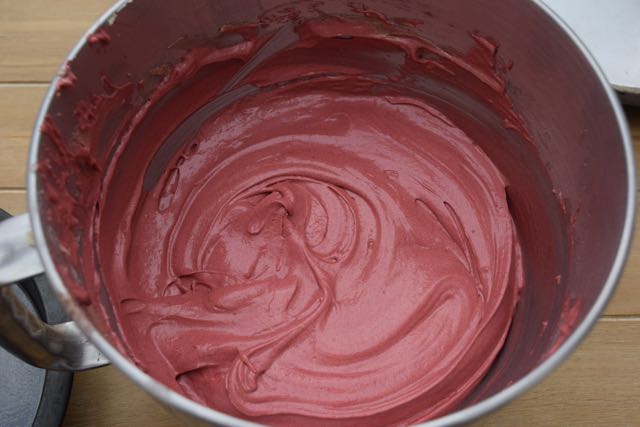 Scrape this Red Velvet Cake into the buttered tins and bake for around 25 to 30 minutes or until a skewer comes out clean when poked in the middle.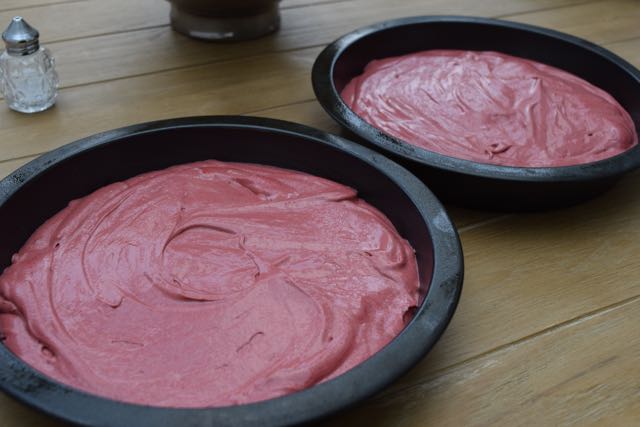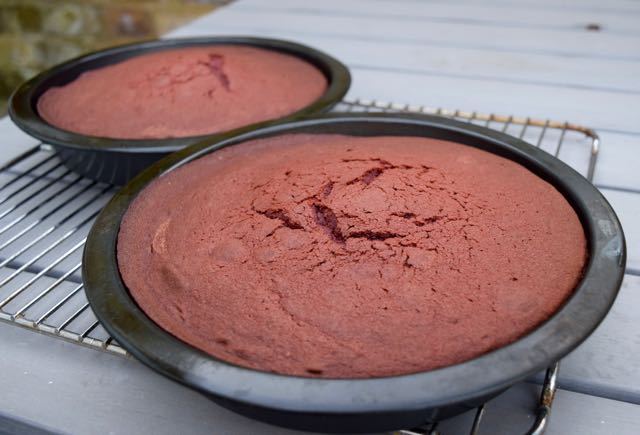 Leave these absolute beauties to cool while you whip up the cream cheese icing.
Simply beat the butter and cream cheese together until smooth. I used my Magimix here as it works wonders at getting rid of any rogue lumps. Add the icing sugar and mix until smooth.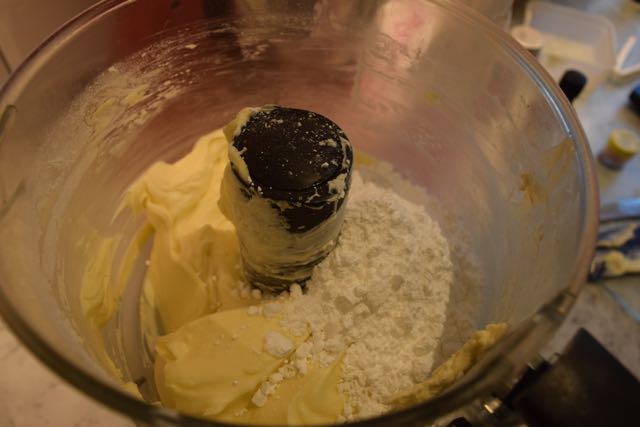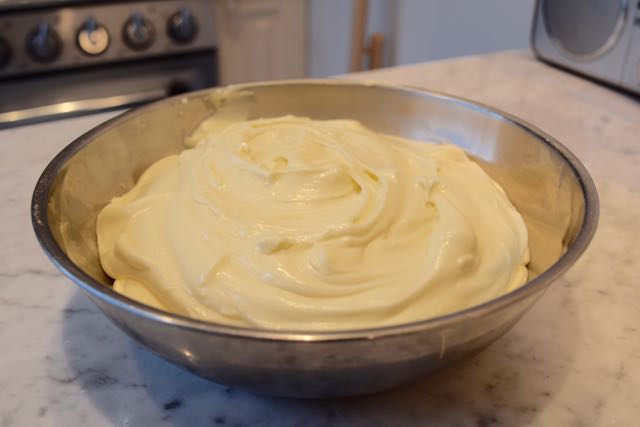 Sod the cake, just give me a spoon and this is dinner. Or place this in the fridge to firm up a little or until needed.
When your cake is cooled, remove from the tins and place on your serving plate. Sandwich the two sponges together with around a third of the icing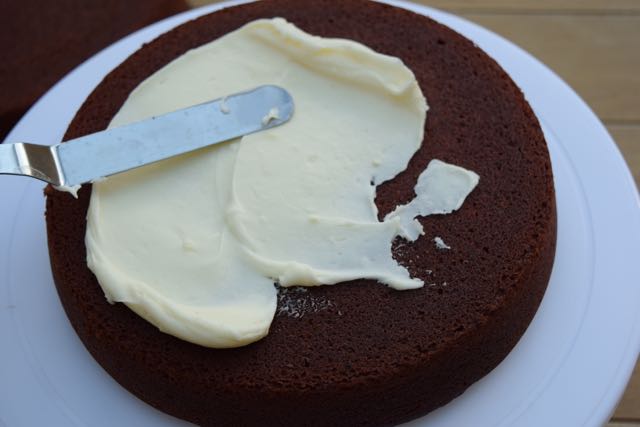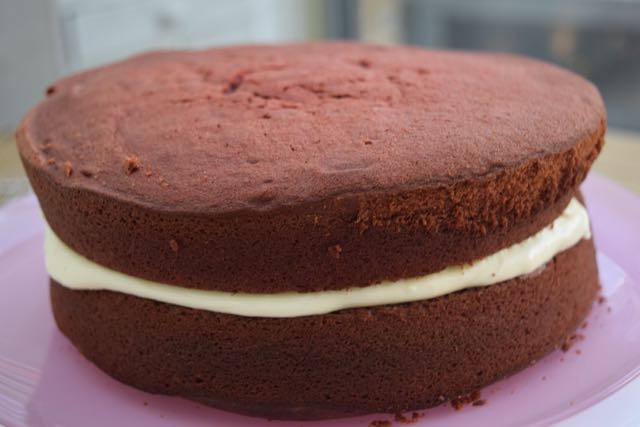 Brush away any loose crumbs then cover the whole cake in a light layer of your cream cheese icing. Leave your cake to set slightly in the fridge for around 15 minutes. I just left mine in the garden as it was made on a bloody freezing cold day.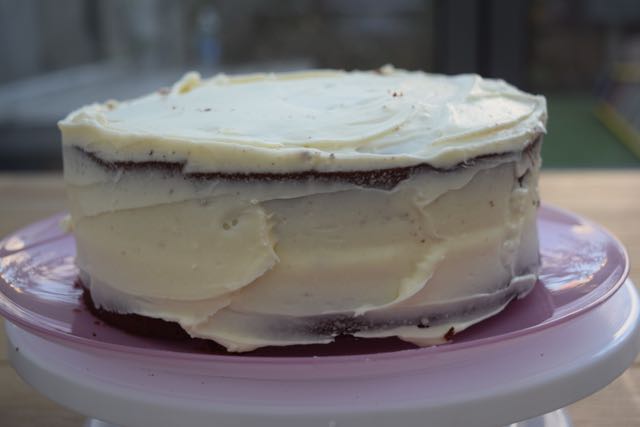 When the first layer has set slightly, add a final layer of icing with a palette knife. Fashion it into as smooth a layer of icing as you can. Mine was mediocre, my finishing style, to quote baking Queen Mary Berry, is Informal.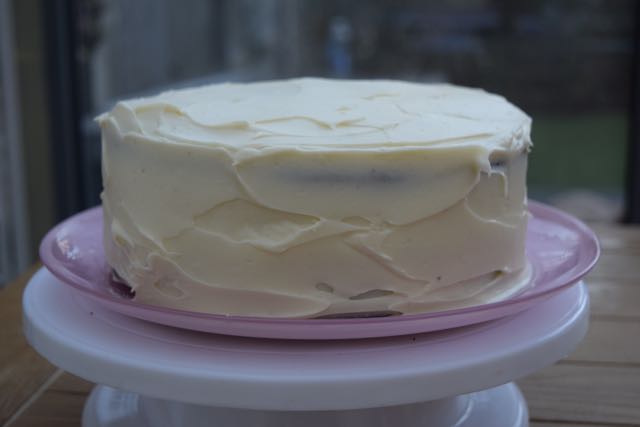 Decorate in a way which will woo your loved one/s. I slathered mine in sugared hearts and pink glitter in slightly girly style. Serve this beautiful Red Velvet Cake in large slabs or delicate slivers, the choice is yours.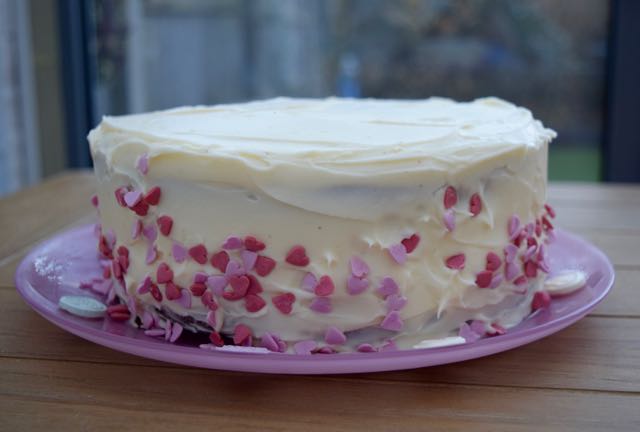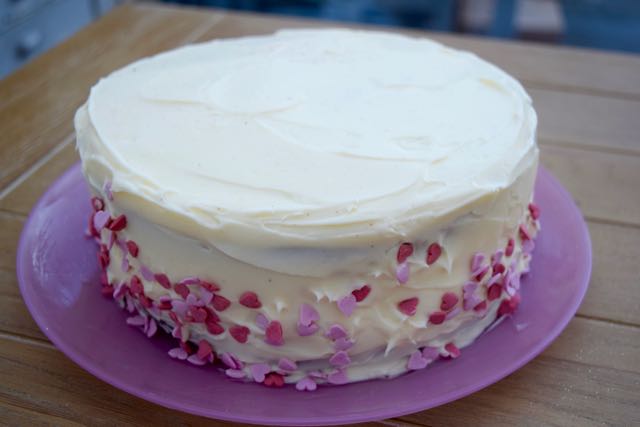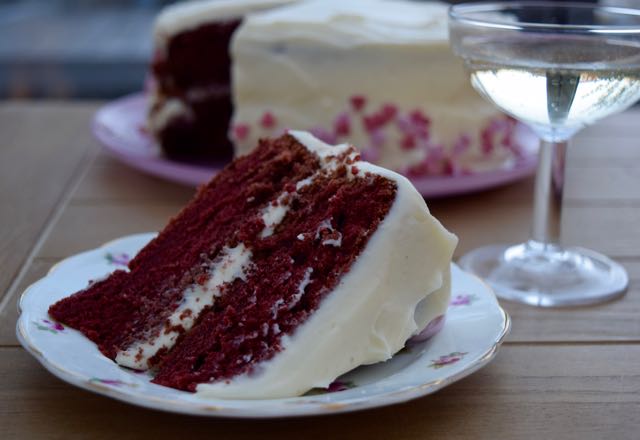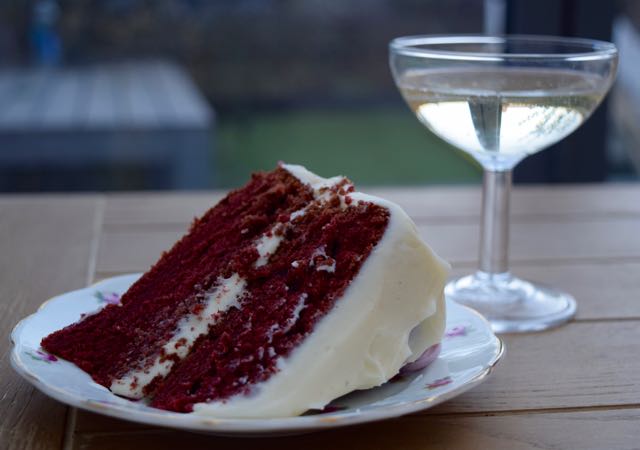 If you are feeling less than romantic this Valentines Day, then sod everyone else and just make yourself this wonderful Red Velvet Cake. It is red, it is cake and I have to say, even though I made this myself and it's not modest to mention, it is so delicious and velvety.
Lucy x
Red Velvet Cake Recipe
Makes a large 20cm round cake, serving 1 to 12 people
You will need a stand or hand mixer
320g plain flour
1/2 teaspoon salt
2 tablespoons cocoa powder
115g soft butter or Stork
300g caster sugar
2 eggs
1 teaspoon vanilla extract
240ml butter milk, or 230ml milk with a tablespoon of vinegar stirred through and left for 10 minutes
Red food colouring, I used 10g liquid food colouring and a blog of red colour paste, Progel red food colouring is fab for this
1 teaspoon vinegar
1 teaspoon bicarbonate of soda
Cream Cheese Icing
190g soft butter
300g cream cheese
2 teaspoons vanilla extract
650g icing sugar
Sprinkles or anything you like to decorate
Pre heat your oven to 160 degrees fan assisted and butter or oil 2 x 20cm round cake tins.
In a bowl mix together the flour, salt and cocoa and put to one side. If you don't have butter milk, stir your tablespoon of vinegar into the milk and leave to stand for 10 minutes.
In your stand mixer beat the butter or Stork until soft. Add the caster sugar and beat until lighter in colour and texture. Add the vanilla extract and eggs, one at a time, scraping down the sides between additions.
Add your red food colouring to the buttermilk and stir well. Next, alternately add a third of the cocoa and flour mixture, a third of the buttermilk until you have used all mixtures. Beat until smooth.
Finally, in an egg cup or small pot, measure in the teaspoon of bicarbonate of soda and the vinegar, stir, and add, fizzing, to the cake mixture. Beat again then pour into your buttered baking tins.
Place in the pre heated oven for 25 to 30 minutes, or until a skewer comes out clean when poked in the middle of the sponges. Leave to cool in the tins.
For the icing, place the soft butter, cream cheese and vanilla in your mixer and beat. I used my food processor here as it gets rid of any lumps. Mix in the icing sugar until you have a smooth, creamy icing.  Refrigerate until needed so it firms up slightly.
When the cake is cool, remove from the tins and place on a plate. Fill the middle of the cake with a third of the icing, brush away any stray crumbs, then place a thin coating on the top and sides of the cake. Place the cake in the fridge for around 15 minutes to set, then coat with the rest of the icing in an even-ish layer.
Adorn with sprinkles, hearts, glitter or chocolate shavings as you wish.
The cake will keep refrigerated for at least 3 to 4 days.
SaveSave