Red Wine Hot Chocolate Recipe
It's so nearly December now which means I feel I can legitimately abandon all diet and healthy eating programmes until 2nd January 2018. No more 5:2, carbs-a-plenty and more booze than you can shake a stick at. The next four weeks is definitely all about the eating and drinking, the entertaining, the socialising and seeing how much mulled wine you can drink in one night. I had seen talk of this Red Wine Hot Chocolate combination all over Pinterest but frankly, winced at the thought of it and couldn't imagine it would be remotely tasty. Let me convince you otherwise.
I photographed this post quite early on a Sunday morning. If I'm honest, I still didn't feel brilliant after a rather large dinner party on the Friday night, so Red Wine Hot Chocolate was probably bottom of the list of things I fancied drinking. However, after my first timid sip, I had a bloody great big slug and it was bloody delicious. Good manners stopped me finishing it off before 11am in the morning, however, I did reheat it and saw it off once the sun was well over the yard arm. This does seem like a random combo however, it just seems to work. I can see this being the perfect warming treat after you have been standing on the touch line or by the river watching your offspring take part in some sort of water based sporting activity. Or serve this in tiny shot glasses as a sweet treat post Sunday brunch. My mug was quite a size, you don't need litres of this, an espresso cup's worth would be just perfect for this rich concoction.
Often, strange sounding recipes found on the internet are all style over substance, but I have to say, this Red Wine Hot Chocolate has everything going for it. Clyde thought it wasn't sweet enough, so if you prefer things sweeter, use half milk and half dark chocolate for a lighter flavour. I loved it, but then it had red wine and chocolate in it, what's not to like?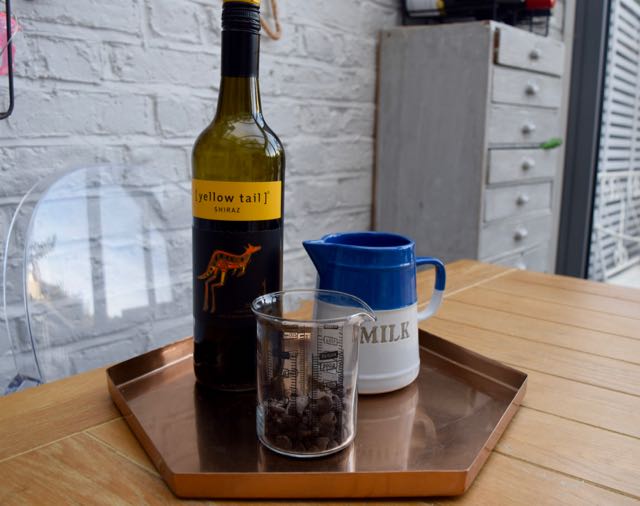 Who would have thought these ingredients would work together. Not me when I first saw them, but I was oh so pleasantly surprised.
Make a start on this winter warmer by adding the milk of your choice and the chocolate to a small saucepan. Bring to the simmer over a low heat. You would also microwave this in a jug too, but do keep whisking in between 30 second bursts.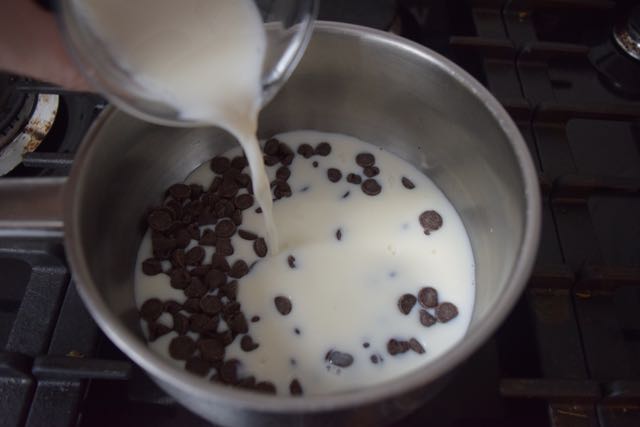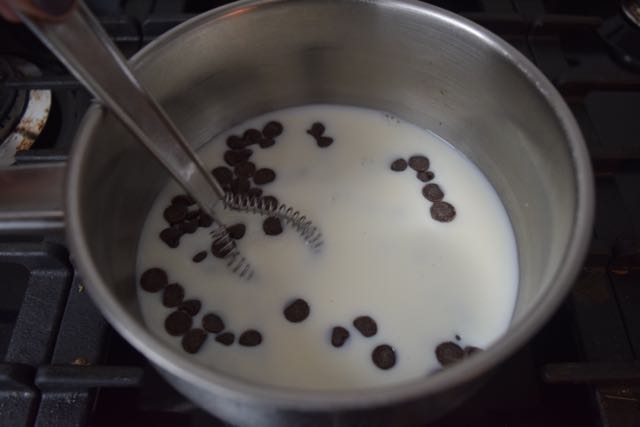 Whisk until smooth and just simmering.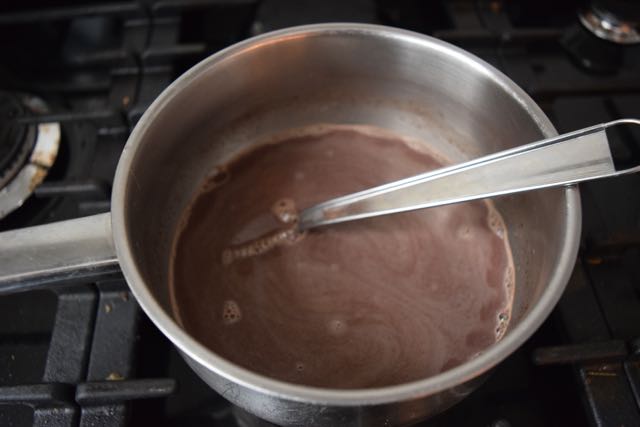 Next, measure out your red wine, something fruity would be good, I had a Shiraz open, so that was the one I chose.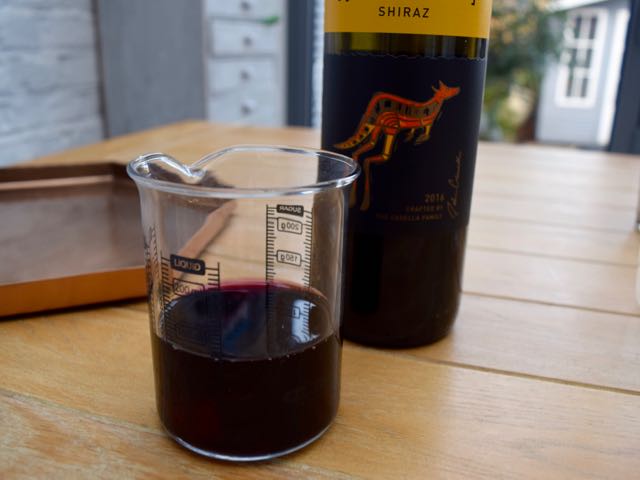 Whisk the wine into the smooth chocolate and just bring back up to simmering point.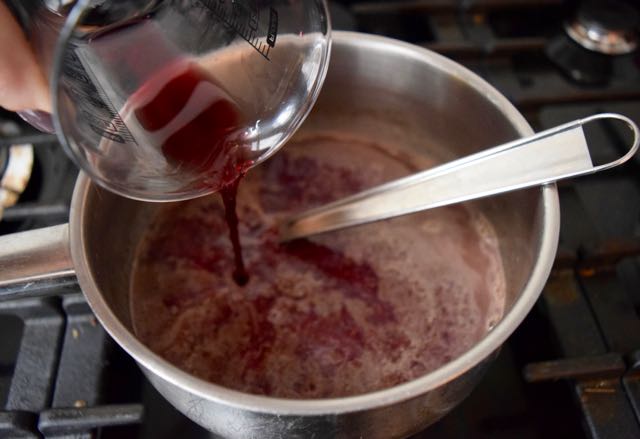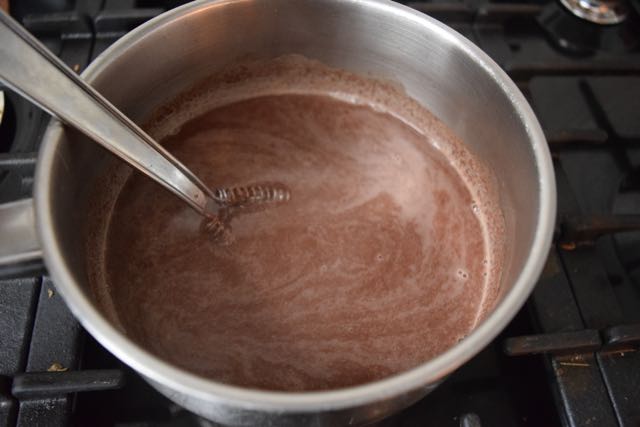 Pour this rich and divine drink into either tiny shot glasses or a big mug if you are in need of larger sustenance.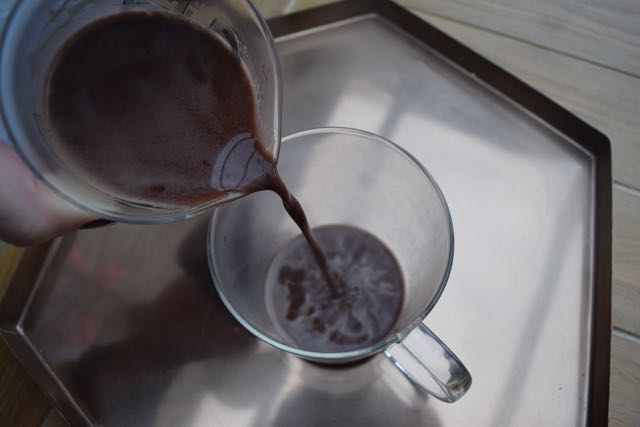 This is so lovely, sip and feel warmed right down to your boots.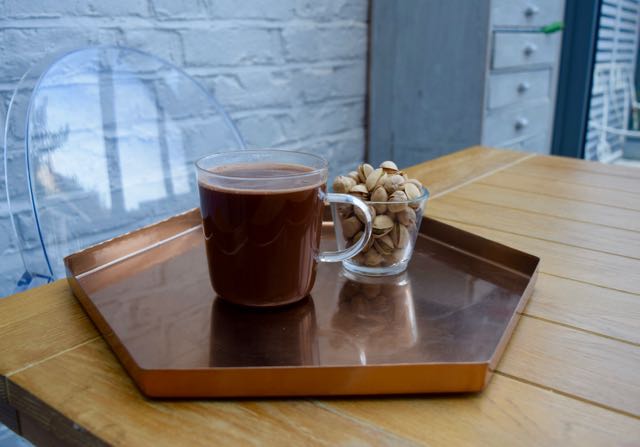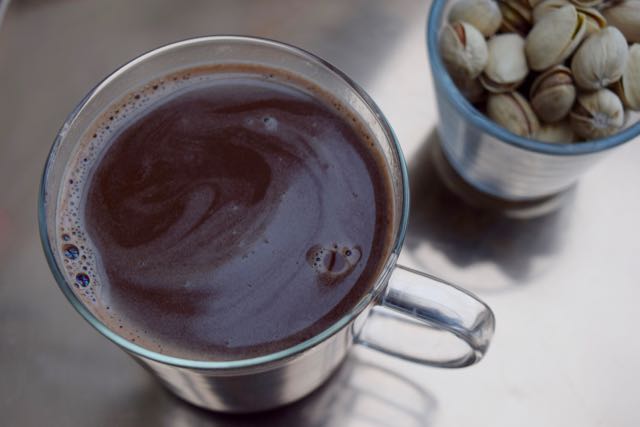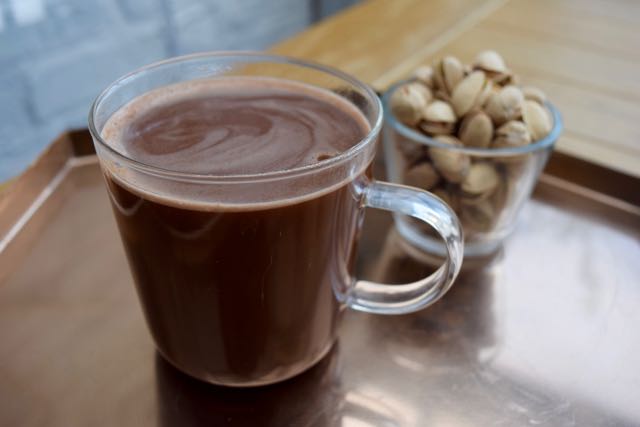 Don't be alarmed by this drink, think of it as another fruity, addition to your range of boozy hot chocolates. I will be spending quite a good deal of Saturday standing beside the Thames watching George on the river, so I think my best friend whilst out in the cold will be a flask of my Red Wine Hot Chocolate. And when we've finished that, thank goodness, there is a pub super nearby.
Lucy x
Red Wine Hot Chocolate Recipe
Makes 1
You won't need any exciting equipment just a saucepan and an elegant mug
200ml milk, I used semi skimmed but use your favourite
40g dark chocolate, mine had 50% cocoa solids, so not too dark
125ml full flavoured red wine, something fruity like a Cabernet Sauvignon or Shiraz
Whipped cream, grated chocolate or nothing, to garnish
Take a small sauce pan and add the milk of your choice along with the chocolate of your choice. Heat over a low heat, gently bringing it up to the simmer, whisking all the time to ensure the chocolate melts evenly. Once the chocolate has melted, pour in the red wine and whisk until the whole lot has combined and is piping hot.
Pour into your mug or shot glasses and garnish with whipped cream and grated chocolate if you like. I left mine plain, it was so elegant just as it was.
SaveSave
SaveSave
SaveSave
SaveSave
SaveSave