Rhubarb and Custard Cake Recipe
Mother's Day is always a bit hit and miss in our house. Not being mean, but over the years, it's been a mixture of toddler and not so toddler tantrums, sub standard pub lunches alongside some wonderful homemade lunches and glittery cards in schoolbags. I don't think adoration from my children should be limited to one day a year, but sadly it is, if that, and this year, I don't think, will be any different. We have George's Spanish exchange student visiting next week, so I will be entertainments manager here at chez Lucy Loves, so don't imagine my Mother's Day will be a feet up type of scenario.  However, if you fancy spoiling your Mother or anyone else in your life who loves you beyond measure feel free to treat her or him to this wonderfully vintage Rhubarb and Custard Cake.
I love the idea of adding custard powder to baked goods. Years ago a friend mentioned her mother used to add them to scones, which is a genius touch I have to say. In this Rhubarb and Custard Cake, the Victoria style sponge has Birds included to add lightness, colour and an undertone of custard. The custard buttercream is so good I had to sellotape my hands behind my back to stop me eating the whole batch. I then sealed the deal with homemade chia seed rhubarb jam.  This was done with elements of showing off in mind, but also a huge bag of chia seeds from Costco keeping me awake at night. The whole mouthwatering end result is a soft cake, lightly laced with a custardy fragrance and just a hint of tart fruit.
Don't feel you have to over achieve by making the jam, Bonne Maman make a perfectly delicious compote you can add instead or just pick the jam of your choice for added simplicity. This cake is divine and pushed my diet restrictions to their limits. I have only had a small sliver, but may have to make another just to eat all by myself this coming Mothering Sunday.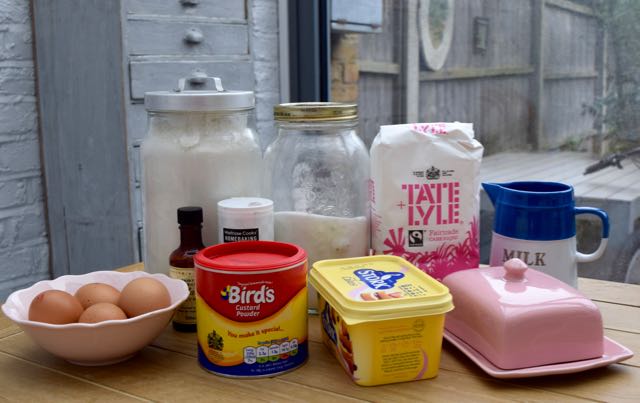 Here's the line up for this wonderful celebratory cake. The Birds custard powder taking centre stage there, and so it should. I haven't used this since the boys were little when I used to have it on hand for all emergency custard needs.
Make a start on this three stage affair by lining/buttering your tins and pre heating the oven to around 160 degrees fan assisted. You can use your food processor, stand or hand mixer or a bowl and spoon for this cake, if your arm muscles need a work out. Either way, take your chosen receptacle and add the Stork or soft butter and measure in the caster sugar too. Blitz or beat until light.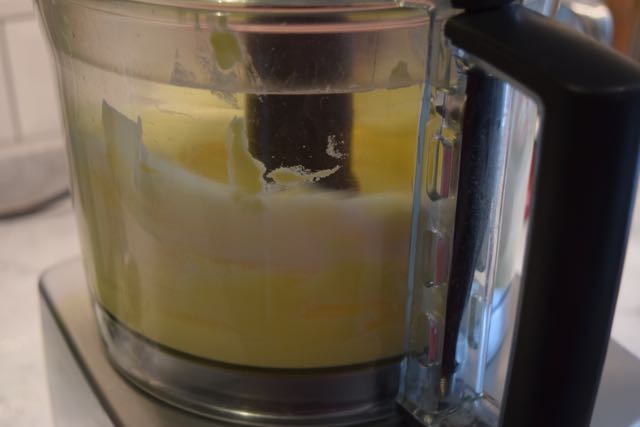 Then add in the vanilla extract and the eggs, one at a time, scraping the sides of the bowl down between each egg.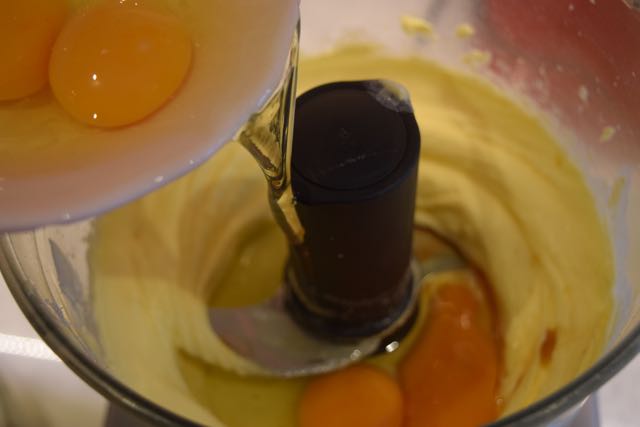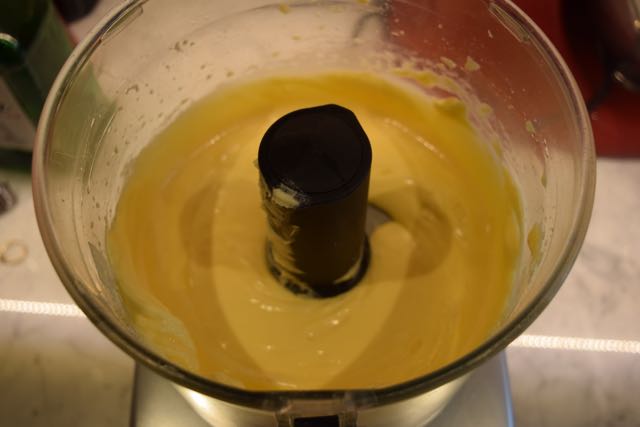 Now measure the flour, custard and baking powders then add to the bowl for further beating.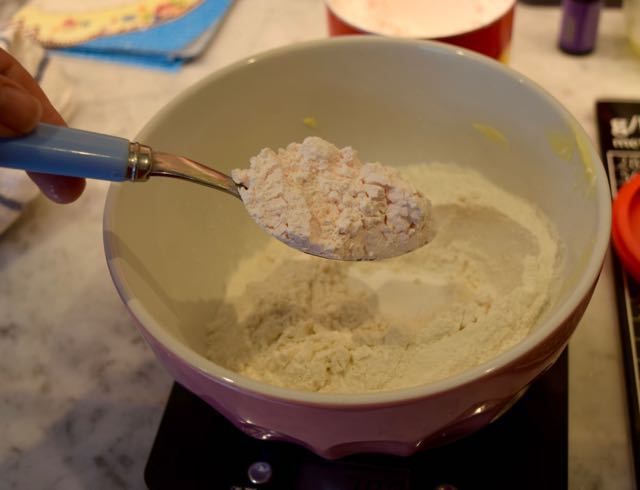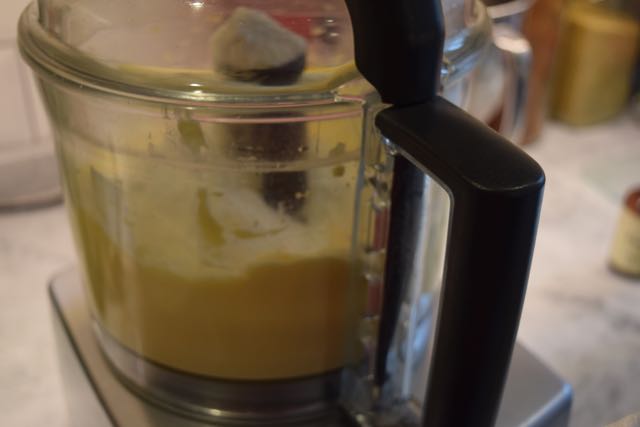 Add a splash of milk to loosen the mixture as a final flourish, mix again then pour into your lined tins. Level the tops and give the tins a tap on your work surface to knock out any air bubbles.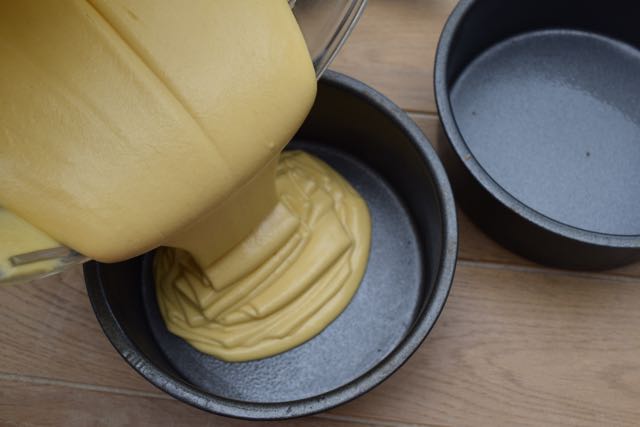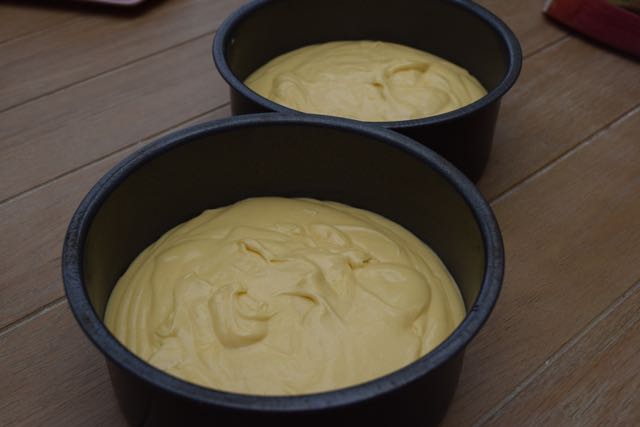 Pop these babies in the oven for around 25 minutes or until they are golden, firm to the touch and just pulling away from the edge of the tins.
Now, crack on with the rhubarb chia seed jam if you are making it. No ones judging if you aren't *I am judging*. Take a good sized saucepan and add your chopped rhubarb. This doesn't have to be rhubarb if you are not a fan, choose a fruit of your choice, berries, for example are fab in this.
Measure your maple syrup or honey then heat over a medium flame for around 5 minutes or until the fruit is starting to soften and cook down.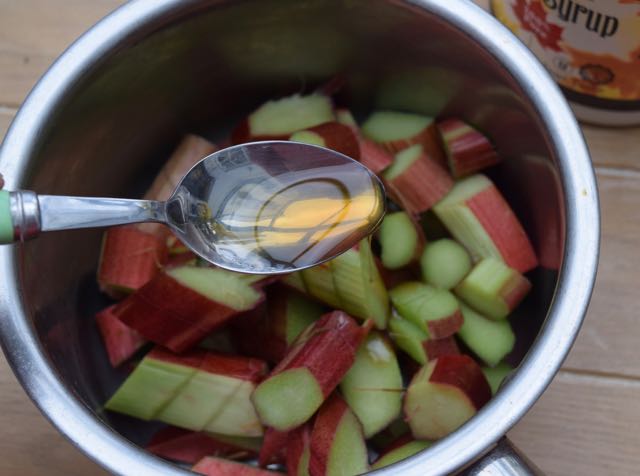 Once the 5 minutes is up, stir through the chia seeds to thicken it all up. Cook for another 10 minutes or so until good and jam-like.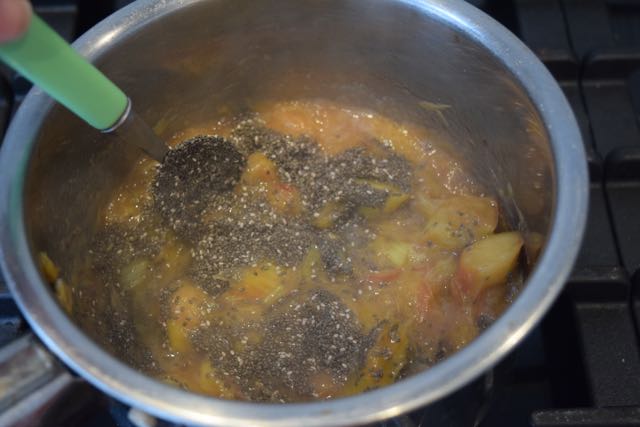 Pretty this isn't, sadly, as the rhubarb loses it's pink hue and turns slightly sludge. It tastes so good though.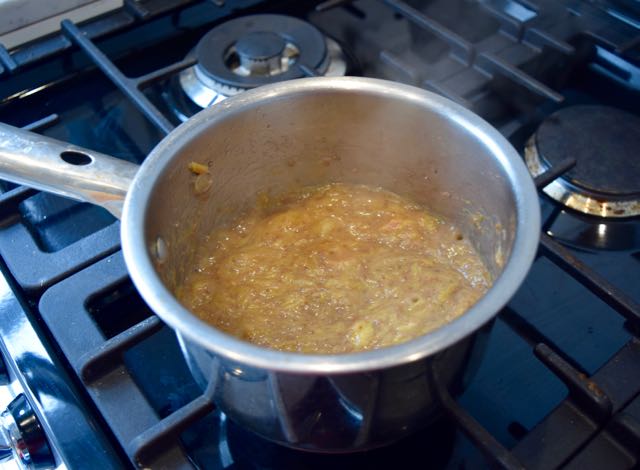 Leave to cool while you crack on with the buttercream. Or skip this rhubarb portion completely and open a lovely jar of bought jam or compote.
For buttercream, add the icing sugar, custard powder and soft butter to your mixer or bowl and beat the living daylights out of it until its soft and well mixed.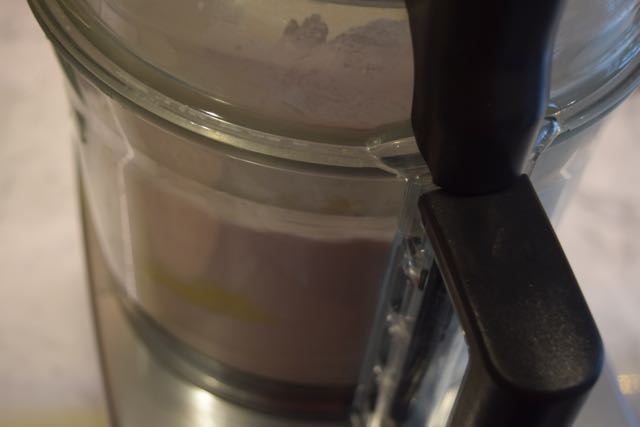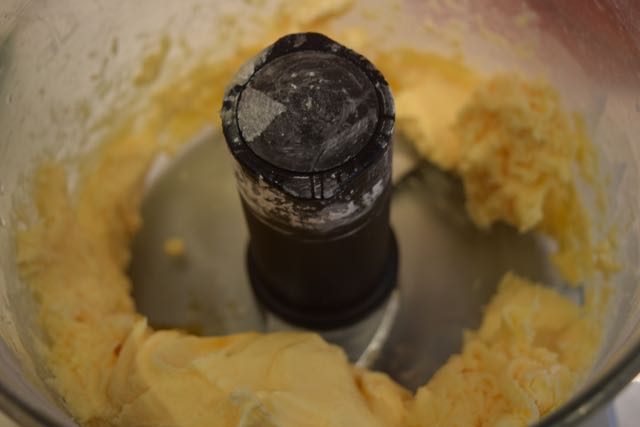 Add 2 or 3 tablespoons of milk or double cream to reach the desired spreadable consistency. I always find it works if you have a mouthful or two of the delicious icing to help you decide.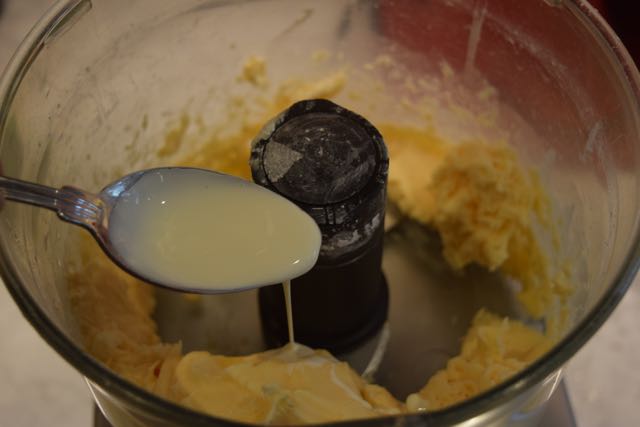 Pop this bowl of canary yellow loveliness to one side while you let the cakes cool.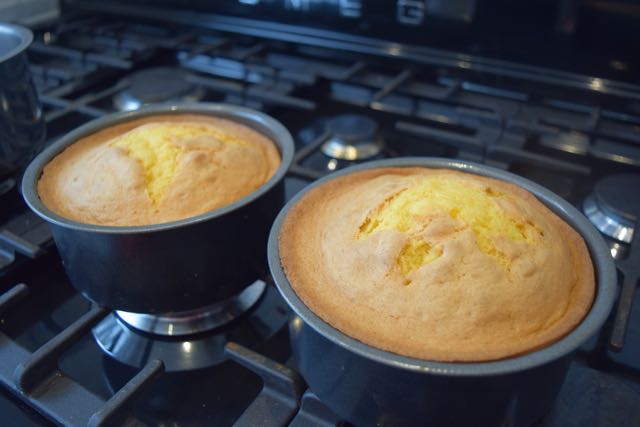 Once cooled, turn the sponges out and make a start with the icing. Place the bottom cake on a stand or pretty plate and slather in the custard buttercream.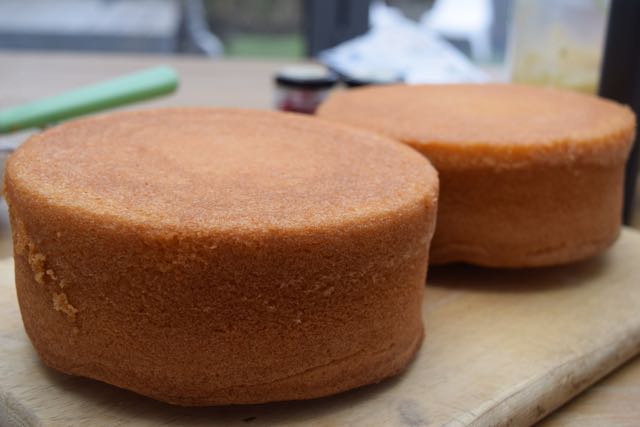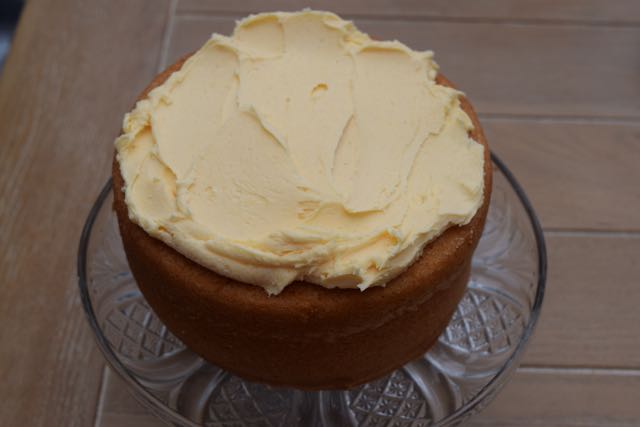 Spoon on your cooled chia seed or bought *judgey face* jam onto the buttercream then slather buttercream on the underside of the second sponge.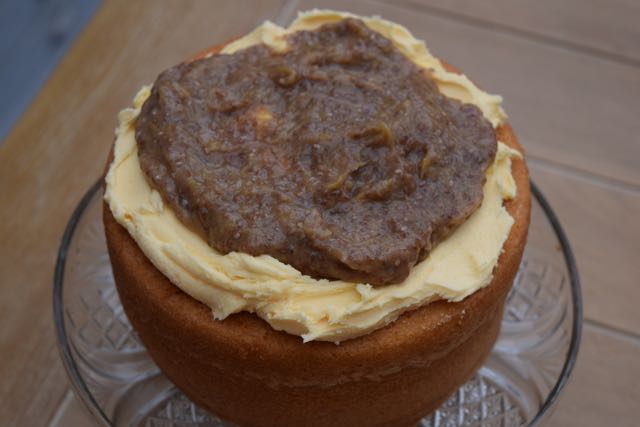 Sandwich the two halves together and press down, trying to avoid a cascade of jam, but ignoring it if it happens. Rustic charm is my signature cake decorating style. Dust the top with caster sugar and sugar flowers if you have such a thing. I found mine buried in a box of things still not back in my 95% finished kitchen.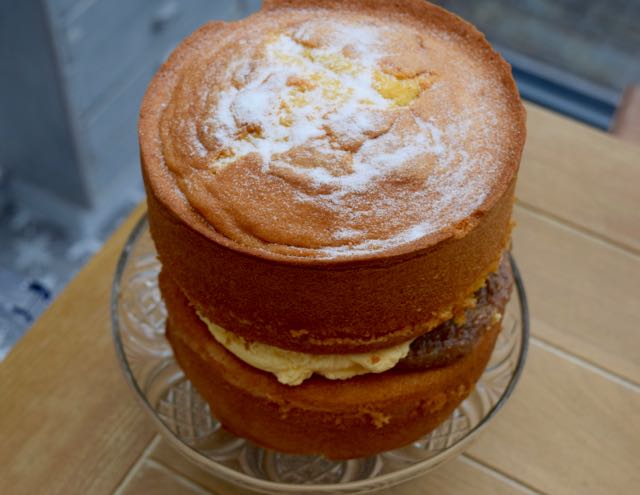 This cake is soft and filled with nostalgic flavours and charm. Enjoy in giant slabs, mine being particularly giant as the cake was slightly tower-like due to my tiny sandwich pans.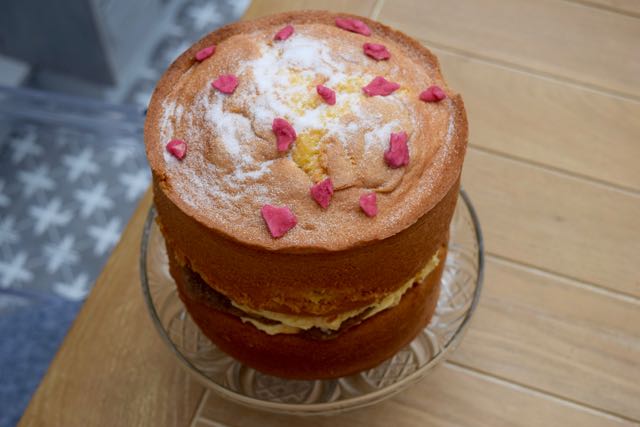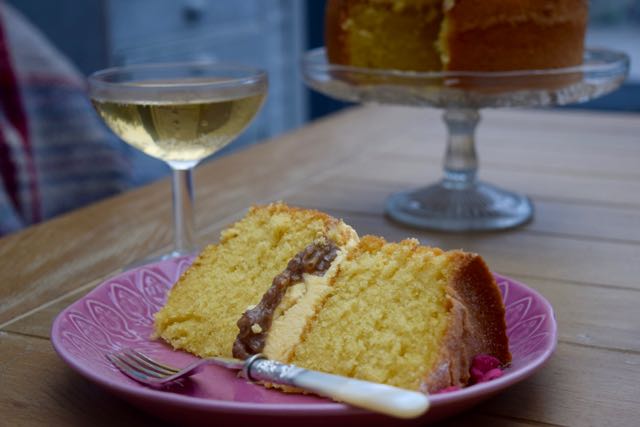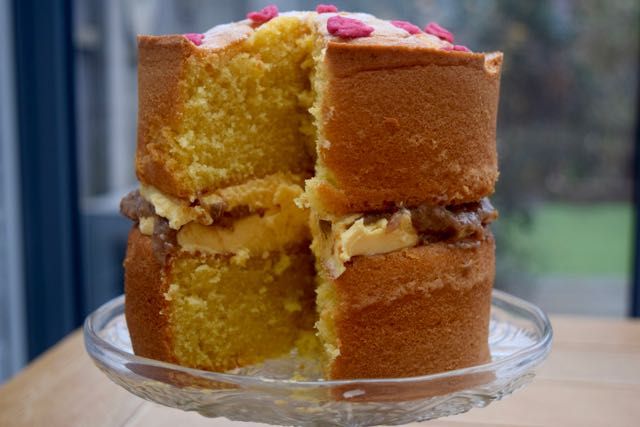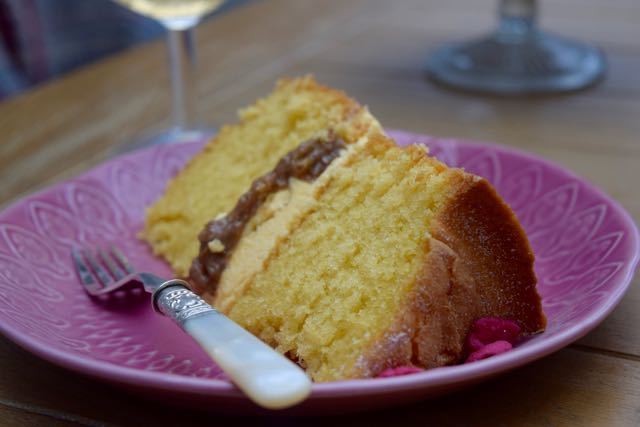 For me, cake and love go hand in hand. I bake all the time for people I love and put a tiny bit of my heart in each slice. Unless of course I am busy and in a bad mood then there's a tiny bit of grumpiness in each slice.
I hope someone you love and who appreciates you makes you something filled with love, and preferably, buttercream, this Mothering Sunday.
Lots of love to you
Lucy x
Rhubarb and Custard Cake Recipe
Serves at least 8
You will need a hand mixer, food processor or elbow grease and two lined cake tins from 6 to 8 inches in diameter
Custard Cake
250g Stork or soft butter
250g caster sugar
4 eggs
1 teaspoon vanilla extract
200g self raising flour
50g Custard powder
1 level teaspoon baking powder
a splash milk
Custard Buttercream
150g soft butter
250g icing sugar
50g custard powder
1 teaspoon vanilla extract
2 to 3 tablespoon cream or milk
Rhubarb Chia Seed Jam
This makes plenty for the cake with leftovers for toast or bread and butter
300g rhubarb, chopped
4 tablespoons maple syrup
a pinch ground ginger, optional
3 tablespoons chia seeds
Pre heat your oven to 160 degrees fan assisted and butter or line your cake tins. I like a tall cake so used 2 x 6 inch diameter tins but for a normal sized sandwich cake use 8 inch or 20 cm tins.
In you mixer or in a bowl with a spoon cream together the soft butter and caster sugar until lighter in colour and texture. Add the vanilla then add the eggs, one at a time, beating and scraping down the sides of your mixer or bowl between eggs.
Fold in the flour, custard powder and baking powder until you have a smooth batter. Pour in a splash of milk to loosen then beat again. Pour in your lined tins and flatten the tops. Place into your pre heated oven for around 25 minutes. The cakes are cooked when firm to the touch, golden and just pulling away from the edges of the tins.
While they are cooking, if you are making your own jam, take a sauce pan and add your chopped rhubarb and maple syrup with an optional pinch of ground ginger. Cook over a low heat for 5 minutes or until the rhubarb is starting to cook down and soften. Stir through the chia seeds and continue to cook for another 10 minutes or until the jam starts to thicken. Put to one side to cool. Or just use a bought rhubarb or any flavour jam.
For the custard butter cream, in your mixer or a large bowl, add the soft butter, icing sugar and custard powder. Beat until smooth then add the vanilla extract and a couple of tablespoons of cream or milk until the buttercream is of a spreading consistency. Put to one side.
When the cakes are cooked, leave to cool completely before removing from their tins. Spread the bottom half of the cake with buttercream then a layer of rhubarb chia seed jam then spread the underside of the second sponge with the rest of the butter cream. Sandwich the two cakes together and gently press down.
Serve immediately in large wedges, offering extra jam on the side if you like. The cake will keep in an airtight tin for 2 to 3 days and the jam in the fridge for around a week.