Vanilla Condensed Milk Cake with Chia Seed Berry Jam Recipe
This week, I have been working with some lovely treats from the Oriental Food Specialists, Wing Yip. In with my hamper of treats were two slightly mysterious tins. Both were from Nature's Charm, one was condensed milk and the other evaporated milk, but both were dairy free and made with coconut milk. I use both these milks in cooking, even though they have slightly old fashioned connotations. However, these dairy free coconut varieties have a modern taste and feel and are amazing in recipes where you would rather not use dairy products. Which leads rather beautifully into today's share, my Vanilla Condensed Milk Cake with Chia Seed Berry Jam.
This wonderful loaf style cake is right up my street, what with my love of a simple vanilla sponge. This Condensed Milk Cake is firm, but with a light sweet taste and a wonderful crisp crust. I decided to stick with the slightly healthy theme by accompanying my relatively simple cake with a delicious refined sugar free jam.
This is made with berries, maple syrup or honey and chia seeds. If you are anything like me, and I hope to God you are or I am slightly strange all on my own, you will have been lured into buying a bag of chia seeds for their long list of health benefits. They are packed with omega 3 fatty acids, vitamin B and fibre and have brilliant thickening qualities. However, I have only really used a tablespoon or two from quite a big bag and decided to use my Chia seeds in this Berry Jam. It's berry central at this time of the year, but not in our Waitrose, so I went with some frozen berries instead, but do use which ever fruits you fancy. The finished jam is thick, just sweet enough and perfect slathered on a thick slice of the Vanilla Condensed Milk Cake.
This brilliant cake recipe came to me via A Family Feast, with thanks, and the jam is a gem from 40 Aprons, with further thanks.
This is the perfect cake for your tin at home, it keeps beautifully, is *eek* moist and the coconut condensed milk adds such a delicate flavour and texture to this tasty bake. Alongside the use of my favoured Stork, this dairy free treat is perfect as an afternoon perk or served as a pud with some poached autumn fruits. Versatile and certainly worth a bake.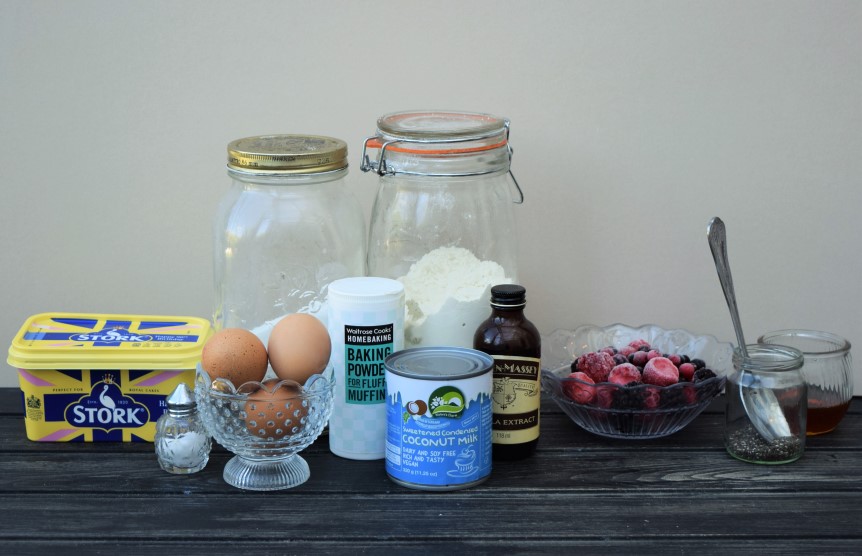 Here's the exciting line up for this diary free cake and refined sugar free jam. Get me being all health conscious of a Wednesday evening. I did, however, end up eating the remains of the condensed coconut milk from the tin, it was wonderful in a not too sweet way, so all is not lost.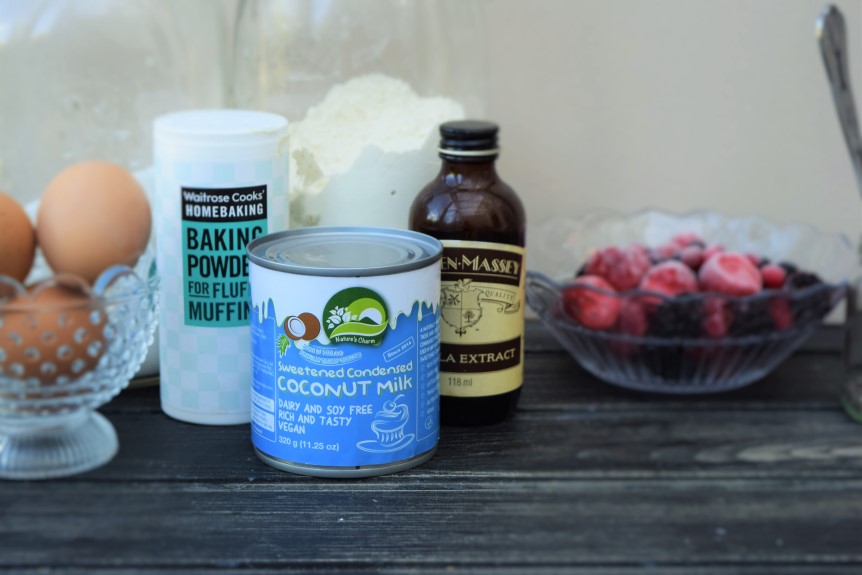 Make a start on this vanilla cake by lining or buttering your loaf tin and pre heating your oven to 160 degrees fan assisted.
Next, take your Stork, or soft butter if you're not going diary free, and cream this together with your sugar in either your stand mixer or in a large bowl with a wooden spoon.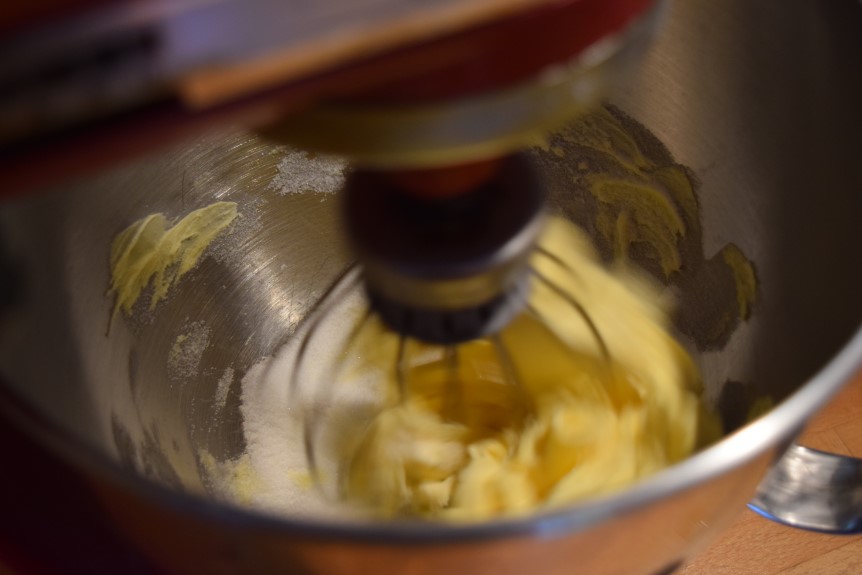 While this does it's thing, weigh out the flour then add the baking powder and salt then stir.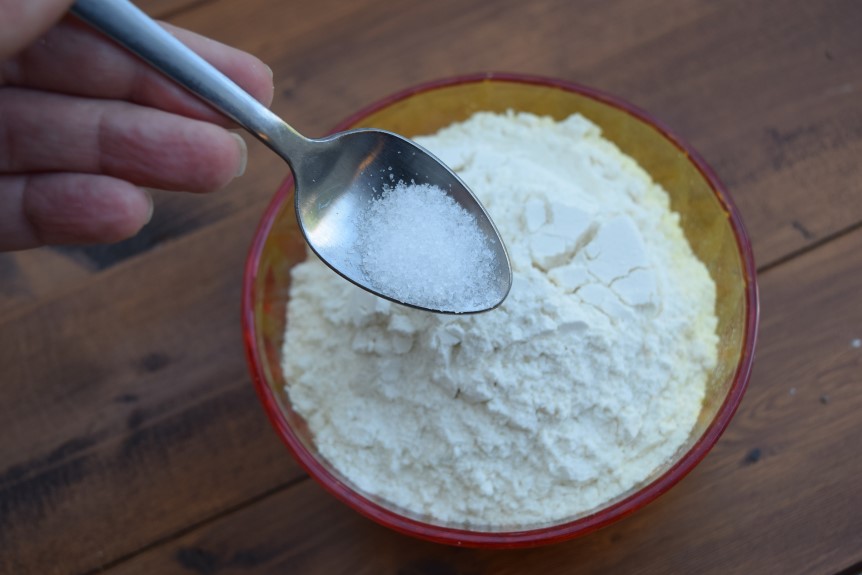 Next into the butter and sugar, add each egg, one at a time, scraping down the sides after each one.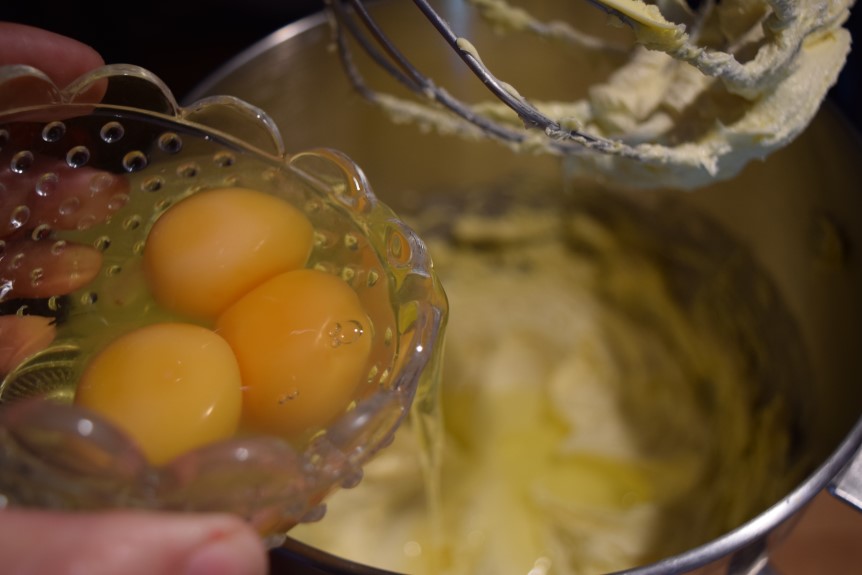 Don't worry if the mixture looks curdled, add a couple of spoonfuls of the pre weighed flour and this should sort it out.
Spoon in the vanilla extract then pour in the delicious coconut condensed milk. If you can't get hold of this, just use normal condensed milk, however, this will not be dairy free.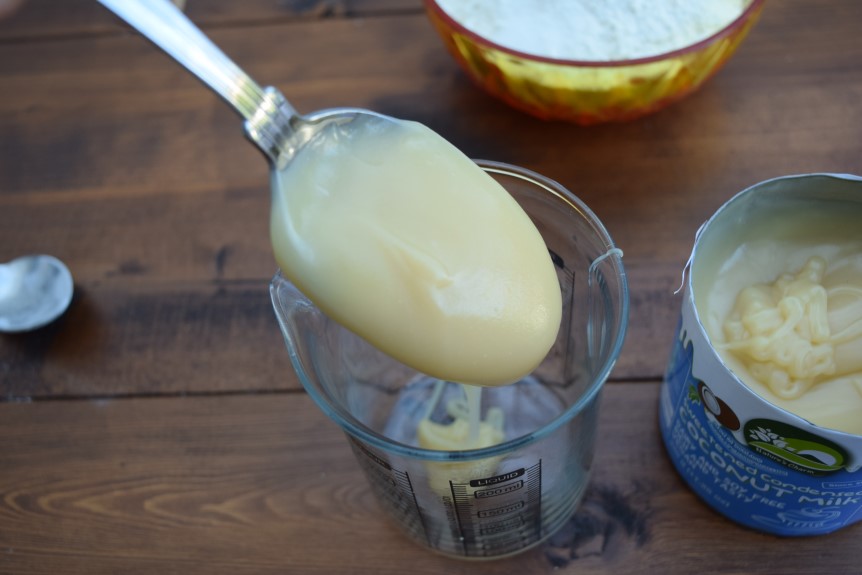 Luckily there was a good spoonful or two left for me.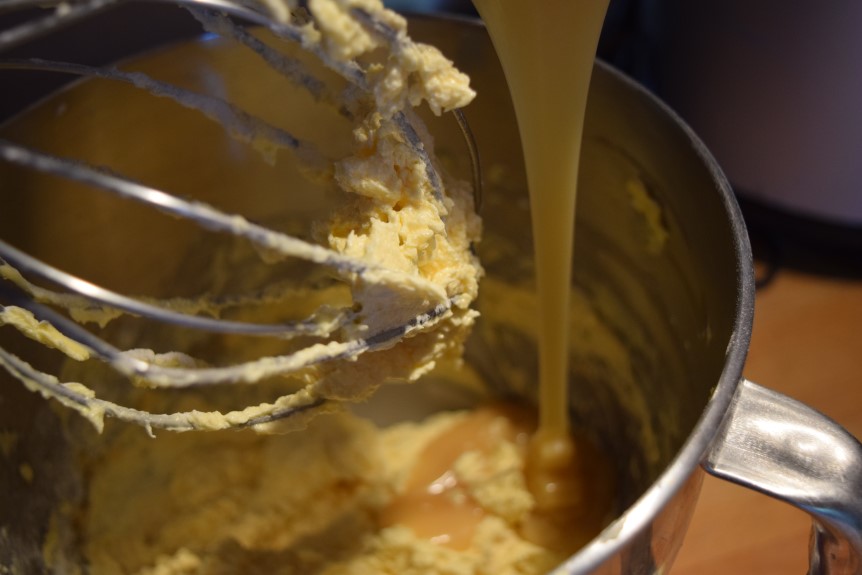 Mix again then tip in the flour, salt and baking powder. Fold in well, don't over beat, though, or your cake will be tough.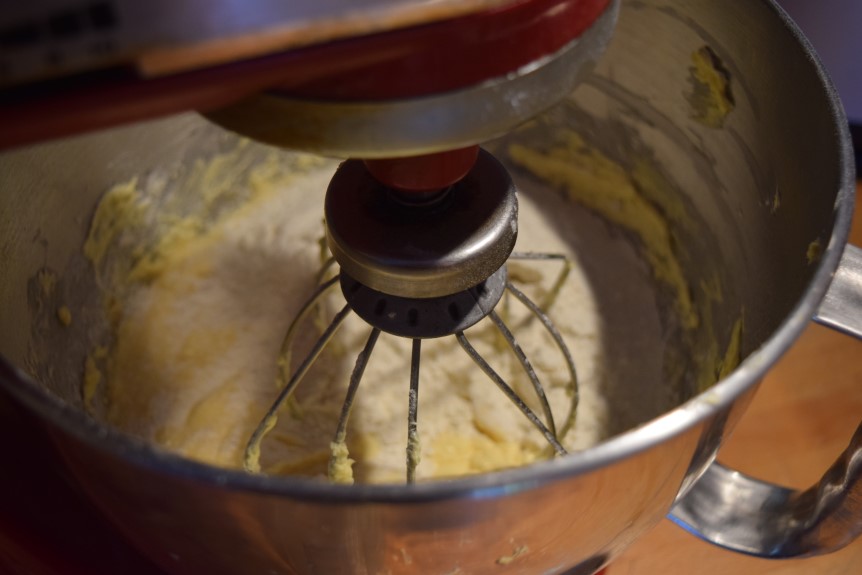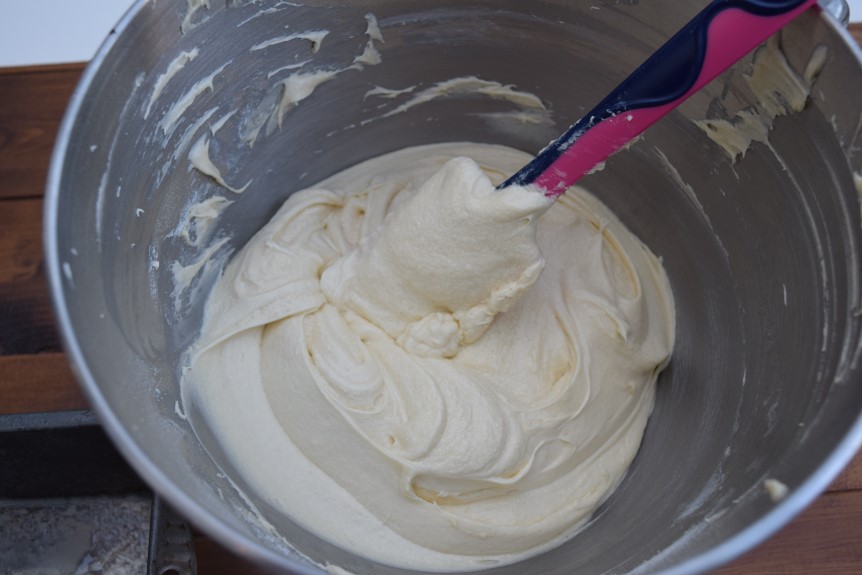 Do have a quick taste, I adore cake mixture, as you know.
Spoon this into your well buttered tin then put into your medium hot oven for 50 to 60 minutes or until golden brown, firm to the touch and cooked right through. If your cake looks like it's getting too brown *like mine* pop a square of foil over the top for the final 15 minutes.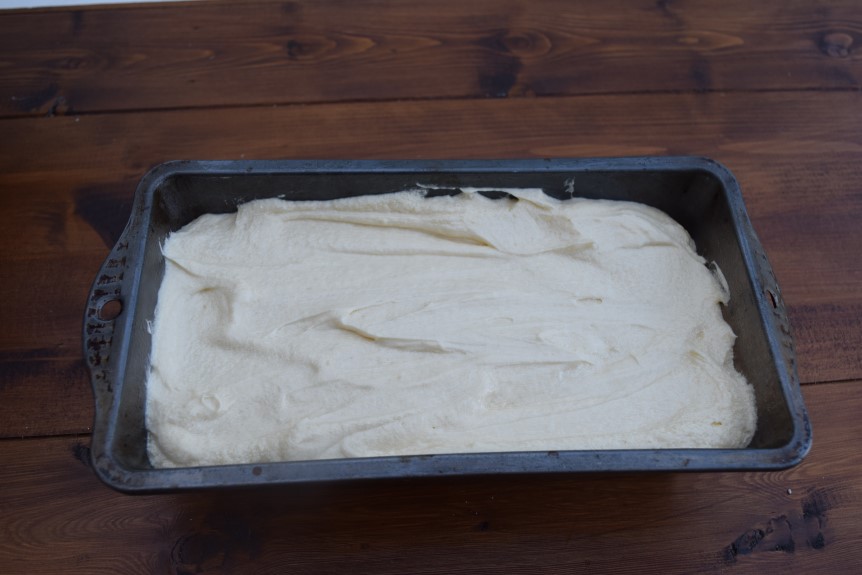 Here it is, all browned and beautiful.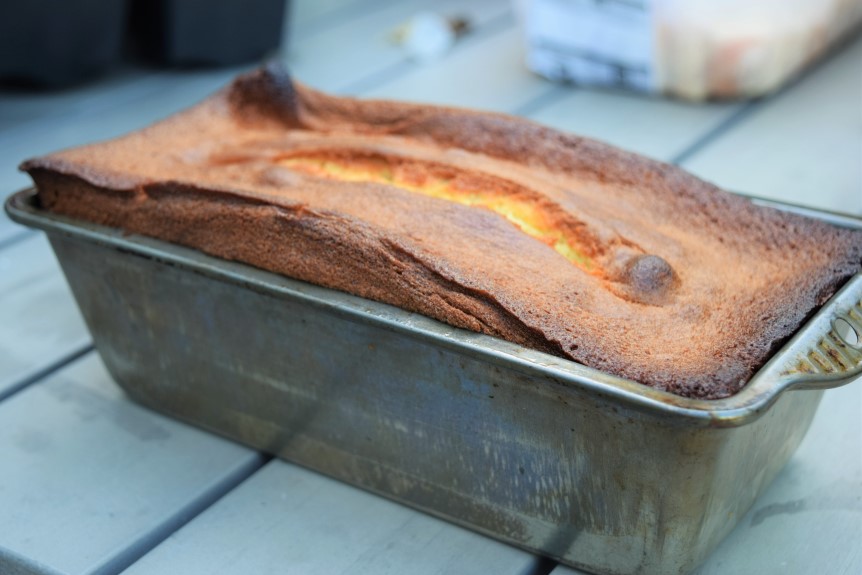 While this beauty cools, prepare your effortless Chia Seed Berry Jam.
Place the fruits and maple syrup or honey into a small saucepan. Over a low heat, bring to the simmer for 5 minutes.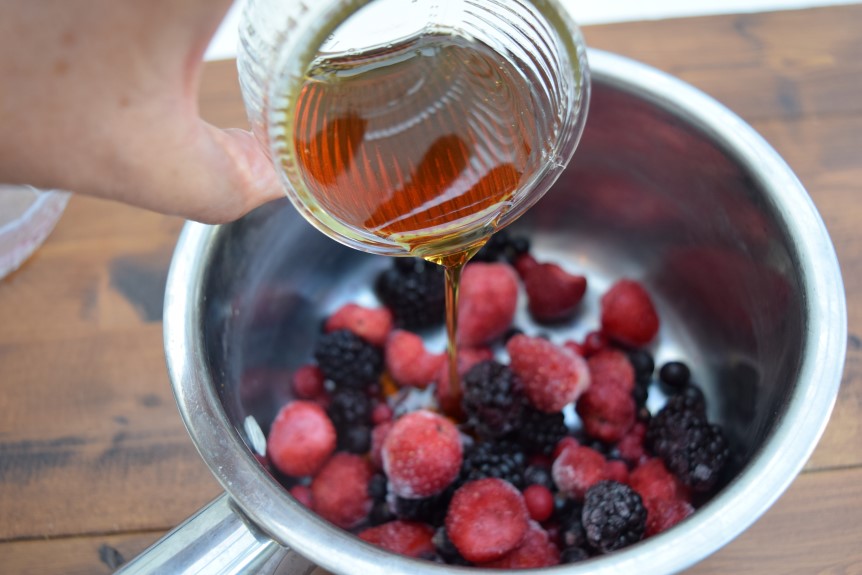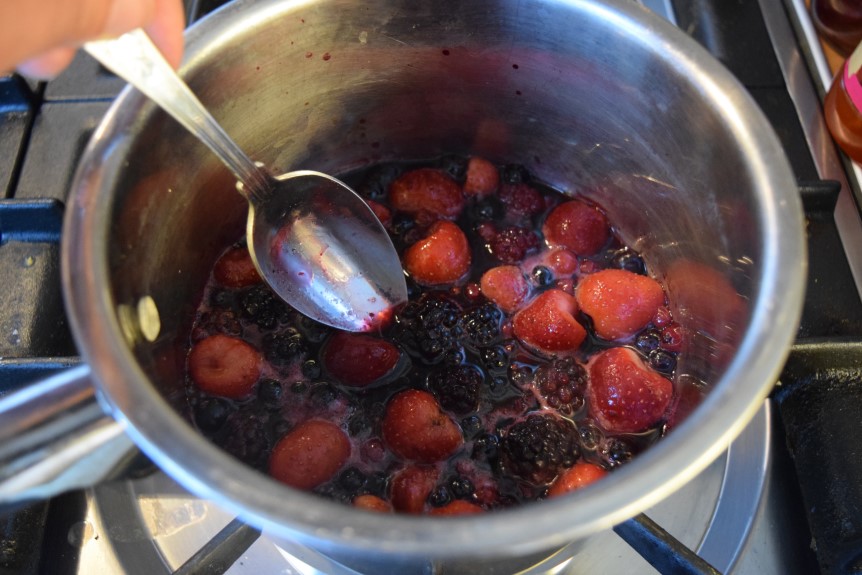 After the 5 minutes is up, mash some of the berries, either with a spoon or a potato masher to create a jam like texture. Then spoon in the chia seeds, stir well, then simmer slowly for a further 10 minutes, or until the jam is nicely thickened.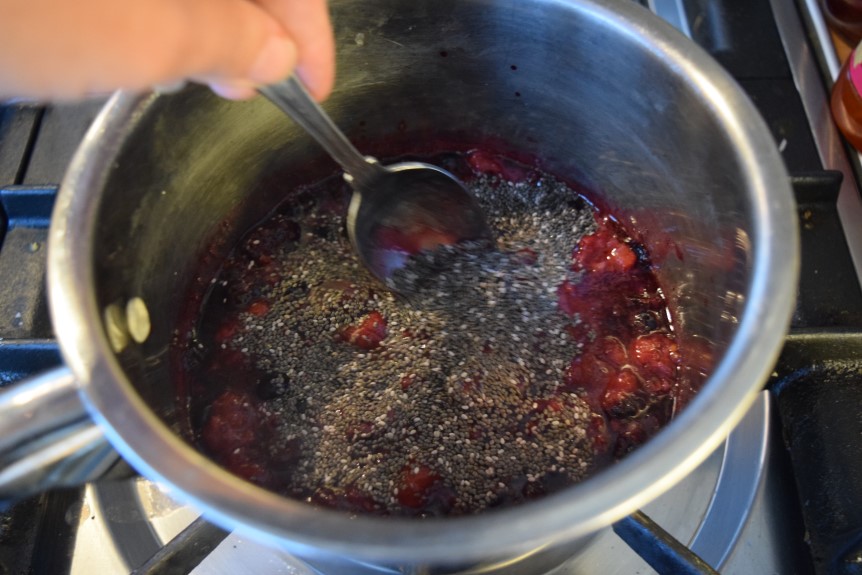 Spoon the hot jam into a jar and leave to cool before slathering on anything you have to hand.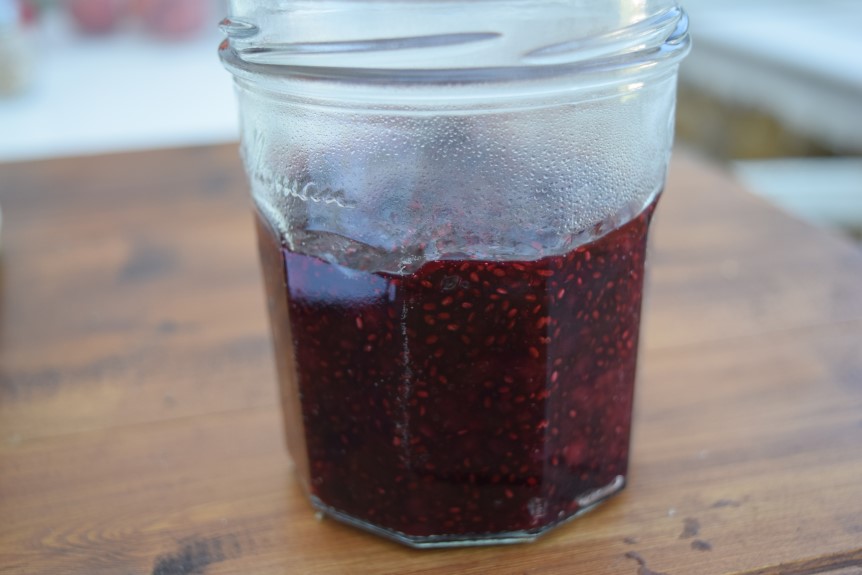 Jam in less than 20 minutes, without kilos of sugar and bloody tasty, that's impressive in my eyes.
Once your Vanilla Condensed Milk Cake is completely cooled, dust with icing sugar, then slice into elegant slithers or doorsteps if you would prefer.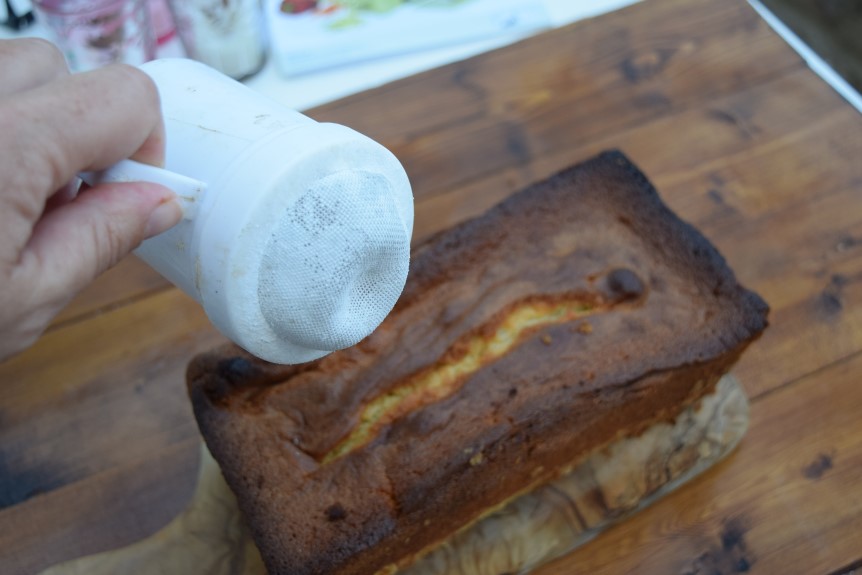 Icing sugar serves to cover up any slightly browner *burnt* edges. Thank God for icing sugar. Serve alongside your Chia Seed Berry Jam as an added treat.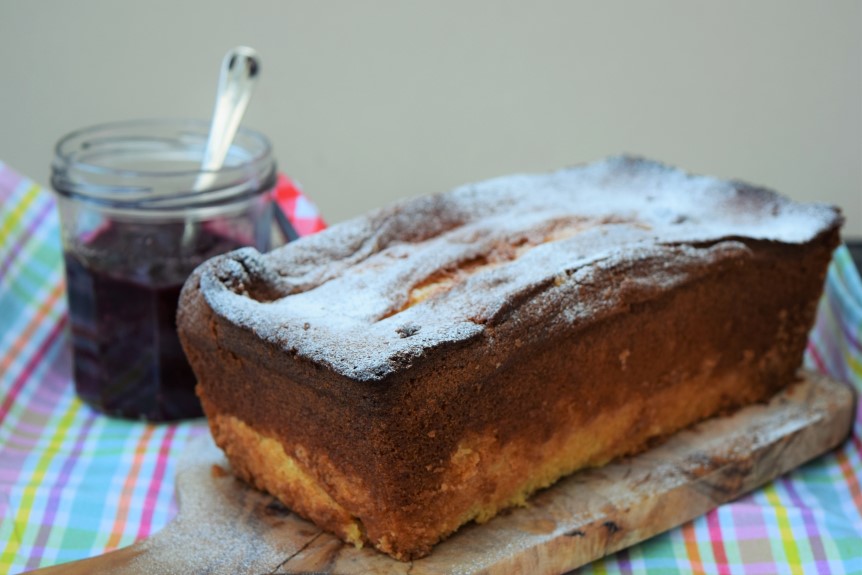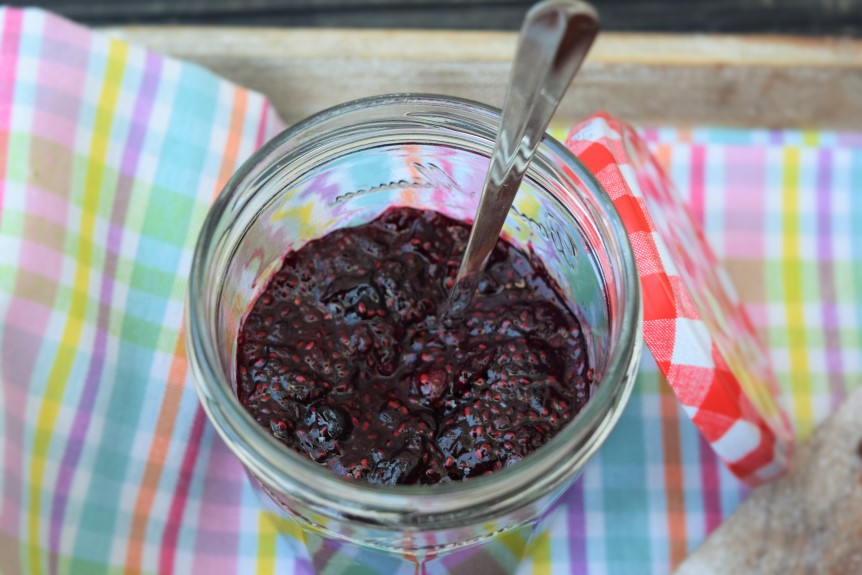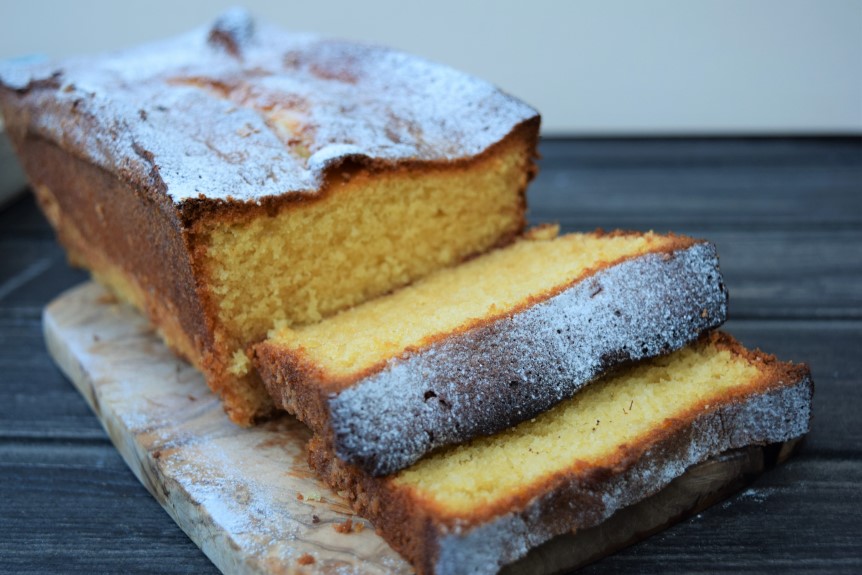 I went for doorsteps, of course.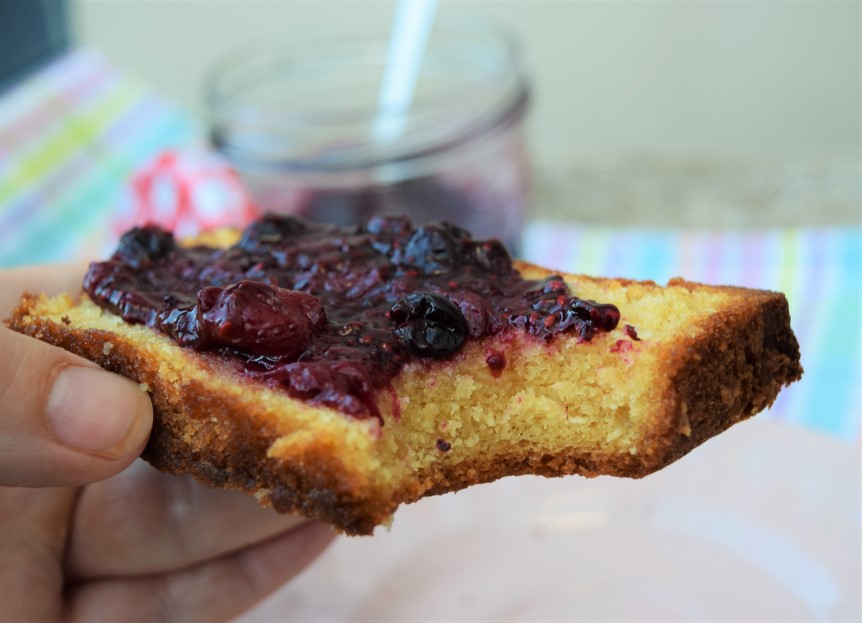 How could you not be lured into trying a slab of this? I can assure you this is a healthier option, I could even envisage eating this for breakfast and including the jam as at least one of my five a day. Thank you, Wing Yip, for introducing me to dairy free condensed milk, it's a keeper.
Lucy x
Wing Yip kindly provided me with ingredients to try this week, however, all the opinions and ramblings are, as always, unbiased and my own.
Vanilla Condensed Milk Cake with Chia Seed Berry Jam Recipe
Makes 1 Loaf cake and a small jar of jam
You will need a stand mixer or a bowl with a spoon and a lined 1kg loaf tin
Vanilla Condensed Milk Cake
225g Stork or soft butter
115g caster sugar
3 eggs
180ml Natures Charm condensed coconut milk
1 teaspoon vanilla extract
170g plain flour
3/4 teaspoon baking powder
1/2 teaspoon salt
Chia Seed Berry Jam
Approx 300g mixed berries, mine were frozen
60ml maple syrup or honey
2 tablespoons chia seeds
Icing sugar for dusting to serve
Cake
Make a start on the loaf cake by lining and buttering your tin and pre heating the oven to 160 degrees fan assisted.
Take your stand mixer or a large bowl with a spoon and beat together the Stork and caster sugar until lighter in colour and texture. While this is happening, weigh out your flour, salt and baking powder, mix then pop to one side.
Next, mix in the eggs, one by one, scraping the sides of the mixer between additions then add in the spoonful of vanilla extract. Don't worry if the mixture looks curdled, just add a tablespoon of your pre weighed flour and this will help.
Pour in the condensed coconut milk, mix well then fold in the flour, baking powder and salt until just combined, don't overmix this.
Pour/spoon the cake mixture into your lined/buttered tin and bake for 50 minutes to an hour. If you find the top is getting too brown, cover loosely in foil for the last 15 minutes. This wonderful cake is cooked through when a skewer comes out clean when poked in the middle. Leave to cool completely before removing from the tin and serving in huge slabs covered in the following quick and simple jam. The cake will keep for up to a week, wrapped, in an airtight tin.
Jam
For the jam, pop your chosen fruit into a sauce pan with the maple syrup or honey and bring to the simmer over a low heat. Cook for 5 minutes, then give it a bit of a squidge with the back of a spoon or a potato masher to mash some of the fruit but keeping some of the berries whole.
Stir in the chia seeds them simmer for a further 10 to 15 minutes or until just thickening nicely. Store in a clean jar in the fridge for up to a week.