Slow Roast Lamb with Layered Potatoes Recipe
In the dark winter months I love making a fuss over Sunday lunch. In the summer it's all about the getting out of the house and into the fresh air, but at the moment all I want to do is stay indoors and lie on the underfloor heating. I have always felt nervous about making traditional roasts as it seems such a kerfuffle to have all the elements come together at the right time. On Sundays as a child we all waited with some trepidation as my Dad started carving to see if the roast of choice was undercooked or overcooked as it never seemed to be just right at the right time. And frankly, who needs the bloody drama. Especially if you have guests on a Sunday, which I love doing as it's a brilliant excuse to have a glass of wine at midday without any judgement. My Slow Roast Lamb with Layered Potatoes is just the solution to a kerfuffle free family lunch, with only a green vegetable to fork up at the last minute once everything else if cooked.
This recipe comes via the currently in the news, Tom Kerridge. However, it's from before he went on a diet, thank God, so is full of potatoes and lamb based deliciousness. The only time consuming part of this dish is peeling and slicing the potatoes, but you could always make good use of a partner or older child to peel them at least, and realistically, it only took me around 20 minutes to do the whole lot in my dressing gown; so it's not the end of the world. I used a small mandolin to slice the pots and managed not to cut the end of my fingers off. A tip is hold the end of the potato with your finger nails rather than the tips of your fingers so you don't harm yourself too badly if you forget to stop slicing. These are then layered with sliced onions, herbs and seasoning before the lamb is placed on top and studded with garlic. This then cooks, at your leisure, for around 4 to 5 hours. We took Ted for a soggy grey walk and he rolled in some deer poo while ours cooked quietly away in just four hours. By then the potatoes are soft and infused with lamb flavour and the lamb is tender and beyond tasty.
I love a dish which almost cooks itself, especially as I spend most of my weekend cooking for Lucy Loves. The simplicity of this is almost as appealing as it tastes. Lucky me for finding this recipe and lucky you for finding me sharing it with you.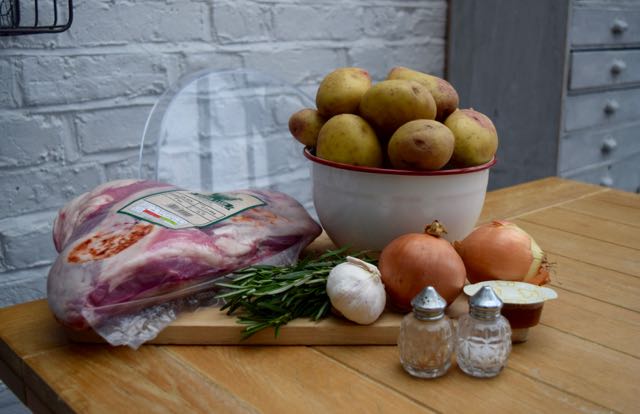 I love a shoulder of lamb, tons of flavour and less than £15. You could use a half shoulder if there's only 3 of you, but the leftovers are as delicious, so it's no hardship if there's spare.
Make a start by pre heating the oven to 140 degrees fan assisted then peeling the potatoes and slicing reasonably thinly. Mind your fingers if you're using a mandolin, I don't want any court cases brought against me. Btw, I don't have any money so it's not even worth it. Place the potato slices into a large bowl with the chopped herb of your choice. I went rosemary as I love it's woody pine flavour but thyme is also lovely.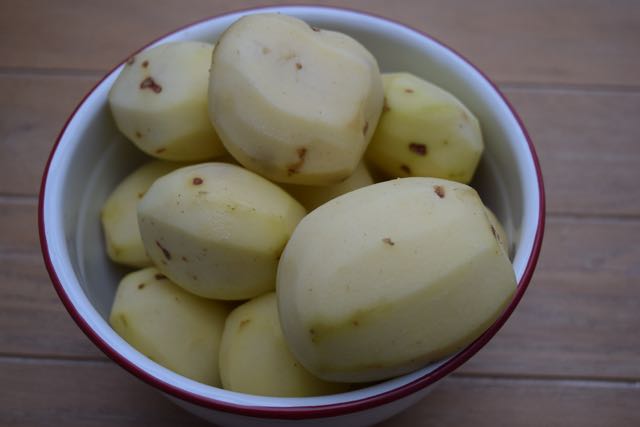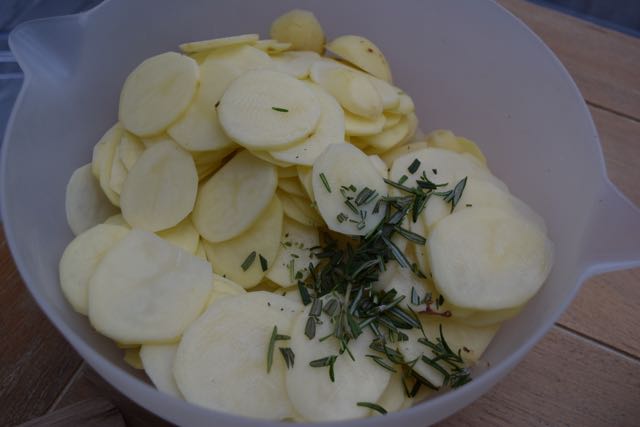 Add the sliced onions, plenty of salt and black pepper then mix well to combine everything. Tip into your largish chosen baking tray and press down to form a good layer of potato mixture.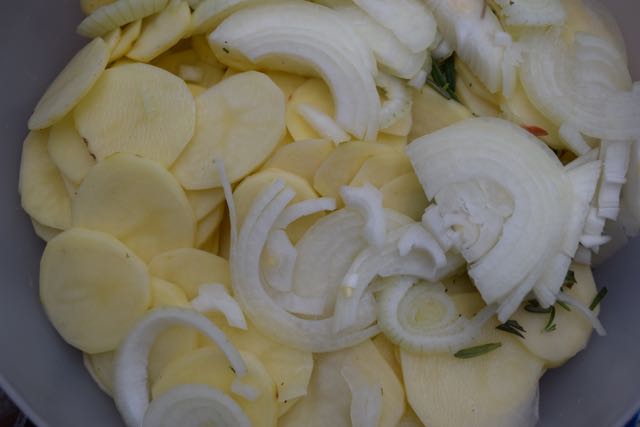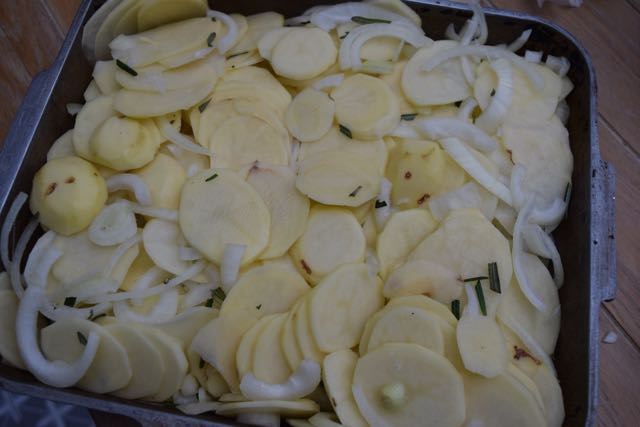 Place your wonderful shoulder of lamb on top of the potato slices then make small slits into the meat with a sharp knife. Pop your pieces of peeled and halved garlic cloves into the cuts and push in.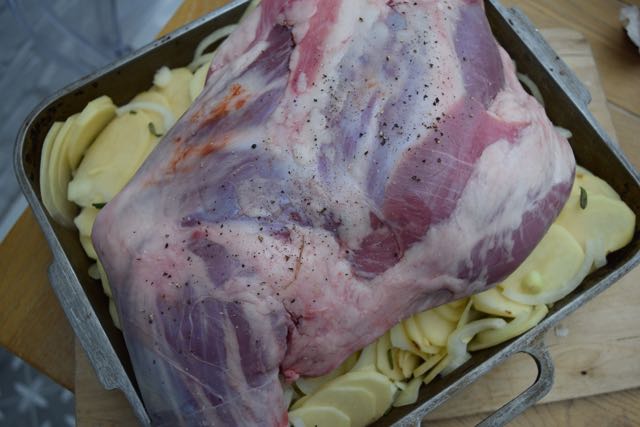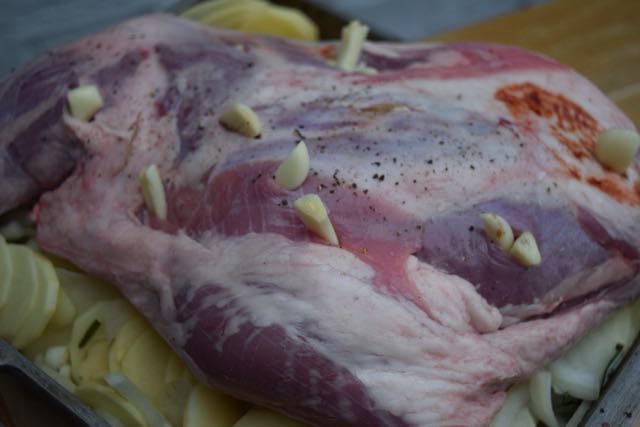 Season and drizzle with a little olive oil then pour the chicken stock onto the potatoes.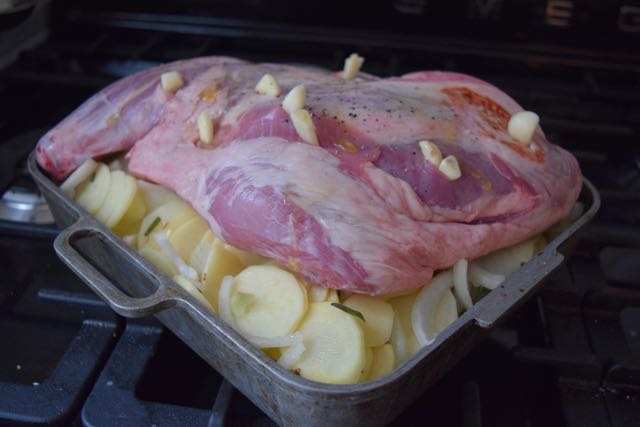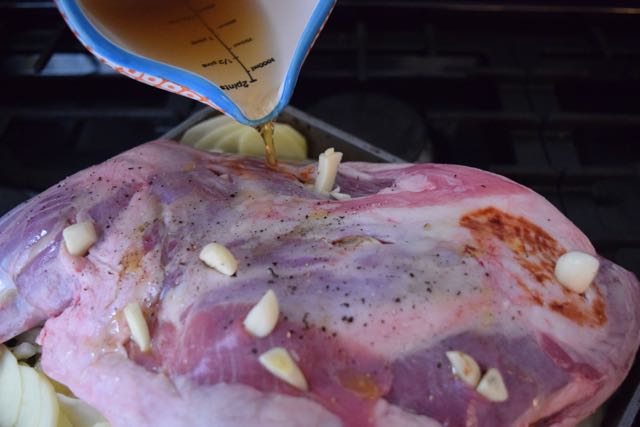 Place this tray of delights into your pre heated oven, uncovered, for 4 to 5 hours. That's it, could it be any simpler?
After a couple of hours mine was browning nicely so I covered it with foil and left for a further two hours.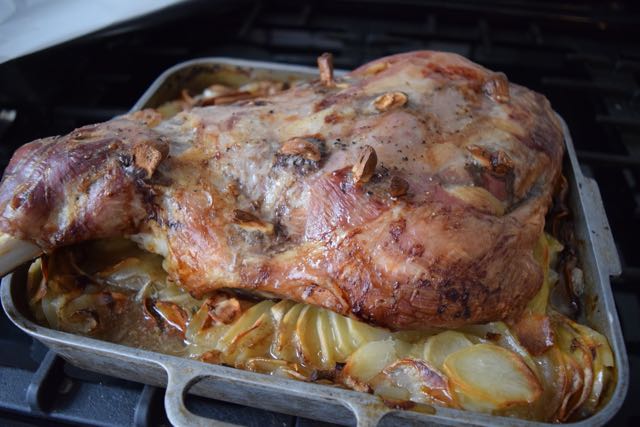 Once your lamb is super tender and the potatoes are crisp on top and soft and delicious underneath take the lamb out of the oven and leave to rest while you cook your accompanying green vegetables.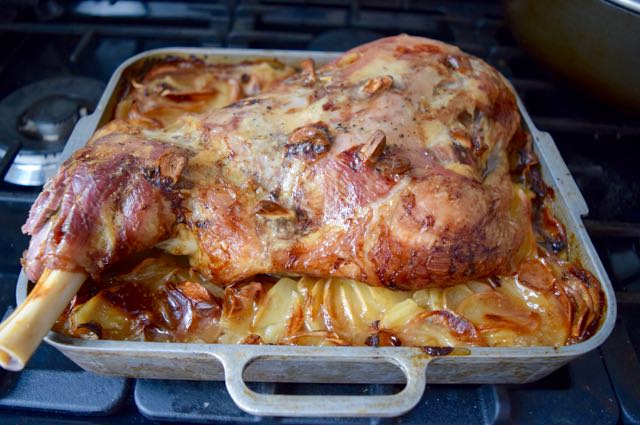 Garnish with some freshly chopped parsley and serve, piping hot, in huge portions to the joy and delight of your family/guests. Those lucky, lucky people.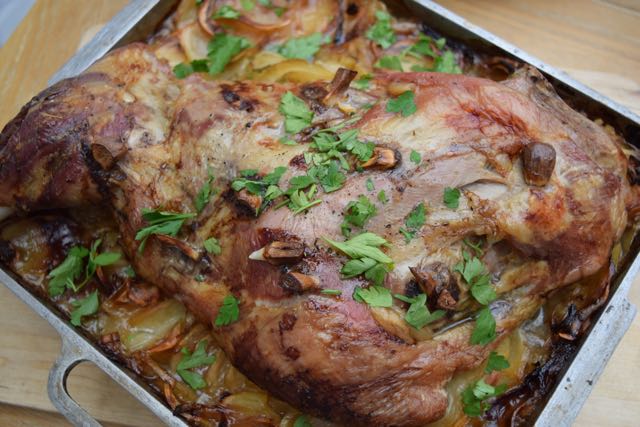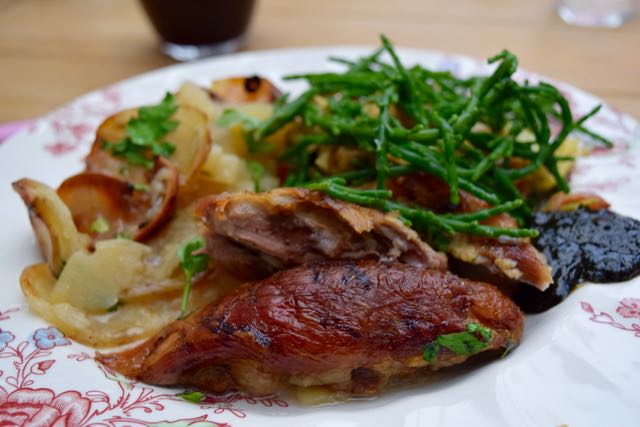 A simple lamb roast, which cooks itself while you get on with your day. All you have to do is whip up the mint sauce and steam a handful of greens.  A pleasure to both cook and eat.
Lucy x
Slow Roast Lamb with Layered Potatoes Recipe
Serves 4 to 6, appetite dependent 
You will need a large roasting tin and not much else
1.5 to 1.8kg potatoes, peeled and thinly sliced
2 onions, thinly sliced
2 to 3 tablespoons chopped rosemary or thyme leaves
salt and pepper
1 shoulder of lamb, around 1.8 to 2kg
4 or more cloves garlic, peeled and halved
a splash olive oil
600ml chicken stock
Green veg to serve, chopped parsley to garnish, if you like
Pre heat the oven to around 140 degrees fan assisted and find a large roasting tin.
Peel the potatoes and thinly slice either using a food processor or a mandolin – mind you don't chop off your fingers. Add the potatoes to a bowl with the thinly sliced onion, chopped herbs and plenty of salt and black pepper. Mix well then add these to your baking tray.
Sit the shoulder of lamb on top of the potatoes and make incisions all over it using a sharp knife. Poke the pieces of garlic into the cuts then seasons well and drizzle with just a touch of olive oil. Pour the chicken stock over the potatoes then place, uncovered in your low oven for 4 to 5 hours. After two hours I covered mine with foil as the potatoes were getting well browned by then. After four hours, when mine was cooked, check the lamb is done then leave to rest, covered in foil while you cook your green vegetables.
Serve in large portions whilst piping hot, garnished with freshly chopped parsley, with plenty of mint sauce.
SaveSave
SaveSave
SaveSave
SaveSave
SaveSave
SaveSave