Roasted Duck with Potatoes and Thyme
I love duck. I think it's a throw back to when I was young, duck was very sophisticated in the 80's. I still feel quite the Duchess when I eat it, even now. Clyde used to work in a pub in Sussex when we first met, thousands of years ago, and one of his signature dishes was a super classy Duck with Cider and Lime. We tried to recreate this dish a couple of weeks ago, but it just wasn't the same having moved the recipe on into the new millennium. This Roasted Duck with Potatoes and Thyme, however, is bloody lovely and super seasonal.
It's also quite the simplest of dishes for two. And I think duck dishes should be for two, duck is romantic and elegant, even when it does come in the form of a super easy one dish supper. The wonderfully crisp duck legs are roasted alongside some golden potatoes with just a hint of fresh thyme. There is barely any preparation and then the duck can be left alone while you have a lovely big glass of wine and make a dessert, or is that just me?
Duck legs are also much better value than duck breasts, and they definitely prefer a long slow cooking time. Along with the potatoes and some leaves or green accompaniment, this is a romantic, delicious supper on a budget. It's so embarrassingly easy too, but don't thank me, thank the goddess, Nigella Lawson and her wonderful book Kitchen. Even though the recipe was originally à deux, it wouldn't be the end of the world to double or treble this for a dinner party for people you love. But make sure you do love them, this deliciousness would be wasted on just mild acquaintances.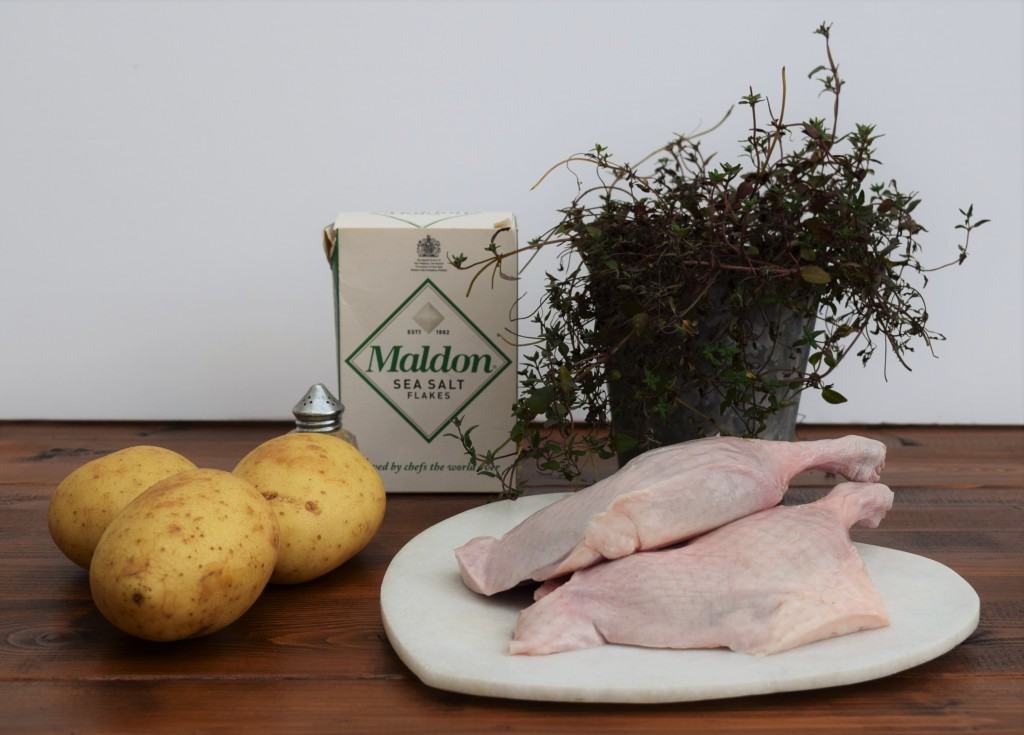 Rather a meagre looking line up for such a tempting dinner. Even with my tired looking thyme plant, it's a scant three ingredient supper *salt and pepper would make it 5 and that doesn't sound impressive*.
Pre heat the oven to 170 to 180 degrees fan assisted. Then make a start with a lovely heavy bottomed *tee hee* baking tin which you can put on the hob. Put the aforementioned tin onto the aforementioned hob to heat.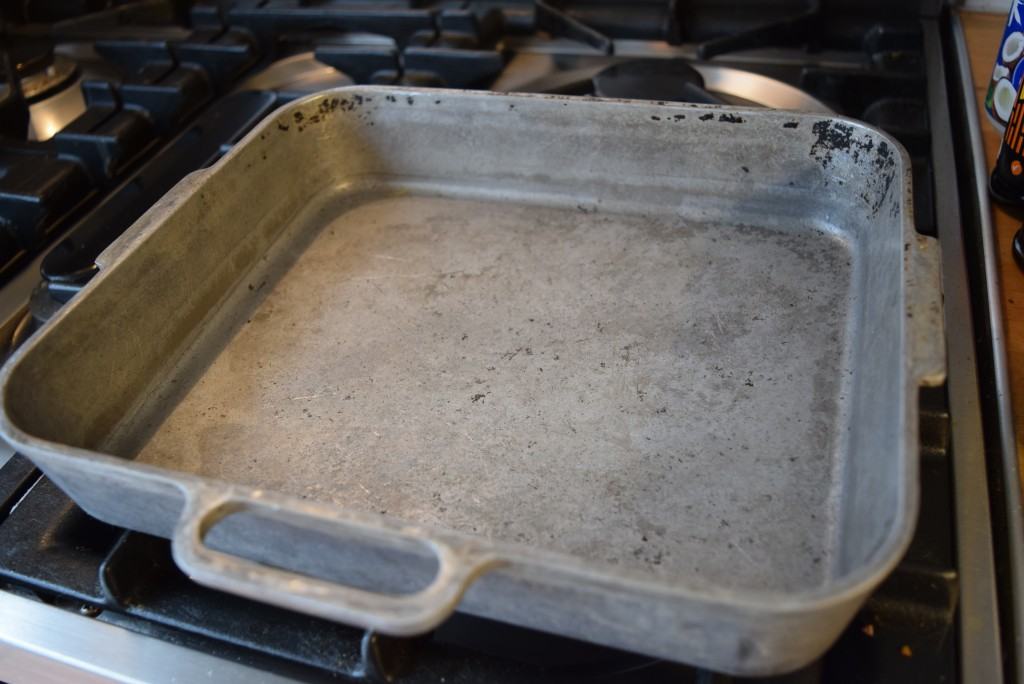 Once the tin is hot, pop your legs in, not yours, the duck's, skin side down, to brown. This takes between 5 and 10 minutes, but the skin should be crisping and releasing some lovely ducky fat and juices.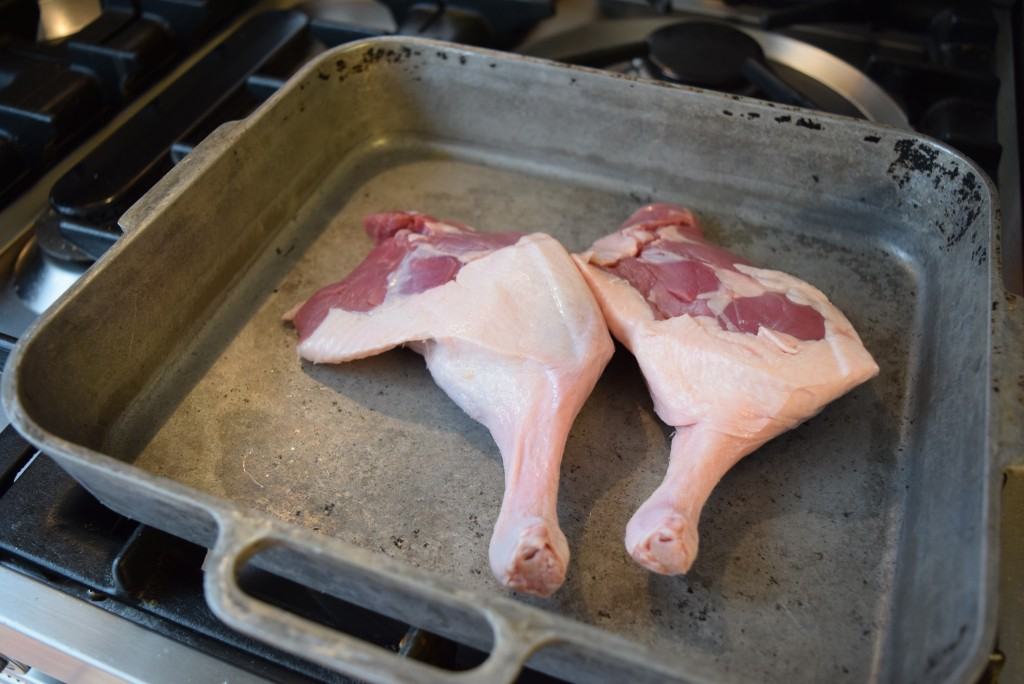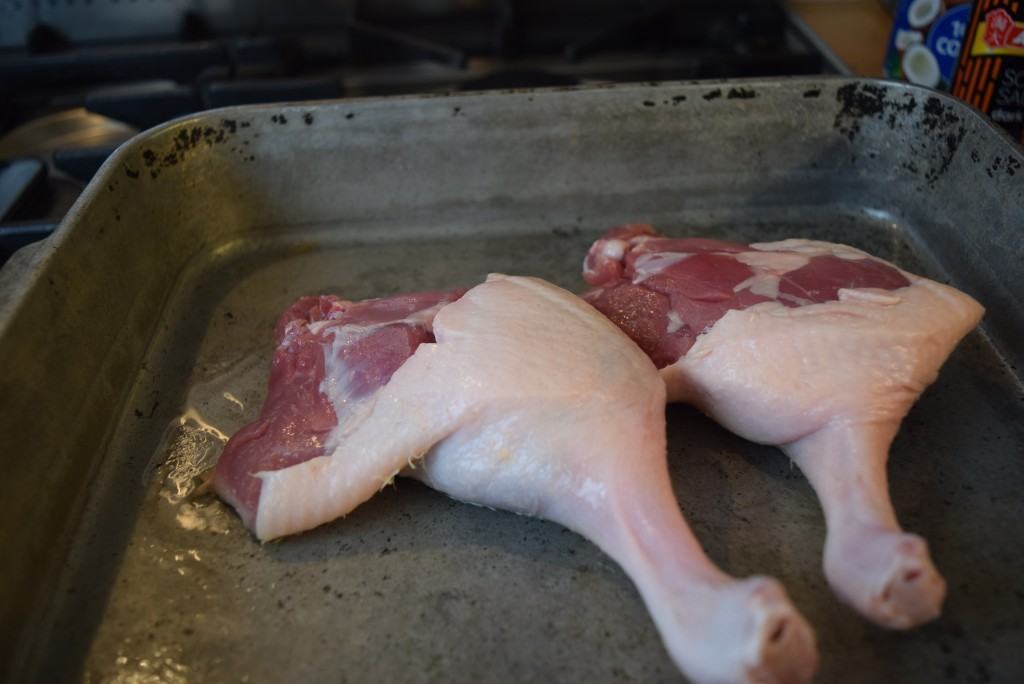 While the crisping thing is happening, cut your potatoes into chunky slices, then cut each slice into four, making nice big cubes. No need to peel, by the way, so hooray for that.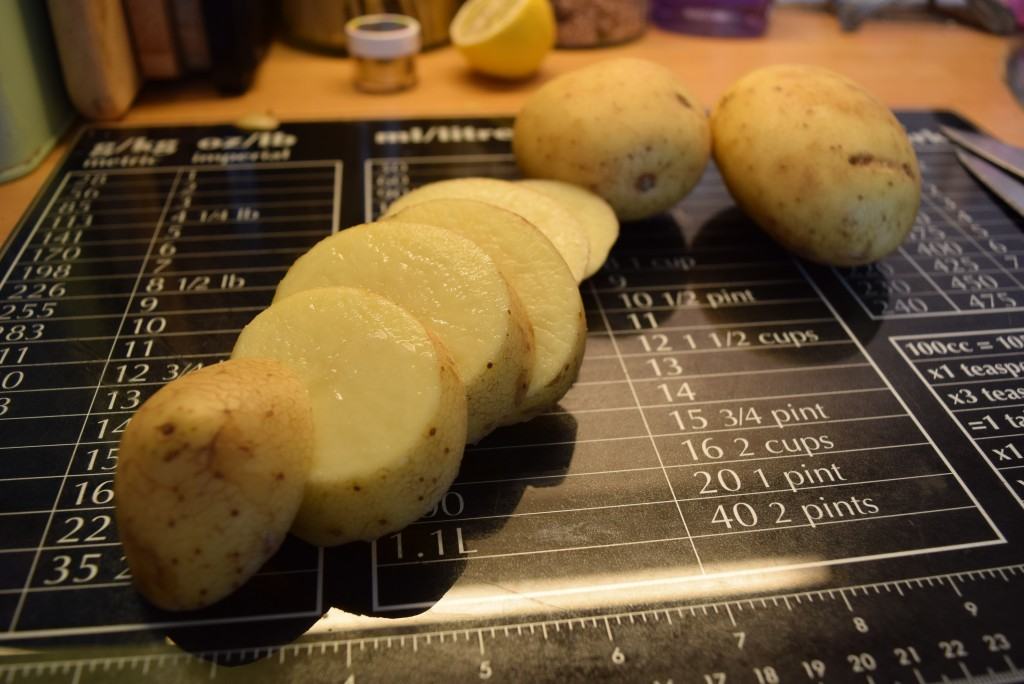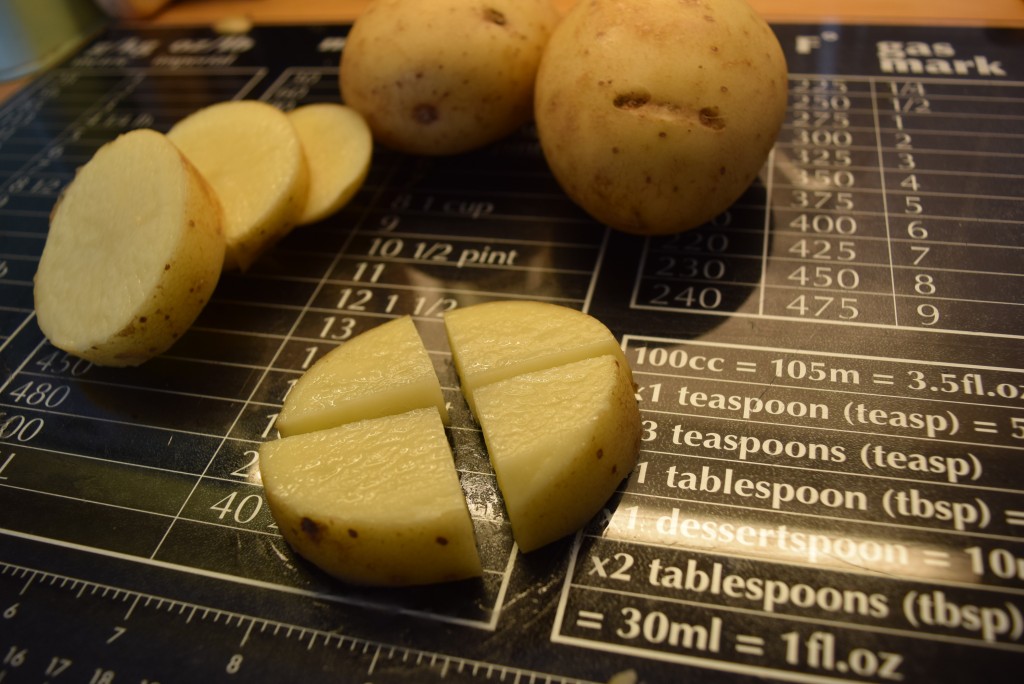 When the duck searing time is up, turn the legs over and take off the heat.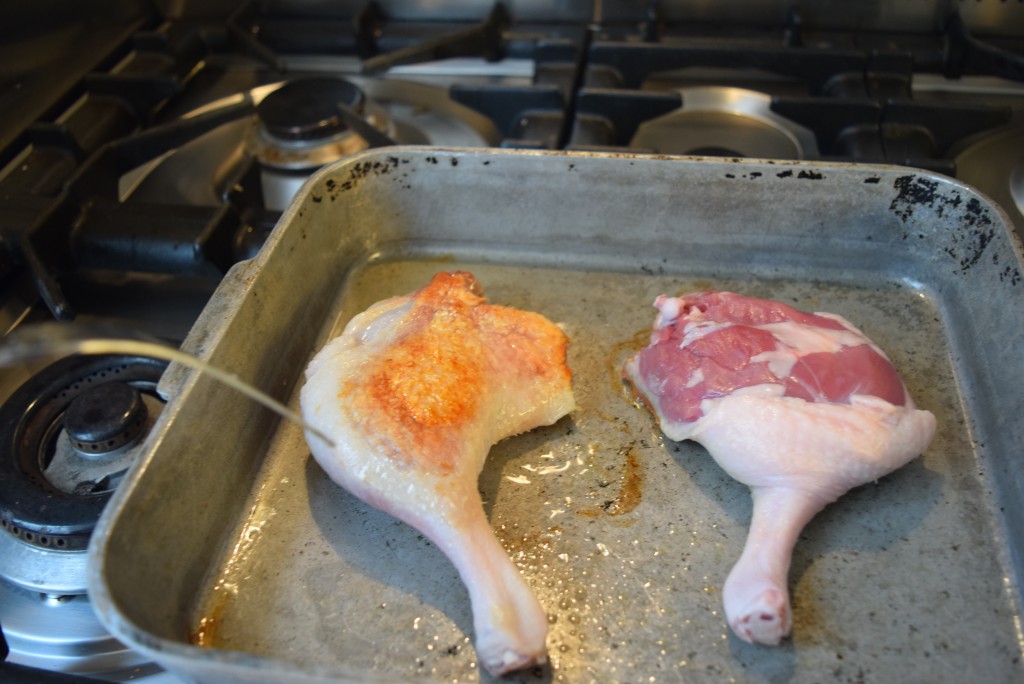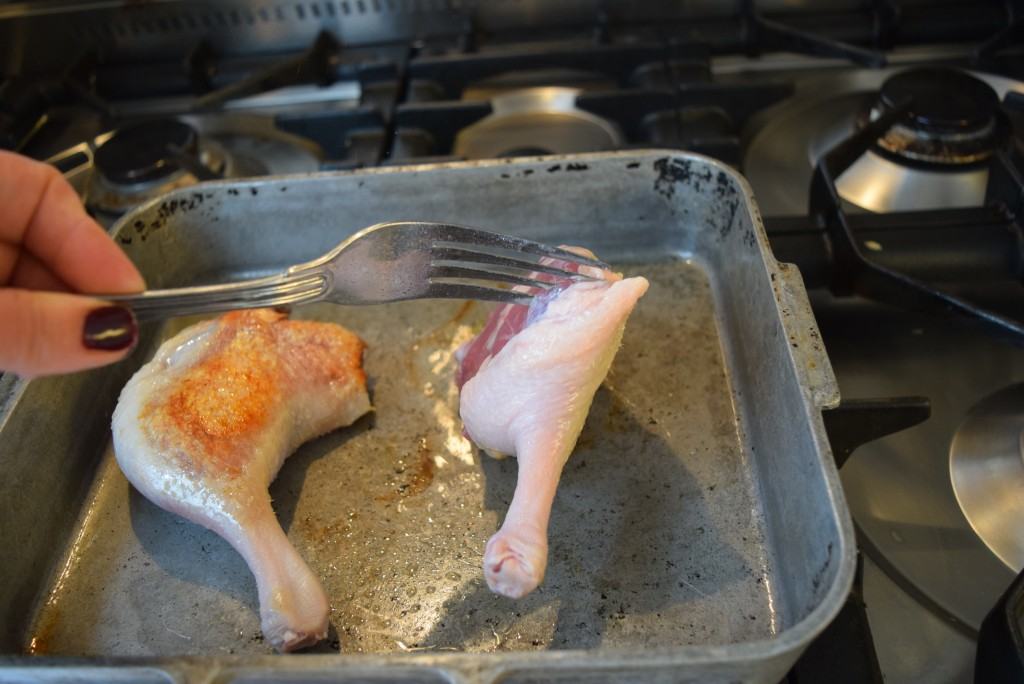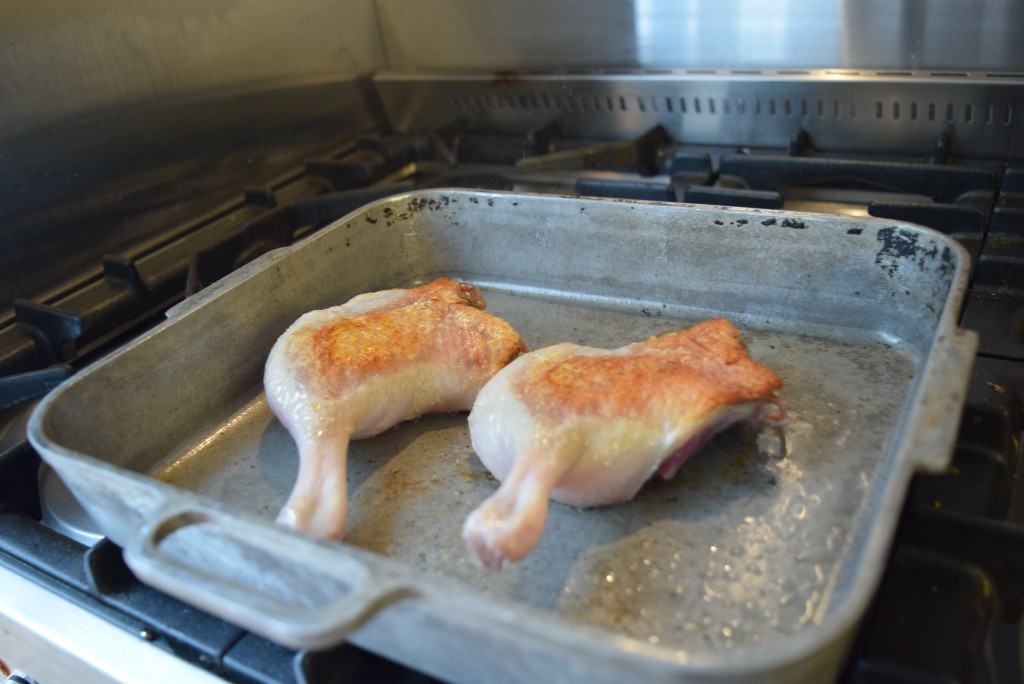 Tumble in the potato cubes and toss around to coat in the duck fat.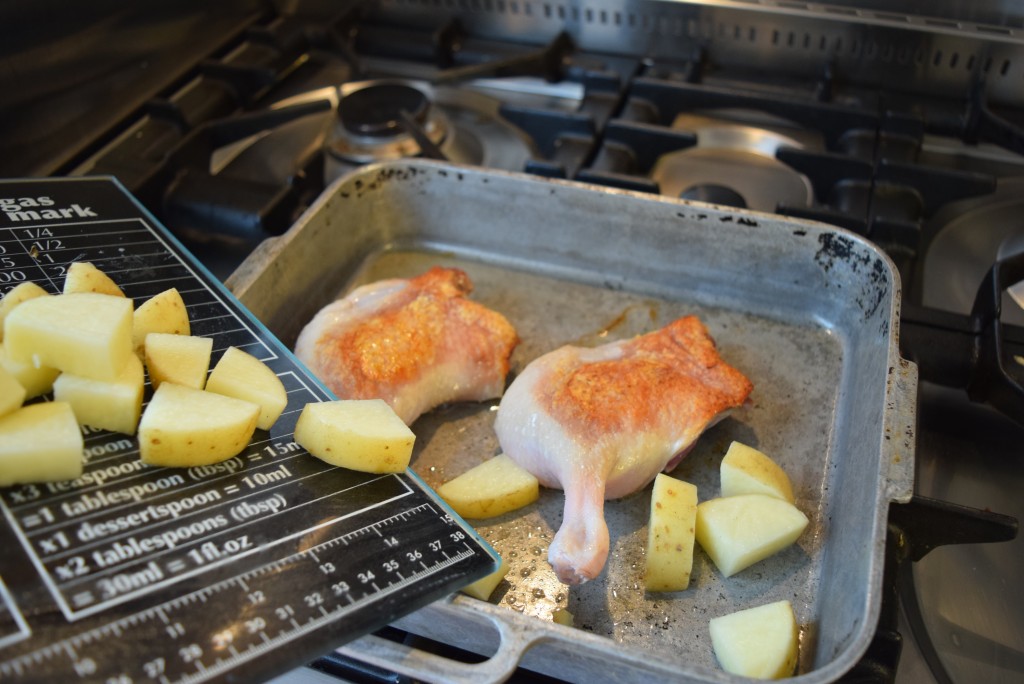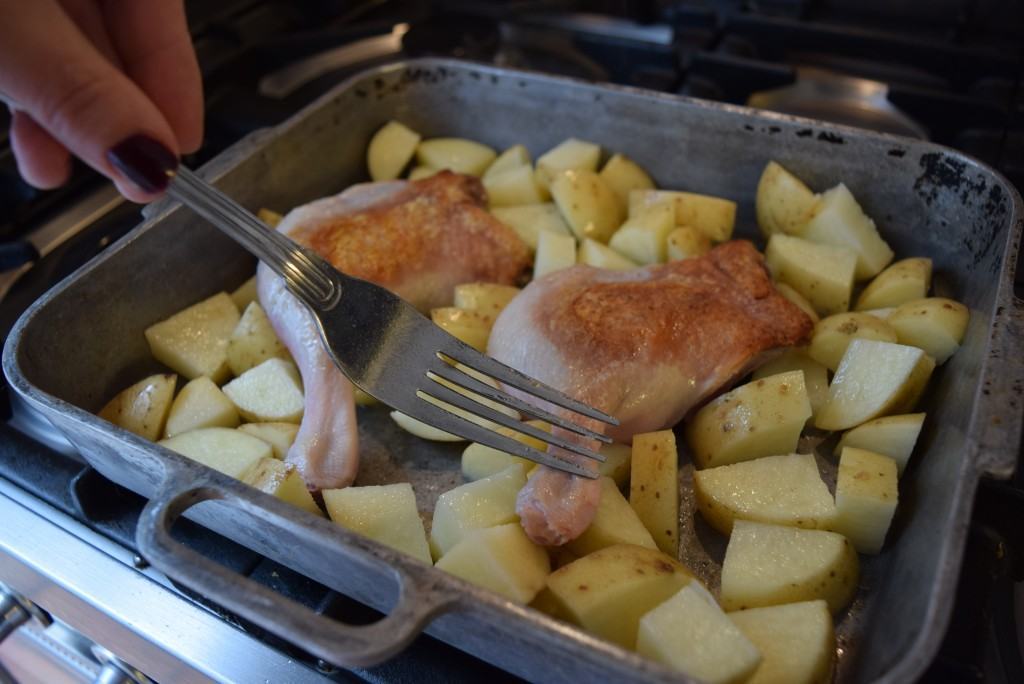 Season with sea salt and pepper then top with fresh thyme sprigs.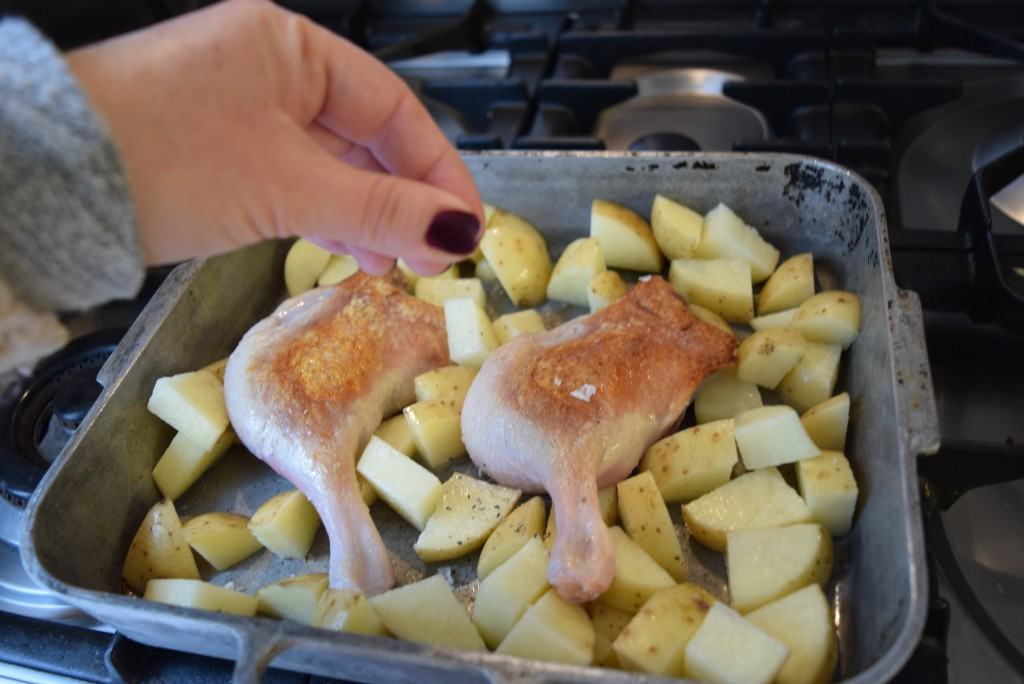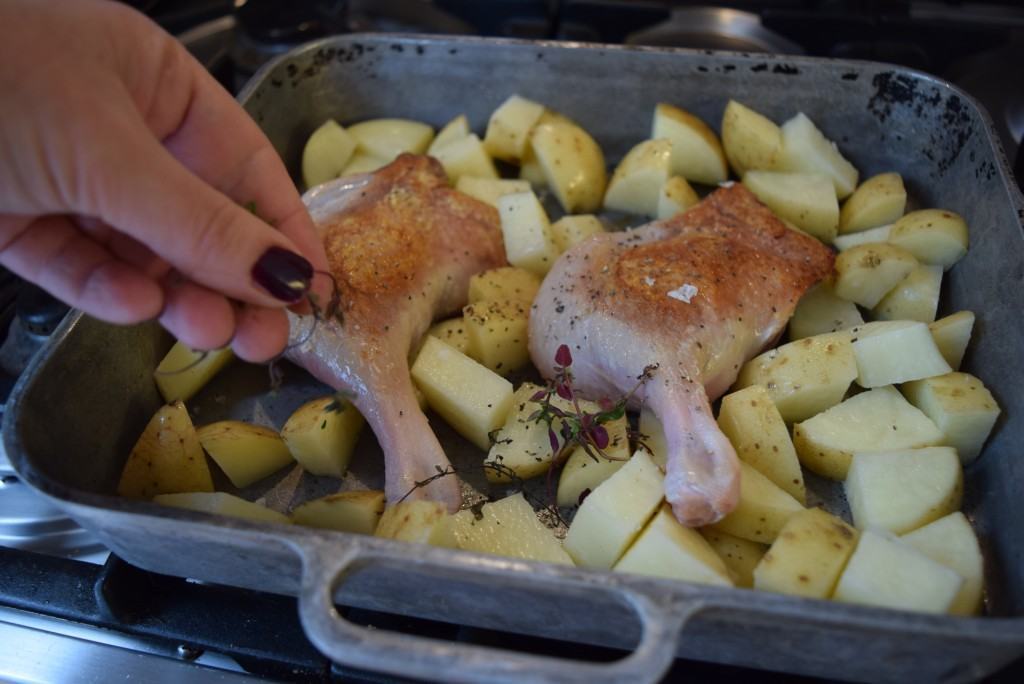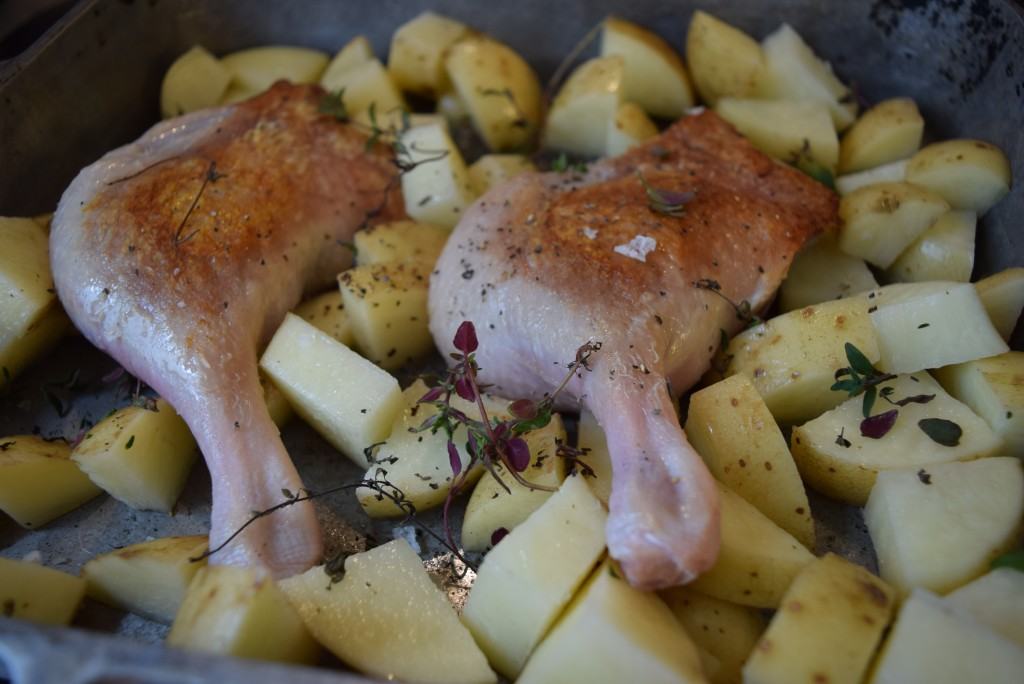 Pop the tin in the oven for an hour and a half to two hours. Give the potatoes a bit of a poke half way through if they are getting too brown on the top.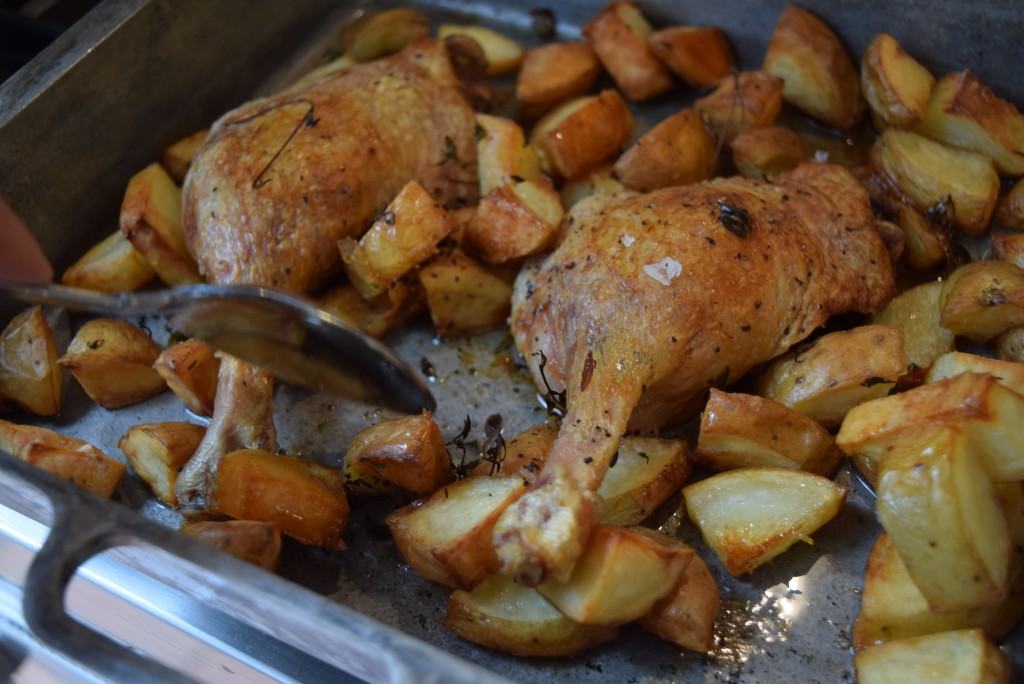 When the time's up, and mine was up after an hour and a half, take the tin out of the oven, sprinkle with parsley and it's ready for the table.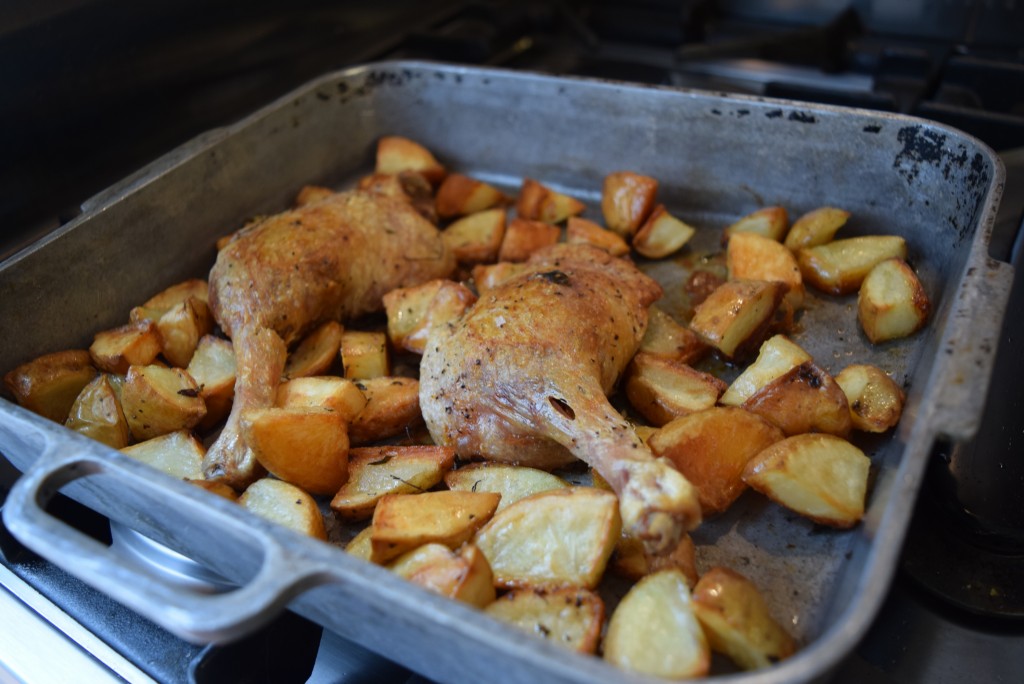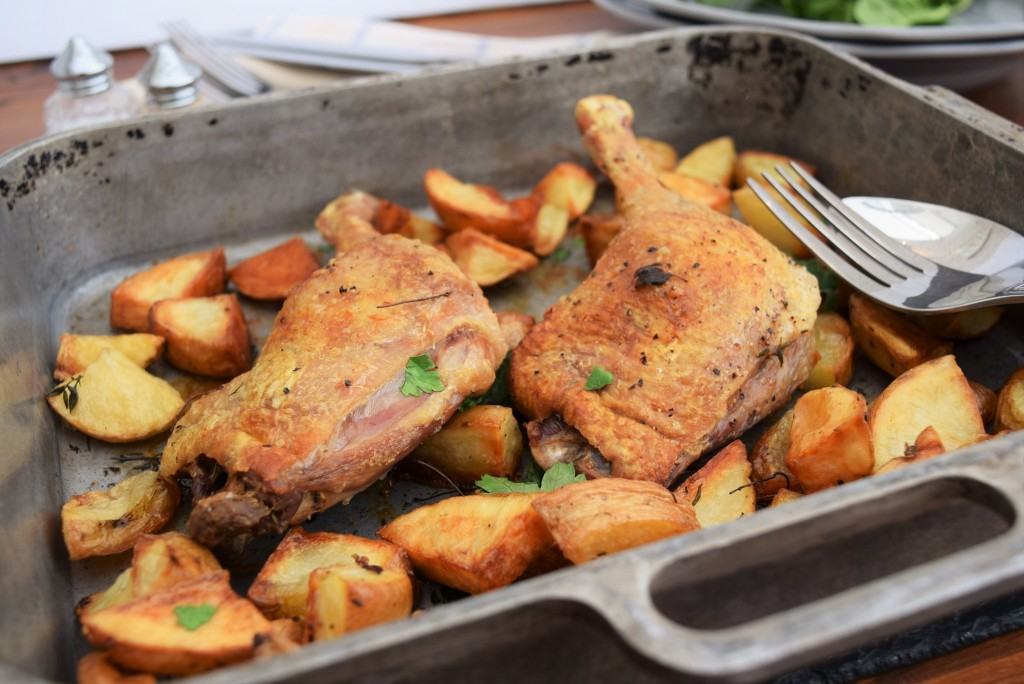 I love my vintage roasting tin so I just plonked it on the table as it was. Serve with leaves or something green and classy, up to you.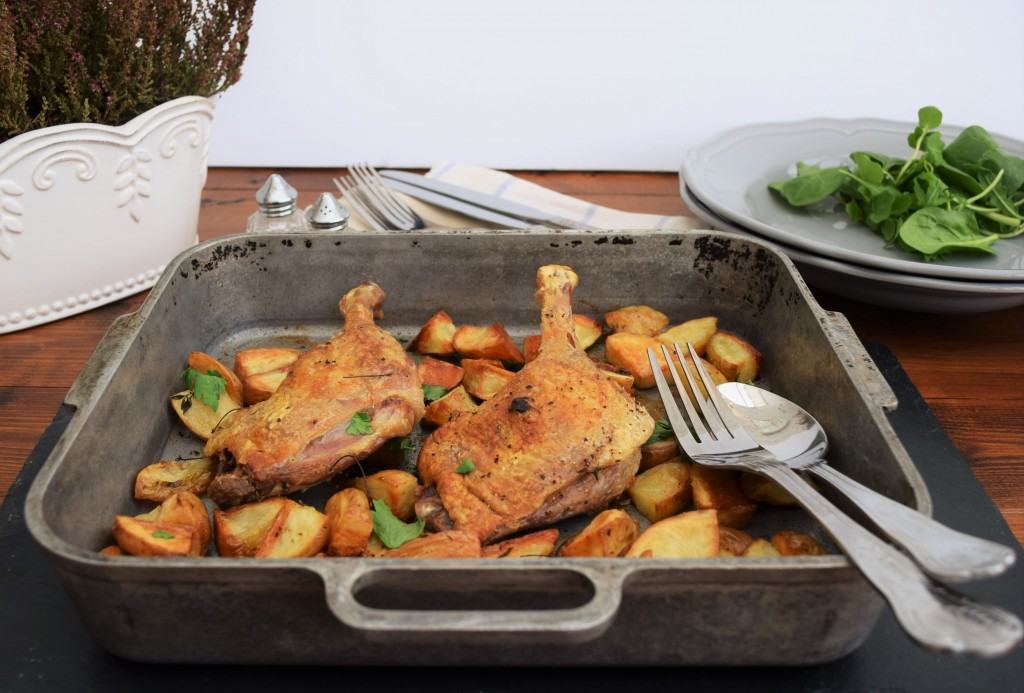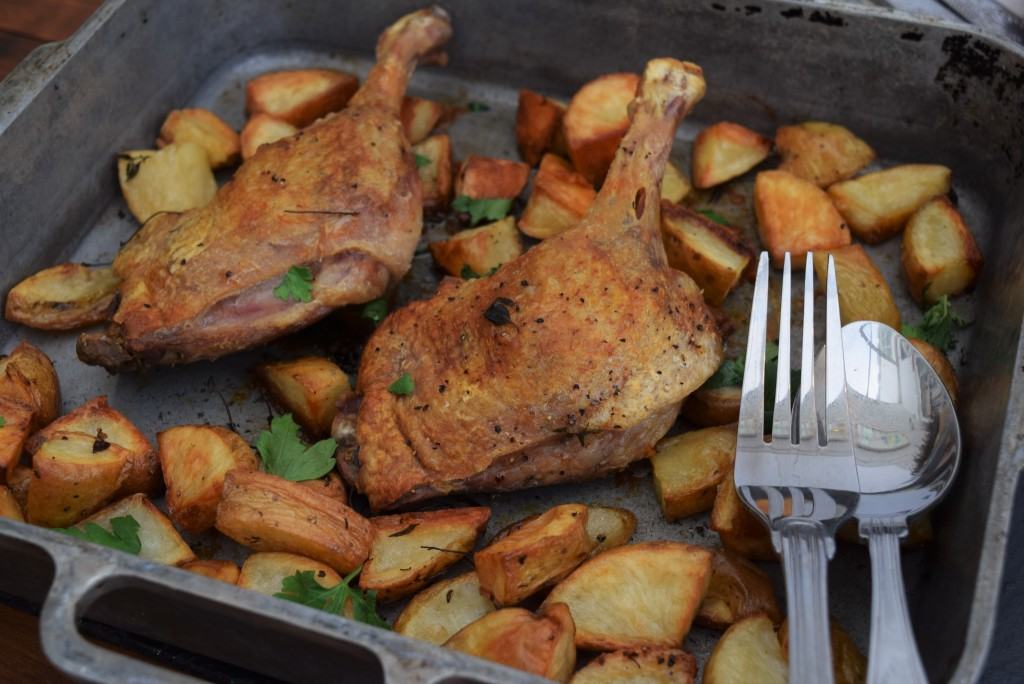 The skin is so crisp and the duck is *aagh* moist and succulent.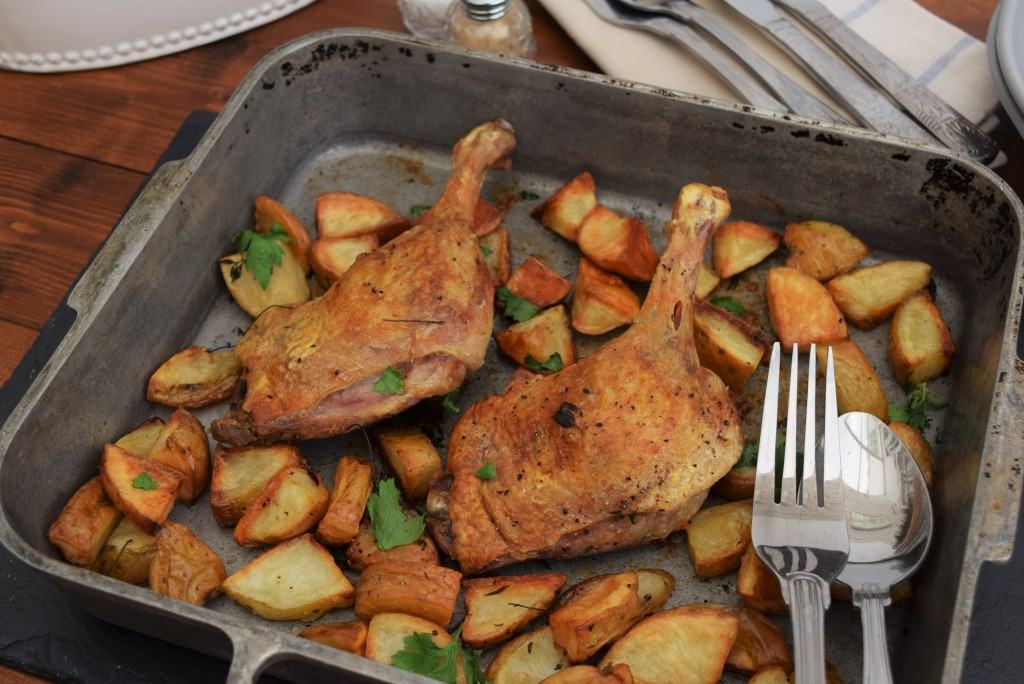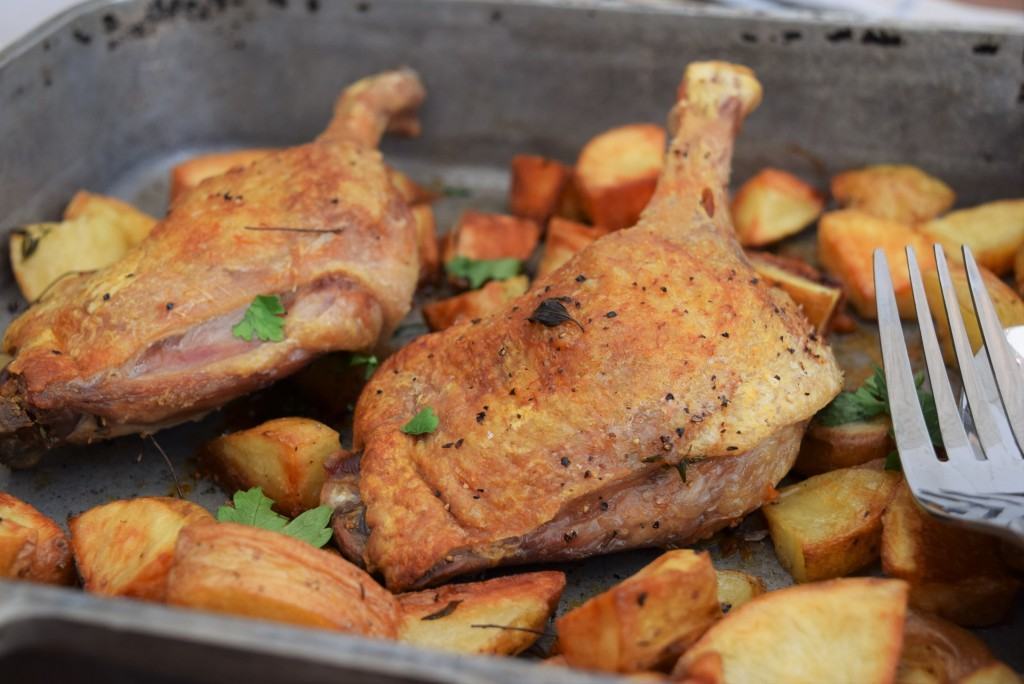 This is such an elegant, autumnal dish, with rustic overtones *contradictory much*. It's a perfect fireside supper à deux, or à quatre or à ok, you get the point. It's delicious and has simple sophistication with sod all effort, classic Lucy Loves.
Lucy x
Roasted Duck with Potatoes and Thyme
Serves 2
You will need a hob proof roasting tin
2 duck legs
500g potatoes, around 3 medium sized potatoes, cubed, no need to peel
A few sprigs of fresh thyme
Sea salt and pepper
Chopped parsley to garnish, if you like
Pre heat the oven to 170 to 180 degrees fan assisted.
Take your roasting tin and place over a high heat on the stove. When the tin is nice and hot, pop in the duck legs, skin side down, and leave for around 7 to 10 minutes, or until the skin is brown and crisp and the duck is producing fat and juices.
Meanwhile, slice the potatoes into thick slices and cut each slice into four. When the duck legs are browned off, turn them over and take off the heat. Drop in the potato cubes, stir around in the fat and juices to coat, add salt and pepper, dot with springs of thyme then pop in the hot oven for an hour and a half to two hours. Keep an eye on the potatoes and give them a stir during the cooking time if need be. Serve with some salad leaves or green veggies.