Raspberry Breakfast Loaf Recipe
Breakfast and I have never been very good friends. In my old smoking days I skipped it all together, then in the post ciggie days breakfast could often last all morning and well into lunch. Still now I am unsure what is my best breakfast option. I always fancy 3 slices of toast, thick butter and Marmite but that's not always the best idea. Most days I eat porridge with a banana and then feel full and pious for the rest of the day, but that never seems like much of a treat. Fry ups are reserved for hangover weekends only, so that leads me to my latest Pinterest discovery – cake for breakfast. And in particular this Raspberry Breakfast Loaf.
Some days when I am busy baking for Lucy Loves, cake or cake mixture is inadvertently my breakfast but I have never thought about intentionally eating it first thing. But this Raspberry Breakfast Loaf is a sort of huge muffin so seems to be a viable breakfast food. And it contains fruit and yoghurt so surely that means it's healthy? It doesn't have heaps of sugar or fat, so I am officially appointing this as a legit breakfast fodder. You don't have to only eat it first thing, however, it's so soft, light and filled with fruit you could eat it at any time of the day and not feel any remorse. Have it buttered or even with a nice thick layer of cream cheese. Just don't feel bad, cake for breakfast is now feasible. This brilliant recipe is based on one from the Two Peas and Their Pod, with huge thanks to them for the revelation.
You can vary your fruit choices in this Raspberry Breakfast Loaf, don't feel you have to stick to mine. I have allowed the hairy fruits into my breakfast bread, but if you prefer strawberries or blueberries, these would be so tasty too.  This bread is portable too, tuck a slice in your bag and take to work, or just take the whole bloody thing on a picnic, sharing with those you love, if you absolutely have to.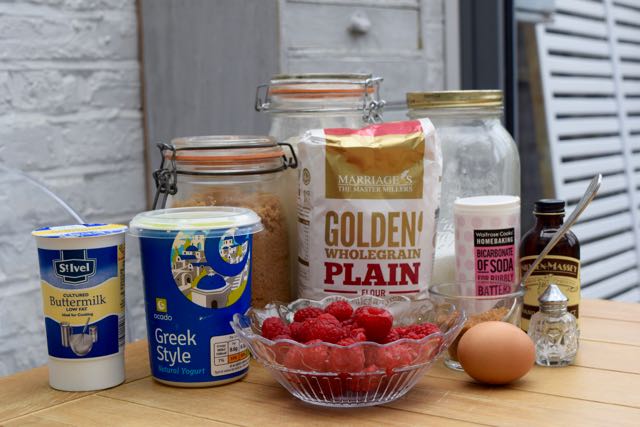 This line up screams breakfast especially since I included half wholemeal flour in my recipe to make myself feel better about the whole cake business. I included raspberries despite my on/off relationship with them as their sourness is just perfect in a breakfast item. You could even abandon all sense of health and add chocolate chips instead/aswell, no ones judging, and the children or your inner child would love you for it. On a side note, I am crap and forgot the oil, so here it is.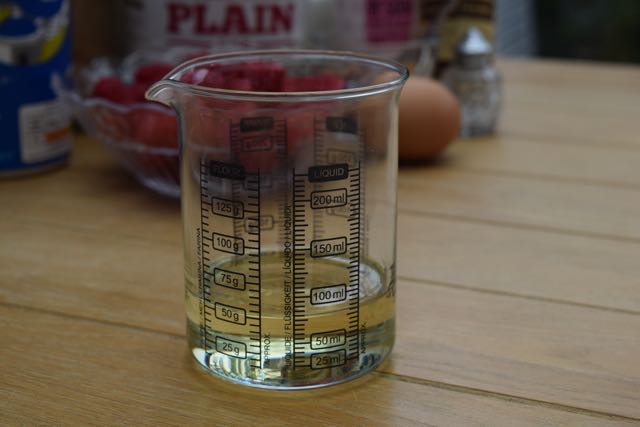 Make a start on this by pre heating the oven to 150 degrees fan assisted and lining your loaf tin or buttering it well.
Next, take a bowl and measure in the flour, either all plain or some plain and some brown. Mix in the salt and bicarb then pop to one side.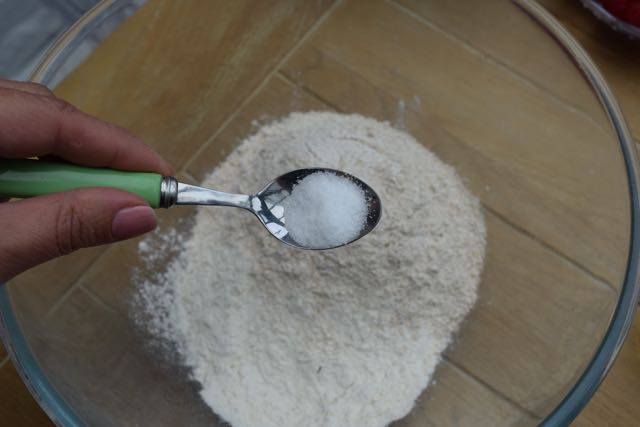 Now onto the wet ingredients. Take another bowl or large jug and measure in both the caster and brown sugar and add the one lonely egg.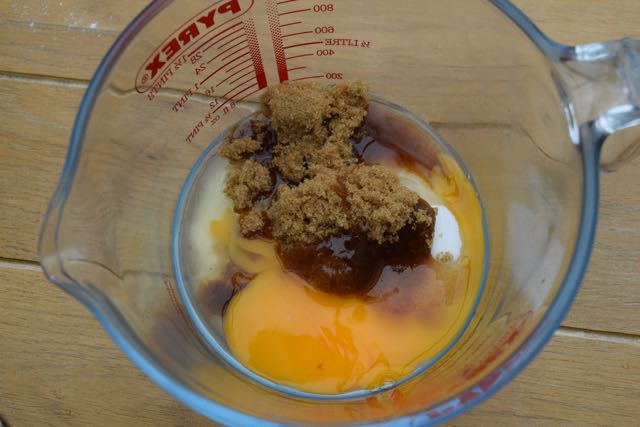 Whisk together until you have a smooth mixture without any lumps of sugar in it and it's paler in colour.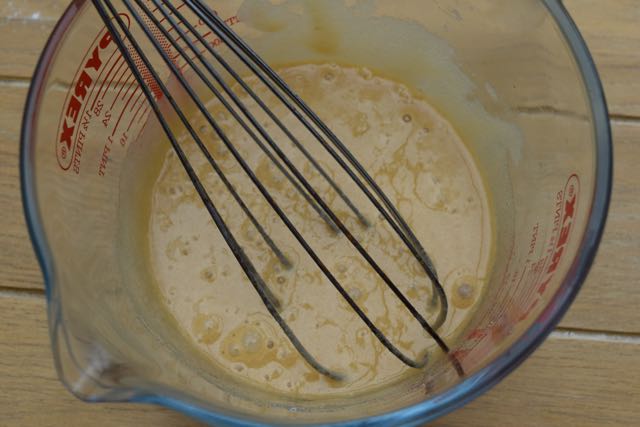 Measure in the vanilla then pour in the oil, buttermilk and Greek yoghurt. Full fat or low fat yoghurt, both seems to work just fine.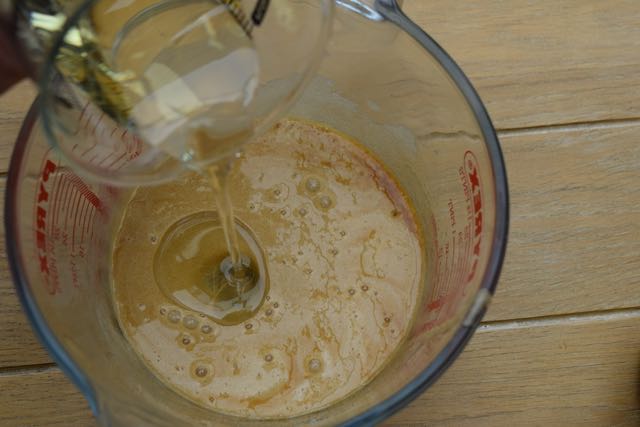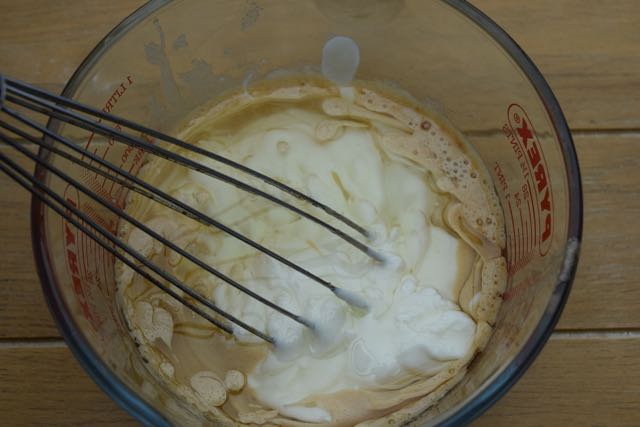 Give this a really good whisk until smooth then pour into your dry ingredients and fold together. Don't over work the batter, just until it's smooth-ish.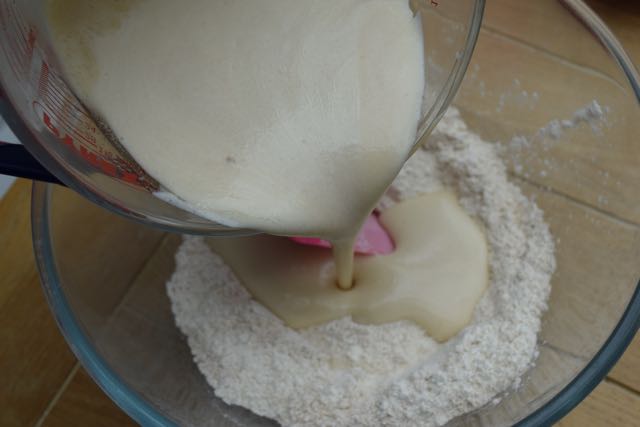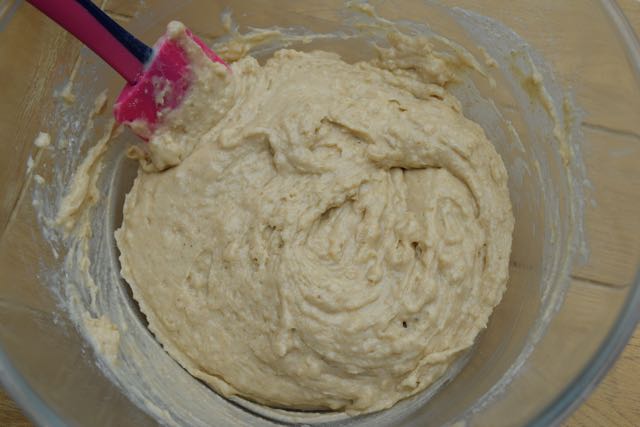 In a final flourish, coat your chosen fruit, mine being raspberries, in a tablespoon of flour. Gently fold these into the batter.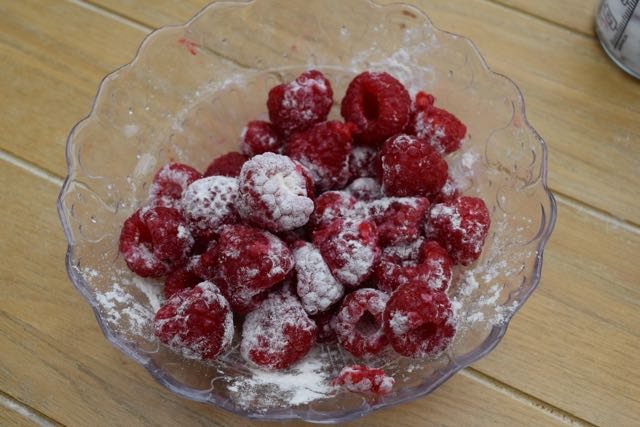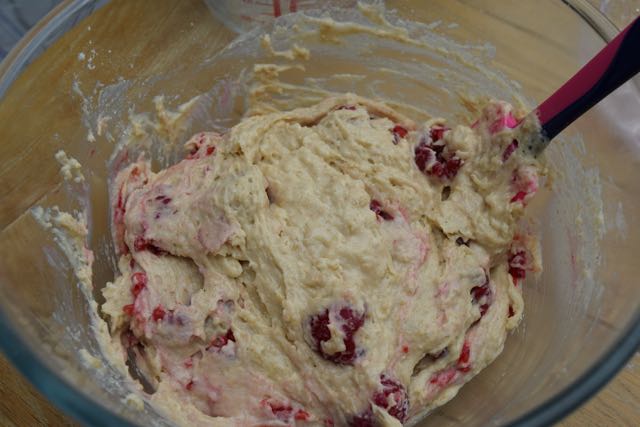 Plop the batter into your lined tin and smooth the top a little. Sprinkle on the Demerara sugar to form a lovely crust to your loaf then pop in the oven for 45 to 55 minutes.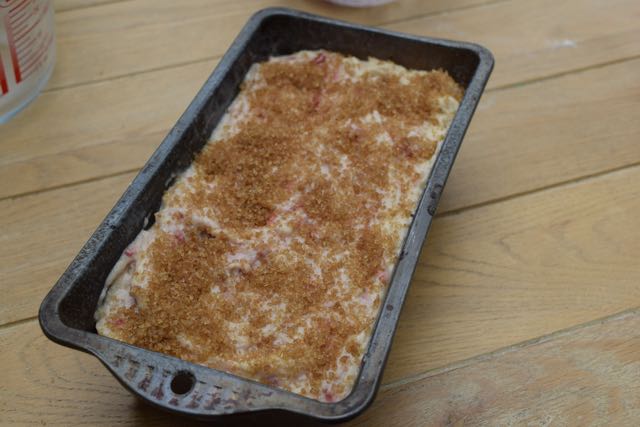 The loaf is cooked when the top is golden and a skewer comes out clean when poked in the middle. If it's getting too golden, pop a sheet of foil over the top of the loaf for the final 15 minutes or so.
Just like this. Breakfast is served.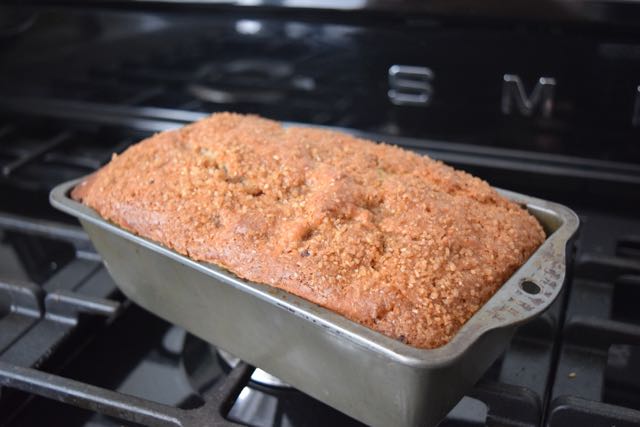 Leave the loaf to cool completely *almost unbearable* then turn out of the tin. Serve in thick slices, with butter, without, with cream cheese, it's your choice. For breakfast, lunch or dinner.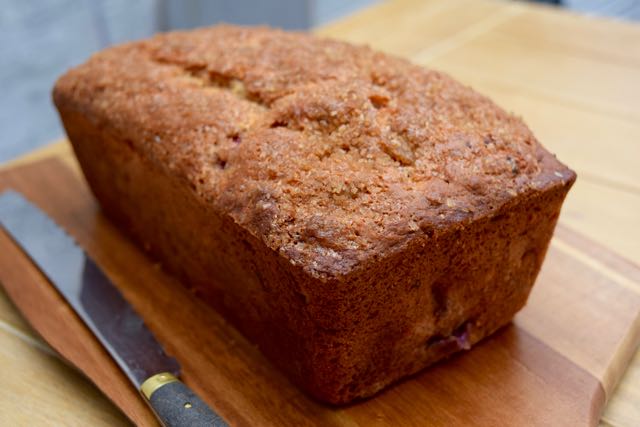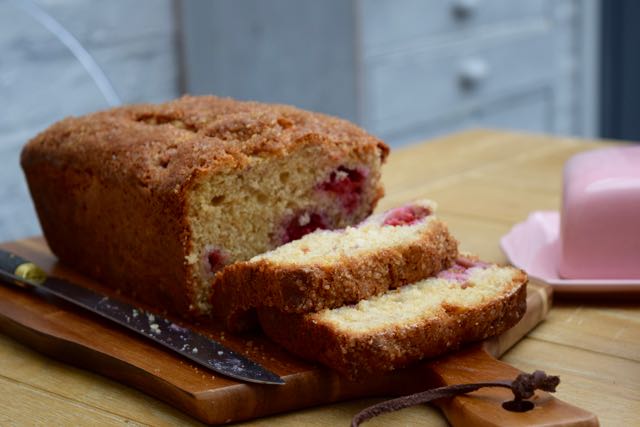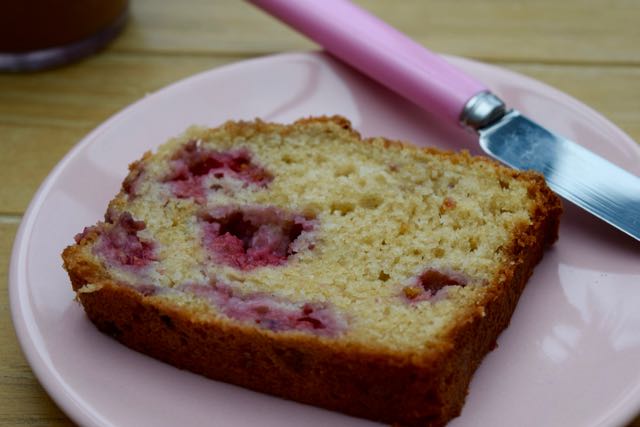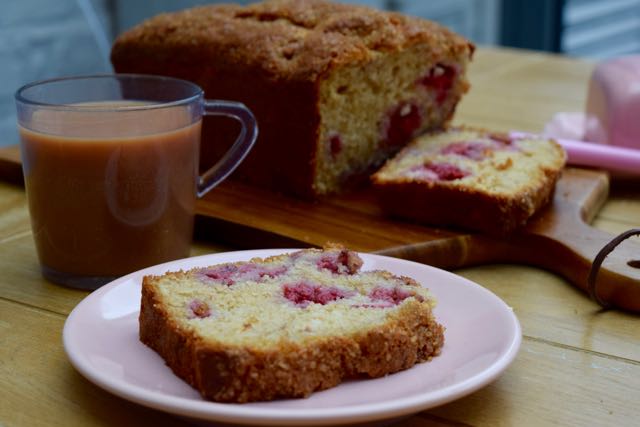 This is light, sweet, sour and feels nourishing enough to pass as breakfast. And I said it is, so if anyone asks why you're eating cake for breakfast, just say it's fine, Lucy said so.
Lucy x
Raspberry Breakfast Loaf Recipe
Makes 1 loaf, serving around 8 to 10
You will need a 2lb/1 kilo loaf tin, well buttered or lined and a bowl and whisk or stand/hand mixer
250g plain flour, I used half white and half wholewheat flour
1 teaspoon bicarbonate of soda
1/2 teaspoon salt
110g caster sugar
50g soft brown sugar
1 egg
125ml plain Greek yoghurt
125ml buttermilk
80ml vegetable oil or melted coconut oil
2 teaspoons vanilla extract
200g raspberries, tossed in a tablespoon of plain flour
2 tablespoons Demerara sugar, for sprinkling
Soft butter to serve or cream cheese
Pre heat your oven to 150 degrees fan assisted and line or butter well your loaf tin.
In a large bowl, mix together the flour, bicarb and salt. Put to one side.
Take a medium sized bowl and add the caster and brown sugars, then whisk in the egg until the sugars are well blended. Pour in the buttermilk and Greek yoghurt and whisk. Whisk in the oil and finally the vanilla extract until you have a smooth mixture.
Pour the buttermilk mixture into the flour mixture and fold together until you have a soft batter. Coat your raspberries in a tablespoon of flour then, gently, fold these into the cake mix.
Spoon into your lined or buttered tin then level the top. Sprinkle with the Demerara sugar to form a sort of crust then place into your pre heated oven for 45 to 55 minutes. If the loaf is getting too brown, cover the top with foil.
Leave to cool completely before removing from the tin and serving in thick slices with butter or cream cheese or just unadorned.
The loaf will keep for 2 to 3 days, well wrapped, in an airtight tin.
SaveSave
SaveSave
SaveSave
SaveSave