Hot Chocolate Spoons Recipe
This week, Cocktail Friday is taking a more warming turn. As this weekend will be choc full of outdoor firework displays, I thought I would warm the cockles of your hearts with these Hot Chocolate Spoons. Not so much a cocktail, more of a soul soothing milky drink.
On the surface, these Hot Chocolate Spoons seem like an alcohol free zone, but never let it be said I do not cater for everyones needs. These spoons can be added to hot milk laced with your favourite Whisky, Brandy, Bourbon, Baileys, the list is endless. I can guarantee a little drop of booze would certainly enhance your Hot Chocolate Spoons experience *for over 18's only, blah blah*.
These brilliant spoons can also be adapted to include all your favourite ingredients. I used all milk chocolate as I was making them for the boys. However, half milk and half dark choc or all white chocolate would be super tasty. I also added some mint flavoured chocolate chips I had lurking in the cupboard, but sling in anything you have to hand. Not anything, as I can imagine ham wouldn't work that well, but anything sprinkle, marshmallow, chocolate or glitter based would be brilliant. You could also stir instant espresso powder into the melted chocolate or flavour with extracts or syrups to pep up your finished milky drink. Experiment with these to your hearts content, then keep a supply in the fridge ready for a hot beverage of superior quality at any time of the day, never just on a Friday.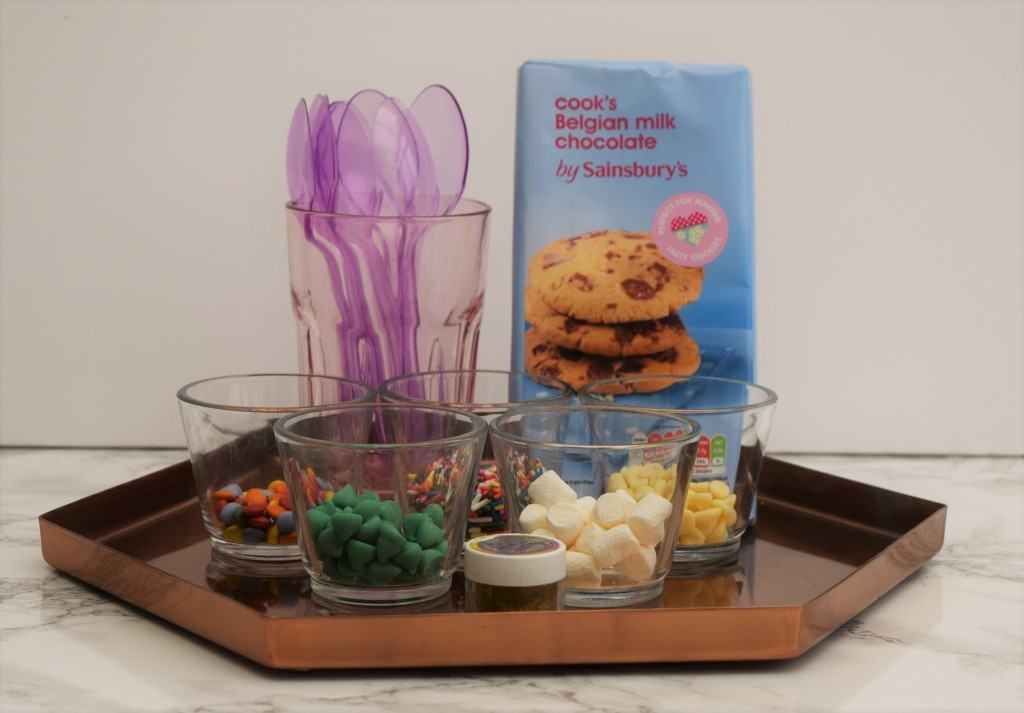 Here's the controversially different Cocktail Friday line up. Alarmingly alcohol free, but like I said, remedy that at your leisure. For these fantastic Hot Chocolate Spoons you will need a good sized ice cube tray and some festive looking plastic or wooden teaspoons. You could also use lolly sticks if you have these in your stash of craft items.
Make a start by melting the chocolate of your choice in a small bowl. I went old school as my microwave had broken and melted this over a pan of simmering water in a small heatproof bowl.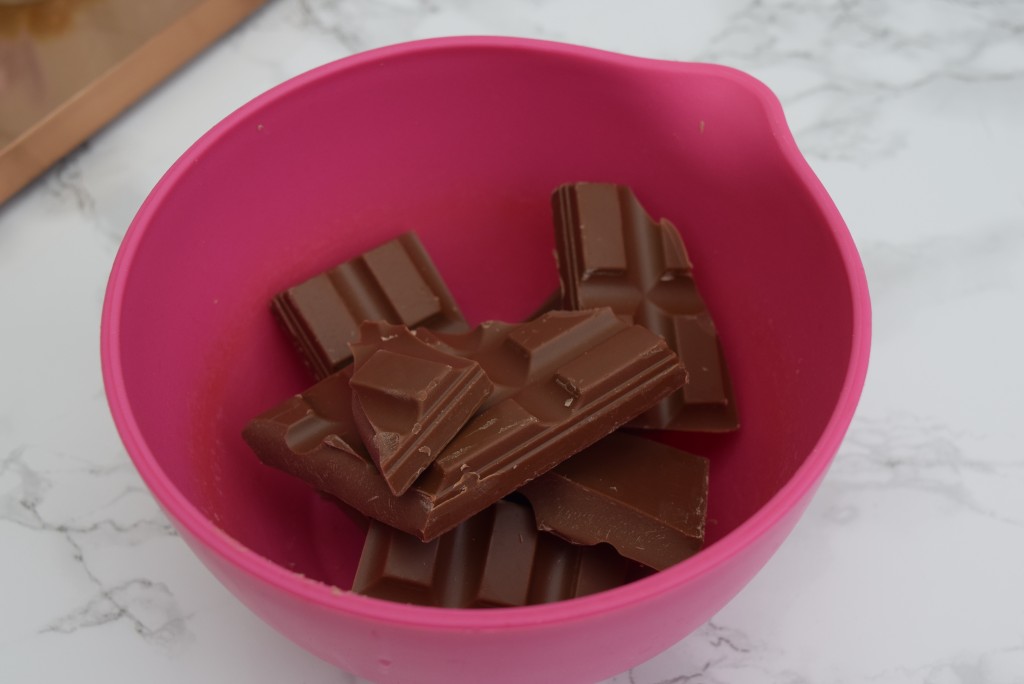 Take the bowl off the heat just as the chocolate is starting to meld together, you don't want to over heat it. Leave to melt before stirring it to make a lovely glossy, chocolatey gloop.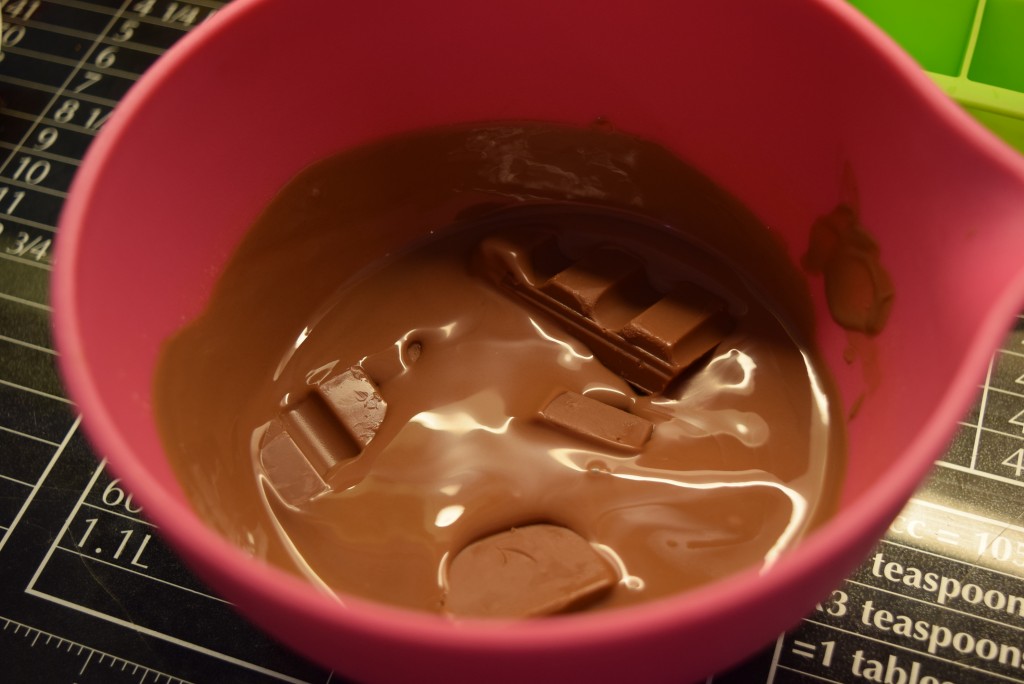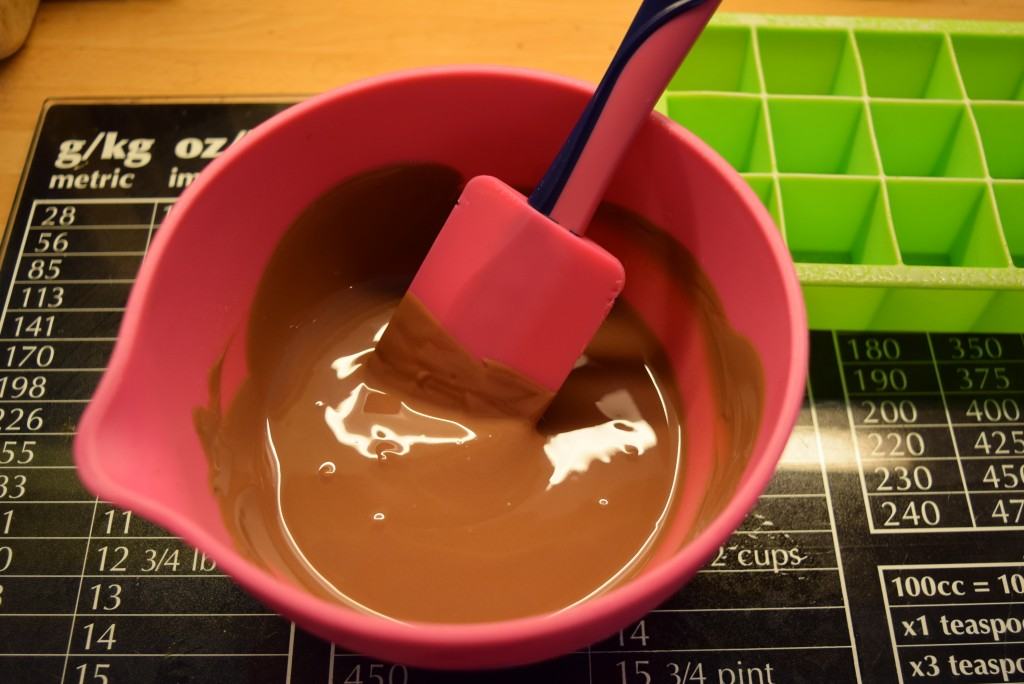 Next, ensure your ice cube tray is spray oiled or buttered so the cubes of chocolate won't stick. Also, while you're at it, check your spoons or lolly sticks fit in the squares.
Then spoon the melted chocolate into each recess, filling up to about three quarters full.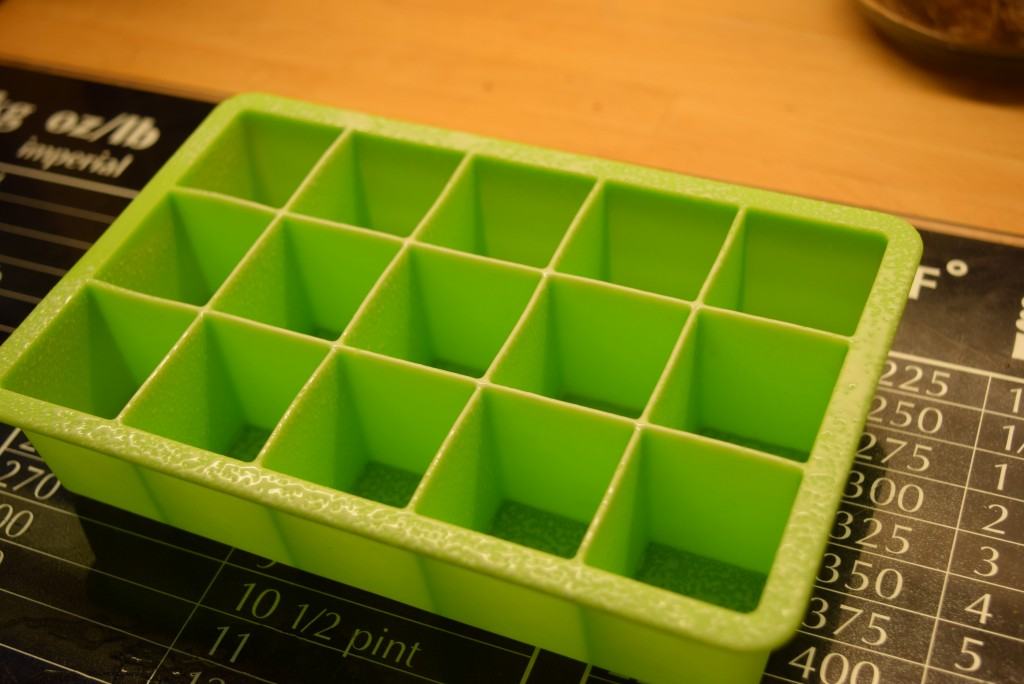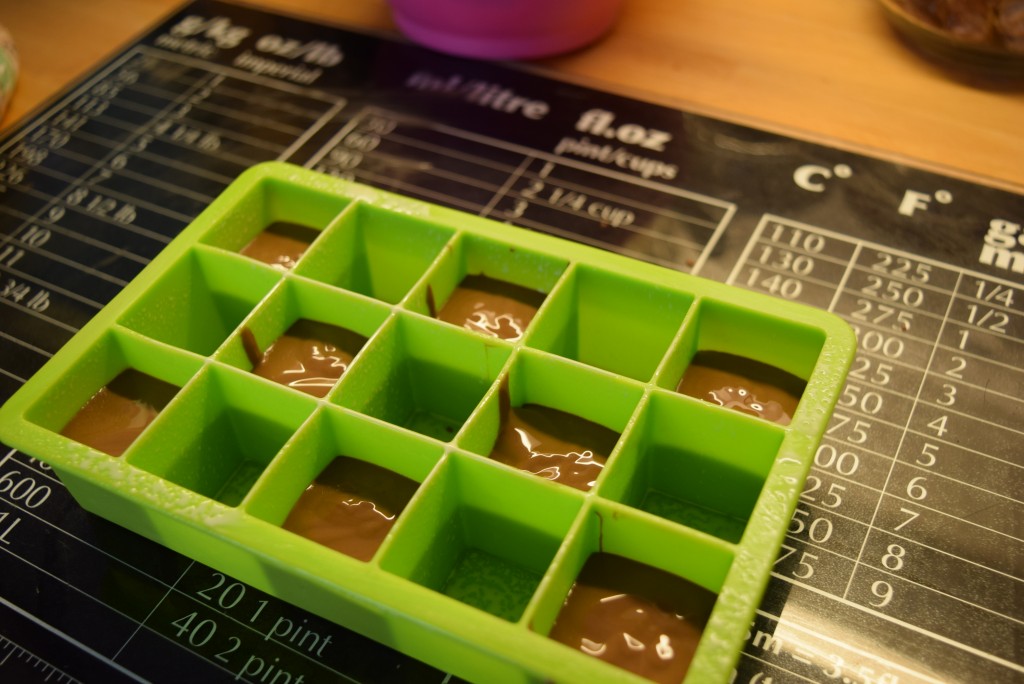 Marvel at the way I have delicately slopped chocolate up the sides of each cube. Well done me.
Now comes the colourful part. Drop in your chocolate chips, marshmallows, sprinkles and glitter to your hearts content.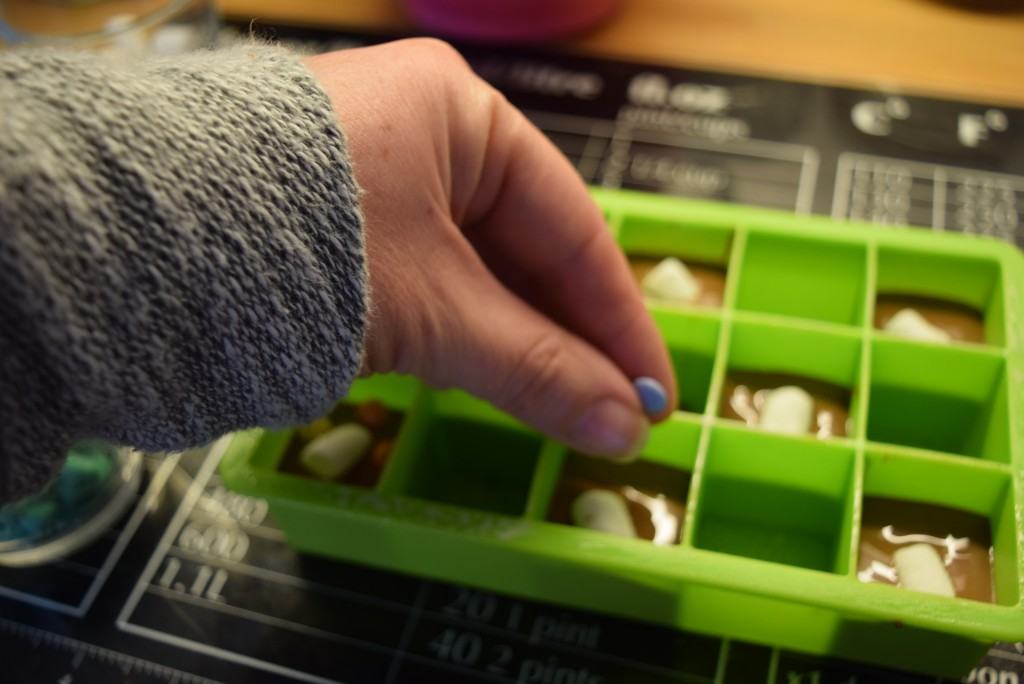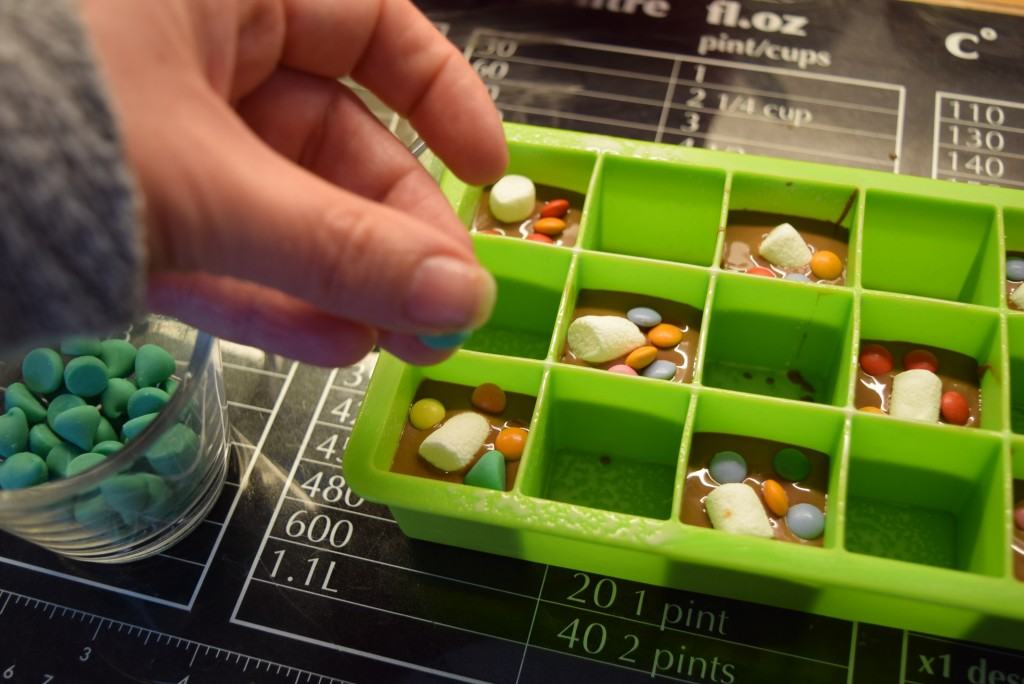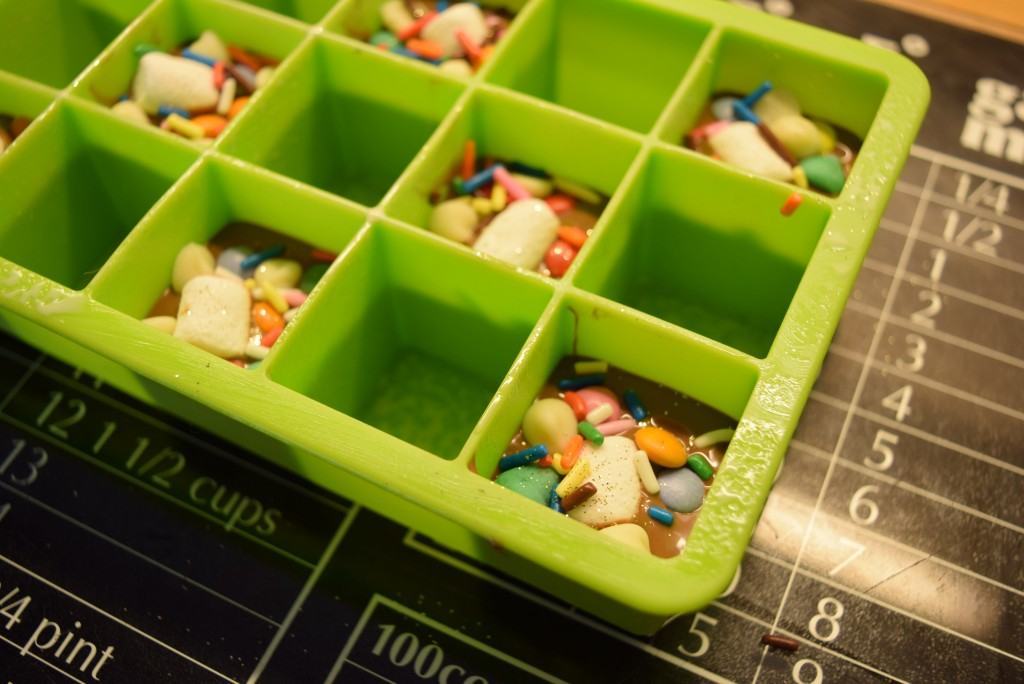 Now, with some skill, place your chosen spoon or stick into the melted chocolate and ensure it stays upright. This is not as tricky as it sounds, just make sure your spoon is buried in the chocolate and not leaning to one side.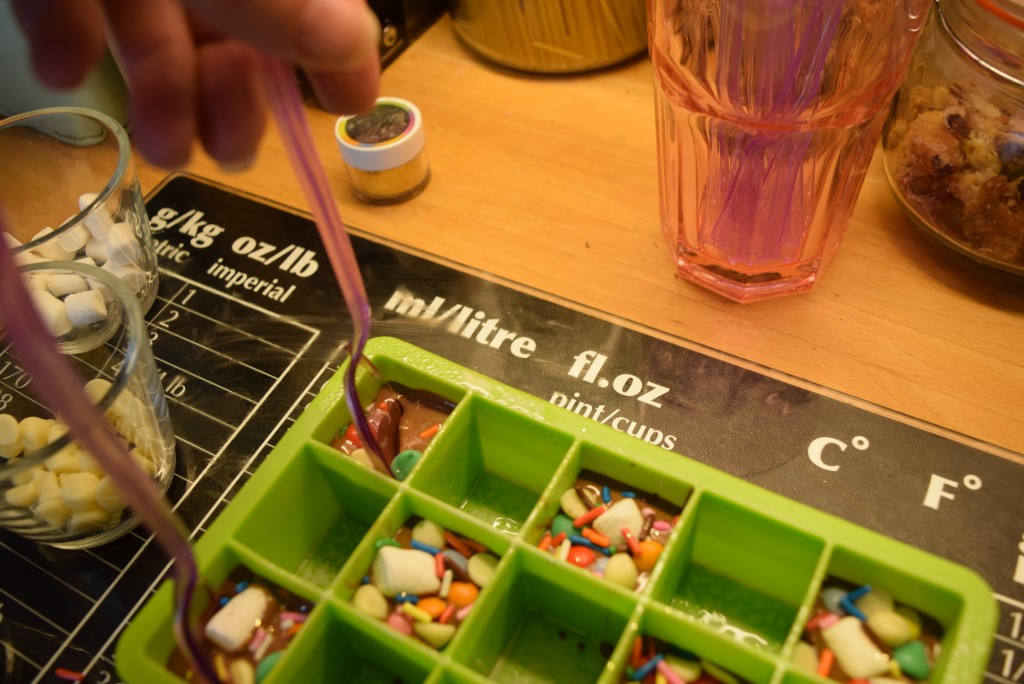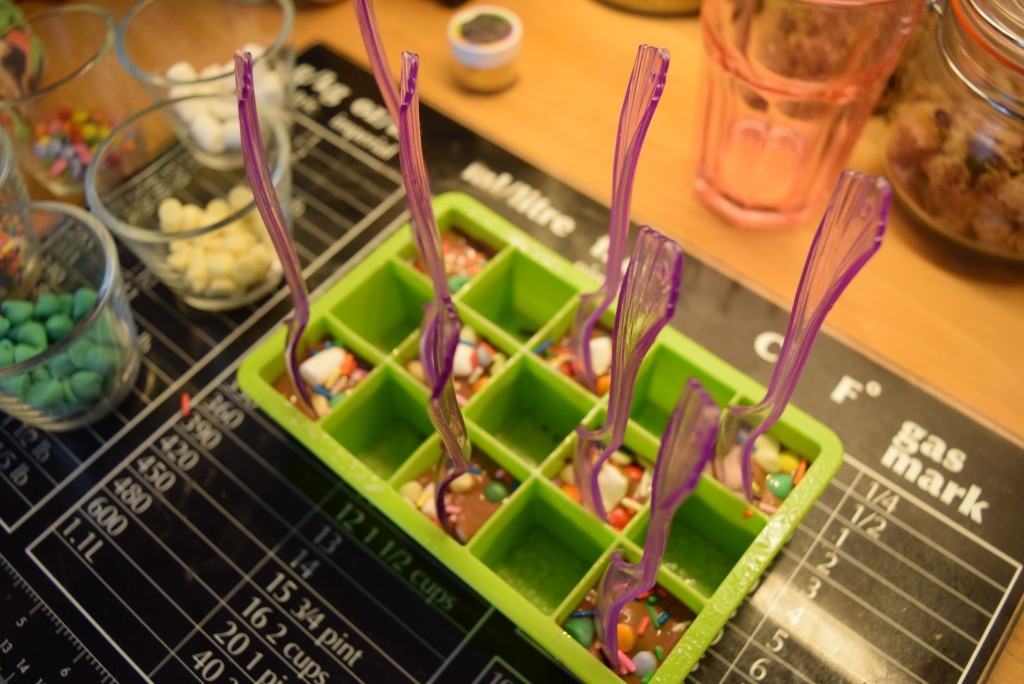 Leave the ice cube tray full of chocolatey goodness on the side to cool before putting it in the fridge to chill for at least an hour. When they are fully chilled pop the squares out of the trays and keep in the fridge until needed.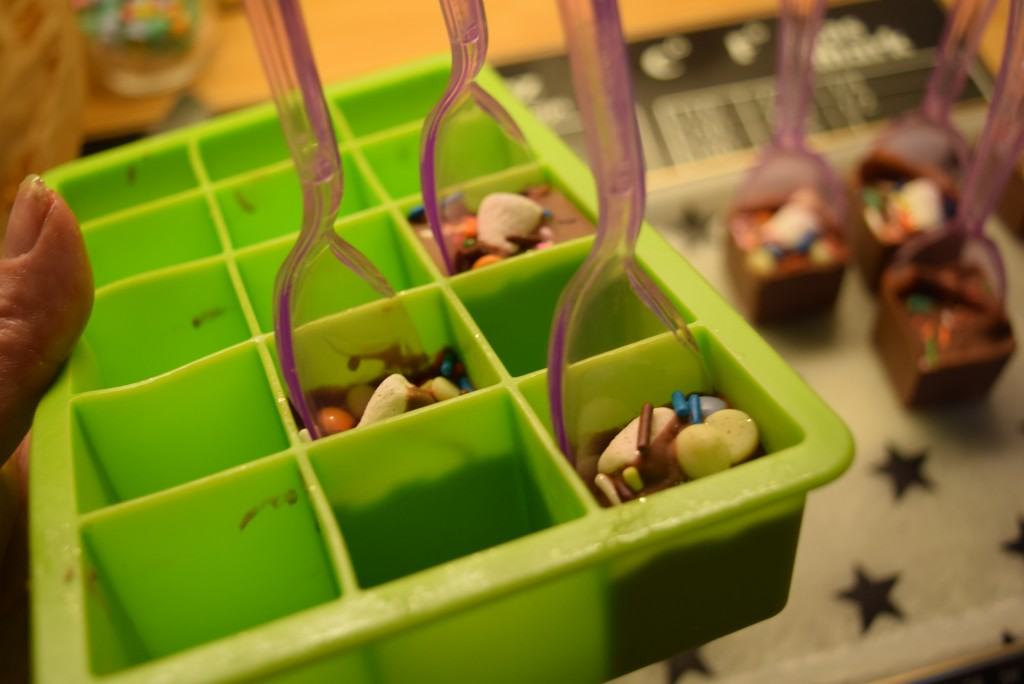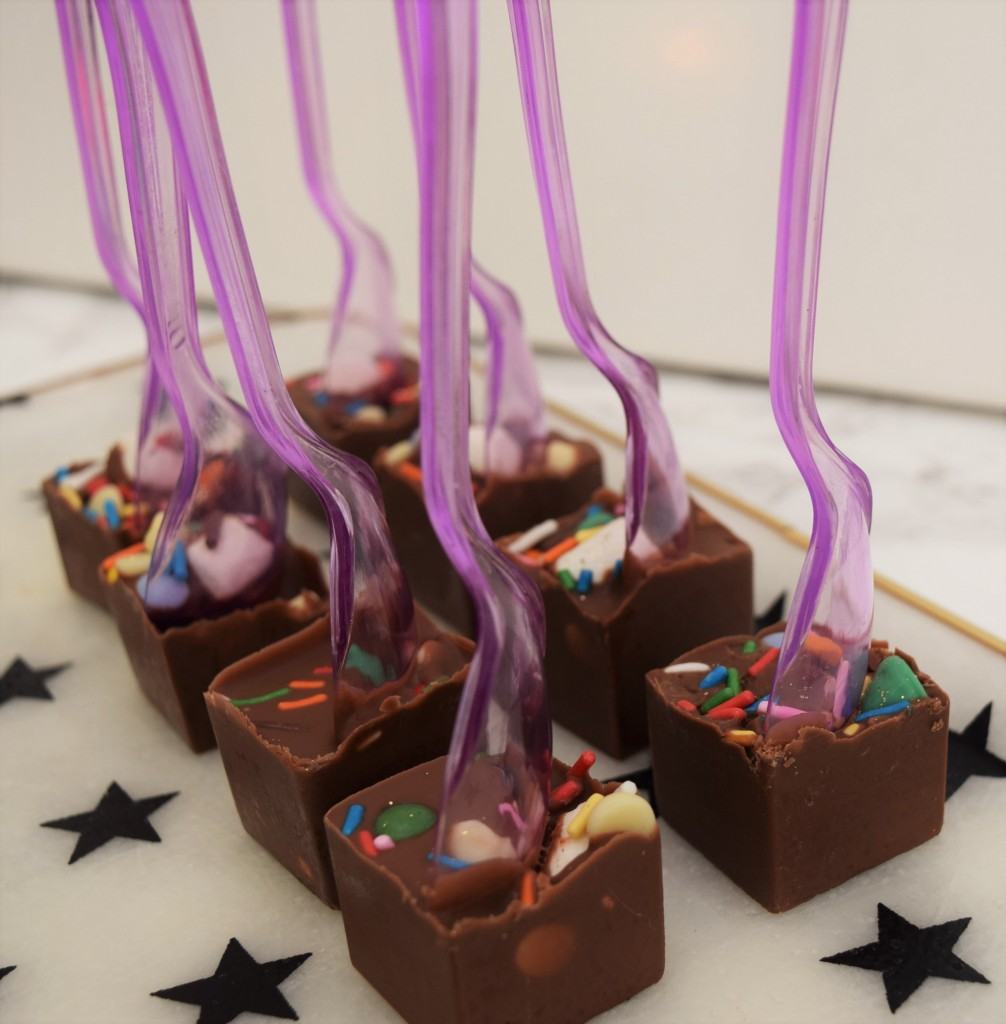 When you are ready to make your inaugural Hot Chocolate Spoons milky drink, heat some milk on the stove or in the microwave.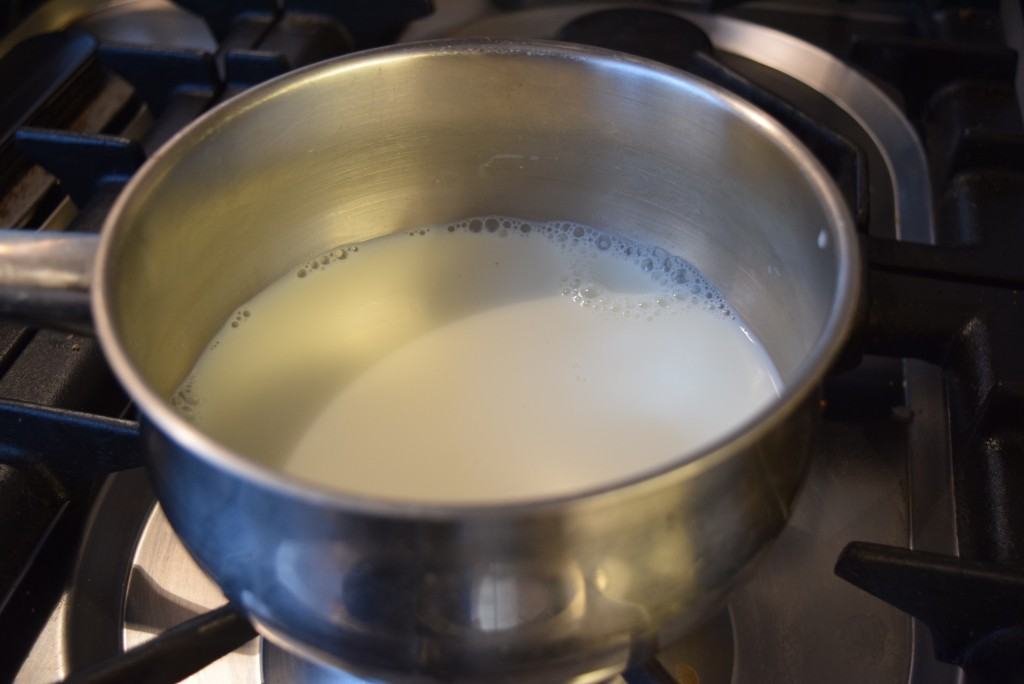 Pop one of the spoons into an attractive looking mug. Pour over the hot milk and leave for a moment then give it a good stir to release all your lovely sparkly flavours.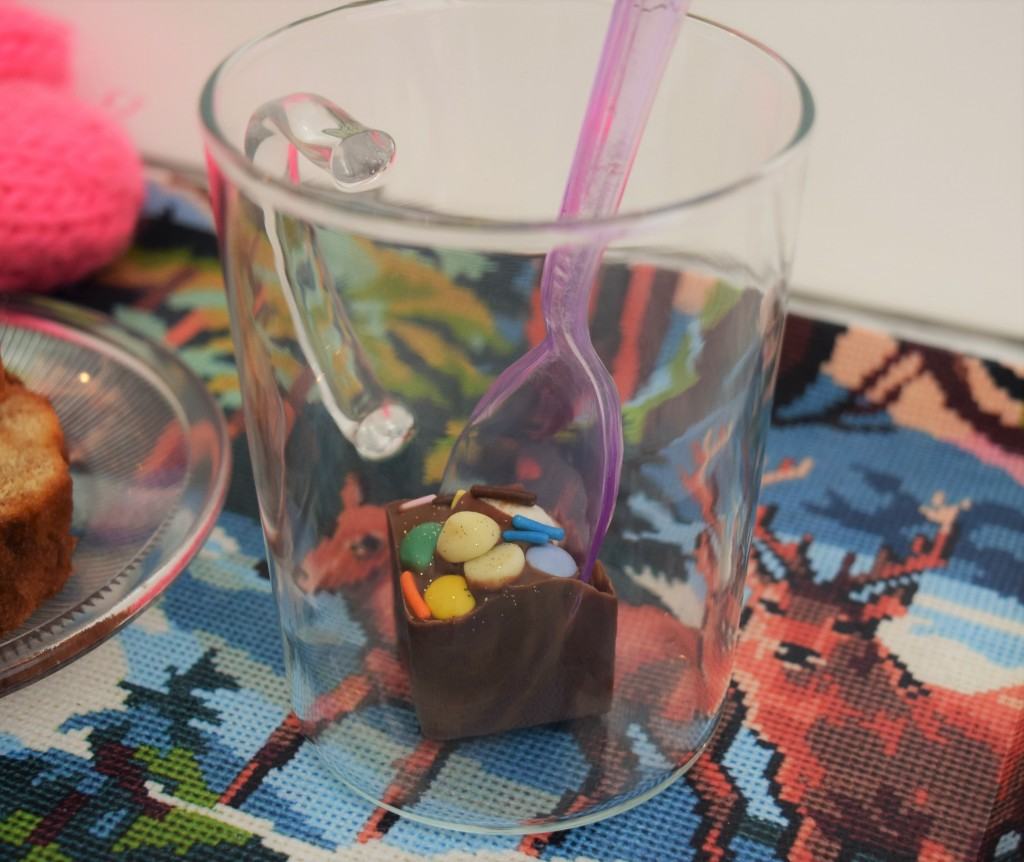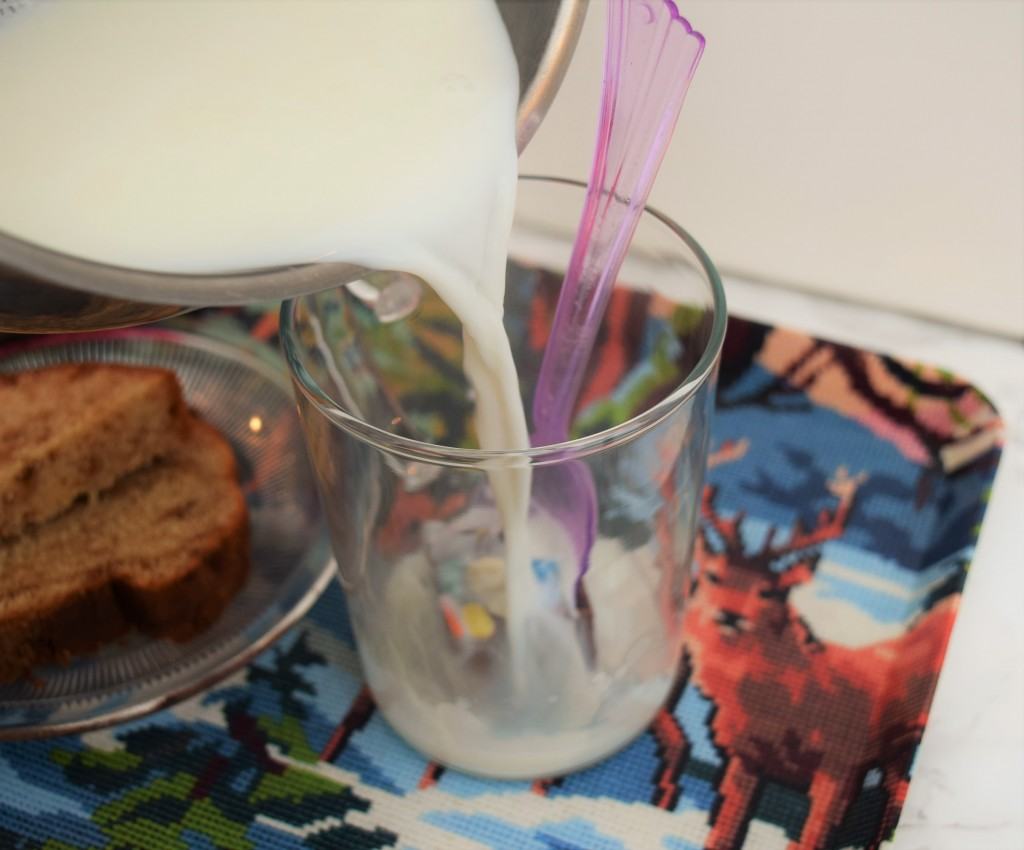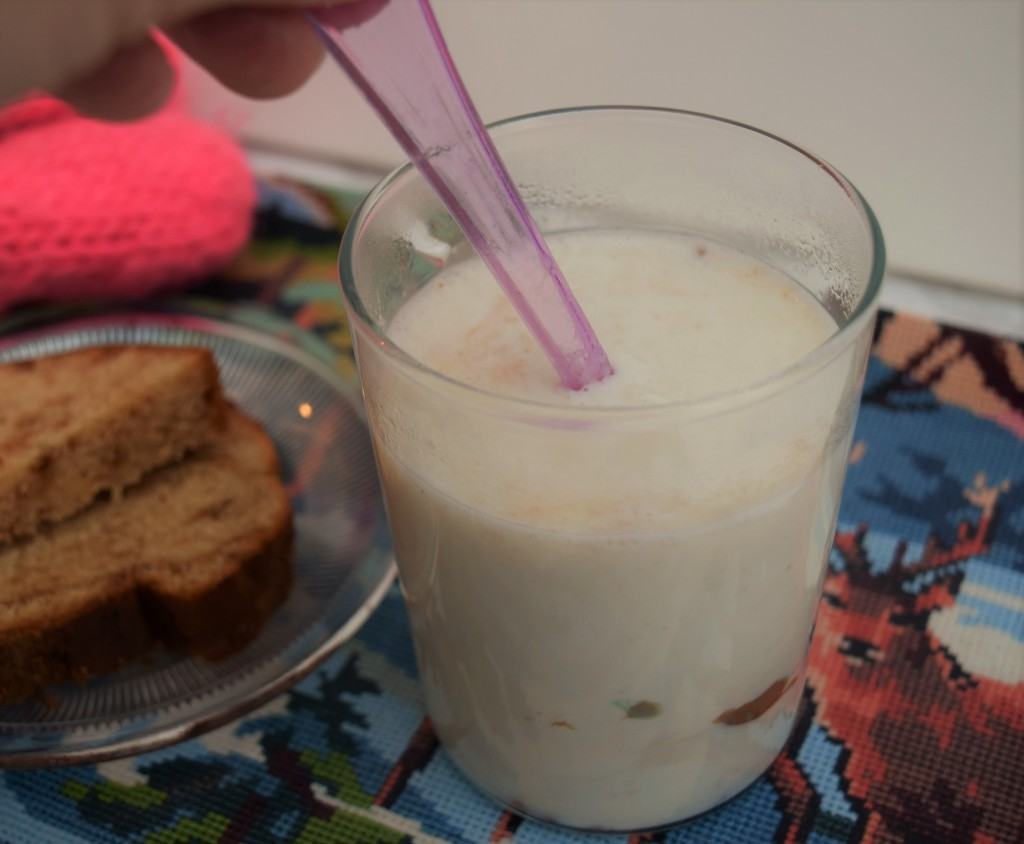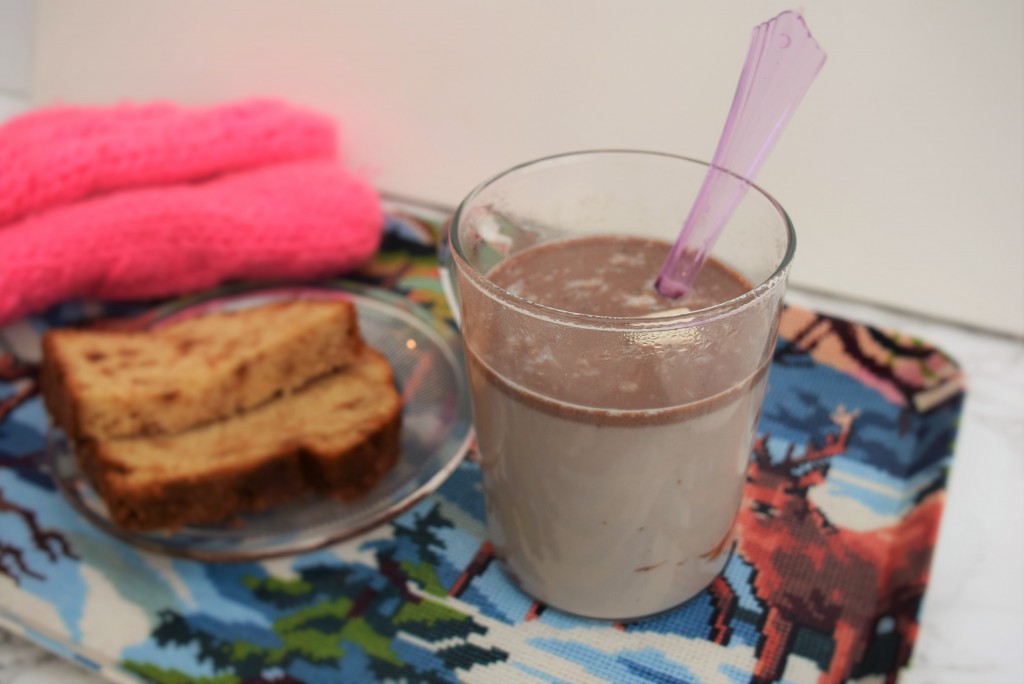 This is such a sweet and brilliant idea for bespoke hot chocolate, and I think they would make a perfect festive gift.
And like all good hot chocolate, these are best served with cake and a rather loud pair of gloves.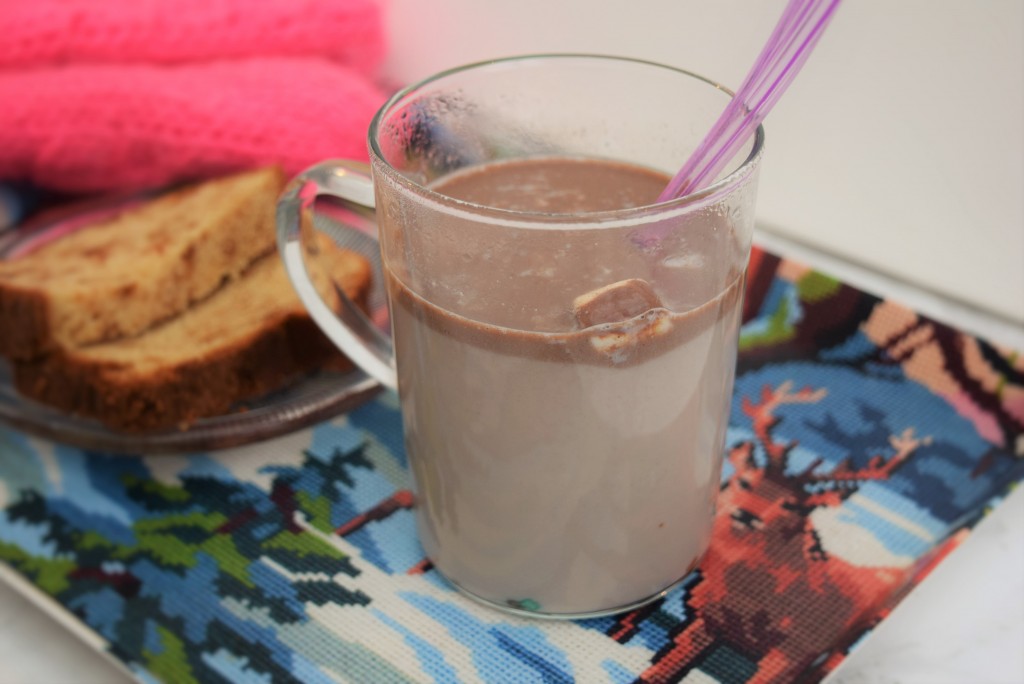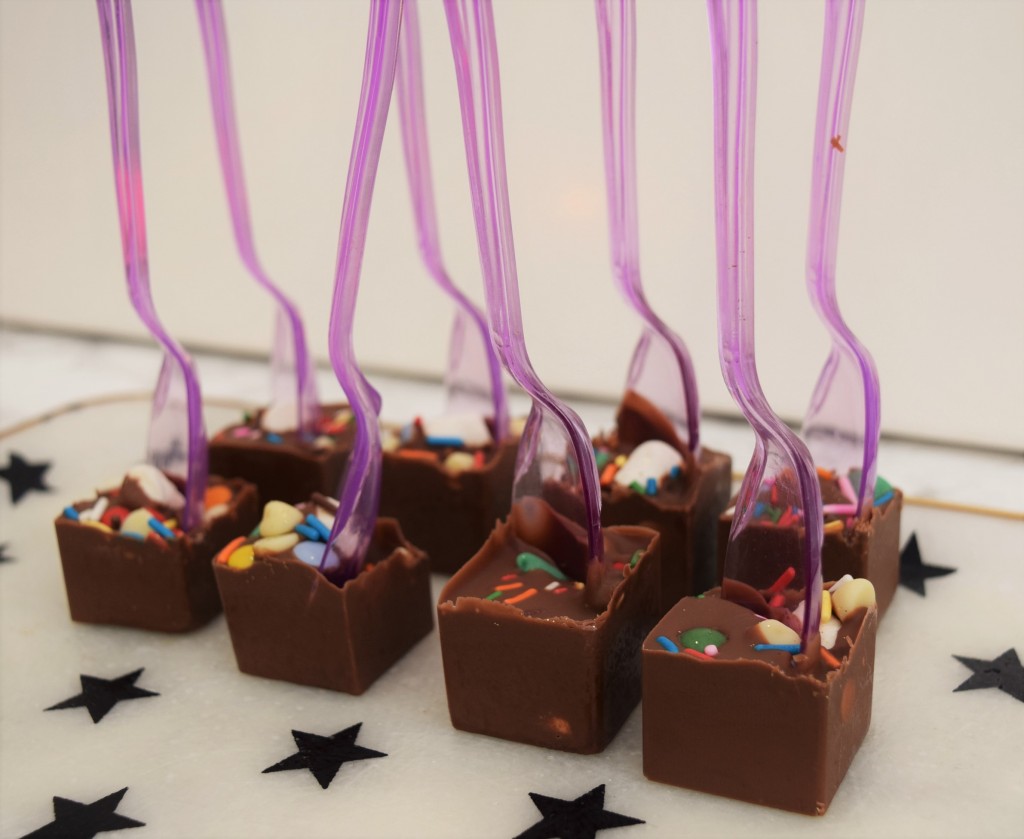 So embrace the more snuggy side of Lucy Loves Cocktail Friday. Even if it's pissing with rain and your chosen firework displays are quite the damp squib, at least you will have a heartwarming, handmade bespoke hot chocolate waiting for you at home.  And for goodness sake add a big splash of brandy, or your favourite spirit, to warm your heart/toes even more.
Have a safe and happy Bonfire Night weekend.
Lucy x
Hot Chocolate Spoons Recipe
Makes 8 spoons
You will need 8 plastic or wooden spoons and an ice cube tray
200g chocolate, good quality milk, dark or white is best here, or a mixture of all 3
Chocolate chips, sprinkles, tiny smarties, glitter, marshmallows to decorate
Take a small bowl and add the chocolate of your choosing, broken into pieces. Microwave this in 30 second bursts or over a pan of simmering water until starting to meld together. Stir well until smooth, fully melted and glossy.
Spray or butter an ice cube tray then spoon in the melted chocolate until each section is 3/4 full. Drop in a selection of chocolate chips, sprinkles, marshmallows then sprinkle on a hint of edible glitter if you have it. Stick a plastic spoon into each chocolate filled recess making sure the spoon is standing up right. Leave to cool slightly before carefully putting the ice cube tray in the fridge for the chocolate to chill for at least an hour.
When you are ready to serve, ease one of the chocolate spoons out of the ice cube tray and place in a mug. Bring a cup of milk to the boil then pour into your mug and stir well until the chocolate has melted. Don't burn your mouth in your haste to drink this creamy, delicious hot chocolate. Keep the other chocolate spoons in in the fridge for at least two weeks.