Steak and Roasted Peach Summer Salad Recipe
I haven't even started writing about how this recipe will be great for the forthcoming Bank Holiday weekend and already it's pissing down with rain. I am literally the kiss of weather death. The minute I post a frozen or iced cocktail, the heavens open. If I even think about a barbecue recipe, the clouds loom and I have to scuttle off to find a cardigan. My talent for weather cursing is not limited to recipes. Should, God forbid, the temperature go over 70 degrees and I contemplate putting a bikini top on, before I have placed one foot on the stairs to go and get changed, out of nowhere, a black cloud will appear and summer will be over. So, as it's already raining, I feel I can't curse the last Bank Holiday weekend of the year even more than I have already, so here's a super recipe for a Steak and Roasted Peach Summer *ha* Salad.
And it is super, I can absolutely assure you. I have made this a couple of times and on those occasions, we have managed to eat the whole lot between the two of us, even though the recipe will easily feed 3 to 4. This dish is a satisfying combination of meat, fruit and cheese. I know it screams the 70's but I adore a meat and fruit combo, it's an undeniably classic combination and I don't care if it's a little old fashioned. The steak, peaches and red onions are char grilled either on a barbecue, under an umbrella, or on a griddle pan on the stove. These are then artistically plonked on the leaves of your choice, dressed with a lightly spiced mustard dressing and dawbed with some soft blue cheese. I used my beloved feather steak which I get from Ocado, but if you can't get this a lovely bit of sirloin would work as well. I have been meaning to experiment with flank steak, so if anyone has any tips on cooking with this, do please let me know. You can, of course, add any other bits and bobs you fancy, like avocado, pine nuts or a different cheese, just use this as a bit of a template. This fantastic, fresh recipe came to me via the Williams Sonoma website, with huge thanks to them.
The peaches and onions pair so amazingly together and are soft and lightly charred. Sling in tangy blue cheese and soft leaves and this is one of the most delicious salads I have ever enjoyed. Likewise, Clyde, the salad dodger, inhaled this, given it's unsalad-like composition.  The good thing about this recipe is if the weather has bitten you on the arse, it's quick to make. So if you are barbecuing the steak and peaches in the rain, you shouldn't have to be under the brolly too long.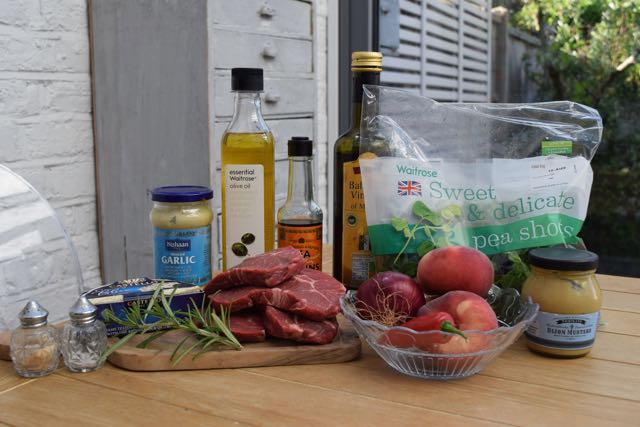 Ooh, look at that arrangement, freshness personified. I went for pea shoots as my salad leaves, I love their flavour. Use a blue cheese of your choice, but something good and creamy works well.
Make a start on this by marinating your steak. This can be done anywhere from an hour to 24 hours in advance, so plan ahead accordingly. As you can imagine, I had a scant hour, but still this was enough time to infuse the meat with the flavours.  Take a large food bag or bowl and pour in the olive oil, Worcestershire sauce, fresh rosemary, garlic and seasonings. Drop your steaks, whole, into the bag or bowl, and squidge around to ensure the meat is coated.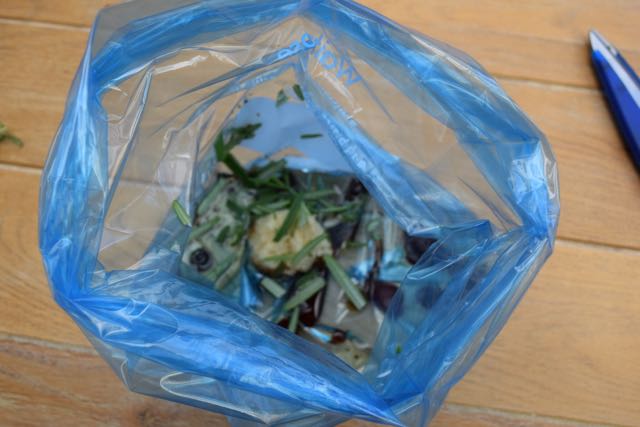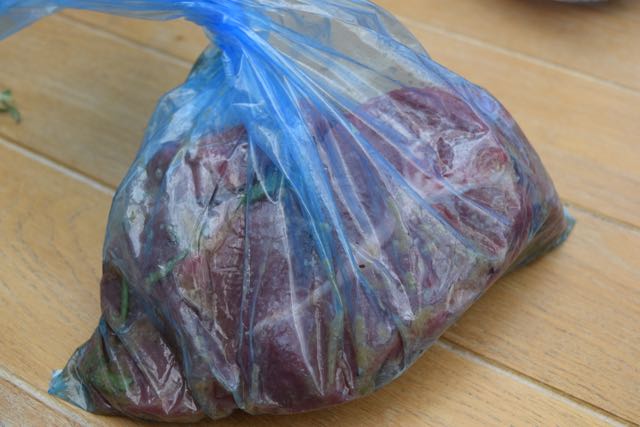 Leave this for at least an hour, or up to 24 hours.
When you are ready to prepare your salad, make a start by either heating up your barbecue or heating your griddle pan until it's bloody hot and smoking. Remove your steaks from the marinade and place them onto your grill.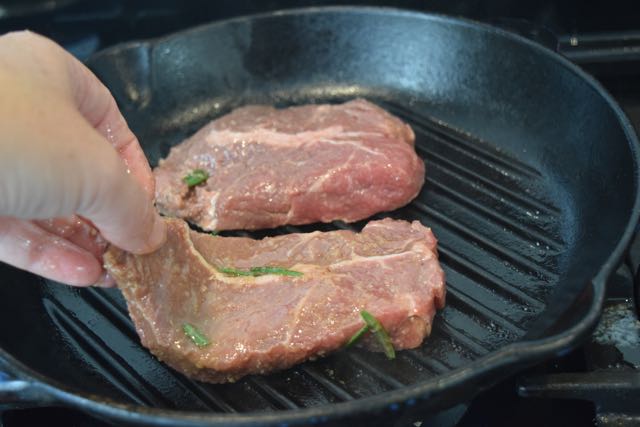 I love my steak cooked so a good vet could still bring it back, so I just seared mine for a couple of minutes on each side, pressing down to ensure lovely grill marks. Once cooked, pop onto a board and cover in foil for 10 minutes or so while you finish the rest of the salad.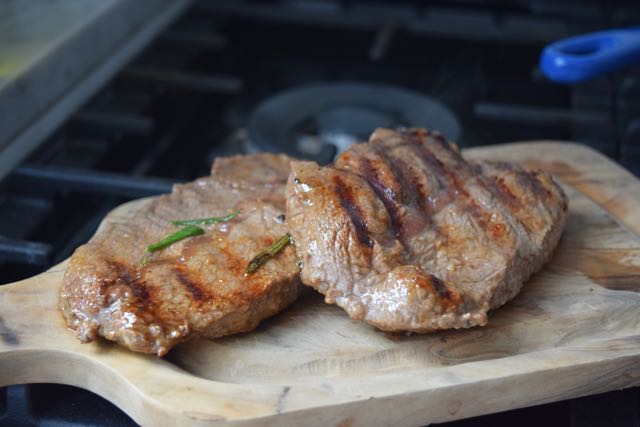 For the salad dressing take a jar or small bowl and pour in the balsamic vinegar, mustard, chopped rosemary and finely chopped chilli. Whisk in the olive oil, season then pop to one side for a moment.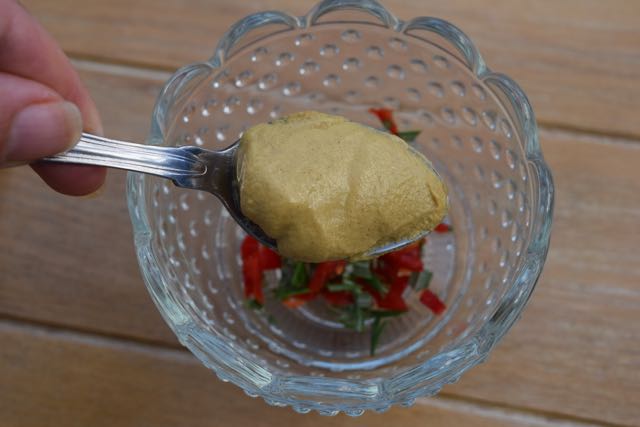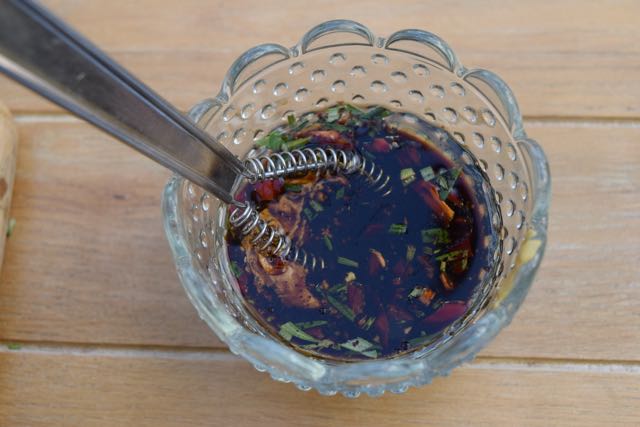 For the peaches and onions, make a start by mixing the balsamic vinegar and olive oil together with some salt and pepper.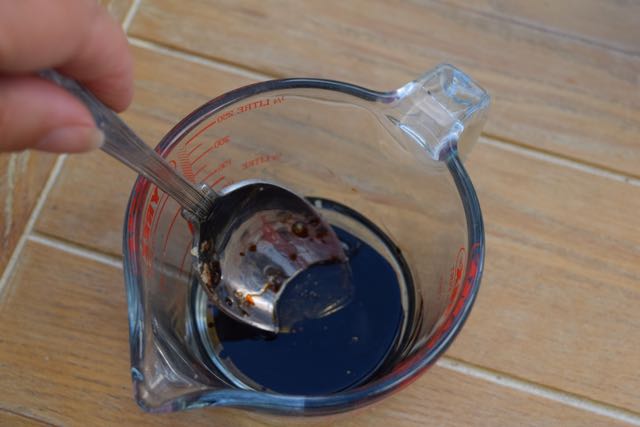 Drizzle this mixture onto your quartered peaches and chunky slices of onion.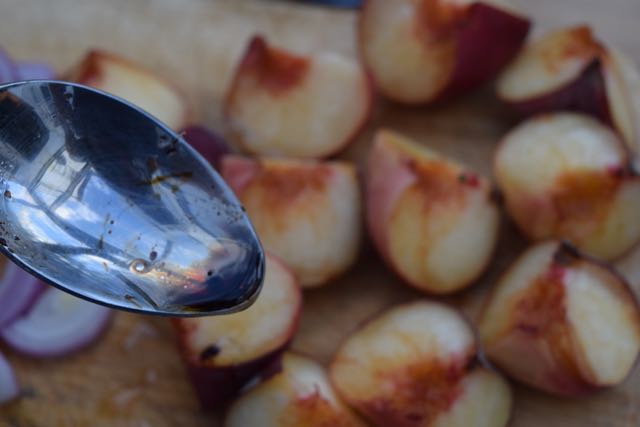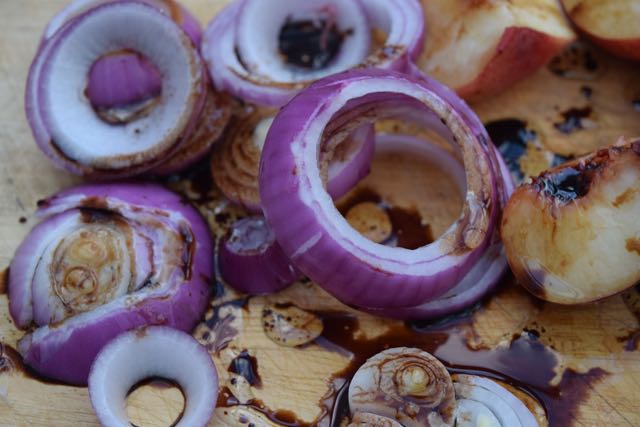 Pop these onto your barbecue or griddle pan and cook for a couple of minutes or until just starting to char and soften.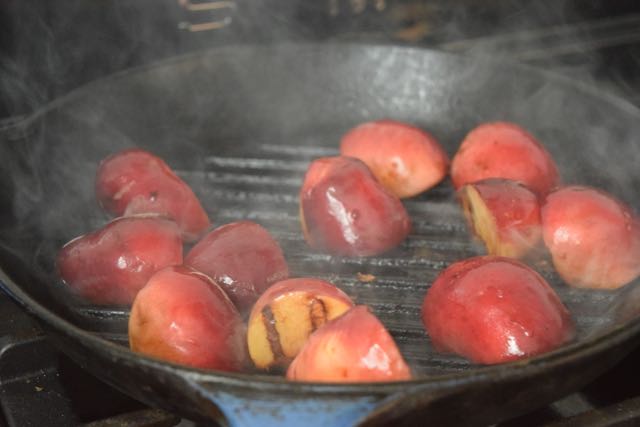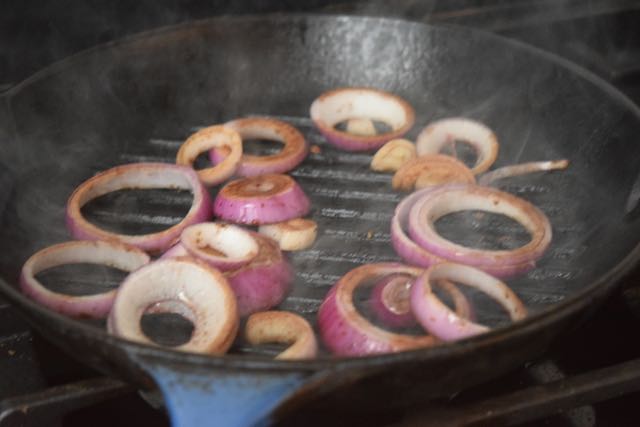 As you can imagine, the dog was going mad as the smoke alarm spent a good 10 minutes going off on one.
Remove the peaches and onions from the grill and pop onto a board. Slice each peach quarter in half again. Then uncover the rested steak and slice into thin-ish slices.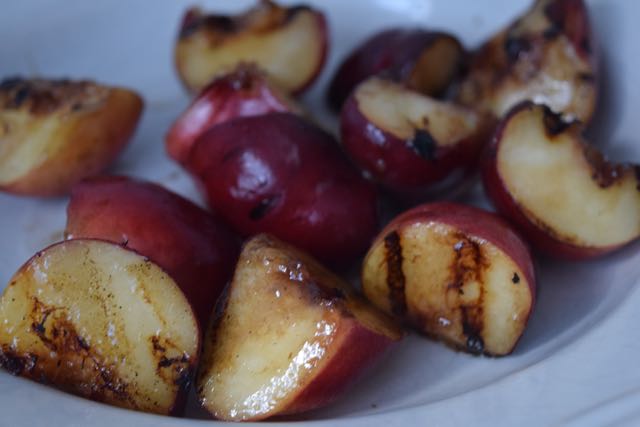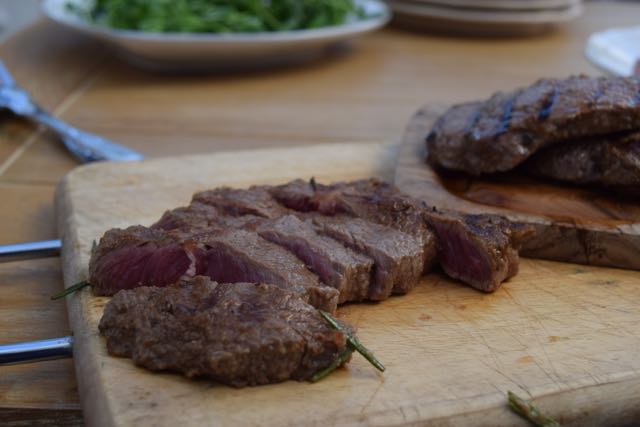 Now it's time to assemble your Steak and Roasted Peach Summer Salad. Take a pretty plate, probably a bit bigger than the one I chose as mine was groaning, it was so full. Add a layer of your chosen leaves, be as generous as you like, bulking out the dish depending on how many you are feeding.
Layer on the steak, peaches and onions. Dot on pieces of creamy blue cheese then drizzle on some dressing. Be as artistic, or not, as you please.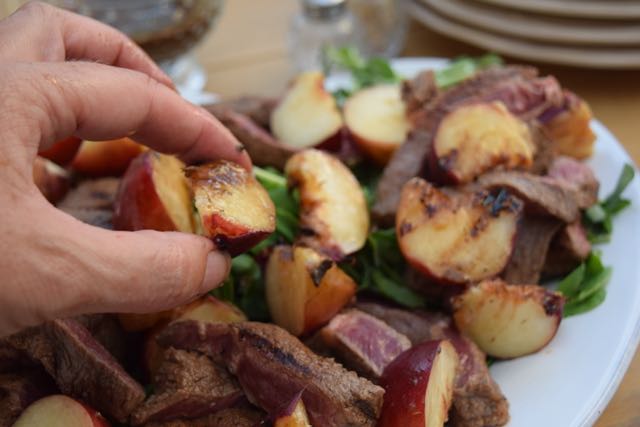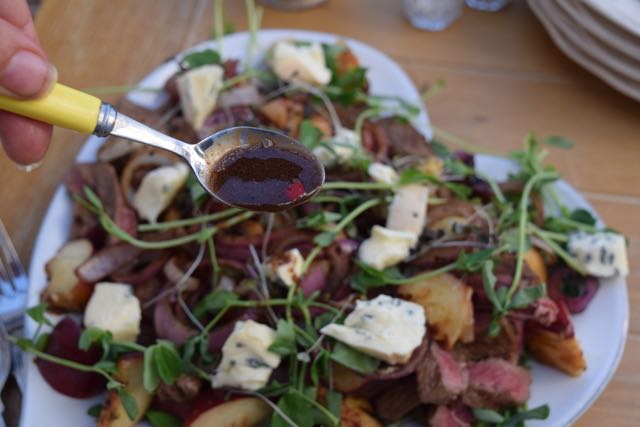 Finish with some more leaves then your amazing summer salad is ready for you to dive straight into. Serve additional dressing on the side for extra drizzle-age.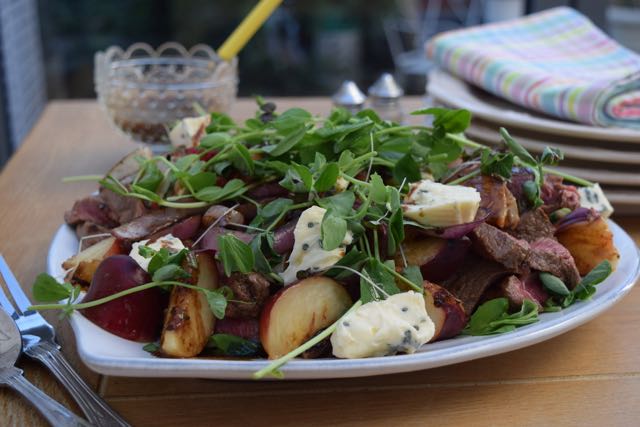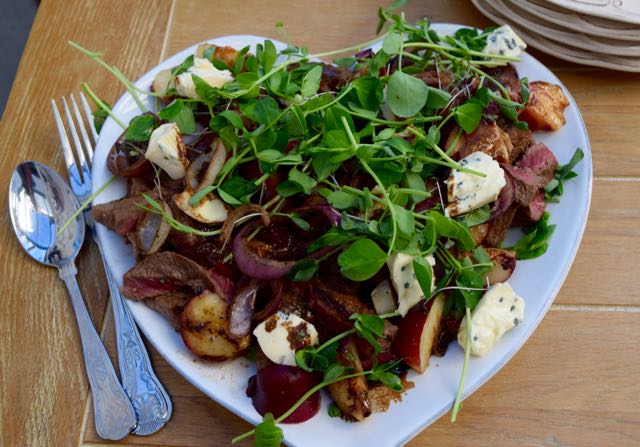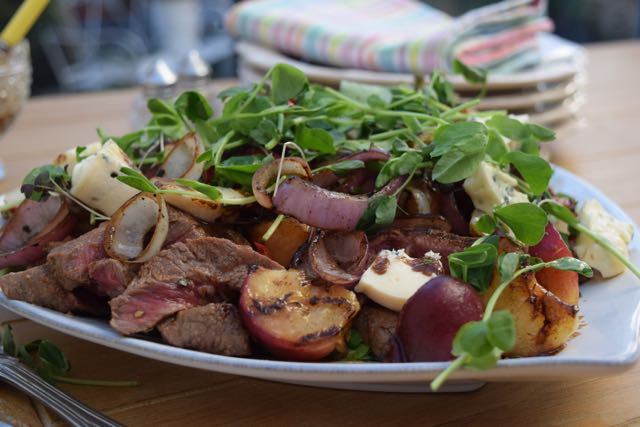 The forecast may still turn by the weekend, it invariably does given how bad the bloody weather forecasters are at doing their jobs. Comments like that confirm I have turned into my Mother at last. Either way, this salad would make me smile even if I were in the middle of a monsoon.
Fingers crossed for the long weekend, apols in advance if I've cursed it.
Lucy x
Steak and Roasted Peach Summer Salad Recipe
Serves 3 to 4 hungry buggers
You will need a griddle pan or a barbecue, weather permitting
Steak and Marinade
500g steak, I used feather steak but sirloin or rump would be good too
3 tablespoons olive oil
1 1/2 tablespoons Worcestershire sauce
1 1/2 tablespoons chopped fresh rosemary
1 large clove garlic, chopped or crushed
1/2 teaspoon salt
1/4 teaspoon black pepper
Salad
3 ripe but not too ripe, peaches, quartered
2 red onions, sliced into thick slices
3 tablespoons olive oil
2 tablespoons balsamic vinegar
Salt and pepper
4 big handfuls of salad leaves, pea shoots, watercress, little gem
200g blue cheese, crumbled
Dressing
3 tablespoons balsamic vinegar
4 tablespoons olive oil
1 tablespoon dijon mustard
1/2 chopped red chilli, optional
1 tablespoons chopped fresh rosemary
Salt and pepper
Take a bowl or large food bag and measure in the olive oil, Worcestershire sauce, fresh rosemary, garlic and salt and pepper. Add the steaks and squidge the bag around to ensure everything is well coated. Leave in the fridge for at least an hour or up to 24 hours to marinate.
When you are ready to prepare the dish, pre heat your griddle or barbecue until it's smoking hot. Remove the steak from the bag, discarding the marinade, and place on the grill. Cook for a couple of minutes on each side, you need the steak to be a lovely medium rare, then turn and cook for another couple of minutes. Press down on the grill to ensure you get some good char grill marks.
Once cooked, place on a chopping board, covered in foil, while you complete the rest of the salad.
For the dressing mix together, in a jar or small bowl, the balsamic, mustard, chilli, if using, and rosemary. Whisk in the olive oil then add salt and pepper to taste and whisk or shake the jar for a final mix. Pop to one side.
Quarter your peaches and peel, then slice, the red onions into thick slices. Whisk together a mixture of the balsamic and oil and season. Drizzle this on the peach quarters and onions. Place the peaches onto the hot grill and griddle for a minute or so to char slightly then pop onto a chopping board and, once cooled, slightly, half each quarter. Pop the onions onto the grill and repeat until lightly charred.
To assemble the salad take a large serving plate and add a generous layer of your choice of leaves. Thinly slice your steak then layer on top of the leaves. Dot on the grilled peaches and onions then dot on some blue cheese.  Add more leaves then drizzle the whole plate with your dressing.
Serve with the extra dressing on the side, with warm bread or buttered or roasted new potatoes, if you like.
SaveSave
SaveSave
SaveSave
SaveSave
SaveSave
SaveSave
SaveSave
SaveSave
SaveSave