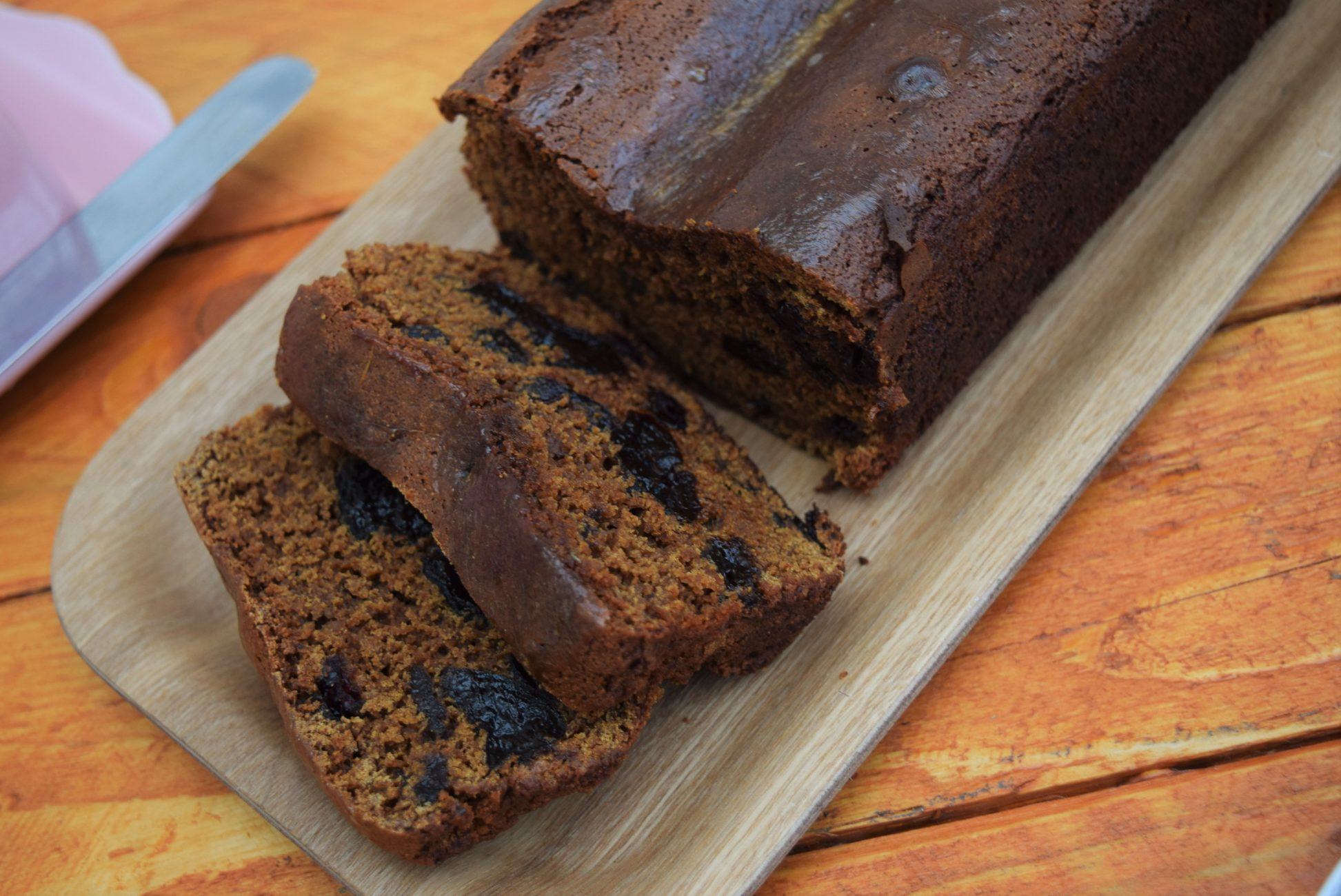 Sticky Malt Loaf Recipe
I have always loved Malt Loaf ever since I was young, back in the olden days. It's soft, sweet, sticky texture is so delicious and doesn't at all feel like the slightly healthy option that it is. Having said that, I do like to make it slightly less healthy with a decent slather of butter on each slice, so that rather changes the healthy remit.
Being such a Soreen fan, I decided it was time I learnt to make my own, having done my fair share of research *being a pig* over the years. So today's recipe is for my Sticky Malt Loaf. This particular recipe comes care of The Guardian and is the bi-product of their research into this delicious delicacy. They tried various different flours, fruits and raising agents and settled on the ingredients below, although I have meddled with them slightly to accomodate what was in my cupboard.
This soft, sticky cake-like treat is actually very low fat and doesn't have tons of unnecessary sugar in it. Malt Loaf is a great source of energy and can definitely give you a much needed post lunch or post exercise boost. After I had Ben, I attributed trading my addiction to Giant Chocolate Buttons for Malt Loaf to losing my post baby weight. I only have that last half a stone to lose, which isn't bad considering he's just turned 17.
This is incredibly simple to make, probably less time and effort than it would take to put your coat and shoes on, walk to the shops, get your purse out and buy one. This recipe is definitely a keeper, and it's a brilliant after school snack for the children. If they get to it before you do.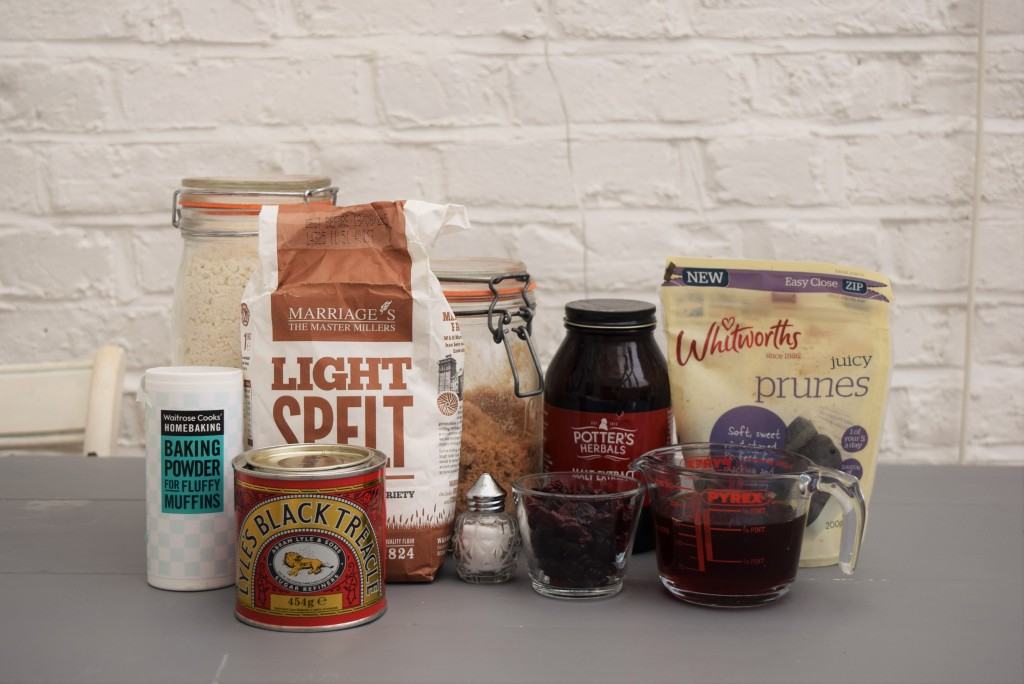 Here's the Sticky Malt Loaf ingredients line up. I chose prunes and dried cranberries to go in mine, as I love both these fruits with quite some passion. The Malt Extract was not tricky to find, I got mine from Ocado and it's a useful ingredient to have a stash of if you enjoy baking. Not to be mistaken for Yeast Extract which is Marmite and would make your malt loaf a whole different ball game.
Make a start by pre heating your oven to 160 degrees fan assisted *standard Lucy Loves procedure*. Then, add the brown sugar to a medium sized bowl and pour in your beautifully brewed, builders strength tea.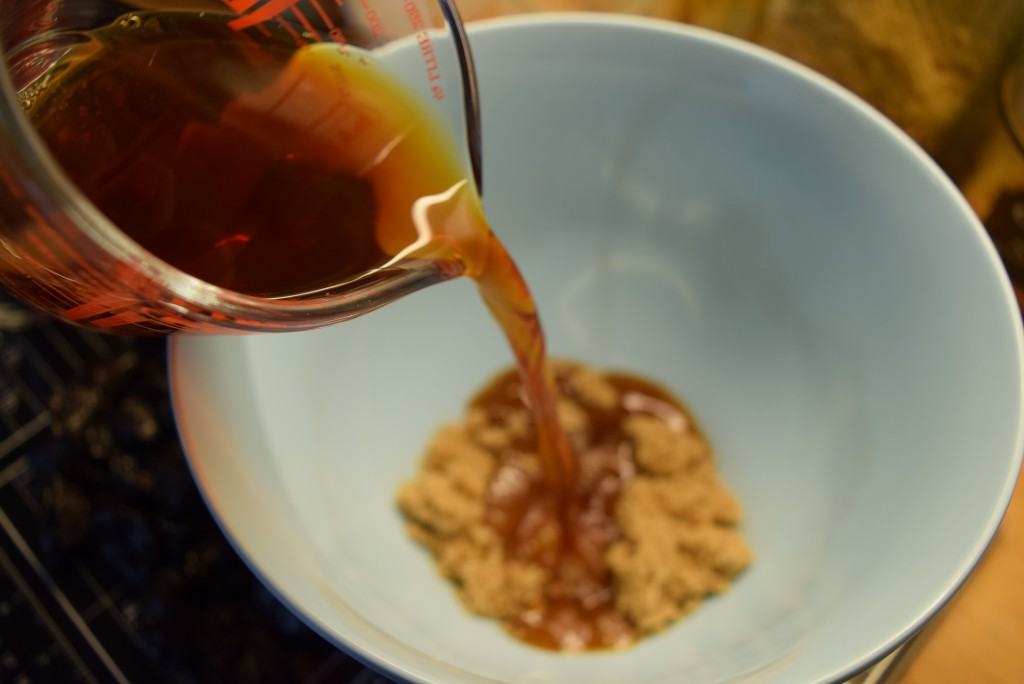 Next into this sweet tea mixture, add the malt extract and black treacle and give it a good stir, so it doesn't get all stuck to the bowl like mine did.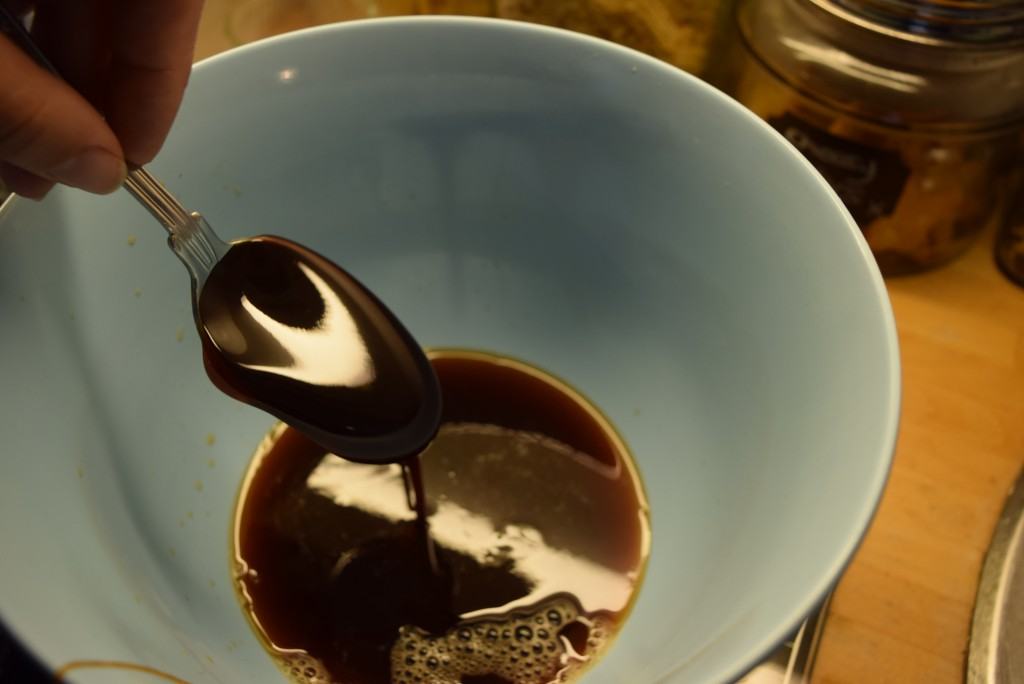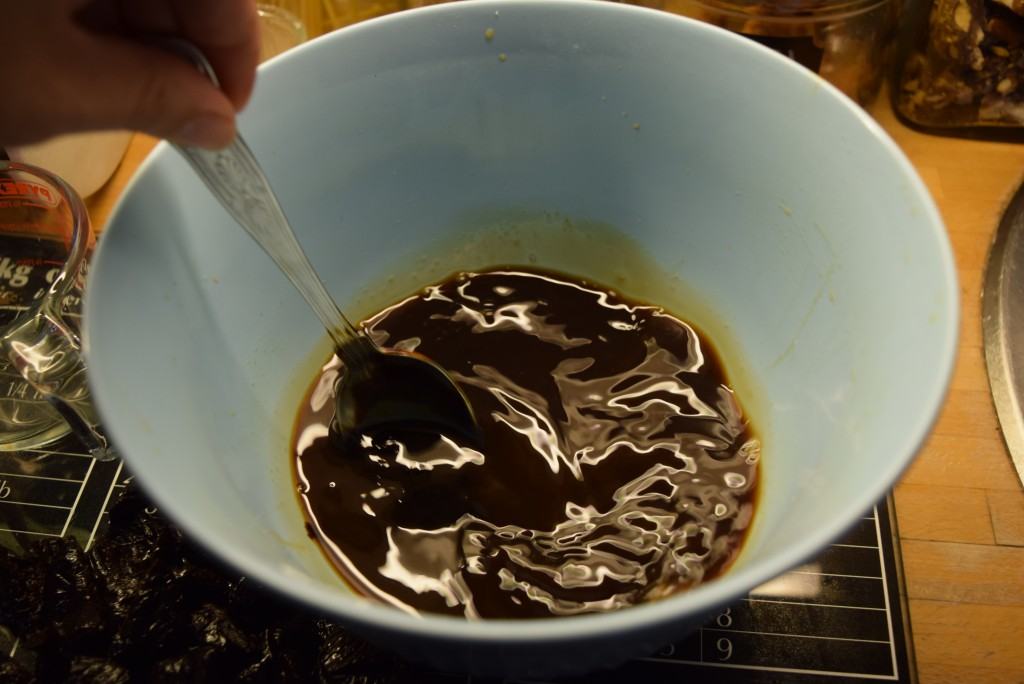 Drop your dried fruit choices into this molten liquid, stir then leave them to soak for around 15 minutes while you put a load of washing on or some other exciting task.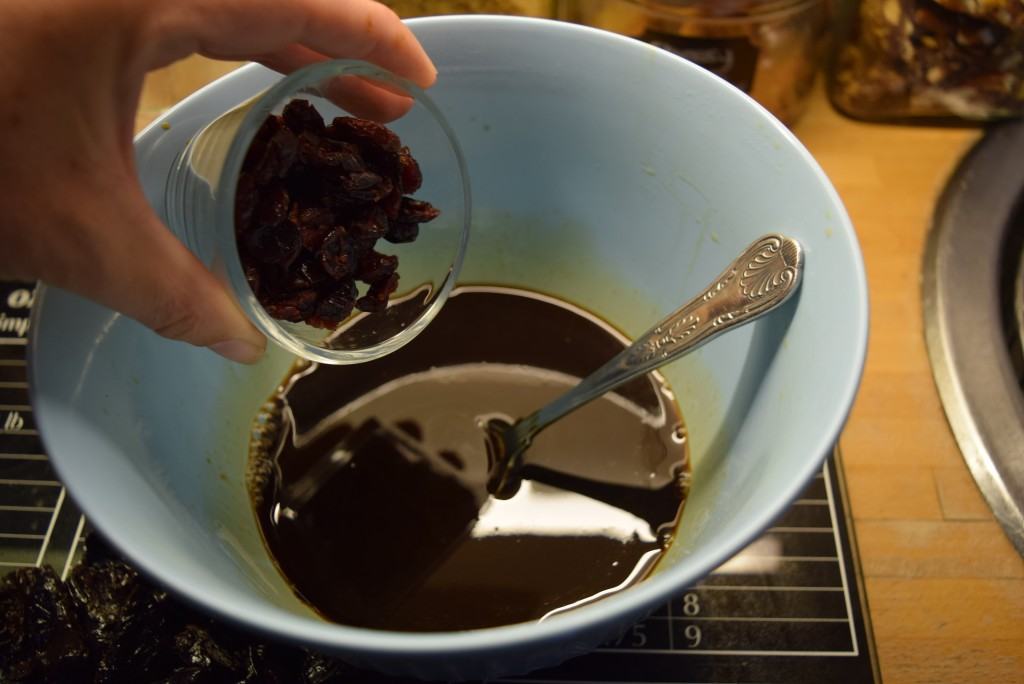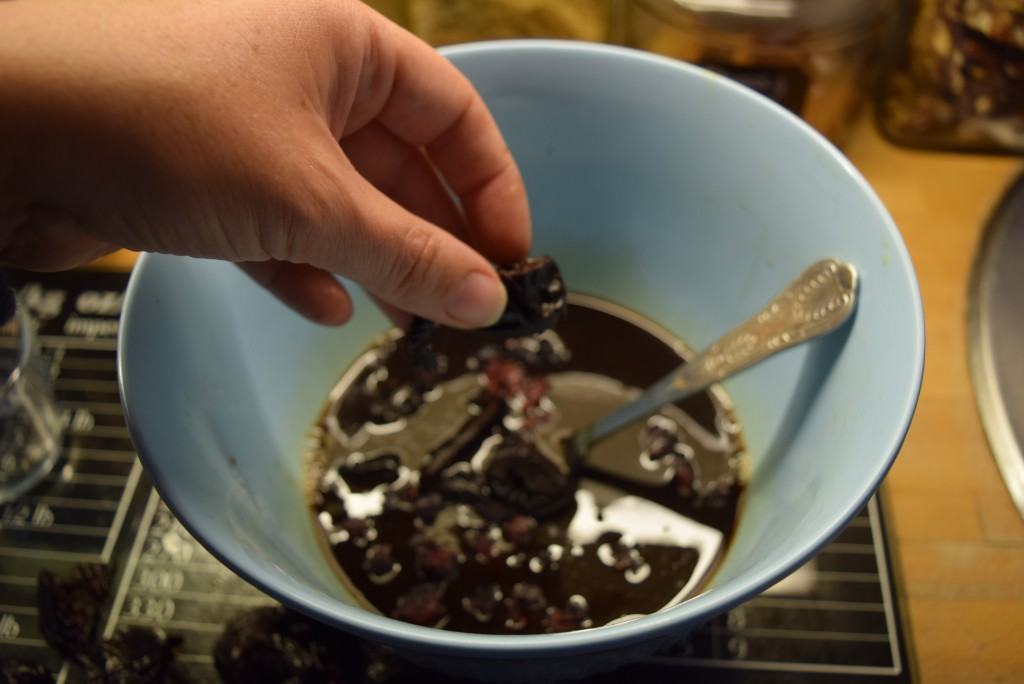 When the soaking time is up, measure both flours into a larger bowl and stir in the baking powder and salt. I used white and Spelt flour as that's what I had, but do use any wholemeal flour you have to hand or I can imagine all white would work too, your loaf would just be slightly paler.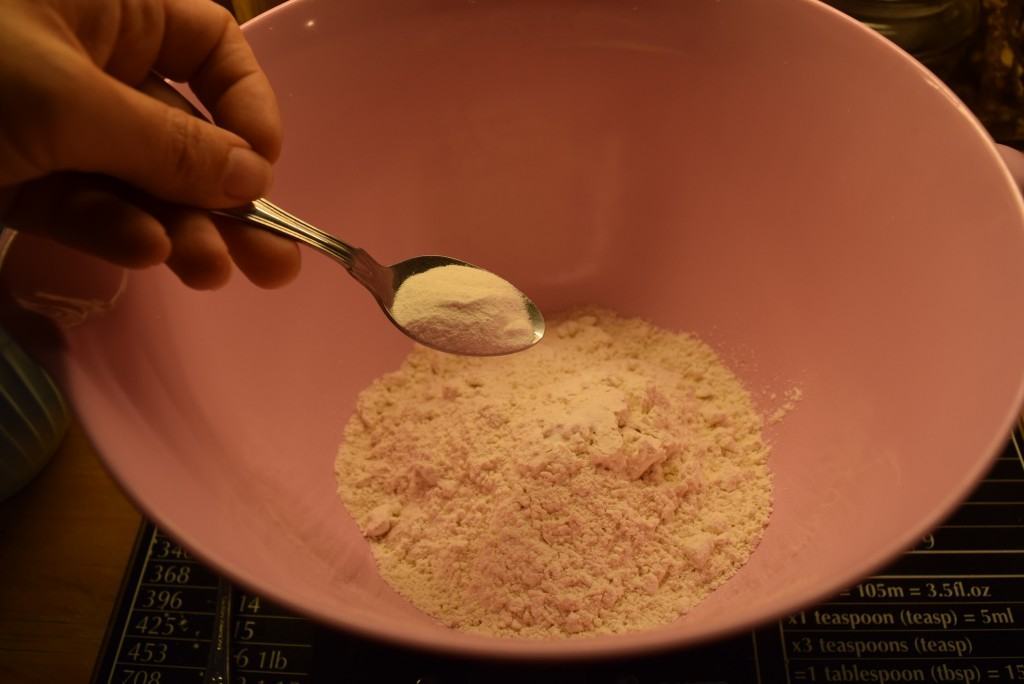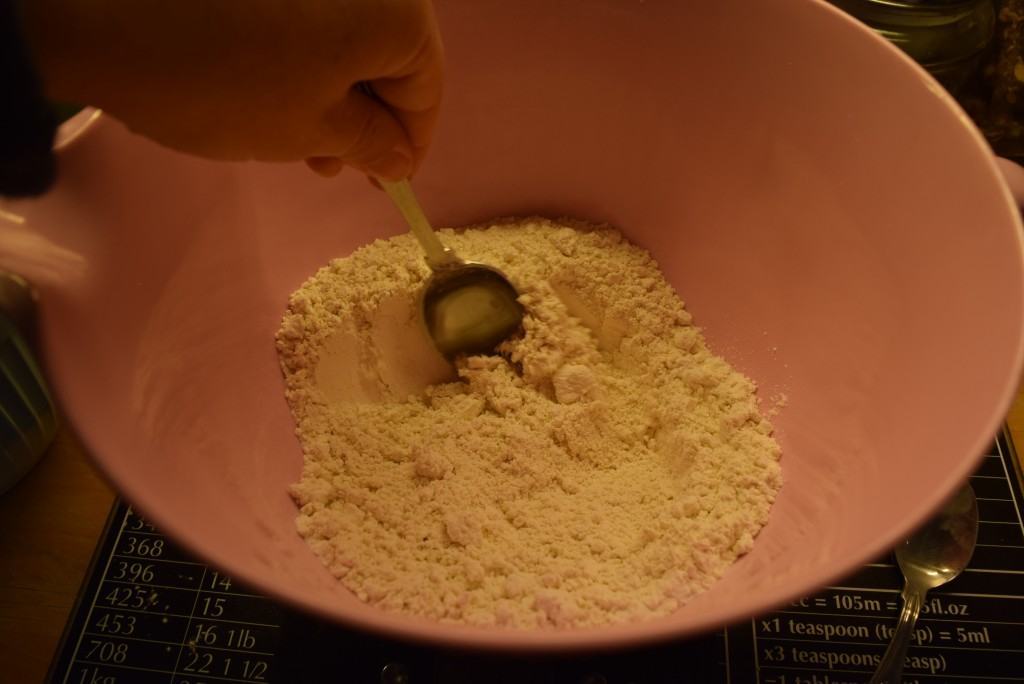 In mucky mud pie fashion, slop the now soaked dried fruit and it's accompaning liquid into the flour mix and give it a mighty good stir.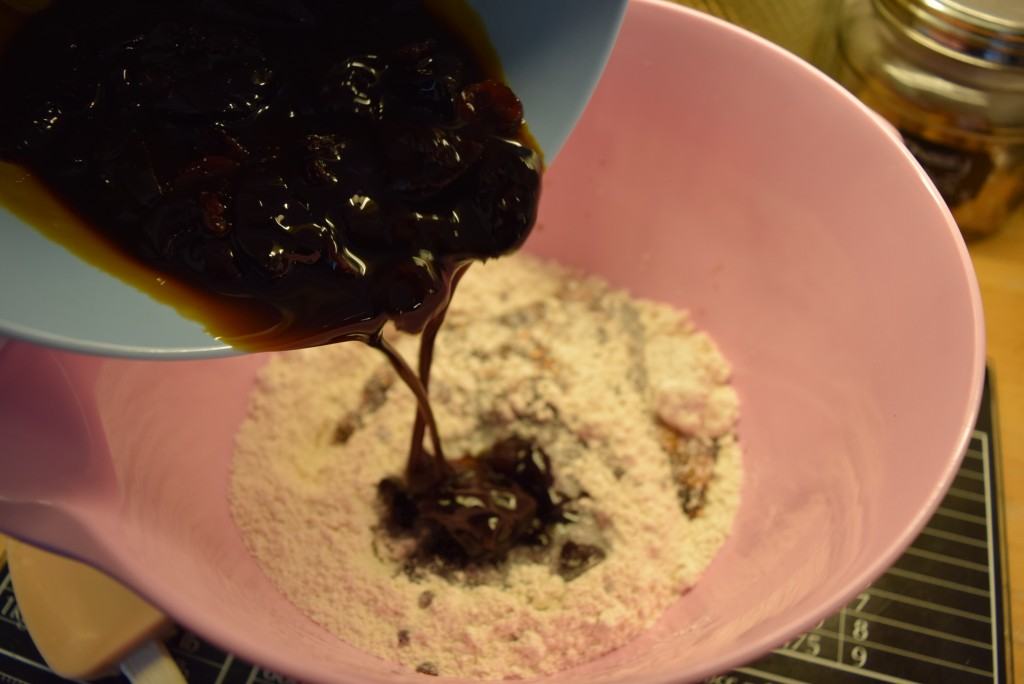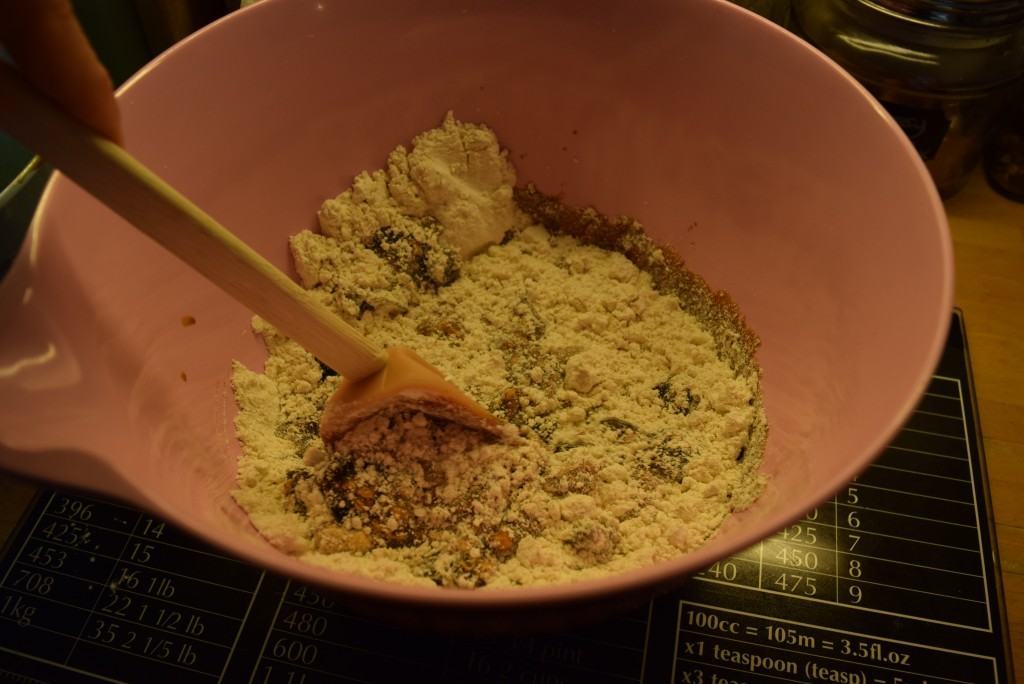 Make sure all the flour is mixed in and you have an even, golden lava-esque mixture.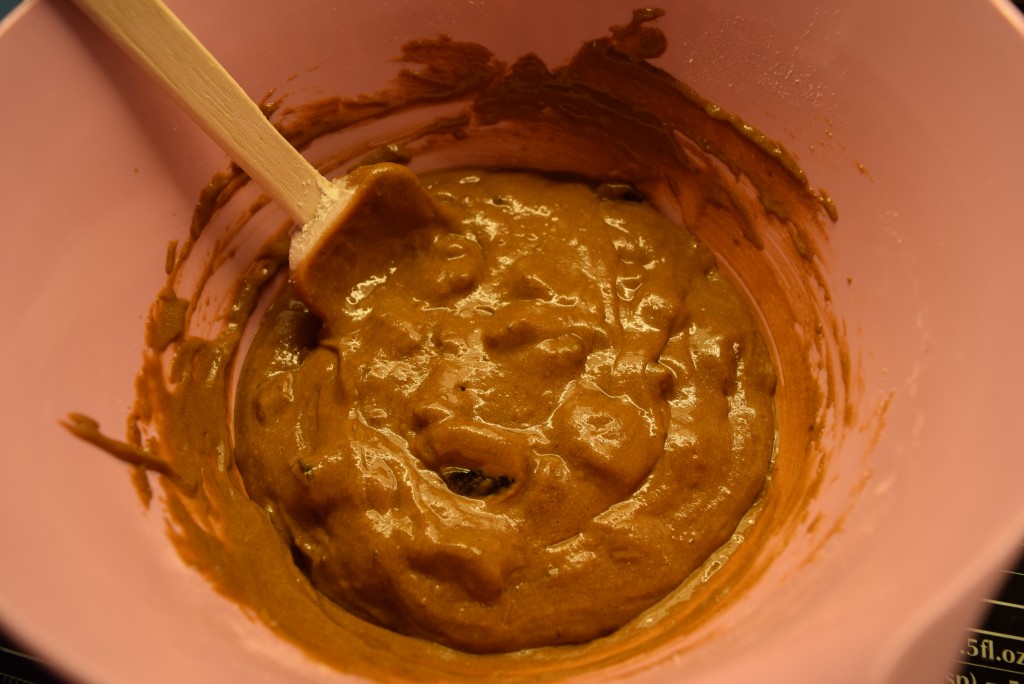 Pour this into your lined loaf tin, smooth the top and bake for around 50 minutes to an hour or until the malt loaf is cooked through and a skewer comes out clean when poked in the top.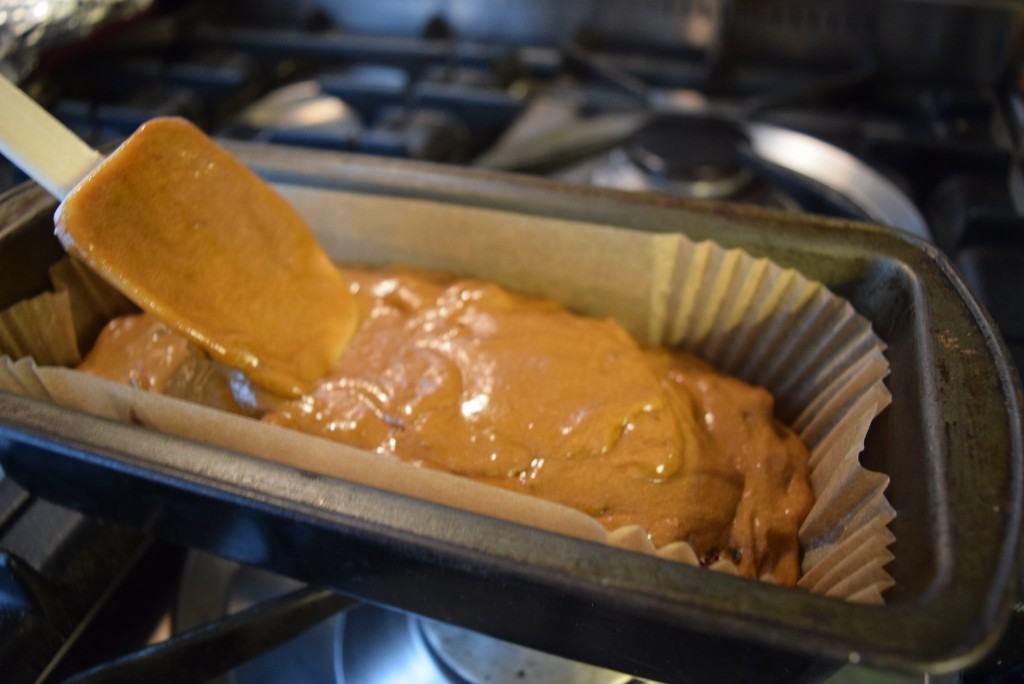 Leave this fragrant loaf of malted chewiness to cool before glazing the top with an additional tablespoon of malt extract. Look how it glistens in the light.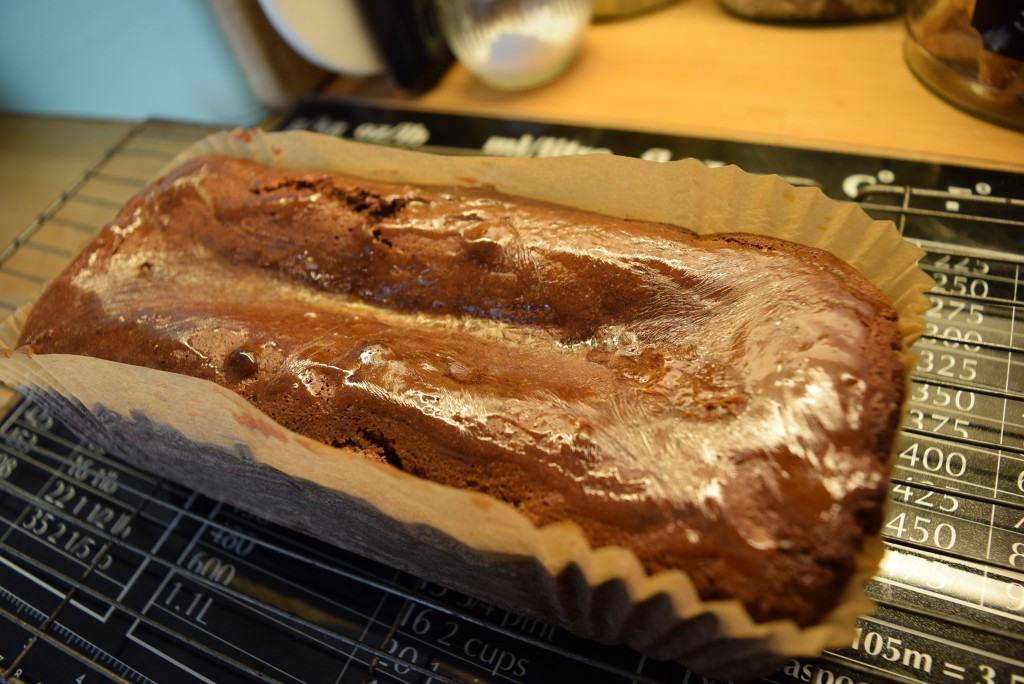 Now the thinking behind this delicious treat is to leave it, well wrapped, for a couple of days to mature. But, sadly, I have the patience of a small gnat so it had barely cooled before I was hacking into it and covering it in butter. But if you can wait, this Sticky Malt Loaf certainly improves with age and keeps wonderfully in an airtight tin.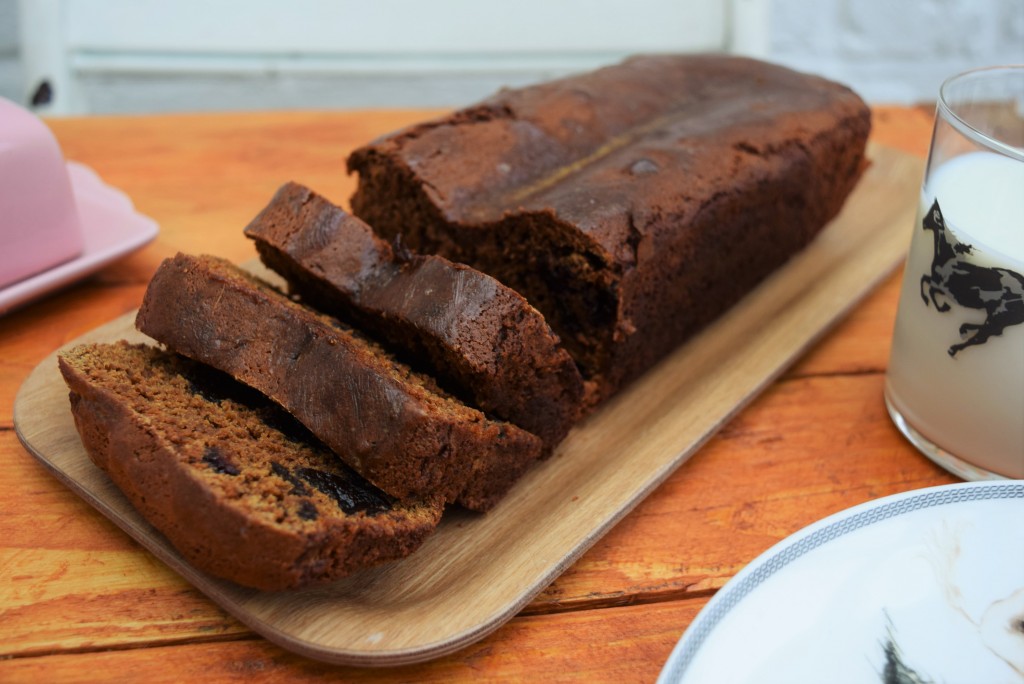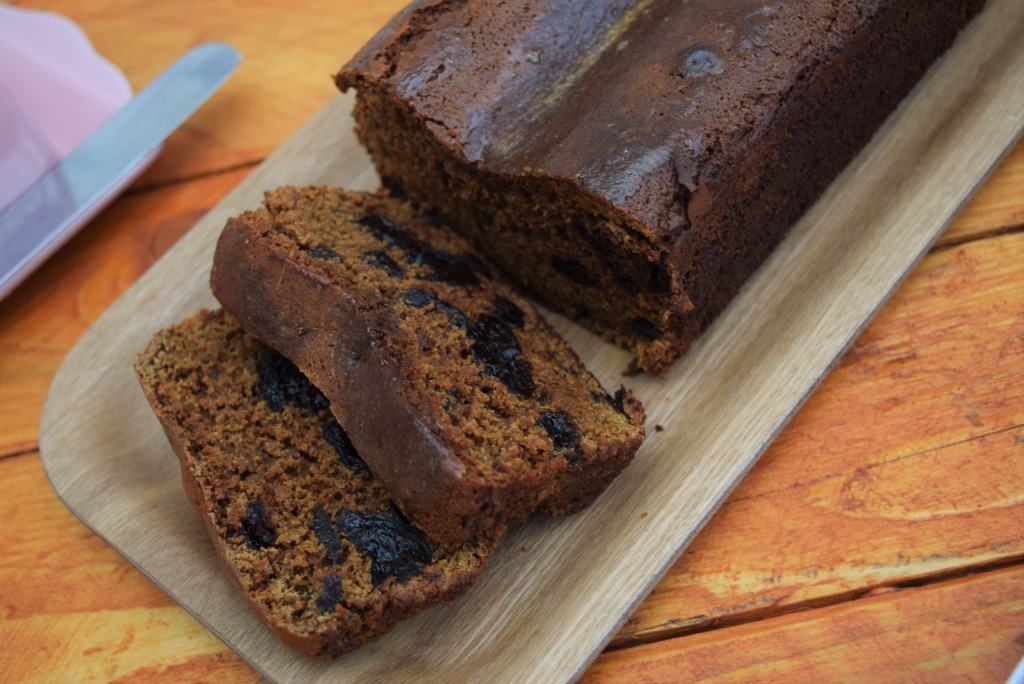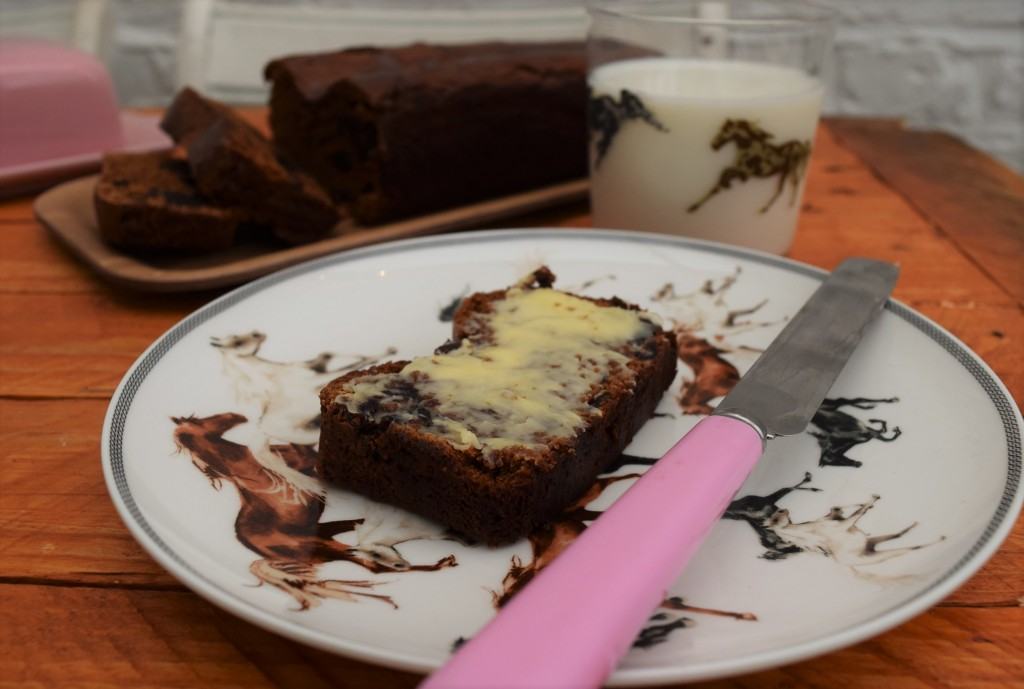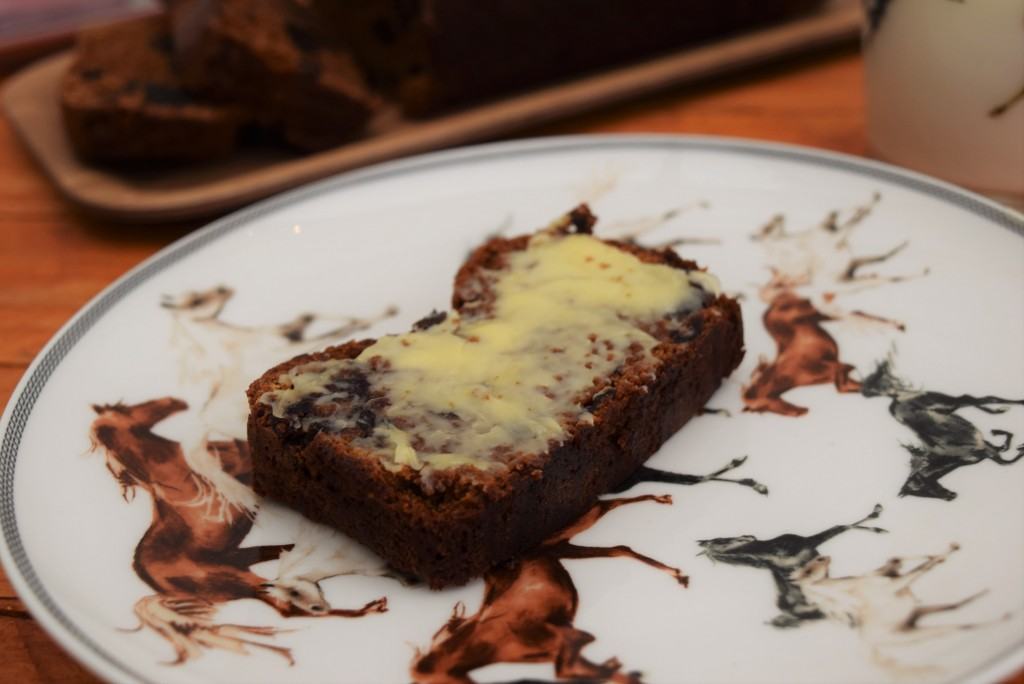 I think the key to this baked treat's stickiness is restraint. Sadly, we don't have restraint in our house, however, the small end slice which lasted in the tin for more than two days was particularly sticky, flavoursome and delicious. That said, so was the rest of the loaf only just cooled from the oven, so it's up to you if you can keep your hands out of the tin for more than a day or two for extra malty goodness.
Lucy x
Sticky Malt Loaf Recipe
Makes one loaf, 8 to 10 slices
9 tablespoons malt extract, plus 1 tablespoon to glaze
2 tablespoons black treacle
50g soft brown sugar
150ml brewed tea, I made mine good and strong
200g dried prunes
50g dried cranberries, raisins or sultanas
125g plain flour
125g Spelt flour, or wholemeal flour, or use all plain if you don't have any brown flour
3 teaspoons baking powder
1/2 teaspoon salt
Pre heat your oven to 160 degrees fan assisted and line or butter really well a 1 kilo loaf tin.
In a medium sized bowl pour in the 150ml of tea. Stir into this the brown sugar, malt extract and black treacle. Mix well then add your chosen dried fruit and leave for 15 minutes to soak.
In another bowl mix together the two flours, baking powder and salt. Then once the 15 minutes fruit soaking is up, stir both fruit and liquid into the flour mixture. Beat well then pour into the lined loaf tin and level the top. Cook for around 55 minutes to one hour or until the Malt Loaf is browned and a skewer comes out clean when inserted into the middle. Leave to cool then, if you can bear to, wrap well in greaseproof paper or cling film and leave for a day or two to mature. Serve with or without a good slathering of butter. This will keep in an airtight tin, wrapped, for up to a week.