Stir Fried Beef with Broccoli Recipe
And so my love affair with beef continues. I am making no real apology for this, unless of course, you dislike beef, in which case, sorry, normal chicken service will resume next week. I have got a particular new food crush on a certain cut of steak which is not only super reasonably priced, but incredibly tasty. I am sure I am not the first person to discover Feather Steak, but it really is fantastic. At around £11 per kilo, this is the best steak for a stir fry, or a tasty lunchtime sandwich.  So enough PR for the steak and a little bit more about my Stir Fried Beef with Broccoli recipe.
My parents introduced me to this steak from their butcher. It has several other names, but Ocado sell it as Feather steak. The trick is to cut the meat along the grain and don't cook it to death, which, as it happens, is perfect for my stir fry. This recipe is right up my street at the moment as I have a small table and chopping board masquerading as work surface and a one ring electric burner instead of an oven. Oh and a microwave, which I had forgotten is amazing for cooking rice. This dish is warming, so filled with flavour and surely it's healthy with a whole head of broccoli in it. Do I have to have the broccoli said George? A fairly standard cry when a green vegetable is included, but once coated in the soy, brown sugar sweet sauce, even the fussiest eater would inhale it. The inspiration from this dish came from Food.com, with thanks to them.
I think this is glam enough for guests, given it's effectively a steak supper, but cheap enough to be a family favourite with the addition of my new best friend – Feather Steak. Served with rice or noodles this is a complete, kerfuffle free supper. Brick dust from our kitchen refurb, optional.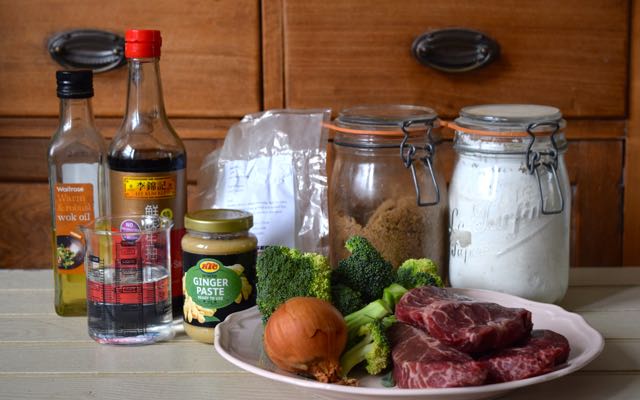 Here's the line up for this quick, but beyond delicious dish. And there's the wonderfully marbled Feather steak in all it's glory. It's so tender and soft, you would think it was a far more expensive cut of meat.
The best way to make this dish is to prepare everything in advance then you are all primed and ready when you start cooking. So, crack on making some rice, which can happily cook while you stir fry. Next, take a medium sized bowl and add two tablespoons of cornflour, water and the garlic, either powder or fresh, then mix into a smooth paste.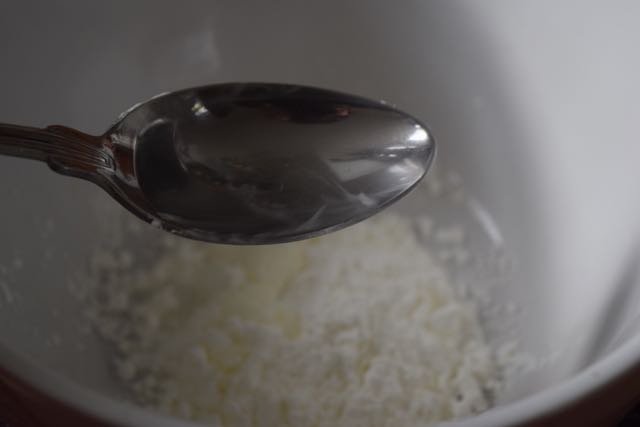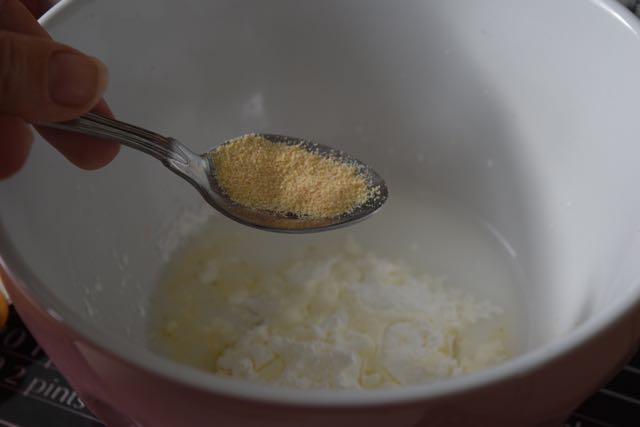 Slice your steak, cutting along the grain, into thinnish strips then add this to the cornflour mixture.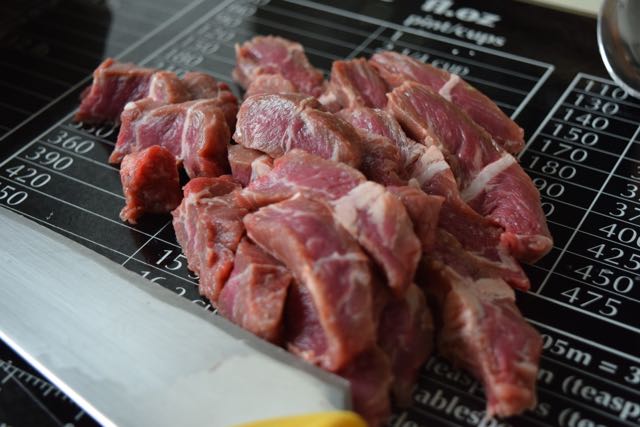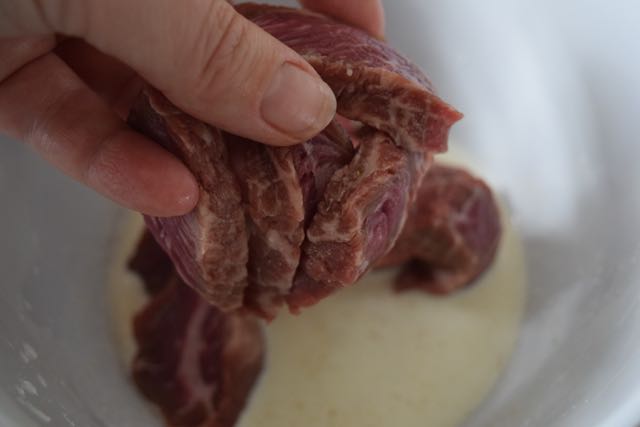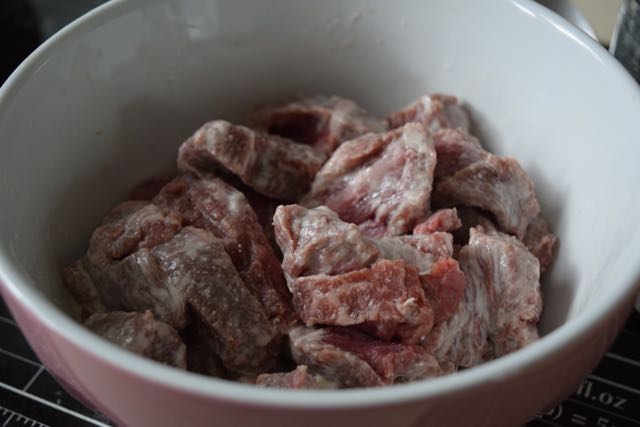 Pop this to one side whilst you prepare your vegetables. Break or chop the broccoli into florets then peel and slice the onion.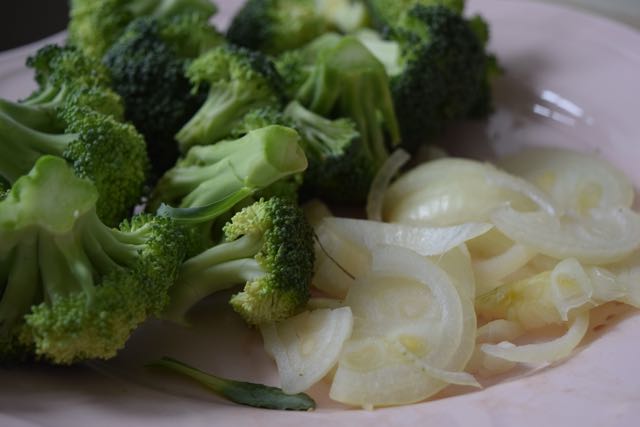 The final bit of prep is the sauce. Take another bowl, sorry about the slightly trying washing up schedule with this recipe, and add the final tablespoon of cornflour. Stir in the brown sugar then mix with the water and soy sauce.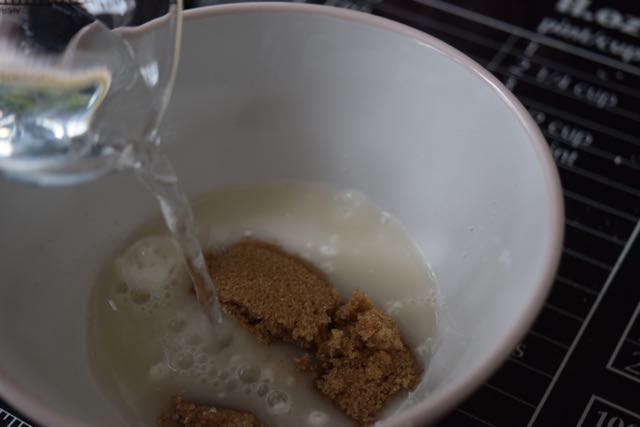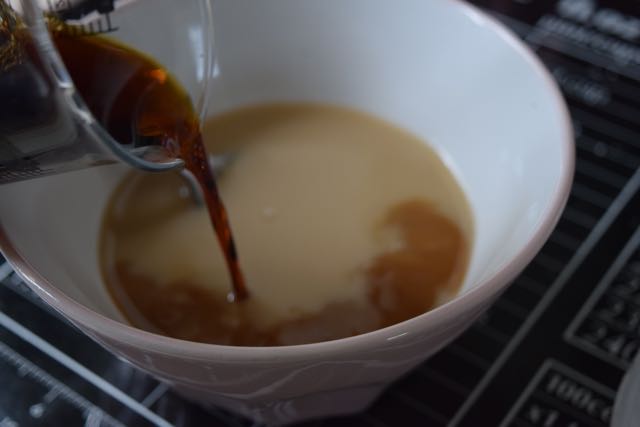 Finally, add the ginger, ground, fresh or from a jar, stir in, then you are ready to cook your flavour filled supper.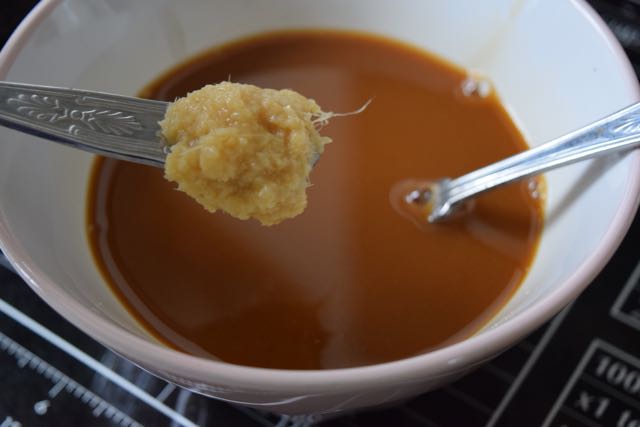 Heat your wok until super hot, add a tablespoon or two of oil then tip in the beef and cornflour mixture.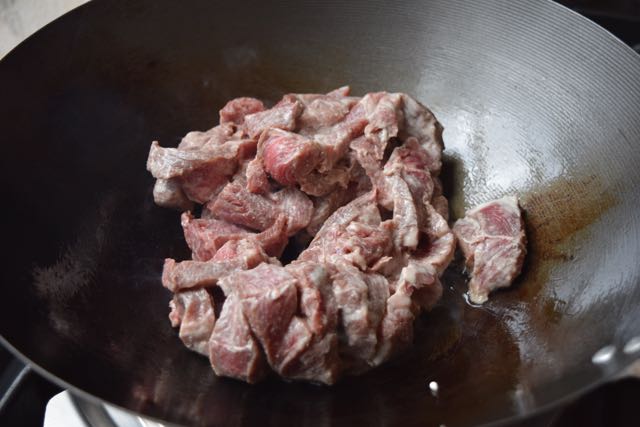 Keep it moving as this will stick, and cook for 2 to 3 minutes or until starting to brown and cooked to medium rare. Transfer to a plate to rest.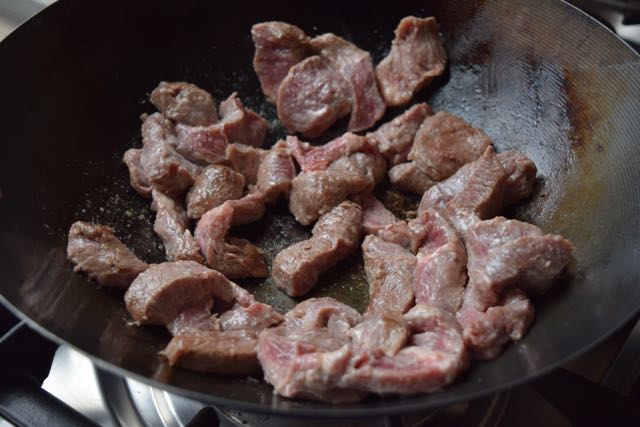 Add another tablespoon or two of oil to the pan then stir fry the broccoli and onion for a couple of minutes or until softening and browning at the edges. My pan was good and crusty at this stage but once you add the sauce this will all mix in and add amazing flavour.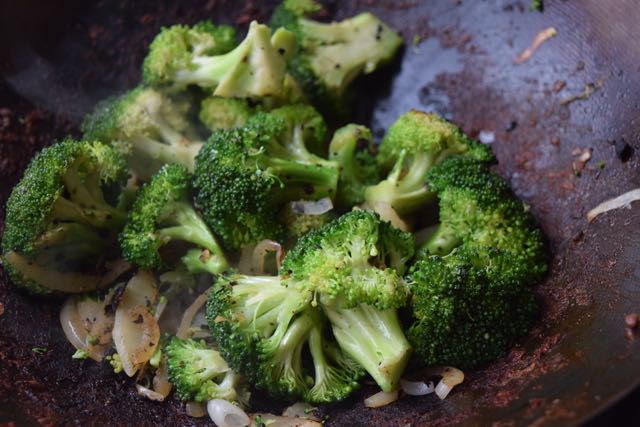 Return your tender beef and it's juices to the pan, mix, then pour on the sauce mixture and bring up to the simmer.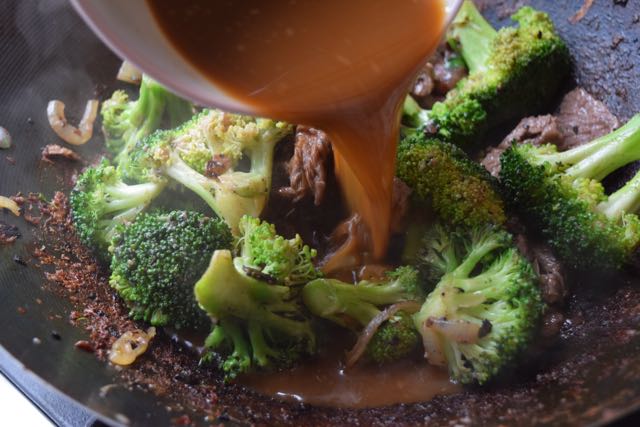 Cook for a couple of minutes until piping hot, then serve with your rice, or noodles if you'd prefer.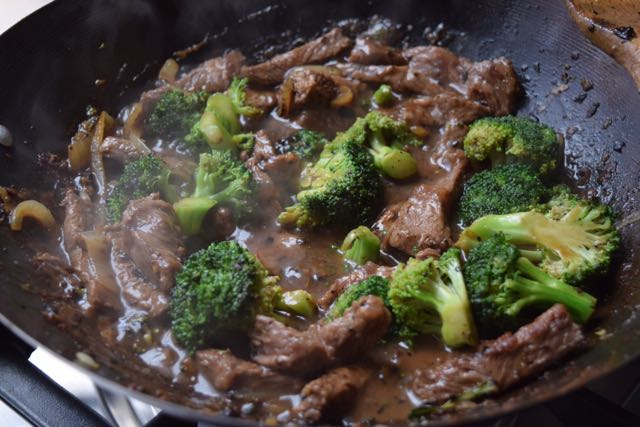 Garnish with some sliced spring onions, and inhale, wrestling any second helpings from the hands of your family.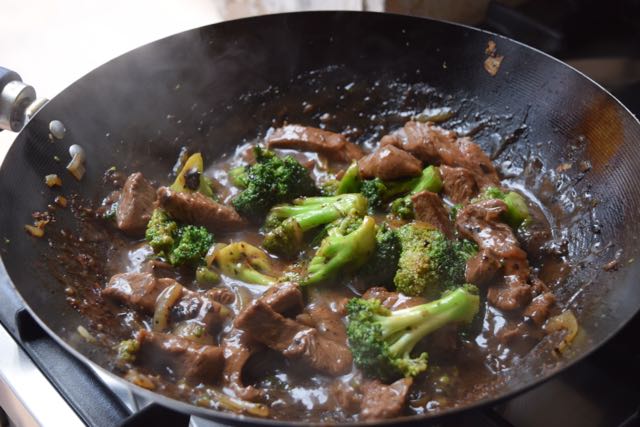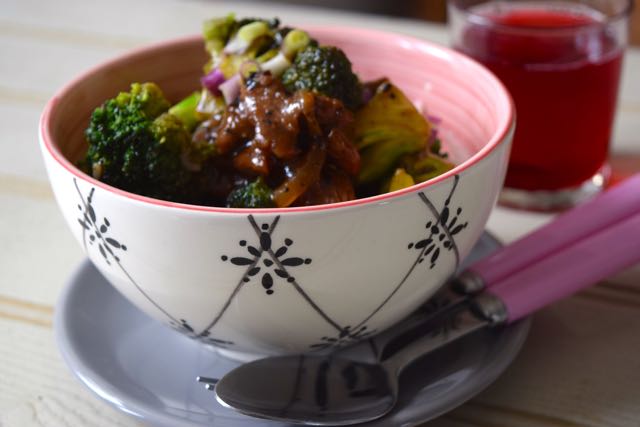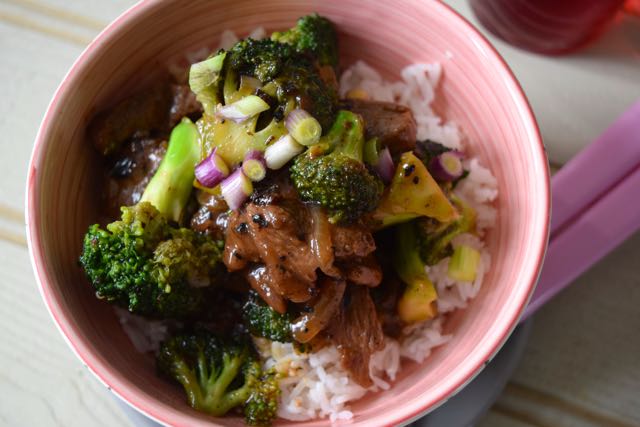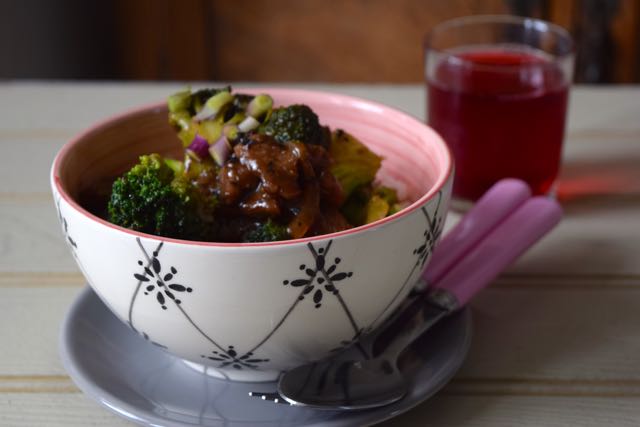 This dish was met with appreciative noises from my family, which is the best I can hope for from a house full of barely conversing teenagers. If I get anything more than a 'nice' then I feel I have excelled myself on the catering front.
Lucy x
Stir Fried Beef with Broccoli Recipe
Serves 4 quite heartily
You will need a wok or frying pan and a couple of bowls
3 tablespoons cornflour, 2 for the steak, 1 for the sauce
125ml water, plus an extra two tablespoons
1/2 teaspoon garlic powder or fresh garlic
400 to 500g feather steak, or any frying steak
3 tablespoons vegetable oil, I used Wok Oil
1 head of broccoli, chopped into florets
1 small onion, sliced
80ml soy sauce
2 tablespoons brown sugar
1 teaspoon ginger, ground, fresh or from a jar
Rice or noodles to serve, chopped spring onions to garnish
In a medium size bowl add two tablespoons of the cornflour, half teaspoon of garlic powder, or crushed garlic and mix with two tablespoons of water until smooth.
Slice the steak along the grain into thin strips, then stir this into the seasoned cornflour liquid. Leave this to one side for the moment.
Chop your broccoli into florets and peel and slice the onion.
For the sauce, mix together the remaining one tablespoon of cornflour with the 125ml water, brown sugar, ginger and soy until smooth.
Pour a tablespoon or two of oil into your wok or frying pan and heat until super hot. Add the coated beef and stir well until cooked to your liking, this should take around 2 to 3 minutes. Remove the beef to a plate then add another one or two tablespoons of oil to the wok then tip in the broccoli and onions. Sauté for a couple of minutes until they are browning and softening.
Return the beef to the pan with it's juices, then pour on the soy mixture and stir well. Simmer for around 2 minutes before serving over rice, adorned with some slices of spring onion. Enjoy whilst piping hot.