Strawberry Shortcakes Recipe
I have been fascinated by Strawberry Shortcakes over the years *get out more, yes, I know*. There are numerous recipes on my beloved Pinterest, but I had never really got my head around the fact they are not actually shortcake. Not in the British sense of the word, at least. I decided, with American Independence Day being on the horizon, I should set the record straight, experiment with a couple of recipes and just basically eat a few Strawberry Shortcakes and then share my findings with you. Once I had recovered from my carb and sugar overload, that is.
So, to clarify, a Strawberry Shortcake is a really rather divine, scone type of affair. Served warm, filled with sweetened cream and macerated strawberries, I can think of no other dessert I'd rather eat on the 4th of July. The shortcakes themselves, unlike scones, are made with a mixture of cream and sour cream to add flavour and texture. The butter is rubbed into the flour and sugar, but to add lightness, some of the pieces of butter are left bigger than others. Some lemon zest adds zing and salt makes these not horrendously sweet. So, thanks to my research, and the lovely Bon Appetit for their advice, these Strawberry Shortcakes are buttery, light and bloody tasty, regardless of the fact they are definitely more of a scone than a shortcake.
No wonder these are a super popular American dessert; who wouldn't want to eat a warm shortcake filled with cream and strawbs on a warm summer evening?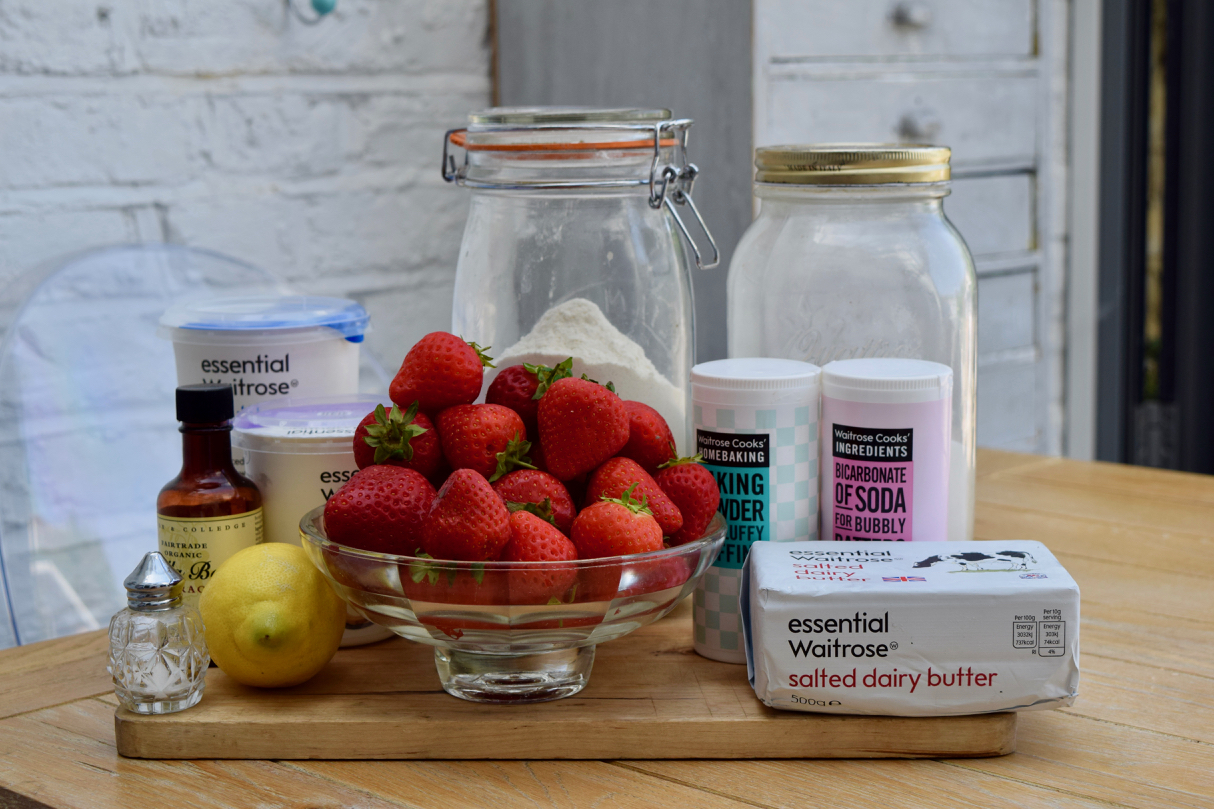 Now, don't panic, but the actual shortcake part of this recipe may seem like a kerfuffle, but it isn't really. There is just quite a bit of writing involved in the instructions which always makes it seem more of a drama. But rest assured, any effort involved in the making of these Strawberry Shortcakes is more than worth it.
Make a start by lining a baking sheet and pre heating the oven to 180 degrees fan assisted. Making these on the hottest day of the year was not my finest hour, can I just say. Next, whisk together the plain flour, 4 teaspoons of the caster sugar, baking powder, bicarb and salt.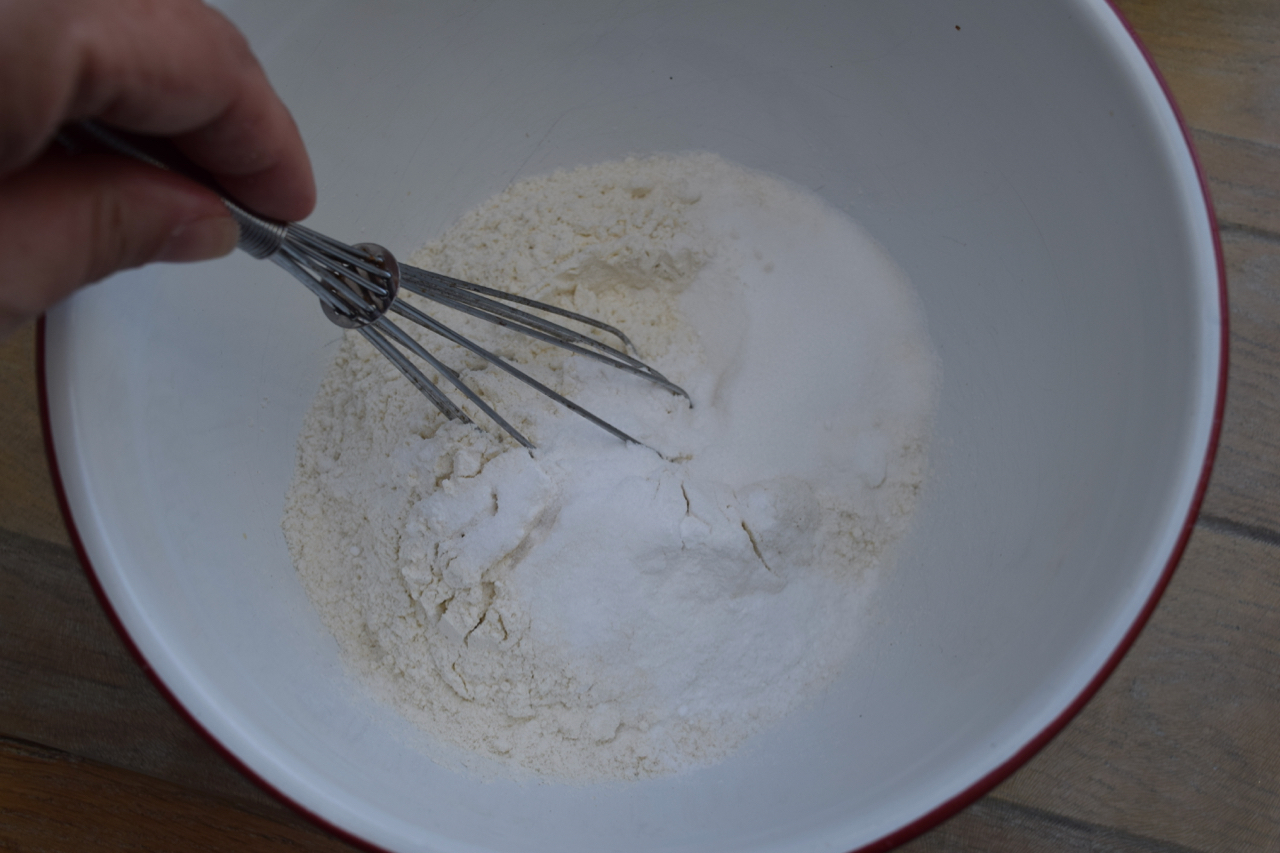 Next, grate the zest of the lemon into the bowl and add the cold, chopped butter.
Now, with your hands, rub the butter into the flour until the mixture resembles breadcrumbs but still has some bigger pieces of butter left.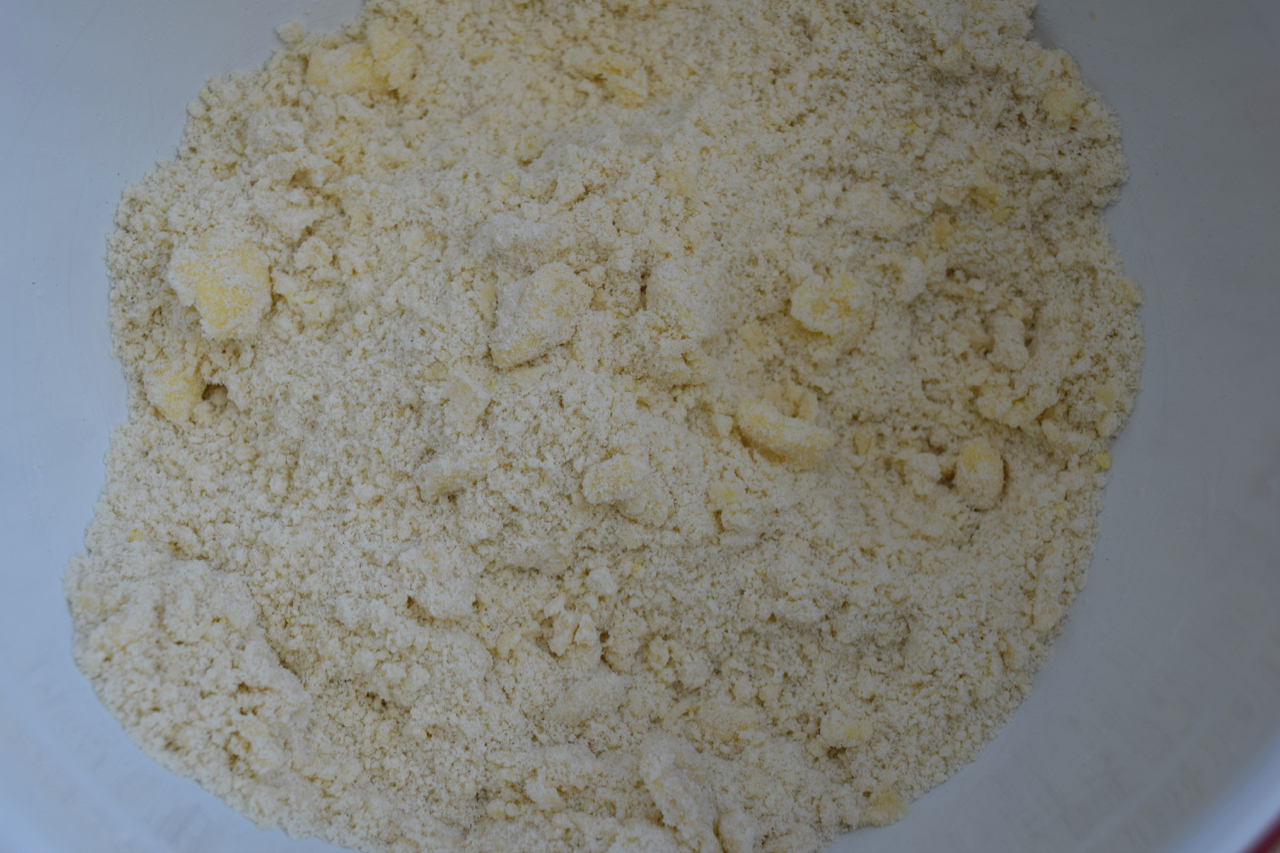 Now, whisk together 90ml of the double cream and 190ml of the sour cream then pour it into the bowl. Using a spatula, bring the whole lot together.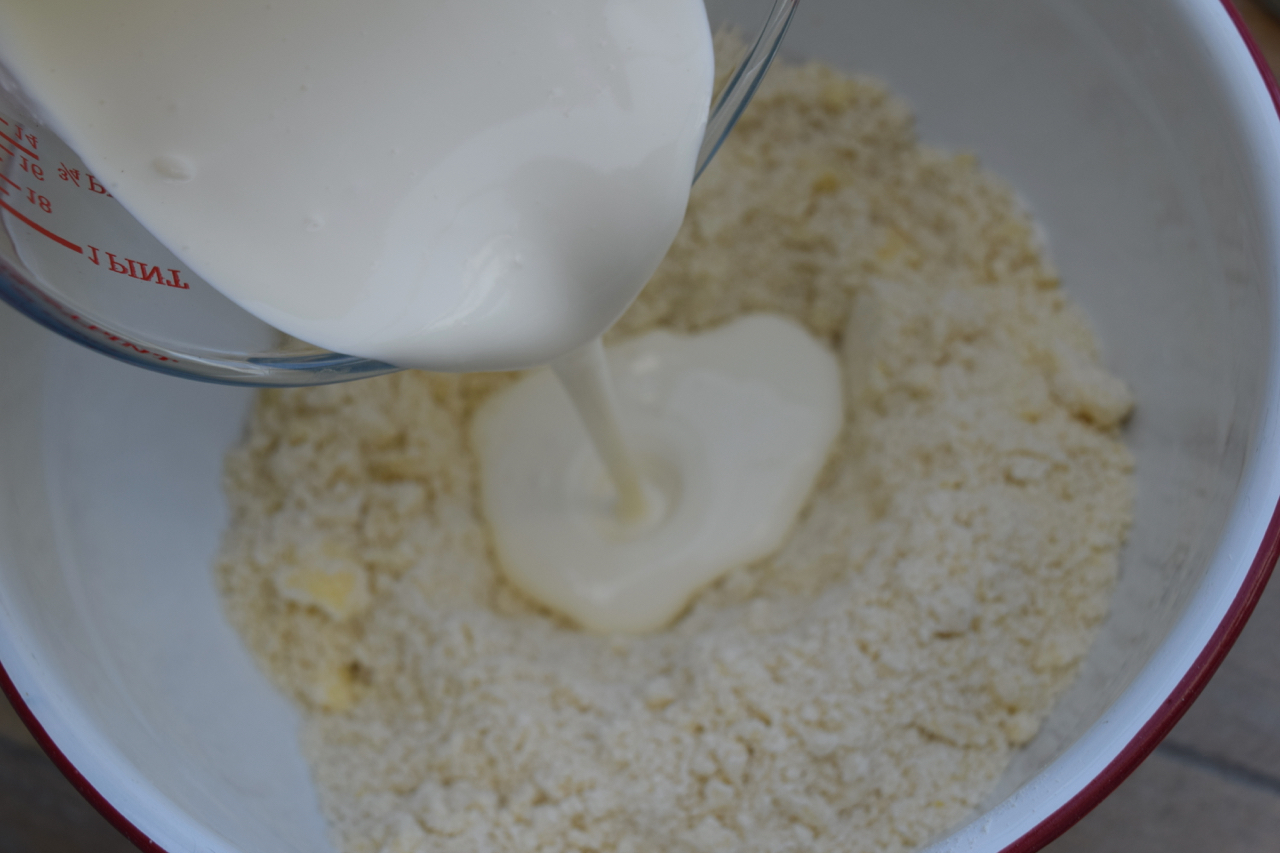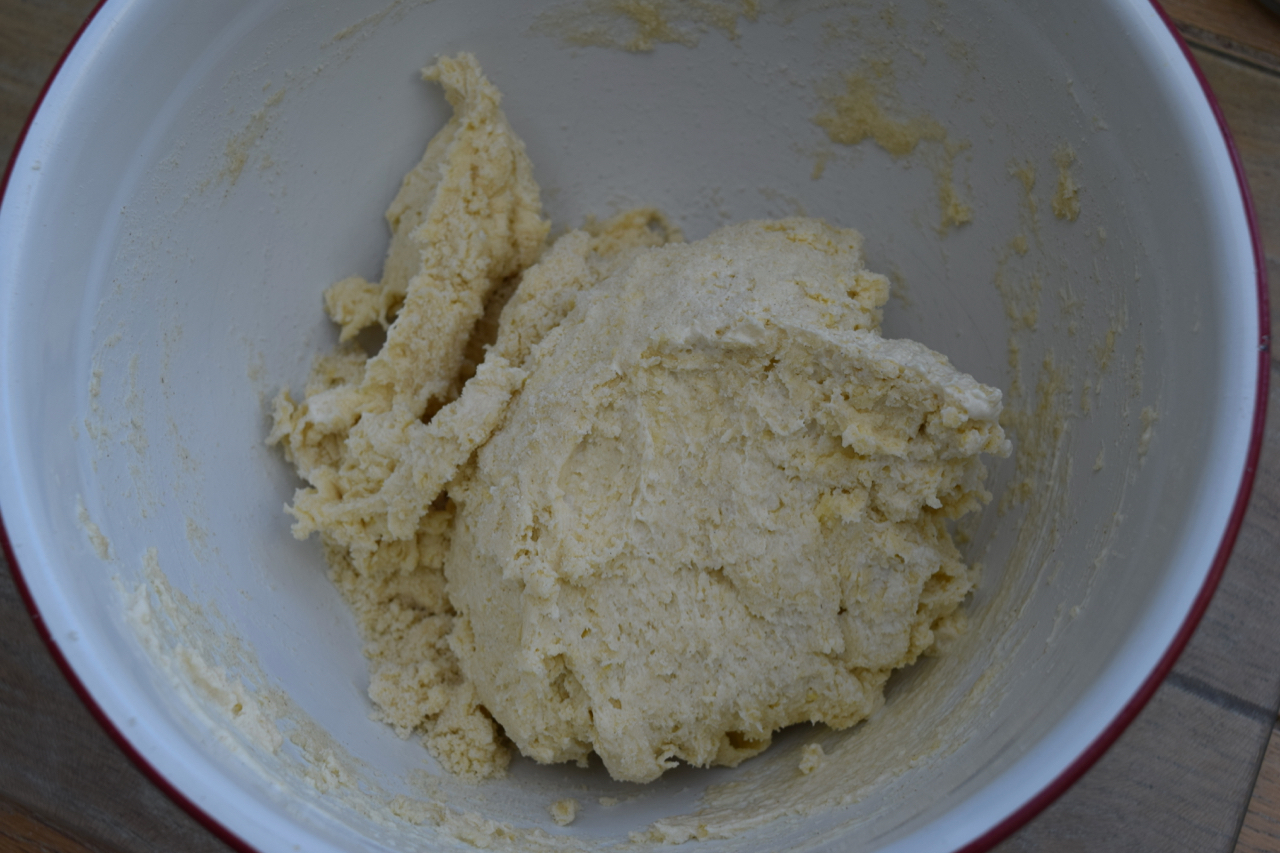 Go in with your hands and give the dough a brief knead then turn it out onto a floured board. Fashion the dough into a rough 6 inch square. Cut that square into 4 pieces.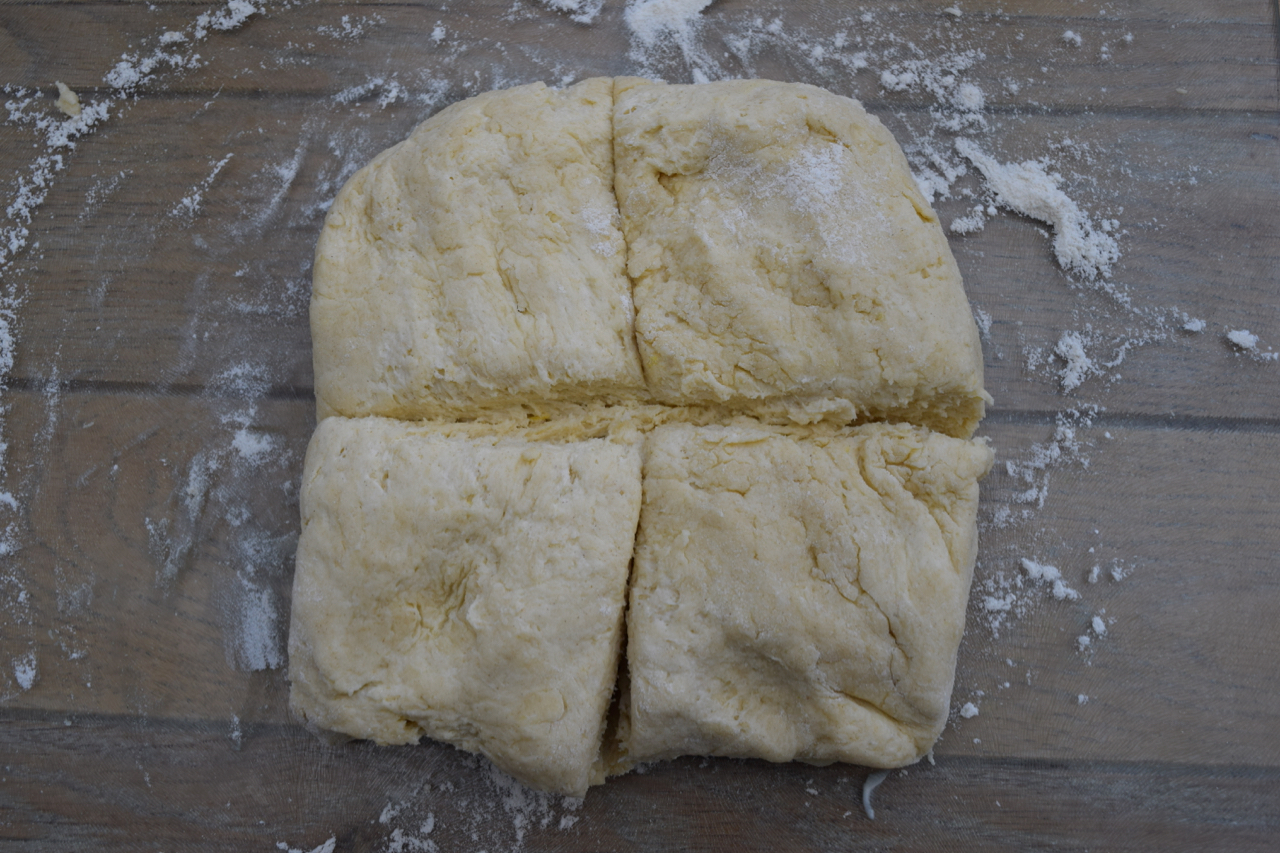 Pile the squares on top of one another then press down and flatten the dough. This will create some lovely layers to your shortcakes. Now shape your layered dough into a 7.5 inch by 5 inch rectangle. I did use a ruler but only because I wanted to get it right for you, go by eye if you'd rather. Now, I needed 8 shortcakes to feed my family, so I cut my rectangle into 8 smaller pieces, but if you only need 6 then cut into 6 bigger pieces.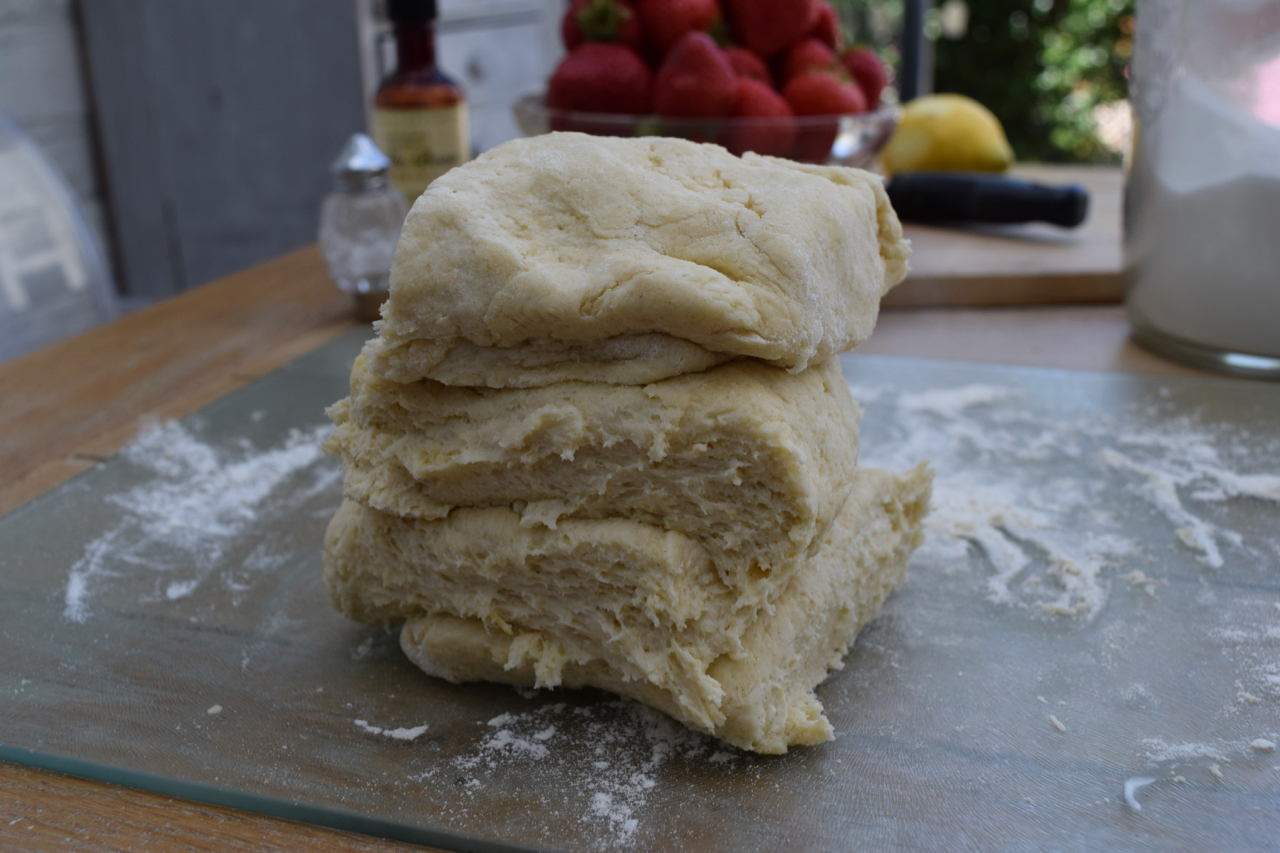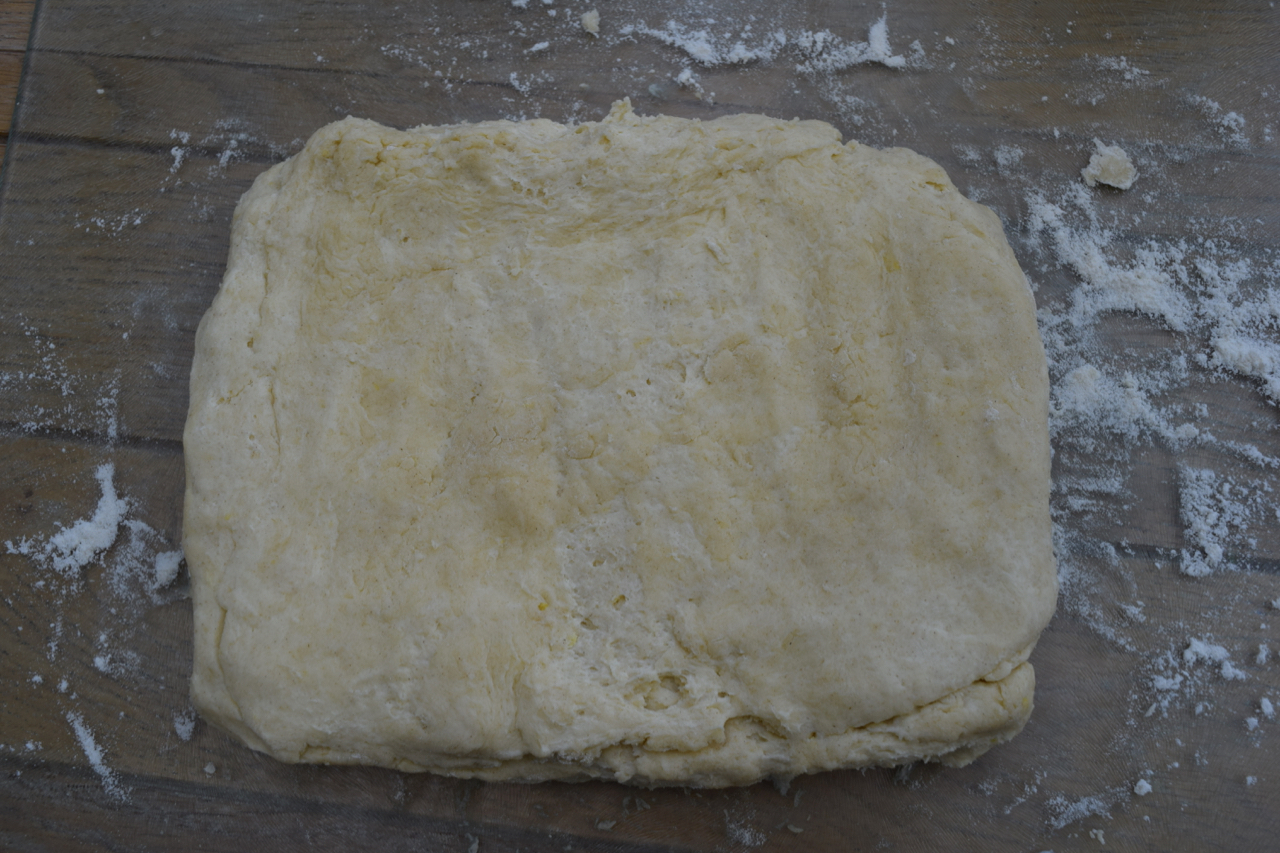 Place these onto a tray and pop into the freezer for 30 minutes. This will help them rise rather than spread in the oven later.
While these chill, crack on with the strawberries. Chop them up then add into a bowl or jug along with two tablespoons of caster sugar and 2 tablespoons of lemon juice. Stir well then cover and pop to one side, leaving them to marinate.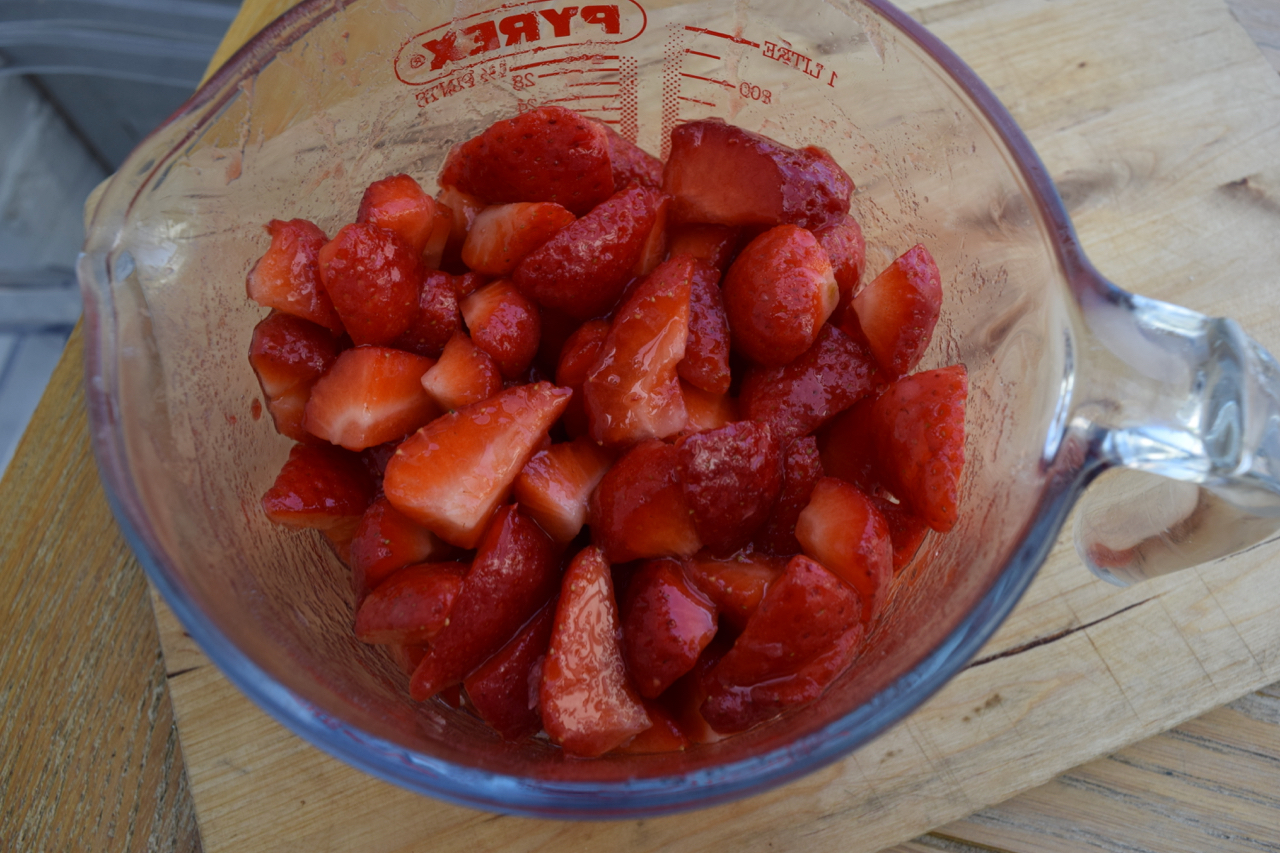 For the cream, whip the remaining 160ml double cream with 2 tablespoon caster sugar and vanilla until you have soft peaks. Add the last 60ml of sour cream then briefly whisk again. Pop in a bowl in the fridge until later.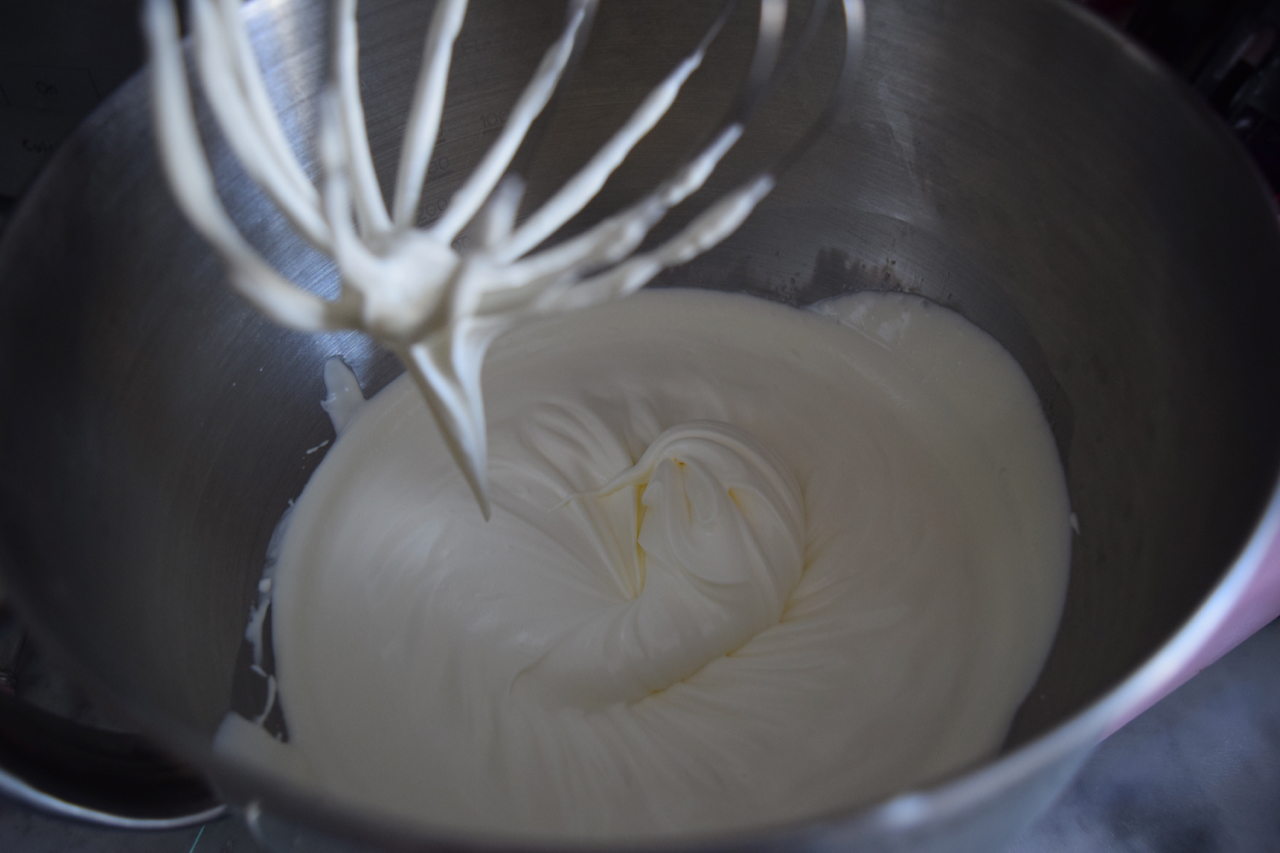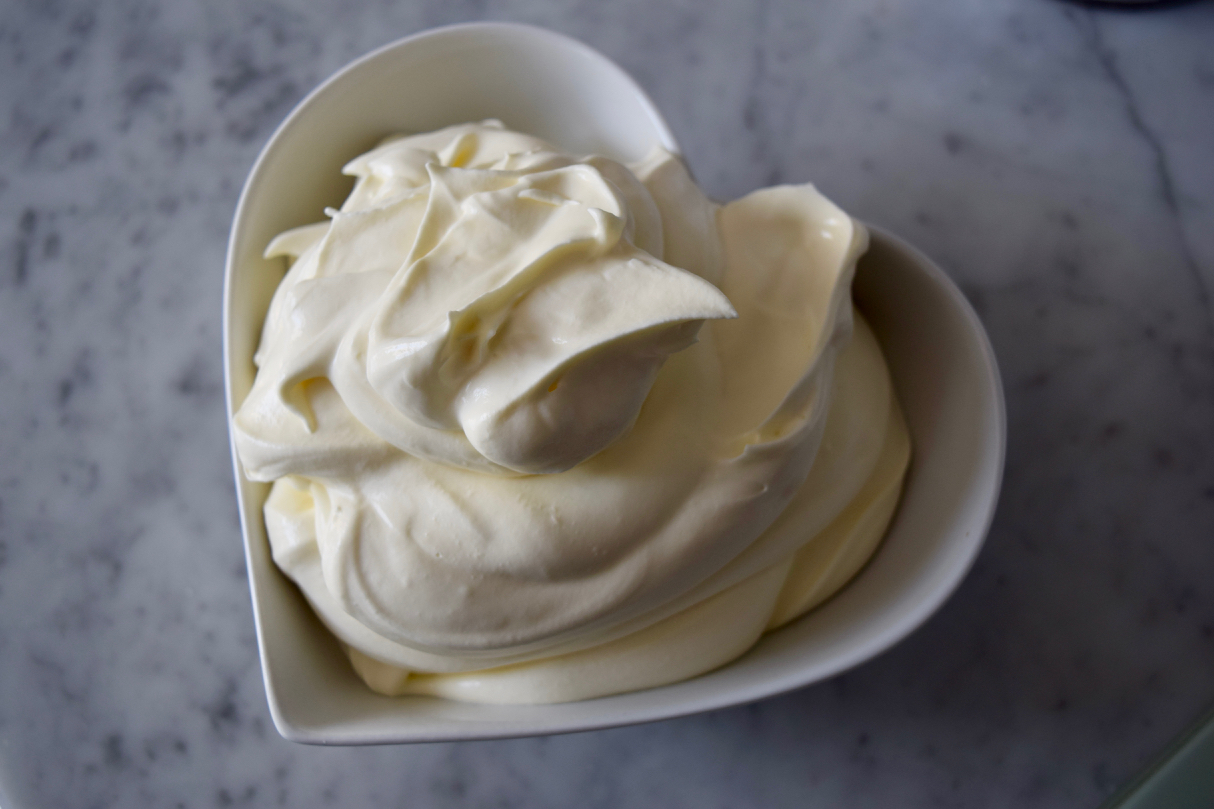 Remove the shortcakes from the freezer, sprinkle each one with a dusting of caster sugar then place on a lined baking tray and pop into your pre heated oven for 20 to 25 minutes.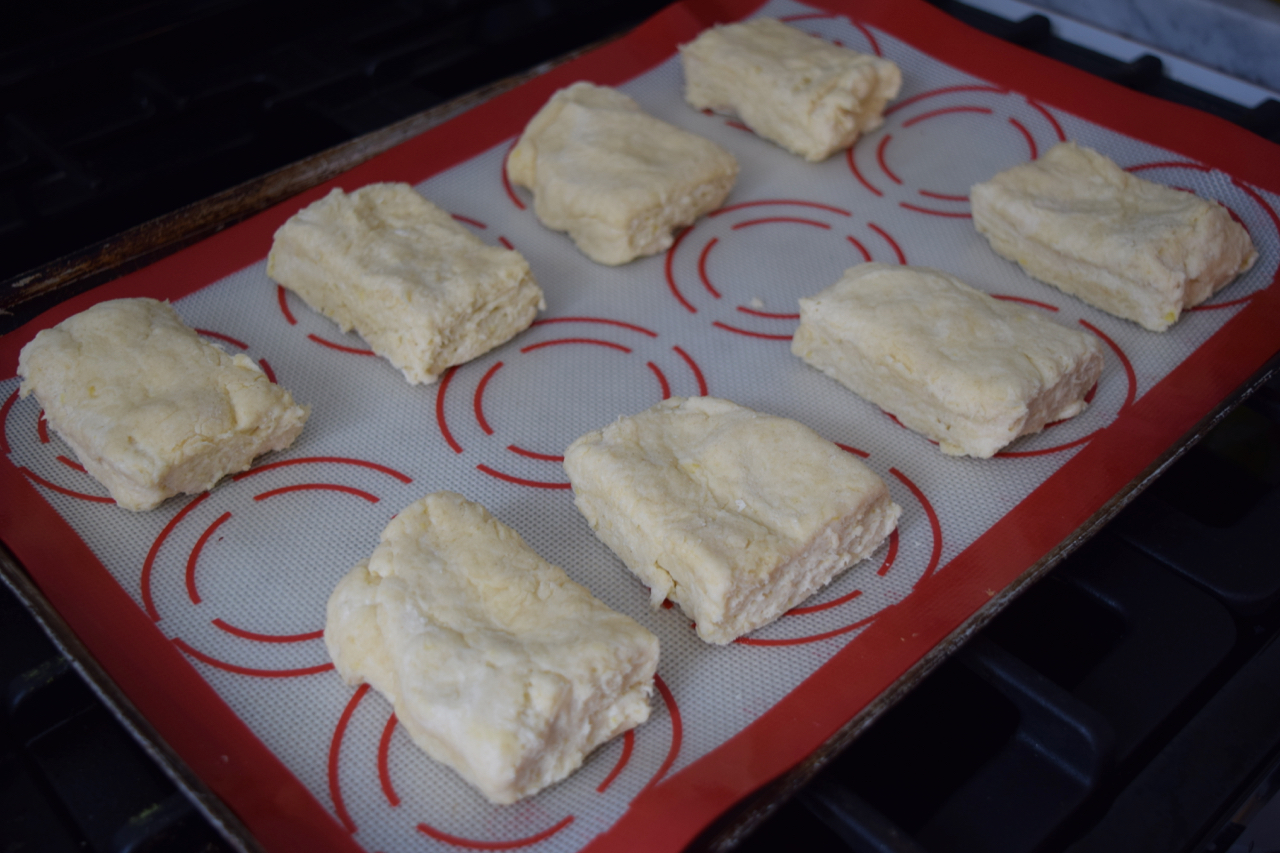 They're ready when the shortcakes are golden, well risen and smelling like baking heaven.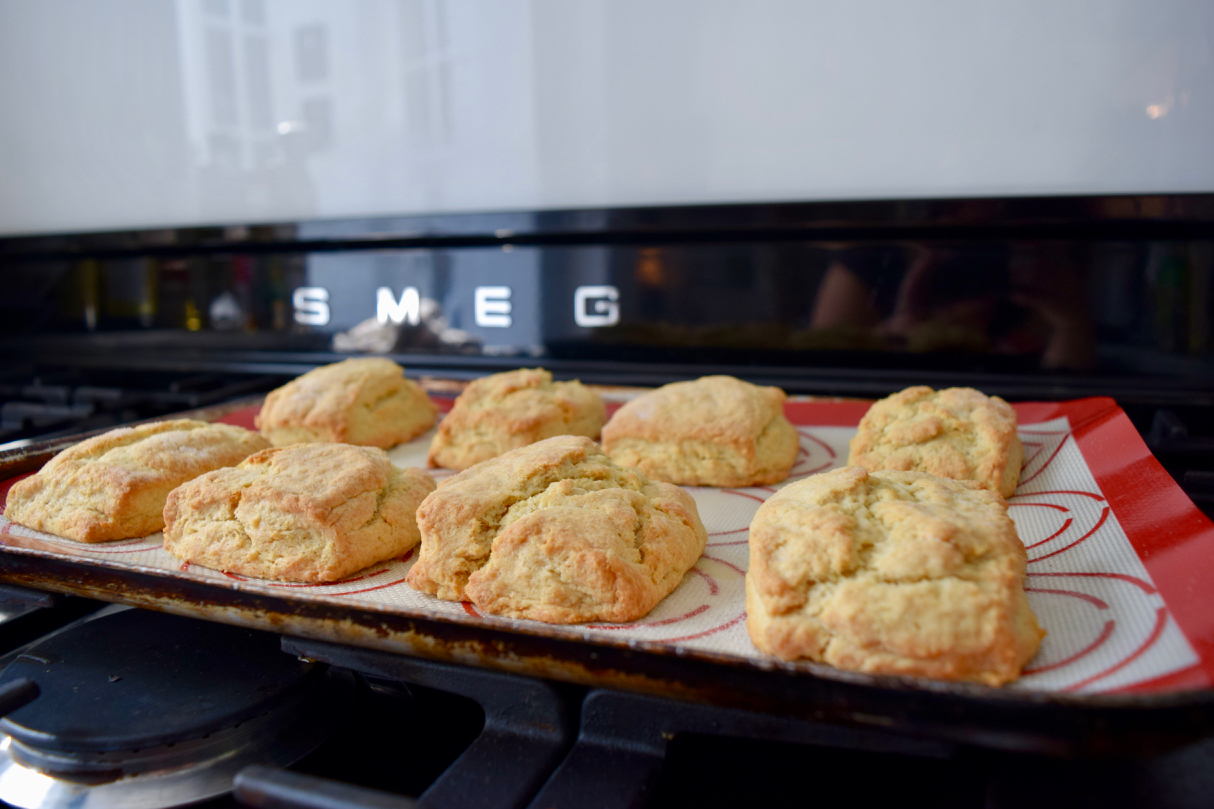 In an annoying turn of events my oven blew a fuse half way through so I had to switch to my less favoured oven. But, that said, nothing keeps these puppies from rising. Leave them to cool for 15 minutes before serving, still warm, split and filled with some of the whipped cream, macerated strawberries and their syrupy juices.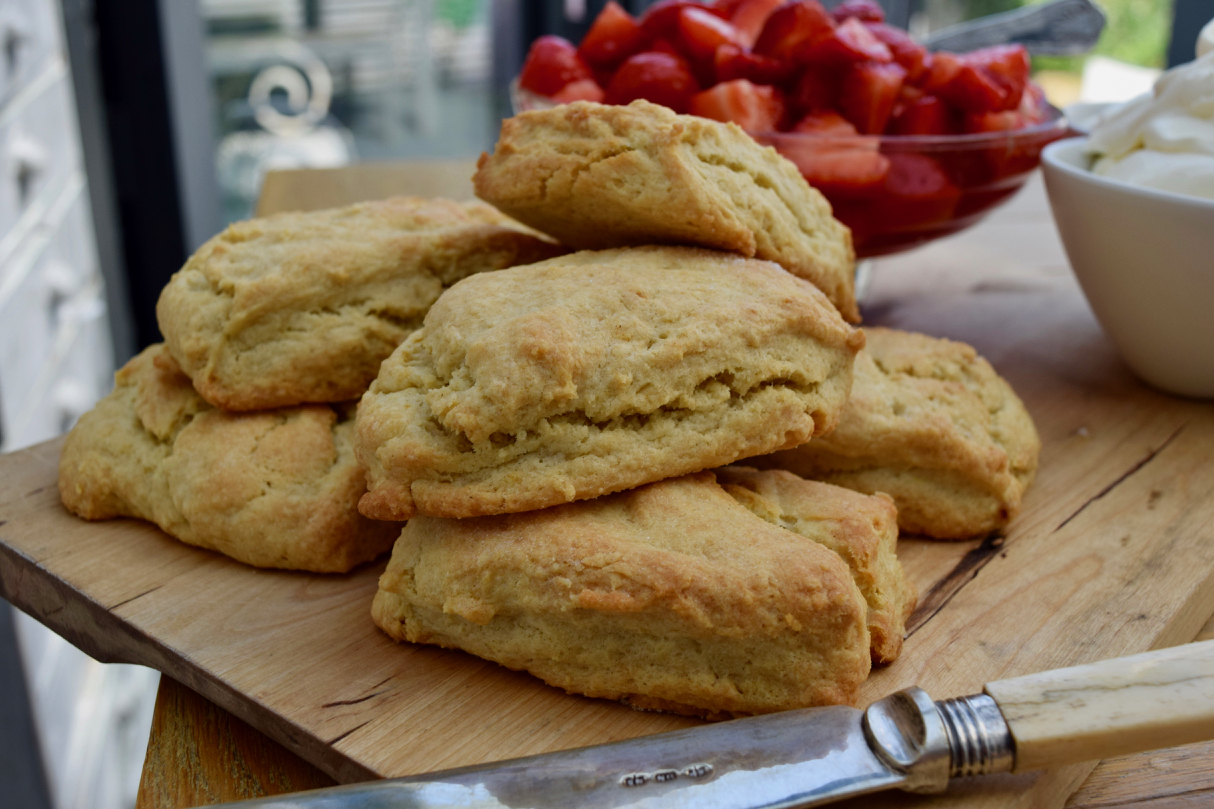 These aren't small or elegant bites. Strawberry Shortcakes are rich, buttery mouthfuls and just the most wonderful way to utilise sweet summer berries. I was loathe to share them with my family, but share I did. With the next batch, I will not be so rash, I could have eaten all 8 of them without a backward glance.
Happy 4th of July to all you lovely Americans.
Lucy x
Strawberry Shortcake Recipe
Serves 6 to 8
You will need bowls and a whisk for this
260g plain flour plus some for dusting
80g caster sugar, plus a teaspoon for sprinkling
1 and 1/2 teaspoon baking powder
1/4 teaspoon bicarbonate of soda
3/4 teaspoon salt
1 lemon, juice and zest
120g cold butter, chopped
250ml sour cream
500ml double cream
500g strawberries, chopped
1 teaspoon vanilla extract
Pre heat your oven to 180 degrees fan assisted and line a baking sheet.
For the shortcakes take a large bowl and weigh in the flour, 20g of the sugar, baking powder, bicarbonate of soda and salt and give it a little whisk to mix. Grate in the zest of the lemon and stir again. Add the cold, chopped butter and, using your hands, rub the butter into the flour until it resembles breadcrumbs but still has some pea sized pieces of butter.
In a jug, whisk together 90ml of the double cream and 190ml of sour cream. Pour this into the flour mixture and mix with a spatula to form a shaggy dough. Go in with your hands and give it a brief knead to bring it together into a ball.
Turn the dough out onto a floured work surface and form a rough square around 6 x 6 inches (15cm x 15cm). Cut the dough into 4 squares then pile them on top of one another. Press down onto the tower of dough and flatten into a rough rectangle approximately 7.5 x 5 inches (20cm x 12cm). Cut these into either 6 or 8 pieces then place onto a tray and freeze for around 30 minutes. This will stop them spreading instead of rising in the oven later.
For the strawberries, chop them up and place into a large jug or bowl. Add 2 tablespoons lemon juice and 30g of caster sugar, stir well then cover and leave to marinate.
For the cream, add the remaining 160ml double cream, the final 30g of caster sugar and the teaspoon of vanilla. Whisk until you have soft peaks then add the last 60ml sour cream and whisk again. Refrigerate until needed.
Remove the shortcakes from the freezer and place on a lined baking tray. Sprinkle the tops with an extra teaspoon of caster sugar. Bake in your hot oven for around 2o to 25 minutes or until well risen and golden brown. Leave to cool on the tray for 15 minutes.
Serve warm, halved and filled generously with the whipped cream and marinated strawberries.
Any leftovers can be kept in an air tight tin for a couple of days then warmed briefly in the oven before serving.